Maybe you are highly impressed with the robe fashion and want to put on a snuggly robe every morning! If yes, then sew the best stylish robe pattern at home with these 16 free robe sewing pattern and designs that will share all the creative details from avid sewists to help you sew a robe like a pro! From a lightweight to a warming winter robe, the list provides a big range of designs to choose from! The collected bathrobe sewing pattern and designs vary in detail, like some come with full sleeves and some with half sleeves depending on the weather conditions! Sew the lace robes to wear as poolside covers will be a lightweight layering garment that you can wear over the skirt too! Go with heavy fleece fabrics to sew the snug robe design, which will cover your warmth on chilly mornings!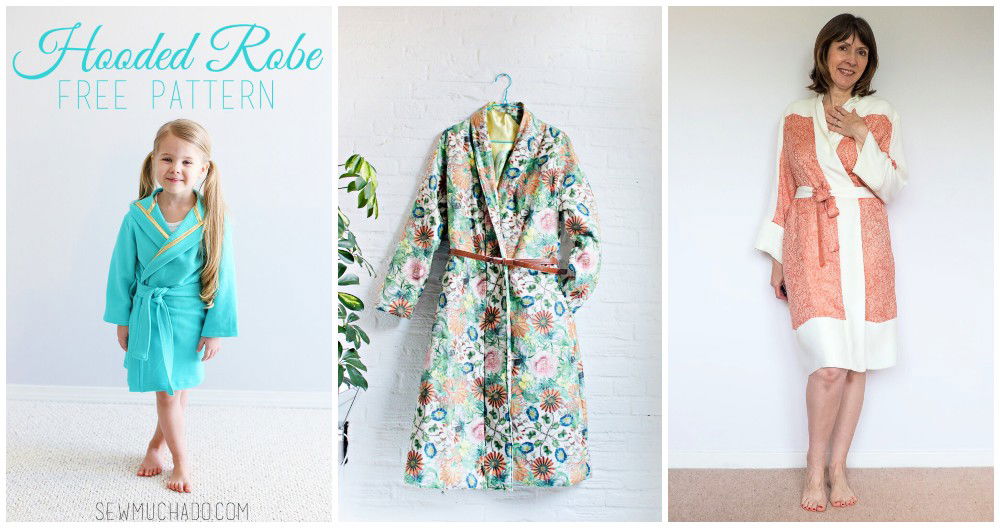 Explore these 16 free Robe Sewing Patterns to get yourself amazed by lots of robe sewing hacks! This collection shares a whole pack of robe sewing tricks by providing step-by-step sewing instructions, visual sewing tutorials, and free robe sewing pattern!
From kids to adults, the robe fashion is equally popular in all age groups! In addition, one can sew the robes for kids stuffed animals too when need to give cute sewing gifts to kids! Sew the gowns with the hoods when you need to provide cuteness to your kids along with full winter protection! Opt for custom ribbon and leather belts to bring a bold fashion statement to your bathrobe sewing pattern! Take a round of all the Robe Sewing Patterns to learn about how to sew a robe-like an avid sewist or professional!
1. Free Hooded Robe Sewing Pattern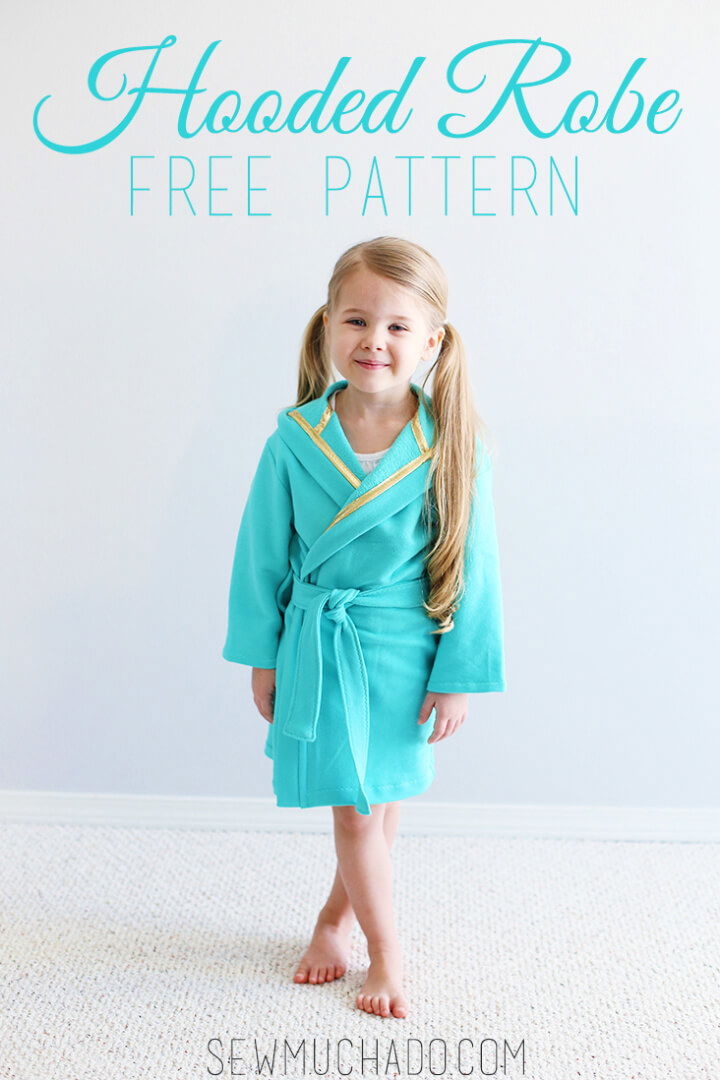 Provide a big comfort to your trembling little girls by giving them this robe gift. It will stylishly wrap around your little girls to bring instant warmth on chilly mornings. This robe pattern is having size 3/4T. You can also sew the same size for a little big girl. You need 2 yards of anti-pill fleece 60″ wide, to sew this robe with a hood. sewmuchado
2. Stuffed Animal & Teddy Bear Robe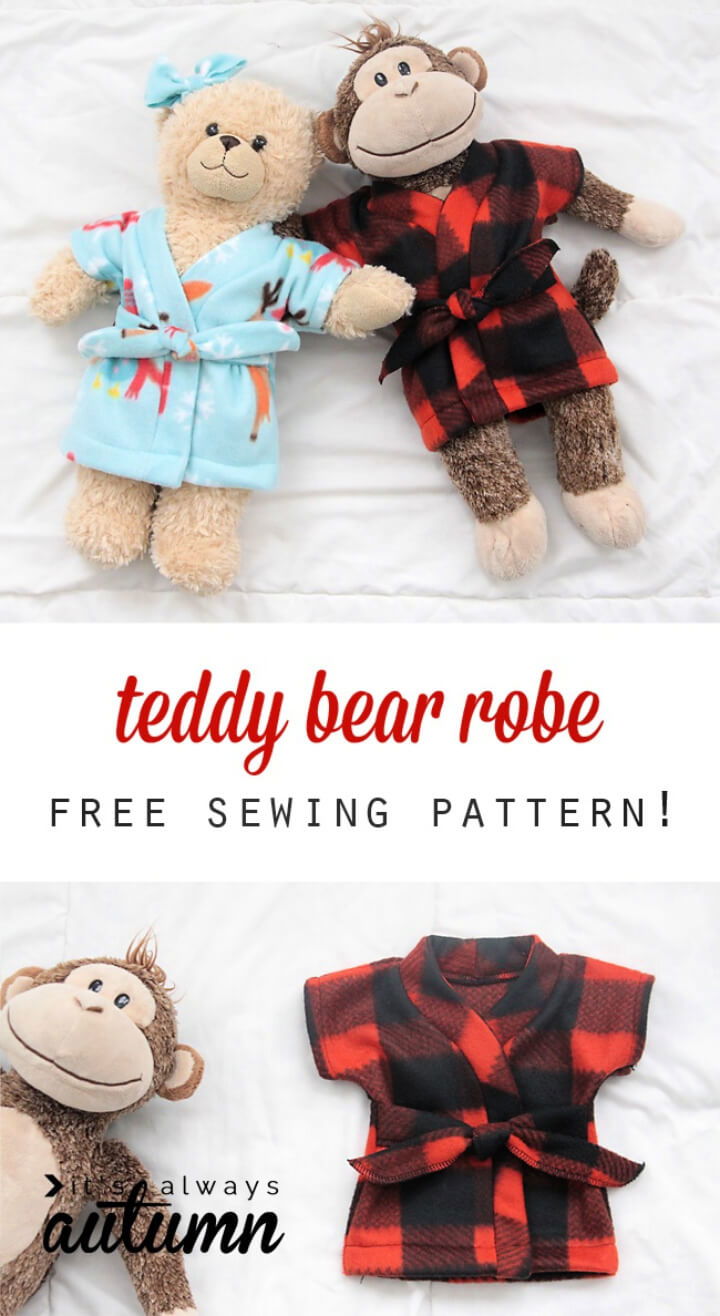 A great stash buster project, the cute little robes to sew for your stuffed animals like teddy bears. It will bring a lot of fashion to your cuddle-me-up toys. Moms can sew these robes for kids stuffed toys, and they will surely make sweet gifts. This pair of robes will be ready in 30 minutes and will cost you $3. itsalwaysautumn
3. Sew Your Own Kids Bath Robe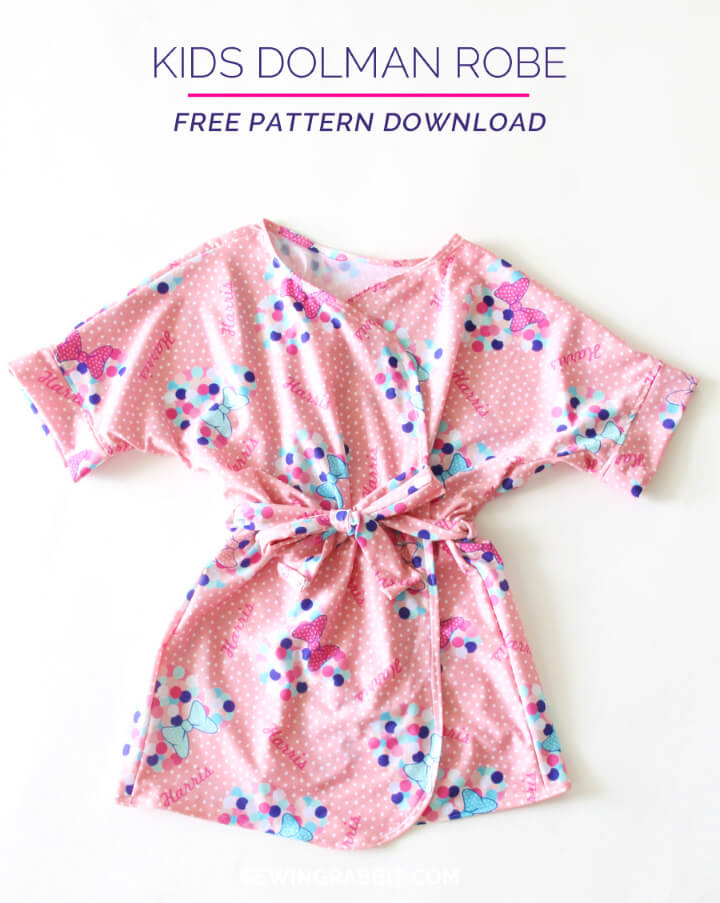 Spend only 2 hours with your sewing machine and sew the 2 yards of knit fabric to sew this kids' bathrobe. A stylish fashion-wear to add to every kids' wardrobe. The size if 31 thru 61 and sewing this robe is a beginner sewing pattern. The half sleeves double up the cuteness, but you can go with full sleeves too. mesewcrazy
Free Sewing Patterns for Kids:
Babies dress patterns: See these free baby clothes patterns that will help you to sew all types of baby dress designs at home. Patterns include for baby girl, boy & toddler.
Diaper bag pattern: Do you want a diaper bag pattern to sew your own baby bag? Find this diaper bag sewing pattern that can carry all baby care items and essentials.
Baby blanket pattern: Find dozens of free baby blanket patterns right here! Choose a pattern with simple stitches, cables, stripes or lacework, and knit it with love.
Babies Pants Pattern: Get free baby pants pattern and learn to sew the best baby, toddler, and kids' pants like a pro. All Baby's pants patterns are unique.
4. DIY Series Nativity Angel – The Robe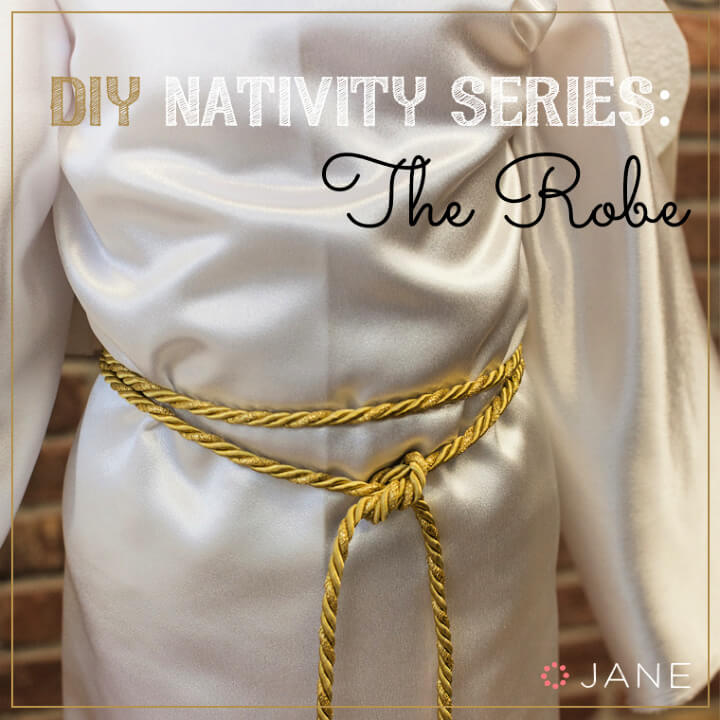 You will love adding this series nativity angel robe to your fashion wardrobe, the sleek robe that will feel super soft! You only need 2-3 yards of white fabric to sew this angelic robe, the beginner sewing pattern! The gold rope straps bring tons of styles and visual attractiveness to the entire design! jane
5. Child Fleece Robe – Free Pattern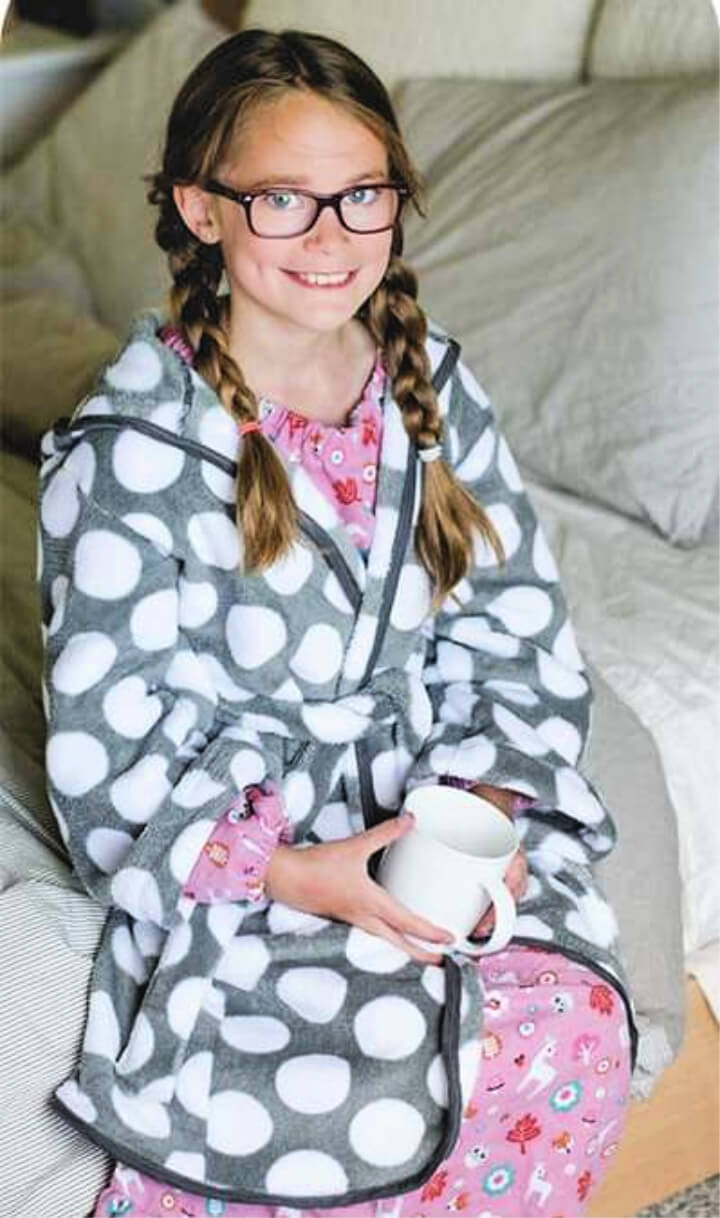 Grab 1.5 yards of cuddle sleeve and 3 yards of double fold bias tape with 1/2″ width to sew this child robe! The ultimately cute outer garment to sew for the kids in the home! Grab the fleece fabric with any design print, make it with a full or half sleeve! Cutting and sewing directions here fleecefun
6. Sew Purl Soho Women's Robe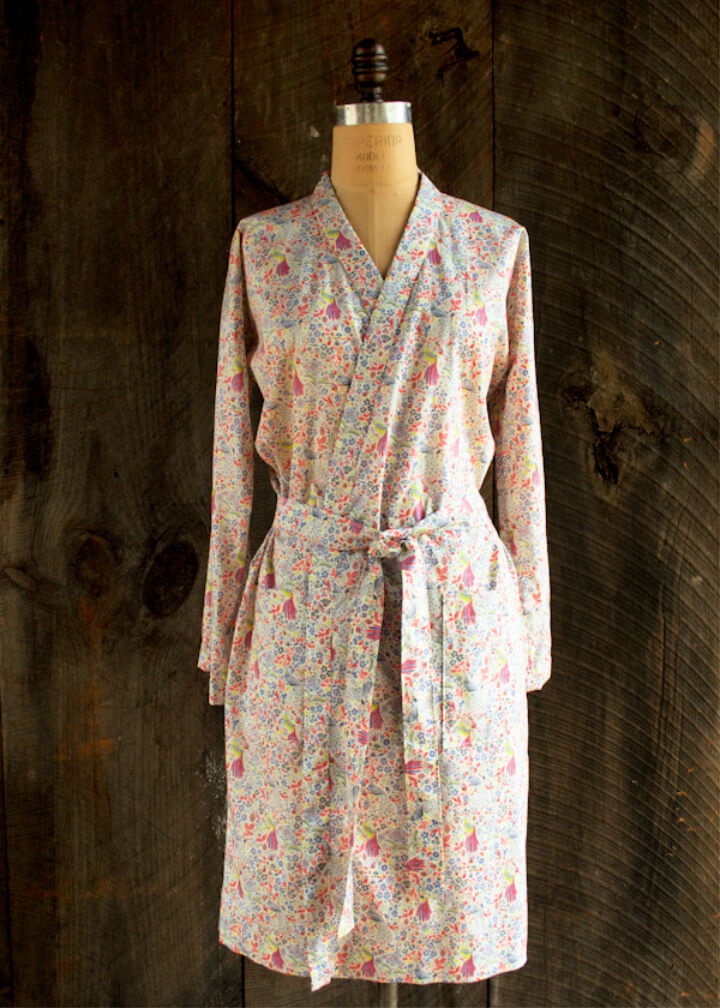 Bring yourself a great comfort by sewing this women's robe, use it as both as a winter robe and as a bathrobe! Sew with light or medium weight fabric like cotton and linen! The best loose-fitting garment to enjoy summer morning breezes! Grab the Purl Soho' s pattern to sew it like a pro! Download it here purlsoho
7. How to Sew Robe – Gift Idea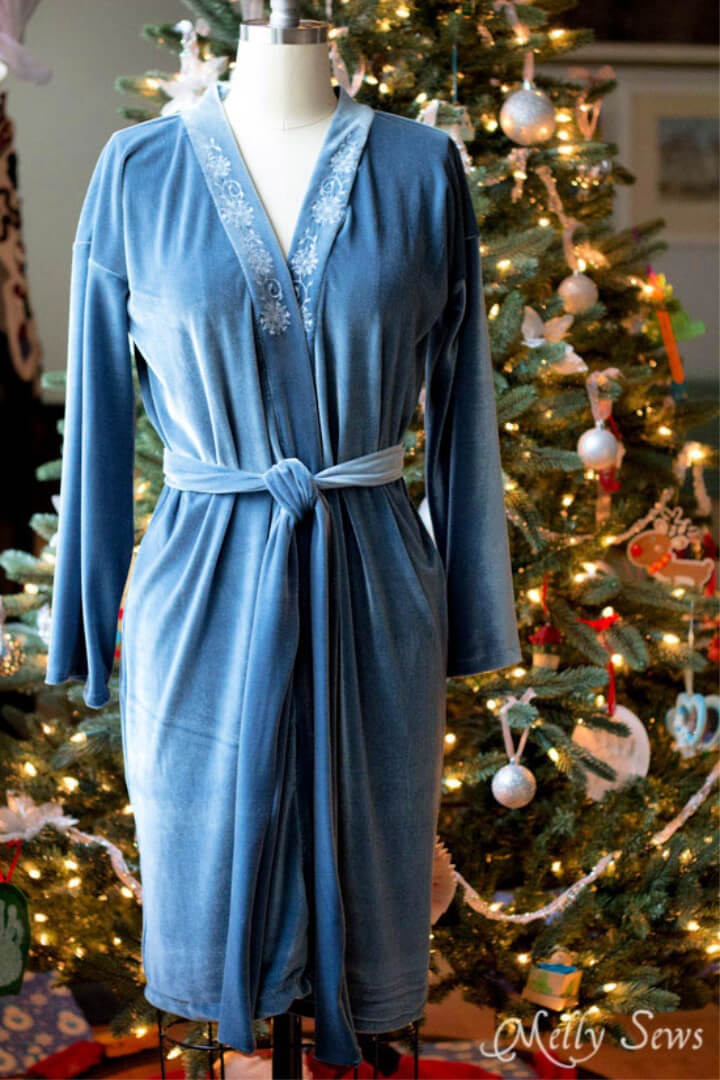 Impress all the people around you with this embroidered robe design, has embroidered snowflakes on the collar! The best robe design to enjoy the chilly morning with a loose snug fit! This robe is the easiest sewing pattern and will work up super quickly! Full sewing pattern here mellysews
8. How to Make a Robe Coat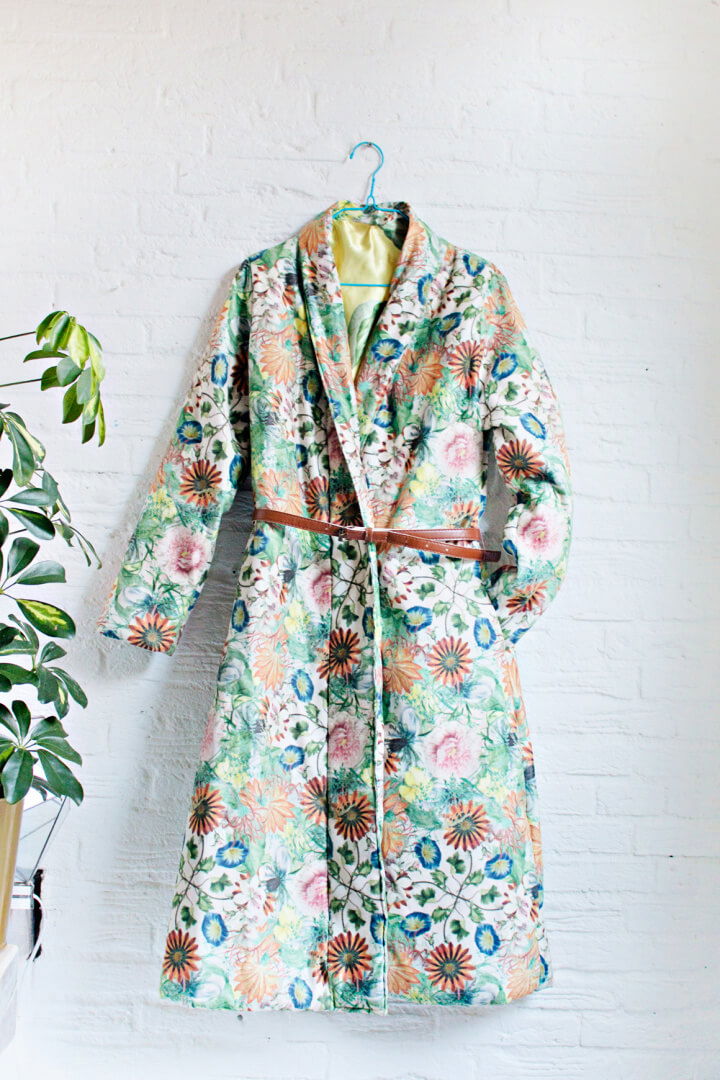 Wearing robes means you are boosting your fashion more, but this depends on the style of the bathrobe sewing pattern! Opt for this linen or cotton robe coat that you can sew using 4 meters of each faux suede fabric and lining fabric! What gives it a special touch of elegance is the leather belt! Use 4 meters of interfacing and 2 snap buttons too! lanaredstudio
9. Kids Robe Sewing Tutorial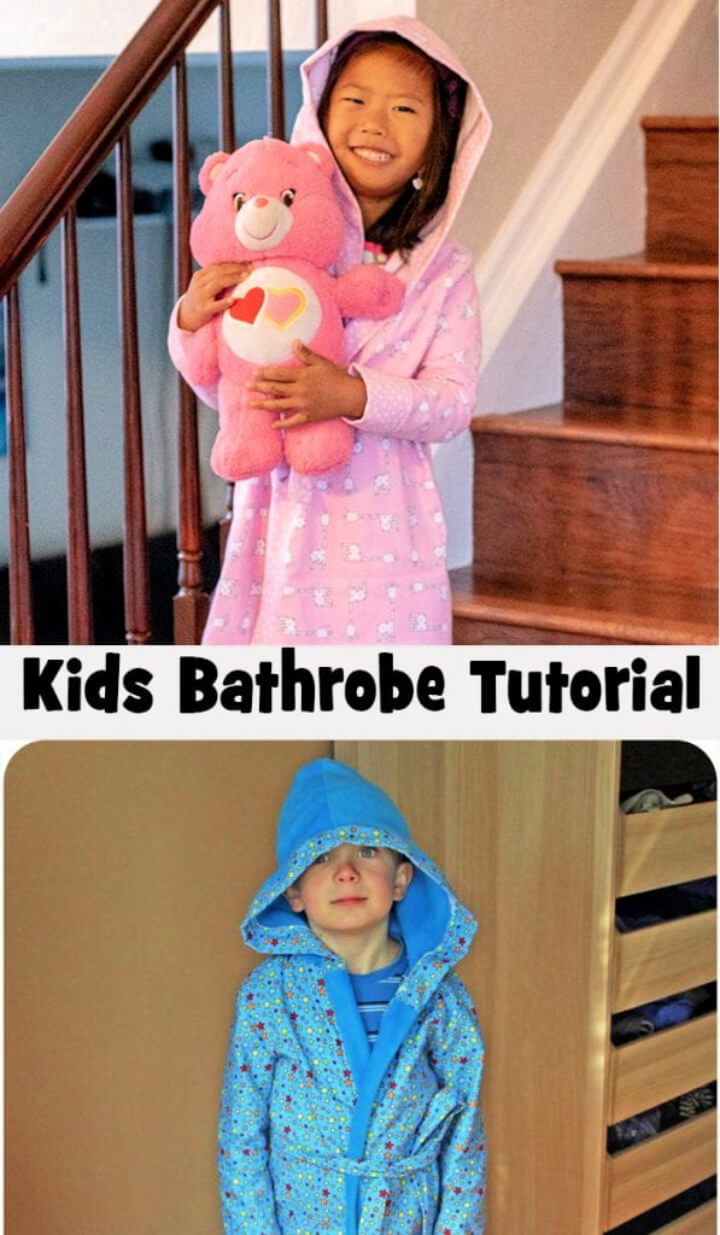 You need 1.5 yards of fabric and a leftover fabric for trimming to sew this robe! Get the step-by-step tutorial that shows how to sew it with a hood too! Sew a separated pattern for the hood! Experiment this robe with both lightweight and heavyweight fabrics and also with full and half sleeves! lifesewsavory
10. DIY Fabric Robe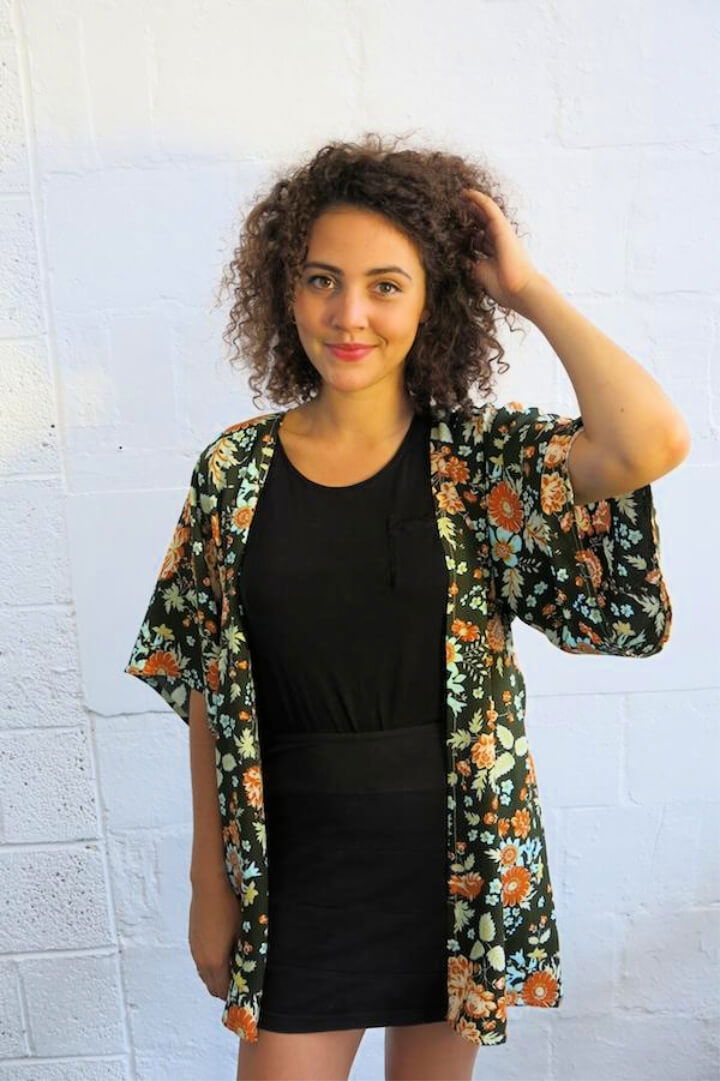 Get busy with tailor' chalk, basic sewing essentials, and with your favorite fabric to sew this robe sewing pattern, will be a loose-fitting layer of the garment! Go with a 4cm seam allowance, sew the open half sleeve arm, and don't forget to add the straps! A lovely short-body robe design, quite easy to sew! byhandlondon
Sewing Patterns for Free:
Skirt sewing patterns: Sew yourself up a new skirt in no time with these free skirt patterns that come in all different styles and sizes for every woman.
Wrap Skirt Pattern: Follow these free wrap skirt pattern with step by step guide to see how to sew a skirt for yourself. Our patterns include wrap around skirt pattern too.
Half Circle Skirt Pattern: Learn how to make a half circle skirt in any size! Follow the simple steps to create your own pattern and sew a new skirt.
11. Quidditch Robes for a Harry Potter Costume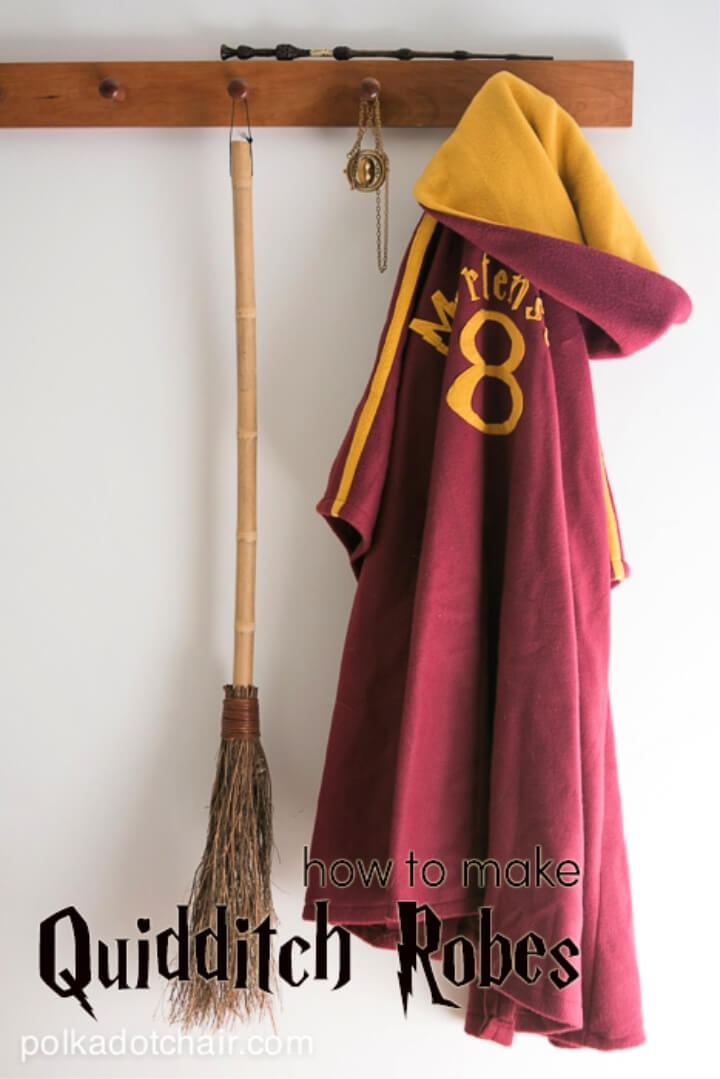 Instantly win the heart of a Harry Potter fan by sewing a Harry Potter costume at home! These Quidditch Robes will make an epic handmade gift for a Harry Potter lover! You need polar fleece in gold and Maron to sew this Harry Potter robe costume! Don't forget to add the Hogwarts' School patch! polkadotchair
12. Easy 1 Towel Bath Robes – Sewing Project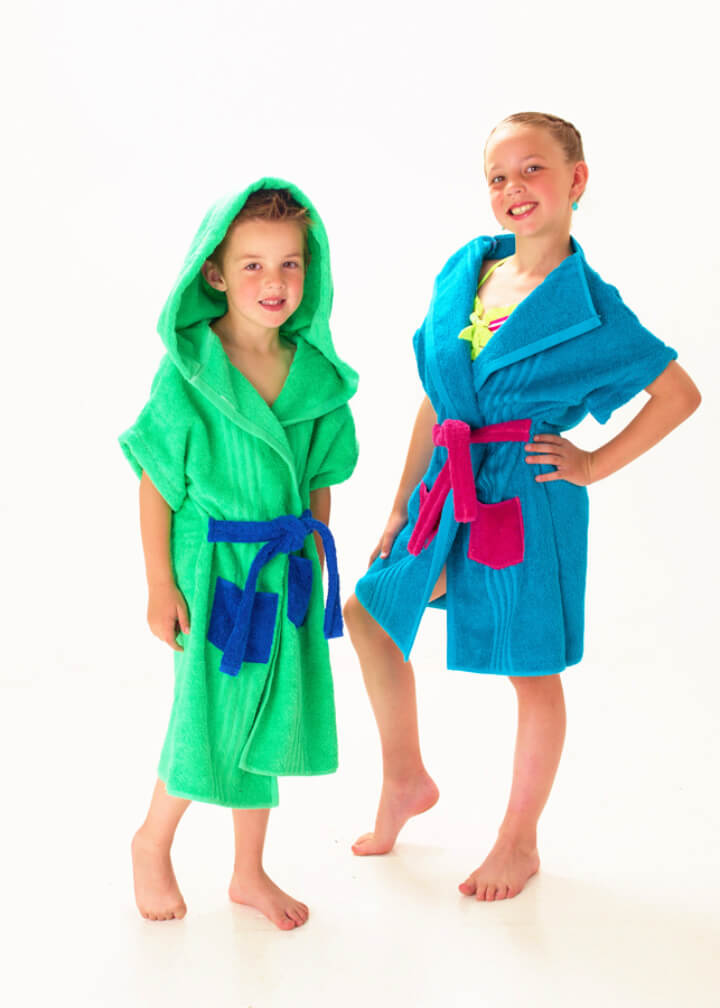 Use a single towel too of 32″ x 52″ size to make a bathrobe! This is going to be a super quick sewing project even for a beginner! After sewing a few easy lines on the towel, you will get a precious bathrobe, finish it with your favorite fabric straps and enjoy! Go with full or half sleeves, and both styles will rock! craftremedy
13. Adorable Shark Baby Robe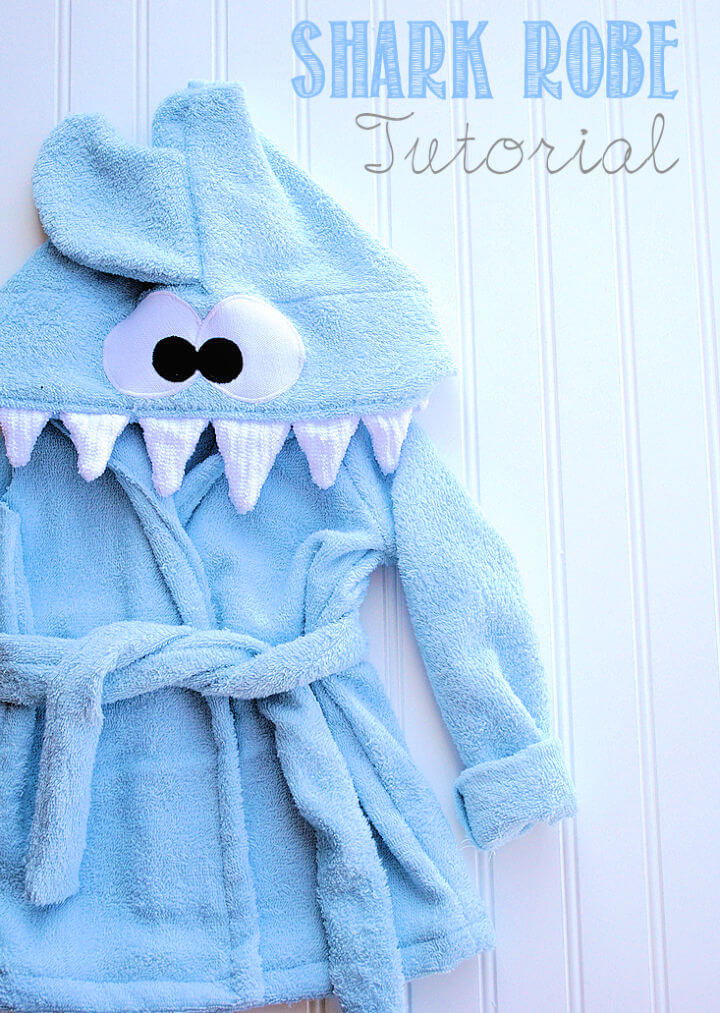 Turn wearing robe into a big fun by making this scary shark baby robe, the fantastic fun kids' gift to produce with your sewing machine! The main fabric needed for this project is 1 terry cloth, use small amounts of Heat n Bond, white and black fabric too! This shark robe size fits 0-12 months baby! crazylittleprojects
14. DIY Robe Using Two Scarves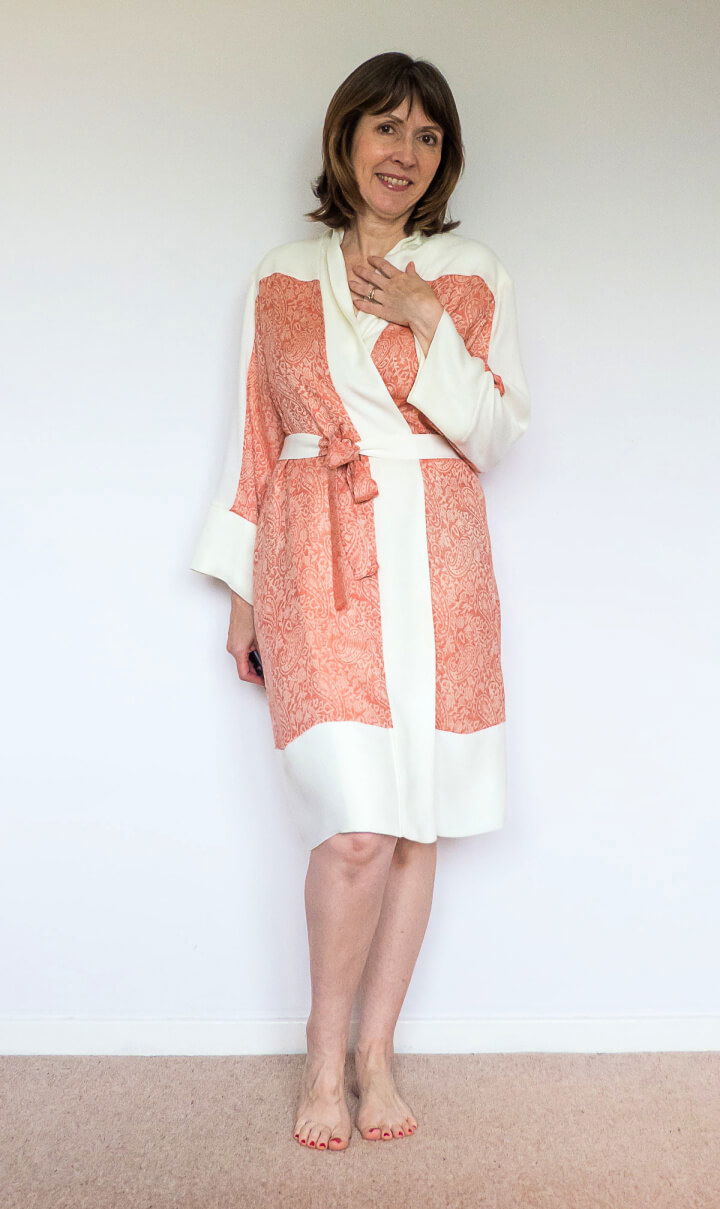 Having nothing to do with your old scarves? Then get them magically transformed into an adorable robe using your sewing machine! Get inspired by this stylish robe design made of two scarves! The best way to keep using your old scarves! Grab a pattern first to cut the pieces accordingly! Details here dreamcutsew
15. Make a Cotton Jersey Robe from a Bedsheet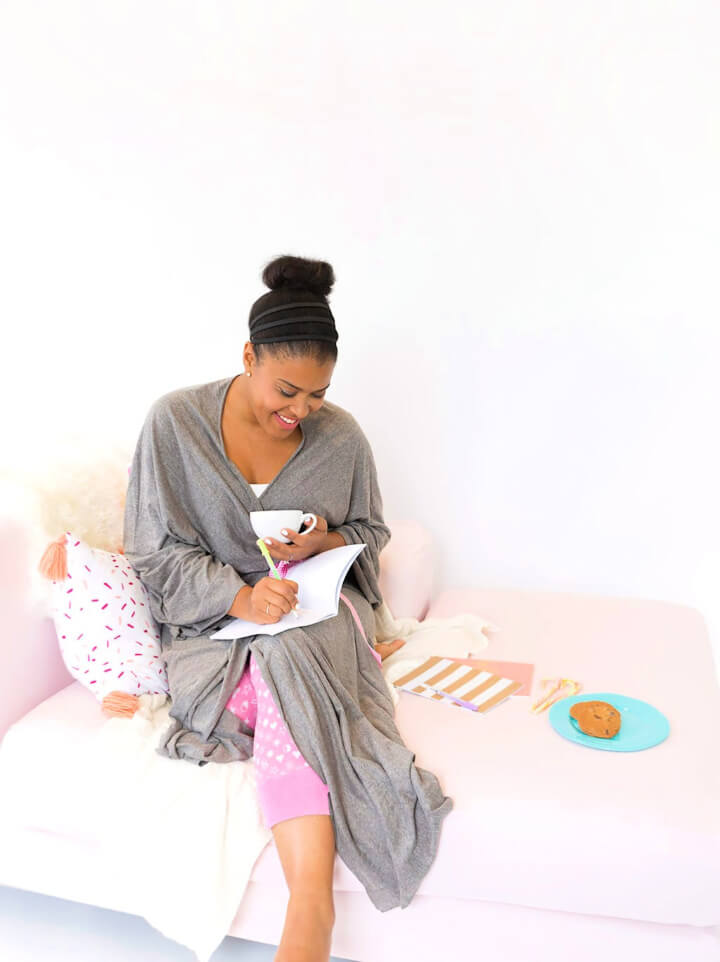 Go smartly sew with your old bedsheets too to get the most good looking and stylish robes for your closet! Update your wardrobe with this cotton jersey robe made of a bedsheet! The wide ribbon belt brings tons of focal stimulation to the entire robe design! The best nightdress and bathrobe to sew at home! damasklove
16. Sew a Lace Robe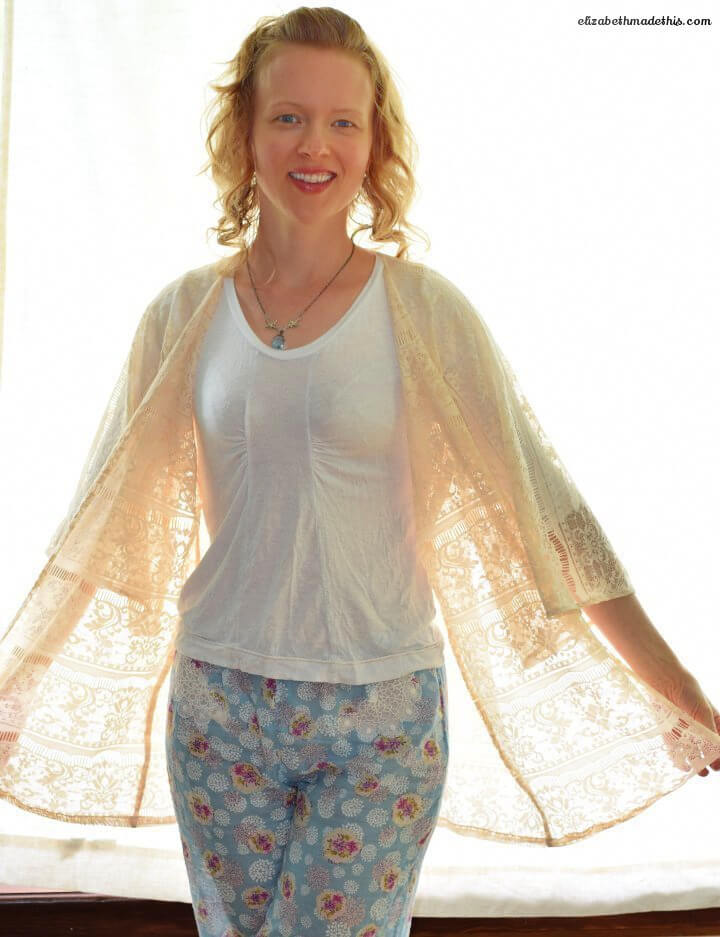 You fall for this lace robe, impress with its dewy romantic appeal! The best pool cover-up to sew with the lace fabric quickly! The best fashion gift for a style loving lady too! Wear it over the skirt or pajama; it will be great in both ways! The leather belt with accent buckle brings a great wow factor to design! thesewcialists