Maxi skirt patterns have become popular over the years, offering a versatile and stylish way to sew your own DIY maxi skirt. Learn how to sew your own long skirts with these 25 free maxi skirt patterns with step by step instructions and pdf pattern to DIY. From DIY long maxi pattern to modern long skirt sewing pattern – long skirt patterns can be crafted according to any desired design and length.
Moreover, while some may prefer to create maxi skirt patterns from scratch, others can opt for flowy maxi skirt pattern options that provide tailor-made solutions for quick and stylish results. There is no shortage of long skirt pattern choices when it comes to maxis – take the time to explore free maxi sewing pattern options below before sewing your own unique maxi skirt project!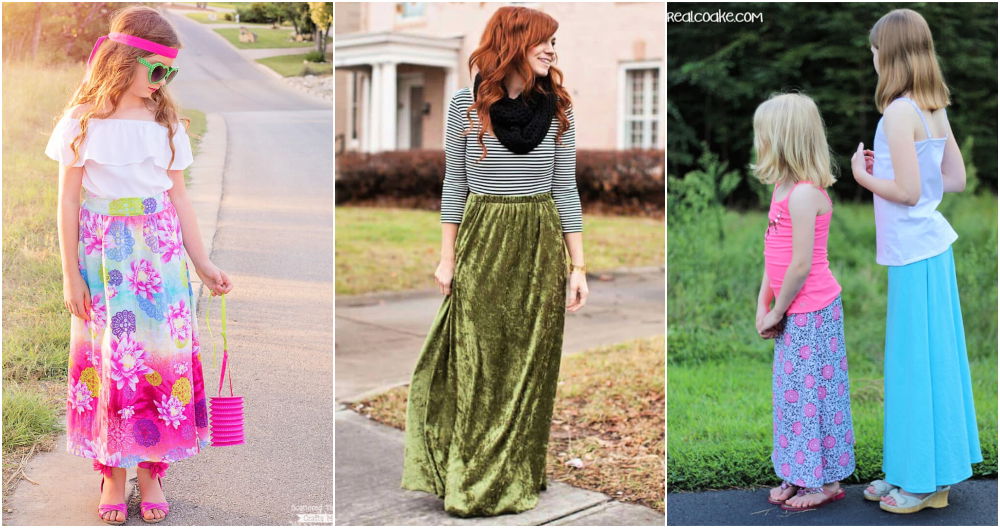 Are you highly obsessed with the maxi skirt fashion? Skip buying them expensive from boutiques and sew every stylish maxi skirt design with these 25 free maxi skirt pattern guides straight from the sewing experts. These maxi skirt tutorials will describe the maxi style that is highly popular for getting those precious bohemian looks.
25 Free Maxi Skirt Pattern – Long Skirts Patterns
Along with being super stylish and comfortable, they are super easy to sew, with the provided tutorials and step-by-step instructions. The roundup of free maxi skirt pattern offers many different styles and designs of this versatile dress-wear for casual, occasional, and party fashion. Whether you prefer the maxi dresses with fabric gathers or are a big fan of those plain silhouette maxi designs fitting nicely around, this collection is all to impress.
Take your fashion to the next level with these maxi skirt patterns that you can wear fashionably. They are the right choice for evening fashion and will rock for stunning beach looks. A big plus point is that they are damn easy to sew using a sewing machine or serger. Try out these Maxi Skirt Patterns with jersey knit, linen, and every fabric with your favorite print. Be on the list to see all a style variations in one or two minutes.
1. How to Sew a Maxi Skirt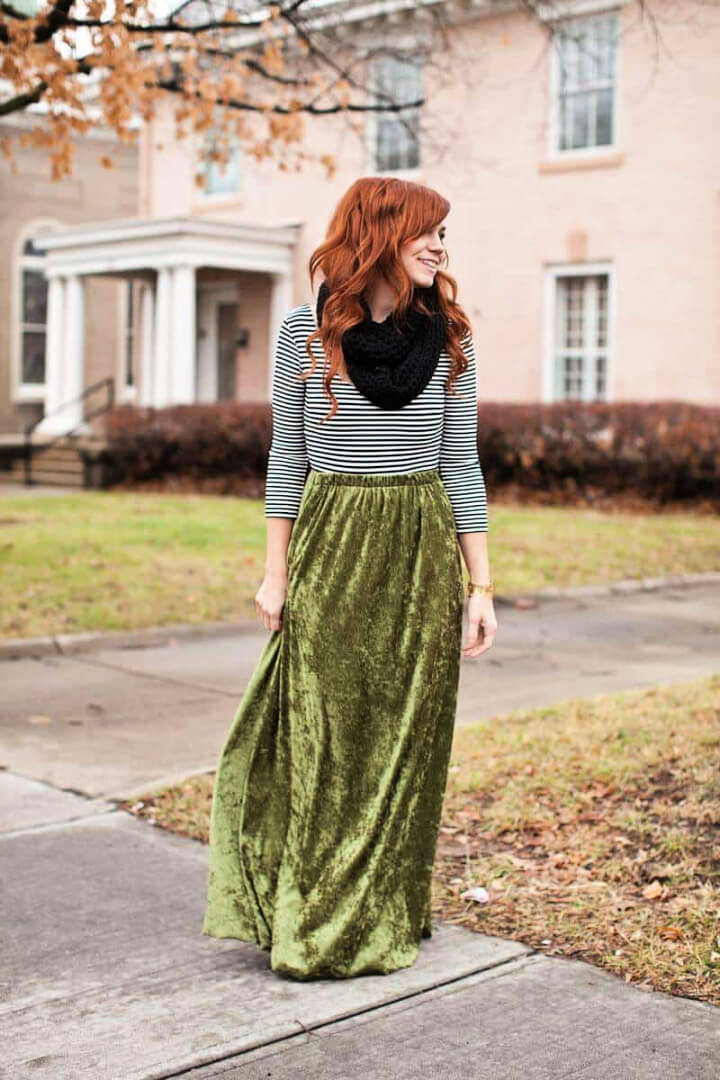 Looking for brilliant skirts to add to your collection, then adding this maxi skirt is recommended. Sew this maxi skirt using 2 yards of fabric and get your work easy by using graph paper and pattern paper. Along with an elastic waist, this maxi skirt is having a 44″ inch wide bottom. abeautifulmess
2. Free Maxi Skirt Pattern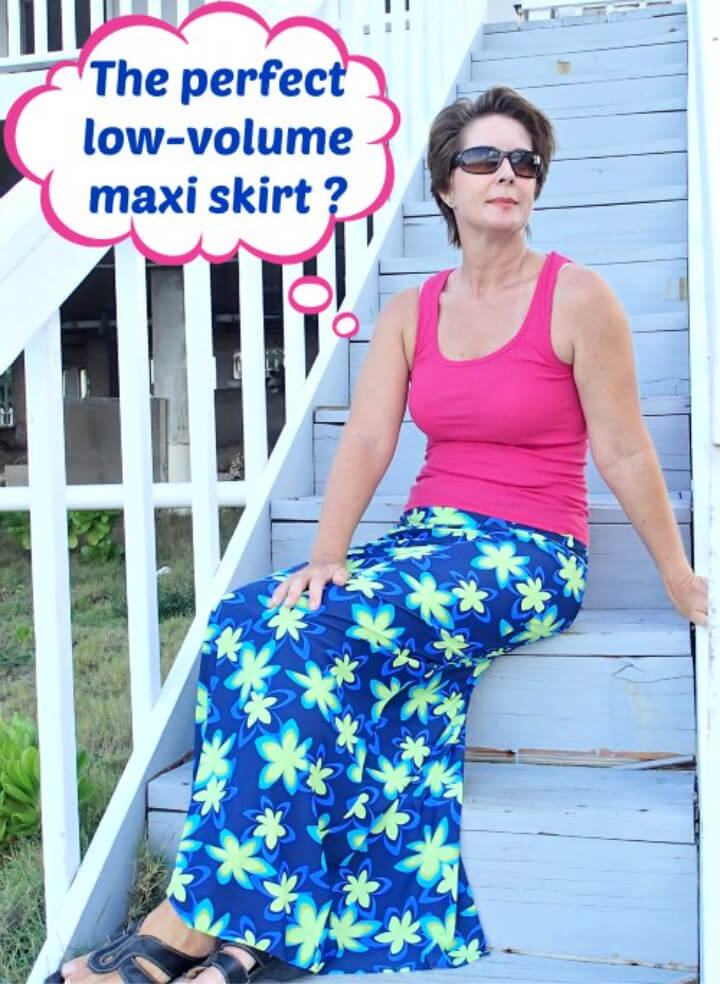 Opt for this maxi skirt if you don't want lots of fabric volume around. It comes with a medium fit and nicely skim over the hips. Sew this maxi skirt super quickly with the easy provided pattern. The size of stride will depend on your height. Keep the bottom adjustable to vary the maxi skirt height. so sew easy
3. Easy Maxi Skirt Sewing Pattern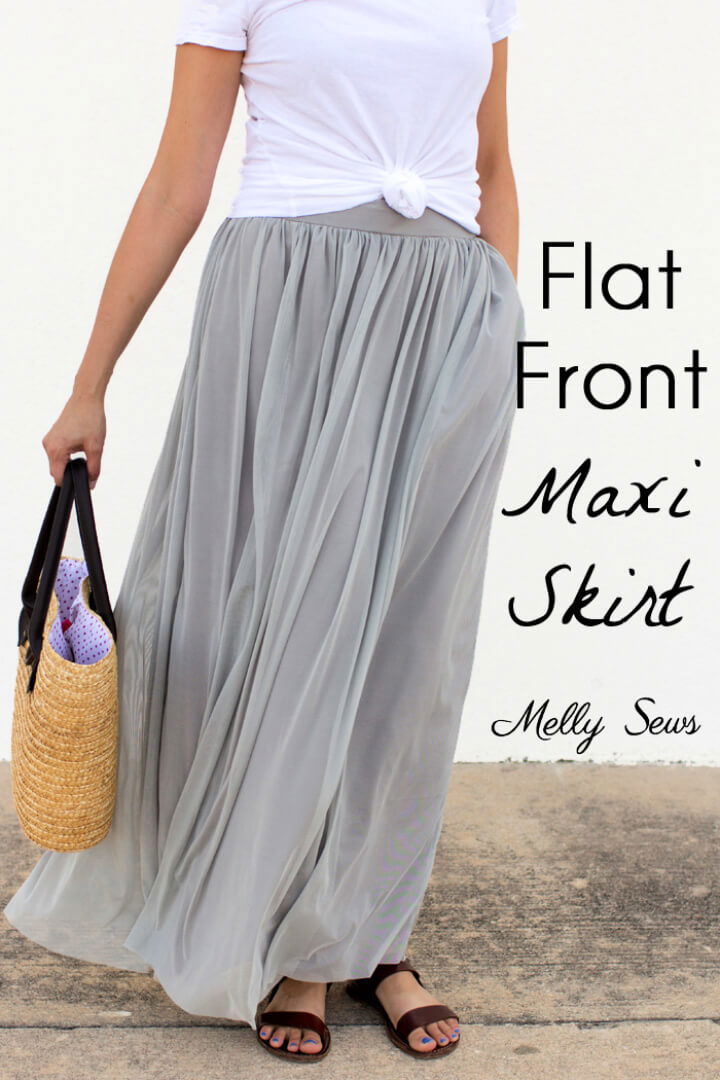 If you are new to sew a maxi, then get the professional instructions here. This maxi skirt features a neutral hue and looks great with a flat front. The elastic waist will give a tight fit, and it will rock with both sandals and flat. Prefer your measurements according to height and body features. Full pattern here mellysews
4. Make Your Own DIY Long Skirt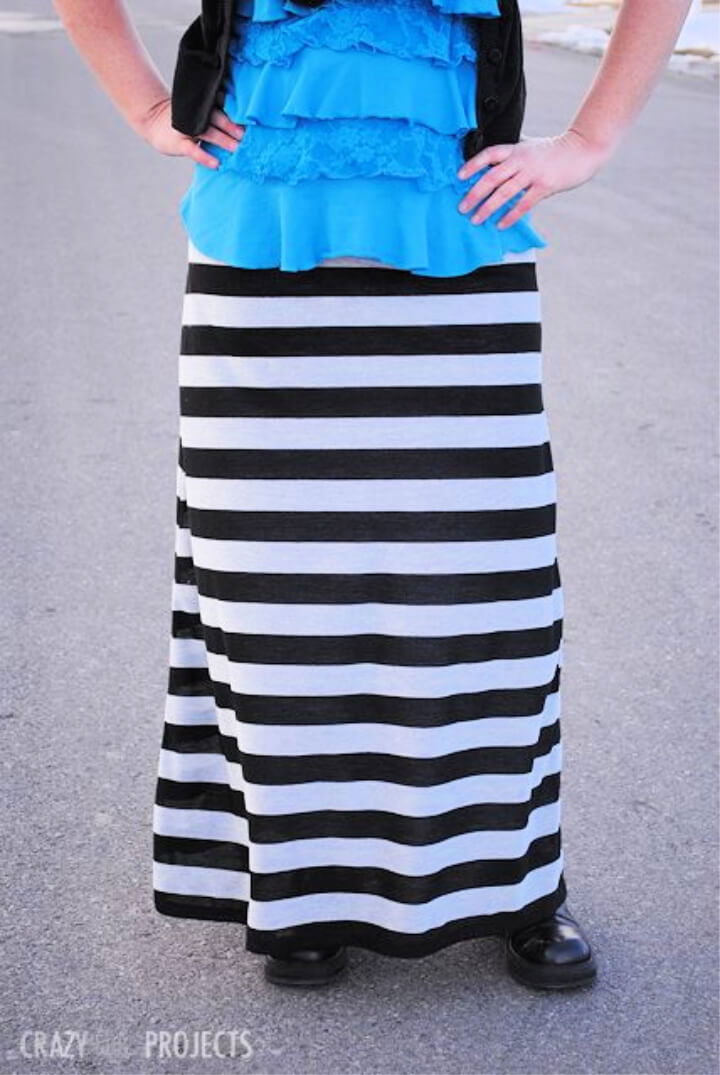 Create an adorable funky personality of you by wearing this fun maxi skirt, something quick and easy to sew. It will impress with the black and white striped appeal. Grab 2 yards of knit fabric with almost 60″ width to sew this fun maxi skirt. 1 1/2 yards will be enough for the slimmer bodies. Sewing pattern here crazylittlepro
5. Half Circle Skirt Sewing Pattern In Any Size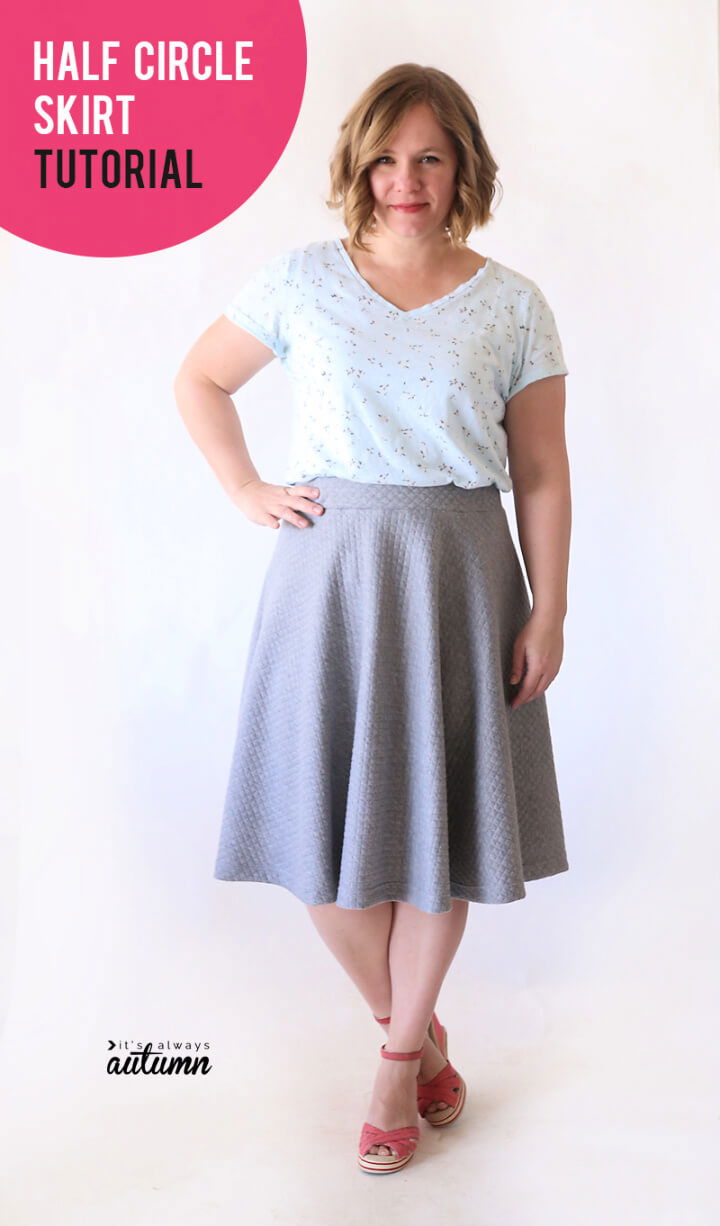 Gain a lovely cute look by wearing this half circle skirt. 2 yards of knit fabric are required for sewing this circle skirt that will rock for the winters too. You will also get here instructions about how to calculate the hem and waist radius with your measured waist. A classy design of a maxi skirt to sew at home. itsalwaysautu
6. Free Women's Maxi Skirt Pattern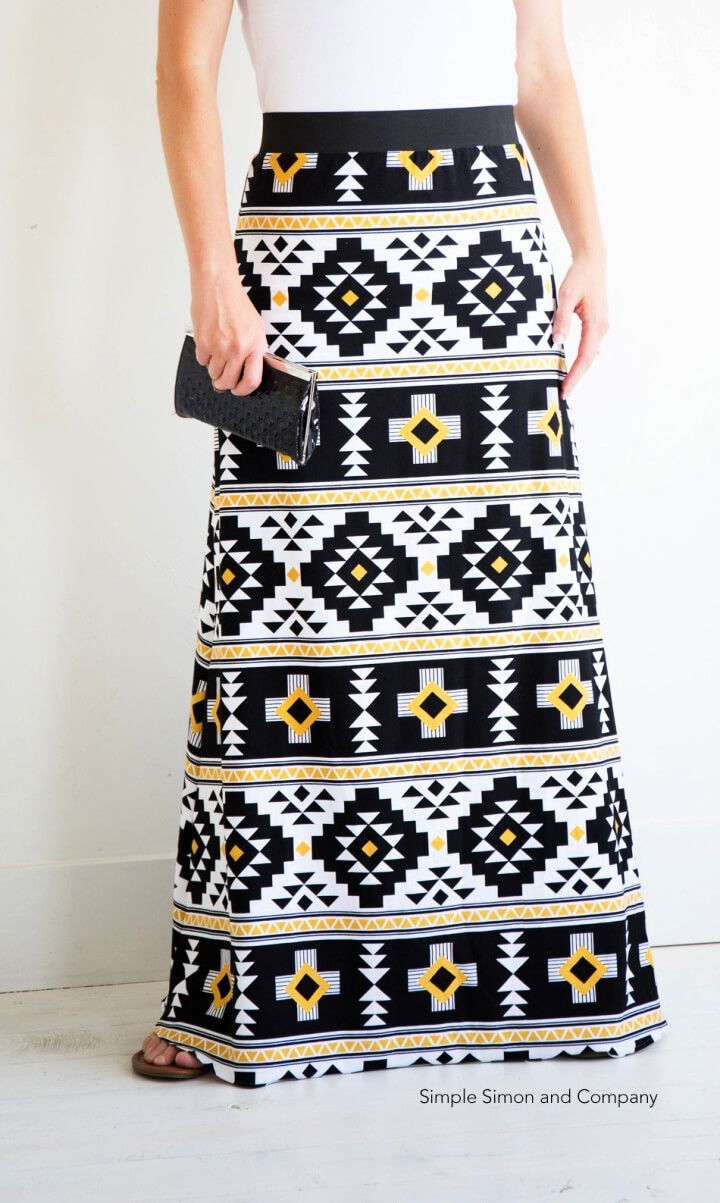 Are you obsessed with the traditional design patterns, then why not incorporate them into your fashion? Do so by wearing this maxi skirt, made of fabric having a fantastic tribal print. Wearing this maxi skirt will make you catch lots of eyeballs, super easy to sew design of maxi. Further details here simplesimonan
7. DIY Maxi Skirt for Your Closet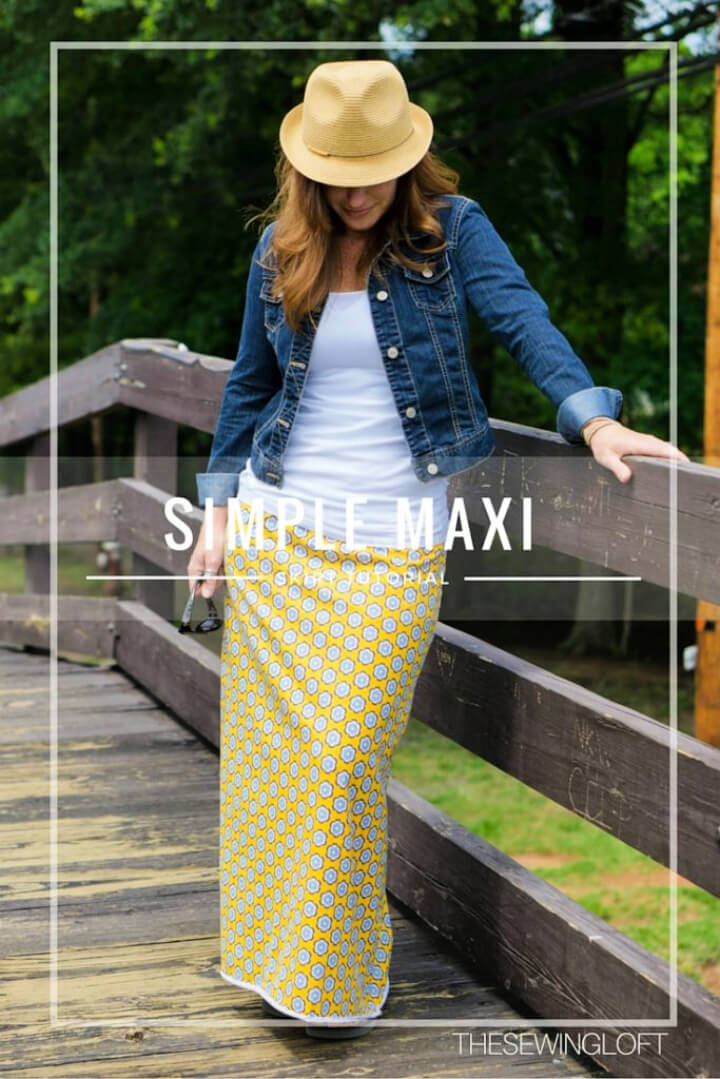 Update your closet with this maxi skirt, will be a fantastic addition to your maxi collection. This maxi design pattern will only consume 2 yards of knit fabric that should be 60″ wide. The elastic waist will allow easy handling and go with the custom width and length of bottom depending on body size and height. thesewingloft
8. How to Sew Hi-Low Maxi Skirt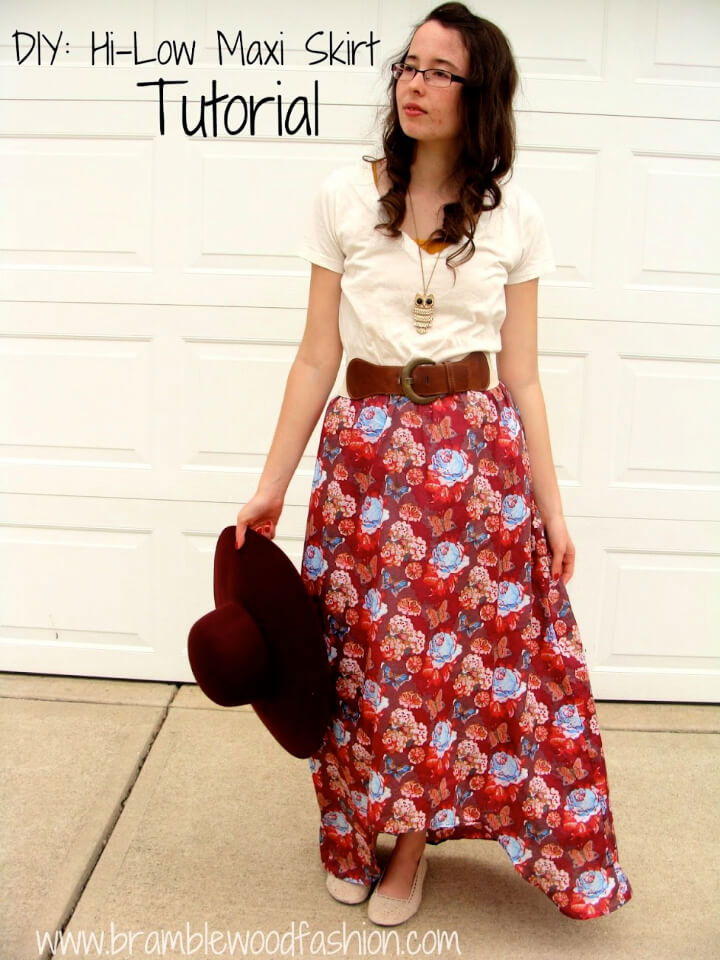 This compilation of the maxi skirt sewing pattern will surely make you a maxi sewing expert. You need three to 3 yards of fabric with a floral print to sew this hi-low maxi. Vary the amount of fabric that will gather around the waist and hips. Get the direction for hemming, seaming and folding from here bramblewoodfas
9. Sewing Elastic Waist Skirt – Free Pattern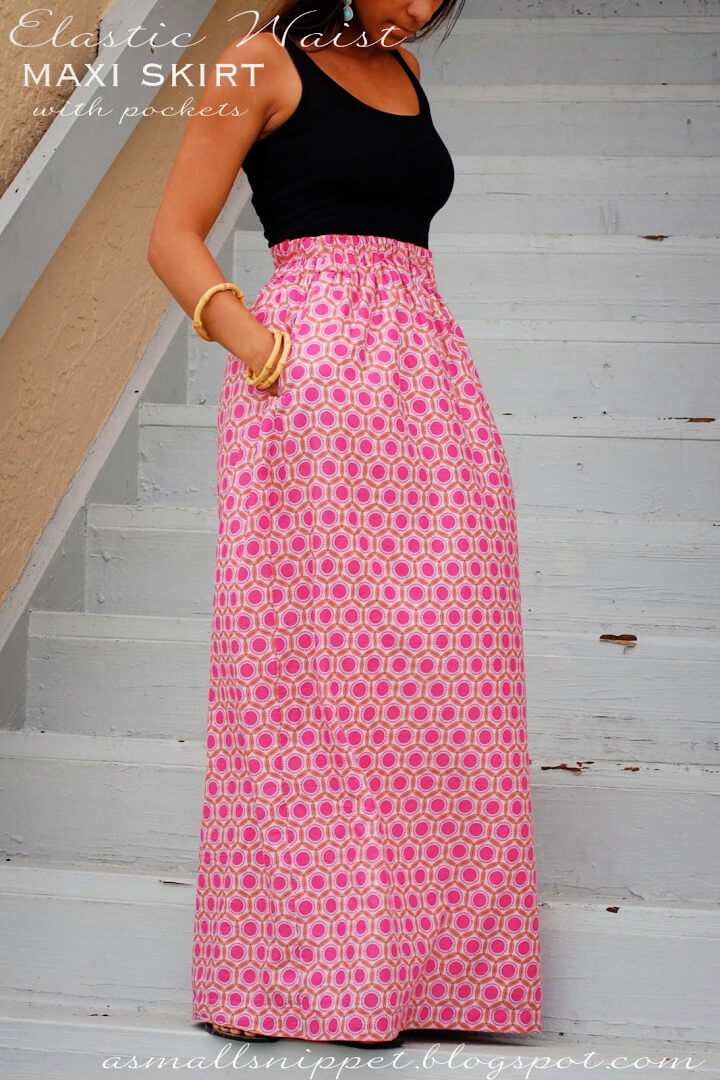 Are you a style lover? If yes, then you are going to fall for this elastic waist that is quite easy to sew. You can sew both a long and a shorter version of this waist skirt, and this skirt design also comes with two pockets. Use the 2 "wide elastic for the waist and rock your summer fashion with a shorter version. asmallsnippet
10. Easy Everyday Maxi Skirt Sewing Pattern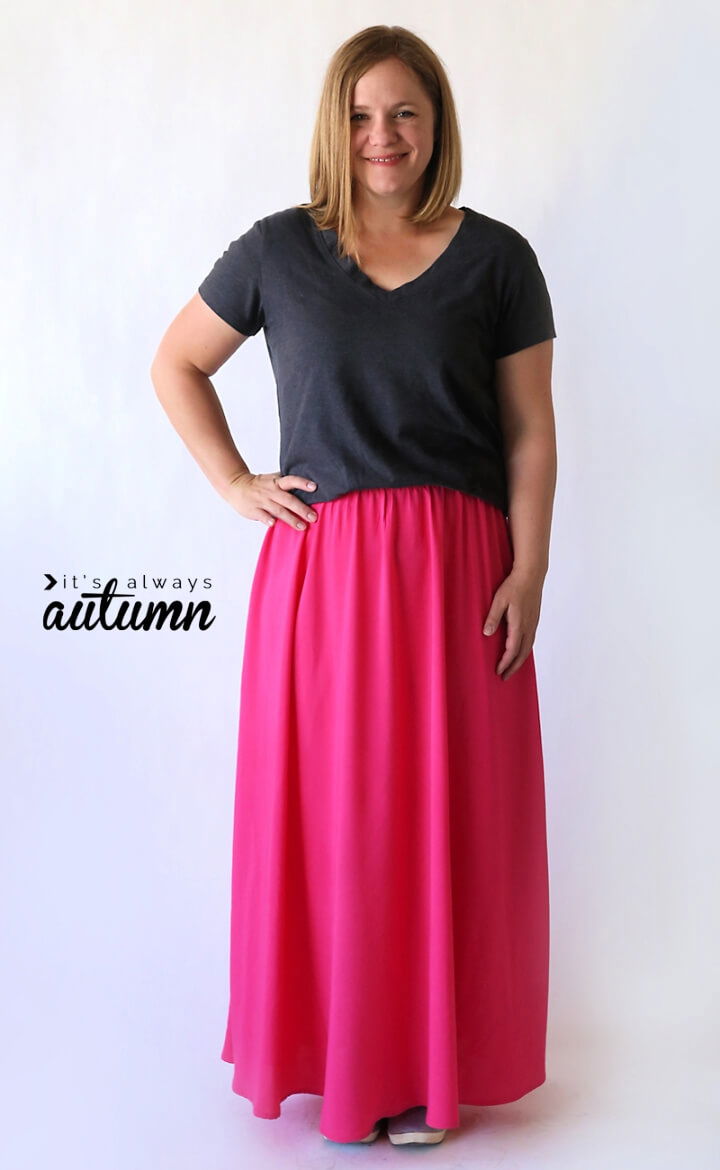 Do you feel comfortable in the maxi skirts and wear them in routines? Then do sew your favorite maxi skirt designs yourself with the step-by-step instructions provided here. This maxi skirt is a little opposite to plain maxi skirt and comes with lots of creases around the elastic waist. Along with lovely fullness at bottom, it has a curved waistline too. itsalwaysautumn
11. DIY Maxi Skirt With Yoga Waist Band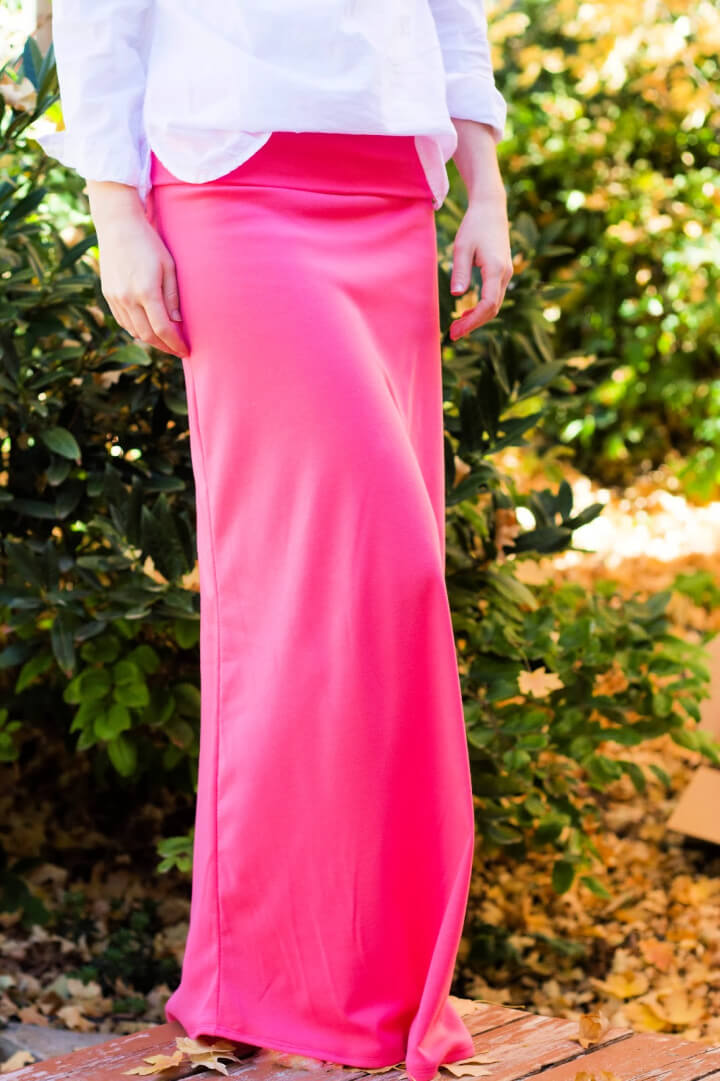 Sew this maxi skirt with the jersey knit fabric, and it will be nicely around your waist. It will softly skim over the hips and hence with make you feel comfortable with little tight fittings. The jersey fabric will be a little stretch and hence will cover your lower body for a comfortable, warm fit. Measurements and sewing pattern here doityourselfdivas
12. Making Gauze Maxi Skirt for Next Party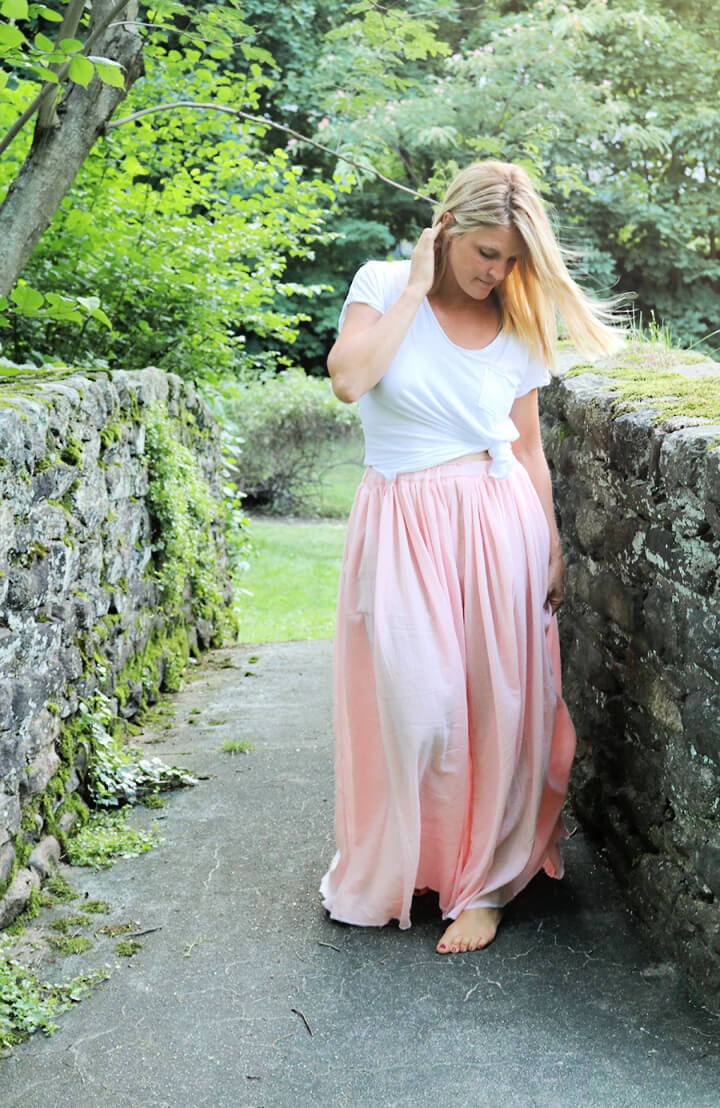 The maxi skirts are popular around the globe as a stylish party dress too. Sew this gauze maxi dress for numerous head turns back at the party. A much easy to sew maxi skirt design that looks great with the creases look, most of the gathers come around the waist. Sew with 4 yards of gauze fabric. mesewcrazy
13. Maxi Skirt Pattern for Girls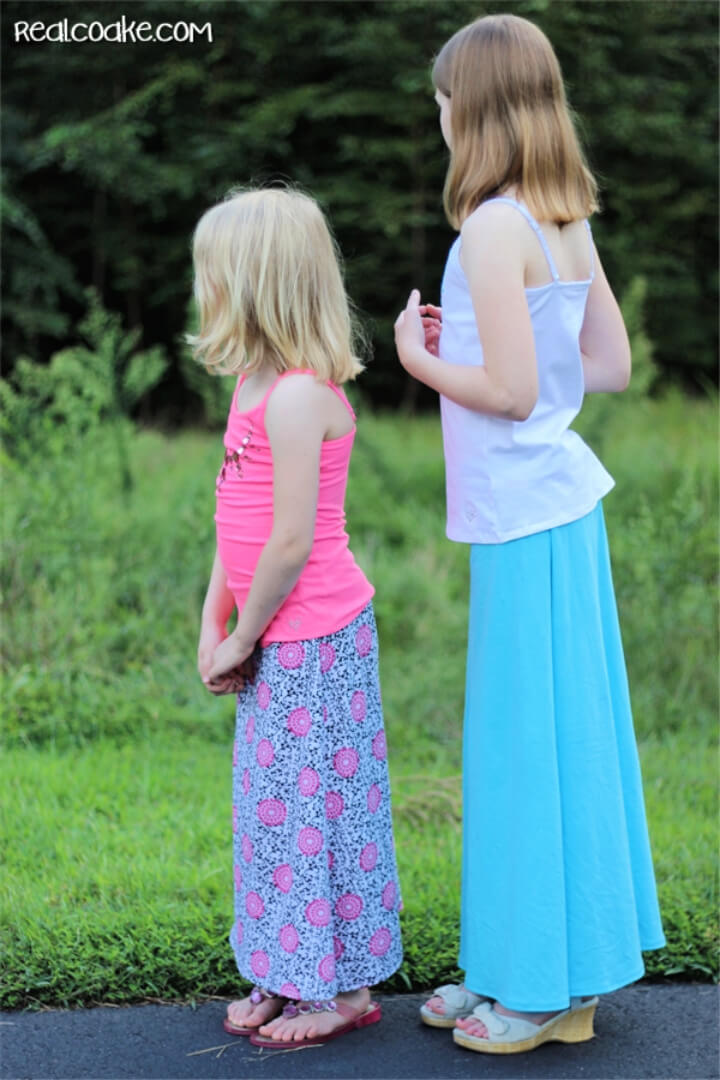 Get more love of your little girls by giving these maxi skirts as a sweet handmade gift to them. These are having sizes 7 and 12 and will consume 1 1/2 and 2 yards of fabric, respectively. Sewing these maxi skirts is easier than sewing the doll's clothes, and you will be having great sewing fun too. Details here realcoake
14. Quick and Easy Maxi Skirt Pattern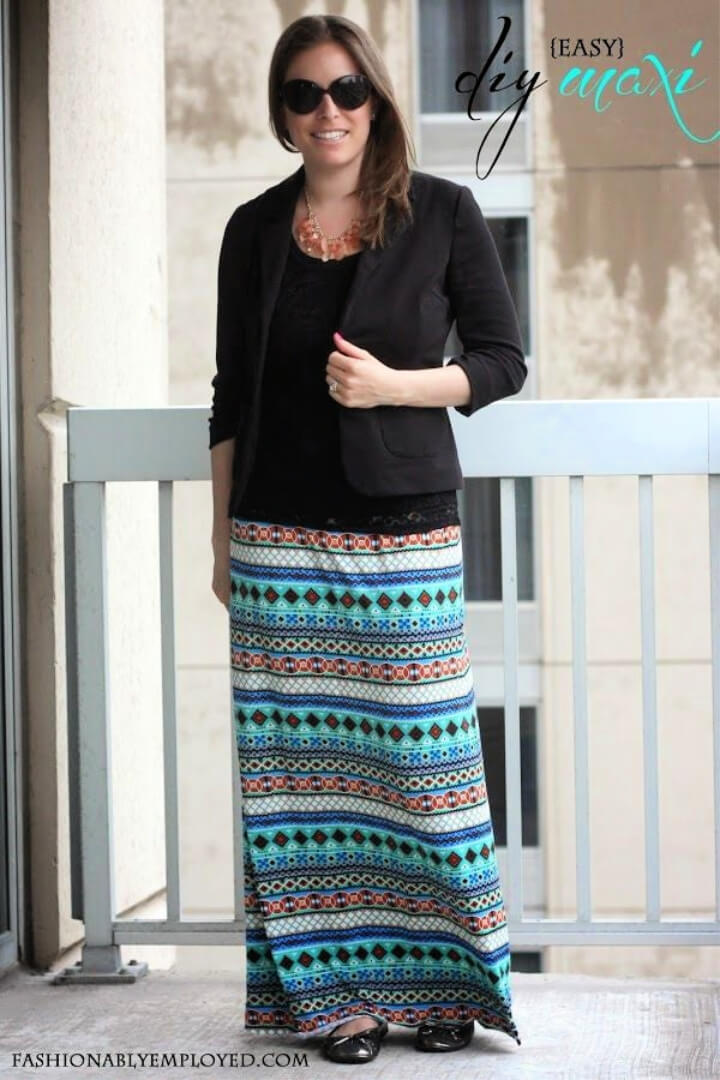 Sewing a casual or party maxi skirt is not a big hassle if you have a little sewing experience. Sew this maxi skirt with jersey knit fabric with 1/2 inch seam allowance. You have taken the measurements precise like around your waist and hips and also from waist to hips and from waist to ankles. instructables
15. Inexpensive DIY Maxi Skirt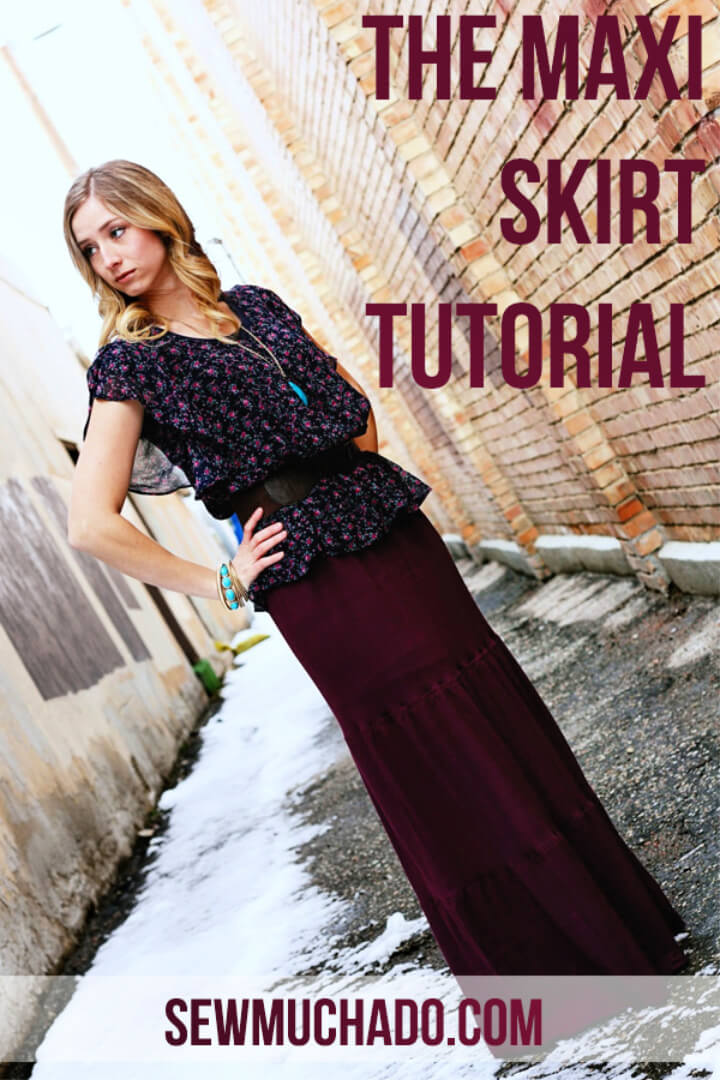 Buying a maxi skirt, the stylish dress-wear, cost you big. You can get them for your wardrobe cheap by sewing at home. Sew this super inexpensive design of maxi skirt at home like a pro with the provided instructions. Grab the 1.5 yards of knit fabric and 2″ wide elastic to sew this maxi skirt. Instructions here sewmuchado
16. Sewing Bohemian Maxi Skirt for Size 3 To 12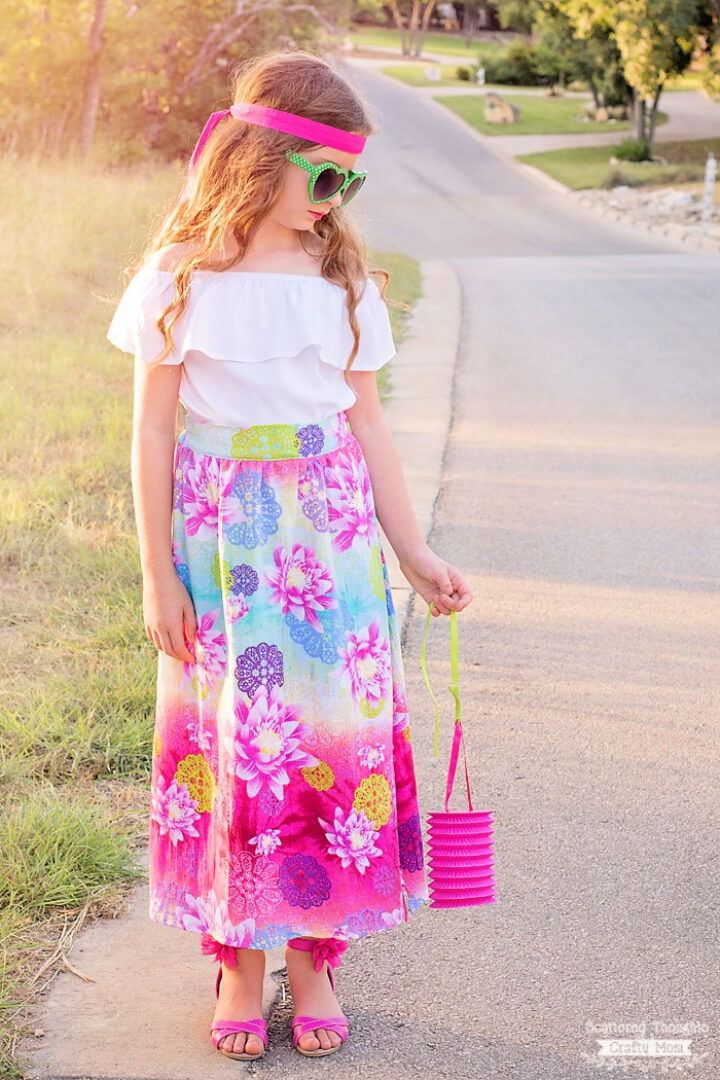 It only takes the 2 yards of fabric and a few inches wide elastic to sew a maxi skirt. They are best for bohemian fashion, get here instructions to sew them in any size from 3 to 12. Fabric may of your own choice having a custom print and design pattern. Detailed guides here scatteredthough
17. Toddler Maxi Skirt Sewing Pattern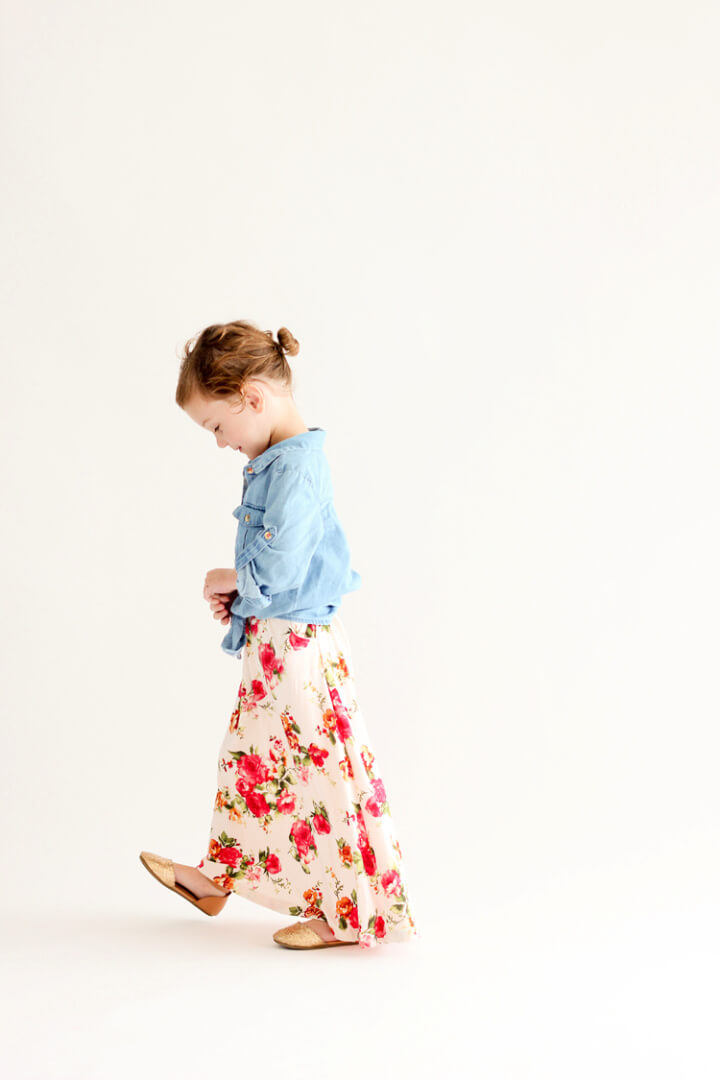 Create those stunning adorable looks of little girls by making them wear a maxi skirt. Get here the pattern for sewing a maxi skirt for a toddler size. The red flower print, fabric gathers and a long size ending just above the ankles, look highly cute. The best kids gift to make with your sewing machine. deliacreates
18. Quick Knit A-line Maxi Skirt Tutorial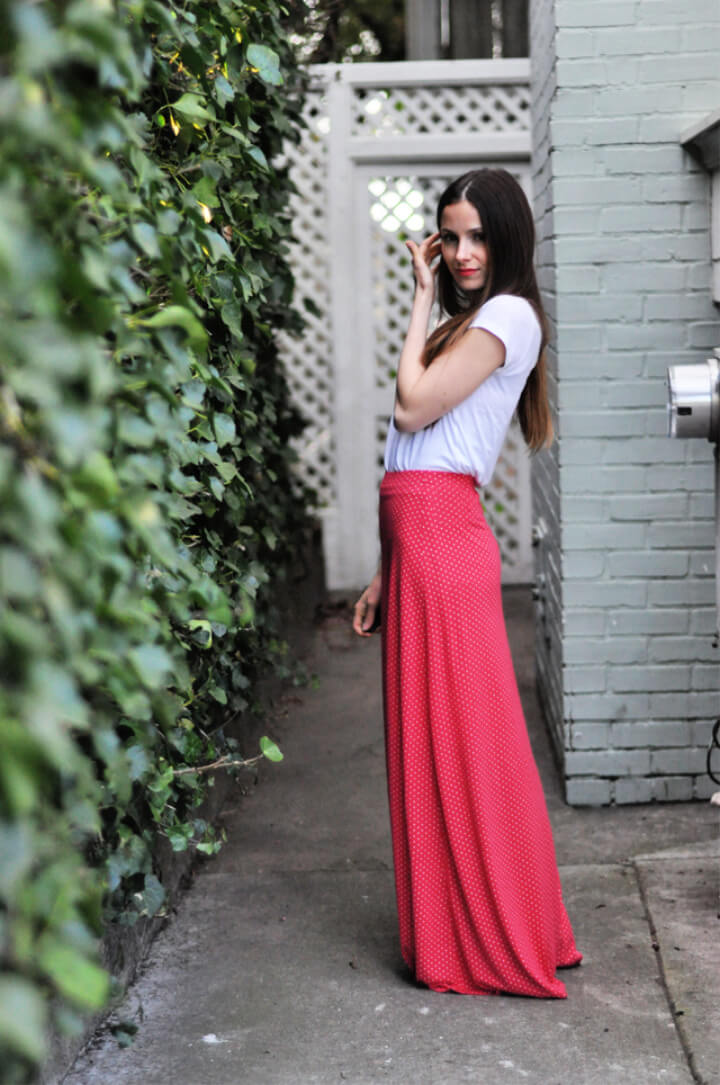 Start sewing this skirt by cutting a 60 "x60″ rectangle, next fold it to go ahead. 2 yards will be enough with 60" inch width to sew this maxi skirt that nicely skims over the hips. The pink jersey knit fabric with white polka dots works great for this maxi skirt. Best maxi skirt for style loving teens. cottonandcurls
19. High Waisted Maxi Skirt Pattern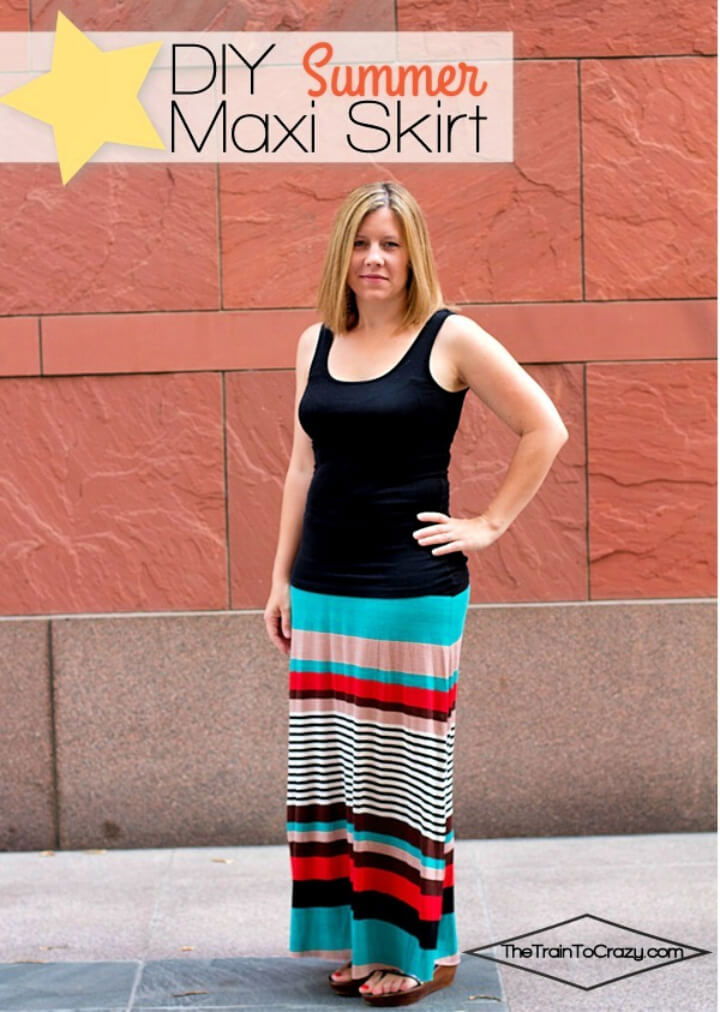 Strengthen your style with this high waisted maxi skirt pattern that you can sew like a pro with the stretchy jersey knit fabric. 1″ elastic will work great for a stretchy tight waist. It will be a big wardrobe must-have for style lovers and an easy sewing project. Further guides here todayscreativel
20. Sew Your Own Maxi Skirt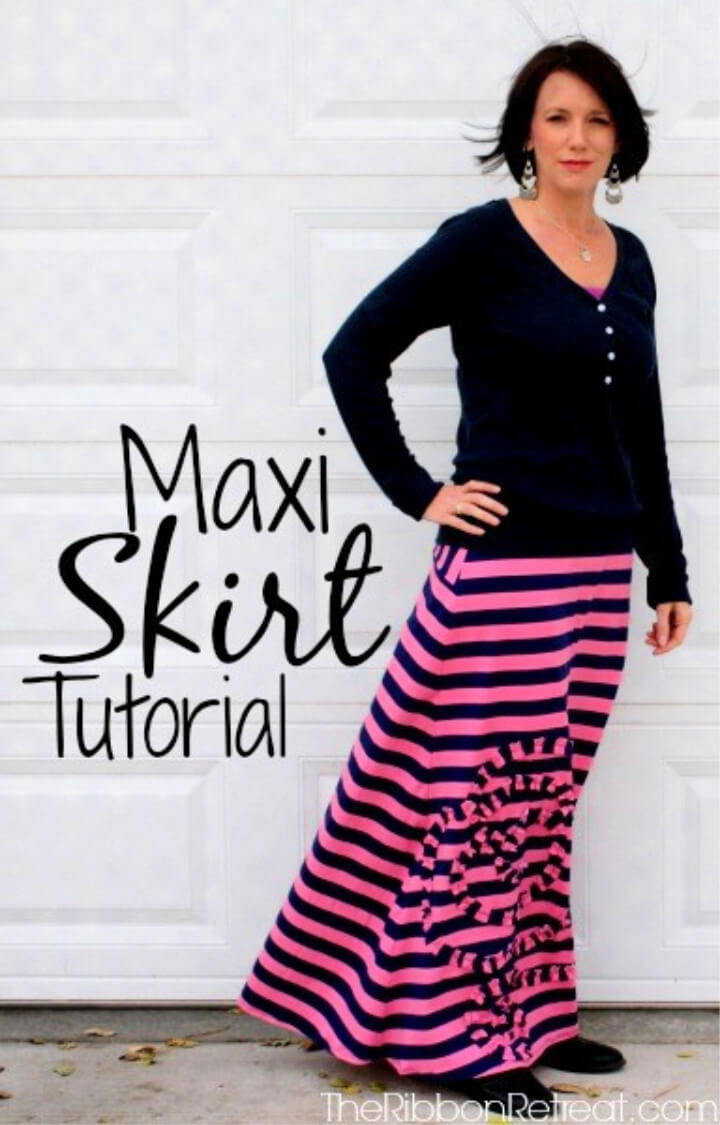 The maxi skirts are highly recommended type of dress-wear when you need to bring bohemian fashion vibes to your personality. Boost the feminine boho factor of your personality with this pink and black striped maxi skirt, has little loose fittings. The ruffled flower details make this maxi skirt a bit more beautiful. theribbonretreat
21. Tiered Maxi Skirt for Summer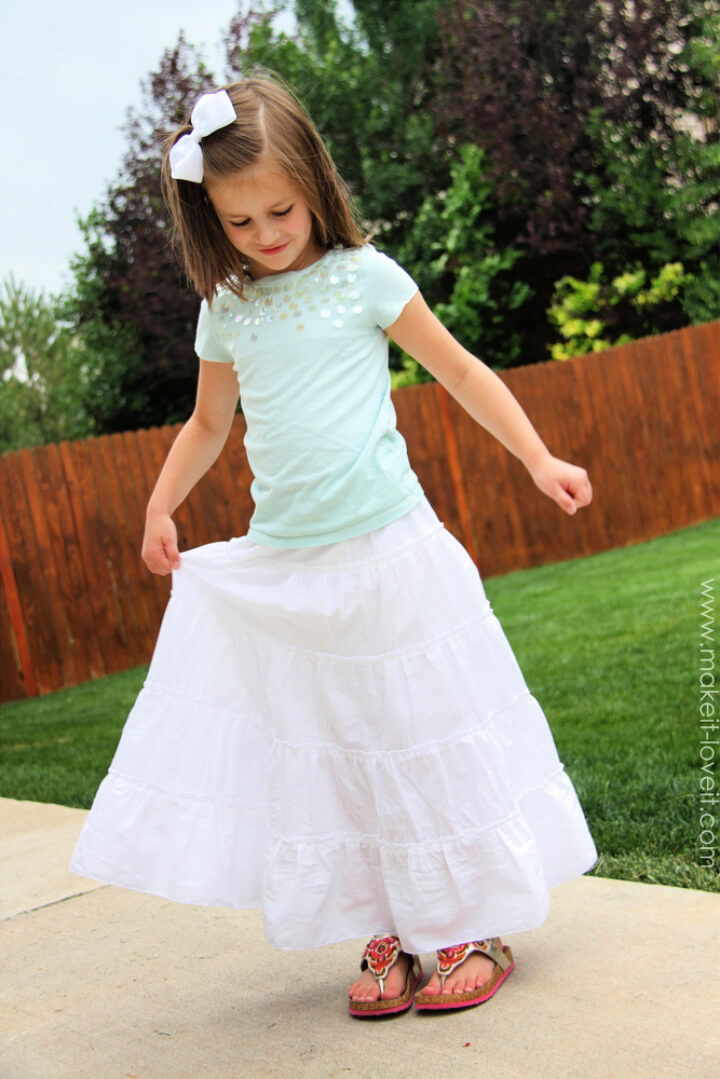 Style up your little girls this summer with this tiered maxi skirt will cost you big in the market rates. The chic white appeal will bring angelic vibes to a little girl. Each tier level is almost 6.5 inches wide, but the lengths gradually increase while going in a downward direction. There are total 6 tiers. But you go with any number. makeit loveit
22. Maxi Dress to Maxi Skirt in 5 Minutes Flat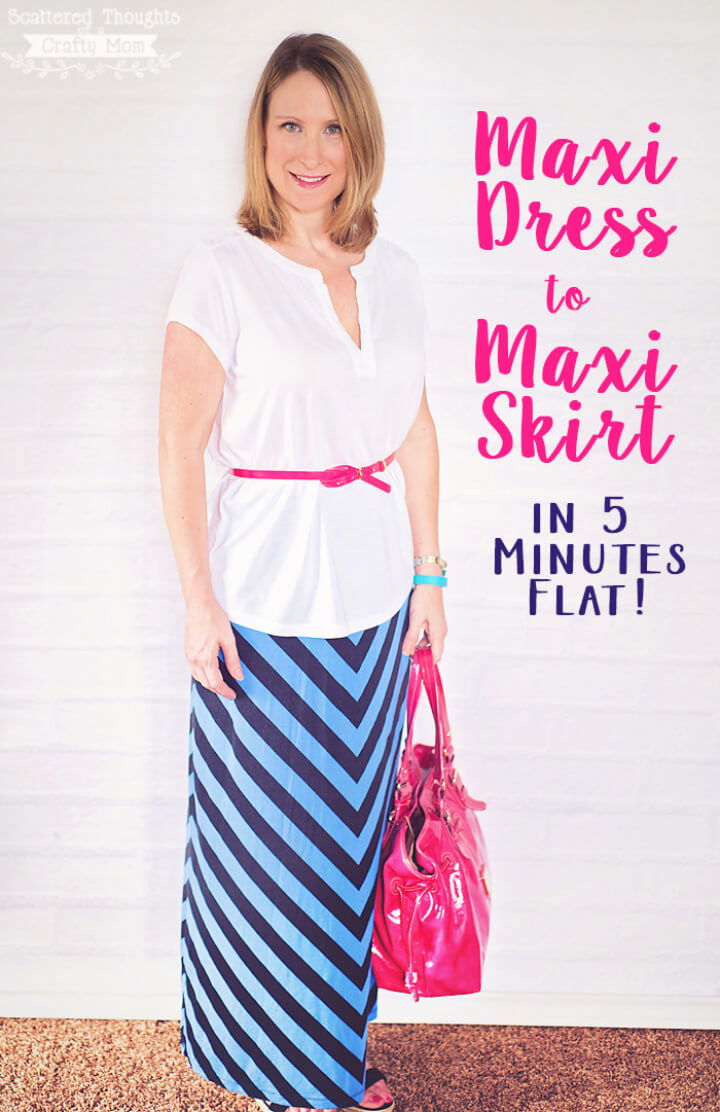 Sewing a maxi can be the easiest and quickest sewing pattern. Spend only 5 minutes with your sewing machine to sew this maxi skirt from a maxi dress. A sweet and more stylish remake of a maxi dress. The idea is just to cut off the upper body of the maxi dress, next finish with elastic waistline. scatteredthoug
23. Smocked Maxi Skirt Sewing Pattern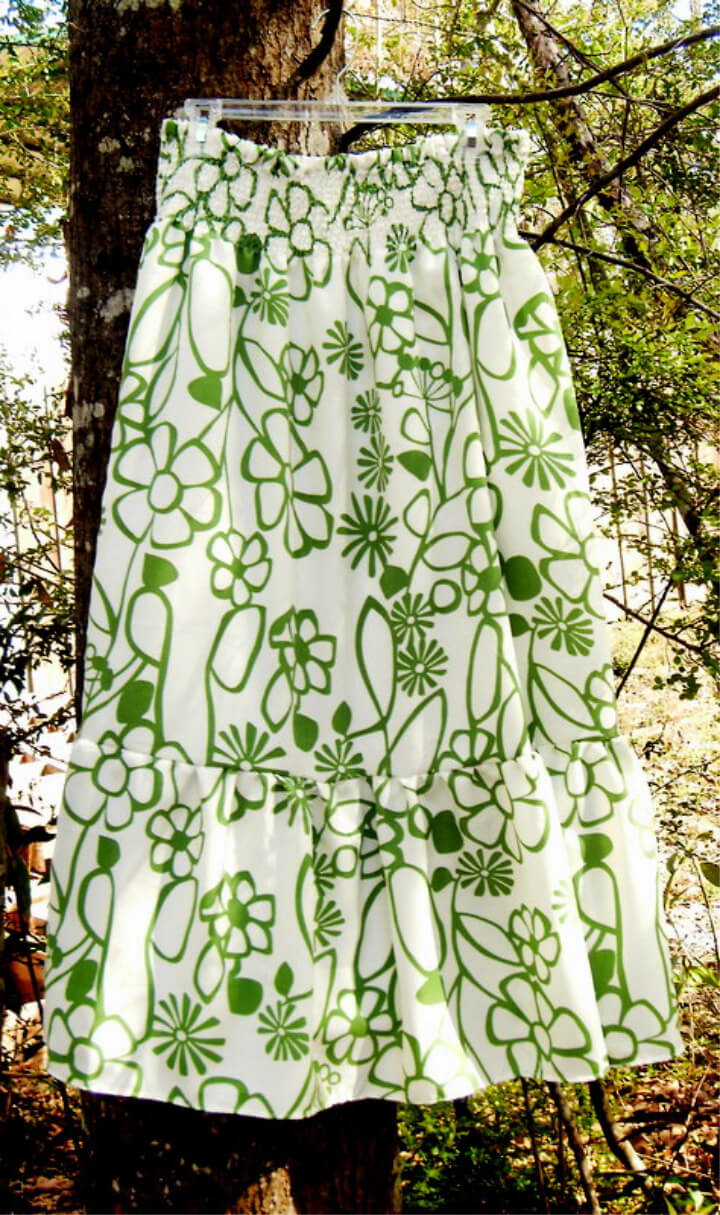 A unique addition to maxi skirt design ideas, the smocked maxi skirt sewing pattern that has lovely gathers at the bottom side and also around the waist. The smocked design will be a big crush of every style lover. You can sew it too to update your fashion wardrobe with. Details here morningbymorni
24. Easy Maxi Skirt Method In 5 Min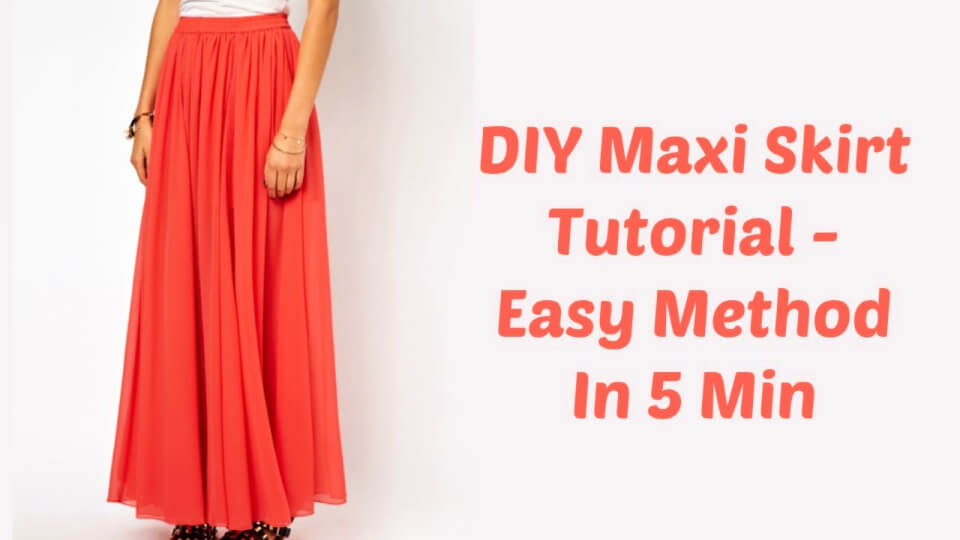 Sew also this maxi skirt that gathers dense near the waistline. The gathers create an impressive design layout of this maxi skirt that will rock for every type of body. It will take only up to 5 minutes to sew this maxi skirt like a pro. Satisfy your love for a maxi skirt in a budget-friendly way.
25. Adorable Maxi Skirt Pattern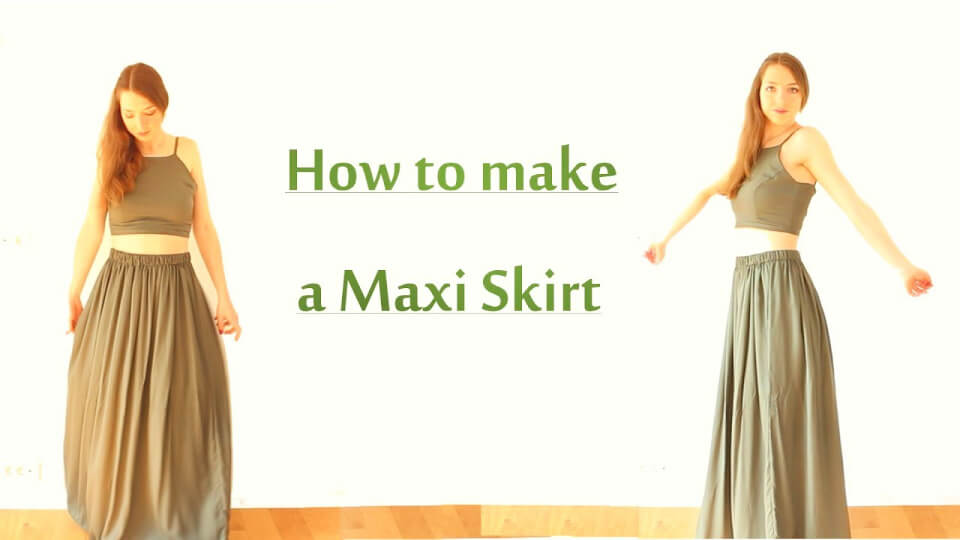 Get here the full video tutorial about how to make a maxi skirt, your long-time fashion crush. The design comes with gathers adding too much cuteness to design. Wear this maxi several head turn backs at the party. Vary the bottom width and length according to body measurements.
Related DIY Projects and Ideas
Skirt Sewing Tutorials: Sewing skirts is a great way to stay in shape, get in touch with your creative side, and save money. With these easy DIY skirt sewing tutorials, you'll never run out of skirts to make!
Half Circle Skirt Patterns: These free half circle skirt patterns are quick, fun to make, and perfect for all skill levels. They're just the thing for a last-minute sewing project or to wear as the seasons change.
Wrap Skirt Patterns: If you want to learn how to sew and make a skirt, these free wrap skirt patterns are perfect for you! Patterns include wrap, gathered, pleated, A-line and more.
Maternity Sewing Patterns: Download these free maternity sewing patterns and create your own maternity shirts, pants, skirts, and more. All sizes included, from pre-pregnancy to postpartum!
Beach Cover Up Ideas: Get ready for summer with these stylish and easy DIY beach cover up ideas. Whether you're on vacation, or just lounging by the pool, these outfits are perfect for hiding your swimsuit top.
Wide Leg Palazzo Pants Patterns: Looking for a way to spice up your wardrobe? Here are free wide leg palazzo pants sewing patterns that are perfect for beginners.
Robe Sewing Patterns: These free robe sewing patterns will help you sew your own bathrobe, dressing gown, or other robe. For each pattern, there is a list of materials and step-by-step instructions.
Conclusion:
If you need a new maxi skirt pattern, our selection of 25 free maxi skirt patterns would be the best fit. Whether you're looking for a simple straight skirt or something with more flare, we've got you covered. We love hearing from our readers and are always happy to add new free sewing patterns to our collection. Happy sewing!