Picking out your wedding veil can be a lot of fun but can also be expensive. If you're looking for cheap DIY wedding veil ideas, learn how to make a wedding veil with these 8 cheap diy wedding veil ideas with step by step instructions and free wedding veil patterns, so you can save money and have a unique look on your big day.
The wedding veil is a timeless tradition that has been part of weddings for centuries. While the style of the veil has changed over time, the meaning remains the same: it is a symbol of purity and innocence. If you are looking for a unique way to personalize your wedding day look, consider creating your own DIY veil. With a little creativity and some basic sewing skills, you can design a veil that is truly one-of-a-kind.
There are a few things to keep in mind when creating a DIY veil. First, choose a fabric that will complement your wedding dress. Silk, satin, and tulle are all popular choices. Next, determine the length of your veil. If you are unsure, err on the side of longer rather than shorter. Third, decide if you want your veil to be attached to a comb or headpiece. And finally, gather your supplies! Once you have all of the materials you need, you are ready to get started.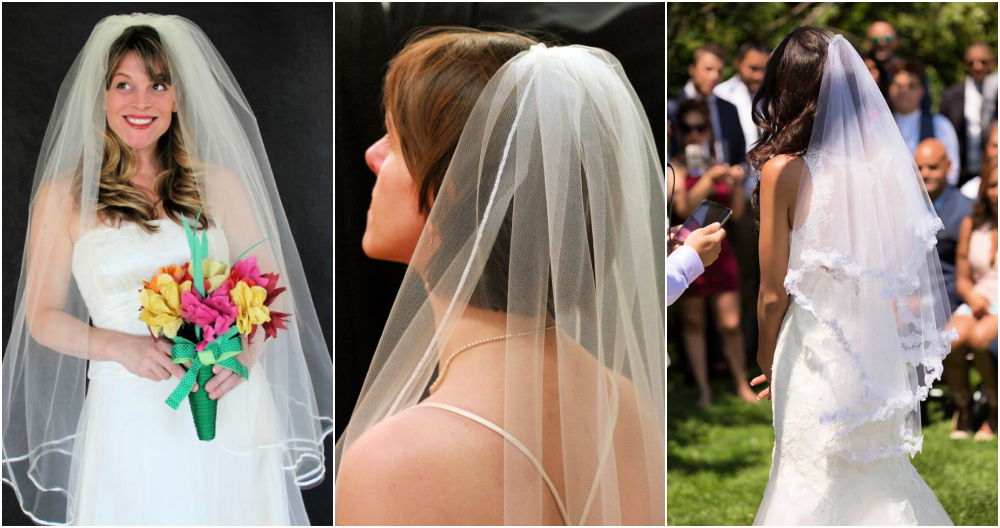 There are many different ways to make a DIY wedding veil. One popular method is to sew multiple layers of tulle together to create a voluminous look. Another option is to attach delicate lace trim to the edge of the veil for a romantic touch. Or, for a more simple design, cut a single layer of fabric into a long rectangular shape and attach it to a comb or headpiece.
No matter what style you choose, DIY veils are an fabulous way to add personality and flair to your wedding day look. With a little effort and imagination, you can create a one-of-a-kind veil that perfectly suits your taste and budget.
1. How to Make a Classic Wedding Veil
Make this classic wedding Veil using 1 to 3 yards of lightweight tulle, hair comb, white thread, and 3 yards of satin ribbon. A lovely handmade gift to give to every bride in the friend's circle. Buying wedding stuff, especially the veil, can be expensive. But, this DIY solution will make you get it easily and quickly. diynetwork
2. DIY Bridal Veil With a Comb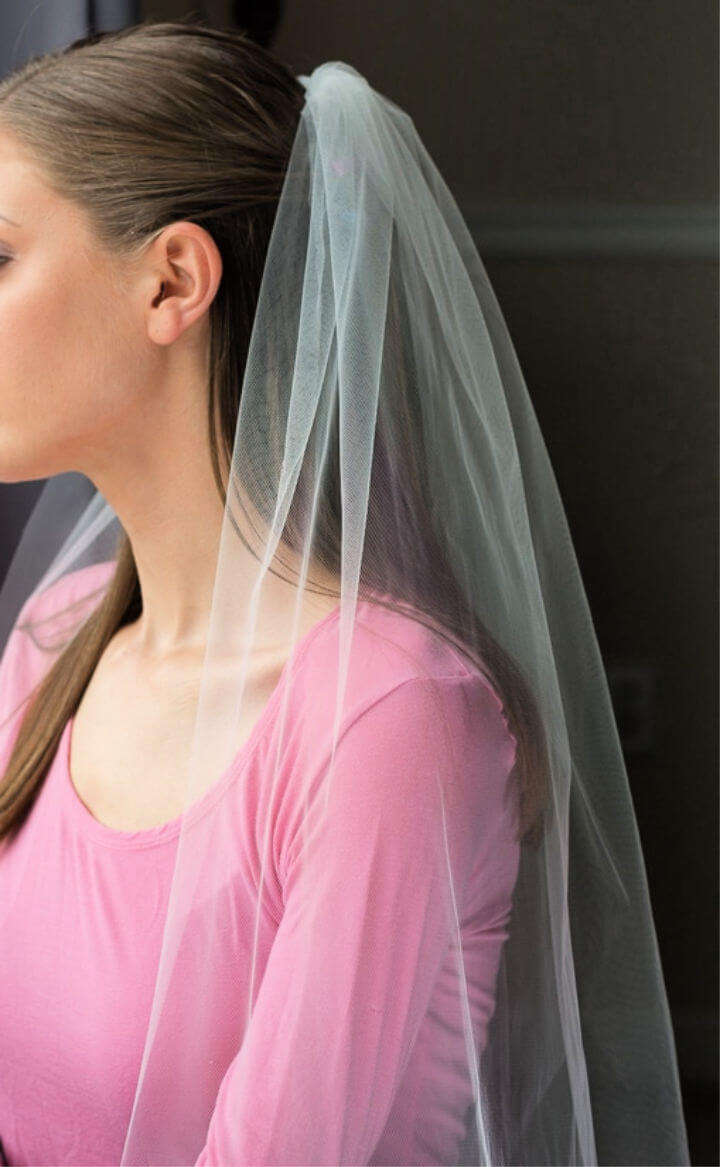 Sewing this veil is going to be the easiest sewing project, and you will love owning it for a bride. Here you need the netting fabric like tulle, sewing machine, and a comb to make this bridal veil with a comb, looking just precious. How-to details here bybrittanygold
3. How to Make a Wedding Veil
Learn how to make a veil to help yourself to get a wedding veil on a minimal cost price of $5 using this DIY hack. You need tulle or chiffon, a comb, ribbon, and your favorite accents and decorations. One of the best wedding gift to give to someone special. Here is how to make it. instructables
4. DIY Cathedral Veil from Your Favorite Fabric
This veil will turn the bride into an angel for sure! A cathedral veil comes with enchanting colors, and also with a little transparency. Grab a few yards of your favorite fabric, use a decorative ribbon, and custom embellishments to make this cathedral veil in no time. It will cost you less than $10. offbeatbride
5. How to Make a Simple Veil
Maybe you are obsessed with the bride fashion, especially with the veils. So, spice up your crafting game by making this simple veil looking great in the alluring white appeal. Grab a few yards of white netting fabric and a comb to make this simple veil! As a gift, it will be loved dearly by all brides. amorefabrics
6. Simple DIY Wedding Veil
Rock a brides' look with this quick to make wedding veil! It comes with decorative lace edging, and is quite inexpensive to make. The project is all about to adjust the comb in the center! So the whole veil will drape down around it. Tutorial here clarkscondensed
7. DIY Birdcage Veil – An Easy Chic Project
Grab 3 feet of tulle with small holes and 3 feet of netting with large holes to make this birdcage veil. It will cover a little portion of your front face, too, along with covering the head in a style. Adorn the veil with a custom feather or bead embellishments and also with lace and glue gun. Details here onefabday
8. DIY Cascading Wedding Veil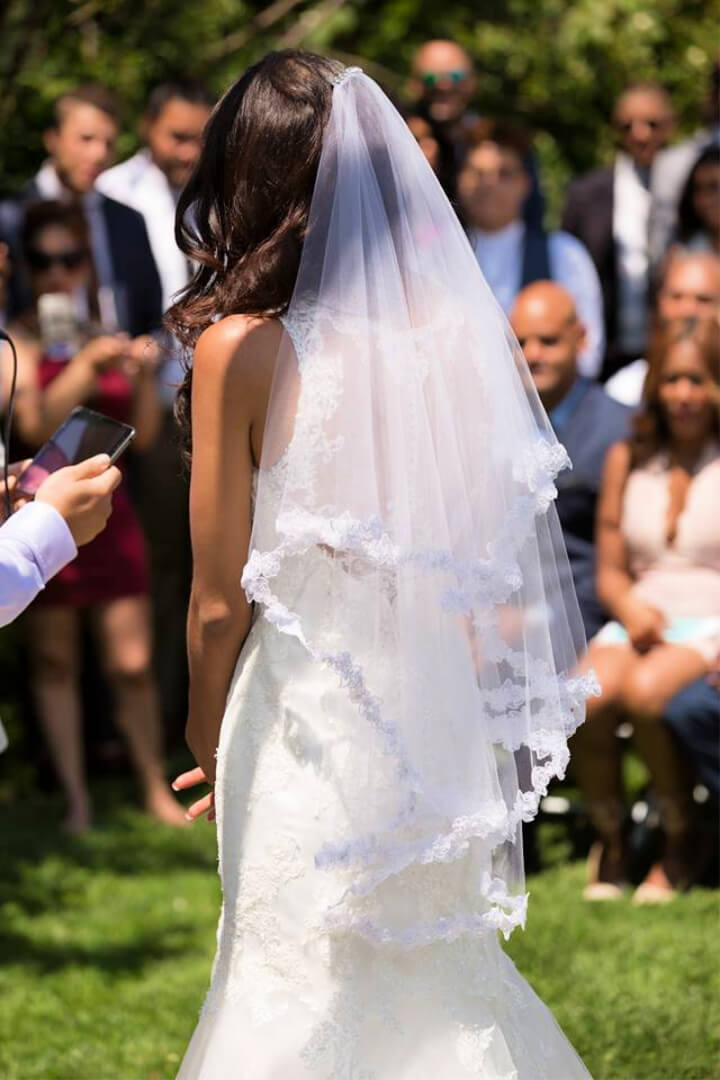 Learn how to make a bridal veil with step by step instructions. Grab 2 yards of lace trim and 2 yards of fabric to make this wedding gift at a fraction of cost. Next, you need a bridal comb, and an iron-on adhesive tape to complete the design will make a cute handmade gift for any bridal in the friend's circle. An expensive-looking gift to make inexpensively. simplory
Related DIY Wedding Ideas
DIY Wedding Cards: Save time, money and stress by making your own wedding cards. These homemade DIY wedding card ideas are easy to make and won't break the bank.
Unique DIY Wedding Gifts: Here are unique and creative DIY wedding gift ideas for the bride and groom. You're sure to find something perfect for the happy couple on your list – or yourself!
Conclusion:
If you're looking for a beautiful and affordable wedding veil, consider making one yourself. There are many easy DIY veil wedding ideas to choose from, and with a little time and effort you can have a stunning headpiece that will complete your bridal look. We hope this article has inspired you to create your own DIY wedding veil. For more ideas and instructions on how to make a wedding veil, be sure to check out our tutorials. Happy crafting!