Learn how to make wooden signs with these 100 handmade diy wood sign ideas for a rustic decoration charm for your home. Find the perfect wood sign for your home. From inspirational quotes to funny jokes, these easy DIY wood sign ideas will add a special touch to your living space. From many cool and chic "welcome" home signs to holiday and festive decor, we have these inspiring 100 easy DIY wood signs! Take your decor game to a new level by easily making these wood signs at home all by yourself instead of making big holes in your pocket and buying them from expensive stores! You can do so much magic with reclaimed wood and wooden pallets, or give them a chic and whimsical look! Bring your favorite and inspiring quotes to your walls to get inspired daily by just looking at them!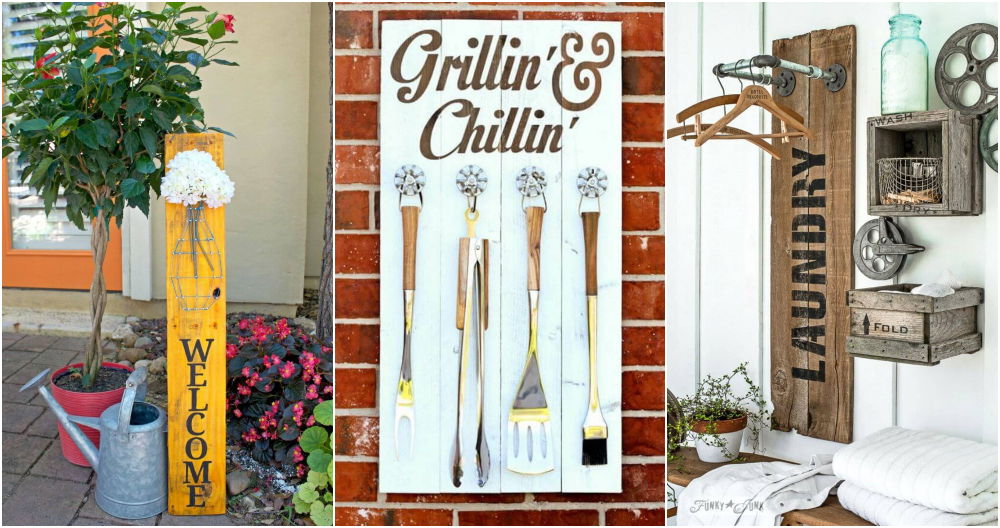 If you are currently planning a wedding, you may be the best man of the maid of honor to handle things. There are so many insanely cheap wooden wedding signs that you can work your way around instead of buying the expensive ones from the store! If you are holding the next Halloween feast or the thanks for giving meals, there are many charming ways to put up the "gather" signs! We also have many darling galleries to wall DIY wood sign ideas for you to make and introduce some darling vibes to your decor! You will need some simple tools like your sander, nail gun, hammer, or nails with Kreg jig or miter saw! With some paint, paintbrushes, and pallet boards. Let's dive right in to see the best diy wood signs for you in the budget!
1. DIY Hand Lettering Wood Sign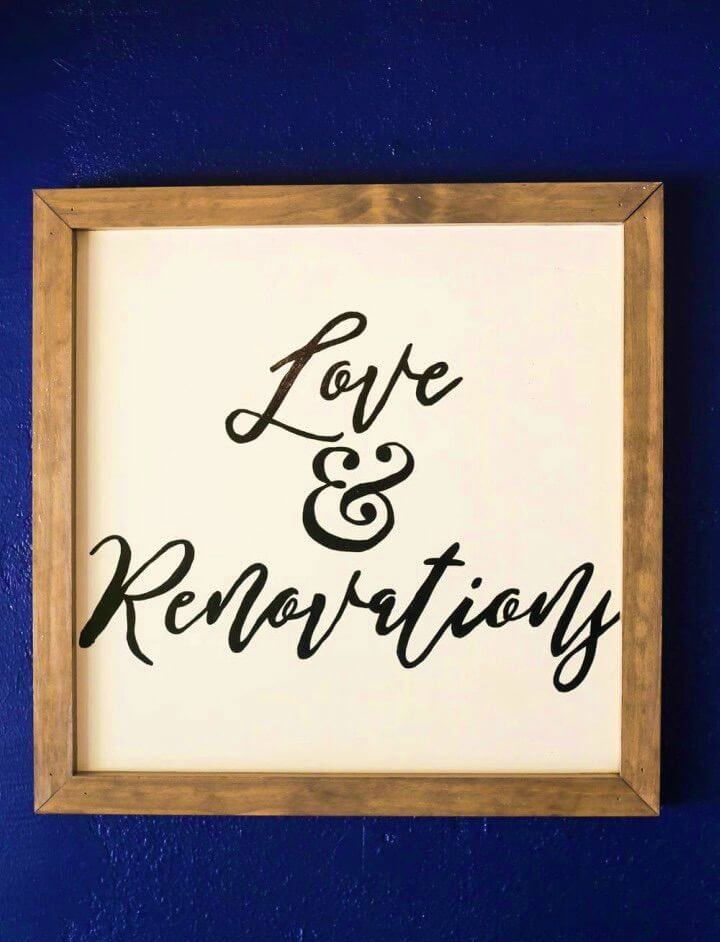 Who says your workshop has to be boring and dull? Make the place homier and catchy with this DIY wood sign. Made using ¾" of plywood, a circular saw, white paint, wood stain, 1*2 wood for trim, paint pen and pencil. loveandrenov
2. DIY Life's an Adventure Pallet Wood Art Sign
Check out this whimsical life is an adventure pallet art! Totally brightening up the place and super fun and easy to make. Using some stencil art and paint to add a bit of positive vibes in your living room decor. aglimpseinside
3. How to Make Wood Pallet Wall Art Sign
It is so great to out up your inspirational quotes up on the walls and make your decor speak to you! If you love the character that wood pallets can add to a room, you will adore this beautiful piece of positivity hanging up your wall.
4. DIY Plywood Sign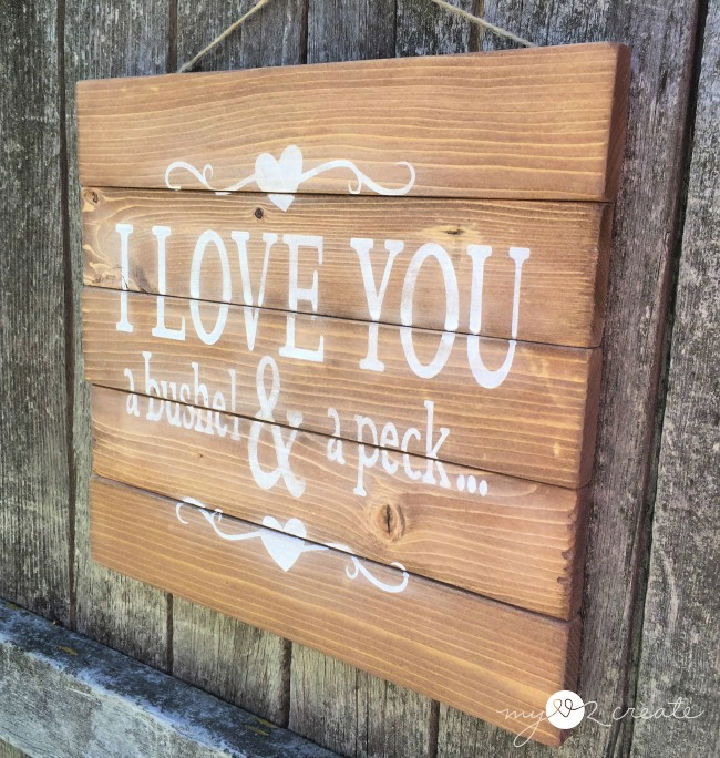 Bring a vintage and rustic vibe to your decor with this totally inexpensive wooden sign. Use some scrap or reclaimed wood, free paint sticks, wood glue, clamps or brad nailer, stencil, or a printed image with paint, foam brush, and stain or paint! mylove2create
5. Rustic DIY Wooden Farmhouse Chalkboard Sign
We totally love the royal vibes of this farmhouse DIY rustic chalkboard! It doesn't require any power tools. You will need 20″ x 48″ Board, premium wood finish stain, painter's tape, chalkboard paint and some hardware to hang. ourhandcraft
6. How to Make Rustic Wood Sign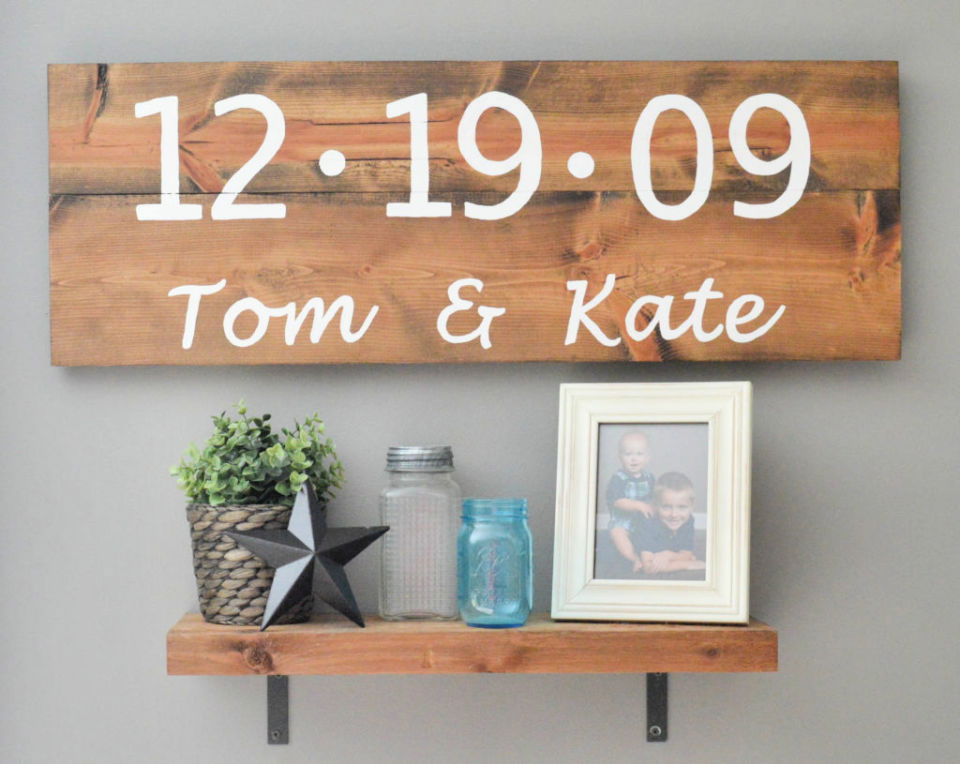 Have a look at this totally adorable and charming DIY rustic wooden sign! You can work this one by using Scrap 1x wood boards, screws, drill, orbital sander, wood stain, printer, acrylic paint, fine tip paintbrush, and some D ring hooks. thesimplyorga
7. DIY Wood Chalkboard Style Sign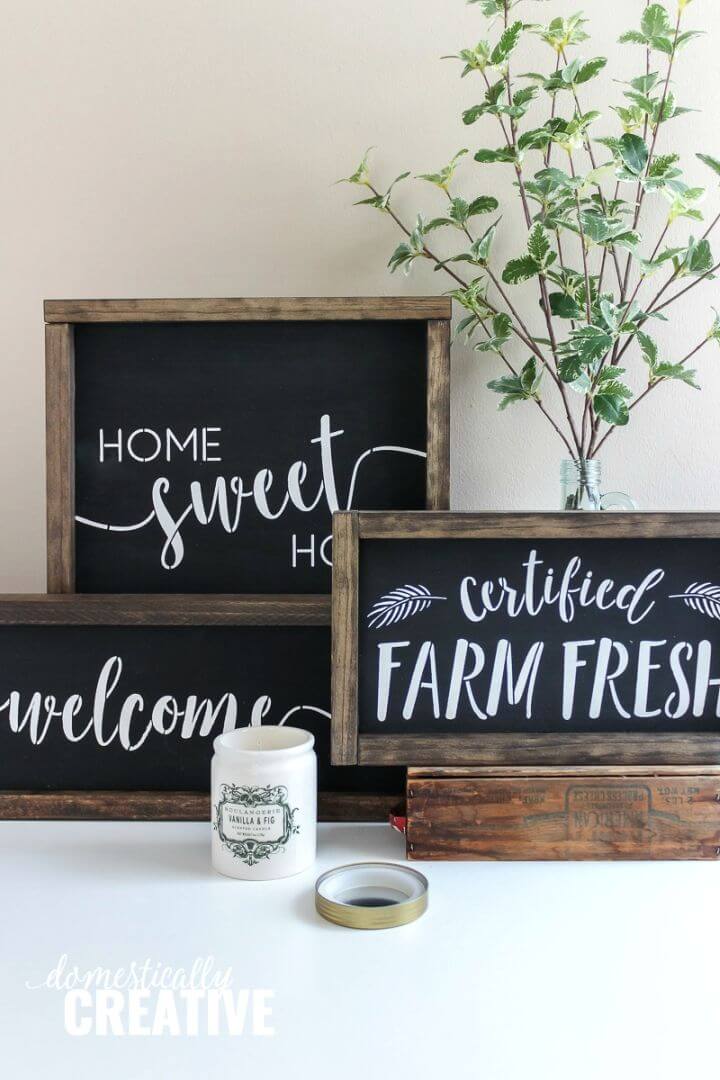 Another one from our farmhouse-inspired chalkboard style signs. If you want to bring this rustic appeal to your home without using chalk on these chalkboards. You can easily do that by stencil art using paint. Hit the tutorial for details. domesticallycre
8. DIY Salvaged Junk Wood Clock With Farmhouse Sign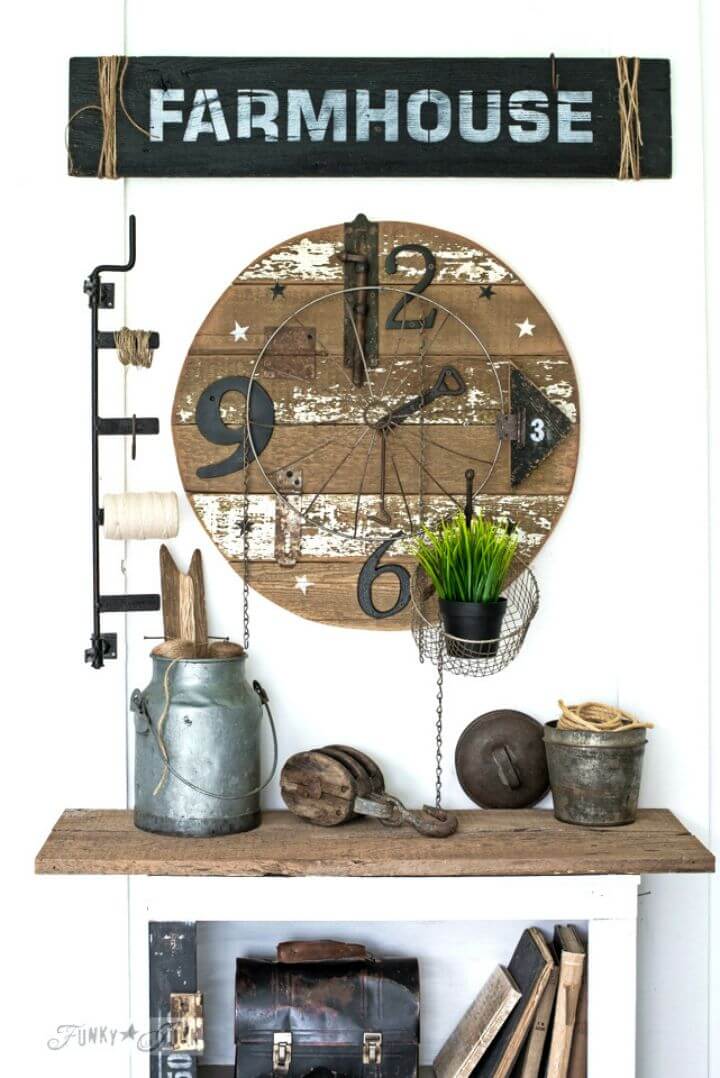 The reclaimed wood clock art has taken over quite a rise in the DIY world! This salvaged junk farmhouse clock can be made quite easily using some reclaimed fence planks, random rusty junk, some house numbers, paint of choice, stencil brush, and wire cage thing, maybe a flower basket! funkyjunkinteriors
9. Homemade Acrylic and Wood Fall Sign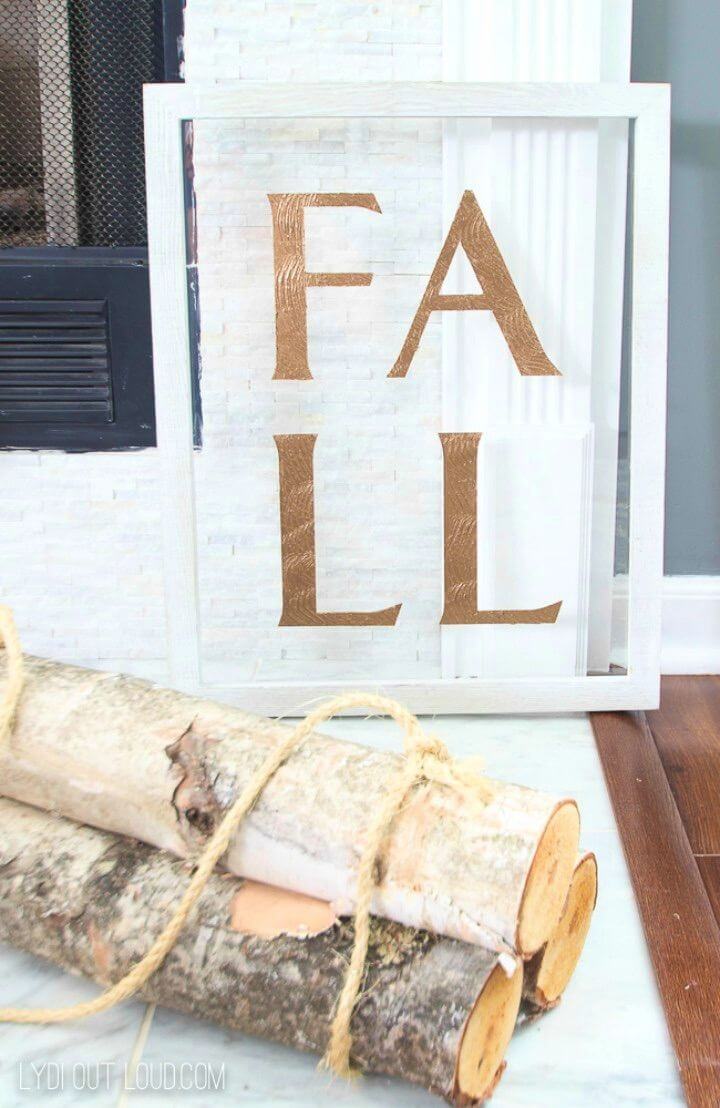 This minimalistic acrylic and wood "Fall" sign is going to bring a lot of character to your room. It is quite simple to make using acrylic or glass sign, unfinished wood letters, paintbrush, Americana Decor texture in Bronze, texture tool, and adhesive mounting squares. lydioutloud
10. Colorful Wood Welcome Garden Signs
There is a cute idea for making your garden more welcoming! Make this super cool DIY wood sign to welcome people inside with hospitality. You can get the "welcome" cut file from the tutorial, work your way around some outdoor paints, and a few other supplies. blog darice
11. How to Make Homemade Wood Signs
These are some adorable DIY wooden signs that you can hang up in your bedroom, or these could make charming Valentine's day gifts to your partners! You'll need a 12*12 wood plaque, Cricut explores, craft paint and brush, hot glue gun, cardstock, wood stain, and a few other supplies. Get the floral pattern from the Cricut cut explorer. inspirationmad
12. DIY Wooden Signs for a Collage Wall
The little things in life always make the most space in our hearts! To cherish that, add this warm wooden sign to your decor. Using a 12″ x 12″ square piece of lumber, stain, vinyl and contact paper, acrylic paint, and grit sandpaper. craftremedy
13. Wall Mountain Lodge Sign Plan
So, Christmas is around the corner, and if you are looking for a catchy and perfect Christmas sign. Get the perfect rustic lodge feels this season with mountain lodge Christmas DIY wood sign to hang up in your dining room in love from Christmas meal. brooklynlimes
14. Garden Sign Crate Entry Table on a Wall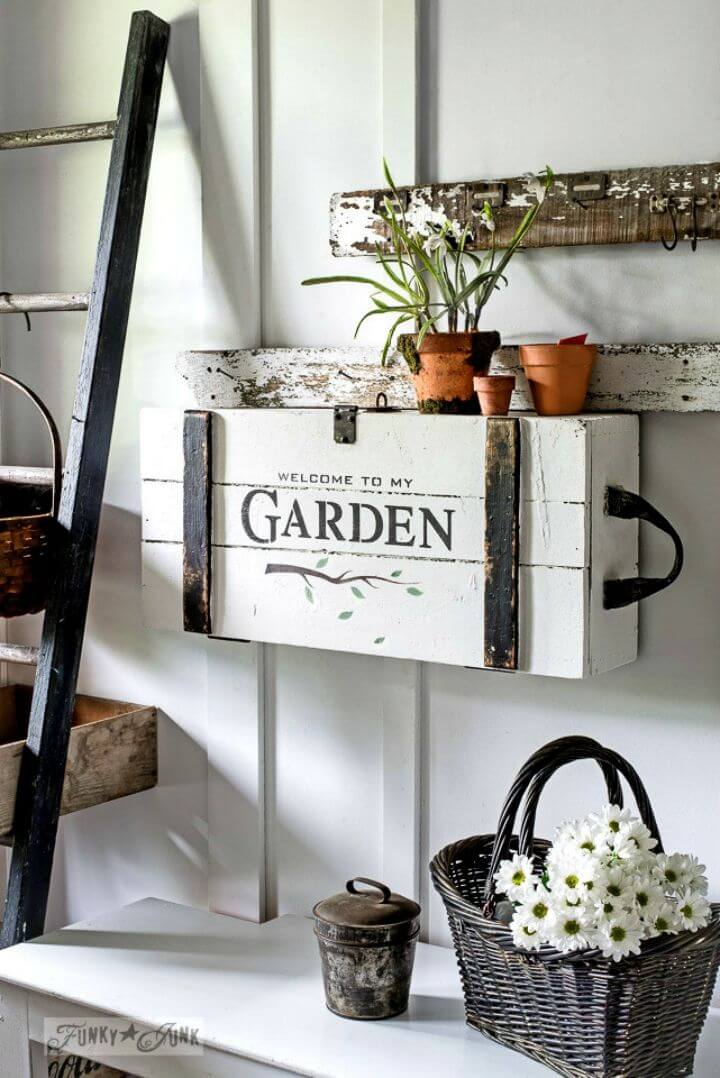 If you love gardening even a little, you are going to love this DIY garden sign entry table on the wall! Some fun stenciling on the way! For hardware, you will need some crate hinges to hang the rustic crate up the wall! Follow the step by step guide in the tutorial. funkyjunkinteriors
15. Making a Wood Sign With Your Cricut
Did you know you can make some uber-cool wooden signs using your Cricut machine? You can use a weathered or new piece of wood, craft paint in your favorite colors, some cardstock and stencil materials, Cricut machine, Cricut cut file, and paintbrushes. thecountrychicc
16. Unique DIY Wooden Create Sign
Check out this super enchanting and vintage wooden "Create" sign! It will surely add a lot of character to any room. You can pull this off by using a pre-made wood sign, at least 4 different colors of paint colors, stencils, paint pen, paintbrush, foam brush, and E6000 glue. homedit
17. DIY "Eat" Sign From Pallets
This is a chic sign to make your dining room or kitchen more inviting and whimsical. Using some pallet wood or reclaimed lumber, you can craft this EAT sign. Using Minwax English Chestnut stain, you can finalize the look. theturquoiseho
18. Pretty Jute Rope Love Sign
A beautiful addition to your bedroom decor! This DIY, jute rope love sign can add a lot of character to your room. To form the letters using rope, you'll need ¼ cup of corn starch, three tablespoons of water, and one bottle of wood glue. hymnsandverses
19. How to Make Spooning Pallet Sign
This DIY spooning pallet sign is Love! Snag a few pallet boards, some script wood letters, two paint stir sticks, one dinner spoon and teaspoon, craft paint, craft glue, staple gun, and about ½" long staples, hammer, paint brushes, and a paper plate or a paint tray! craftcuts
20. Creative Pallet String Art Welcome Sign
Wood pallets can create perfect rustic signs that you can add to your home decor and make some darling changes to the decor. Check out this rustic and unusual "welcome" sign that you can add to your front yard and add some beautiful artificial flowers to make it catchier. homedit
21. DIY Slatted Summer Wood Sign
Get your hands on a slatted wood sign, Deco Art Americana paints, foam brushes, and a vinyl stencil to transfer the art to the wood sign. Start off by giving the slated wooden sign a bit of sanding to get rid of any splinters. thecraftedspar
22. Building DIY Wood Signs from an Old Pallet
This tutorial features about 96 inches' tall wooden pallet sign. A wood strip around 1*1 inch, drill and drill bits, miter saw, clamps, gray stain, Silhouette, vinyl, and white paint and brush. Get the perfect staining and stenciling guide creativeram
23. How to Make Scrap Wood Signs
A chic wood board sign is all you need to make your decor more appealing and catchy! By using some old lumber pieces, you can make some perfectly catchy DIY wood signs! Transferring some giant vinyl letters to your sign could be far more easy and fun than you might have thought. diypassion
24. DIY Gather Here Wood Sign
You can make whimsical DIY wood signs for your dining room where you hold your family meals! "Gather Here," wooden sign adds up to your hospitality. The tutorial features one 40 inches and one 24 inches sign. homemadeby
25. DIY Wood Signs with a Silhouette
Check out this minimalistic wooden pallet into a "welcome" sign! You can use a Silhouette or Cricut cutting machine to make this beautiful piece. Using an adhesive vinyl, transfer paper, decoupage, and brush with few other supplies. Also, you can explore the two techniques to nail this wood sign! justagirlandher
26. Make Wood Sign with Calligraphy Quote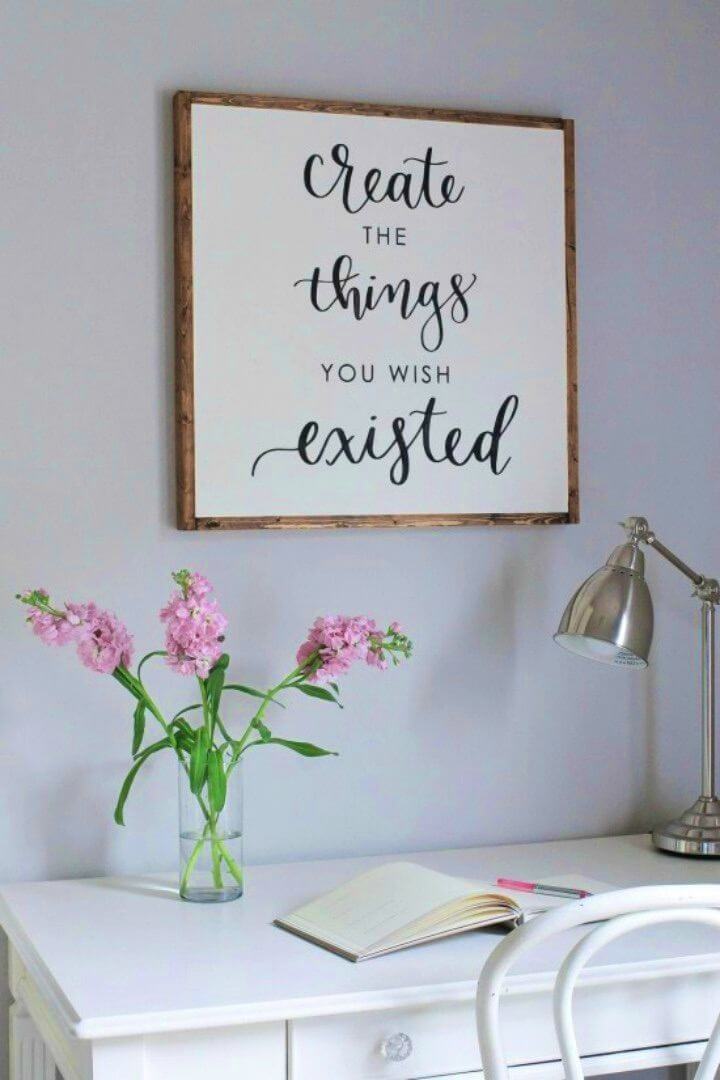 A little bit of inspiration to your home decor can make things turn out to be quite soothing! Even without you knowing it. This sensational wood sign can be made using just a few tools, including clamps and hammer! You can get the free printable file in the tutorial! angelamarie
27. DIY Home Is Where the Heart Is Sign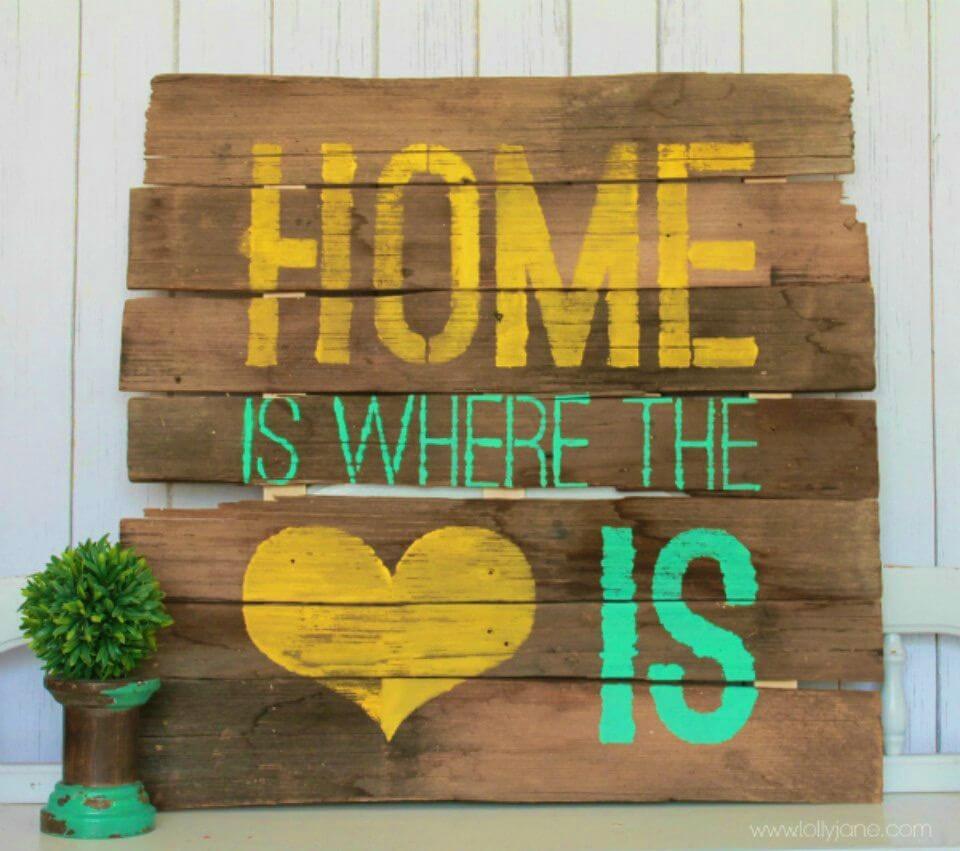 Undoubtedly, home is where the heart is! Pallets are so much in trending now and who wouldn't love such a pretty, vintage, and rustic sign in their living room. Seven pieces of weathered wood drilled together! The stencil is the key to this beautiful piece of the DIY wood sign. lollyjane
28. Easy to Make Wooden Farmhouse Sign
You can find these whimsical wooden signs in the market for sure, but they are quite expensive! So, why not make them all by yourself? The words or quotations hanging on our walls is just the reflection of who we are. And this "We love because He First Loved Us," verse is totally soothing. momswithout
29. DIY Galvanized Market Sign
Start by cutting a sign of barn board or wood plank. Stain the front of the board and let it rest for a while. By using a dry brush technique, you can create this weathered wood look. After the dry brush technique, hang up the galvanized letters. littledekonings
30. Handmade Love Hand and Foot Print Sign
Add a more personalized touch to your decor with this hand and feet print "Love" sign! The tutorial features a 16″ x 12″ wooden sign. This is quite sensational and easy to make, and you can hang it up your house to add up to your decor. inspirationalm
31. Reclaimed Wood and Pipe Laundry Sign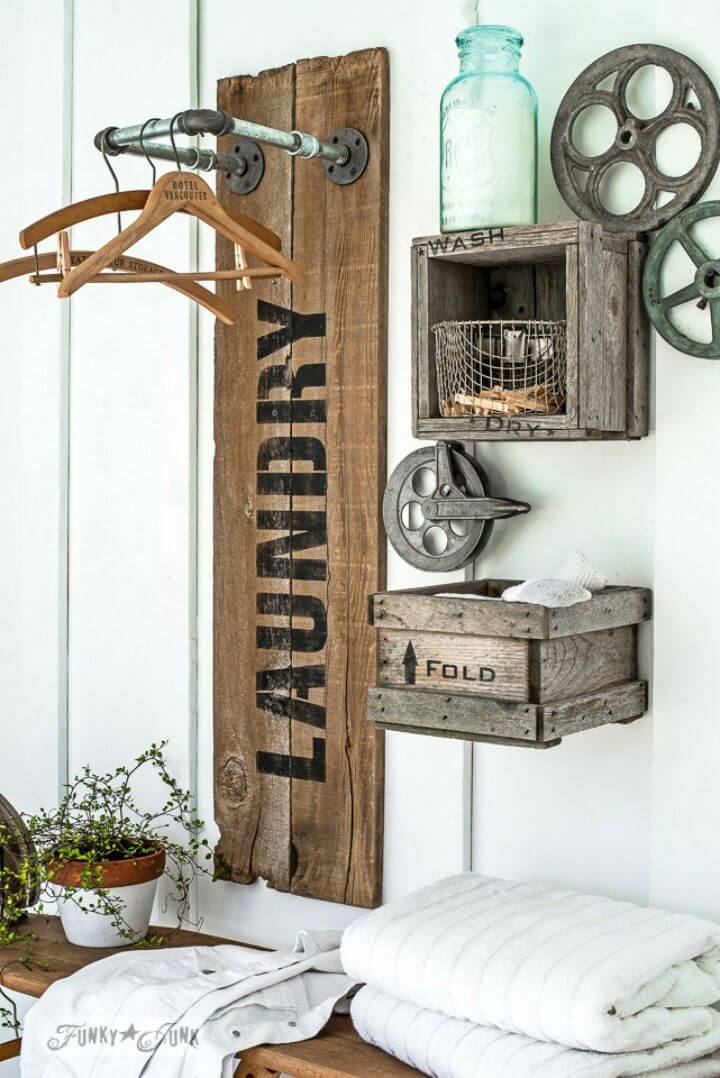 If you have limited space in your laundry, you can still make the most out of it. This "LAUNDRY" sign is a one-piece stencil. You can even use some pipe fittings to hang up laundry hangers and clothes. It will make a beautiful appeal to your laundry room! Hit the tutorial for full details. funkyjunkinteriors
32. Make Your Own Rustic Driftwood Sign
Create your own DIY rustic sign using driftwood and a piece of rope or jute to hang it up with! For some beach vibes addition to your house, use a piece of driftwood and paint to make this sign. You'll need some small cup hooks and black craft paint with few other supplies. craftsbyamanda
33. Easy DIY Fall Gallery Wall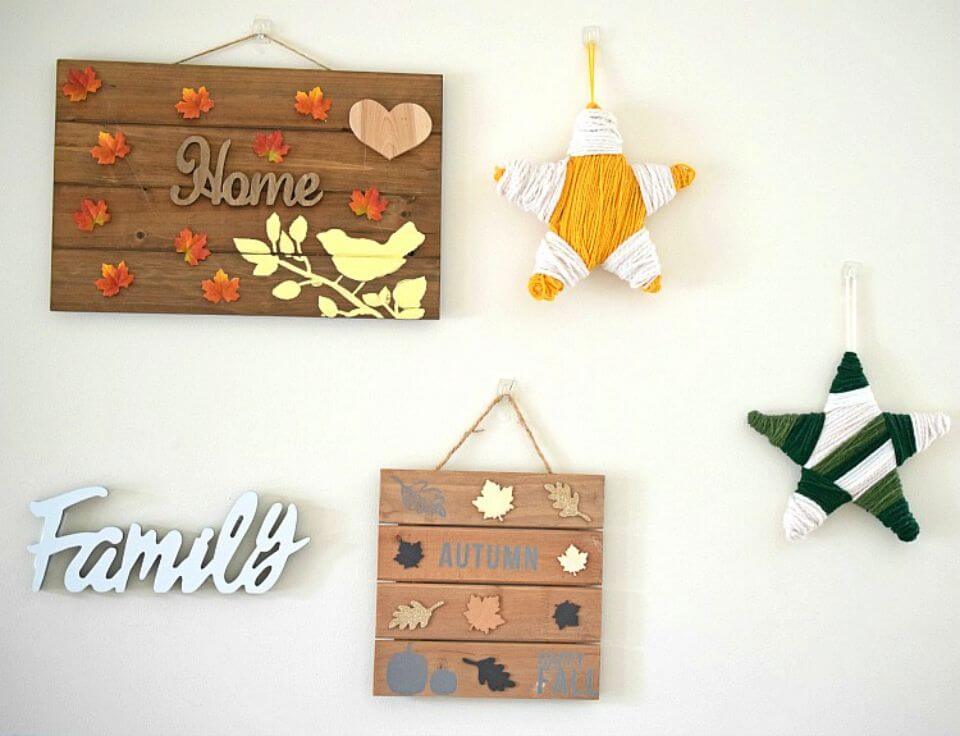 To celebrate the crisp season of fall, this DIY fall gallery wall is totally brightening up the place. Just get your hands on some blank pallet type wooden sign, some catchy and sensational fall transfer stickers with wood leaf shapes. momhomeguide
34. DIY Wood Signs with Cricut Machine
With Halloween around the corner, this DIY wood sign is going to make quite a decor theme and decor upgrade. Design your own stencils for making this super beautiful sign. Cut your stencil using the Cricut machine and paint it carefully to avoid any paint bleed. makelifelovely
35. How to Make Large Wood Sign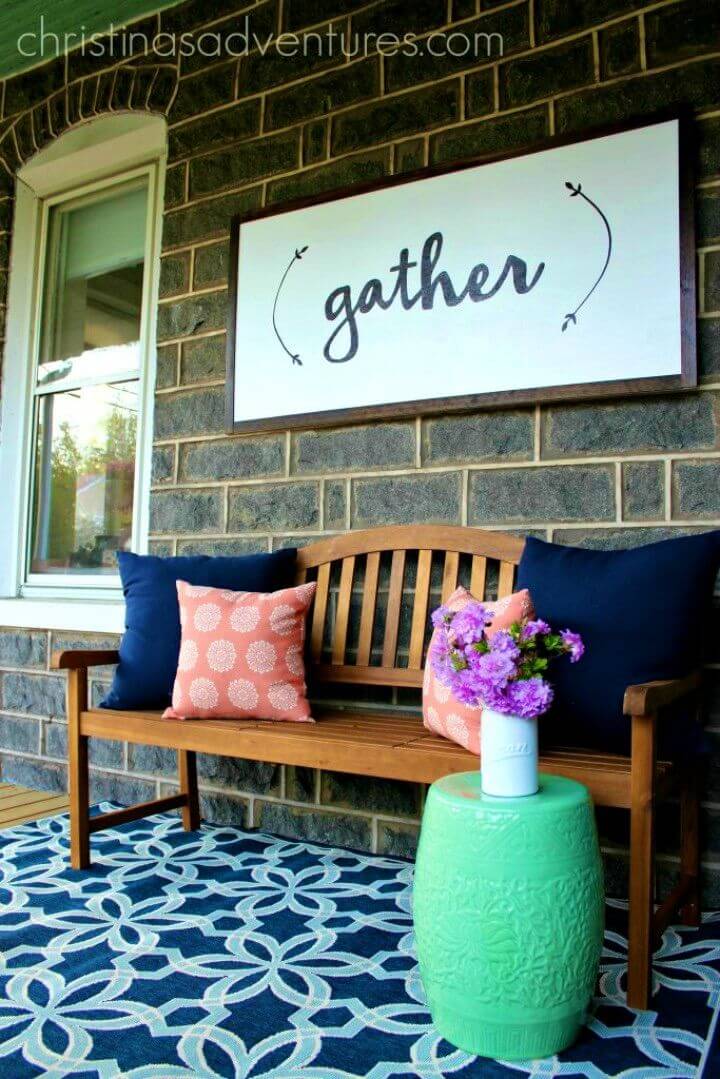 Make this large and whimsical wood sign using exterior grade plywood (since this one is hanging on the porch and if you have the exact same inspiration), flat trim wood, primer, paint, stain, liquid nails, and sharpie paint pen. christinasadve
36. Make Distressed Wood Welcome Sign
Check out this minimalistic DIY distressed wood welcome sign to hang up outside your main door. It will look so catchy and add up to your hospitality quite a lot. The weathered look is given using a layered painting technique. Starting off with white paint, then black paint, and black chalky paint. createandbabble
37. DIY Stencil Method on a Wood Sign
Are you drooling over this family name sign? It looks so appealing, right. It is made using chalk finish paint with a vinyl stencil method and a silhouette cameo. The tutorial features a 1×6 board cut square. typicallysimple
38. Simple Pallet Wood Sign
We love this minimalistic and sensational wood sign! Speaking out the beautiful feeling that is love, saying out 'Every love story is beautiful but ours is my favorite." 6 to 8 pallet boards combined, using wood screws and 16-gauge wire. thinkingcloset
39. Cute DIY Home Sweet Home Sign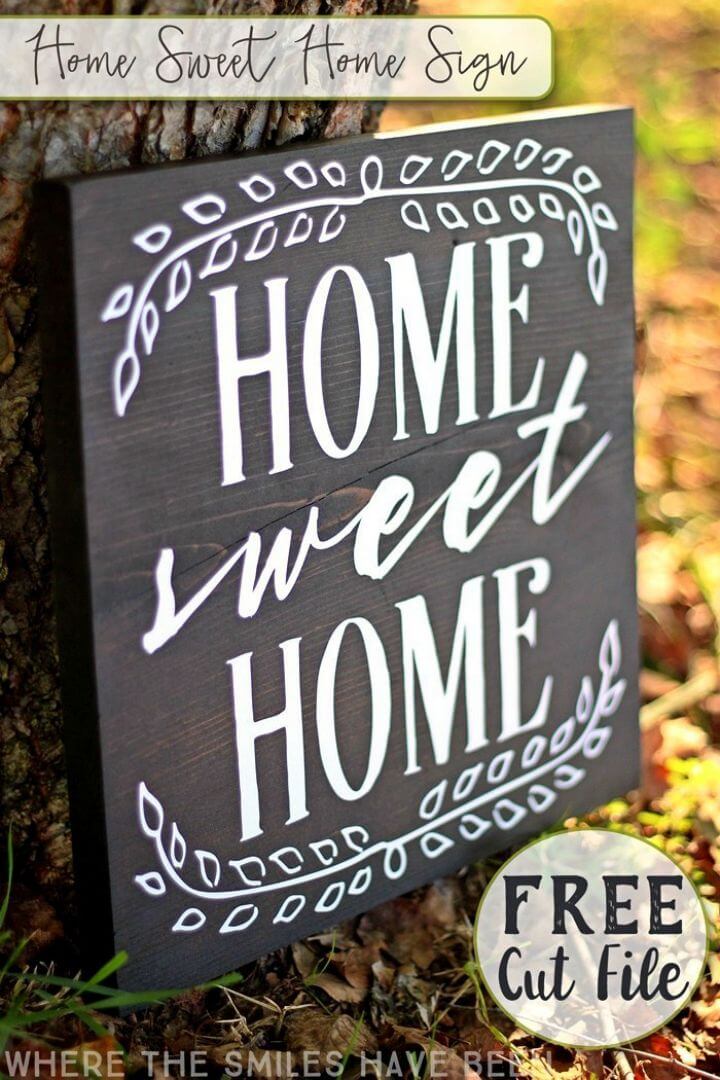 This "Home Sweet Home" sign can make any place look like home! Plus, you can snag the free cut file of this sign from the tutorial! Along with that, you will need white vinyl, silhouette cameo, transfer tape or painter's tape with a square wooden board. Wood stain and work gloves with an electric orbital sander. wherethesmiles
40. Make Your Own Pallet Wood Sign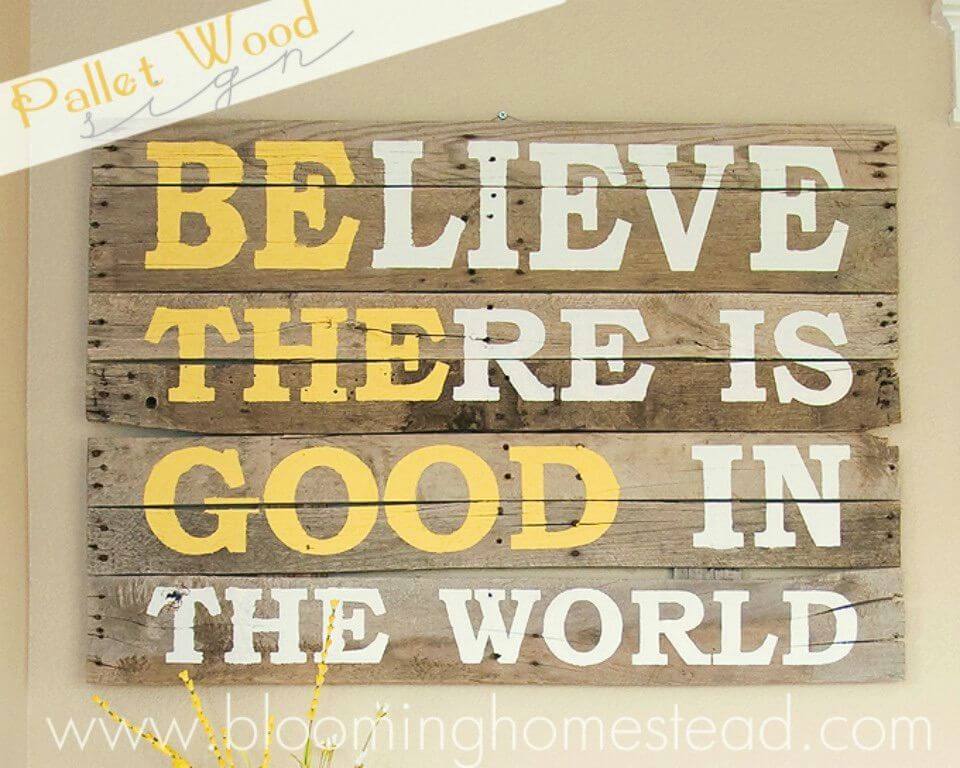 Introduce some positivity and love inside your home with this darling DIY wood sign. If you want, you can get a pre-made sign, or you can gather 7 pallet posts, some white paint, yellow paint, cardstock, silhouette cameo, hanging hardware, and tape. bloominghome
41. DIY Grill Set Holder and Sign
The tutorial features some redwood fence panels to make this catchy grill set holder and sign. Along with some spray paint, aging solution, ¾" screws, knobs, vinyl, polyurethane, and a grill set. Just 4 boards can do the magic! lilluna
42. Inspirational Farmhouse Wood Signs
If you love wood signs, this one makes a beautiful appeal! Start by choosing a font! This one here is Mostly sunshine font duo, vinyl, transfer tape, cutting machine, 1/8" plywood, frame pieces, white and grey acrylic paint, brushes, wood stain, sandpaper, wood glue, and finishing nails. thecraftingnook
43. Hanging Grill Tool Display Sign
Throwing a grilled party soon? Check out this quick and super chic DIY hanging grill tool display. Sand down your wooden piece. And use these charming copper beauties for hanging rod. Use the silhouette portrait to transfer stencil writing to the board. therusticwillow
44. How to Make Wooden Travel Signs
Add some cheery vibes to your home with these wooden signs! By using a woodblock, around 12″ long. Krylon Color master white gloss, Folk Art home decor Chalk (cascade), Folk art multi-surface paint (black), and Folk Art home decor wax (clear). Along with vinyl, transfer paper, and Silhouette cutting machine. amylattacreations
45. DIY Stenciled "But First, Coffee" Sign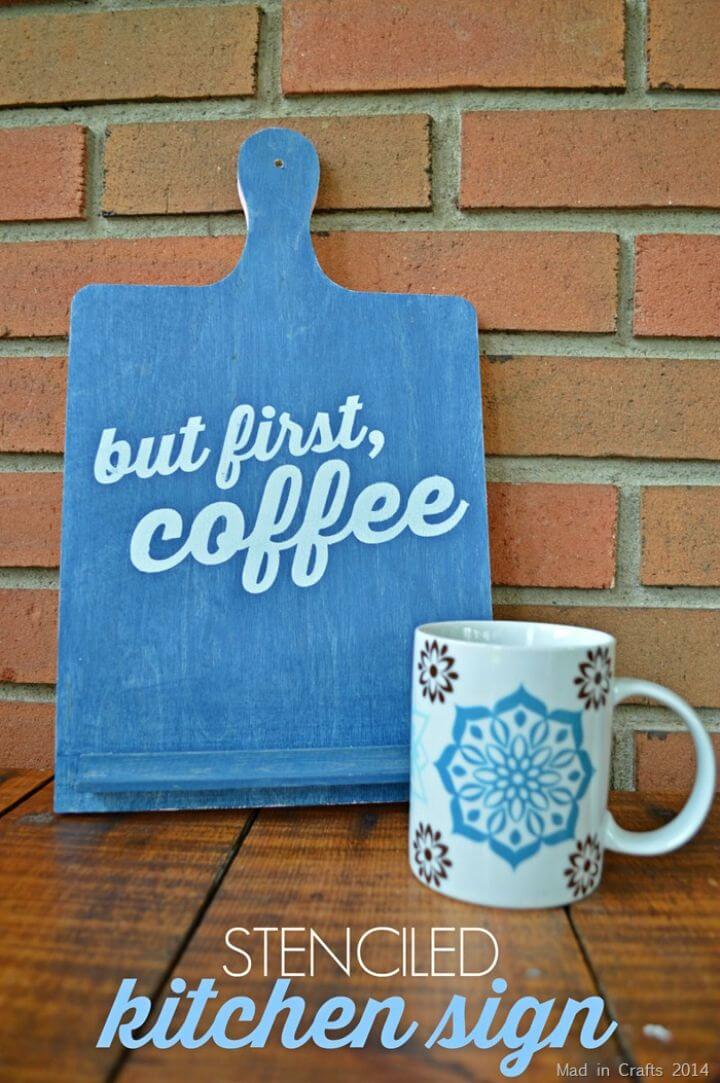 Give your kitchen an additional catchy look with this stenciled and all-blue and cheery "But first, coffee," sign! If you don't have an electronic cutting machine, you can still nail this silhouette stenciling by following this crazy hack here. madincrafts
46. DIY Painted Wood Sign
Your laundry room doesn't have to be the lost, boring, or least decorated room! In fact, make it inviting and warm it up with this Laundry room wood sign made on an MDF cut or piece of wood. Embellished with Cricut, paint, or stenciling. leapoffaithcraft
47. Easy DIY Custom Wood Signs
For Halloween. Or all the big year-ending events coming along, you can make and set up this cozy wooden sign to warm up things. These custom signs will give professional feels. Made with a piece of wood, printer, ballpoint pen, masking tape, paint, and a small paintbrush. pinsandprocr
48. How to Make Wood Signs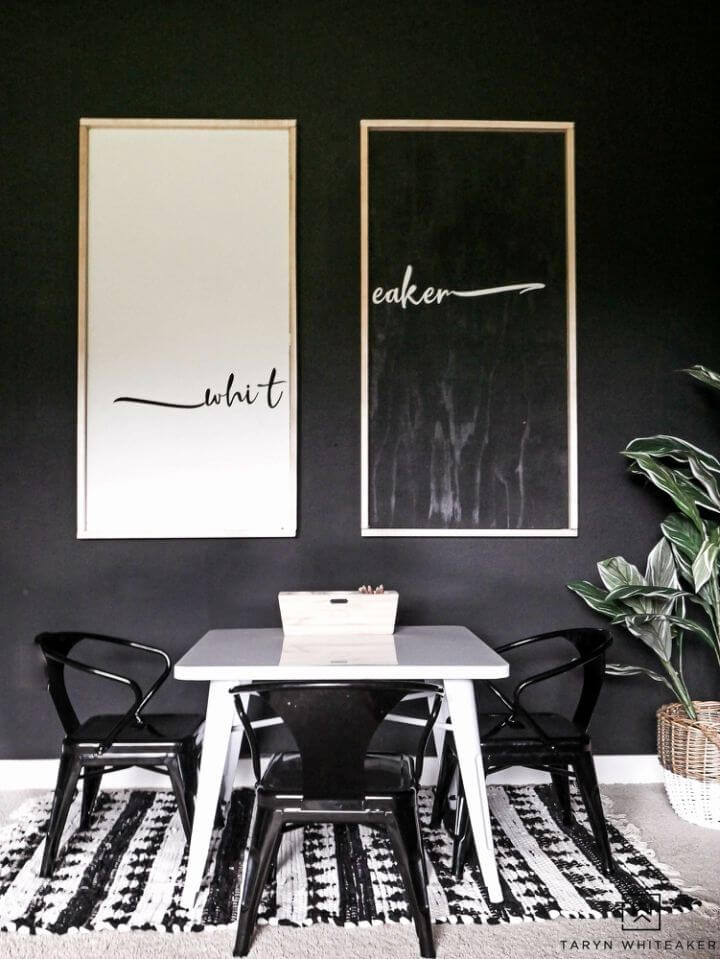 Personalized wood signs are a beautiful way to make your home decor look even more lovable and welcoming! A piece of minimalistic and modern typography can only brighten up the place more! Hit the tutorial for step by step guide. tarynwhiteaker
49. Homemade Wooden Wedding Signs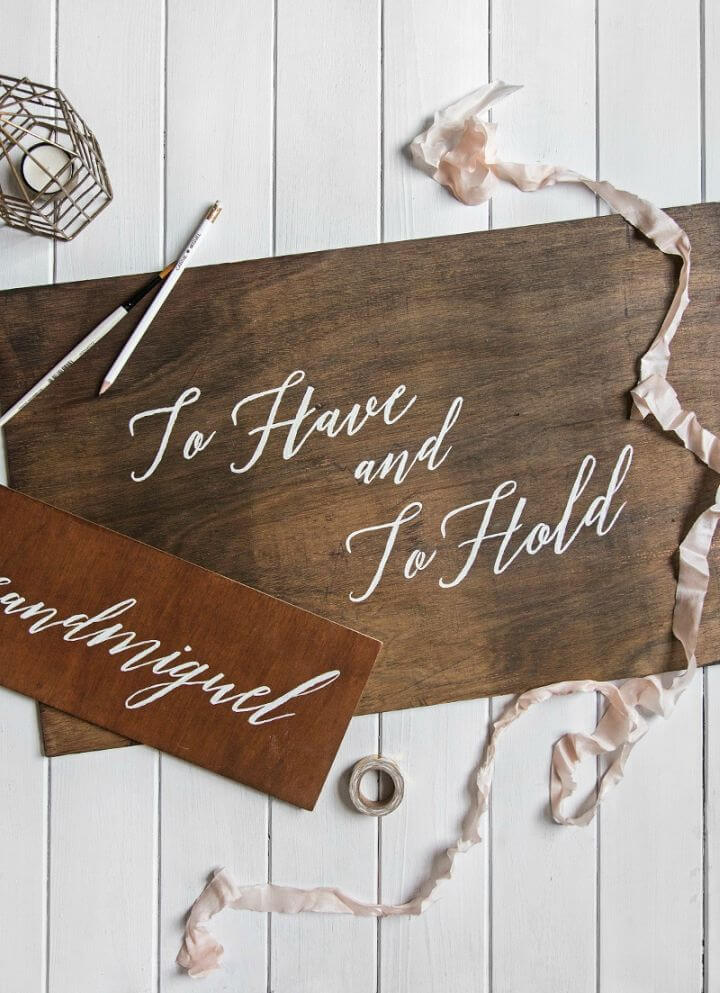 Getting customized wedding signs can go quite heavy on your pocket! So, why not instead go easy on yourself and lighten things up by working on scrap or birch plywood pieces to make these customized wedding signs? wishwishwish
50. Cheap DIY Painted Wood Sign
A painted wood sign is exceptionally easy to make, and anyone can nail it! Plus, it allows you to add a cute and charming appeal to your house within minutes. By using a full of character and rustic wood pallet, you can easily do the magic. apieceofrainbow
51. Distressed Signs for Your Home
Distressed wood signs surely bring a lot of character to any room! Decorate your home on a budget with a daunting wood sign! Start off by sanding your wooden piece, then give a distressed look by first putting a darker coat followed by a lighter coat. lovegrowswild
52. Make Your Own Pallet Wood Sign
SO many inspiring ideas for setting up a sensational and charming holiday decor! Say for Thanksgiving, this huge 3 foot * 4.5-foot large sign is looking like a perfect photo spot too for the Thanksgiving meal, yeah? Get details in the tutorial. thekimsixfix
53. Fall and Holiday Custom Wood Sign
Every changing season adds a little bit of more life into us! This autumn or fall season sign is totally minimalistic and looks quite whimsical for a cool holiday decor. You will need some paint, ¼" plywood, ¾" pine board, wood glue, wood stain, vinyl, and Cricut machine. lovecreatecel
54. DIY Wood Signs for Front Porch
While there are many catchy and inviting wreath ideas for your front door, have you ever thought about maximizing the beauty by adding a lovely wooden sign? Just paint a hello on a wooden pallet that can surely spruce up your porch decor game. graceinmyspace
55. Adorable Wood Wedding Signs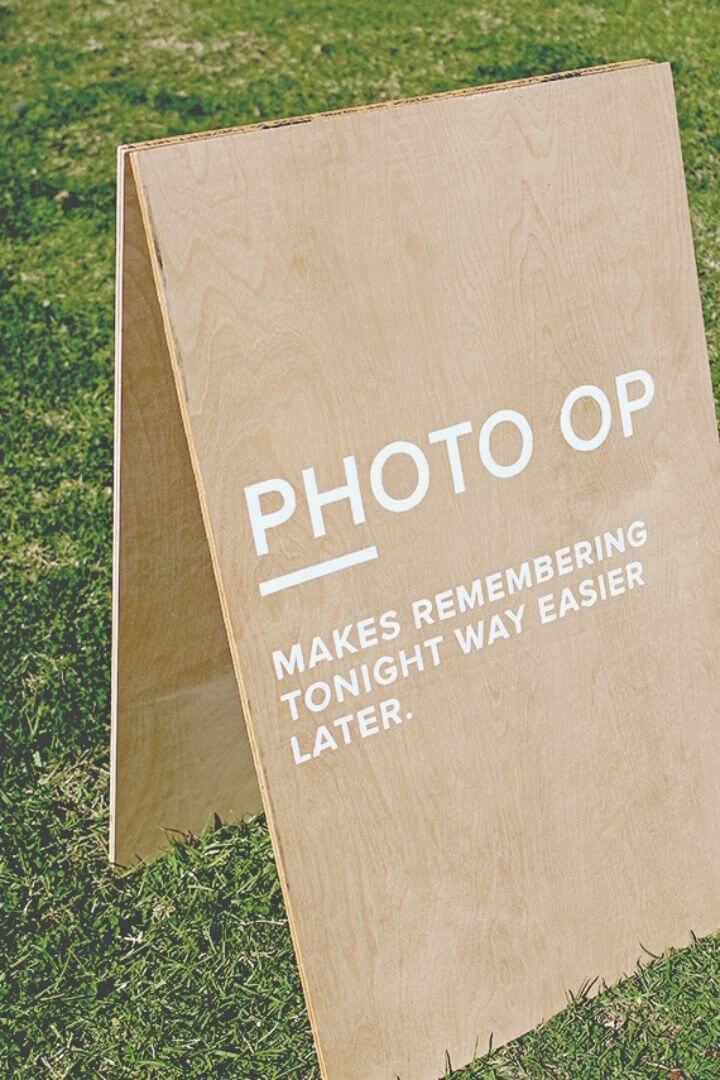 Add some extra minimalism and character to your wedding for the additional charm by putting up these darling wooden signs! Using plywood, white transfer paper, pencils, printer and printer paper, thin and thick paint brushes, enamel lettering paint, and hinges. almostmakes
56. Painted Wood Signs Without Using Stencils
Give your bedroom a homey and cozy look with this perfect rustic "Sleepy Time" wood sign to hang over your bed. It is quite simple to make by just printing out letters and tracing them on the board and then painting them up! thepaintedhinge
57. DIY Stencils for Wood Signs
Stenciling could be a tough technique! If you have been having the stencil bleeding troubles with your wood signs, with these easy hack, you can make perfect stenciled wood signs. The magic step to avoid the stencil bleed involves a mod podge! Seal the stencil. makingmanz
58. Welcome Wooden Sign
To make this inviting welcome sign, you'll need some few supplies. Including a 6ft common board, 9" cardboard letter stencils, any two paint sample colors, a foam paintbrush, and a small tipped paintbrush with fine grit sandpaper and pencil. onecrazymom
59. DIY Burned Wood Signs
Tree slab art is a beautiful and refreshing piece of rustic art that has taken over the DIY wood sign world. It is quite easy to DIY this look by using some simple wood-burning tools. Just choose your favorite wooden slab and use a wood-burning tool with some other supplies. ehow
60. Pallet Sign With an Ombre Paint
Love never fails! Check out this super cool ombre painted DIY wood sign. Made using teal and bright green color, this looks quite stunning. You can get the paint mixing on a paper plate or on the wood pallet itself! Get full details here. beyondthepicket
61. DIY Wood Pallet Sign
For this DIY wood pallet sign, you will need about 2 to 3 wood pallet boards. A circular saw, nailer, sander, acrylic paint and a foam brush! Just paint over the heart and trace out your words and then paint them over! Easy peasy and fun. domestically
62. Super Market Soil Sifter Magnetic Board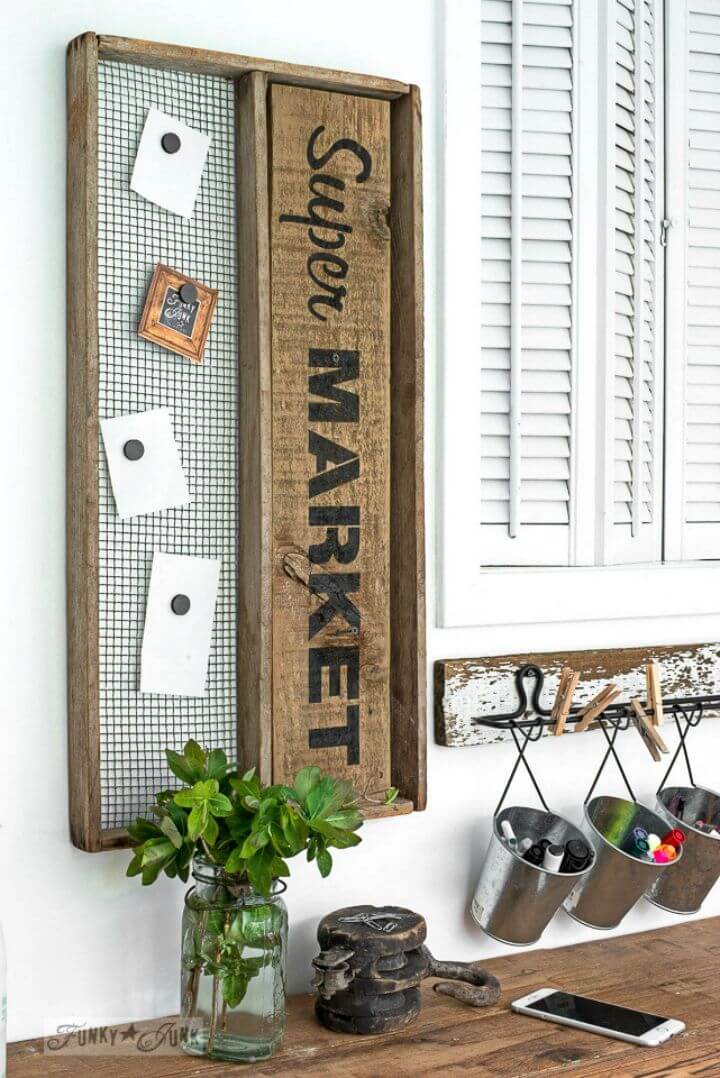 If you have an antique soil sifter, time to put it up to some rustic and fun use! DIY this supermarket sign to make your trips to the supermarket more organized and fun to keep the lists. You can easily stencil the sign on the wooden plank and then put it on one side of the soil sifter. funkyjunkinte
63. Create a Wood Slat Sign
Check out this super vibrant and cheery wood slat sign! Add some more lovely and darling vibes to your home with this bold love sign. You will need about 8 wood slats, paint, wood or paper mache letters, vinyl or contact paper with screws or wood glue. todayscreative
64. How to Make Pallet Sign
Make a simple and minimalistic pallet sign! Give it a chic rustic appeal with water and paint for a vintage washed look. Just trace off some letters of your chosen print, and then by using mod podge, paint them on the pallet! Hit the tutorial for details. thediyplaybook
65. DIY Wood Plank Gather Sign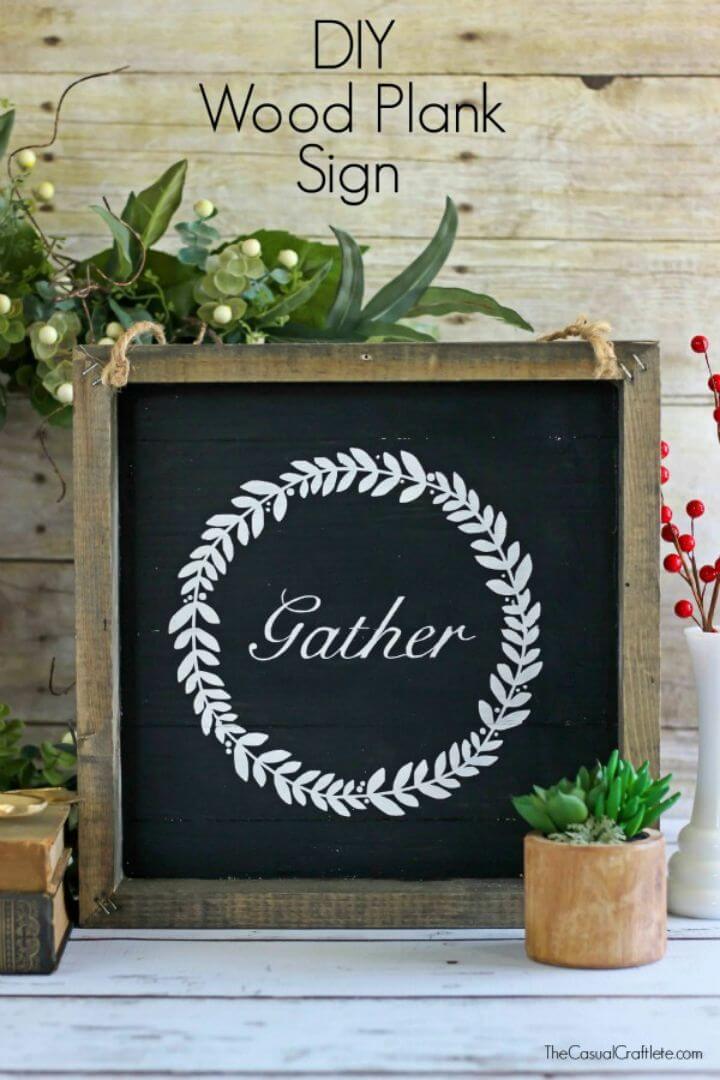 Add this beautiful and charming "Gather" sign to your decor to brighten up the decor game! This DIY wood sign is made using a wooden plank plaque of 12" by 12". Electronic cutting machine, vinyl. Transfer paper, Americana Decor chalky paint, weeding tool, and paint brushes. purelykatie
66. Make Your Own Rustic Wood Sign
Would you like to add character to your home decor with this simple wooden sign? Made on a pine board with a paper template painted on it using some acrylic paint, stain, paint brush, painter's tape, and a sanding block. craftyteacher
67. How to Make Sign From Pallet Wood
Adding these little inspirational words can make things quite lovely inside your home! It's the little decor items that can spruce up the whole look. By using your silhouette cutting machine, saw, and Kreg jig, you can nail this wood art! Hot the tutorial for details. simplydesigning
68. Easy Hand-painted Pallet Signs
A combination of white and cheery green is giving this DIY hand-painted pallet sign a cozy appeal! You will need some wood planks from a pallet, Kreg Jig, Contact paper, Silhouette stencils, painter's tape, mod podge, and paint with a foam paintbrush. theturquoise
69. DIY Hello Sunshine Wall Sign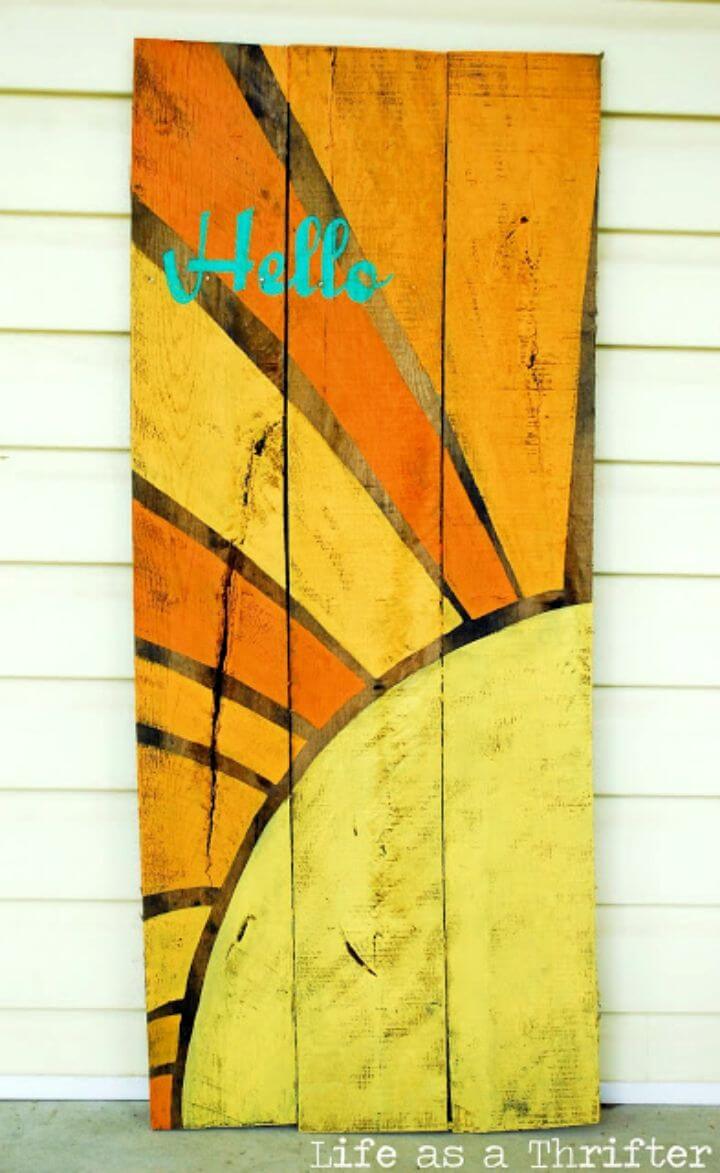 Brighten up things inside your home with this super lovely and cheery Hello sunshine wooden sign! The bright yellow paint and the vibrant blue hello is going to spruce up your home decor. The fun part of this DIY wood sign is paint, paint, and paint! lifeasathrifter
70. Pineapple Wooden Welcome Art
Did you know that in the south, pineapple is a sign of hospitality? This DIY welcome pineapple sign is looking quite the catch! Working on some silhouette stencil and then using an internal vinyl, you can transfer this design on the wooden pallet. architectureofa
71. Easy DIY Wood Rosette Sign
We are totally loving this DIY love rosette sign! It is going to bring so much character to any room. You can make these cute fabric flowers to glue them on the wooden pallet with a hot glue gun! If you love it, get the full guide in the tutorial. shanty 2 chic
72. DIY Pallet Anchor Sign for Our Deck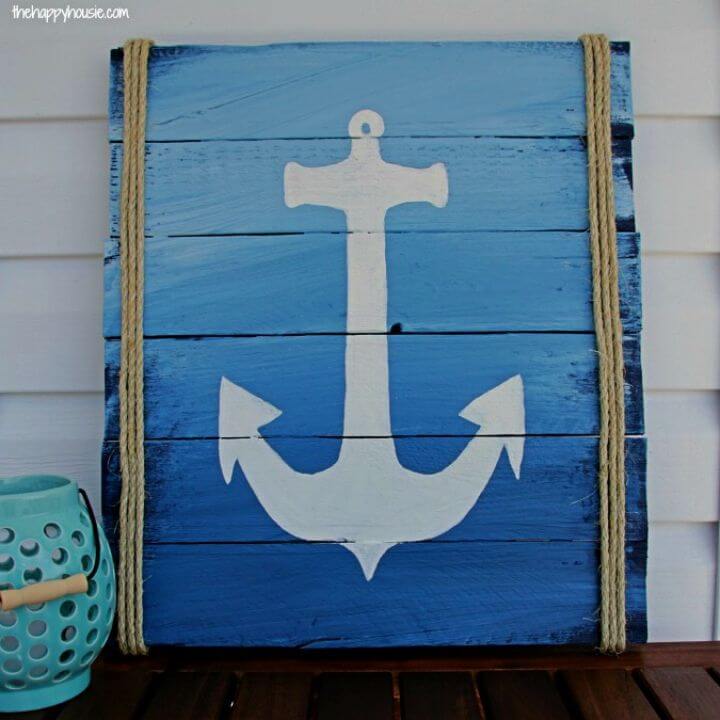 If you are looking for a chic decor theme or sign for your deck, this anchor sign is going to bring so much character to it! Start off by printing a large anchor and then transferring it to the wooden pallet. Paint it up and add a few coats of paint to nail it. thehappyhousie
73. Reclaimed Wood Love Rope Sign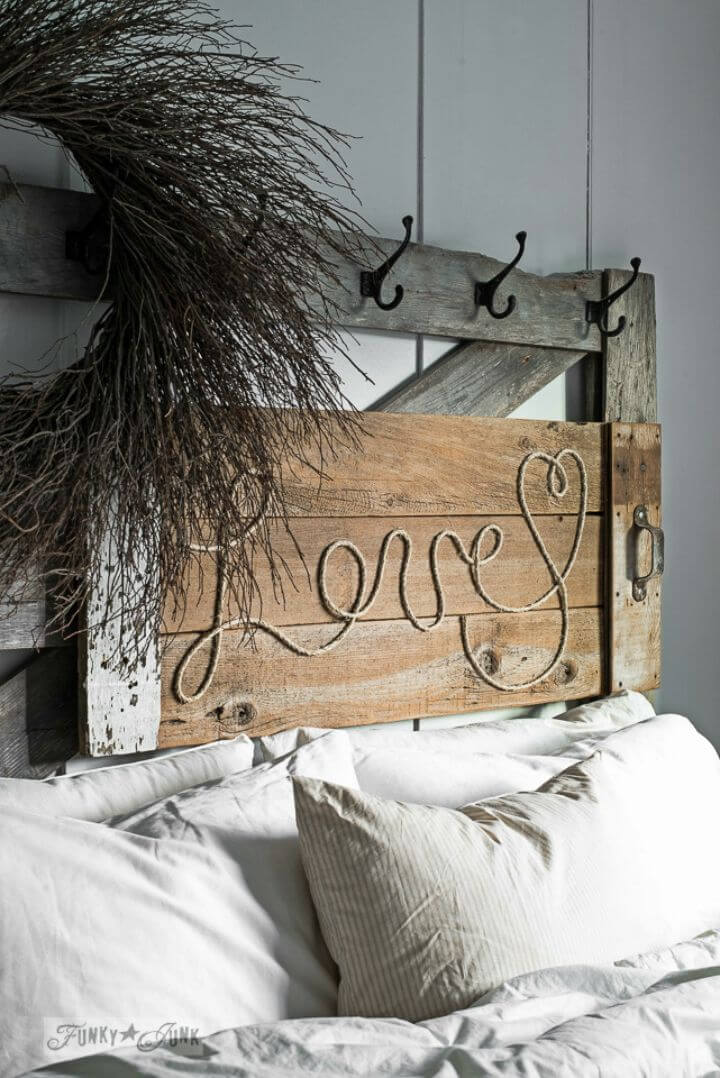 Make this reclaimed wood sign to hang it over your bed, and it is going to make such an adorable headboard. You will need some reclaimed wood, some heavy twine, chalk, sketching paper, hot glue gun, and a cordless drill. funkyjunkinter
74. Easy to Make Fab 5 Sign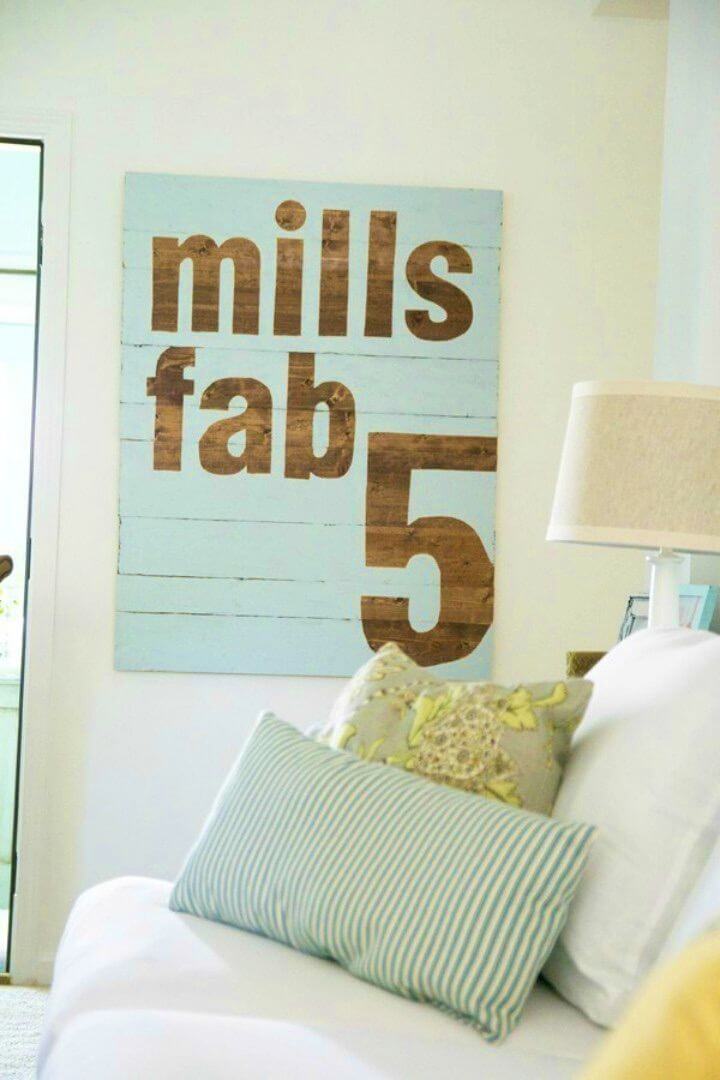 Bring some colorful character to your room against the white walls with a lighter but quite brightening color tone. You can print these letters and transfer them to the wooden plank. Don't forget to put up the painter's tape before you start painting! thehandmade
75. How to Make Pallet Wood Sign
Time to dress up your front porch is here! With the beautiful autumn leaves and Halloween around the corner. Make this beautiful welcome sign simple on a wood pallet by using a pallet and white paint. housebyhoff
76. DIY Rustic Blessed Sign
Add a rustic wooden board to your home decor saying out "blessed" and spruce up your decor game. It will bring so many minimalistic vibes, and you can have a charming rustic appeal as a plus point! Get the full step by step guide in the tutorial. ribbonsandglue
77. Hello Sign With Wood Shims
Check out this cute little pallet art that you can easily whip up in one night. 13 pairs of shims glued together. If you are looking for a more rustic look, you can sand it all down to the natural wood rustic effect. my3monsters
78. How to Make Sibling Sign
For sister's day or just appreciating your family, or for a sensational gift for your sisters! Here's a great and darling idea to make this adoring wood sign! On a flat piece of wood. Start by sanding the wood and then adding a coat of primer followed by a dark paint coat. Hit tutorial for complete details. ithappensinablink
79. Monogram Pallet Family Name Sign
Take the family name with a huge whimsical monogram up on the wall! These family name pallets have got a completely rustic look, and they can brighten up your decor like anything! Start by painting the big letter first by using a transfer paper! whatsonmyporch
80. Wood Pallet Sign for Under $3
A little love never hurts! Make this whimsical and minimalistic love wooden sign! You will need S&S wooden paint sticks, craft sticks, watercolor, paintbrush, wood glue for the sign board! For the "Love" sign, you will need some acrylic paint, stencils, fiber cord, clothespins, and small pieces of wood. ssww
81. Make a Pallet Sign on Low-Budget
This one is quite simple and totally fun to make! With the catchy textured love sign on the top. In a geometrical manner is looking absolutely gorgeous. Use your digital cutter on some colorful scrapbook papers for this look! homestorie
82. Simple DIY Wooden Wedding Sign
While weddings can be the most expensive affair of your life, with these DIY wooden signs for weddings you can go easy on your pocket. Just print the labels or tags you want on these wooden signs and trace them on the wooden pallets. loveoffamilyan
83. Make a Large Wooden Sign at Home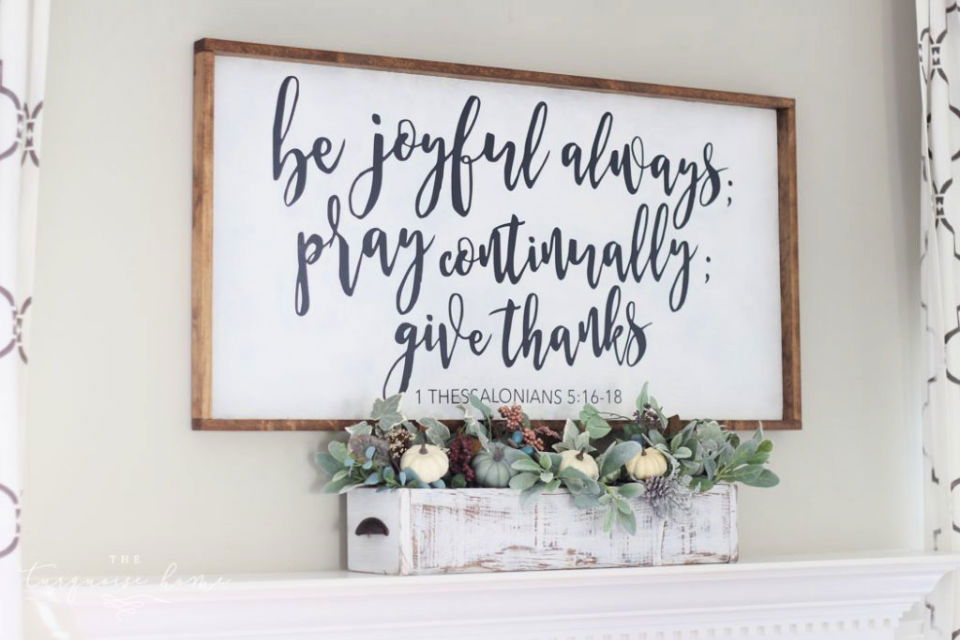 How about shifting the mood to happy and cheerful in your living room? Your decor says quite a lot about you. Make this lively wooden sign using some 1*2 boards, paint, and a vinyl stencil. You can make the stencil using your Silhouette cameo. theturquoiseho
84. Glittered Wood Sign
Hell yeah! You were born to Sparkle and nothing less. Whoever in your life needs a tad bit of silver lining in their lives, make this shiny and lovely DIY glittered wood sign. Some fine gold glitter sparkle to add the fun! But with few details, of course. Hit the tutorial now. happinessishom
85. How to Make Patriotic Pallet Sign
Take a pallet wood for the sign, nail gun or nails and hammer, stain in dark walnut, white acrylic paint, paintbrush, stencil made with silhouette machine and sealer! Pro-tip; Use a small amount of paint and dabbing technique to minimize paint bleed. bloominghome
86. DIY Wooden Star Sign
Make a simple yet character building DIY wood sign! You are merely going to need wood slats, staple gun, wood stain, stencil, white craft paint, and a paint brush! For getting a clean paint line, carefully remove the stencil in time. homemadelove
87. Hand Lettered Wood Sign
When you keep up little reminders of you how much your happiness matters across the room, you have these sweet reminders to check on yourself! This one features ½" cabinet grade plywood, 9" foam paint roller cover, satin white interior paint, vinyl, transfer tape, and a few more craft supplies makingitinthem
88. Handmade Wood-framed Word Art
This tutorial features a 33″ x 27″ wood art in a wooden frame! It will make a beautiful addition to your bedroom. Built on the base of plywood and sealed in the perfect white matte paint. You can easily print this by using word art! Get details from the tutorial. shadesofbluein
89. Anniversary Date Driftwood Sign
This anniversary date driftwood sign will make such an adoring addition to your gallery wall! It will add an enormous amount of character to the whole area around. All you need is a piece of pinewood as per your requirements and some number stencil art! blesserhouse
90. How to Make Coffee Crate Lid Sign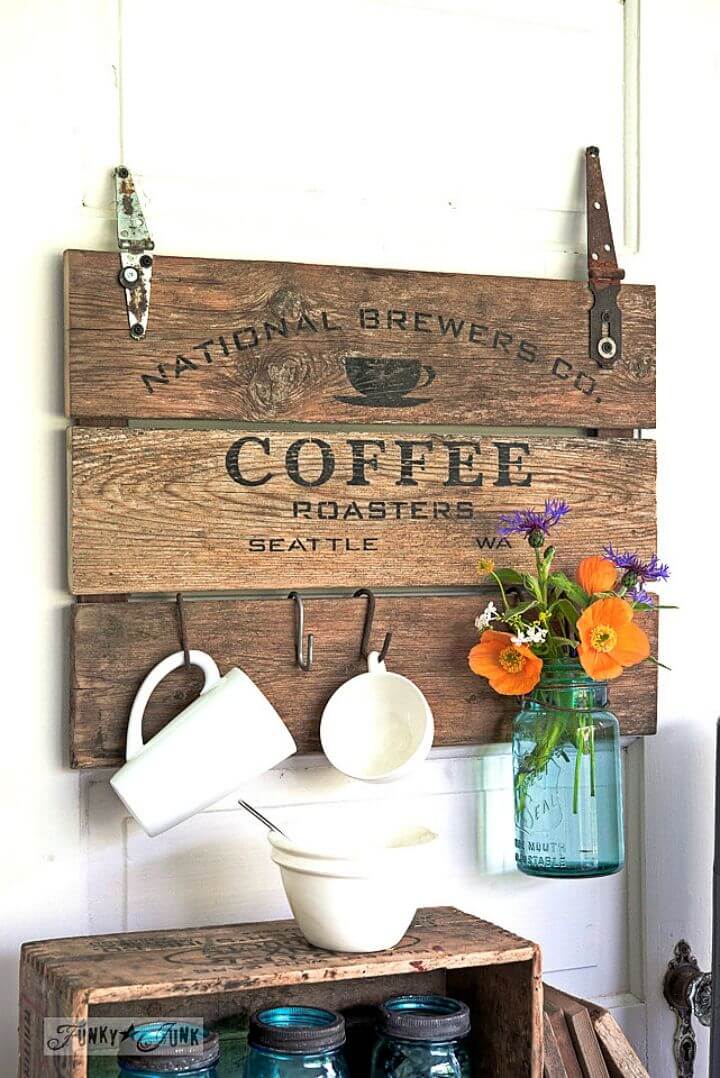 Add some super classy coffee crate wooden sign vibes to your kitchen? These are basically just 3 fence planks cut according to size and secured with tow boards behind! With a little coffee stencil on the front and hooks to hang up them coffee cups. funkyjunkinter
91. Making a Pallet Board Sign
Did you know you can make a pallet board sign using your projector? Print your desired logo or any design by using your computer and then put the printed paper on your projector! Trace the silhouette falling on your pallet by using a pencil and then paint it all up! salvagedinspi
92. DIY Burnt Pallet Sign
Add a rustic and charming appeal to your pallet sign by burning the wood from the areas where it is a little off! It will cover the area and at the same time, give it quite a charming burnt look. Then using a stencil, simply trace your letter on the sign and ENTER paint!! momslifeboat
93. Rustic Fall Wood Sign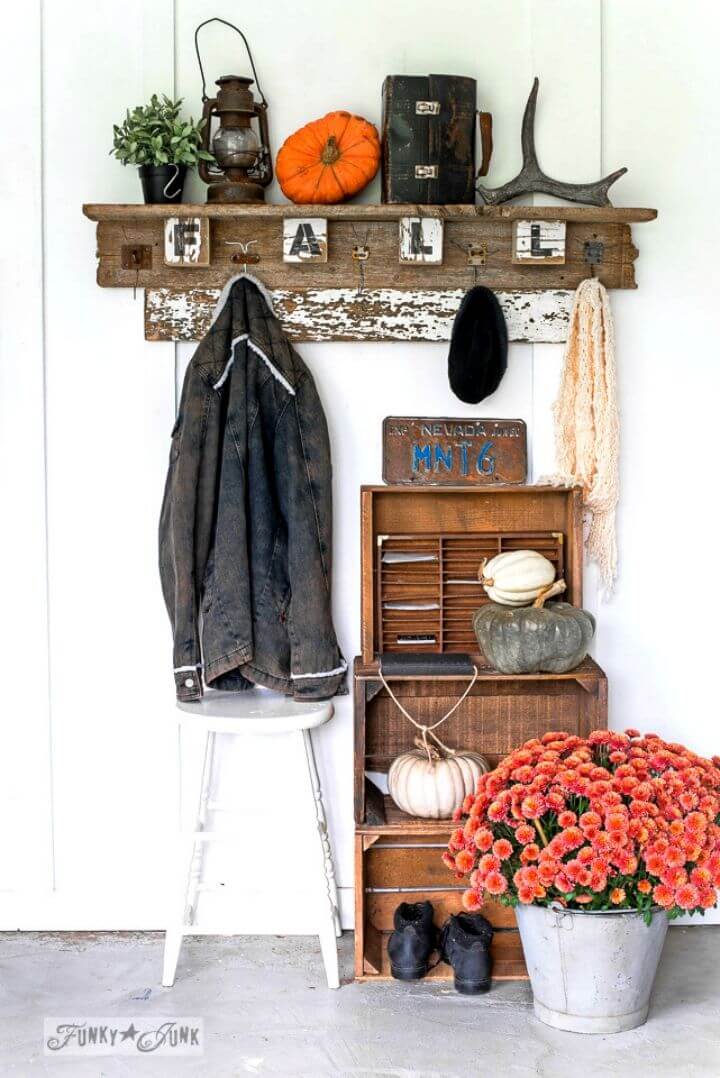 Totally befitting for the fall season, this uber rustic "Fall" sign is going to bring such adoring and appealing fall vibes inside your home. This one features some reclaimed wooden square posts! Apple farm stencil and fusion mineral paint in coal black. funkyjunkinte
94. DIY Wood Gather Sign
For so many festive occasions, making their way to us! This DIY wood "gather" sign is going to be perfectly cozy-ing up the vibes around the place! This one features an 18" board with wood stain, transfer paper, pencil, white paint pen, and computer with a printer. thejunqdrawer
95. Farmhouse Style Home Sign
This farmhouse style "Home" sign has got all awe-struck! It will surely add so much character to your decor! Quite the look with added miniature greenery and grapevine wreath! The tutorial features a 24" pine board cut. 504main
96. DIY Wood Signs for Under $2
If painted signs are your favorite but you are far away from buying them given how expensive they are, you can make this one just under $2. Start by working on dog-eared fence boards. With some jigsaw and paint, you can get done with this in just an hour. theshabbycree
97. DIY Pretty and Rustic USA Wood Sign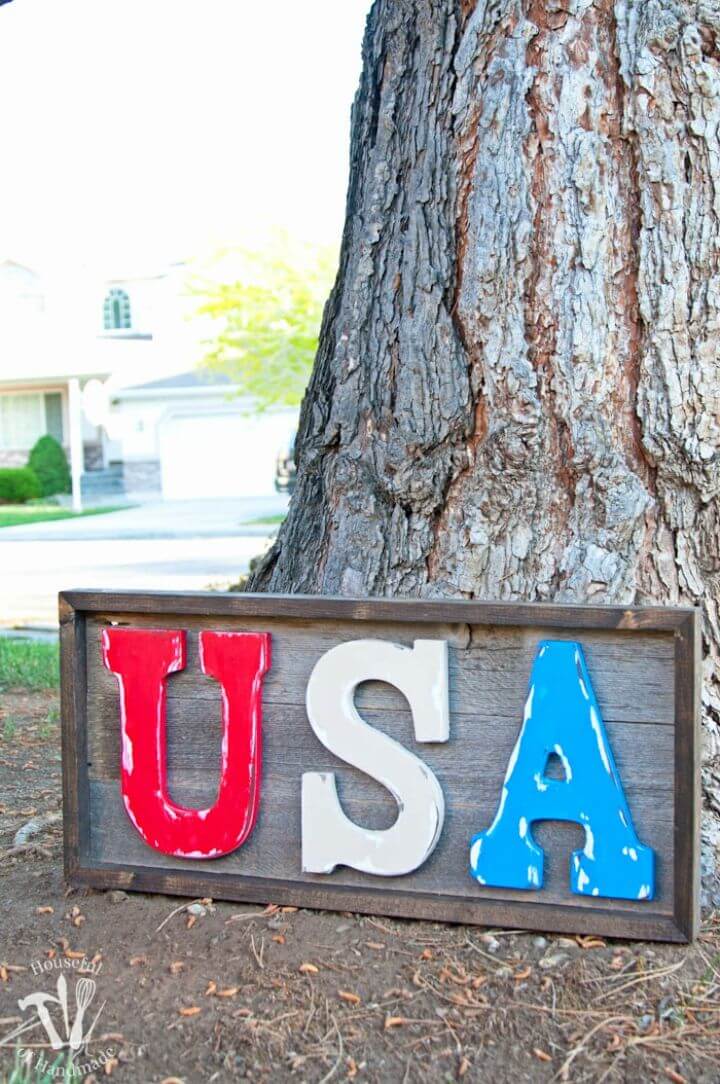 In true spirits of the 4th of July, you can set up this highly mesmerizing USA sign! This patriotic mantle can add quite the patriotic feels to your decor. It is quite simple to make using 6" of reclaimed wood boards, three 9" letters. For the tools, you will need a miter saw and a battery-powered nail gun. housefulofhand
98. DIY Custom Wooden Signs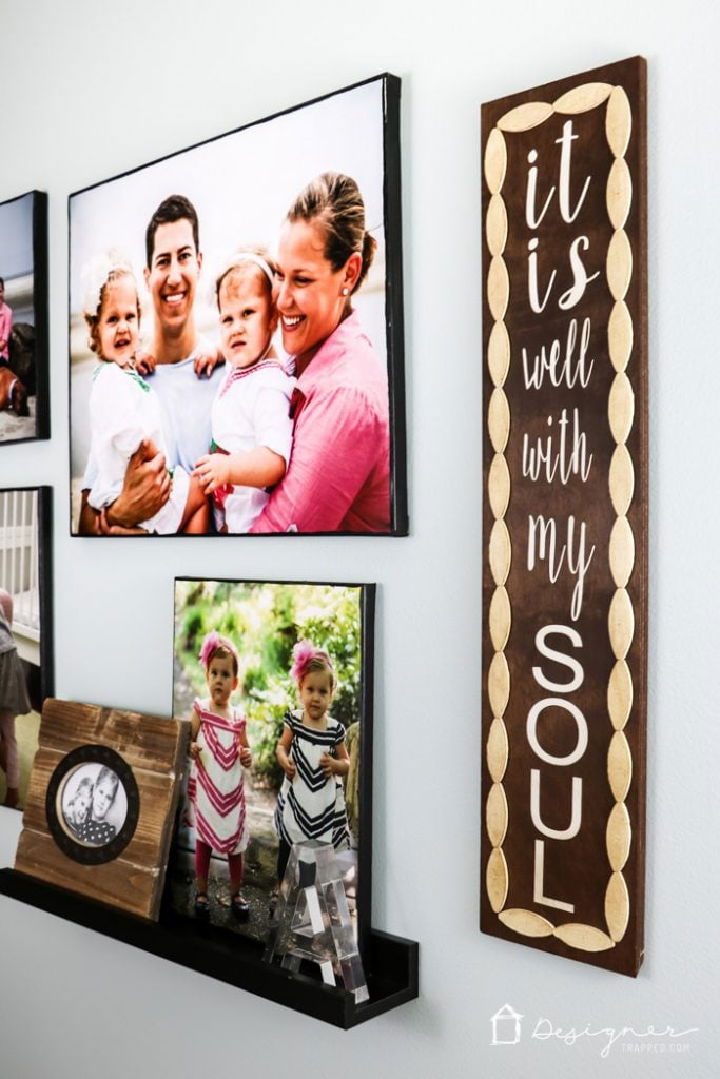 Add a soulful quote or verse to your decor and bring some sensational aura to your living room or bedroom decor! You can easily make this one using wood of any shape or size, plate jointer biscuits, rapid fuse wood adhesive, white, adhesive vinyl, and silhouette cameo. designertrapped
99. How to Build Wooden Farmhouse Sign
Add this easy to make wooden farmhouse sign to your house! Bring some minimalistic vibes to your decor and appreciate the little love-filled things in life. You can make this by using 1 sheet of plywood, wood glue, white chalk paint, and your favorite font! For details, hit momswithout
100. Painted Canvas Farmhouse Sign
Inspired by the "PVPP" stencil method, that is Paint, vinyl, paint, and paint, you can totally nail this "Me and my house" decor trend! You will need some silhouette cameo, vinyl, transfer tape, and craft paint with a brush on a 10*20" canvas board. unoriginalmom
Related Easy DIY Projects
Welcome Sign Ideas: You're looking for a welcoming way to greet your guests. These easy DIY welcome sign ideas are easy to make, and they're sure to add some personality to your front porch.
Pallet Sign Ideas: Bring a rustic, handmade touch to your home with these fun DIY pallet sign ideas and Wall Art Ideas. They're easy to make, and are more affordable than you think.
DIY Garden Signs: These cute DIY garden sign ideas are perfect for creating your own garden sign to add a beautiful and creative touch to your outdoor space!
Large Wall Art Ideas: Check out these budget-friendly DIY large wall art ideas to add beauty and personality to any room in your home.
Wall Art Ideas: Wall art is a great way to decorate your home and make it feel more like a home. Decorating with these creative DIY wall art ideas is an affordable and quick way to create a personalized space.
Wall Decor Ideas: Save money and get creative with these pretty DIY wall decor ideas that anyone can make. These easy projects will add a pop of color to your living space.
Chalkboard Paint Ideas: Chalkboard paint is a great way to add fun to your life and home. Here are genius DIY chalkboard paint ideas for how you can use chalkboard paint in your home decor.
Related DIY Projects and Ideas
DIY Entryway Ideas: Learn how to make your entryway stunning with these most creative DIY entryway ideas that you can handle with just a few tools and Learn how to make your entryway stunning with
DIY Home Decor: Looking for some quick and easy ways to decorate your home without breaking the bank? Get inspired with these cheap DIY home decor ideas to make your house a beautiful home. The best part is that these are really easy to execute!
DIY Projects: Whether you're looking for a quick home fix and or complete home makeover, this list of DIY projects and ideas will help you keep your home tidy, organized, and beautiful with minimal effort.
DIY Backyard Ideas: With these easy backyard ideas, you can have beautiful outdoor living spaces. Flowerbeds, patios, and modern outdoor kitchens are just the beginning of what you can do to create your perfect backyard.
Pallet Projects: Make your own beautiful furniture or home accessories with free woodne pallets. Get a step by step guide to building DIY pallet projects with detailed diagrams, instructions, and tips.
PVC Pipe Projects: PVC pipe is a durable, lightweight material with an inexpensive cost. Find unique DIY PVC pipe projects that use PVC pipe in unusual ways.
DIY Garden Ideas: From starting a garden to revamping your backyard to container gardening, this list of cheap DIY garden ideas has you covered. You'll find inspiration for any budget and for any level of gardening expertise.
Conclusion:
From ultra-modern to farmhouse-inspired DIY wood signs, there are so many inspirations for you to choose from in our collection above of the easiest DIY wood sign ideas! You can make some lovely entryway welcome signs, add to the wreaths with the "hello" signs, and make grilling outside even more fun with the grill DIY wood signs.