Everything changes when the season changes! The new seasons are mostly welcomed by changing the DIY home decor, and here we are with a great episode of DIY projects that how you can welcome the summer and spring season by making some great decorations and centerpieces at home! You can take a start by making custom wall signs which can come also with custom quotes, messages, inspirations and with the custom saying that will help give a warm welcome to the upcoming season! So, if you are on a mission to celebrate the arrival of summer or spring season, then these 60 Best DIY Sign Ideas for Spring and Summer would work great that are super easy to make and would go eye-catching to any interior wall you need to decorate! All the DIY signs are full of genius hacks and smart recycling of old and expired things, so you are going to learn a lot from these DIY Sign ideas!
Paint the Kentucky state art in custom colors and then decorate it with custom paper flower embellishments and also with custom overwritten quotes and make a precious country love wall sign! Chalk paint an old mirror and then paste your typography paper art on it to make a beautiful quoted wall sign! Go also handmade with leather straps and pallet wood planks to create great looking quoted wall signs! Paste also custom vinyl letters to single wooden planks and make cool wall signs at just a drop of the hat! Drill tiny holes in the wood planks and then put the custom twine through than to make beautifully embroidered signs, just check out the given sample to amaze yourself!
Here most of the DIY signs of being made of recycled wood! You can simply repurpose the pallet wood planks and custom wooden slats to make some geometrical wooden boards which can be stenciled or painted for custom letters and art to make outstanding wall signs! Check out dozens of DIY signs inspiration given that are sure to spark your creativity! Moreover, you can also mount the 3D art or letters on the wood-made boards for amazing 3D wall art signs, an interesting example here is the ampersand wall art!
This just not ends here, you can also mount the wooden letters on custom handmade wooden boards for making gorgeous DIY signs, and you can paint the wooden letters or can cover them with fabric or duct tape to give variations and colors to your handmade sign! Next, you can also glue the rope on a wooden slat or wooden board making a custom shape or word to craft a beautiful wall sign! Make even the anthropology inspired wall signs at home that will be much focally stimulating, have a look at the given sample that is made of doorknob plates and with scrabble tiles!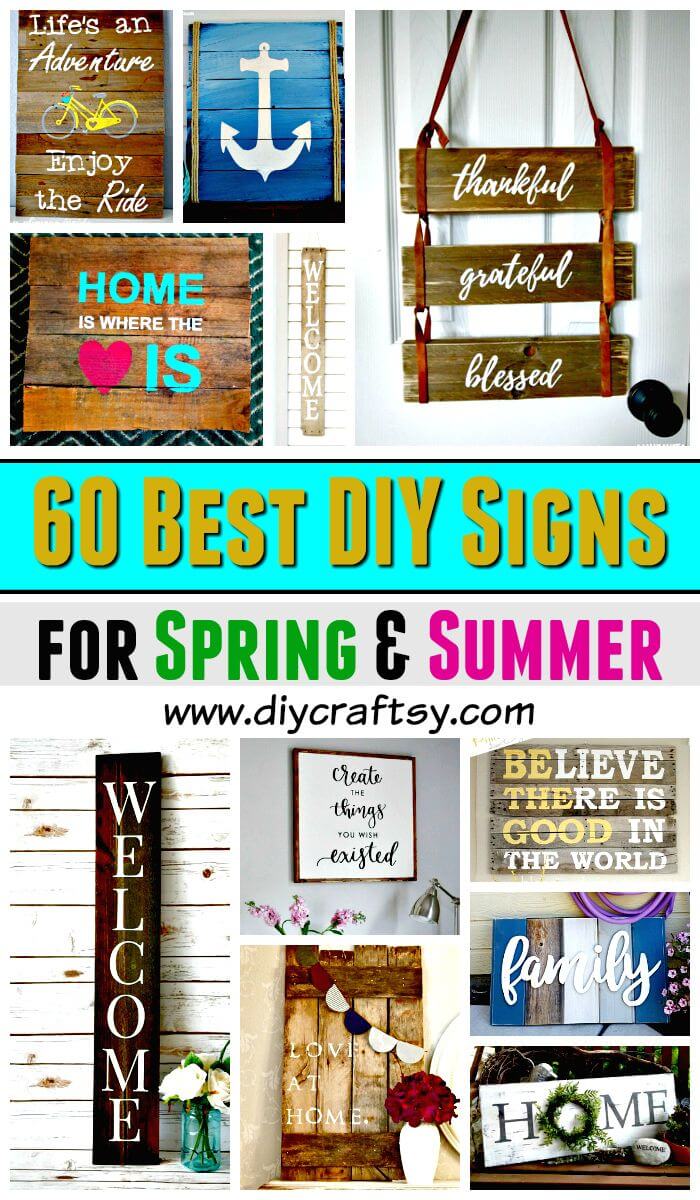 Under each listed DIY Sign Idea there is a source link which can be clicked once to reach the full project guides, tutorial and step-by-step instructions for free! So, do visit the attached links for DIY sign projects that you want to copy!
DIY Home Decor Projects You'll Love:
How To Make Painted Wedding Direction Signs: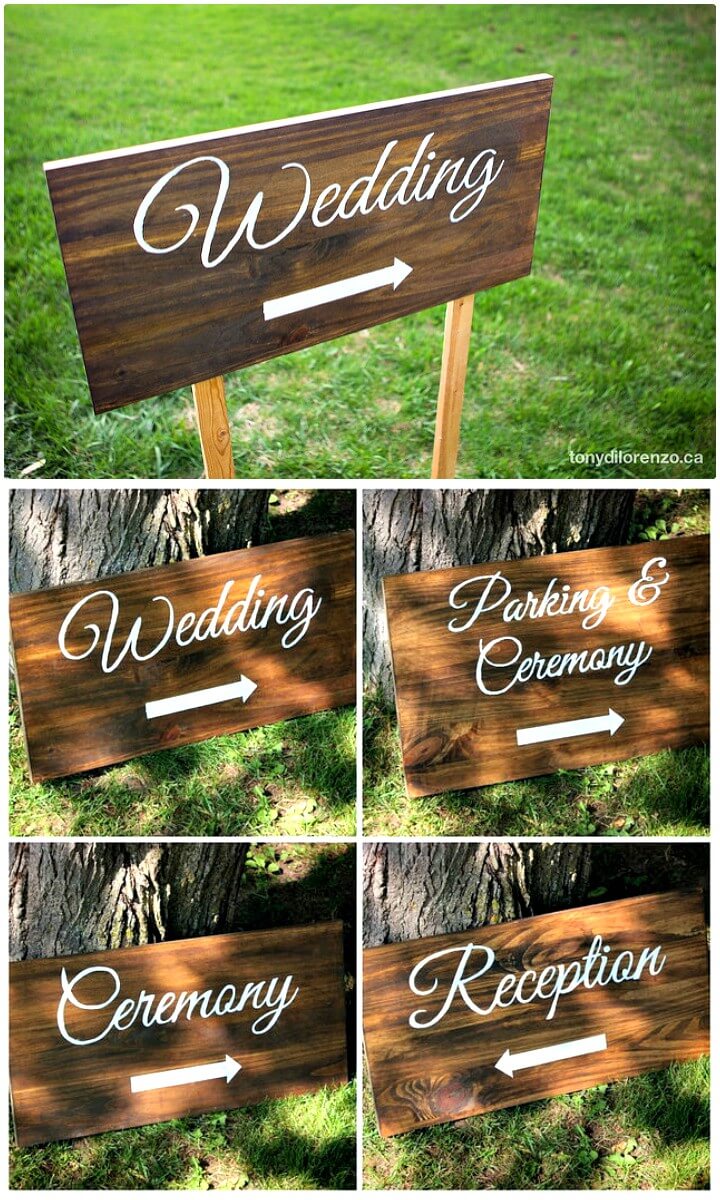 The green garden spaces are often to decorate with custom direction signs and the good news is that you can also make beautiful ones at home! Check out here the sample wedding direction signs that are made of wooden boards mounted on the garden stakes! Here the letters and arrow sign has been traced out on the wood using custom printed out letter templates! Get the complete project details and instructions from here lifeatcloverhill
DIY Thankful Grateful Blessed Pallet Wood Sign with Leather Straps: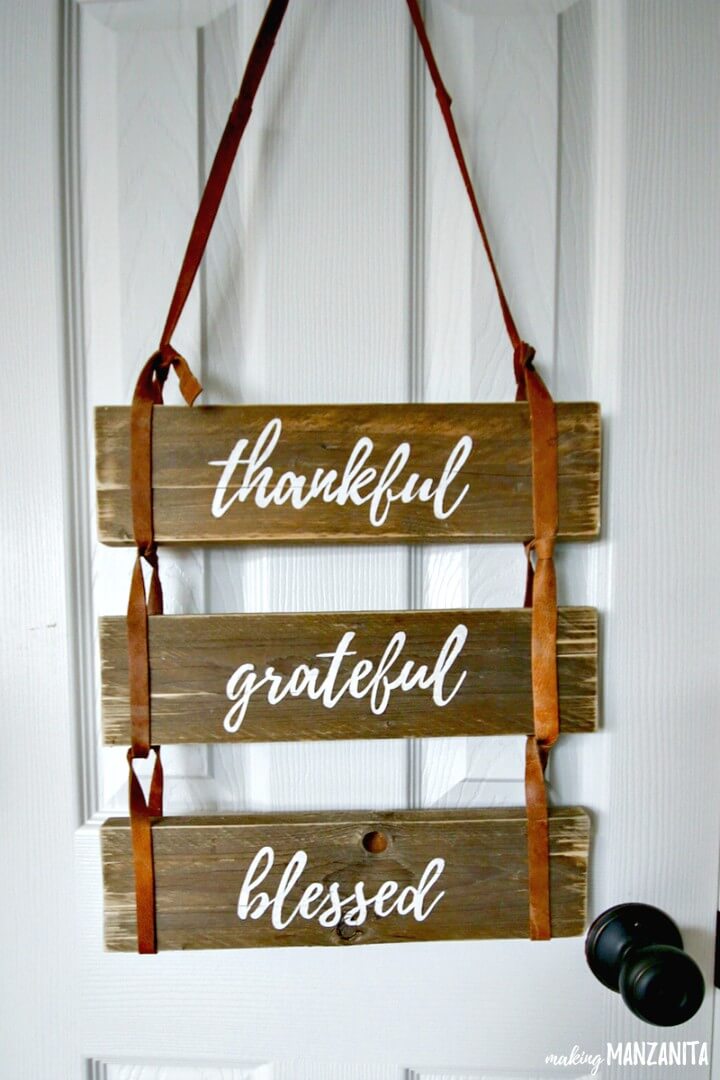 Check out here another brilliant wood wall sign that is made of rustic wood pallets and recycled leather strips! Here the leather straps have been brought in shape of chain loops and hold beautifully the 3 slats of pallets in them! Pallet slats have been sanded well and then stenciled for custom quotes and letters! Another fab handmade wall décor sign that you can easily duplicate! Complete instructions here makingmanzanita
How to Make Harry Potter Laundry Sign: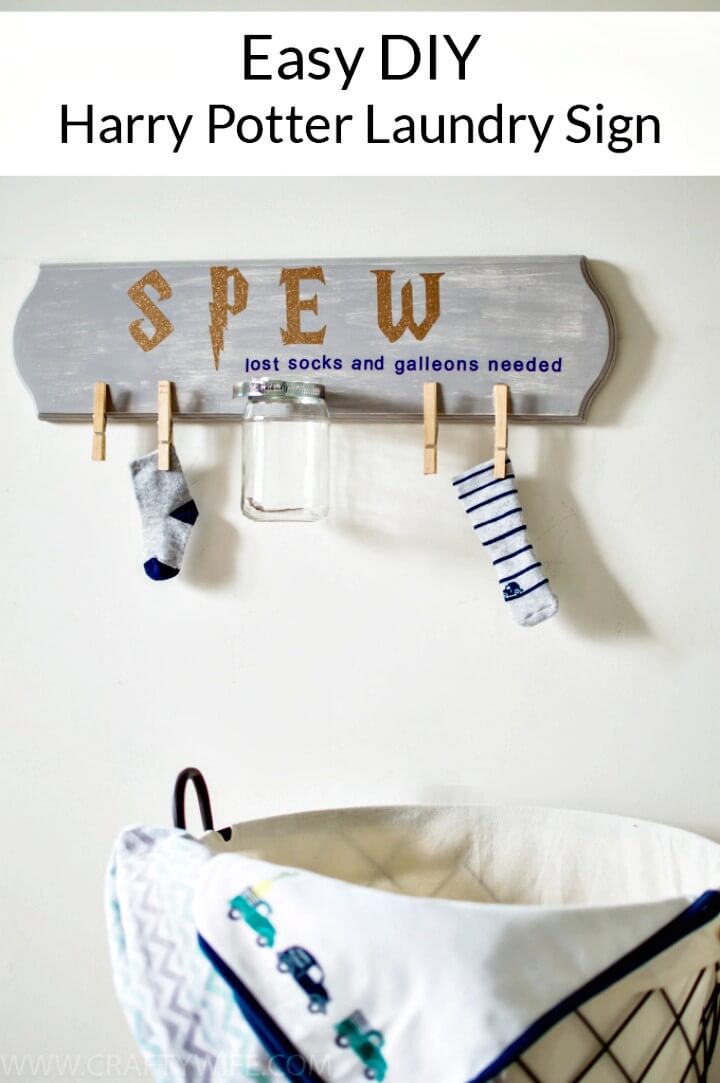 Duplicate this another artistic wood sign that is lovely and eye-catching and has been made to inspire! This is here the harry potter laundry sign that is made of a wooden plank that is having curved sides and has been got dignified with vinyl lettering! Finally, it has been added with clothespins and with a mason jar in the center and hence also serves for multiple other purposes! Complete project details and tutorial here simplymadefun
How To DIY Embroidered Pallet Wood Art: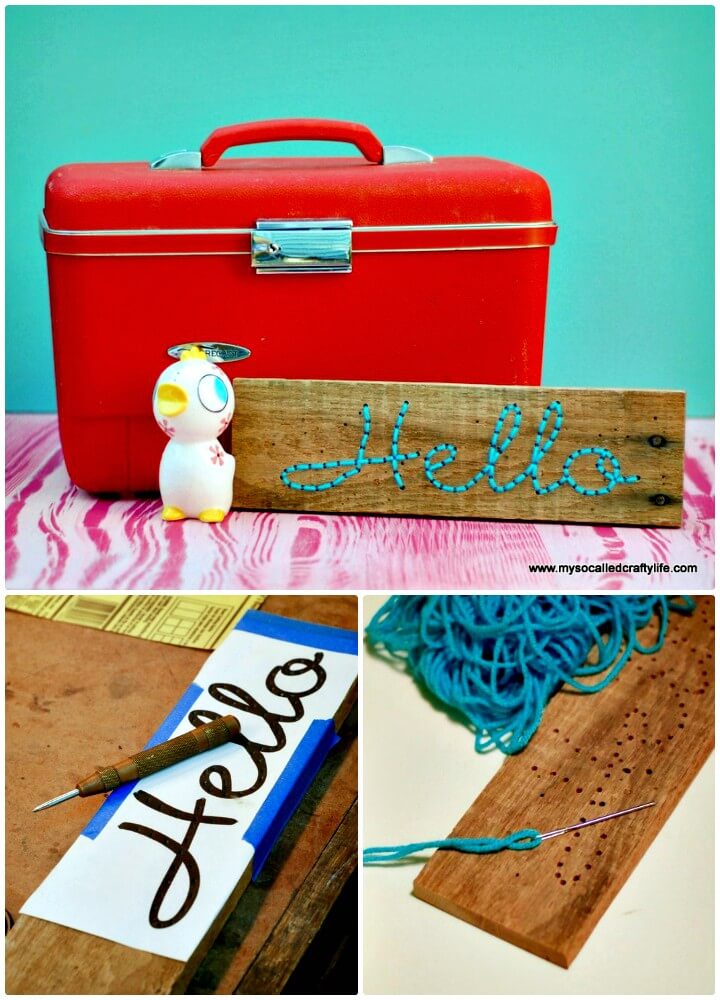 Here is the wood wall art sign that is sure to win your heart with its uniqueness! This is here the embroidered wooden pallet art that would definitely go rocking on any interior wall! Grab single pallet wood plank and then put a custom letter stencil on it, now use nail and hammer to dig up the wood a little for the art letters! Next use hand drill and drill the nail holes deeper to other side of wood! Now use the embroidery floss to embroider the art! Another great and lovely wall art sign idea! Complete project details and instructions here mysocalledcraftylife
Cute DIY Fab 5 Sign Idea: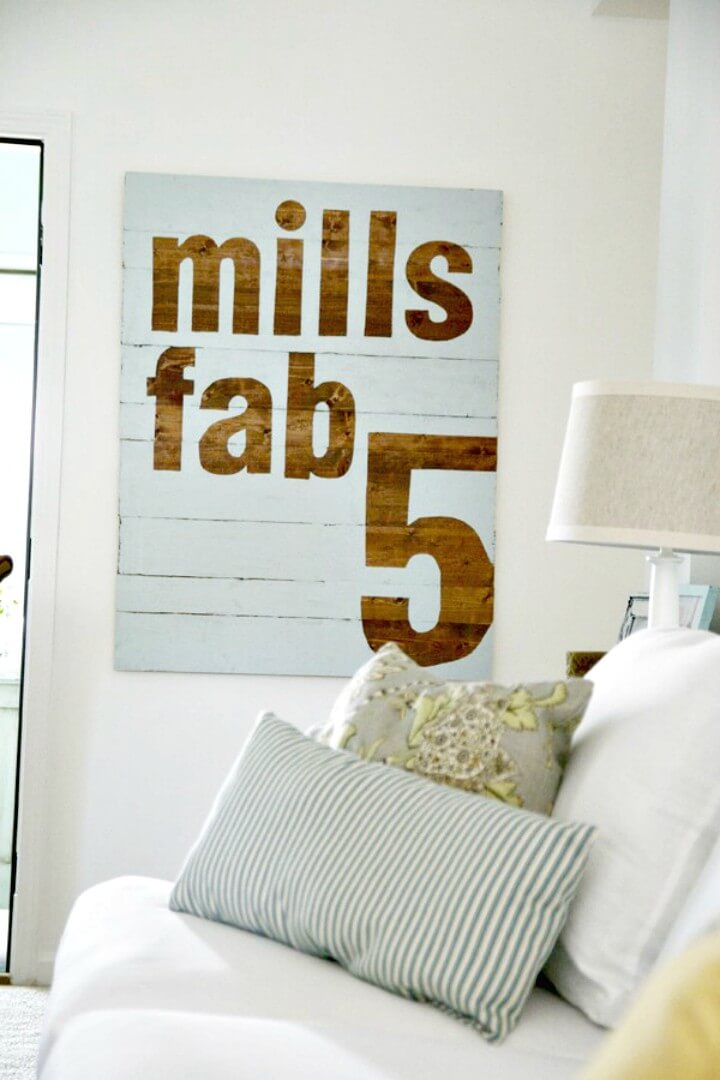 Spice up your interior wall also with this another glam looking sign that is also purely handcrafted! Here the custom wooden boards have been put together to make a big wooden square or rectangular board and next the just paint the entire sign in white leaving the taped areas and then remove the tape to remove the letter art! Complete DIY Sign instructions and tutorial here thehandmadehome
Make Your Own "Life's an Adventure" Pallet Art: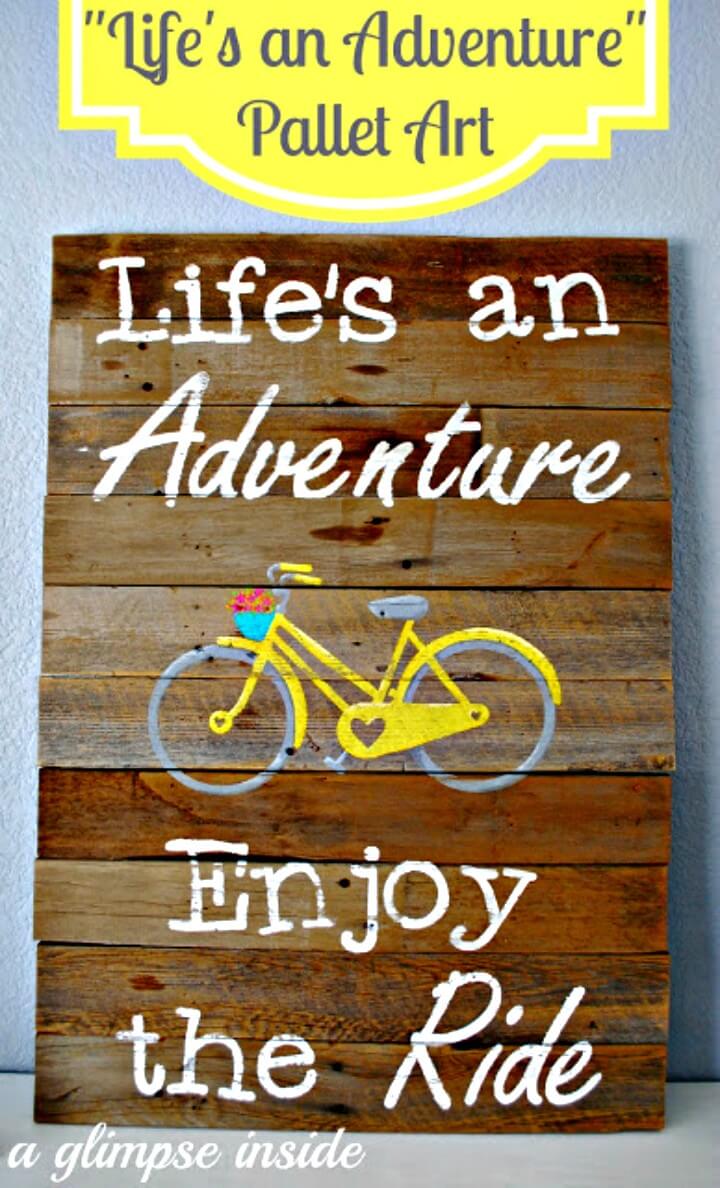 You can simply change the letters and art shapes to vary your wall art signs that you will make with pallets! Check out here another adorable one that is also perfect for summer and spring and is something super beautiful to look at! Here this wooden pallet board comes with a painted cycle and custom white lettering! Complete instructions here aglimpseinsideblog
How To Make Wood Pallet Ampersand Art: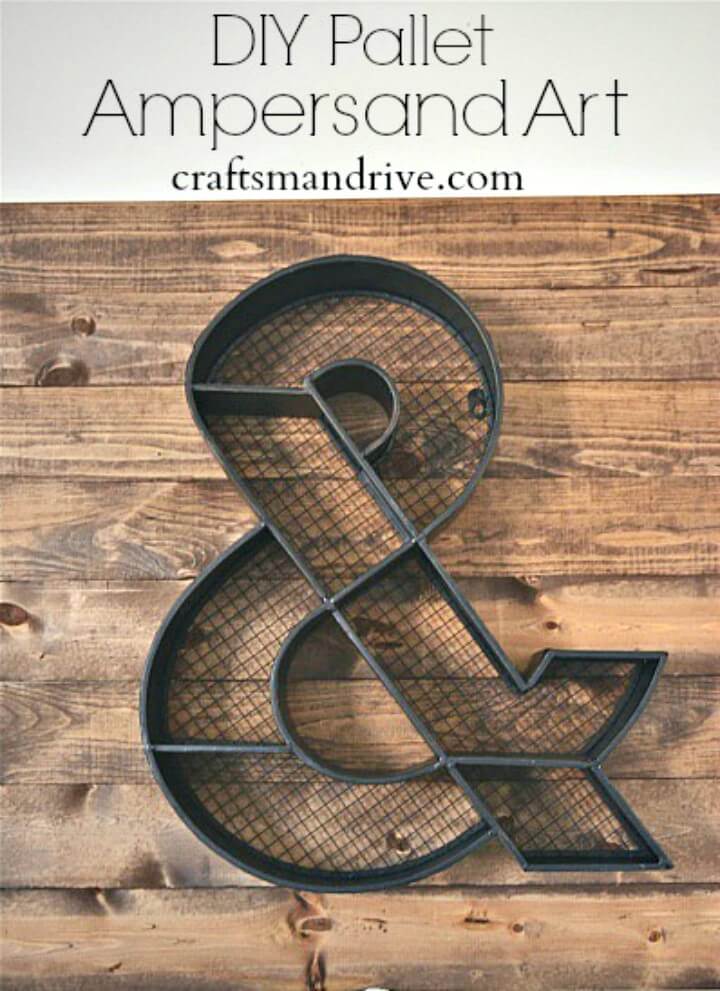 Get inspired of this another great looking wooden pallet art that is truly attention grabbing and is also something super gift-worthy! Here again the rustic pallet slats have been put together for a big rustic wooden board and next the beautiful metallic ampersand letter with metal lattice backing has been pasted on the wooden board for a stunning piece of 3D wall art! Complete project details and instructions here craftsmandrive
Create Wood Signs & Free Printables: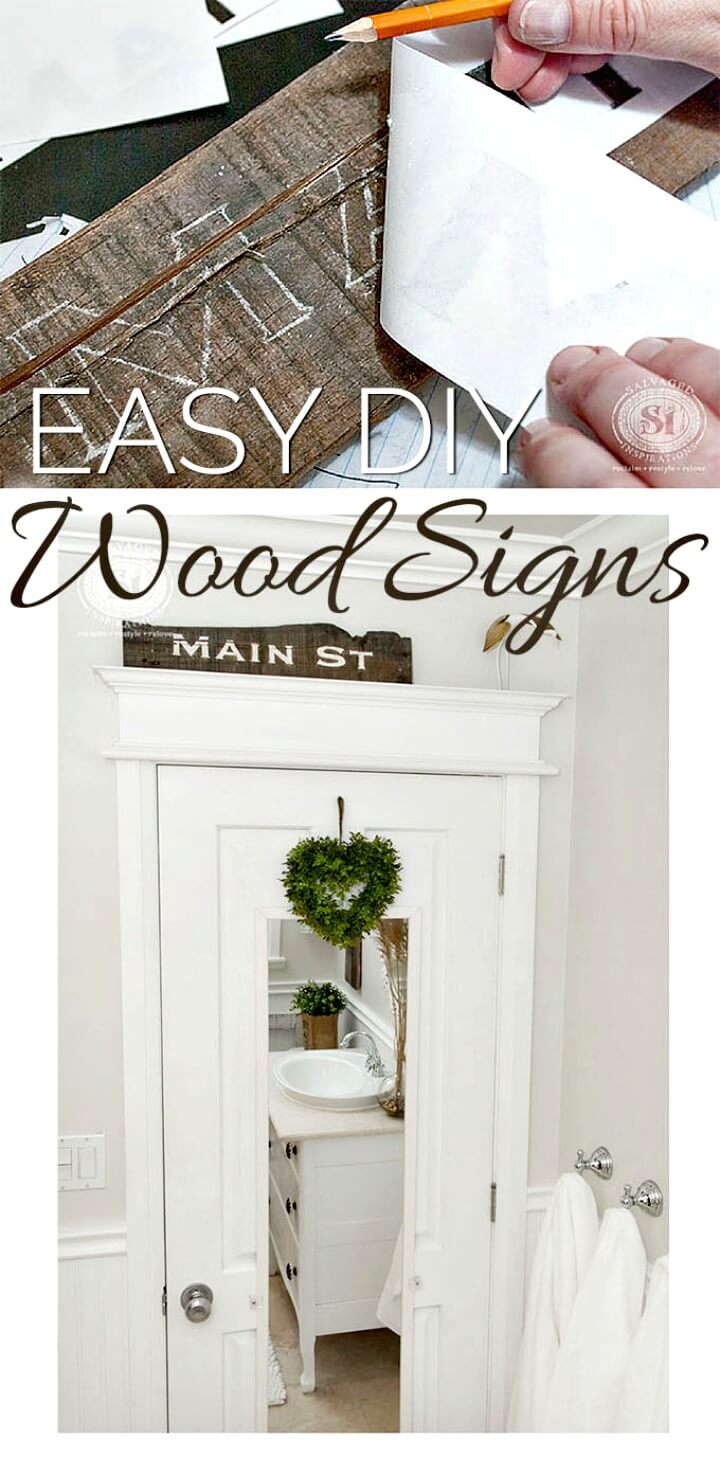 Rustic wooden slats are not merely to discard or toss to scrap pile they can be your next great wall art piece for sure! Just check out here this handsome wood sign that is extra beautiful to look at and is really looking handsome! Here first the art letters have been marked on the wooden plank using a letter stencil and then have been painted in white for a gorgeous appeal! Complete instruction and guides here salvagedinspirations
Adorable DIY Dimensional Letter Holiday Sign: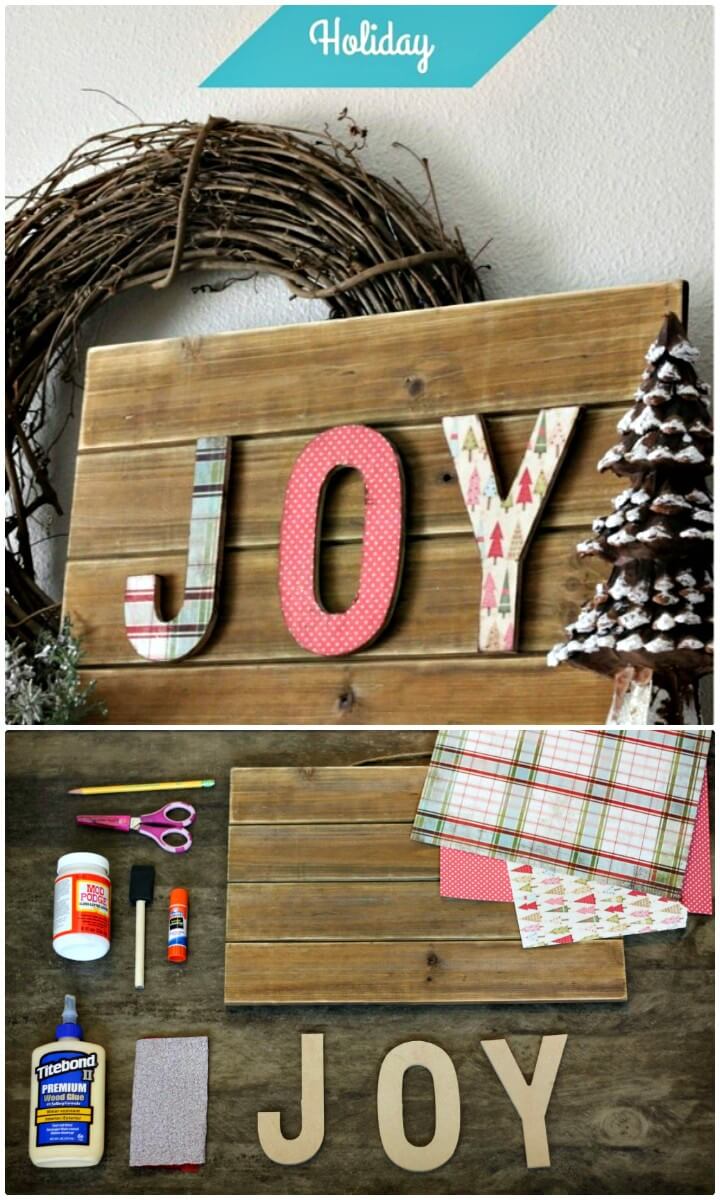 Willing to lift up the mood of your interior wall with a 3D letter wall art? If yes, here is a great low-cost inspiration for you that will help you getting a fab wall 3D letter wall art sign! Here the custom dimensional letters come with top side covered with scrapbook papers and then have been pasted on a wooden board that is made of separated wooden pallet slats! This would make a perfect holiday sign! Complete project guides and instructions here suburbansimplicity
Easy DIY Scrap Wood Beach Sign: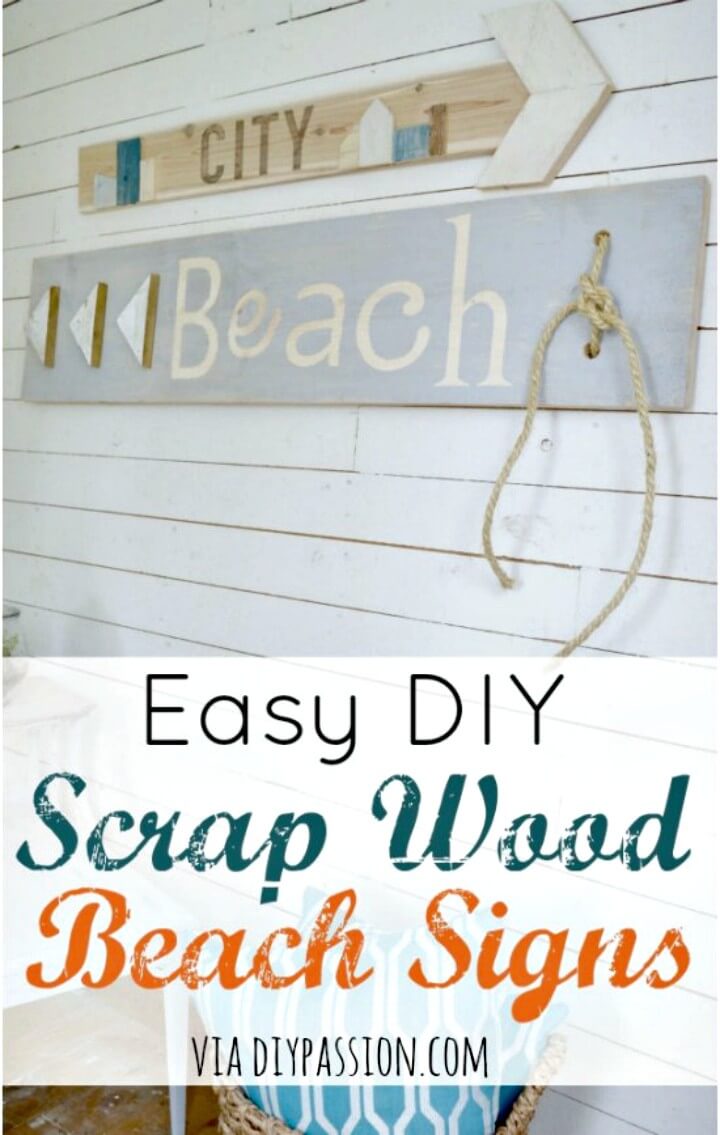 If you are a big fan of nautical decors then you will definitely fall in love with this beach sign that is purely handmade and is really looking eye-captivating! Here once again the custom wooden slats have been added then with custom wooden triangular pieces and then have been painted for custom letters for making beautiful nautical wall signs! You make use of letter stencils and vinyl lettering for painting custom quotes and letters on the wood planks! Here the beach sign has also been painted in aqua! Complete project tutorial here diypassion
DIY Wood Sign With Calligraphy Quote Tutorial: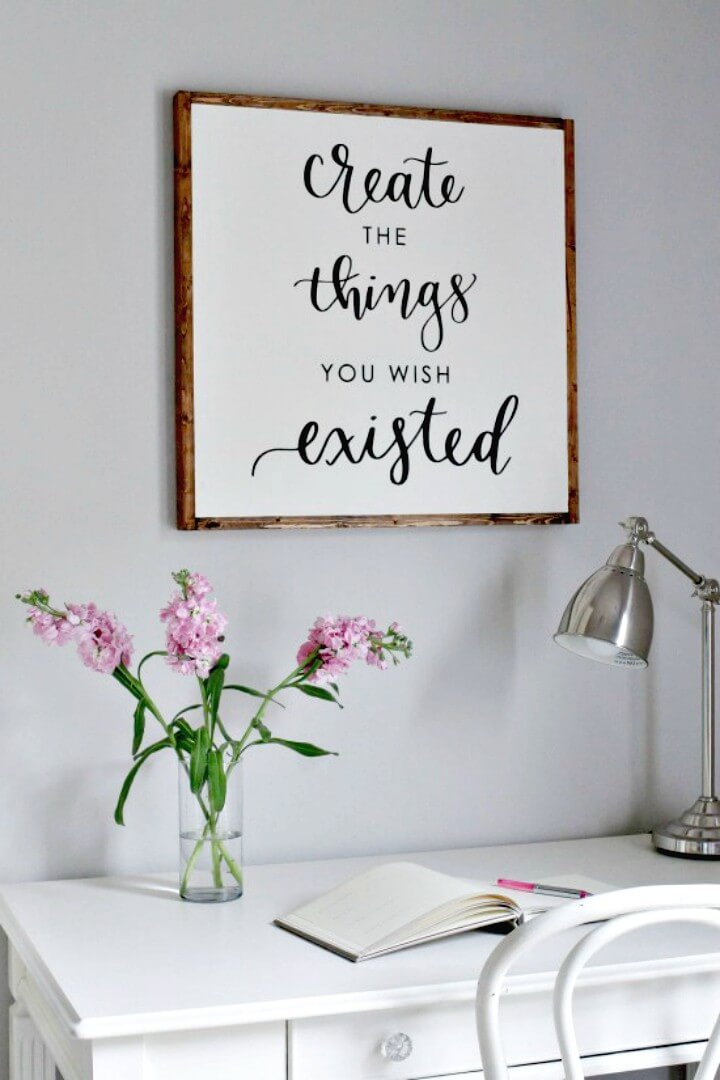 Make also use of leftover plywood to make amazingly beautiful wall art signs that will be ready in just couple of minutes! Here is a mind-boggling sample that is made of a plywood square board! The plywood sheet board has been painted in white and then has been stenciled for calligraphy letters or quotes! You can make the vinyl letter stencils using a Cricut machine easily! Complete project instruction here angelamariemade
DIY Farmhouse Style Inspired Home Sign: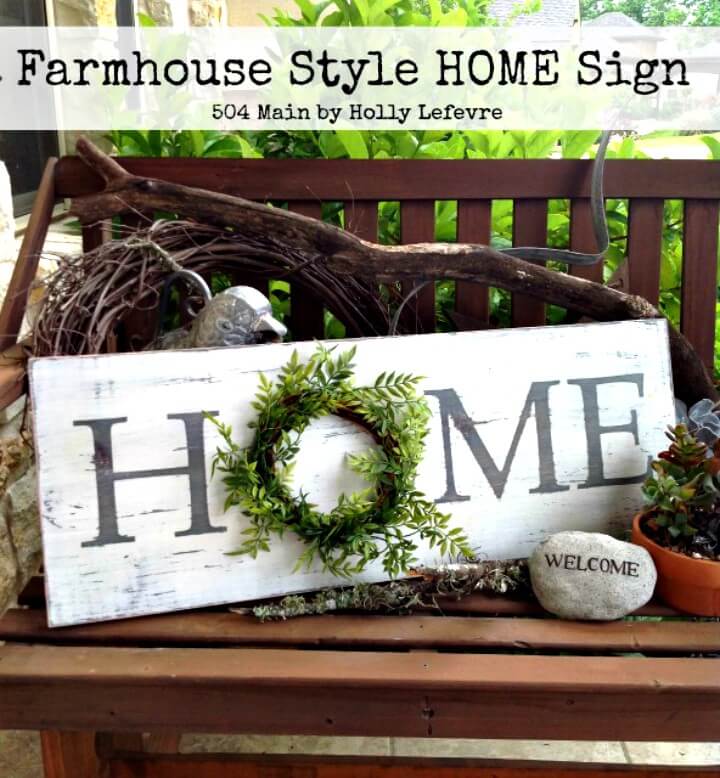 You will take great pleasure in making this sweet home sign that is inspired of farmhouse style decors! Here a wooden plank has been stenciled for custom "HOME" letters but in place of "O" a grapevine wreath has been mounted for a more fascinating wall art sign! This sign would just rock for the spring season and you can also paste it on your front door! Complete DIY Sign instructions and tutorial here 504main
How to Make Front Door Welcome Sign: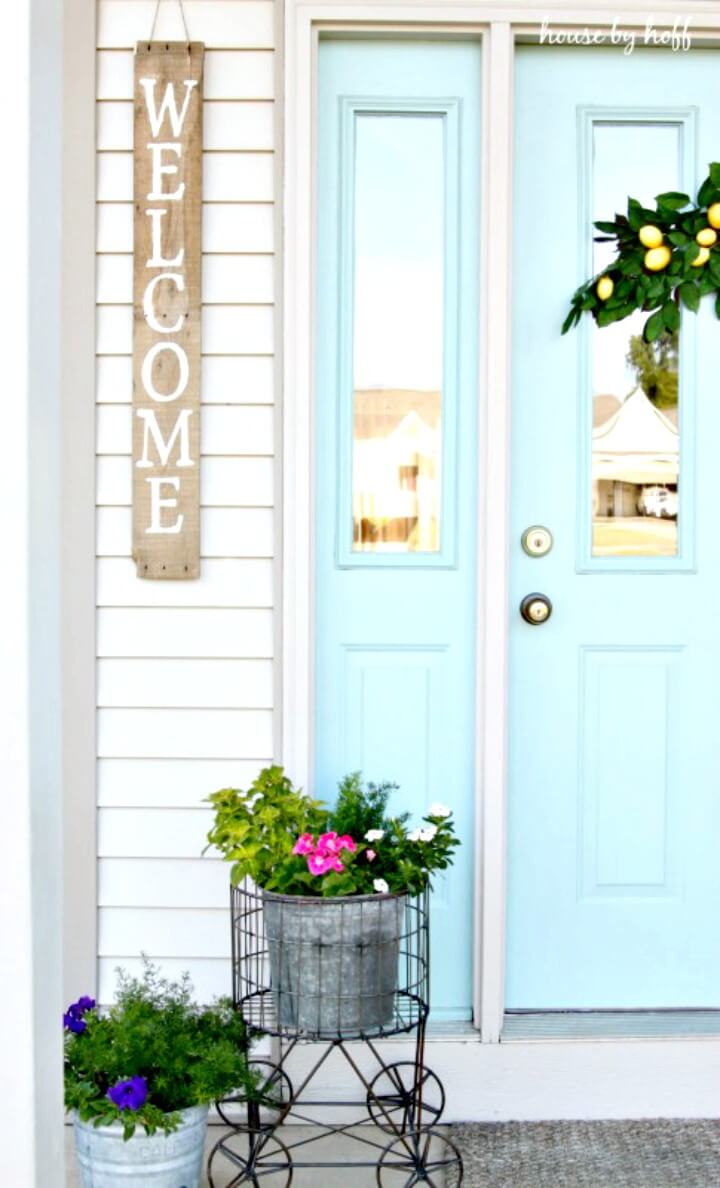 Repurpose also the scrap wood and using wood slats from home and let them boost your interior or exterior wall decors! Just have a look at this front door welcome sign that is made of a single wooden slat which comes painted with custom "WELCOME" letters! This art would just rock to welcome the spring season and you can just easily duplicate it! complete project tutorial here housebyhoff
Build A Wood Wedding Signs: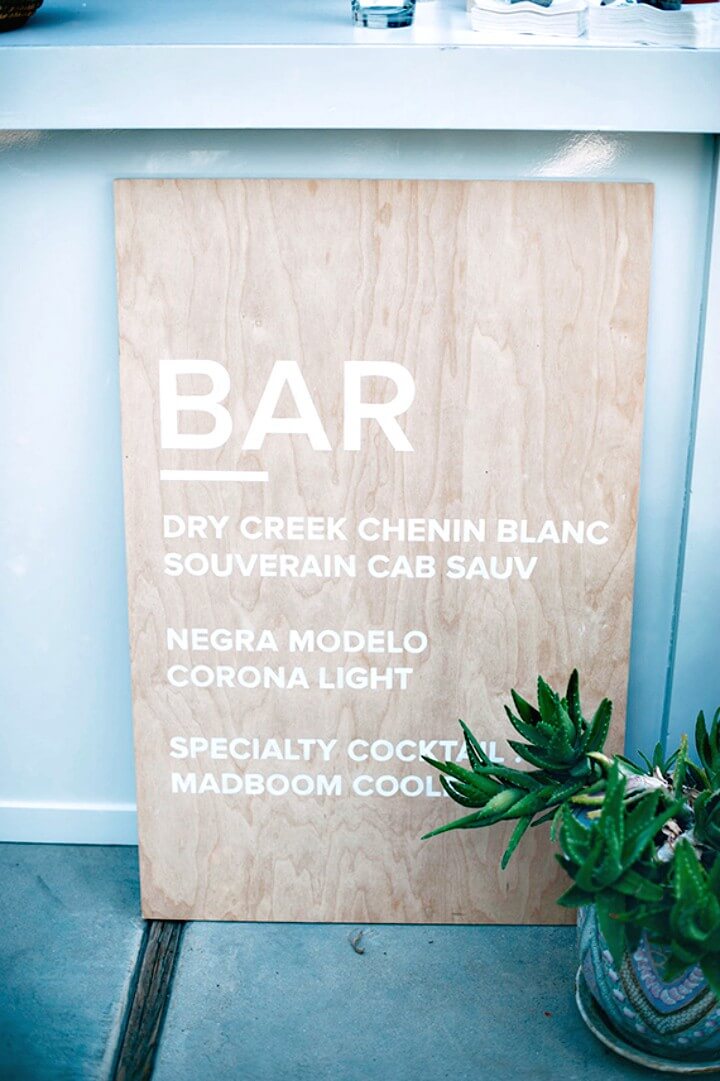 This just not ends here, you can also make fab wedding decors and signs at home using the leftover wood! Check out here the sample wedding sign that is made of plywood and comes with custom painted letters and quotes! Here the paper letter stencils have been used to trace out the letters first which then has been painted in white! Another cool wall sign and décor idea! Complete tutorial and instructions here almostmakesperfect
DIY Pallet Anchor Sign for Your Deck Tutorial: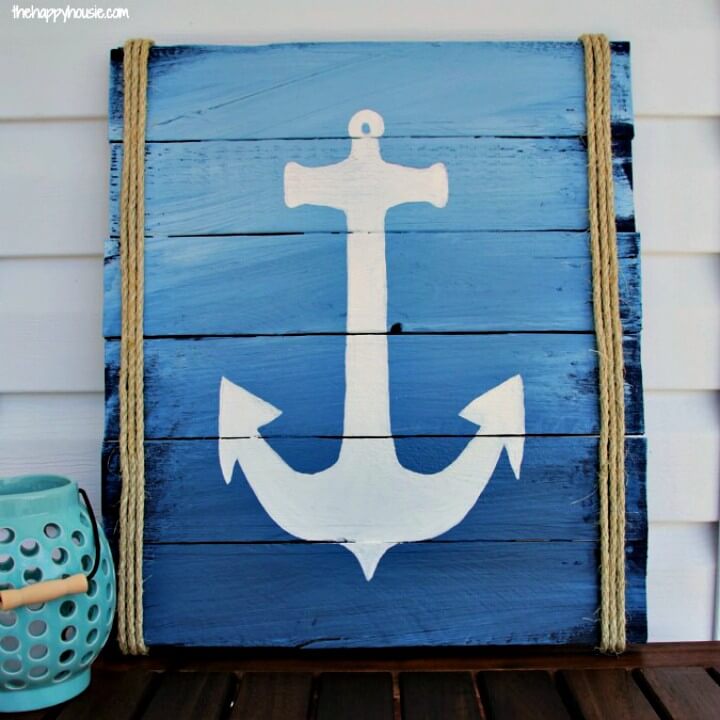 If you willing to bring extra charm to your interior spaces with some precious nautical décor signs then you will definitely like this wooden anchor sign that is made of pallets! Here the wooden board has been painted in blue and then the white anchor has been pasted on it for a beautiful nautical sign! Finally the nautical rope has been wrapped around the both sides of the sign to boost the nautical touch! Complete project guides and instructions here thehappyhousie
How To Make "Gather Here" Sign: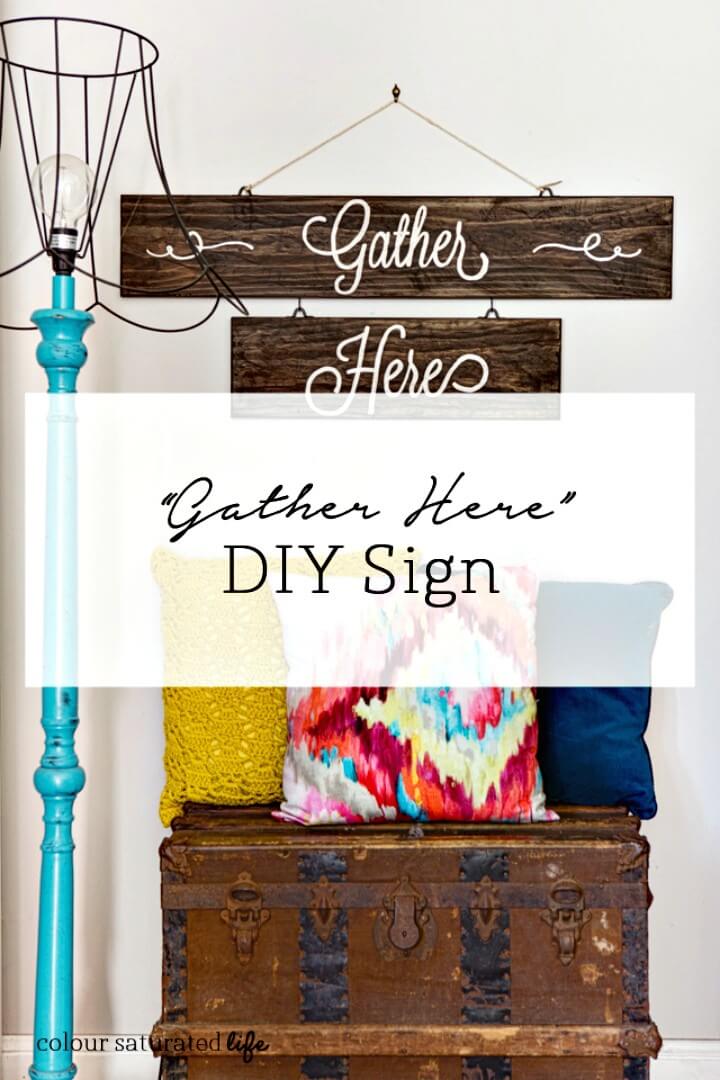 Duplicate this another brilliant wall sign that is made of 2 wooden slats painted for different letters! Here both slats have been stained for a custom dark tone of wood and then the custom letters have been traced out on them using paper stencils which have finally been painted! Here both slats have been connected through loop hooks and same hooks have also been installed to top plank through which a piece of twine has been passed to make a wall hanging loop! Complete project instructions here homemadebycarmona
DIY "Love" Rope Sign From Reclaimed Wood: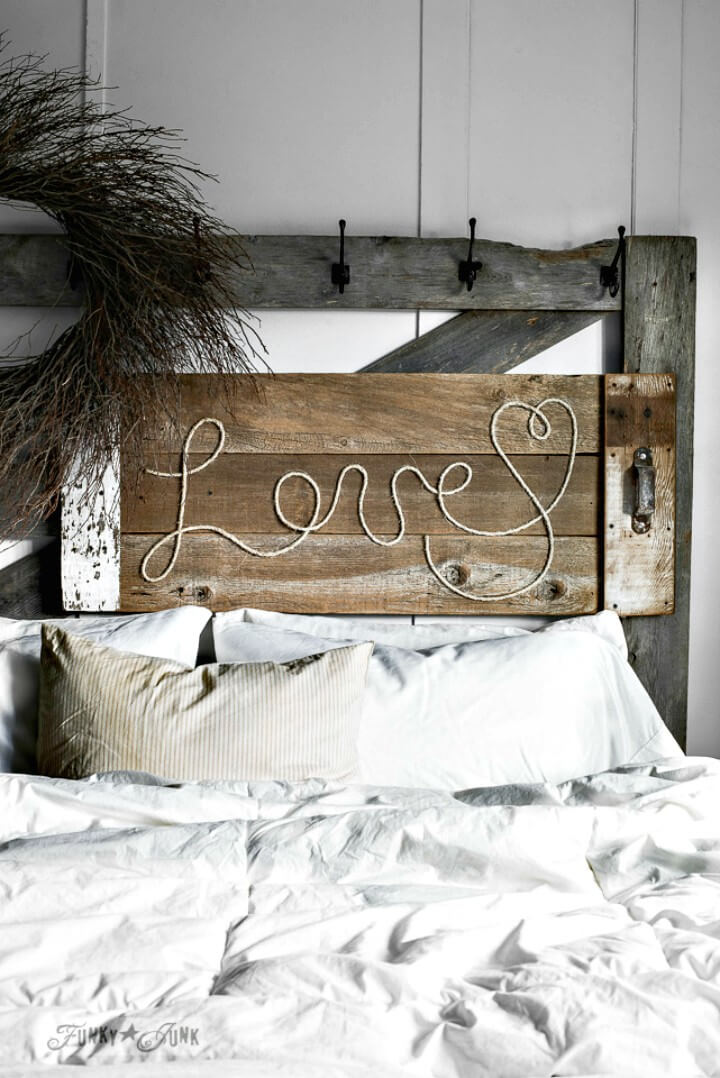 Here is another smart way to get crafty with old wood from home! Here some reclaimed wooden slats have been used to build this fantastic wall sign, the rope love wall sign! Here the wooden planks have been put together for a rectangular wooden board on which rope has been glued making the letter "Love", another great and fantastic wooden wall art sign! Complete project tutorial and instructions here funkyjunkinteriors
DIY Pallet Wood Sign Tutorial: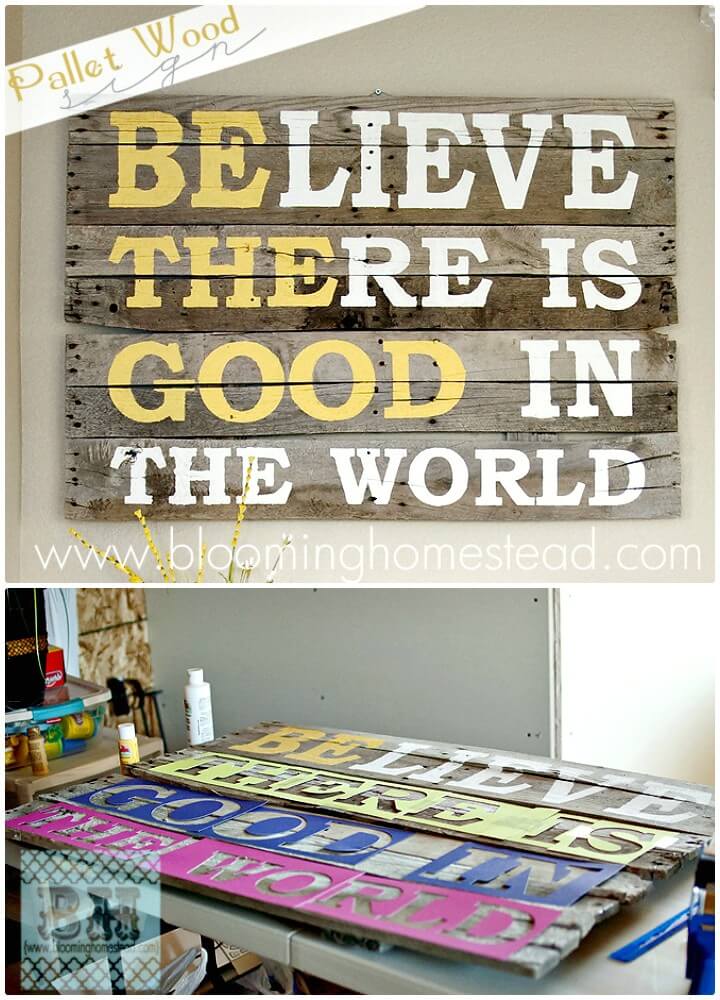 Are you a big fan of quoted wall art signs? Which may also comes with some overwritten family rules or custom sayings? If yes, then you can surely make some cool ones at home without getting a bit expensive! Just have a look at this fantastic sample wood sign that is made of separated pallet wood planks, put together for a rectangular board which have then been stenciled for custom colorful letters and quotes! Complete project instructions here bloominghomestead
How to Make Anniversary Date Driftwood Sign:
You may think that driftwood may be good for nothing but the truth is that you can do tons of DIY projects with them! So, why not make also some stunning wall art pieces with driftwood? Check out here a sample driftwood sign that comes with stenciled wedding anniversary date and is really looking awesome! Complete DIY Sign instructions and tutorial here blesserhouse
Make Your Own Home Decor Wood Sign: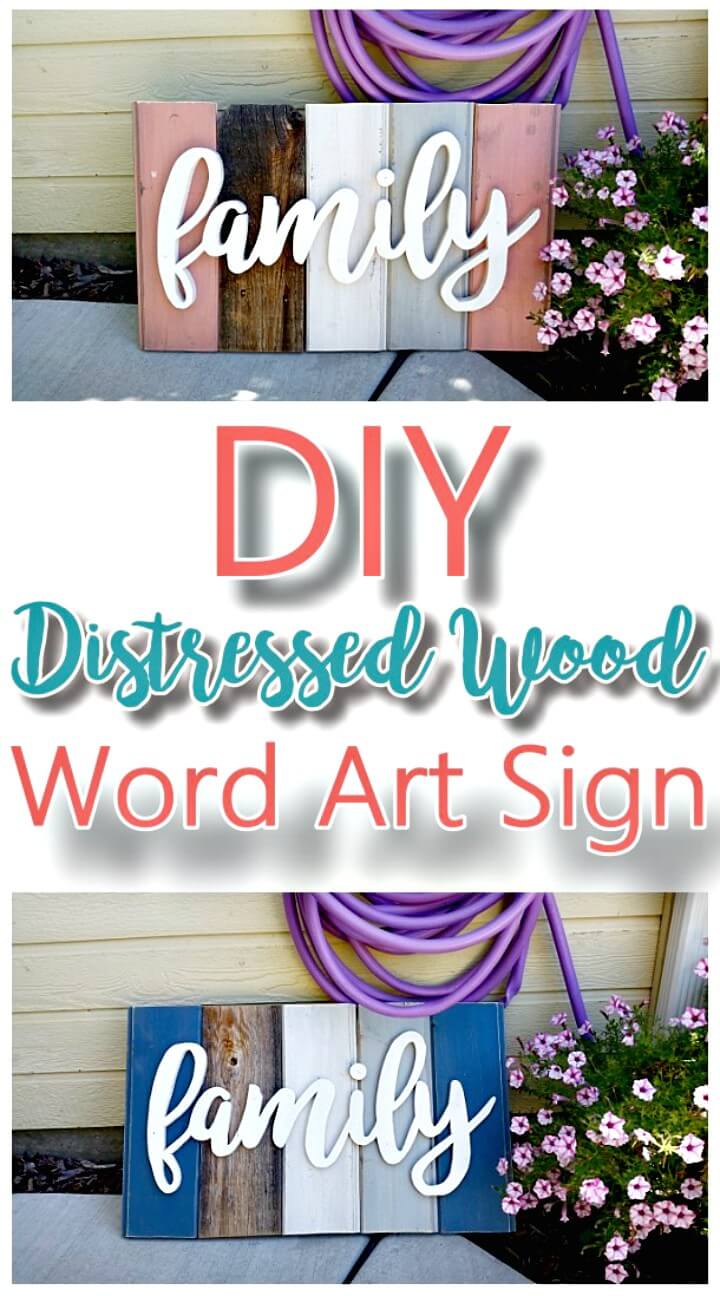 Show your love for your family making this super charming family home décor wood sign! Here just gather some wooden planks of equal lengths and thickness and make some rectangular wooden boards out of them! Next paste custom wooden letters on them which can be made easily with custom woodworking tools! Next paint the entire letter wall art in custom colors and enjoy! Complete DIY Sign instructions and tutorial here dreamingindiy
Make Large-Scale Signs – Party Decorations: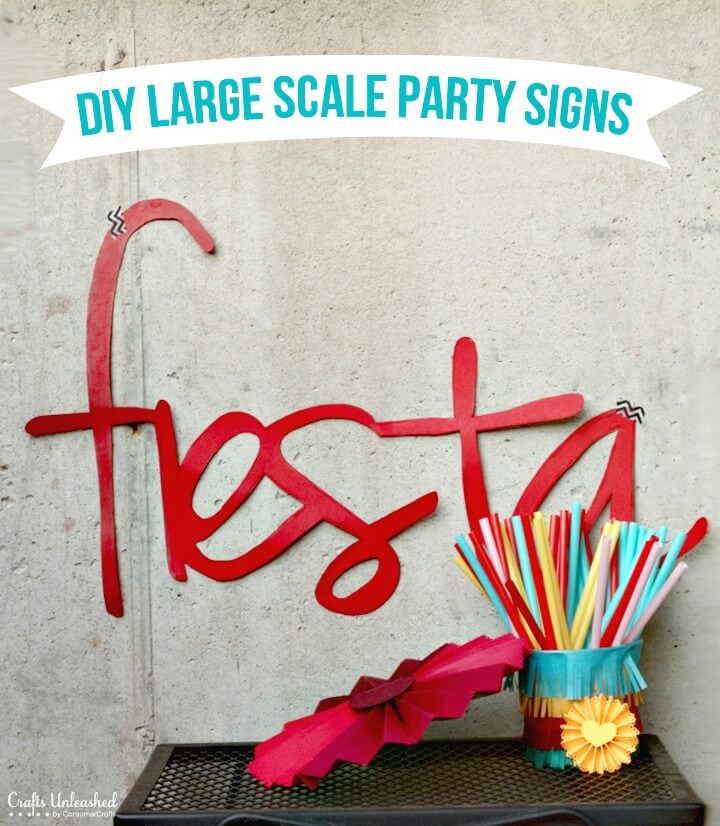 If you are to cover some larger areas of the wall for a amazing wall art then you can also like make some bigger wall signs at home! Duplicate this giant size letter art that is super easy to make! Just make use of projector and cut out large-scale letter art out of a poster board and next paste your letter art on a custom wall area! Here this given sample letter art sign would also rock as party décor! Complete DIY Sign instructions and tutorial here consumercrafts
How to Create Spooning Pallet Sign: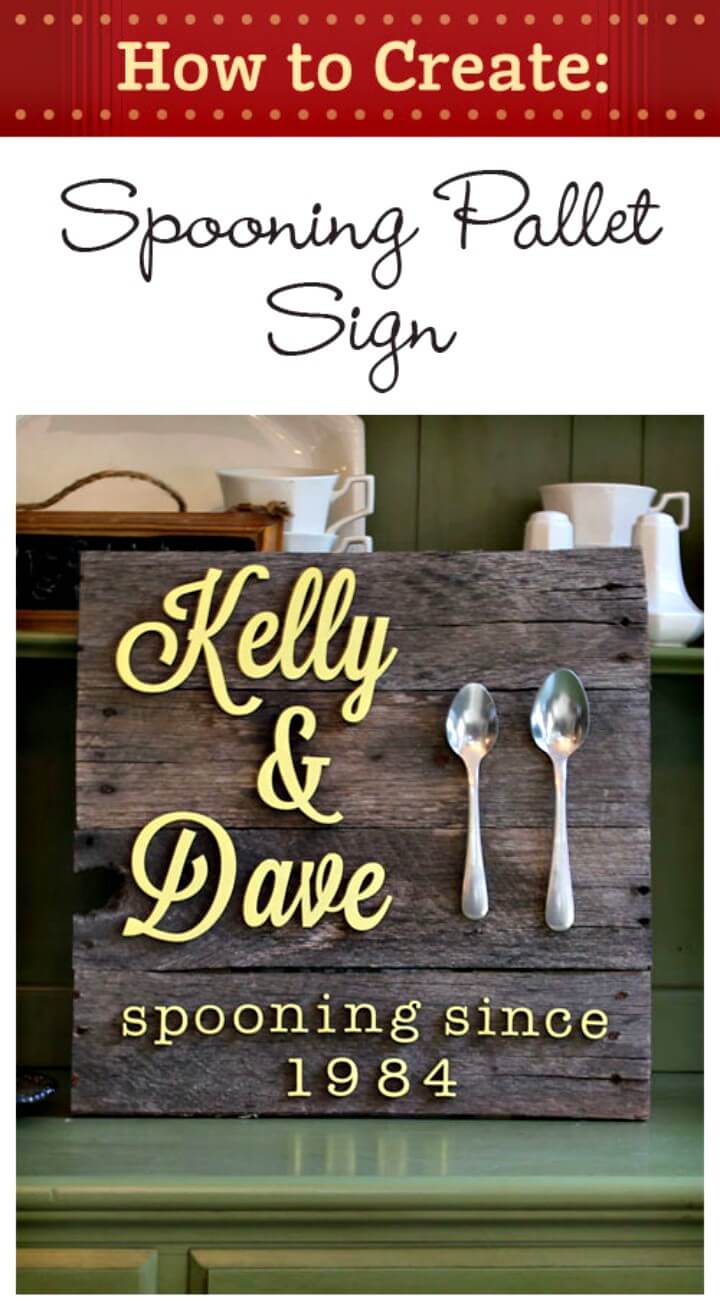 The most beautiful pallet wood wall art sign is here ever made at home! Here custom wooden planks or slats have been put together for a big rustic wooden board that has been added with custom scrap wood and unpainted wooden letters and also with 2 steel spoons making a gorgeous wall art sign that will definitely lure the number of views of that particular interior wall! Another great and fantastic wall sign idea! Complete project instructions and DIY Sign tutorial here craftcuts
Simple and Easy DIY Pallet Art: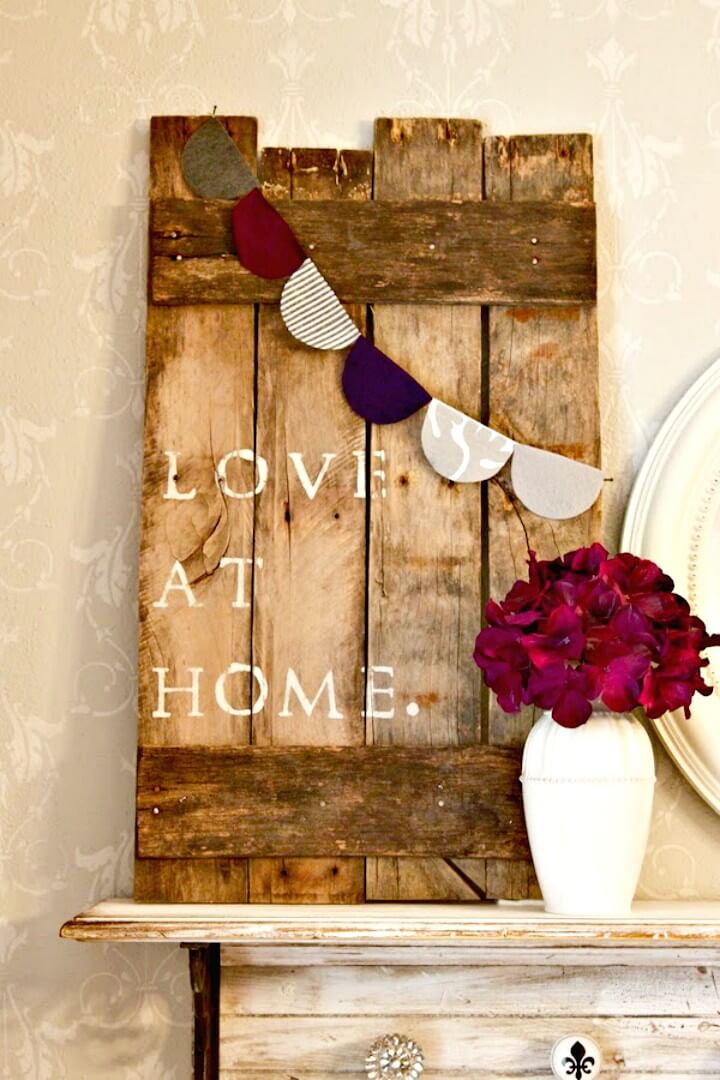 Grab a single wood pallet board and take it into single pieces! Put together custom separated wooden pallet lengths together and make great looking wooden boards which you can then stencil for custom quotes, messages, inspirations, love sayings and also for custom name letters making gorgeous wall art signs! Get inspired of this given sample and do duplicate it! Grab the full project instructions and tutorial from here colorsandcraft
How To Make Anthro Inspired Welcome Sign: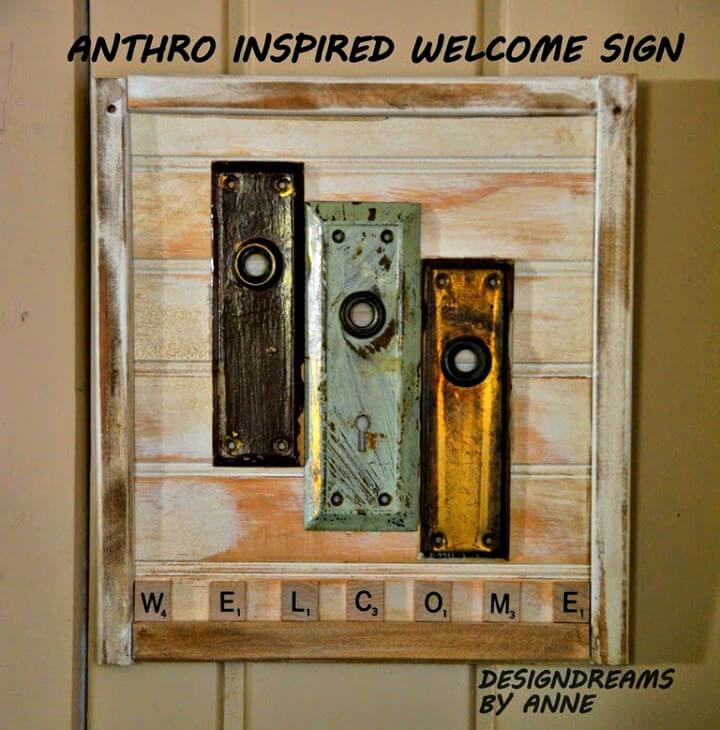 Go smartly crafty with scrap wood, scrabbles and also with metallic doorknob plates and make anthropology inspired wood wall signs that will definitely go enchanting to any interior wall! Duplicate this given sample welcome sign that comes with 3 differently painted doorknob plates pasted in the center while the scrabble tiles make the beautiful "WELCOME" art to bottom side of the wooden board! Complete instructions here designdreamsbyanne
How to Make Sign With A Silhouette: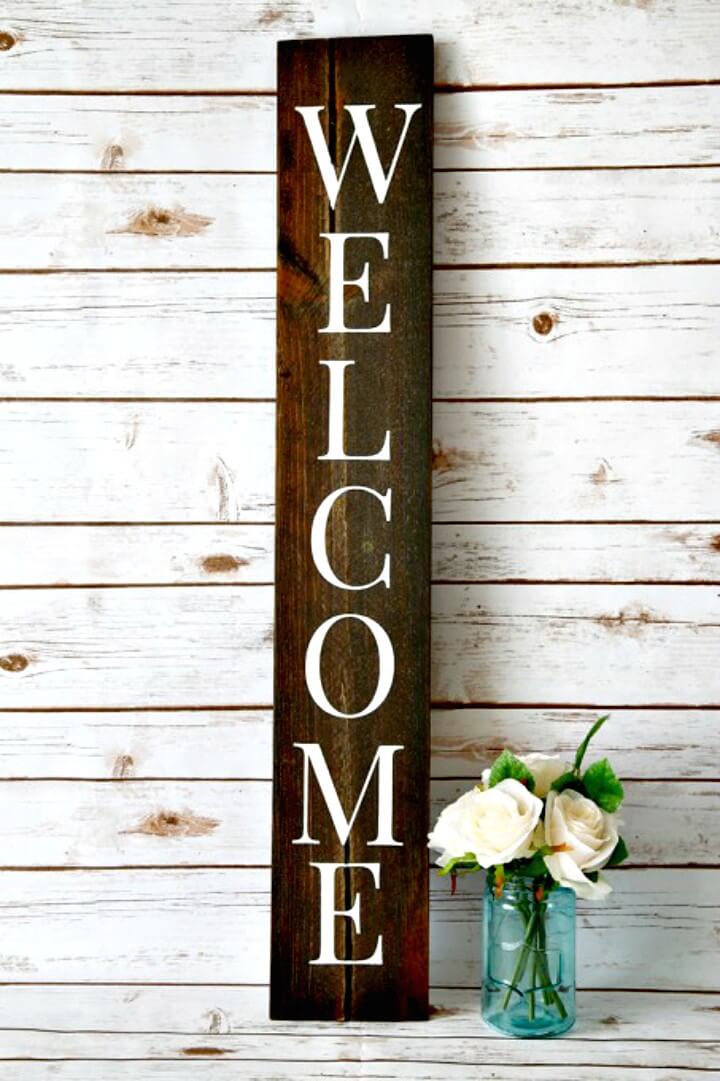 Handy at operating silhouette or Cricut machine? If yes, then you can easily make custom vinyl or paper stencils at home that can help making custom letter art signs at home! A very beautiful sample here is this wooden sign that comes with silhouette letters beautifully transferred to a wooden plank! This is here another great and outstanding wooden wall art idea that you can easily duplicate! Complete DIY Sign project instructions and tutorial here justagirlandherblog
Adorable DIY Plain Wood Board Look Rustic: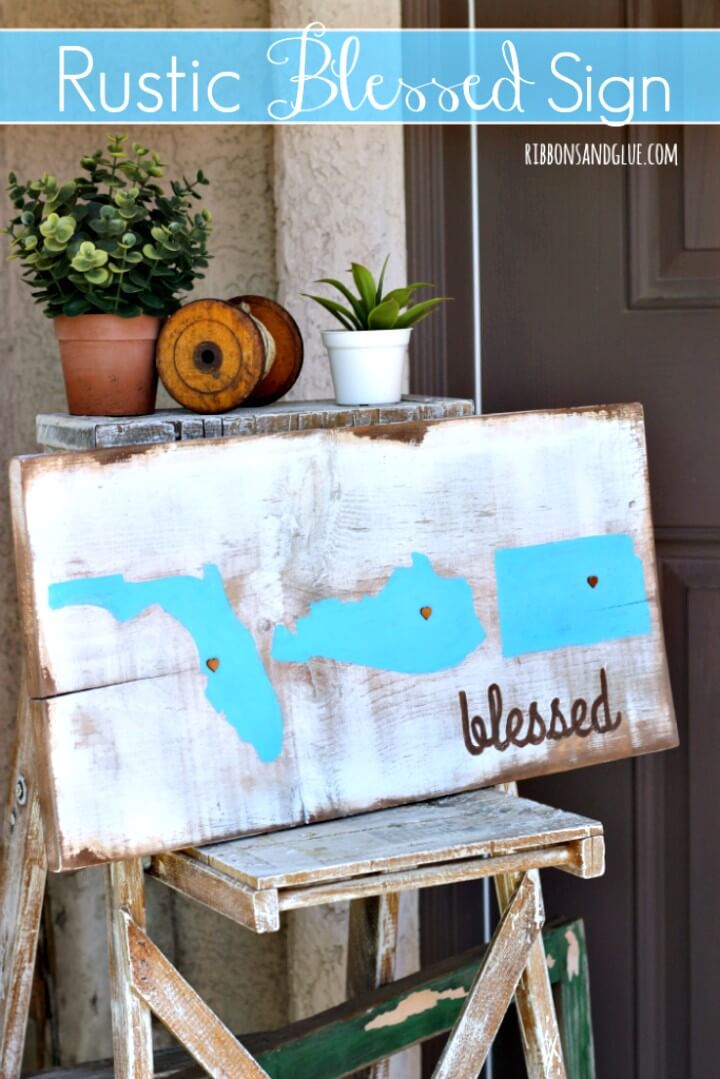 Repurpose the rustic wooden slats and make great looking wooden signs out of them just by painting anything on them that you like! Have a look at this sample wooden rustic wall art that has been done to inspire and will help bring rusticity to any particular interior wall! This wooden sign would be ready in just no time! Complete instructions here ribbonsandglue
Create Paneling To Wall Hanging: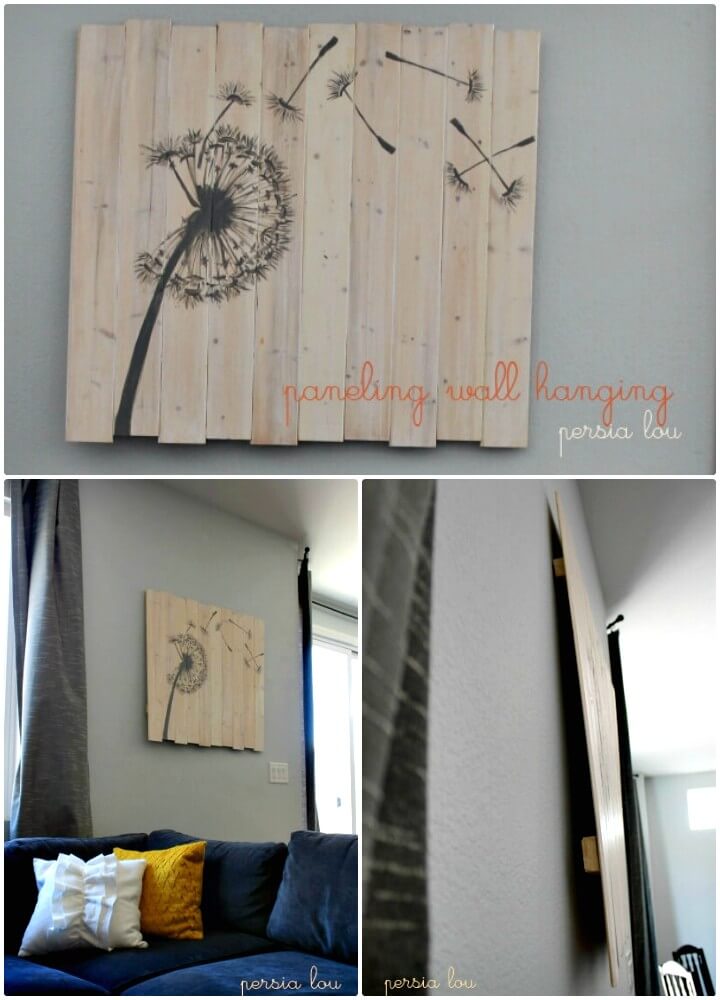 Here is something different to look at, a very unique but adorable piece of wall art that comes with painted dandelion flower with flying blossoms! Here once again the wooden boards have been put together to shape a rectangular wooden board and then have been painted for the dandelion! You can also experiment this project with different flowers or art shapes! Complete project instructions and tutorial here persialou
DIY Stencil a Pallet Sign and Free Cut File: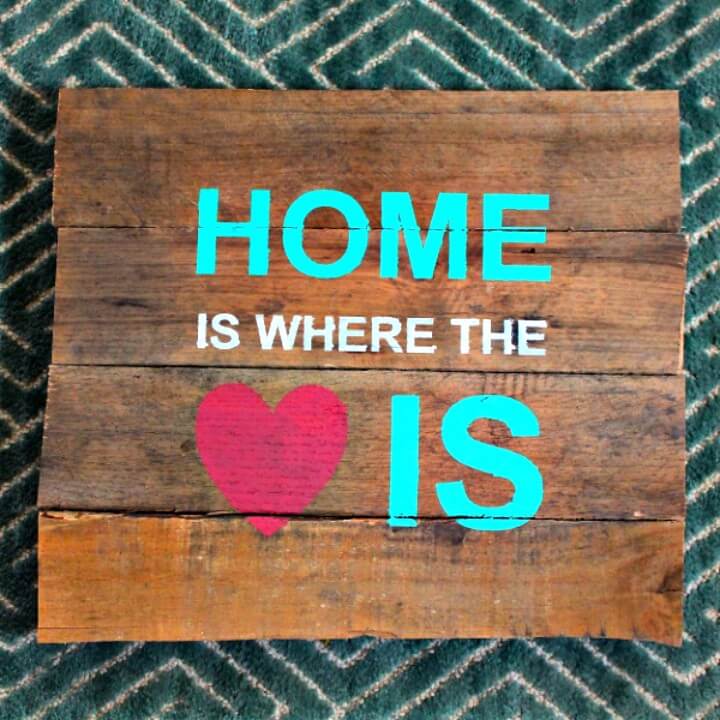 One more epic inspirations for homemade wall art, just check out this fantastic wooden pallet sign that comes with different painted letters and also with a beautiful red heart shape that is a symbol of love there! Use the custom letters stencils for painting different letters or quotes and that's it! Want to duplicate this DIY sign wall art? Complete project instructions and tutorial here weekendcraft
Painted Wood Signs – Without Using Stencils: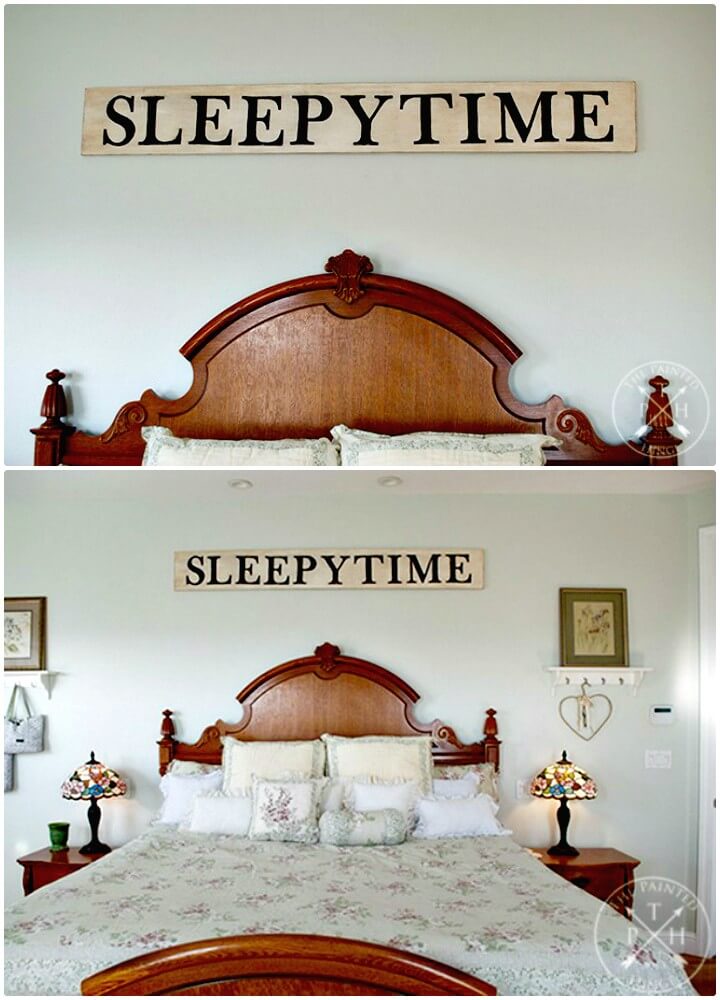 Here is another brilliant wooden wall sign that has been done without a stencil! Here the custom letter stencils have been pasted directly on a wooden plank and then have been distressed for a lovely wall art sign! Here this sign has been created for a background bedroom wall and will be ready in couple of minutes! You can make use of antique wax and other wood finishes for an antique final touch! Complete project instructions and step-by-step tutorial here thepaintedhinge
How To Create Distressed Signs Tutorial: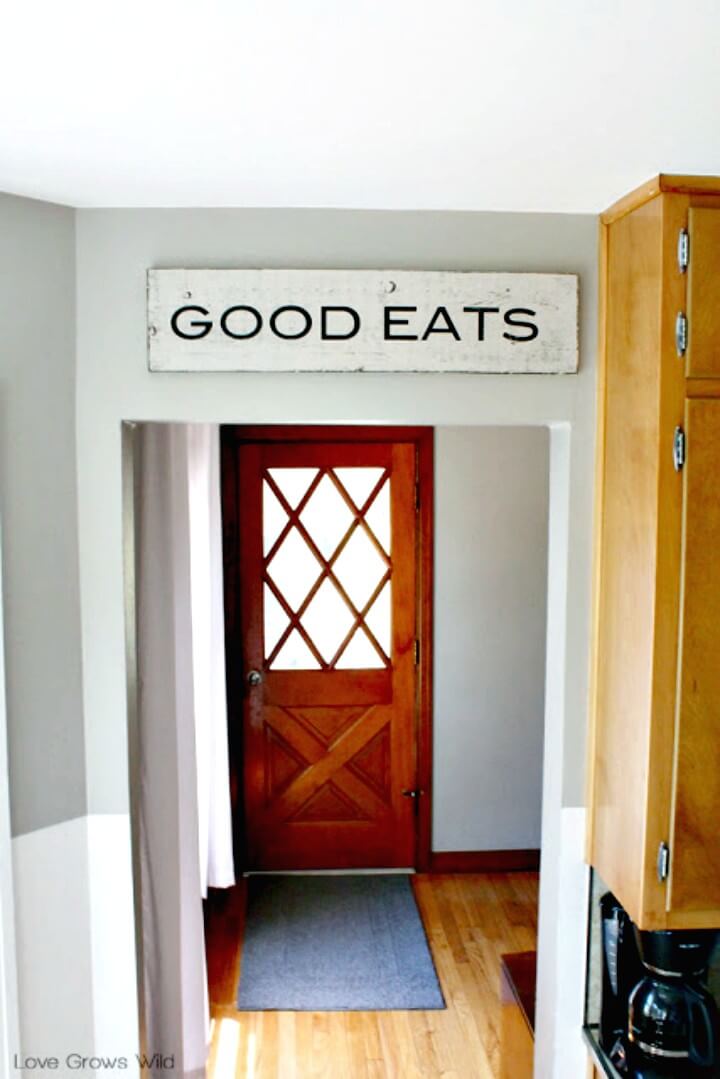 One more outstanding and brilliant wood wall sign that has been done using the letter stencils but is damn cute and lovely! Here once again a wood plank has been painted in white and then stenciled for custom black letters which have been distressed for an antique final look! Here the finally finished wood wall sign has been hanged on the wall using sawtooth hangers and is just looking damn lovely and cute! Willing to clone this wood wall sign? Grab the full free guides and picture instructions from here lovegrowswild
Easy and Cute DIY Song Quote Sign: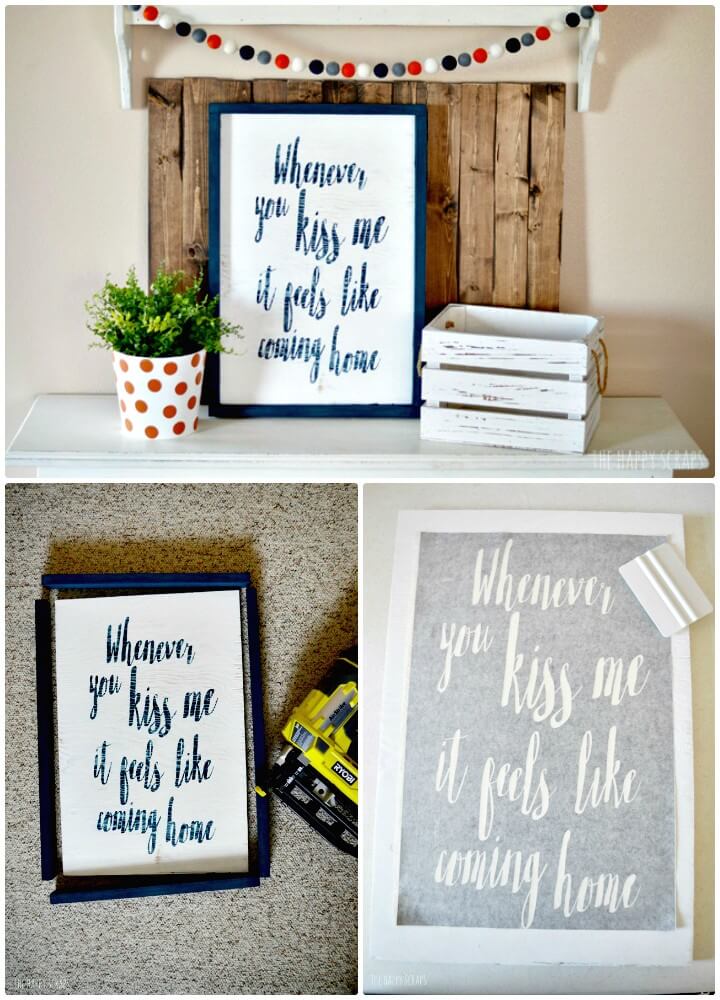 Just clone this another graceful wooden wall sign that comes with quoted art and is really looking lovely! Here a custom cut and white painted piece of plywood has been painted for custom quotes using critical vinyl letter stencils and finally have been added with a blue wooden frame! This is here another lovely and fantastic piece of diy sign wall art that every home lover will just love to duplicate! Complete instructions and tutorial here thehappyscraps
How To Make Farmhouse Wood Signs: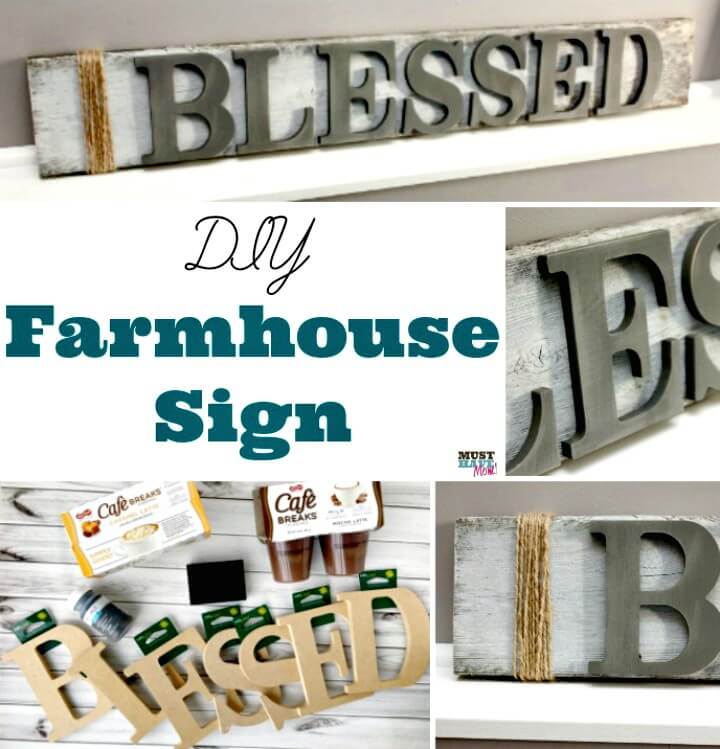 Peek into details of this another beautiful wood wall sign that comes with 3D letters and hence is looking damn fantastic and cute! Just grab a wooden plank and paint it in your favorite color! Next, add custom press board letters on it making your favorite letter art! Paint also your letters in a custom color you like and don't forget to install the hanging hardware to backside of the wood sign! Complete project guides and instructions here musthavemom
DIY "Hello" Springtime Metal and Pallet Wood Sign: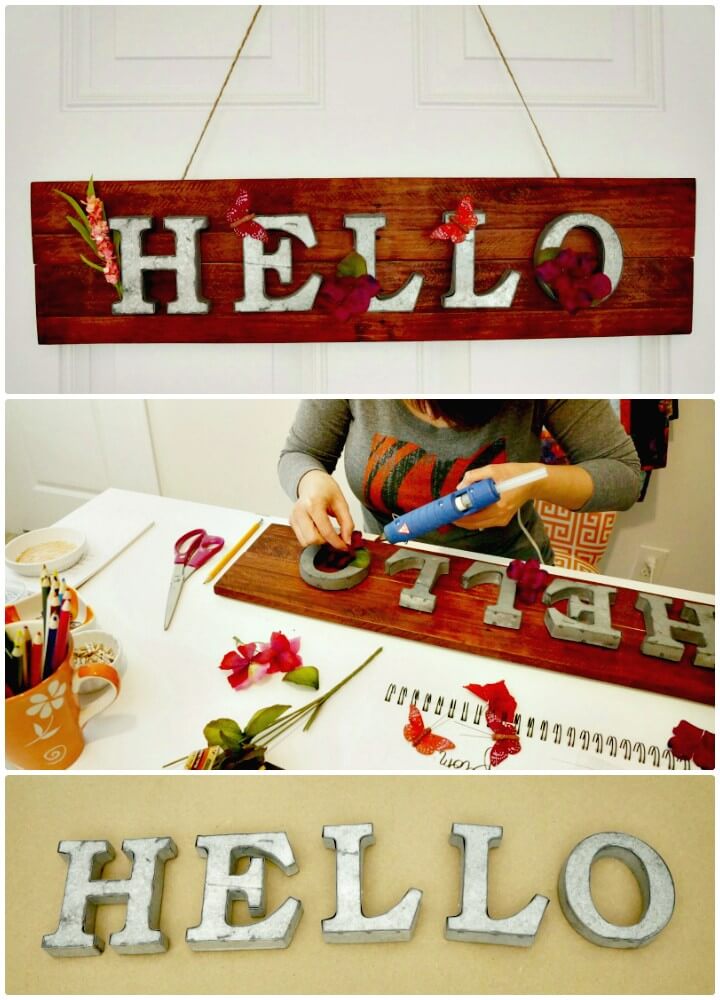 Fall in love with this another lovely and handsome piece of wood wall art that is super quick and easy to make! This is here the hello wall art that will rock for spring season and is made of a pallet wood plank that has been added with custom "Hello" wooden letters which have also been painted and distressed a little! Looking forward to duplicate this spring time metal and pallet wood sign? Then just grab the full free guides and visual instructions from here twopurplecouches
How To Make An "Antique" Sign: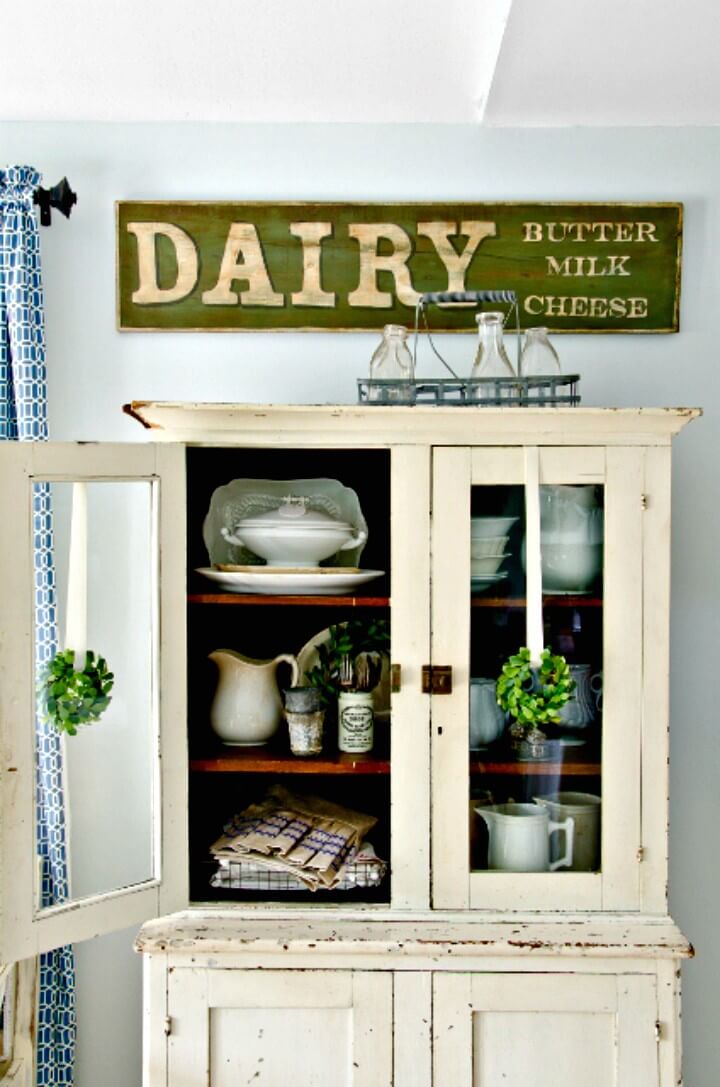 Another great and lovely wood wall sign that has been done to amaze and rock an interior wall! Here again a wooden plank has been added with custom wooden letters glued in place and then custom letter stencils have also been used to write over custom letters as you can see! Another amazing and great wooden wall sign project that will not take much time to be in your hands! Complete project instructions and tutorial here missmustardseed
DIY Pumpkin Patch Printable & Transferring an Image To Wood:

If you know how to transfer an image to wood then you can easily make some outstanding pieces of wall art at just a drop of hat and here is a cool one to get inspired of! Here a pumpkin image with custom painted letters have been transferred to a wooden board and is just looking damn fantastic! You can experiment this project with custom images and art paintings you like! Willing to duplicate this interesting wall art sign? Then just grab the full free tutorial and instructions from here sincerelysarad
How To Make Custom Wood Signs: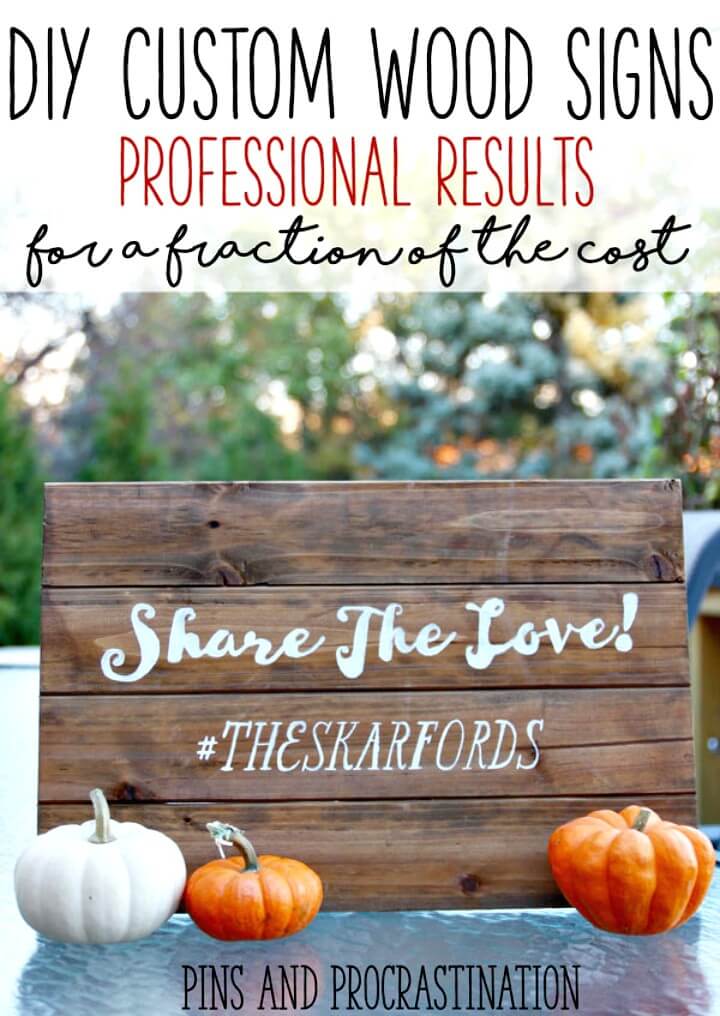 Once again a precious wooden sign is here that comes with custom quoted notation and is super quick to build! Here the idea is just to make a geometrical wooden board using custom wooden slats which can then be overwritten for custom messages and letters! Here custom stencils have been used first to trace out the letters on the wood which have then been filled with paint! Complete instructions here pinsandprocrastination
Build a Harvest Sign + Paint Lettering: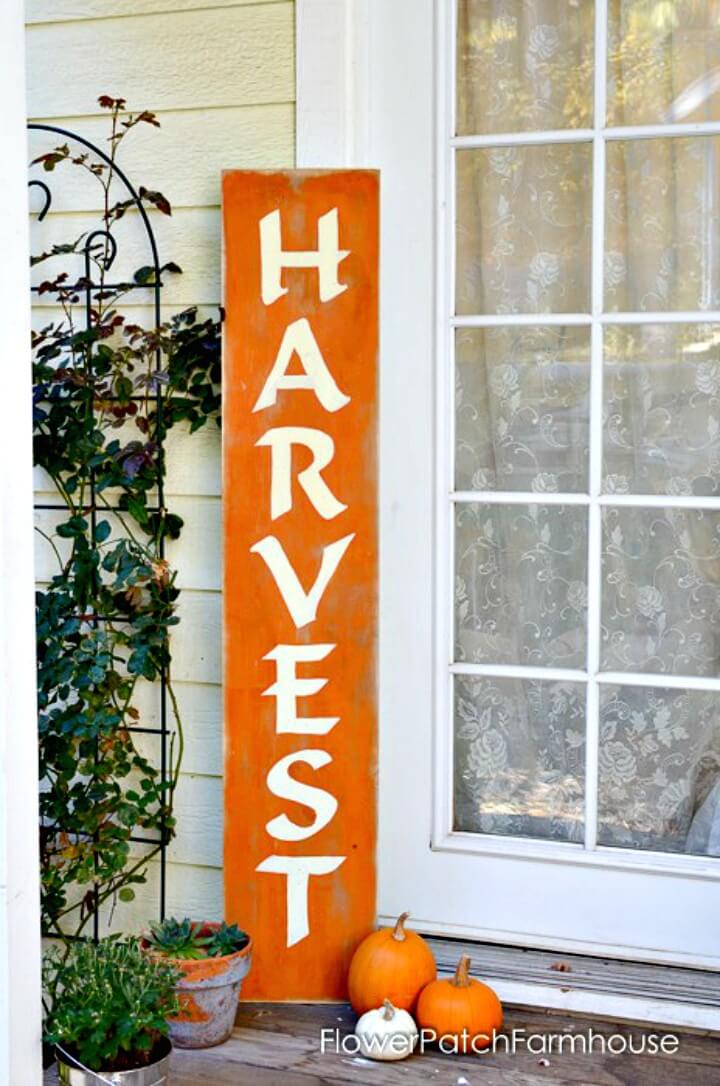 Copy this another homemade wooden art sign that is a perfect harvest sign here! Here once again custom letters have been traced out on the wood which have then been filled with paint for making a gorgeous wall art sign! You can print out custom letter templates to place and trace on the wood! Complete project instructions here flowerpatchfarmhouse
Simple DIY Home Wooden Sign: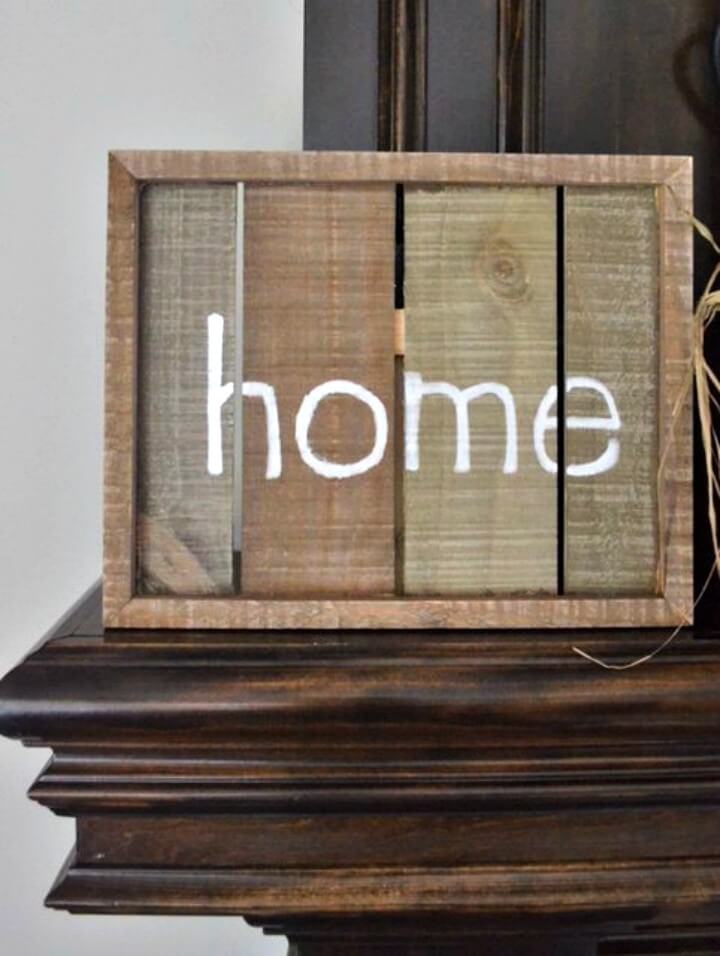 Get inspired of this another lovely wooden sign that is having a shape like wooden square tray and is looking damn beautiful! Here custom wooden lengths have been put together for a nice wooden square-like shape which comes with "home" painted letters for a sweet home wall art! This wall art is super quick and easy to make! Complete instructions and tutorial here hometalk
How to DIY Garden Marker Signs – Hello Summer: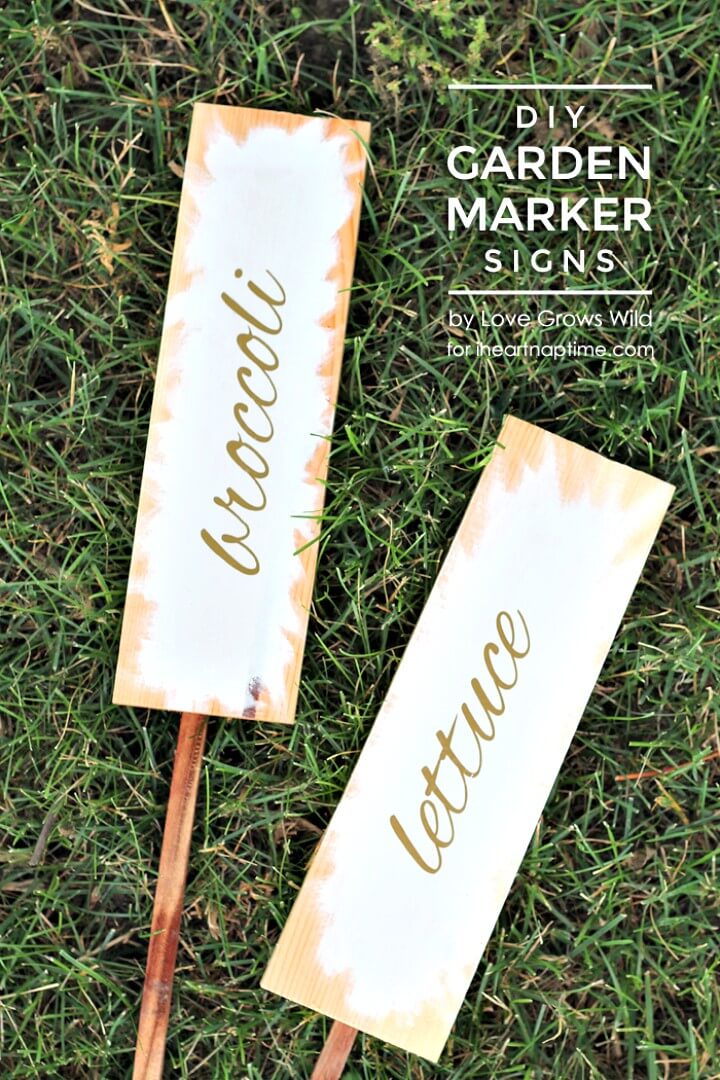 Make also cool wooden marker signs for your garden that will rock also as garden art signs! Check out here the sample marker signs that are made of rectangular wooden boards that come on the top of wooden garden stakes! Next these wooden rectangles have been painted a little with white paint leaving some spaces from the sides and finally the custom letters have been overwritten! Here you can use the gold vinyl, stickers and even the gold pen for the lettering! Complete project tutorial here iheartnaptime
Make A Wood Signs – Decor with Cricut Explore: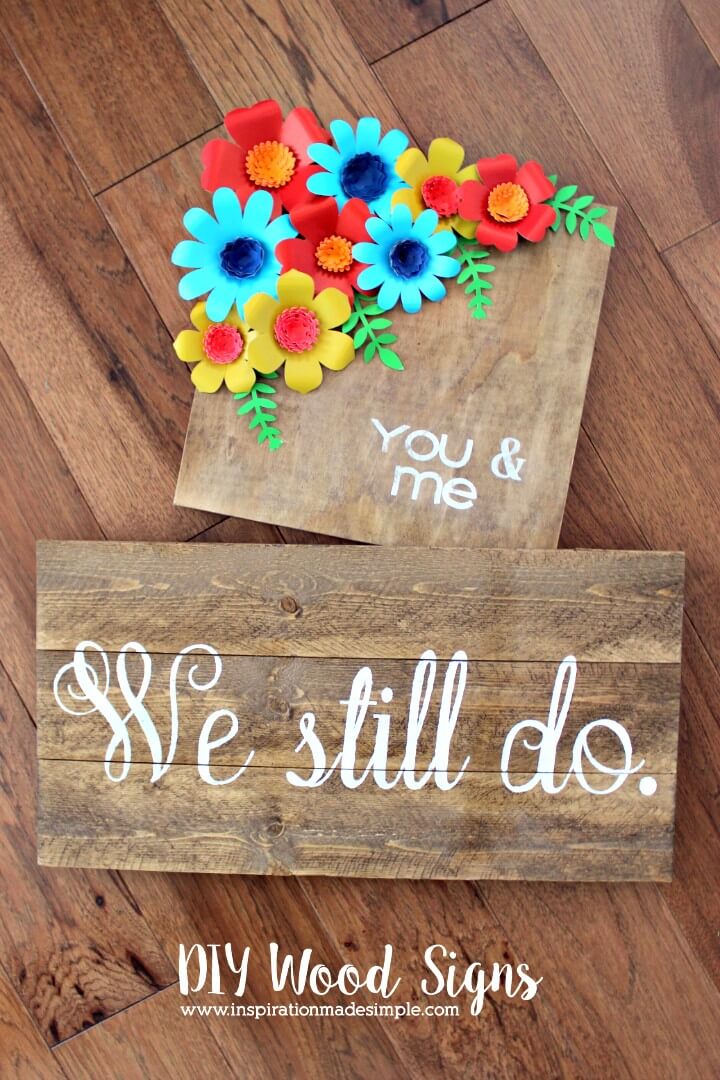 If you know how to operate a Cricut machine like a master, then you can easily make some utterly beautiful wall art signs at home! Check out there the sample sign that comes with Cricut flower embellishments and also with letters that have been overwritten using Cricut letter stencils! Here you can also use the pallet wood to make the wooden board! Complete project instructions and tutorial here inspirationmadesimple
Easy How to Make Large Sign Tutorial: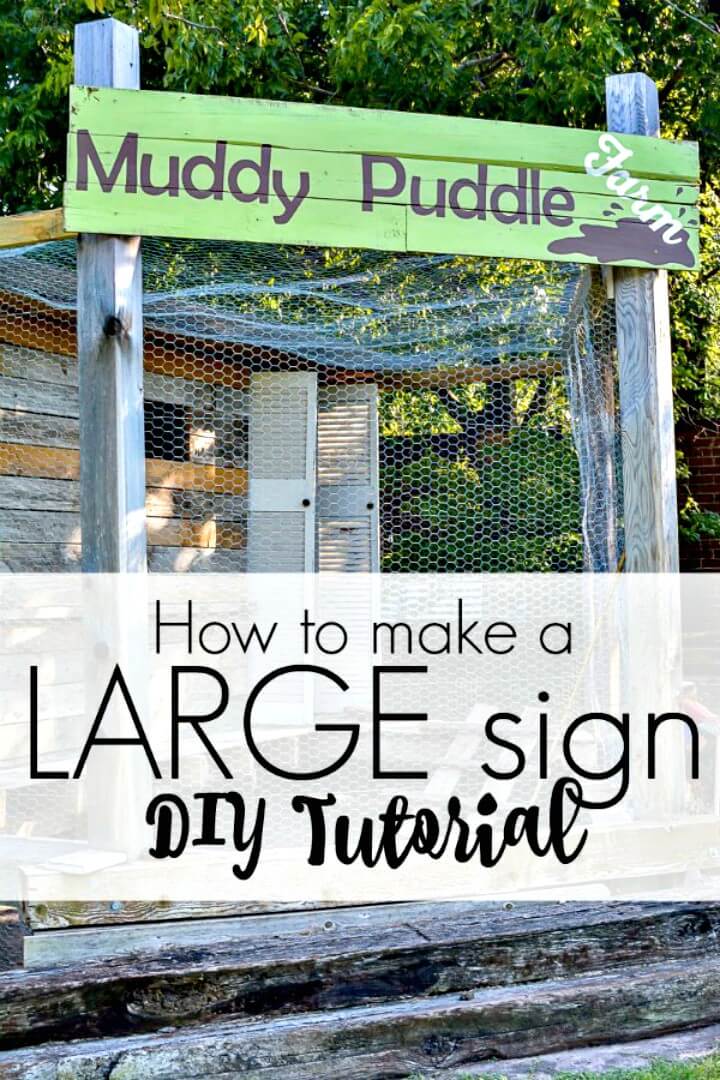 Make also the larger art signs at home that can be used in number of different ways! You will just fall in love with this sample large sign that is made of 2 longer wooden planks painted in light green and makes a longer rectangular wooden board! Here finally the wooden board has been stenciled for custom lettering art and hence makes a great sign! Complete project instructions here huntandhost
Beautiful DIY Inspirational Quote Sign: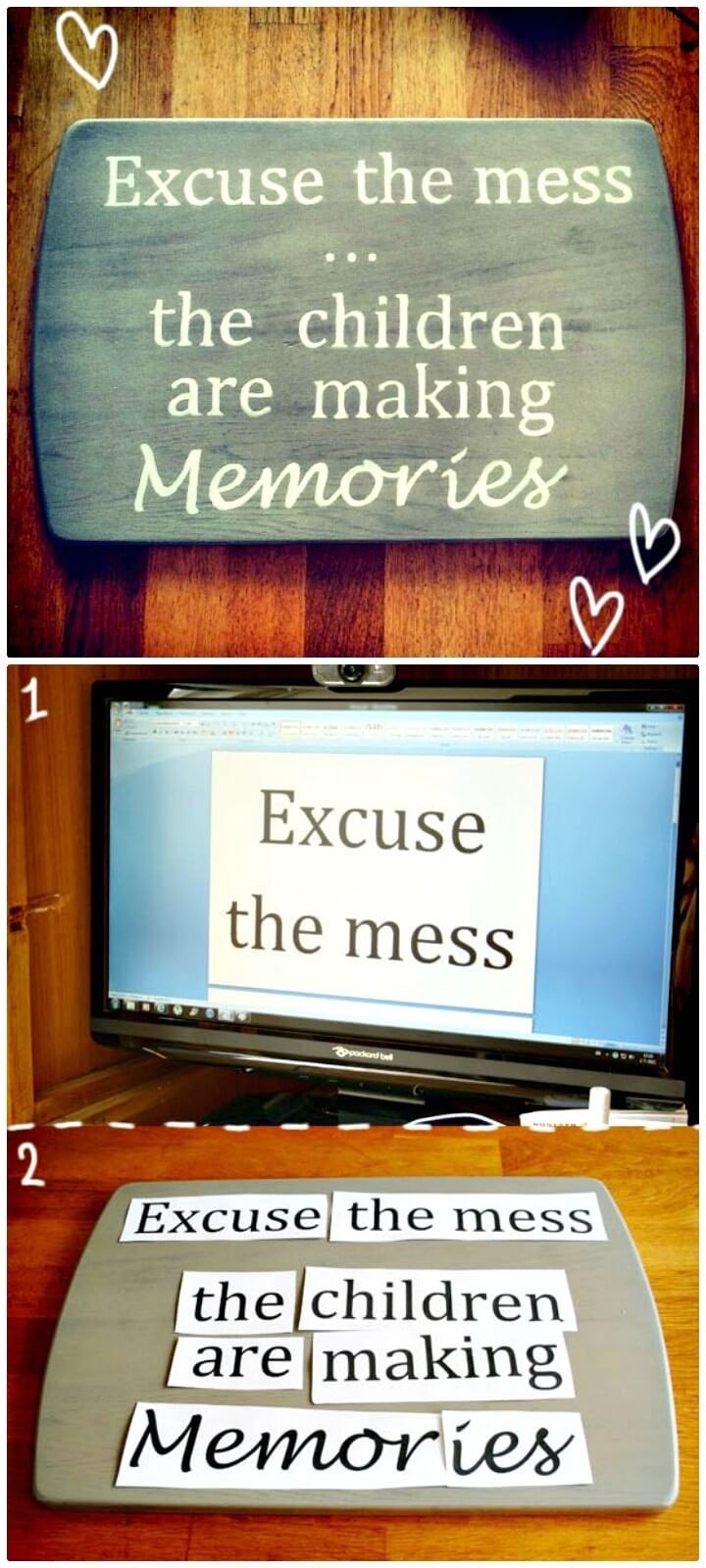 One more exceptional wall art sign that comes with custom overwritten inspirations for the kids and is really looking gorgeous! Grab a bigger wooden board or a mini tabletop from home and just write custom letters and messages on it to make gorgeous inspirational wall signs! Checkout here a sample that comes has been done using paper letter stencils, first traced out and then painted! Complete instructions here bywilma
How To Make Wooden Wedding Signs: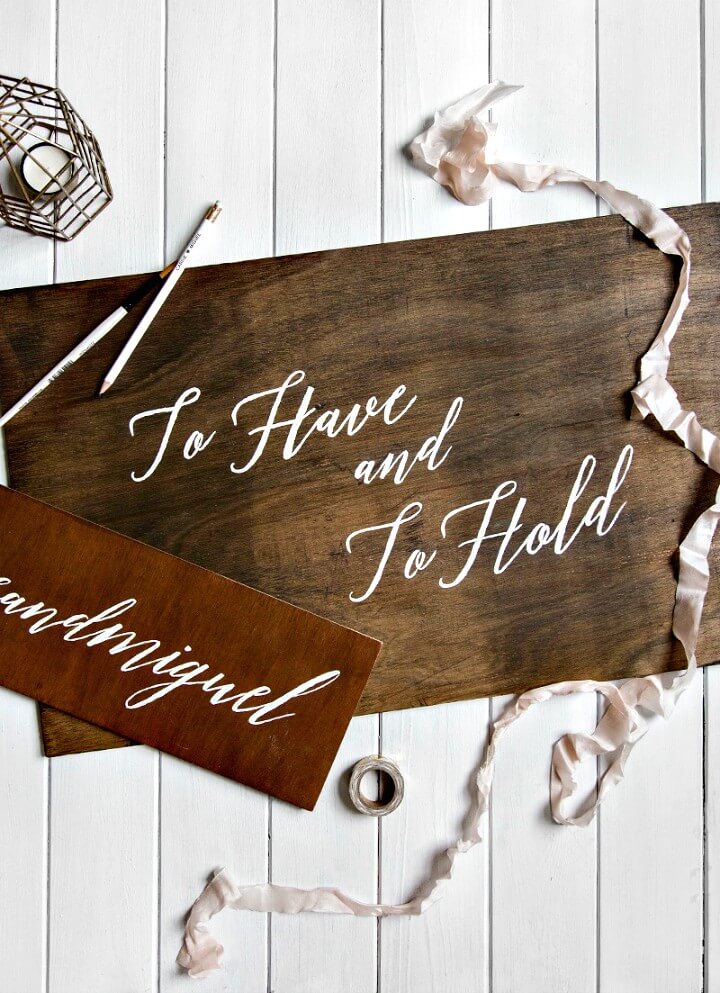 Double up the charm of your wedding ceremonies and parties by making cool wedding signs at home! Have a look at this sample wedding sign that comes with custom overwritten letters or quotes which has first been traced using pencil and letter stencils and then have been filled with white paint! Experiment this project with different quotes or love sayings! Complete tutorial and instructions here wishwishwish
Adorable DIY Woodland Sign: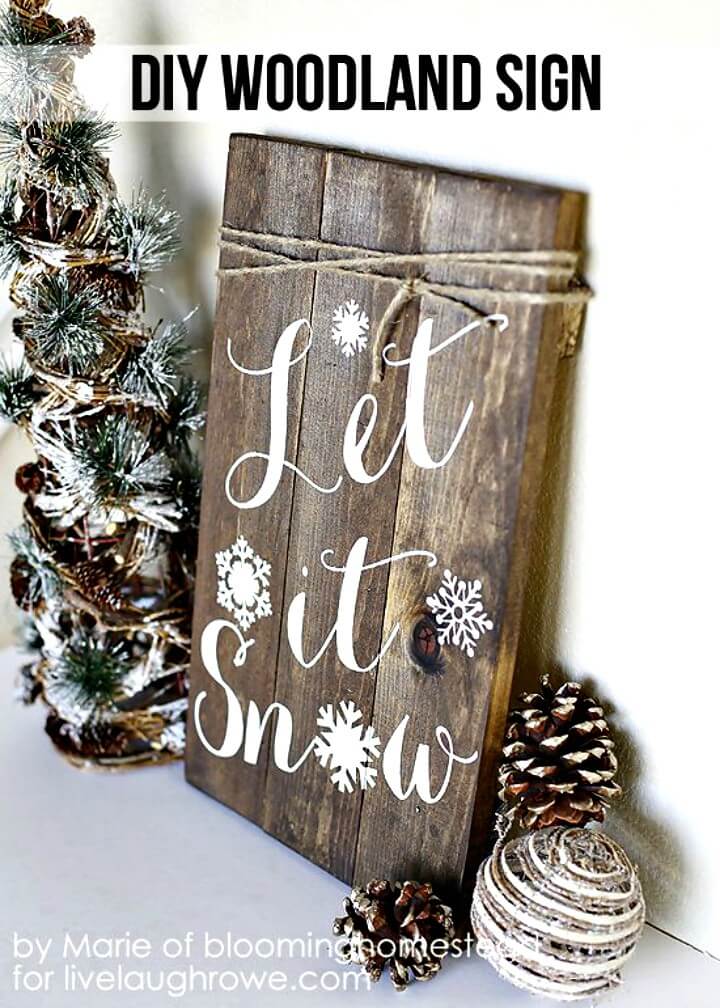 If you are a lover of rustic decors then this woodland sign is definitely going to win your heart! Here it is a 2 wood plank creation that have been put together for a rectangular wooden board looking decently rustic! Next the letter art has been painted on the wood board for a brilliant quoted wall sign! Here the rustic rope has also been wrapped around the both ends for a woodland effect! Complete instructions here livelaughrowe
DIY Signs That Look Like Pallet Wood: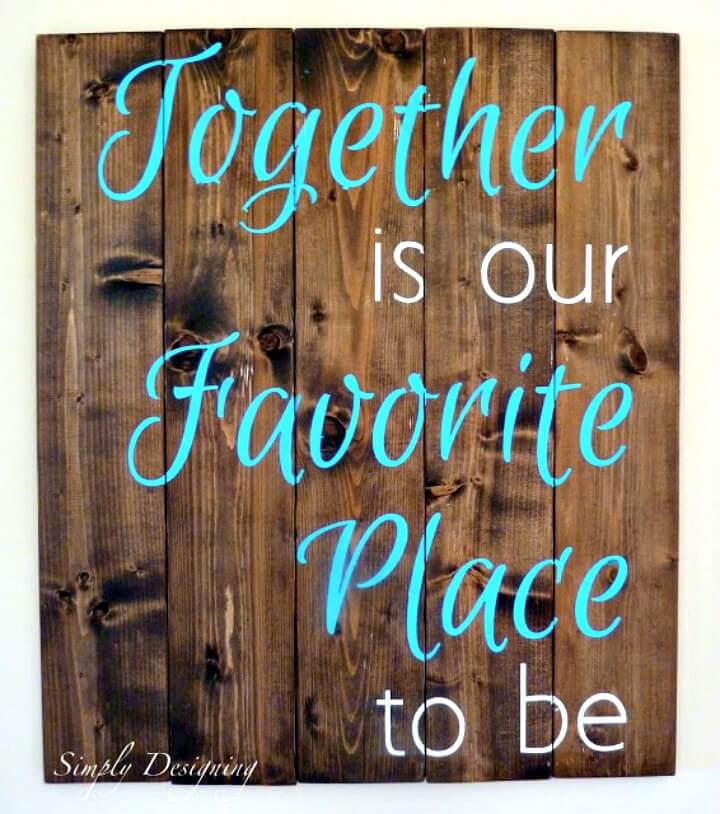 Once again a beautiful looking wooden wall sign is here but it has been made differently but smartly! Here the custom stained pallet planks or boards have been connected together to make a big wooden board and this has been done by making pocket holes in the sides of wood planks! For the lettering, the silhouette letter stencils have been pasted on the wooden board using transfer paint and then have been painted! Grab the full free instructions and tutorial from here simplydesigning
DIY "Spring is Here" Wooden Garden Sign: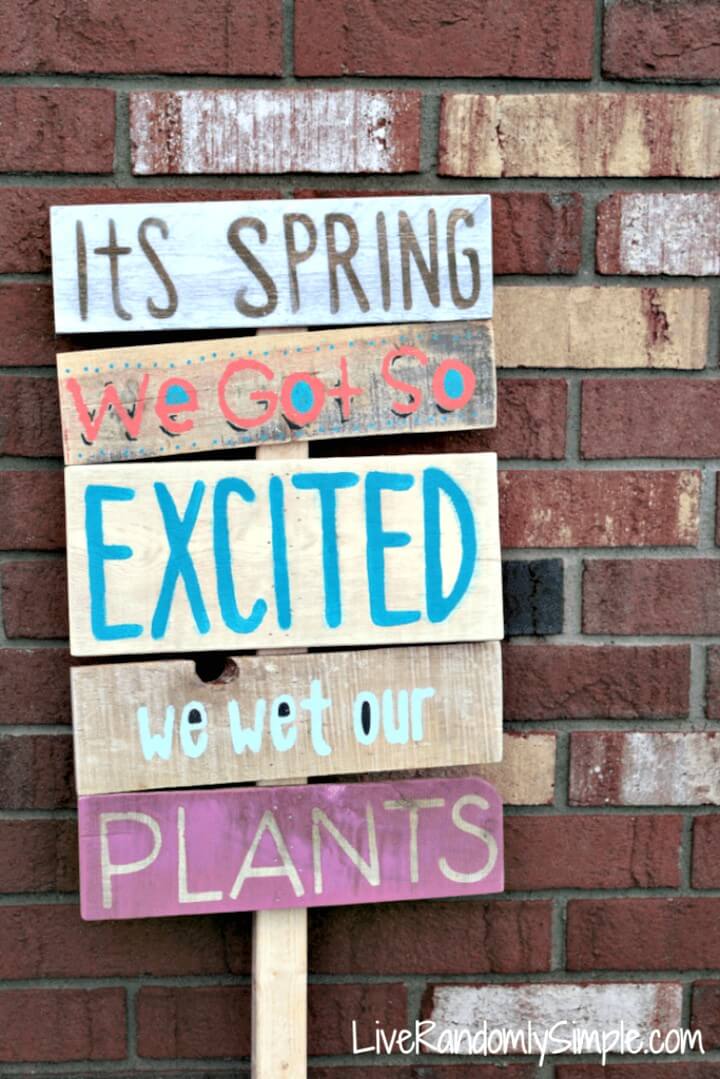 You will definitely fall in love with this handsome-looking wooden garden sign that comes in flattering colors and is made of colorful wooden planks pasted on the top of a garden stake and come with custom overwritten letters! Use vinyl lettering, stickers or custom letter stencils for lettering and enjoy! Another great and lovely wood sign idea! Complete project details and instructions here liverandomlysimple
DIY Love Sign Tutorial: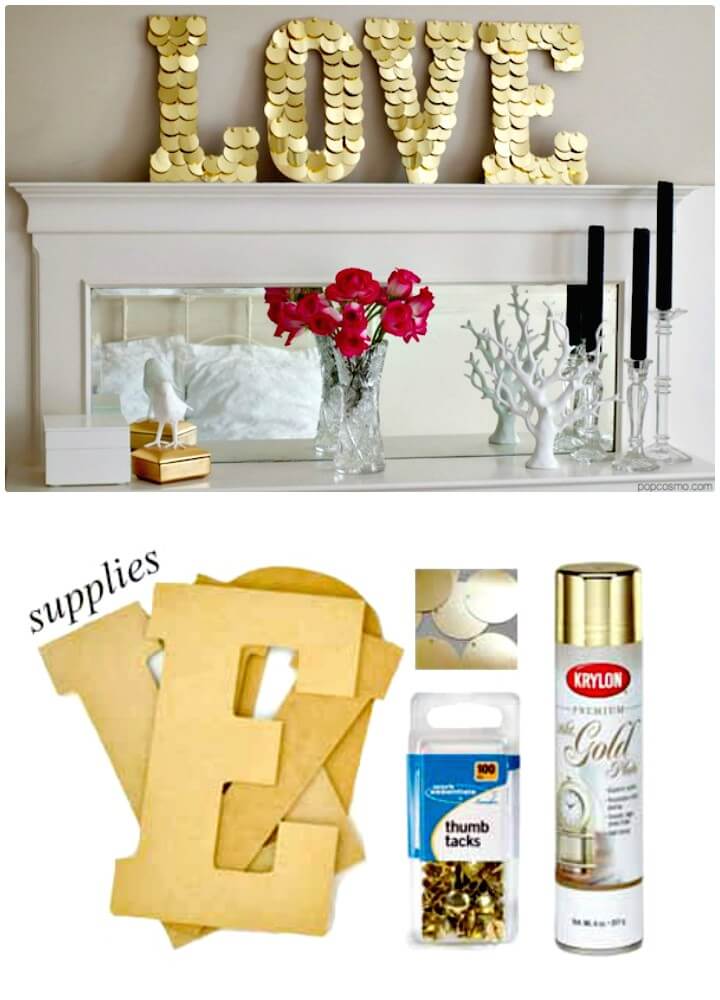 You can make these precious "LOVE" letters to place over an accent table or on a fireplace mantle for gorgeous love expressions! Here wooden letters have been adorned with the gold discs that cover the letters entirely from the top side and has been secured in place using gold thumb tacks! Next you can also give a coat of gold spray paint to cover also the tiny leftover wood spaces and that's it! complete project instructions and tutorial here popcosmo
DIY Single Art Tutorial: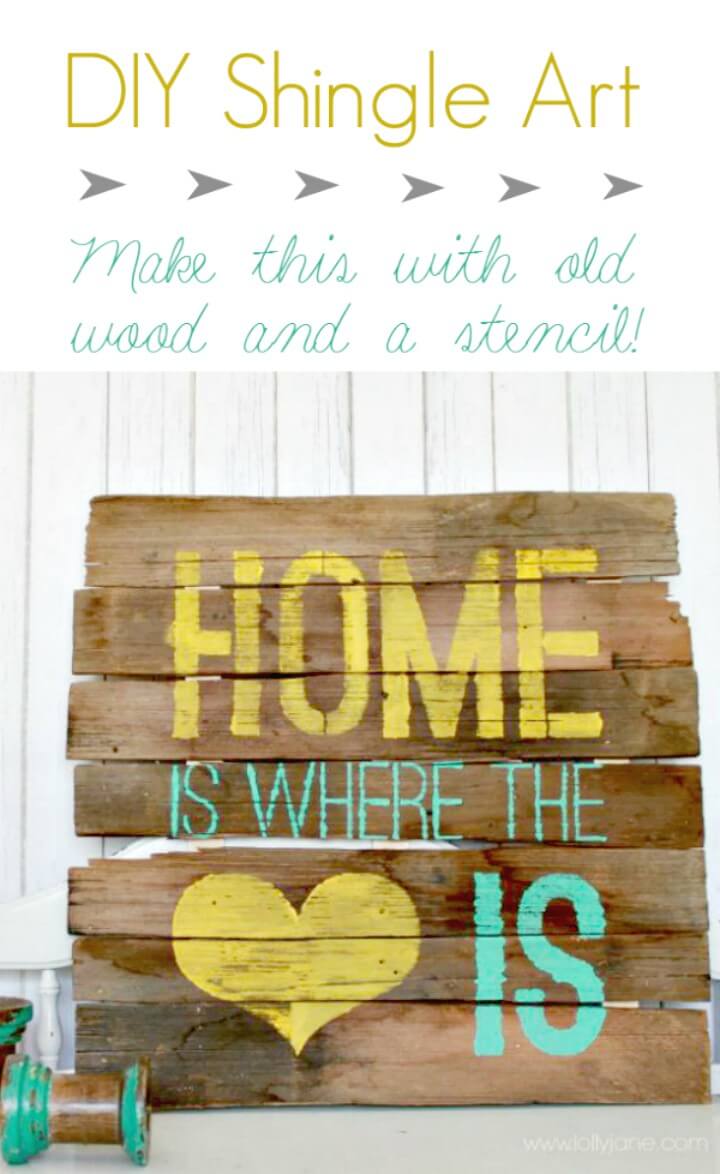 Wooden scrap is to found in everybody's home and you can simple get crafty with it to make gorgeous wall art pieces and signs! Have a look at this decent wall art sample that is made of reclaimed rustic wooden planks which form a brilliant wooden board! Next, the finally complete wooden board has been stenciled for custom letters and quotes and makes a gorgeous wall art sign! Complete project instructions here lollyjane
DIY Scrapbook Paper Signs: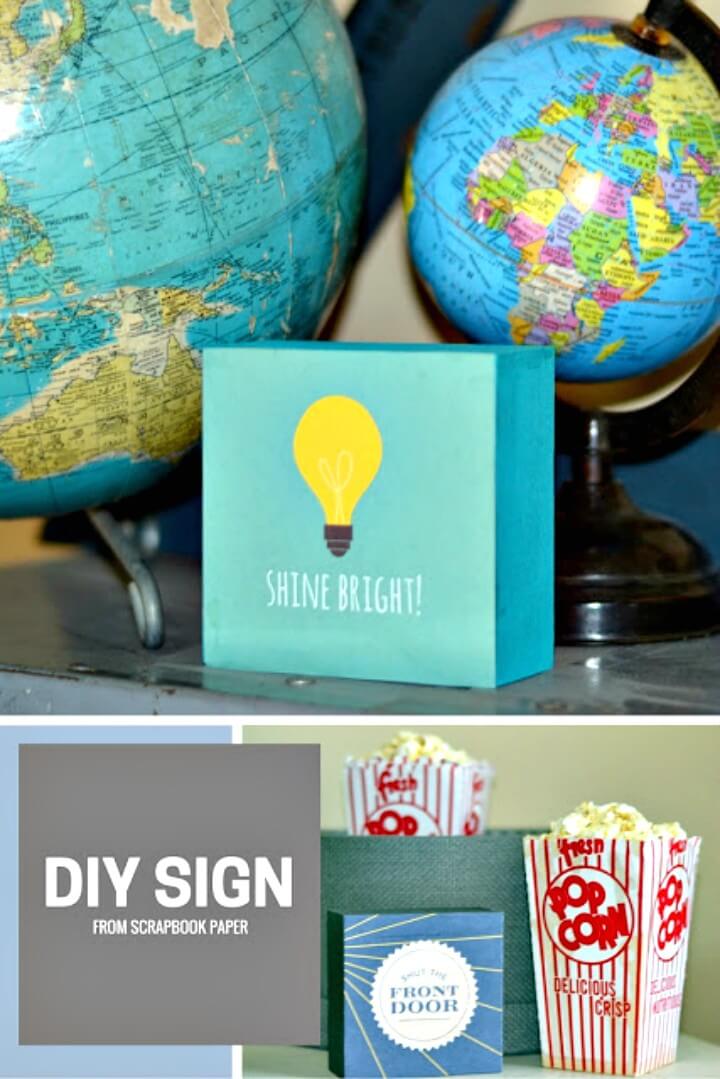 Here is another great project that you can duplicate to boost your interior wall art! Here the idea is grab some wooden boxes which can then be covered with custom scrapbook papers for making gorgeous looking wall art signs! Just check out here the brilliant scrapbook paper signs that are looking fabulous and amazingly beautiful! Willing to duplicate these signs? Grab the full free tutorial from here rachelteodoro
Easy How To Make Welcome Sign For $30: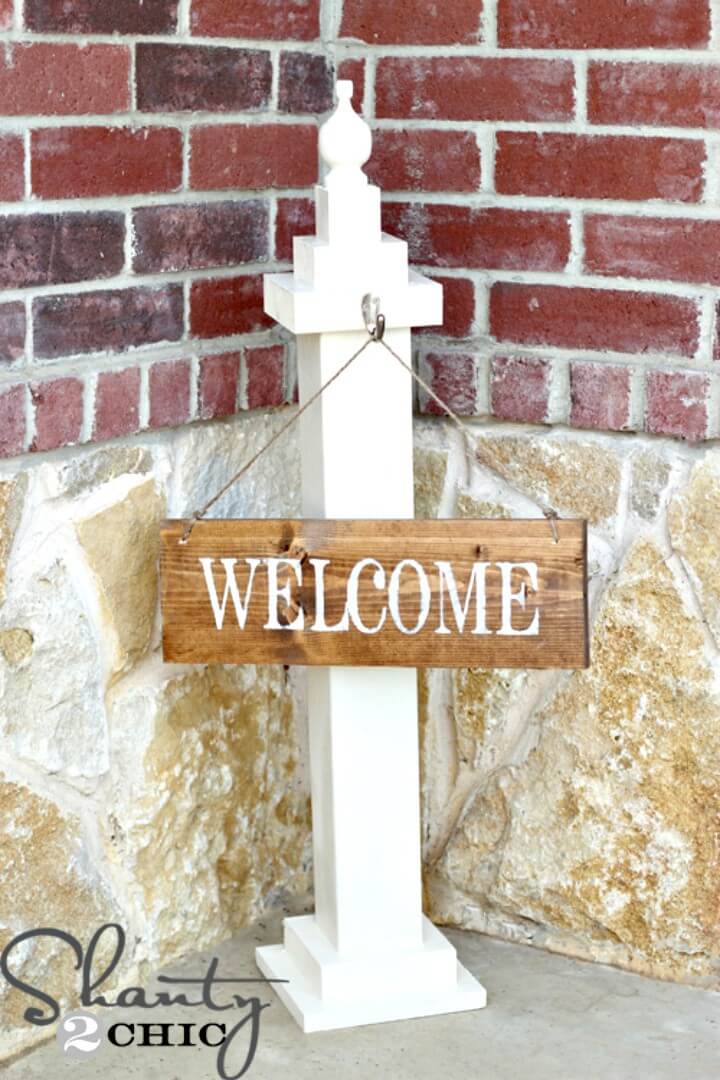 Here is another beautiful and self-standing piece sign that will simply be a center of attention and will make a great porch sign for summer or spring season! Here both the hanging wooden sign and the white wooden post are made at home using custom wooden lengths, square pieces, blocks and a final for accent top! For making sign, a plank of wood has been stenciled for custom "WELCOME" letters and it hangs on the post through a string or rope loop! Complete project instructions here shanty-2-chic
Make Framed Wood Farmhouse Sign: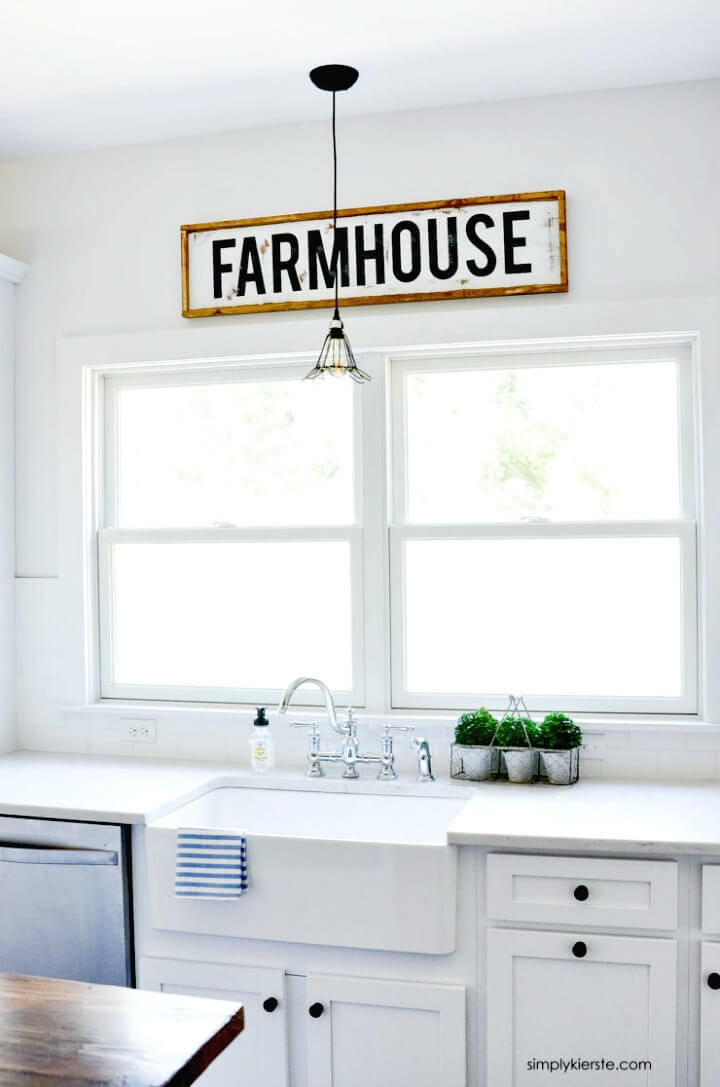 Have a look at this another flawless wooden sign that will rock in a farmhouse style interior! Here it is made of a wooden plank that has been painted in white and has been stenciled beautifully for custom letter art! Finally, this wood plank art sign has been give an accent boundary using furring strips and has been hanged on wall using recommended hardware! Complete project tutorial here simplykierste
DIY Stencils for Wood Signs: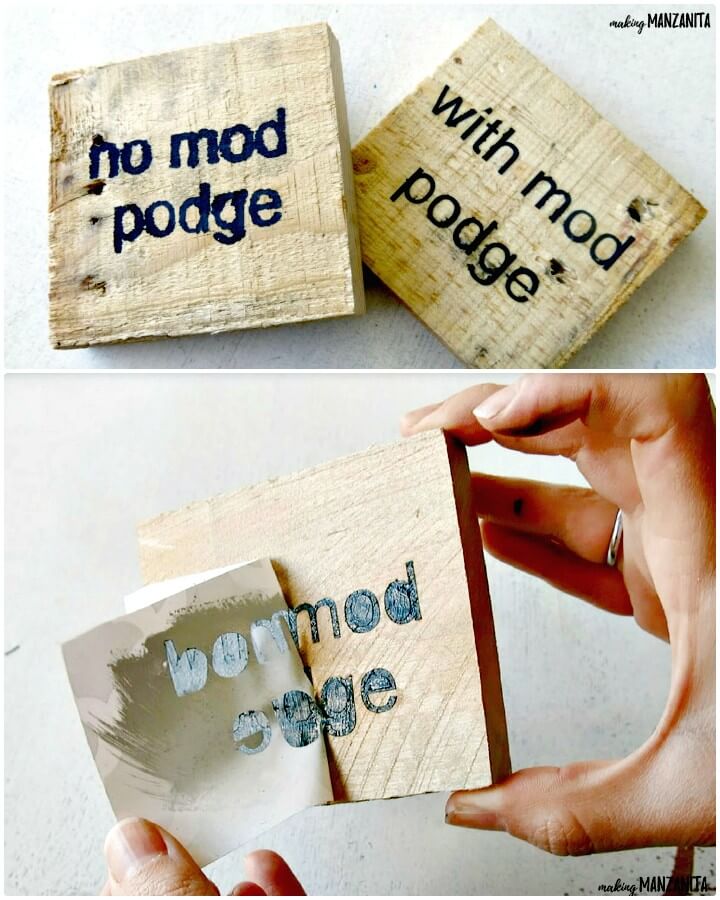 Here most of the wooden signs are to make with custom letter stencils which you can easily make at home! Check out here the sample stencils that have been made to inspire and are looking damn beautiful! To make these stencils, you can make smart use of cameo, silhouette or Cricut machine! Check out here also the sample wooden square signs that are amazingly beautiful! Complete project instructions and tutorial here makingmanzanita
Adorable How To Make A "Vintage" Kitchen Sign: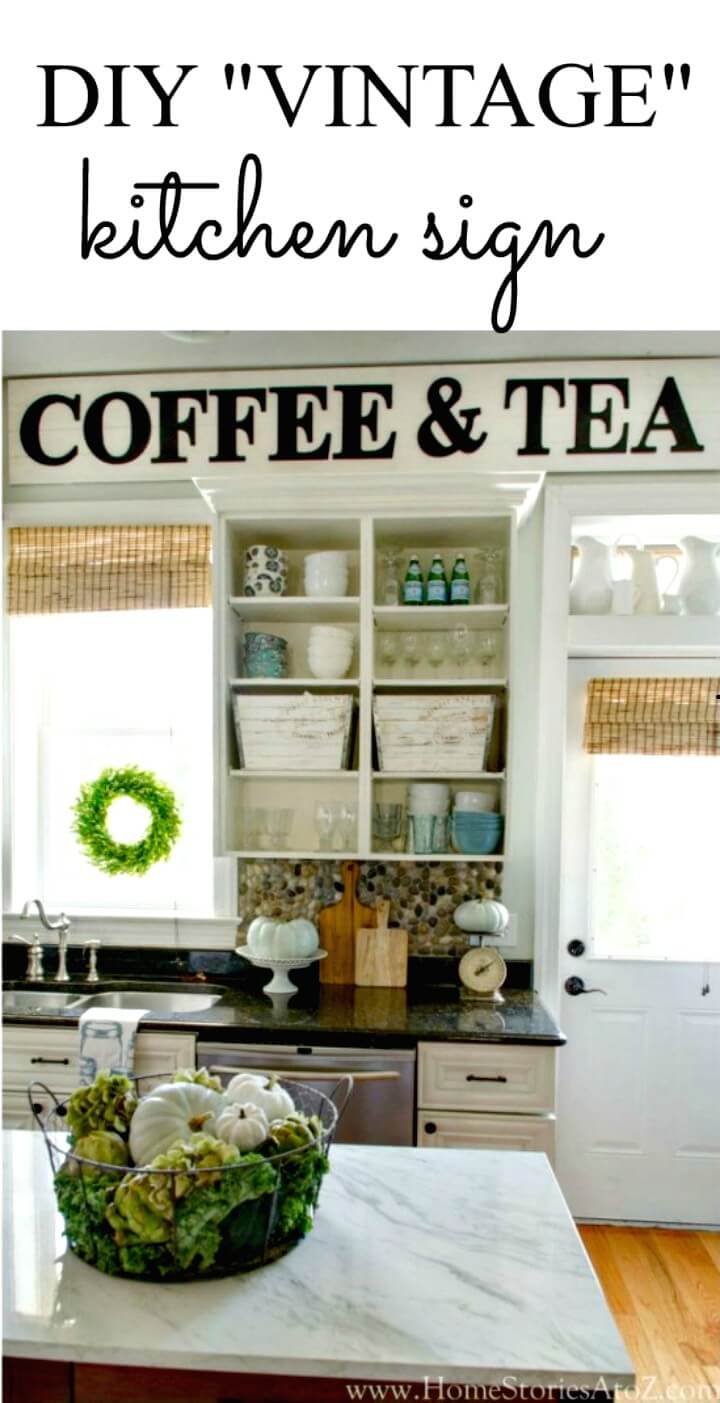 Bring a vintage flair to your kitchen by adding this handsome vintage sign to your kitchen wall! Here this brilliant art piece has been created using 4 V-groove panel boards that have been packed together to make a longer wooden board! Finally the craft letters have been glued on the white painted wooden board for an alluring sign art! Experiment this sign with custom letters! Complete project guides here homestoriesatoz
Beautiful and Easy DIY Toys – Fun Road Signs: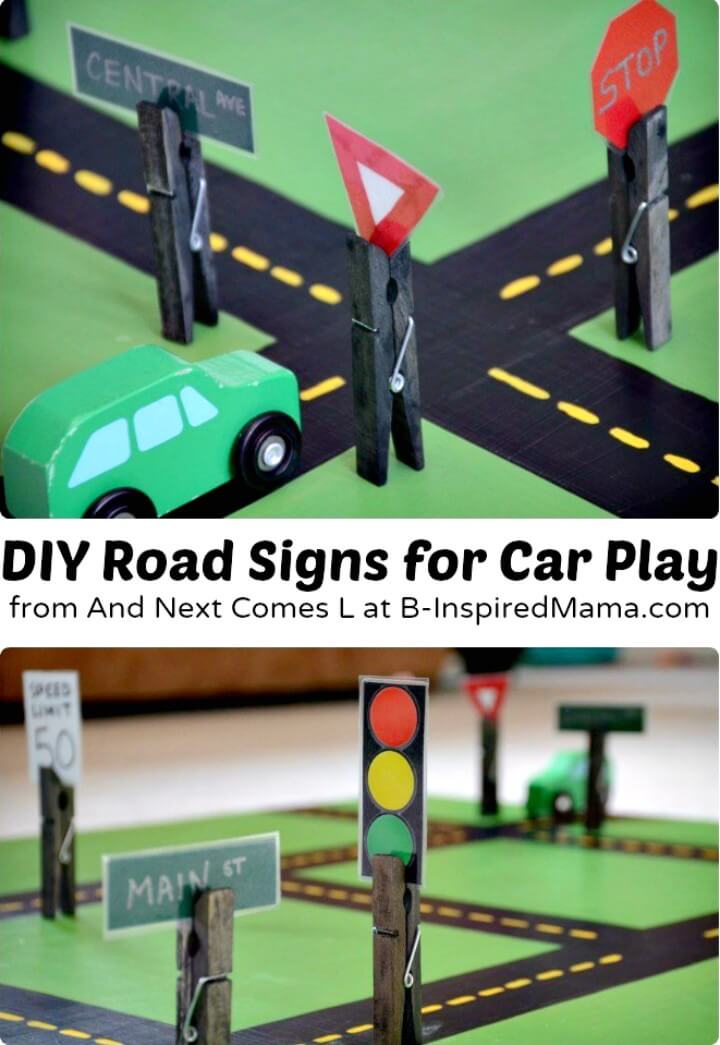 If you have become master in making cool signs at home then you can also do some fun projects with them! A very interesting example here is these fun road signs that are self-made and have been made hold in the jaw of a clothespin that stand vertically insides of the fun toy roads! This project has been dedicated to kids! Complete project instructions here inspiredmama
How to Build A Happy Camper Sign: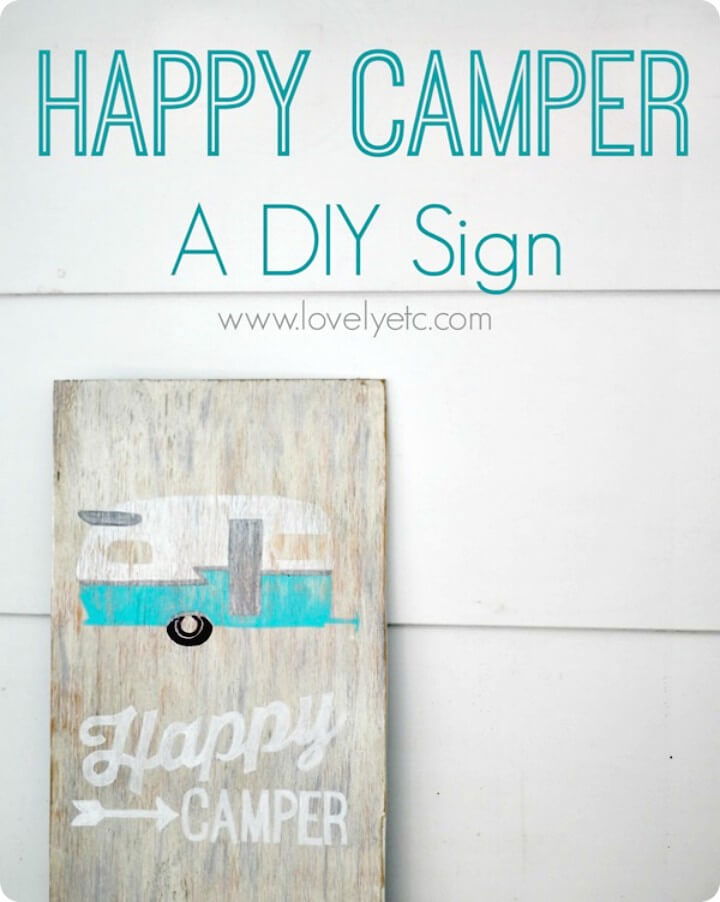 You can just paint anything on the wooden boards you are having to make outstanding looking wall art signs and pieces in just no time! Have a look at this stunning happy camper sign that has been done to inspire and is really looking beautiful! Here all you need a wooden rectangular board on which you can paste a camper truck and some custom letters for a brilliant looking sign! Complete details here lovelyetc
Modern DIY State Sign with Paper Flowers: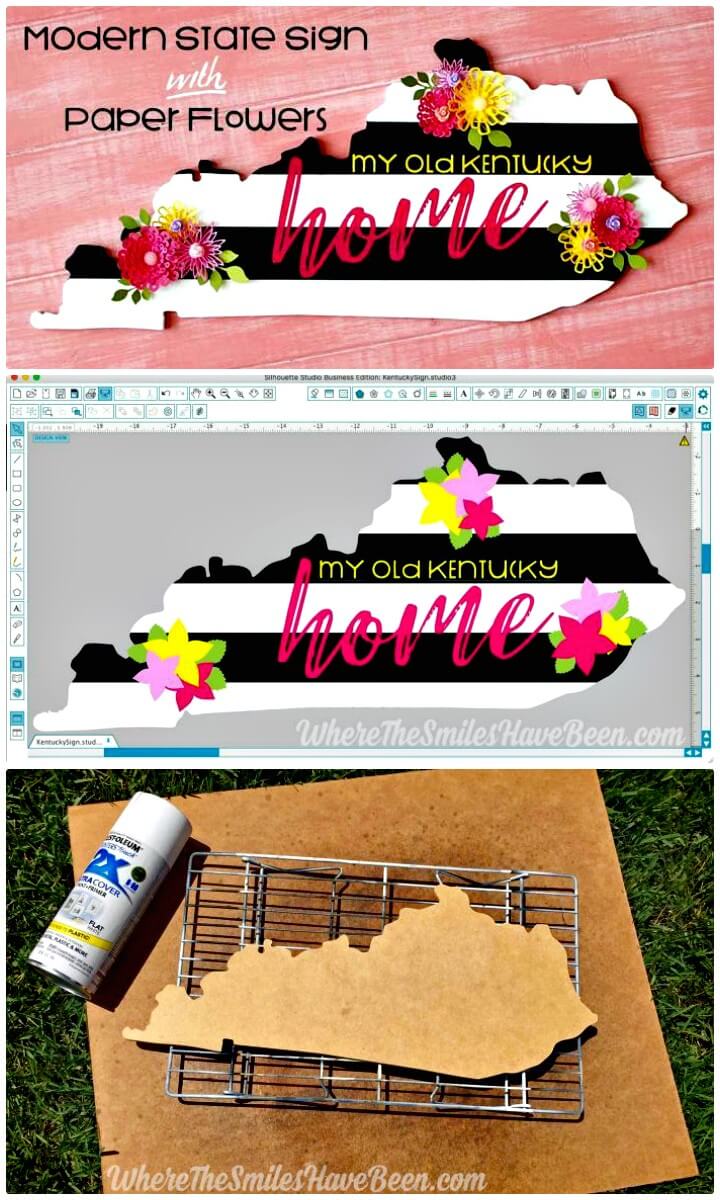 Welcome the spring with this fantastic state DIY sign that would also be a way to express your country love! Here Kentucky state art has been painted for white and black stripes and finally has been adorned with colorful flowers and custom vinyl letters to make a precious wall art piece! Complete instructions here wherethesmileshavebeen
How To Make Chalkboard Sign: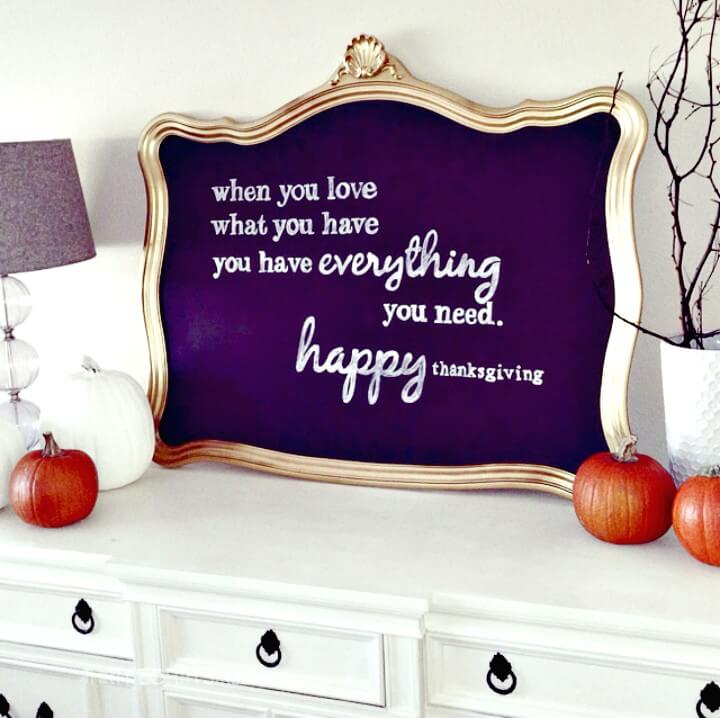 Make your interior wall look great also with this handsome chalkboard sign that will hold everyone's attention due to artistic design! Here this chalkboard mirror is having border repainted with gold spray painted and the mirror has been painted with chalkboard paint on which custom typography image has been pasted nicely! Another great DIY sign for spring and summer art! Complete project tutorial here thirtyeighthstreet