If you are making efforts to make your porch a bit more visually captivating then the porch signs are no exception! They make a great choice if you need to style up and decorate your porch in a super fun way and they also come in the list of some easiest and cheapest DIY projects! So, give warm welcome to all the seasons, festivals and also guests by making the respective type of front porch welcome signs and if you are lacking some inspirations then simply browse this beautiful showcase of 35 DIY Welcome Signs for front porch decoration that will fit to every porch for an instant grace and will be all no-sweat to create! Here most of these porch sign projects involve painting, hand drawing, and stenciling and hence will all be beginner-friendly!
Porch signs are of great importance as they could help to make beautiful first impressions of your home to every new entering person! At the same time, you can build the fall, spring and summer special front porch signs that will make great seasonal decors and will also give a warm welcome to all the seasons you are waiting for so vigorously! You can opt for the wall hanging and self-standing welcome porch signs that can be fit to your porch depending on the current situations for bigger decor statements!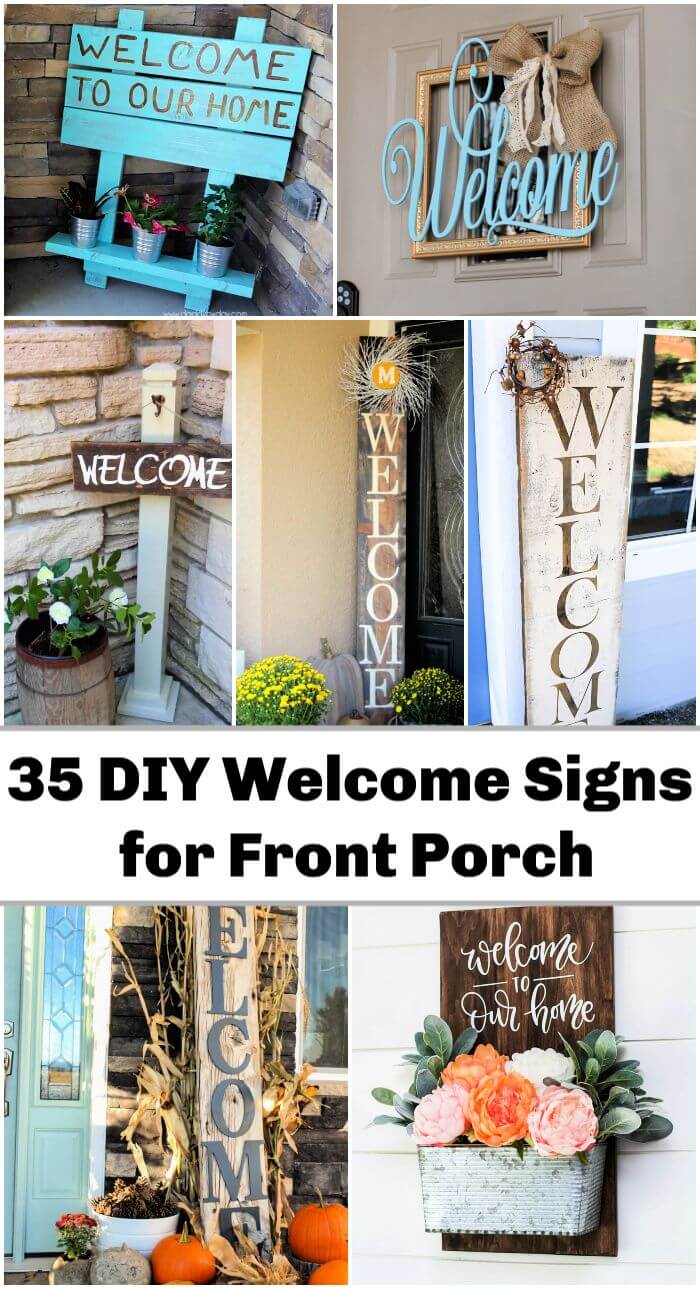 For making a porch sign, you will have to create first a wooden board which you can paint or stain for a custom decorative appeal! In this respect, you can recycle the old shelves, wide and long wood slats and also the fence wood pickets to make some quick and no-cost wooden boards! Also, tack the pallet wood slats and other leftover wooden lengths to make durable boards for the signs!
DIY Home Decor Ideas:
For writing or painting the "WELCOME" letters on your handmade boards, there are tons of different options! First, trace out your letters using a printed our letter template and fill them with paint! Use the letter stickers to get the "WELCOME" letters unpainted on the wooden boards and next also use letter stencils to quickly paint the welcome letters on your completed wooden boards! Spend a minute and take a tour of the entire collection to see some super unique and extraordinary porch signs more like a porch sign with a built-in potting shelf and a porch sign with hand painted flowers and leaves!
Easy to Make Welcome Sign:
If you want to your front porch get noticed then make interesting porch welcome signs that will bring the decorative vibes to your porch! Welcome your guest with this welcome sign that is super quick to make using a wood plank! First, trace out your letters using a template and then fill them with paint! Details here girljustdiy
DIY Welcome Sign Using the Silhouette Machine: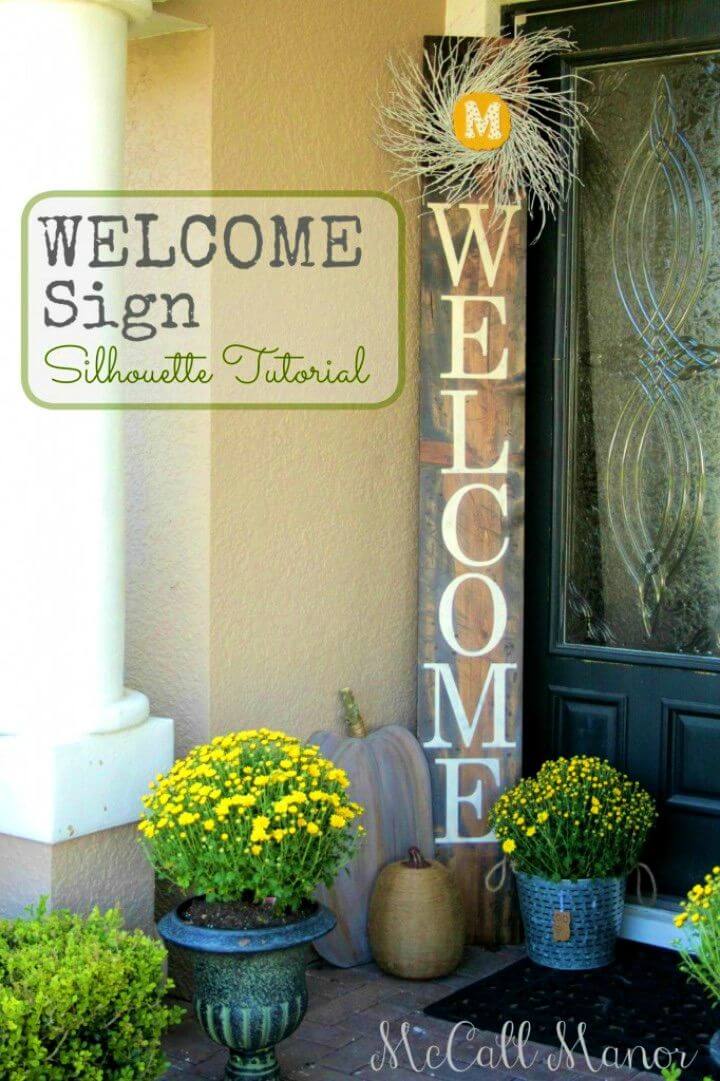 Are you intending to do a quick decorative makeover of your porch? Then do make use of silhouette machine and craft brilliant welcome porch signs for your porch! Grab rustic wood plank and paste the Cricut vinyl "WELCOME" Letters on it and make a lovely welcome porch sign! This given letter would rock for the fall! mccallmanor
How to Make Front Porch Welcome Sign:
There are tons of different possibilities to make gorgeous welcome signs for your porch! Grab the wooden post and some wooden accents and square and build this self-standing wooden post that comes with a hook where you can hang a handmade welcome wood sign or pate using a rope loop! sweetsmorgasbord
Make Welcome Sign for Front Door:
Bring tons of visual attractiveness to your front porch area with hand-built welcome porch sign that will take a few minutes for its completion! Grab a longer wood plank or slat, paint it and then paint or stencil "WELCOME" letters on it and create a gorgeous front porch welcome sign! Details and how-to tutorial here cravingsomecreativity
Easy DIY Wooden Sign for the Porch:
Add a great curb appeal by adding this decorative welcome sign to your porch that is also purely handcrafted one and is sure to be loved by all! Make it again using a painted vertical wooden board on which you can write, draw or stencil the "WELCOME" letters to make a beautiful wood sign for the porch! Details here thehoneycombhome
DIY Huge Front Porch Welcome Sign:
Give a warm welcome to your guests and fall season with this huge front porch welcome sign that is as simple as ABC to make at home! Grab the big vertical wooden board like a shelf and then finish with the painted "WELCOME" wood letters that you can glue on it in a vertical manner! Details here thewoodgraincottage
Make a Large Wood Welcome Sign:
You can duplicate this welcome wood sign even by using the recycled wooden lengths like the pallet wood slats! Put your reclaimed wood slats together making a gorgeous vertical wooden board and then paint it by adhering first the "WELCOME" letters stencils or stickers! After you finish the paint, remove the stickers to reveal the art letters! Details here h2obungalow
Pretty DIY Chalkboard Welcome Sign:
One of the most bizarre welcome sign ever created for the front porch at home! Again build a thicker self-standing wooden post and then make it hold a welcome sign plate using custom hardware or hooks! Here this entire sign has been painted using chalkboard paint and hence you can write anything on it! Attach the welcome plate to wood post using longer screws that will come with bubble glass knob accents! blog.homedepot
Quick DIY Welcome Sign: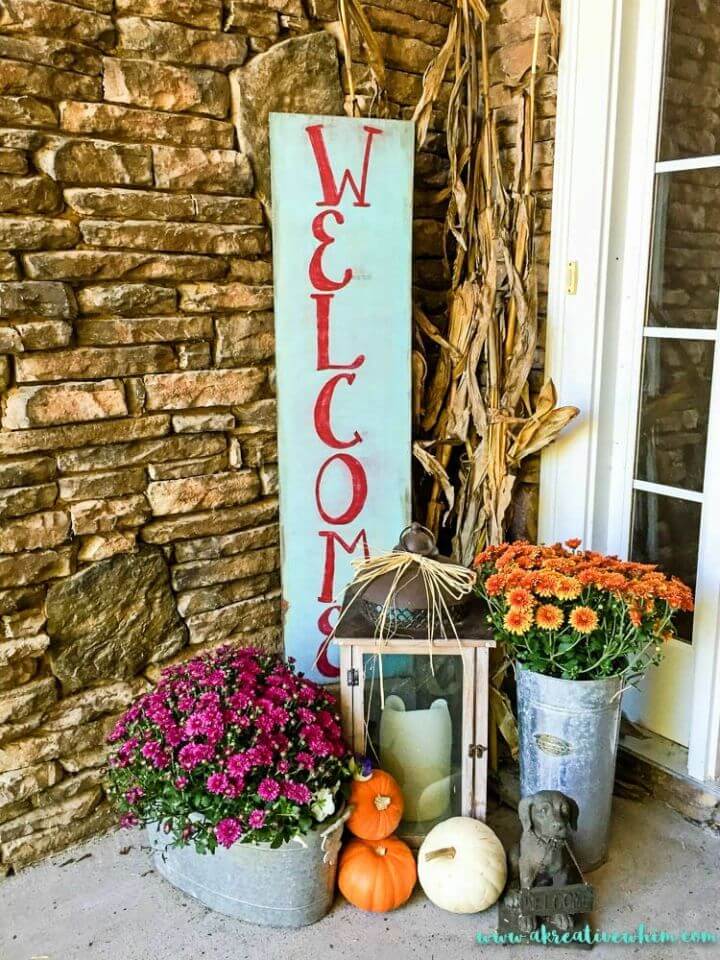 Duplicate also this another graceful and interesting welcome wood sign for your porch that will not too long to be in your hand! Grab a wood plank, sand or paint it and next draw the welcome letters on it which you can fill them with your favorite paint color! Another great welcome sign to make at home! Details here akreativewhim
Make Your Own Welcome Sign:
Bring a lot of visual grace and welcoming vibes to your porch area by making this adorable cute welcome sign that can stand alone there! Build a wooden post with a flat base and accent decorative head and then make it hold the welcome sign with the help of a hook! Here is how to make it shanty-2-chic
Beautiful DIY Front Porch Welcome Sign:
Gussy up your front porch with this handmade front porch welcome sign that also comes with a built-in the bottom shelf where you can display your favorite pots and planters! Prep a wooden welcome sign with enlarged wooden back supports and finish it with a flat bottom! Here it comes painted in turquoise, but you can go with any paint color! daddybyday
DIY Hand Painted Welcome Sign for Fall:
This is here one of the most beautiful welcome sign for porch ever made and it will rock as front porch fall decor! Paint the flowers, leaves, and letters at the same time on a vertical wood board and gain lovely welcome fall sign! You will learn here great tricks to paint sunflowers and leaves easily on the wood! flowerpatchfarmhouse
Make Pallet Wood Welcome Sign:
Also, write the welcome letters on a plucked apart pallet wood slat and make a lovely and cute welcome sign! Take a look at this given one that has been hanged on the wall with the help of a string loop! Here is how to make this lovely wood pallet welcome sign! Details here housebyhoff
Simple DIY Floral Welcome Sign:
Also, make use of the scrap and fabric to make amazing welcome signs for your porch! Here the fabric with floral print has adhered on a slatted wooden board for a decorative background and next the turquoise painted wooden "welcome" letters have adhered in the center of the sign! Details here agirlandagluegun
How to Make Welcome Sign:
One of the unique and adorable porch welcome signs is here that is modern and will instantly create a divine appeal of your porch! Make this fantastic-looking porch welcome using the recycled woven wood lattice piece, get it dignified with metal trim and next paste your letters in the center! Details here vintagepaintandmore
Easy DIY Welcome Door Hanger:
Get your front porch highly attractive with this another gorgeous looking welcome sign that is made of a recycled frame that has been refurbished and then added with blue painted welcome letters! Finally, it has been decorated with burlap ribbon that also brings a rustic appeal to it! This welcome porch sign will rock for the fall season! startathomedecor
Cute DIY Front Porch Welcome Sign: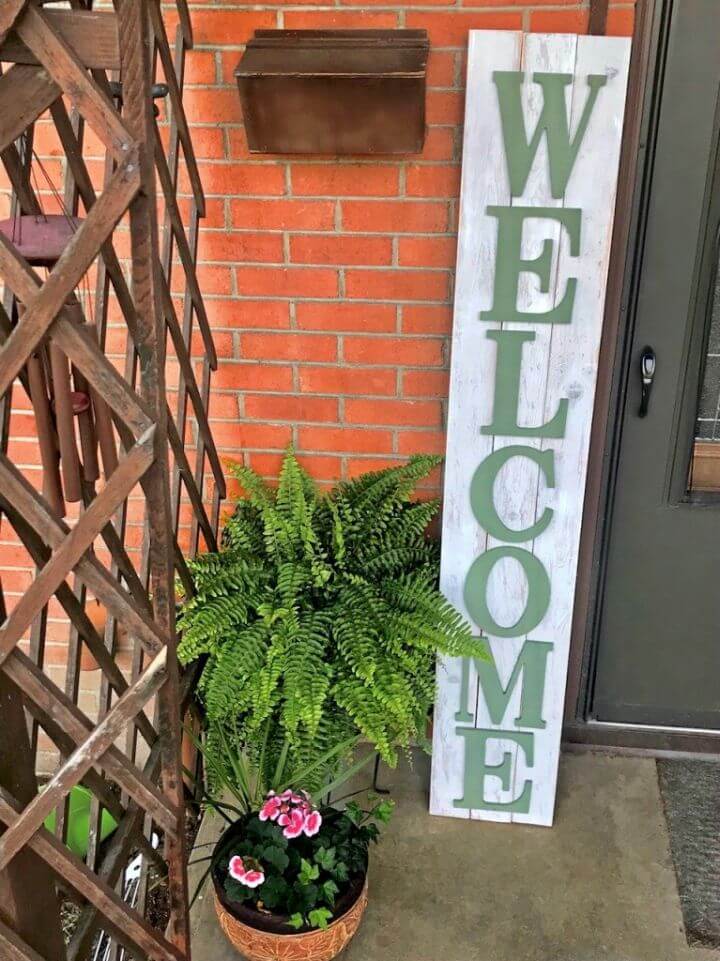 Kill two birds with one stone, add a great curb appeal to your home and also double up the charm of your porch area by making this lovely front porch welcome sign that is sure to be liked by all! Skip the manual work like tracing or stenciling the welcome letters, simply use the painted wood letters for a 3D welcome porch sign! garnishedwithdesign
Quick to Make Welcome Sign: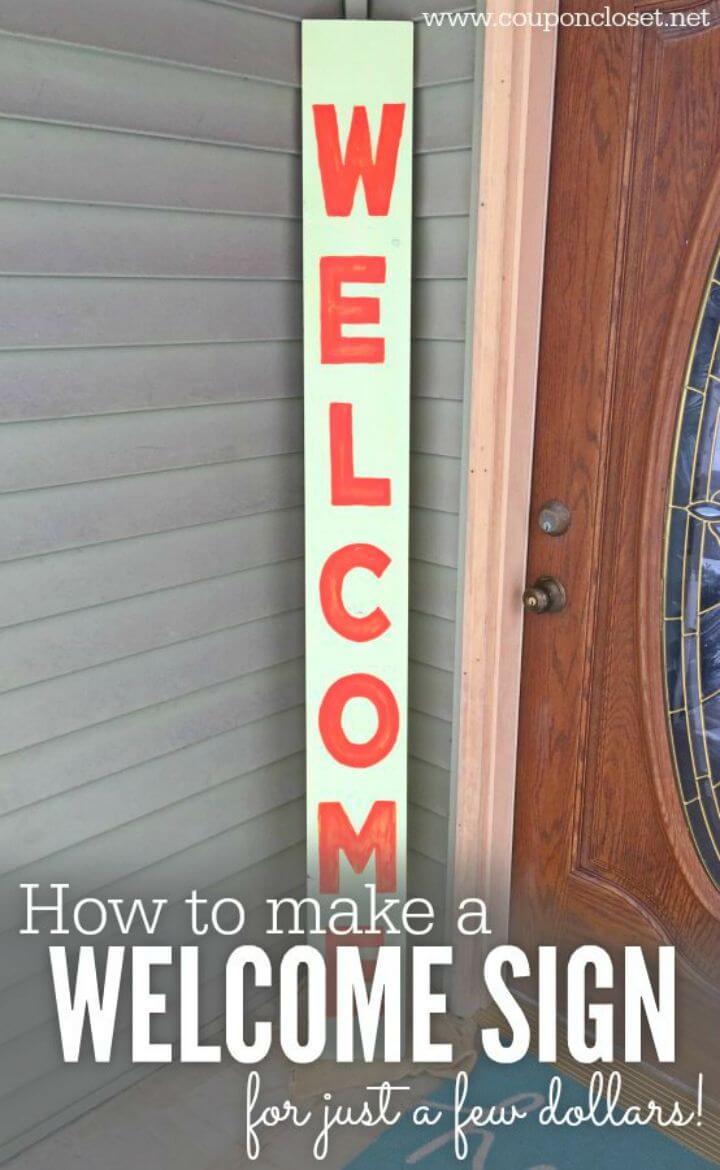 If you are to jazz up your porch in the last few minutes then here is a hack for making a quick welcome porch sign! Again get your wooden plank board ready, give it a white primer base coat and then paint the welcome letters using any shade of paint that will make a beautiful contrast to background color! Details here onecrazymom
DIY Oversized Welcome Front Door Sign:
Give a big warm welcome to guests by making this large sized welcome front door sign that is also entirely handcrafted and is a beginner-friendly project! Grab again the longer wood slats,  black stain them and then add the white painted wooden letters in front and make a gorgeous black and white porch sign! Details here hometalk
How to Make Rustic Welcome Sign:
Depending on the decor style of your porch, you can build any porch sign at home, and for a rustic glam porch, this rustic welcome sign would rock and is no-sweat to make! Tack your wooden slats to make a big vertical wooden board and next trace your letters in the center and fill them up with paint! Details here makingitinthemountains
Quick and Easy DIY Welcome Sign: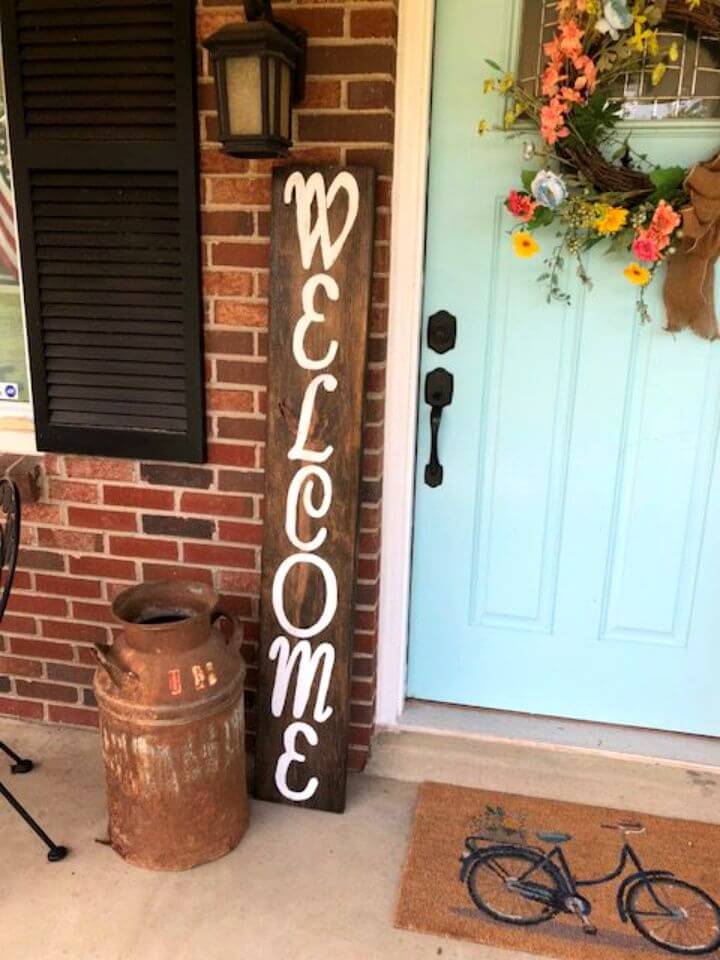 Porch decoration matters when you need to make an excellent first impression of your home and simply fancy up your porch with this another lovely welcome sign that is also a piece of cake to make! Grab a rustic wooden board or plank, dark stain it and then paint the white welcome letters on it! Details here thelittlefrugalhouse
Gorgeous DIY Welcome Sign:
By using custom embellishments and decors, you can give amazing variations to your hand-built wooden porch welcome sign and here is a great inspiration in this case! Build a normal wooden porch sign with painted welcome letters and then mount a flower basket or planter on it and build a lovely welcome sign! Details here blog.darice
DIY Custom Wood Signs for Your Front Porch:
There are tons of different hacks from tracing to painting to stenciling to add custom letters on the wooden boards, and this is all you have to do for making a gorgeous and cute looking porch sign! Here is another hack, paint your selected wooden board with the vinyl letters pasted on and then peel them off to make the welcome porch sign! A silhouette cameo based porch sign project! loveandrenovations
Make Large "welcome" Porch Sign:
Make also the oversized welcome porch sign that will be visible to onlookers from a distance and will surely be divine addition to your porch area! Give a white base coat to your selected wooden board or plank and next hand paint the welcome letters on it to make a lovely looking porch sign in no time! Get inspired by the given sample! twopurplecouches
Make Fall and Thanksgiving Welcome Sign:
Intending to decorate your porch on a special fall theme? Then do make this fall special welcome porch sign that will also make a great Thanksgiving decor and is sure to be loved by all! For making it, first, make the welcome porch sign as you do and then spruce them up with colorful fall leaves as you can see! Details here momhomeguide
Simple DIY Welcome Sign:
Also, paint the welcoming quotes along with only the welcome letters to make give a warm welcome to your guests and here is a great inspiration! Put together the dark stained boards and then use the letter stencils to make them quoted like a pro and make fabulous welcome porch signs that will also add a great curb appeal for sure! u-createcrafts
Inexpensive DIY Rustic Wooden Welcome Sign:
Also, bring the geometrical decor statements to your porch along with creating a welcoming and inviting appeal of your porch with this rustic wooden welcome sign that comes in alluring square shape like wall frame! Here all you need is to make a square wood frame using plywood and then paste the quoted print on it! Details here seekinglavenderlane
DIY Welcome Sign with a Silhouette: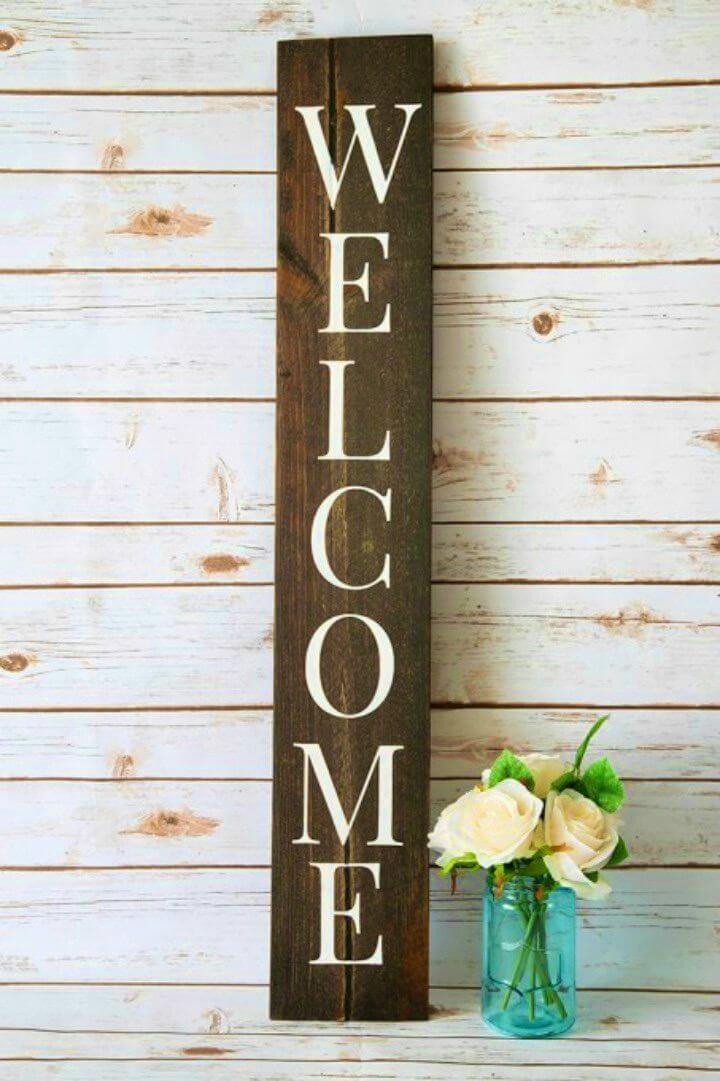 Smartly use your Cricut machine to make also the lovely porch welcome signs like a pro! Use the silhouette machine to make the welcome letters stencils that you can place on your handmade wooden board and then can fill with paint to paint the excellent welcome letters on the wooden board! Same has been done to make this sign! justagirlandherblog
How to DIY Welcome Sign:
Lift up the mood of your porch with this handcrafted welcome sign that is sure to go super eye-catching! Here also this long vertical welcome sign comes decorated with burlap and orange ribbon and looks delightful in the final decorative appeal! Experiment this sign with your favorite paint colors rather than the white and black! musthavemom
Easy to Make Front Porch Welcome Sign: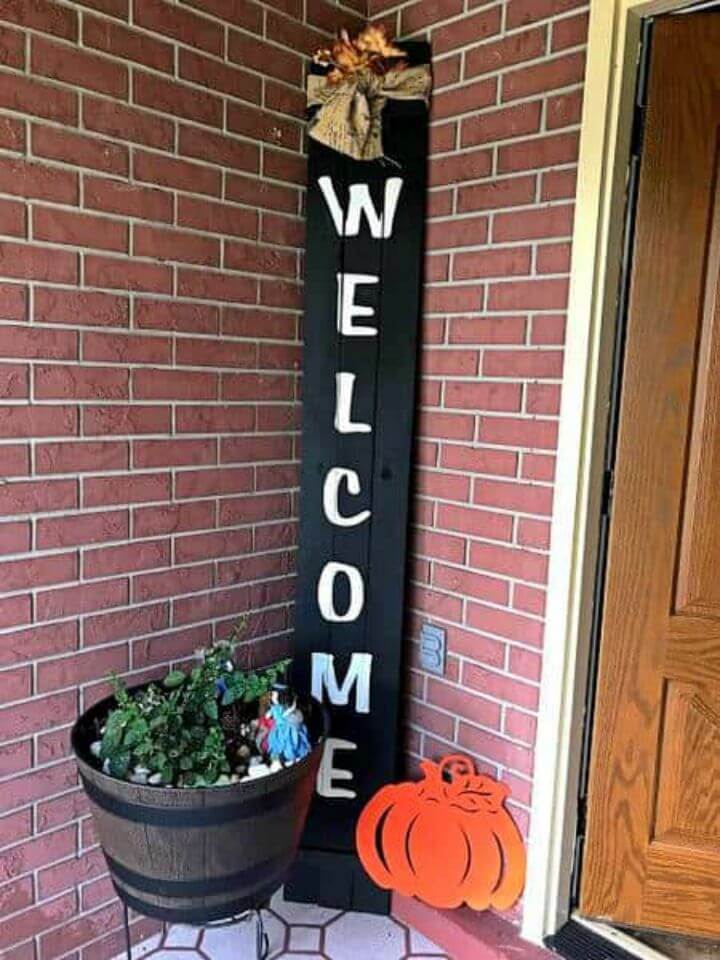 Do you love black and white decors? Then do opt for the black and white porch welcome signs that will instantly upgrade the look of your porch! Grab a wooden board, paint it in black and then stencil the white welcome letters on it and create a lovely and fantastic porch sign! Decorate it more using burlap ribbon! debbiesmusings
Make Distressed Wood Welcome Sign:
Bring the vintage vibes to your porch by adding this distressed handmade welcome sign that is simple and straightforward to make and will simply cost you nothing! Grab a leftover piece of wood like a wooden nameplate, chalkboard paint it and distress and then overwrite the welcome letters! Details here createandbabble
DIY Large Shiplap Welcome Sign:
Here is what you can do with the simple slatted arrangements of the recycled wood planks! Align your reclaimed wooden planks horizontally and shape up a rectangular wooden board, paint it in white and frame up and then stencil the welcome letters in its center! Next, hang it up on the wall using metal chain and hooks! dreamdesigndiy
Make a "welcome" Sign:
Simply write the welcome letters on any piece of wood and then hang it up on the porch wall and as a lovely welcome sign as you can see! Grab a piece of any wood, trace the welcome letters on it using a letter template which you can easily print out and next fill paint in the letters and hang your sign using ribbon! ourwayofnormal
Pretty DIY Welcome Sign:
Prettify also your porch area with this super cute and brightly colored welcome sign that is also a breeze to make and will definitely dazzle the porch audience! Paint a piece of wood in turquoise color and distress and then paint the blue letters on it and craft a brilliant looking welcome sign in no time! Details here artsychicksrule
Quick to Make Welcome Porch Sign: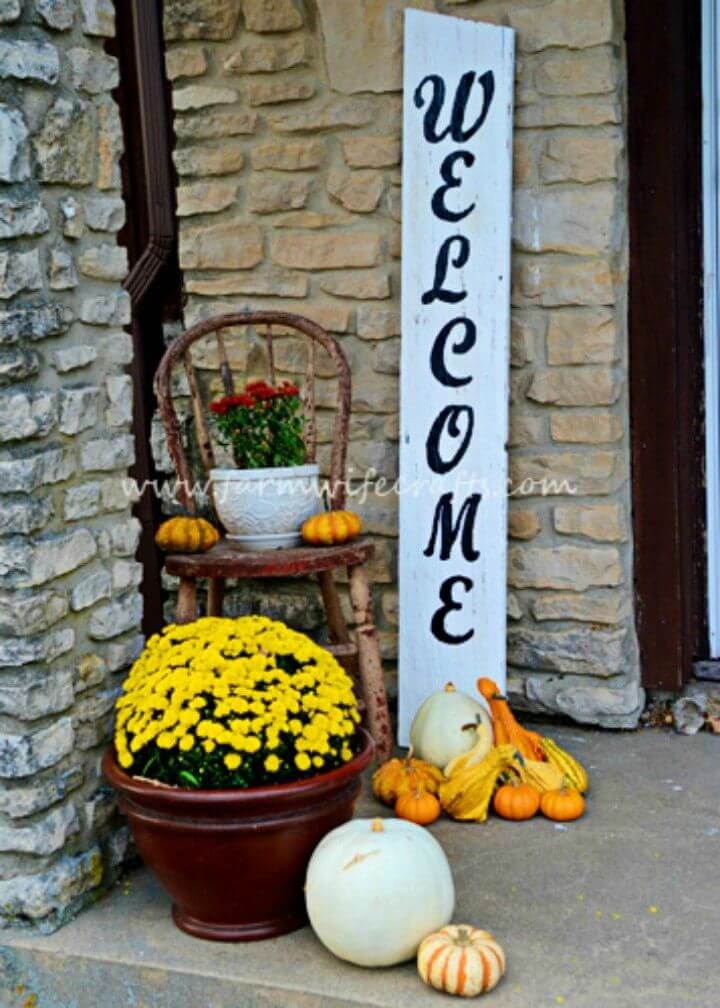 Porch signs are the most preferred decors for the porch, and they can quickly be made even by a beginner and here is a lovely sample that you can quickly clone for your porch! The trick here is to paint the welcome letters on an already painted wooden board! Here this porch sign will rock for fall! Details here farmwifecrafts