DIY wood headboard is perfect if you want a unique and customized look for your bedroom. You can choose the type of wood, the design, and even the color to perfectly match your decor. Plus, building your own wood headboard is a relatively easy project that can be completed in just a weekend. So if you're looking for new a headboard or just want to update your bedroom decor, check out these 20 homemade DIY wood headboard ideas. You're sure to find a stunning DIY headboard for your bedroom.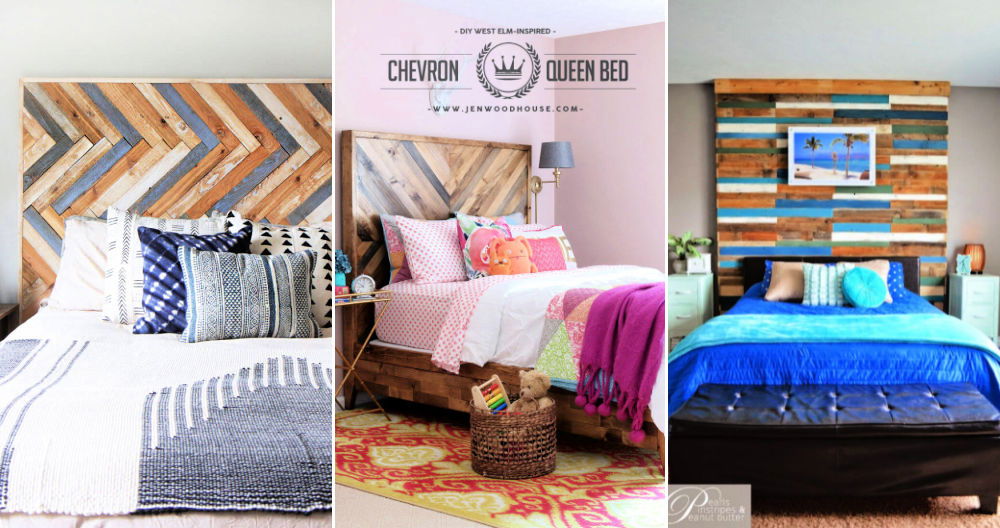 Check out these 20 easy DIY wood headboard ideas include step by step instructions and pdf plans! From rustic to modern, there's sure to be a style that fits your home decor. And the most pleasing part is, you can make these headboards yourself with just a few tools and some basic woodworking skills. So if you're ready to add a little character to your bedroom, read on for some great DIY wood headboard ideas!
DIY Mid Century Modern Wood Headboard: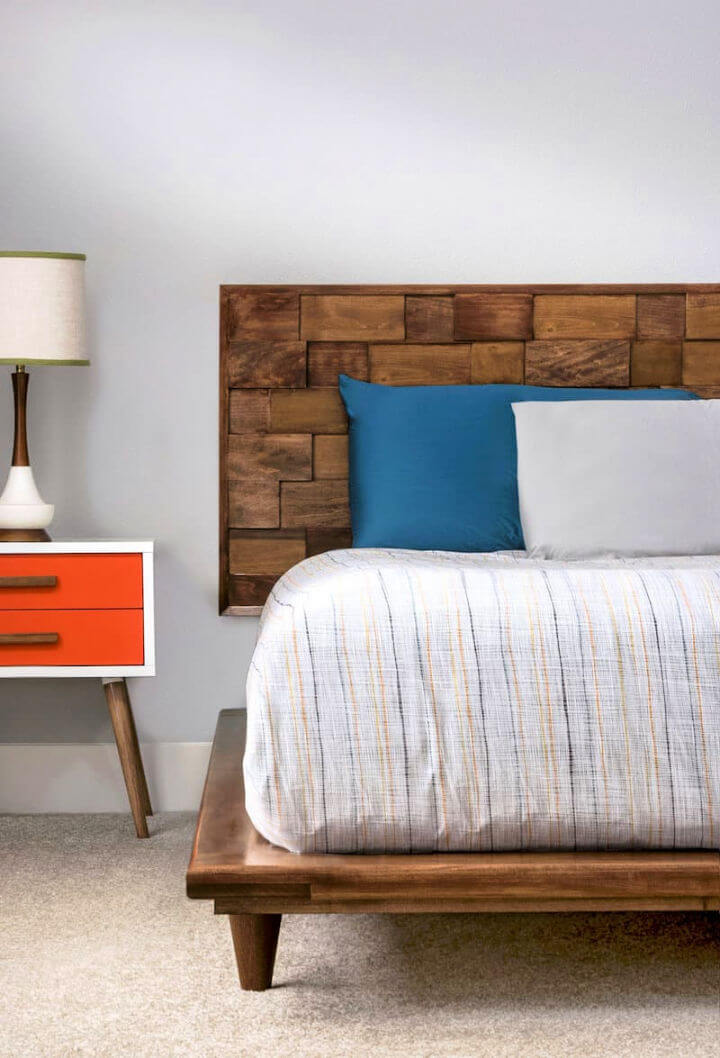 The headboards are the real worth of a bed, and they can also be the final addition to a bed to decide a custom decor theme of a bed. Create a mid-century modern appeal of your bed with this wood headboard, made of wood pieces packed together like a puzzle game making a beautiful rectangular headboard. Details here diycandy
Colorful and Rustic DIY Plank Headboard Wall:

Raise also the headboards from floor to ceiling and make incredible accent headboard walls, will also instantly style up your headboard. Make this headboard using rustic and colorful wood planks, and it will surely impress every new member. Here finally a mural has also been displayed in front for a graceful appeal. Full how-to tutorial here remodelaholic
Build a Wooden Headboard with Storage:

Add amazing storage space to your bed by adding this wooden headboard, will also be a great choice if you need to show off with your bedroom decors as it provides some display shelves too. This headboard looks like a wood tray and can quickly be made with the recycled plywood and wood planks. Full instructions here buildsomething
Beautiful DIY Wood Headboard:

Put together also the wood slats and pack them flat together, making a thicker wood slab or rectangle and build a beautiful headboard. Will be a nice way to bring a glam wooden touch to your bedroom. Make this headboard using recycled lumber or any other wood from home. Details here apieceofrainbow
How to Build a Rustic Wood Headboard:

Have you decorated your bedroom on a rustic theme? Then you must choose this rustic wood headboard that is looking much graceful due to rustic appeal and also due to shine on the wood grains. Here this headboard will cost you some wood slats. Here is how to make this beautiful piece of headboard diynetwork
DIY Herringbone Wood Headboard:

Are you a big fan of the chevron effect and pattern? Then satisfy your lust for chevron by making this multi-chevron herringbone wood headboard that is sure to amaze and inspire. It will make a graceful head of your bed and will bring tons of focal stimulation to your entire bedroom. How-to details here ispydiy
Super Cute DIY Barn Door Headboard:

A cute version of self-made headboard that is solid too. Again pack flat the thicker slats of wood and build a rectangular headboard, will be a great addition to your bed. This is something that is quite easy to make and will simply cost you nothing. This headboard also comes with a top mantle to hold the bedroom accents. Details here shanty-2-chic
Create a Custom Plank Headboard:

This headboard will never go out of style, and it will impress at a very first look. It comes with so many different tones of wood light-dark, light, red and hence will never go unnoticed. It is also like a colorful wooden headboard wall that everyone can make with great ease. How-to details here lowes
DIY Wood Round Headboard:

One more fabulous headboard design to look at, it is beautiful and enchanting and will be a super rustic addition to any bed. Grab a wood log and chop it to gain some wood slices that you can mount on a wooden board to make a rustic wood round headboard. Opt for it to bring a big rustic character to your bedroom. Details here thewhitebuffalostylingco
DIY Curvy Reclaimed Wood Headboard:

Put together also the rustic recycled wood slats to make a fabulous wooden headboard in no time and also at a no-cost price. It will also be a smart way to keep using the old wood. Look at this fabulous design that comes with a camelback pattern and will win the heart of an onlooker at a very first look. How-to details here remodelaholic
Make Wood Headboard for Less Than $50:

Wooden headboards are the real grace of a bed, and they can be made in different diverse design using wood of every kind. Grace up your bed with this wooden headboard that will cost you under $50. Give it also as a great handmade surprise to a friend or neighbor. Full how-to details here homemadelovely
DIY Textured Headboard or Footboard:

You will love to appreciate this headboard and footboard that are something super beautiful to look at. Here shorter pieces of wood have been packed together to make this textured headboard. Making of this headboard is like to play a puzzle game, and you can also involve your kids in it. Details here hazelandgolddesigns
Reclaimed Wood Headboard for Queen Size Bed:

Here most of these headboards are made of recycled, upcycled and repurposed wood and here is another decent one to hold your attention. Spruce up your queen size bed with this reclaimed wood headboard, looking divine due to slatted arrangements. Full how-to tutorial here ana-white
How to Build a Wood Headboard:

There is too much fun involved in making this headboard. What an entertaining activity it would be to fill a big MDF slab using the wood shims that can be glued in place in various patterned arrangements. Here this headboard also comes with a patterned appeal that goes much enticing to eyes. Here is how to make it bhg
Budget-friendly DIY Wooden Headboard:

Here is the model of wooden headboard that is super budget-friendly to make at home. It also had a rustic appeal that looks distinguished with both dark and light tones of wood. These headboards will e a great impactful addition to any bedroom. The design is much doable, and you only require some wood slats to make it. Details here vivaveltoro
DIY Geometric Wood Headboard:

Bring also the amazing geometric vibes to your home by adding this geometric wood headboard, another great design of wood headboard to make a home with great ease. Here along with a striped pattern, it also comes with a white and wood striped appeal and is just looking amazing. Full how-to details here ispydiy
Build a $40 Wooden Headboard:

Fall in love with the rustic grace of this wooden headboard that will cost you just $40 and will definitely be a great rustic addition to your newly built bedroom. Put together the rustic slats of wood and given them a weathered wood finish to make this headboard. Full how-to instructions here instructables
DIY Chevron Reclaimed Wood Headboard:

The best way to incorporate chevron to your bedroom, a brilliant chevron headboard made with reclaimed wood! Cut the plywood to size to make the base frame and then align the wood slats on it in chevron manner, give a cool finish and enjoy a chevron headboard! How-to details here jenwoodhouse
Create A Rustic Wood King Headboard:

Create an art style appeal of your bed with this camelback style headboard! It is made with hands and will style up every bed with its amazing design curves! Make the simple rectangular headboard by putting together the planks of same thickness! Next, a do a little tracing and cut out the rustic came back kind of headboard! Details here prettyhandygirl
How to Make a Distressed Headboard:

Boost the antiqueness of your bedroom by adding this distressed headboard! Make it using rustic slats of wood and give a nice weathered wood finish for an enhanced rustic visual! Add the final reading lights for a modern grace! A best rustic yet modern type of headboard to make at home using leftover wood slats! Details here livesimply
Things to Consider Before Start Building your Headboard
How to Choose the Right Wood for Your Headboard?
When it comes to selecting the right wood for your headboard, there are a few things to keep in mind. First, you'll want to consider the overall style of your bedroom. If you have a more traditional decor, then classic hardwood like oak or maple would be a good choice. If you're going for a more modern look, then a more vintage wood like teak or walnut might be a better option.
Select The Right DIY Wood Headboard Plan
Once you've chosen the type of wood, it's time to decide on the design. If you're not very crafty, there are plenty of DIY wood headboard plans to choose from. But if you want to create your own design, there are plenty of tutorials that can help. Be sure to measure the area you have available for your headboard and choose a design that will fit.
Choose the Color of Headboard
Finally, don't forget the color! Many people choose to stain their headboard a different color than the rest of their furniture. This can add a pop of color to your bedroom and really make the headboard stand out. Be sure to pick a color that compliments the other colors in your room.
Conclusion:
There are many different ways to make a DIY wood headboard. You can use old pallets, reclaimed wood, or even new lumber to create a stunning and unique headboard for your bed. With a little creativity, few tools and skills, you can create a beautiful headboard that will add character and style to your bedroom. So get clever and start building your own DIY wood headboard today!