You don't have to buy a squirrel feeder to enjoy these furry little creatures. If you're handy with a few tools, you can easily make your own squirrel feeder at home. Learn how to make a squirrel feeder with these 17 homemade DIY squirrel feeder ideas with easy instructions and step by step plans. These DIY squirrel feeders will keep the squirrels coming back to your garden for more. Feeding squirrels can be a very rewarding and enjoyable experience for both you and the squirrels.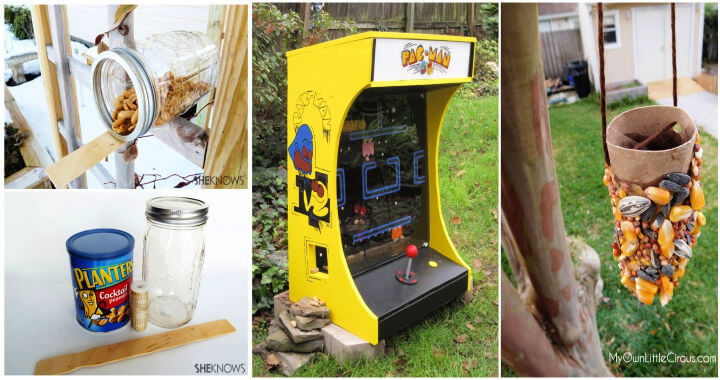 If you're looking for a simple design, try a basic wooden box feeder. You can also upcycle an old birdhouse or repurpose a plastic container. For a more unique diy squirrel feeder, try making a log cabin squirrel feeder or a mason jar feeder. If you want to get really creative, you can even make a PVC pipe feeder or a tire swing feeder. Whichever design you choose, your backyard squirrels are sure to enjoy their new homemade squirrel feeder.
1. DIY Wooden Squirrel Feeder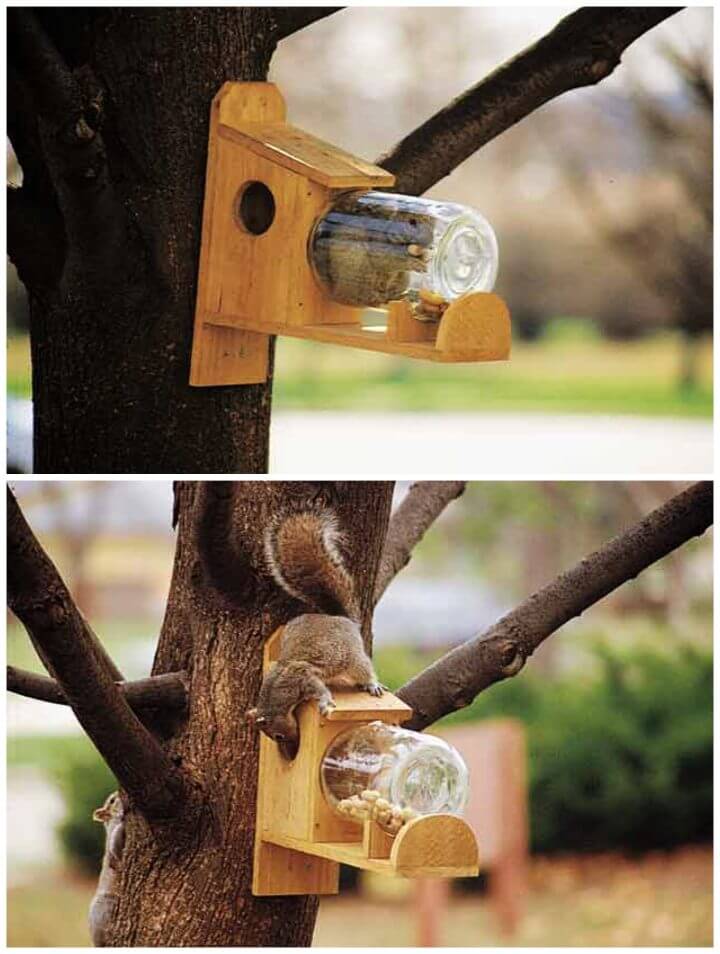 Enjoy the cute movements of the squirrels more in your garden spaces by creating this lovely and useful DIY wooden squirrel feeder. A wooden structure with a glass jar fixture would be the perfect place for the squirrel to eat and relax. Learn to make this squirrel feeder right here! birdsand
2. How to Make a Squirrel Feeder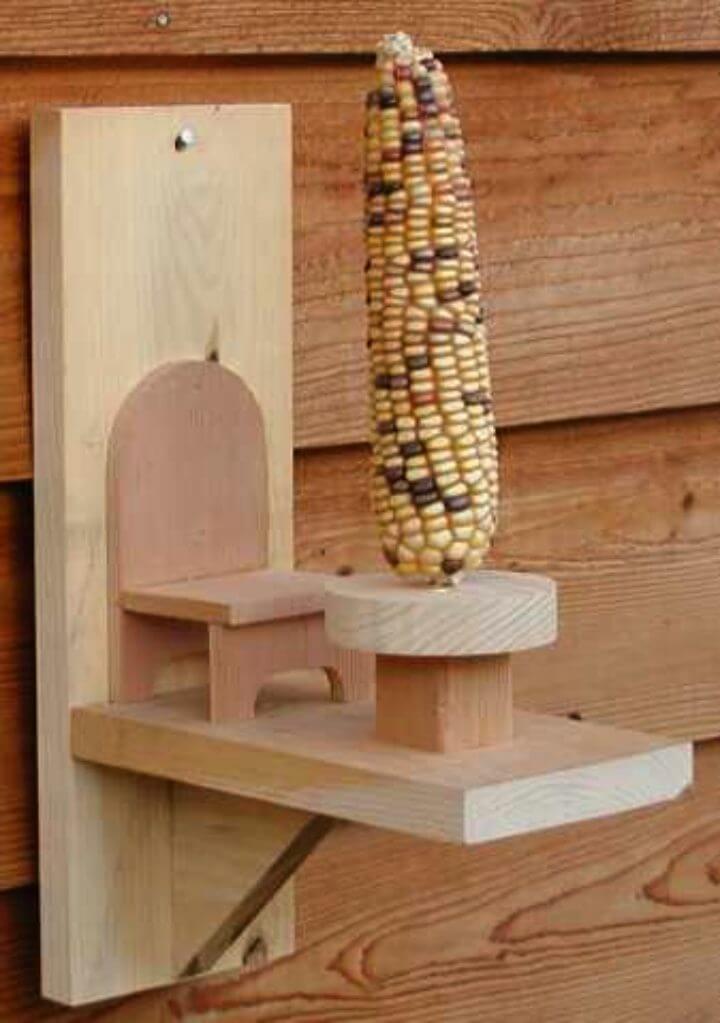 This cute squirrel feeder has a chair and table setting to let your cute squirrel come, sit and eat calmly sitting on the chair. While the squirrel is eating you can get amused by her adorable actions. Get some wooden pieces and come along the tutorial here to make this unique and fun squirrel feeder! runnerduck
3. Homemade Squirrel Feeder for Your Backyard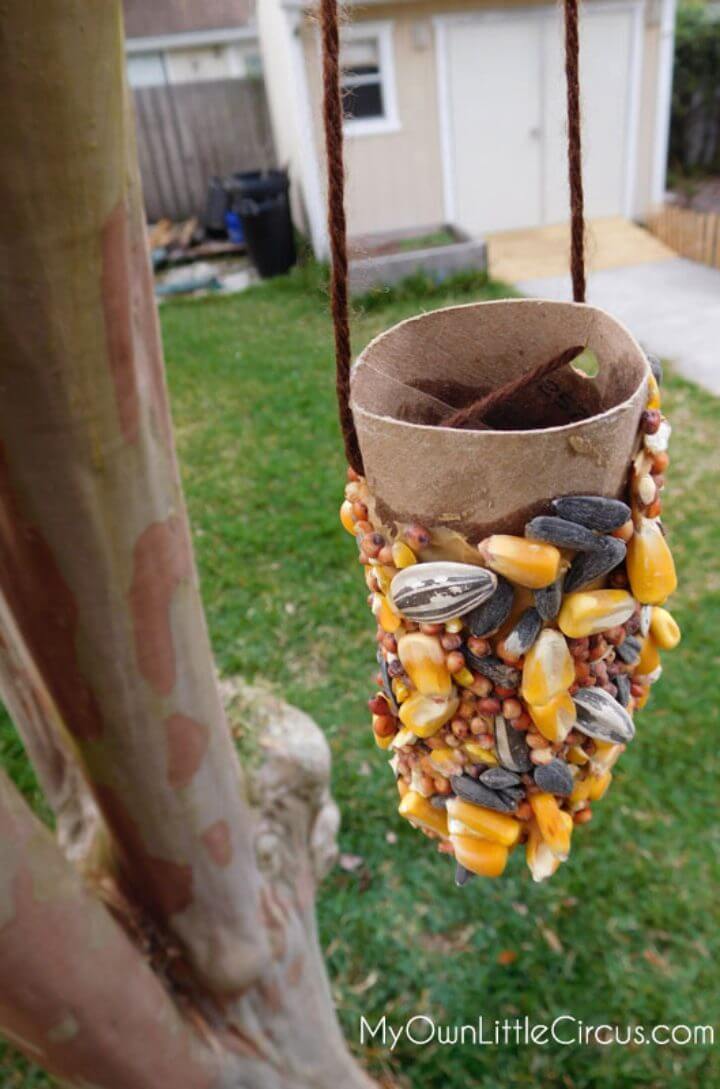 Squirrels are super cute and they cuteness touches the sky when they are chunking on some food. So now you can enjoy this fun squirrel feeding scene daily when you have this handmade squirrel feeder installed in your backyard. This one is made out of the tissue roll so hack all its details here. myownlittlecircus
4. Make Your Own Squirrel Feeder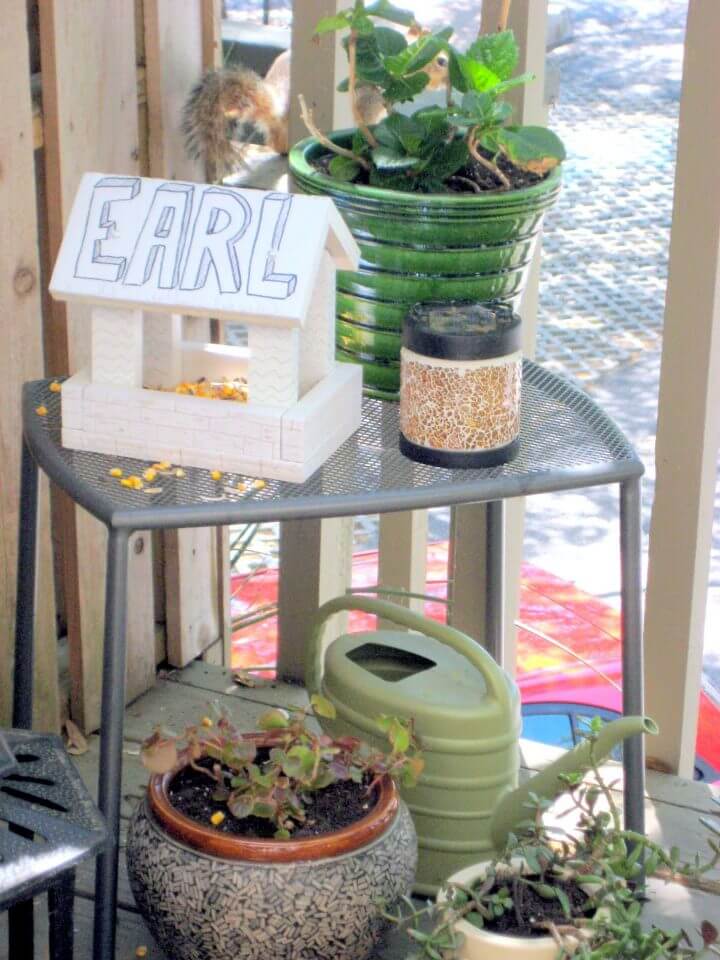 If you also have a naughty squirrel visitor in your garden that is damaging your plants then you really need to make him a feeder so that he does not disturb your plants ever after. Here is this gorgeous feeder home with the name of the squirrel to totally personalize it for the squirrel. Check out the step by step details here! creatingreally
5. Easy DIY Squirrel Feeder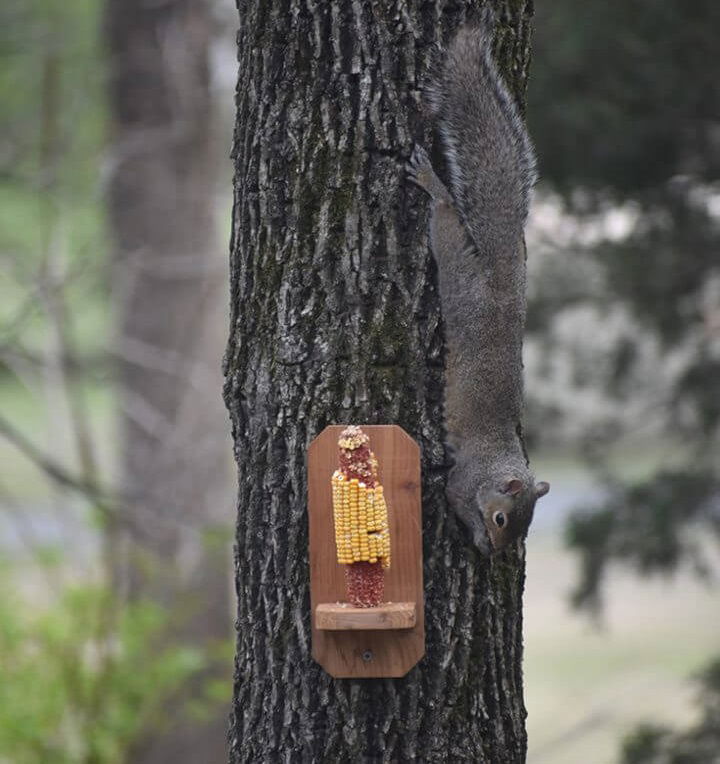 If you have trees near you where squirrel resides then you should be getting your hands on this DIY basic squirrel feeder to install it over the tree. The squirrel would be so happy to have her own food place to chunk on the corn every day. With just two pieces of the wood, you can easily work up to this adorable feeder so get the details of it here! doityourself
6. Handmade Mason Jar Squirrel Feeder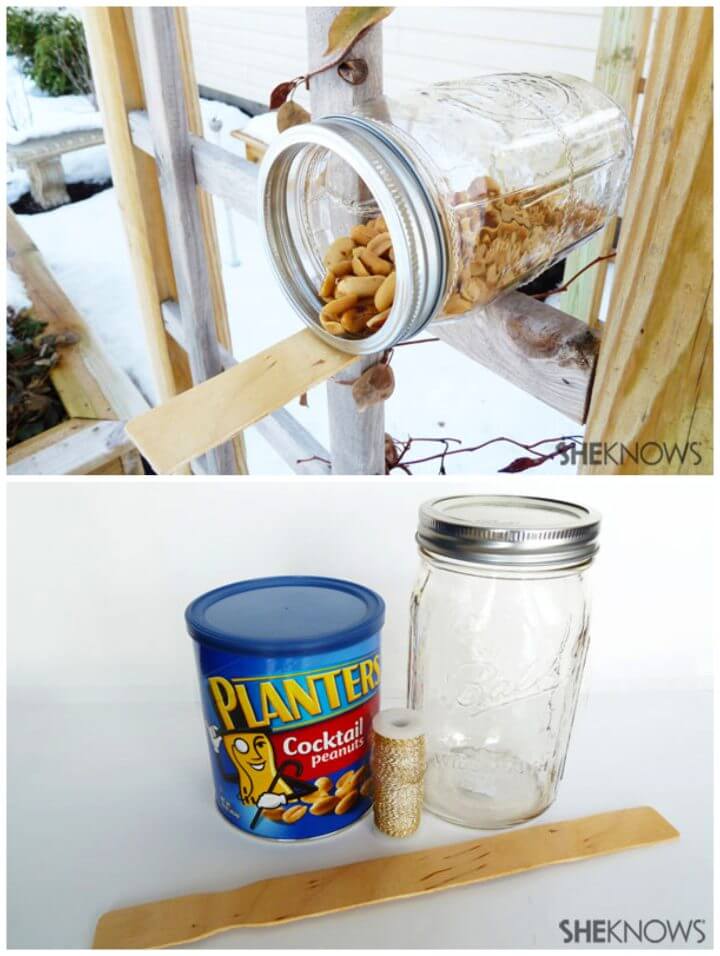 We love mason jars and the Mason jar crafts and here is another fun one to get your hands dirty with. Yes, this Mason jar squirrel feeder is your next project to make those seldom visiting squirrels a regular part of your outdoor meetings. You can learn to make this complete Mason jar squirrel feeder here! sheknows
7. DIY Squirrel Slinky Feeder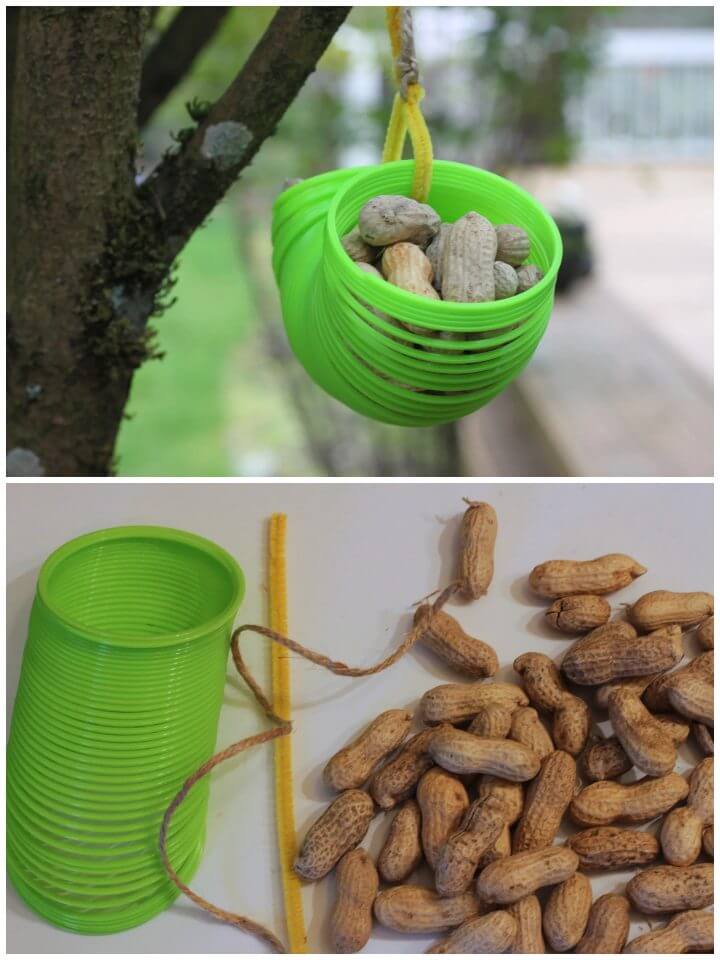 If your kids do not play anymore with the slinky then here is the idea of creating a unique and fun squirrel feeder out of it. Just tie up the slinky with a rope and hang it over the tree holding a lot of peanuts to attract those adorable squirrels. Follow the easy and fun details of the idea here! kiwico
8. How to Build Mason Jar Squirrel Feeder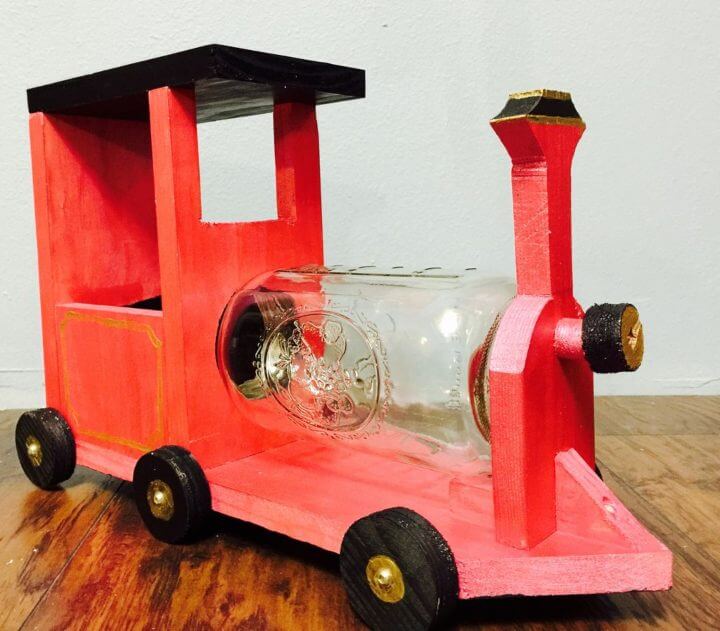 Here is this gorgeous wooden and Mason jar squirrel feeder that is not only letting the squirrels feed on but also adding oodles of charm to y our backyard decor too. With a few pieces of wood, one Mason jar and some paint hues, you can easily create this funky squirrel feeder on your own. Details here! instructables
9. DIY Pine Cone Bird and Squirrel Feeders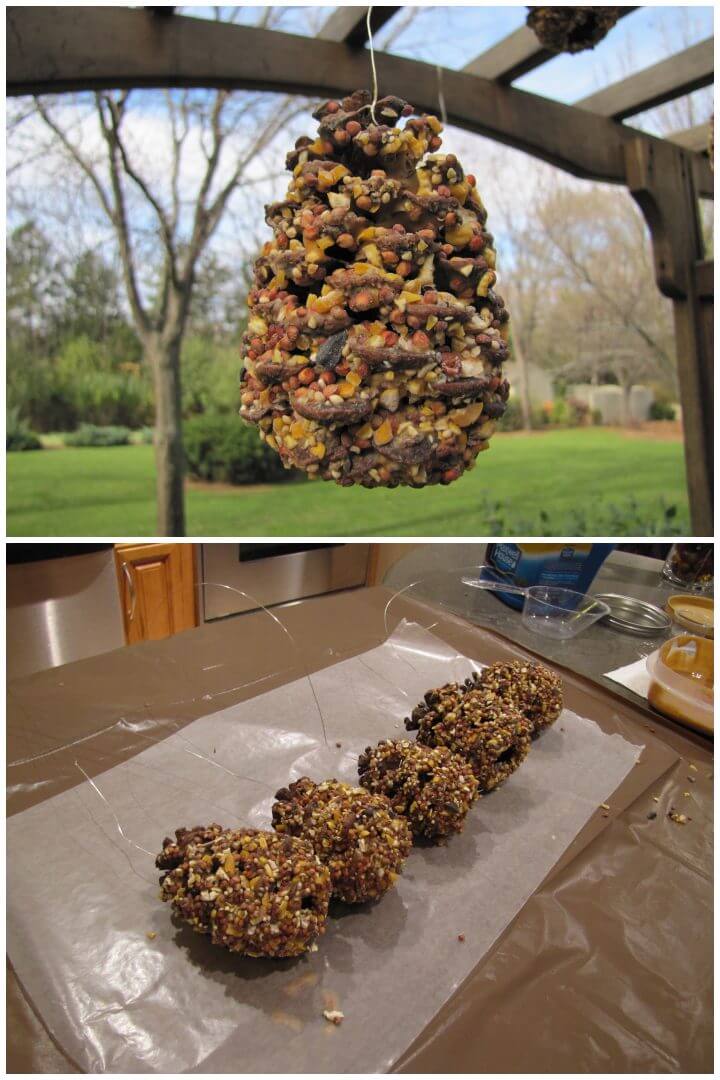 The DIY pine cone squirrel feeder is a great way to give your backyard squirrels a winter treat. You can make this project with just a few supplies. All you need is: 5 large pine cones, 3/4 cup peanut butter1 1/2 cups mixed birdseed, Wire, crimp beads and pliers or strong twine1 shallow microwave-safe dish and 1 deep dish. keatonthefoodie
10. Cheap DIY Mason Jar Squirrel Feeder
These are probably the easiest of squirrel feeders you would ever come across to make and hang in your backyard spaces. So grab the pine cones and load them up with the squirrel food and hang them over your trees using wire or rope and let those little cute creatures enjoy the delicious food at yours. Details here! thepapermama
11. Simple DIY Squirrel Feeder Ideas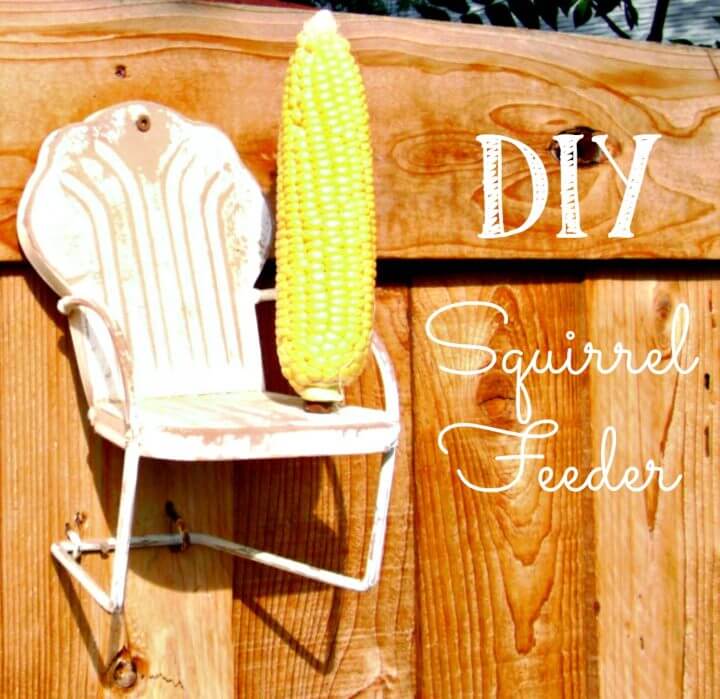 This simplest squirrel feeder is the easiest and quickest to install too and is just super duper cute. A small toy chair has been used with some metal staples to hold corn on and let the squirrel sit and enjoy the food with all the calm and relaxing. You can install more than one if you have a bunch of visitors. Check out the details here! littlevintag
12. DIY Peanut Butter Squirrel Feeder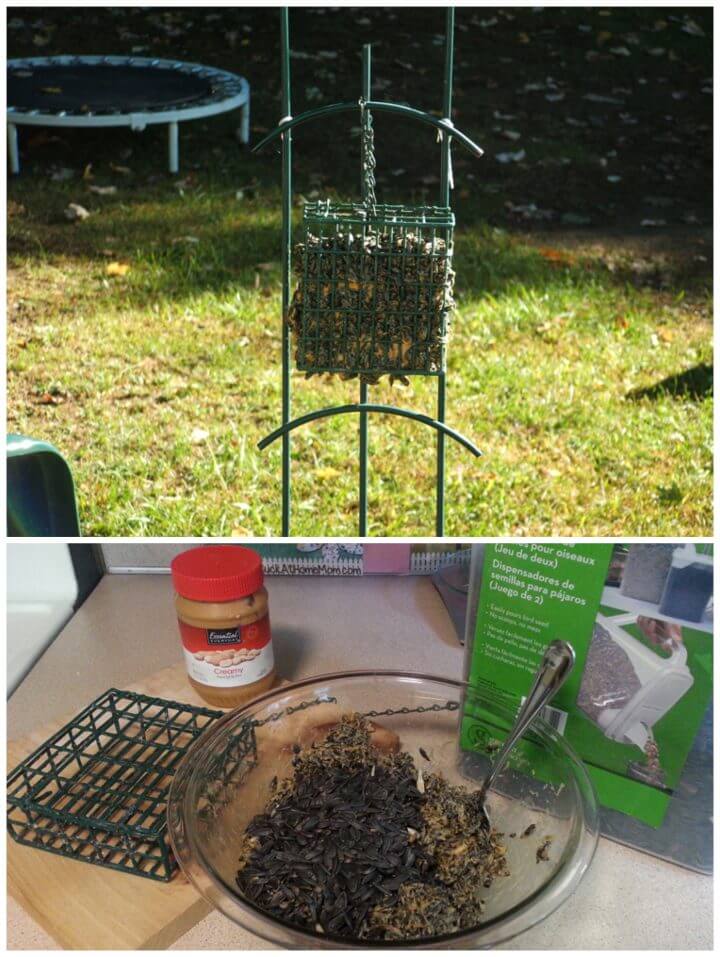 If you want to attract the squirrels to your backyard and enjoy their cute actions of eating with their sharp teeth, then you have to arrange a feeder for them. Here is this easy and cheap but totally yummy and delicious peanut butter squirrel feeder made out of suet feeder, and the squirrels would love it! stuckathomemom
13. Easy DIY Squirrel Feeder for Fall Fun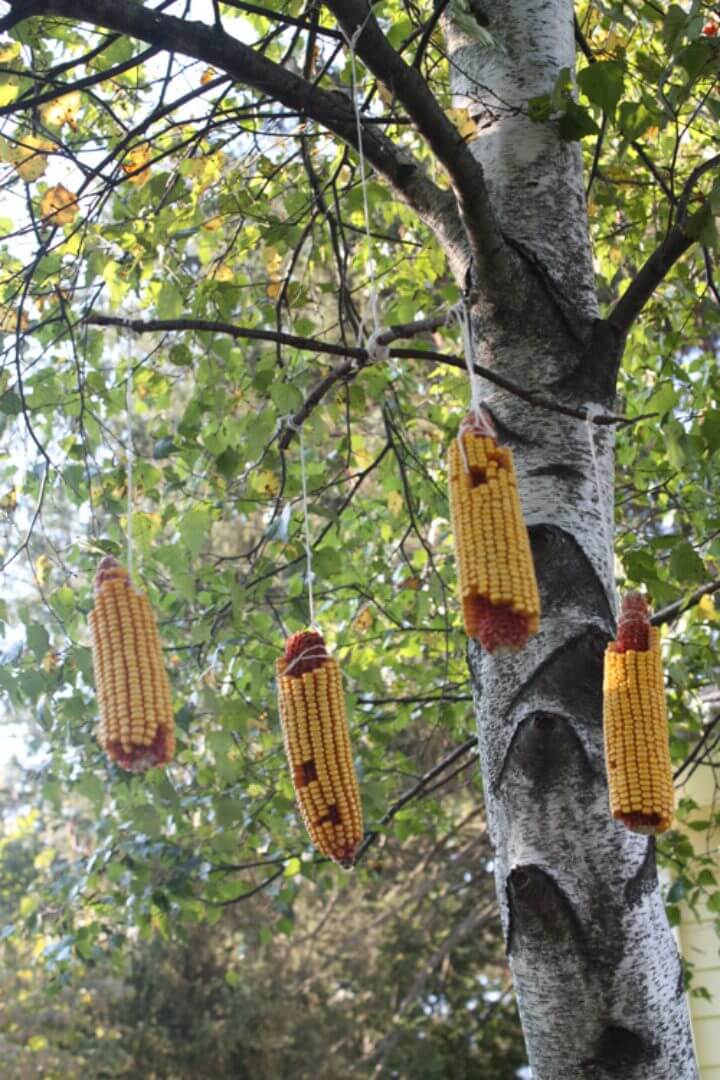 Squirrels love to chunk on the corn and now you can attract a group of the squirrels in your garden or backyard with this idea of creating the fall fun squirrel feeder. All you need to is simply hang a bunch of the corn directly on the tree branches using the threads and let the squirrels do a party at your place. Get details of the idea here! kidoinfo
14. Squirrel Feeder Building Plan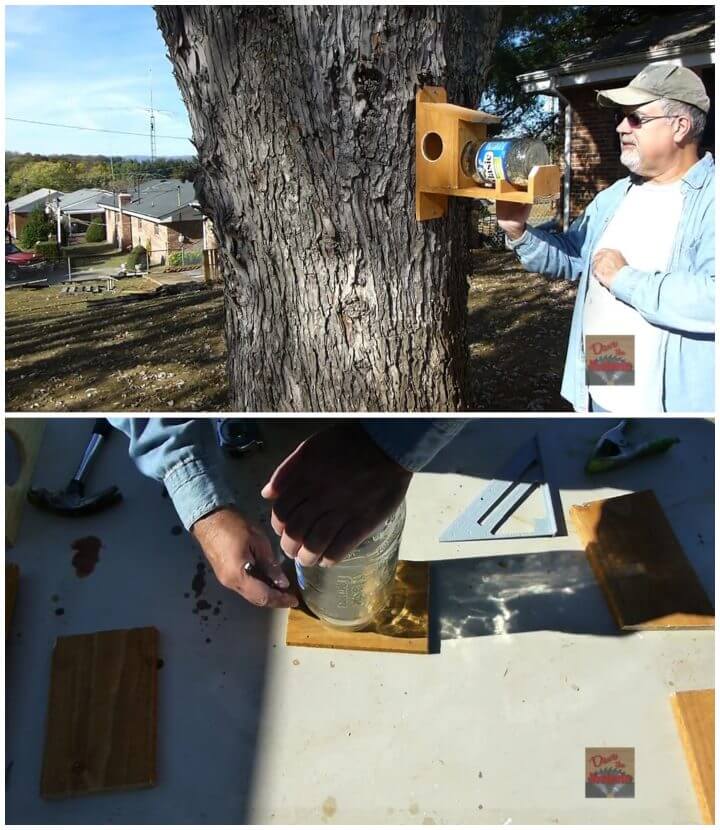 When squirrels come to eat in our backyards we love to see them but when we start getting close they run. So now you can calmly enjoy their adorable eating manner when they would enter into this handmade adorable squirrel feeder. With a few pieces of the wood and a Mason jar, you can easily work it up. Tutorial here! instructables
15. DIY Cushion Spring Squirrel Feeder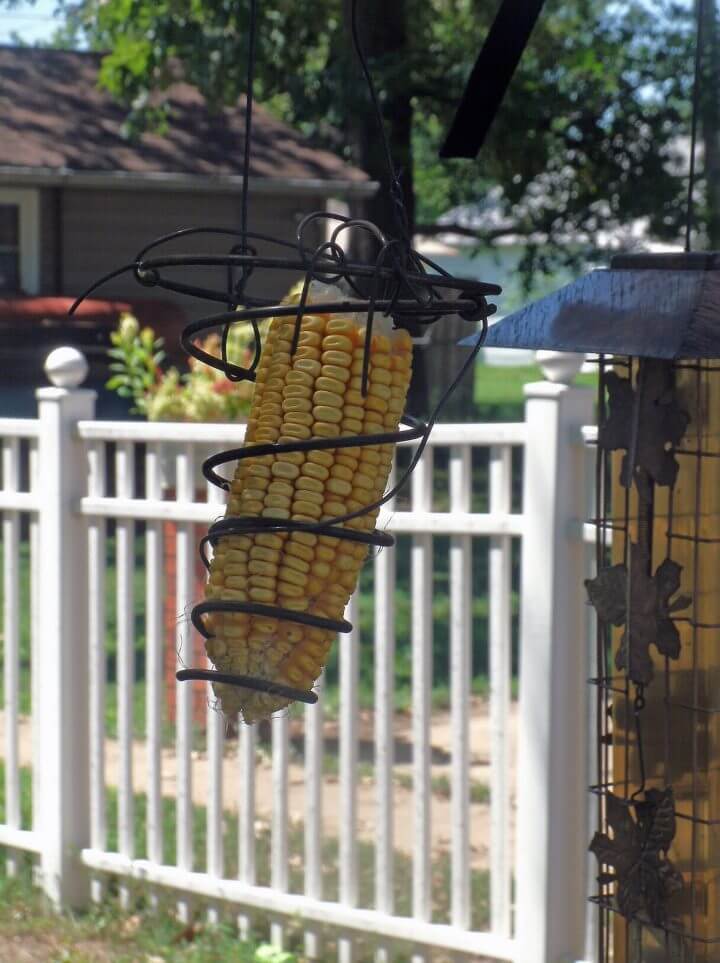 If there is an old rocking chair or sofa lying in your store then get the springs out of them as you can install this perfectly cute and functional squirrels feeder out of it. Just add corn to the spring and using a wire hang it up on your tree and it's ready to invite the squirrels to the yummy feast in your place. Details here myprojects
16. Bird Proof Squirrel Feeder Design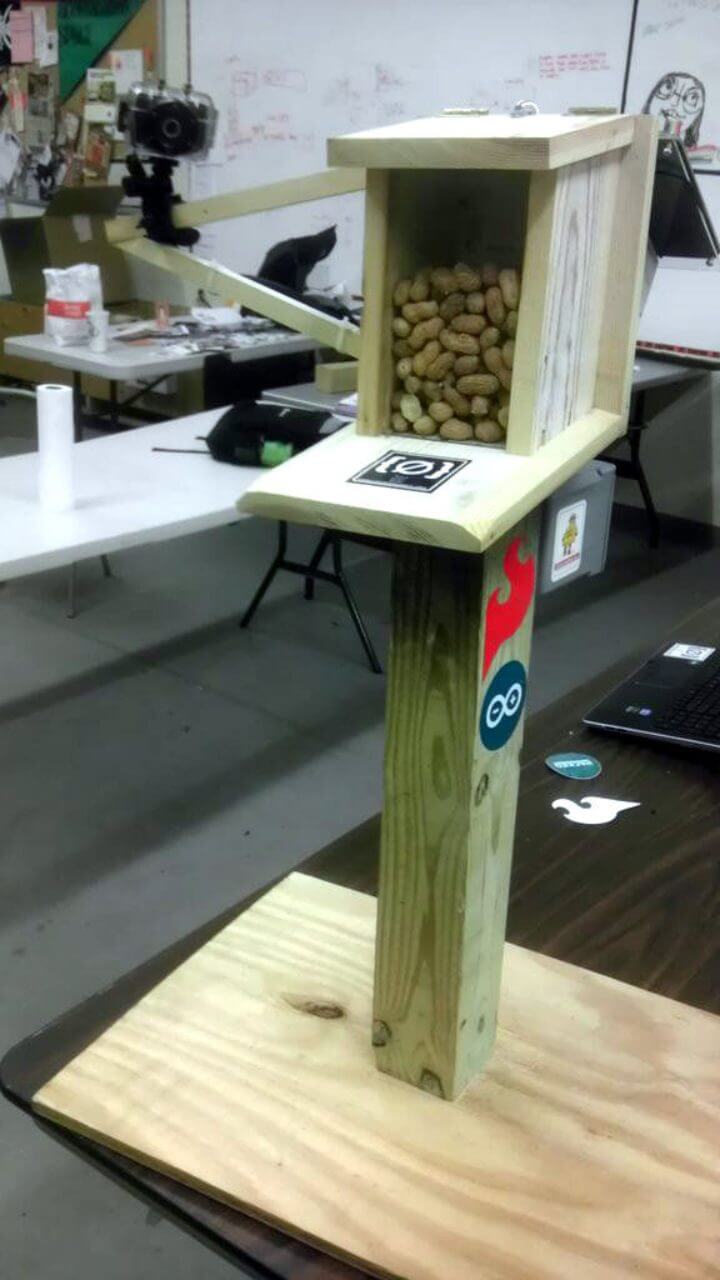 We love capturing the squirrels especially when they are eating their favorite corn or nuts. Now you do not have to run behind them with the camera as this bird proof squirrel feeder with the solar camera would do all the work for you. Get the details of this digital and genius squirrel feeder idea right here to make one! instructables
17. Building a Pac Man Squirrel Feeder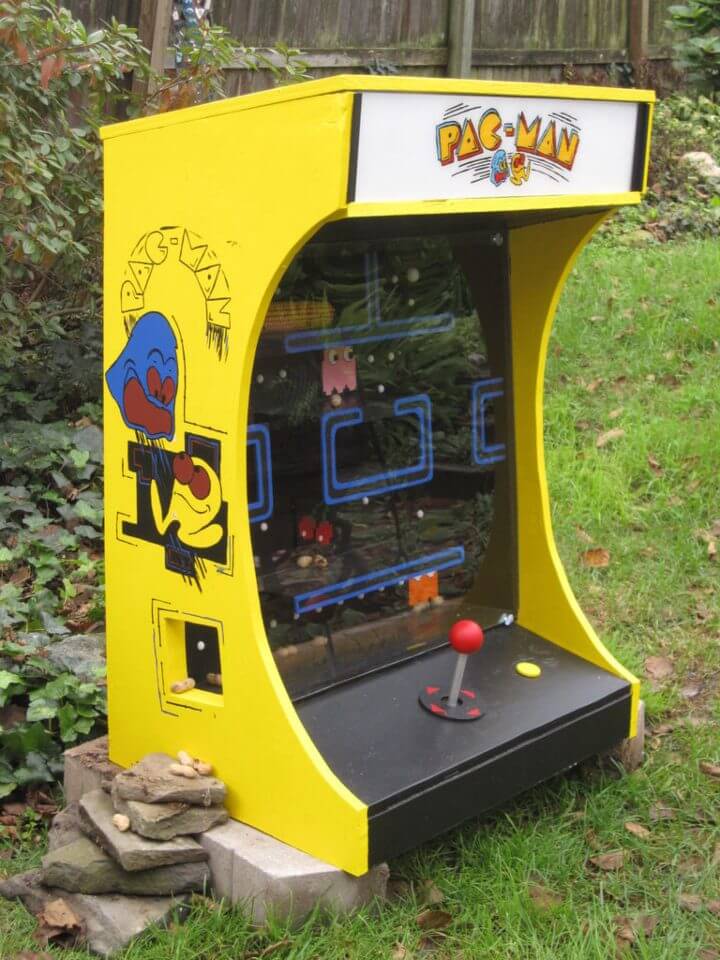 Now the group of squirrels that visited your backyard for some time will become a permanent part of your outdoor fun when you install this giant Pac man squirrel feeder for them. It has been made out of an old arcade game and the squirrels would get fully entertained with it. instructables
Related DIY Projects and Ideas
Bird Feeder Ideas: Are you looking for a new way to attract birds in your garden? If so, look no further, here is list of unique DIY bird feeder ideas, with links to complete instructions.
Chicken Feeder Plans: Here is a list of free chicken feeder plans, which will give you plenty of ideas on how to build a chicken feeder. These are easy to make and will save you time and energy.
Butterfly Feeder Ideas: Add a touch of color to your garden with these easy DIY butterfly feeder ideas made from everyday objects.
Chicken Feeder and Waterer Ideas: Looking for a simple way to feed your flock some healthy food? Try one of these easy DIY chicken feeder and waterer ideas that will save you time and money.
Dog Bowl Stand Ideas: Here is a list of easy DIY dog bowl stand ideas for your furry friends. With these ideas, you'll be able to find something that you love and your pup will love too!
DIY Birdhouse Ideas: Looking for an easy birdhouse project? With the help of these free DIY birdhouse plans and tutorials, you can easily build a birdhouse in your backyard or garden.
DIY Idea to Improve Your Home
Cute DIY Projects: Get inspired with these DIY projects for yourself, your home, and the holidays. From easy to difficult, and super cute crafts, to simple tutorials and, we've got a project for everyone.
Easy Crafts: Explore these easy DIY Crafts for kids, adults and families. You will find easy craft projects, step by step instructions and supply lists for each project.
DIY Backyard Ideas: Find and save your favorite DIY Backyard Ideas to create a backyard that's perfect for your family. With the help of DIY Backyard Ideas, you'll be able to transform your backyard into a sanctuary without breaking the bank.
Scrap Wood Projects: Find these simple, easy and fun scrap wood projects for beginners you can make out of scrap wood. Projects include birdhouses, garden boxes, trellis, simple crafts, and more.
Conclusion:
If you're looking for an easy way to attract squirrels to your backyard, consider building one of these homemade DIY squirrel feeder ideas. With a variety of DIY squirrel feeders to choose from, there's sure to be one that fits your needs and the needs of the squirrels in your area. Have fun with it, and enjoy watching the little critters while they enjoy their tasty treats!