In search of large wall art ideas on a budget? Look no further! We've compiled 25 of our favorite DIY large wall art ideas, perfect for any blank wall in your home. From extra large frames to simple canvas paintings, there's sure to be an idea on this list that's perfect for your style. And the best part? Each one can be completed for less than $100. Get started on your next DIY large wall art project today!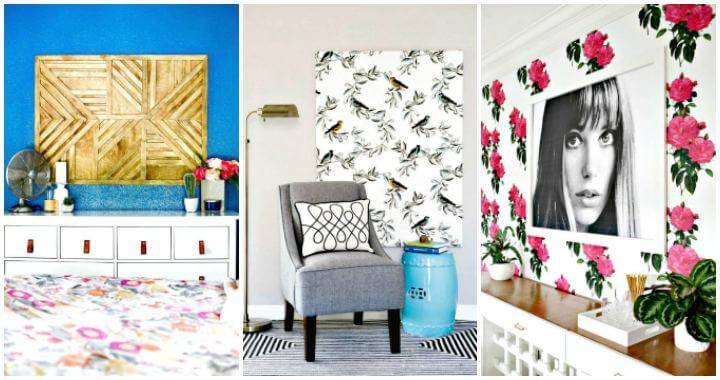 25 Cheap DIY Large Wall Art Ideas
If you're looking for large wall art ideas but don't want to spend a lot of money, then DIY is the way to go. There are plenty of ways to create your own extra-large wall art without breaking the bank.
One option is to use an existing frame and simply enlarge a photo or piece of artwork. Another option is to create a collage using smaller frames or even recycled materials like old magazine pages or wrapping paper.
You can also get creative with paint, using large brushes or even sponges to create interesting patterns and textures. And if you're really crafty, you can try your hand at making your own tapestry or fabric wall hanging.
Whatever route you decide to go, there are plenty of cheap and easy DIY large wall art ideas out there. So get creative and start DIY wall decorating!
DIY Large Geometric Wood Wall Art for Living Room: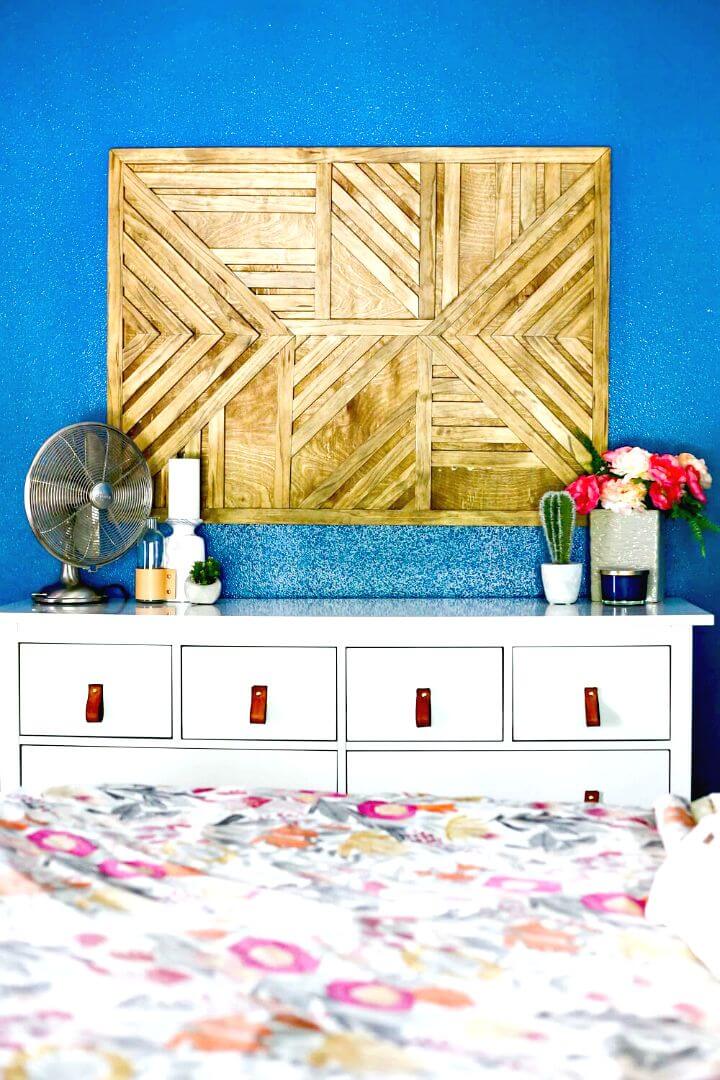 Adding custom décor pieces to your wall is always a big demand when you just want to bring great visual details to an interior! So, you can also make large wall art pieces that will be a center of attention! If you are handy at wood works then you can duplicate this geometric wood wall art that is looking damn lovely and is super easy to make at home! Just grab a big plywood board and then add the custom wooden slats on it in your own favorite pattern making a gorgeous wall art piece! loveandrenovations
DIY Large Plywood Pinwheel Art: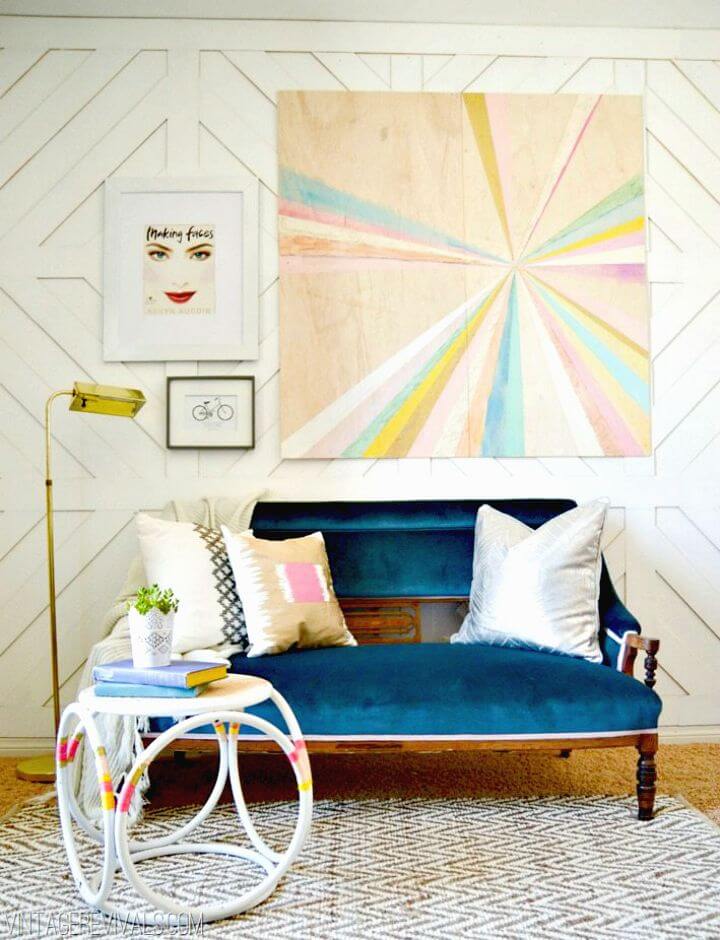 If you are willing to give some fab colors also to one of your interior wall along with making it much visually pleasing then you can simply go with this plywood pinwheel art, another large wall art to amaze your senses! Just grab a big plywood board and paint the custom pinwheel colorful stripes on it! You can easily do so using custom paint colors and the masking tape! Just get yourself inspired of this sample plywood pinwheel art that is truly amazing to look at! vintagerevivals
Create Brushstroke Statement Art: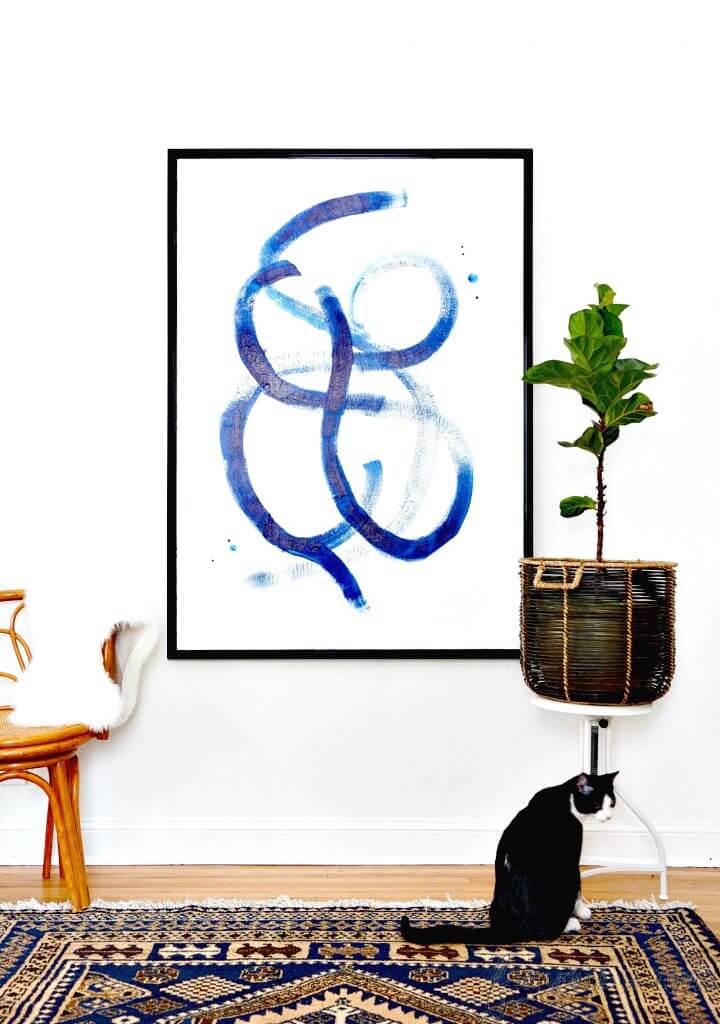 You can also repurpose your old wall art frames to make new giant wall art frames without getting a bit expensive! Here an old canvas wall art has been painted with primer and then with white acrylic paint! Finally, the brushstroke statement art has been painted on it that turns it into brand new and fascinating piece of wall art that is simply eye-captivating! Another great large wall art project to do at home! francoisetmoi
Create Geometric Art Headboard Panels for Bedroom: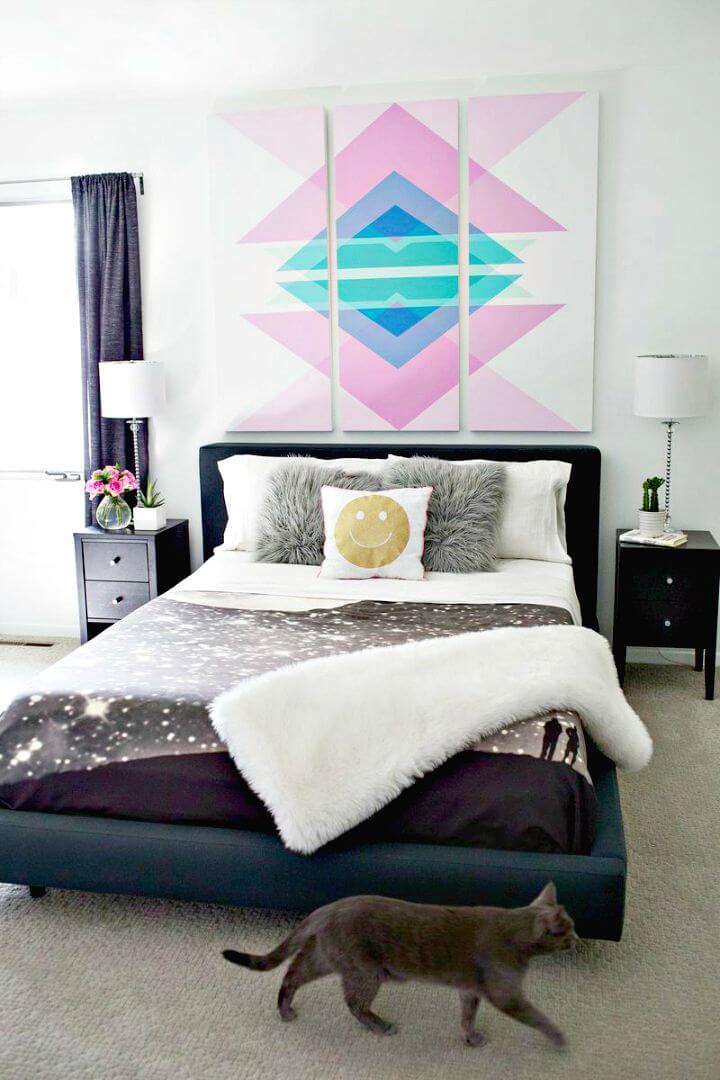 If you are majorly concerned to boost the bedroom wall decors then here is a great project to do in this case! Just spruce up your background wall with these geometric art headboard panels that are super easy to make at home! Just install your wooden headboard panels to your background bedroom wall and then trace out your geometrical pattern on it with the help of a projector! Next start filling you're traced out pattern with so many different colors, another great and outstanding wall art piece! abeautifulmess
Make Large Print Wood Frame: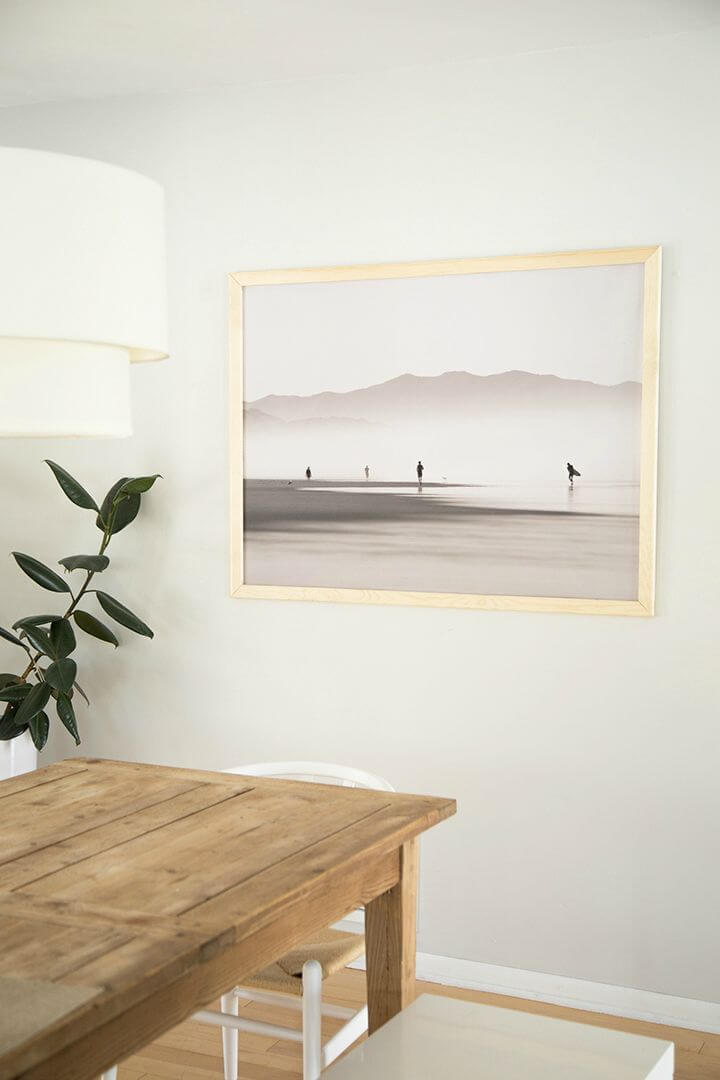 You can also frame up the bigger paintings and photos to make large wall art signs and pieces in just no time! Just have a look at this brilliant looking print wood frame that makes a stunning piece of wall art! Here all you need the stretcher bards which can be fit together in the built-in grooves to build the frame and then you can insert your painting or photo inside using the double-sided tape! The final step would be to hang your giant painting on the wall using durable hardware like the D-ring hooks! aliceandlois
Simple DIY Large Giant Frame: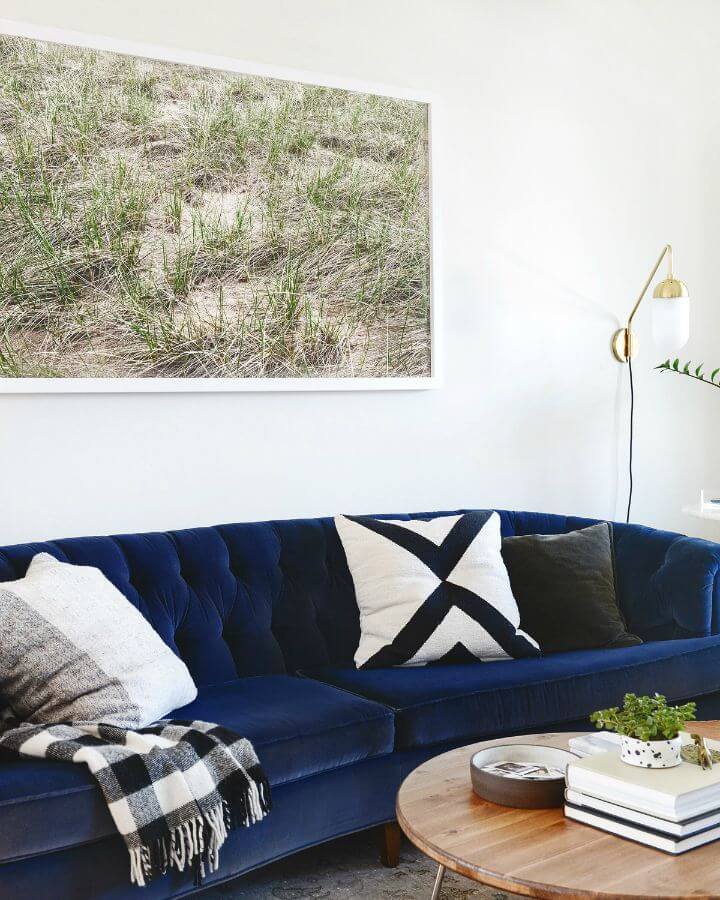 Check out here another great giant wall art frame that is purely self-made and brings great décor statements to the targeted wall area! Here this frame is made of MDF, foam board with the acrylic sheet and comes with raised boundary all around! Finally, a high-resolution painting or photo print has been inserted inside to make a stunning looking wall art sign! Another cool large giant art frame to make at home! yellowbrickhome
Making a Frame for Your Extra Large Art:
While making grand wall art frames for your interior spaces, it demands for making first the frame for the art and here we are to show you that how you can make bigger frames for your wall art pieces! Just measure the dimensions of your painting or print and then just grab the wooden lengths according to measurements and put them together making a cool frame for your painting! Use glue and drill screws in the sides to assemble the frame!
Gorgeous DIY Large Wall Art: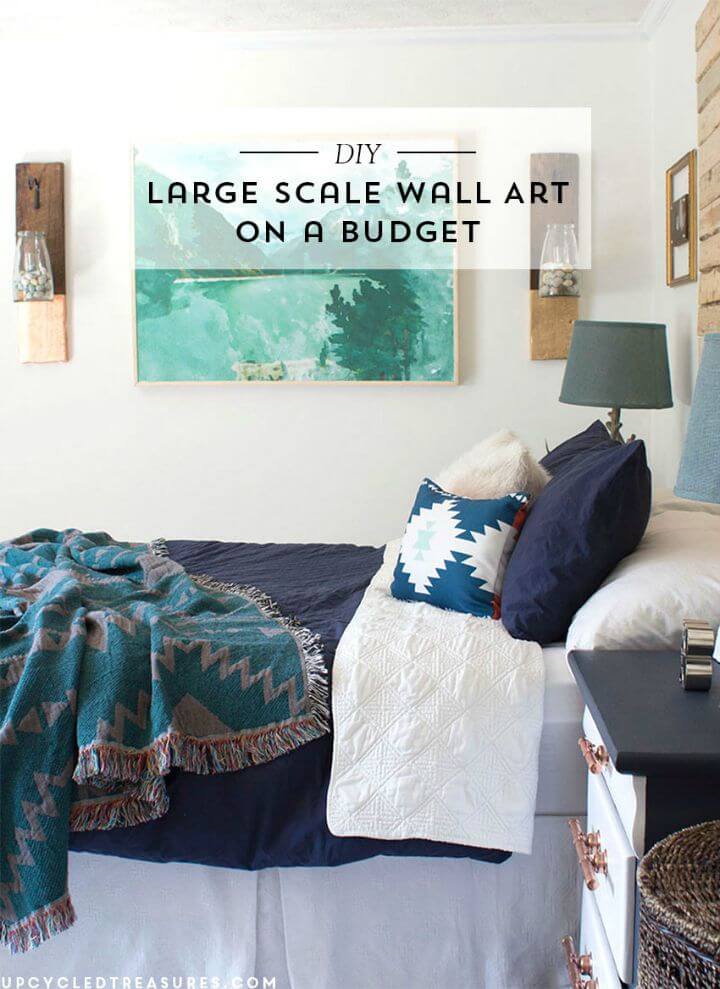 Another great and outstanding extra large wall art hack is here to inspire your creativity! Make also the good-looking large wall art frames at home using the plywood! Just grab the bigger plywood frames, adhere your painting or prints on it and them just install the wood trim to make the gorgeous looking wall art piece! Just check out there this sample wall art sign that is looking amazingly beautiful and is sure to make a statement piece of wall art!mountainmodernlife
DIY Canvas Covered Fabric Wall Art: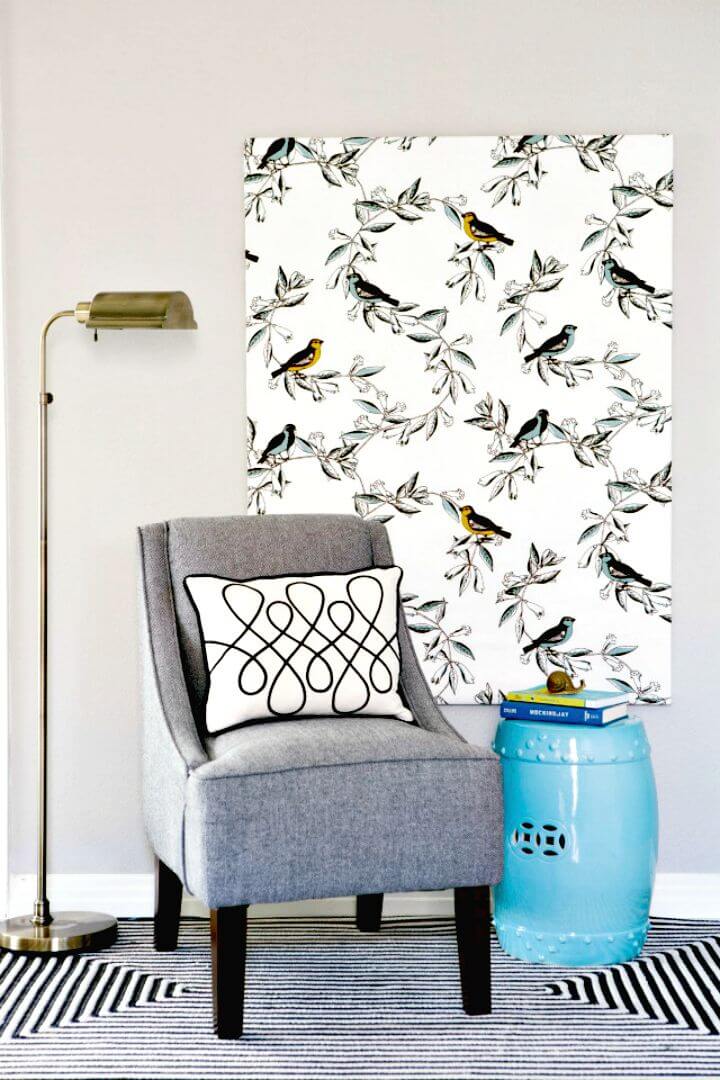 There are just never-ending ways to make interesting looking pieces of wall art at home without getting a bit expensive! You can also transform bigger wall art pieces using the canvas frames and the fabric of your choice! This may sound strange but you will definitely fall in love with this given sample that is really looking interesting! Here a canvas wall art frame has been covered with the printed fabric and hence a fabulous looking wall art sign has been made that will rock every interior wall for sure! designimprovised
Create Oversized Wall Art for $50: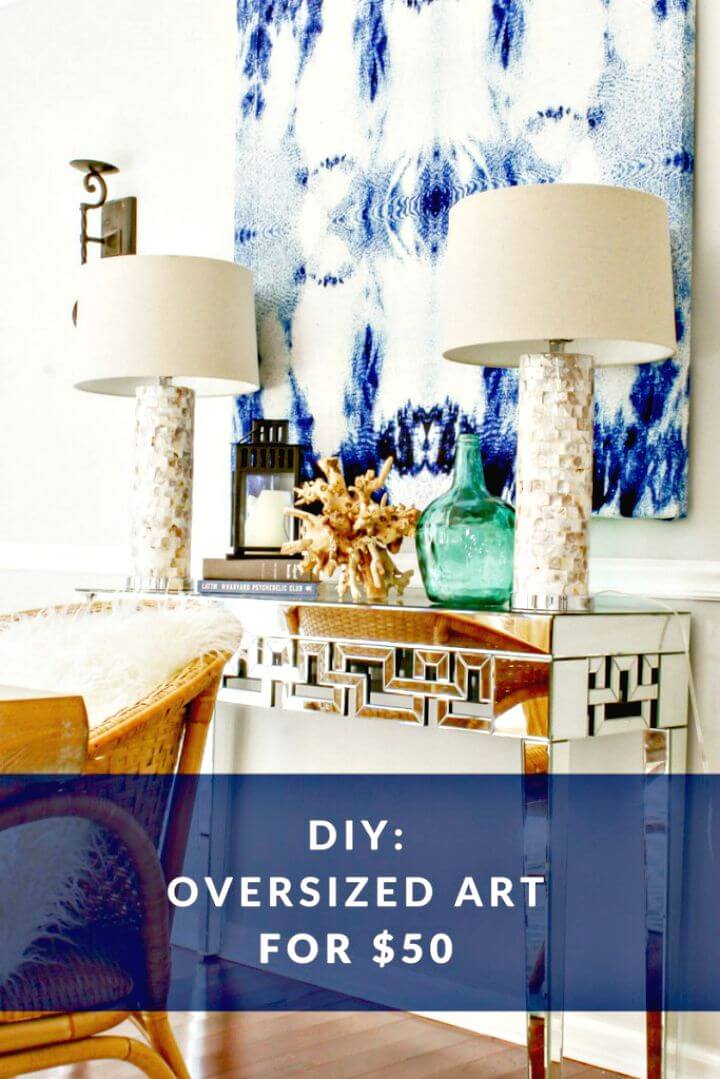 Raise the aesthetic appeal of your interior wall also with this gigantic piece of self-made wall art! This is here the great handcrafted fabric print wall art sign that will definitely bring create the cultured appeal of your room interior! Here all you need the wooden strips or furring strips and your favorite fabric print to duplicate this interesting piece of wall art! Just put together the furring strips together to make the overall frame for the painting and next cover it up with the fabric print which can be stapled in place using a staple gun! designingvibes
DIY Extra Large Stretched Fabric Canvas: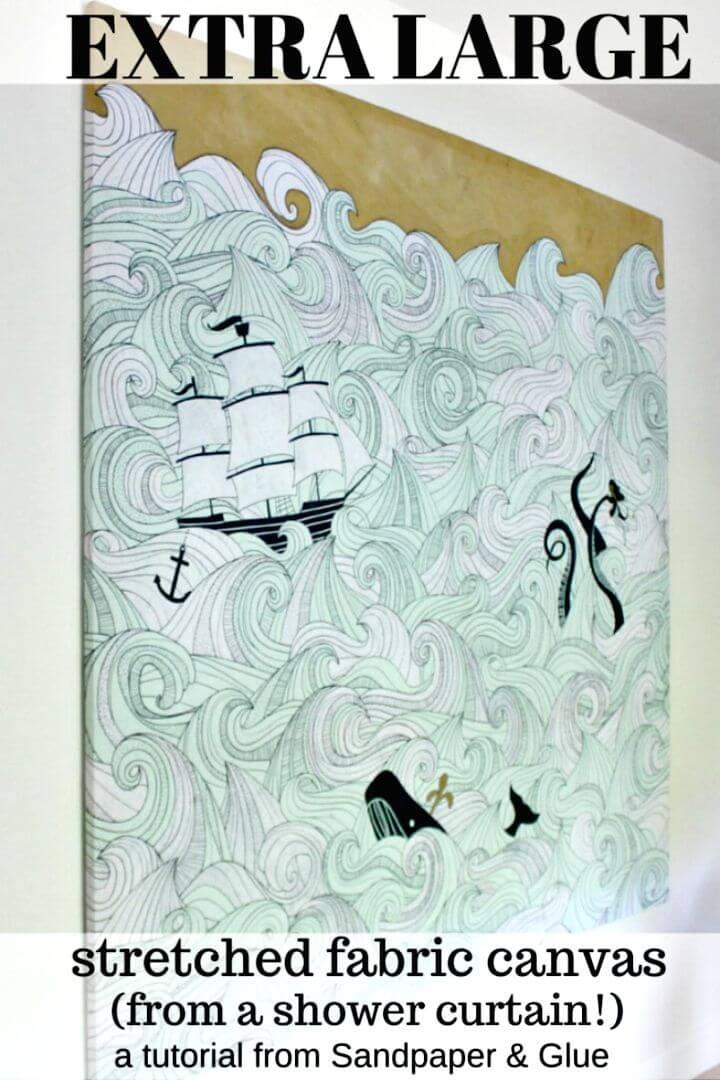 Spruce up your favorite focally stimulating interior wall with this large fabric canvas with the artistic swirling print! A boat in the print makes this canvas wall art just a perfect piece of wall décor for the nautical interiors! Again make the frame of the painting using wooden strips or furring strips, and then wrap your fabric print all around using the staple gun! Use also glue as adhesive where needed and go with the latest hardware for assembly of the frame!
DIY Black + White Abstract Painting: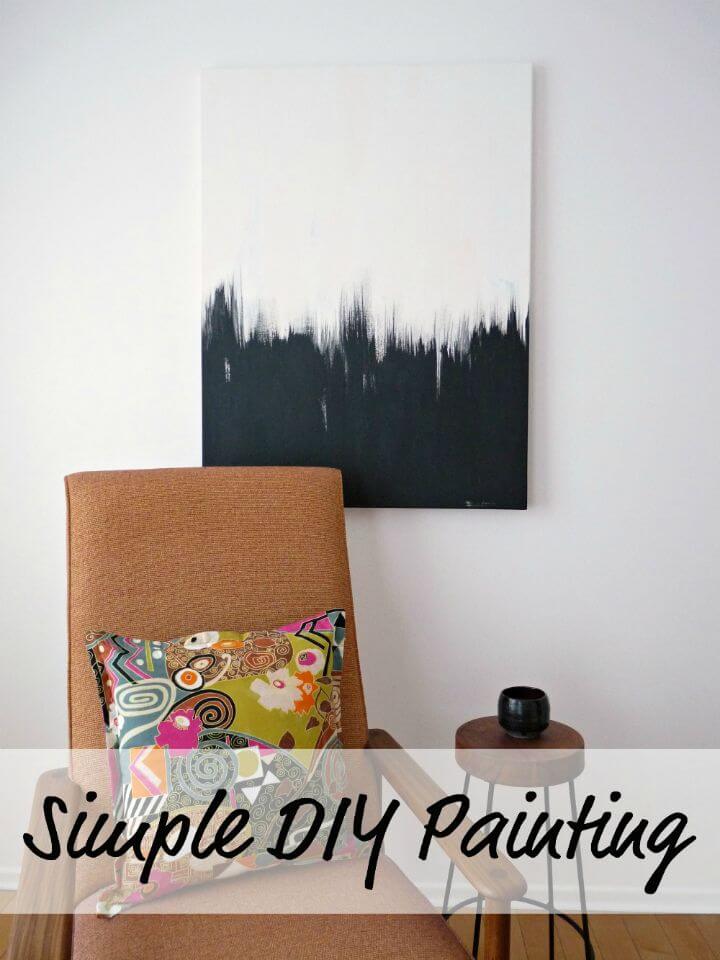 Are you a big fan of abstract painting art? If yes, then make your own favorite abstract painting wall art frame at home on a big scale! If you need some inspirations first then have a look at this balck and white abstract painting that is looking much focally stimulating and is just super easy and quick to make at home! Here all you need a blank white canvas on which you can paint your abstract art! Here a few of wide brush strokes have been given to canvas frame to make the abstract painting wall art frame! danslelakehouse
DIY Large Wall Art from Cotton Shower Curtain: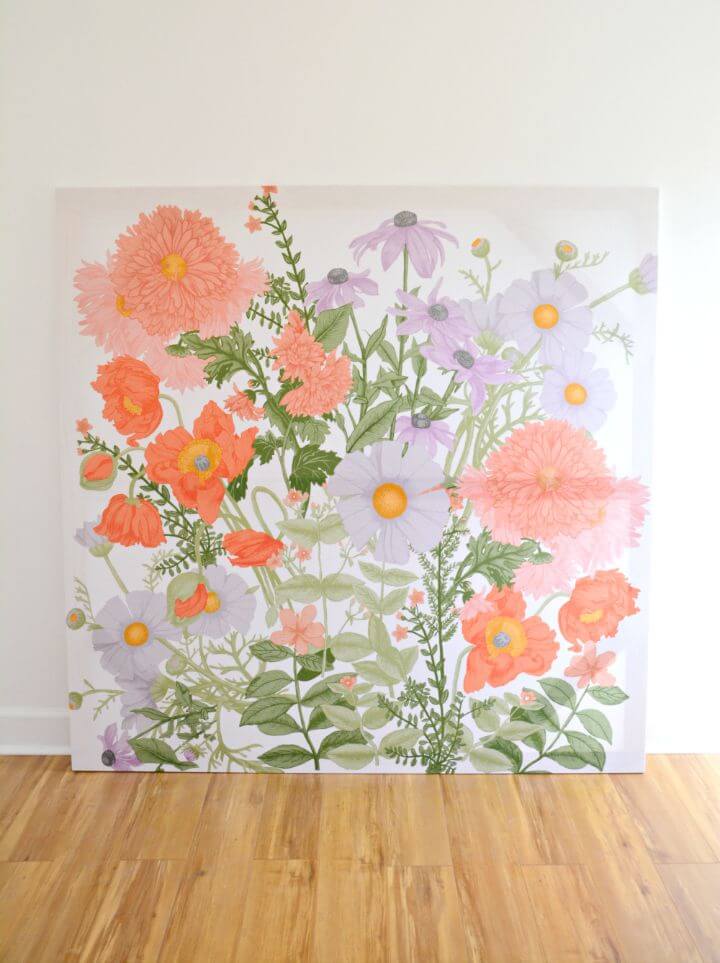 Having some old shower curtains in home lying useless? If yes, then time to do something amazing with them, just make the oversized pieces of wall art with them and bring great visual details to your interior walls that are dull and boring! Just have a look at this floral large wall art that is made of a cotton shower curtains is something much visually attractive! The floral print will definitely bring great decorative flair to entire room ambiance! petalandply
Easy DIY Oversized Frame for A Fraction of The Price: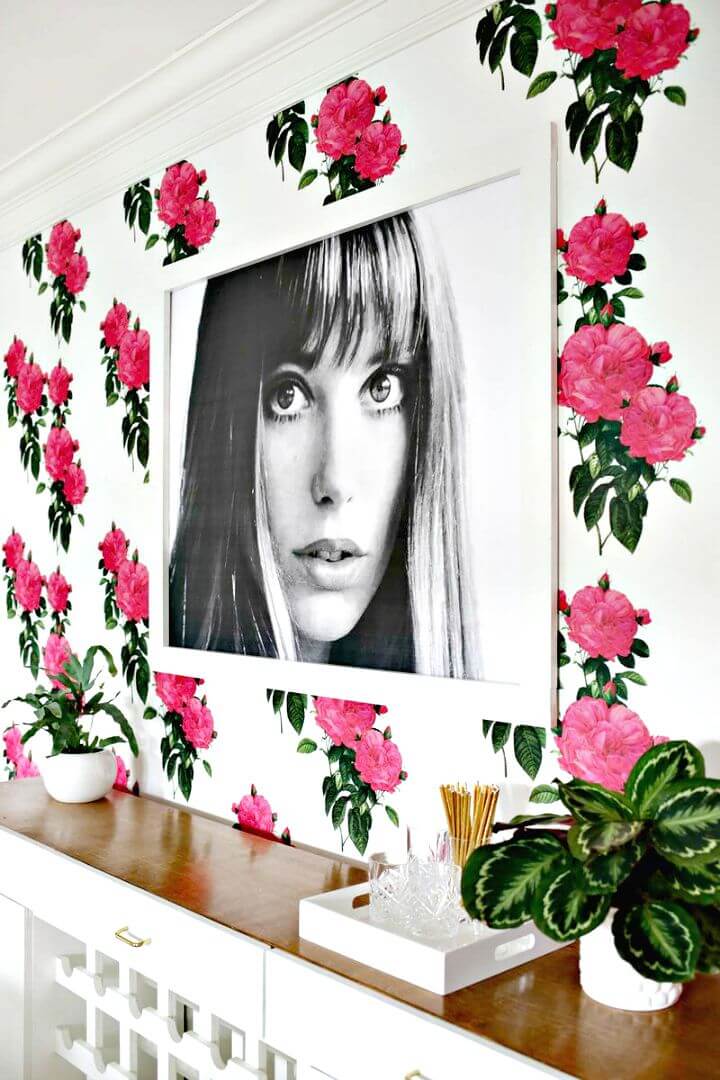 There are never-ending ways to make the large wall art signs and frames at home without getting a bit expensive! Check out here another oversized frame that has been done with getting a bit expensive and it would make a perfect piece of abstract wall art! Just add your painting on the wall first and add a frame over it that can easily be made of wooden boards of sufficient width! Here the frame has been assembled with metal corner brackets and has been hanged with sawtooth frame hangers! abeautifulmess
DIY Pull-down Style Botanical Wall Hanging: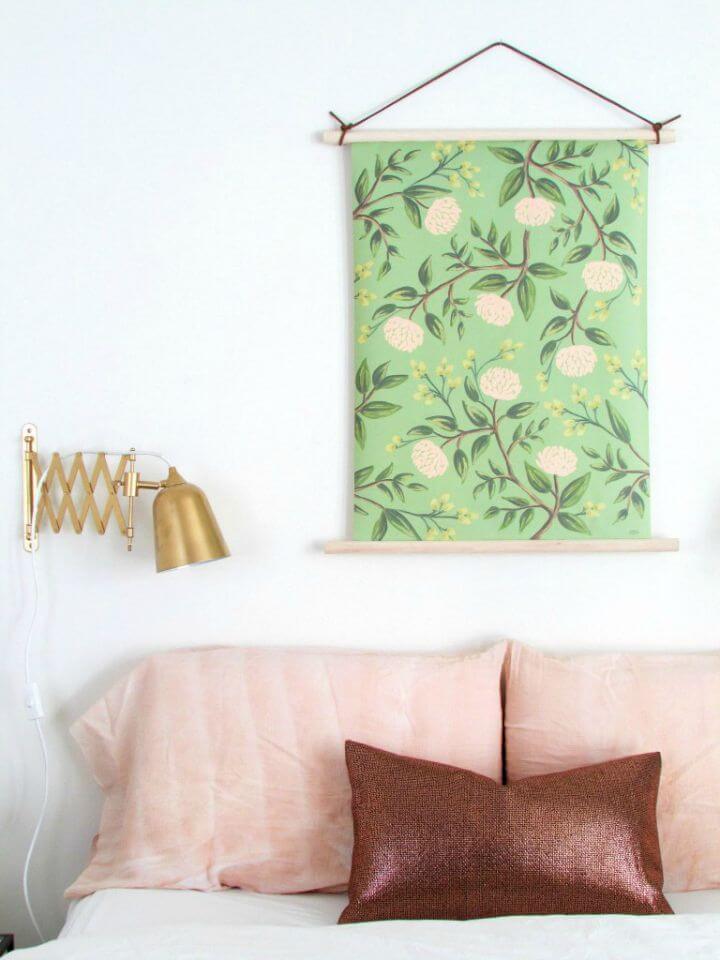 If you are plants and are intending to create a cultured statement in your room interior then this large botanical wall art frame would really rock! This is here the pull-down style botanical wall hanging that is super quick to make at home! Here all you need two wooden dowels, a sheet of co wrapping paper, your favorite print and the leather cord to duplicate this wall art frame! francoisetmoi
Easy To Make Rustic Wood Plank Clock:
If you are a big fan of rustic decors and are willing to gain the respective pieces of wall art for your interior walls then here is a beautiful suggestion! Just bring a great rustic character to any interior by hanging this rustic wood plank clock there! This wooden plank clock is super easy to make and here all you need the custom rustic wooden slats which you can also grab from the pallets, to duplicate this rustic wall clock! Put together your wooden planks and then add clock numerals and install clock kit! makingitinthemountains
How To DIY Large Wall Pop Art: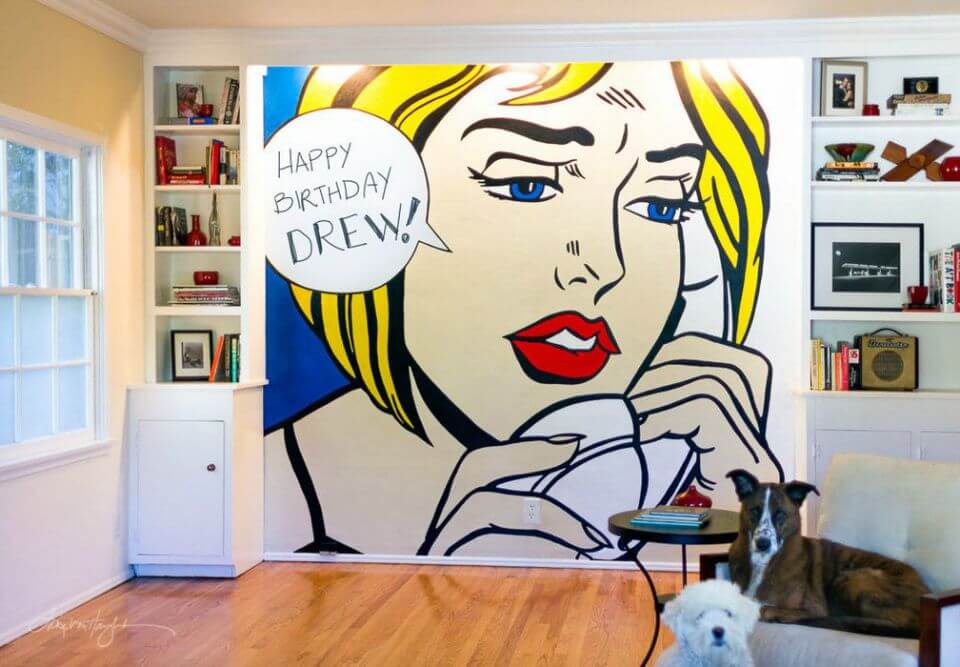 If you are willing to hang a custom wall art sign on your interior walls that will display custom messages, quotes and announcements then this large wall pop art would really rock! Here this large wall art comes with a painted talk bubble in which you can write any of your emotions! Just make smart use of a projector and trace your image on the wall and then fill it up with colors! manmadediy
Inexpensive DIY Alphabet Wall Art:
You can also make the alphabetical wall art signs for your interior walls that will not only boost the visual of your walls but will also help to create a personal statement in that particular room interior! We would like to inspire you with this alphabet wall art frame that is really looking interesting and is something super beautiful to look at! Here all you need the paper mache letters which can be glued together making custom words and then you can spray paint them in any color to make a brilliant alphabet wall art!
Make Botanical Hanging Print:
Here is another brilliant and fantastic oversized print that will hang like a graceful charm on any of your interior wall! This is here the very good looking botanical hanging print that will definitely create the refined and cultured appeal of your targeted wall! Just grab your botanical print and add the wooden dowels to its header and footer so that it can be rolled and pull down! Next install the eye-hooks to both sides of upper wooden dowel and tie the rope or twine to hang your print!
DIY Large Photo Transfer Wall Art:
Fall in love with this another great and enticing looking wall art that is looking interesting and is sure to make your interior walls look graceful and focally stimulating! This is here the large photo transfer wall art that is super easy to make if you know a little about the mod-podge photo transfer! Just grab a piece of plywood, paint it in your favorite color and next just transfer your photo through mod-podge photo transfer!
Make Your Own Split-photo Wall Art:
Here is another fantastic looking wall art that is unique and is really lovely to look at! This is here the split photo wall art that has been done to amaze and inspire! Here all you need a favorite photo print you want to display and next you can cut it into halves! Paste each half on a clone size of a foam board and hang them together on the wall as a split art painting! Another large wall art idea! Full project instructions here housebyhoff
Pretty DIY Fish Wall Art: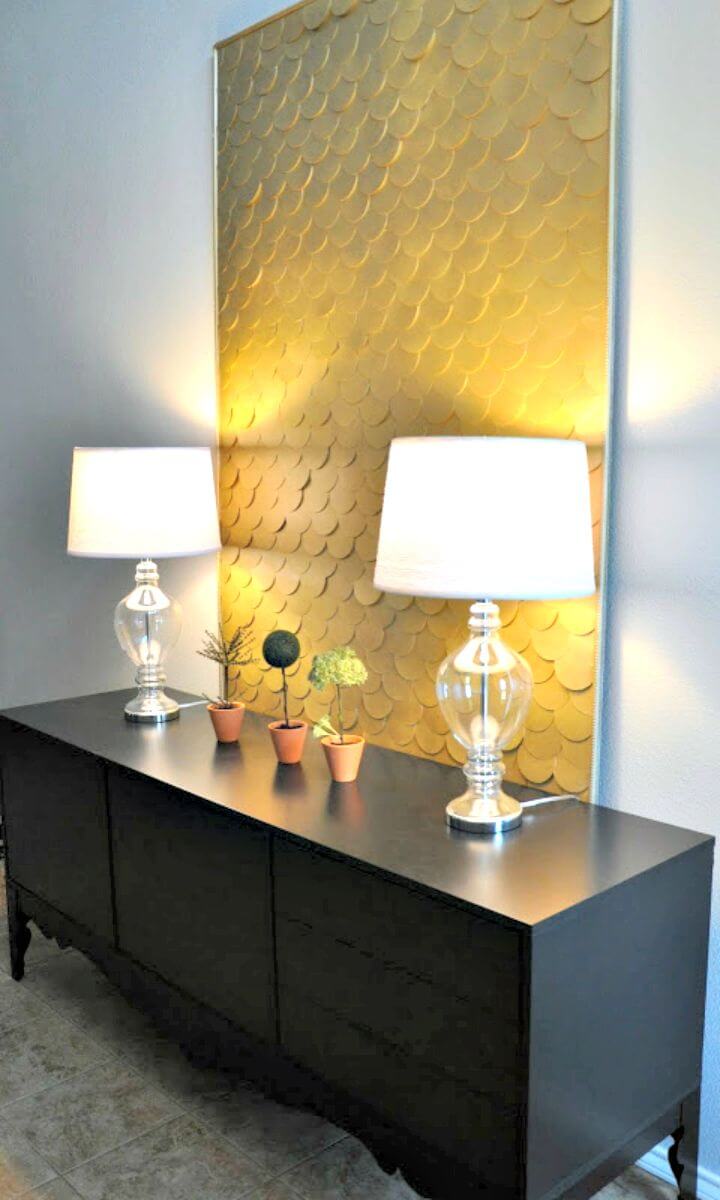 If you are a big fan of textured wall art pieces then you can also try making them at home using your own creativity! Just have a look at this given sample that is really looking lovely! This is here the fish wall art that will definitely go eye-catching if hanged on the wall! Cut the circles out of the white poster board using a hole puncher and then paste them on a bigger MDF board in scalloped manner! Final step would be to paint them in your own favorite paint color and that's it! twothirtyfivedesigns
Simple DIY Large Thrifty Art: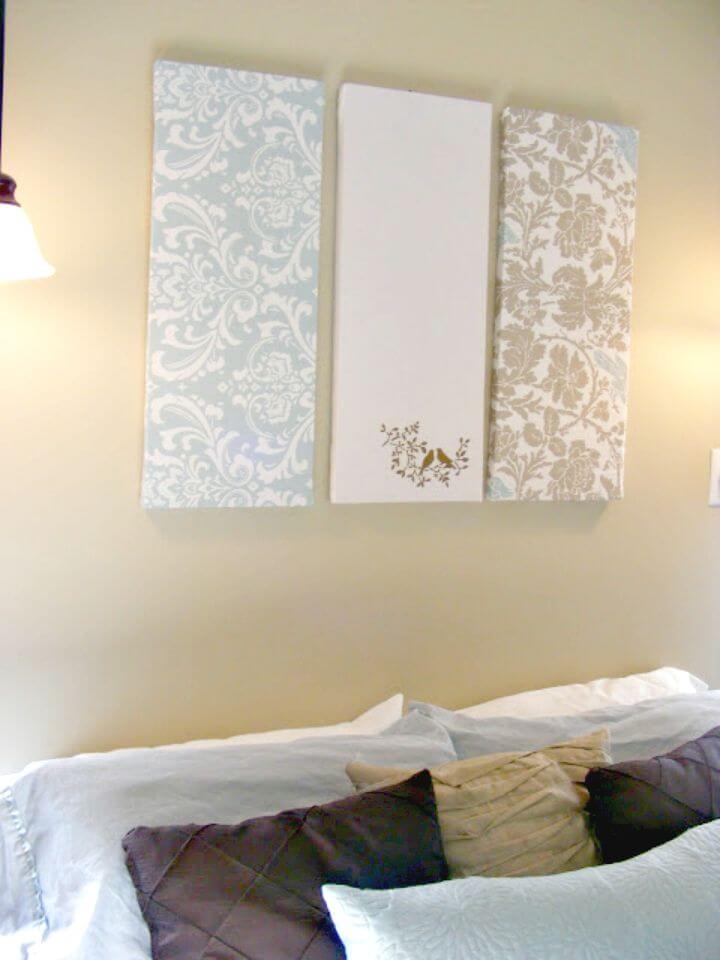 The canvas wall art frames look fabulous on the wall but they are always a little expensive! Here is a perfect alternative! Just make the large canvas style art frames using the Styrofoam insulation sheets that can be cut to size and then can be covered with your favorite print to make the fascinating wall art piece! Just have a look at this stunning sample wall art that is thrifty and comes fabric covered! Another great large wall art idea to duplicate at home! Full project instructions here imperfecthomemaking
Awesome DIY Extra Large Wallpaper Panels: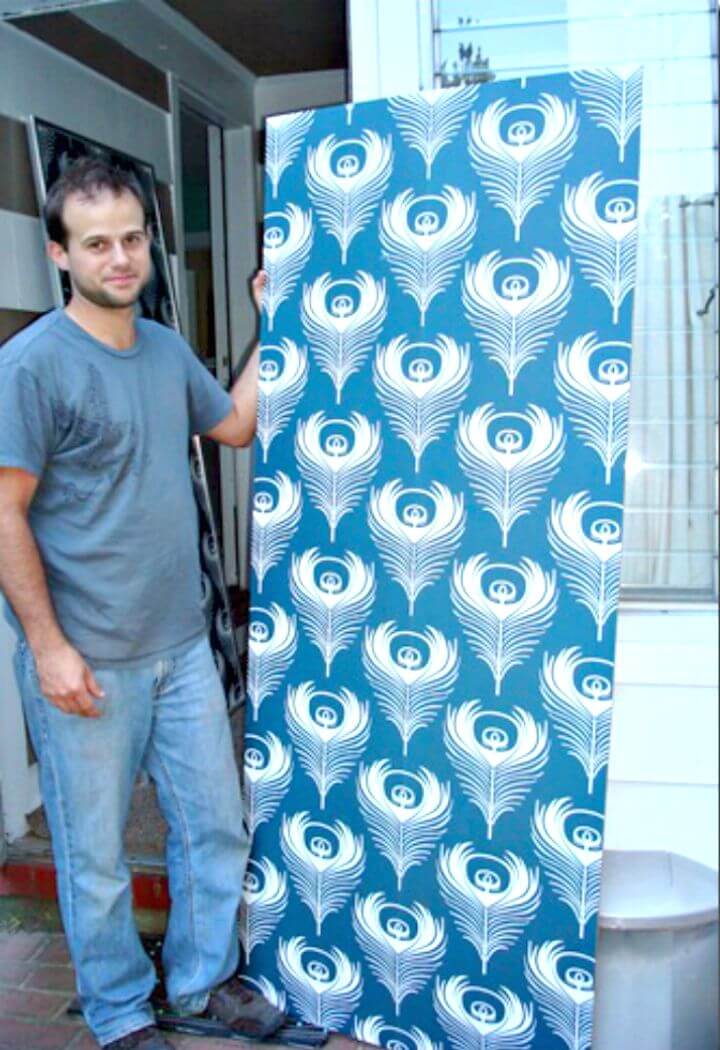 You will definitely fall in love with these stunning wallpaper panels that are looking amazingly great and beautiful and are sure to make bigger statements of wall decors! Here all you need the wholesale poster boards which can be cut to custom size, next just wrap them in your favorite wallpapers and trim down the excess of fabric edges! Final step the most important step is to install the steel frame trimming all around that raises the look and appeal of these wallpaper panels to peak level! effortless-style
Related DIY Home Decor Ideas
DIY Wall Art: Discover the perfect DIY wall art for your home decor and make one for less than $5! We've got cheap and easy wall art ideas that you can make for your home decor for big, small, and everything in between.
DIY Home Decor: Looking for some creative ways to spruce up your home without spending a lot of money? Here are easy and affordable DIY home decor ideas that can be completed in a day or less.
Pallet Signs: With these pallet sign ideas, you will have the perfect sign for your home, work, restaurant or anything else you need. Pallet signs are easy and cost-effective, and they add rustic charm to any blank space.
DIY Wood Signs: Find a collection of unique DIY wood sign ideas to make your own. It includes step-by-step tutorials with how-to photos and detailed explanations.
DIY Welcome Signs: Welcome guests to your home with a beautiful DIY sign! These DIY welcome signs are perfect for welcoming friends, family, and guests to your front porch.
DIY Porch Decor: Whether you're hosting a holiday get-together, or just want to give your porch a seasonal facelift, these affordable DIY porch decor ideas are sure to inspire.
DIY Room Decor Ideas for Teens: Looking for cute room decor for teens? Here are tons of easy diy room decor ideas for teenage girls to help you find the perfect room decor. From wall decorations to bedding, and window treatments, we've got everything you need.
DIY Projects: If you're looking for a an easy DIY project, look no further than this page. We've gathered quick and easy DIY projects around to help you complete a range of different projects, from home improvement to crafting.
Conclusion:
Wall art is a great way to add personality and character to any room, but it can also be expensive. We've got you covered if you're looking for cheap and easy ways to create large wall art. From using everyday objects to making your own frames, check out our list of 25 DIY large wall art ideas that are sure to give your walls some personality. Have you tried any of these wall art ideas? Let us know in the comments!