To enhance your boring blank walls, the DIY wall decor will create a relaxing, sensational, and quirky feel. So, empower your interiors with more energy and life with these 25 easy diy wall decor ideas that will be a smart way to feature the decor on the wall you are highly obsessed with. You will cover here all the hacks to spruce up your less attractive wall walls with handmade decorations and centerpieces.
Explore these 25 best diy wall decor ideas that will transform your space and involve making your DIY wall art, wall art frames, and hanging vases. These projects also involve large-scale wall decor projects involving complete wall paneling, wall, installing wall ledges, and the giant crate walls. From rustic to vintage inspired to modern wall decor ideas, the list covers all the projects to satisfy all home lover's tastes.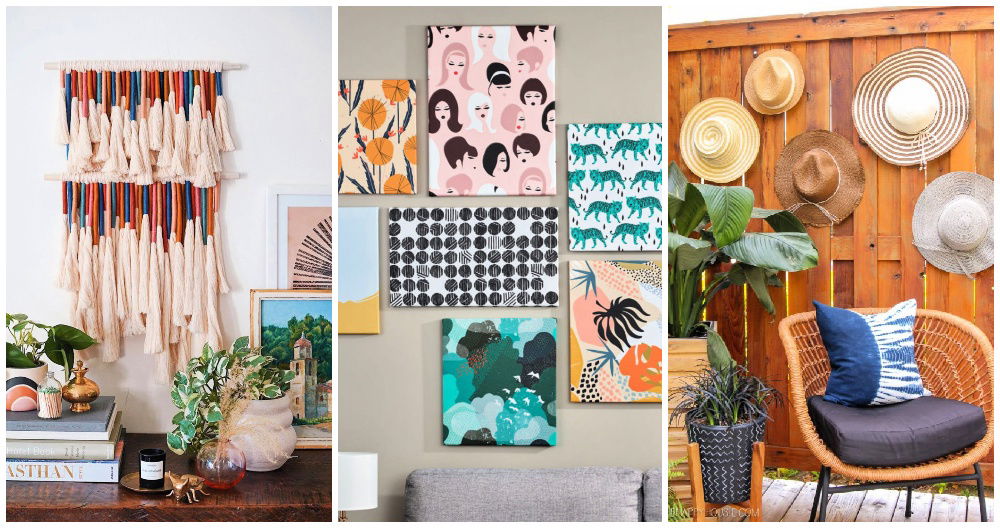 The first thing to do in the wall decorations is to use the scrap, recycled, and upcycled stuff. So, upcycle the wood to install the decorative wall ledges. Repurpose the cardboard and wood crates to build wall pockets and storage walls, respectively, and repurpose the old glass jars to create hanging wall vases and centerpieces. If you love greenery, create faux greenery walls that will bring the whole natural vies to your modern decor style.
Spruce up the boring walls by installing faux wood trim or planked accent walls, and next, you can hang your own beautiful handmade picture frames on the wall. Make a wood letter wall to decorate and personalize the home and office space and build round photo frames and honeycomb shelves for bigger geometrical wall decor statements. So let's explore these diy wall decor ideas to make your own.
1. 5 Minute Dollar Store Hat Wall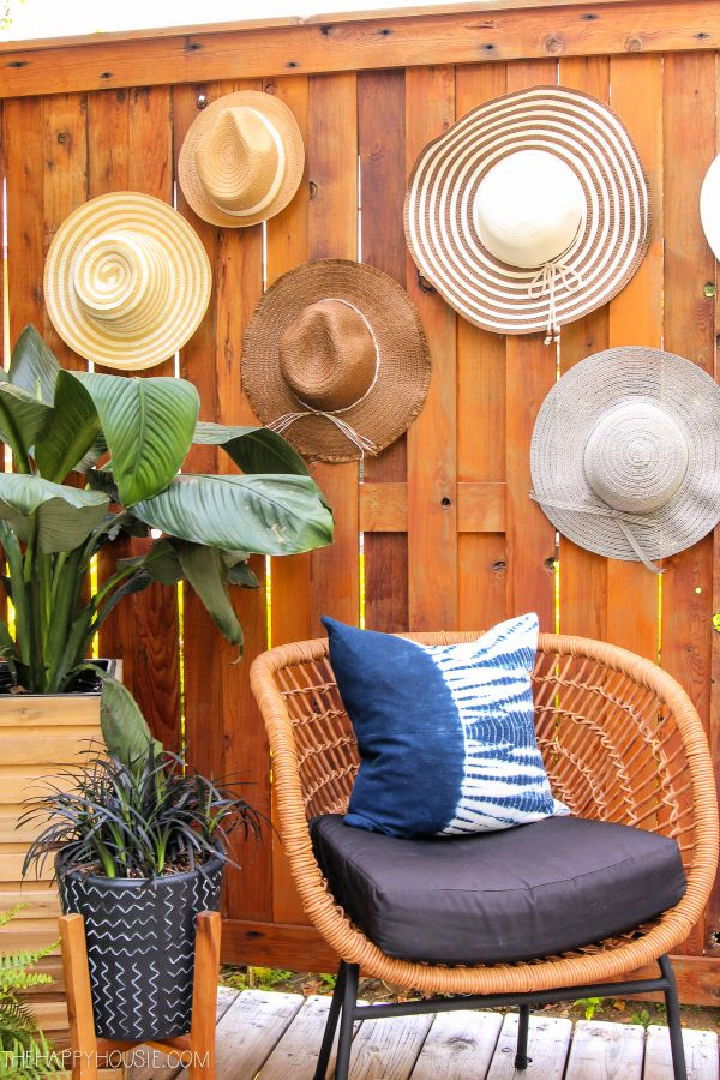 Do you love sitting outdoor on sunny days. Time to gain that ultimate luxurious sitting experience by decorating the surrounding environments a little. Learn here how to spruce up your outdoor privacy wall in just 5 minutes or less using the dollar store hats. Just use the push pins to hang the summer hats on the cedar privacy wall in a custom assortment. Soon you will get a fetching wall. thehappyhou
2. Wooden Photo Ledge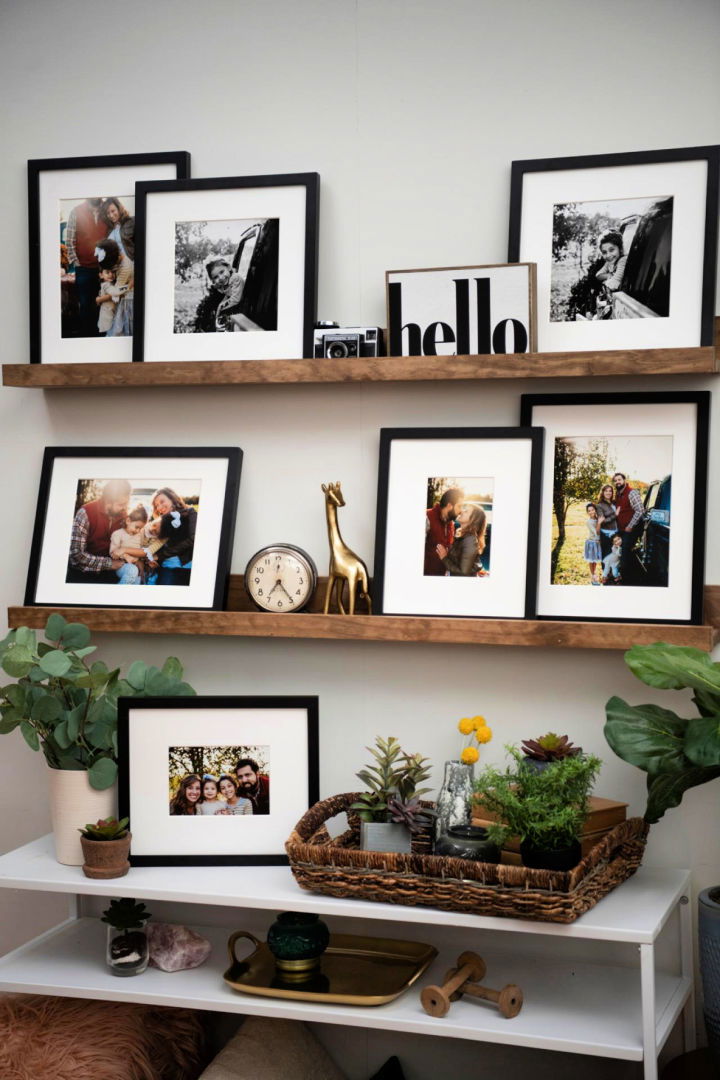 The walls displaying the mural, art, and picture frames always grab the audience's extra attention. So, learn how to build a better picture ledge and put all your photos or memories on display, creating the fetching appeal of your wall. These ledges are to build at home using the recycled, repurposed, and even the upcycled wood slats, and they will bring a touch of sophistication to your space. You need 1x4s, 1x3s, stain, glue, clamps, and other hardware for this project. hgtv
3. DIY Crate Shelf Statement Wall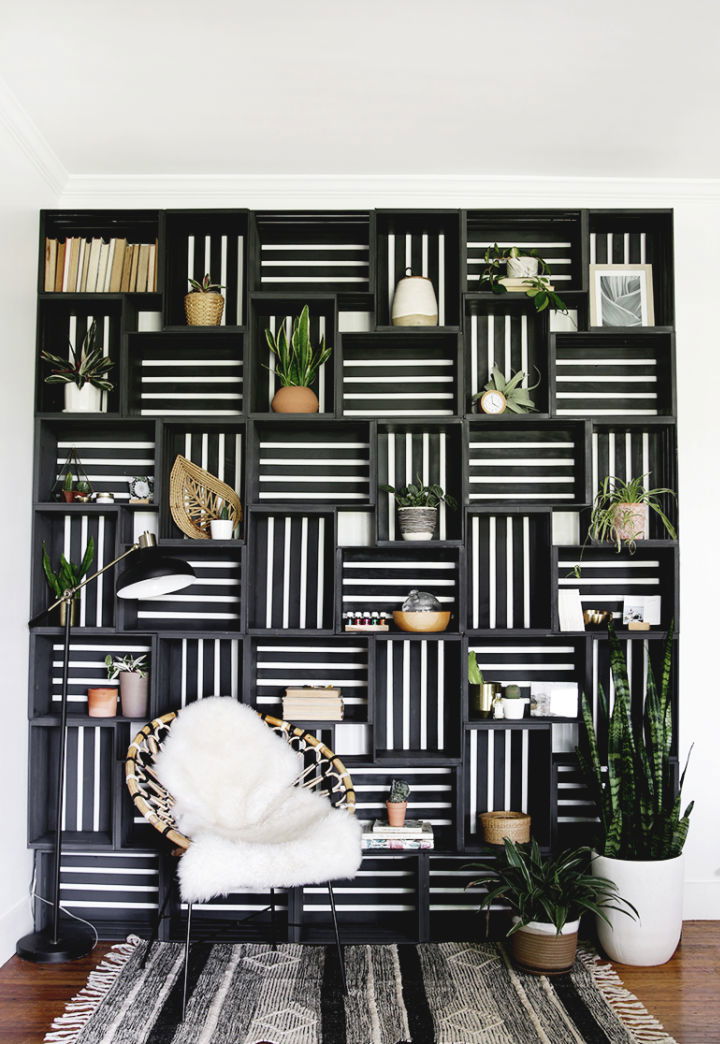 Looking for some hacks helping transform the boring blank walls into fetching featured walls? Teach her how to create a crate shelf statement wall using ordinary painted crates. Just arrange the stock of equal-sized crates on the wall in a custom manner getting an adorable accent feature wall. The wall will rock to display your centerpieces, decor, and photo frames. Use the Rust-Oleum Chalked Ultra Matte paint for this project. themerrythought
4. Terrazzo Baltic Birch Wood Letter Sign
Update your home and office walls with the wood letter art will be smart to create a personal statement in a particular room or home space. So, learn here how to make birch wood letter signs will surely fancy up a targeted wall. You need Craft Cactus baltic birch wood letters, adhesives, felt in 5 colors, spray paint in white and paprika, and scissors to make these Terrazzo Baltic Birch Wood Letter Sign. blissmakes
5. Honeycomb Chipboard Wall Organizers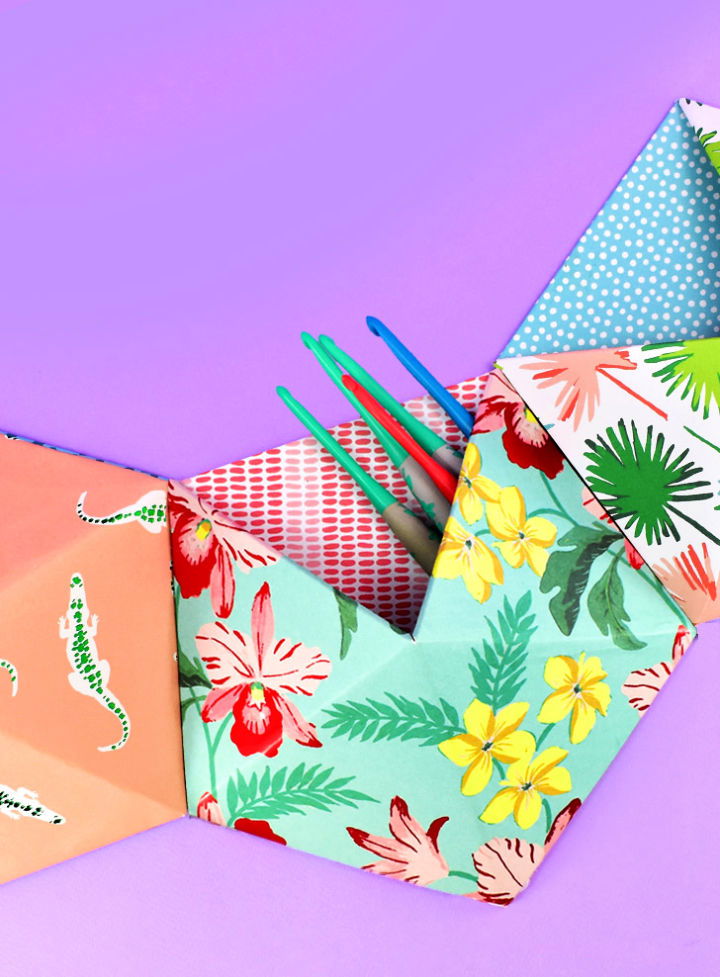 This wall decor idea will also get your appreciation as it is cost-effective and will complete super fast. Here the idea is to make the chipboard wall pockets that will nicely hold your items of need and interest and will be more than easier to make and will bring tons of focal stimulation to your wall area. You need a 1.5mm chipboard, 12 x 12 patterned cardstock, craft knife, straight edge, cut-resistant gloves, adhesive and hot glue. dreamalittle
6. DIY Clay All-seeing Eye Mirror Wall Decor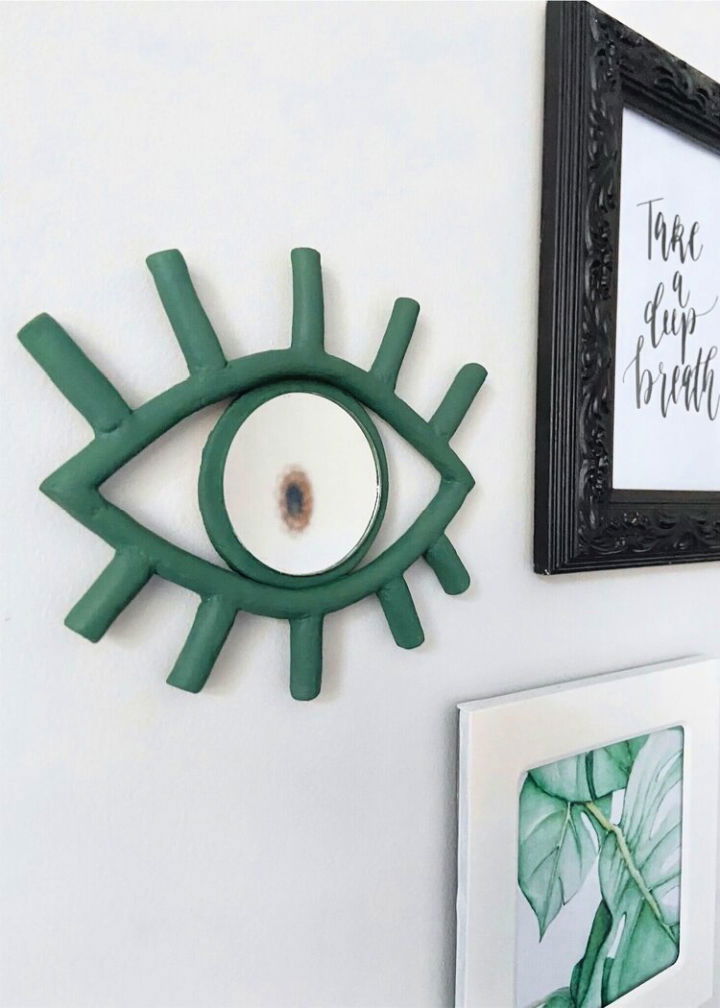 Give your interior wall a quick visual boost by adding this all-seeing eye mirror, a super creative and smart crochet clay project. The clay design is much achievable, and it is the better handmade gift to make for a friend without getting expensive. Just draw a big template and then follow the lines with clay lengths and then put a big circle in the eye topped up with a mirror. Paint in the way you like. isoscella
7. DIY Succulent Plant Display Wall Art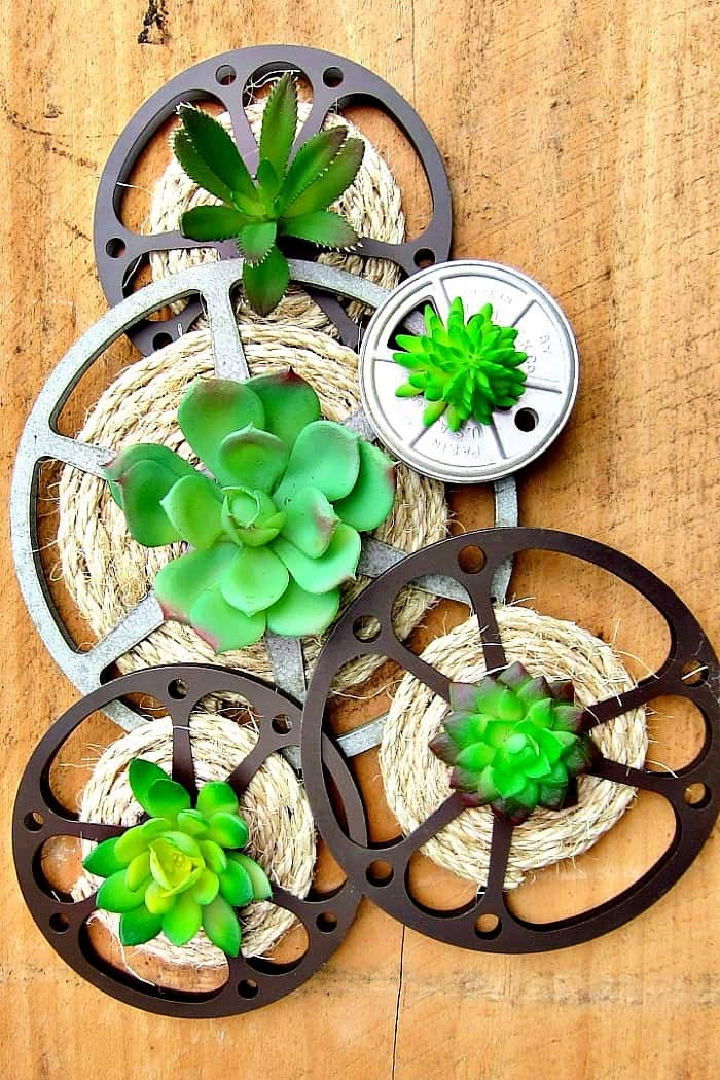 You can also decorate your interior walls using the old and recycled items from home. Upcycle the old movie reel wheels to work up these succulent plant wall decor that are much visually pleasing and captivating. They are the best way to give any boring wall a glam touch of greenery elegance. Moreover, it will bring those antique vibes also to your interior wall. You need old movie reels, rope, and faux succulents to make them. petticoatjun
8. Colorful Outdoor Wall Planters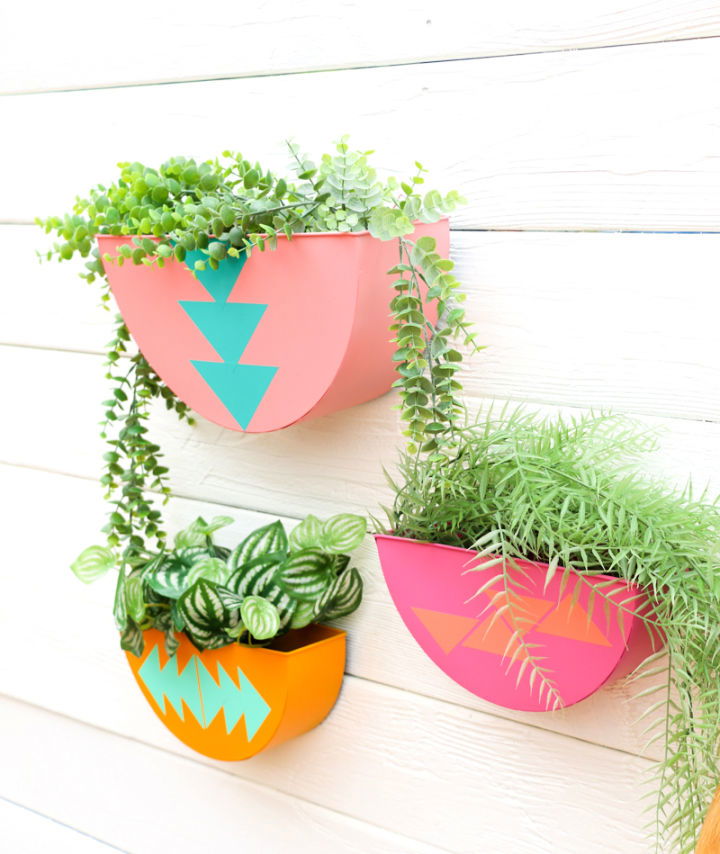 Take your outdoor wall decor to the next level with these homemade colorful outdoor wall planters that are crazily beautiful and enchanting. These half-circle wall hanging planters look extra graceful in the painted appeals and painted arrow patterns. Fill them up with real or faux greenery, and You need wall painters from JOANN, craft paint or spray paint, adhesive vinyl, and a paintbrush to do this project. akailochiclife
9. Moon and Stars Mobil Wall Decor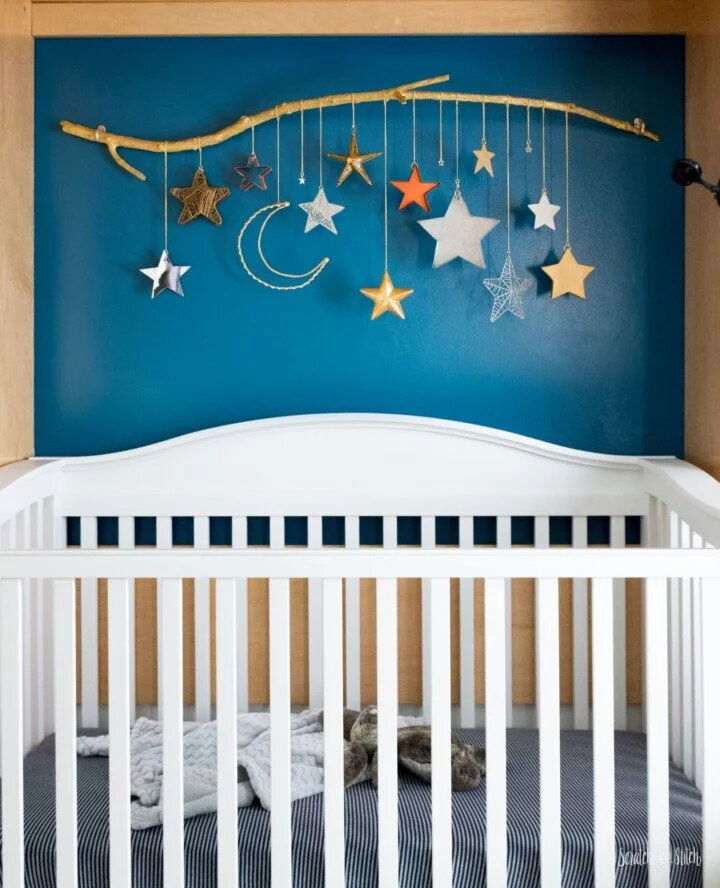 Fancy up the baby crib's wall by adding the moon and start art, which will depict the child's fantasy. This superior wall art hanging is to make with the inexpensive and cheap supplies you most have in-home scraps. You need a tree branch, floral wire, wall hooks, jewelry chain, jewelry wire, spray paint, and stars to work up this baby mobile. One of the easiest art to make in no time. scratchand
10. DIY Faux Living Wall Decor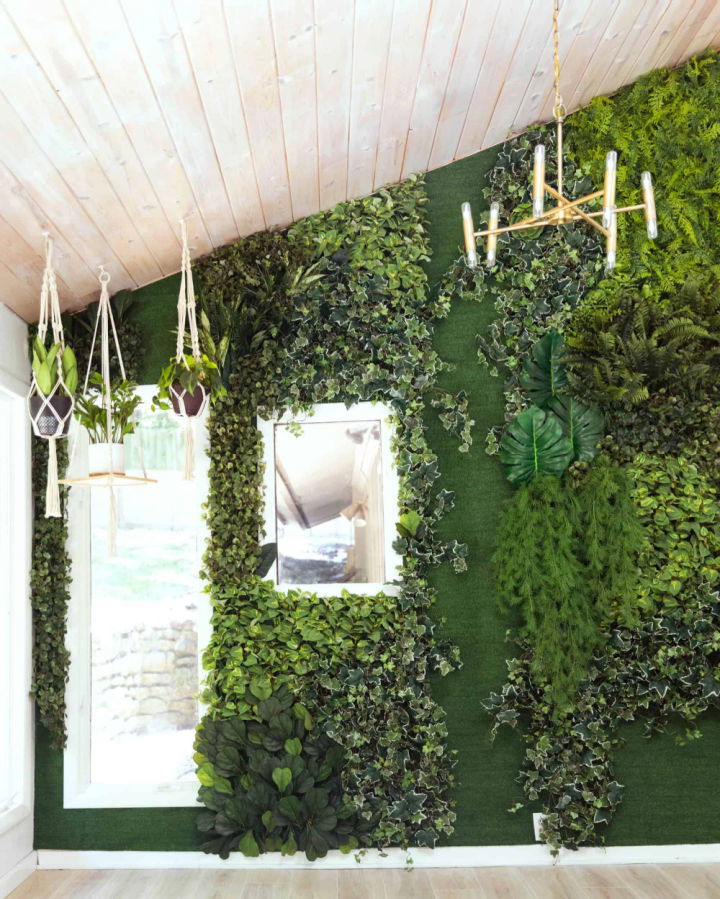 Satisfy your love for greenery by whipping up this adorable faux living wall. It will make an amazing photography backdrop and will rock for taking the best wedding photos too. You need pine board, wall anchors, hex netting, power drill, box cutter, wire cutter, staple gun, faux plants, dark green or black pipe cleaners, and some creativity to build up this mind-blowing green wall. One can feature this wall in the home to impress the guests. abeautifulmess
11. Wood Trim Accent Wall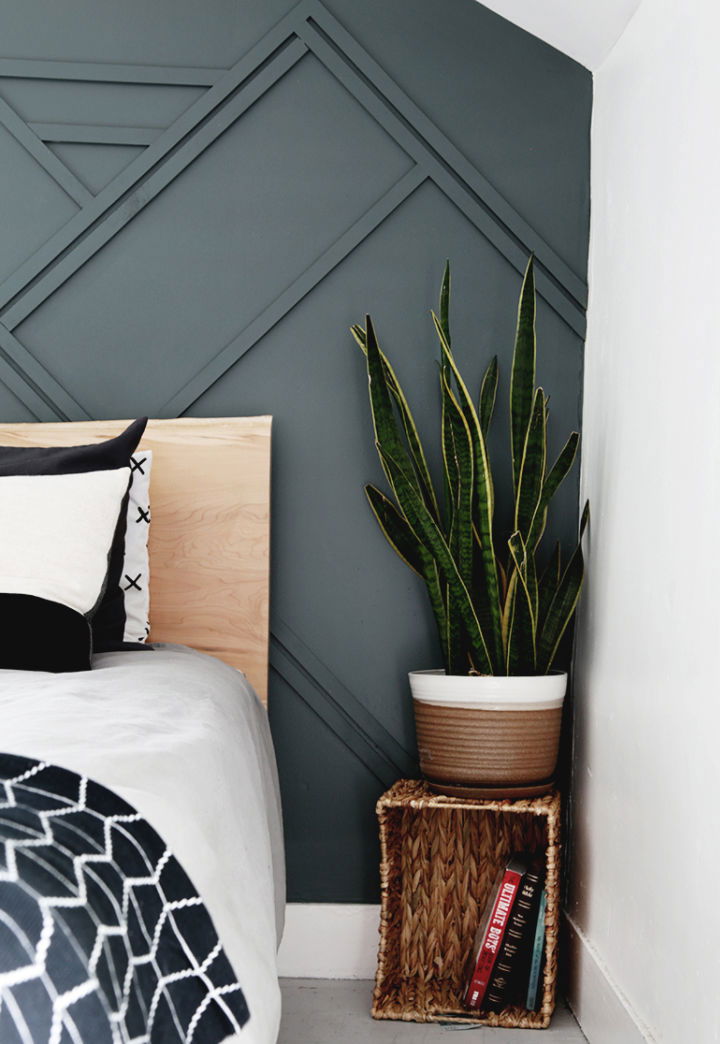 Feel free to work up another adorable wood trim accent wall that impresses the fine curves and makes the sensational bedroom background. You need a 1×8 pine board to build this interesting accent wood trim wall, bring a big wow factor to your guest bedroom and your master bedroom. You need a table saw, power planter, level, straightedge, pencil, spackling compound, compressor, and nail gun. themerryth
12. Wood and Leather Trellis Plant Wall Decor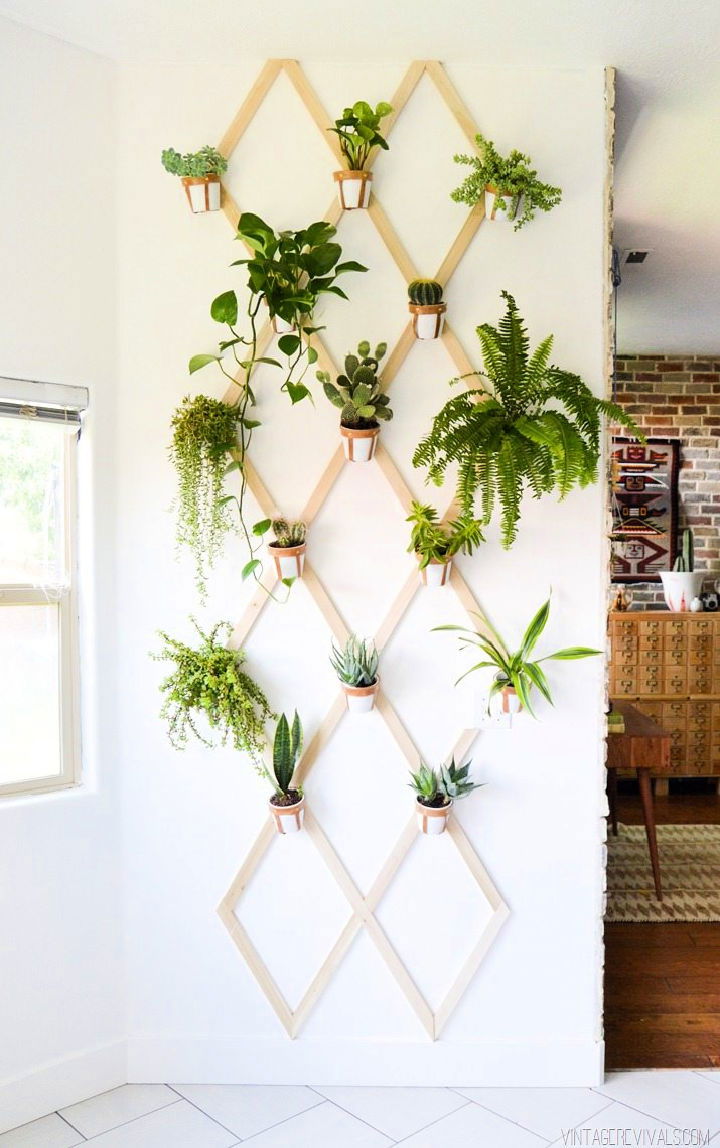 Looking for a natural decor treatment for your interior walls? Here is a beautiful and cost-effective solution to bring greenery to your walls and an amazing geometrical design pattern. Make the diamond-patterned accent frame on the wall using wood slats and hang a leather plant holder to each criss-cross point, and this will be a better way to feature greenery in your home. One of the most loved crochet wall decor idea. vintagerevival
13. Faux Mid-Century Paneling Using Paint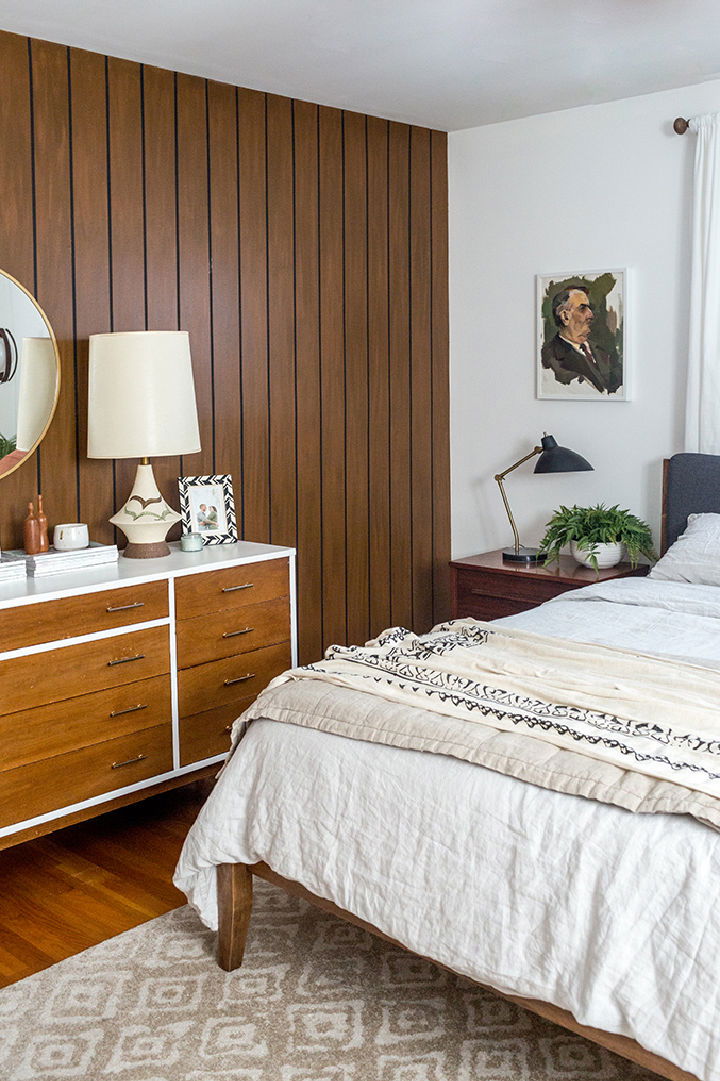 Bringing a rustic decor character or the mid-century inspired vibes to your interiors is always done by featuring the wood in the antique tones in that particular space. So, bring a mid-century inspired touch to your bedroom by building this wood-paneled accent wall appearing in the dark choco tone of wood. This planked wall is amazingly beautiful and gorgeous. You are not to use the actual wood for this project. Just use the paint to faux the look of a planked paneling wall. dreamgreen
14. How to Turn a Photo Into Canvas Wall Art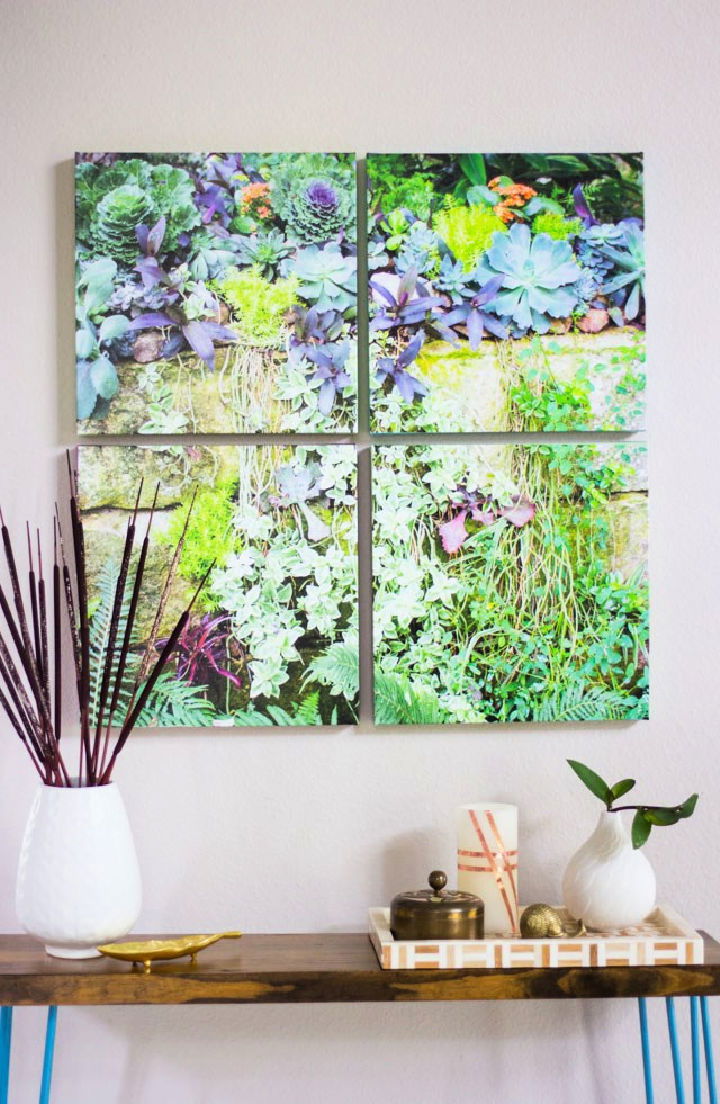 The canvas wall art frames bring tons of visual charm when hanged on a particular interior wall. So, learn here how to turn a photo into super beautiful and expensive looking canvas wall art frames, will surely impress and enchant the audience for sure. Just edit the high-resolution photo on the computer using software and divide it into 4 equal parts that can be adhered to the 4 different canvas frames. Put them together again on the wall in the exact sequence, and that's it. designimpro
15. Simple and Stylish DIY Circle Frames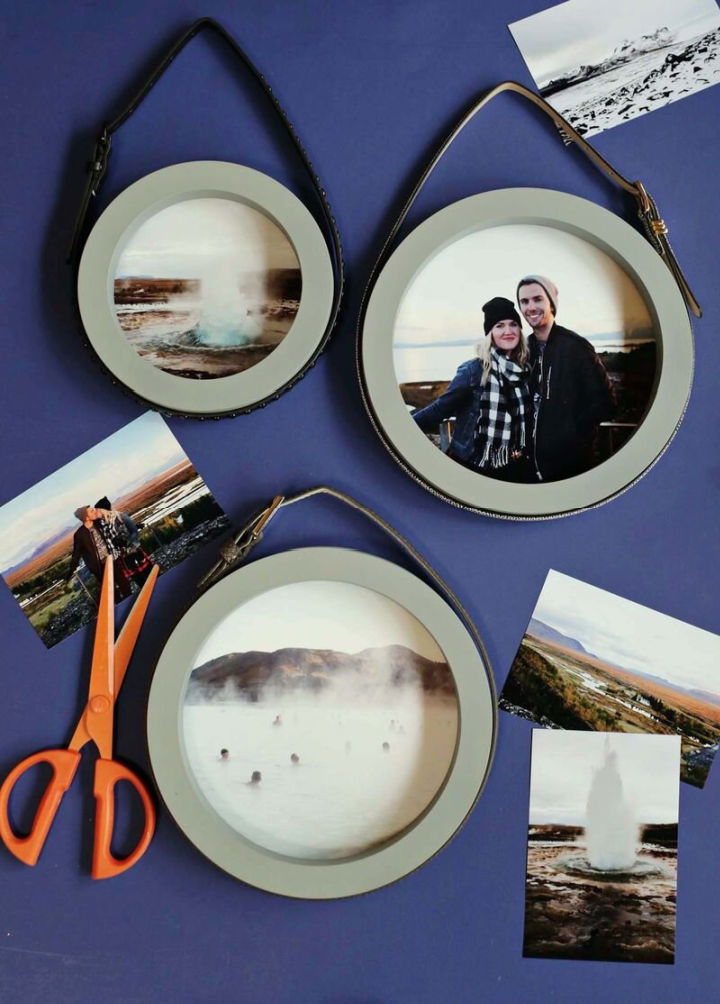 Wishing to build a photo or art frame gallery on a wall? Must include these simple and stylish circle frames in your project. They will be a big center of attention. They are the most beautiful frames to choose from while wishing to bring geometrical decor vibes to an interior space. Just resize your favorite photos and print them out in custom sizes but with high resolution. Fit them in the custom-painted circle frames. Hang them on the wall using leather belts. abeautifulmess
16. How to Make a Floral Garland
Decorating your interior wall was never so easier, especially when you want to fancy them up on a particular wedding decor theme. Learn here how to make a floral garland and how to decorate a wall with it. Simply it can be put around a wall frame, shelf, or even a door frame for extra visual grace. So, learn how to make a better floral garland using the greenery and floral fillers, and the floral wire. The project is easy and frugal at the same time. diynetwork
17. Budget-Friendly DIY Gallery Wall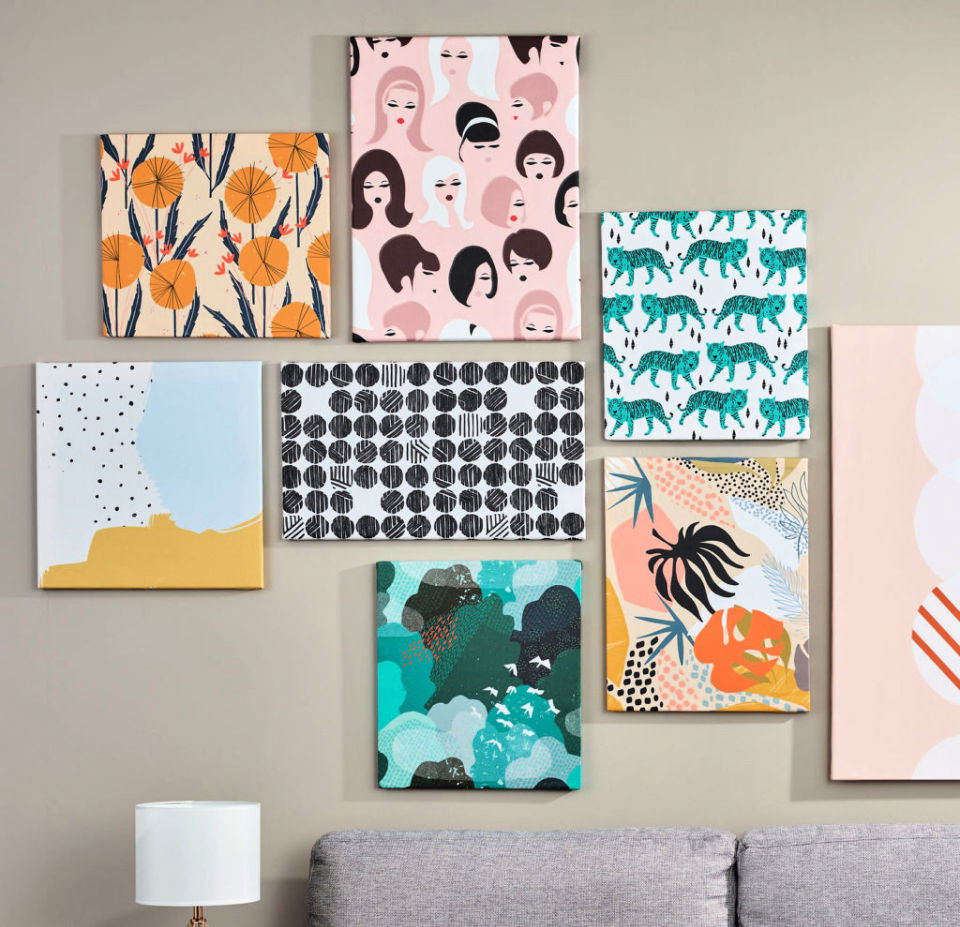 Bring tons of visual grace and charm to a particular interior home wall by building a gallery wall. Yes, it is not always super expensive to build a gallery wall. Learn how to make quick wall art frames, which can be put together in a custom sequence and arrangement on the wall to build a gallery wall. Here you need, fat quarter, staple gun, scissors, and canvas stretcher bars to build these gallery wall frames. spoonflower
18. DIY Board and Batten Wall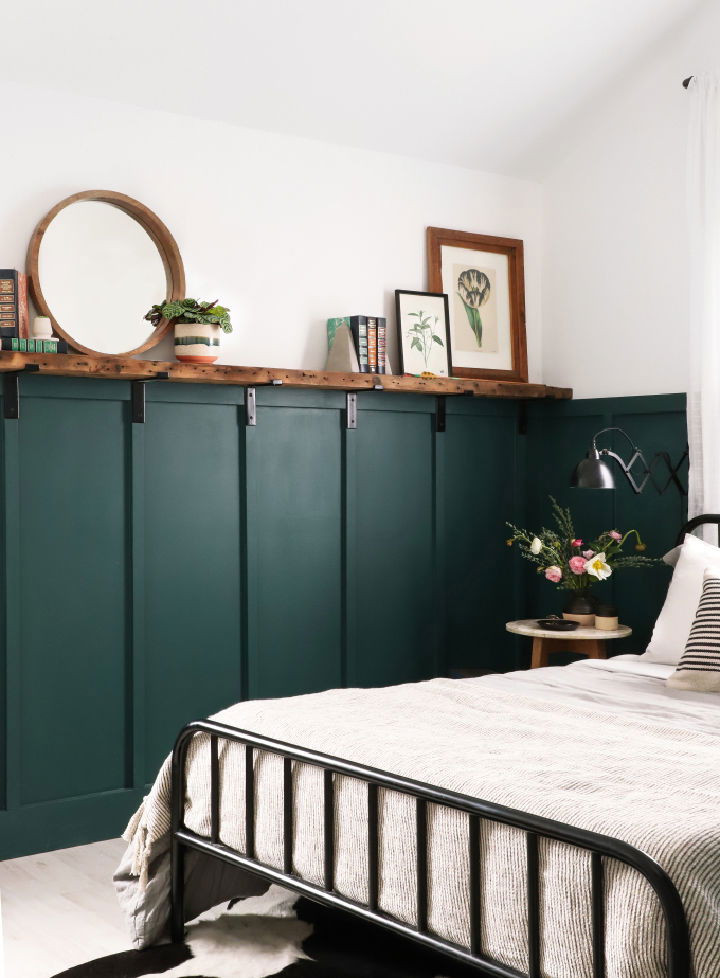 Create an impressive appeal of your bedroom building this board batten wall, provides a large rustic wood shelf too to display your custom items of decorations. The whole project is easier to do even with minimal yarn skills and will bring tons of visual charm and grace to your master bedroom. You need pre-primed MDF trim pieces, 1x2s vertical boards, 1x3s horizontal boards, Behr paint, 16 gauge straight cordless nailer, wood filler, level, and caulk. ispydiy
19. Geometric Wall Shelves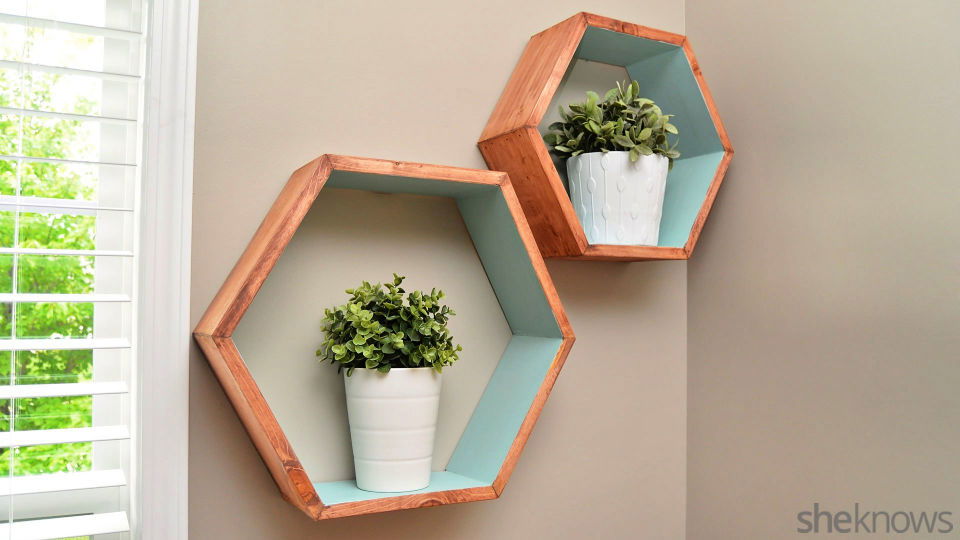 Geometrical wall decorations are highly trendy and expensive at the same time. So, get here the cheapest hack to build the lasting longer geometrical wall shelves, which will nicely display your favorite centerpieces. The quickest way to decorate a boring wall, and these hexagonal shelves are more than easier to build than you think. You need pinewood boards, wood stains, paint, picture hanging brackets etc to build these honeycomb wood wall shelves. sheknows
20. DIY Tassel Wall Hanging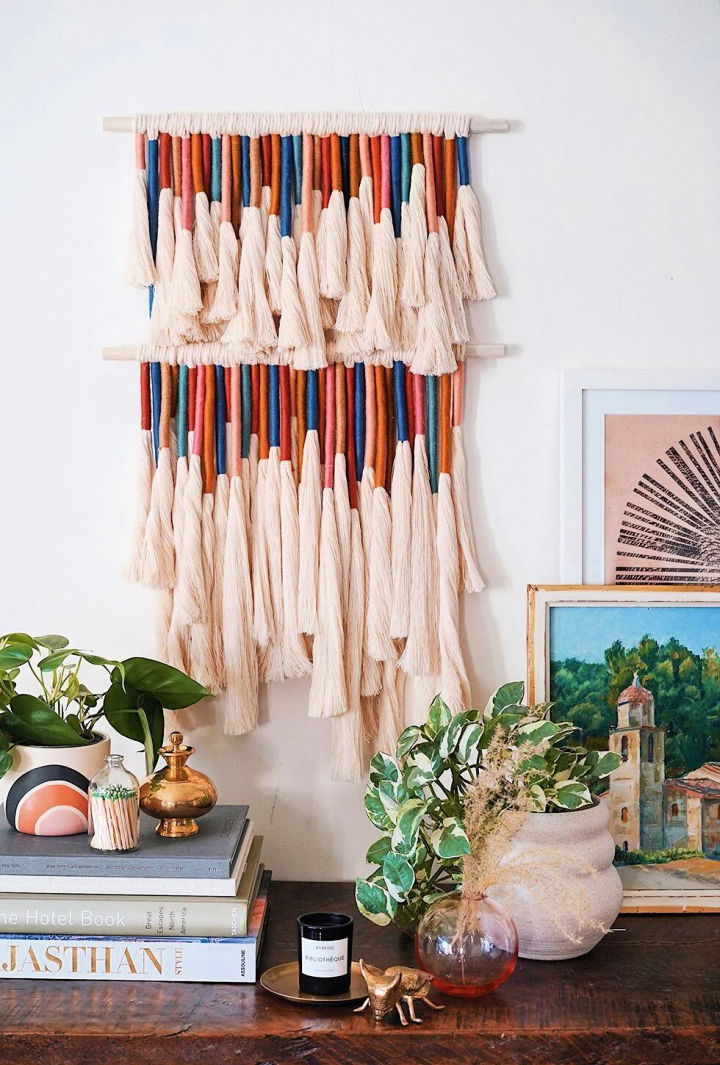 Give your interior walls an instant beautiful decor touch by installing this quick and adorable wall hanging. You need 5mm single twist cotton string, wooden dowels, assorted yarn, and some creativity to build this tasseled wall hanging, will be a big center of attention, and you can use any yarn color under the sun to do this project. An easy, cheap, and colorful wall decor idea. honestlywtf
21. Rustic DIY Wall Clock
Featuring some rusticity in modern interiors is becoming a hot trend, and you should follow it too. Boost any interior wall's visual appeal with this rustic handmade wall clock enchants with a distressed painted look. It also comes with roman numerals making this clock look extra adorable. Grab a wood round, paint or stain it and then install the roman numerals. The best rustic wall accent to make in no time. bemyguest
22. Glass Bottle Wall Vase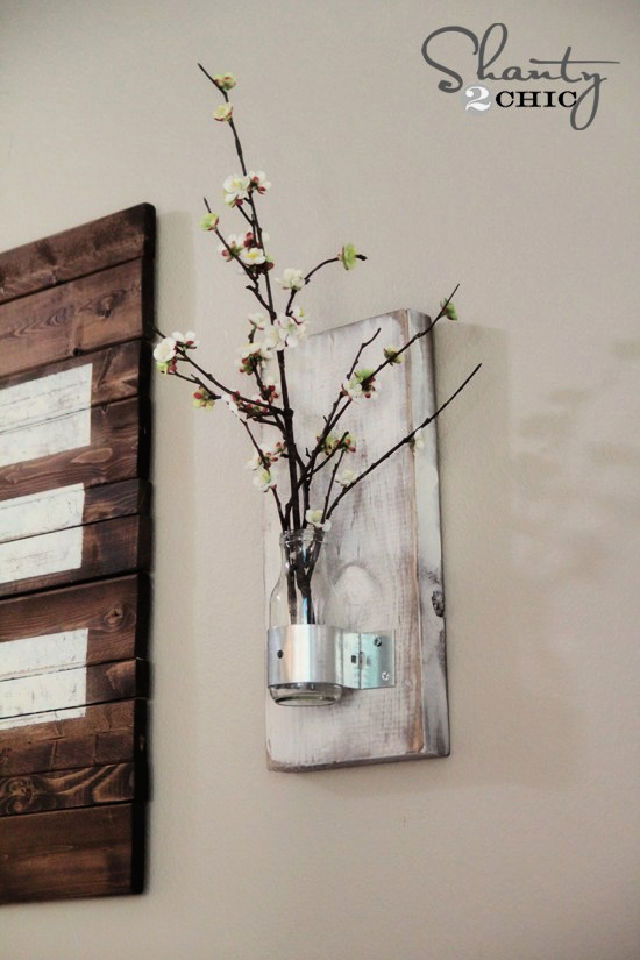 Fancy up your interior walls with the handmade decor and centerpieces you will make your own beautiful hands. Upcycle an empty glass bottle and a rustic piece of wood to work up this lovely wall hanging vase. The idea is to paint the wood plank for a distressed white appeal and then secure the glass vase on it using a metal clamp. Don't forget to add the flower branches to the bottle. shanty 2 chic
23. DIY Wall Vases from Upcycled Jars
Repurpose also the scrap wood pieces and Mason jars to build the fetching interior wall decor and centerpieces. Spice up your favorite walls with these upcycled jar glass wall vases that are super quick and easy to make. Grab the 1x4s wood lengths and make them hold the empty glass jars while using the strips of leather, and then hang them up on the wall using custom hardware hanging systems. houseful
24. Build a Wood Accent Wall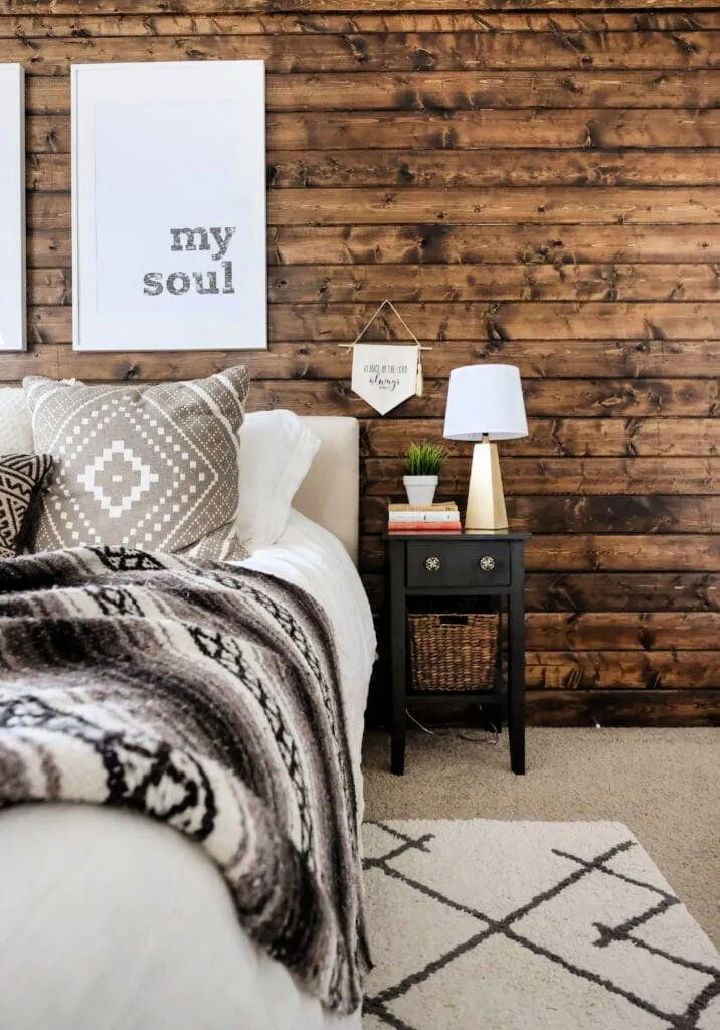 Wood wall paneling is the most amazing way to give your interior wall a glam touch of wood elegance. So, this can be the easiest way out there to decorate a blank and boring wall. So, learn here how to build a planked wood accent wall that you can paint or stain rustic or modern. The project involves using tongue and groove boards, and they will fit together nicely, holding your favorite art frames, decor, and centerpieces. Here this rustic wall adds an adorable rustic background to the entire bed. joyfullygrow
25. Beach-Inspired Framed Canvas Art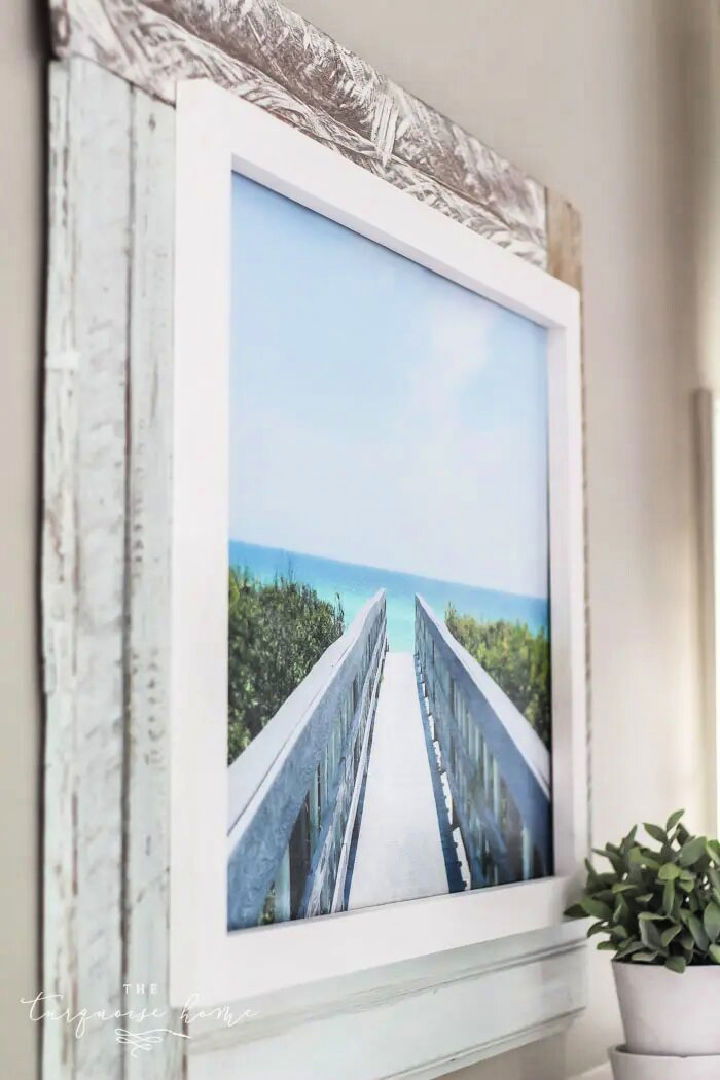 Give your interior wall an instant beautiful visual boost by adding this beach-inspired DIY framed canvas art. Make this dazzling wall art frame with your own beautiful hands, and it will bring a big wow factor to the entire wall also. You need a large canvas, printed photo, mod podge, scrap wood, 1×2, wood glue, and custom woodworking tools to do this project with great ease. theturquoise
Conclusion:
The interior wall decor matters when you want to bring more energy and a festive feel to your home. The wall decorations become crucial when you can't withstand the same boring look of your blank walls. So, before you buy expensive wall decorations, go with these DIY Wall Decor Ideas that will make you the best DIY wall decorations inexpensively and will be a big love of all.
These diy wall decor ideas cover every possible decor idea and decorative wall treatment and provide guides to do each project at home like a pro. These diy wall decor projects help you will build your wall decor centerpieces, greenery garlands, and hanging vases. Moreover, you will get professional instructions to install accent planked and wood panel walls and even the wood trim decorative walls. Visit all the projects to see lots of amazing DIY wall decor designs.