Wooden spools are ideal for inventive DIY projects. From timeless wooden spool tables to potting bench crafted from recycled wood slats, these useful spools can be repurposed into almost anything. With a few basic materials from your local hardware store, small wooden spools can be transformed into creative candle holders, planters or shelving units. For larger wire and cable spools, an outdoor fire pit would be an ideal project for the adventurous DIYer, or why not try something smaller like a side table? Learn what to do with wooden wire spools with these 20 wooden spool ideas that are fun and budget-friendly.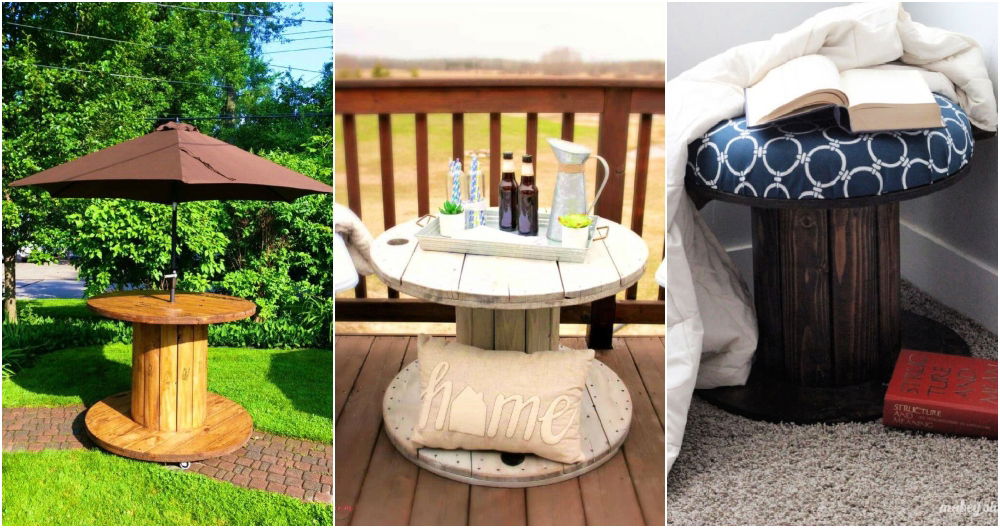 20 Wooden Spool Ideas to Reclye Wire Spools
With 20 easy DIY wooden spool ideas, wooden wire spools can be repurposed into beautiful pieces for the home or garden. Popular wooden spool ideas include creating a side table, bookshelves, ottoman, planter box, wine cask holder and even an entryway coat stand. Large wire spools can be used outdoors as amazing outdoor furniture or seating areas. DIYers have also re-imagined them into chandeliers and hallway benches. No matter how you decide to restyle them, wooden spools and wire spools truly add plenty of cozy vibes and interesting rustic elements to any space.
Just like various other materials, you satisfy your crafting obsession with! The wooden spools are also affordable and sometimes free to grab, and you can do amazing wooden spool projects! From making a large round outdoor dining table to a lovely end table and a precious rustic headboard to an accent wall clock, you can make it all with recycled wood spools! Explore the entire list of these DIY wooden spool Ideas to get yourself inspired.
1. Building a Wooden Spool Bookcase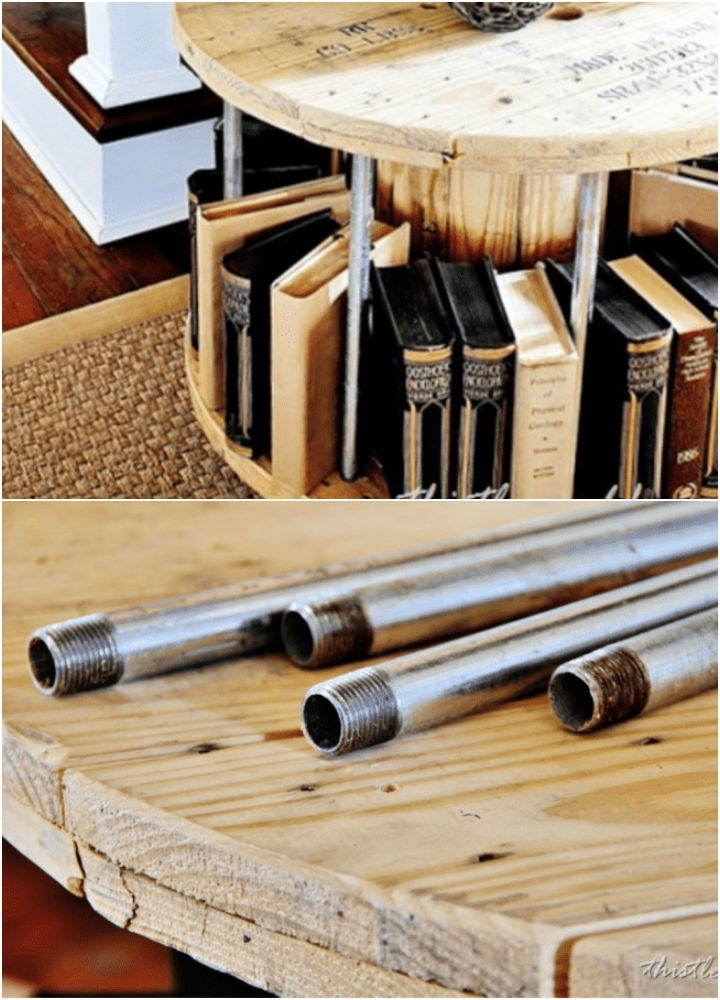 Wood spools are one of the great source of free wood, and their shapes are to through for so many genius crafting projects. Add vertical columns in them using big threaded metal rods and make gorgeous spool bookcases, will be your next most gorgeous round top coffee table. How-to details here thistlewood
2. DIY Wire Spool Coffee Table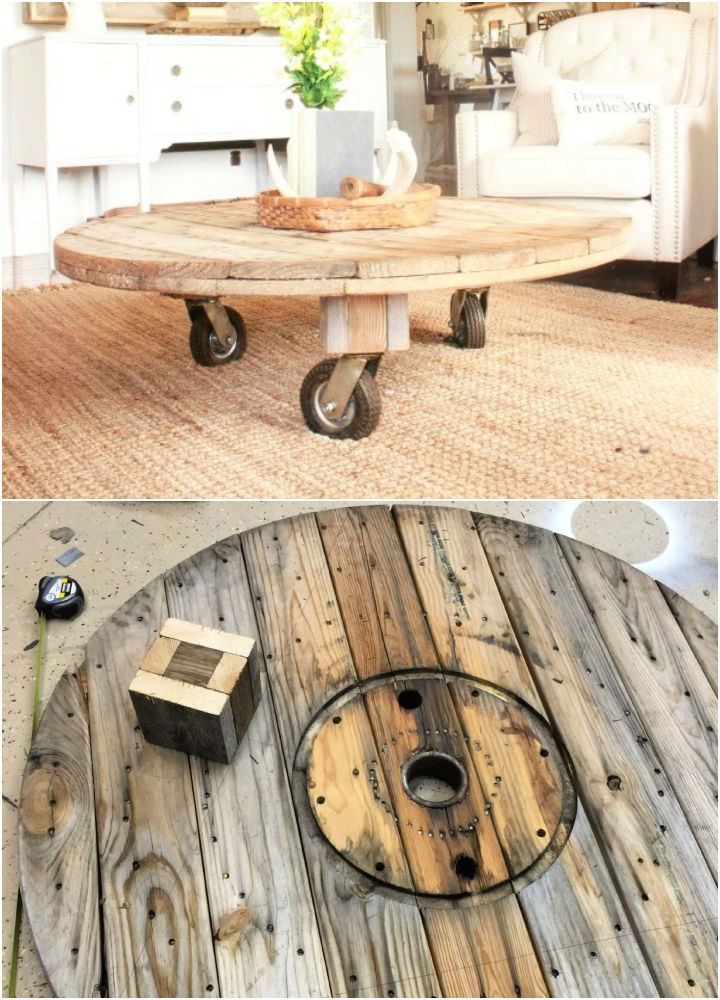 Sometimes we love to add the low-height coffee table in the center of a sofa to start the conversation. if you like a coffee table with a round top, then do make it free using a recycled spool wheel. Get it separated and raise on wheels for a rolling industrial low height coffee table. Details here twelveonmain
3. Up-cycling Wood Spools to a Stool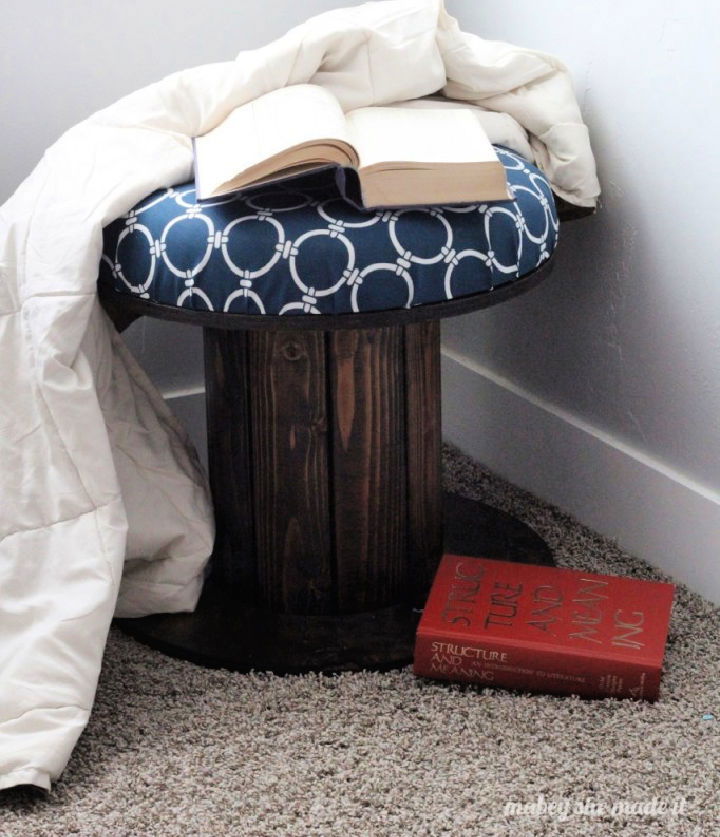 If you make the wood spool stand vertically, you can use them in numerous different ways like they can be a brilliant side table, nightstand and also a stool. Provide a cushioned seat to one side of a spool and start using it as a durable stool at home. It would be a perfect reading nook. Full how-to guides here mabeyshema
4. Homemade Wooden Spool Side Table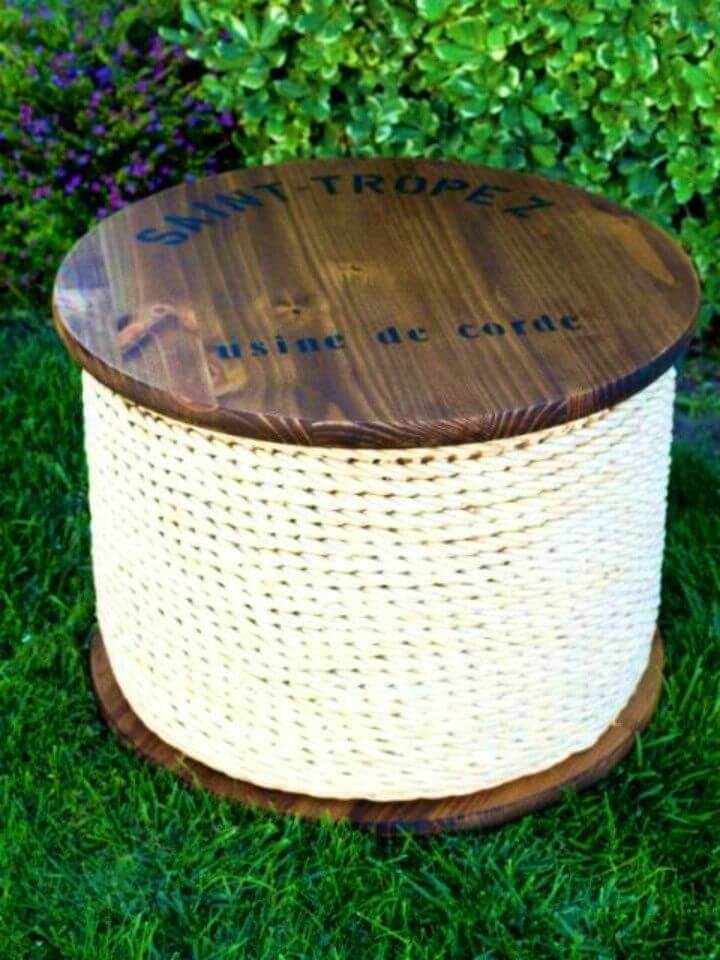 Wooden spools can be readymade coffee tables if you place them vertically in the center of a sitting sofa set. Here a creative trick has been played while making a coffee table out of the recycled spool. Wrap the rope around the center of the spool for added thickness and let it be in the center of a sitting plan. Details here remodelaholic
5. Salvaged Wooden Spool Ottoman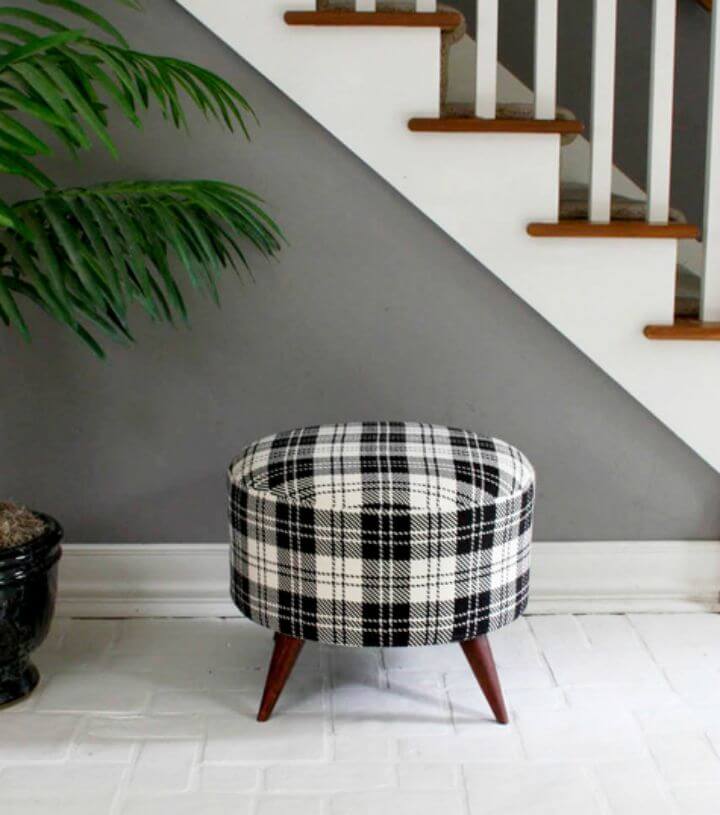 It is just the best idea to recycle wood spools for building indoor furniture. Establish sophistication in your living room with this salvaged wooden spool ottoman that is made of two separated apart spool wheels and cardboard cylinder. Next, upholster the top using leftover fabric and batting. Tutorial here designsponge
6. Making a Wooden Cable Spools End Table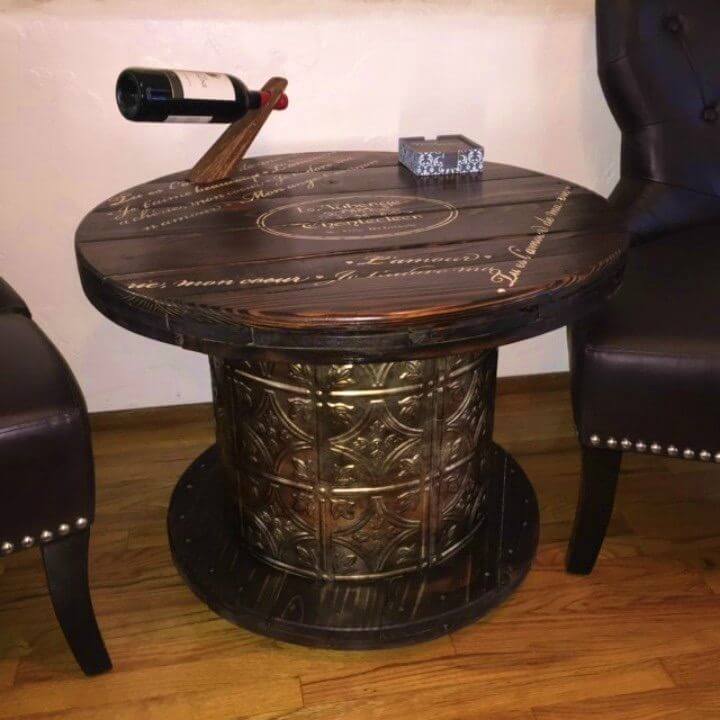 Build also super stylish and posh looking furniture out of recycled wooden cable spool, just like this enticing end table. It comes with stained in dark choco appeal and also has a bottle holder in extra features. Adorn its center with the ceiling tile sheets as you can see. Complete how-to guides here hometalk
7. Rustic Clock Out of Wooden Spool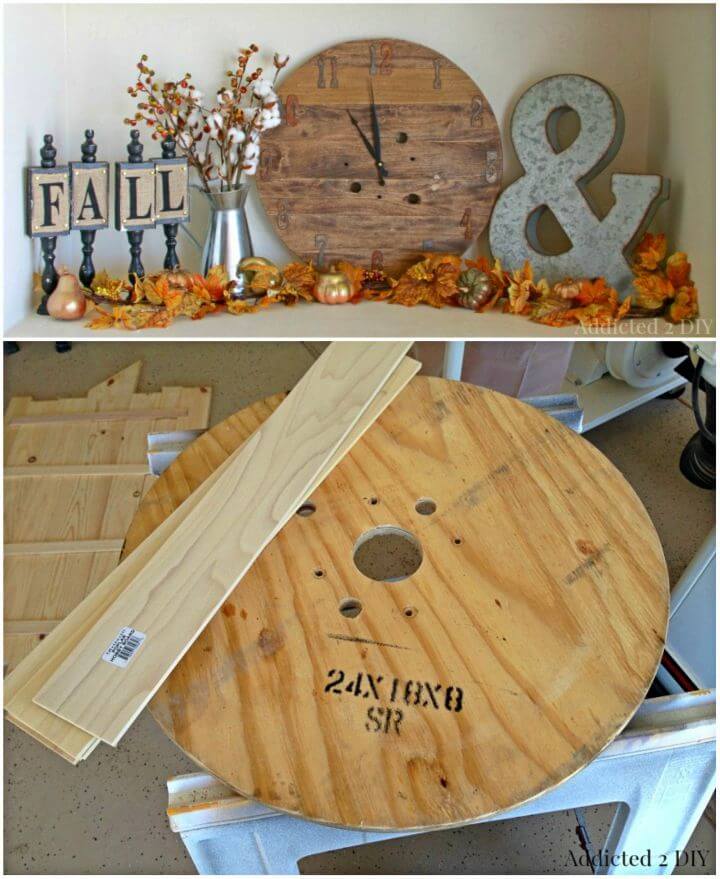 The separated apart spool wheels will make gorgeous clock bases if you think like a genius. Just install decorative clock numerals to them and also beautiful clock hands to build awesome round wooden wall clocks. Use the numerals of choice for better results. Complete how-to guides and tutorial here addicted2diy
8. DIY Cable Spool Patio Table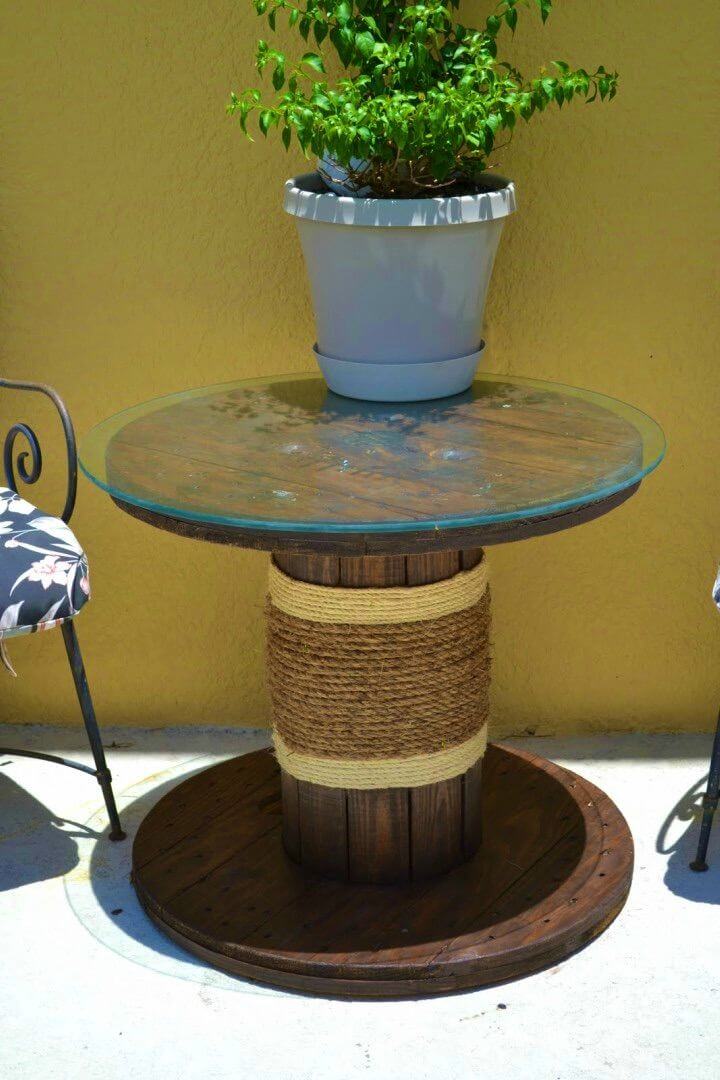 Rock your patios with this enticing cable spool table, built to last and inspire and will never get out of style. Make a recycled stool stand vertically, wrap the jute or rope around its center for added rusticity. Next, finish it with an accent glass top and build a stylish cable spool patio table. How-to guides here camelotartcrea
9. Easy DIY Wooden Cable Spool Headboard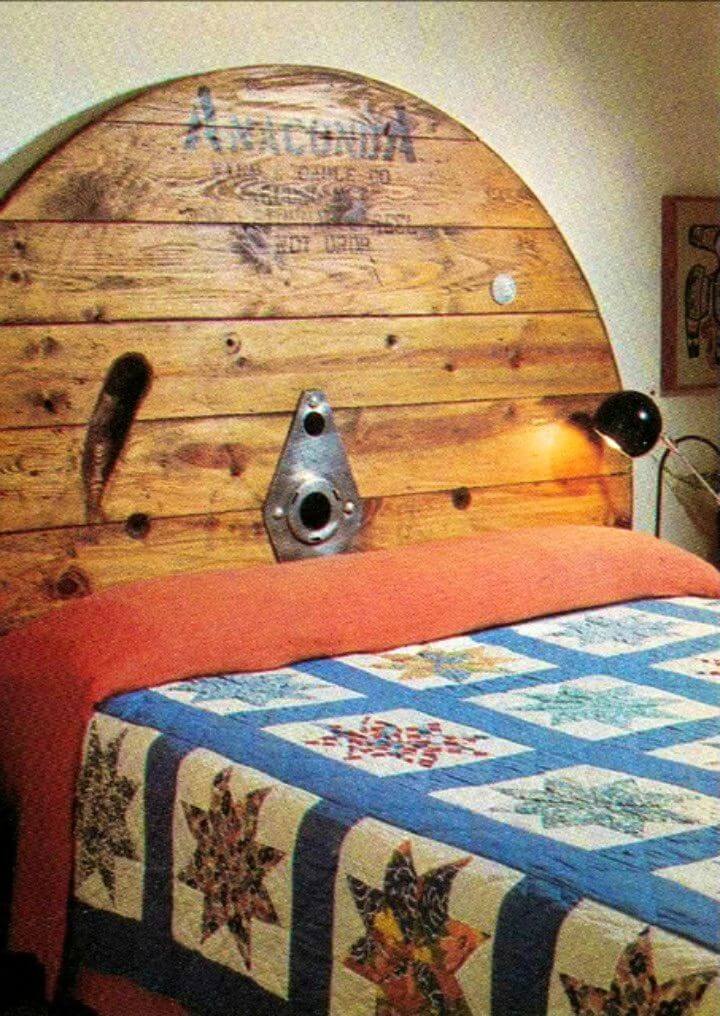 Larger cable spools can be your next most beautiful headboard too. Yes, separate apart your giant cable spool wheels and add it to the backside of your bed as an arched headboard, will be solid and good looking at the same time. Don't forget to add the light scones to both sides of it. Step-by-step instructions here bijou living
10. How to Make Wire Spool BBQ Table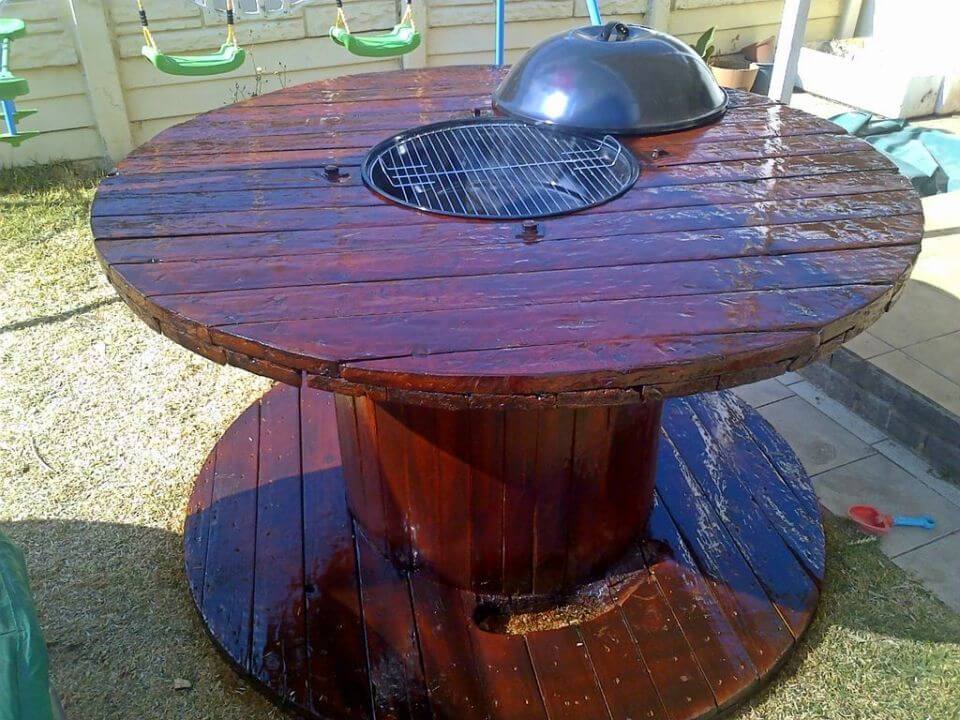 Rock your BBQ parties also by building special tables with reclaimed wire spools. Just install the grills to the top side of your repurposed wood stools and start cooking BBQ on them. It will allow multiple people to stand around it as it comes in perfect round shape. A smart recycled wood spool project. How-to details here Instructables
11. How to Build Cable Spool Kid's See-Saw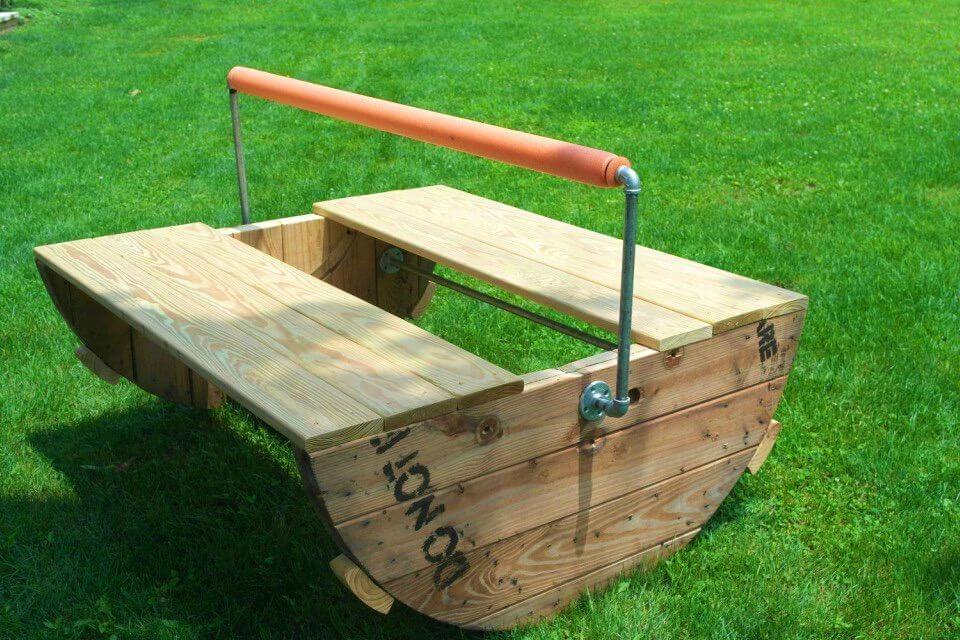 Boost also the fun of your kids by making brilliant gaming stuff for the kid like wooden spool kids' see-saw. Use the metal pipe scrap, wood slats, and a solid wood spool to make these gorgeous kids entertainment. This is something you can make to increase outdoor and physical activities of your kids. Full guides here hometalk
12. Simple DIY Farmhouse-Style Wood Spool Table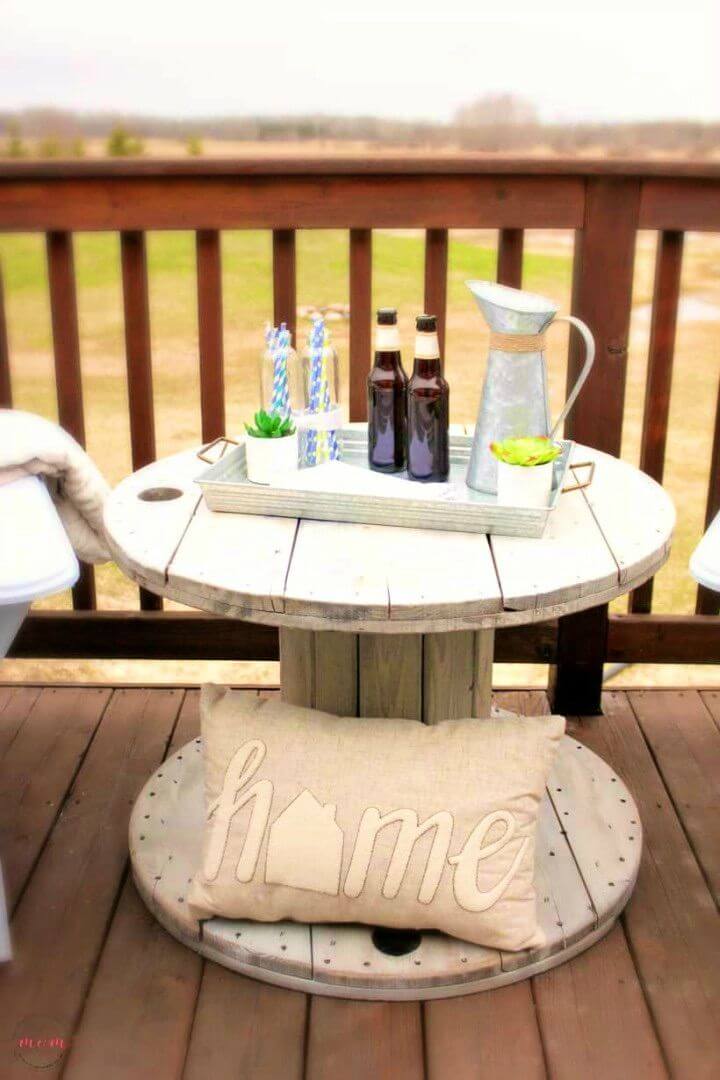 Build all sorts of modern, rustic, and farmhouse style furniture out of the wooden spool. Spruce up your farmhouse style interiors with this enticing wood spool farmhouse table, painted for a distressed white appeal, will go eye-catching in a farmhouse style interior. Here is how to build it musthavemom
13. Cable Spool Side Table from Scratch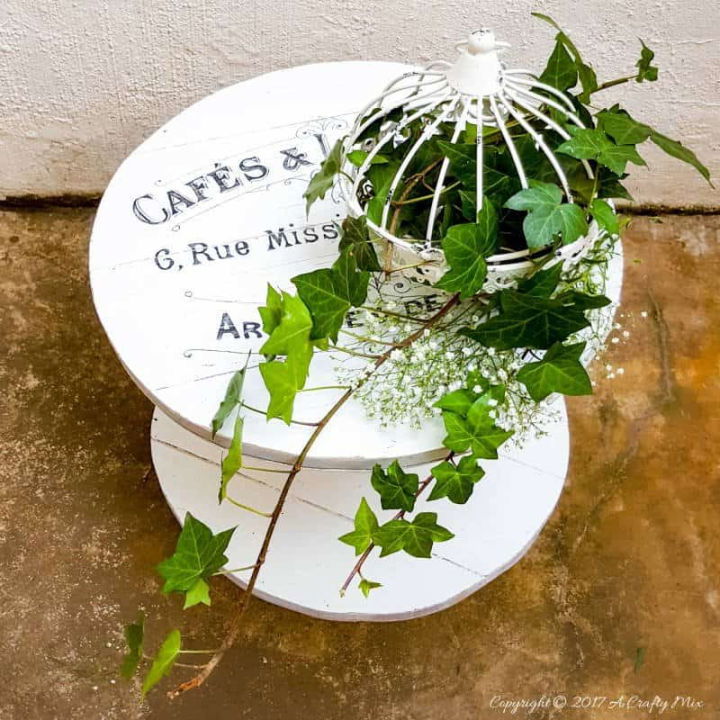 Rock your outdoor sitting and coffee routines with this handsome cable spool side table made from scratch. The chic white painted appeal, the quoted top and a green flower centerpiece at the top, are the main decorative features of this cable spool side table. This is something highly praise-worthy to make with spools. Details here acraftymix
14. Make Your Own Cable Reel Table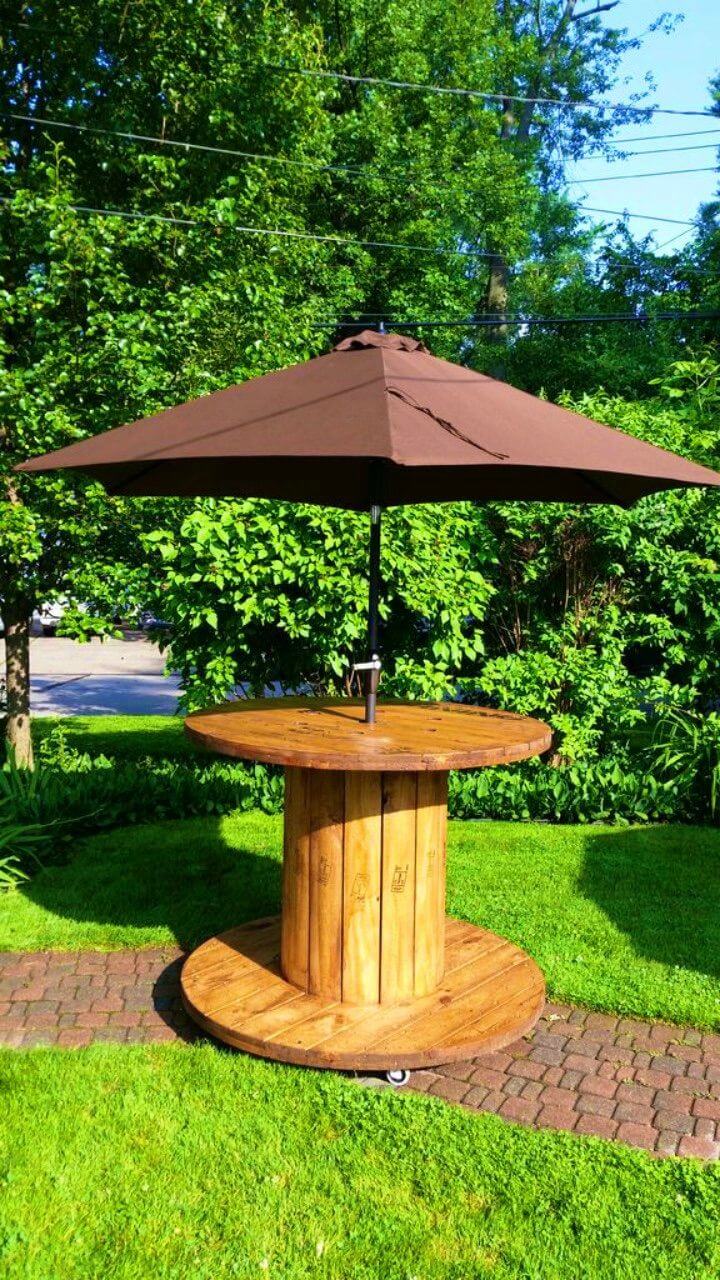 Make also gorgeous summer furniture out of recycled wood spools. Build this great parasol outdoor table out of a cable reel, will rock for outdoor parties. The best design of the table to enjoy sunny days with amazing sun protection. Just target the already build in center holes in the spool to install parasol. Details here Instructables
15. DIY Cable Drum Rocking Chair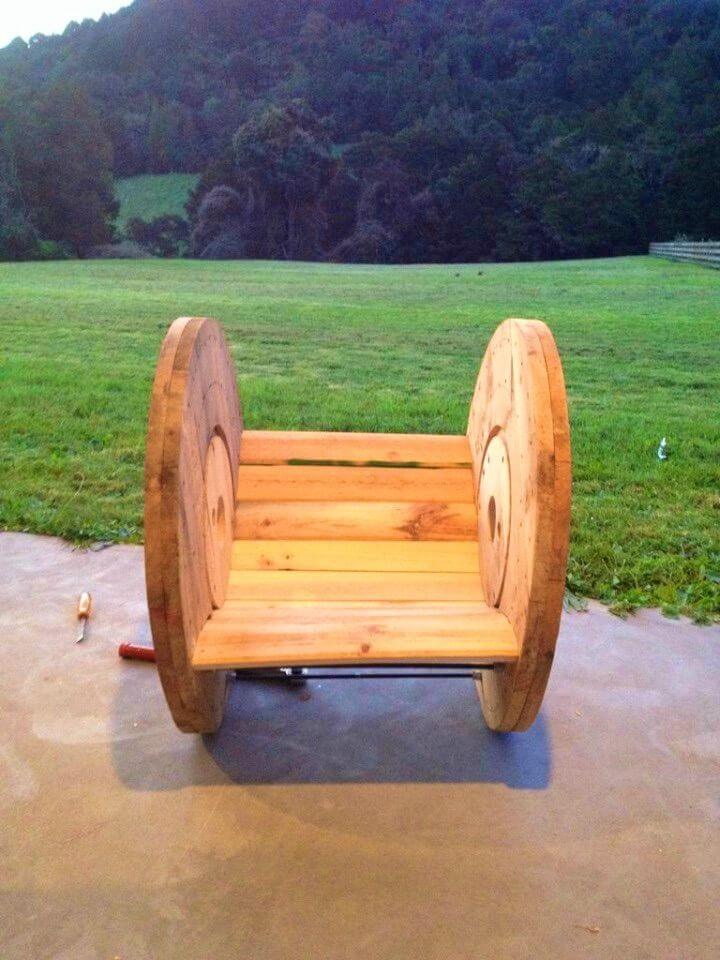 You can do amazing DIY furniture wonders with the reclaimed cable spools. Use a cable drum and some extra recycled wood slats to build this rocking chair, will make relaxed instantly. This handsome chair design will cost you next to nothing, give it also as a cute gift to your kids. Full how-to tutorial here instructables
16. How to Make Wooden Spool Tray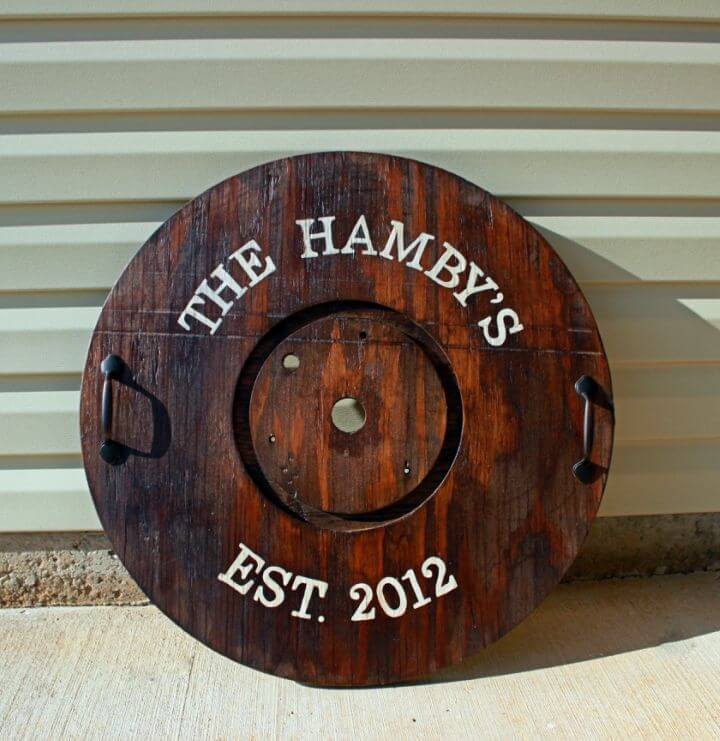 Sand smooth a separated apart spool wheel, stencil it for amazing quotes and numbers and then finish it with metal hardware handles to gain an adorable tray. The round wooden tray will be a big center of attention. Another great project to do with the wooden spools. How-to guides here thehambyhome
17. Wooden Cable Spool Rolling Bookshelf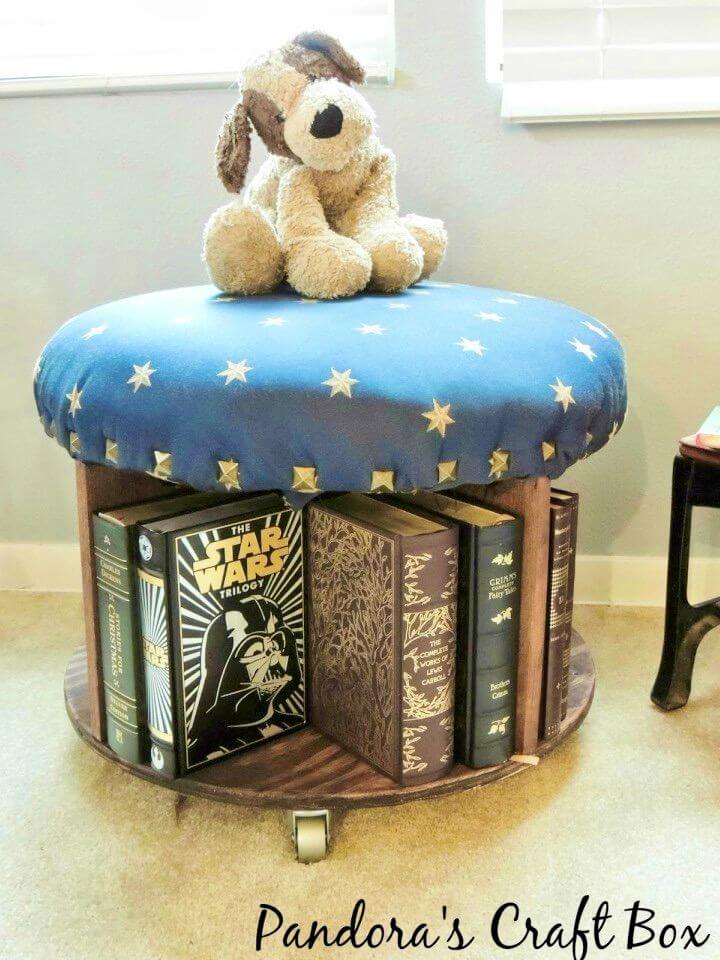 If you often love to read books while sitting on a couch and enjoy a cup of tea, then this wooden cable spool table is only for you. Add up a wooden cable spool with vertical dividers and then start using the inside of a vertical spool as a handsome bookcase, upholster the top to get a beautiful stool or ottoman too out of it. Details here diyinspired
18. Handmade Industrial Spool Table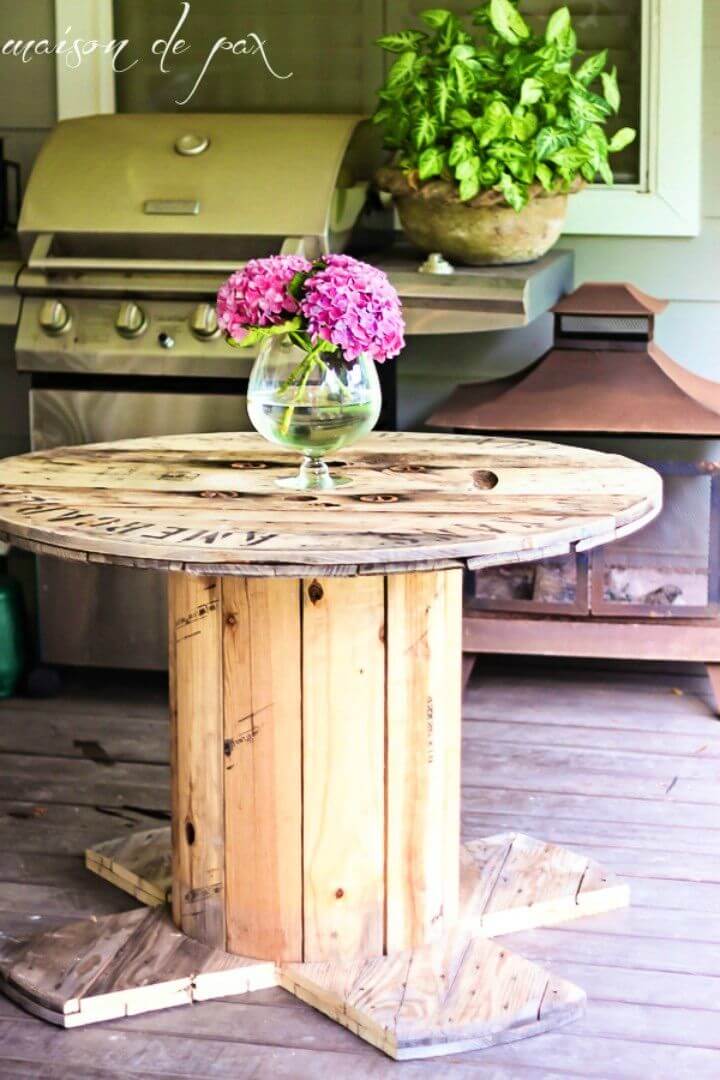 You can go with diverse different ways to make fabulous tables out of wood spools, and here is another smart way to check out. Cut the base wheels of a wood spool for a (+) shape and turn into a fabulous pedestal table and by doing so, you will get a fabulous industrial round top table. Full how-to guides here maisondepax
19. DIY Rope Spool Side Table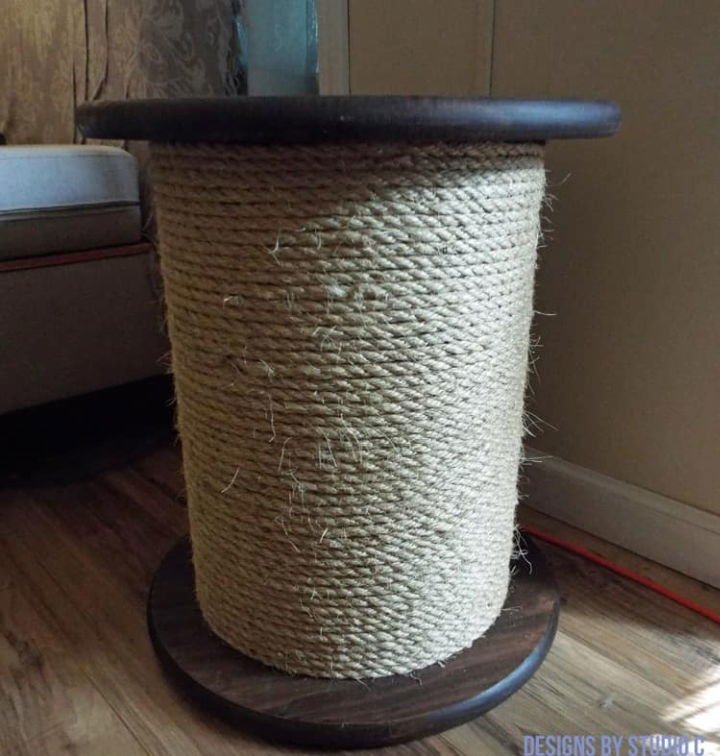 Grab also a rustic wood spool and make it a gorgeous side table out of it, create a precious rustic avatar of it using at the rope, can easily be wrapped around the center of the spool. This side table will be a great nautical type of furniture to add to any sitting sofa set. The best side table to make for a beach house. Complete tutorial here domestically
20. Build Your Own Wooden Spools Patio Table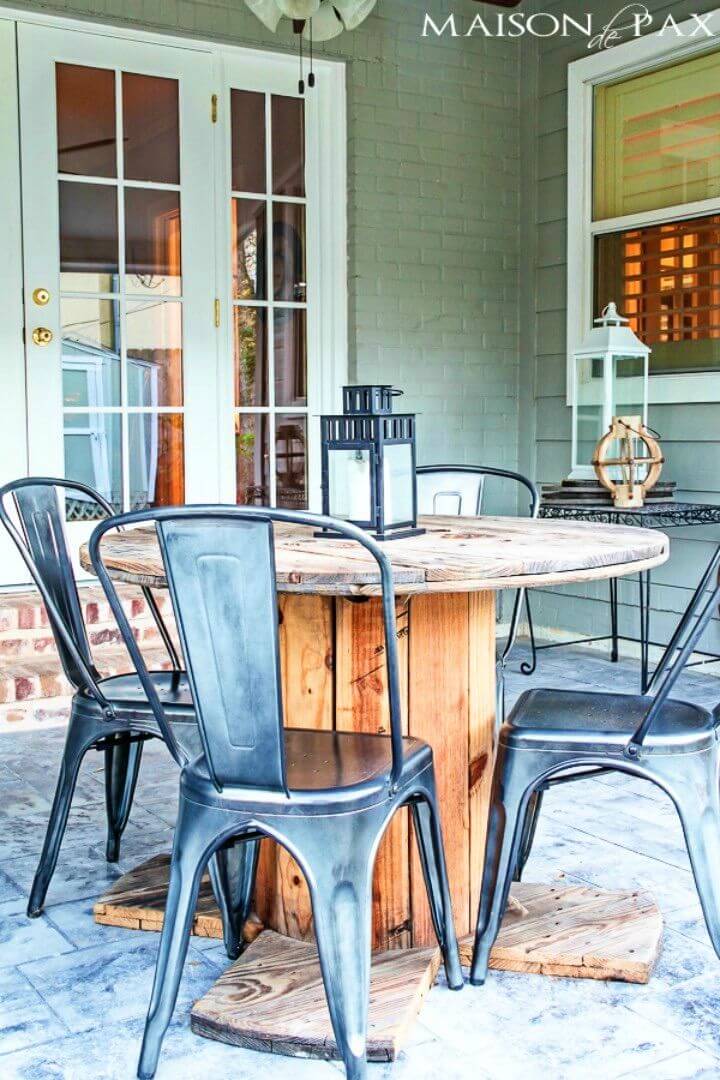 Enjoy part-time sitting, daydreaming and parties with friends at outdoor with this good looking wooden spool table has a base like a gorgeous plus sign. This project will all demand you to give smart cuts to one side of a spool wheel to get a lovely base. Details here maisondepax
Related DIY Projects and Ideas
Woodworking Projects: Explore these easy to follow small woodworking projects for beginners. These projects are suitable for people who want to learn or practice the basics of woodworking.
Scrap Wood Projects: Are you a new woodworker? Want to learn basics of woodworking? Check out this collection of amazing scrap wood projects for beginners that are simple to make and even easier to finish.
Wood Projects That Sell: Get these easy and inexpensive DIY wood projects that sell fast. These wood projects are perfect for beginning woodworkers or anyone looking to learn a new skill.
Pallet Coffee Table Plans: These free DIY pallet coffee table plans are a fun and inexpensive way to add extra seating, storage, or a rustic focal point to any room.
Pallet Sofa Plans: Pallet couches are a great way to get started in DIY furniture building. These free pallet sofa plans will help you make your own pallet sofa, plus you'll find a list of resources for more ideas and tips.
DIY Pallet Signs: Be inspired by beautiful, simple, and easy DIY pallet signs and pallet wall decor ideas that will give your home a rustic or industrial look for less.
Pallet Table Ideas: These stunning DIY pallet table ideas will help you to make your own pallet table. These tables are perfect for patios, side yards, and the garden.
Pallet Bench Plans: Learn how to make a bench from pallets with these free DIY pallet bench plans and projects. These benches are perfect for any room in your home or office.
Pallet Headboard Ideas: From a rustic pallet headboard to a pop-of-green rainbow one, here the most creative DIY pallet headboard ideas that you can DIY to make your bedroom more beautiful.
Conclusion:
Whether you have a few wooden spools lying around or an entire stash of them, there are plenty of ways to put them to use. We've shared 20 wooden spool ideas for recycling wire spools into useful items for your home, but there are countless more possibilities. You can turn these wooden spools into something incredible with creativity and some handy skills. So get crafting with these easy wooden spool ideas and show us what you come up with!