Wind chimes are among one of the most impressive kinds of decor art! They not only enchant you with their colorful and vibrant appeals but also soothe your nerves by singing sweet melodies. Are you looking for some outstanding whimsical decor for your open spaces? Say for your garden, balcony, patio, or backyard? Look no more, as DIY wind chimes will make one great choice.
We all know that handmade things are way more eye-catchy hence making worthier gifts, too! So, how about making some cool wind chimes at home? Using recycled materials, like retired objects and all the other discarded things lying around. To add some extra wings to your creativity, we have shared these 30 excellent DIY Wind Chimes. All of these DIY wind chimes ideas are mind-blowing, cost-efficient, and unique. Plus, they are sure going to turn out great inspirations. Time to see everyday materials and objects, making adorable hanging ornaments for your spaces! Oh, well, this is going to be really interesting
What kind of metal is used to make wind chimes?
Make mesmerizing wind chimes by using dried driftwood and organized clay shapes, add beads for bringing more focal stimulation to your design. Melt the beads and turn them in heart shapes using heart molds! Once through that, now strung them up on a rustic tree branch getting a romantic wind chime for the Valentine's Day. Ta-dah here is your great love gift for this V-Day!
Here's another idea! Make fetching DIY wind chimes by attaching a string at the back loop of your old keys! And then hang them over a flat wooden plank. Get crafty with terracotta pots, steal spoons and custom wooden beads to make perfect garden-friendly wind chimes in just no time!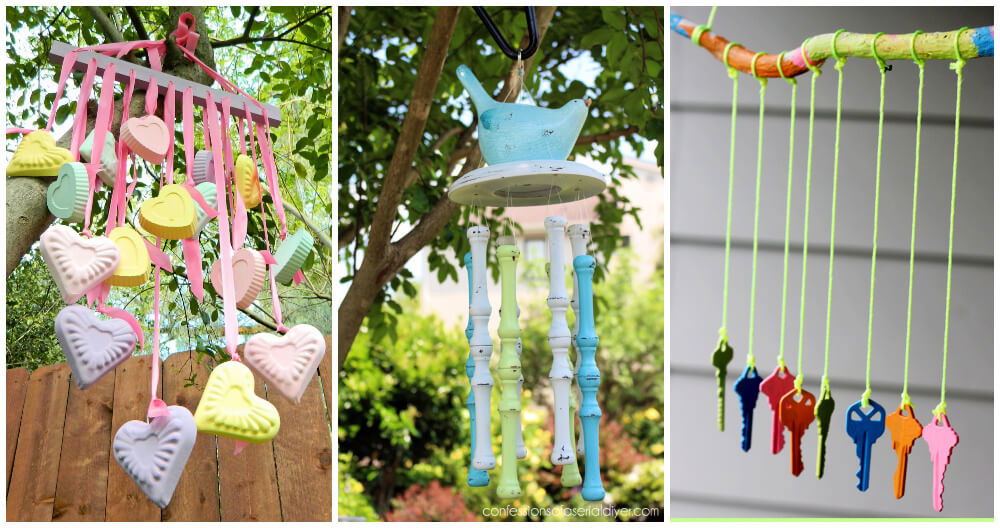 Use mason jars, beads, embroidery hoops, jute, and metal chains to craft amazing wind chimes for your open spaces. Make some rustic style inspired wind chimes with jar lids and ice cream spoons. Got your heart stuck on some vintage wind chimes? Just strung up some vintage silver goblets on an aloft support! Oh, and for our star war fans, we have got exclusive star war wind chimes tutorials using PVC scrap and custom bird arts, too.
Our collection of DIY wind chimes is going to transform your daily usable items, or somewhat dull objects into these exciting and serene hanging ornaments. For complete tutorials with visual guides, simply hit the highlighted source links. Keep reading to get inspired!
How to Make a Wind Chime:
Wind chimes just sing the sweet melodies when the wind blows through them. Along with the sweet music, they can also serve a place in so many different ways by being perfect hanging ornaments there.
Checkout here a cool wind chime made of old tree branches and organic clay shapes that hangs on a rustic piece of driftwood through strings. This creates a stunning decor for your garden and hence a great gift too for a garden lover. gardentherapy
DIY Melted Bead Craft Wind Chimes:
Make Valentine's Day unique wind chime. In this case, you can go ahead with the involvement of some love symbols. So, check out here this specially handcrafted wind chime that comes with red and white hearts strung up on a piece of a tree branch.
Here the creative twist is the making of lovely heart shapes, just melt some beads and pour the liquid plastic in the heart shape molding to make beautiful hearts. A romantic wind chime made to inspire. notimeforflashcards
DIY Glass Mosaic Wind Chime:
If you are looking for a colorful wind chime that will make first an eye-catching hanging ornament, then you must go with glass mosaic wind chime. Just grab a plastic line and pass it through a rustic piece of wood by drilling some holes.
After you get various hanging lengths of plastic length then just sandwich your selected colorful glass tiles over them, making an enchanting looking wind chime in only no time. It would be just perfect for both garden and interior home decors and will also play sweet music with every blow of wind. newhousenewhomenewlife
How To Make Key Wind Chime:
Having an old stock of keys in the home, why not do a little crafting with them? You will not believe that they come in handy to create fascinating wind chimes that can be hung up to play the sweet wind music.
Take a look at the given sample, here only a tree branch, string, and some keys have been used to make this beautiful looking wind chime. Keys and tree branch have been painted to look focally stimulating. Just tie one end of string lengths to rings and other on the tree branch, all you need to do to craft this wind chime. innerchildfun
DIY Terracotta Flower Pot Wind Chime: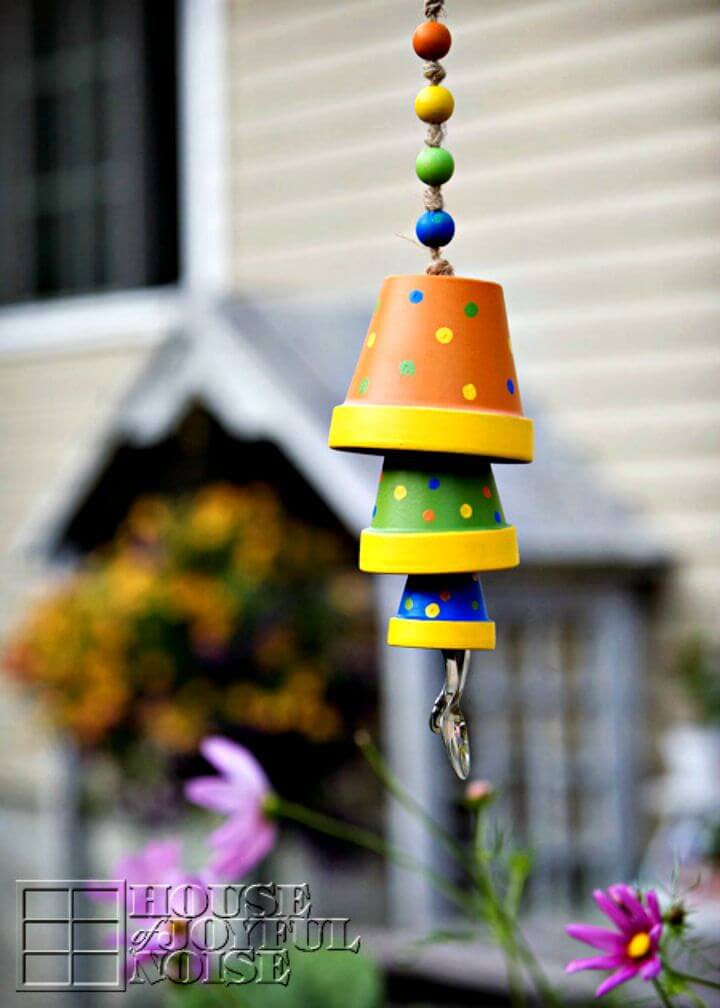 Make also beautiful looking wind chimes using the terracotta pots and some steel spoons. Get inspired by this precious given sample that is a big delight to view. Here the terracotta pots have been painted and then spruced up with polka dotting.
Finally, they have been threaded on a heavy-duty string length also with some colorful bead balls and two steel spoon at the very lower end. houseofjoyfulnoise
How to Make Mason Jar Chimes: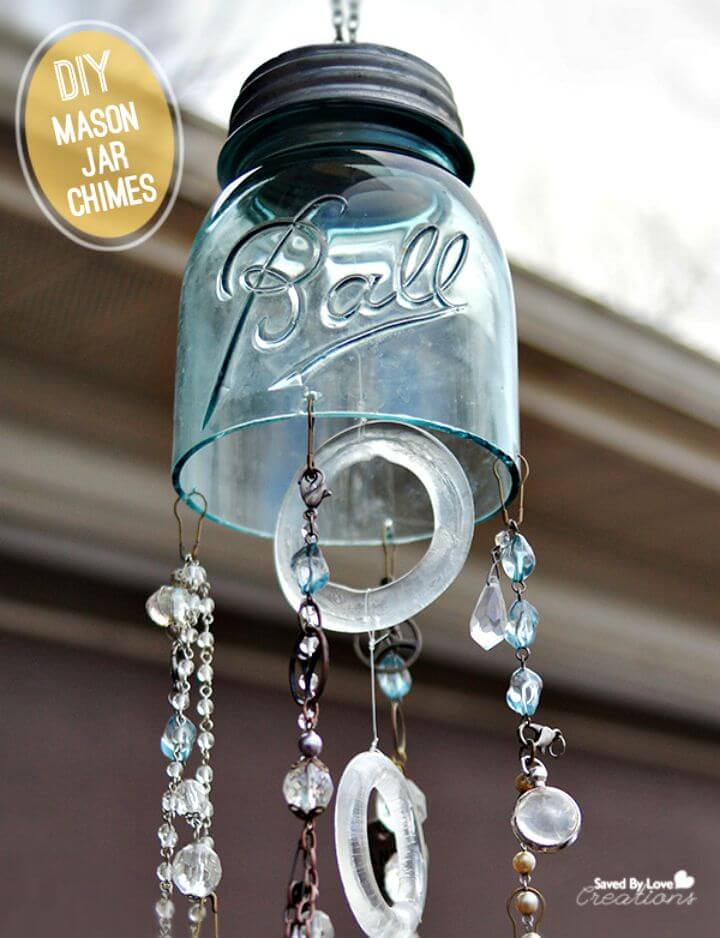 Go also smartly handmade with old glass jars or mason jars to craft outstanding looking wind chimes. The glassy surfaces, when touching each other, produce a piece of sheet music, so this is going to be an epic but low-cost inspirations for adorable wind chimes.
Here all you need a half-cut mason jar with a lid that can be hung aloft on a wooden support, next you can make pendant ornaments with beads, chains, and charms which can also be hung on the lower part of the mason jars by making some holes in the glassy rim as you can see. savedbylovecreations
Skeleton Keys Wind Chimes: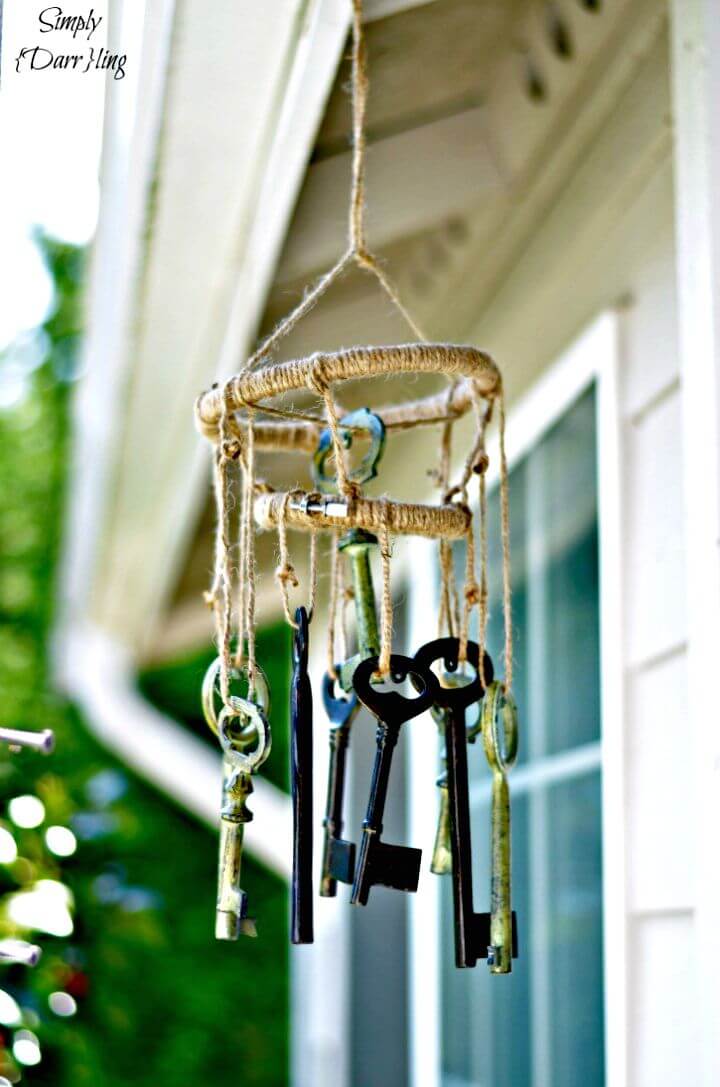 One more epic wind chime achievement here, done with the old skeleton keys and also with two different sizes of embroidery hooks that have been fully covered with the jute. This is here pretty simple but great looking wind chime that will rock in vintage or shabby chic environments and will also rock as handsome hanging garden decor. You can experiment with colorful rope and with other hanging ornaments rather than the skeleton keys. simplydarrling
DIY Ice Cream Spoon Wind Chimes: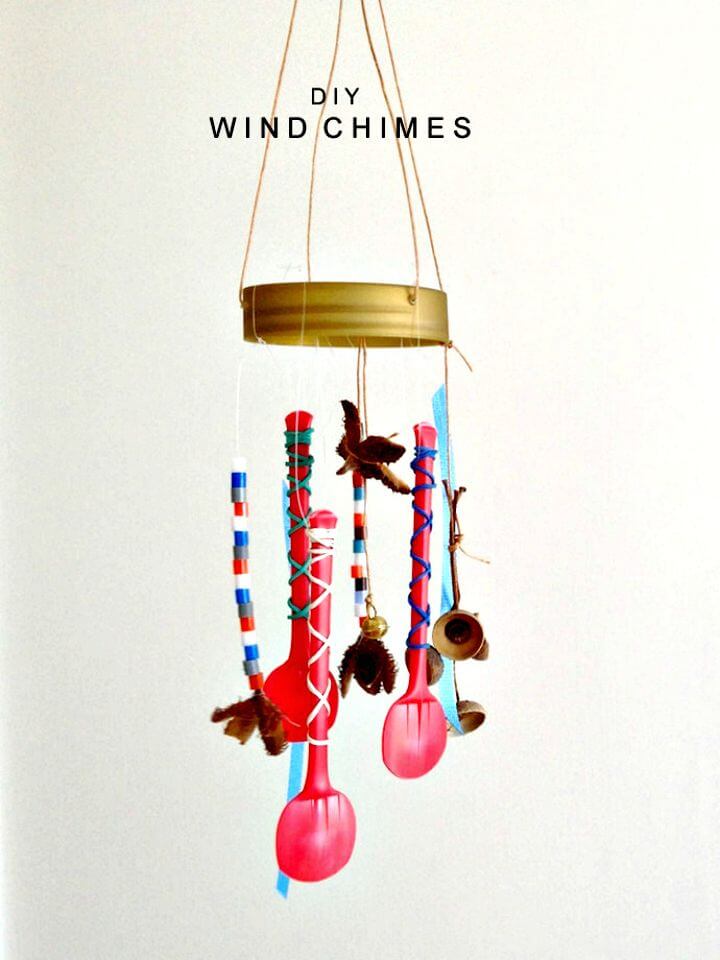 Another great inspiration for making an awesome looking wind chime. Grab a plastic lid and drill holes in the sides should be equally spaced. Next just strung up some ice cream spoons on it.
Enjoy a wonderful looking wind chime that would just be perfect for any window side or for any entrance that needs an enchanting hanging ornament. This wind chime will genuinely cost you nothing, and it super easy to make. Another great wind chimes idea using recycled materials. handmadecharlotte
Silver Goblet Wind Chimes: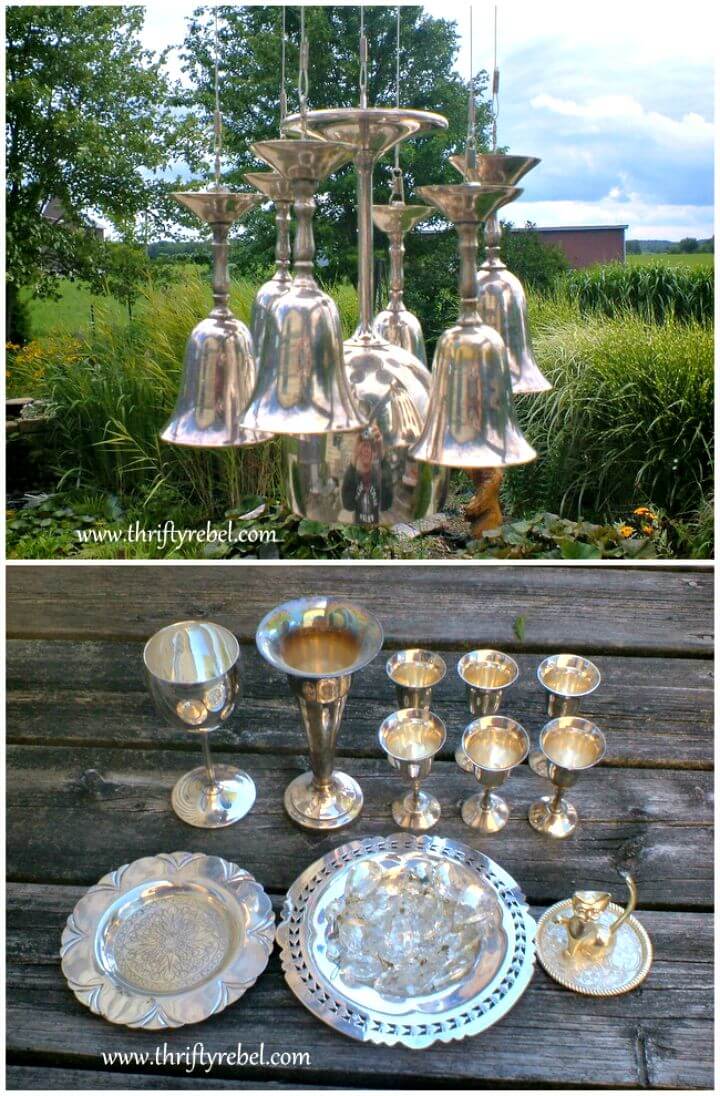 Looking for a metallic wind chime that will sound heavenly with a little touch or small blow of wind? Here is a beautiful one made of sliver goblets, six small and one bigger that will come in the center. Here the idea is to glue the washers on the bottom side of the goblets to make them hung aloft.
After securing the nuts or washers with glue, just install leaders to them and then strung them up on an already built frame or support. Here this sliver goblet wind chime hangs on a metal wire frame that is also handmade. Find complete project details and step-by-step visual tutorial from here thriftyrebelvintage
DIY Ombre Wind Chimes: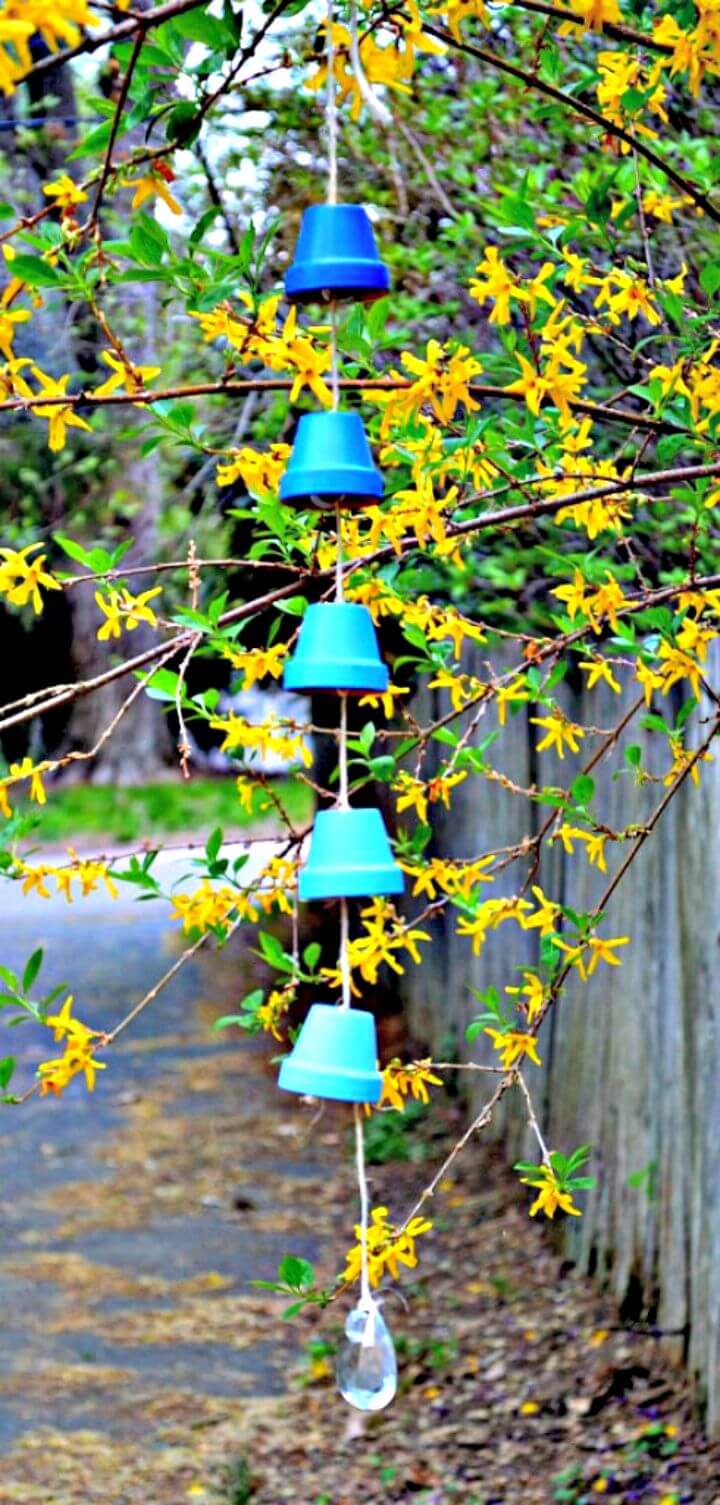 Once again the terracotta pots are here that have been turned into a spell-binding ombre wind chimes. Here five clay pots have been painted for an ombre color effect and have been added to a durable rope with equal spaced intervals.
These hanging clay pots end up with a big crystal at the bottom of the rope and finally, you can simply hang them aloft making a beautiful wind chime for any of your space. Get the complete project details and tutorial guides from here lifestyleforreallife
DIY Star Wars Wind Chimes: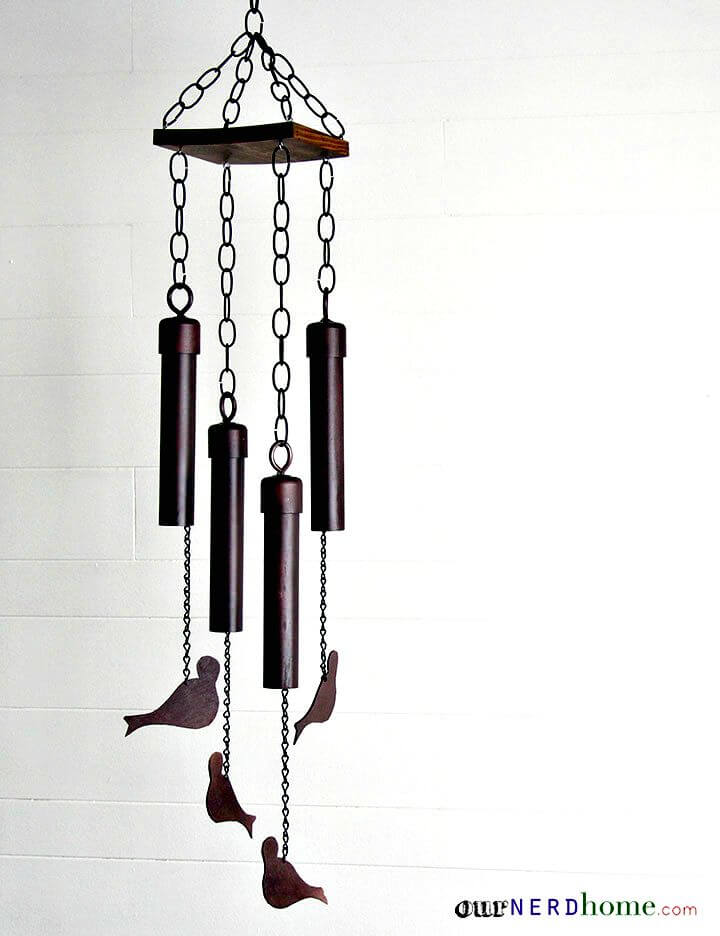 The one-of-a-kind wind chime is here that is sure to bring a great decorative appeal to any of your space along with producing sweet music whenever the wind will blow. This wind chime creation has been done with the PVC pipes, and PVC caps and the bird art has been traced fist on the balsa wood sheet and then has been cut out. Here decorative chains and eye hooks have been used to assemble the entire star wars wind chime. Another adorable and epic handmade wind chime idea. Want to duplicate this handsome wind chime? Then just find the complete free tutorial and step-by-step visual instructions from here ournerdhome
How To Make a Candy Hearts Wind Chime: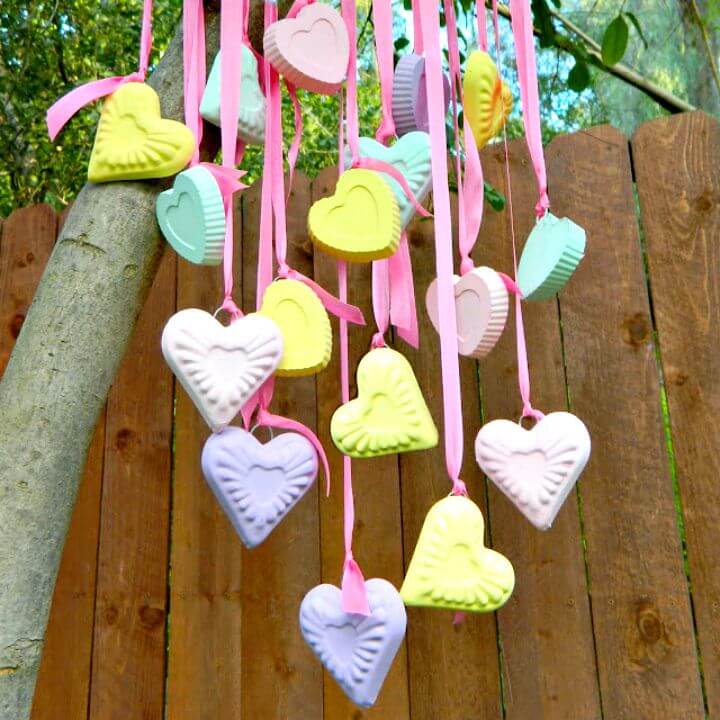 Look at this another fabulous Valentine's Day special wind chime that will say in the air making great statements of love. This is here the very romantic looking candy heart wind chime that would also make an interesting love gift.
For candy hearts, just pour the liquid plaster of Paris in heart molds and then take them after they get dried and simply paint them in multiple different colors. The final step would be to tie the ribbon around the candy hearts and then hang them on a piece of hanging wooden support. Comprehensive project details and tutorial here markmontano
DIY Balsa Wood Fall Wind Chimes: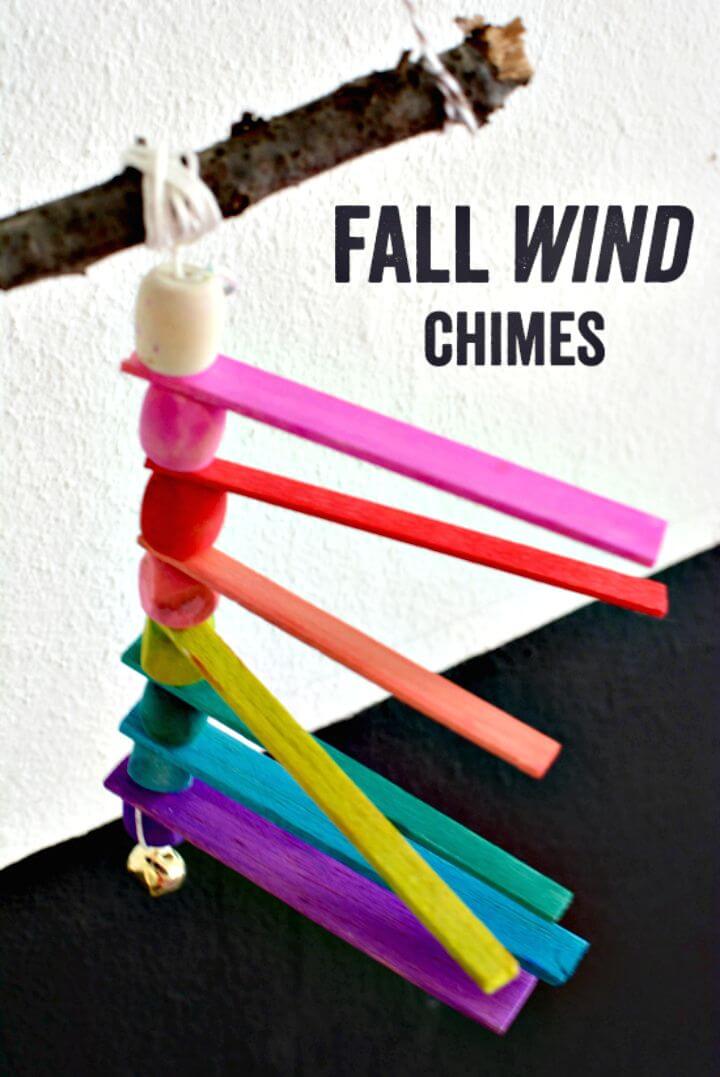 If you are all a big fan of colorful things, then you are surely going to award your heart to this special fall wind chime. Here this lovely creation has been done with the painted balsa wood and with painted wooden beads and both come after each other on the entire string.
Finally, the complete wind chime has been tied to a tree branch making an awesome looking wind chime that will rock every of your space, especially the bedroom window side. Duplicate this wind chime also to hang in your garden as a precious hanging ornament. Complete project details and tutorial guides are here mericherry
DIY Ceramic & Copper Wind Chimes:
The small but super beautiful wind chime here that will hold dear to all onlookers. Here all you need a ceramic cup that will hold inside three or more copper tubes cut to custom sizes. Drill holes in the very tops of copper tubes and also in the center of a ceramic cup, use a ceramic drill bit for it.
The final step would pass the string through the holes, making a cool looking wind chime as you can see. Don't forget to add the wooden beads for extra charm and beauty of the wind chime. Complete project details and step-by-step visual instructions here poppytalk
Plastic Egg Wind Chimes:
One more great but unique wind chime idea here, this is here the plastic egg wind chime, made to inspire and rock. All you need to cut the plastic eggs in halves which can then be painted and threaded on string lengths making outstanding looking wind chime in just no time.
Take a look at the given sample that is only here to boost and inspire your creativity. Find the complete project details and tutorial from here morenascorner
Spindle Wind Chimes: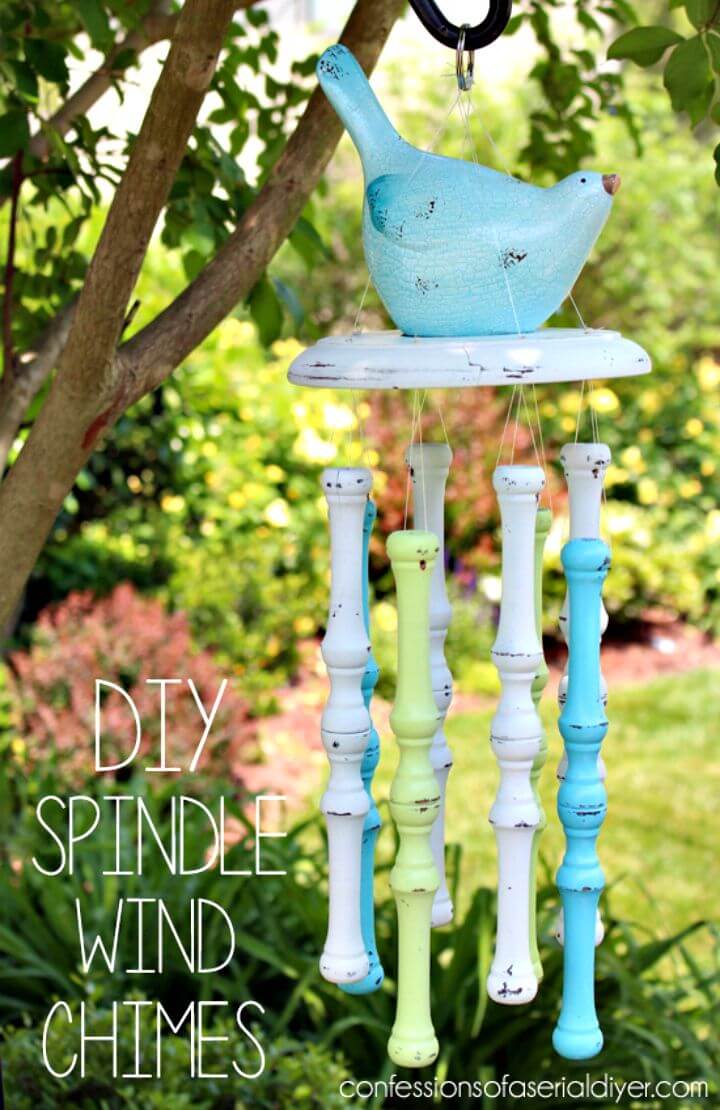 Recover also the amazing looking wind chimes from the crumbled pieces of furniture. Rest of story will tell this very special spindle wind chime that is an incredible achievement done to inspire.
Here all you need to string up a set of spindles to a round wooden plate which can further be topped up with an accent or art. Here the lovely bird art has been used for eye-catching wind chime top. Another fab and extraordinary wind chime design, made to inspire and rock. Complete project instructions and tutorial here confessionsofaserialdiyer
Modern Wind Chimes:
Looking forward to a modern wind chime? Buying a one from the market can get expensive, and we recommend you to go with DIY alternatives that are always cost-effective. Check out here a brilliant homemade modern DIY wind chimes that are looking fabulous due to graceful metallic appeal. Here the metal hoops, metal sheet, and brass tubes have been used to craft this lovely wind chime.
Just make a triangle first by putting together the three equal sizes of brass tube, pass the metal wire through to keep them in shape and end the top with a hoop. Next, hang it over and install the wind chime hangings as you can see. Complete project details and instructional guides are here ehow
How To Make Driftwood Wind Chimes:
Looking for an ultra rustic wind chime that will bring a rustic touch to your spaces or interior decors? If yes, then going with driftwood would be a great low-cost option. So, presenting here a lovely driftwood wind chime, crafted to rock and inspire and is as rustic as you want.
Just grab some pieces of driftwood, makes holes in their centers and next thread them on. An easy peasy, super quick, and no-cost rustic wind chime idea. Easy guides and complete project details here goinghometoroost
Rainbow Wind Chimes:
Have a look at this another handmade wind chime that is both colorful and easy to make. Here the rustic tree branches have been painted and finished with eye-hooks on their tops.
Finally, the string has been pass through the eye-hooks and knotted, and these rainbow-painted wooden pieces have been hung aloft making a very charming wind chime.
Here total cost of this wind chime is equal to some rustic tree branches and string. happyhooligans
DIY Wind Chime:
Peek into details of this creative DIY project that help to create an adorable wind chime that everyone will love to own. Just grab an embroidery hoop, some paint sticks, nylon string, and wind chime pack to craft a graceful model of a wind chime in just no time.
Here the paint the sticks have been put around the embroidery hoop after getting painted for amazing white polka dots. Next, the wind chime has been hung on the embroidery hoop through nylon string lengths, making an adorable wind chime. Touch it a little to play the heavenly melody. Duplicate via free tutorial give here craftyourcraft
Wind Chimes From Vintage Silverware:
Boost your garden decors also by adding some whimsical decors to your garden environments. This precious homemade wind chime would just work great which is made of vintage silverware like with vintage steel spoons and forks which hit each other when wind pushes them making a sweet sound.
Here a very dignified look of wind chime has been created by adding the embellishments made of beads, chains, and hoops. Another outstanding wind chime project that all home lovers can clone. songbirdblog
Homemade Nature Suncatcher:
Checkout here a fantastic natural version of a homemade wind chime crafted to amaze your senses. This is here the perfect whimsical hanging ornament for your garden that can easily be duplicated by using some mason jar lids and a contact paper. Just trace out some circles on the contact paper and fill them with your favorite greenery or flower petals, press them in place and glue and next cut out the circles to fit in the jar lids.
Simply replace the jar lid backs with these contact paper nature circles. The final step would be strung up these finally complete lids onto a piece of wood or tree branch for getting a wind chime and a suncatcher at the same time. handsonaswegrow
How to Make a Garden Art Chandelier:
Duplicate this another fantastic and whimsical garden hanging decor that will raise your garden decors to the next level.
Moreover, it would also make a stunning wind chime for any of your particular space. Just grab a colander and adorn it up with colorful flat-bottom marbles! Hang it aloft using durable rope or string.
The final step would be to add crystal beads and marbles around the colander hanging onto wire lengths that will instantly change the colander into a chandelier or wind chime as you can see. Another lovely and low-cost garden wind chime idea. Complete project details and tutorial guides are here empressofdirt
Earrings to Wind Chime:
Go handmade also with your old earrings to make cool looking wind chimes also. Checkout here a mind-boggling sample that is made of old earring shells, bamboo hoop, and clamshell beads.
Here the idea is to string up pairs of earring shell and clamshell beads onto a bamboo ring making an awesome looking wind chime. A quick and easy wind chime project that everyone can do in spare time without getting a bit expensive. ellenscreativepassage
How to Make Terra Cotta Pot Wind Chimes:
Let this another handsome wind chime grab your attention. This one is made of terra cotta pot that hangs through macrame hanging and looking fabulous. Here the big pot hangs at the top, and then the custom wind chime has been added to its bottom side making a lovely statement. Two mini terracotta pots, small wooden beads have also been used to craft this outstanding looking wind chime. Looking forward to duplicating it? Get the complete free tutorial and step-by-step instructions here diynetwork
Fairy Garden Wind Chimes:
Get inspired by this another fab looking crochet wind chime that is made of copper pipe lengths and copper eye-pin while the glue has been used as the great adhesive. If you are looking for perfect whimsical garden decor, then this wind chime would really work great, and it would also make a great present to a home decor lover. Looking forward to duplicating this fairy garden wind chime? instructables
Strainer Planter Wind Chime:
Repurpose also the kitchen items to make outstanding wind chimes for any of your open space and checkout a brilliant sample here. It is all made of a reclaimed filter and comes with spoons wind chime attached to the bottom side and really sound well when the wind blows.
Another fantastic and easy to make a wind chime, crafted to inspire and rock. Free guide and easy tutorial here thriftyrebelvintage
How to Make Pressed Penny Wind Chime: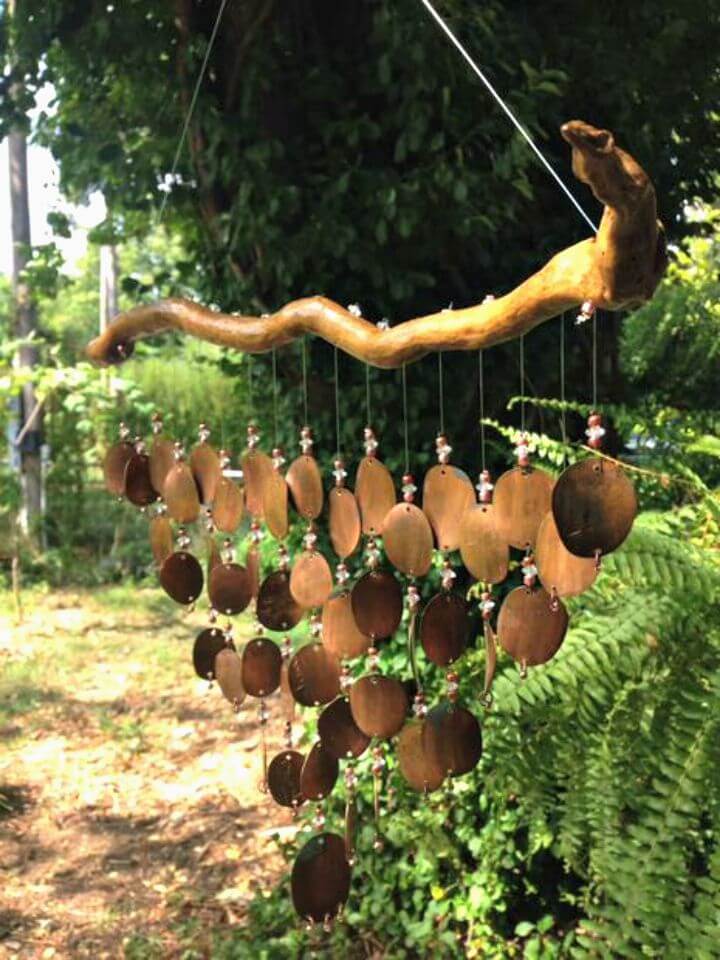 Willing to come with a wind chime that would come out of the box? Here is a smart inspiration to boost your creativity. Take a look at this pressed penny wind chime that is all looking fantastic and enticing.
Here the pennies have been pressed first and then have been drilled for some holes, and finally, they have been strung up on a piece of dried driftwood, this makes a great wind chime that is super attention-grabbing. Looking forward to duplicating this handsome wind chime? Complete free tutorial and instructions are here instructables
Silverware Wind Chime:
Have you ever thought that your cutlery items can be your next option to make awesome and cool looking wind chimes? Checkout here a fab wind chime that is made of silver spoons and forks that are have been adorned with custom embellishments like beads and have also been written over for a superb quoted look.
Furthermore, the finally finished silverware has been hanged aloft, making a gorgeous wind chime that will put everyone in big amazement. Willing to duplicate this another brilliant wind chime now? impressart
DIY Garden Plate Flower Wind Chime:
Make your own beautiful and very good looking wind chimes at home and here is a fab one. This is here made of a garden flower plate which has been drilled inside for some mini holes where the metal chain lengths hang that end up with pendant steel spoons making a gorgeous wind chime.
Another interesting wind chime idea that every home lover can duplicate to adorn his space like any patio, garden, or the window side. Want to duplicate this another great looking wind chime? Then instructions from here thriftyrebelvintage
How to Make a Sweet Sounding Silver Sugar: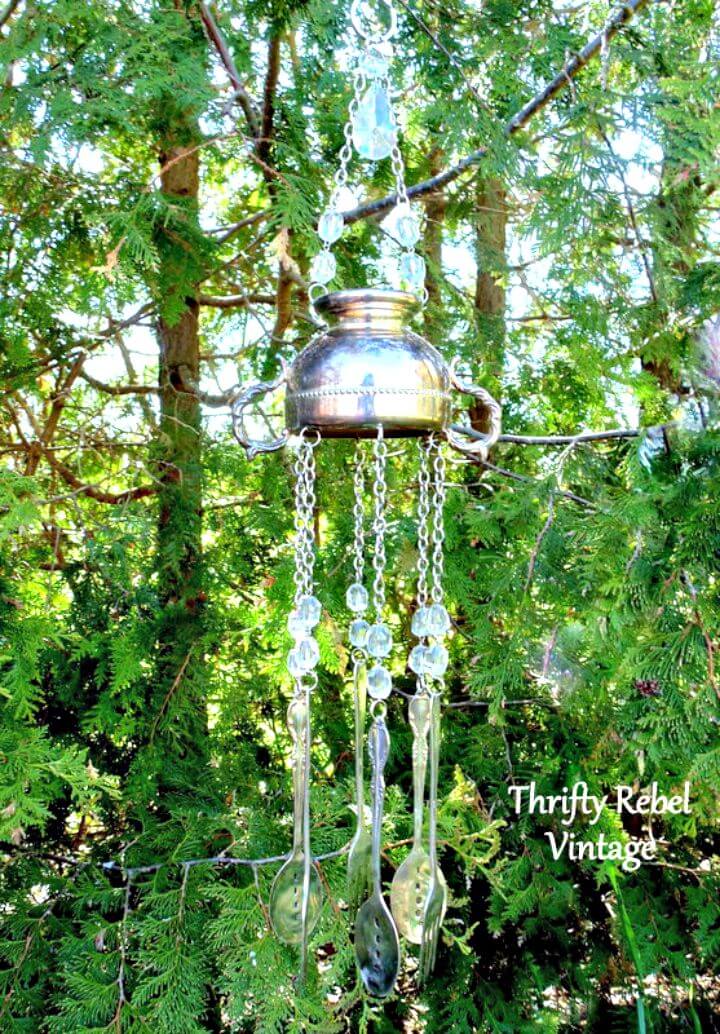 Looking for a vintage, whimsical garden decor that will lure the number of views of your garden space? Here is a fab looking one that is made of a vintage teapot and is really looking gorgeous as a hanging garden ornament.
Here all you need to add up the bottom of the suspended pot with some metal chains and spoons, and you can use some beads also as adornments. This will result in a beautiful wind chime that will sing melodies for you with each wind blow. Duplicate it via free tutorial provided here thriftyrebelvintage
Beautiful Beaded Wind Chime:
Another handsome looking dry driftwood wind chime is here that one comes with hanging strings that are filled by threading on custom beads and decors and end up with little bells to the very bottom side. Finally, the dried driftwood support has been hanged aloft, making a gorgeous wind chime.
You can also give awesome colors to your wind chimes using colorful strings, get inspired by this given sample that is looking damn lovely and colorful. Complete free project guides and easy tutorial here gardentherapy
Sea Glass Wind Chime Craft Kit:
You will love to clone this another beautiful and gorgeous looking wind chime that will also sound sweet. Here the sea glass is going to sing a sweet melody for you, just check out this lovely seas glass wind chime that would make a fantastic garden decor.
Here dried driftwood comes with both ends tied with rope to hang well on an aloft support and then see glass string lengths have been added to it in a pendant manner making a gorgeous wind chime. thecraftyblogstalker
Antique Key Wind Chimes:
Go handmade also with recycled home materials to craft outstanding wind chime that will hold much of your attention. A brilliant sample here is this antique key wind chime that is a perfect vintage delight and a whimsical decor for any open space.
It is all easy to make at home, and you only need a mason jar and some antique keys to duplicate this handsome wind chime in just no time. Furthermore, it would also make a precious gift to any home lover. domesticallyblissful
Repurposed Junk Owl Wind Chime Tutorial:
You can also recover amazing home decors from the junk. So, you can take a visit of a thrift store or garage sale to collect some junk from duplicating this very adorable looking owl wind chime that is just spellbinding and is all looking fantastic. Here a grater builds the whole body of the owl while 2 of oil lamp parts makes the big owl eyes.
An aluminum cookie cutter with various tiny drilled holes makes the cute nose! And some vegetable peelers have been suspended through strings and have been tied to the bottom side of grater making an awesome wind chime. Looking forward to duplicating this brilliant looking wind chime? thriftyrebelvintage
Jellyfish Clay Pot Wind Chime: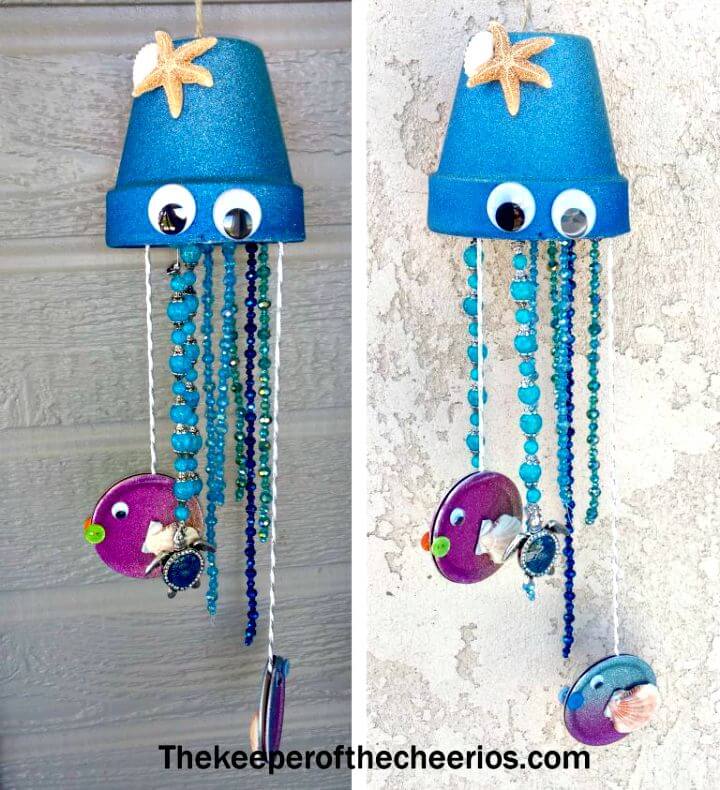 If you are looking for a damn cute looking wind chime, then you can simply go with this fetching one that comes with interesting visual details. Here it is a jellyfish clay pot wind chime that comes with a clay pot makes the face of the jellyfish which comes with wiggle eyes and also with a starfish embellishment at the top.
Here the whole wind chime has been installed using jar lids, glass beads, wasters and seashells that have simply been put onto different string lengths as you can see. Want to clone this super eye-catching wind chime? thekeeperofthecheerios
How To Make A Vintage Sifter Wind Chime:
Having an old sifter lying useless in your home? Why not do some amusing crafts with it? You will not believe that it can be turned into a very pretty vintage wind chime that will be the center of attention if hanged in your garden space.
Just drill tiny holes in the bottom side of the sifter and then add split rings to those holes, next add custom metal chain lengths to those split rings holding some steel spoon in their bottom ends. The final step would be to hang this vintage wind chime aloft for amazing decor statements. Get inspired by the given sample that is also easy to duplicate. thriftyrebelvintage
Coiled Copper Wind Chimes: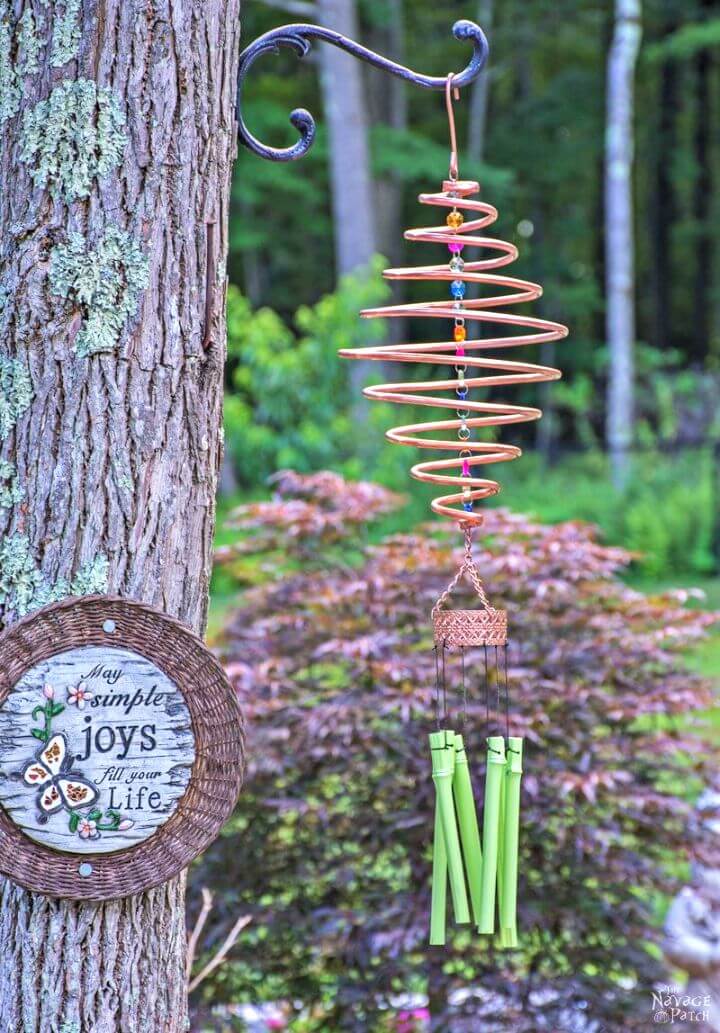 Willing to get an artistic wind chime for your space? Look at this given sample that is an eye-catching coiled copper wind chime and looking extra beautiful and stunning. Here all you need a coiled copper and a thrift store wind chime to duplicate this brilliant looking wind chime that will not take much time to be in your hands. Here the brilliant but low-cost bamboo wind chime has been added to this coiled copper wind chime which is just looking extra beautiful and gorgeous. thenavagepatch
DIY Steampunk Wind Chime:
Do you like fictional characters? If yes, then you will also like this steampunk wind chime that looks like having super powers. If you are intending to make a wind chime-like this or intending to duplicate it, then you have to keep an embroidery hoop, jump rings, antique keys, custom machinery gears, and jangly doodads.
Just put all your steampunk-inspired gears onto a piece of string or metal chain, and next hung it up on the embroidery hoop, making a brilliant wind chime. Intending to clone this fantastic wind chime? urbanthreads
How To Make A Rainbow Button Wind Chime:
Buttons can be much more than quick t-shirt fixes, they come in tons of colors and can be used in so many different crafts and even in making mind-blowing wind chimes. Get inspired by this rocking button wind chime that looks much visually attractive and has been done using colorful buttons and plastic lids.
Add the buttons onto custom string lengths and then suspend also the colorful lids to the bottom side of the same string. Drill some tiny holes in the sides of lids to pass the string through. Next, all your buttoned strings can be added to sides of a bigger lid hanging aloft to get a beautiful wind chime. craftsbyamanda
Fairy Wind Chimes:
Bring a whimsical decor vibe to any of your space with this fantastic fairy wind chime that is looking much beautiful and enchanting to eyes. Here a thick metal wire has been twisted in round shape and provides eight loops for wind chime hanging. You can take as a top wind chime frame.
Finally, the custom beads like the bugle beads, glass beads, headpins, and silver beads have been added to custom wires that hang on the wireframe, making a much focally stimulating wind chime. Want to duplicate this another fantastic looking wind chime? youbetterblingitbaby
Recycled Plastic Lid Wind Chime: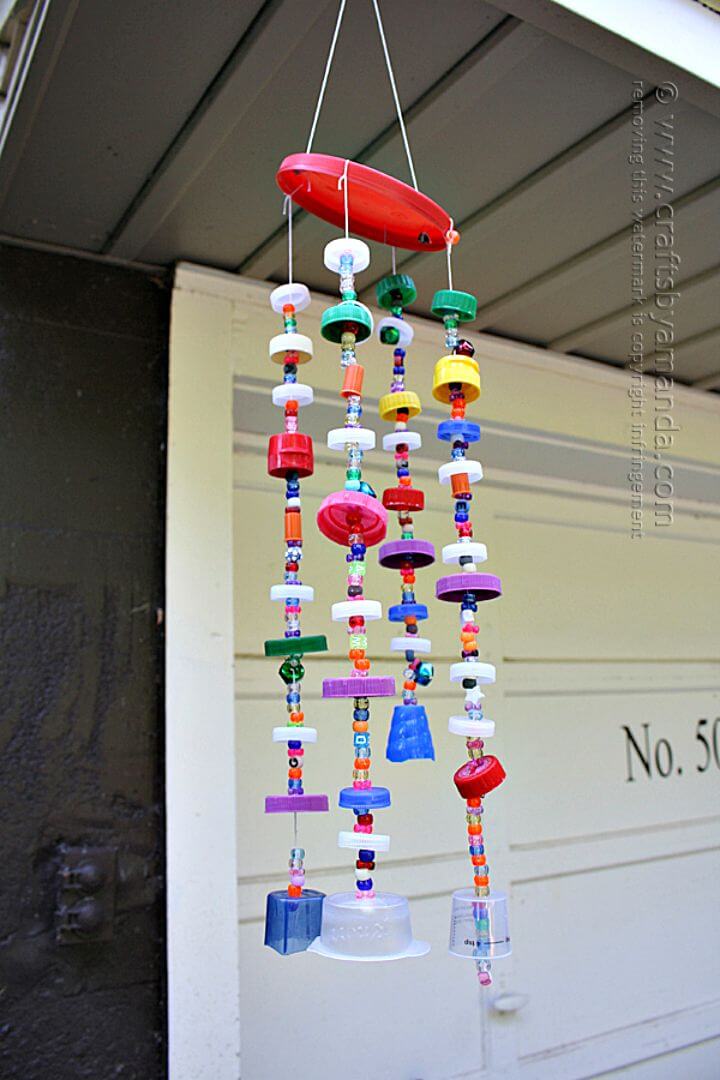 One more great looking wind chime made of scrap materials. This time the plastic lids have been recycled to make this cool looking wind chime, the lids have been threaded on custom string lengths and come with colorful bead intervals for a more glamorous appeal.
Time to recover amazing wind chimes from home junk and deleted materials. Want to duplicate this fantastic wind chime for any of your open space? craftsbyamanda
DIY Bottle Cap Wind Chime:
Check out here another fantastic wind chime design that is made of recycled bottle caps and with colorful beads added to string lengths. This is here another glam wind chime recovered from the junk and is just looking fantastic and much visually attractive.
Finally, the wind chime lengths have been added to dried driftwood supports for a cool looking wind chime design. A super easy and quick to make wind chime design that will be ready in no time and is much cost-efficient too. frogsandsnailsand
DIY Driftwood Wind Chime: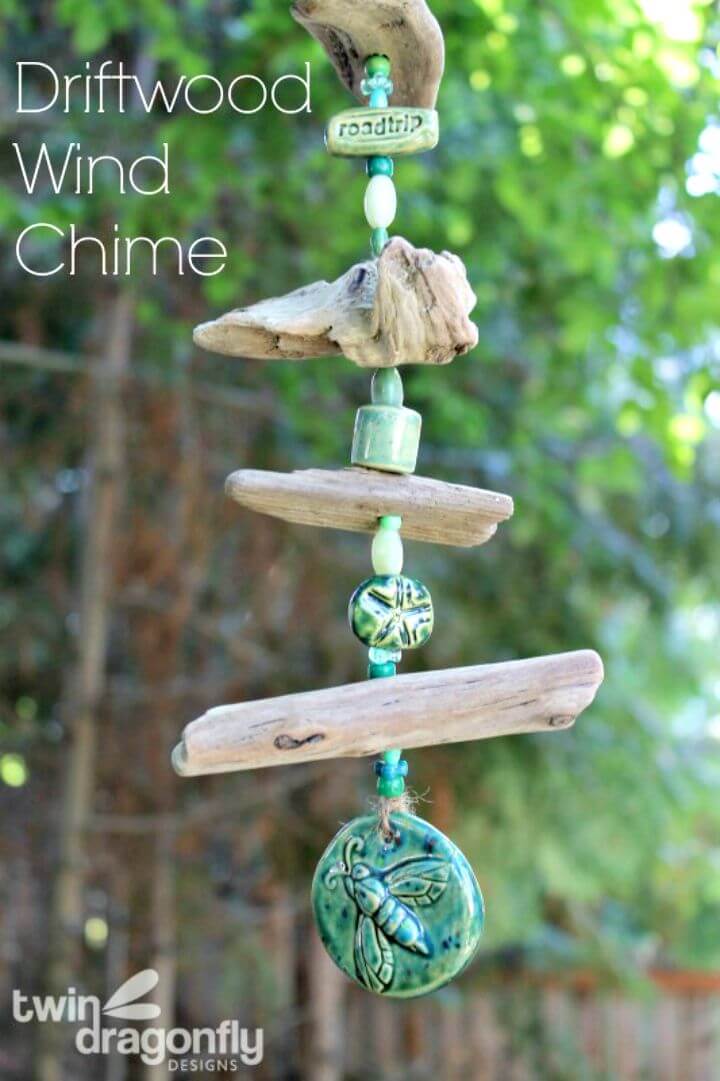 Intending to get a fantastic rustic wind chime for any of your space? This driftwood wind chime would rock, and it is looking all fantastic. It has been given some color using large ceramic beads, small glass beads which has also been added to string along with the rustic driftwood pieces.
If you are looking forward to duplicating this precious vintage looking wind chime, then the supplies you need are super cost-efficient. This is here another mind-blowing wind chime that will work great as a whimsical garden decor also. twindragonflydesigns
Colorful Metal Washer Wind Chime Tutorial: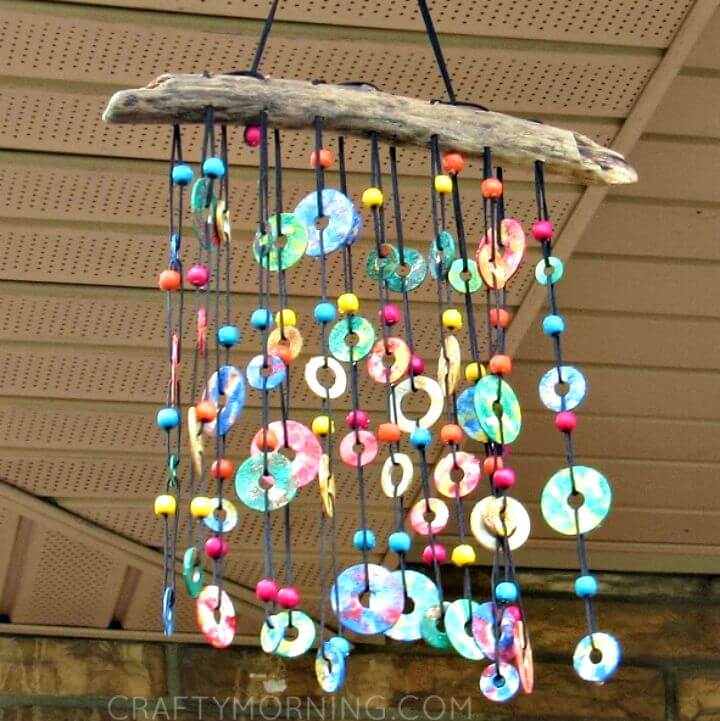 Another unbelievable but great looking wind chime design is here! This is all made of metallic wasters that are super easy to add to a string or metal wire lengths. Here the selected washers have been painted in different colors and put together on a white string or cord along with colorful beads making a fabulous bright wind chime that would make an outstanding centerpiece for any of your space even for your garden. Intending to own this wind chime? craftymorning
Feng Shui Wind Chimes:
Look at this another mind-blowing wind chime that will make you look twice at its fantastic appeal. Here all you need some shells, driftwood pieces, beads, and string lengths to duplicate this attractive wind chime design that is just super attention-grabbing and focally stimulating. Want to make this unique wind chime for your garden? poindextr
Related DIY Projects: