Open green environments go attractive to everyone as a man loves them by nature! To have a cool garden space comes in everybody's wish list and it is often considered a vital part of healthy and luxurious living style! So, it would just be great if you are owing a beautiful garden and if you are not living in a spacious home or not having a garden then still no need to worry about. You can still install some miniature indoor or DIY outdoor gardens to feel the same! So, if you are willing to install a precious herb, flower or vegetable garden or just intending to spruce up a garden space you already have, these 101 DIY garden projects and Ideas will help you out in both cases and are insanely creative! All these DIY garden ideas will give you comprehensive guides and tutorial about how to decorate a garden or how to install a custom hanging or vertical garden of your own at home!
Go handmade with durable looking wooden planks and threaded metal rods and install vertical herb gardens that can be installed to both indoor and outdoor! Gain an ultimate precious look of your garden by installing geometrical wooden raised beds in artistic designs, a great example here are the hexagonal raised flower beds! Next, also make the outlandish garden chandeliers using painted flower pot and assorted beads and also bring an excellent garden vibe to your interior spaces by installing the geometrical wall herb gardens that will come with leather holdings or pockets!
Next create also a garden like atmosphere to your indoor areas by using macrame hanging succulent gardens that can simply hang on a curtain copper rod! Moreover, repurpose also the old tires to make adorable hanging decors for your garden just check out an eye-catching hanging tire planter that has been painted in aqua blue!
Install amusing handmade lights and light systems to your garden to make your garden look beautiful at night! Just make the adorable tiki torches using recycled bottles and torch fuel, also make the glow in the dark garden planters and also make the hanging light globes for your garden, check out some enchanting and amazingly creative samples given below in the list that are just breath-taking!
Moreover, create a perfect look of your garden by installing accent ponds and raised spiral beds and also raise the aesthetic appeal of your garden by painting the garden pots in several different characters and fun shapes, check out here given marbled and star war garden pots that are brilliant examples in this case! Next, you can also lift up the mood of your garden by installing amazing trellises and bring and turn also your green space into mini heaven by installing some fantastic birth baths and enchanting gazing garden ball decors!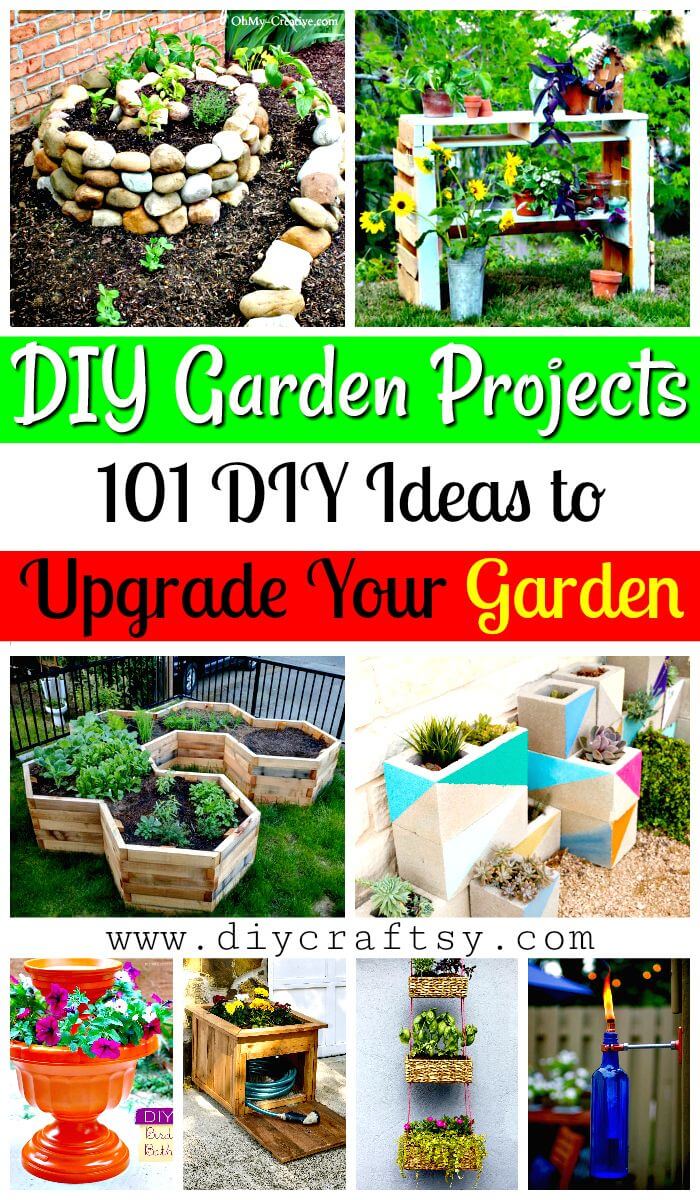 Furthermore, make your garden look beautiful also by installing precious topsy-turvy flower planters and also install also the hanging tin can gardens to garden fence wall to spruce up the garden decors! Check out dozens of more DIY Garden projects given below in the list and just visit also the respective pasted links to grab the full free guides, tutorials, and visual instructions!
DIY Garden Projects You'll Love to Do at Home:
Adorable DIY Custom Potted Hanging Herb Garden: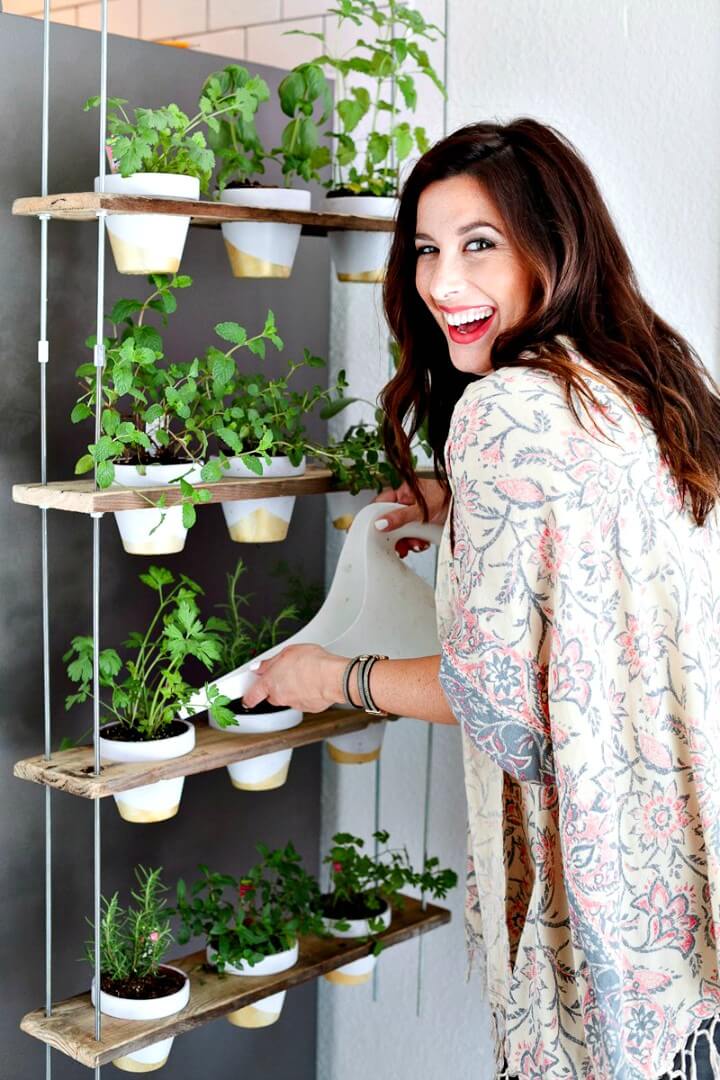 No matter if you do not have a garden space to grow your hard-to-find herbs, just install your own special hanging herb garden at any outdoor or indoor, and they will also create a garden-like atmosphere to targeted space! Checkout here the sample herb garden that has been using wooden planks, threaded metal rods, nuts, washers and couplings and is looking gorgeous! Here the herb pots fit in the holes made in the wooden bars! Complete project instructions here freshmommyblog
Make Your Own Hexagonal Garden Beds: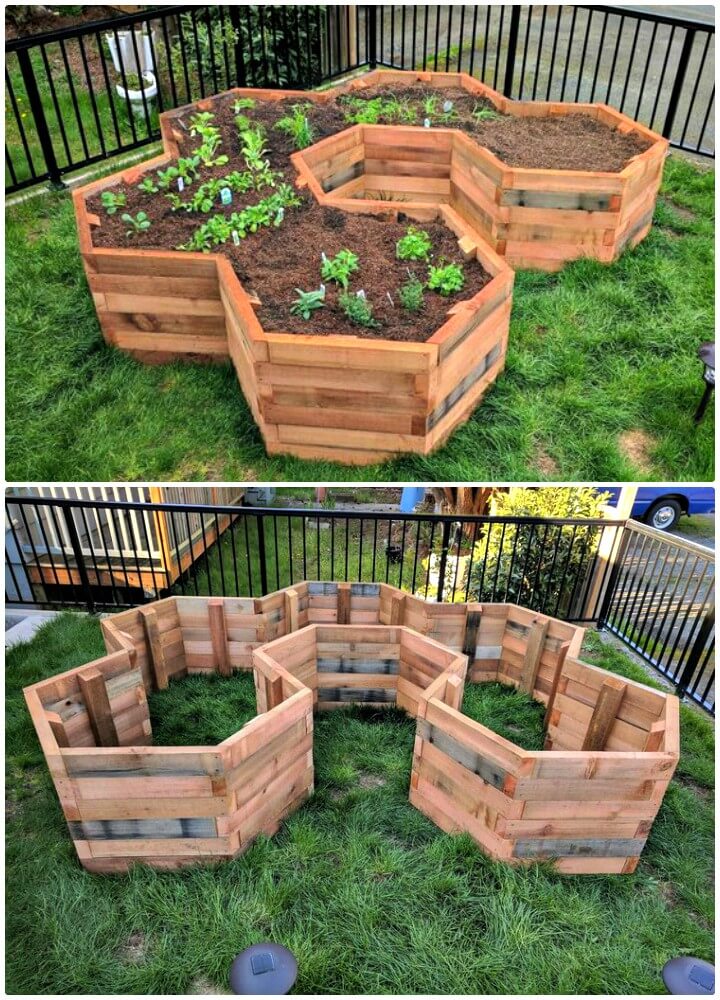 If you are handy at wood works, then you can do wonders to boost your garden decors! Check out there this special hexagonal herb garden bed that is looking just fabulous and would give a precious geometrical décor statement to your entire garden space! Here it is all made of wood and comes in the artistic shape that the wooden hexagon build! Want to see this raised garden bed next to your green space? Complete project details and tutorial here desima.co
Easy and Cute DIY Garden Wind Chimes: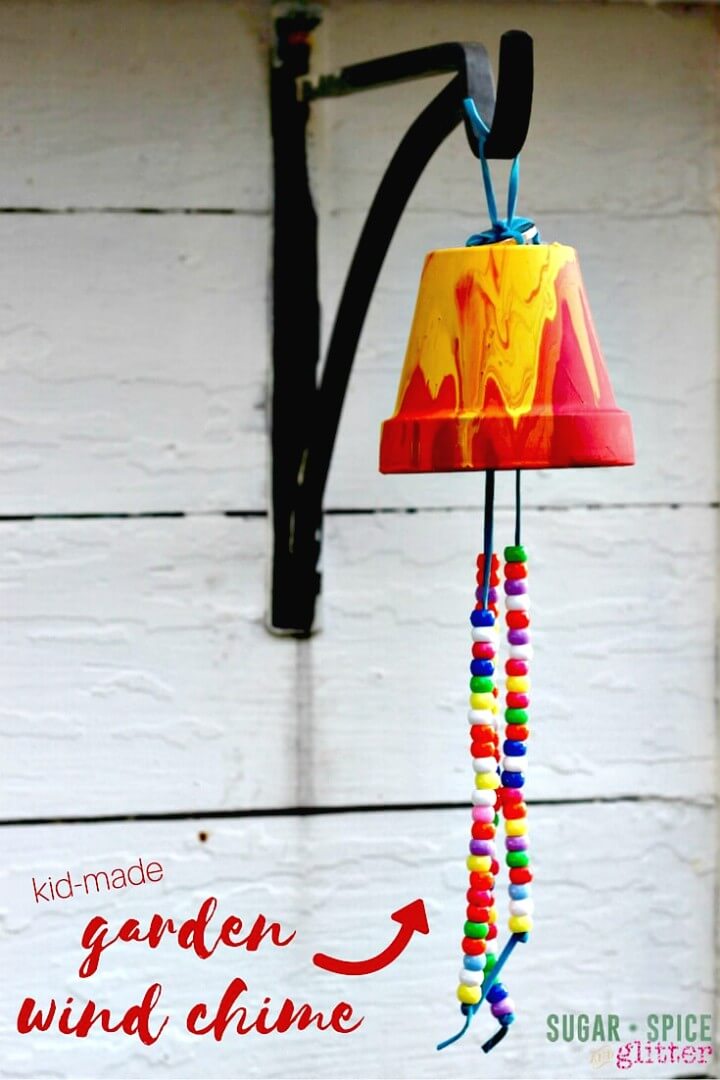 Willing to create a perfect look of your garden? This will just demand some outstanding decors and centerpieces, and you can also choose this handmade garden wind chime to spruce up your garden! It is easy to make using an old garden pot, some string or thread, paint and some assorted colorful beads! After you finish the wind chime just hang in aloft in your garden like on a tree branch! Step-by-step picture tutorial here sugarspiceandglitter
How To DIY Wood and Leather Trellis Plant Wall:
Striving for interior wall grace that should also come with a natural décor touch? Then nothing would work great but this wood and leather trellis plant wall will also give a geometrical wall décor statement to your wall! Here the whole trellis geometrical wall is made of wood while the leather strips have been used to make the beautiful holdings for the pots! This is here another incredible DIY garden project that will grab everyone's attention! Complete project tutorial here vintagerevivals
Make Your Own Copper Pipe Hanging Planter: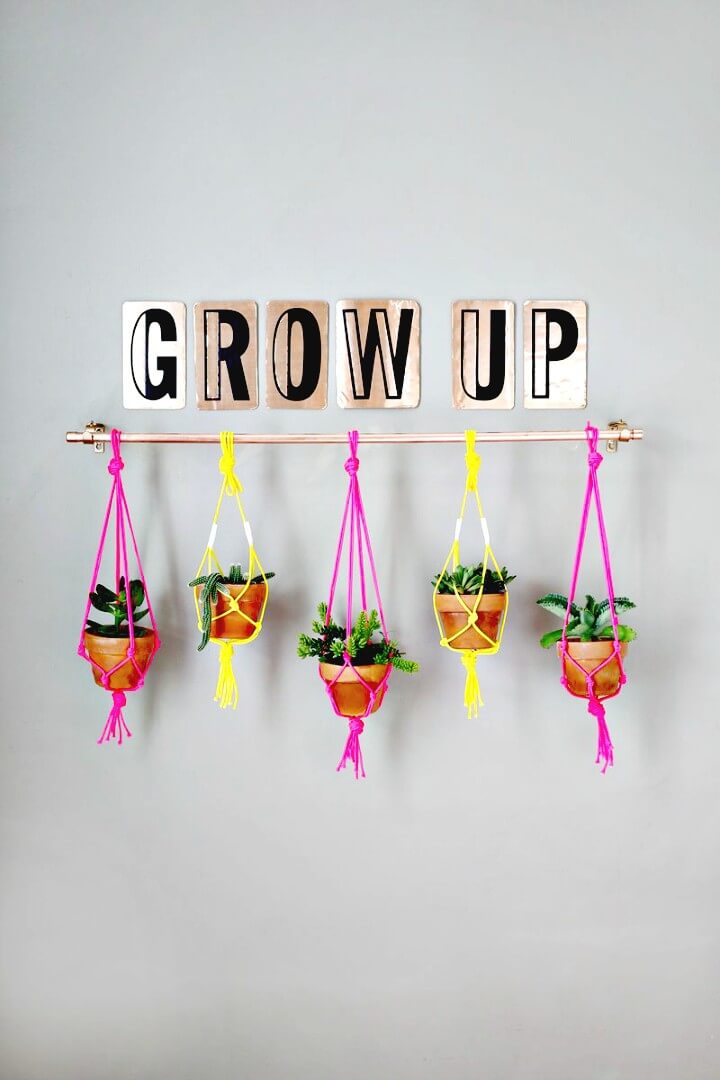 Check out here another great wall hanging garden project that has been done using copper pipe, curtain rod brackets and the paracord macrame hangings that hold the succulent pots! The copper pipe rod has been finished with end caps, and you can use the copper spray paint to match the brackets to the rod! If you are the art of smart knotting or macrame-ing, then you can also make the beautiful holdings using colorful paracord! Complete project instructions and tutorial here abeautifulmess
Beautiful and Functional DIY Gardening Apron Tutorial: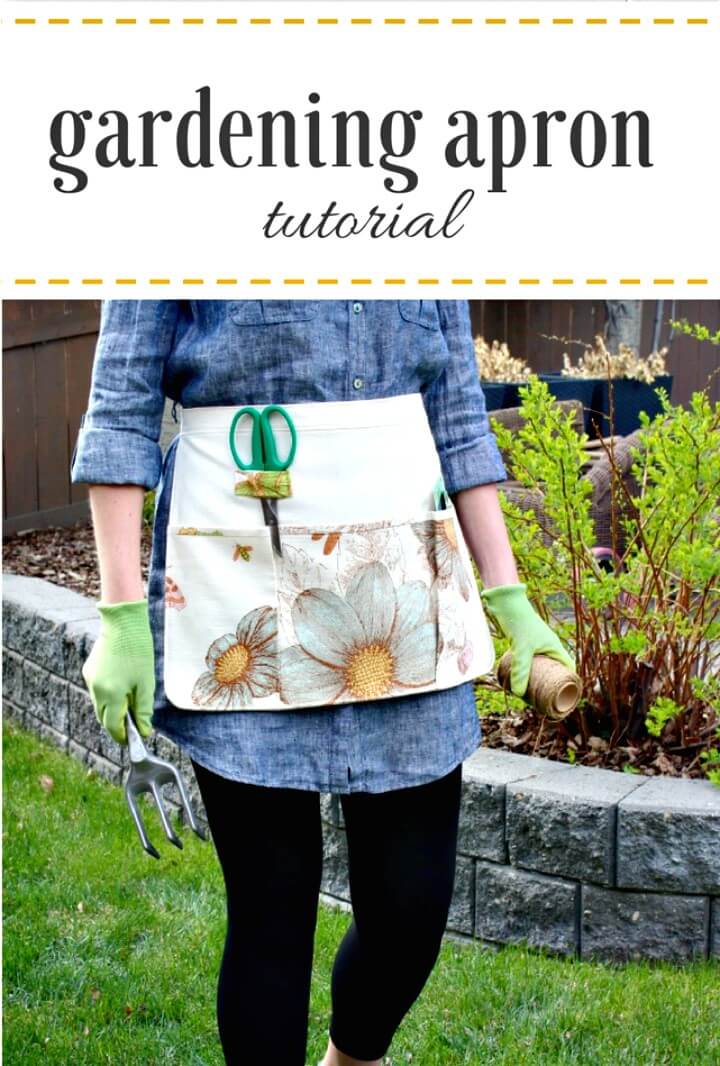 Check out here a precious sewing project done to make your garden a bit easier! The idea here is to sew a special gardening apron that will hold your garden tools and equipment while and inspecting and repairing your garden space! Here this beautiful apron has been sewn using solid and printed fabric and comes with custom pockets and finally also with two metal D-rings! This apron will also make a great gift for a garden lover! Complete sewing tutorial here satoridesignforliving
DIY Tire Flower Planter Garden Project: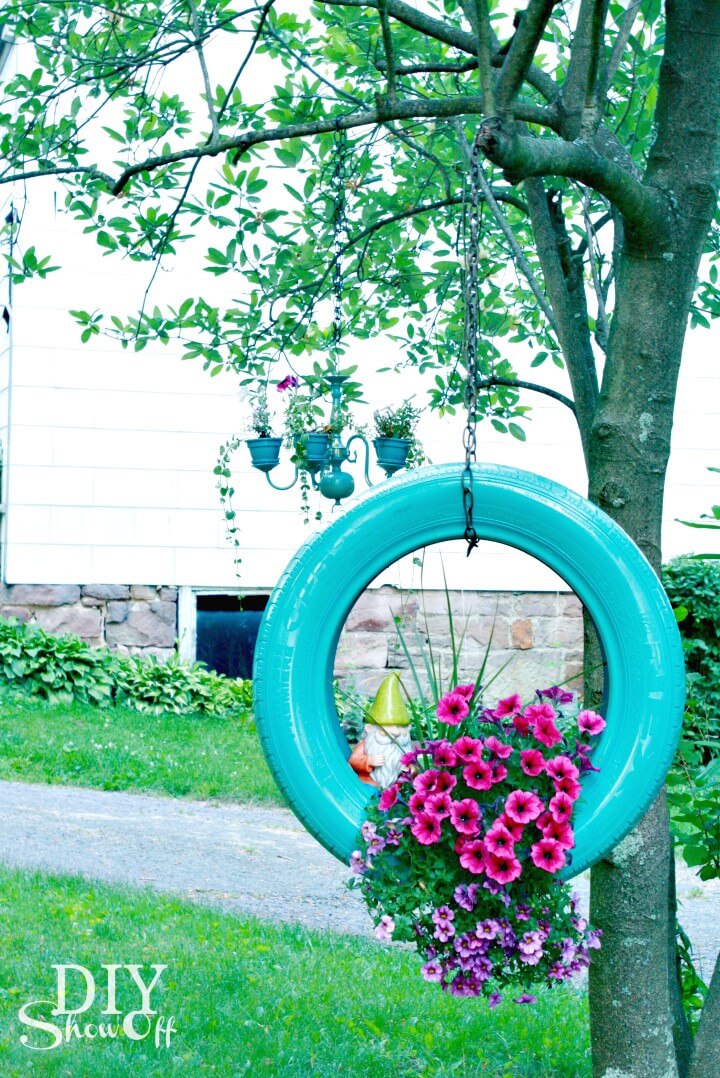 While turning your garden into a perfect focal point, the hanging decors can rock! So, why not recycle old tires to make some beautiful hanging centerpieces for your garden? Check out there the tired flower planter that is more than beautiful and is super easy to make! Paint a tire in desired color and then hanging it on a tree branch using the metal chain and next just add potting soil to the bottom side of the tire! A no-cost but awesome garden décor project! Complete project instruction and guide here diyshowoff
Adorable DIY Recycled Wine Bottle Garden Torch: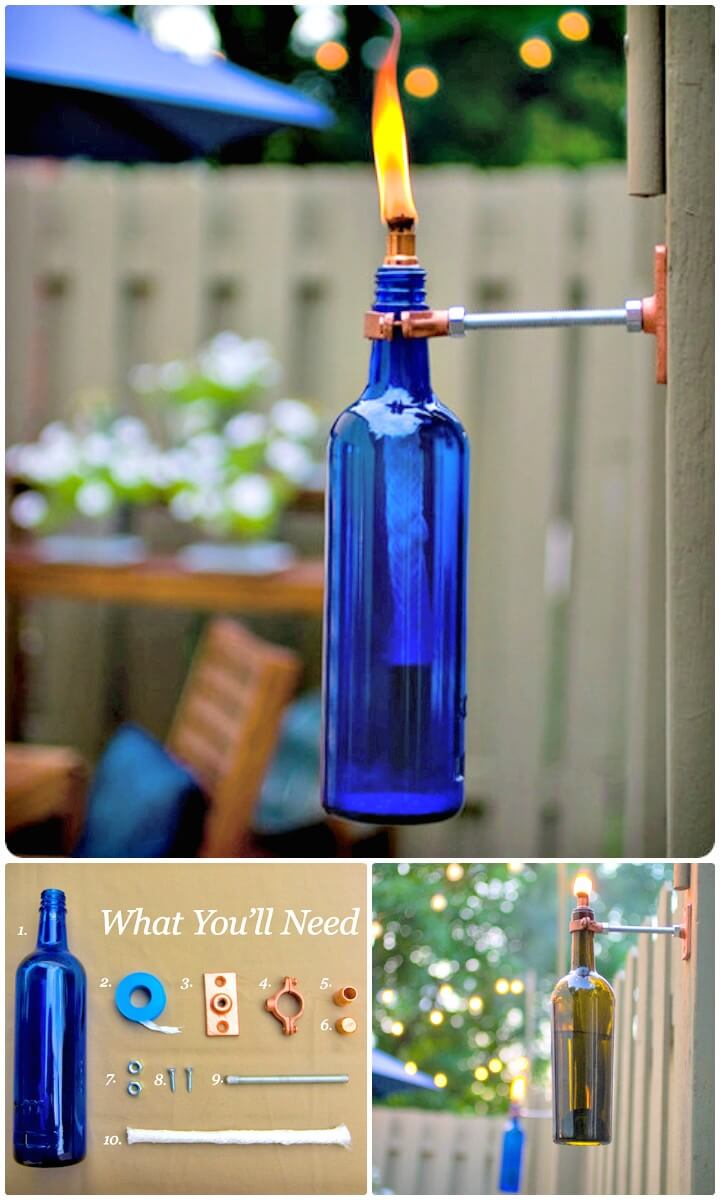 You can also jazz up your garden space by adding some vintage inspired lights! If you really looking for some interesting rustic light decors for your garden then why not make some tiki torches at home using the recycled glass bottles? Get inspired of the given sample torch that is made of an old glass bottle filled with torch fuel and has been added with tiki replacement wick! Finally this torch has been made air tight and has been hanging using custom hardware threaded rode, copper plate, Teflon tape and custom screws and couplings! Complete step-by-step instructions here designsponge
DIY Small Vegetable Garden Using A Garden Spiral: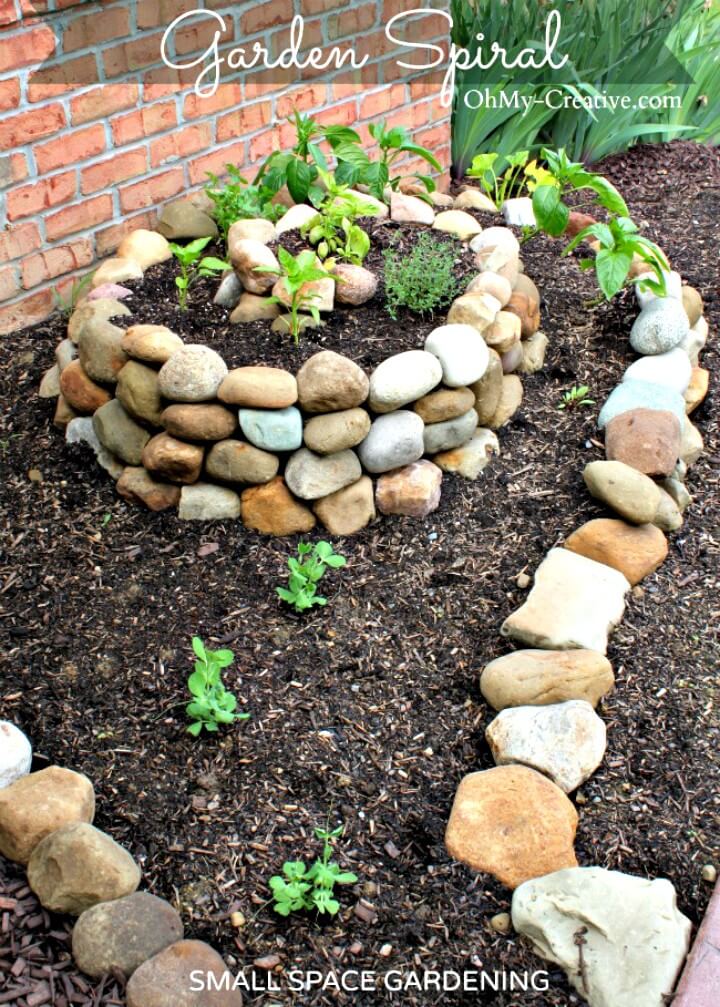 Life up the mood of your garden also by making some spiral vegetable garden beds! You will definitely fall in love with the given sample that has done with the stones and the potting soil and is really looking fantastic! This handsome garden stone spiral also comes with accent stone boundary and looks just fantastic when covered with greenery! Complete project instructions here ohmy-creative
Gorgeous DIY Glow In The Dark Planters Tutorial: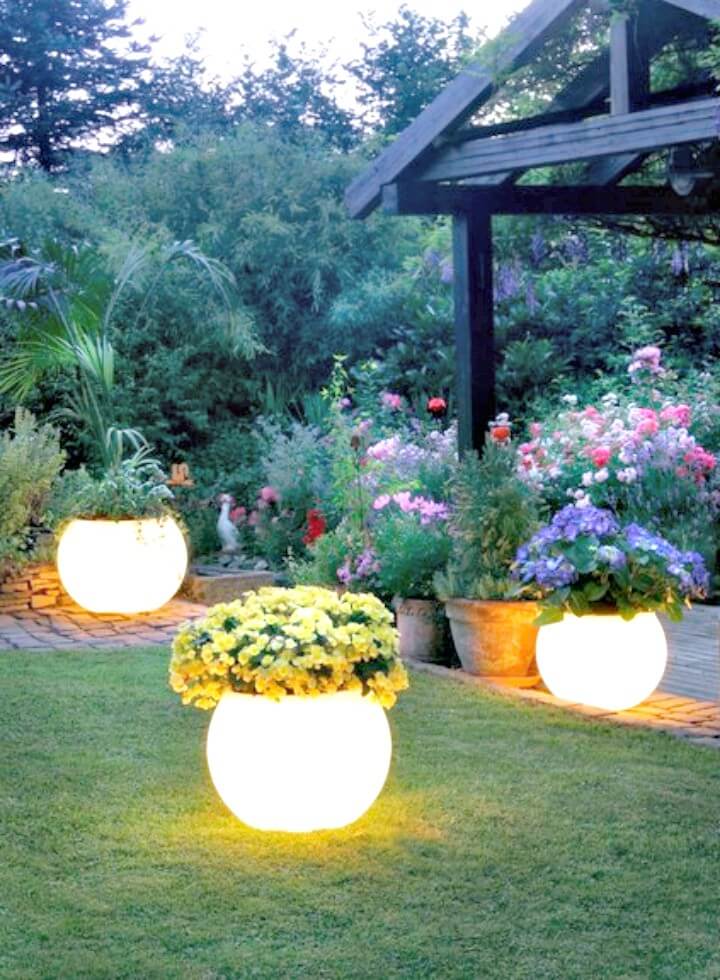 You can add bright colored decors to your garden that can really boost up the visual of your garden in the day but what to do to make your garden look great at night? The glow in the dark planters are a big solution here, just paint in your planters with rust oleum glow in the dark paint and make illuminating garden planters that will rock as divine night garden decors! Moreover, you can also use the LED plant pots also to make your garden look fascinating at night! Complete project instructions here sweetandsimpleliving
Amazing How to Make Your Own Star Wars Garden Pots: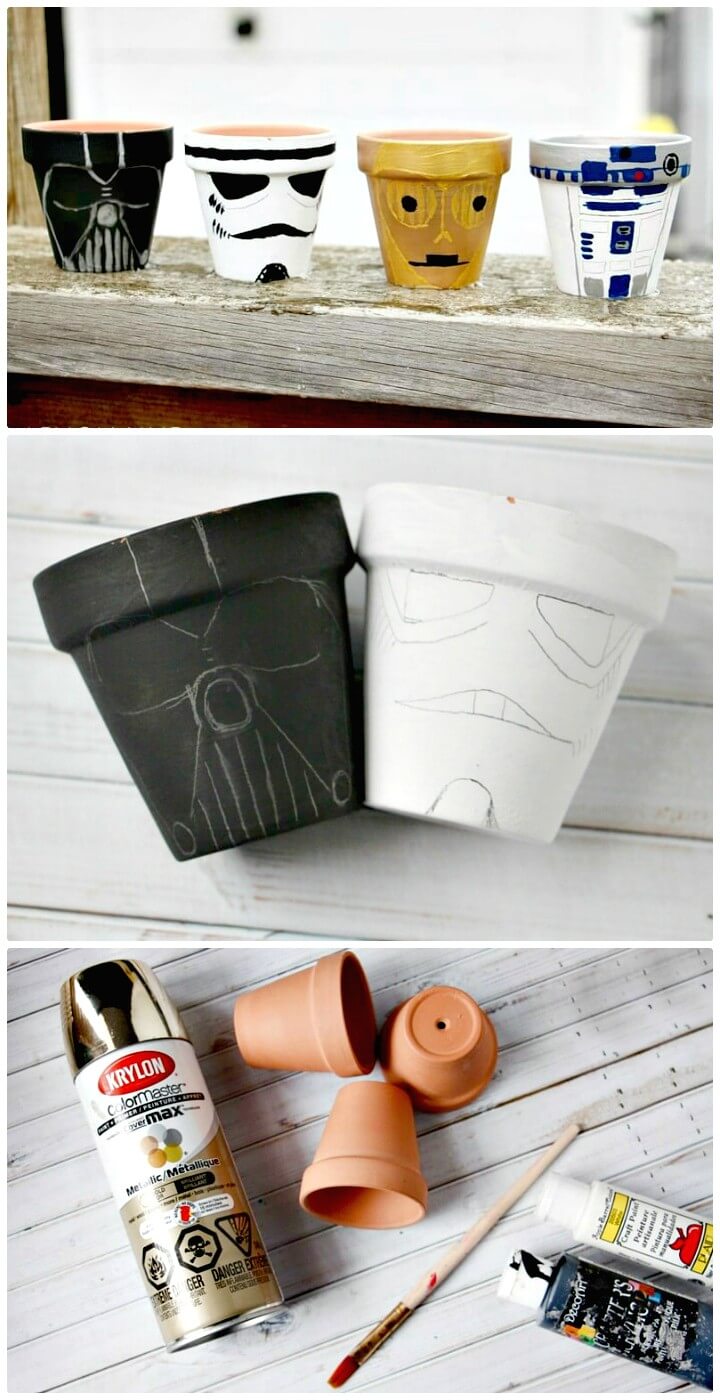 Here is another good and smart way to raise your garden decors! Just paint your garden pots for some fun shapes and fun character they will definitely lure the number of view of your garden! If you are having the skillful hands in art of painting then you can paint your pots for some mind-blowing star wars characters and can make a good collection of fun pots to jazz up your garden space! Checkout the sample pots here to inspire your creativity! Complete project instructions here lemonlimeadventures
Easy DIY Outdoor Window Shelf with Lattice: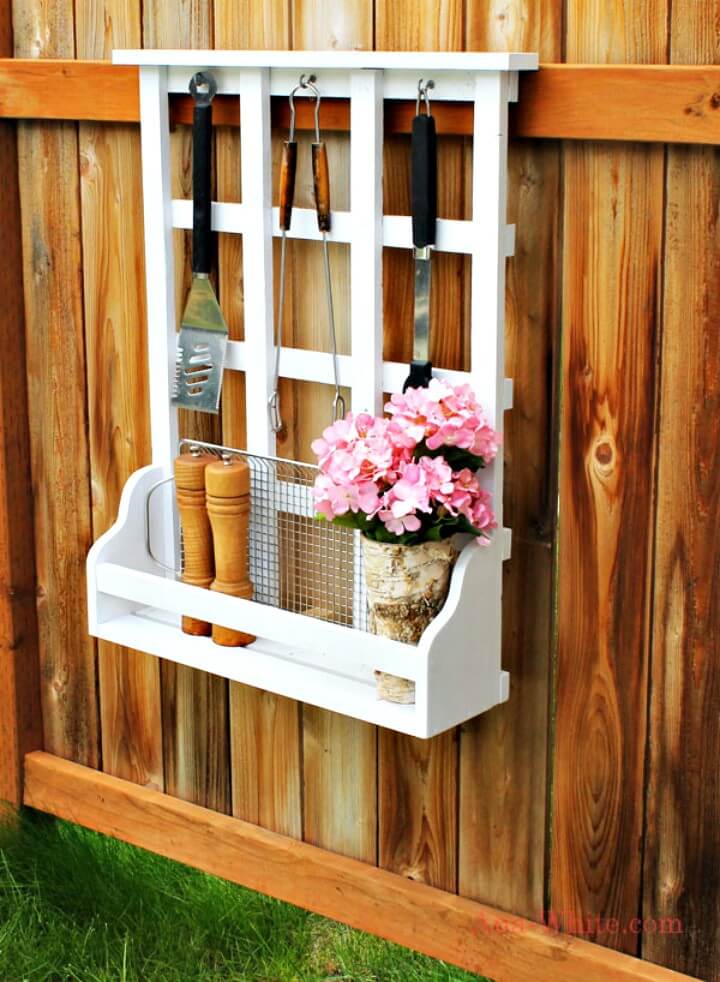 Bring also great visual attractiveness to your garden by building special wooden garden shelves! A very interesting and charming sample here is this fantastic outdoor window shelf that comes with lattice! Custom added hooks to entire shelf help in easy hanging of garden tools and shelf help to store the garden stuff beautifully! You can easily make this window shelf at home using custom wooden lengths! Here is how to make it aaana-white
DIY Garden Vintage Tool Box Planters: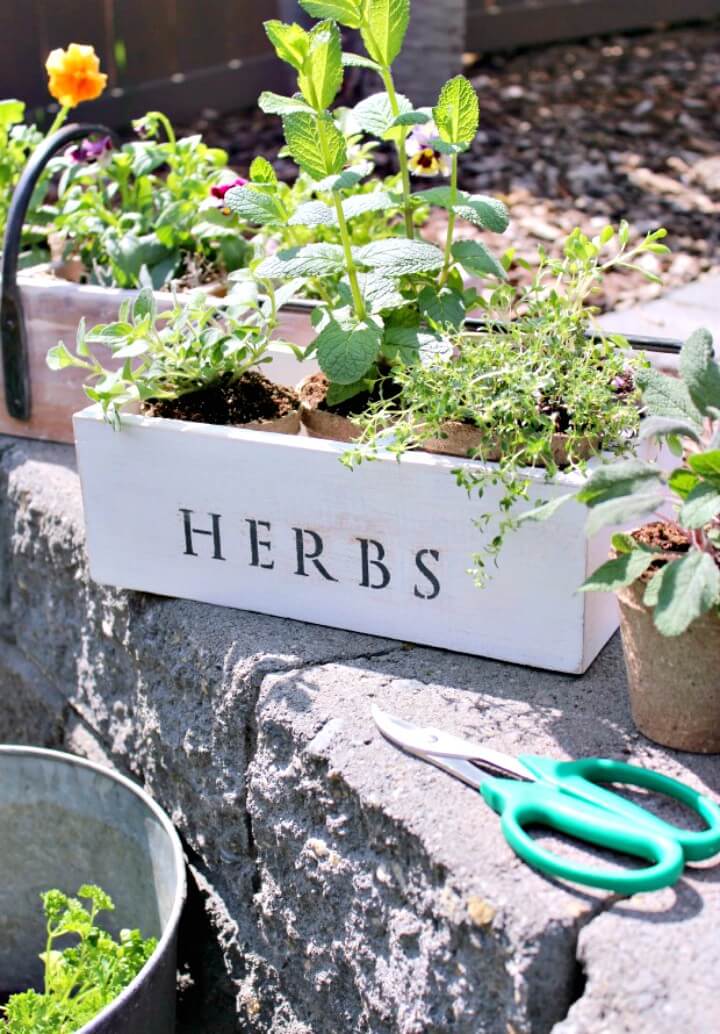 Adorn your garden also by adding some vintage inspired tool box planter! You can simply recycle the old tool boxes and can paint or distress them to look pretty rustic or vintage inspired! Checkout her ethis sample vintage tool box planter that has been painted in white and comes with stenciled "HERB" letters to look fantastic! Here it also comes with an iron hand installed across the center that make it pretty easy to life the planter up! Complete project tutorial here satoridesignforliving
Modern DIY Staghorn Fern Tutorial: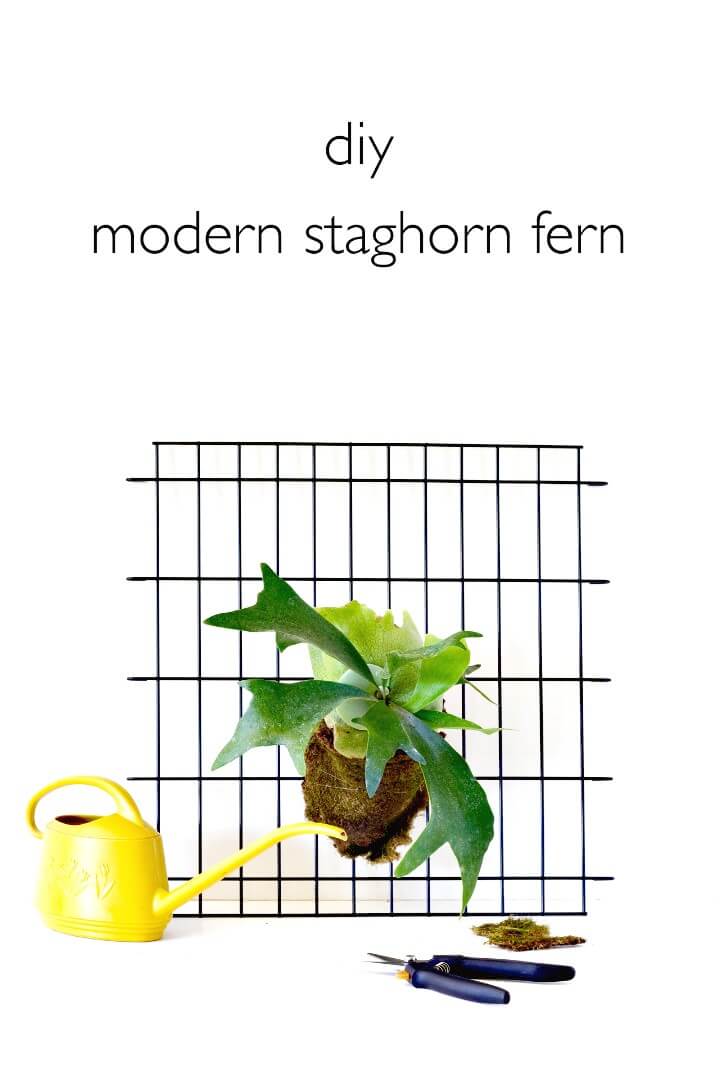 Here is another great centerpiece décor for your garden, the lovely staghorn fern that is hanging to a wire mesh which further hangs on a garden wall making bigger statement of garden decors! Here the roots of the staghron fern has been dipped in the potting soil and next have been covered with the custom moss lengths! Another easy peasy but fantastic garden décor project that everyone can do! Complete project instructions and tutorial here vitaminihandmade
Gorgeous DIY Garden Gazing Ball Tutorial: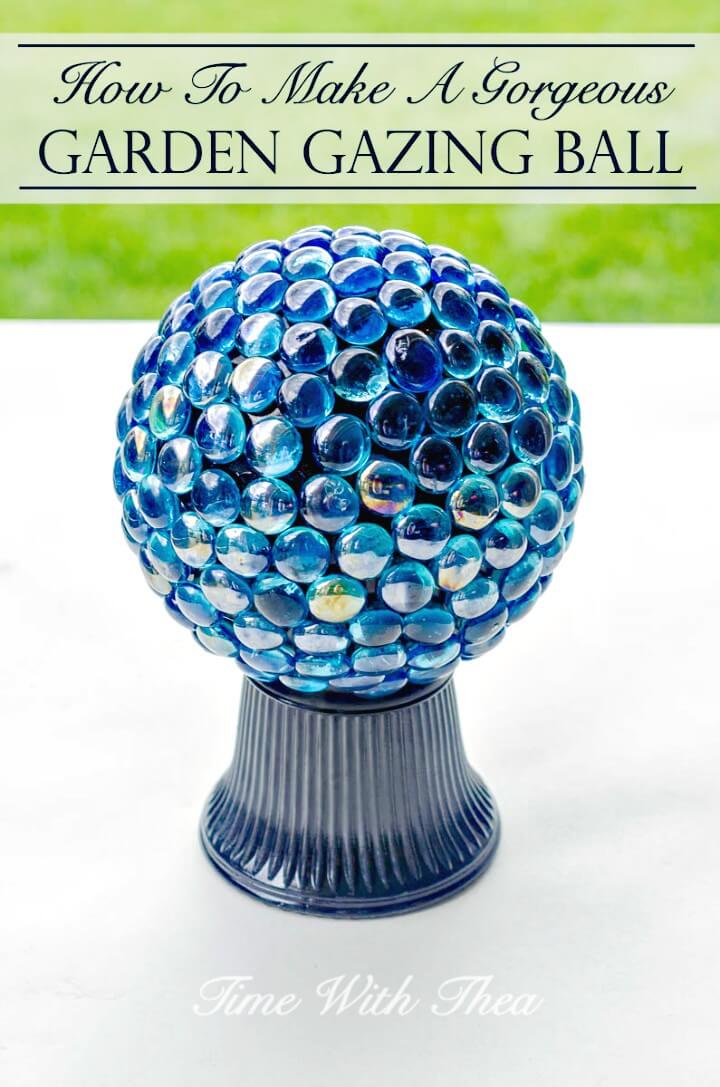 Recycle also the various home materials to make fetching garden decors and centerpieces! A very interesting example here is this garden gazing ball that is looking mind-blowing and is entire made of a light globe and an old lamp light from an old chandelier! Paint the light globe in custom color and then cover with glass gems for a great looking garden gazing ball! The cone shaped light lamp cover will make the base for the garden gazing ball! Another interesting garden décor project to do in your free time! Complete tutorial here timewiththea
Beautiful How To Build Grid Trellis from Garden Stakes: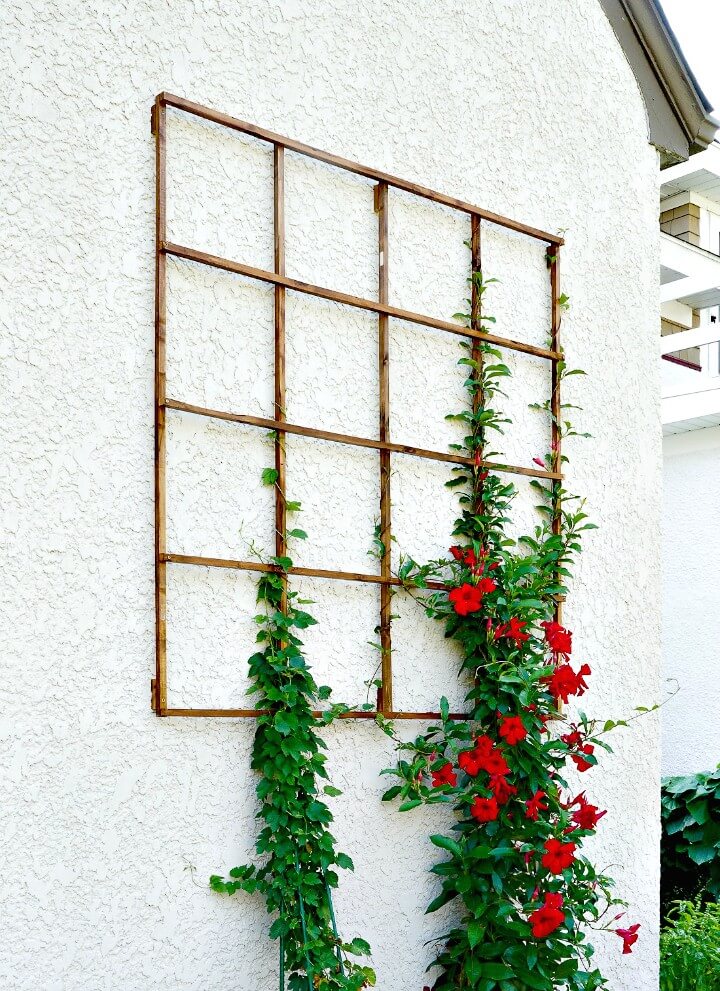 If you are green garden is populated with outstanding trellises then it will also raise the beauty of your garden to peak level! Just have a look at this hand-built grid trellis, is not it beautiful? It is all made of recycled garden stakes and will also make a great geometrical wall art for your garden wall! You can also duplicate this project using custom wooden lengths from home! Step-by-step tutorial here francoisetmoi
How Build a Garden Bird Bath Tutorial: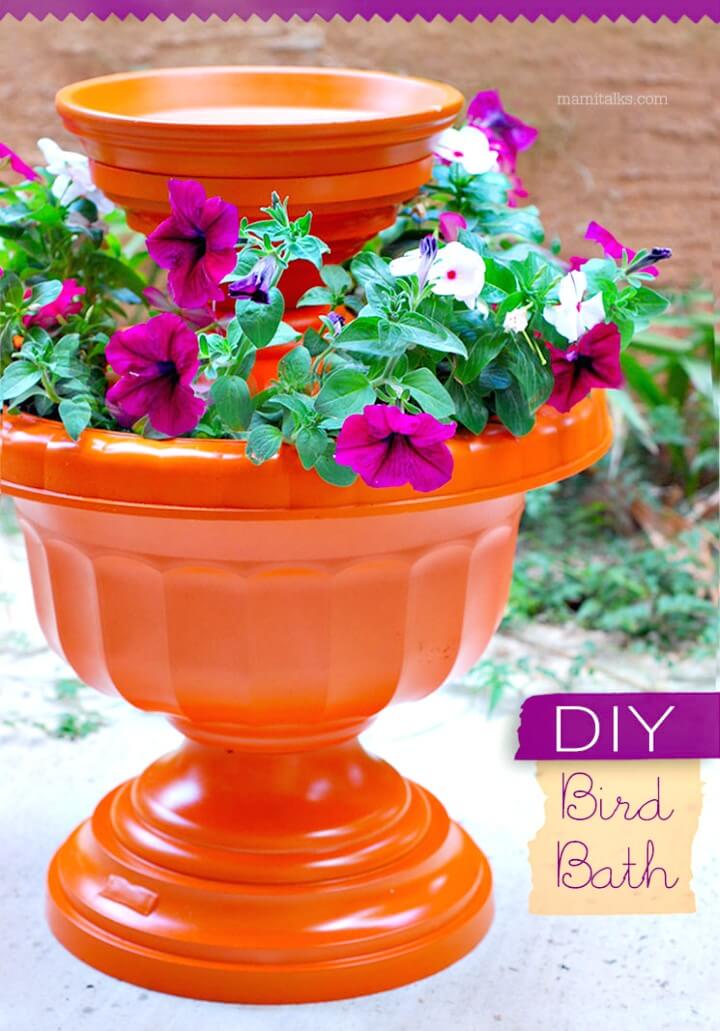 If you are striving for an heavenly appeal of your garden then you can simply add some amazingly beautiful bird baths to your garden! Make beautiful birth baths also at home, just peek into details to this sample project to learn more! This handsome bird bath is made with two different sizes of urns with a terracotta saucer! Both the urns have been spray painted for an eye-catching orange appeal! Fit the smaller urn with upside down in the bigger one and just finish this stack with the saucer top! Complete instructions here mamitalks
Make Your Own Hanging Garden Tins: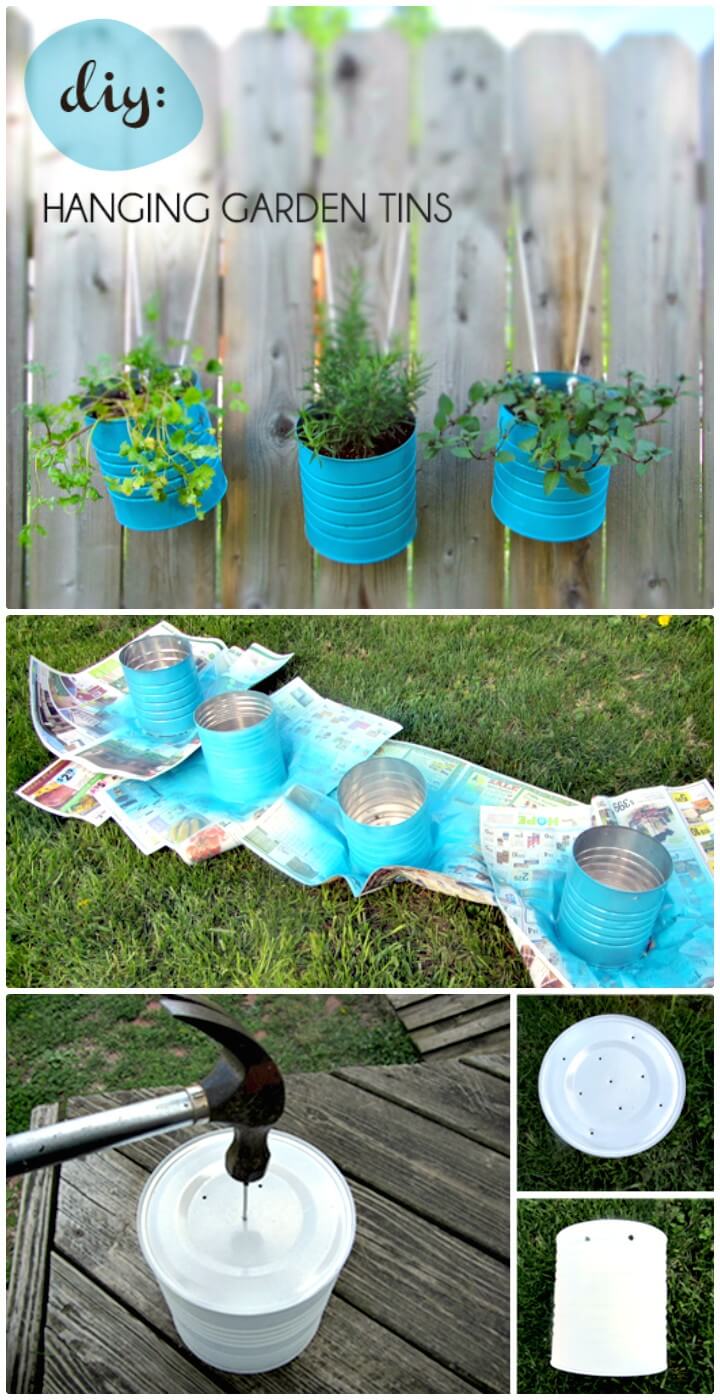 You can also look forward to hang some flower or herb pots to your garden fence or any wall to double up the beauty of your green space! So, why not make some cool hanging garden planters at home? Recycle also the old tin cans to make precious hanging garden planters, checkout the sample planter here that comes with tiny holes made in the bottom for the drainage and has been painted in aqua blue for a graceful visual! Here all these tin planters have been hanged with the rope! Complete instructions here stuffstephdoes
DIY Garden Topsy Turvy Flower Planter Project: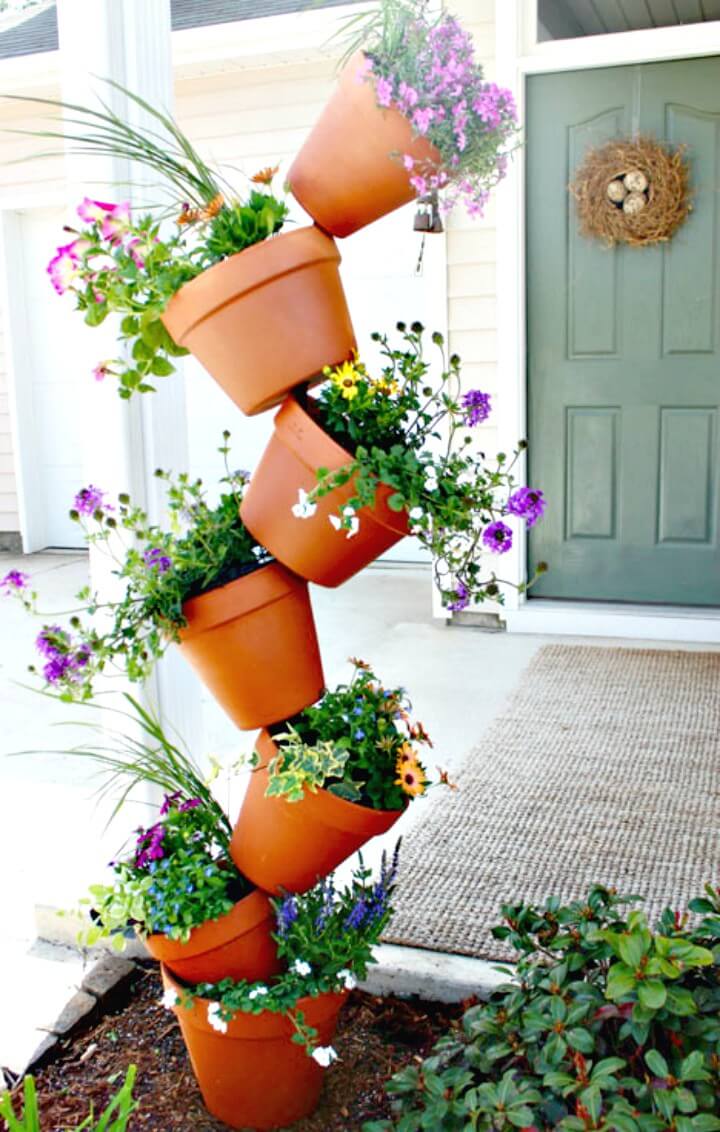 Create a stunning focal point in your garden by adding this topsy turvy planter to your garden that is really enticing! Here a collection of pots have been added vertically on a rebar that is fixed in the ground about a foot deep! Here all the pots come with holes in their bottoms and have been added one by one on the rebar that passed straight through all the bottom holes in the pots! Finally the pots sit on the potting soil filled in the lower pot and hence the entire planter gains stability! Get the full free pictorial from here weheartthis
How To Build a Rain Barrel Under $100 Tutorial: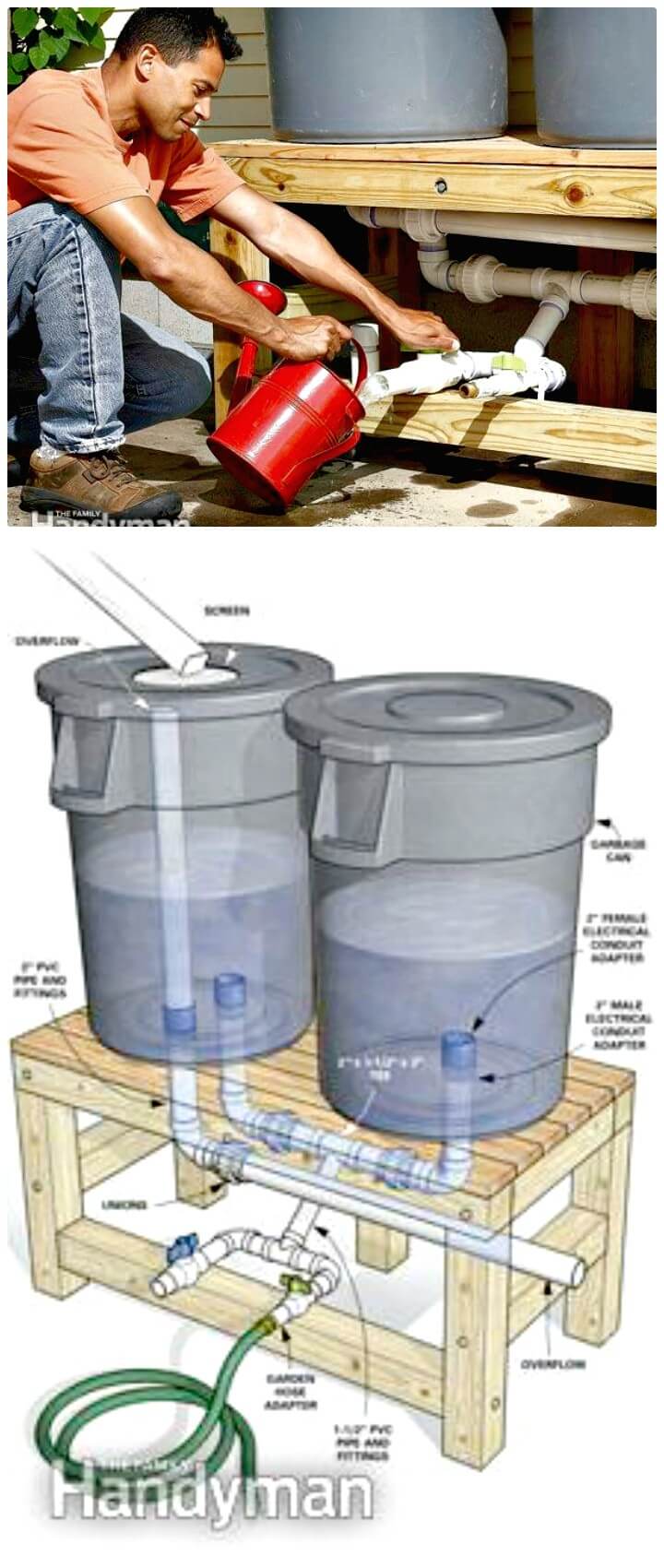 Next you can also add fantastic rain barrels to your green garden space that will store the rain water and this will also be something that will improve your garden space! Here a cost-efficient project you can do to install beautiful rain barrels under $100 and hence can make your garden performing better! Here all you need some barrels and a wooden table to support them in position! Next you can add custom pipes, valves and hardware to make the system working well! Another smart and outstanding garden project idea! Complete tutorial and free plans here familyhandyman
Make Your Own Garden Flower Pot Table:
The projects you can do to make your garden beautiful are just never ending! Here we are with an adorable garden furniture project! Just make outstanding tables by stacking custom bigger garden pots in bottom-to-bottom arrangement! Get inspired o the lovely flower pot table that is having a pizza pan top and can be adorned more using paint and custom embellishments! This would just make a great side table for a garden chair or couch! Complete project details here apartmenttherapy
Quick and Easy DIY Nail Polish Marbled Planters: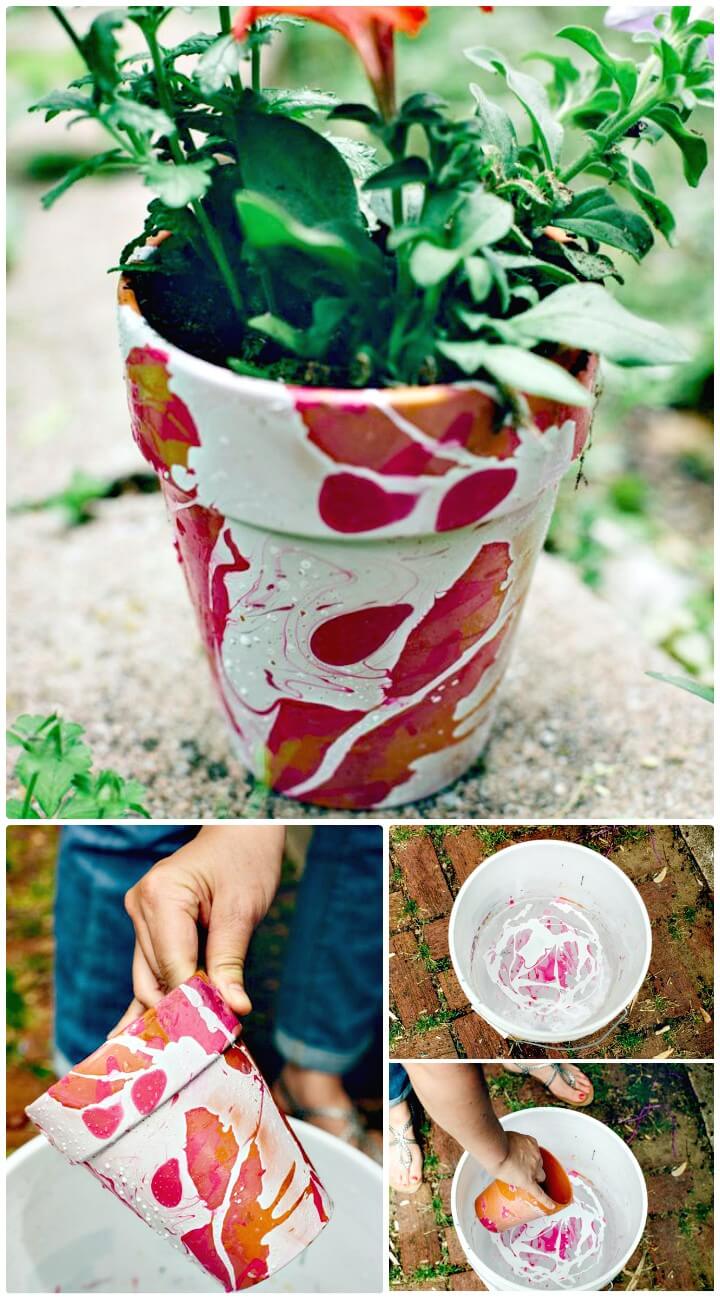 Willing to add great visual details to your garden space? Another great way to do this would be to add some custom painted and beautiful looking pots to different visually attractive sports of your garden and also nooks and crannies! In this case you can do amazing makeovers also of your garden planters to just make them look beautiful! Marbleize your garden planter with nail polish and let them spruce up your garden space! Get inspired of the given marbled planters that are amazingly beautiful! Another outstanding garden décor project idea! Complete tutorial here helloglow
Easy DIY Outdoor Glass Hanging Lights: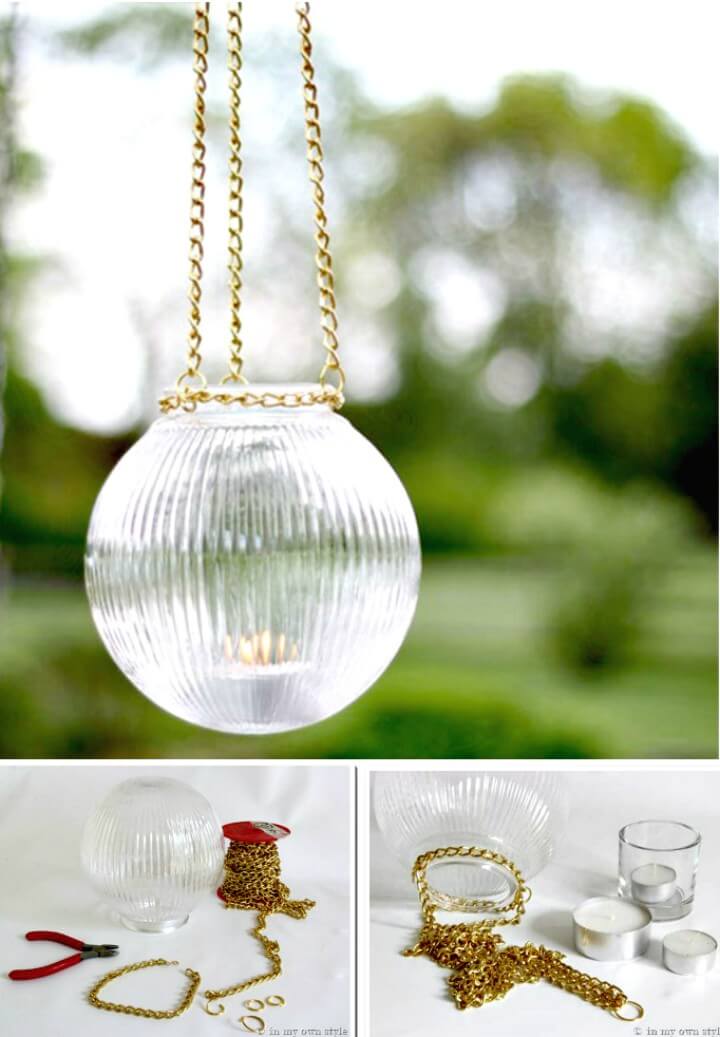 Install also some fascinating hanging lights to your garden to put extra charm and beauty to your garden space! Make also adorable hanging lights at home by using some quick DIY projects! Take a look at these sample hanging lights that are stylishly beautiful! Just grab some glass globes, candle lights and metal chains and jump rings to duplicate this brilliant hanging garden lights! Complete project instructions here inmyownstyle
How To Build Stone Planter in Garden Tutorial: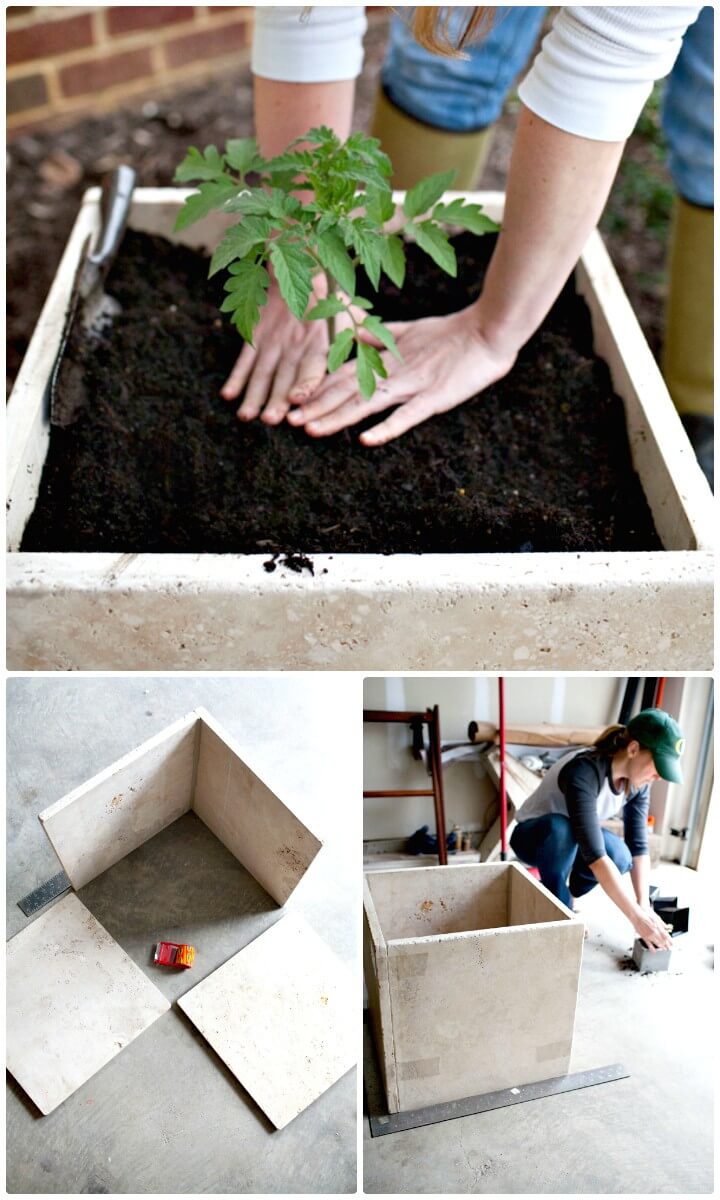 Grace up your garden space also by adding some adorable stone planters that can easily be made home! Just grab 4 square shaped stone pieces and put them together making a square box! Now fill the cracks an gaps using caulking gun and next fill the potting soil in your planter to start using it! Get inspired of the given sample! Personalize your finally complete planter with custom stencils, paint and other adornments! Complete project guides here 1000threadsblog
Make Your Own Striped Raised Garden Beds: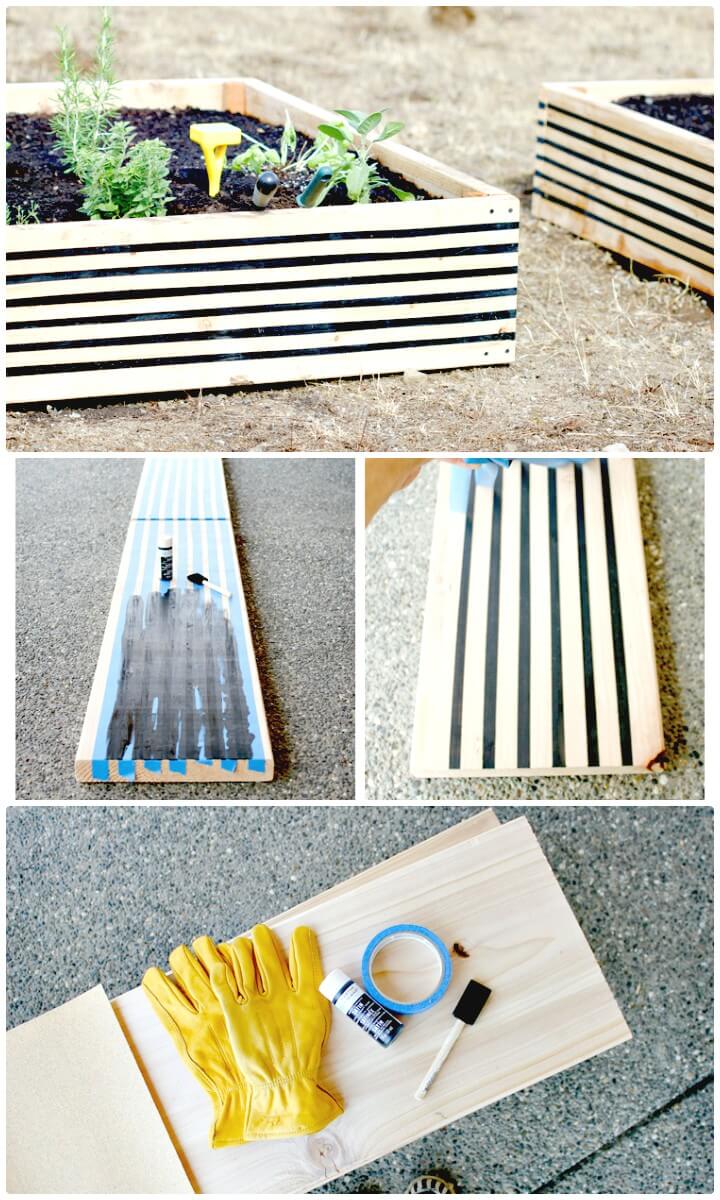 Just like the bigger square planters, you can also make the beautiful raised garden beds in square shape that will definitely create a super charming and enticing appeal of your garden! Checkout here the sample raised garden beds that are made of longer cedar bars put together for bigger square shapes! For extra grace and charm, all the cedar lengths have been painted for alluring black stipes using masking tape! Another outstanding garden project idea! Complete project instructions and tutorial here deliacreates
Adorable DIY Stamped Plant Labels: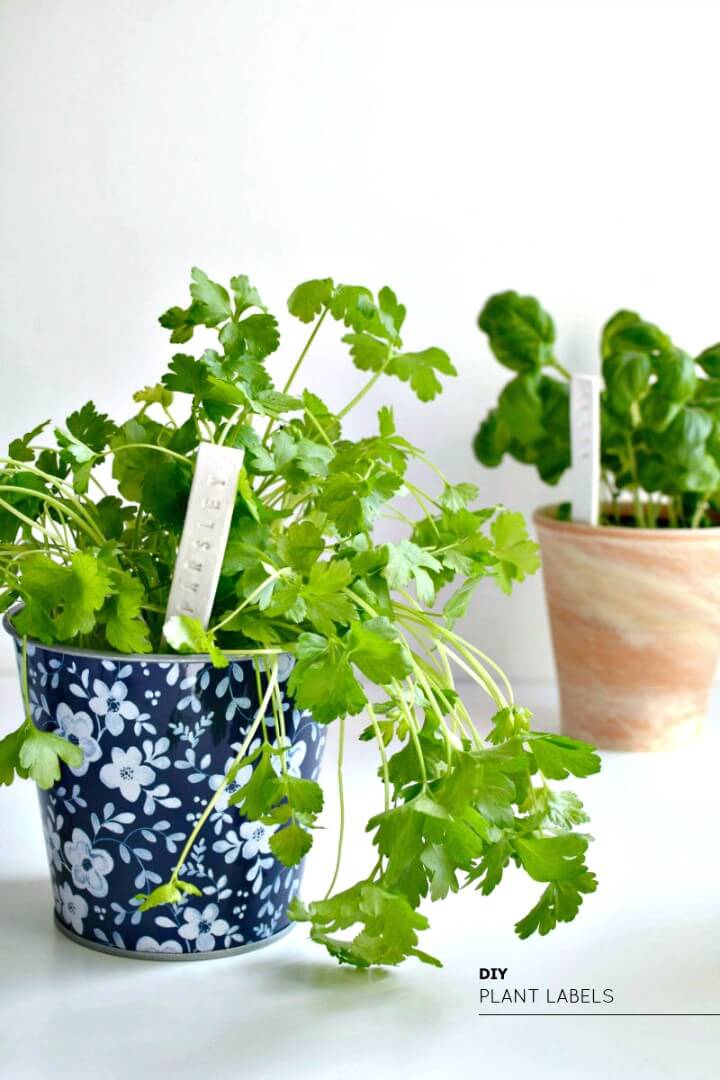 Sprucing up your garden pots will also be a way to make your garden look more beautiful and enticing! So, you can also craft beautiful labels for your pots so they will look more beautiful and eye-catching! Checkout here the sample stamped labels that are made of with airy dry clay and alphabet stamps have been used for custom letters on the labels! This is here another great project to do to jazz up your green space! Complete project instructions here burkatron
Make Your Own Pallet Wood Hose Holder With Planter: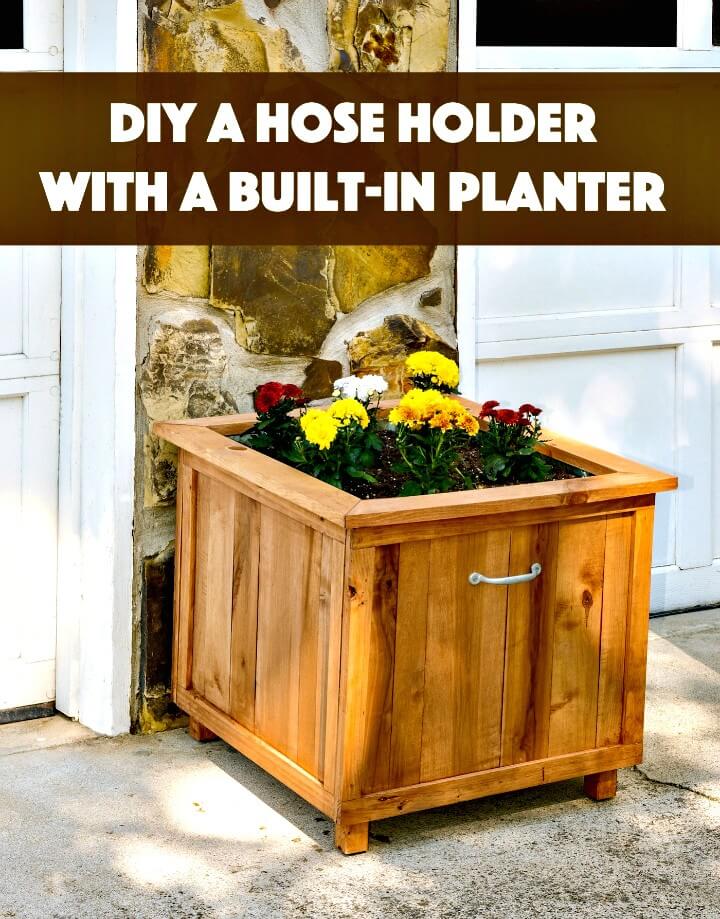 Also go handmade with pallets to do amazing garden improving projects! We would like to explain it more with this example of wooden planter that is having a built in planter and is entirely made of pallets! Here this square shaped box style planter comes with door at one side which can be dropped down to reveal the hidden storage compartment where a garden hose can easily be stored! The upper part holds the potting soil and makes a beautiful planter! A creative DIY garden project! Complete details and tutorial here diycandy
DIY Neon Cinder Block Succulent Garden: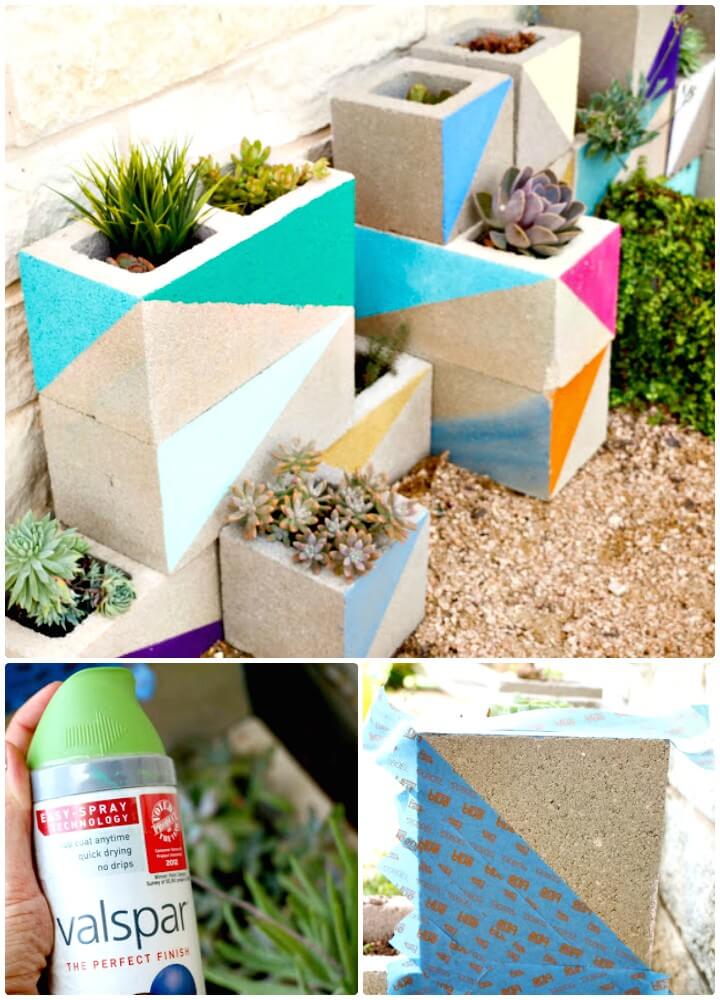 Looking forward to adorn your garden space with amazing geometrical decors and bright colors? If yes, then this cinder block succulent garden would just be an amazing solution! Just duplicate this interesting cinderblock garden and make your garden look divine! Stack the cinder block in your own custom configurations and also give amazing variations to them using different neon colors! Another outstanding DIY garden project! Complete instructions and step-by-step tutorial here akailochiclife
How To Build Garden Hanging Planter Tutorial:
Checkout here another hanging centerpiece planter that will definitely go eye-catching in your garden! Just duplicate it by grabbing an embroidery hook and a bowl! Just glue the bowl in the embroidery hoop and after the glue gets dried just hang the entire step aloft using durable metal or chain supports! Add potting soil and your favorite flower or herb plants in the bowl and enjoy a lovely garden décor! Complete project instructions and tutorial here northstory
Modern DIY House Number Planter: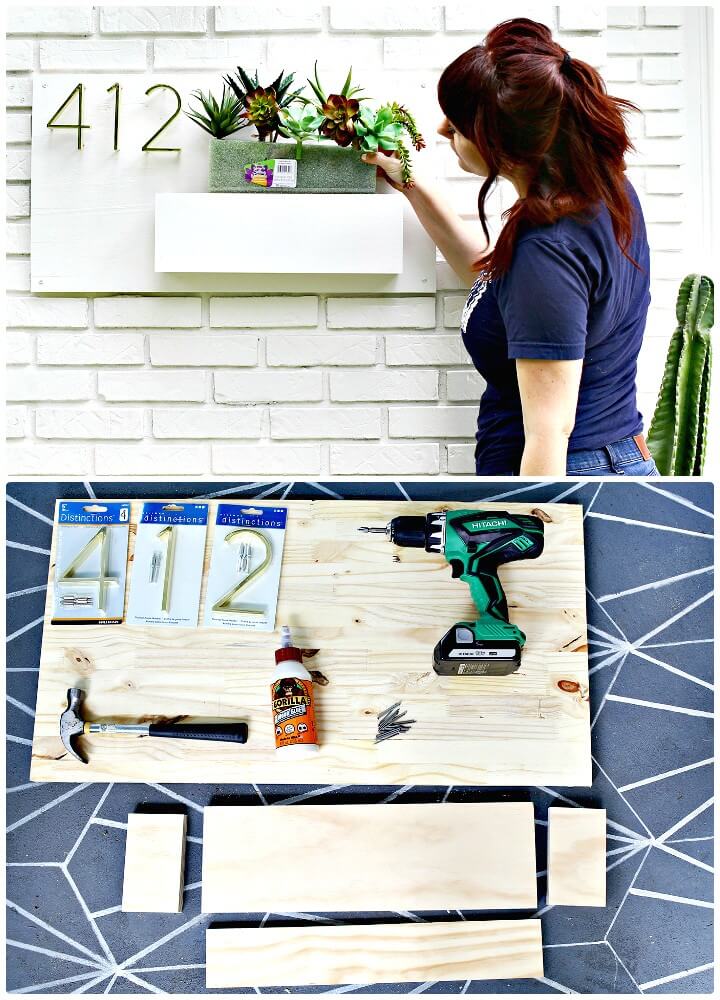 You will fall in love with this creative DIY project that all about making a house number plate with a built in planter! Just grab a big wooden board and install also a wooden holding or pocket that will be used as a planter! Mount your hardware house number numeral on the rest of the wooden board and add the potting soil in the pocket! Moreover, you can also personalize these house number planters by using custom paint colors, here this sample planter has been painted in white! Complete tutorial here abeautifulmess
DIY Criss Cross Outdoor Planters: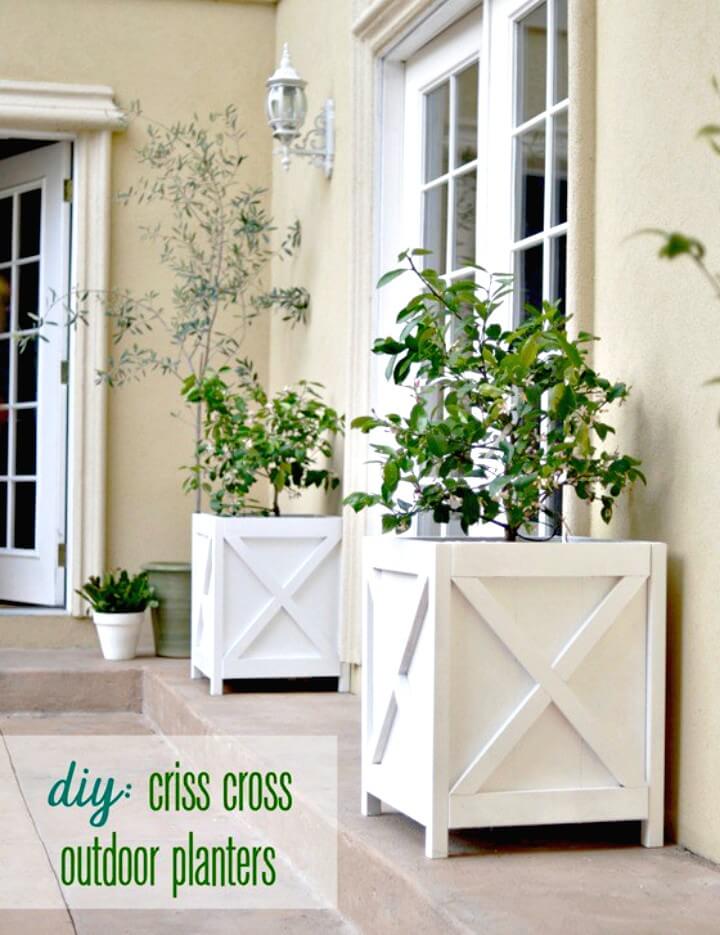 Go also manually with custom wooden lengths or planks and make adorable square box planters for your garden or any outdoor! If you want them in an artistic appeal then these criss cross outdoor planter would really rock! These hand-built wooden box planters come with artful sides and have been painted in white for a chic white visual! The very modern looking planters that everyone can make at home! Complete tutorial and instructions here centsationalstyle
How To Build Garden Monogram Planter Tutorial: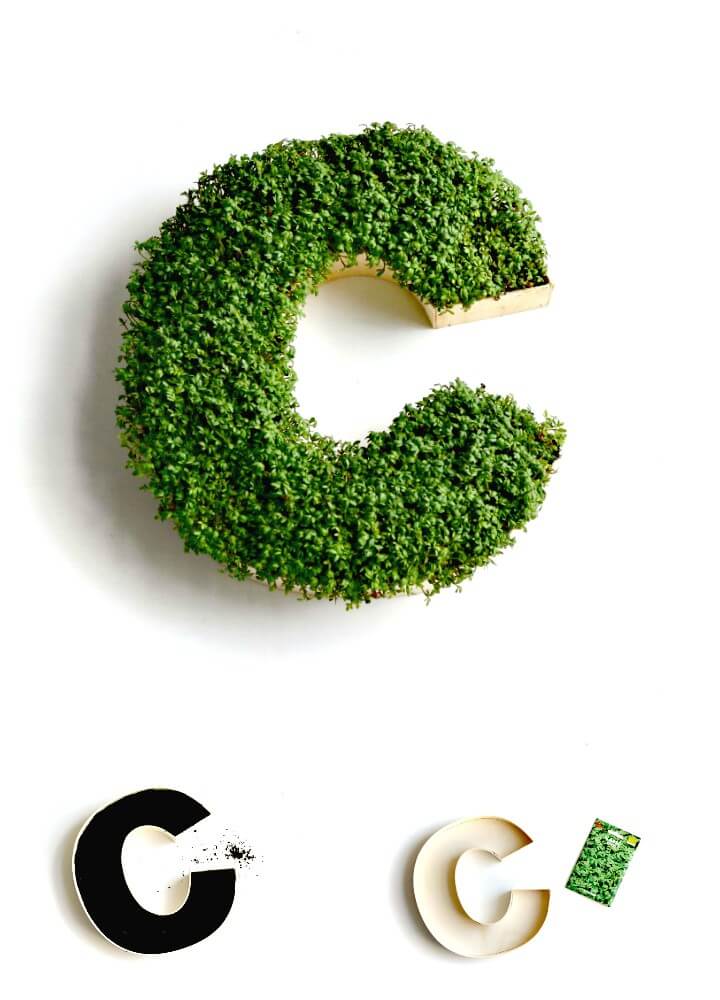 While being on mission to decorate your garden with very according and relevant decors then you can also get crafty with the wooden letters that comes with some inside depth! Here C alphabet wooden letter have been filled with potting soil mix with the compost and next has been made green with the cress top! This precious monogram planter will also help to personalize any special garden space! Another cool and genius garden décor project! Complete project instructions and tutorial here burkatron
Make Your Own Mosaic Tile Window Box Planter:
Once again a cool garden project to do to raise the beauty of your garden! Do brilliant makeovers of your garden planters and turn them into whimsical garden decors! A lovely sample here is the mosaic tile window box planter that comes with sides adorned with mosaic tiles beautifully secured in place and grouted! This planter box just looks fantastic with blanket wooden borders and mosaic tiled sides! Another great DIY garden project! Grab the full free tutorial and instructions from here centsationalstyle
Easy DIY Gradient Planters Tutorial: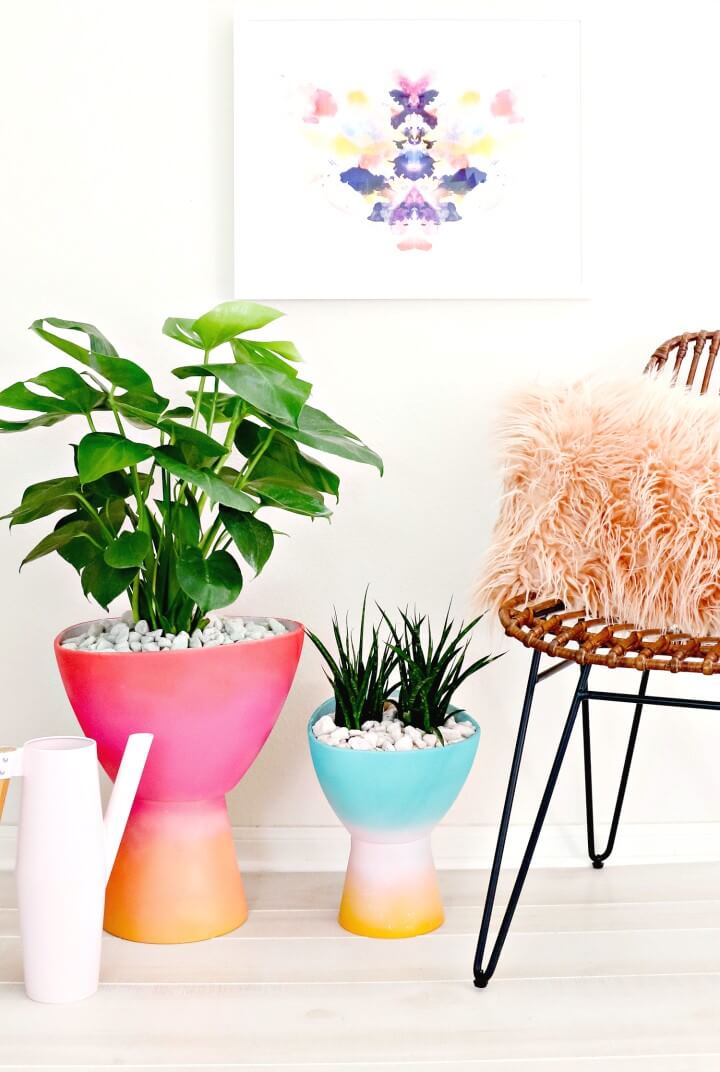 Add some outlandishly colorful planter or pots in your green space and get tons of praising comments from the onlookers! What about making some cool gradient planters? Have a look at these dashing gradient planter that have been painted with several different colors for a gradient appeal and are truly looking fantastic! Here these planters are made of two planters of different sizes and shapes, the bigger planter sits on the smaller one in bottom-to-bottom arrangement! One more exceptional garden project that everyone can do! Complete instructions here abeautifulmess
DIY Hanging Basket Garden Tutorial: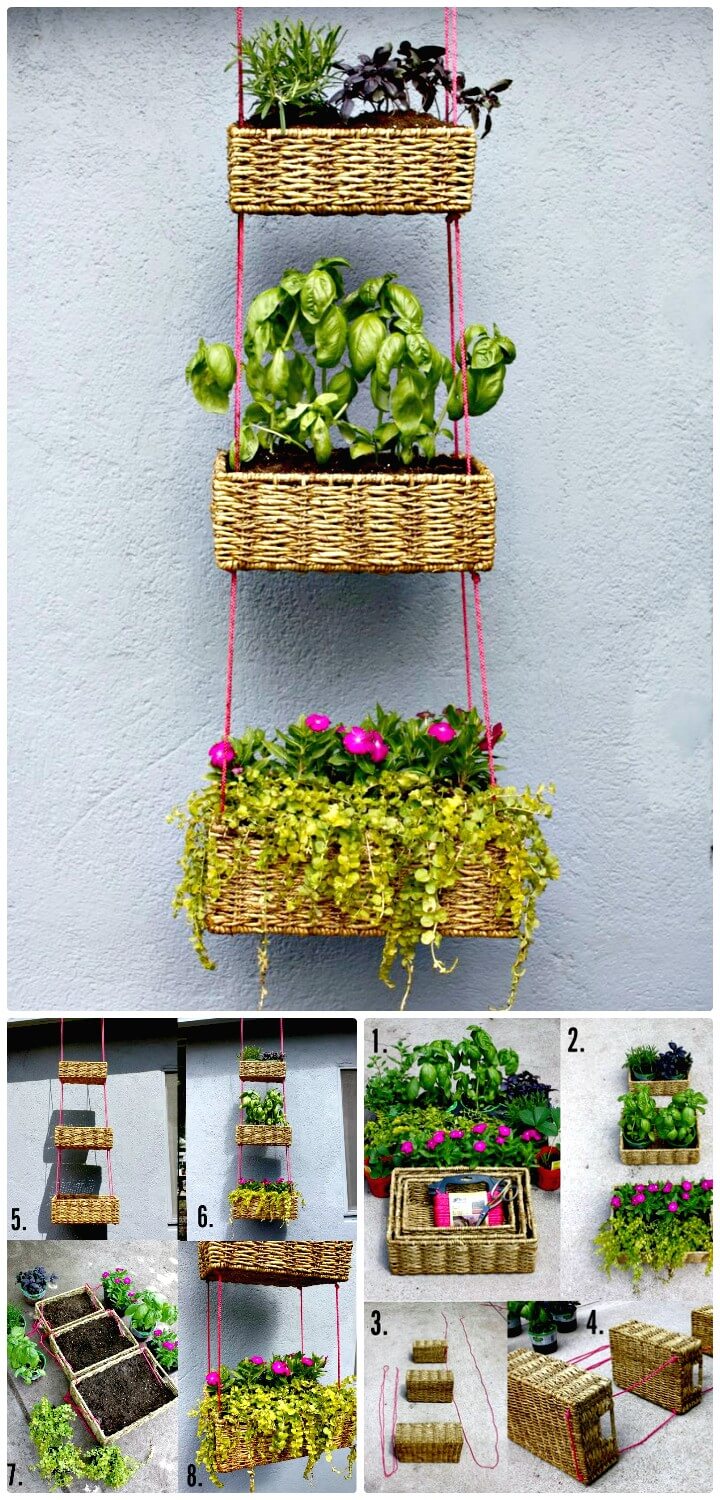 Add four moons to beauty of your garden by installing some vertical and hanging planters in your green space! Choose also this hanging basket garden to add to your garden, it is made of 3 woven baskets beautifully stung up and secured to custom height level by giving knots to braided polyester rope! Finally the baskets have been filled with potting soil and have been used as a planter! Complete instructions and picture guides here abeautifulmess
Build A Vertical Vegetables Garden Tutorial: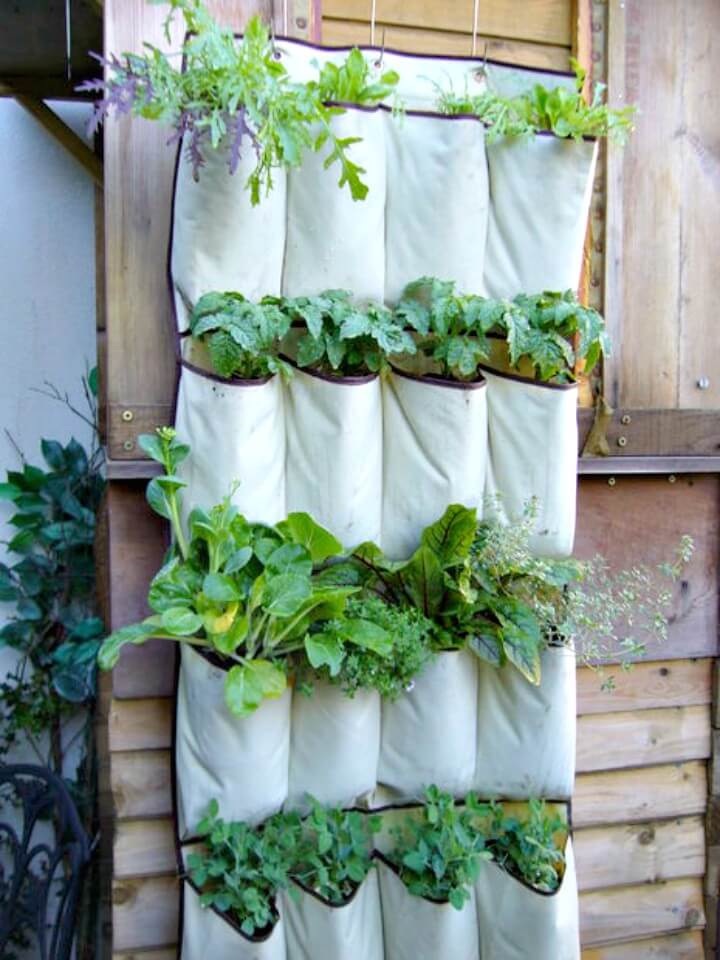 Checkout here another outstanding vertical vegetable garden that is made of a hanging pocket shoes organizer and is really looking beautiful! It has been secured in vertical standing positions using custom attachments and a pole and is looking amazingly beautiful! Another outstanding garden project idea to duplicate! Complete instructions and tutorial here instructables
Easy DIY Recycled Upside Down Planters: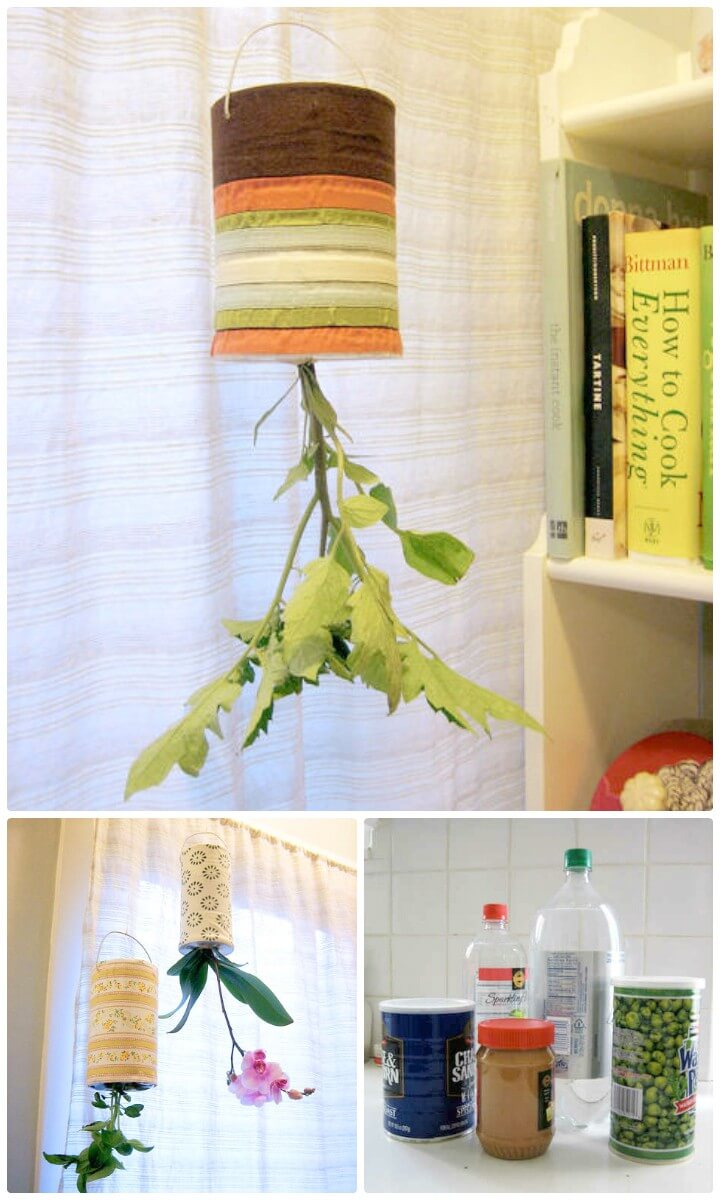 Also add some add decors to your garden to create an outlandish look of your green space! These recycled upside down planters would make a great choice in this case! These planters are easy to make even by a beginner! Here the custom tin can, wire hangers, fabric scrap and custom spray adhesive has been used for these adorable planter creations! Moreover, these upside down planters would also look great at indoor and would definitely the attention of all onlookers! Complete tutorial here designsponge
Easy DIY Pallet Planter Tutorial: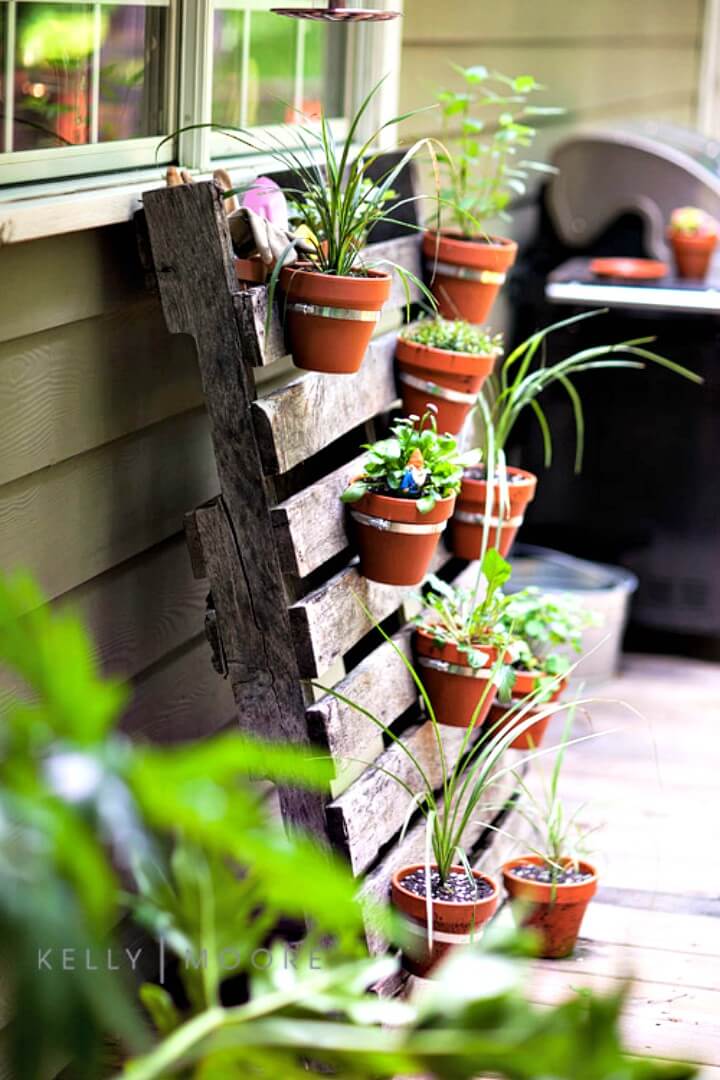 Have a look at this another graceful vertical planter or garden that is made of pallets and is almost no-cost in price! Here all you need a wooden pallet skids, a collection of terracotta pots and some hose clamps to duplicate this insanely beautiful planter for your green garden space! You can also paint the pallets for an alluring background or can also stencil it for a personal statement! Complete project details here kellymoorebag
Beautiful DIY Terracotta Pot Flower Tower with Annuals: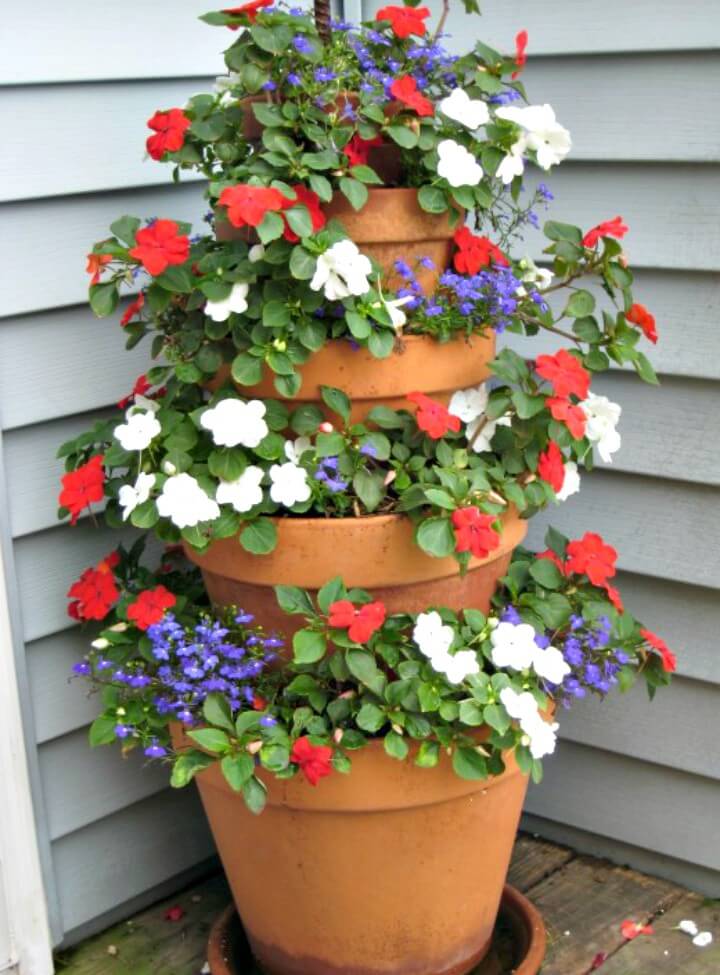 Fill the terracotta pots with potting soil and stack to make a tower with a terra cotta saucer bottom and make amusing flower tower planters for your garden then will definitely something attention grabbing! Checkout here the sample flower tower that is amazingly beautiful and enchanting and you will love to look at it twice! Another awesome project to do to bring great visual details to your garden! Complete project instructions here dengarden
Easy DIY An Elevated Garden Tutorial: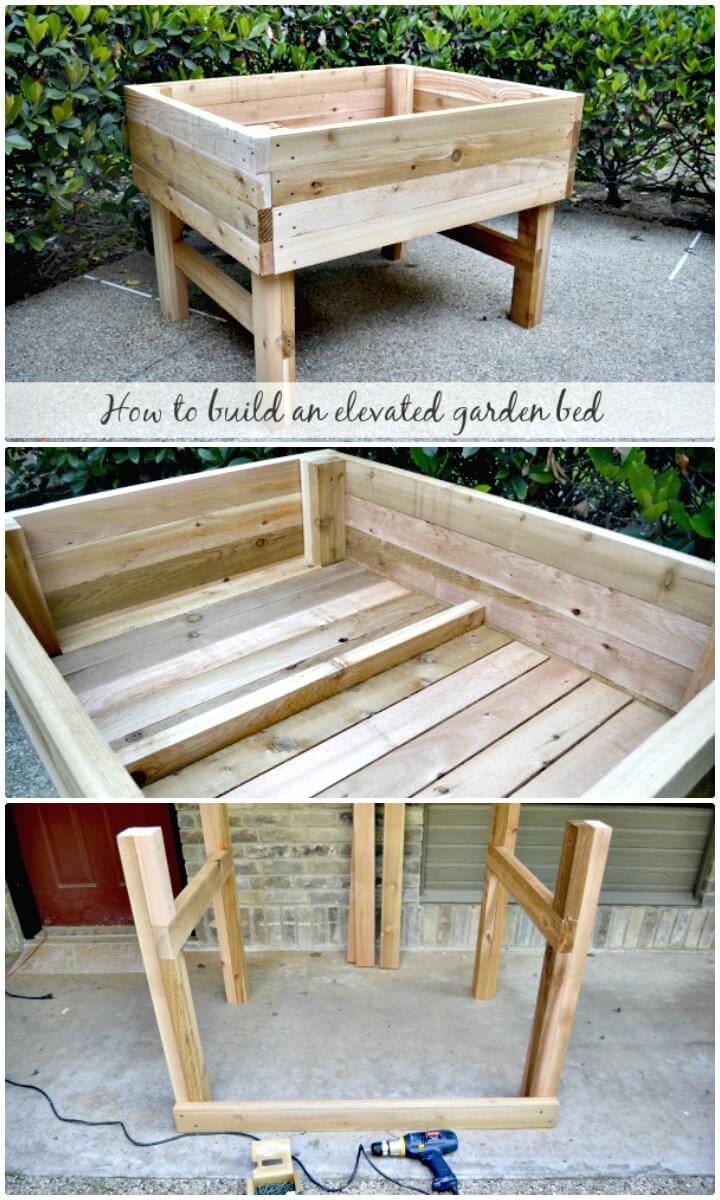 Raise the aesthetic value of your garden also by adding some flawless planters and flower beds just like this elebated garden bed that is made of wood and comes on 4 robust wooden legs! Here this raised planter is entirely made of wood and is damn focally stimulating! You can also paint it modern or rustic to get it in a custom look or appeal! Another handsome DIY project to do to make your garden beautiful! Complete tutorial here addicted2decorating
Gorgeous How To Build An Herb Spiral: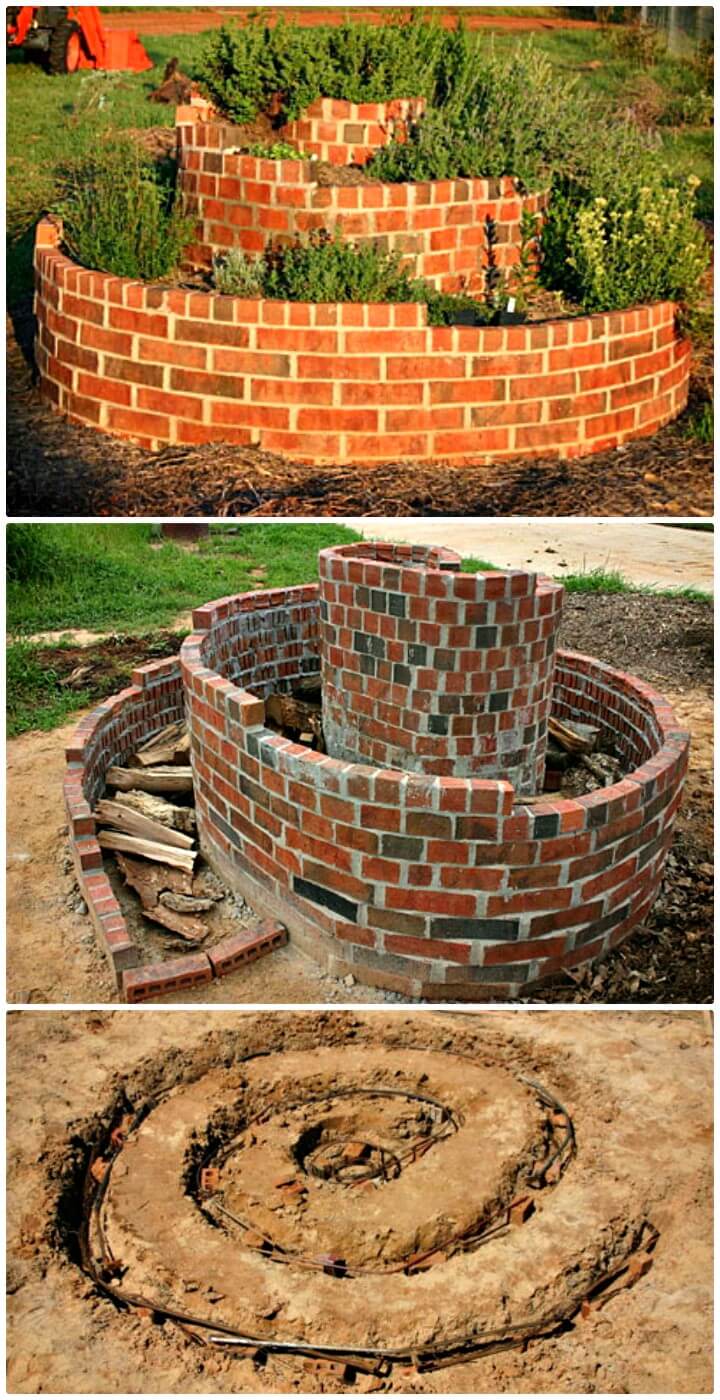 Another very genius project is here to raise the beauty and decors of your garden! Just install the beautiful herb spirals to your garden and create a beautiful artistic look of your garden! Checkout here this sample herb spiral that is made of bricks just like a cemented wall and come with different layers from rustic wood to potting soil just to fill up the space! Another great project to do to raise the beauty of your garden to peak! Complete project tutorial and instructions here gardeners
DIY Kokedama String Garden Project: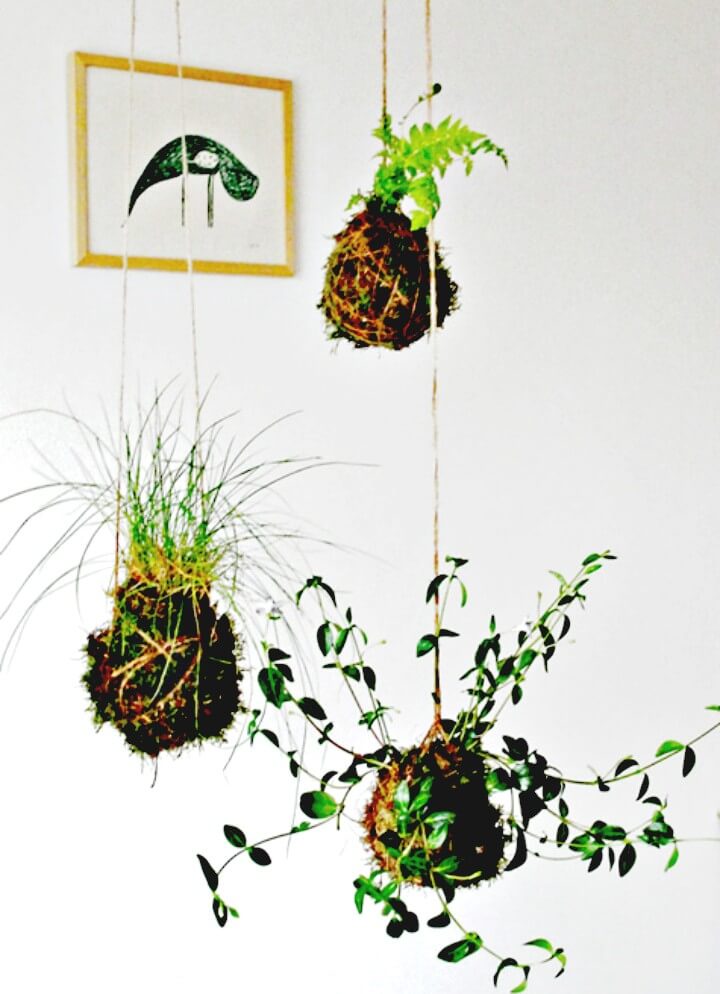 Make soil ball planters and just cover them with moss and next hung them up using string, this will install a handsome string garden to any indoor or outdoor space of your home! This would be another great way to bring garden vibes to your interior spaces! Checkout here the sample kokedama string garden that will put you in big amazement! Complete project instructions and tutorial here designsponge
Simple DIY Decorative Pond From Old Tires: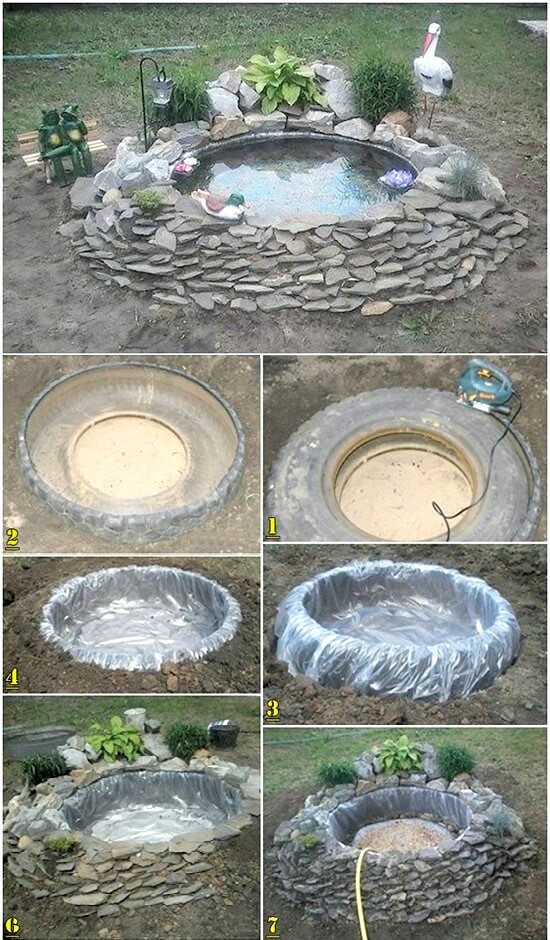 Willing to bring great focal stimulation to your garden space? This would just demand for some outstandingly beautiful and great looking decors! How about installing a decorative pond? Just recycle the bigger and old vehicle tired to install beautiful decorative ponds in your garden! Get inspired by this sample decorative pond that has been with an old tire and covered nicely with waterproof fabric and finally has been got dignified by covering with stones! Complete project instructions and tutorial guide here goodshomedesign
How to Create A Succulent Wall Art: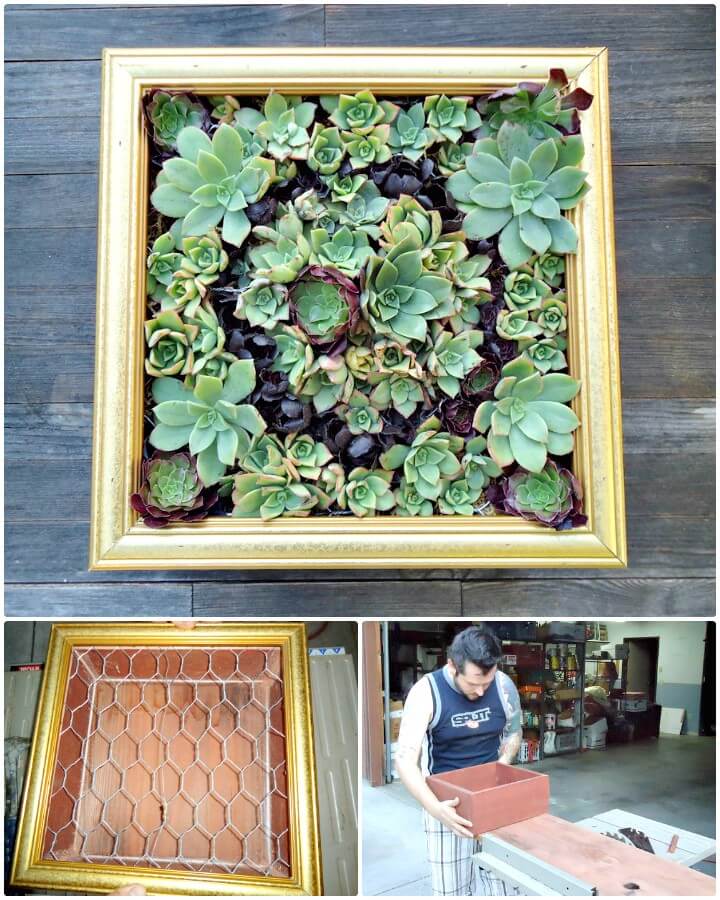 Spruce any of your outdoor indoor wall also with natural décor centerpiece, just take a look at this precious homemade succulent wall art that is looking dashing due to being square in shape! Here all you need a wooden box, an old frame, wire mesh, moss, cactus soil and succulents to duplicate this very handsome succulent wall art! Grab the full free guides and instructions from here instructables
Easy DIY Rustic Garden Gate Tutorial: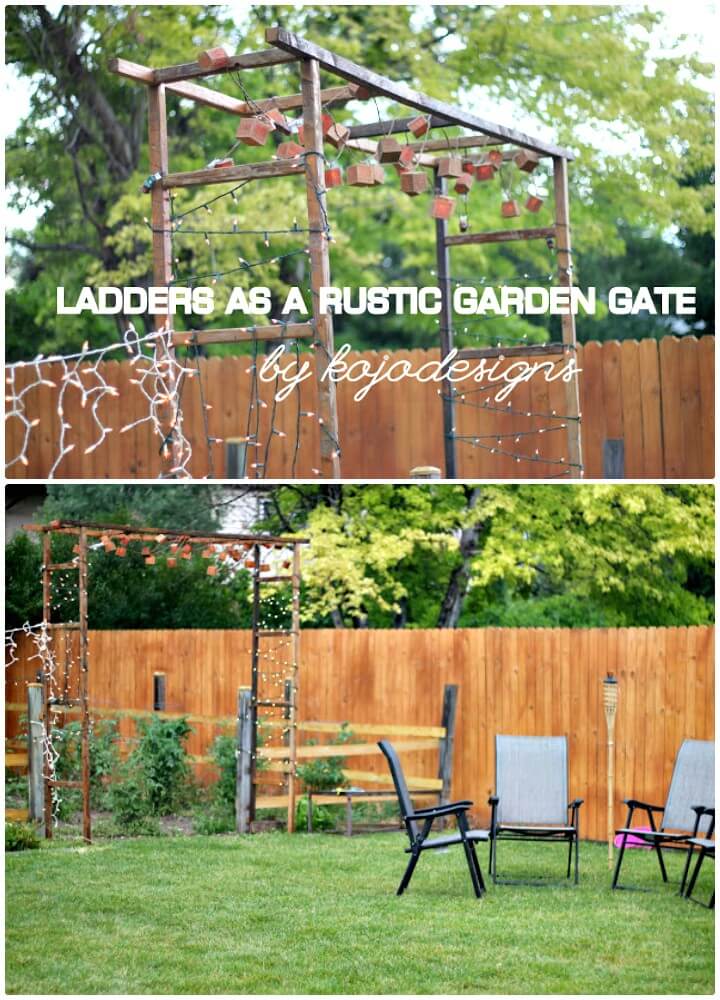 Building a new and fantastic garden gate would also be something that will raise the beauty of your garden to next level! You can even use the recycled wood and materials to build your own fantastic garden gates at home! Just have a look at this wooden rustic garden gate that is made of a rustic wooden lengths and comes uncovered! Finally it has been embellished with the LED lights and hanging mini wooden blocks that hangs to its top frame! Another great DIY garden décor project! Complete project instructions and tutorial here designs
Build Cedar Vertical Tiered Ladder Garden Planter: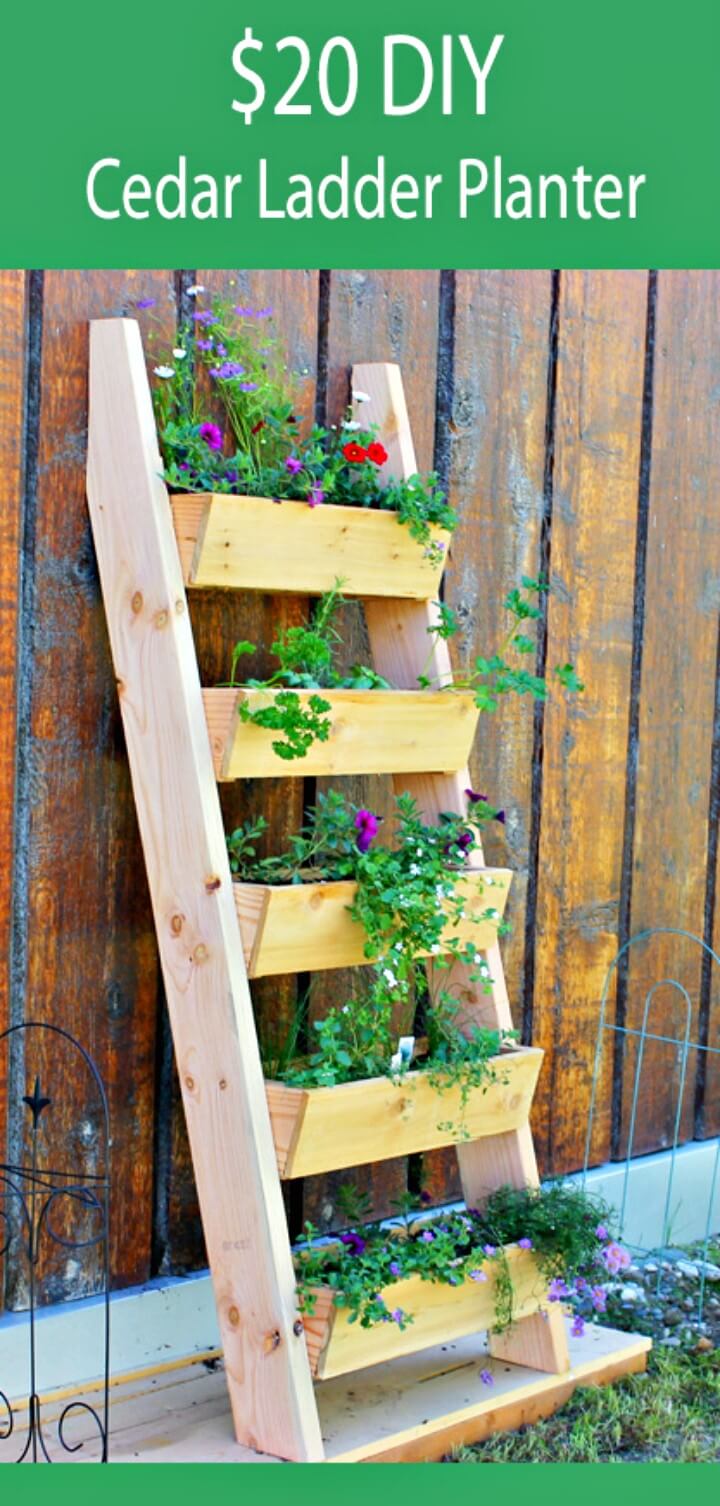 Here is what you need to create a super visually attractive spot in your garden, a handsome tiered ladder garden planter! Here the cedar wood has been used to build this entire ladder garden planter that comes with longer wooden lengths that build the sides and there are little wooden holdings that come in place if ladder steps and spindles! Want to duplicate this tiered ladder vertical garden planter? Grab the full free plans and tutorial from here ana-white
Easy How to Create a Watering Can Fountain: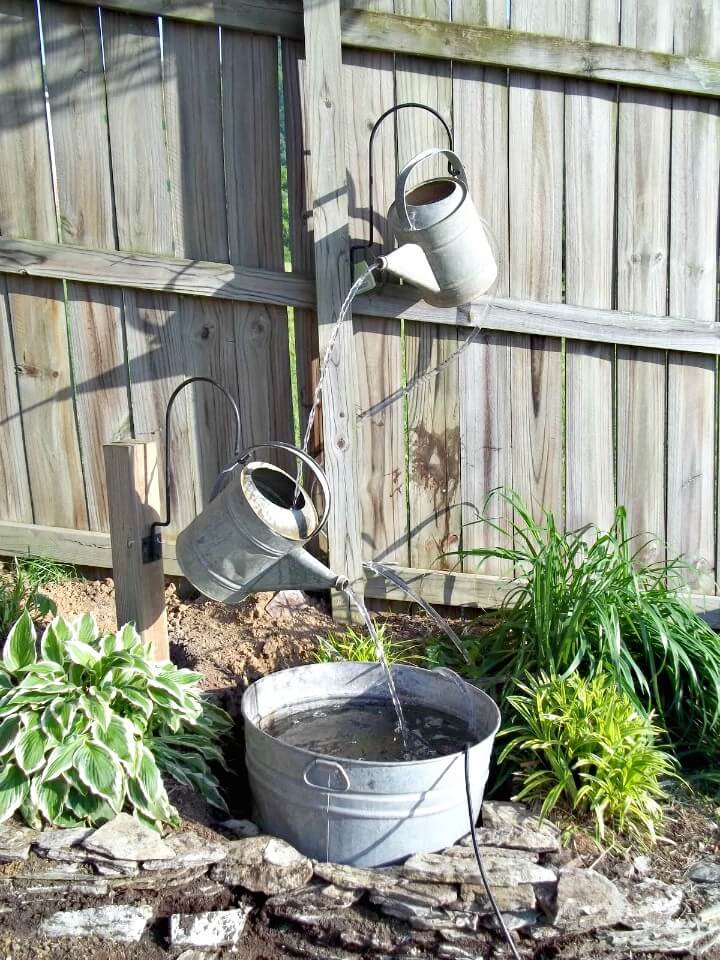 Installing custom fountains is also a great solutions to boost the visual of your green garden spaces! However, a fountain installation in your garden can cost you big and you can make your own special fountains at home using the custom materials like the watering cans! Check out here the sample watering can fountain that is looking interesting and much visually pleasing and will just cost you next to nothing! Another create garden décor project! Complete instructions here dawnmarie100
Easy DIY Garden Tea Pot Fountain Tutorial: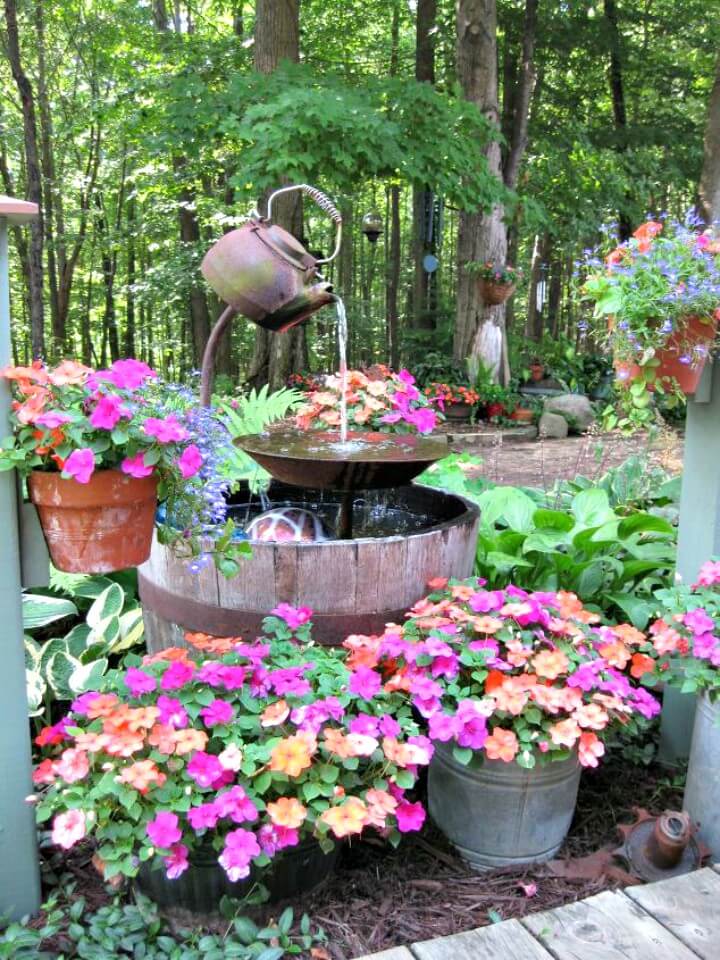 Make your garden space a bit more enticing and whimsical by installing some custom unique and mysterious decors! Check out here a sample DIY fountain that looks rustic and is made of vintage teapot and a dish! Here this entire fountain setup has been done in a half cut barrel that has been fixed in the garden ground! Another creative idea to make your garden look beautiful and enticing! Complete project instructions and tutorial here hometalk
Gorgeous How To Build A Miniature Herb Garden: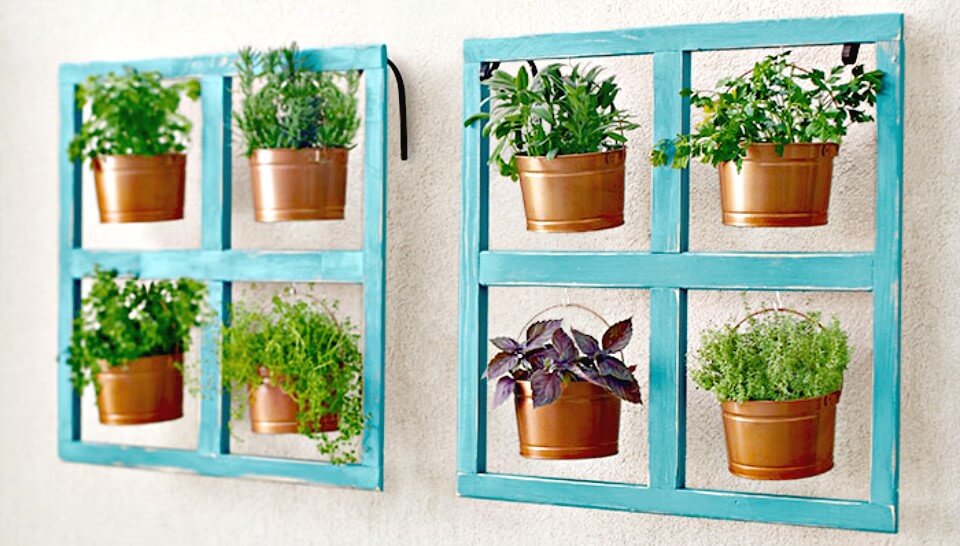 Go also smartly handmade with poplar boards and empty metal paint buckets to install adorable looking hanging herb gardens! Here the poplar boards having the hanging bucket planters, have been hanged on the wall using metal brackets and this generates a fab look of that particular wall! This is here another gorgeous project to do if you are intending to bring some great garden vibes to any of indoor space! Complete project tutorial and step-by-step instructions here lowes
DIY Two Pallet Potting Bench – Garden Project: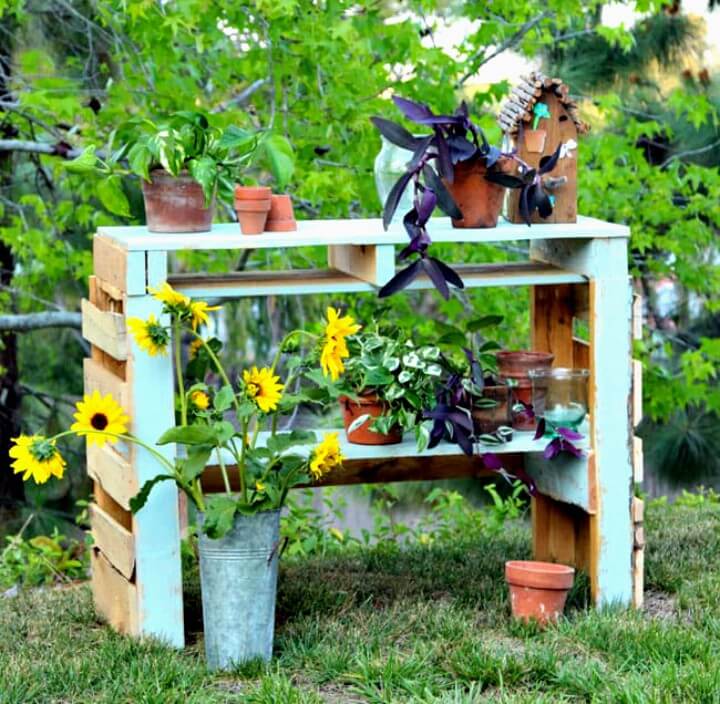 Improve your garden also by getting crafty with pallets! You can do a lot of garden improvement projects with pallets like from building to custom planters to garden fence and raised beds! Build also the custom garden potting benches with pallets that will also bring great charm and functionality to your green space! Duplicate this gorgeous two pallet potting bench that also provides a lower shelf to store extra Items! Here is how to make this fetching potting bench! apieceofrainbow
How To Turn An Old Tire Into A Gorgeous Planter:
You will definitely think twice before ending up old tires to dumpsters after taking a look at this gorgeous garden planter that is entirely made of an old tire, some wood and rope! Just cover the bottom of the tire with an old cable spool round wheel or disk and then install 3 angular legs to its bottom side to give it a handsome standing style! Next you can wrap the tire in a rope or twine for a more glam look and that's it! Complete tutorial and instructions here addicted2diy
Easy DIY Wall Of Flowers In Your Garden: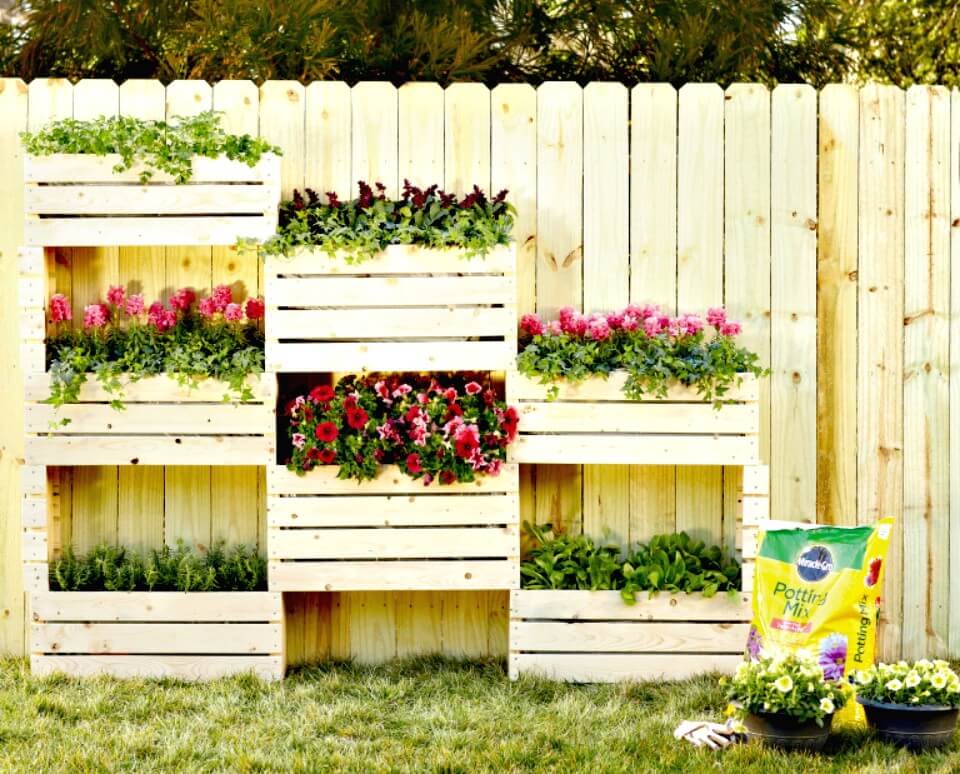 One more outstanding project here to turn your garden into a mini heaven! Just install fascinating flower walls in your garden and create impressive looks of your green space! Get inspired of this rocking wooden flower wall that has been installed to a garden fence! Here all you need to get crafty with wooden planks to build custom wooden crate like structures which can then be stacked or organized in custom configurations making beautiful flower walls as you can see! Complete tutorial and step-by-step instructions here goodhousekeeping
How To Build Raised Garden Beds For $35: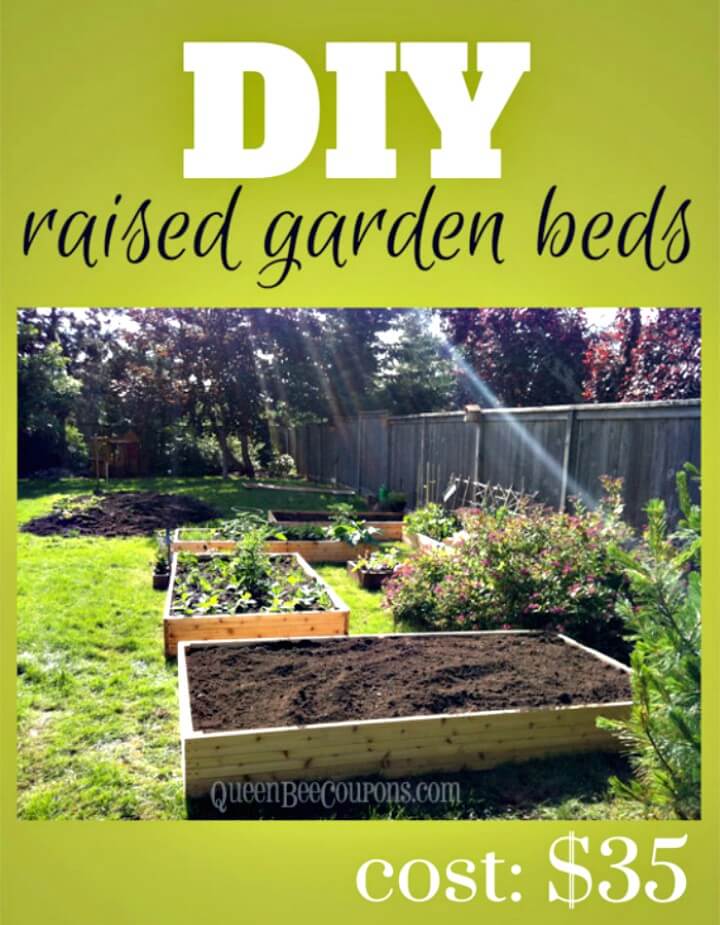 Brings tons of charm to your garden space also by building super beautiful raised flowers or herb beds in your garden! Make use of longer wooden lengths to install bigger wooden square or rectangular shaped frames for raised garden beds! Check out here the sample raised garden beds that are much focally stimulating! Building these garden beds would be pretty simple and quick to do and will only cost your under 40$! Complete project instructions here queenbeecoupons
Easy DIY Tiered Herb Garden Project: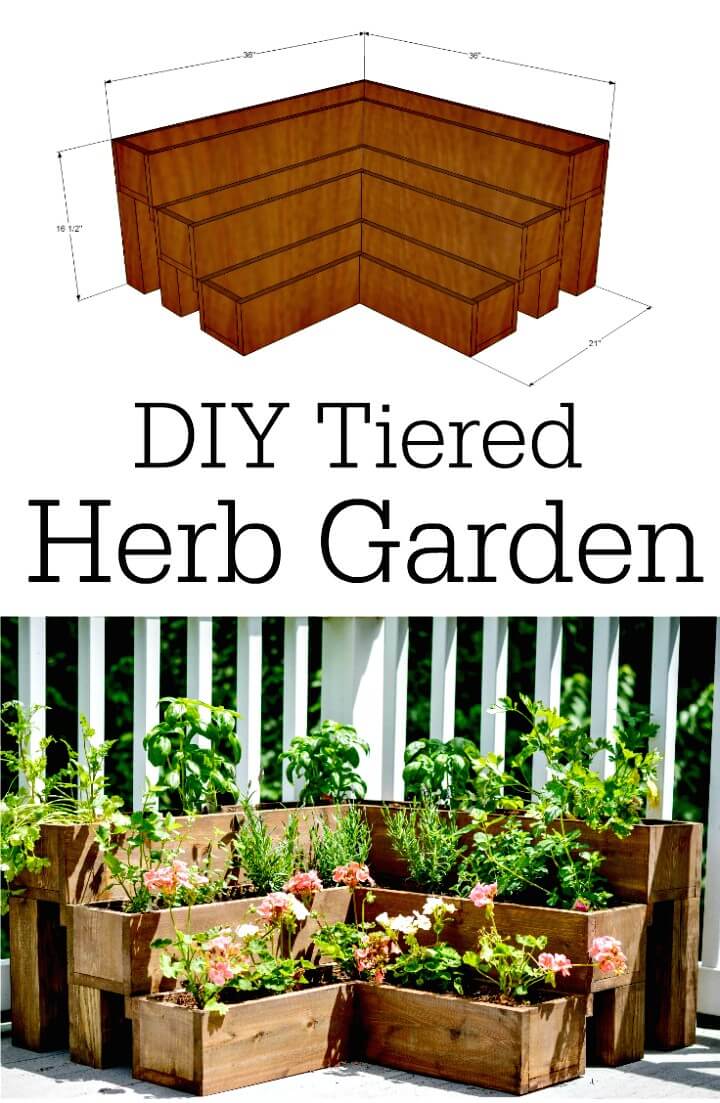 Here is what you need to spruce up a garden corner, a very beautiful handmade tiered herb garden that is made of L-shape wooden holdings or planters that come in different sizes and also with different heights and finally have been tired to fill up a boring corner garden space! This is here another gorgeous and fantastic project to grace up your green space! Free plans and tutorial for this tiered herb garden is here decorandthedog
Make Your Own Raised Garden Beds: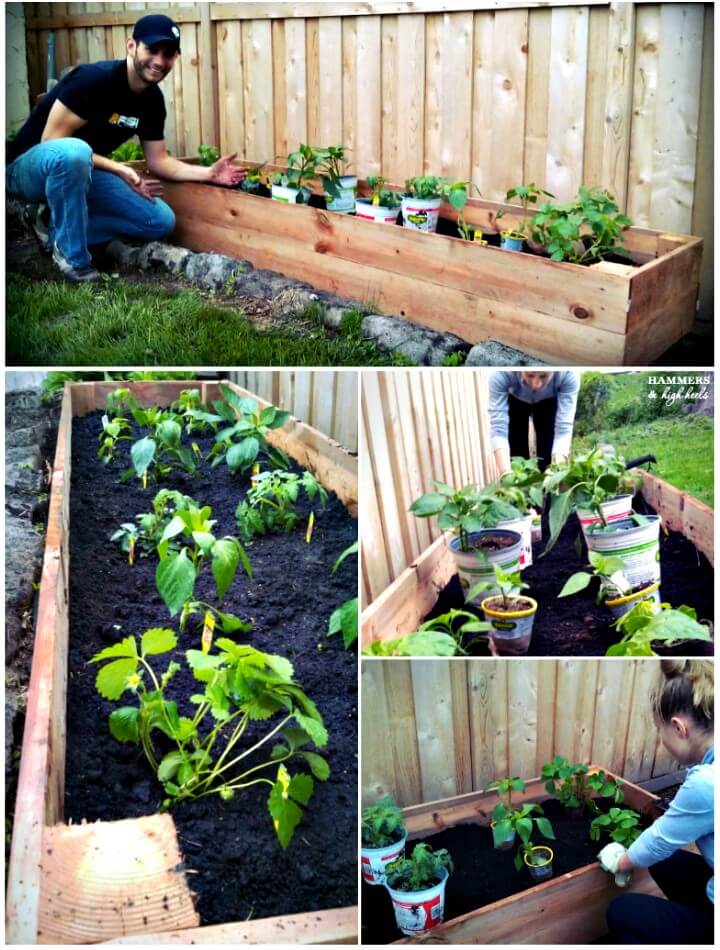 Look at this another great raised garden bed that is also purely handmade and here the longer wooden planks have been used for this garden bed project! Here all you need to fix the wooden planks in a bigger rectangular shape in your green space and then you can fill it up with potting soil, pretty simple and easy peasy! Grab the full free tutorial and guide from here hammersandhighheels
How To Turn Pallet Into Garden Planter: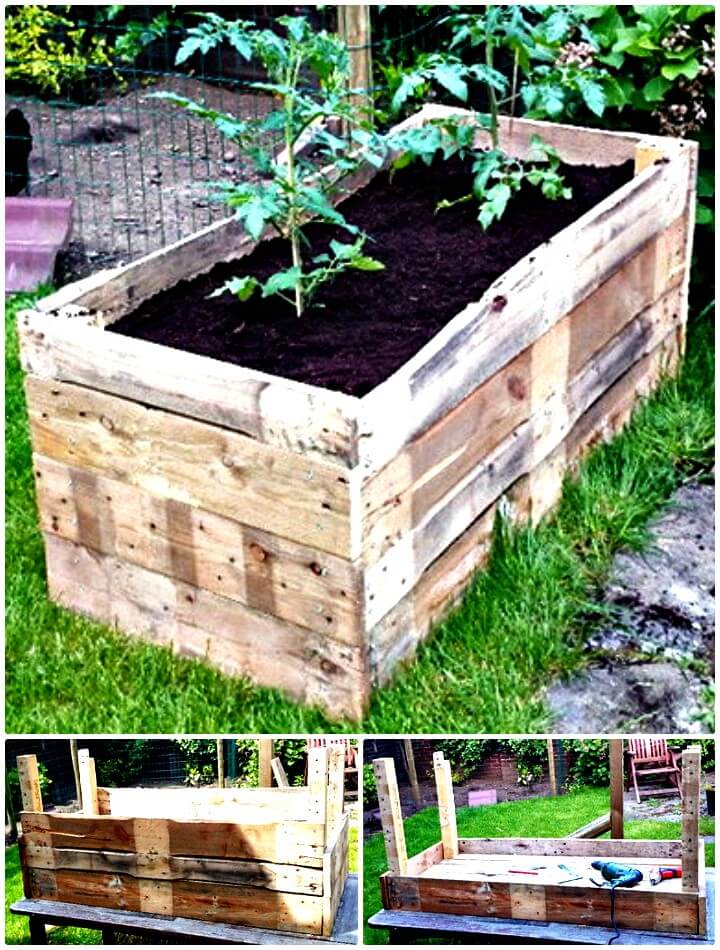 Get also crafty with pallets to build fantastic wooden boxes that can next be used in your garden as brilliant planter boxes! Just dismantle pallets and rebuilt them into good looking crates or boxes, next fill your boxes with potting soil and make great looking herb or flower planters out of them! Check out here this sample garden planter that is looking much visually attractive and pleasing! Complete project instructions here removeandreplace
How To Re-Purpose A Dresser Into A Home Garden Tutorial: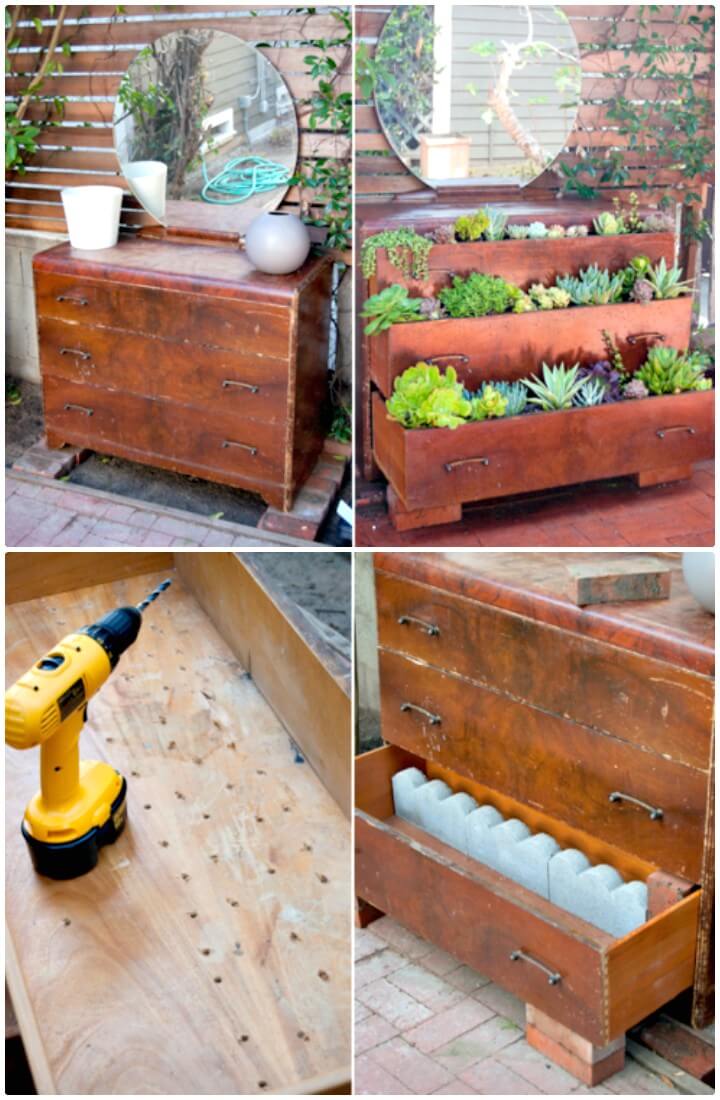 Really don't know what to do special with your old furniture items like a dresser? Why not turn them into fantastic garden beauty stations? Just star potting in the dresser drawers and make amusing mini herb and flower gardens in just no time! Check out there the sample recycled dresser garden that is just looking fantastic! Another smart DIY project to do to boost your garden decors! Complete instructions here shelterness
How To Build Garden Planter & Birds Bath: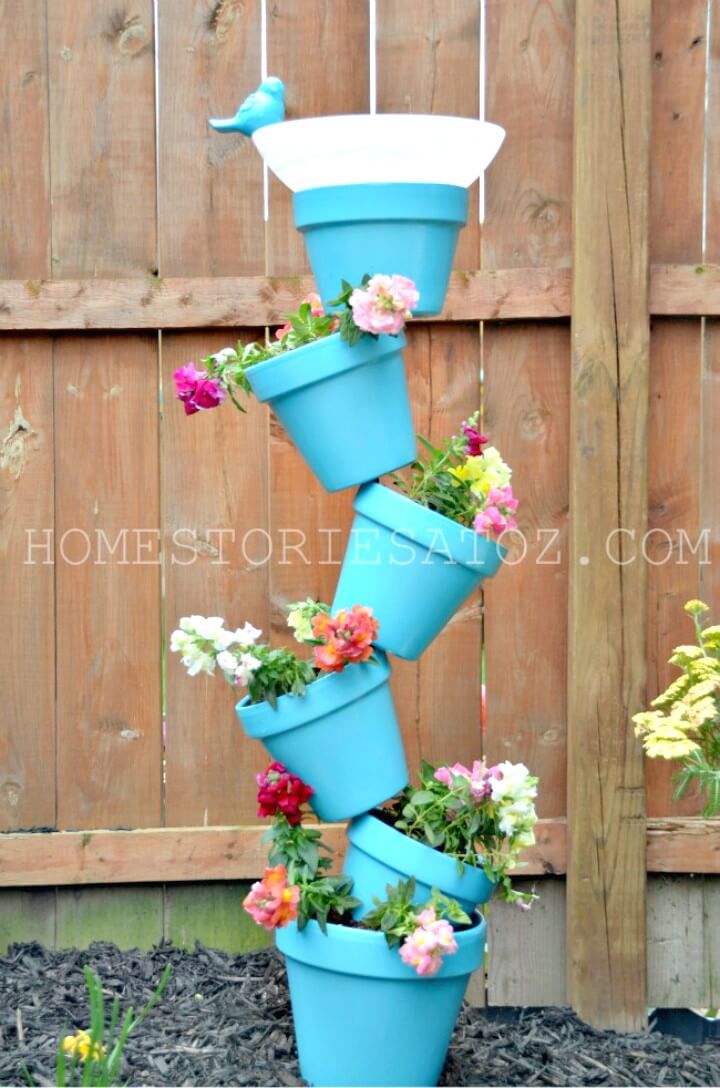 You will how just fall in love with this topsy-turvy garden planter made of aqua painted terracotta pots and is looking damn beautiful! Here the each pot stays on a rebar that passes through a bottom hole in each pot! Finally the entire garden planter has been topped up with a birth bath and hence a great garden centerpiece has been used using the ordinary items and just a little creative thinking! Complete tutorial and instructions here homestoriesatoz
Make Your Own Flower Pot Fairy Garden: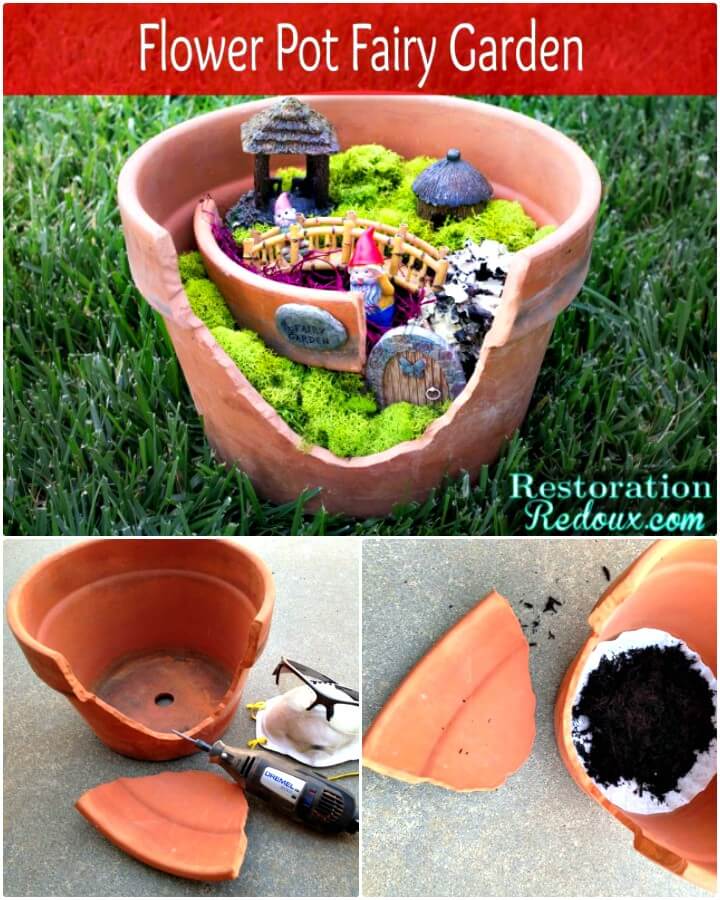 Even you can get crafty with your broken up garden terracotta pots to turn them again into fascinating garden décor centerpieces! Just have a look at this interesting flower pot fairy garden that is purely handmade and all you need custom mini toys, embellishments, greenery to duplicate it for your garden space! This would also make a handsome gift for a garden lover! complete instructions and tutorial here restorationredoux
DIY Recycled Wine Barrel Planter: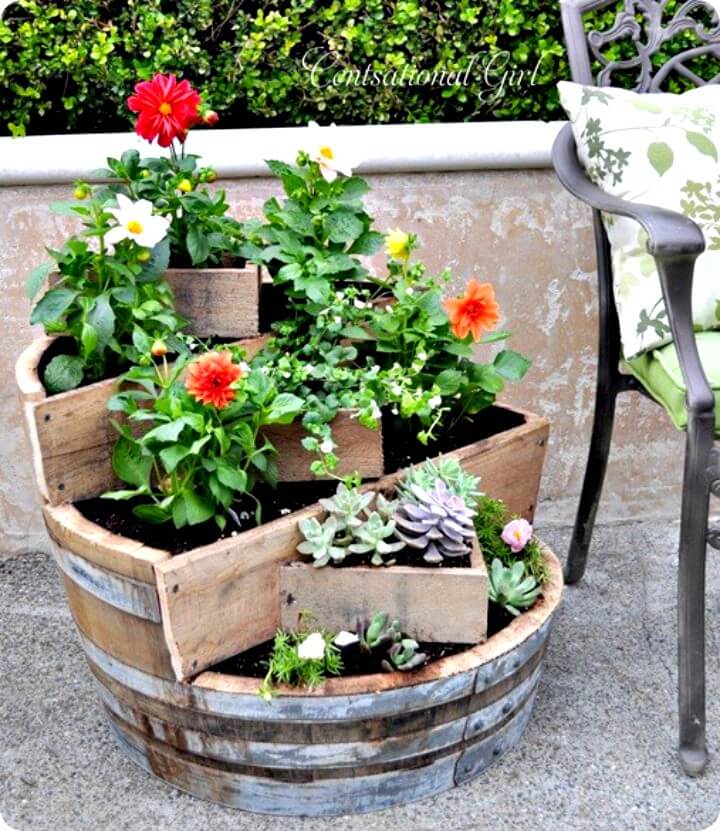 Get crafty also with old wooden barrels to create interesting beauty stations for your garden space! Just peek into design structure of this precious barrel planter that is having planter boxes made of chopped barrel pieces! Here the leftover odds and ends of wood has also been put together for mini triangular planters that come in front of each tiered bigger tiered planter! Complete project instructions and tutorial here centsationalstyle
How To Build River Rock Garden Markers: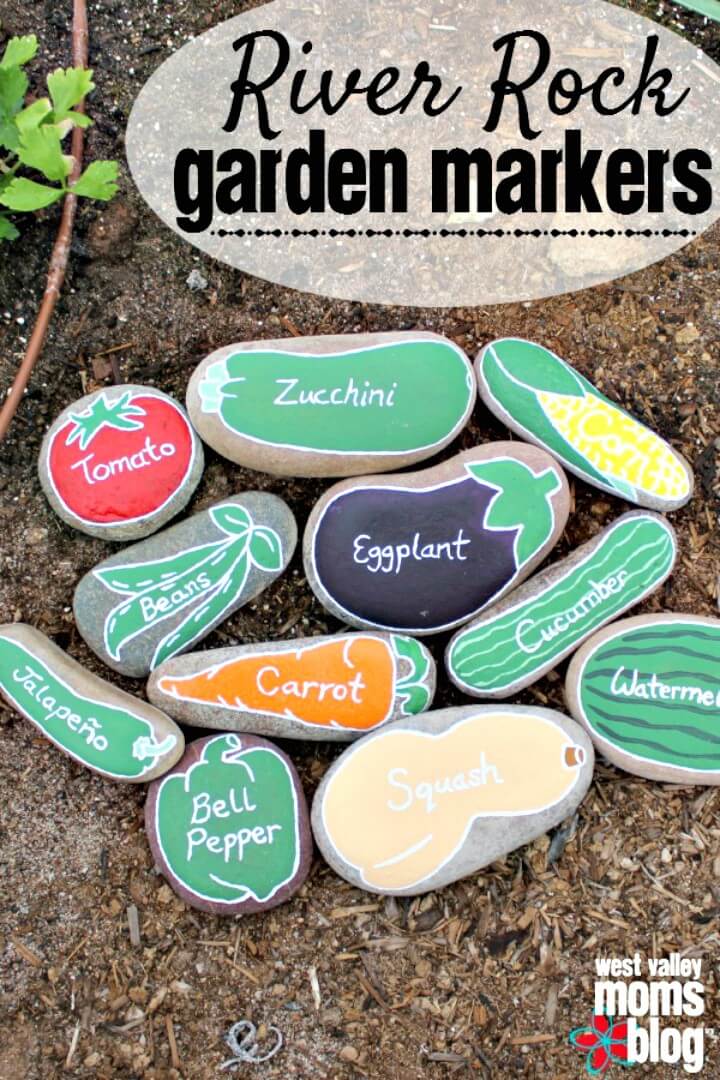 It becomes necessary to add markers to vegetable gardens to see what we have grown and where in the garden! So, if you are willing to make some interesting garden markers at home then you can also get crafty with the river rocks and stones, just paint the river rocks for custom vegetable and fruit signs and make gorgeous garden markers in just no time! Checkout here the sample garden river rock markers that are looking amazingly beautiful and fetching! Complete project instructions here westvalley
DIY Chandelier Planter Tutorial: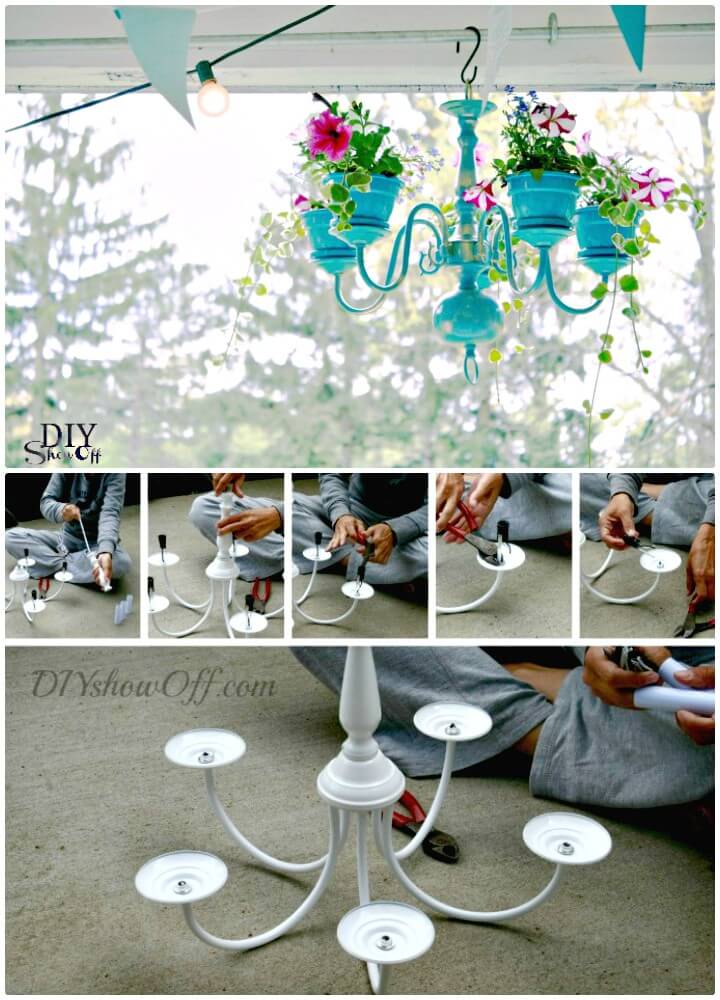 Checkout here another great hanging centerpiece for your garden that is made of an old chandelier! It is here a chandelier planter that comes with mini terracotta pots fixed in place of chandelier lights! Here first the terracotta saucers have been adhered as the nice holding bottoms for the terracotta pots as you can see! Next you can paint the entire finally finished chandelier planter in any custom color for a fascinating garden planter! Complete project instructions and tutorial here diyshowoff
Make Your Own Garden Markers Spoons: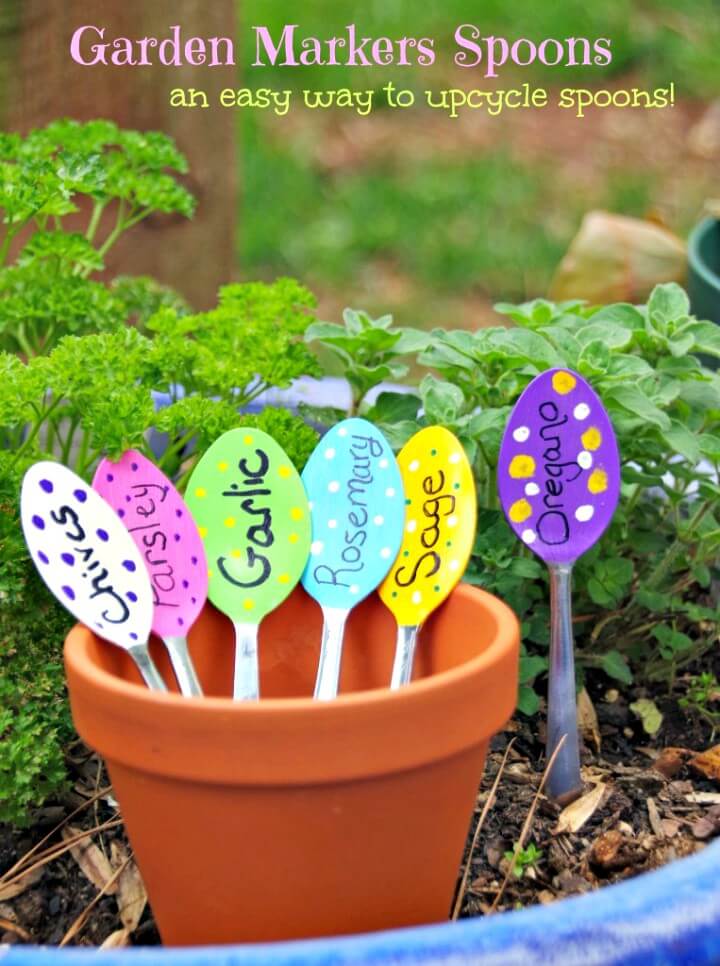 Jazz up your garden space also by adding some faux mushroom decors! Making faux mushroom is super easy by using a terracotta pot and a saucer! Just flip over a terracotta pot and top it up with a flipped saucer and do the rest of work using paint and a glue! Adhere the saucer in place and next use the custom paint color mixed with white dots to make amazing looking mushroom decors! Another cost-efficient garden décor project to try out! Complete project instructions here turningclockback
How To Build Garden Mushrooms: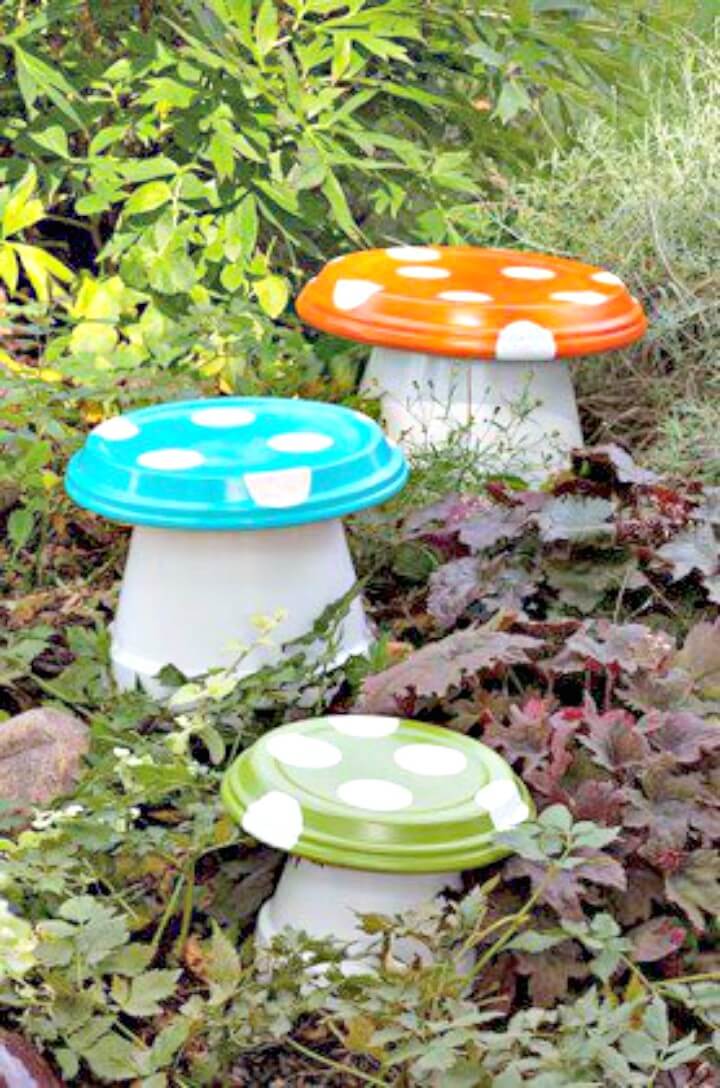 Jazz up your garden space also by adding some faux mushroom decors! Making faux mushroom is super easy by using a terracotta pot and a saucer! Just flip over a terracotta pot and top it up with a flipped saucer and do the rest of work using paint and a glue! Adhere the saucer in place and next use the custom paint color mixed with white dots to make amazing looking mushroom decors! Another cost-efficient garden décor project to try out! Complete project instructions here birdsandblooms
DIY The Rocky Bucket Tutorial: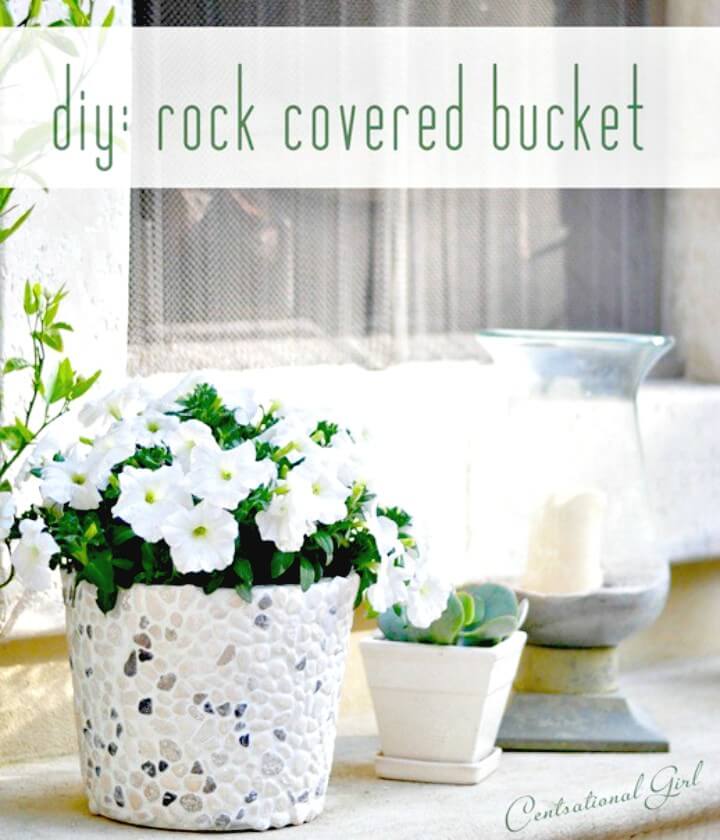 If you are looking for adorable planters that will help creating an adorable look of your garden then to make them at home using your own creative hands! Just look at this masterpiece, the rocky bucket planter that is purely handmade! Here all you need a custom bucket, rocks and some grout to duplicate this very handsome looking planter! Want to see this rocky bucket planter next in your garden? Then duplicate it via free tutorial provided here centsationalstyle
Make Your Own Garden Concrete Table: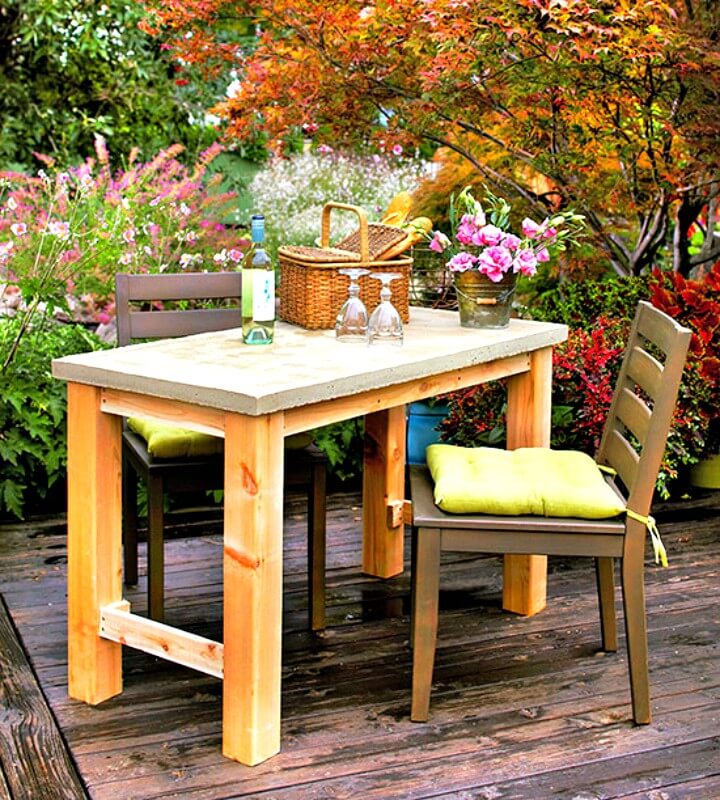 Organize also your garden space with custom hand-built items of furniture! Start your organizing your green space by making this adorable garden concrete table that is looking much focally stimulating to eyes! Here the heavy duty wooden lengths and posts have been put together to build the durable frame of the table which comes with a solid concrete top! Another brilliant and outstanding DIY garden project that everyone can duplicate! Complete project instructions and tutorial guides here bhg
Adroable DIY Compost Bin Tutorial: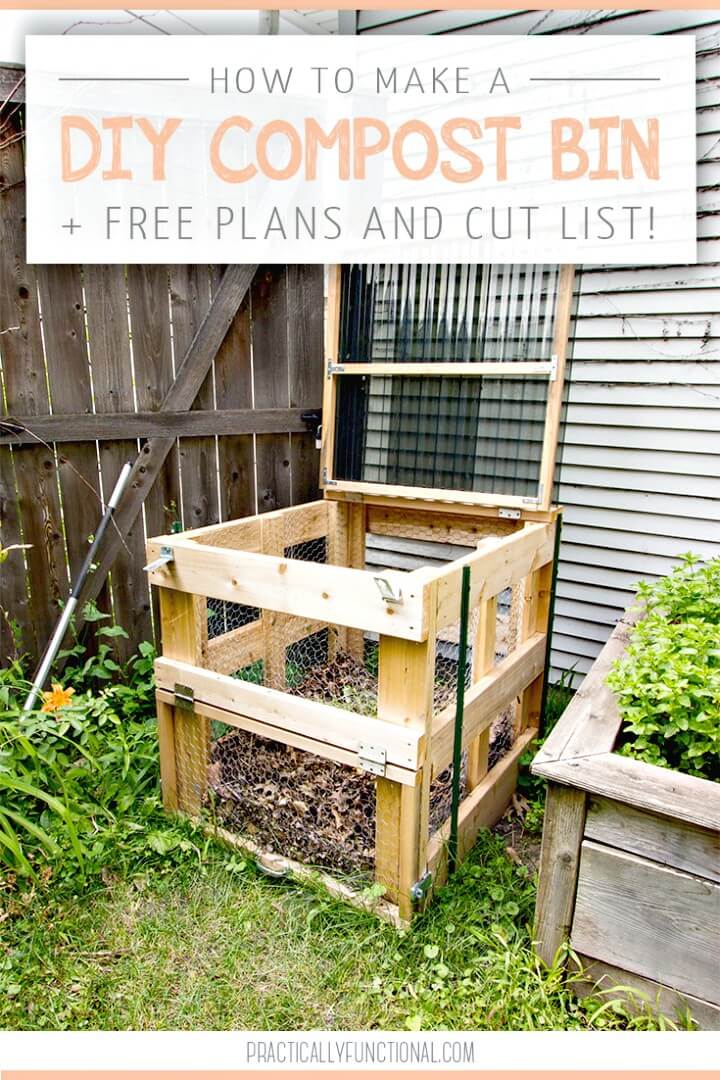 Making your garden clutter free, will also be something you can do to raise the beauty of your garden! So, why not build some outstanding compost bins for your garden space that will hold the garden trash and the recyclable materials! Here this compost bin is made of lumber wood and wire mesh and comes with a beautiful polycarbonate top for an interesting look and visual! Here both the bottom door and the lift-top come on hinges and custom locks have also been installed to keep the top locked in position! Complete construction plans and tutorial here practicallyfunctional
How To Build Garden Log Planter for Flowers: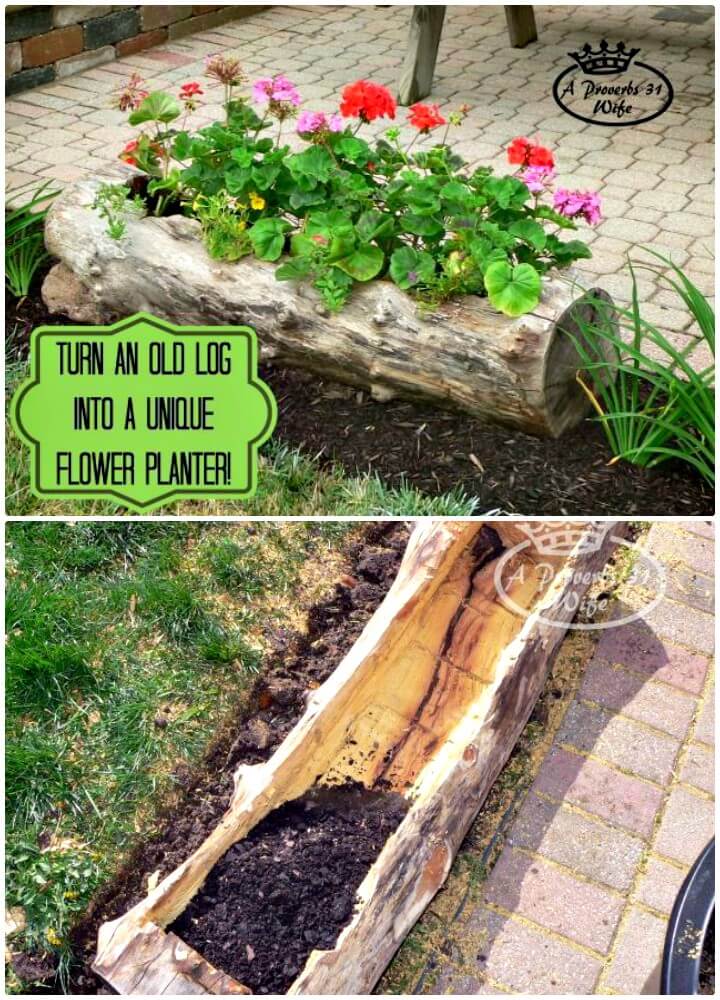 Looking for some more natural looking decors and centerpieces for your garden space? If yes, then not make some outstanding ones at home using an old wood log? Just grab a beefy piece of wood log and cut the wood out from it to turn the wood log into a rustic wooden holding! Next fill the wood log holding with potting soil and star using it as a rustic planter! Another great and outstanding garden planter idea! Complete project instructions and tutorial here aproverbs31wife
DIY Homemade Garlic-mint Garden Insect Spray: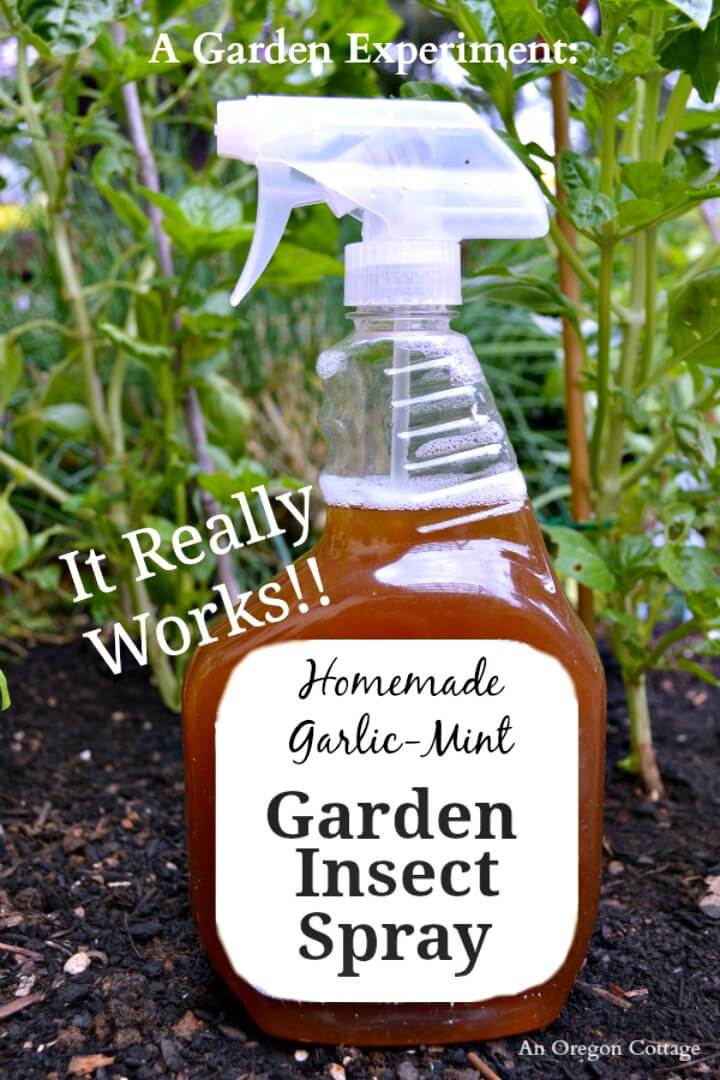 If you on a mission to rescue your garden from dangerous insects then here is another great project idea for you! Just make custom insect sprays at home just like this garlic-mint insect spray! This spray can also be given as a great gift to a garden lover and is pretty simple to make at home! Here all you need mint leaves, garlic cloves, water, biodegradable dishwashing liquid and dry cayenne pepper to make this insect spray! Complete recipe and instructions here anoregoncottage
Make Your Own Hose Hiding Planter: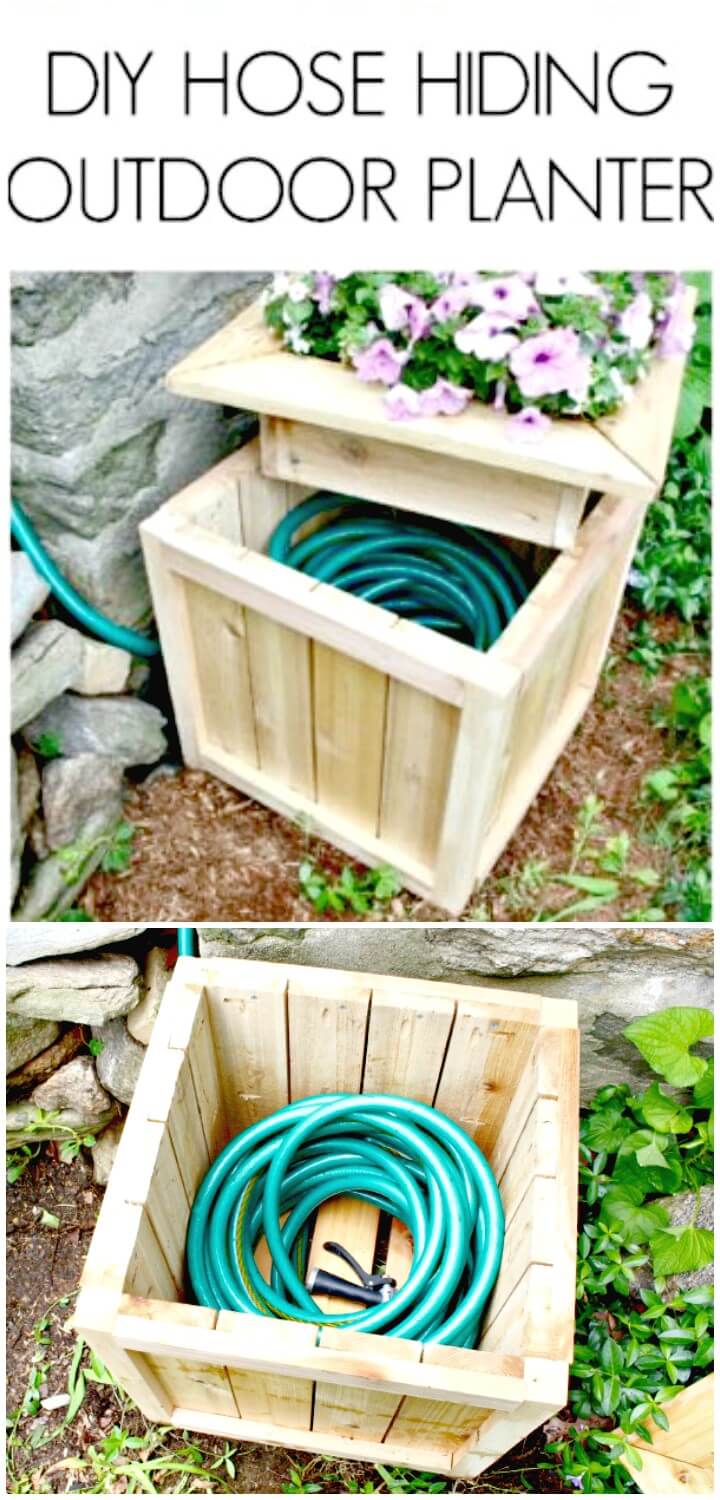 Checkout here another great DIY project that will serve for two main garden purposes! It will also raise the decors of your garden and will also hold well the garden hose! Here all you need is to make a beautiful wooden box using custom wooden slats which can then be topped up with a lid having a built-in planter! So, get crafty with any type of wood you are having in your home and duplicate hiding hose garden planter! Complete project tutorial and instructions here jaimecostiglio
How To DIY Vertical Garden for Your Home: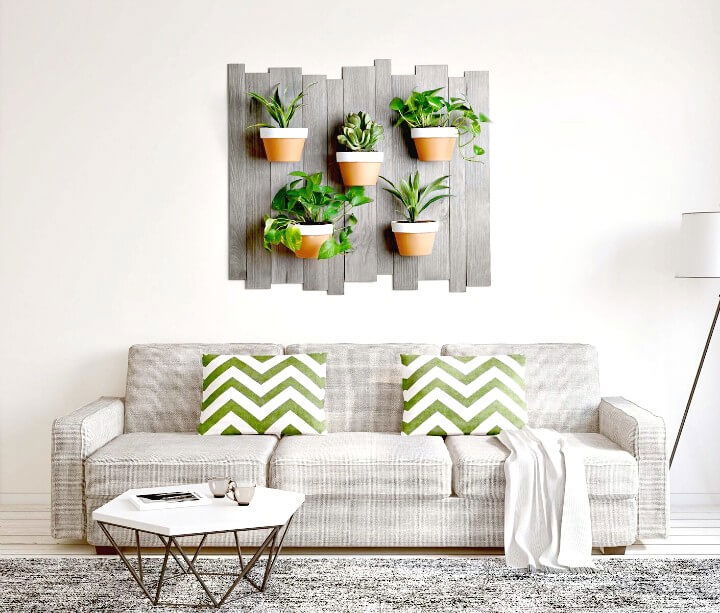 Willing to bring some outstanding garden vibes to your home and interior spaces? If yes, then homemade vertical garden would be a great solution! Just grab some wooden planks in custom sizes and put together to shape up a wooden board, next hang some flowers pots on it using metal hanger and finally mount this entire mini vertical garden on your favorite interior wall for instant decorative boost! Complete project instructions and tutorial here proflowers
Adorable DIY Hanging Herb Mason Jars Tutorial: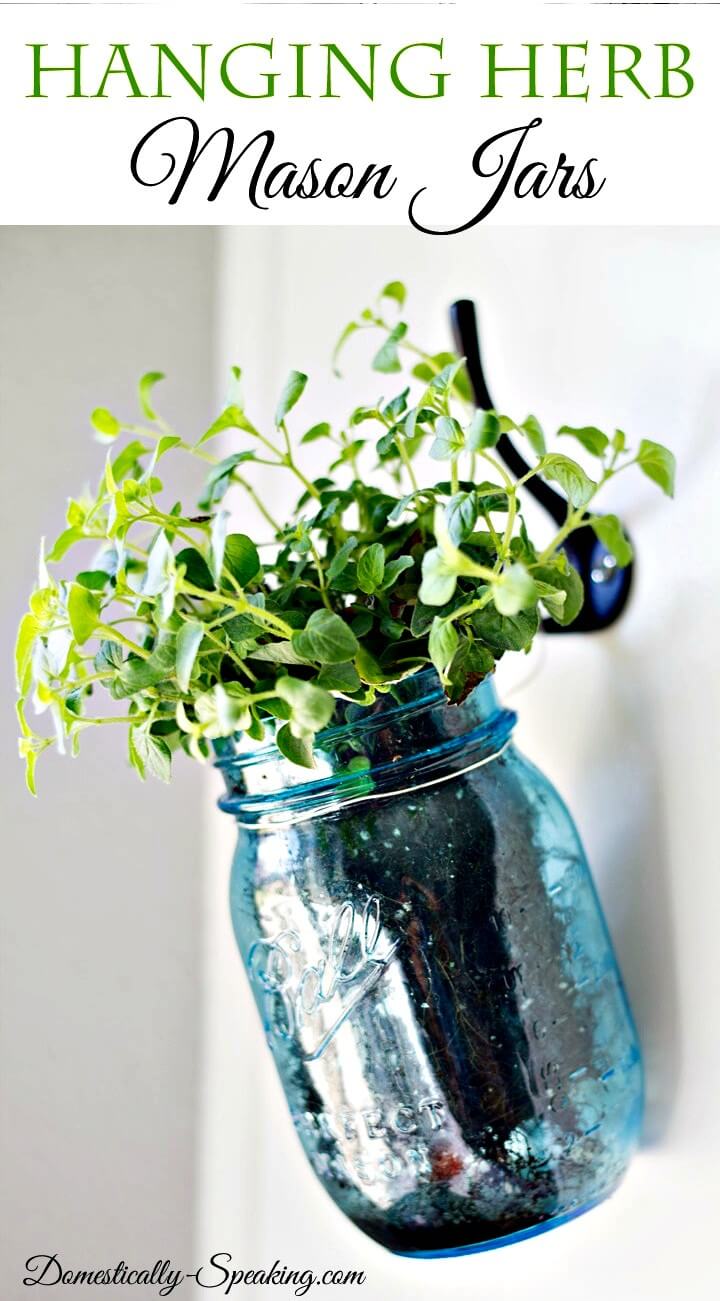 Reclaim also the Mason jars to do beautiful garden décor projects at home! Just by filling up the mason jars with potting soil and then with custom plants, you can easily change them into adorable vases which can then simply be hanged on any garden or interior wall as great natural décor centerpieces! If you are having a multiple mason jar vases put together on the wall then will definitely install a mini wall hanging garden! Complete project instructions and tutorial here domestically
How To Make a Hip Herb Garden to Fit Even the Smallest of Spaces: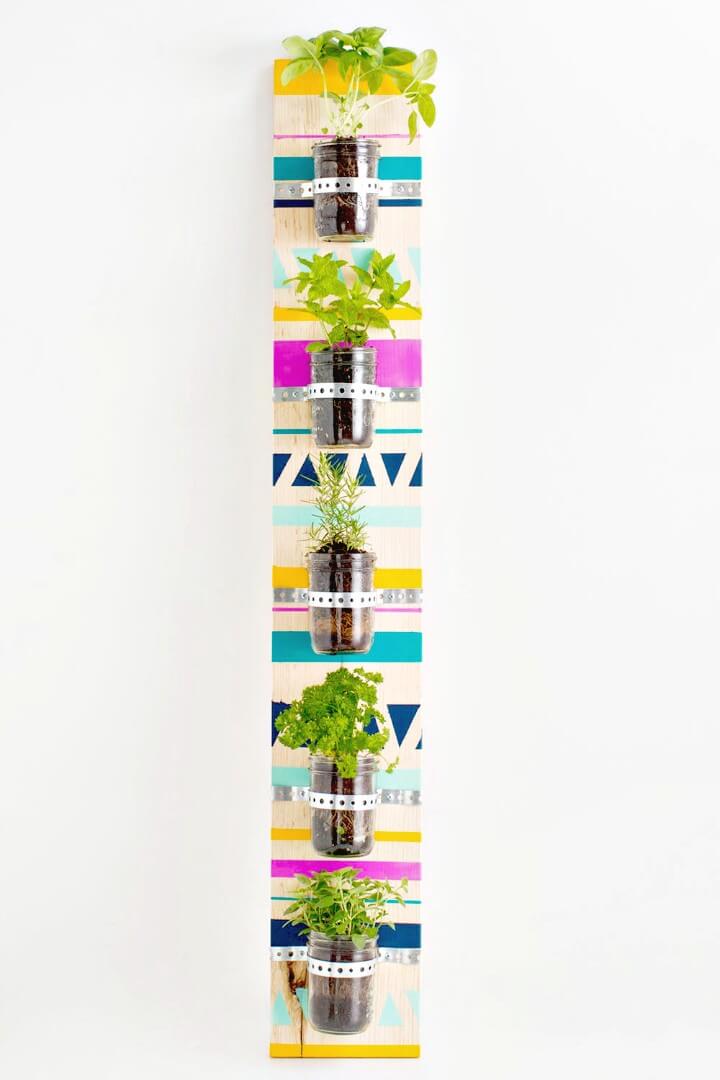 Get inspired of this another sample of homemade vertical planter that will fit to any small space and is another smart DIY garden project! Here the mason jar vases have been added to a longer wooden plant making a great vertical line and hence make a fab looking vertical wall garden! Here the wooden plan has been painted for precious rainbow stripes and custom geometrical patterns and is just looking amazingly beautiful! Complete project details and instructions here brit.co
Build A Hanging Herb Garden Tutorial: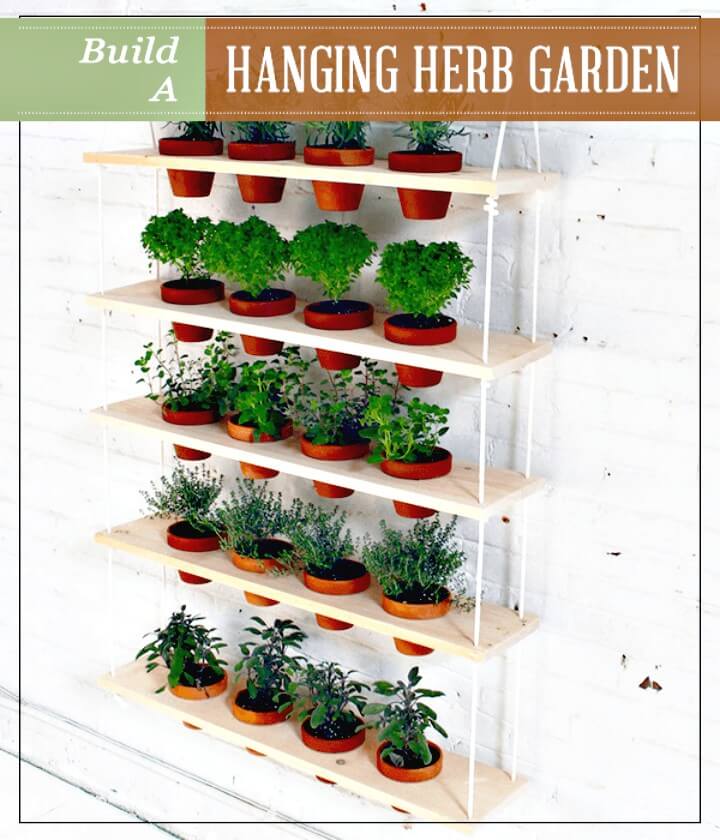 Not having sufficient garden space to grow your hard-to-find herbs? No need to worry about it, just install your own beautiful hanging herb gardens at home without getting expensive! Just grab some wooden planks, rope and terracotta pots and building brilliant hanging herb garden in just no time! Just peek into details of this sample herb garden that comes with longer wooden shelves having holes in them to fit the pots in and also to pass the rope through! Complete how-to tutorial here homesteading
Make Your Own Green Wall Planter: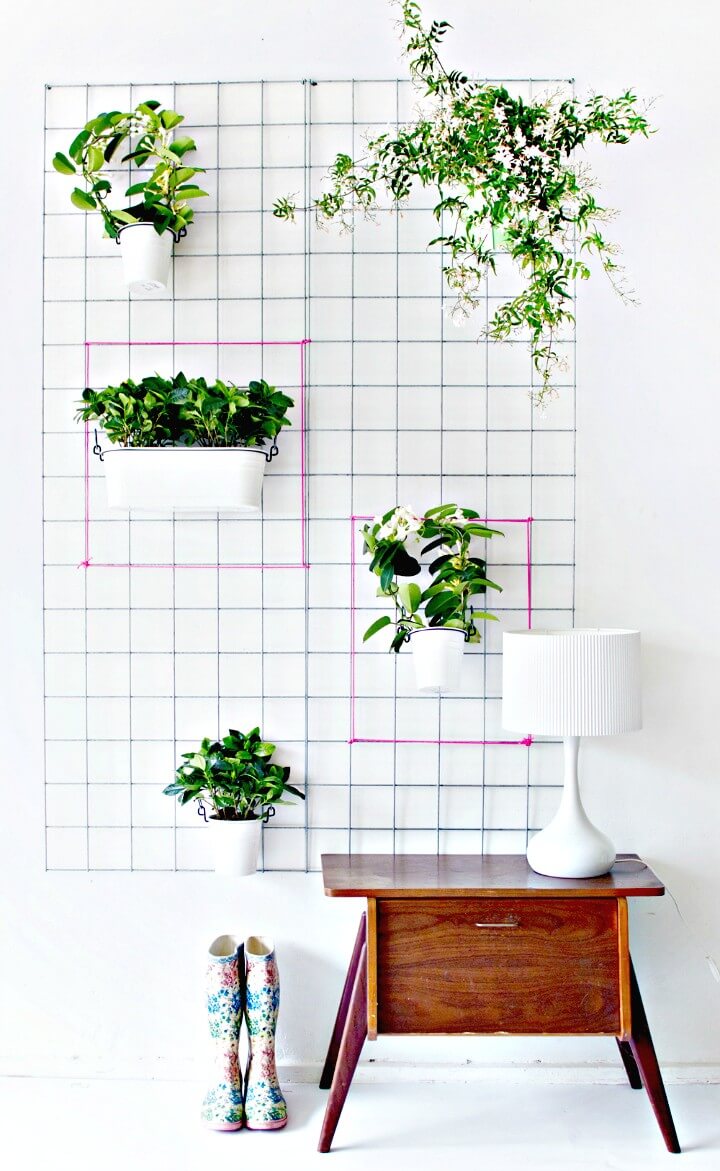 Willing to install a mini green garden to any interior wall for instant garden décor vibes? Just duplicate this given wall hanging garden that will be lasting longer and also super visually attractive! Here the a piece of bigger steel mesh has been mounted on the wall and next the green planters have been hanged on it using hooks! This just ends making a gorgeous wall planter or garden that will rock any interior space! Complete tutorial and instructions here lanaredstudio
How To DIY Garden Cart Tutorial: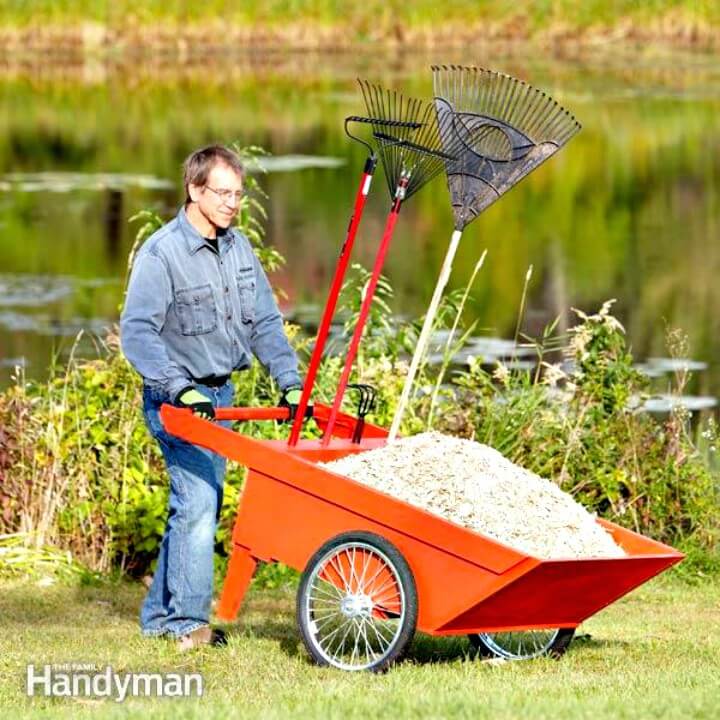 Here is another DIY achievement that will make a great gift for a garden lover! This is here a hand-built wooden garden cart that will help in easily handling of garden tools and will also help to transport the garden materials like the potting soil and fertilizers! What makes this garden cart special is its dark orange appeal, a fantastic design, a built-in garden tool rack and the large cart wheels! A better alternative to garden wheelbarrow! Complete free construction plans and step-by-step tutorial here familyhandyman
Adorable and Beautiful DIY Beaded Wind Chime Tutorial: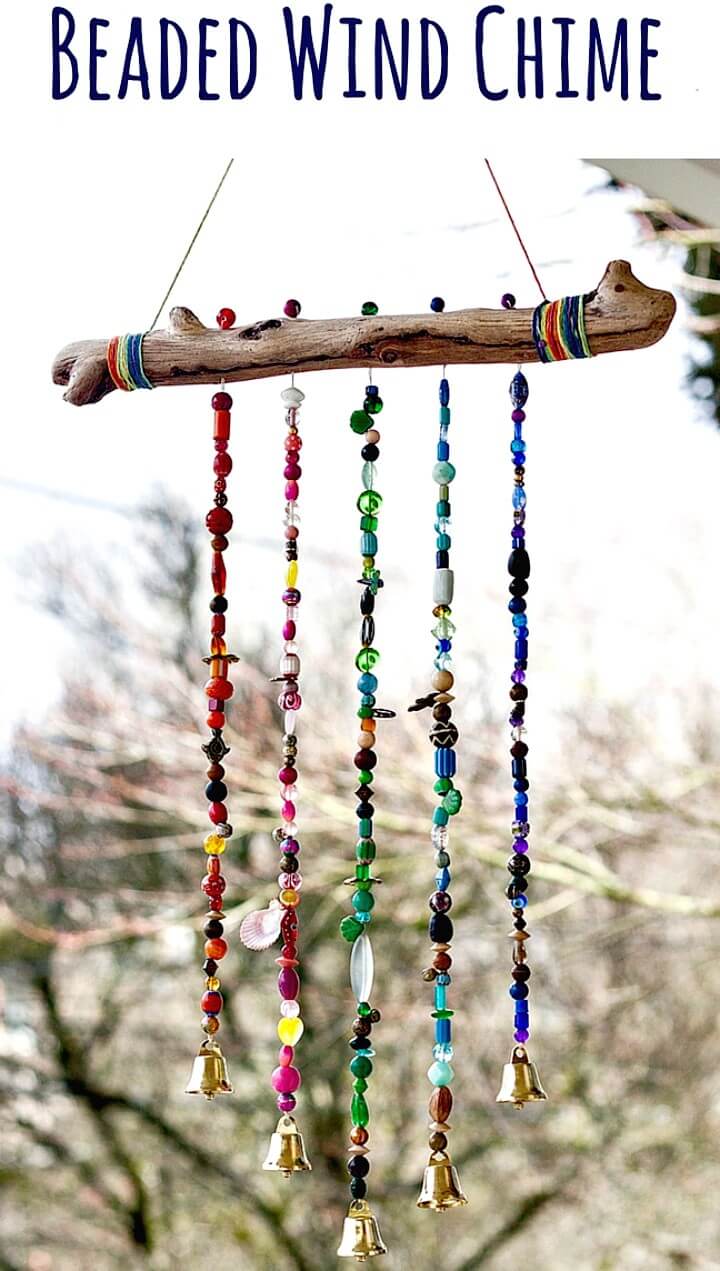 Create a whimsical look of your garden with this handmade wind chime that will cost you just nothing! Here the colorful beads and a driftwood plank has been used to make this adorable wind chime that will bring great colors and charm to your garden! This is here another great, quick and fantastic garden décor idea that you can duplicate in just no time! Complete tutorial here gardentherapy
How To Make Garden Flower Pot Fountain: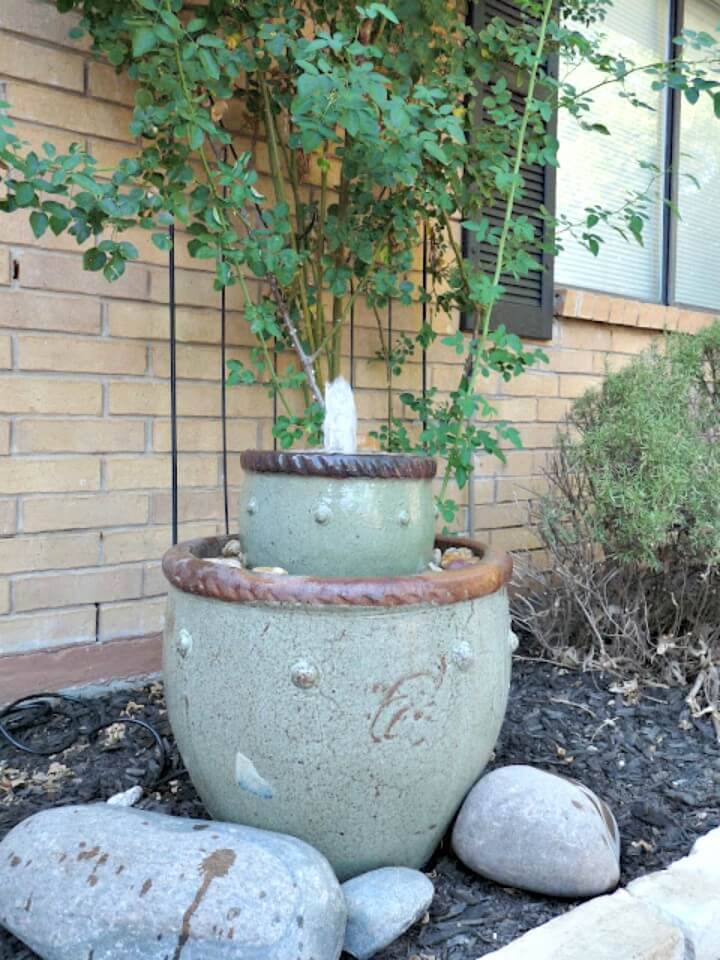 These are the lovely fountains that create a heavenly divine look of a garden! So, if you are also willing to install some precious fountains to your green space then you can also make beautiful fountains using flower pots! Get inspired of this handsome sample flower pot fountain that comes filled with stones and is truly handsome and much visually pleasing! Here is how to make and install this fountain thehappyhomebodies
Build a Butterfly Feeder In Garden Tutorial: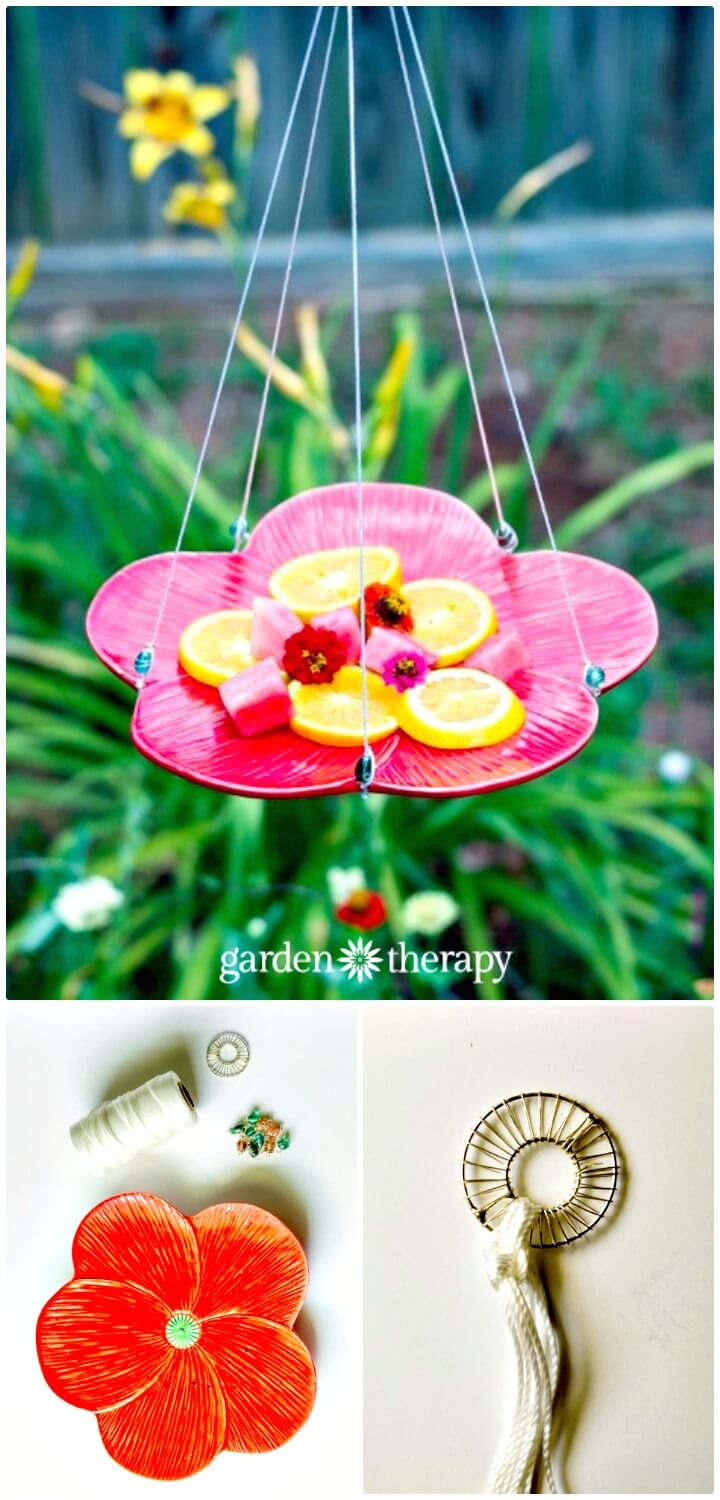 Decorate your garden space also by having colorful bird feeders that will also help to attract your favorite chirping creatures and butterflies! Here a butterfly feeder has been made using a red floral plate, twine, washers and colorful beads! This handsome butterfly feeder is truly looking gorgeous and will also make a whimsical garden décor if hanged aloft on a tree branch! Complete instructions and tutorial here gardentherapy
Make Your Own Wine Bottle Bird-Feeders: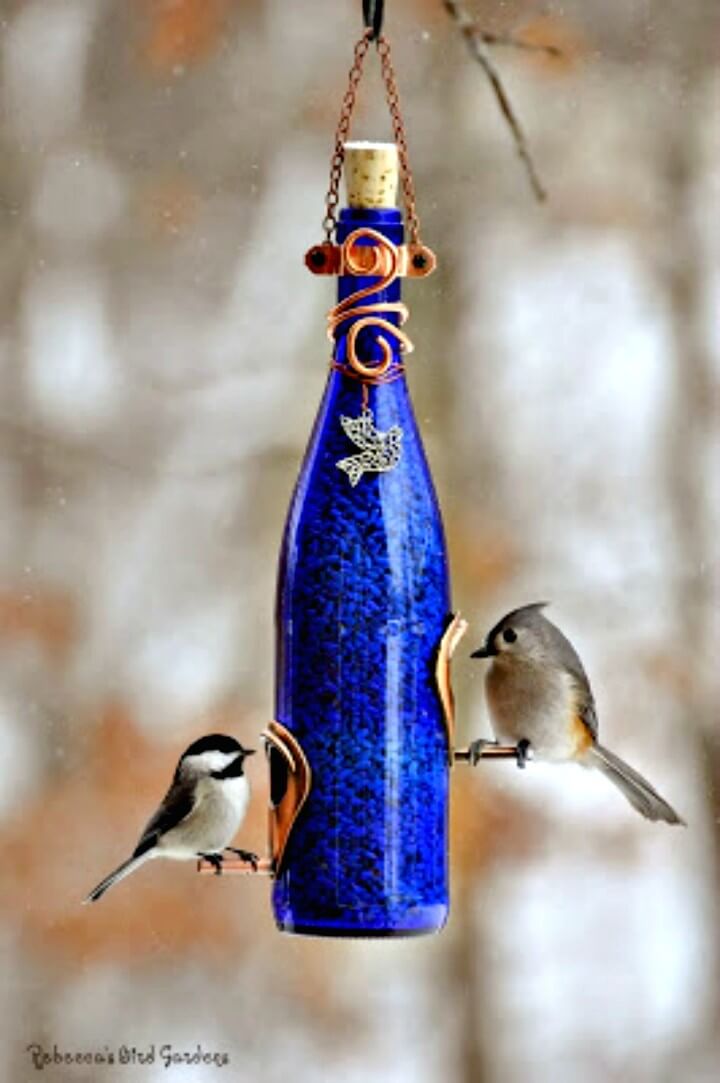 Make also great looking and outlandish type of bird feeders at home using recycled glass bottles! Checkout here the sample bottle bird feeder that is looking interesting due to certain metal embellishments hanging around the narrower opening! It hangs through metal chains and also offers custom perches for comfortable sitting of birds while enjoying the food! Complete project instructions and tutorial here rebeccasbirdgardensblog
Easy DIY Colander Flower Planter: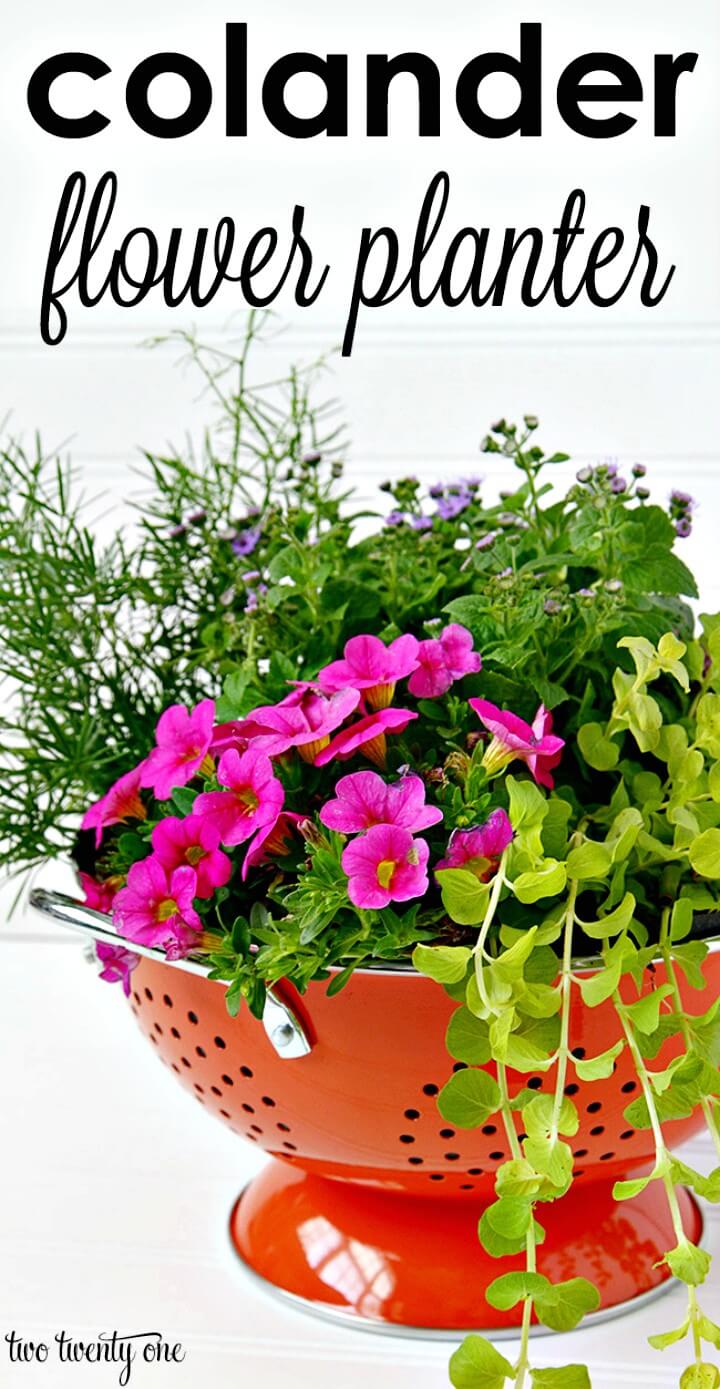 If you are highly concerned with fancy garden decors then you can also repurpose the colorful colanders to make adorable garden planters that will make rocking garden décor centerpieces too! Get inspired of this given colander flower planter that is having a rich orange appeal and is really looking fantastic! Another budget-friendly DIY garden décor project! Complete project details here twotwentyone
Adorable DIY Container Water Garden: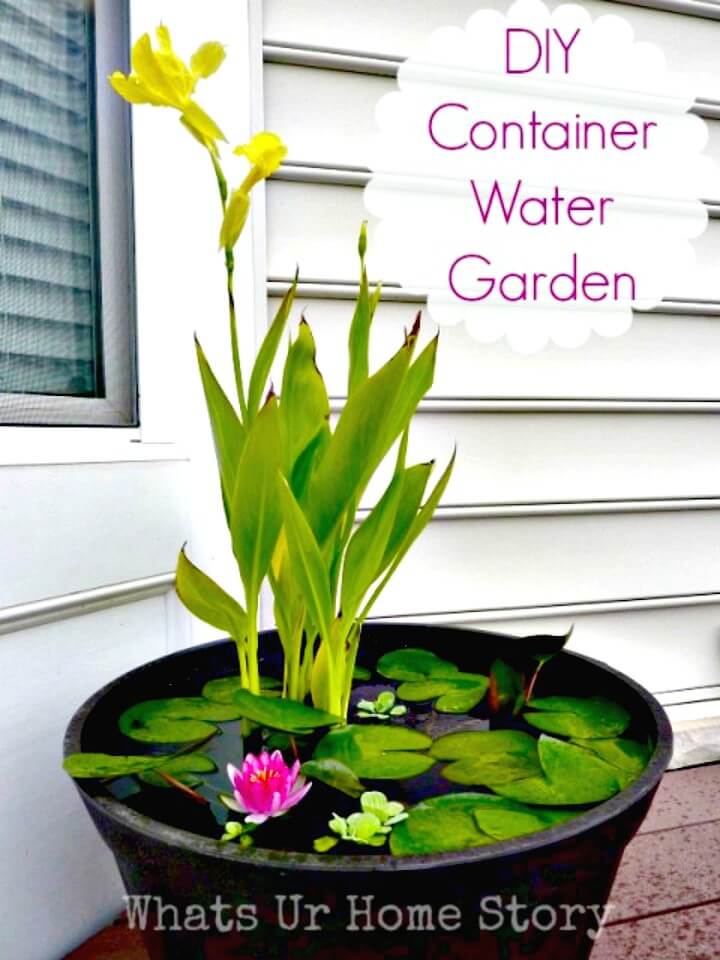 Make also the precious water gardens using ordinary containers and buckets that will also help spruce up any custom indoor or outdoor space! Have a look at this container water garden that will cost you just next to nothing and is really adorable to look at! Here the container has been filled with water and then the precious water lilies and water lettuce have been planted inside for a rocking water garden! Grab the full project details and instructions from here whatsurhomestory
How To Make Garden Cedar Ladder Planter: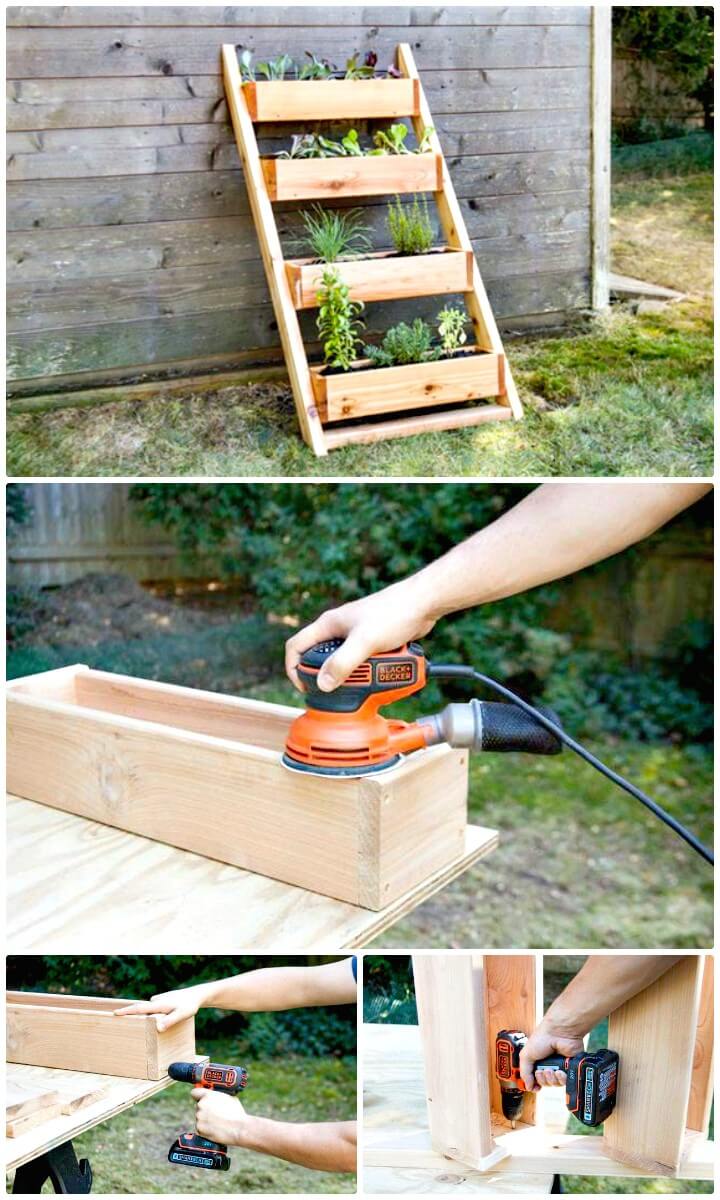 If you are lacking of garden space to grow your hard-to-find herbs then here is another great solution to grow them with using any space! Just build the cedar ladder planter that can be dragged to any small space as a mini garden! Here building this cedar ladder planter is just super easy, all you need some wooden planks to do this project! Complete how-to tutorial and step-by-step instructions here blackanddecker
Build Vertical Planter In Garden Tutorial: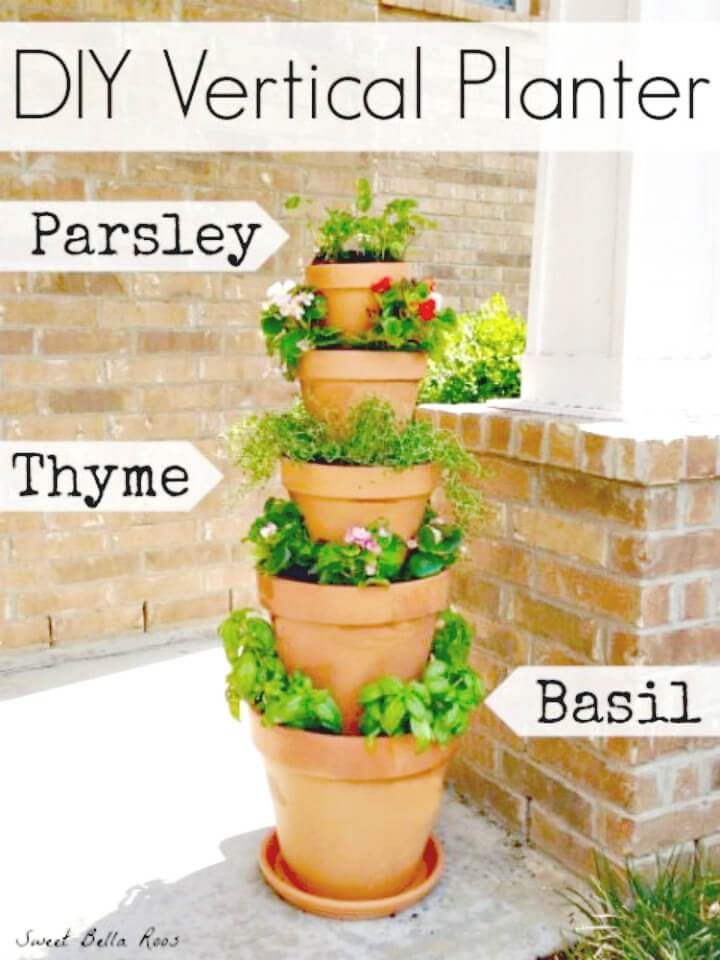 Look at this another fantastic creation that will definitely make an awesome garden eyepiece, this is here a vertical garden planter that is made by stacking different sized pots and the smallest pot comes at the top! This handsome flower tower planter would really lift up the mood of your green space! Complete project instructions here graceandgoodeats
Huge DIY Trellis Pyramid Garden Tutorial: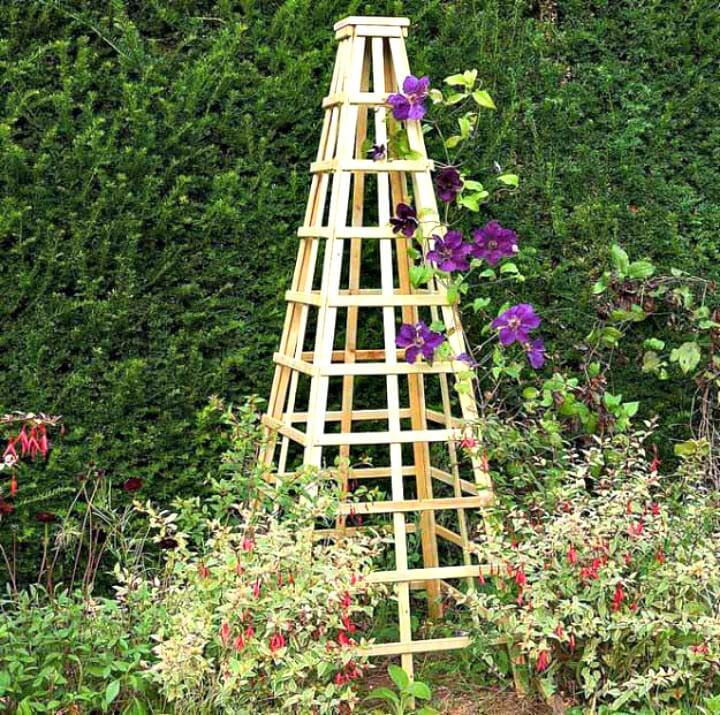 Adorn your garden space also with this centerpiece décor, a wire tea cup garden décor that comes filled with moss with colorful flowers and sits beautifully on a garden stake for bigger décor statements! Here all you need is to get crafty with the metal wire that can be twisted and knotted to make a cup and saucer! Willing to duplicate this another handsome garden décor? Grab the full free tutorial and step-by-step instructions from here hometalk
Beautiful DIY Wire Tea Cup Garden Decor Tutorial: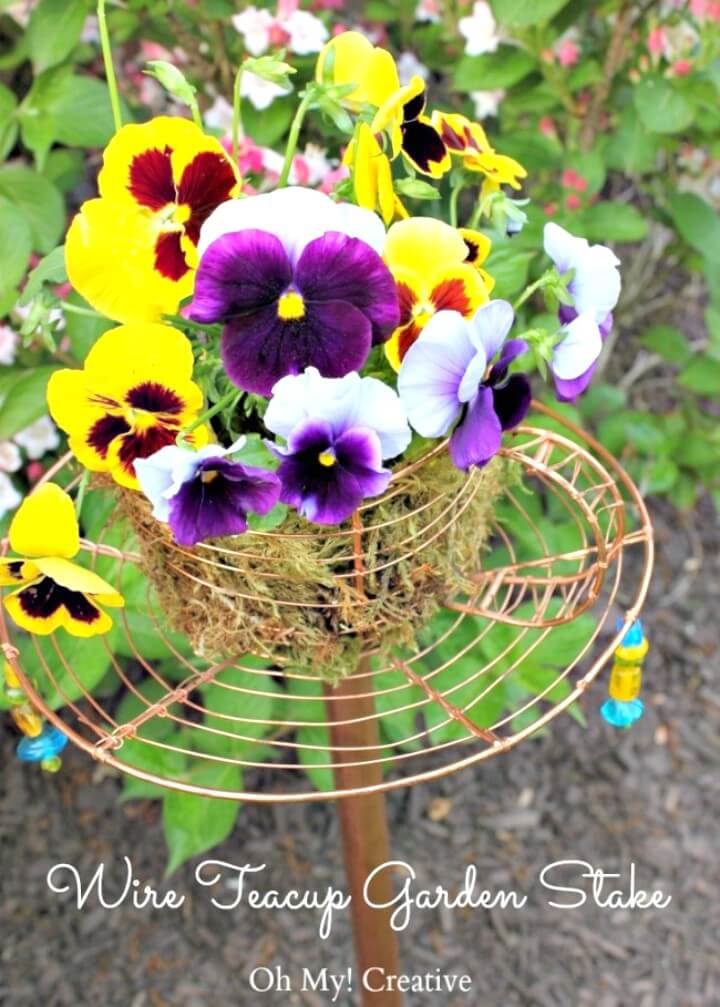 Adorn your garden space also with this centerpiece décor, a wire tea cup garden décor that comes filled with moss with colorful flowers and sits beautifully on a garden stake for bigger décor statements! Here all you need is to get crafty with the metal wire that can be twisted and knotted to make a cup and saucer! Willing to duplicate this another handsome garden décor? Grab the full free tutorial and step-by-step instructions from here ohmy
Easy How To Make Rolling Garden Cart: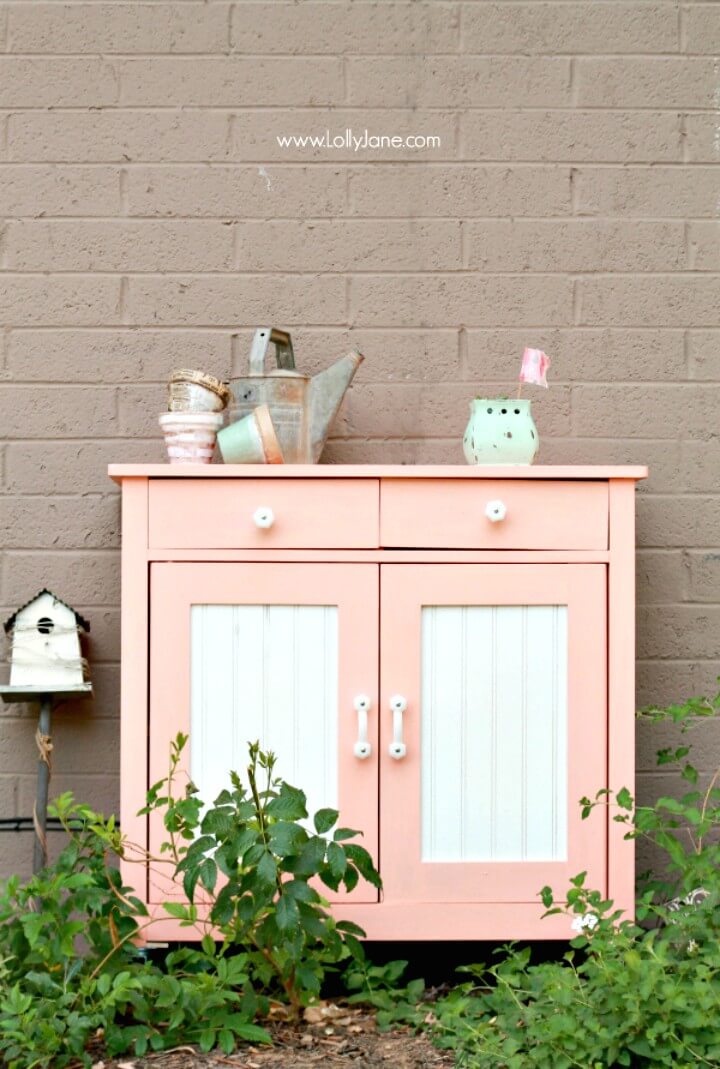 Need a rolling cart in your garden for easy transportation of garden materials? Then here is a beautiful sample that you can easily duplicate to add to your garden! This is here a precious rolling garden cart made of wood and provides decent storage options! Another great project that you can do to boost the functional behavior of your garden! Complete project instructions here lollyjane
Make Your Own Birdcage Succulent Planter: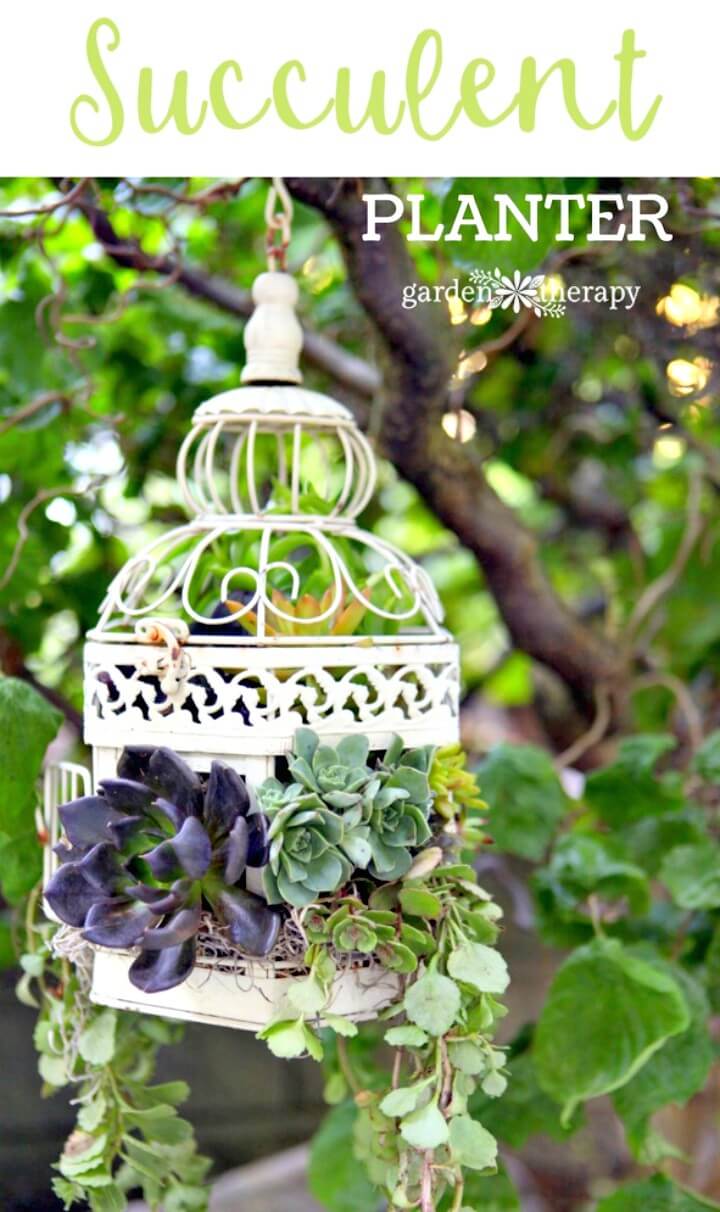 Looking for some perfect ornaments for your garden space? Make adorable garden centerpieces and eye-piece at home just like this birdcage succulent planter that is super beautiful and will definitely create a heavenly divine look of your garden space! Here all you need an old birdcage some succulents to duplicate this brilliant birdcage hanging planter! Complete project instructions and tutorial here gardentherapy
Amazing DIY Gnome Garden Markers Tutorial: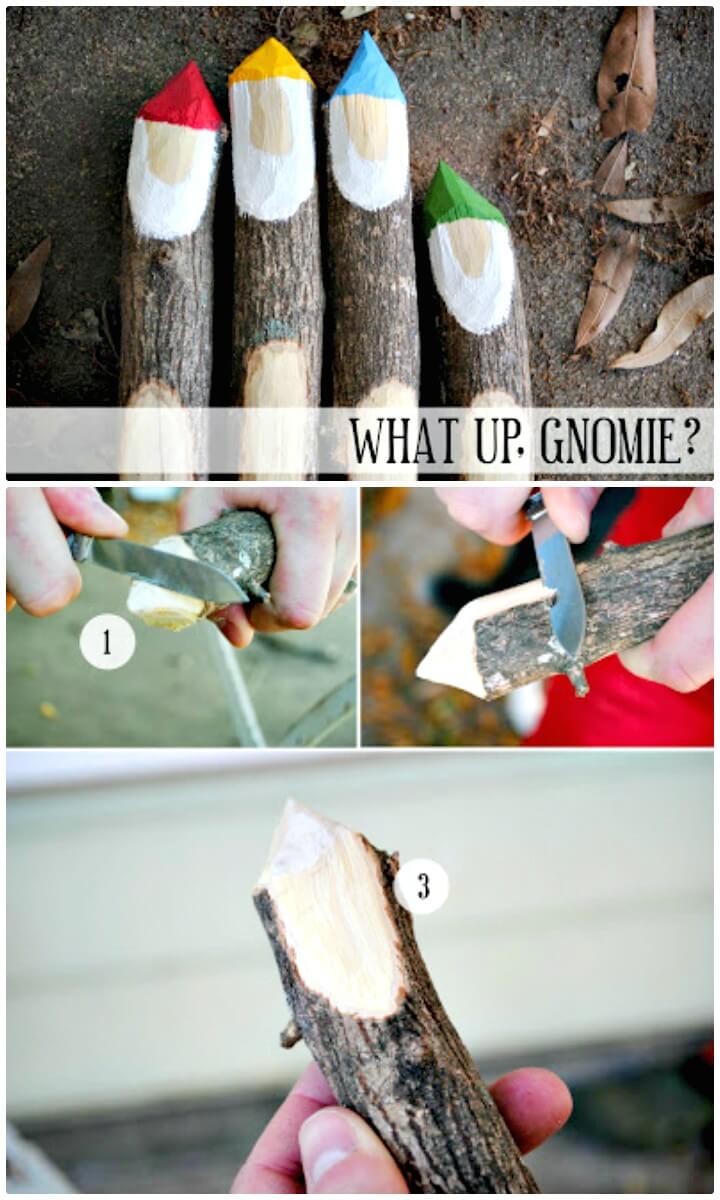 Natural green touch to any interior or outdoor space just helps it to gain more visual attractiveness and here is another smart project to bring greenery to any particular interior or exterior wall! Just checkout here this wall hanging wooden planter that comes with 3 levels, each is holding custom garden pots! Another great DIY garden project to do to make your dwelling a bit more beautiful! Full instructions here swallowsheart
DIY Wood Planter For The Wall Tutorial: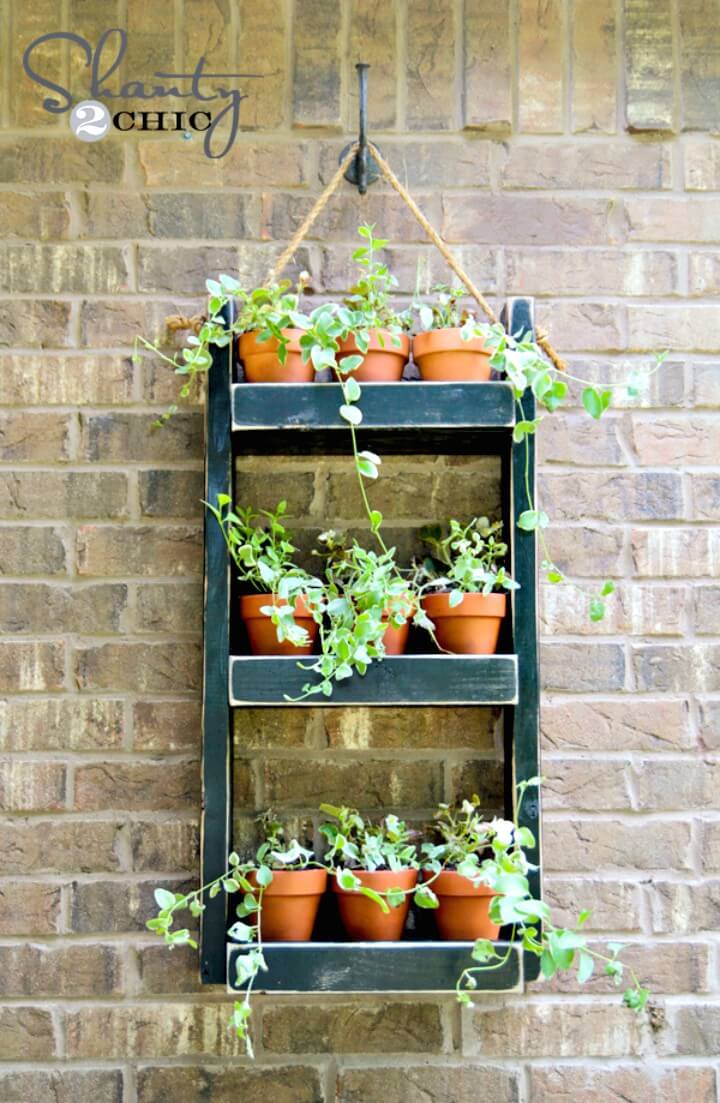 Natural green touch to any interior or outdoor space just helps it to gain more visual attractiveness and here is another smart project to bring greenery to any particular interior or exterior wall! Just checkout here this wall hanging wooden planter that comes with 3 levels, each is holding custom garden pots! Another great DIY garden project to do to make your dwelling a bit more beautiful! Full instructions here shanty
Make Your Own Rainboot Garden: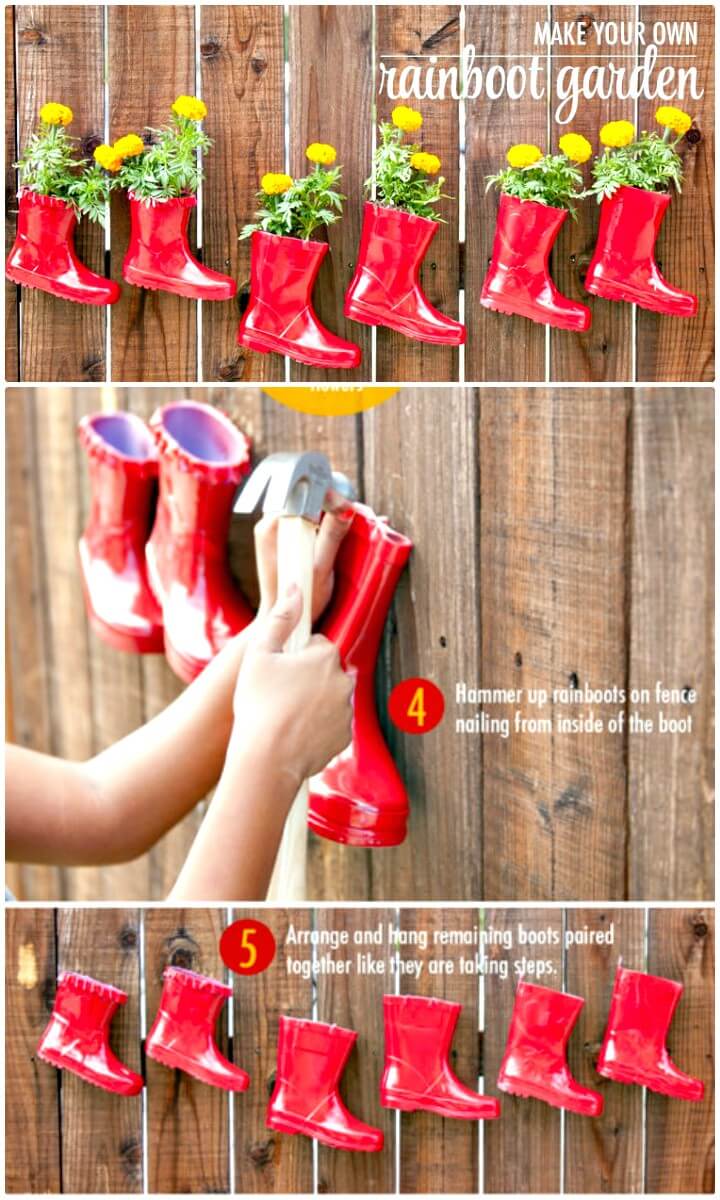 Having some pallets lying on a nearby scrap pile? Just pick them up and start potting in them to gain amusing vertical flower or herb gardens that would be easy to move also to any particular home location! This idea would just rock for those who have no garden space but loves the garden greenery too much! Another great and outstanding DIY garden project to duplicate! Get inspired of this sample pallet vertical garden that is just looking fabulous! Complete project instructions and tutorial here thechicsite
DIY Recycled Pallet Vertical Garden: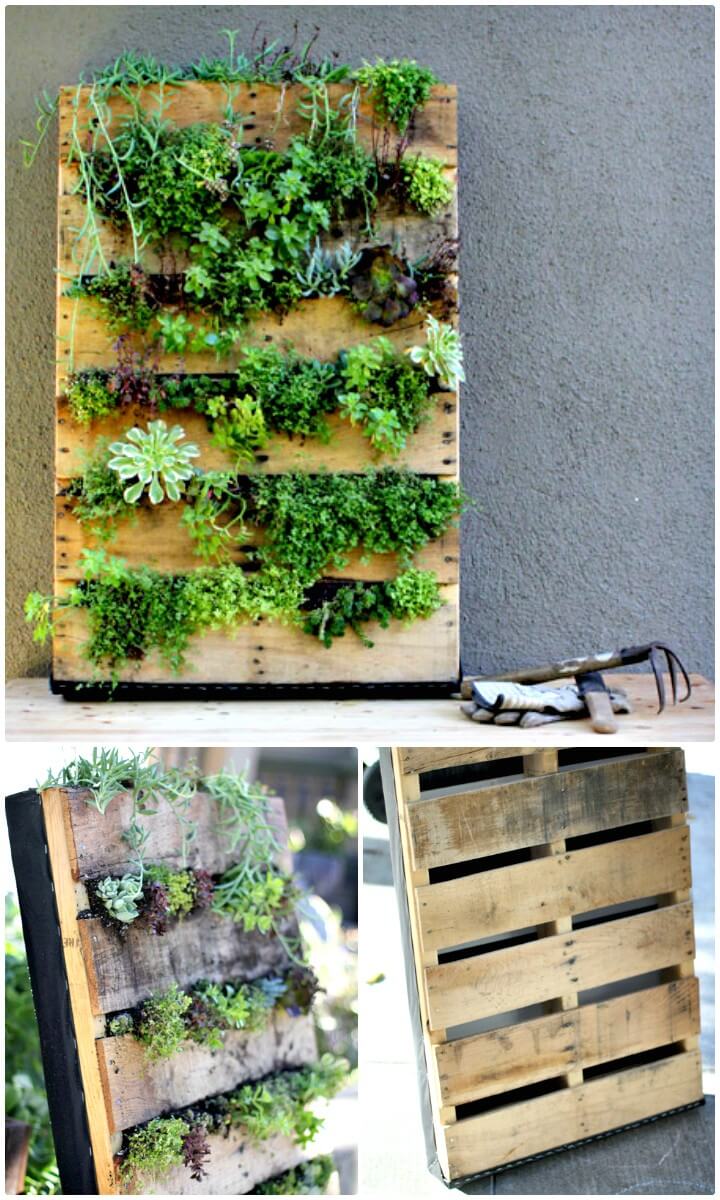 Having some pallets lying on a nearby scrap pile? Just pick them up and start potting in them to gain amusing vertical flower or herb gardens that would be easy to move also to any particular home location! This idea would just rock for those who have no garden space but loves the garden greenery too much! Another great and outstanding DIY garden project to duplicate! Get inspired of this sample pallet vertical garden that is just looking fabulous! Complete project instructions and tutorial here designsponge
How To DIY Side Yard Makeover: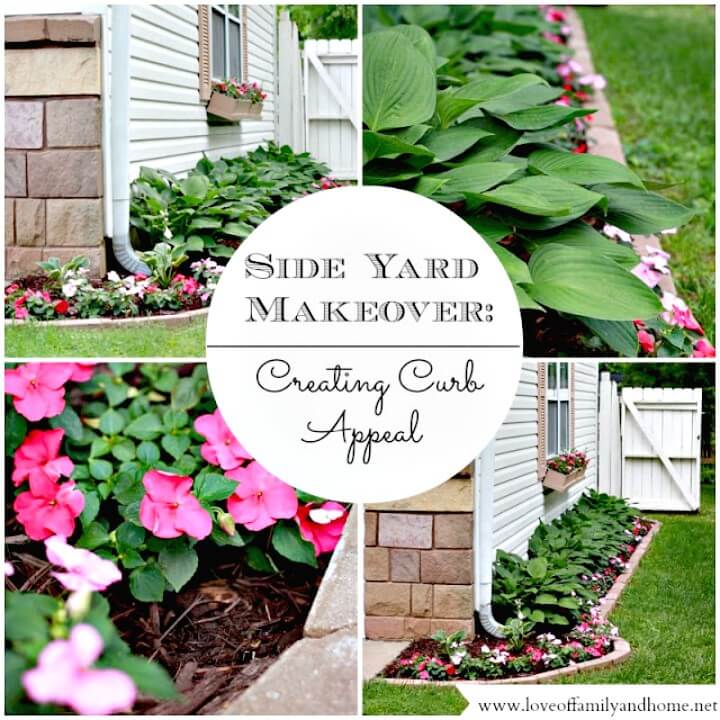 If you are on a mission to make your home a bit more beautiful and fascinating then you must install the side yards around your home boundary! This will bring a great natural appeal to your modern home exterior and will also help to increase the resale value of your home! Just peek into details of this sample side yard makeover that is really looking handsome and charming! A flawless DIY project to do for amazing curb appeal! Complete project instruction and tutorial here loveoffamilyandhome
DIY Self-cleaning & Sharpening Garden Tool Holder: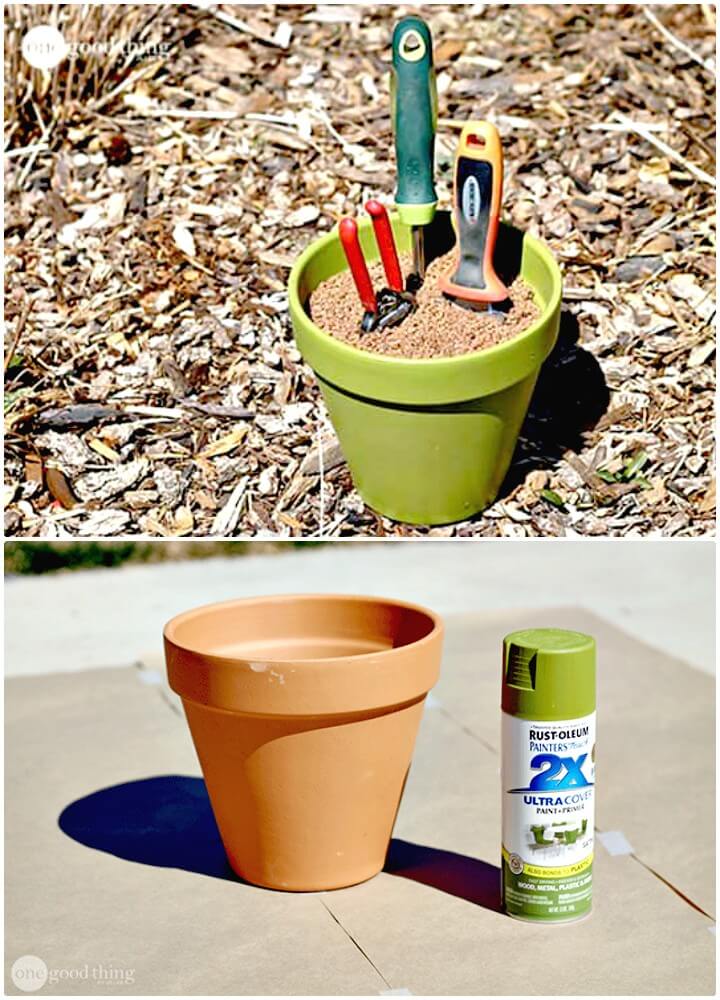 If you are a garden lover then you are often to use some particular gardening tools that may become rusty or and less sharp! So, here is a DIY project you can do to keep your garden tools sharp and looking brand new every time! Just grab a bucket or terracotta pot and fill it up with sand and mineral oil and just let it hold your gardening tools! This mixture would not let your garden tools get old! Complete project details and instructions here onegoodthingbyjillee
How To DIY Garden Seed Starter Kits: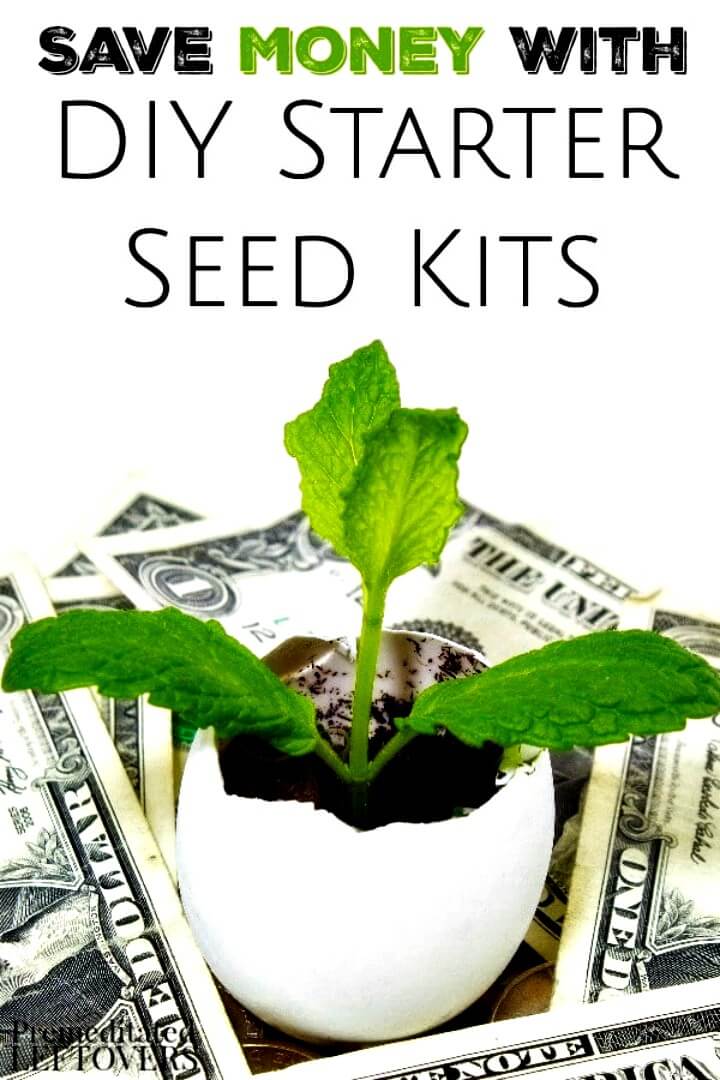 If you are interesting in growing your own vegetables, herbs and fruits by sowing the seeds then you can take a better start by making some DIY garden seed starter kids that would also be a way to make your kids learn about the gardening! So, if you want to make a good seed starter kit at home then here is a beautiful sample kit that you can easily duplicate! Here is how to make this precious eggshell seed starter kid premeditatedleftovers
Make Your Own Mason Jar Herb Garden: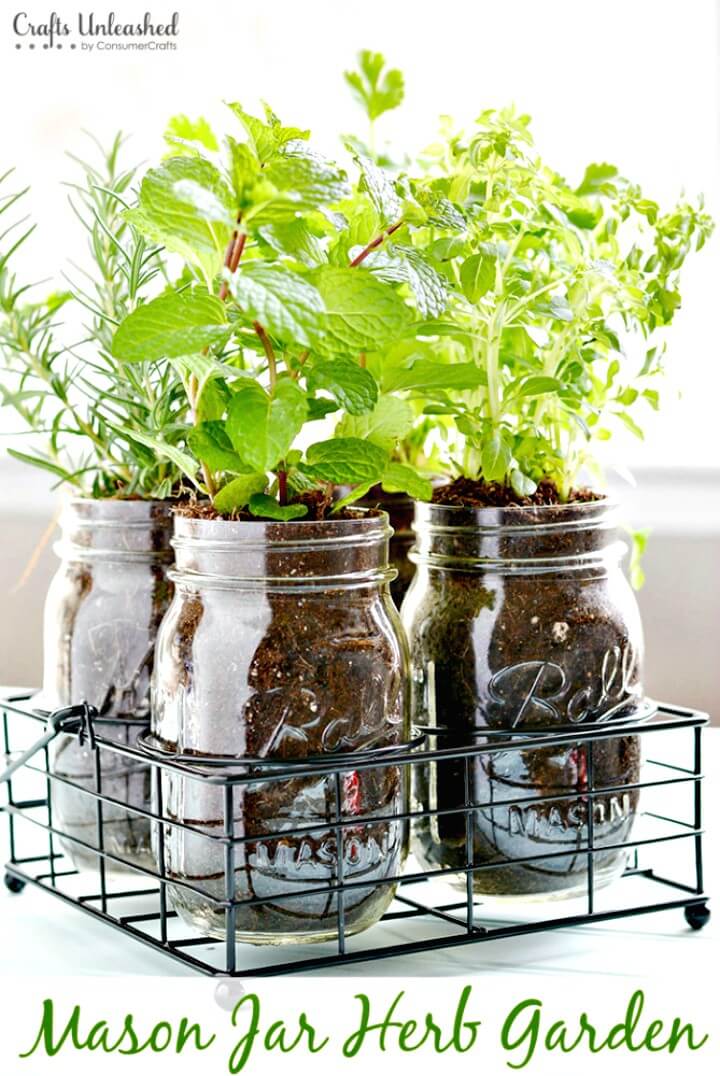 One can simply fill the Mason jars to use them as precious vases or planters! Same has been done to gain a flawless but low-cost herb garden! Here the mason jars have been planned to grow the herb and hence have been filled with potting soil and next have been placed in a vintage Mason jar holder! This is going to be the cutest mini herb garden one can make to freshen up his interiors with natural green vibes! Complete project instructions and tutorial here consumercrafts
DIY Pallet Wood Raised Garden Beds Tutorial: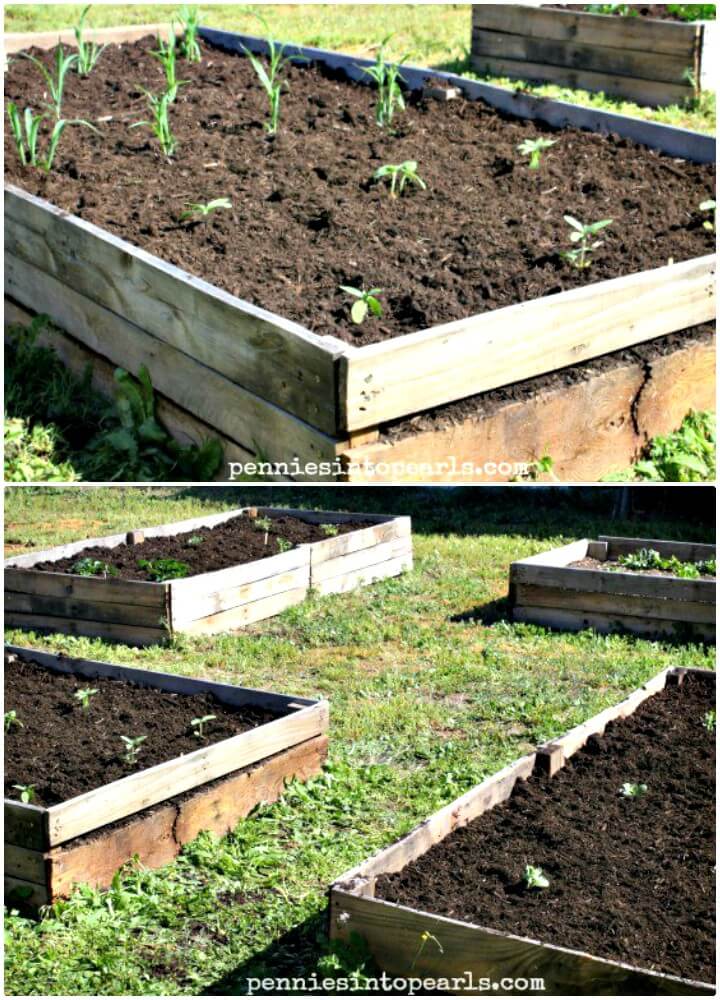 Using colorful markers for your garden is a smart way to boost up the look of any garden flower or vegetable bed! This also becomes necessary to identify the planted vegetables and flowers! So, if you are brainstorming to make some great garden markers then you can use the wooden spoons to craft some dashing garden markers in just no time! Paint the wooden spoon heads in different colors you like and then draw custom vegetable or fruit shapes on them and also write the respective names! A pretty simple and easy peasy garden marker project to do! Complete instructions and tutorial here penniesintopearls
Make Your Own Garden Markers Tutorial: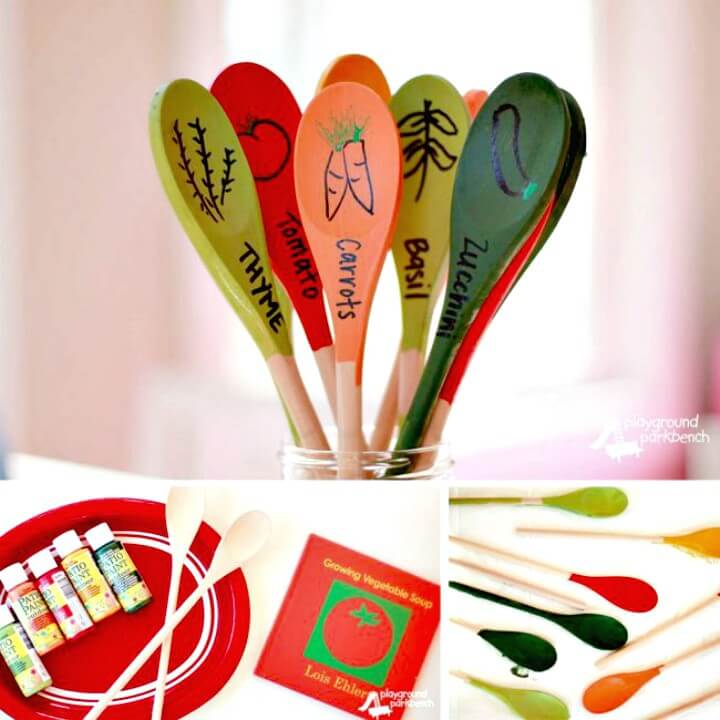 Using colorful markers for your garden is a smart way to boost up the look of any garden flower or vegetable bed! This also becomes necessary to identify the planted vegetables and flowers! So, if you are brainstorming to make some great garden markers then you can use the wooden spoons to craft some dashing garden markers in just no time! Paint the wooden spoon heads in different colors you like and then draw custom vegetable or fruit shapes on them and also write the respective names! A pretty simple and easy peasy garden marker project to do! Complete instructions and tutorial here playgroundparkbench
How To Recycle Tire Planter Under $80.00: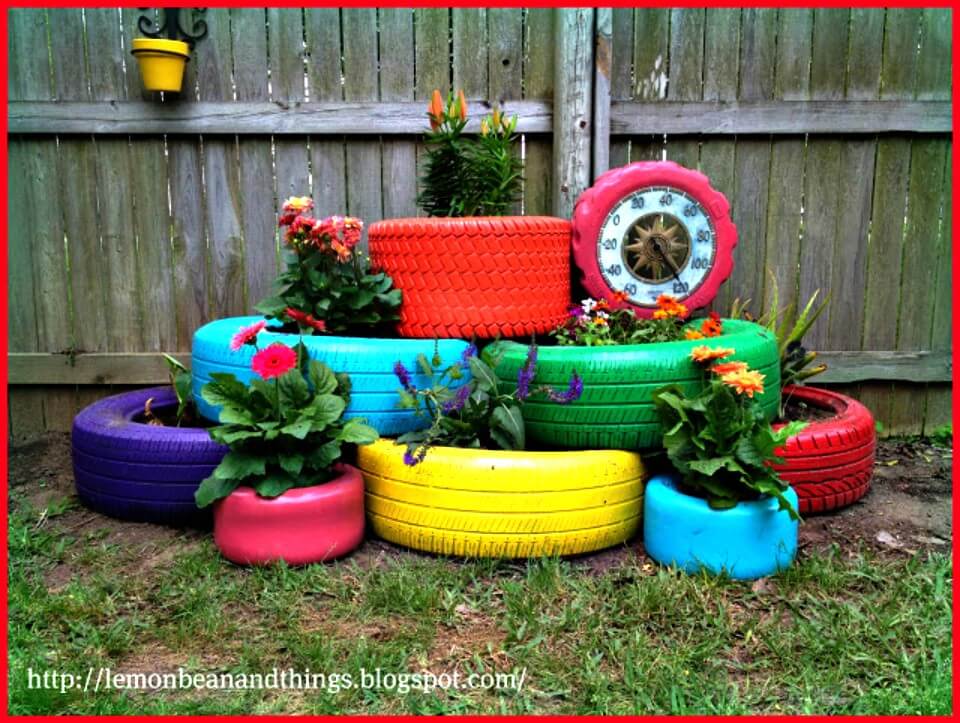 If you are on a mission to personalize your garden then you can also make some custom monogram planters for your green space that will definitely go eye-catching along with giving your space a personal statement! Just have a look at the sample succulent letter planter that has been mounted on a garden wall! Here the custom recycled wood planks have been put together to create an alphabet wooden holding and next it has been filled up with moss and then with succulents for a gorgeous wall mounted planter! Complete instructions and tutorial here lemonbeanandthings
How To Make Wall-Mounted Succulent Letter: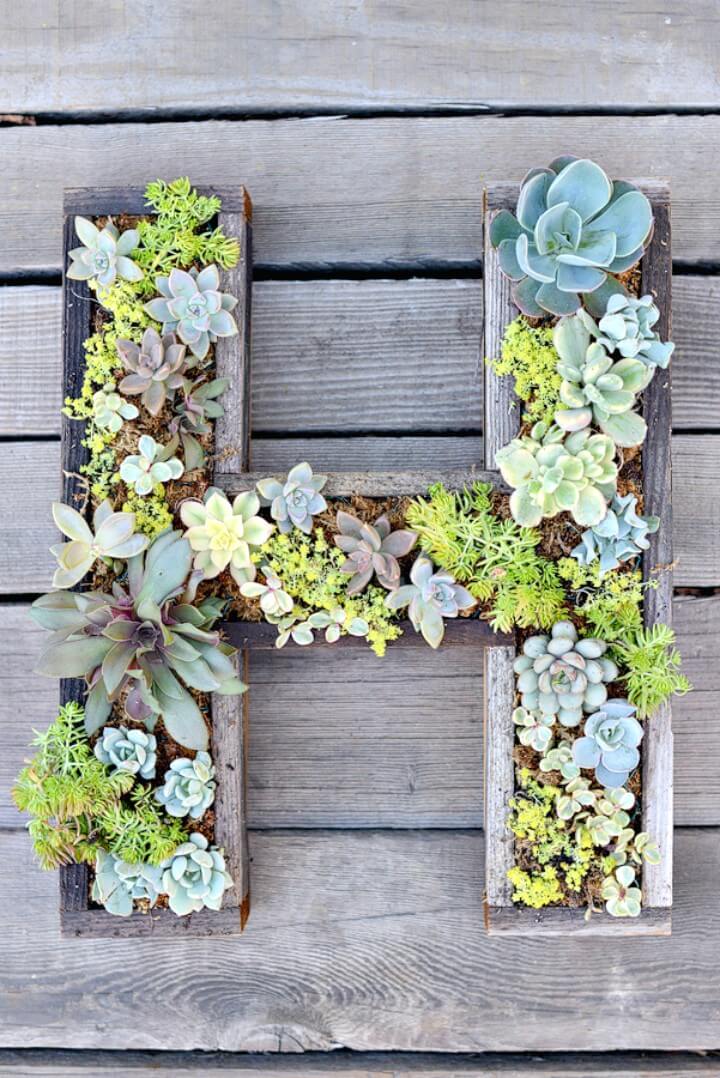 If you are on a mission to personalize your garden then you can also make some custom monogram planters for your green space that will definitely go eye-catching along with giving your space a personal statement! Just have a look at the sample succulent letter planter that has been mounted on a garden wall! Here the custom recycled wood planks have been put together to create an alphabet wooden holding and next it has been filled up with moss and then with succulents for a gorgeous wall mounted planter! Complete instructions and tutorial here houseandfig
Easy DIY Pallet Wood Garden Walkway: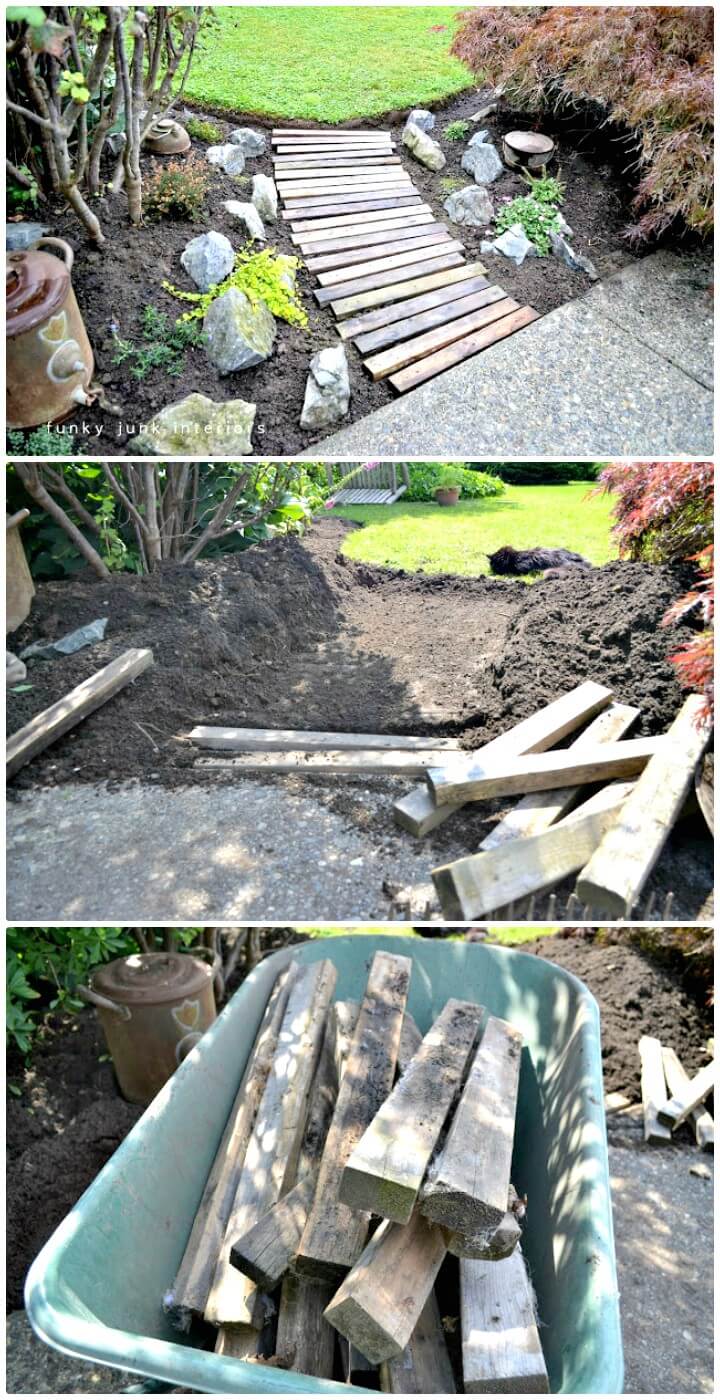 Jazz up your garden also by installing some precious wooden walkways! You just no need to invest a lot on this, just go with free pallets and get the job done! Just disassemble them and put together the longer separated wooden lengths to build beautiful garden walkways, have a look at the sample garden walkway that is looking really beautiful! Complete project details and instructions here funkyjunkinteriors