It is great to have a garden but having a super beautiful garden is like you are having mini heaven installed on your home outdoor! So, if you are willing to spicing up the normal look of your garden by adding some fantastic decors then these DIY Garden Signs will really rock for you! These DIY garden sign ideas are what that help adorn your garden with amazing handmade quoted wall art signs that will also speak volumes about your personal taste, feelings and also for your love for your garden!
You will be amazed to see how beautiful these signs are which are purely handmade and are made of mostly with the recycled items and materials! These ideas will surely make you get with all the whimsical decors you are planning to add to your garden for the instant fascinating look of your green space! Here you will learn that how you can do amazing with the retired home objects and also with the recycled wood to add amazing visual details to your garden space!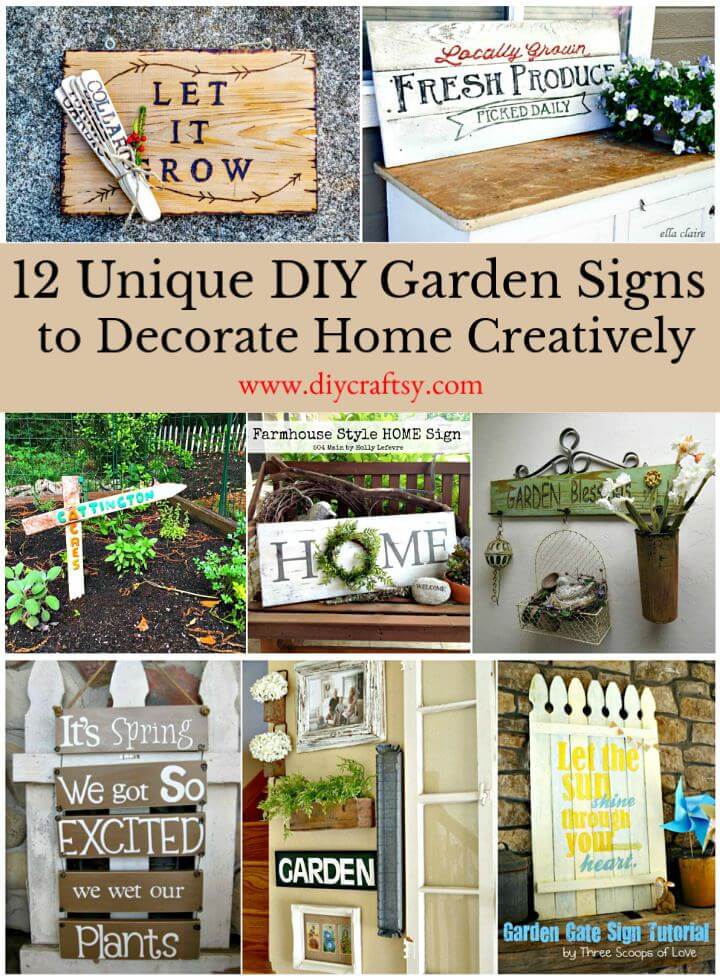 Grab the rustic wooden boards and pieces, bring them in a geometrical shape and burn your favorite art or letters in at and just hang it over on your favorite garden wall for an instant glam appeal and look! Check out here the sample sign that also comes with a bundle of labels also made through the wood burning process! Grab a wooden plaque or shadow box and just add your favorite cardboard or wooden letter inside of it to make a precious garden wall sign, paint the letters and box in your own favorite colors! Put together the fence pickets together and then paint or write custom letters or quotes on them to make outstanding garden fence gates or art signs out of them! Check out some amazing samples give below and get inspired!
Make also the multifunctional signs for your garden wall using rustic wood pieces, have a look at the given cardinal sign that comes with a rope quoted art and also provides hooks for hanging garden charms and ornaments! Grab a set of wooden planks and put together vertically by threading a wire into their pre-drilled corner holes and then write custom letters, sayings, and quotes on them to make fabulous wall art signs in just no time! Put together also the custom cut wooden planks together and then write custom words on them to make lovely garden signs, put a glance at the given distressed produce garden sign, a brilliant example here! Paint also the single wood slats and then paint custom art and letters on them to make fabulous garden gate art plates!
More DIY Home Decor Ideas:
Add custom painted wooden letters on fence pickets and make garden stake quoted art signs, stencil the old wooden boards for custom letters and then mount a rake to get an art piece for garden wall along with a garden tool rack, get inspired of the given model that is amazingly beautiful! Make also the garden quoted signs with custom hooks for tool and décor hangings that will also make an art piece along with adding a functional value to your garden wall! Check out more given in the collection and visit also the attached links for getting a complete tutorial and visual guides!
DIY Wood Burn Sign and Labels: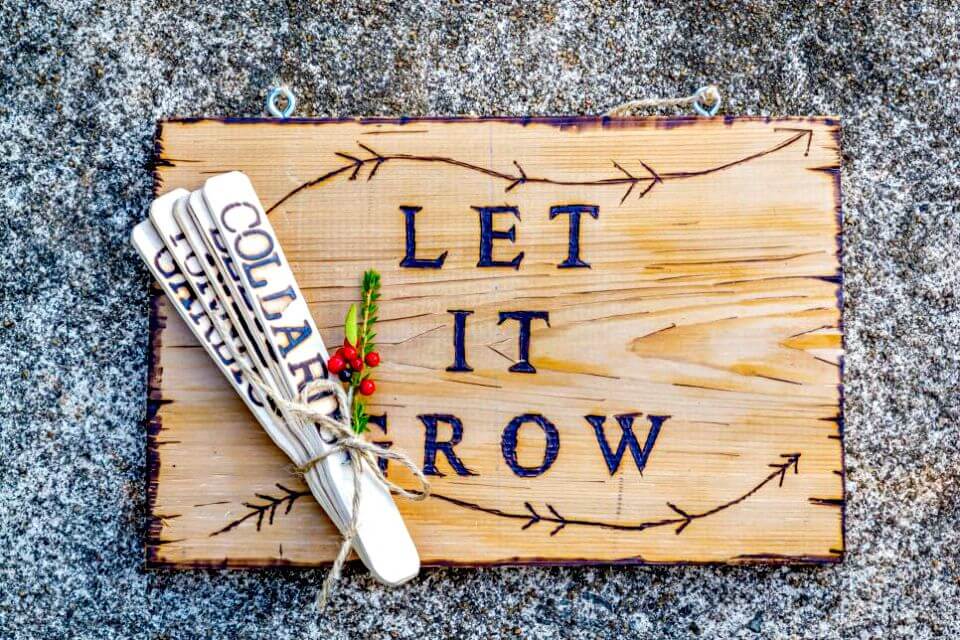 May be you are striving for the cute look of your garden and if you are then you must boost the garden decors and this quoted wall sign and labels would just rock in this case! Here the custom letters have been traced out first and then have been burnt in a piece of a wood and hence a gorgeous quoted wall sign has been made that is looking lovely! Next custom name letters have also been burnt in the miniature wooden sticks that make the perfect label! Complete instructions here hgtv
DIY Magnolia Market Inspired Garden Sign: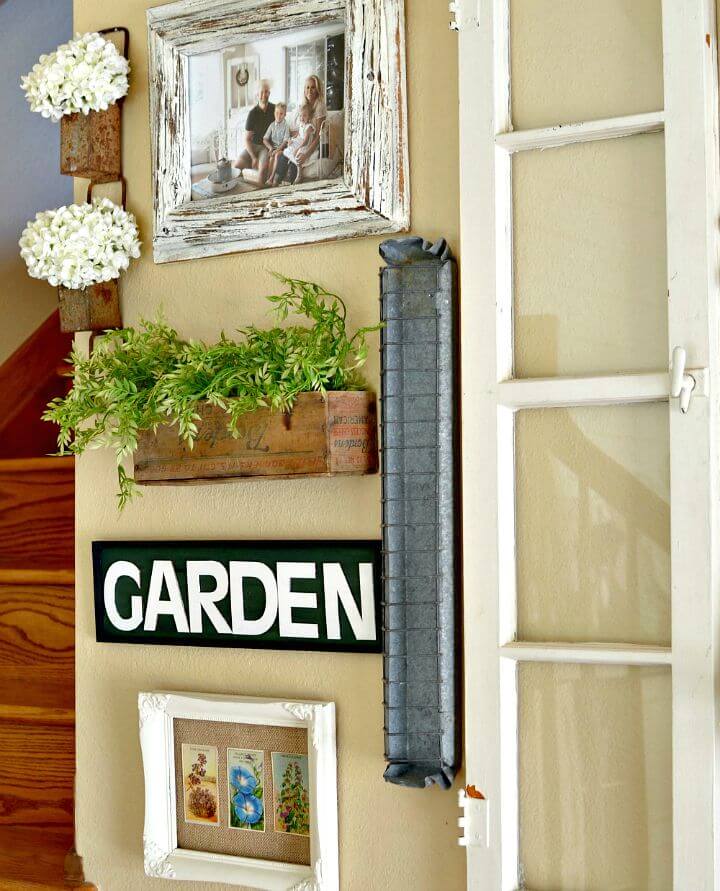 Make custom garden signs that may be inspired by vintage, rustic or modern decors and would help create a custom appeal of your green space! A very interesting sample here is this magnolia market inspired garden sign that has been done to amaze and inspire! Here a rectangular wood appliqué has been painted and then has been added with custom painted "GARDEN" letters and hence a damn beautiful garden décor sign has been made that is just looking fantastic! Complete tutorial and instructions here littlevintagenest
Awesome DIY Garden Gate Sign: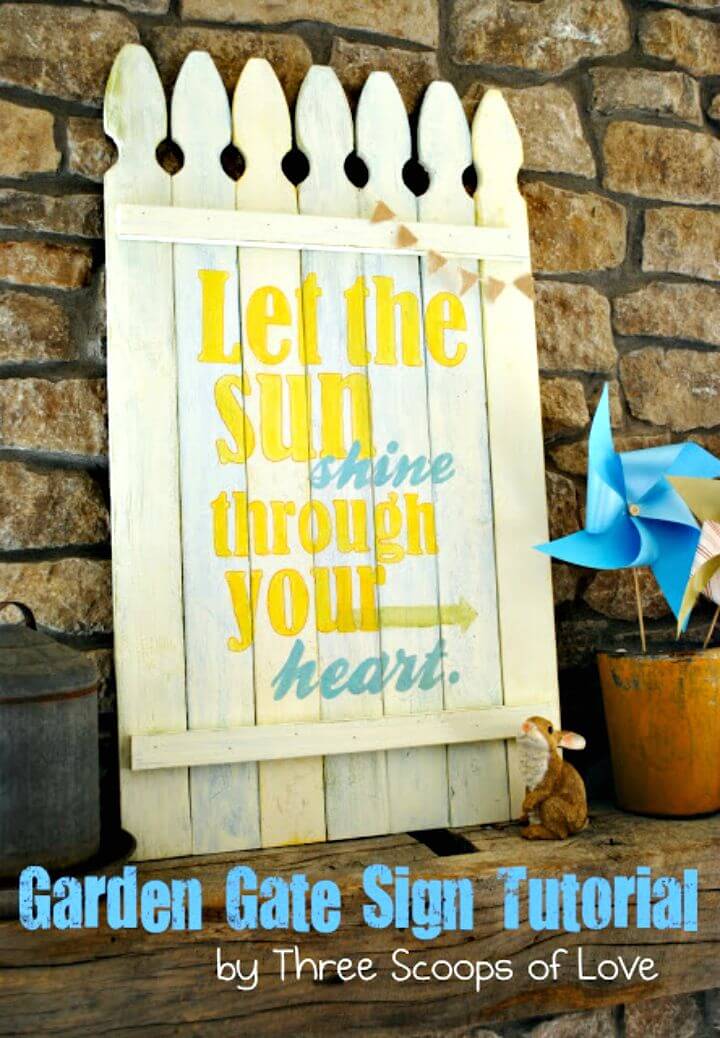 Check out here another enticing garden décor sign that has been made to rock and amaze the garden lovers! This is here the garden gate sign that has been made of recycled fence picked which have been put together to make a gate and then has been painted with custom letters and quotes! For letter art, just trace out your letters first and then paint them using your own custom paint colors! You can also install this gate to your garden fence for a warm welcome! Willing to duplicate this garden gate sign? Grab the full free tutorial and instructions from here threescoopsoflove
How to Make Garden Sign with Rustic Wood: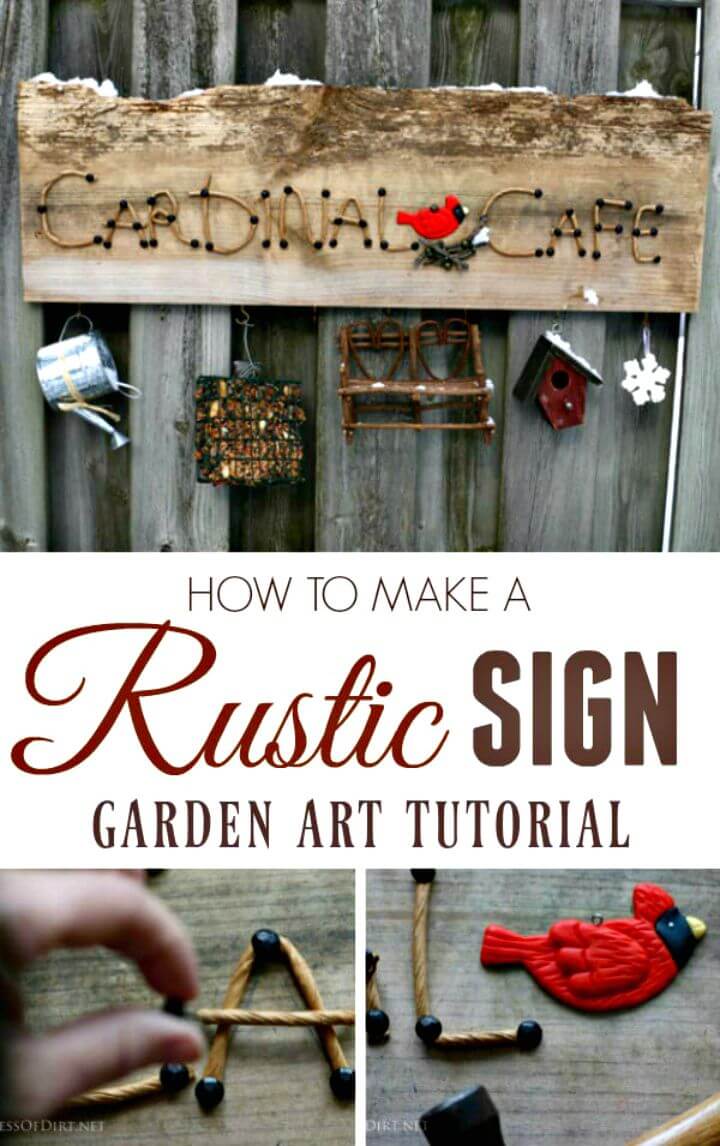 Get inspired of this most creative and lovely garden décor sign that is looking rustic but is damn beautiful! Here this garden sign is made of a rustic wooden board which comes with overwritten letters made of rope! Just trace out your letters on the board and then outline them using the upholstery tack, now twist the rope around the tacs making the beautiful word art! Here a red cardinal décor has also been added along with a nest to make the sign a bit more fascinating! Next, the custom hooks have been added to the bottom side of the sign to hang more garden stuff and decors like a birdhouse, watering tool and other items of garden décor! Complete tutorial here empressofdirt
Adorable DIY Garden Sign: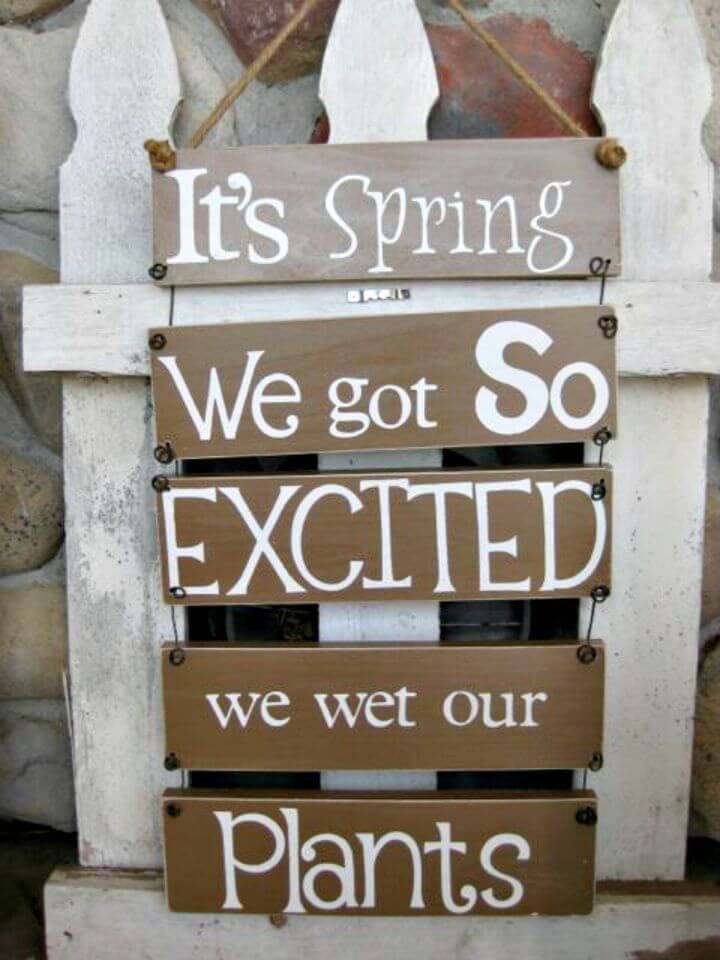 Lift up the mood of your garden also with this handsome quoted wall art sign that has been made for the garden wall! Here the custom wooden planks have been painted and then have been overwritten for custom quotes, sayings and letters to make gorgeous garden art signs! Here the all the quoted wooden boards have been combined through a metal wire that passes through the holes made in the corner sides of each plank! Next, the heavy-duty rope loop has been installed to top plank making a beautiful wall art piece and sign! Grab the full free guides and visual instructions from here maluukkonen
Create Fresh Produce Garden Sign: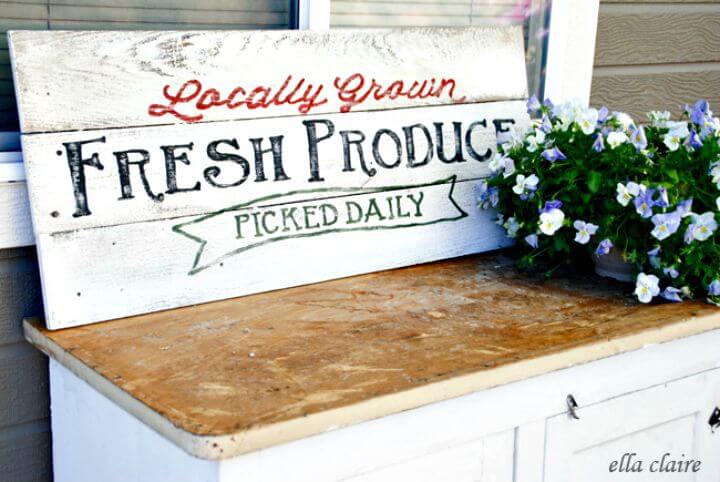 Have a look at this another praise-worthy garden sign that is super easy to make and is also super cost-efficient! Here this lovely garden sign is made of custom cut fence pickets that have been put together to shape up a rectangular board which has been painted and then overwritten for custom letters and quotes! Here the finally painted garden sign has also been distressed a little for a rustic look and appeal! Willing to duplicate this garden sign? Grab the full free instructions from here ellaclaireinspired
DIY Vintage-look Garden Sign Tutorial: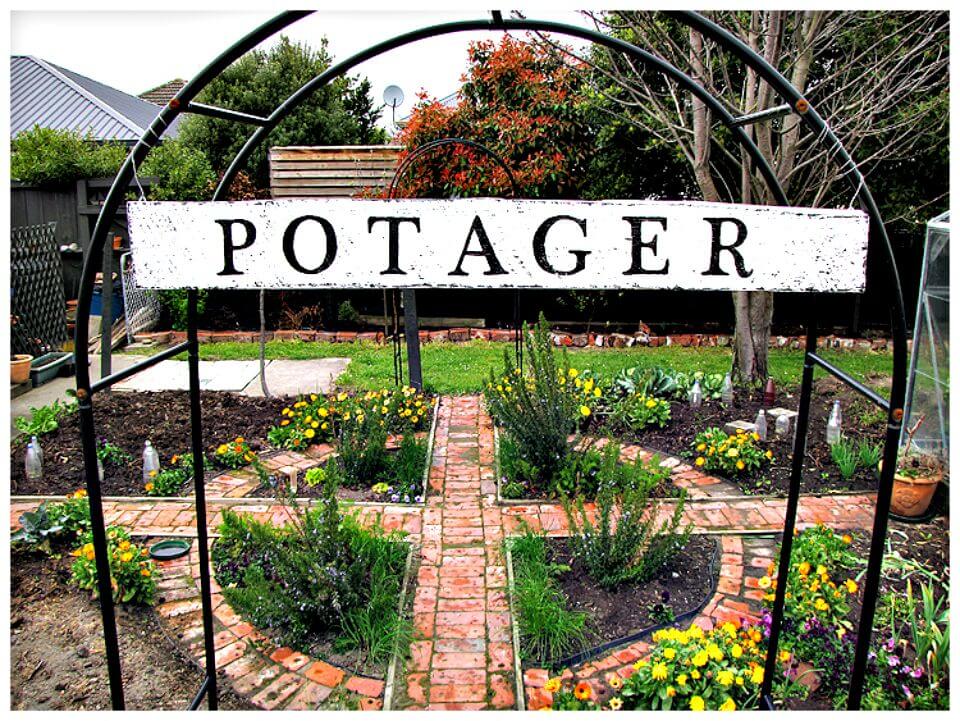 Here is how to adorn your garden gate by hanging a cool looking sign there! Just check out here this enticing looking vintage garden sign that is made of a single wood plank which has been painted and overwritten for custom letters! You can also grab a single plank from home and the little bit of paint to duplicate this great looking garden décor sign! For painting letters, just line up the custom cut out letters on the wooden board, trace them in place and then fill them using custom paint colors! Complete tutorial here ghostmyst
Build Garden Sign from Old Fence Stakes: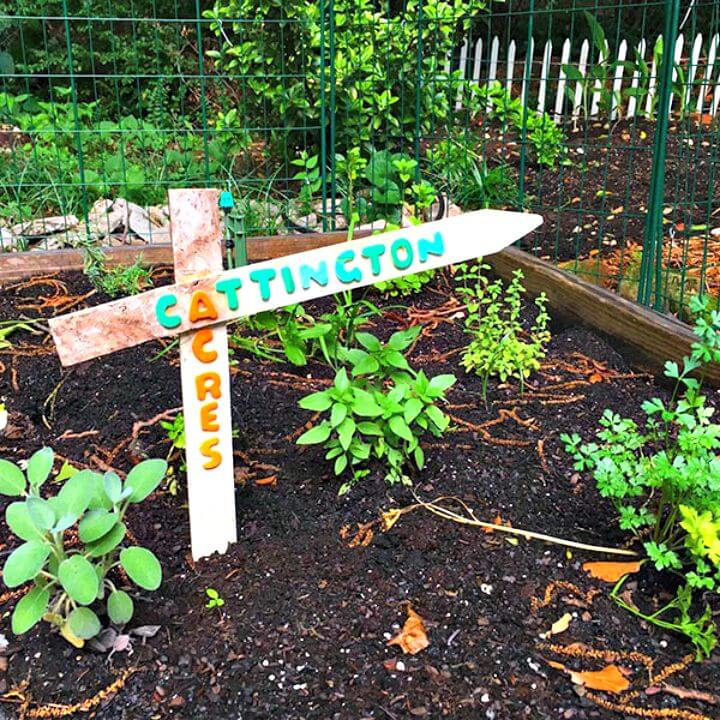 Look at this another lovely and cute looking garden sign that has been fixed in the ground! Here this adorable quoted garden sign is made of two recycled garden stakes which have been spruced up with colorful wooden letters glued on them making the lovely letter art! Here the wooden letters have been painted using the custom colorful sharpie pens and hence a fantastic looking garden sign has been made that is looking amazingly beautiful and enticing! Grab the full free guides and visual instructions from here craftingagreenworld
DIY Old Rake Sign For Garden Tools: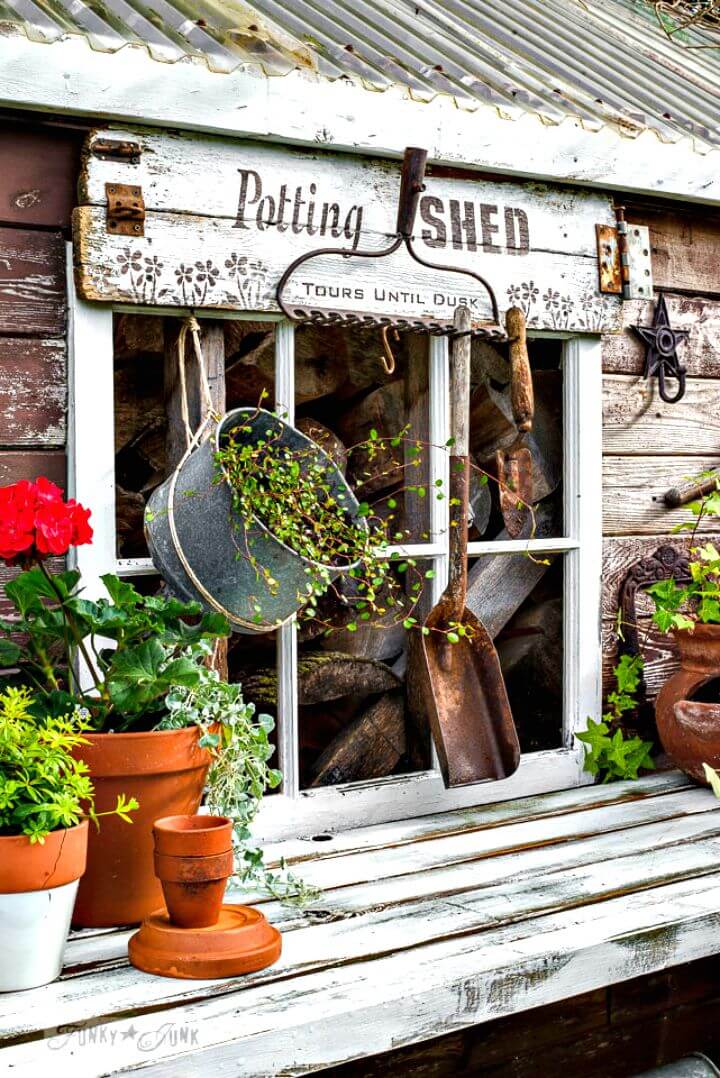 If you are big rustic lover then you will definitely fall in love with a rustic garden sign that has been made for hanging the garden tools! Here two rustic wooden planks having a white painted distressed appeal have been put together and assembled with old hinges and rusty lit lock parts that have been screwed in the place holding both of the wooden planks! Next, the custom letters stencils have been used to paint the letters and next to the old rake has been mounted in front that serves as fantastic garden tool rack! Grab the full free tutorial and instructions from here funkyjunkinteriors
How To Make Farmhouse Style Inspired Home Sign: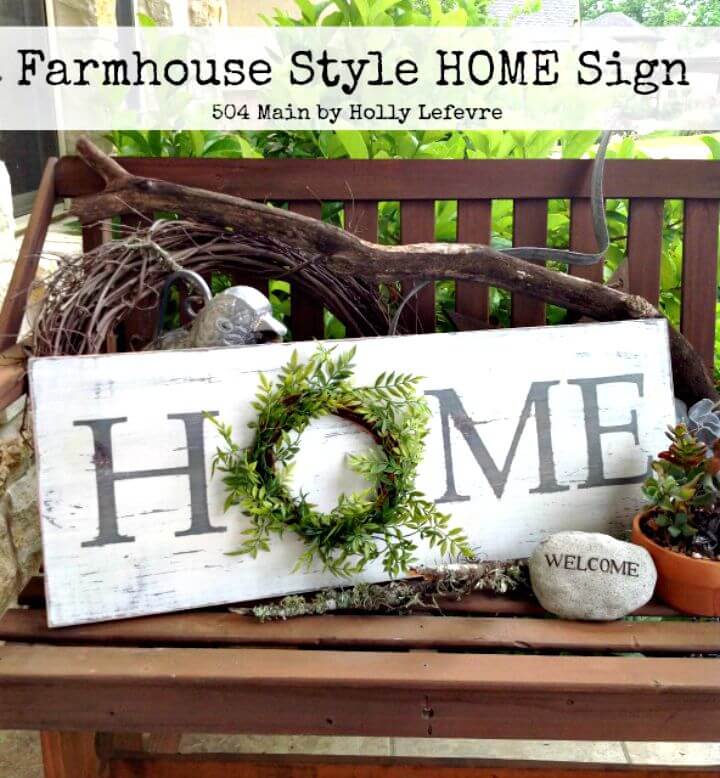 You can get inspired of any style of decors to make custom garden décor signs at home! A brilliant inspiration is here for you, a lovely farmhouse style inspired home sign that would definitely jazz up your garden decors! Here all you need is to grab a wooden board which you can paint to look brilliant! Next write or stencil custom letters on it and have fun! Here the "HOME" letters have been painted on the sign and the word "O" has been replaced with a fantastic grapevine and greenery wreath, this makes the sign a bit more interesting and eye-catching! Grab the full free guides and visual instructions from here 504main
How To Make Garden Sign: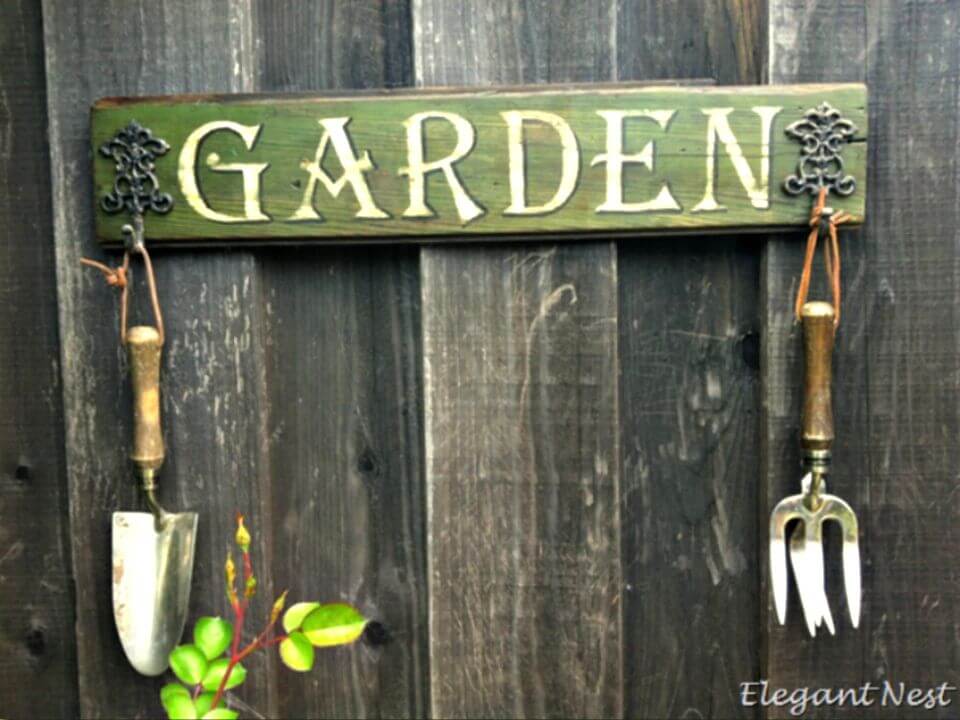 Check out here this another brilliant looking and interesting garden sign that is looking fabulous and also comes with hooks to hang the garden tools! Here again a wooden plank has been transformed into a brilliant looking garden sign by painting over custom letters and finally 2 vintage hooks have also been added to sides of wooden garden sign where you can hang the garden tools! Trace out your letters on the wooden planks and next just fill them with custom paint shades! Grab the full free guides and visual tutorial from here elegantnest
Make Your Own Garden Blessings Sign: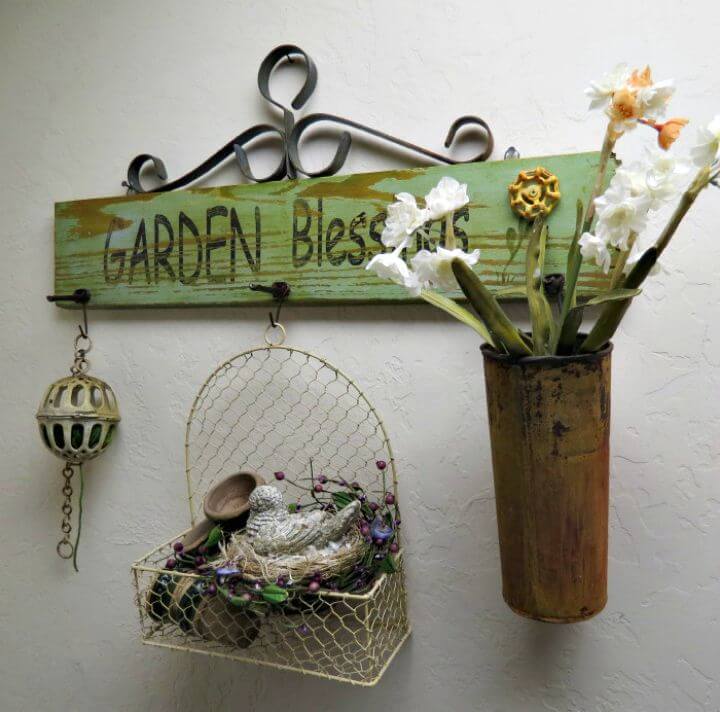 By changing the paint colors, charms and overwritten letters you can give amazing variations to your handmade wooden garden signs! One more extra brilliant inspiration is here to hold your attention, this is here the lovely garden blessings sign that has been made of a wooden plank or board which has been added also with hooks to hang the other garden stuff and charms! Here the wooden plank has been panted for custom letters and then the spiral iron accent has been mounted to its top for a more glam and enticing appeal! Grab the full free guides and visual instructions from here audreyzumwalt