Looking for some diy garden sign ideas? Find ways to make your own homemade garden signs with these 12 fun and unique DIY garden signs. Whether you're looking for a simple way to label your plants, or you want to add a bit of decoration to your garden, these homemade garden signs are sure to do the trick. So grab your supplies and get started on your next diy project!
One of the simplest ways to make a DIY garden sign is to use a piece of wood or cardboard and write directly on it with a permanent marker. You can also paint the background of your sign beforehand if you want to add some extra color. If you're feeling creative, you can try using stencils or stamps to create unique designs on your sign.
Another popular option is to use metal or plastic lettering. You can either attach the letters directly to the sign or hang them from string or wire. This method is great if you want your signs to be weather-resistant and durable.
There are also many ways to decorate your DIY garden signs with embellishments. You can glue on beads, sequins, buttons, or even small toys. Get creative and have fun! Your garden is sure to stand out with one (or more) of these unique homemade garden signs.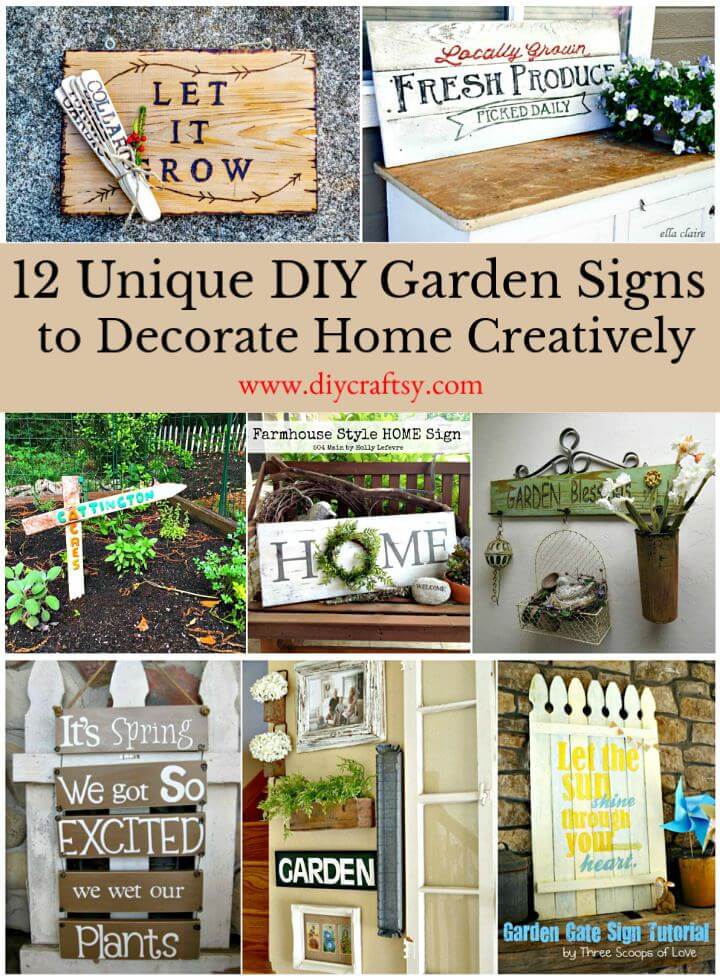 12 Homemade DIY Garden Signs to Make
DIY garden signs are the perfect project to show off your skills. They're also a fun way to get into the gardening spirit, mark your territory, or add a pop of personality to your outdoor space. Best of all, they're easy and cheap to make yourself with just a few simple supplies. So whether you're looking for something cheery to spruce up your yard or an original gift for the gardener in your life, here are 12 unique DIY garden sign ideas that will have you ready to get planting!
DIY Wood Burn Sign and Labels: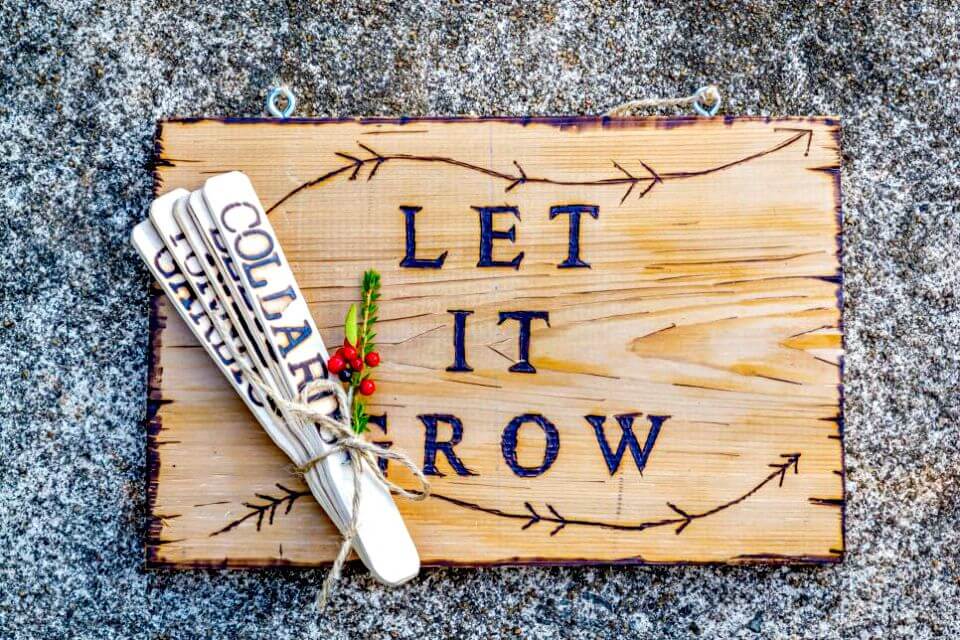 Wood burning is a great way to add a personal touch to any project. In this tutorial, we'll show you how to make a homemade garden sign and plant labels using a wood burning tool.
First, trace the letters on the wooden board with a pencil. This will help you see better when you start to burn the wood.
Next, use the wood-burning tool to trace over the pencil lines carefully. If you're using metal stamps, now is the time to stamp them into the wood.
Finally, use a ruler and pencil to draw your plant labels.
Wood burning is a great way to add a personal touch to any project, and we hope you enjoy this tutorial! hgtv
DIY Magnolia Market Inspired Garden Sign: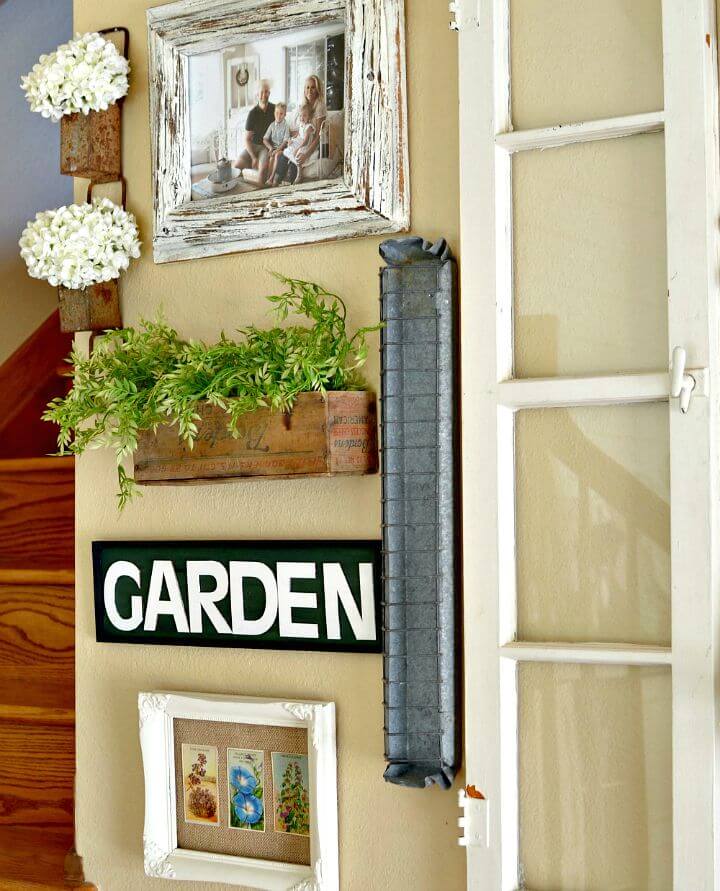 DIY garden signs are a fun and easy way to add a personal touch to your garden. This Magnolia Market-inspired DIY garden sign is simple, easy, and cheap–the whole thing cost less than $10! The key to this project is finding the right supplies. For the plaque, you'll need a rectangular wood plaque (this one is 18″ x 5″) and the unfinished small wooden letters (these are about 3″ tall).
It's painted the letters white, just so they would pop a bit more on the sign. For the paint, you'll need basic acrylic paint in black and this Martha Stewart paint in Scottish Highlands. Once you have all of your supplies, the rest is easy! Simply paint your plaque black and then use the Martha Stewart paint to add a few streaks of color. Let the paint dry and then glue on your letters. Hang your sign in your garden and enjoy! littlevintagenest
Awesome DIY Garden Gate Sign: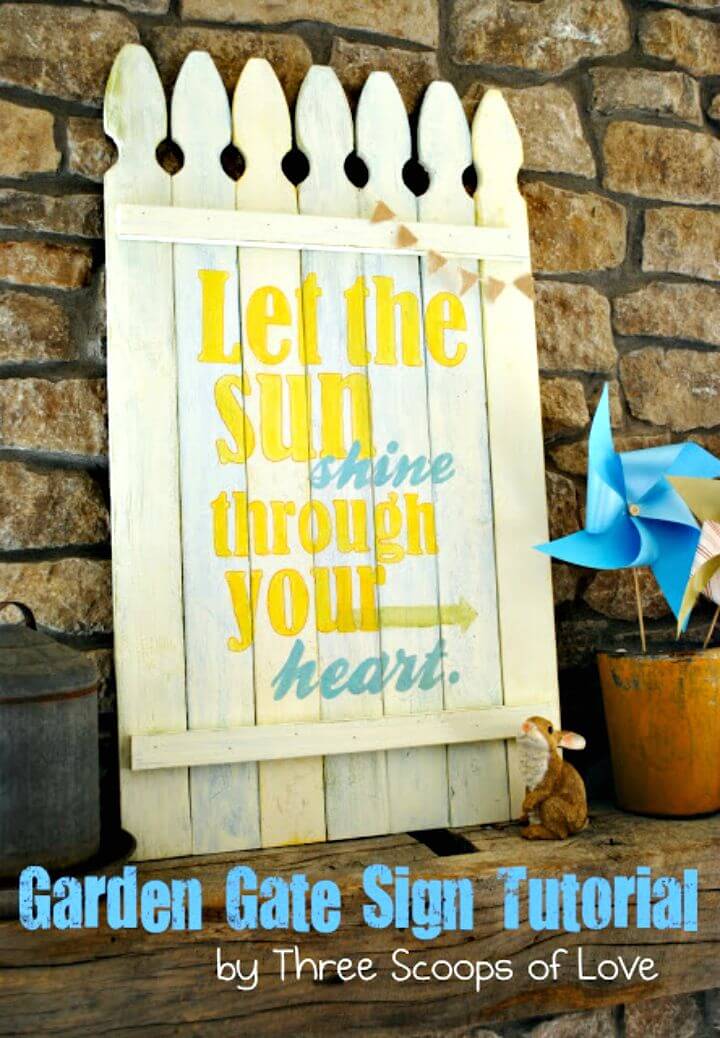 This DIY garden gate sign tutorial is the perfect way to add a personal touch to your garden. All you need are seven rough wood fence pickets, some paint, and a little creativity.
First, sand and paint the pickets in your desired colors. Use a spring color palette of yellow, green, and pink. Once the paint is dry, give the pickets a coat of antique white. This will help the letters stand out.
Next, use a carbon paper substitute for scribbling on the back of the paper with a pencil and then tracing on the front with a pen.
Use an acrylic craft paint that is very watery down and fill in the letters. I also ended up outlining the yellow letters with a yellowish-orange Sharpie.
And that's it! Your DIY garden gate sign is complete. Hang it up and enjoy your handiwork. It's not only easy to make but also a cheap decorative garden sign. threescoopsoflove
How to Make a Garden Sign with Rustic Wood: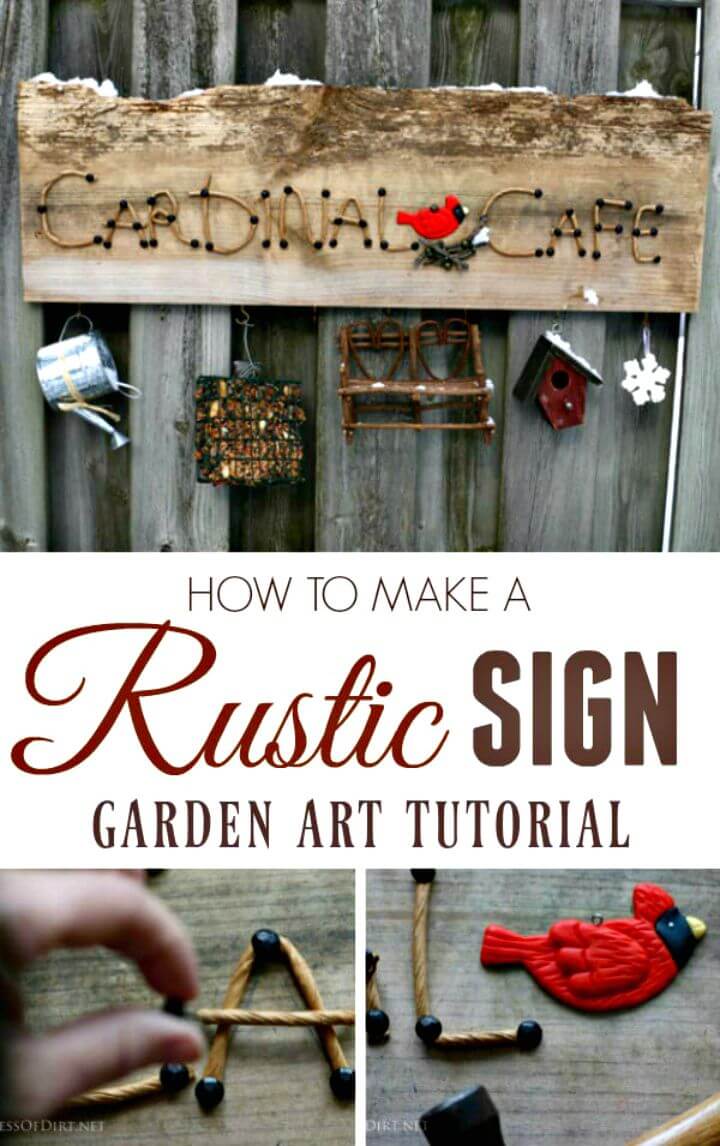 Want to add a personal touch to your garden? Try making your own garden sign! You can create a simple yet stylish sign using just a few materials. Start with a wood board, either new or repurposed. Then add some jute rope or pre-twisted rush for the lettering. Upholstery tacks in black will help secure the rope and give the sign a finishing touch.
For extra personality, add cardinal decorations and twigs to create a bird's nest. Finally, hang your sign using cup hooks and 1/2 inch wood screws. Voila! You've made a unique garden sign that is sure to please. empressofdirt
Adorable DIY Garden Sign: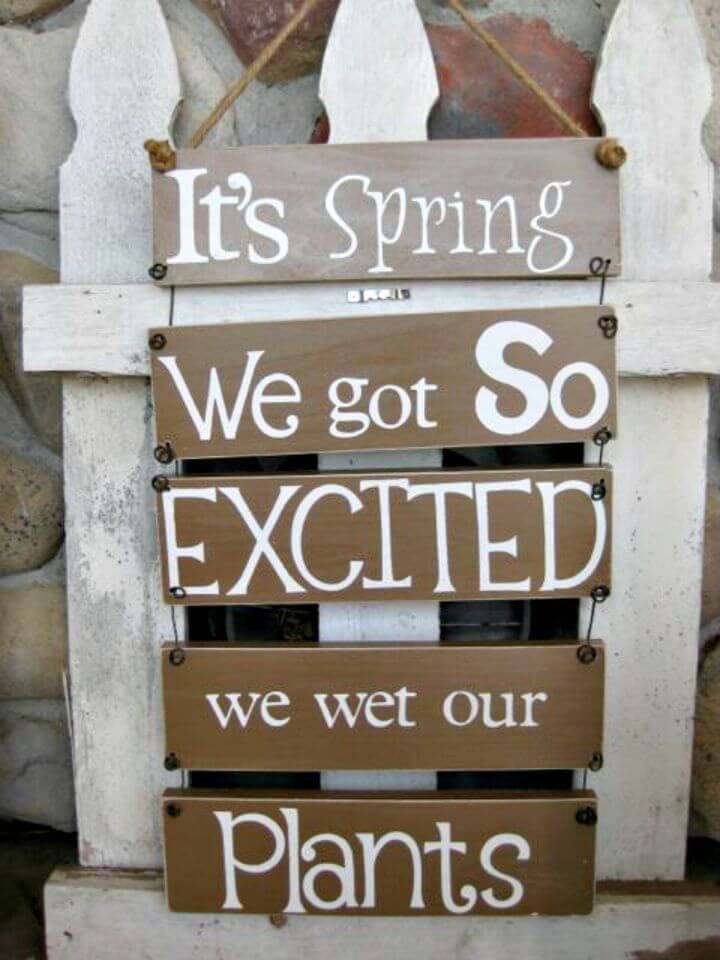 Spruce the mood of your garden with these handsome DIY garden signs out of the garden wall! The custom wooden planks have been painted and overwritten for custom quotes, sayings and letters to make gorgeous garden art signs! Here all the quoted wooden boards have been combined through a metal wire that passes through the holes made in the corner sides of each plank! Next, the heavy-duty rope loop has been installed to top plank, making a beautiful wall art piece and sign! maluukkonen
Create Fresh Produce Garden Sign: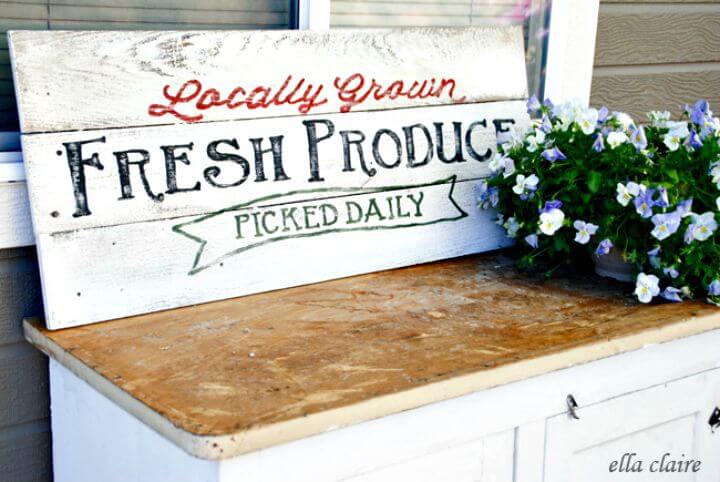 Have a look at this another praise-worthy garden sign that is super easy to make and is also super cost-efficient! Here this lovely garden sign is made of custom cut fence pickets that have been put together to shape up a rectangular board which has been painted and then overwritten for custom letters and quotes! Here the finally painted garden sign has also been distressed a little for a rustic look and appeal! ellaclaireinspired
DIY Vintage-look Garden Sign Tutorial: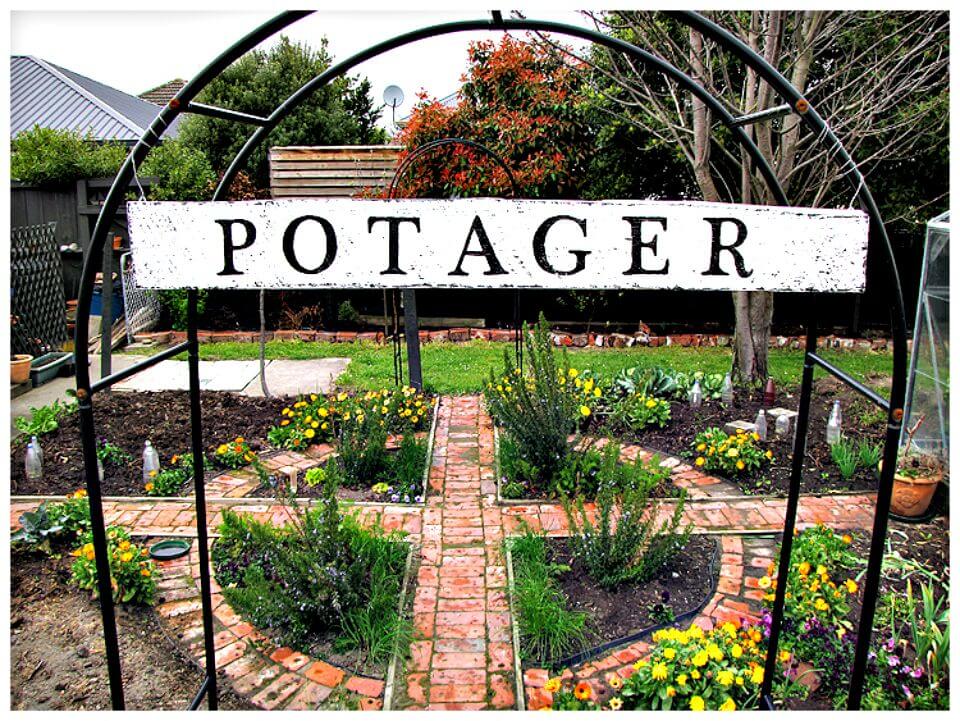 Here is how to adorn your garden gate by hanging a cool looking sign there! Just check out here this enticing looking vintage garden sign that is made of a single wood plank which has been painted and overwritten for custom letters! You can also grab a single plank from home and the little bit of paint to duplicate this great looking garden decor sign! For painting letters, just line up the custom cut out letters on the wooden board, trace them in place and then fill them using custom paint colors! ghostmyst
Build Garden Sign from Old Fence Stakes: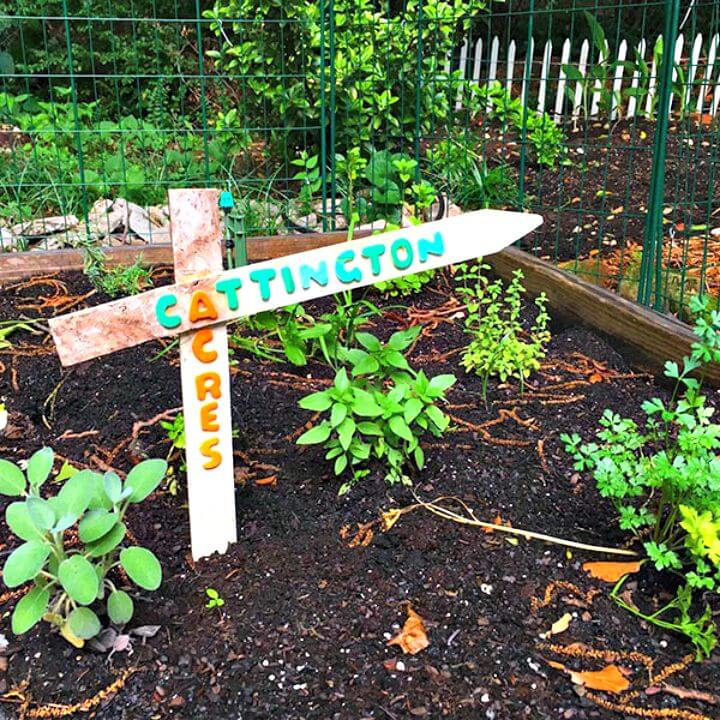 Look at this lovely garden sign that has been fixed in the ground! Here this adorable quoted garden sign is made of two recycled garden stakes which have been spruced up with colorful wooden letters glued on them making the lovely letter art! Here the wooden letters have been painted using the custom colorful sharpie pens and hence a garden sign has been made that is beautiful and enticing! craftingagreenworld
DIY Old Rake Sign For Garden Tools: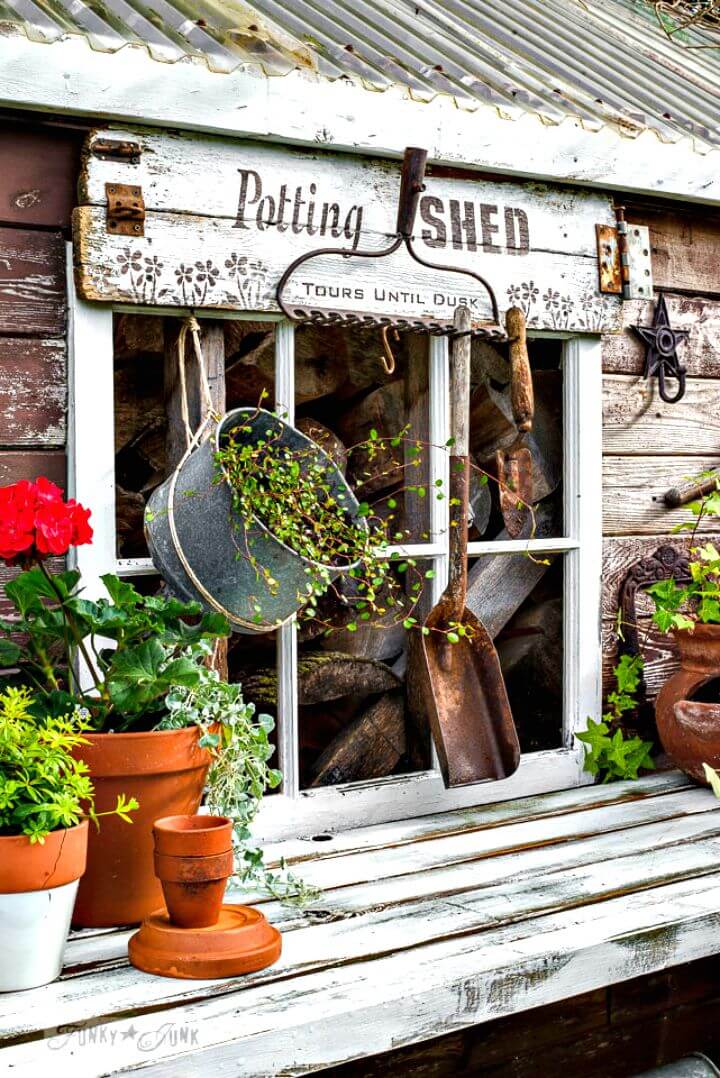 If you are big rustic lover then you will definitely fall in love with a rustic garden sign that has been made for hanging the garden tools! Here two rustic wooden planks having a white painted distressed appeal have been put together and assembled with old hinges and rusty lit lock parts that have been screwed in the place holding both of the wooden planks! Next, the custom letters stencils have been used to paint the letters and next to the old rake has been mounted in front that serves as fantastic garden tool rack! Grab the full free tutorial and instructions from here funkyjunkinteriors
How To Make Farmhouse Style Inspired Home Sign: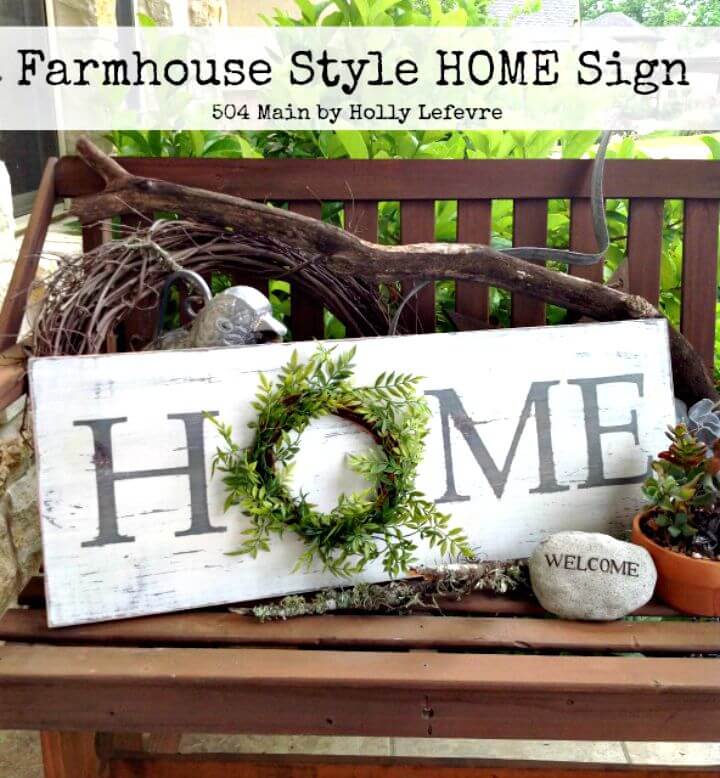 You can get inspired of any style of decor to make custom garden decor signs at home! A brilliant inspiration is here for you, a lovely farmhouse style inspired home sign that would definitely jazz up your garden decor! Here all you need is to grab a wooden board which you can paint to look brilliant! Next write or stencil custom letters on it and have fun! Here the "HOME" letters have been painted on the sign and the word "O" has been replaced with a fantastic grapevine and greenery wreath, this makes the sign a bit more interesting and eye-catching! 504main
How To Make Garden Sign: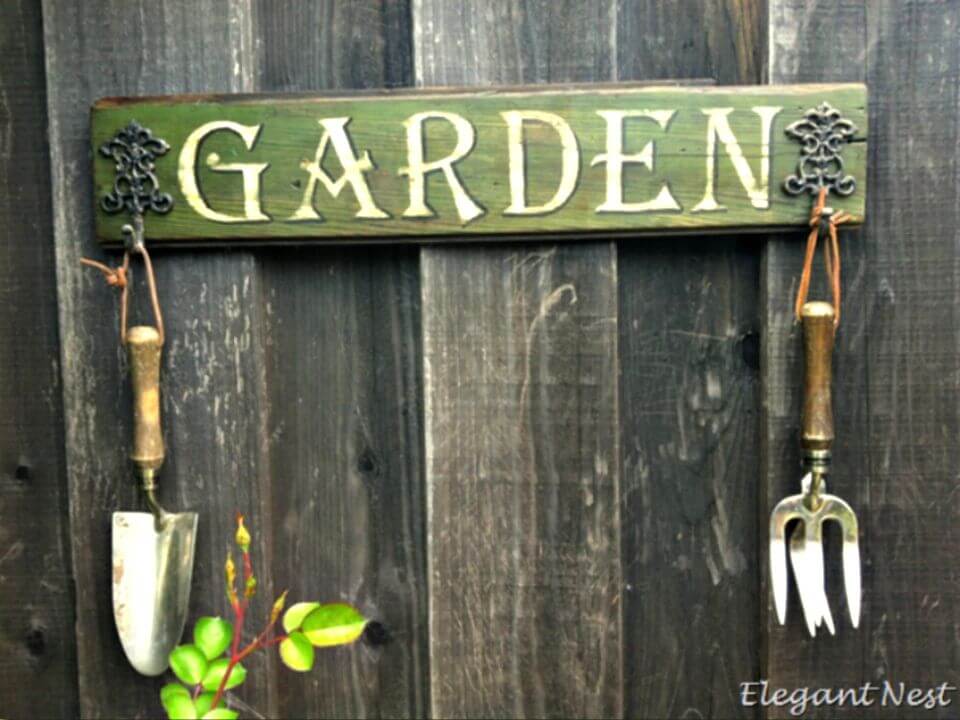 Making a simple DIY garden sign is a fun and easy project that adds personality to your outdoor space. To create the sign, start by painting the wooden board with light green paint. Then, use white paint to hand-paint the letters. For added dimension, shadow the letters with black paint. Once the paint is dry, distress the lettering with 60-grit sandpaper for an aged look. Finish the sign by applying a layer of Annie Sloan Clear Wax and Dark Wax. To hang the sign, add some distressed hooks to the top of the board. Enjoy your new garden sign! elegantnest
Make Your Own Garden Blessings Sign: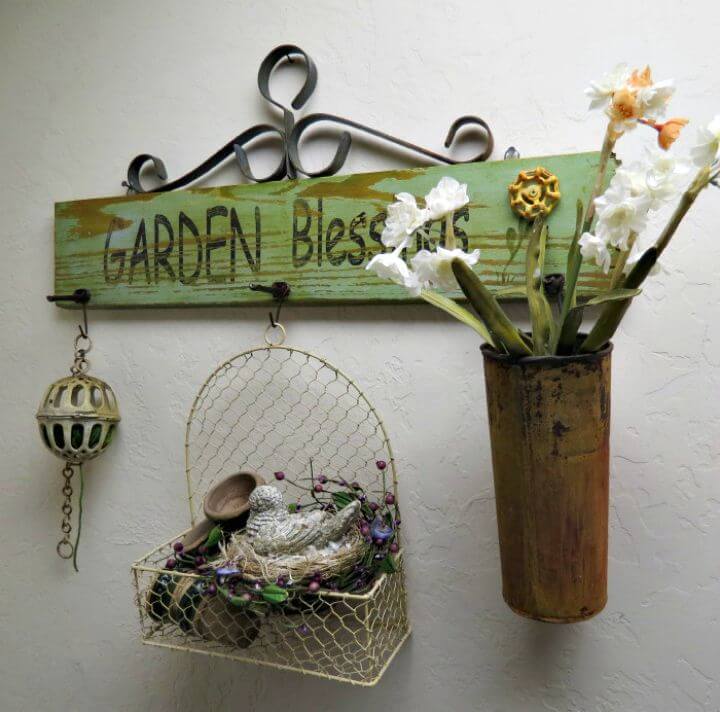 By changing the paint colors, charms and overwritten letters you can give amazing variations to your handmade wooden garden signs! One more extra brilliant inspiration is here to hold your attention, this is here the lovely garden blessings sign that has been made of a wooden plank or board which has also been added with hooks to hang the other garden stuff and charms! Here the wooden plank has been panted for custom letters and then the spiral iron accent has been mounted to its top for a more glam and enticing appeal! audreyzumwalt
More DIY Home Decor Ideas and Projects
DIY Backyard Ideas: Find inexpensive and easy backyard ideas that will make your outdoor space look great! From DIY decor projects to organizational tips, we've got you covered.
DIY Signs: Looking for a fun project to do with your friends or family? Check out these fun and creative DIY wood signs! They're a great way to show your personality and add some character to your home.
DIY Home Decor: Find cheap, easy, and chic DIY home decorating ideas to adorn your home on a budget. Whether you're looking to spruce up your space for the new year or just want a few new ideas, these projects are sure to inspire.
DIY Cinder Block Planter: Looking for a way to update your garden? Check out these easy diy cinder block planter ideas that are sure to decorate your outdoor space.
DIY Welcome Sign: Welcome guests to your home with a stylish and personalized DIY welcome sign. This easy project can be completed in just a few minutes and is a great way to show your guests how much you appreciate them.
Pallet Wood Signs: Looking for a unique way to decorate your home? Check out these amazing pallet signs to get inspired and make creative and unique signs.
DIY Pallet Projects: Looking for a creative way to upcycle old pallets? Check out these DIY pallet projects with step by step instructions! From furniture to home decor, there's a project for everyone!
Related DIY Gardening Ideas
Rock Painting: Rock painting is a great way to show your creative side while also spending some time outside. This list of easy rock painting ideas for beginners will get you started on your next project.
DIY Herb Garden Ideas: Looking for ways to garden your own herbs? Check out these homemade DIY herb garden ideas for both indoor and outdoor spaces! From simple planters to creative containers, there's a design here for everyone.
DIY Garden Ideas: Looking to upgrade your garden? Check out these diy garden ideas for beginners! From simple projects like adding a new pot or planting a tree to more ambitious undertakings like building a deck or installing a pond, there's something here for everyone.
Pallet Garden: If you're looking for a simple way to start gardening, consider using pallets! You can easily create a pallet herb garden with just a few supplies. This is a great way to save space, and it's easy to customize the size and layout of your garden.
Conclusion:
If you are looking for some fun and creative garden sign ideas, we have you covered. From whimsical signs made out of recycled materials to clever sayings that will make your guests smile, these 12 homemade DIY garden signs are sure to inspire you. So get creative and start making your own garden signs today!