When you build a new house or a portion of your interior spaces then you do organize it with necessary furniture to operate that particular interior portion or environment! But if you are concerned with the decors of that your newly built home, room or any particular interior then final garnishing is always done using custom embellishments, centerpieces, and knickknacks! You can really lure the number of views of both newly built and boring spaces of home by adding some focally stimulating pieces of decors!
So, this time here we are here with the attention-grabbing eye-pieces that you can make at home! Just check out here these 36 DIY wooden box centerpiece ideas that will make you get with the very adorable looking eyepieces that will bring great focal stimulation to any of your particular interior space! Here all these DIY centerpiece ideas are based on a wooden box and these ideas will tell you that how you can fill the ordinary wooden boxes with different items of décor to make interesting looking centerpieces for custom modern, rustic and vintage inspired interior spaces!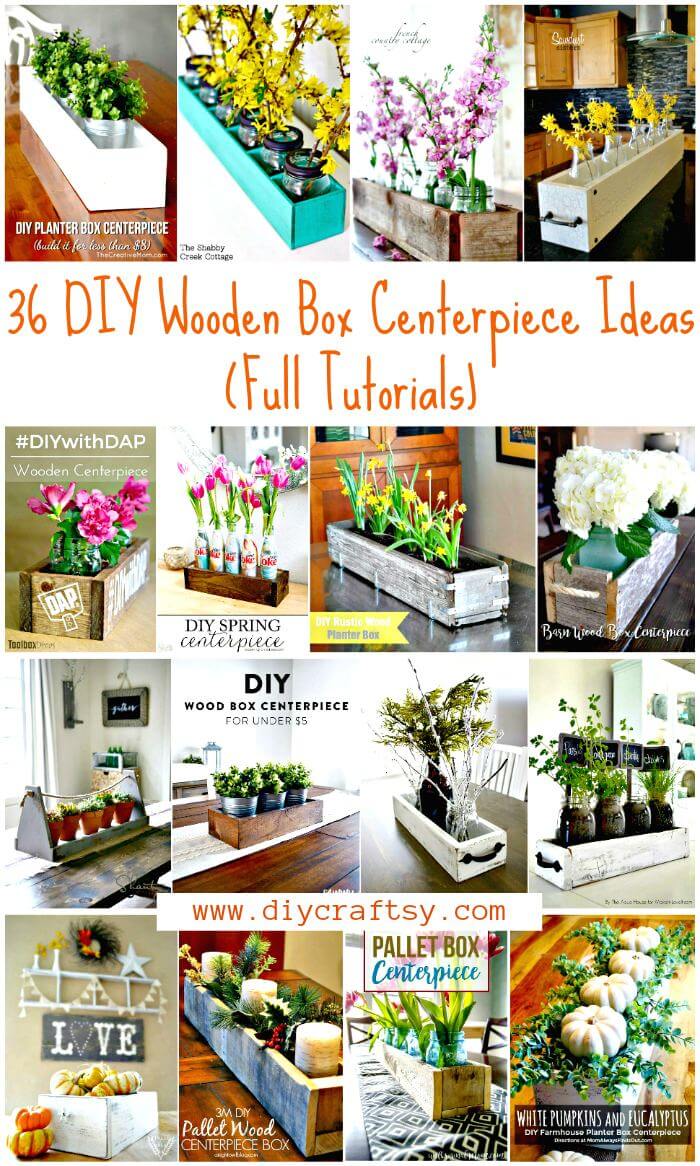 Make the wooden boxes with pallets and fill them with custom mason jar vases to make interesting looking centerpieces for your spaces, get inspired by the lovely give sample that comes with blue glassy mason jar vases! Grab the custom wooden slats from home and turn them into a box or caddy which can also be filled with steel tin bucket planters for making a natural looking eye-pieces of any of your space, check out there the sample model that will bring amazing garden vibes to any particular interior area!
Go handmade with any recycled wood and make an interesting looking wooden box that can also be filled with reclaimed glass bottle vases to make enchanting no-cost centerpieces for your home and interior wall shelves! If you are interested in fall or Halloween centerpieces then your wooden boxes may come with candles and also with pumpkins along with some other fall embellishments and blossoms!
Next, you can also paint your wooden boxes centerpieces for a modern appeal and also for a shabby chic finish, this will all depend on your interior home décor theme that you are following! Another interesting centerpiece sample is the wooden candle holder that can be made using a single wooden length which may come with different holes and cavities to hold the candle lights in, get inspired of a given sample that would make an interesting vintage centerpiece for any dining or coffee table!
Check out dozens of samples more in the given collection to get your creativity inspired! Selected your favorite wooden box centerpieces from the collection and clone them at home! For free tutorials and instructions, just hit the attached links!
More DIY Home Decor Ideas:
DIY Wood Pallet Box Centerpiece: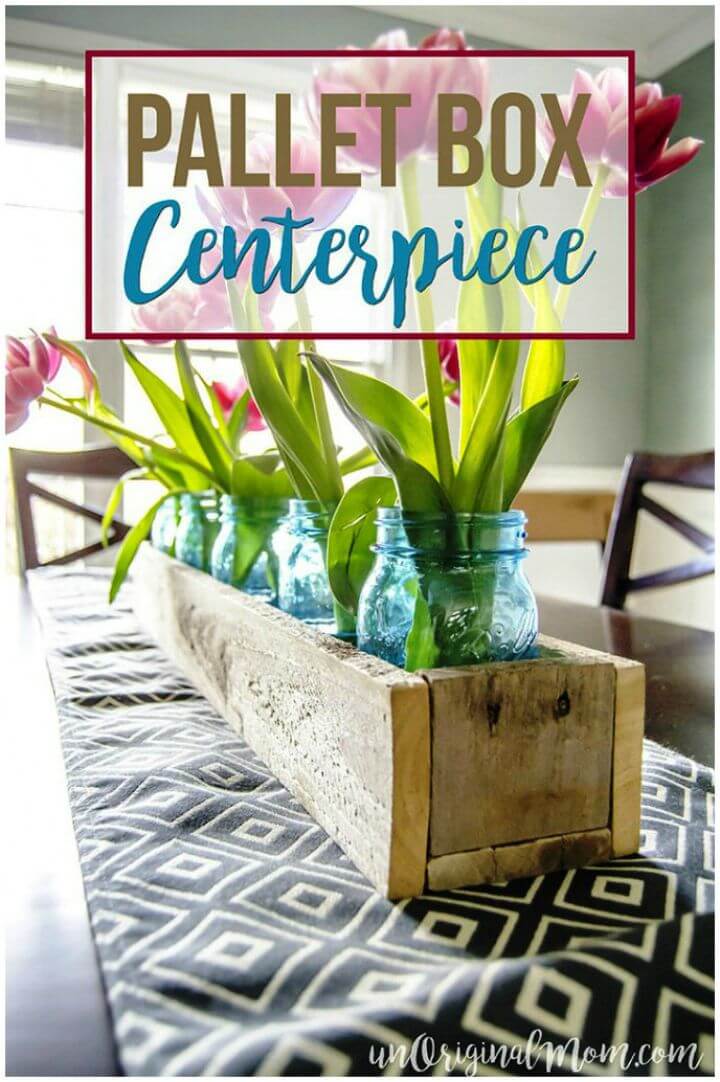 You can make the most out of the wood lying around or left out of your wooden projects by creating this pretty and functional wooden box out of them and use as the pretty centerpieces for your dining tables. You only need to bring together four pieces of the wood together and shape up this gorgeous box to hold your planters in.You can check out the overall details of the idea here unoriginalmom
Build a Wood Box Centerpiece For Under $5: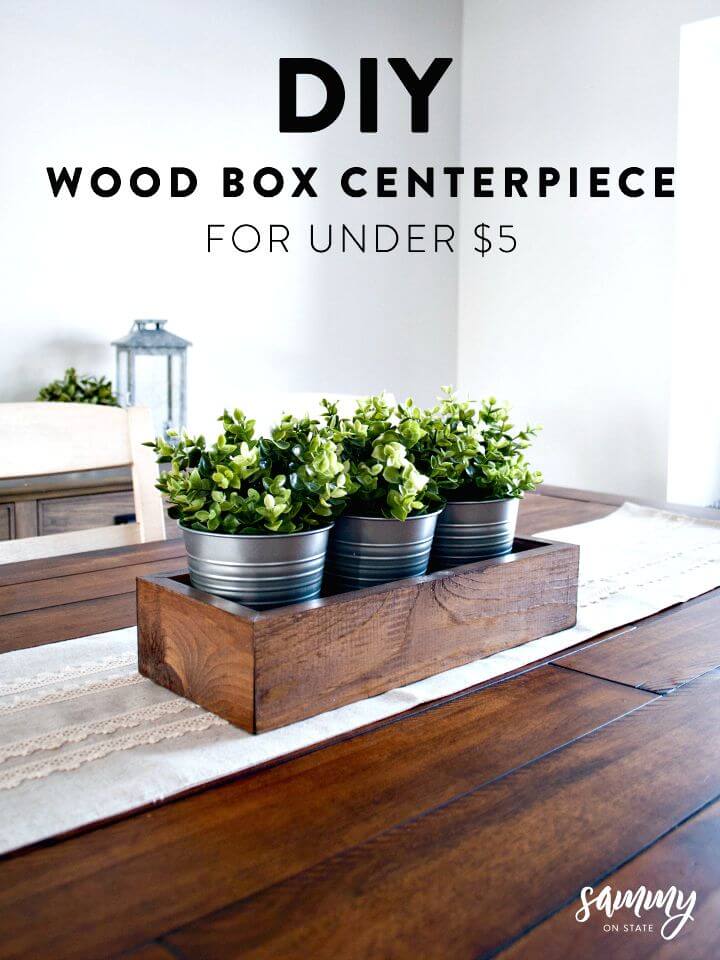 A centerpiece is the must have for the dining tables either you are dining on it or not. So the best of the way to create a gorgeous centerpiece on your own is built this beautiful wooden box to hold your planters in and add oodles of rustic charm and beauty to your spaces in the dining room.The details for this wooden box making are all lying here sammyonstate
How To Make Spring Wood Box Centerpiece: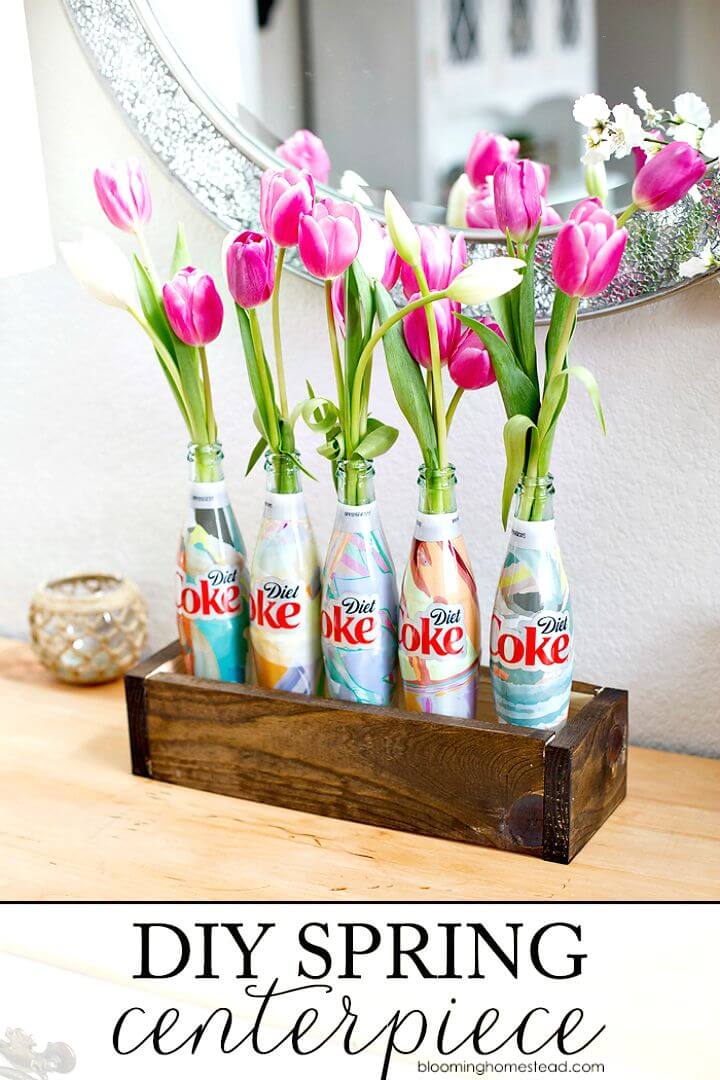 Her is how you can create a perfect piece of center beauty for your dining tables using the cheapest of the supplies lying around. You would need some soda bottles to use as the pretty planters and make a wooden box to hold the bottle planters in and thus have cute and gorgeous centerpiece in your dining area.You can check out the complete details of this idea right on this link bloominghomestead
DIY Wood Box Centerpiece Tutorial: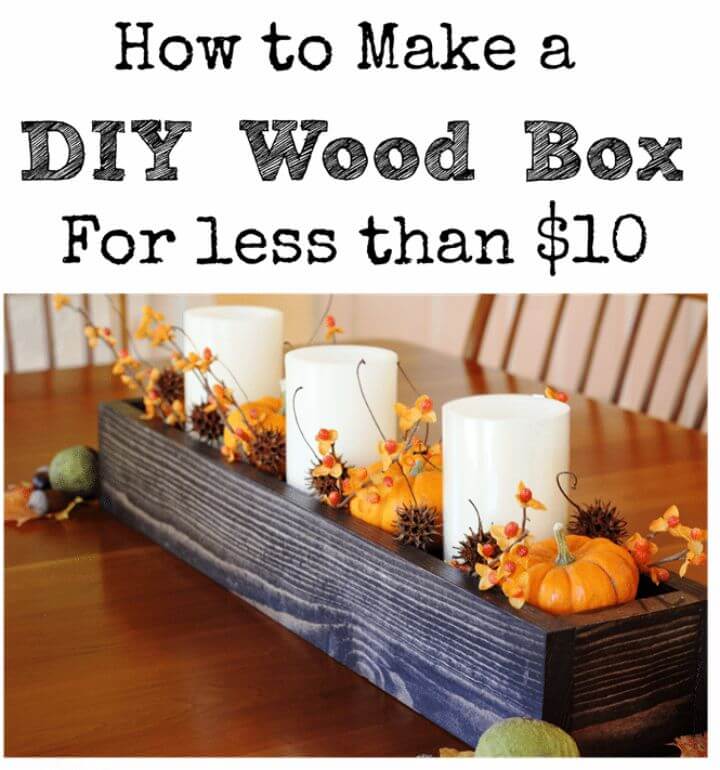 If you want to decorate your dining table for the festive of the fall we got this totally whimsy centerpiece for you to get your hands on. You would need some plastic pumpkins, leave and the big candle to be housed gorgeously in a wooden box that is just super easy and fun to make out of four wooden pieces in a rectangular piece. Here is the link to check out the complete details of the idea so that you can easily make one for your dining table and uplift the decor for the special day dinner virginiasweetpea
Make Your Own Planter Box Centerpiece: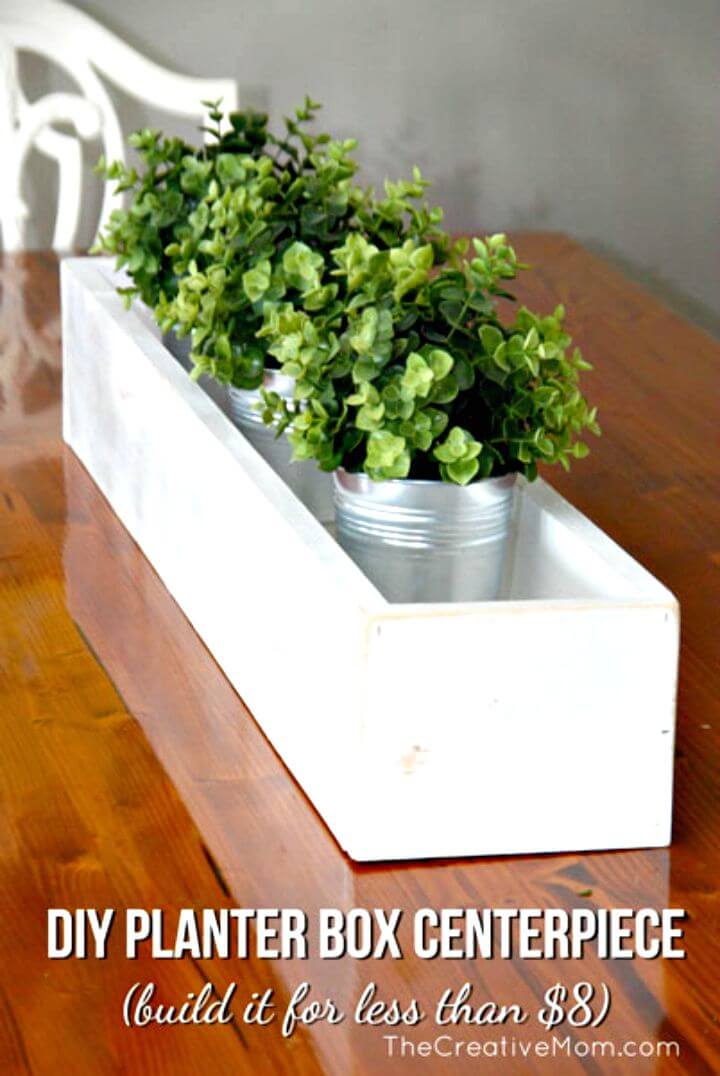 If your dining room is chic and modern in style then here is how you can award it a matching centerpiece for the dining table and add more beauty to it. You can just grab some wooden piece and glue them together to shape up this rectangular box and then stain it in complete white for the perfect chic and dazzling look. You can hold planters, candles or any of the things to form up this complete planter centerpiece. Details can be all hacked by clicking on the link here thecreativemom
DIY Wooden Candle Centerpiece Tutorial: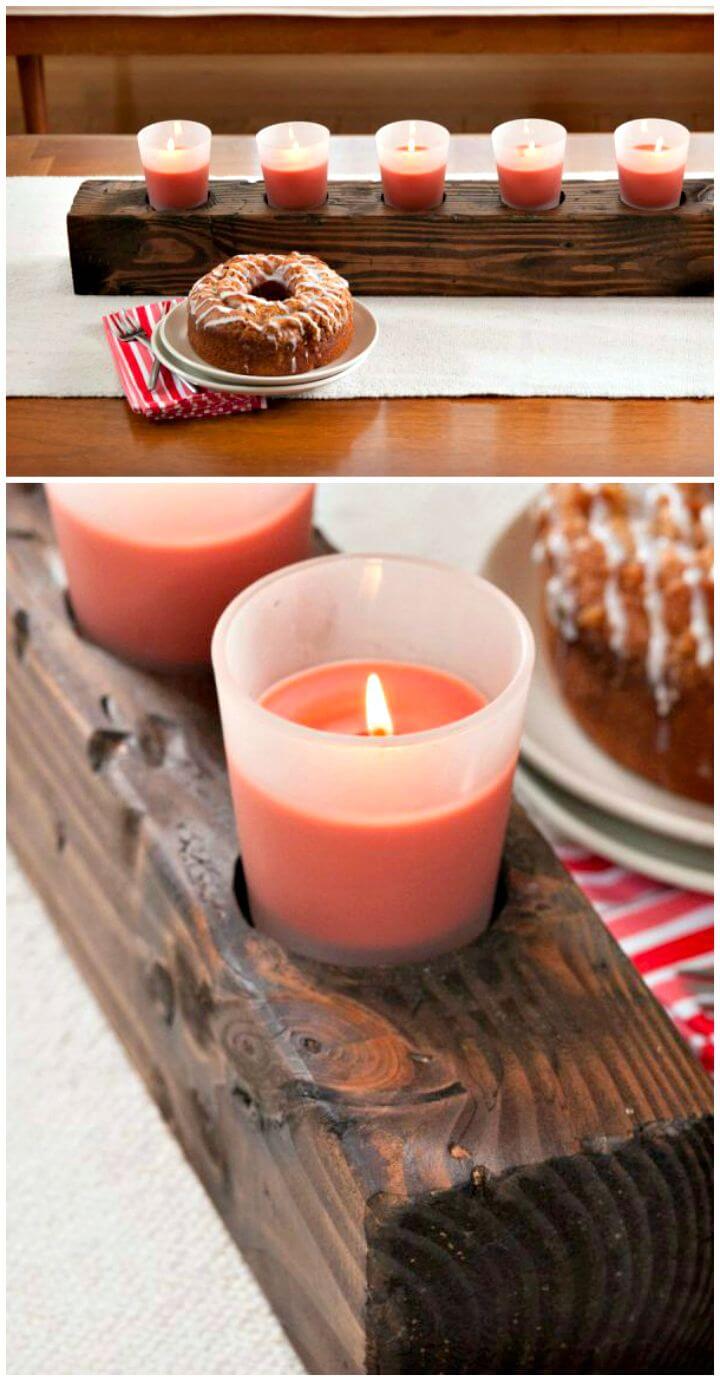 Candles are customary to have on the dining table to boost up the decor and beauty of your dinner decor and here is how you can do it with utter perfection. You can take a wooden log and drill holes in it where you can make the candles stand and thus so easily and nicely your dining table centerpiece is just ready to uplift the beauty of your spaces. You can check out the step by step details of this brilliant idea here thesweetestoccasion
DIY 3MPallet Wood Centerpiece Box: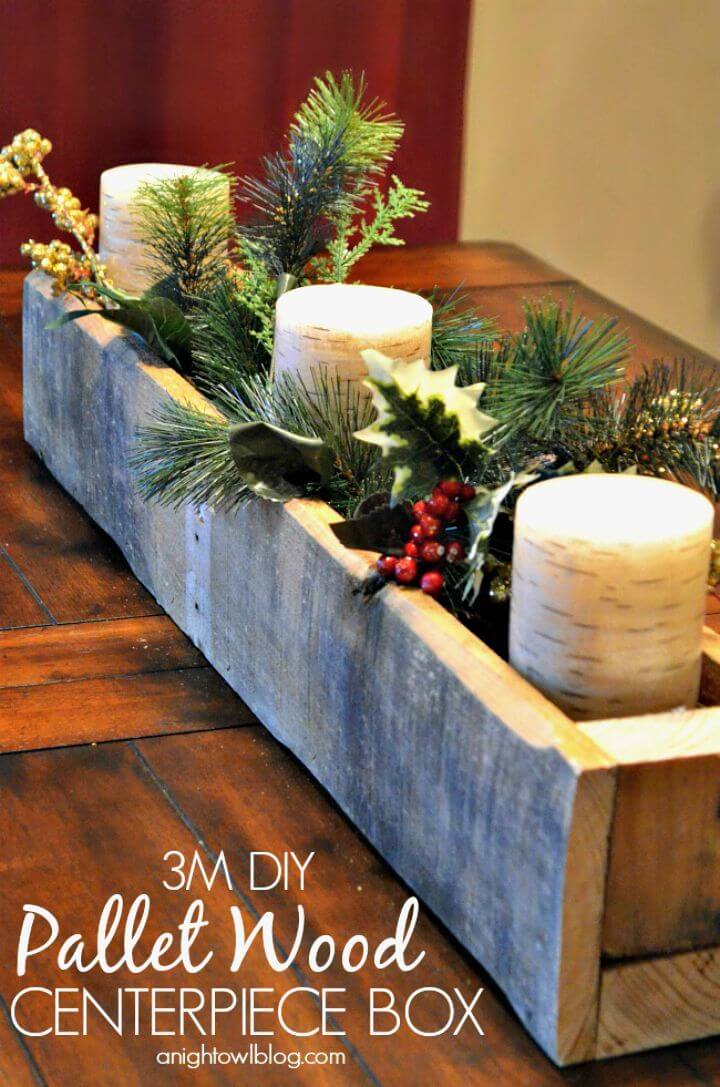 Christmas decor is so special and when it comes to dining table it ought to be gorgeous and stunning as the whole family is to gather here on the special eve of the evening. So grab some vines, leaves and another such faux decorative with the candles handhold them all in a wooden box that is easy and fun to make out of a few wooden pieces. You can learn to make this gorgeous wooden box s all here anightowlblog
DIY Wooden Box Centerpiece: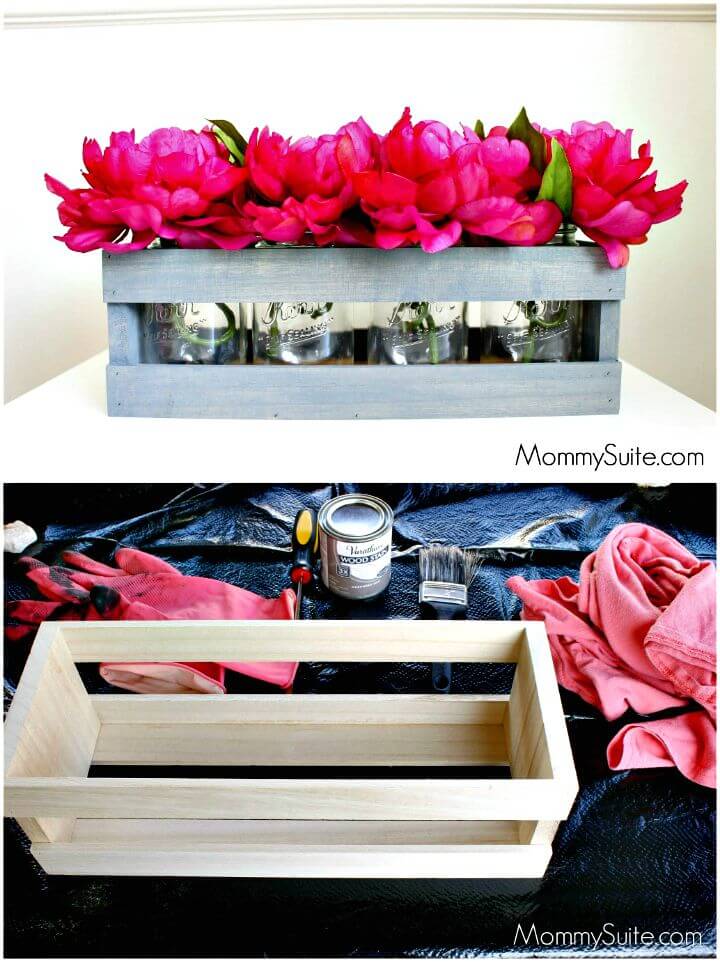 If you are using the cute mason jar planters on the dining table to form up cute centerpieces over there but without a holding box or basket, it's just so undone. So where you can make your own mason jar flower pots or the planters, you can also shape up this wooden box out of a few wooden pieces, then sand it and stain it in the adorable grey shade for the perfect shabby chic appeal and beauty. You can check out the details of the idea here make it soon to revamp your dining room spaces mommysuite
more DIY Home Decor Ideas:
How To DIY Wooden Centerpiece Box: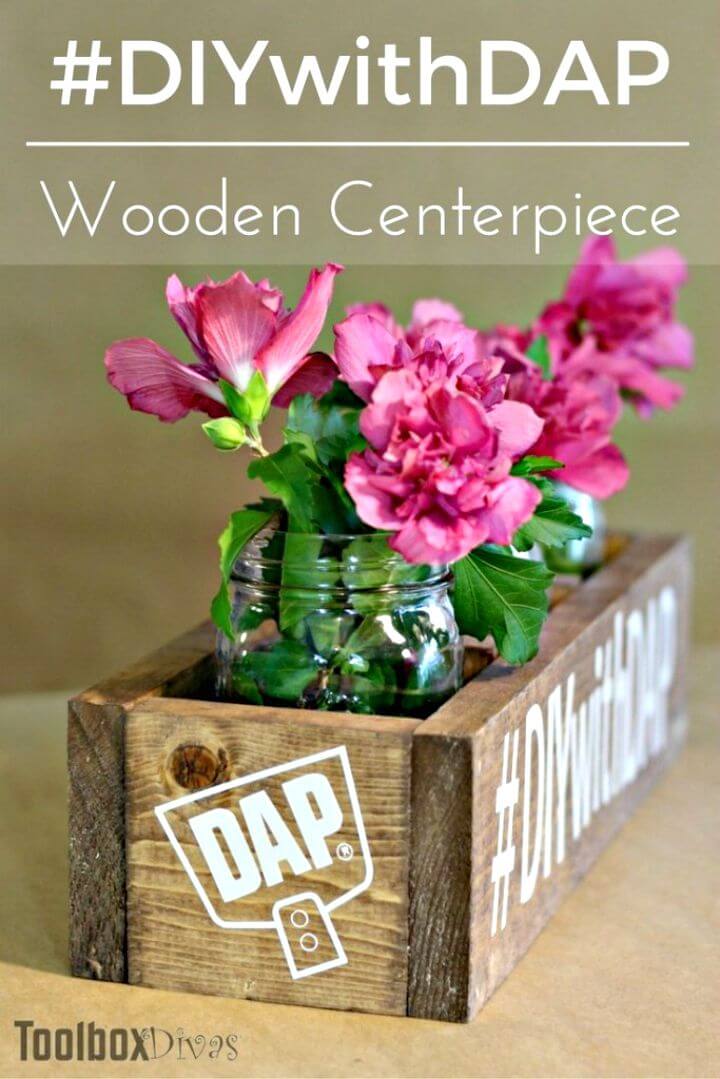 It's really easy and fun to make the pretty centerpieces out of the cheapest of the supplies lying around. Using the empty mason jars you can form up these cute flower pots and use some wooden pieces you can install this box to hold the planters in and your gorgeous, rustic and pretty centerpiece is just ready to make your dining table look all spruced up.Check out the details of the idea here toolboxdivas
Make Your Own Wooden Box Centerpiece: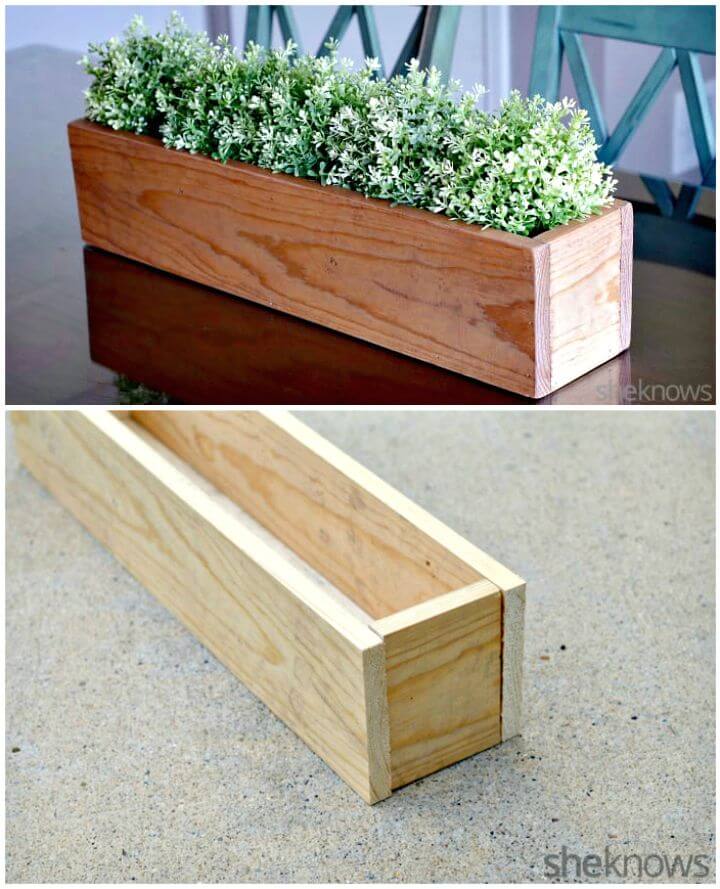 You can instantly make your dining table look super gorgeous and complete in decor and style with this wooden box holding a bunch of your planters in it. You would need three wooden boards and two smaller wooden pieces to be joined together and shape up this slim in shape rectangular wooden box which can be kept unfinished for the rustic appeal or stained per your dining table decor.Check out the details of the idea here with easy step sand instructions sheknows
DIY Farmhouse Wooden Box Centerpiece: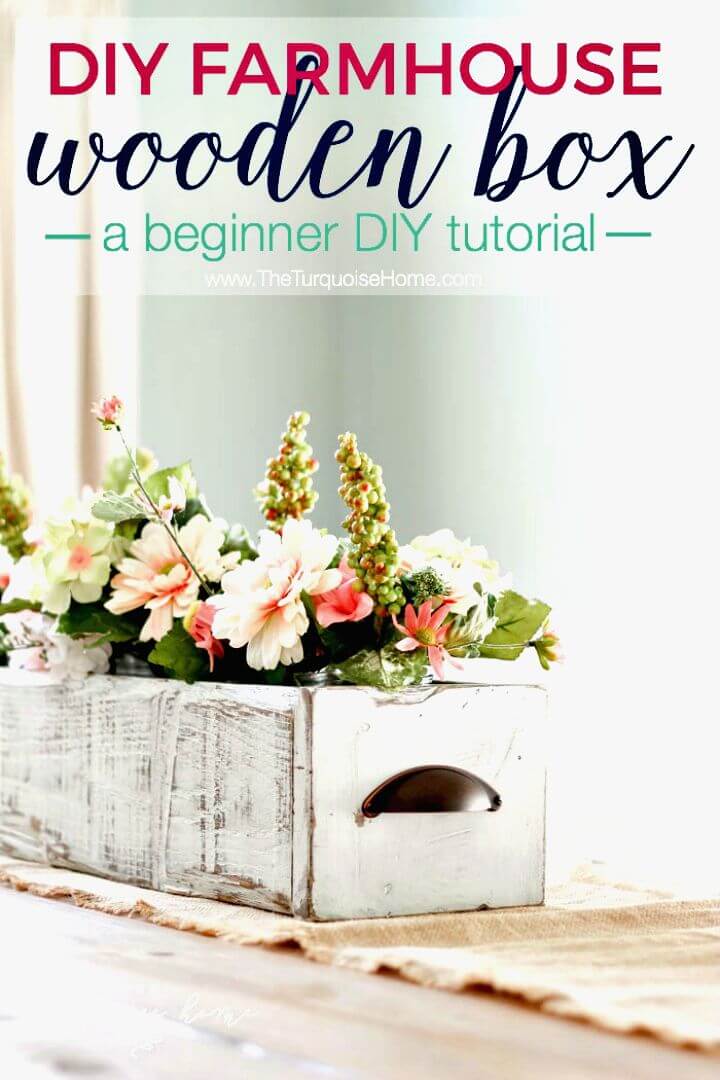 Bring some farmhouse appeal and beauty to your dining rooms and make this lovely farmhouse style centerpiece for your dining tables using some wooden boards to shape up the box, some white stain for the shabby chic appeal and the pretty faux flowers to rest inside and make it a decor hit for your dining tables and spaces. Fully detailed tutorial of the idea is lying here theturquoisehome
How To Make Your Own Wooden Box Centerpiece: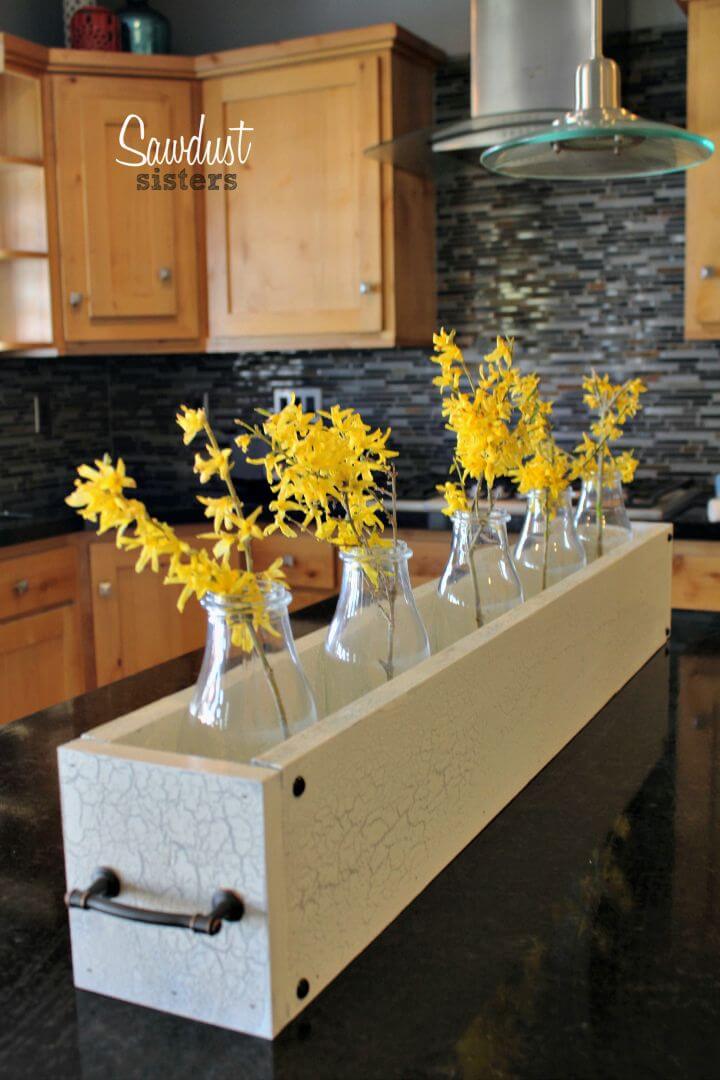 bring some eye-catching beauty and style touches to your spaces with this cute and fashionable centerpieces to behold on your kitchen counter spaces and make the spaces look so jazzed up and fun. This wooden centerpieces is just stunningly beautiful with the wooden box being layered with crack glaze and the cheap soda bottles have been used as the flower holders inside the box with drawer pull outs at the side making it look more quirky and beautiful. Complete details here so do check it out sawdustsisters
DIY Rustic Wood Box Centerpiece: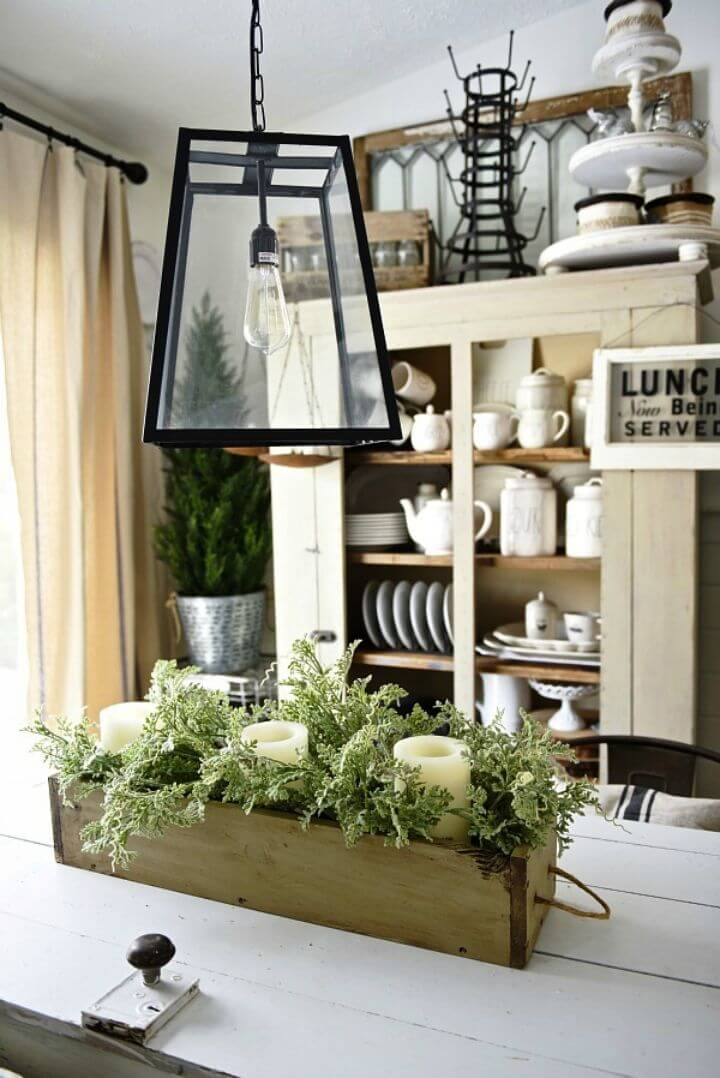 Here is how you can bring the perfect rustic charm to your dining rooms when there are special dinner arrangements being done. You would need some wooden pieces to shape up that easy and quick wooden box, some cute planters to rest inside the box and the rope handles at both sides adding more countryside appeal and touches to this adorable centerpieces. You can check out the fully detailed tutorial of the idea here lizmarieblog
Easy DIY $15 Wood Box Centerpiece: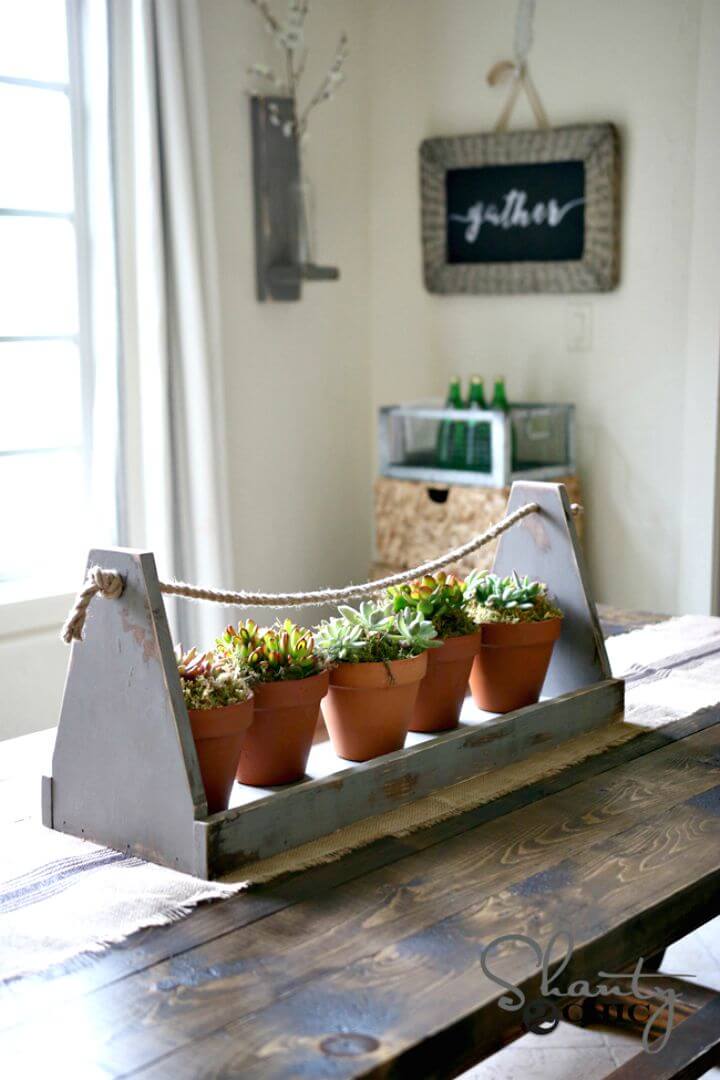 Either you dining table is full of food and surrounded by the people or it is empty and free a centerpieces is just the dire need to make it look beautiful and stylish all the time and maintain the beauty of your dining rooms. With some wooden pieces, a rope and a row of terracotta planters you can easily shape up this adorable and shabby chic looking centerpieces for the dining table and make it look so jazzed up and fun for all the regular or special times. Details are lying here shanty-2-chic
Create Your Own Wood Box Centerpiece: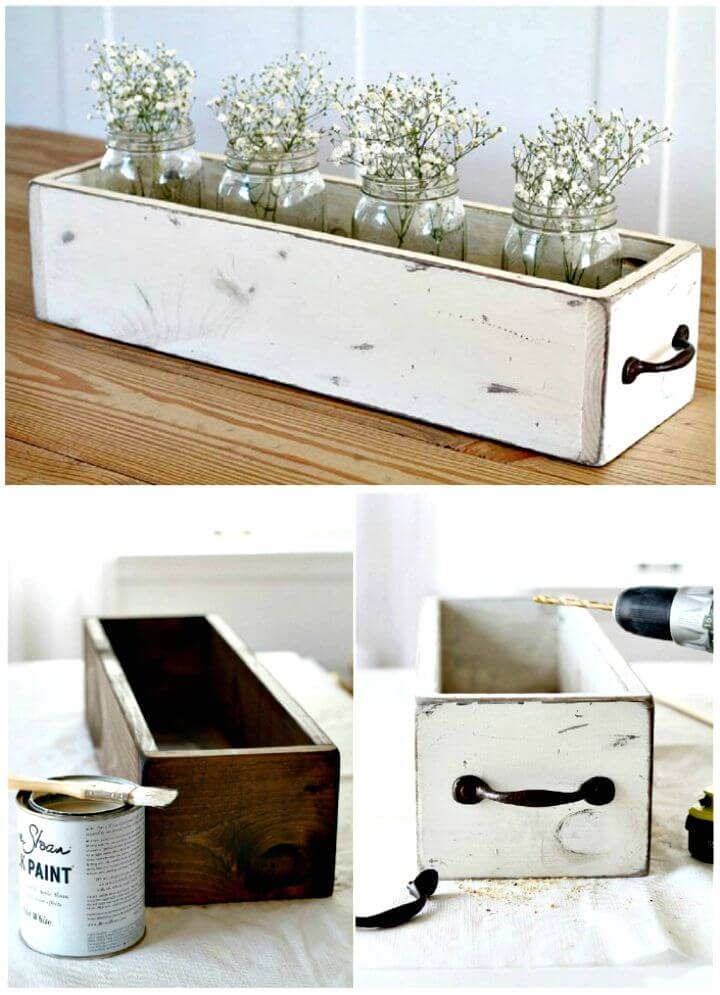 You can check out this pretty wooden box here with all the details and instructions and use it as the perfect centerpiece for the dining table. You can create this simple box with the gluing of the wooden pieces together and you can stain it per your decor desires and demands.If you want it to be rustic you can keep it naturally brown and if you want it to be shabby chic and updated you can stain it with the white all over.You can check out the details of the idea right on this link myhomedecorguide
Build Your Own Wood Box Centerpiece: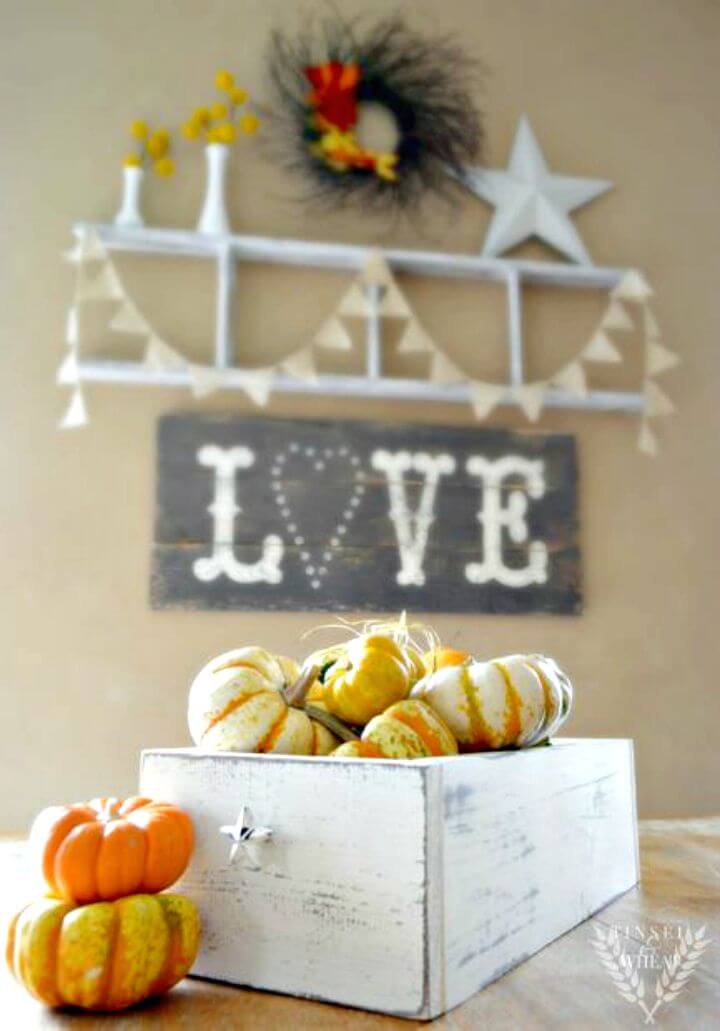 Fall is coming and you should really be preparing for the decor and home styling and one of the most important things you would need is the pretty centerpiece for the dining table. So here is the idea of creating this super cute wooden box as the centerpiece which can be filled with the planters and the pumpkins and so many other such fruits and vines for the perfect look and appeal. You can check out the details of the idea here instructables
DIY Wood Box Centerpiece: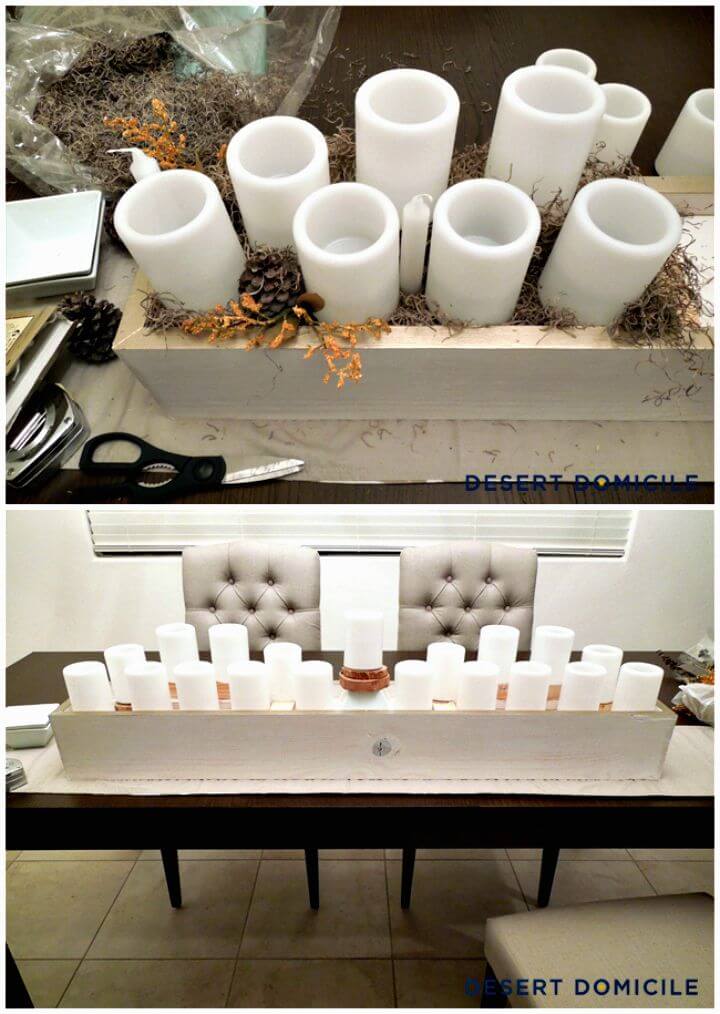 This wooden centerpieces is just so much enchanting and full of decorative appeal for being super huge in size and loaded with the candles, faux pumpkins, flowers,pine cones and other such embellishing.It would cover a larger space on your dining table and thus everybody around the table would enjoy the beauty of this really fancy and gorgeous centerpiece for your spaces.You can check out the details of the complete centerpiece making here desertdomicile
DIY Wood Box Centerpiece Tutorial: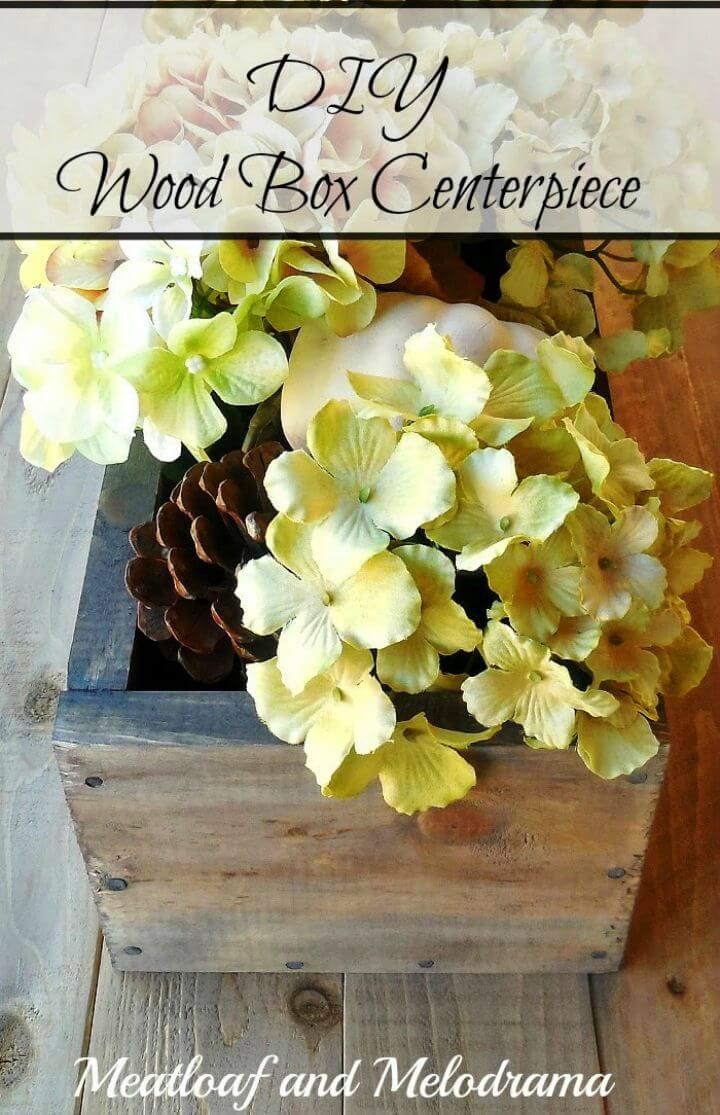 Even if you are not a regular wood crafter you can still get your hands on this idea of wooden box to be used as the centerpiece for your dining tables. You would need three big boards and two smaller ones to shape this rectangular wooden box having been filled with faux flowers and the planters to look really a decorative addition on your dining tables. It has been kept unstained for the perfect natural appeal and woodish warmth.You can check out the details of the idea here meatloafandmelodrama
Easy DIY Reclaimed Wood Box Centerpiece: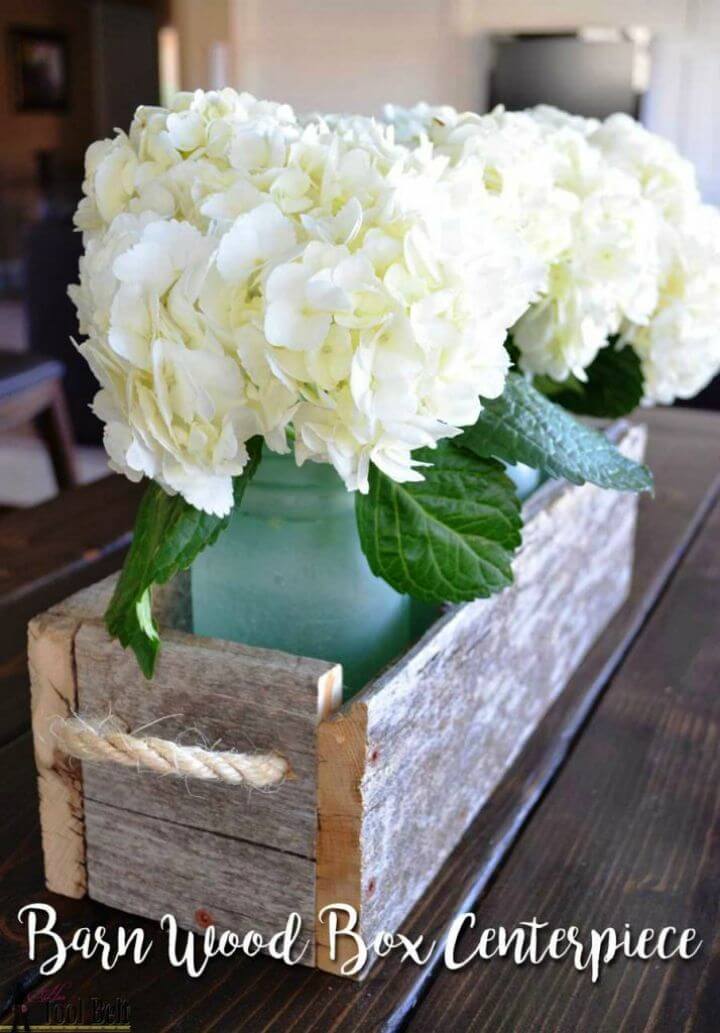 A little rustic touch to modern chic decor is just really the right thing to get and make your dining rooms look so much balanced in decor and styling. you can use any of the available wood lying around to install this simple in structure wooden box with ropes handles that are adding more rustic appeal to the box. You can learn the details of the complete wooden box making here to make it, fill it up with planters and enjoy a pretty centerpiece possession in your dining room spaces hertoolbelt
Quick DIY Mason Jar Planter Box Centerpiece: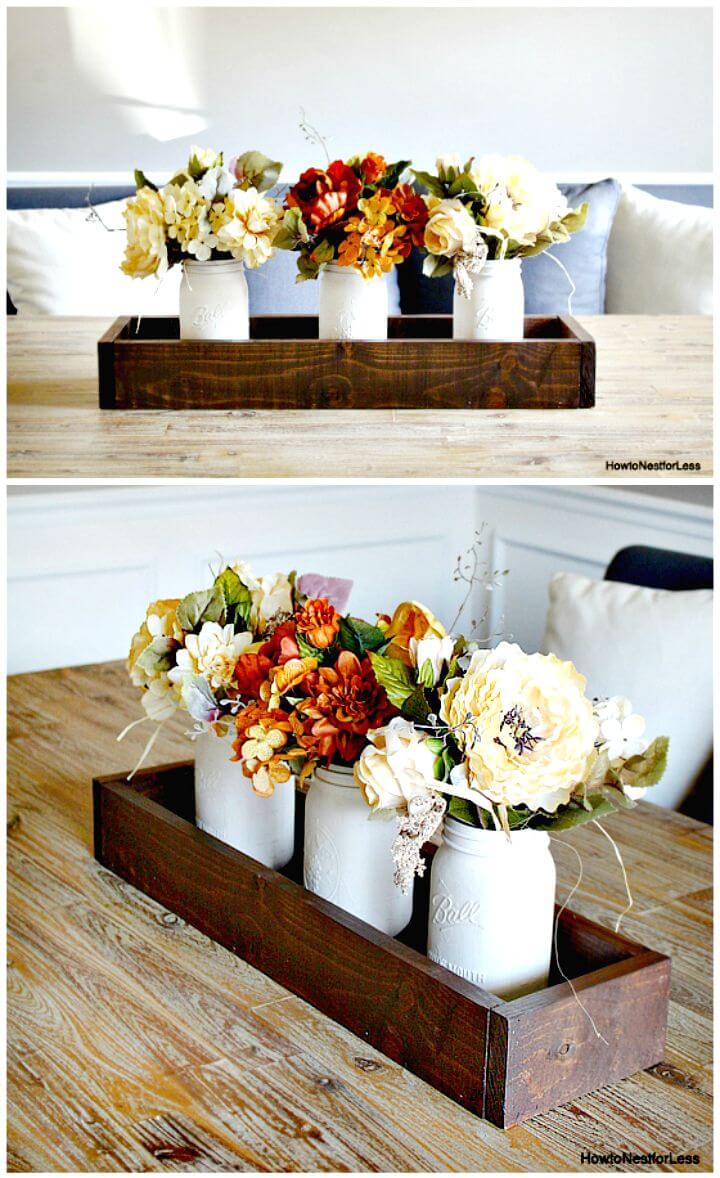 Here is how you can add the gorgeous decor vibes to your dining tablespaces when you are working on the styling or remodeling of these spaces. You would need least of the supplies, efforts and time to create this adorable wooden box centerpiece for your spaces. It has been stained in the ravishing chico brown stain hues to match the perfect rustic appeal of the dining tablespaces and here is the link to check out the details of the idea with easy steps and instructions howtonestforless
Build Your Own Wooden Box Centerpiece: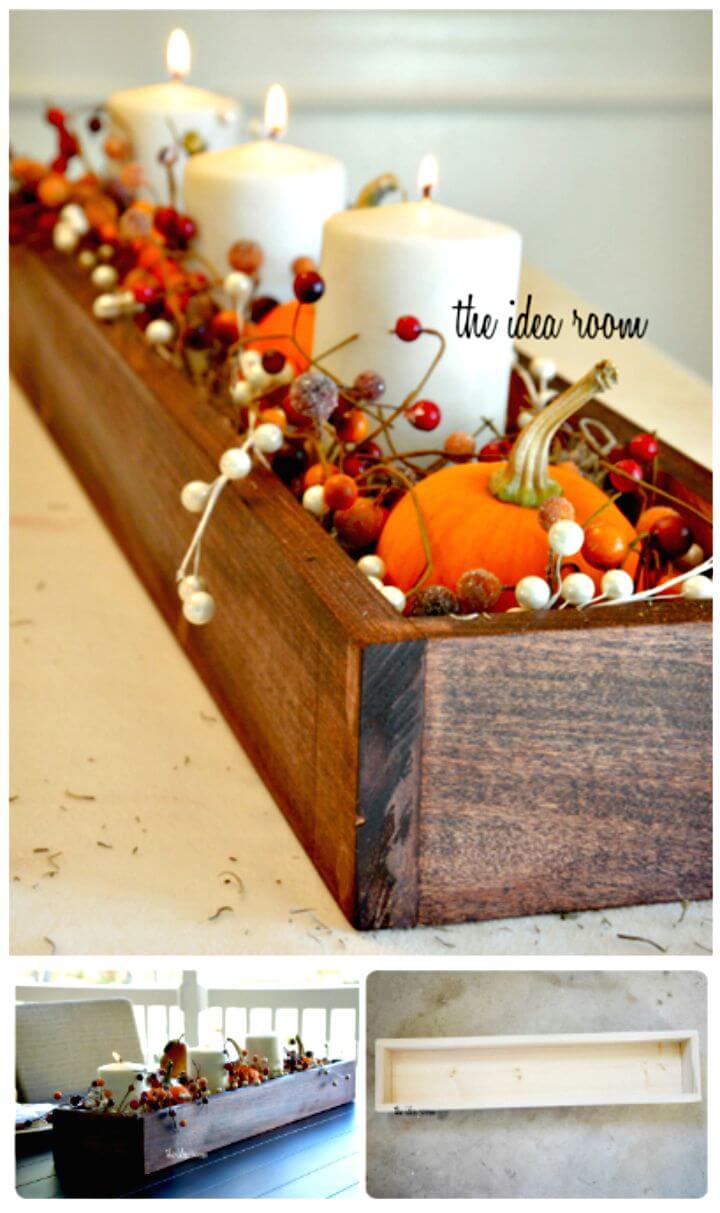 Add that perfect rustic beauty to your dining tablespaces with this lovely wooden box to be added there on the table which is just immense easy and fun to make yourself at home. All you need is some wooden pieces to be joined together and form this less deep but long enough wooden box which have been stained in the choco brown stain for the utter rustic look. It has been loaded with the faux vines, flowers, pumpkins and the candle to be all fall ready for the decor theidearoom
DIY Planter Wooden Box Centerpiece: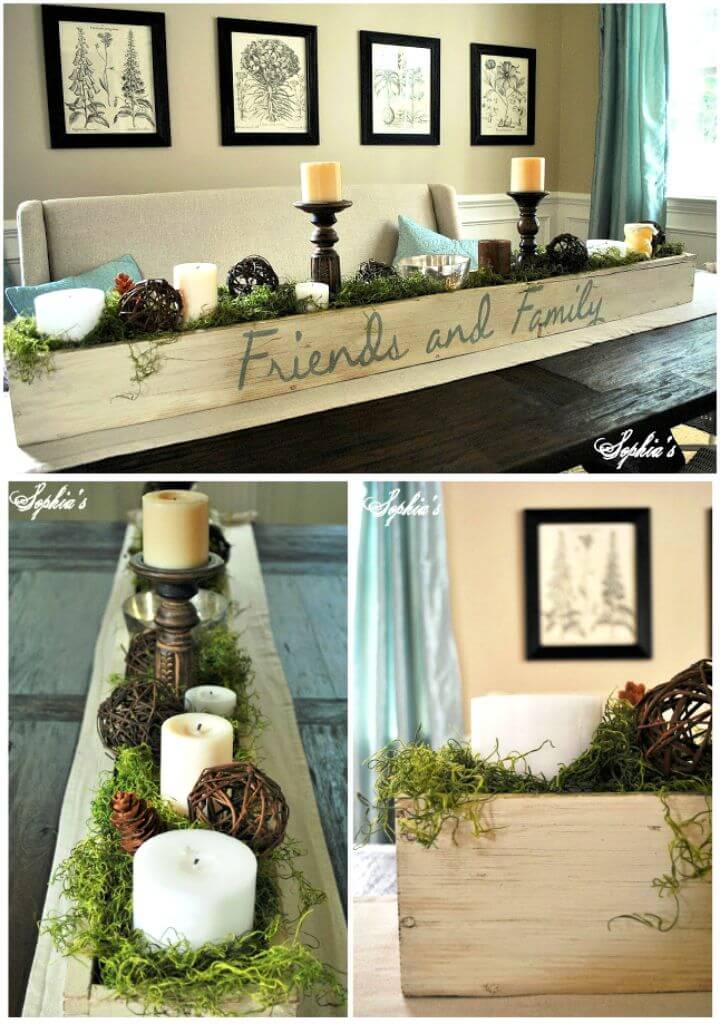 If you got a wooden box you can easily utilize it as the centerpiece for your dining tables no matter which is the season or the festive. Candles are the permanent part of the wooden boxes, for the spring you can fill it with the grass and wheat and for the fall you can add pinecones, pumpkins and vine leaves and it would be all ready to spruce up the beauty and decor of your eating spaces.You can learn to create this large size centerpiece right on this link sophiasdecor
How To Make Rustic Wood Box Centerpiece: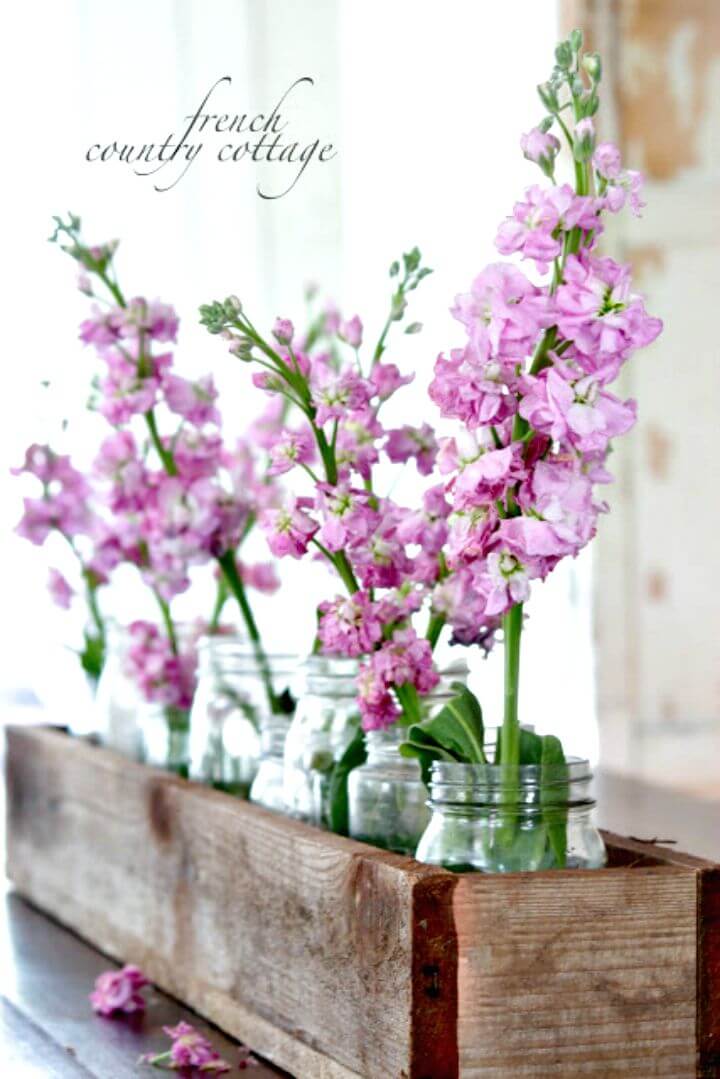 Flowers and the plants can add instant beauty and decor to any of your spaces and so is the case with the dining rooms. So here is the idea of creating this super gorgeous yet simple wooden box that you can easily use as the centerpiece for your dining table decor having been filled up with a bunch of mason jar planters inside. You can your favorite flowers to the jar and thus enjoy the most awesome kind of decor while eating on the table.You can learn to make this box easily right on this link frenchcountrycottage
Create Your Own Wooden Box Centerpiece: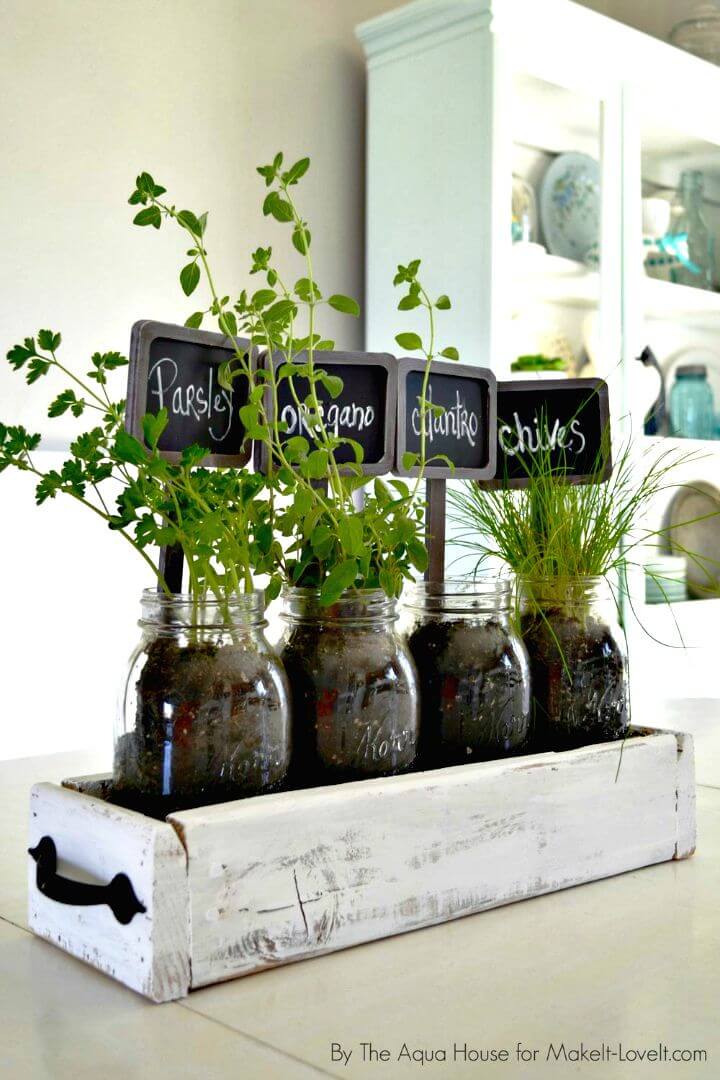 Here is the most functional kind of centerpieces that could ever imagine to have in your dining room spaces. Yes this is a wooden box having been filled up with the herb planters so that you not only enjoy its decorative appeal but also enjoy the freshly grown herbs to be used in your food and that too so effortlessly. You can plant your favorite herbs in the mason jar and label them with the tags too and for complete details you need to click on the link here makeit-loveit
DIY Wooden Box Centerpiece for Under $5: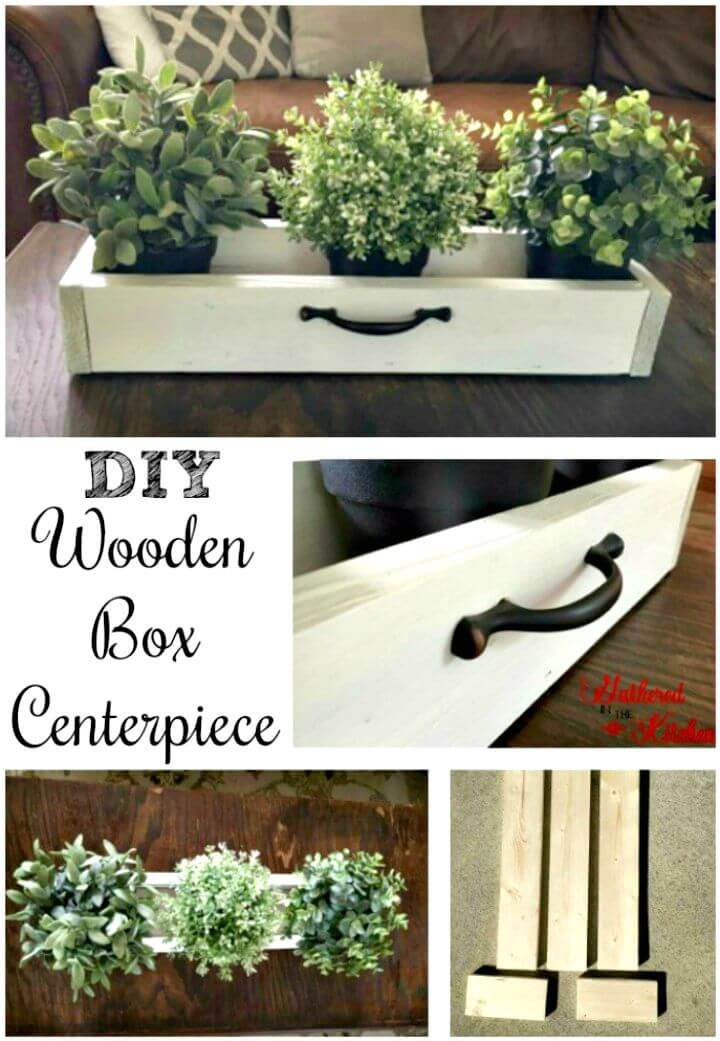 If you want to bring in your home decor the pretty natural touch, adding flowers and planters is the best idea to do so and here is you can do it in the dining room. With this simply made wooden box you can add those cute and totally adorable looking succulent planters in your dining room spaces by letting this wooden centerpiece to rest on your dining table. Check out the details of the complete making of the wooden box here with the handles making it more pretty gatheredinthekitchen
DIY Wooden Box Centerpiece: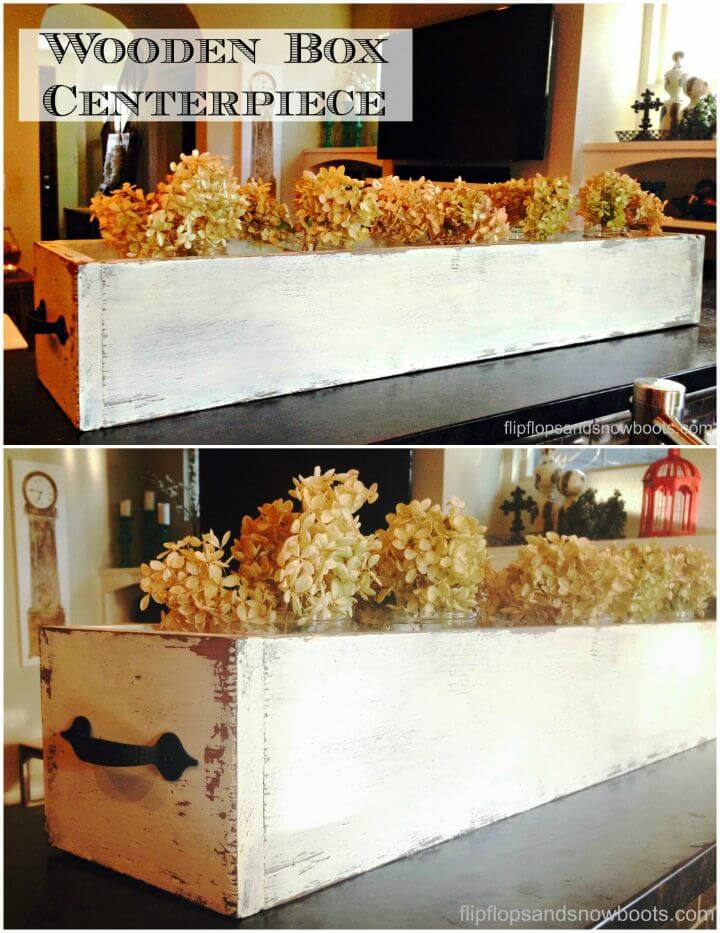 If you work with the wood and have some leftover pieces there you should really be peeking into this idea of the wooden box that is just too simple and easy to be made out of the wooden sash. With three large size boards and two smaller ones you can easily install this lovely wooden box with handles at the sides and the flower pots indie to grab a decorative spot over your dining tables.Learn the full details of its making right on this link dreamdesigndiy
DIY Rustic Pallet Wood Box Centerpiece: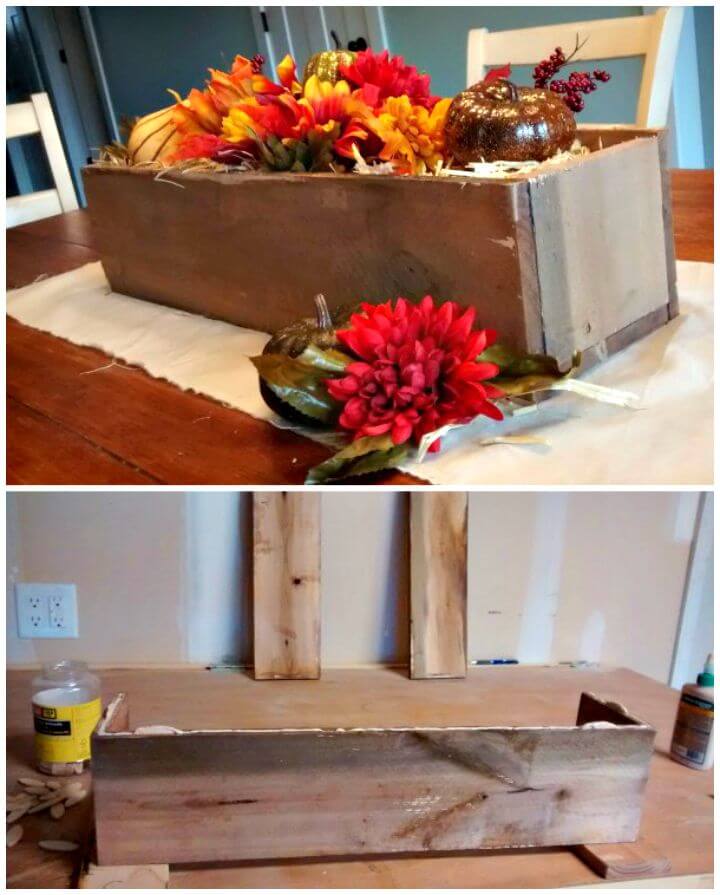 With this wooden box you can instantly spruce up the beauty and charm of your dining table from being dull and boring to gorgeous and whimsy. With this box you can exquisitely display your favorite bunch of the flowers or plants and turn it out to be the game changer for the decor and style of your dining room spaces. Here is the link where the complete process of this wooden box making shown so do follow it here remodelaholic
Easy DIY Fall Mason Jar Wood Box Centerpiece: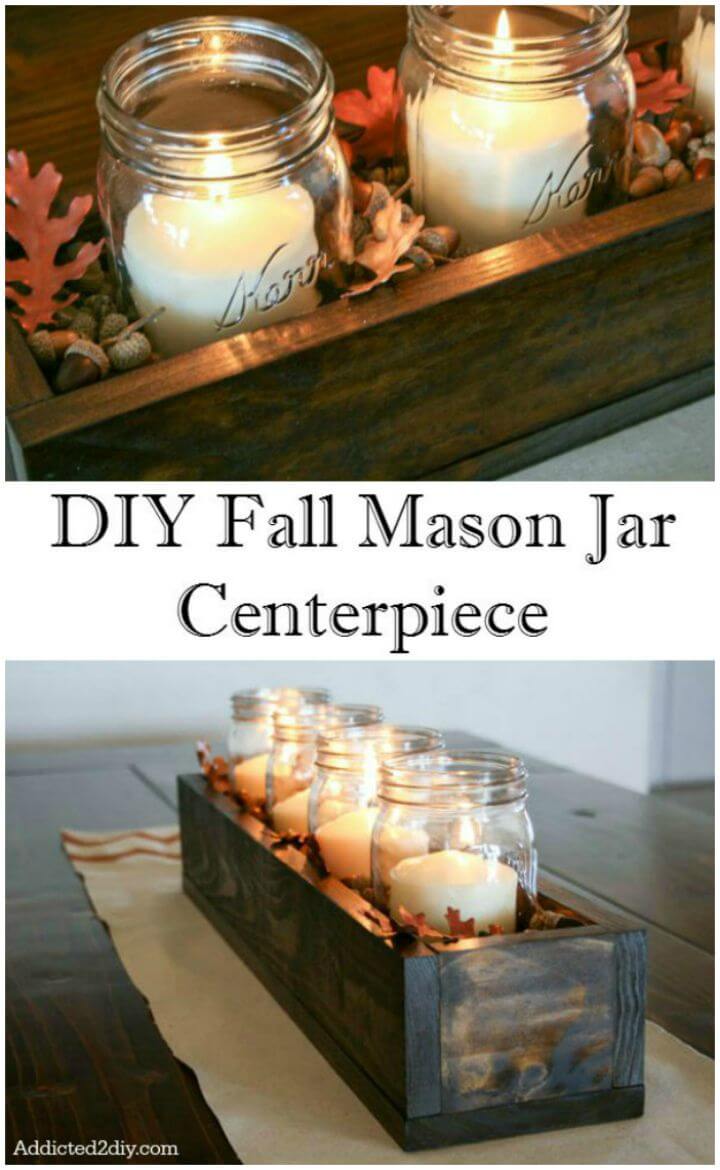 Around the fall there are positive vibes all around to be together with your favorite people on the fall festive and enjoy some tasty dinners. Here is this gorgeous and lovely centerpiece for your dining tables that would look just perfect addition to the dinner arrangement and the setting add a huge to the positive and happy vibes with the soft o the candles and the pretty fall flowers, pumpkins and the vines. Catch the full tutorial details here addicted2diy
Build Planter Wood Box Centerpieces: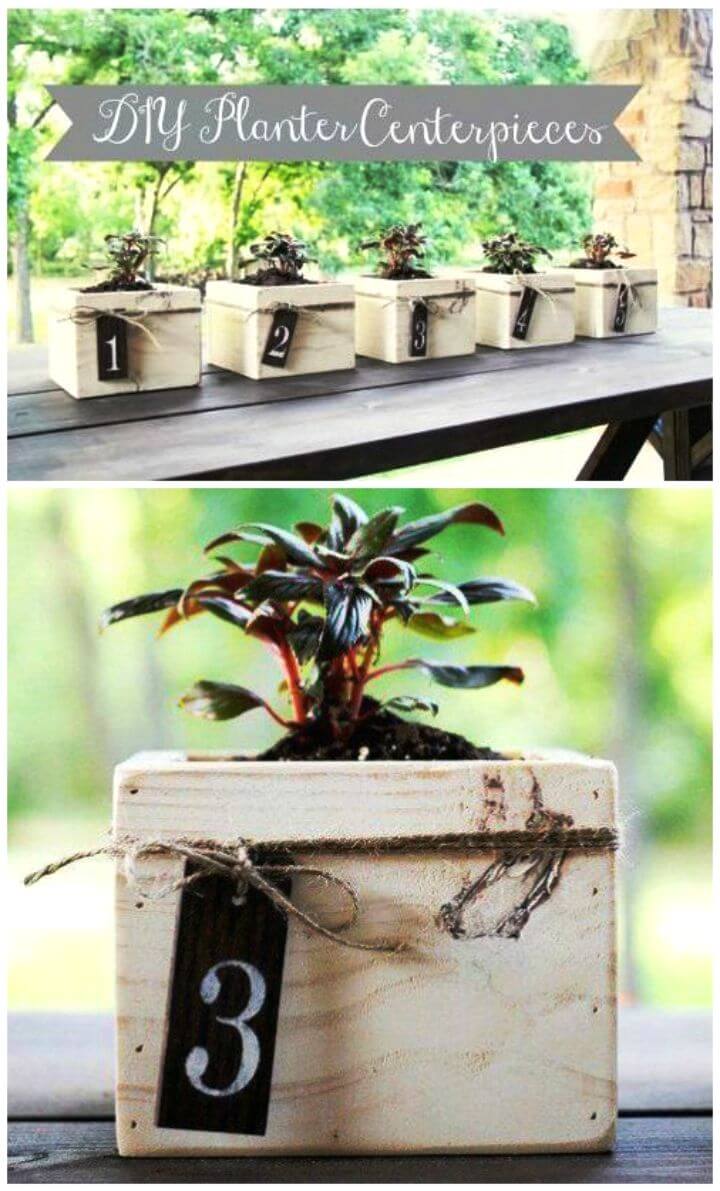 Not only the homey dinner tables the centerpieces are aptly necessary for the wedding tables too and here is how you can do them so gorgeously and cheaply at home but with a huge touch of beauty and charm. You can create these mini wooden boxes to hold your flowers or the plants in them and number them p as 1,2,3.. for each table using printable and the rope pieces. Learn to make these super cute and decorative wooden box centerpieces right there rusticweddingchic
Awesome DIY Planter Wooden Box Centerpiece: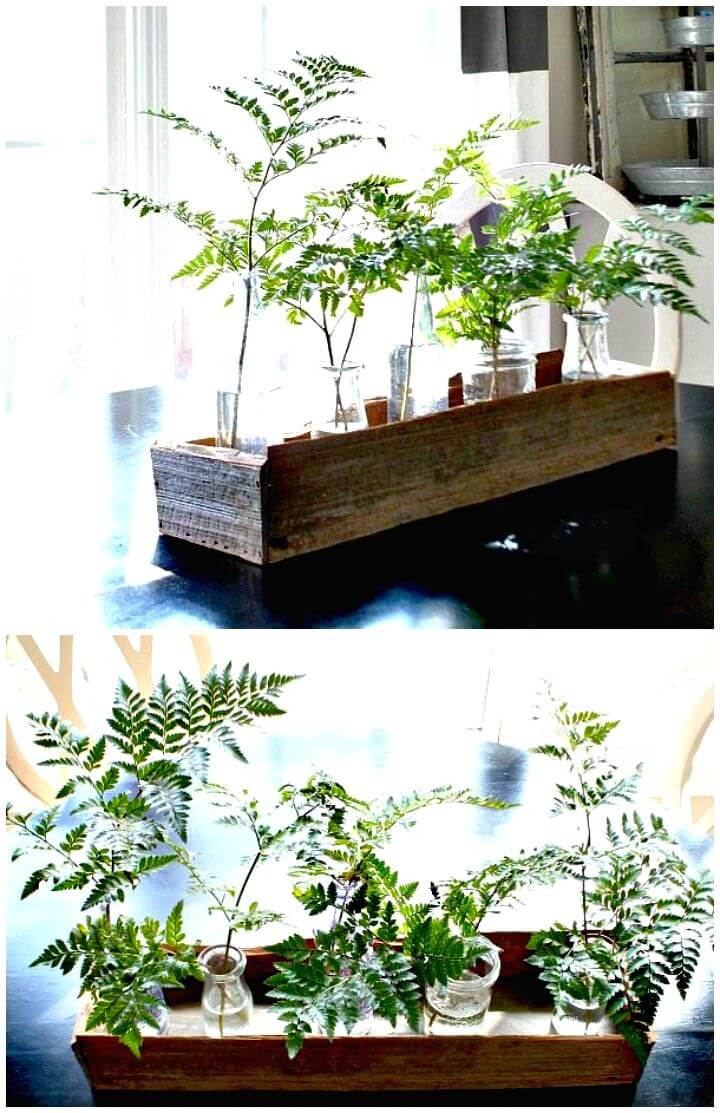 You can easily add the fresh and remodeling touches to your living room decor by adding this pretty and rustically gorgeous wooden planter box full of plants over your sofa behind the table, shelves or the mantle pieces too. You would need some wooden to shape up the wooden box and some glass bottles to hold your plants this and you can easily and cheaply install this perfect centerpiece for your spaces. refreshrestyle
DIY Wood Box Centerpiece Step By Step Tutorial:
If you are planning to do your home decor remodeling then you need to work o the smaller projects of the change just like adding this beautiful and pretty piece of wooden box to your dining table, sofa behind table, entryway table or even the shelves and that too anywhere in the house. Grab some wooden pieces, glue them up and hold your pretty flowers or the planters inside it and its ready to rock your decor for sure. You can paint any of the design on the bottom to make it look more captivating hazelandgolddesigns
DIY Fall Decor – Wooden Box Centerpiece With Pumpkins: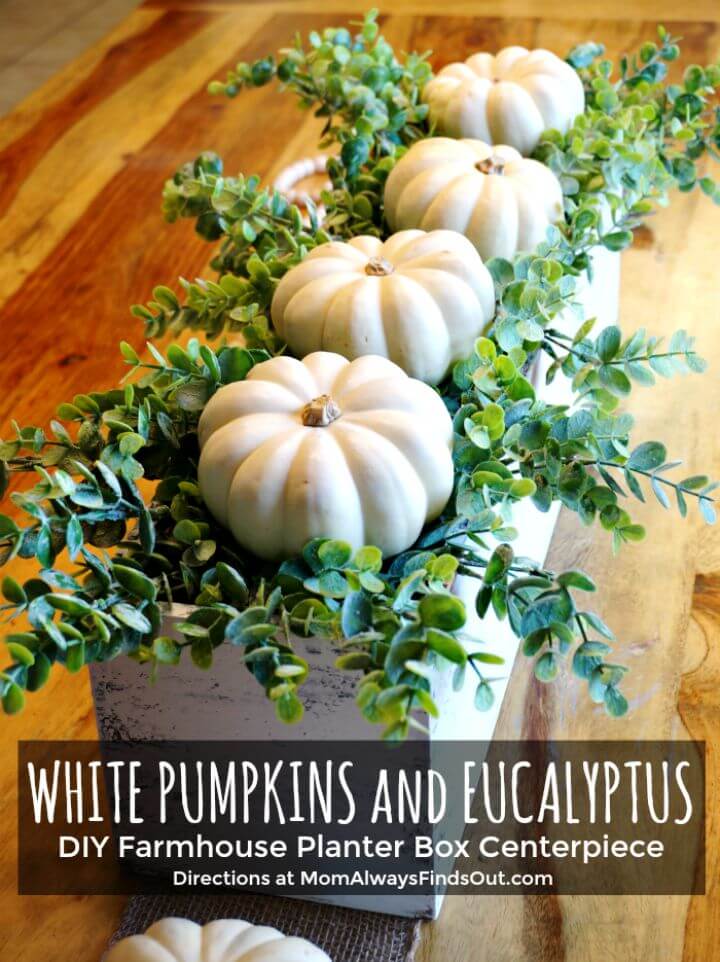 Add the perfect modern touch to your next dinner at the fall with this gorgeous centerpiece to be the center of attraction of your decor too.With a rectangular wooden box being stained in the white chic paint and loaded with the white pumpkins and green leaves this centerpieces turns out to be so much dazzling and updated in style, fashion and appeal. So do add it in your next to so list and for the details you can click here momalwaysfindsout
Make A Mason Jar Wooden Box Centerpiece: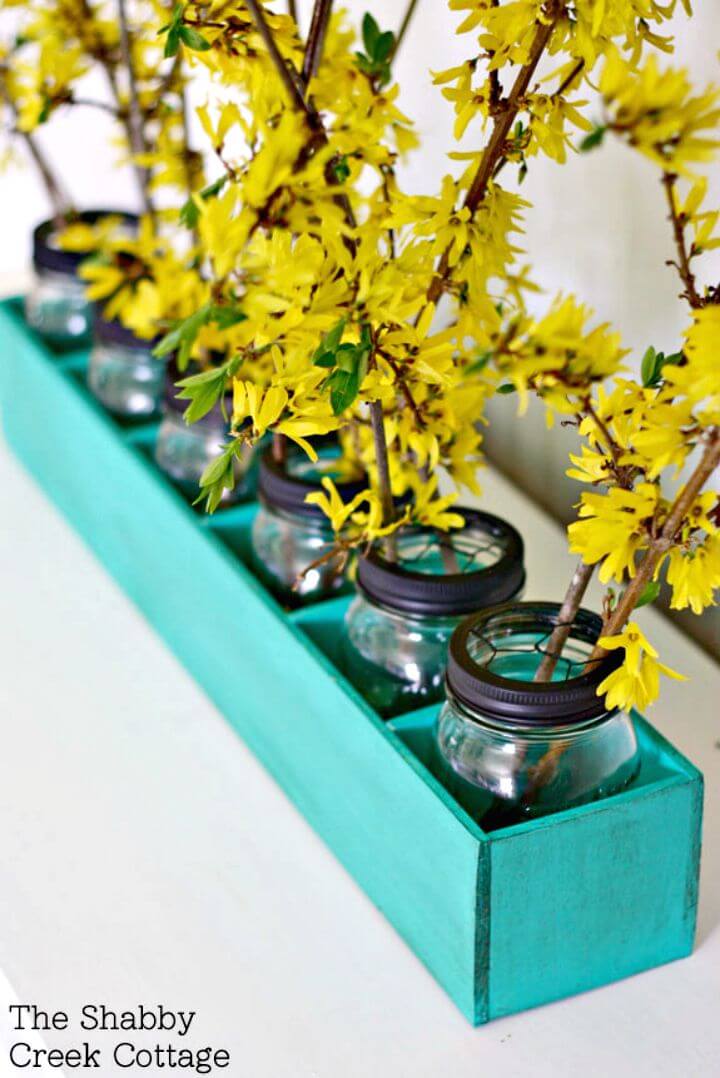 Colors can really make a thing look unique, quirky and apt for your decor and the perfect example is this gorgeous wooden box having been stained in the turquoise to look an awesome piece of the beauty and decor for your dining tables. Another things which makes it look different is the six holding sections for each of the mason jar planters. You can grab the written details and the pictorial guide for idea right here on this link theshabbycreekcottage
Easy DIY Rustic Wood Planter Box Centerpiece: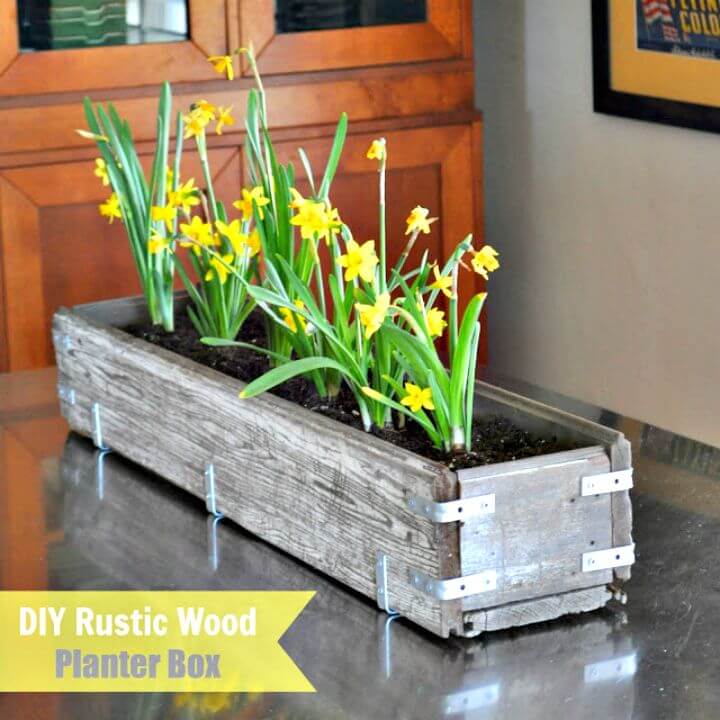 Instead of a wooden box with the faux flowers that you intend to use as the enter piece for any of your table decor you can switch to this gorgeous and totally natural looking wooden box having been planted with the real plants and flowers in it. Using the old wood this gorgeous and rustic wooden box has been yielded and with the use of the L brackets more distress value has been added to tit. You can grab the step by step easy details of the idea here makelifelovely
How To Build Wood Burned Fall Centerpiece: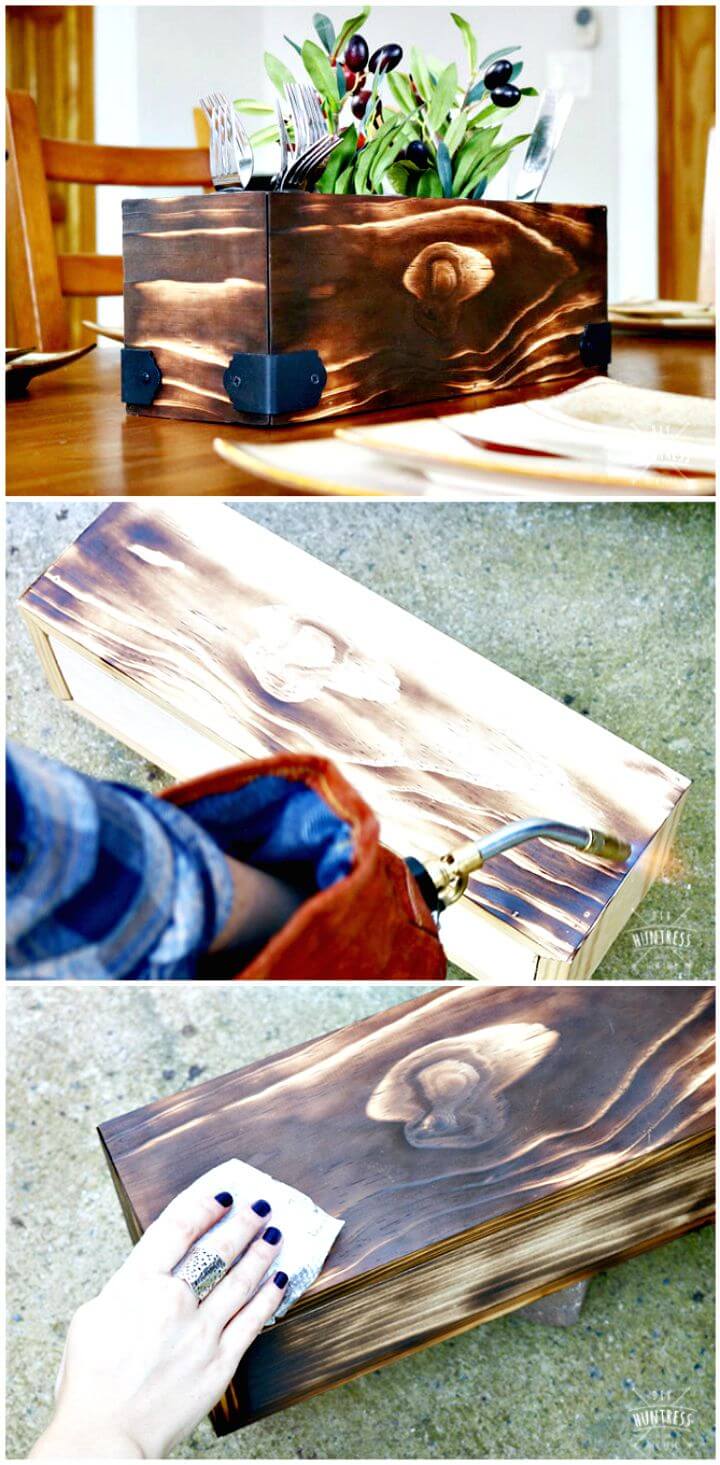 Using wooden box with flowers and the planters as the centerpieces for your tables especially for the dining room is really common and customary to have but you can still make your wooden box possession look so much innovative and stylish with some fun DIY crafty techniques like the burning of the wood. Yes this fire burned wooden box has turned out to look smoky hot in its gorgeous attire and add perfect charm to your tables and the overall spaces. Learn the complete technique here with easy steps diyhuntress
DIY Rustic Wood Drawer Box Centerpiece: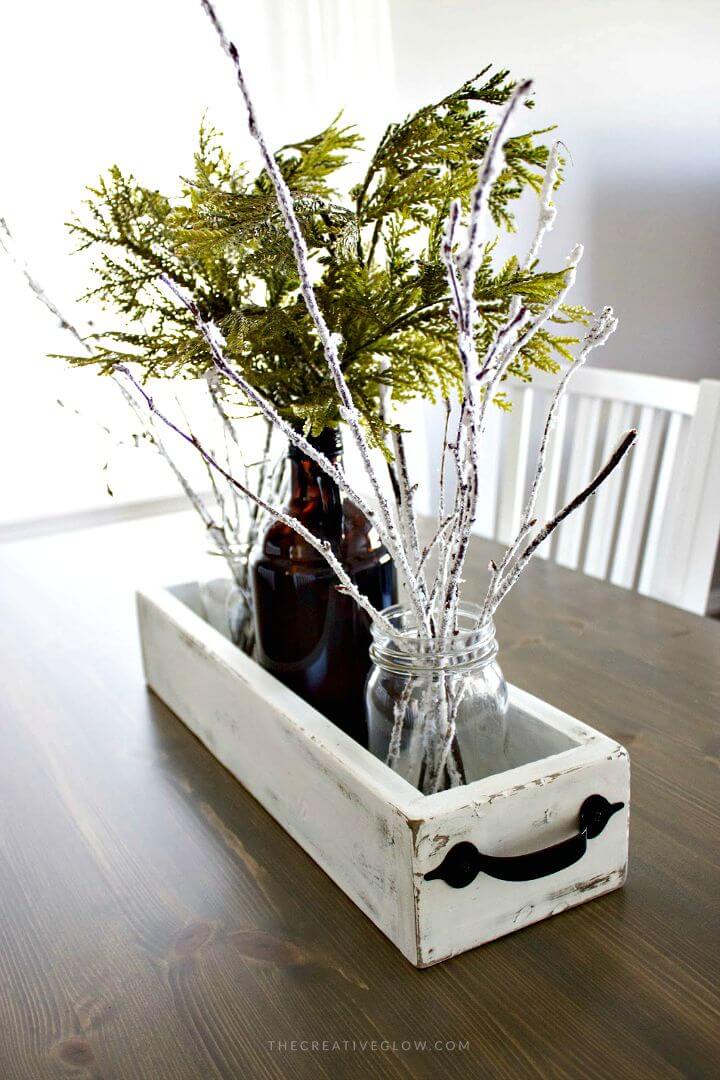 If you got an old drawer lying in your garage or the storeroom then its time to repurpose it for the better and functional role than before. Ye you can turn this drawer into a beautiful and gorgeous wooden box for the flower and plant holders and use it as the gorgeous centerpiece for your dining room spaces. You can stain the drawer and add pull out to the shorter sides for a more chic and fun look of this centerpiece. More details here thecreativeglow