Making DIY wooden boxes is an excellent way to enhance your storage solutions and add a touch of rustic charm to your home decor. Learn how to make a wooden box with these 25 easy DIY wooden boxes for stylish and efficient storage solutions and your home decor. You'll find inspiration and ideas to craft a variety of wooden boxes, from centerpiece boxes to storage containers. Each design comes with step-by-step instructions, ensuring beginners and woodworking enthusiasts alike can successfully make custom wooden boxes for their homes.
Explore the various DIY wooden boxes options, such as centerpiece boxes made from reclaimed pallet wood or industrial-style toy crates. You'll also find ideas for making small wooden gift boxes with lids or large planter boxes using scrap wood. No matter your desired functionality or aesthetic, these DIY wood boxes has something for everyone.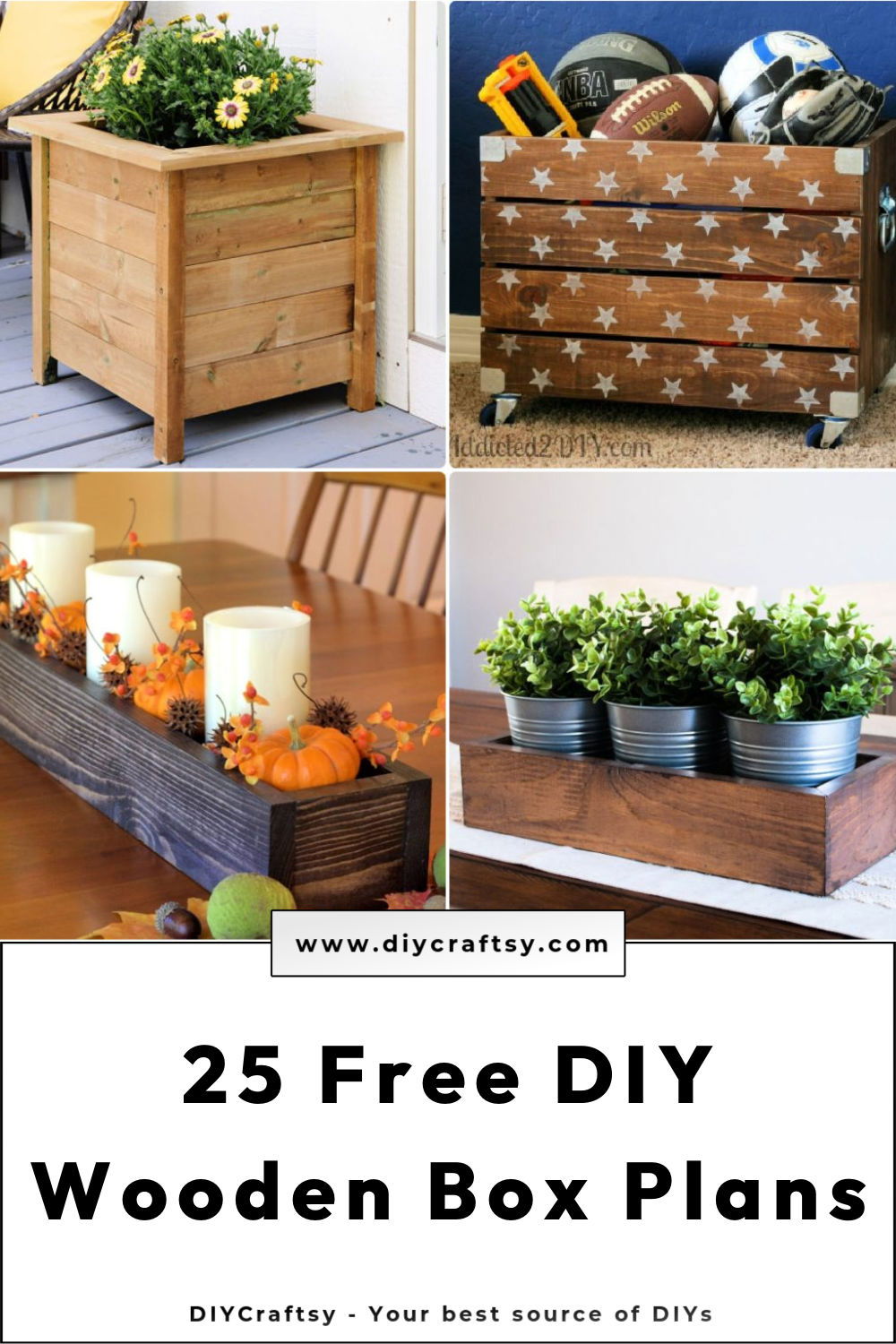 So, gather your tools, and wood materials, and start your DIY wooden box journey today, discovering the perfect project to organize your space and enhance your home decor.
1. How to Make a Wooden Box Centerpiece
Express your creativity with these versatile DIY wooden boxes projects that are perfect for storage, gifting, or adding a rustic touch to your home decor. Discover how to build a versatile and budget-friendly DIY wood box centerpiece for under $10. This woodworking project, perfect for adding a touch of rustic elegance to any room, is straightforward and quick, ideal for a weekend activity.
By using pine bed slats, basic tools such as a miter saw, orbital sander, and some wood glue, you'll make an attractive centerpiece that can be adorned to fit any season. Consider filling the box with flameless candles, small pumpkins, and faux Bittersweet for fall. When winter arrives, replace the decor with greenery for a festive feel.
This DIY wood box centerpiece is not only a fun project but also allows you to express your creative flair through seasonal decorating, and it could even be used for storage! Build your centerpiece and bring a personalized charm to your space. virginiasweetpea
2. Quick and Easy DIY Wood Planter Box
Make a lasting impression on your landscape with a DIY wood planter box, adding depth, charm, and value for less! This two-hour project utilizes simple materials, like pine boards, a saw, sandpaper, a power drill, screws, paint, and sealer, to make a stunning piece for your outdoor space.
Large yet cost-effective, this planter box is designed for pre-potted arrangements, offering you the convenience of easy change-outs, less mess, and more variety.
Customizable to fit your space, whether a square or rectangle, this piece promises durability through appropriate painting, staining, and sealing. Elevate your front yard with this low-cost, high-impact wood planter box today! creativeramblings
3. Making an Industrial Wood Crate Toy Box
Explore the world of DIY wooden boxes and learn how to create beautiful and functional pieces using simple woodworking techniques and materials. Illuminate your child's room with a DIY stenciled star toy box! Combining an industrial look with a sports theme, this distinctive storage solution will capture your child's imagination. You can craft a personalized storage space for your kid's beloved playthings using materials such as a variety of boards, casters, corner straps, and storage chest handles, along with the Polka Star Stencil from Royal Design.
This approachable project also encourages child-parent collaboration. Royal Design's Pearl Oyster Stencil Creme adds a dazzling finish to the starry design, making a piece that shines as bright as your child's enthusiasm for sports. Dive into this engaging activity and infuse playful decor into your kid's room! addicted2diy
4. Handmade Wooden Box Centerpiece
Usher in the vibrant vibes of spring with a DIY rustic wood box centerpiece built from leftover wood scraps. This versatile centerpiece accommodates three IKEA Fejka plants, and its design allows for a seasonal switch-up – think poinsettias for Christmas! You'll need a 6ft 1×4, 4ft 1×6, wood glue, and small finishing nails to construct the box.
The finish combines Minwax's special walnut and classic gray stain, using foam brushes and old rags. The best part? It comes in under $5. So why wait? Craft this charming centerpiece today and add a unique touch to your dining table or gift it to a loved one! sammyonstate
5. DIY Tall Wooden Planter Box Under $20
These robust, DIY tall planters bring your outdoor aesthetic to a new height. Ideal for those passionate about woodworking, these striking designs are fashioned from dog ear pickets and scrap 2x2s, proving that resourcefulness can meet elegance in home decor.
Detailed measurements and a cut list help guide you through building planter sleeves that house 15 square, 24 QT pots. A minimal angle cut brings visual intrigue to these square forms, while strategic assembly and brad nail application ensure the structural integrity of your creation.
Staining with Rust-Oleum's Weathered Gray adds a touch of rustic sophistication. These unique planters elevate your greenery, making them a vessel for your favorite foliage and a statement piece in your outdoor space. Don't just display your plants; showcase them in our tall chic planters. bowerpower
6. Make Patterned Boxes From Scrap Wood
Build these unique patterned boxes using scrap wood to breathe new life into your home decor. With a bunch of wood scraps and a dash of creativity, transform new wood pieces into beautifully crafted storage solutions. This process involves cutting the wood into uniform thickness and width, aligning the pieces randomly, and using glue to make a blank.
After achieving a desirable level, you chop the blank into strips at 45 degrees and reassemble them into a distinctive chevron pattern. The second pattern uses longer scrap strips to make a mesmerizing zigzag design.
Not only do these boxes serve as functional storage, but they also add an artisan touch to any room. So why wait? Bring out your tools and begin your journey of turning scrap wood into treasure today. 3x3custom
7. Building a Pallet Wood Crate
Discover a variety of DIY wooden boxes ideas that cater to different skill levels, from beginner-friendly projects to more advanced designs. Ready to transform a humble pallet into a chic, farmhouse-style crate? Discover how to repurpose a free wooden pallet into a handy, rustic storage unit. Ideal for any corner of your home, it can be used for different purposes – from home decor to organization and storage.
Essential tools include a pallet, boards, wood glue, nail gun, wood stain, paint, sander, rope, caster swivel wheels, screws, and common workshop tools. Follow step-by-step guidelines on how to disassemble your pallet, cut the wood, assemble the crate, sand it down, drill holes for handles, paint, and finally attach the rope handles and wheels.
The result is a flexible and aesthetically pleasing crate, offering both function and style to your home. Perfect for storing extra pillows, blankets, toys, or organizing pantry items, it adds rustic charm to your living space. lifestorage
8. Cheap DIY Small Wooden Box
Introduce the craft of hand skills with this engaging project on making a DIY small wooden box. This task is perfect for those looking to hone their manual abilities, with corner joinery presenting a manageable challenge. Made with minimal supplies – ply, dowel, and some basic tools – it involves marking and cutting materials, joining pieces, and applying finishes with precision.
Every step, from sawing waste to sanding surfaces and gluing parts together, contributes to the formation of this petite treasure holder. The added dowel acts as a lid locator, ensuring a snug fit.
Finally, applying a natural stain gives a professional touch. With this project, step into the satisfying world of DIY crafts, making something practical and visually pleasing. instructables
9. Free Wooden Planter Box Plan
Enhance your home's exterior with an easy-to-build, stylish DIY planter box. This project is a great entry point for those enthusiastic about dabbling with power tools. You can craft your own beautiful, high-quality planter box that rivals expensive store-bought options with a few materials – including treated lumber, wood glue, a miter saw, and a finishing nail gun.
This planter box not only brings an aesthetically pleasing element to your front porch or back deck but it's also built to last, making it a practical investment of time and resources. With detailed cut lists and comprehensive building instructions, this guide makes it simpler than ever to embark on your DIY journey.
They accommodate planters up to 14″ in diameter, perfect for showcasing your favorite blooms or greenery. Turn your outdoor space into a captivating display of your craftsmanship and horticultural prowess with this easy planter box project. thediymommy
10. How to Build a Wooden Tool Box
Enrich your child's creativity and organization skills by building a DIY wooden toolbox together. This simple yet fulfilling project requires a modest assembly of materials, including plywood, a dowel rod, and finish nails, all to be skillfully put together following a clear guide with easy steps.
Starting with pre-cut pieces from scrap wood, this hands-on endeavor offers an opportunity to teach your young one valuable skills while fostering their interest in creating. The building process is short, piquing their interest in future projects.
As an additional feature, a printable PDF with comprehensive instructions, cut diagrams, and a list of supplies can be obtained for a small fee, supporting the continued production of such engaging content. Spark your child's curiosity and start building this classic wooden toolbox today. thediyplan
11. How to Make a Wood Storage Box
Add a personalized touch to your living space with these charming DIY wooden boxes that can be customized to suit your style and needs. Delve into the rewarding process of making a DIY wood storage bin, a straightforward and practical project even for beginners. This customizable wooden storage bin not only elevates the aesthetic of your space but also optimizes shoe storage, doubling the capacity of your mudroom bench area.
Built to fit your specific needs, each bin will only cost you about $12 for a bespoke finish. This project uses dimensional lumber and plywood and the handy Kreg Jig R3. Even if you're new to using a Kreg Jig for pocket hole joinery, straightforward guides make the process easy to follow.
Enhance your storage solutions today and make a wooden storage bin that marries functionality with style. Let's begin this woodworking journey to make our homes more organized and aesthetically pleasing. abbottsathome
12. Make Your Own Decorative Wooden Box
Heighten your gifting game by building a charming DIY decorative wooden box skillfully brought to life with red gum and white oak. The rich-in-detail and texture gift box poses an engaging DIY challenge, making a truly unique creation. Embark on this project using tools such as a table saw, drum sander, planer, jointer, and other equipment to refine your raw materials.
The steps to this project are carefully designed to maximize your crafting potential. Each stage infuses the box with character, from initial milling to cutting miters. The painter's tape makes assembly a breeze, while laser engraving adds a distinct touch to the box lid.
Ideal as a gift or a personal keepsake, this box serves multiple purposes while showcasing your craftsmanship. Try your hand at this project and appreciate the allure of artisanal woodwork. instructables
13. Simple and Easy DIY Wooden Box
Step into the rewarding process of building an exquisite DIY gift box using curly and spalted soft maple, transforming ordinary boards into cherished keepsakes. Selection, cutting, and planning breathes life into wood's natural charm, bringing its vibrant figure to the forefront.
The process may require patience, particularly when ensuring the accurate 45-degree angles for the walnut inlays or securing the hinges, but the result is an elegant, unique gift box. Finished with a touch of shellac, these boxes blend practicality and beauty, making them a wonderful handmade gift for any occasion. Enjoy the satisfaction of building something by hand that will last a lifetime. customcreations
14. Custom Plywood Storage Boxes
Delve into the art of woodworking with these inspiring DIY wooden boxes projects that teach you how to craft stylish and useful items for your home. Inject a sense of order into your chaotic shelving situations with custom-made DIY plywood storage boxes, a creative and stylish solution. This beginner-friendly woodworking project can revolutionize your home organization, making it a great choice if you seek tidy shelves and easy accessibility.
Building boxes to fit your exact measurements allows you to turn disarray into harmony, as seen in a built-in Billy bookcase unit project. These plywood boxes are both functional and decorative.
Follow the step-by-step guide to build these boxes that also offer the advantage of portability for the items stored within. Upgrade your home with custom plywood storage boxes today, bringing a beautiful and organized appeal to any room! abeautifulmess
15. Build Your Own Wooden Box
Looking to add a touch of rustic charisma to your decor? Explore crafting your DIY wooden box centerpiece, a cost-effective yet stylish addition to your space. Turn scrap wood and screws into a delightful centerpiece! Try this Kreg Jig project on your table, mantel or wherever you like.
The best part? Customize the dimensions to meet your requirements – an elegant table centerpiece or a modest decorative item – yours! This project accommodates it all, be it mason jars or faux flowers you wish to display.
With just a 1x6x8 piece of wood, Kreg Pocket Hole Screws, a screwdriver, and some paint, you can bring this DIY project to life in no time. Express your creativity and let this wooden box centerpiece add a personalized touch to your home today! theturquoise
16. DIY Wood Planter Boxes Under $10
Upgrade your outdoor space with striking DIY wood planter boxes that are eye-catching, cost-effective, and portable. Follow a detailed guide for building your planter box, using lightweight materials like plywood or 1″ lumber for longevity as they won't be in constant contact with moist soil.
These boxes, approximately 21″ cubes, are perfect for an entryway, patio, or porch. In addition to being aesthetically pleasing, these boxes incorporate a clever design secret: a 15-gallon plastic nursery pot, which houses the actual plant, fits perfectly inside, making the planter light and long-lasting.
Aside from serving as beautiful decor, these planter boxes enable you to cultivate various plants easily. Embrace the joy of DIY and build your beautiful garden oasis today. apieceofrainbow
17. Large Planter Box Using Scrap Wood
Uplift your outdoor space by crafting a DIY large privacy planter from scrap wood with just a circular saw and a drill! This innovative project gives your yard a touch of elegance and helps make a sense of privacy. The project utilizes scrap 2x3s, 2x4s, 2x6s, 1x6s, and 4x4s, demonstrating the eco-friendly reusing and recycling of materials.
With straightforward steps, you'll construct a beautiful and practical outdoor planter box that can house your favorite plants, making a unique touch to your backyard.
It's all about embracing and transforming unused wood into something functional and attractive. This weekend project is a great way to add charm to your yard: a large privacy planter made from scrap materials. toolboxdivas
18. Inexpensive Wooden Tool Box Caddy
Bring some rustic charm to your decor with a DIY wooden toolbox caddy designed for mason jars. This centerpiece adds a unique touch to any gathering, whether a laid-back lemonade party or a patriotic 4th of July celebration.
You'll need simple supplies such as a 1 "x6″ x8′ board, a 3/4" dowel, deck screws, pocket screws, wood glue, and sandpaper. Follow the provided cut list and instructions to build your caddy, which includes partitions and a convenient handle.
Customize your toolbox with painted mason jars and white flowers for a festive Red, White, and Blue theme. This project innovatively stores and transports mason jars, creating a cozy, charming space. hertoolbelt
19. Make a Rustic Wood Planter Box
Bring a vintage charm to your home with this DIY distressed planter box! Made from old wood pieces; this project is perfect for displaying your favorite blooms or herbs. The supplies required include wood, L brackets, a drill, a saw, a hammer, dried coconut husks, soil, and your choice of flowers or plants.
Start by cutting your wood pieces, using the longer ones for the sides and base and shorter ones for the ends. Assemble using L brackets to secure.
Dried coconut husks are excellent absorbents to prevent leaks, making this planter suitable for indoor use. After setting up the husks, fill your box with soil, and let your green thumb do the rest! FPlace this planter on your coffee, console, or dining table to add a rustic touch and fresh air to any space. makelifelovely
20. Wood Planter Box Using Wood Shims
Satisfy your green thumb with this detailed guide on crafting a DIY wood planter box. This project uses versatile and affordable wood shims to deliver a charming space for spring herbs or blooming flowers. The materials, including long wood shims, an X-acto knife, dual glue types (E6000 and hot glue), and small terracotta pots, are easily accessible, ensuring an engaging crafting experience. The instructions involve:
Strategically constructing the planter box.
Esecurely adhering the wood shims.
Adding a personal touch of spring plants or faux greenery.
Harness your crafting skills, and enjoy the satisfaction of bringing nature closer with this handmade wood shim planter box. thecrazycraft
21. DIY Small Wooden Gift Boxes With Lid
Express your creative spirit with these DIY small wood gift boxes, perfect for presenting your custom candles or little presents. These bespoke boxes made using poplar hobby boards have a removable lid and a chic leather loop pull for easy access. These boxes, constructed from readily available 1/4″ thick, 3″ wide boards, are effortlessly customizable to accommodate your specific gift size.
Lids are crafted from scrap plywood, with an interior poplar stopper to keep them in place. Adorned with a loop pull made from flat leather cording and metal washers, these lids add a touch of elegance to your gift boxes.
Post-building, you're left with a delightful keepsake box, perfect for storing trinkets or serving as unique decor. Engage in this fun, fulfilling activity and gift your loved ones something special – a gift wrapped in creativity, love, and effort! jaimecostiglio
22. Simple DIY Wood Box for Table
Have a beautiful and simple DIY wooden centerpiece box, the perfect addition to your dining or living room decor. This project enhances your interior and doubles as a thoughtful, hand-crafted gift for loved ones. Made primarily from a single 1x6x8 board, it requires minimal materials, including wood glue, brad nails, and a choice of wood finish.
With a miter saw, nailer, and a sander, you'll shape your box by cutting the wooden pieces to size and then assembling the sides to the bottom. The final touch involves adding optional risers, making a modern aesthetic.
Once complete, fill the box with charming decor to suit the changing seasons. This timeless piece allows for personal customization and promises to be a warm addition to any home. woodshopdiaries
23. Building a Wooden Toy Box
Immerse yourself in a weekend of productivity with this innovative DIY project, crafted from leftover Purebond plywood scraps. A one-of-a-kind toy box that doubles as a blanket basket when not in use! The combination of stained wood and cream latex paint gives a chic rustic appeal, with a lovely wooden scroll as an added detail.
Using your Kreg Jig and 3/4″ pocket holes, you can construct a versatile, durable storage solution that efficiently organizes toys or blankets while adding an element of charm to your room decor.
Save your pennies while engaging your creativity to build a practical, aesthetically pleasing piece for your home. Harness the power of repurposing and build something unique from your scrap pile today! shanty 2 chic
24. Modern DIY Wooden Planter Box
Greet the charm of DIY projects by building your modern planter box. Personalizing your home adds elegance to your outdoor space. Select the perfect size, style, and materials to match your aesthetic.
You can build an impressive planter box to host your favorite seasonal greens with simple tools and supplies such as a plastic planter, cedar planks, a crosscut saw, a drill, and a blow torch.
The project steps are straightforward and designed for all skill levels, ensuring a delightful crafting experience. This box is also easy to store during the winter months. So, enhance your home's outdoor beauty with this sleek, custom-made planter box. curbly
25. How to Make a Wooden Window Box
Adorn your home's exterior with a charming and colorful DIY window box project that you can complete within a day. All you need are cypress or cedar boards, pressure-treated lumber, tools like a drill, a sash brush, and screws.
Begin by cutting your boards to the specified dimensions, and then proceed to secure the cleats for mounting the window box. Afterward, assemble the box's front, back, and sides before attaching the trim. Don't forget to add some primer and paint to ensure the box withstands external conditions. The final steps involve:
Hanging the window box.
Creating drainage.
Filling the box with gravel and potting soil before planting your favorite flora.
Make your house the most fascinating on the block with this quick, simple, cost-effective project. diynetwork
Conclusion:
In conclusion, DIY wooden boxes offer a versatile solution for storage and décor needs. From simple wooden boxes to intricate handmade centerpieces, these projects cater to a range of skill levels and interests. By exploring different DIY wood box ideas, such as planter boxes, storage bins, or even wooden gift boxes, you can enhance your living space while showcasing your creativity. So, embark on your very own DIY wood box project and enjoy the satisfaction of crafting unique, functional, and stylish wooden boxes for your home.