The wood is the natural design elements that can mostly be seen highlighted in interior decor, and it goes for bigger beauty impacts. The use of wood to light decor brings elegance and warmth. You can easily do so using these 25 easy DIY wooden lamp ideas to make perfect vintage and rustic lights for your home.
And some of these DIY wood lamp ideas are also modern. If you are looking for the perfect modern, rustic, and minimalist light decor for your home, these homemade wooden lamps will make an ideal choice. These DIY wooden lamps are super cheap and budget-friendly to make. Time to put the scrap wood pieces to some good uses by making these awesome and fascinating wooden lamps.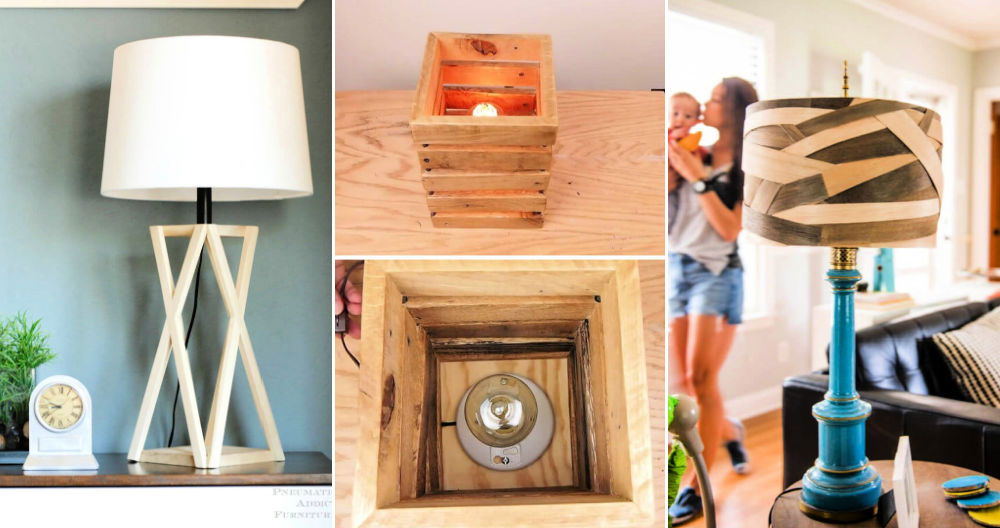 These handmade lamps will also provide your tricks about to restyle a lamp by using wood. You can also bring great geometrical decor vibes to your home by making cube-shaped wooden lamps that will be a big center of attention for sure. See the entire list of these 25 unique DIY wooden lamp ideas to see some more interesting and unique designs, and click on attached reference links to grab full free instructions and tutorials.
1. Reclaimed Wood Lamp with Himmeli Shade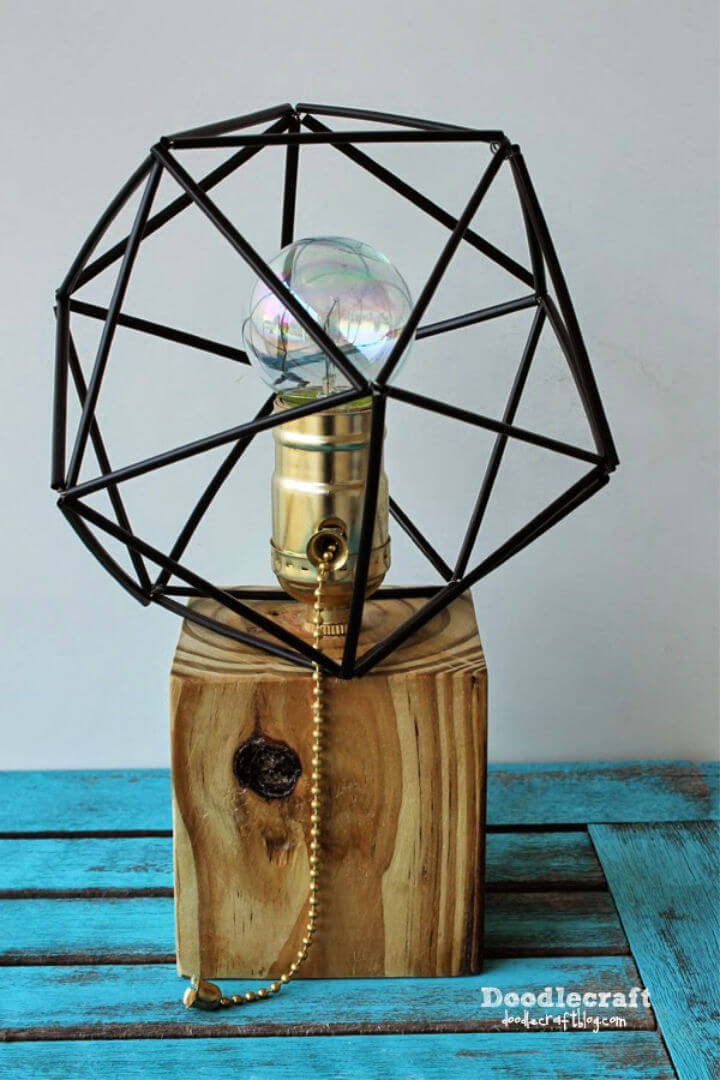 This is like spicing up your interiors gracefully to feature a splendid touch of wood. Give this opportunity this time to this wooden. The coolest wooden light decor ever made to inspire. Install a lamp bulb over the top of a wooden post, cover it up with the himmeli shade, and a perfect geometrical to add to your home. Details here doodlecraft
2. Modern Rustic Wood Lamp
Are you a big fan of a rustic yet modern type of decors? Then this rustic wood lamp will surely win your heart. A modern rustic wooden lamp has a live edge wooden base but a modern lampshade. How to make a wooden lamp? It will be a great light decor pick if you need to feature a wood live edge in your bedroom. Full how-to guides here mountainmodern
3. How to Make Minimal Wood Lamp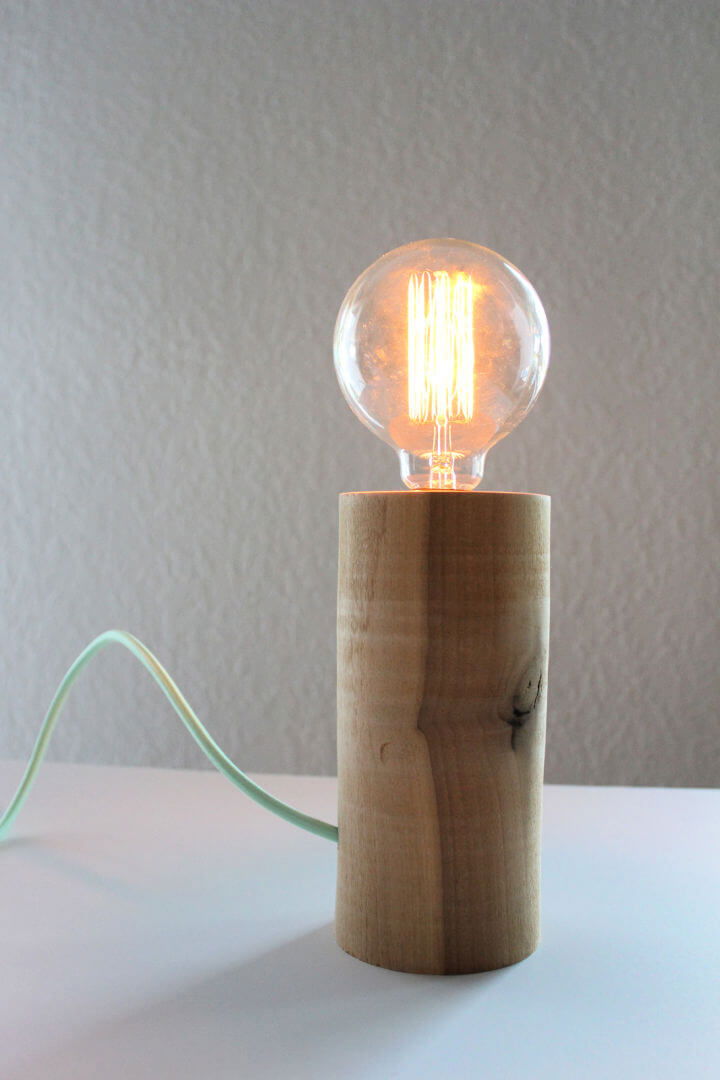 Want to add something brilliant to your home decor that will be the main focus of attention? It would help if you opted for this DIY lamp, made of a large wood dowel cut to size. Get wired the wooden dowel smartly and then finish with a top lamp. Full how-to guides here turningithome
4. DIY Driftwood Lamps – IKEA Hack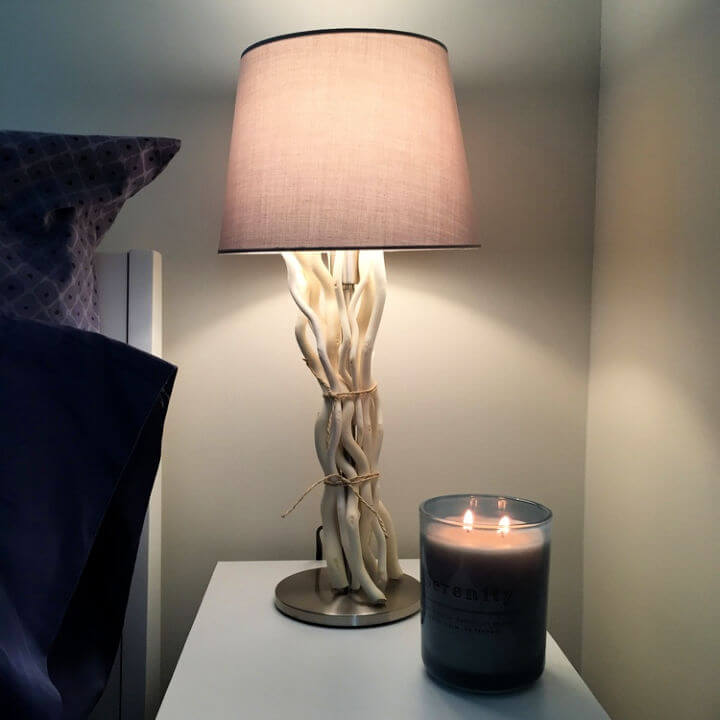 A big hit in the wooden interior lights, the driftwood lamp, a scorching combination of IKEA and driftwood, will be a lovely addition in every home or room interior. Here you need IKEA torka decorative dried willow bouquet, an IKEA silver lamp, an IKEA jar lampshade, and some driftwood to make this lamp. Full how-to tutorial here stephaniemae
5. Lamp Restyle With Wood
Instead of making new wooden lamps, update your old lamps with a glam touch of wood, so they will look wooden and be loved dearly by all home lovers. Cut custom patterned shapes out of wood veneer edging, glue them all around your old lamps for instant restyling. Full how-to tutorial here alwaysr ooney
6. DIY Wooden Cube Lamp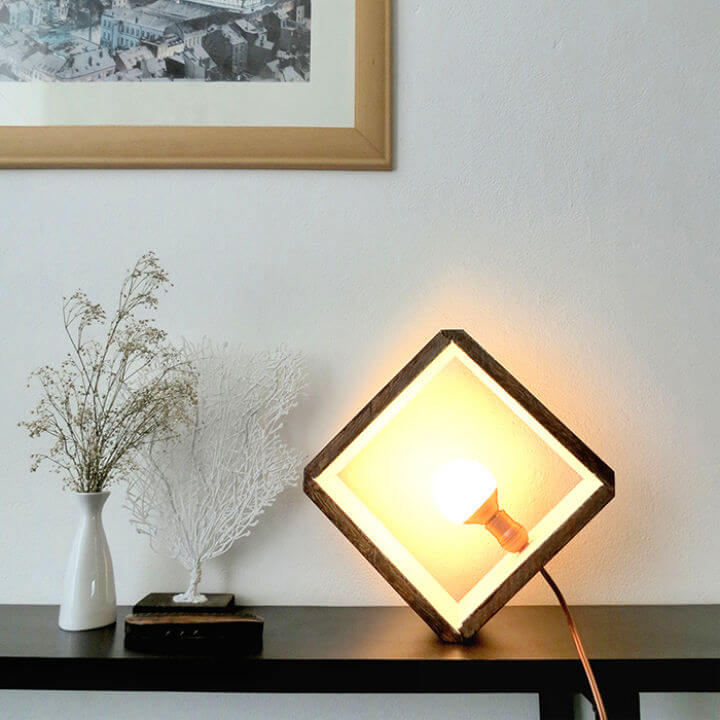 Bring a class to any room ambiance by adding this super hot wooden cube lamp, something very gorgeous and interesting to look at. The best design you got here to enhance the visual of any interior incredibly. Build a hollow wooden cube to come with flat corners, stand alone in style on a table, and put a lamp bulb inside. Details here ohohdeco
7. Make Your Own Wood Tapered-X Lamp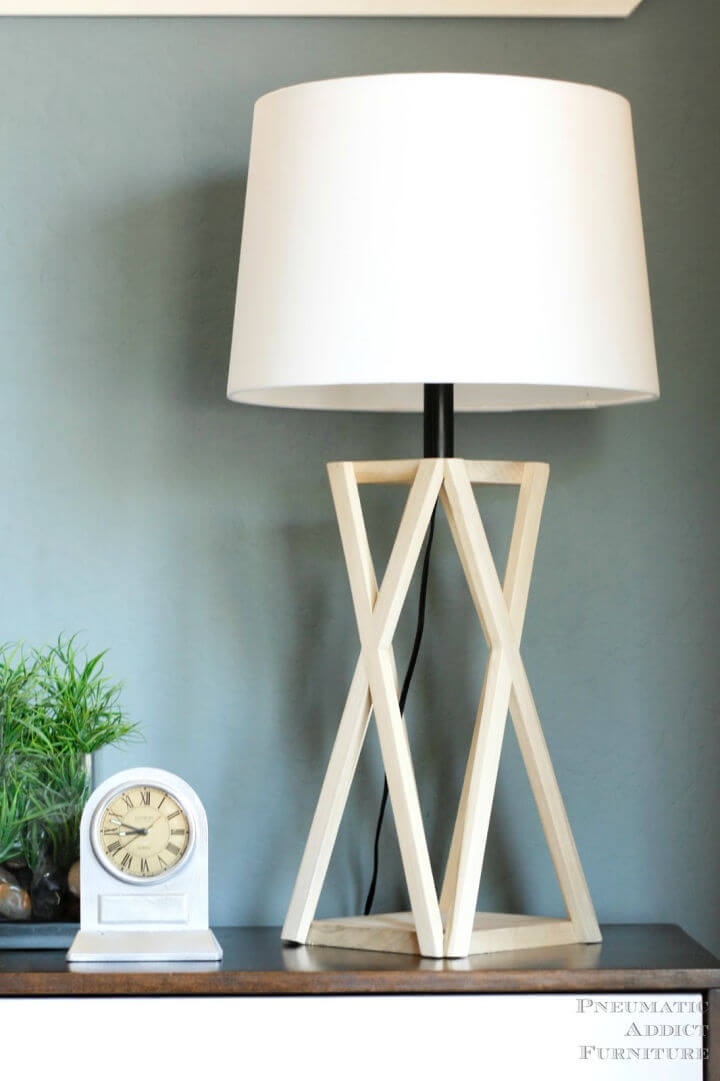 By putting together square or round wood dowels, you can easily create some lovely and cool lamp bases, install lamp kids to them and beautiful lampshades and gain adorable wooden lamps, redefine the look of any room with this tapered-X lamp, easy to build. How-to tutorial here pneumaticaddict
8. Modern DIY Wooden Table Lamp
Build also this ultra-modern table lamp at home using the square wood dowels and custom wood pieces. First, build the solid lamp base with criss-cross bottom and seat, make it hold a wooden hollow cube lampshade covered with white fabric, that's it. Full how-to guides here build-basic
9. Lamp -Tripod Floor Lamp with Drift Wood
Feature the live wood edges to your living room or bedroom using this driftwood lamp. It stands on a cool tripod base made of driftwood. It can stand alone on a floor and a table or desk for brilliant light decor statements. Full details here completely
10. West Elm Inspired Floor Lamp
Does the West Elm decor style come at the top of your priority list? Then do satisfy your love for it using this West Elm inspired tripod floor lamp, which will be a graceful addition to every home interior space. It stands on a tripe base, made of square wood dowels, experimenting with a custom lampshade. Full how-to tutorial here heytherehome
11. Wooden Base Desk Lamp
Make also adorably cute and aesthetically pleasing light lamps using the wooden blocks. Drill holes in the wooden blocks for passing wires for electrical lamp connections, fit your lights on the top, and make beauteous wooden lamps in no time. Full how-to tutorial here poppytalk
12. DIY Balsa Wooden Lamp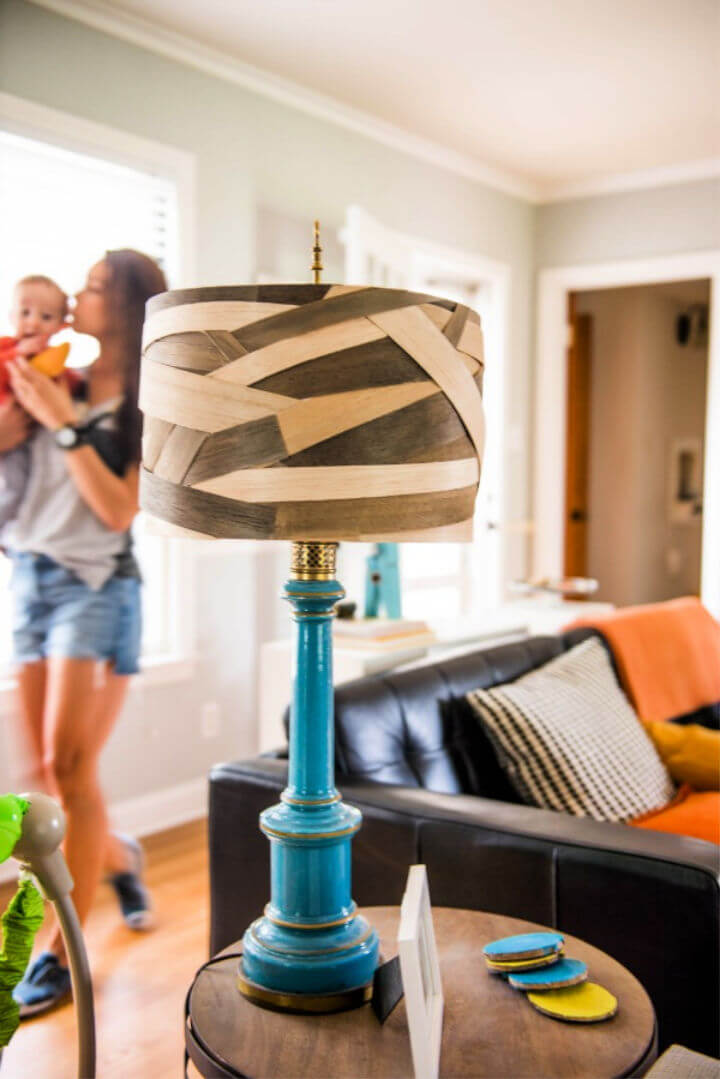 For getting adorable and unique wooden lamps, also head over to balsawood. Bring a glorious style to your living room with this handsome balsa wooden lamp that is something everyone will look at twice. The making of this lamp is pretty simple and quick. Full how-to guides and tutorial here creatingreally
13. Minimal Frame Pendant Lamp
Opt for this minimal frame pendant lamp to bring style to your modern minimalist living room. Simple fit a light bulb in a hollow minimal frame, and hang it pendant over your desk or table for making a cool pendant lamp. A brilliant light lamp that will rock in your modern office, kitchen, and dining room. Full how-to guides here ohohdeco
14. DIY Shelf Sconce – Wood Lamp
Brighten up your indoor walls with this epic handmade wall sconce, a simple and quick to build wooden lamp. Just install a crate on the wall as a miniature bookshelf, next add a light bulb to its bottom side to turn the shelf into a handsome shelf sconce. Full how-to tutorial here ajoyfulriot
15. DIY Stacked Wood Lamp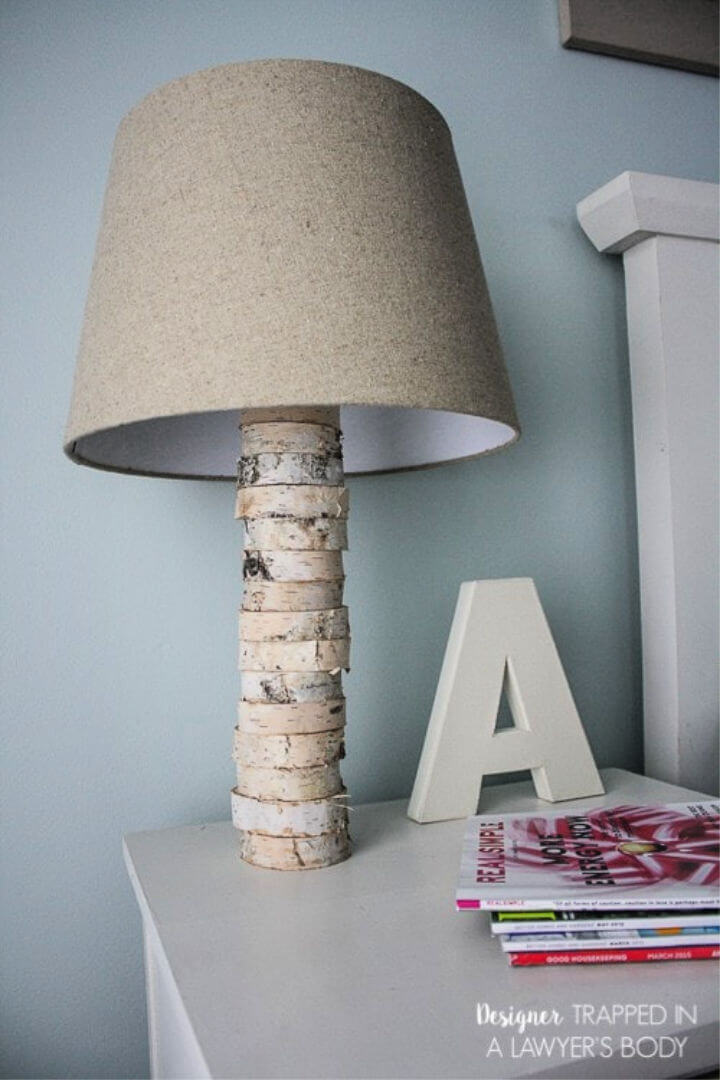 A new smart addition to cool wood lamp designs, the birch wood log slices have been stacked to build the rustic yet beautiful wood lamp, will be a pleasing addition to any space. Add the wood log slices on a piece of lamp wire, end it up with a top bulb and finish by adding a cool lampshade around the light bulb. Complete how-to wood table lamp guides here designertrapped
16. Wood Wall Lamp Under $40
Get your interior styled up with expensive-looking wooden light decors that will be cheap to make at home. Spruce up your spaces with this wood wall lamp will cost you under $40 and is looking damn beautiful. Build a pendant lamp frame on the wall using wood slats, next hang on it in a pendant way. Full how-to tutorial here thehomesteady
17. DIY Wood Block Lamp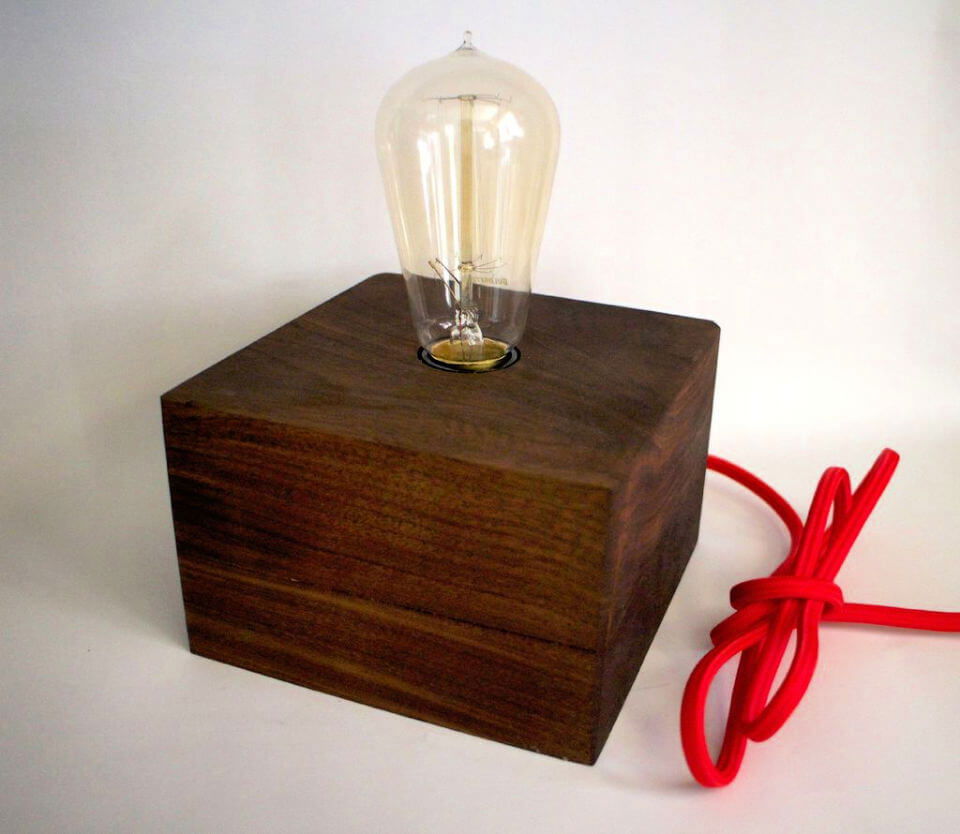 The home trash stores can be the final destination of the leftover wood blocks, but you can make them survive in the home in various other ways. Build a smart DIY table lamp out of wood blocks, drill holes for electrical wiring, and install light holders and lights. The ultimate hack to grace up your spaces with a glam touch of rustic wood. Full how-to guides instructables
18. Make a Wood Lamp From Pallets
Reuse the free pallets to build a lasting longer wood lamp shade, will stay longer on your tabletops and accent shelves. Build a set of wood square frames having equal dimensions and next stack them up to build a tower like wood holding, put a light inside, and gain a free pallet wood light lamp. Complete tutorial here cutthewood
19. Wooden Edison Bulb Table Lamp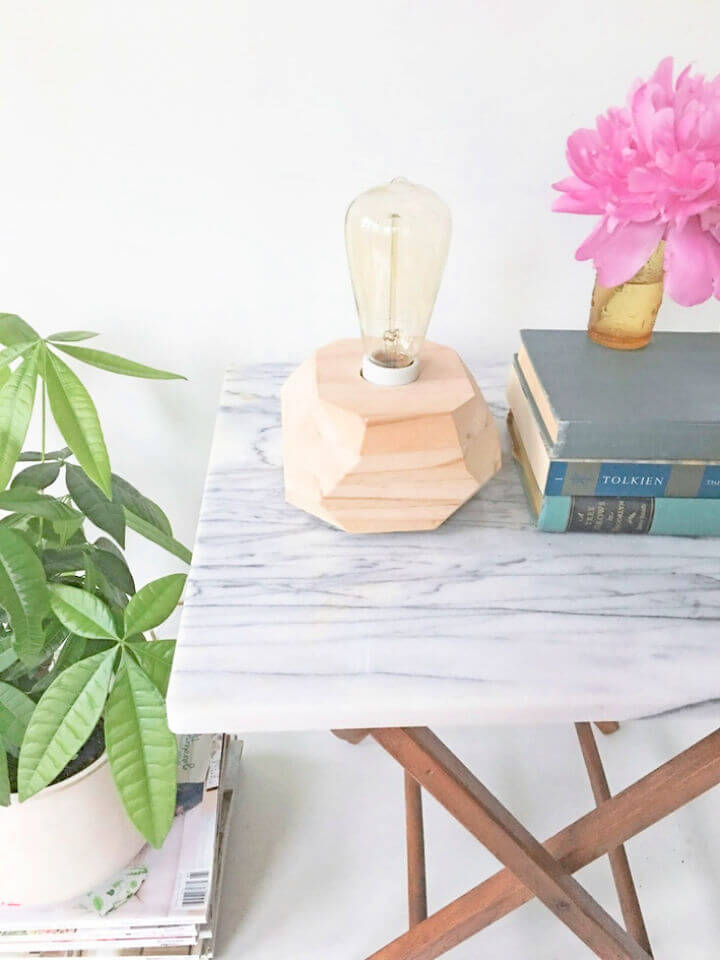 Use your sculpturing art tools to turn a wooden piece into a cool base for the lamp, next dig it up for bulb holder fittings, and connects and install lamp lights. Finish with some cool shades and enjoy a gorgeous table lamp. This one comes with an Edison light bulb. Full instructions here curbly
20. Tree Stump Natural Wood Lamp
Feature the live wood edge in your modern elegant interiors by building this smartly beautiful wooden lamp. Use a natural tree stump to build a solid wood lamp, will be the most beautiful natural wood decor to add to your home spaces. Get the wood stump in a cool shape and add a lovely lampshade for great results. Full how-to guides here rachelteodoro
21. DIY Pallet Wood Lamp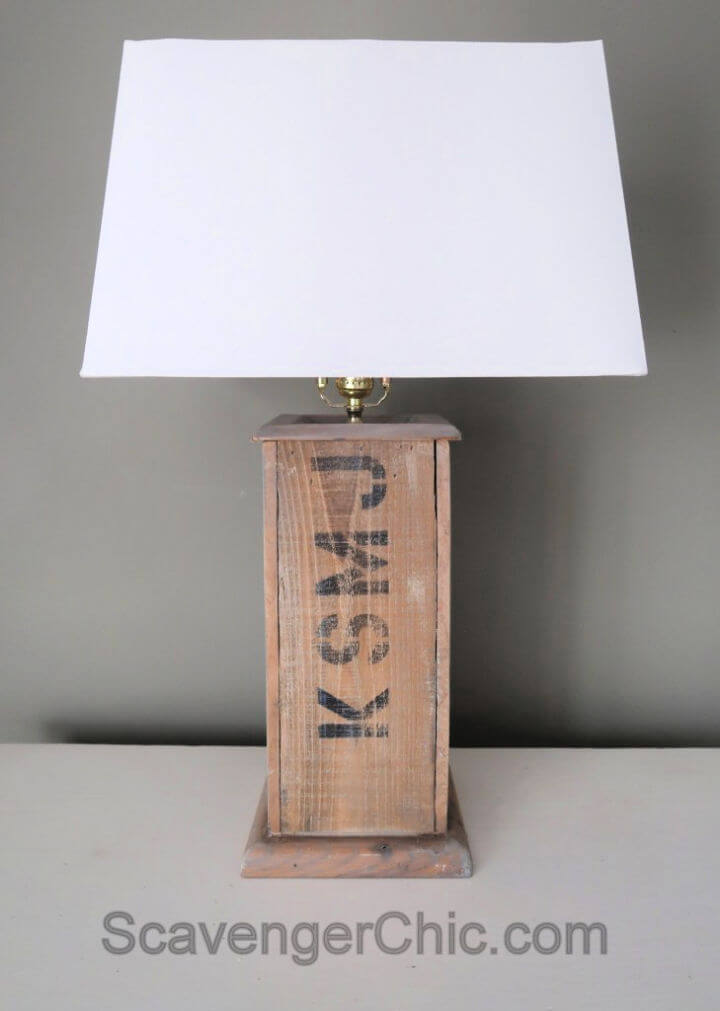 A big thanks to free pallets for this adorable wood creation, another handsome wooden lamp design. Use the pallet wood slats and chunks to build a vertical box style lamp base, make the connections inside the box, let the light bulb cover the top of the box, and finish with a cool lampshade and enjoy. Full how-to guides here scavengerchic
22. Natural Wood Table Lamp
One more amazing and great looking natural edge wood table lamp made of a discarded piece of wood. You have to install a lamp kit to a natural edge woodcut to stand alone as a lamp base. For a gorgeous light spread and glow, install a cool lampshade and enjoy. Full instructions and guides here diyfurniturestudio
23. How to Make Wood Pendant Lamp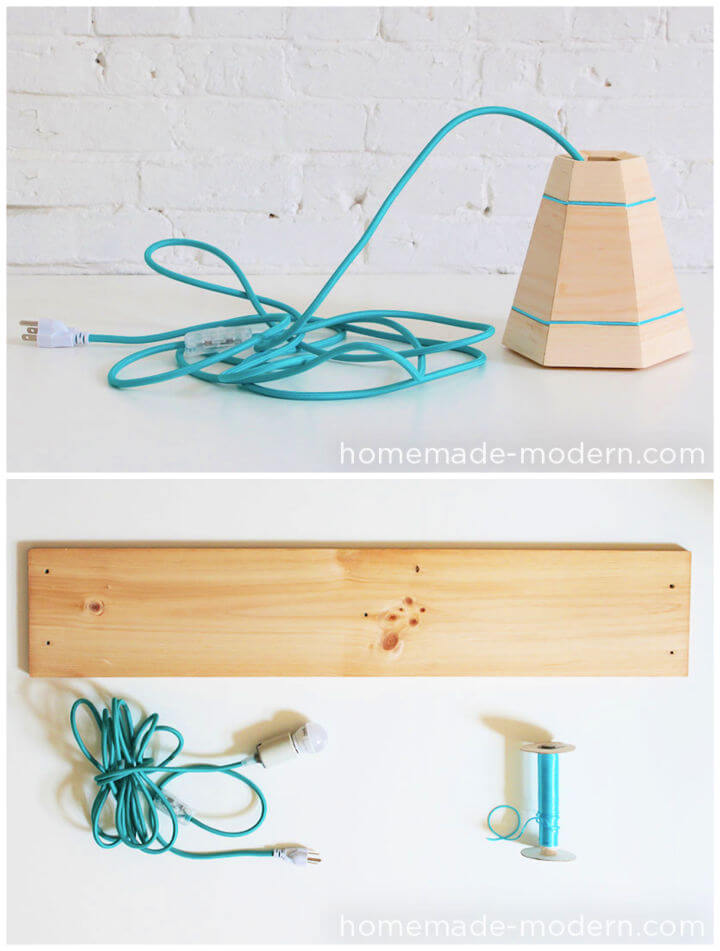 Peek into details of this another creative wood lamp model that you can even make with a single wood slat. Cut the pieces according to a design template and glue them together, making a handsome wooden lampshade. Fit a bulb inside and provide power supply and enjoy it. Full how-to tutorial here homemade
24. DIY Branch Table Lamp
The most gorgeous and natural type of wooden bench design to make in no time provides storage on the bottom side. Make a wood round base with a center round cavity in which you can fit a natural tree branch vertically, holding a light bulb over its top. Making the electrical connections through the tree bench is the real smart work to do here. Install your favorite lampshade, and enjoy it. Complete tutorial here themerrythought
25. Simple and Chic Wooden Table Lamp
Set higher decor standers in a room ambiance by adding this unique wooden lamp design, feature criss-cross sides. Building a base will be a precision taking task, and you can do the construction using square wood dowels. Next, transform the base into a gorgeous table lamp using a lamp kit and a lampshade. Tutorial here homedepot
Want to save money on electricity? Make a solar lamp, check these DIY Solar Light ideas are cheap and easy to make at home and can beautify your home and garden.
How To Build A Wooden Desk Lamp | DIY Project