Dreamcatchers have a great historic past which is having roots coming from the Ojibwe Native American people who are considered the very first farmers of the dreamcatcher! They had been seen using the dreamcatchers as a miraculous tool or sign that helps filter out bad dreams and bad spirits and only allows the positive dreams to reach to sleepers! This tradition is still linked to dream catchers and hence the dreamcatchers are still popular among Native American people!
On the other hand, besides of the being holy and pious symbols or signs, they also a very eye-catching item of home decor for many of us and hence they can be hanged to different of your favorite locations and interior walls as an enticing charm! This pretty type of decors, the dreamcatchers can be seen mostly hanging on the bedroom walls, on the doors and also on various other locations of outdoor! So, whether you are intending to boost the home decors or just willing to give some best wishes to sleepers, the dreamcatcher would just rock for either purpose! So, if you have decided to gain some dreamcatchers then the very good news is that you can easily make them at home using your own creative hands and the smart brain!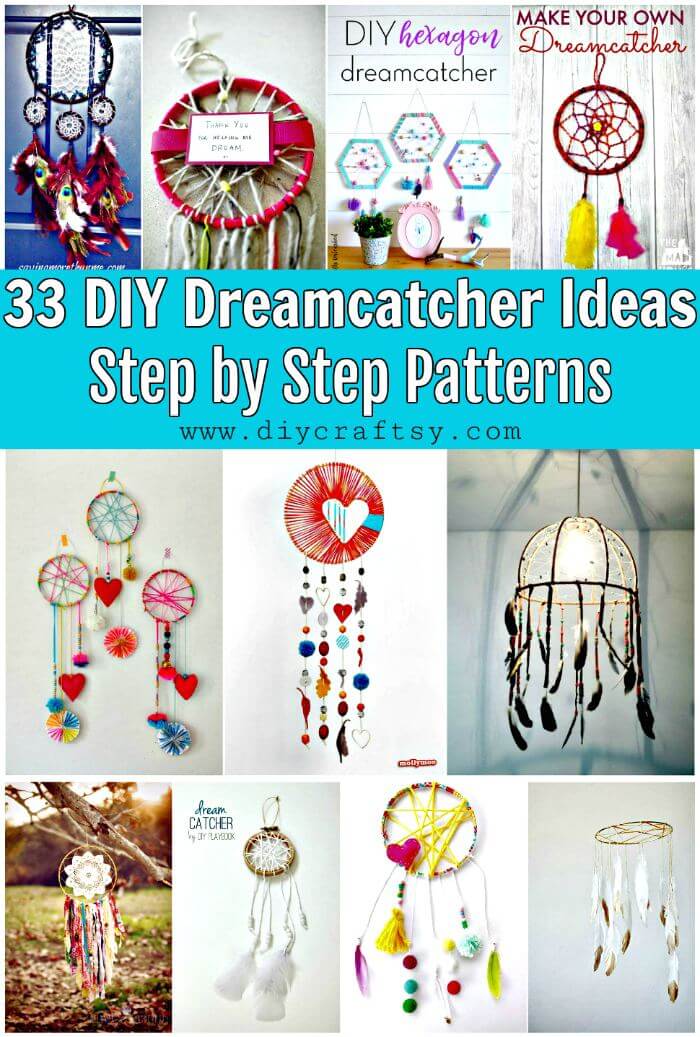 To help you out thoroughly, we have brought here these 33 DIY Dream catcher patterns with step by step instructions for you that will make great inspirations and are super easy to make! Here the signature feature of all these DIY dreamcatchers is that they come with a round symbol that is having some decorative hangings attached to the bottom half of it!
Use the embroidery hoop, brass rings, and even the plastic rings or bracelets to make the dreamcatchers that can be filled with the yarn webs that can easily be laced inside the ring or hoop just by going with some measurements and smart knots! If you are not handy at knots or lacing the yarn, you can fill the hoops with other ready-made accents like with a piece of lace fabric, with a doily, with t-shirt cutouts, with beaded yarn strands, and also with crocheted mandalas.
Next, you can also go smart with the yarn or twine and can fill the inside of the hoop by weaving some circles, rounds and custom patterns you like! Another smart way would be to install some mini rings that may also come in a heart shape, inside the hoop and then you can put them both together through some yarn loops that will cover the entire hoop! Just check out some outstanding samples and examples given below!
DIY Craft Ideas You May Like:
Just string up beads, pearls, twin shapes, stuffed hearts, and other accents, and just end up your beaded strands with feathers to make beautiful hangings for your dreamcatchers! Vary the hangings and the style of filling of the hoop to give amazing variations to your dreamcatchers! You will also love to make a unicorn dream catcher.
Browse the entire collection to see more amazing Dream catcher ideas and patterns for free and also select your favorite ones to copy at home! Click the respective attached links to open up the complete project details along with getting the free tutorials and instructions!
DIY Fiber Feather Dreamcatcher:
If you are willing to get a fascinating dreamcatcher for your bedroom wall then you will definitely like this fiber feather dreamcatcher! Here first of all the hoop has been woven for around amazing wall hanging and then the fiber feathers have been hanged on it for making a fantastic dreamcatcher! Knot the different colored yarn lengths on a piece of wire and make fiber feathers! To keep the feathers in shape just dip them in the fabric starch and then dry! Complete project tutorial here studioknitsf
How to Make Hexagon Dreamcatchers For Kids:
Style up your bedroom with this handsome-looking handmade décor, the hexagon dreamcatcher, crafted to amaze and inspire! Here this lovely looking dreamcatcher has been made using the painted craft sticks which have been put together to make a hexagon shape! Next, the custom wooden beads have been threaded onto yarn lengths and then have hanged and wrapped around the craft sticks hexagons for a lovely dreamcatcher! This not ends here, finally, the beaded yarn strands finished with pom-poms, feathers and tassels have also been hanged on the dreamcatcher for a fantastic appeal! Complete tutorial here consumercrafts
DIY T-shirt Dreamcatchers:
Reuse also your old t-shirts to make awesome looking dreamcatchers that will go really precious to eyes! Check out here the lovely samples that have been done to amaze and also to rock your bedroom! Here the idea is just to fit the most beautiful looking part of the t-shirt in the embroidery hoop which can be stretched nicely to remove the creases and then you can tight the hoop! Leave some part of the t-shirt at the bottom side and cut fringes in it, thread beads onto the friends and knot them to make an eye-catching dreamcatcher! Get inspired of the given t-shirt dreamcatchers! Complete tutorial here smallforbig
How To Make Fabric Scraps Dreamcatcher: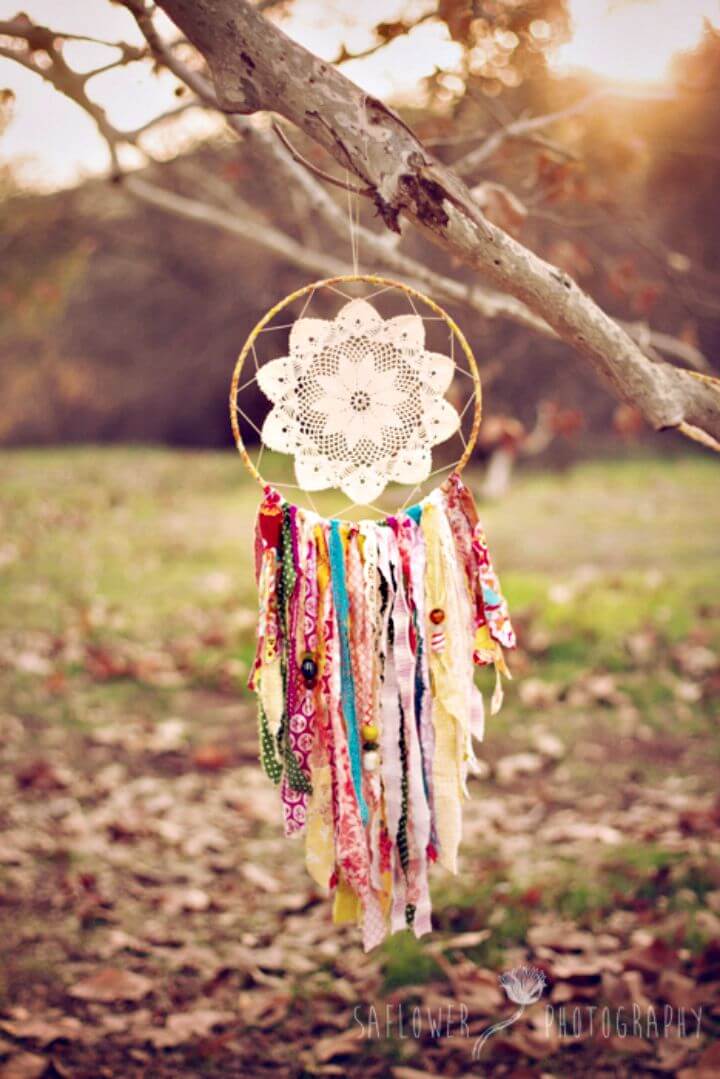 If you are having lot of leftover fabric lying in your home then you can also use it to make a handsome looking dreamcatcher that will definitely go enticing in your bedroom interior wall! Here all you need to grab a brass ring that can be filled with a doily in the center and next you have to hang the colorful fabric straps on it making a beautiful dreamcatcher! Make use of beautiful feathers and beads and other accents to make this dreamcatcher a bit more beautiful! Complete tutorial and visual guides are here patternrevolution
Super Easy DIY dreamcatchers: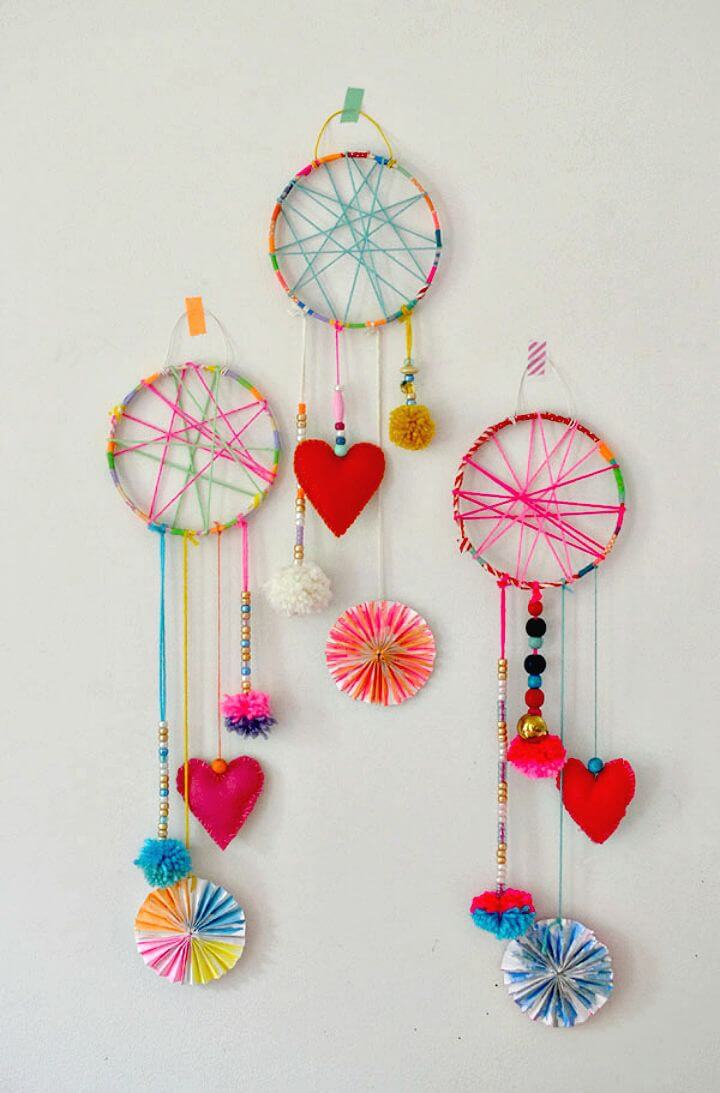 Check out here another mind-blowing dreamcatcher that is amazingly colorful and is base on custom love theme! Here this lovely dreamcatcher is also super easy to make! Just grab some wooden hoops and then cover it up by wrapping duct tape all around it in different colors! Next wrap the entire hoop in wrap a little to make it look covered a little and final step would be to hang your accents and decors! Here the custom beaded strands ending with stuffed felt heart, pom-poms and paper flowers have been hanged on the bottom side of the hoop to make an amazing looking dreamcatcher! Complete tutorial and instructions here artbarblog
How to DIY Dreamcatcher: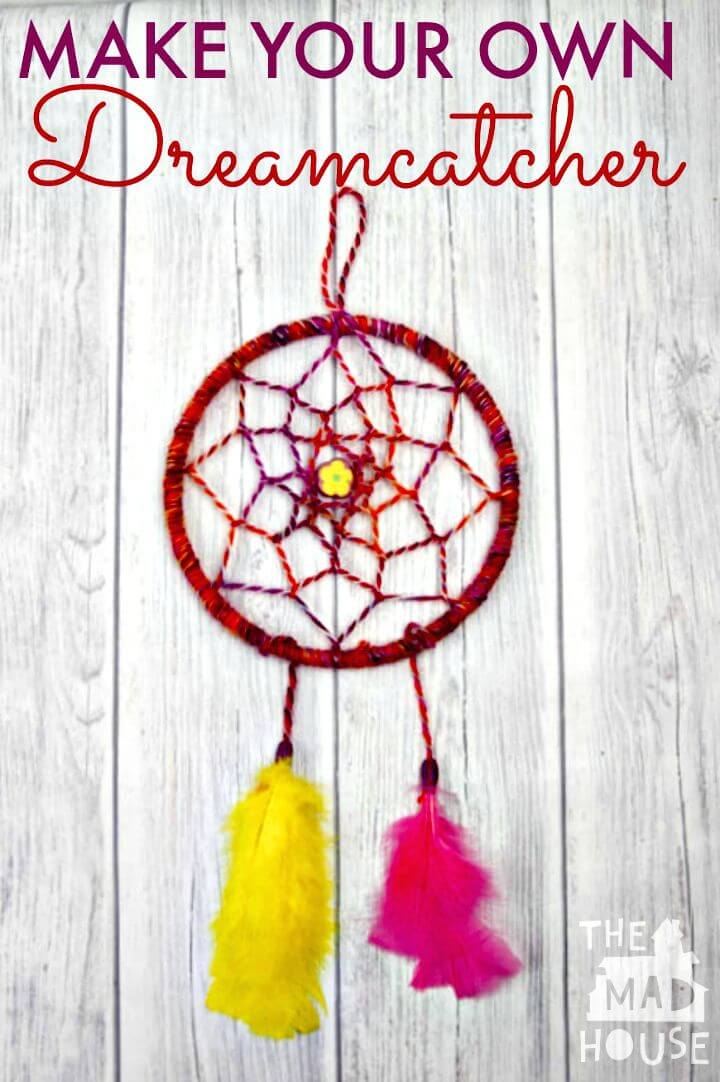 Have a look at this another enticing looking dreamcatcher that is super easy to make but is unbeatable in beauty! Here all you need some thick yarn in your favorite color and a plastic hoop to make this lovely dreamcatcher! First cover your hoop with yarn and then start adding smart knotting to lace a web inside the dreamcatcher! Next just leave some strands of yarn hanging on the bottom side which may come with feathers and custom colorful beads to create a fantastic and enticing look of the entire dreamcatcher! Grab the full free guides and visual instructions from here muminthemadhouse
Colorful DIY Feather Dreamcatcher: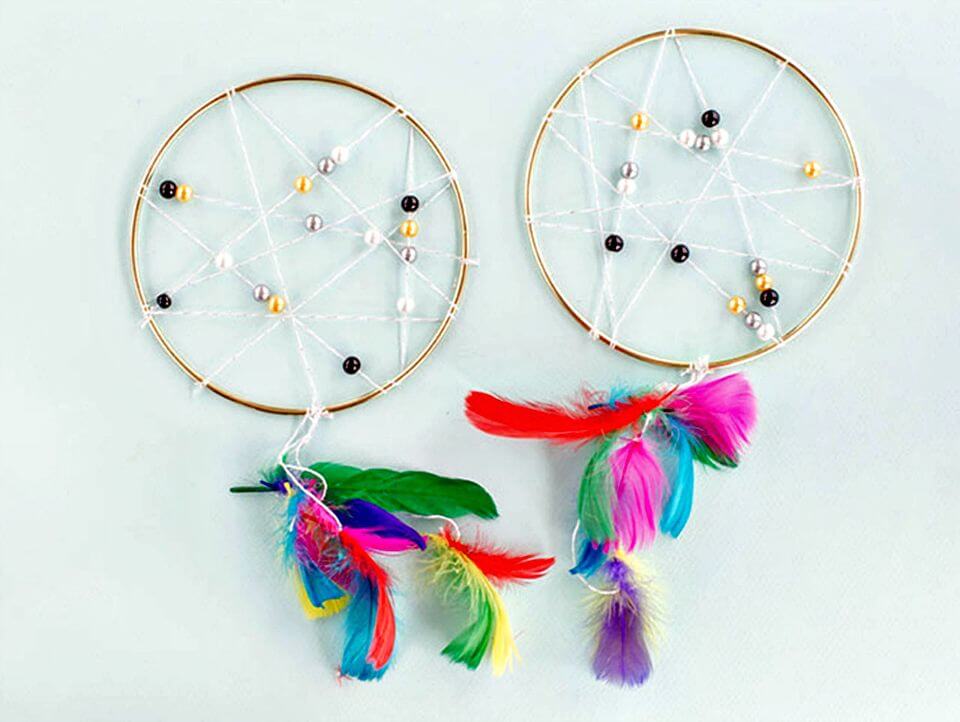 Get inspired of this another rocking design of dreamcatcher that is purely handcrafted and self-made! Grab a metal ring and then just prepare the bead strands at the same time using colorful and sparkling beads! Next start lacing the bead strands all around the metal ring and next just tie the colorful feathers to string or yarn lengths hanging on the bottom side of the dreamcatcher! A super easy and quick to make feather dreamcatcher! Complete project tutorial here fun365.orientaltrading
How to Make a Modern Dream-catcher: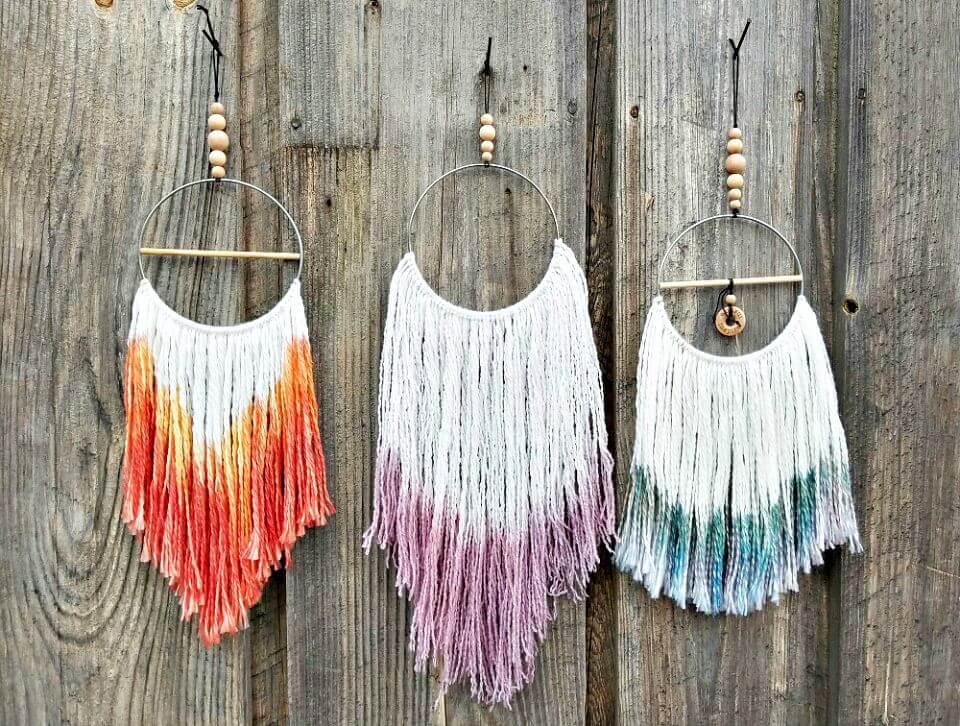 Intending to own some ultra modern dreamcatchers? Then you just no need to buy them from the market by spending too much fortune, just make some enticing look ones at home without getting expensive! Check out here the sample dreamcatcher that is modern and is made of a metal ring that comes with bottom side full covered with hanging yarn strands that have been knotted in place and have also been painted half for a dipped color appeal! Next the custom cut wooden dowels have been fitted horizontally to the center of the metal ring and next wooden beads have been used for further adornments as you can see! Complete project tutorial and instructions here ssww
Easy and Pretty DIY Dreamcatcher: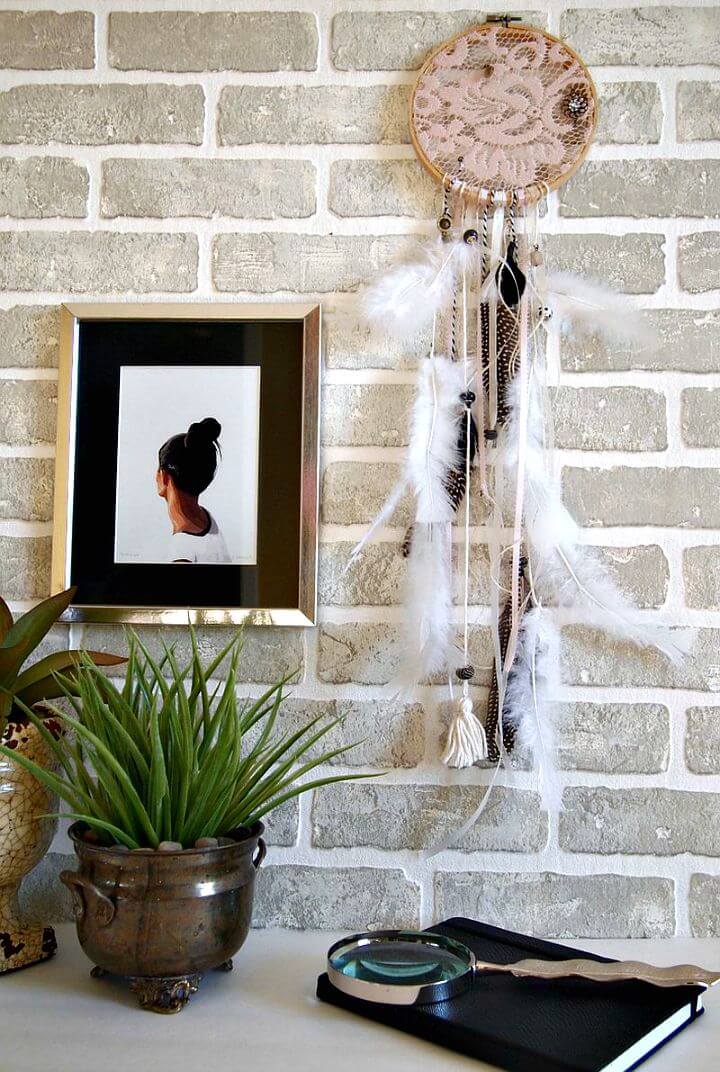 If you are willing to wish sweet dreams to someone special in your home then this dreamcatcher would really make a great gift to him/her! You will be highly amazed to see this pretty awesome looking dreamcatcher is purely handmade and will not take much time to be in your hands! Here first cut a piece of lace and make it tight in the embroidery hoop and next just decorate your finally complete dreamcatcher! Here the custom beaded yarn strands have been hanged on the bottom side of the hoop that comes also covered with feathers and end up with lovely tassels creating a super beautiful appeal of the dreamcatcher! Grab the full free guides and visual instructions from here decoist
Cute DIY Heart Of Hope Dreamcatcher:
Look at this another lovely dreamcatcher, the heart of hope dreamcatcher that will be a symbol of love and would really go eye-captivating on a bedroom interior wall! Grab a hoop and put a metal wire heart in the center of the hoop, next start lacing and looping the wood or yarn around the hoop and around the sides of the wire heart until you get the entire hoop covered with yarn except the inside metal wire heart! Next just add the accent or decorative yarn strand hangings to finish the dreamcatcher! Here the accent dreamcatcher hangings are made by threading the beads, twine hearts, buttons and pom-pom on the twine or yarn lengths! Complete tutorial here mollymoocrafts
How To Make Dreamcatcher:
The ideas, designs and suggestions for DIY dreamcatchers are just endless, Check out one more epic looking dreamcatcher that is also purely handcrafted! Here all again you have to gain a hoop which can be laced up with yarn for making a web inside, also cover the hoop with the yarn and next just move forward to install the dreamcatcher hangings! Here the hanging are made of feathers, shell and stones, beads and pearls and with silk leaves that have beautifully been threaded onto the yarn lengths! Another smart and creative dreamcatcher to make at home! Complete tutorial here februaryskydesigns
Adorable DIY Dream-catcher Pendant:
Make also mini dreamcatchers that can also be used to do further crafting projects! Here a mini dreamcatcher has been used as a pendant and hence you can easily make outstanding looking dreamcatcher necklaces at home! Have a look at this self-made dreamcatcher pendant that comes with mini metallic feather charms added to main ring through jump rings! Here a mini metallic ring has been laced up with yarn from inside to make a cool dreamcatcher! Complete project guides and tutorial here fabartdiy
DIY Big Dreams Dreamcatcher: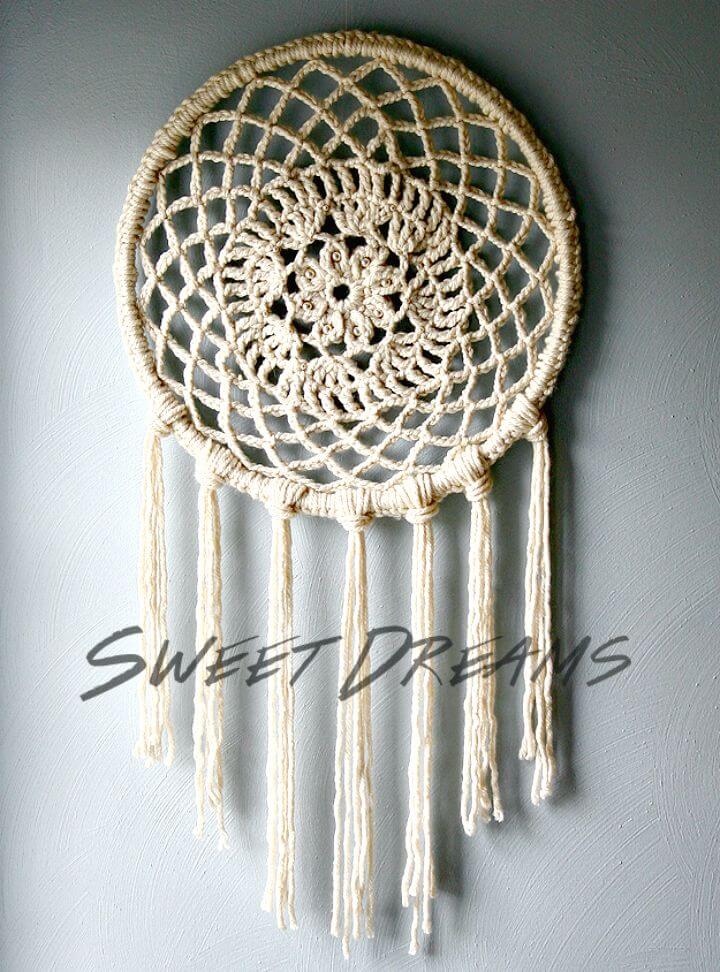 Fall in love with this another handcrafted dreamcatcher that is big and lovely! In this dreamcatcher project you will also have to use your crochet skills! Here first an embroidery hoop has been covered with the yarn and then the same colored yarn has been crocheted to make large sized doily! Thread the doily inside the hoop and next just finish the dreamcatcher with bottom yarn hangings as you can see! The perfect boho styled dreamcatcher to make at home without getting a bit expensive! Grab the full free guides and visual tutorial from here caughtonawhim
Awesome DIY Peacock Dreamcatcher:
Check out here the most beautiful dreamcatcher ever made with hands at home! This is here the amazingly beautiful peacock dreamcatcher that is again made of embroidery hoop, suede lacing, peacock feathers and beads! Here again the hoop has been covered with yarn wrapped all around and ext the inside of the hoop has been covered with a yarn web that you can easily make by lacing the yarn! First install the beaded strand lengths inside the hoop and next start lacing the yarn from them to complete the inside web! Next do the same with 3 small rings and hang them to bottom side of the main ring, next finish the entire dreamcatcher with the beaded strands that will end up with peacock feathers! Complete tutorial here winterandsparrow
Simple DIY Fall Dreamcatcher: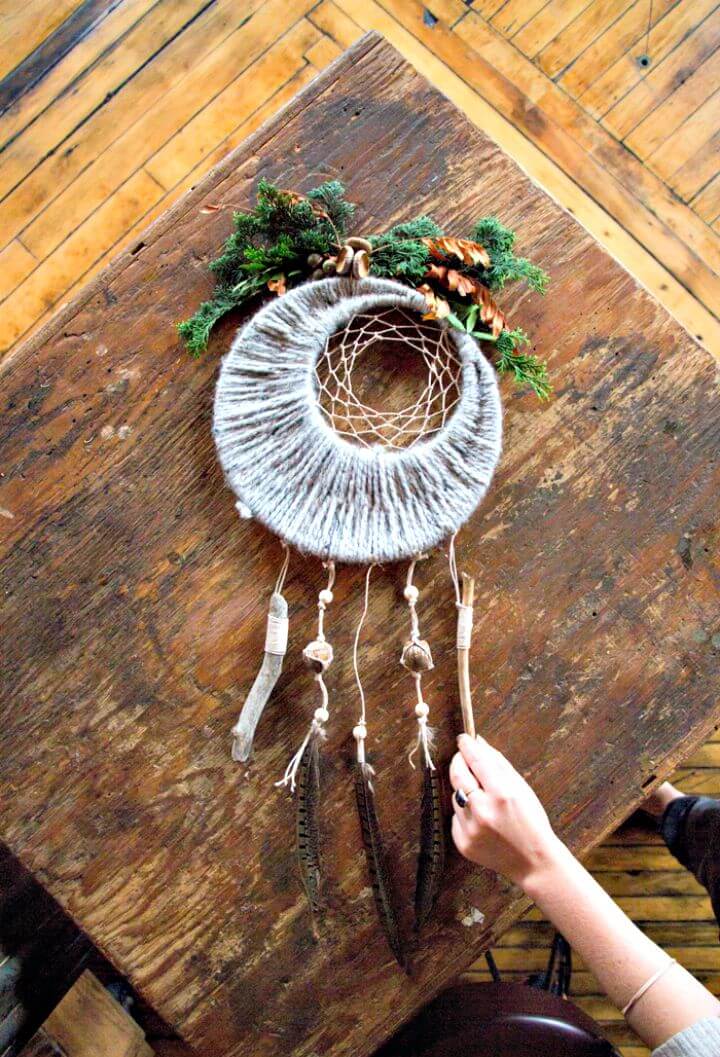 You can make dreamcatchers at home that may be inspired of different things! Peek into details of this fall dreamcatcher that is super beautiful and awesome looking has been done to rock and inspire! Here this dreamcatcher has been made by putting a small hoop in a bigger main hoop which have been secured in place through yarn loop that also cover the entire inside area of the main hoop! The smaller hoop comes with a yarn web inside and finally the entire dreamcatcher has been adorned with the acorns, branches, leaves, beads and other charms! Complete tutorial here maptote
Simple DIY Lace Dreamcatcher: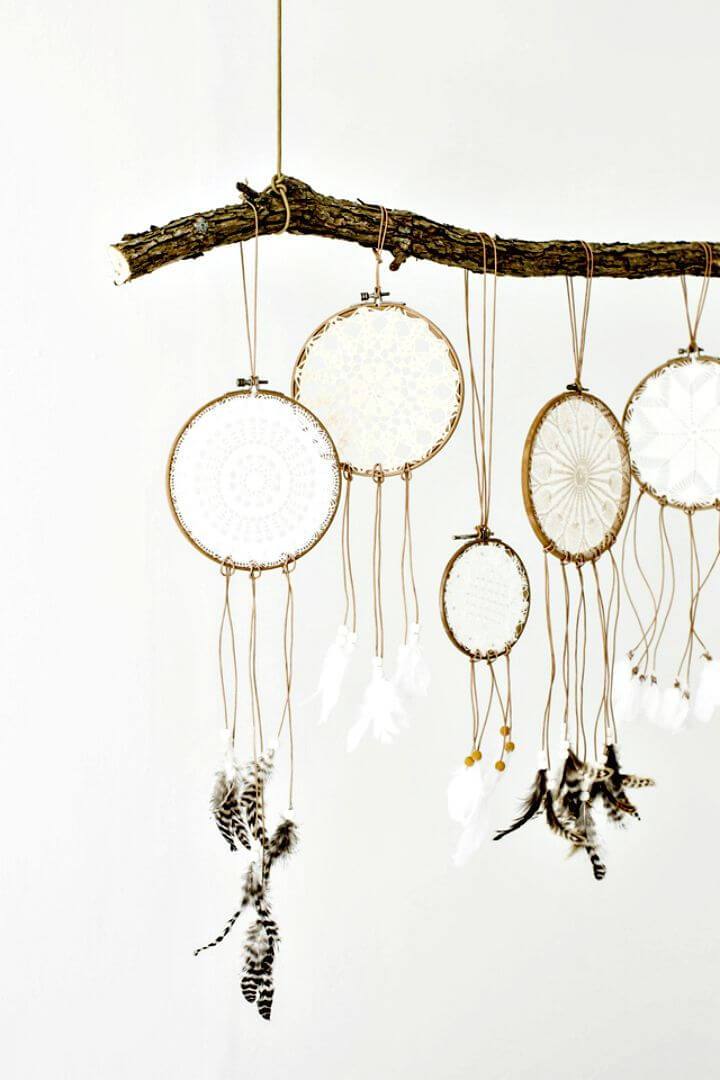 Wish someone sweet dreams also by giving this lace dreamcatcher that is spellbinding and just a piece of cake to make! Here the custom lace pieces have been inserted in the embroidery hoops and have been tightened in place and next each laced hoop has been finished with custom simple and feathered hangings for a glam look! The creative twist is here that all the dream caters have been hanged on a tree branch for a lovely look and appeal! Complete tutorial here mokkasin
Modern DIY Beaded Dreamcatcher: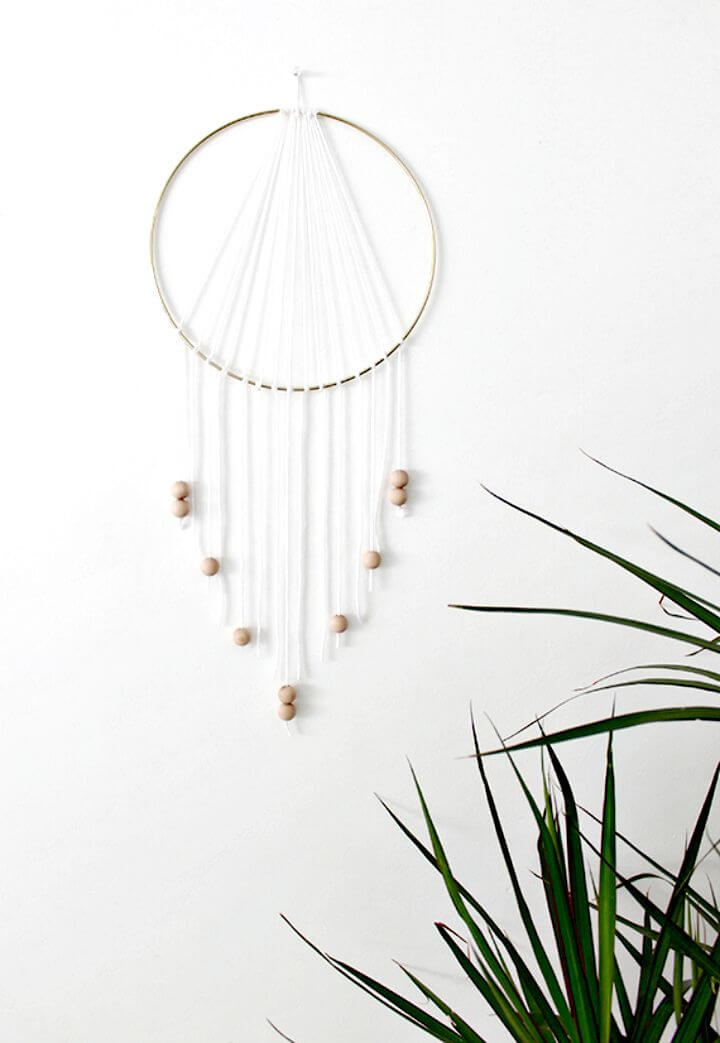 Sometime the simplicity is the real beauty of a thing and you will find the statement so true after taking a look at this modern beaded dreamcatcher that is a big breeze to whip up! Grab a macramé metallic ring and then just fasten the white yarn lengths to its top, next knot the same lengths to bottom side following their straight and neat lines and next just leave them hanging! Slip beads onto the hanging yarn lengths and make eye-catching dreamcatchers at just a drop of hat! Complete visual tutorial and instructions here almostmakesperfect
How To Make Modern Dreamcatcher:
You will definitely fall in love with this another great dreamcatcher that modern and lovely to look at! Here all you need to have two rings in different sizes and just place the smaller one inside the bigger and the tie them both together by wrapping the yarn all around! Next start filling the area a little between the smaller and bigger hoop by adding yarn loops as you can see and that's it! Another adorable and cool looking dreamcatcher to make at home without getting a bit expensive! Grab the full free guides and visual instructions from here beingspiffy
DIY Watercolor Dreamcatcher:
Paint a watercolor paper and next just add it inside an embroidery hoop by passing the yarn through paper circle and then by wrapping the yarn around the hoop! Next make custom feather strands, hangings and banners and adorn your finally finished watercolor dreamcatcher with them and don't forget to paste your message on the dreamcatcher! Another great and lovely dreamcatcher idea to inspire your creativity! Complete tutorial and instructions here plaidonline
Make a Dream-catcher Delight:
Fall in love with this another handmade dreamcatcher that is a truly a big delight to view! Grab a metal ring frame and next just add a piece of lace inside of it using needle and thread! Final step would be to fancy up the dreamcatcher with the beaded strands that will hang downward starting from the bottom side of the ring and may also end with different embellishments like with pom-poms, hearts, feathers and other items of this kind! Willing to duplicate this dreamcatcher? Complete tutorial here alldaychic
DIY Yarn Dreamcatchers:
If you are sorting out a dreamcatcher design that will be a matter of seconds to make then here is what you are looking for, the great looking yarn dreamcatcher that is also made of an embroidery hoop! Here the idea is first to wrap the yarn all around the hoop to create a web and next you can finish the dreamcatcher by hanging custom beaded yarn lengths to half bottom side of the dreamcatcher! Here the beaded yarn hanging also having accent feathers fastened to very ends! Complete project details and tutorial here thediyplaybook
Beautiful DIY Dream-catcher Mobile:
What you will call it a chandelier, wind chime or a dreamcatcher? Actually this is here an all in one dreamcatcher mobile that will hang like a charm in any room interior! Here this dreamcatcher mobile is made of a metal ring that comes filled with a gold ribbon web laced inside! Next the white feathers a little painted with gold have been strung up and then hang all around the metal ring to make a mobile dreamcatcher! This dreamcatcher would make a great gift to home lovers! Grab the full free guides and visual instructions from here crateandbarrel
How to Make a Dream-catcher:
Fall in love with this another great and enticing looking dreamcatcher is a big bliss to view! This dreamcatcher holds the attention of the onlookers with a hanging mesh of feathers and lacy ribbons and also with the inside yarn web! Here again the embroidery hoop has been covered from the inside with a yarn web to make the dreamcatcher and next the just decorate it with feathers, ribbons and also with other kinds of fabric! Willing to clone this enticing dreamcatcher? Grab the full free tutorial and instructions guides from here kirklands
DIY Doily & Ribbon Dream-catcher: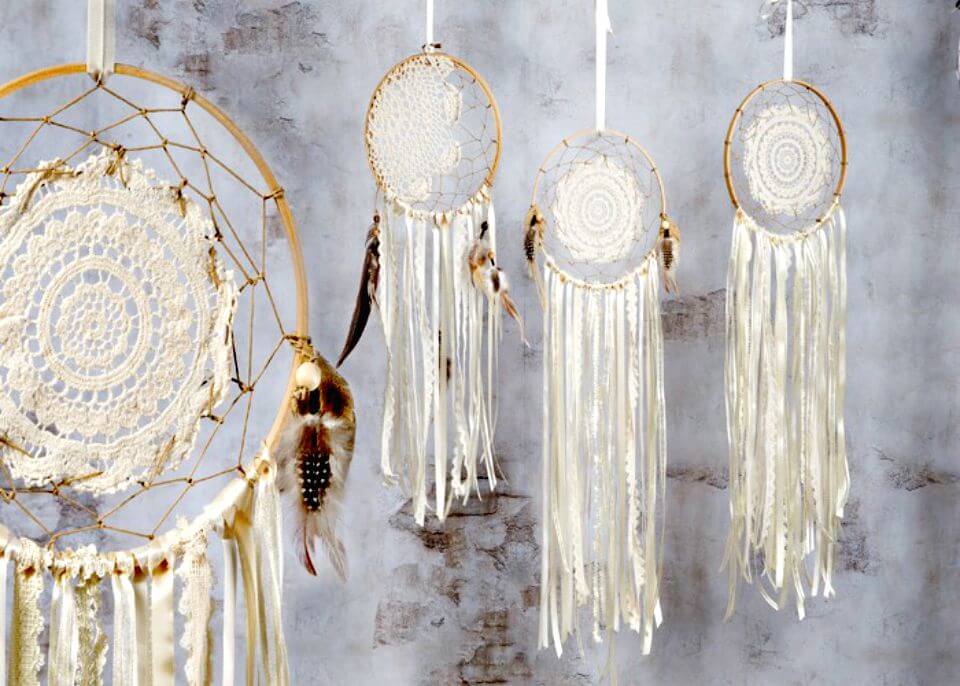 One more exceptional design of dreamcatcher is here to make at home without getting a bit expensive! Here all you need to do is to wrap the yarn around the embroidery hoop and next you can add a doily inside by threaded the same yarn through the sides of the doily! After you get the doily nicely fixed in the center of the dreamcatcher then just finish it up by hanging the beaded and feathered suede strands to bottom half of the dreamcatcher! Also decorate the upper part of the dreamcatcher with ribbon and beads! Grab the full free tutorial and instructions from here patcatans
Adorable DIY Dream-catchers: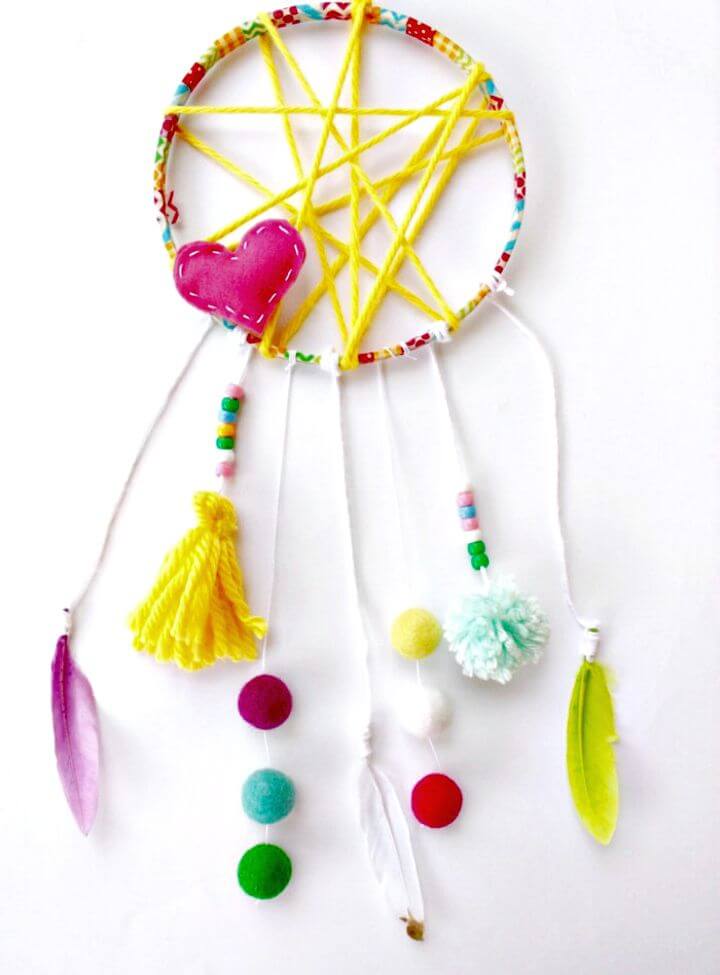 If you are willing to give some colors to your bedroom wall then here is how to do it nicely and without spending too much fortune! Just some colorful dreamcatchers there in your bedroom and jazz up your bedroom! Check out here this dreamcatcher sample that is made also with the embroidery hoop that has nicely been covered with the duct tape for a decorative look and next the yellow yarn has been wrapped all around the ring to make bewitching web! Next string up feathers, beads and pom-poms and hang them to bottom side of the ring and gain an amazingly beautiful dreamcatcher in just no time! Complete tutorial and instructions here rebeccapropes
Make Your Own Dream-catcher Craft: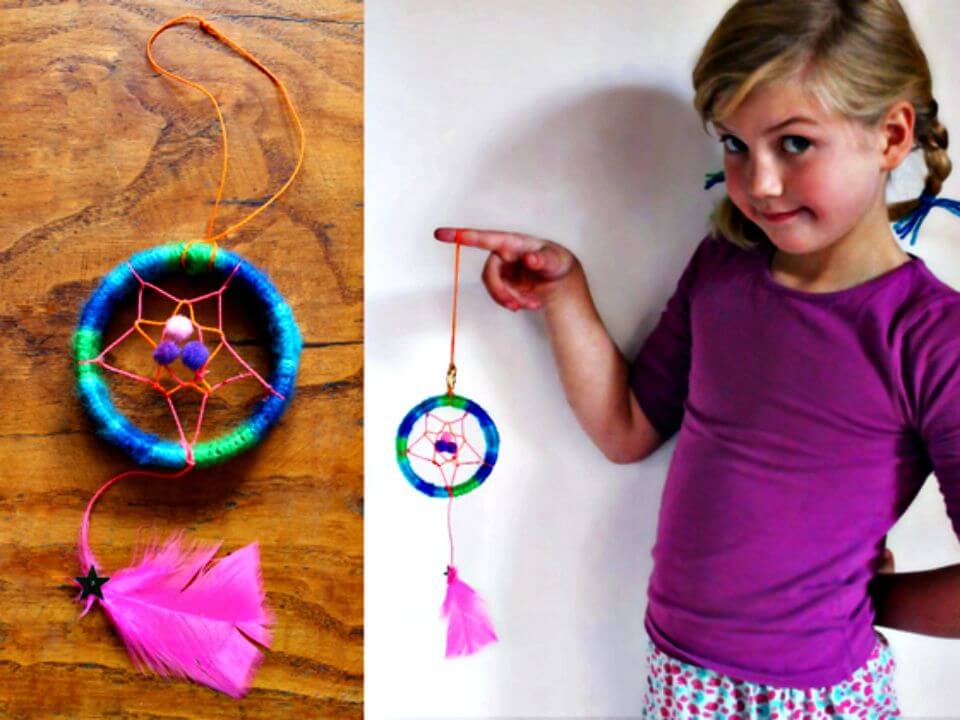 Get inspired of this mini but super cute looking dreamcatcher that will rocks in kids rooms and will also make a great toy for them! Here this adorable looking dreamcatcher is also something super easy to make! Here this dreamcatcher is made of an empty tape roll which has been covered with the colorful yarn wrapped all around it! Next this yarn wrapped ring has been added with an inside yarn web which has been got dignified with colorful pom-poms fixed in the center! Finish your dreamcatcher with a feather hanging that can be knotted to bottom side of the dreamcatcher! Complete tutorial here happythought
DIY Embroidery Hoop Dream-catcher: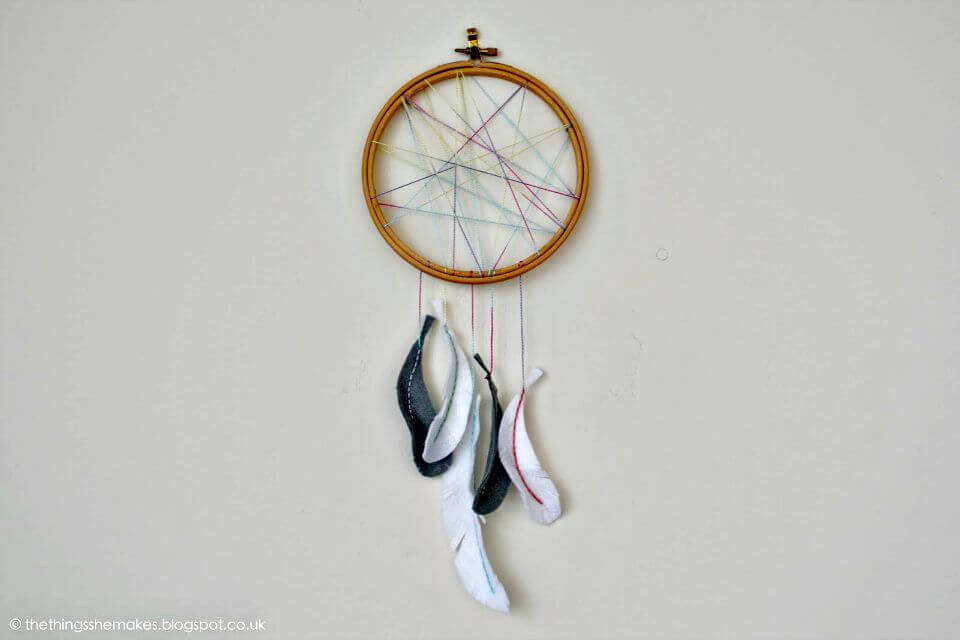 This is here another extra brilliant dreamcatcher that has been made to inspire the bedroom lovers! Here this very gorgeous looking dreamcatcher would be ready in couple of minutes as you only have to do is to wrap the yarn around the embroidery hoop and next to hang some feathers on its bottom side! Here the colorful feathers have been cut out from different colored felt sheets and have been strung up on a yarn length to hang on bottom side of the dreamcatcher! Complete tutorial here thethingsshemakes
Bright & Easy DIY Dream-catcher: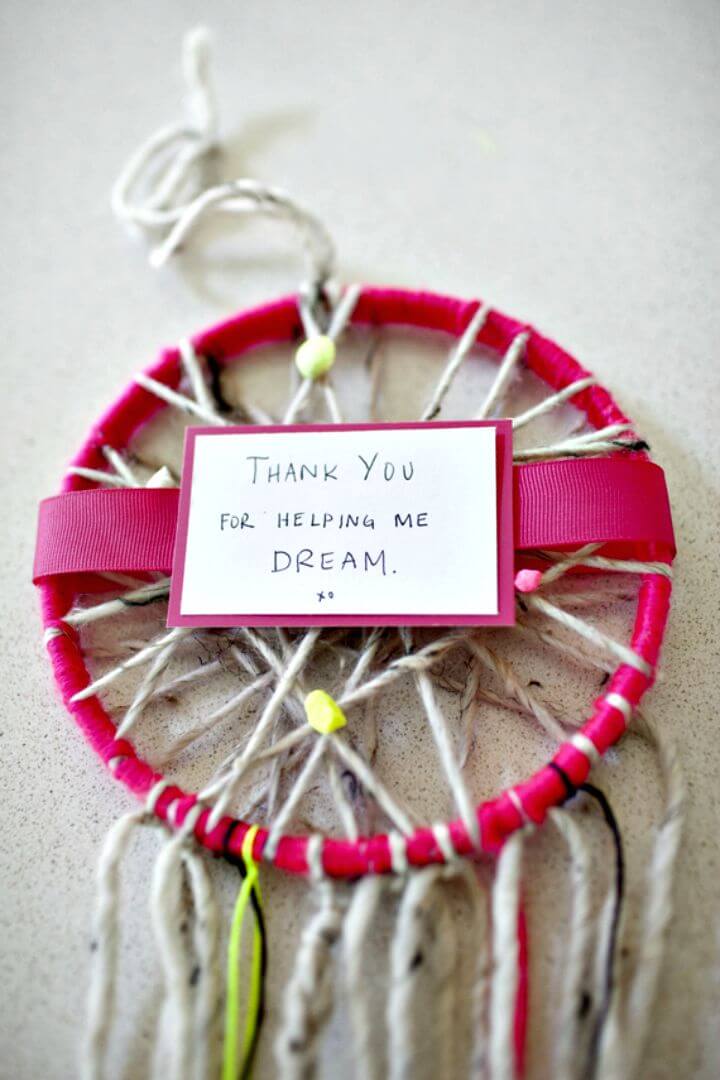 You will definitely fall in love with this another enticing looking dreamcatcher that will hang like a charm in your bedroom interior! Here this dreamcatcher is made of a wooden embroidery hoop that comes with rim wrapped in the pink yarn and has entirely been covered with the white yarn as you can see! Finally the custom yarn hangings have been hanged to very bottom side of the dreamcatcher and hence a fantastic looking dreamcatcher has been gained that is super beautiful to look at! Grab the full free details and tutorial from here asubtlerevelry
How To Make A Dream-catchers: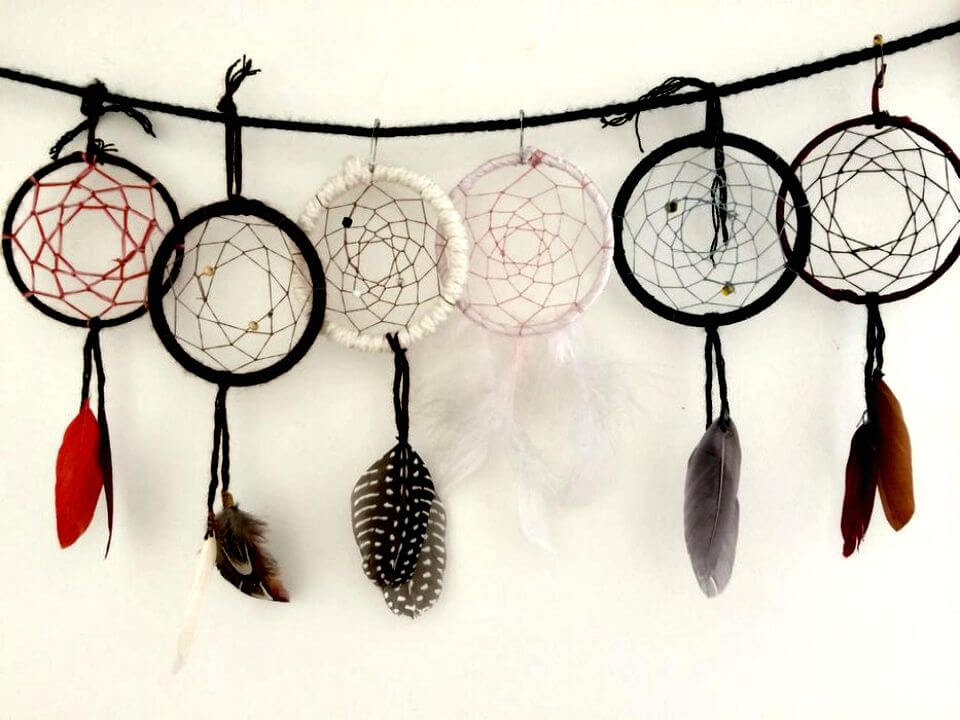 Duplicate this another amazing and fab looking dreamcatcher that is much focally stimulating! Here this enticing dreamcatcher is made of different mini dreamcatchers that have added onto a piece of string or rope to make a dreamcatcher banner or garland! Wrap the yarn around any mini ring or bracelet and go smart with the yarn also to lace a web inside each yarn wrapped ring! Add the feather hangings to bottom side and that's it! Another great and enticing dreamcatcher idea to duplicate! Grab the full free tutorial and instructions from here instructables
How To Make Doily Dream-catcher: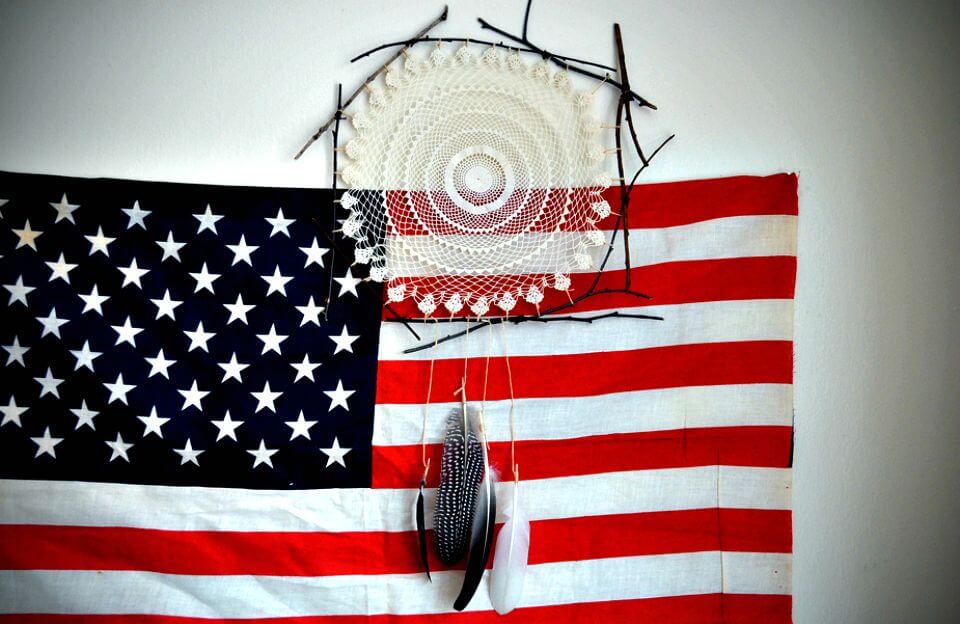 Again a super unique handmade model of dreamcatcher is here that will make a great eye-piece to any interior space! Here this fetching dreamcatcher has been made of the tree branches that have been put together in a round shape! Next a doily has been fixed inside the dreamcatcher with the help of string or yarn loop and finally the feather hangings have been installed very bottom side of the dreamcatcher! One more exceptional design of dreamcatcher to duplicate! Full project guides here allthegoodgirlsgotoheavenblog
Make a Lampe Dream-catcher: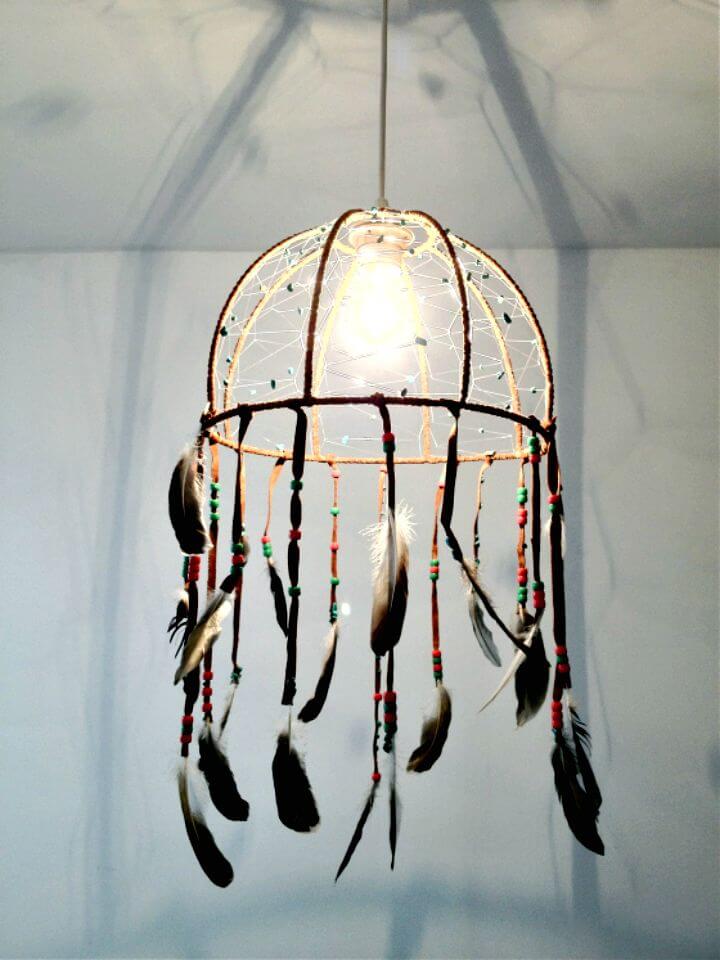 Repurpose also the metallic lamp shades to make adorable looking dreamcatchers at home! Here the metallic lamp shade has first been wrapped in the leather suede and then the inside space has been filled by lacing the yarn web or braids and the custom beads have also been slipped onto the yarn during the braiding! Finally the beaded leather suede strands ended up with the feathers, have been installed as enchanting dreamcatcher hangings! Willing to duplicate this dreamcatcher? Grab the full free guides and visual instructions from here yesidim
Modern DIY Dream-catcher Tutorial: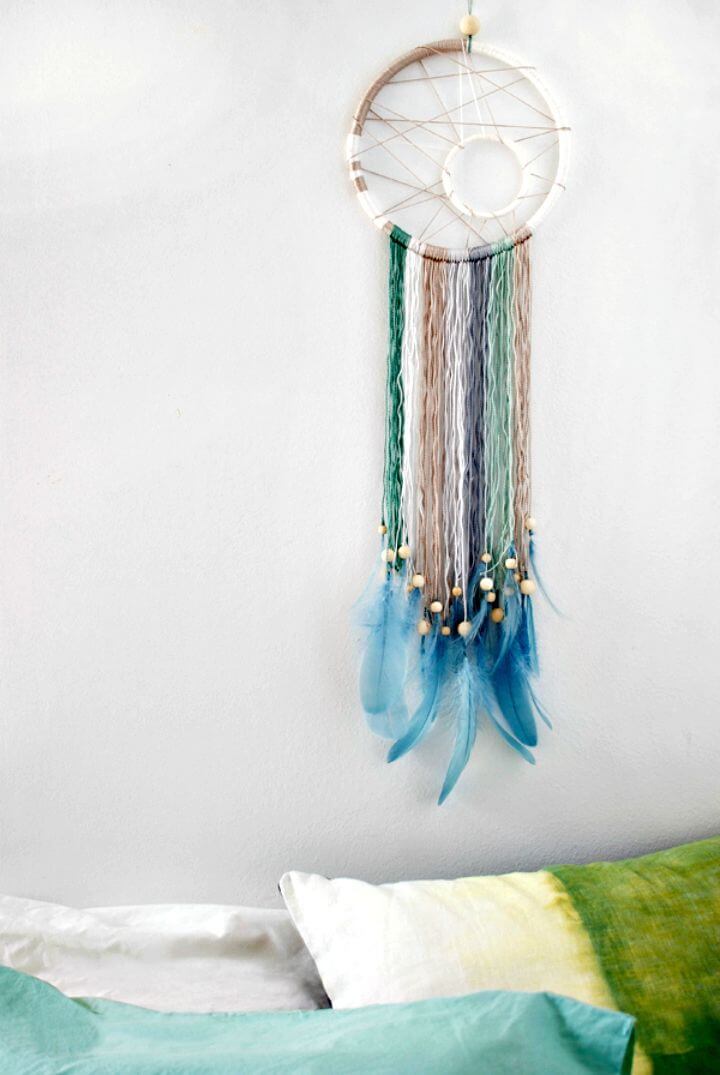 You will definitely love to duplicate this another fantastic dreamcatcher that is looking fabulous and lovely! Here this enticing looking dreamcatcher has been made with ratten hoop and metallic craft ring that have been wrapped in white yarn and then the smaller ring has been added inside the bigger hoop by lacing a yarn web inside the dreamcatcher and finally the beaded and feathered yarn hangings have been installed to very bottom side of the dreamcatcher for a glam look! Complete tutorial and instructions here tutsplus
Pretty DIY Dream-catcher Tutorial: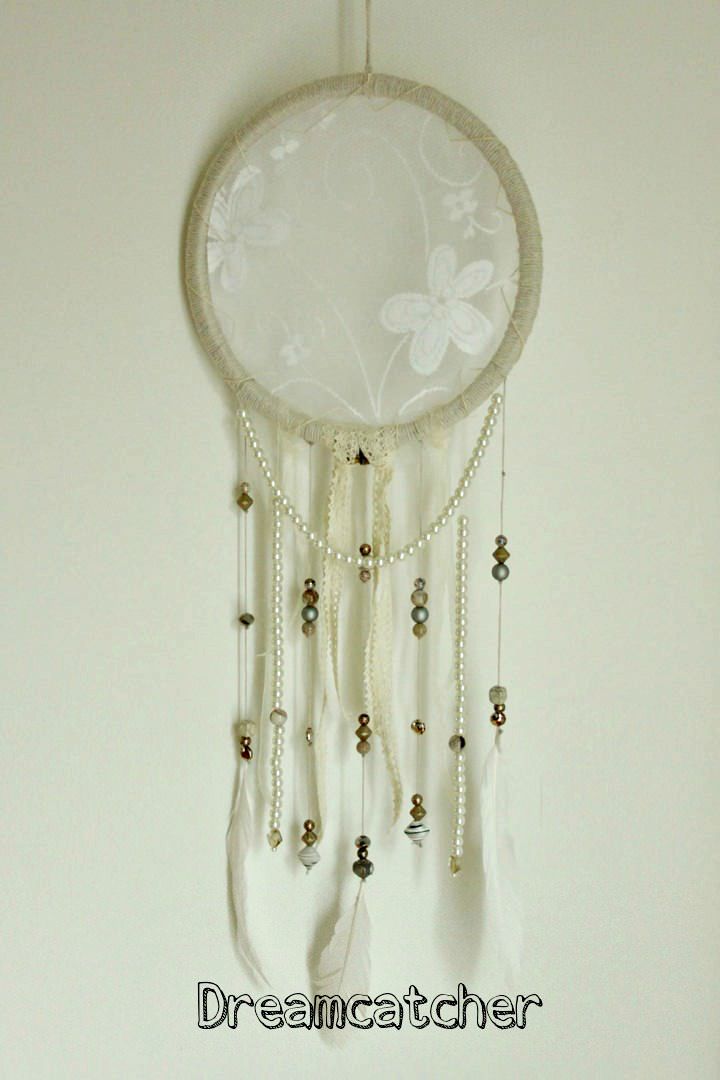 This is here another outstanding and fantastic looking dreamcatcher that is just looking fabulous and adorably cute! Here this brilliant looking dreamcatcher has been achieved by wrapping yarn all around the embroidery hoop and then a piece of lace has been tightened inside the dreamcatcher for a fabulous appeal! The most amazing part is to hang the beautiful hangings to bottom side of the dreamcatcher! Here the dreamcatcher hangings are made with the pearl beads and other beads slipped onto a piece of yarn that ends up with a feather! Another brilliant dreamcatcher idea! Complete tutorial and instructions here boho-weddings