Whether origami diamond decorations are for a special event or simply for decorating your home, the joy of making them yourself is unmatchable. With the help of 10 clever and easy DIY paper diamond ideas, you can craft origami diamonds from various materials such as paper, tissue paper, felt fabric, origami sheets and more. From origami stars to leaves to complete origami diamonds with various twists and designs, creating paper diamonds is easier than you think and can be done in no time. Plus, if done correctly and with a little practice, they make stunning decorations that will surely add beauty to any room or occasion.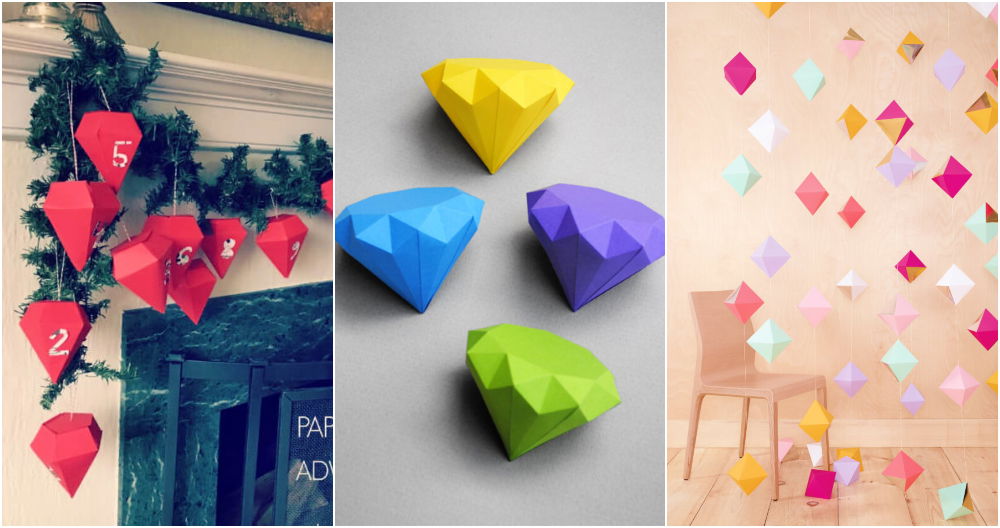 10 DIY Origami Diamond Ideas to Make
Browse these 10 easy DIY paper diamond ideas sharing the best origami techniques to make these cuties with and without glue. These paper diamonds will make thoughtful and meaningful decorations for birthday parties, anniversaries, and bridal showers.
From 2D to closed structured 3D paper diamonds, you will learn to fold all diamonds with the paper of your choice. String them up and use many strands to install a colorful diamond backdrop. Make diamond kites, too, using paper and wood dowels. From folding simple paper squares to making pentagons first, you will learn all the folding techniques to whip up these paper jewels. Looking through all these DIY Paper Diamonds will make you learn more.
1. DIY 3D Paper Diamonds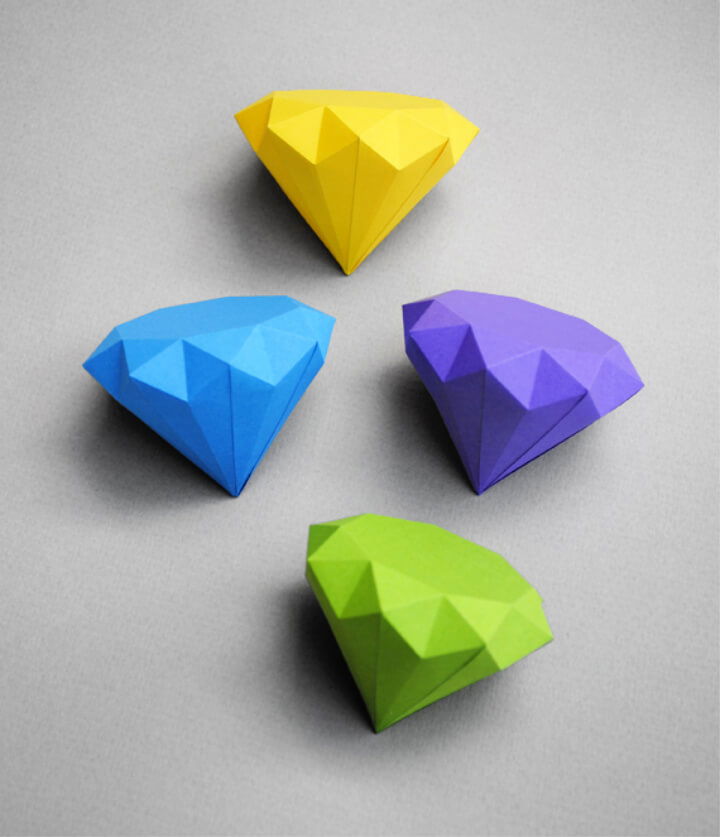 Create the best 3D origami diamonds, the best paper gems to add to your decor. Feature a luxurious touch to any space or in the party decor using these 3D paper diamonds, having closed structures. Use an origami template to fold the paper smartly, making a diamond. Details here minieco
2. DIY Paper Diamond Advent Garland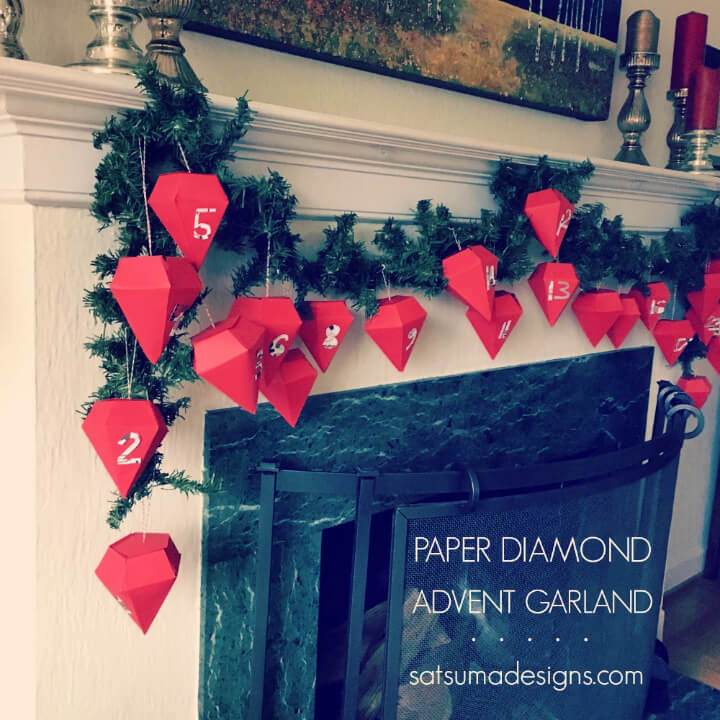 Take your origami art to the next level by making these paper diamonds string them up to make fancy garlands. Put them around any decor for more prominent decor statements. Look at this advent paper diamond garland, made or red cardstock. Add each diamond with scrapbook numbers, layer it up with a faux pine green garland for a stunning appeal. satsumadesigns
3. Homemade Paper Diamond Ornaments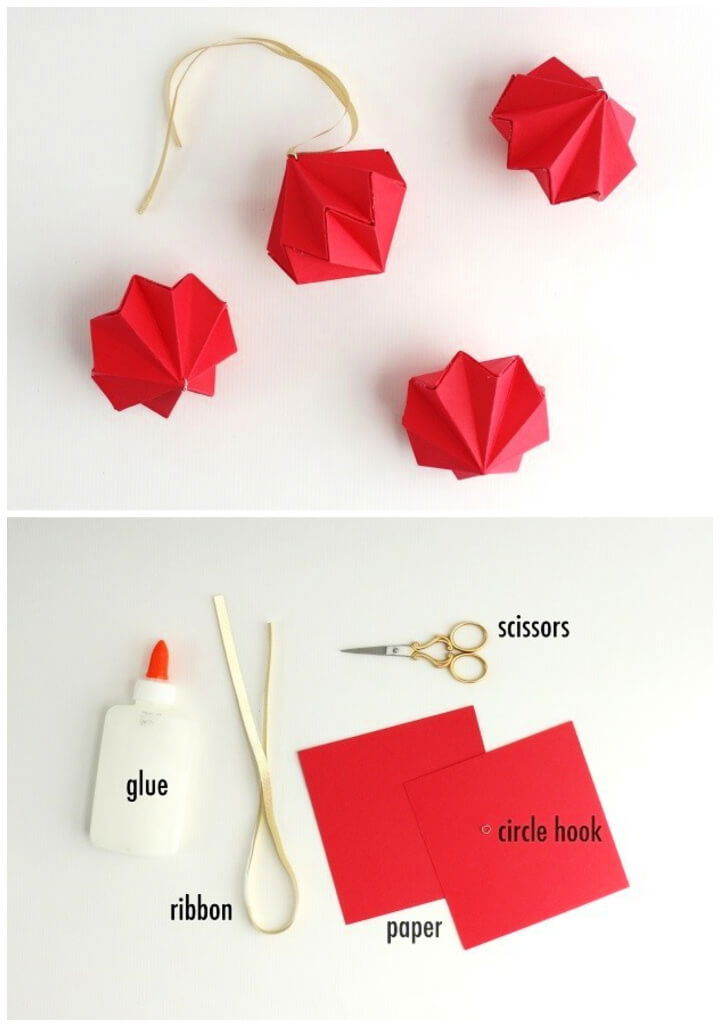 Looking for the best paper ornaments? Use your origami art and experience to generate incredible paper decor. Opt of these paper diamond ornaments, will work up super quickly using red cardstock. Make your work easier using a template. Details here rentacenter
4. Simple DIY Paper Diamond Kite
Cut out the 2D diamond shapes out of paper of choice to use as kites. Grab clear tape, large paper, wooden dowels, glue, and kite string to make this diamond kite. The best handmade gifts for kids, a last 15 minutes gift idea. Don't forget to add the paper bow tails dreamalittlebig
5. How to Make The Paper Diamonds
Make these near to real looking paper diamonds using stiff paper and an accurate design template. Cut the template out, layer it up with stiff paper and start folding the template lines. Glue the paper diamonds as closed ornaments. Try with black and gold stiff paper. hungryheart
6. Make An Easy Paper Diamond
Looking at the diamonds will make you feel great, so do spruce up your party decor with these paper diamonds. They are quite easy to make, will be ready at a fraction of cost. Simple paper folds make this epic beauty that comes as a closed paper structure. Use glue for adhesive needs. kinderama
7. Awesome DIY Diamond Garland
Go for epic party decorations by using these diamond garlands. Hang them on the wall to build a graceful backdrop too. Use 8 1/2″ x 11″ papers and glue dots to make a bunch of these colorful paper diamonds, string them up to make lovely garlands. Download the free template and go with the folding instructions. marthastewart
8. DIY Paper Diamonds + Free Cut File
Opt for the paper diamonds to fancy up your home and party decor. Grab the free cut file here and make dozens of paper diamonds to use in the home and party decorations. String them to make garlands that can be around any space or object for added visual attractiveness. The easiest origami project. thetinyhoney
9. Make an Origami Paper Diamond
The paper diamonds involve making the folded paper structures that are to hold together in place using glue dots. Build these paper diamonds without using glue. The smart folding paper techniques will amaze you here. The project involves a visual tutorial to guide you through each step. papyre
10. Diamond-Themed Bridal Shower
You only need to be smart with your origami art to organize a whole beautiful diamond theme for a bridal shower party. Make miniature paper hoops using paper strips, use them as ring bases and top up with a paper diamond shape to gain bridal ring decor. Loop the rings together for making party garlands. fiskars
Related DIY Projects and Ideas
DIY Paper Roses: Get inspired with these easy DIY paper roses that are the perfect decoration for any special occasion. You can make them for Valentine's Day, Mother's Day, or any other holiday or party.
Paper Airplane Ideas: Here are some fun paper airplane designs that you can make at home with a few materials. The instructions are simple and easy enough for a child to follow.
Crepe Paper Flower Patterns: These free crepe paper flower patterns are designed for beginners. You only need a few basic supplies like crepe paper, scissors and a glue stick to make these beautiful flowers.
DIY Paper Flowers: These gorgeous DIY paper flowers are a great way to add a touch of spring to your home. With step-by-step tutorials and templates, you'll be able to create your own bouquet in no time at all!
3D Paper Flowers: With the help of these unique DIY 3D paper flower ideas, you can make quick and easy home decor pieces. They're perfect for any occasion.
Tissue Paper Flowers: Make tissue paper flowers and bouquets with these lovely DIY tissue paper flowers that are perfect for Mother's Day, weddings, parties, flower arrangements and more.
Conclusion:
Whether you're looking for a new way to spruce up your home decor or need an easy DIY project for a party, these 10 DIY paper diamond ideas are sure to please. Be sure to try out some of our favorite variations, like the step by step diamond or the origami diamond, for a truly unique look. And if you have any other great paper diamon ideas, share them with us! We always love trying out new and innovative paper crafts. Did you make any of these diamonds? Which one was your favorite?