Learn how to make paper garlands with these 10 easy DIY paper garland ideas, including step by step instructions and video tutorials. Looking for fabulous party decoration ideas for your next affair? Check out these super cool 25 beautiful DIY paper garlands! Paper garlands are quite a quick and most fun with convenience in check party decorations or party crafts! The best part is, if you opt for DIY paper garlands, you can give your party decor any appeal you like and save so much on the budget! Apart from just stunning party decor, these DIY paper garland ideas can also be a great addition to your home decor.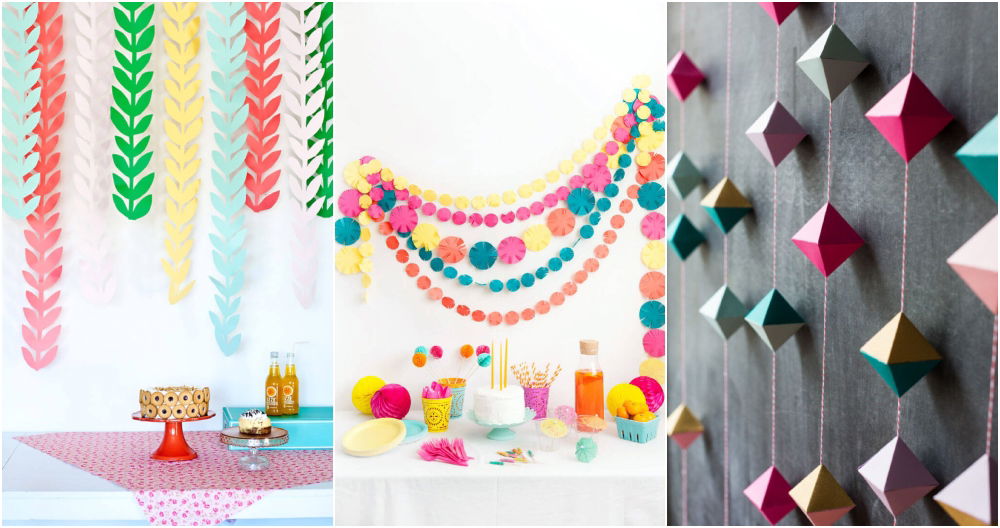 DIY Paper Garland Ideas To Make
We have gathered some charming and whimsical fall-inspired leafy garlands that you can hang up around your wall or on the window drapes and make quite a view. If you are looking for a wedding day photo booth spot, hang up our glittery heart garland, and get the best memorable shots. Use the same idea for a loving Valentine's day dinner at home.
Welcome fall inside your house by making these uber charming fall leaves DIY paper garlands to brighten up the place. So many great ideas can be done with just a few supplies, including some watercolors, cardstock, white paper, tissue paper, crepe paper, sewing machine, and a baker's twine, rope, or thread! So, if you have got these supplies, let's bring character and liven up your walls, shall we?
1. DIY Paper Leaves Garland in 30 Minutes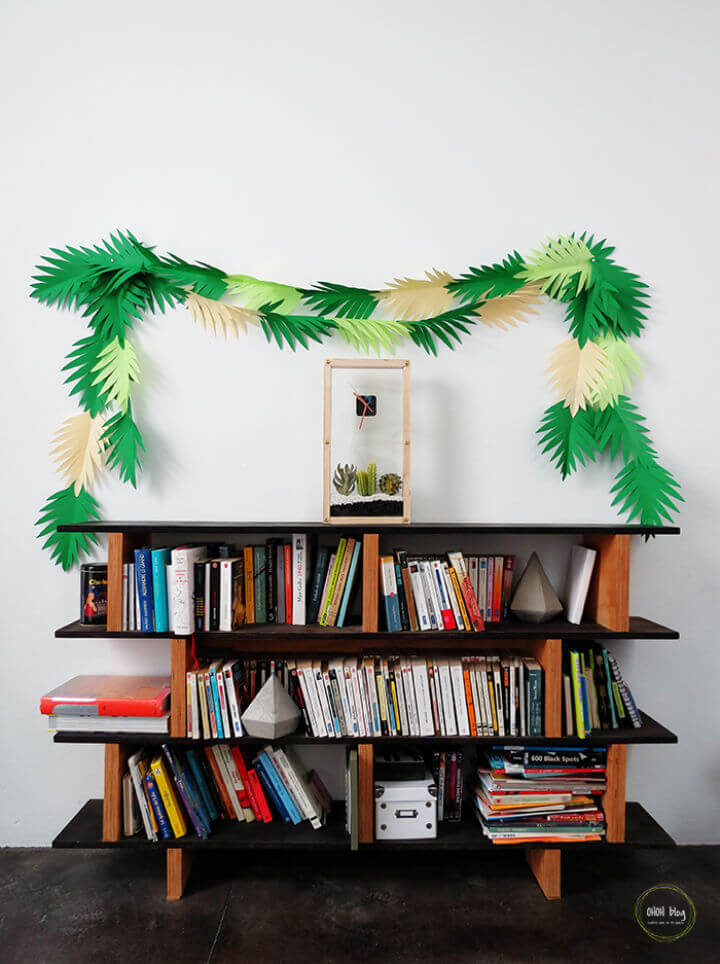 Bring a breezy and refreshing vibe to your decor with this DIY paper leaf garland made in just 30 minutes! It is darn simple to make, and you don't even need a silhouette or Cricut machine. It is just simple paper art! ohohdeco
2. Fiesta Party Garland Using Colored Paper
Organizing a party? Go DIY for a lively party fiesta decor. Garlands are quite easy to make, and they leave such an impact on the decor, overall. You will need some colored paper, fringe scissors, and a circle cutter. tellloveandparty
3. Homemade Paper Leaf Fall Garland
Check out this super delicate and pretty paper leaf fall them inspired garland! If you are obsessed with the fall season like us, you would love bringing the bug and dirt free fall season into your decor by making these lovely fall leaves. thehousethatlars
4. Easy DIY Sewn Paper Garland
Get your hands on some colored cardstock, paper punches of any shape, a neutral-colored thread, sewing machine, scissors, and a storage box! You can drape these sewn paper color garlands on your wall, and they will pretty much go with any decor. evermine
5. Pretty DIY Paper Geode Garland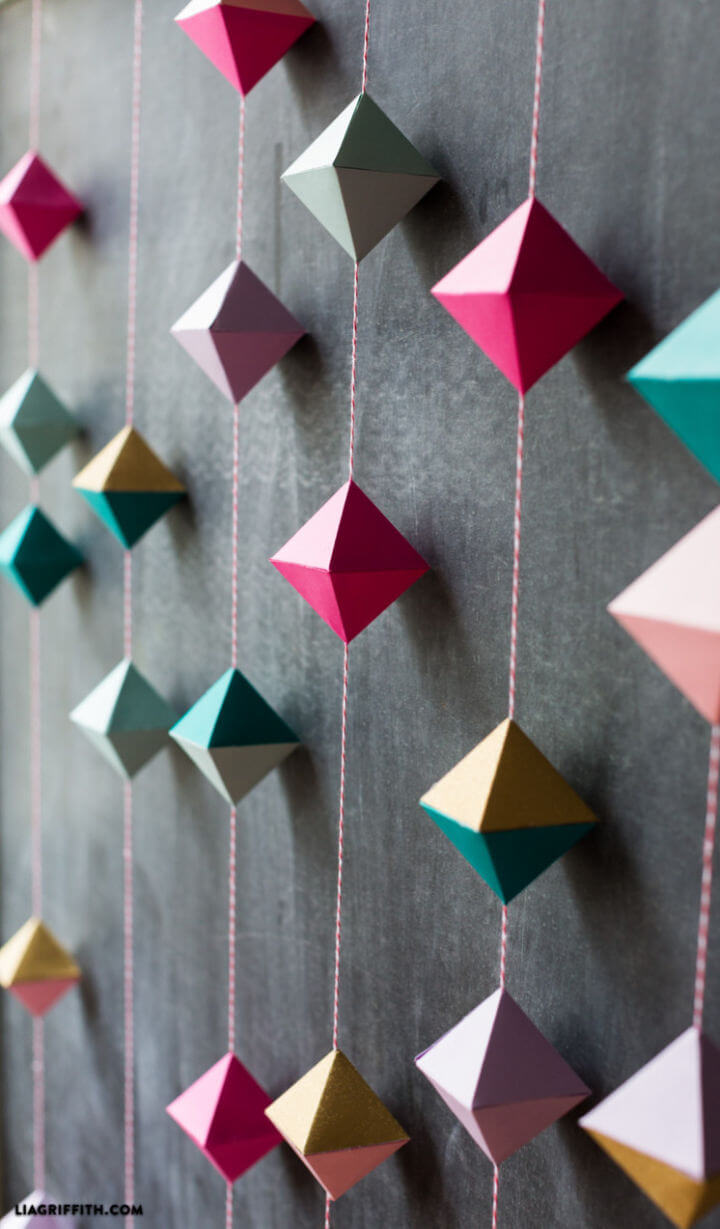 Aren't these cute tiny paper geodes absolutely adorable? Once you have cut down the paper geode pattern and design, next, you can start off by scoring lines and assembling the geodes by using a hot glue gun! liagriffith
6. Making St. Patrick's Day Rainbow Garland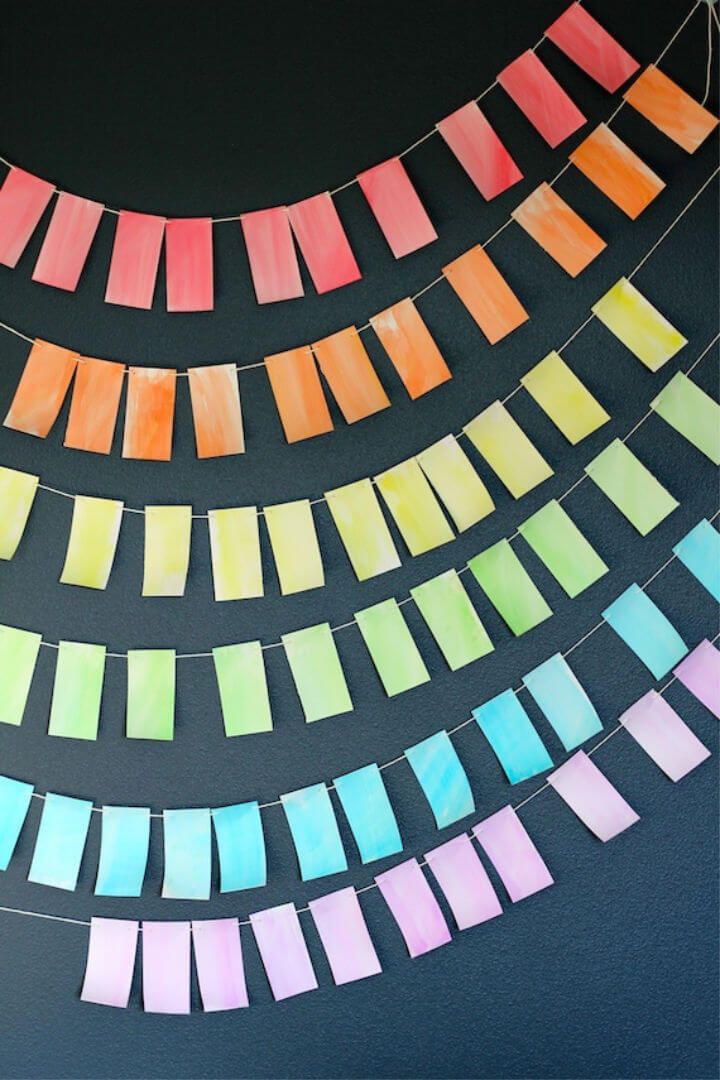 This DIY paper garland is all set to cherish the true spirits of St. Patrick's day! You will need about six pieces of white or colored cardstock paper, watercolor paints, paintbrush, scissors, hole punch, twine, and a tape for hanging. minted
7. DIY Mini Tassel Garland
Tassels can bring out the lively and cheery feels in any decor! Make this vibrant tassel garland using some tissue paper, gold tape, twine or string, rotary cutter, ruler, and cutting mat! Add a fringe garland to your decor in colorful feels. studiodiy
8. Handmade Spring Paper Flower Garland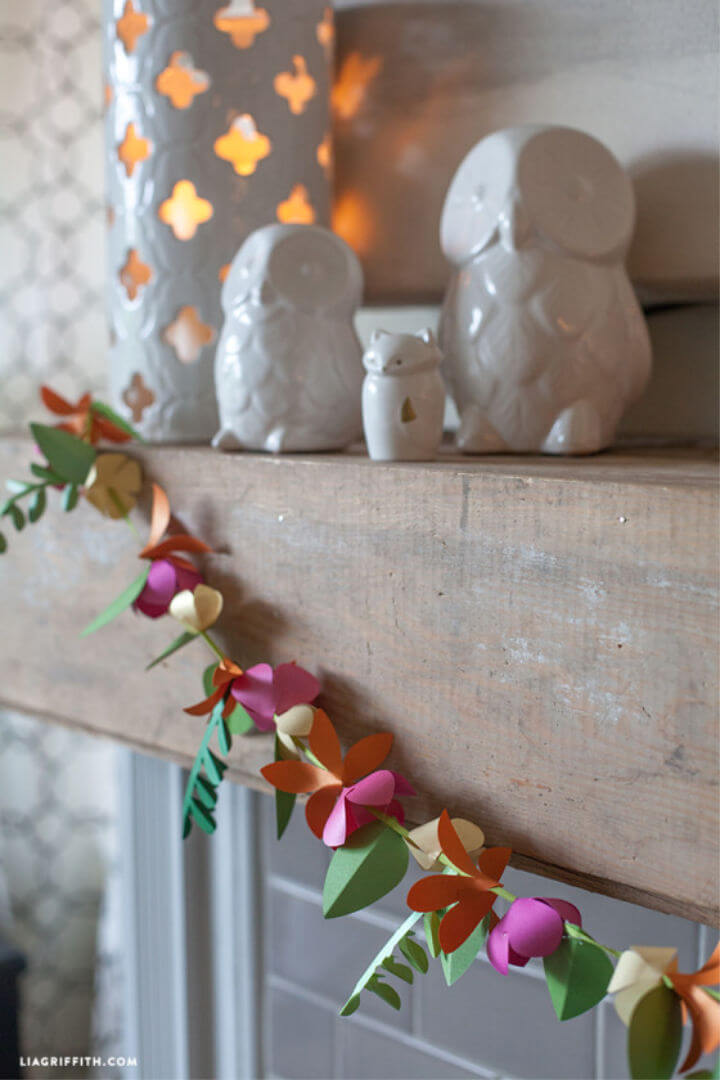 Isn't this spring inspired flower garland a deal sealer? We love the tiny little details of this DIY paper garland! From added leaves to the cheery flowers, everything is up to the mark and colorfully beautiful. You can get the SVG file and PDF from the tutorial. liagriffith
9. How to Make Paper Pom-poms Garland
Because let's just face it. Pom poms never get old! They still bring the best party vibes in any decor, and the best part is that they are darn simple and easy to make! With Paper and Pin, learn how to make these super cheery paper pom poms garland to liven up your party! paperandpin
10. Make Your Own Paper Garland
Throwing a bridal shower or holding a birthday party? A drape of simple but celebratory paper garlands can only bring more "party" character to the room. These are really just simple circles cut out of your favorite patterned textures and sews in a ribbon or thread. brides
11. Making a Paper Flower Garland
Another mesmerizingly detailed paper flower garland! They bring quite a whimsical #feels to any decor, and you can make them just having lots of fun and enjoying the creativity that comes along the deal! Get the different sized paper flower templates from the tutorial! ehow
12. Gorgeous Summer Flower Garland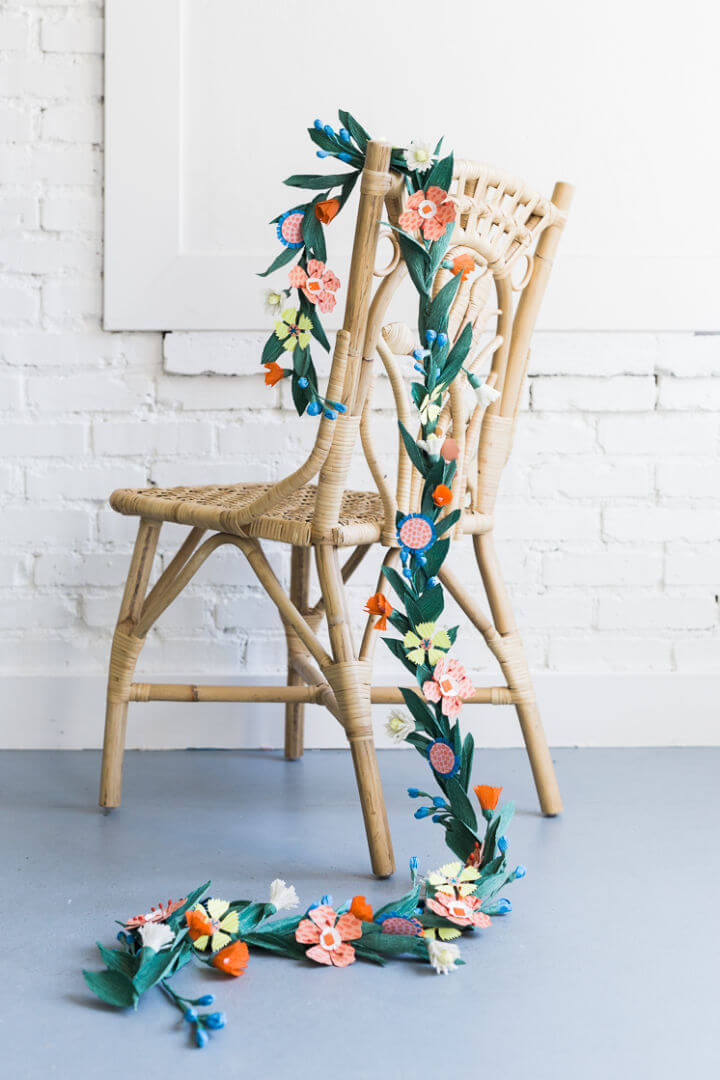 Like it is said, "there lies in me an invincible summer," to the feast that invincible summer soul inside you, make this charming summer inspired garland! The magic's done using some crepe paper hence the beautiful lining details and cardstock with acrylic paint and a few more supplies. thehousethatlars
13. Simple DIY Paper Bow Garland
Check out this super cute and so simple to make paper bow garland! Just choose your favorite patterns and textures to bring the bows on. The hot glue gun, twine, scissors, and pen will just the magic. dinahollandinteri
14. Dipped Crepe Paper Chair Garlands
How about setting up some simple and darling wedding DIY photo spots? Even if you are a beginner at paper crafts, you can still nail this. You will need strips of single-ply crepe paper, watercolors, scissors, paintbrush, pegs, jewelry wire, and needle and thread! lovemydress
15. How to Make Polka Dot Garland
Keep it simple yet still as appealing as it could get! Have a look at these charming polka dots DIY paper garland to spruce up your party decor! You will need some craft glue, cardstock paper, and a twine or string or a thin ribbon. glorioustreats
16. Creative Paper Leaf Garland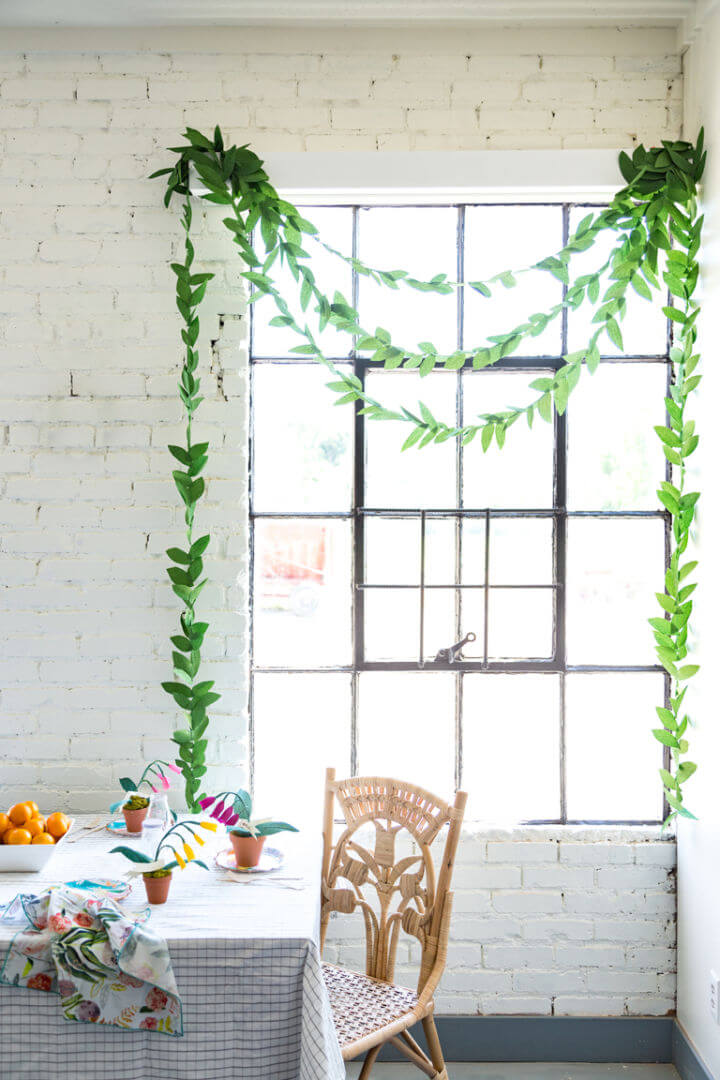 This almost looks like quite real! This DIY paper leaf garland can be a perfect decor option around the window or around the window drapes. These beauties are made using green crepe paper, scissors, you can get the template from the tutorial and a sewing machine. thehousethatlar
17. DIY Paper Net Garland
We are loving the spirally spiral case of this paper net garland! The details are everything! You are going to need some paper, scissors, a glue stick, and a ruler. You will start by cutting the paper strips and then taking it on from there. ohhappyday
18. DIY Colorful Hanging Vine Garland
Brighten up your summer night with this colorful DIY hanging vine garland! Just gather around some paper in your favorite party colors, scissors, a pencil, and a glue. You can start by tracing the leaf out by using a pencil and then cutting it out. asubtlerevelry
19. How to Make Paper Triangle Garland
Gather around some scrapbook paper, a paper cutter, and a sewing machine. These triangle garlands will make quite the catchy drape, and you can add an extra appealing look to your decor. Start sewing the triangles together by the tip of one triangle and base of the other. vickybarone
20. Quick DIY Paper Heart Garland
If you are planning a love filled valentine's day dinner at home, this paper heart garland can make your V-day preps more special and all glammed up with glitter and gold. Get your hands on a heart scrapbooking punch, scrapbook paper, baker's twine, tacky glue, and scissors. makeanddocrew
21. Cheap DIY Paper Ball Garland
For making this eye-catchy paper ball garland, you will need a circle craft punch, scissors, plastic clips, paper glue, card stock, and baker's twine. Start by cutting out 90 circles from the circle craft punch and then fold each of those circles into half. nordstrom
22. Tropical Watercolor and Crepe Paper Garland
To celebrate the true spirits of fall, have a look at this super catchy DIY tropical paper garland! These are made with some hand painted watercolor paper and crepe paper. So, you're going to need some watercolors, crepe paper, watercolor paper, paintbrushes, scissors, hot glue gun and ribbon with a hole punch. dearhandmade
23. Tissue Paper Flower Garland Design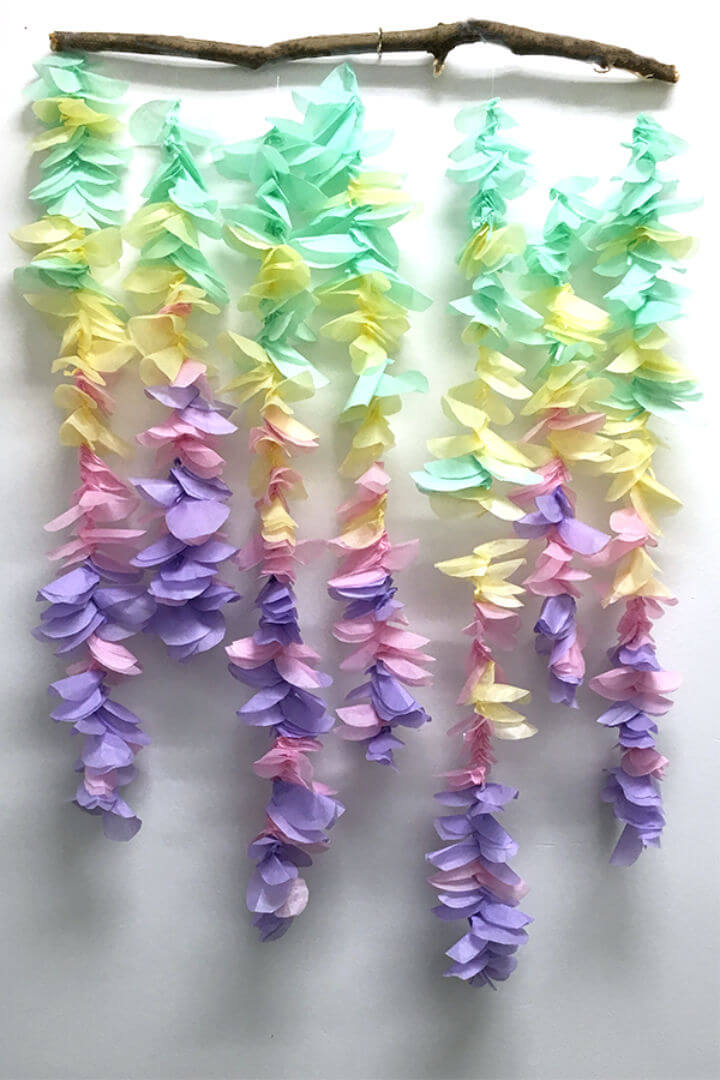 Get crafty with tissue paper! The supplies you are going to need for this amazing wall space decorator include tissue paper in different colors, needle, clear string, scissors, and pencil. You can attach each strand to a branch to give it an even more natural look. jampaper
24. Super Easy DIY Lovebird Paper Garland
Are you familiar with the concept of a paper doll chain? Or cutting in layers? These cute love birds are made just that way. By using pieces of 12×18" of white drawing paper. Draw the love bird and make sure that the beak and tail are touching the edges of the paper. makeandtakes
25. DIY Watercolour Paper Garland
Watercolors can create such an enchanting texture when they are mixed and done right. By using some watercolor art on pieces of paper, you can make this super appealing watercolor paper garland. And brighten up your decor within a few hours. paperandpin
Related DIY Projects and Ideas
DIY Paper Flowers: Transform your home with these stunning DIY paper flower ideas that are perfect for any occasion – from Valentine's Day, Mother's Day, and Father's Day to birthdays, anniversaries, and graduations.
DIY Paper Roses: Learn how to make paper roses with these free templates and tutorials. These are the perfect DIY project for your wedding or Valentine's Day decor!
DIY Paper Crown: Paper crowns are a great craft project to do with kids, and they also make awesome party decorations! These cute DIY paper crown templates include both traditional styles and more modern versions.
3D Paper Flowers: Paper flowers are beautiful, affordable and easy to make. Follow these step-by-step instructions for different pretty 3D paper flower designs.
Crepe Paper Flower Patterns: Crepe paper flowers are a great way to add some color and texture to an event. These free crepe paper flower templates will show you how to make your own.
Crochet Garland Patterns: Crochet a beautiful and elegant garland to adorn your home or to use for a wedding decoration. These free crochet garland patterns are easy to make and so versatile.
Balloon Garland Ideas: Add a special touch to your party with these beautiful DIY balloon garland ideas! These ideas are perfect for birthdays, weddings, or any other celebration.
Conclusion:
It is quite evident to say that paper is one of the most versatile craft supply for a DIYer. You can do wonders by using a piece and type of paper in different forms! Did you see how, by using a little bit more from your imagination and the basic craft supplies, how much epic changes you can bring to your decor?!