Discover 30 easy butterfly crafts for kids of all ages, including toddlers, preschoolers, and even elementary students. Perfect for both boys and girls, these butterfly arts and crafts will provide hours of fun! Butterfly crafts are a fantastic way to inspire creativity in children while teaching them about these stunning creatures.
Explore these 30 simple butterfly crafts for kids, including fluttering paper butterflies, cupcake liner butterflies, and sponge painted butterfly crafts. Each of these butterfly crafts includes easy-to-follow instructions, making them suitable for preschoolers and older kids alike. These arts and crafts butterflies provide an excellent opportunity for some hands-on learning while still having fun, making them perfect for preschool projects or weekend activities.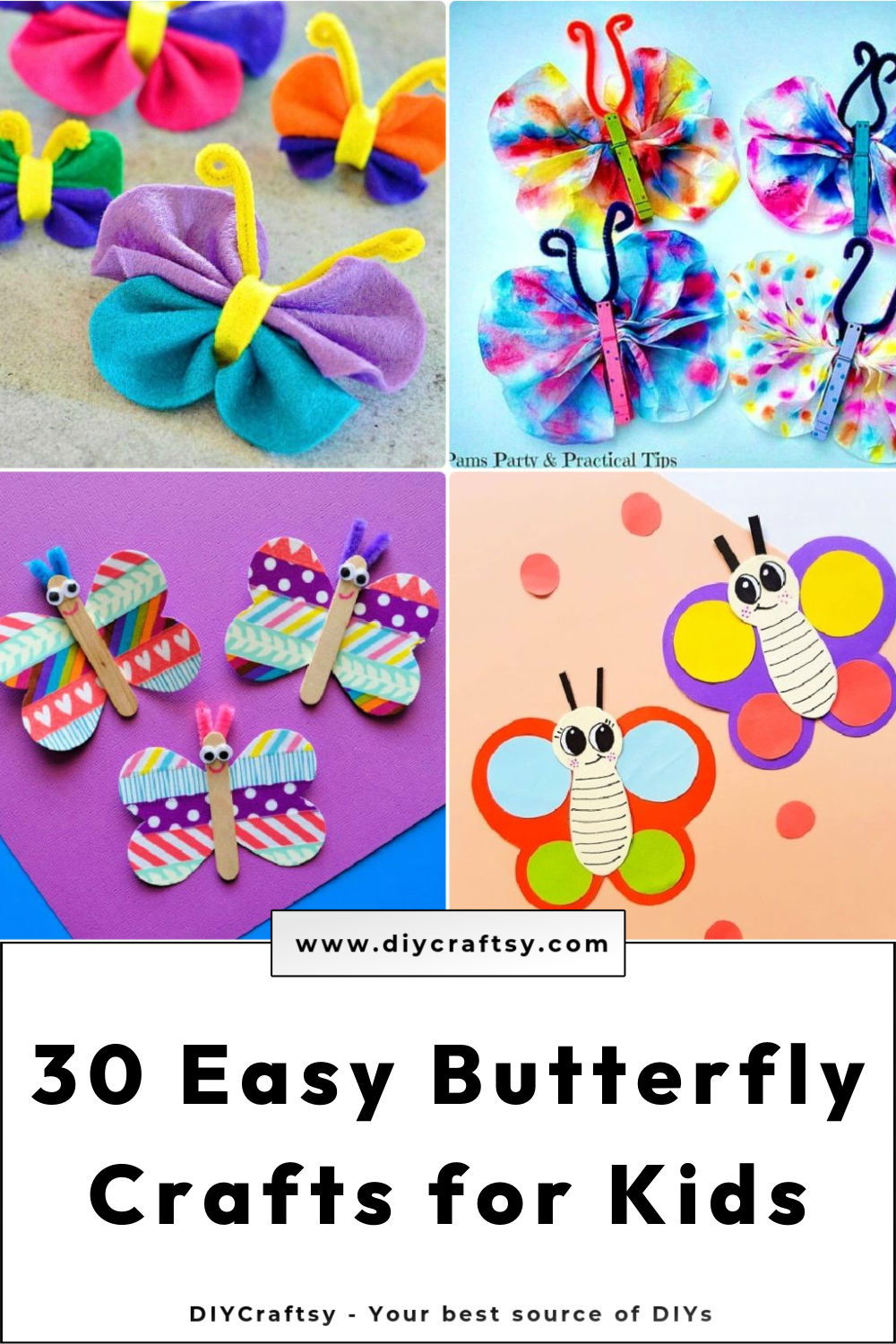 Kids can develop their fine motor skills and experiment with different colors, textures, and shapes as they make beautiful butterfly art projects. From simple and beginner-friendly crafts like clothespin butterflies and coffee filter butterflies to more advanced butterfly crafts like handmade butterflies made from soda pop tabs or felt butterfly mobiles, there's something to excite and inspire kids of all ages. So, gather your little ones, some craft supplies, and let their imaginations soar as they make their own unique butterfly crafts.
1. How to Make a Fluttering Paper Butterfly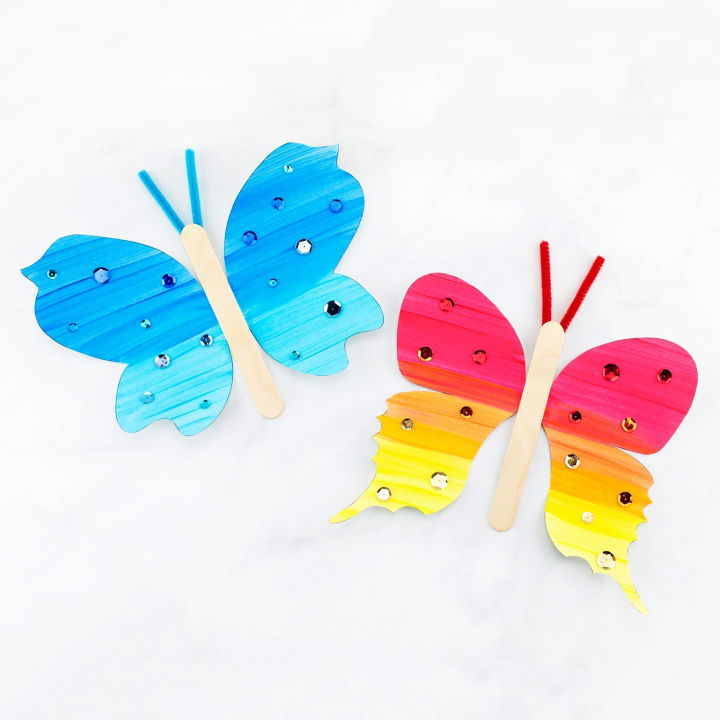 This summer, immerse your little ones in a fun-filled art activity with an interesting DIY paper butterfly craft project. The magnificence of this project lies in its simplicity and adaptability, letting kids explore their creativity with easily available supplies such as a printable butterfly template, white card stock, washable paint, brushes, craft sticks, and some glue.
Add some optional glitter or sequins for extra sparkle. Kids can color and decorate their butterfly patterns, learning and having fun simultaneously. Once completed, these butterflies can be manipulated to flutter their wings, adding an exciting dimension to the play.
Pair this creative activity with a trip to a butterfly garden or a summer writing prompt for an enriching experience. Watch as your children's imagination takes flight with this hands-on craft. fireflies
2. Make Your Own Cupcake Liner Butterfly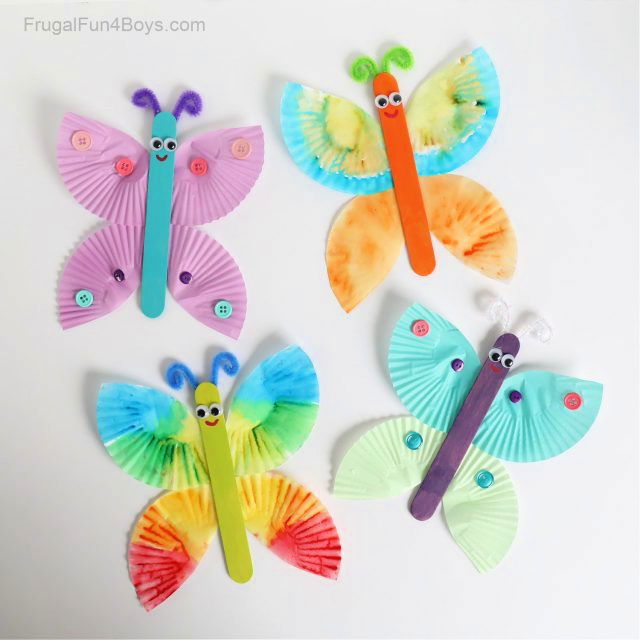 Make a beautiful DIY butterfly craft with vibrant colors using simple supplies such as cupcake liners, craft sticks, pipe cleaners, googly eyes, and a dash of creativity. This fun project is ideal for spring or summer days and can add a pop of color to your refrigerator if you attach magnets at the back.
Kids, especially those eight years old and up, will undoubtedly enjoy crafting these whimsical butterflies. Even the young ones can participate with a little help. Let your imagination take flight with colorful cupcake liners or paint plain white ones with watercolors for a unique twist.
Embellish your butterfly's wings with buttons or sequins, let them dry, and watch as these beautiful creatures take shape. Step into a world of creativity and craft your cupcake liner butterfly today! frugalfun4boys
3. Paper Butterfly Craft – Free Printable Templates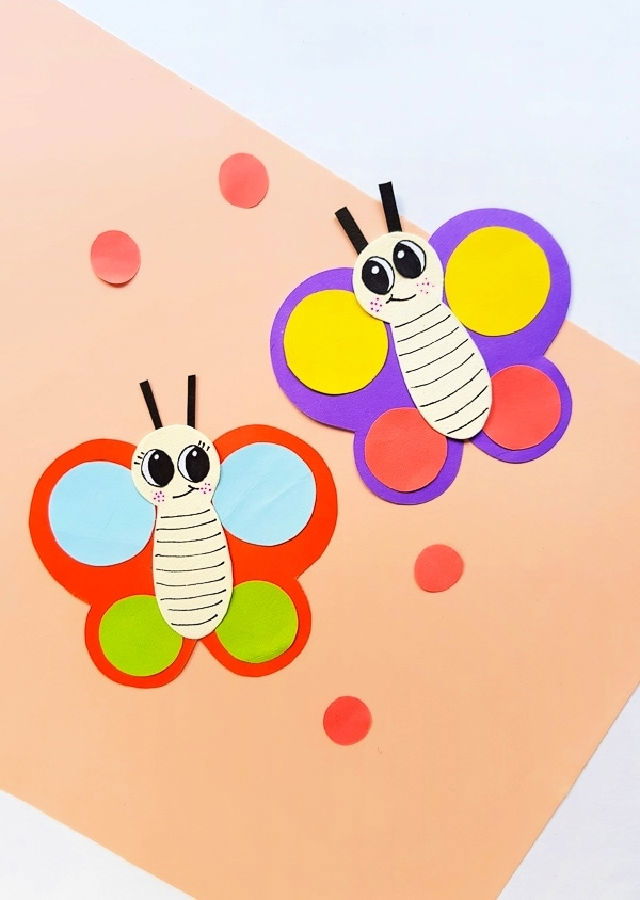 Unleash your creativity this spring with an adorable, easy-to-follow DIY paper butterfly craft! Ideal for children and adults alike, this craft can fill your home or classroom with vibrant, fluttering butterflies. You only need a handful of simple supplies: colored craft paper, scissors, a glue stick, a pen, and the provided paper butterfly template.
Follow the step-by-step instructions, from tracing and cutting out the butterfly pieces to attaching the eyes and antennae, decorating the wings with dots of various sizes, and finally assembling your unique butterfly.
Not only is this an engaging craft activity, but it also provides a fun way to explore the transformation of caterpillars into beautiful butterflies. Give this craft a whirl today, and immerse yourself in the beauty of nature's magical metamorphosis! mommymadethat
4. Sponge Painted Butterfly Craft for Kids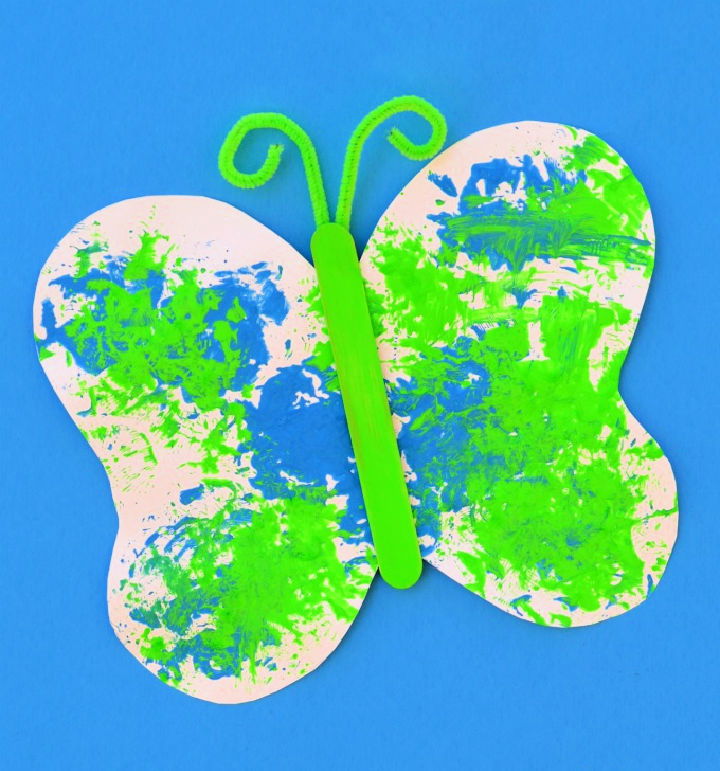 Transform your home into a haven of creativity with a unique DIY butterfly craft that introduces an incredible painting tool: a loofah bath sponge! This unique crafting project requires common materials such as a loofah bath sponge, craft stick, pipe cleaner, scissors, glue, a butterfly template, and your favorite paint colors.
The process is straightforward: dabbing the loofah sponge dipped in paint onto the butterfly template and adding the body and antennae. The result is a charming, colorfully speckled butterfly ready to add a vibrant flair to your décor.
The creative use of everyday materials adds an engaging twist to craft activities. Perfect for a rainy afternoon or as an engaging activity for young artists, this loofah sponge-painted butterfly craft is as entertaining as it is innovative. theresourceful
5. How to Make a Paper Bag Butterfly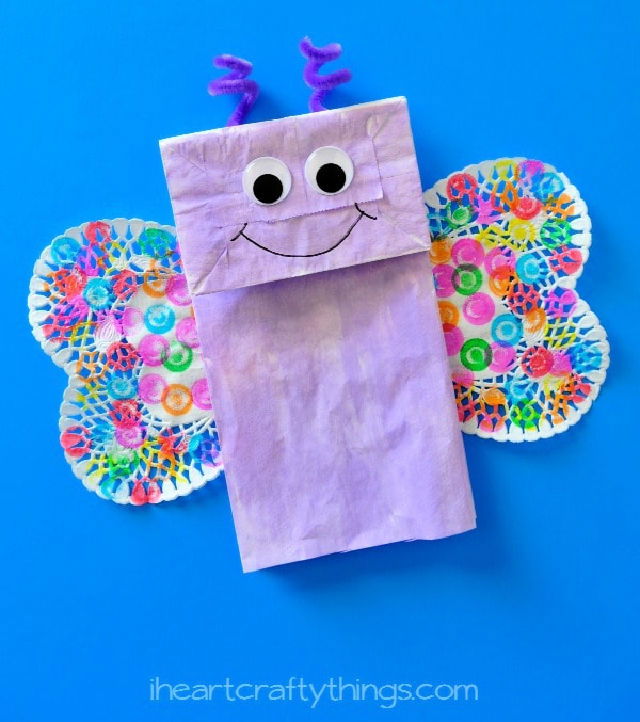 Craft an afternoon full of fun with this vibrant DIY paper bag butterfly project, an ideal springtime activity for kids. Using materials such as a white lunch bag, acrylic paint, heart doilies, Do-A-Dot Art Markers, a paintbrush, pipe cleaner, black marker, large googly eyes, tape, and glue, this easy-to-follow project will let your child's creativity take flight.
Start by painting and letting the paper bag dry, then decorate the heart doilies with the Art Markers. After folding and gluing the doilies onto the bag, your child can add googly eyes and a smile. Complete the butterfly with curled pipe cleaner antennae attached to the back of the bag.
This craft allows children to personalize colorful butterflies and fosters artistic skills. Embrace the joy of crafting and explore the enchanting world of butterflies right from your home! iheartcraftythings
6. Making a Cupcake Liner Butterfly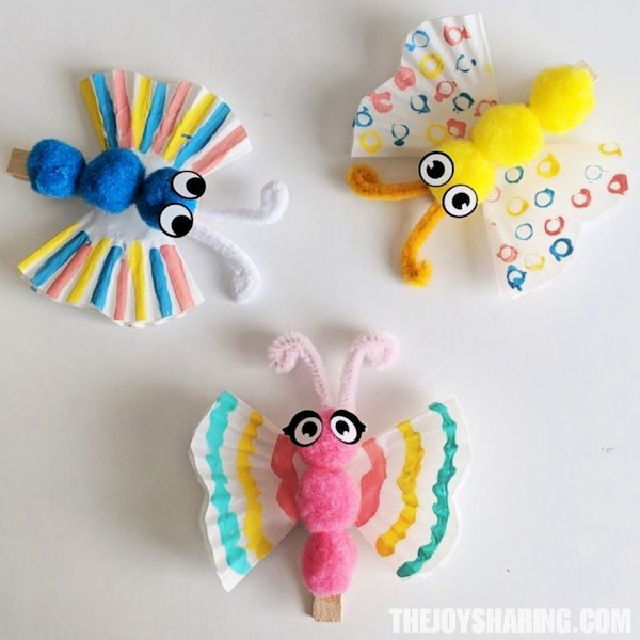 Elevate the spirit of spring in your home by guiding your kids to make a beautiful DIY butterfly craft, a project filled with joy and creativity. Simple yet stunning, this craft idea leverages everyday items like cupcake liners, wooden clothespins or popsicle sticks, and acrylic colors to build vibrantly colored butterflies.
The step-by-step process is easily manageable and enjoyable for kids, involving folding and painting liners to make wings, assembling a body with pompoms, and making an antenna with pipe cleaners.
The resulting craft can be an amazing addition to room decor, instilling a sense of achievement and creative flair in children. Experience the magic of spring through this easy and engaging butterfly craft project. thejoysharing
7. Cool DIY Paper Plate Butterfly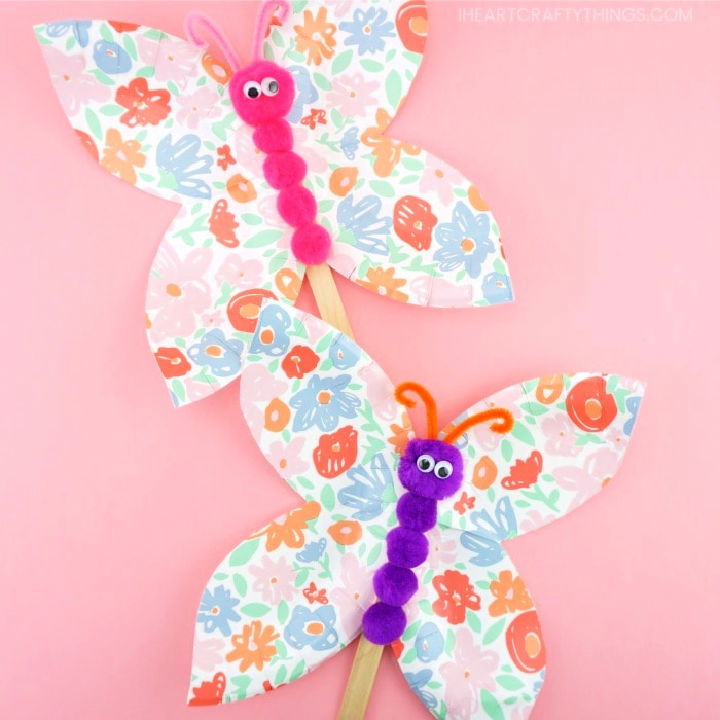 Dive into a creative world with this DIY paper plate butterfly craft, perfect for those hands-on kids looking for a splash of color and fun. This effortless activity brings to life vibrant butterflies using everyday materials like floral paper plates, poms, pipe cleaners, and googly eyes.
Adding a personal touch with markers, crayons, or stickers can turn this activity into a masterpiece that will excite any young artist. This butterfly craft provides a fun crafting experience and acts as a charming puppet for playtime.
So why wait? Get crafting and let these butterflies flutter around your home, bringing joy and color to your day. iheartcraftythings
8. Colorful Tissue Paper Butterfly Mobile Craft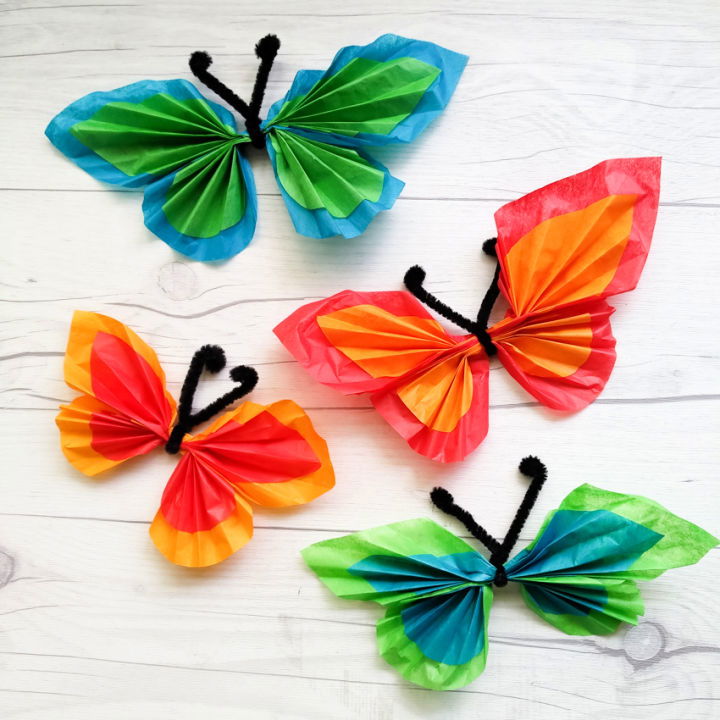 Encourage young minds to spread their wings through engaging butterfly crafts for kids, bringing nature's wonders to life. Unveil the charm of making a DIY tissue paper mobile butterfly craft, an eye-catching decoration perfect for the vibrant seasons of spring and summer. Ideal for kids' crafting, these whimsical butterflies, combined with paper flowers, can bring your walls to life. Utilize tissue paper's versatile and vibrant hues – a crafting staple – to bring these creatures to life.
These delightful creations serve various purposes: from mobile decoration to vibrant gift tags and even as adorable props for a Butterfly Tea Party Birthday. The crafting process is simple, making it a great activity for children while adding a personalized touch to their room decor.
Watch these lightweight paper butterflies twirl and sway with a breeze, adding a dynamic element to your space. Whether you want to add some color to your room, use it as a storytelling prop, or enjoy the process of creating, this craft is sure to brighten your day! makeandtakes
9. Cute Beaded Pipe Cleaner Butterflies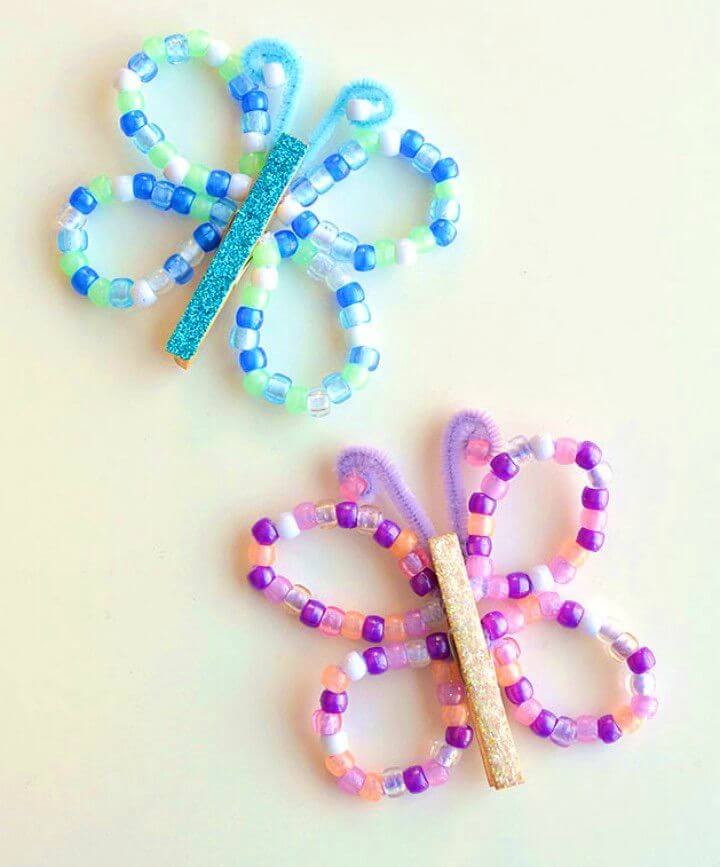 Immerse in the world of creativity with these splendid DIY beaded pipe cleaner butterflies. Easy to craft, these shimmering creatures are the perfect hands-on activity to boost children's fine motor skills.
The project necessitates pipe cleaners, pony beads, a clothespin, white glue, and glitter—simple materials likely found in your craft drawer. The creation process involves:
Stringing about 40 pony beads onto pipe cleaners.
Crafting the wing shapes.
Adding a dash of sparkle with optional glitter.
The result is a vibrant, visually appealing butterfly and enjoyable plaything. Similar projects for those seeking to explore beyond include beaded pipe cleaner dragonflies, people, snowflakes, and flowers. Stimulate creativity, hone skills, and add a flutter of beauty to your home with these beaded pipe cleaner butterflies. onelittleproject
10. Adorable DIY No-Sew Felt Butterfly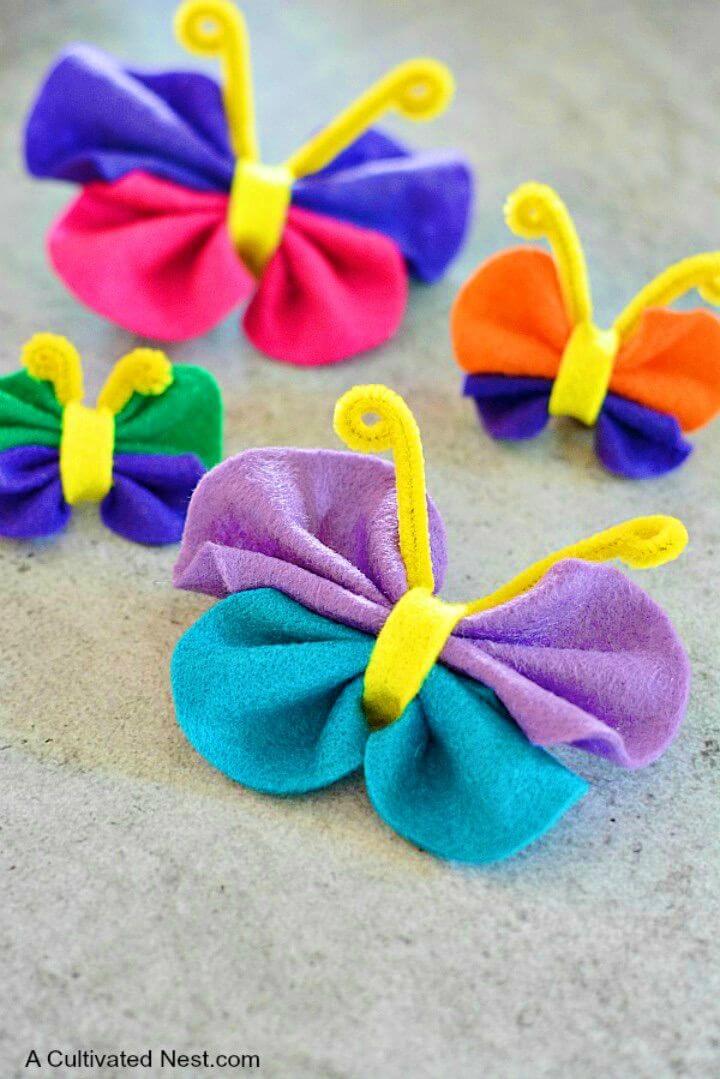 Enthrall yourself in the vibrant crafting world with this fun and inexpensive DIY felt butterfly project! These felt butterflies can beautify your home – think refrigerator magnets, hair clips, photo frame decorations, gift bows, or whimsical display pieces. The possibilities are truly endless!
For this project, you'll need felt, hot glue, pipe cleaners, circle templates, sharp scissors, and a pencil. You can easily tailor the size of your butterflies using different circle templates, making them as colorful and varied as you wish.
Easy and fun to make, these adorable butterflies can add a vibrant touch to any setting! Remember, creativity has no limits. Start crafting today and transform simple felt pieces into eye-catching butterfly decorations! acultivatednest
11. Quick and Easy Marbled Paper Plate Butterfly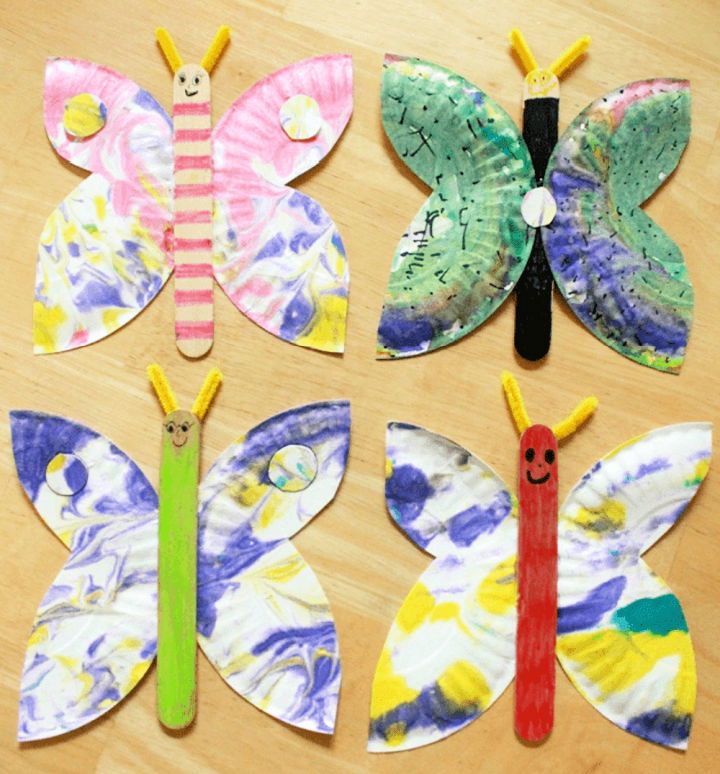 Swoop into the dynamic world of butterfly crafts with this easy yet enticing DIY paper plate butterfly craft activity, perfect for sparking creativity in young minds. With the magic of shaving cream marbling, ordinary paper plates transform into beautiful butterfly wings that children can embellish.
A small list of materials, including 6″ paper plates, shaving cream, paint, large wooden craft sticks, markers, pipe cleaners, and optional googly eyes, is all you need to get started.
The outcome is not just a butterfly but a work of art that can serve as a puppet, a wall decoration, a part of a mobile, or even an extra special gift card. Dive into this fun-filled activity and make beautiful butterflies that flutter with imagination! artfulparent
12. Awesome Washi Tape Butterfly Craft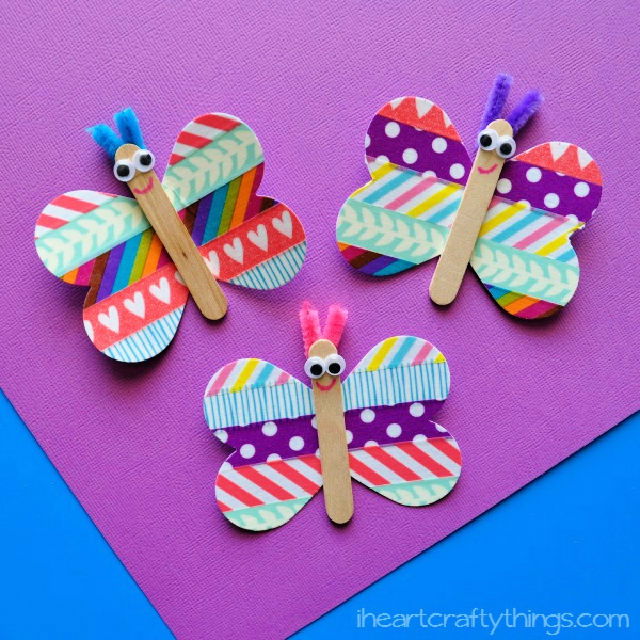 Craft a fun DIY mini washi tape butterfly with your children and fill your home with a springtime feel! This fun and engaging craft uses common household supplies such as white cardstock paper, colorful washi tape, mini craft sticks, pipe cleaners, small googly eyes, and tacky glue. The process involves:
Decorating cardstock with tape.
Folding it into the shape of butterfly wings.
Adorning it with googly eyes and a smiling face.
Let your kids' creativity run free as they design unique patterns on their butterfly wings. These lightweight crafts could serve as fridge magnets, adding charm to your kitchen while displaying your kids' spring artwork.
With this engaging craft, transform simple washi tape into beautiful butterflies and make lasting memories with your children. artsymomma
13. Easy-to-Make Clothespin Butterfly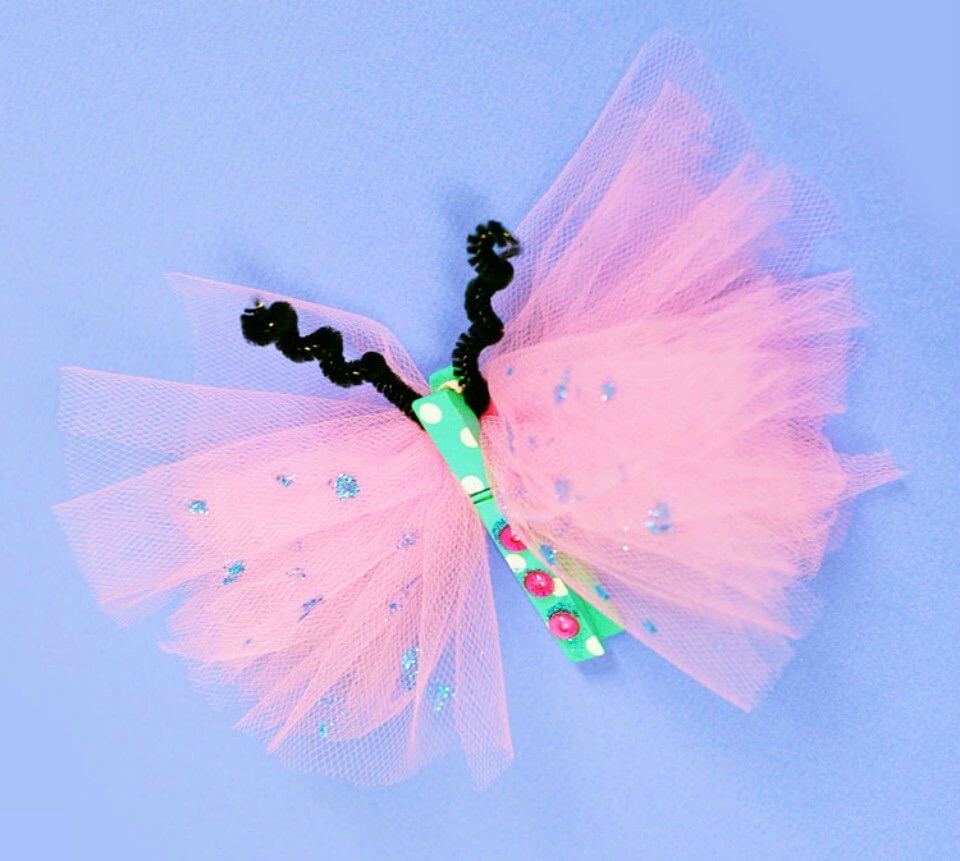 Invite your child to explore the creative world of crafting with a DIY clothespin butterfly project. With everyday materials like clothespins, tulle, chenille pipe cleaners, and acrylic paint, you can transform the mundane into a vibrant butterfly, a perfect addition to any room decor.
Start by painting the clothespin, then add tulle wings tucked into the open clip. Enhance the structure with a chenille pipe cleaner, further solidifying the butterfly's shape. Don't forget the fun extras – rhinestone stickers and glitter glue add just the right touch of sparkle.
Ideal for fostering creativity and enhancing fine motor skills, this project brings a colorful butterfly to life from simple supplies. Whether it adorns your refrigerator, hangs from the ceiling, or brightens a wall, it's a unique, handcrafted piece of art to cherish. bfranklincrafts
14. Handmade Butterflies Out of Soda Pop Tab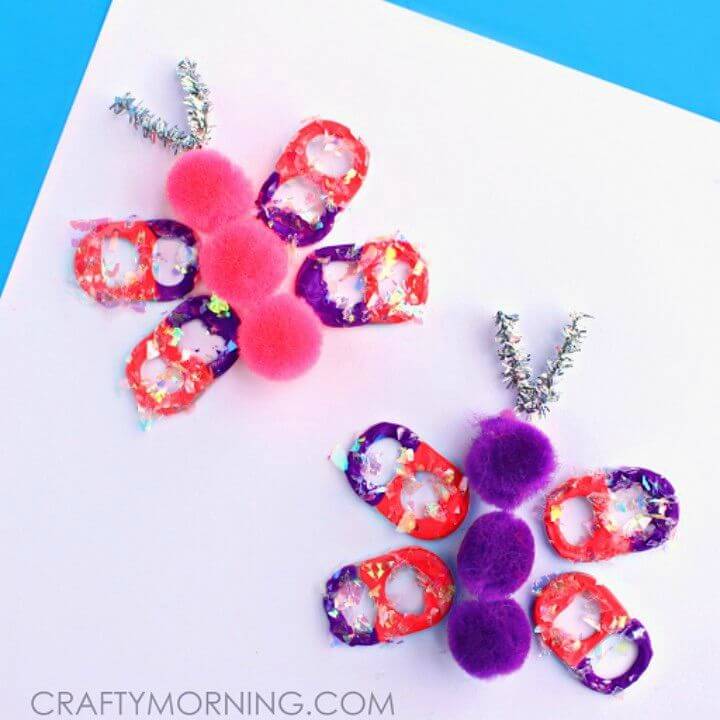 Unleash your creative prowess with a captivating DIY pompom butterfly project! Assemble your charming and colorful butterflies using easily accessible materials like pom poms, pop tabs, glue, paint, glitter or confetti, and a pipe cleaner.
Embark on this fun journey by painting soda pop tabs in various hues, adhering three pompoms and a pipe cleaner onto a piece of white cardstock. Adding a dash of sparkle with glitter or confetti to the painted tabs brings them to life, making for radiant butterfly wings.
It's a simple, enjoyable process with impressive results, and it adds a vibrant, playful touch to your home or workplace. Craft your pompom butterfly today and bring the joy of nature indoors! craftymorning
15. Cheap DIY Foam Cup Butterfly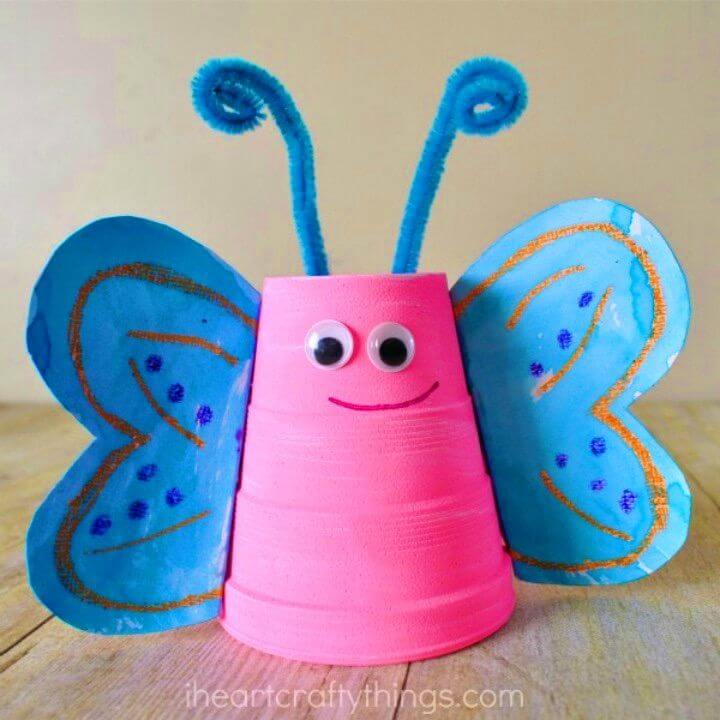 Embark on a journey to make a vibrant, DIY foam cup butterfly craft perfect for springtime! Using a small foam cup, acrylic paint, a paintbrush, white cardstock paper, crayons, watercolors, a pipe cleaner, googly eyes, and glue, this craft is easy to assemble and provides endless enjoyment.
The show's star is the wings, beautifully designed with crayon and watercolor, adding a splash of radiant color to each butterfly. Children will enjoy painting, cutting, and gluing, but the real joy comes from seeing their artwork flutter to life. So gather your materials and make your afternoon a delightful craft-making session with these stunning foam cup butterflies. iheartcrafty
16. Tie Dye Baby Wipes Butterflies Craft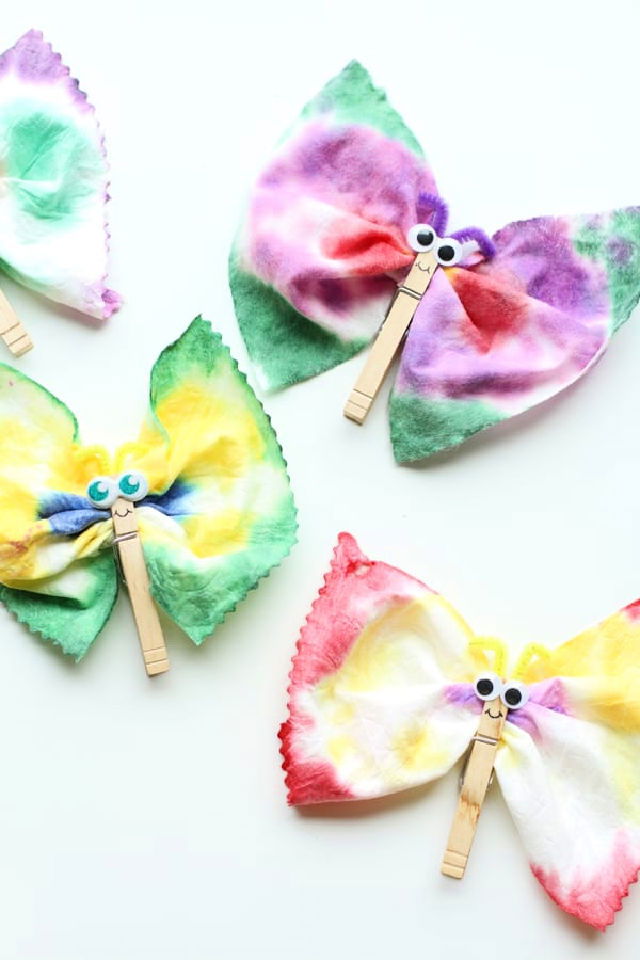 Bring a splash of color into your home or classroom with this innovative DIY tie-dye baby wipe art transformed into vibrant butterflies! The process utilizes baby wipes, markers, clothespins, googly eyes, and pipe cleaners, resulting in an engaging and cost-effective activity.
In this creation, you will first make tie-dyed baby wipes, which will be pinched in the center and secured with a clothespin to form the butterfly's body. Adorn the creature with googly eyes and pipe cleaner antennae to complete the look.
Want to add a functional twist? Affix a magnet strip to the back, transforming your butterfly into a delightful refrigerator magnet. This art project sparks creativity while re-purposing household items in an eco-friendly manner. Explore this imaginative art activity today! icanteachmychild
17. Handprint Wooden Spoon Butterflies Art and Craft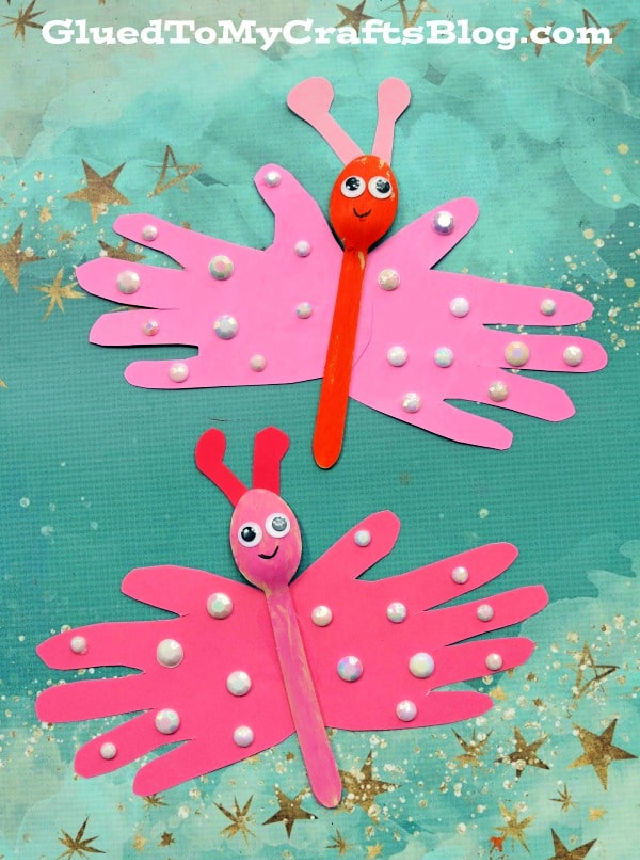 Engage your kids in an innovative, fun-filled project by crafting delightful DIY handprint wooden spoon butterflies! This imaginative activity allows children to express their creativity while building problem-solving skills. Using wooden craft spoons, vibrant craft paint, cardstock paper, and a touch of school glue, your child can transform everyday items into a masterpiece.
After the spoon's colors dry, the magic comes alive as hand-traced butterfly wings are attached, making a charming butterfly puppet. Add a dash of enchantment by attaching small wiggle eyes and embellishments like glitter and rhinestones.
This easy project, perfect for indoor and outdoor crafting sessions, enables children to make a keepsake that doubles as an adorable spring decor piece or an afternoon puppet. Celebrate the joy of creating, and instill a sense of pride in your child with this easy, whimsical butterfly craft project. Happy crafting! gluedtomycrafts
18. Making a Butterfly Using Stick and Leaf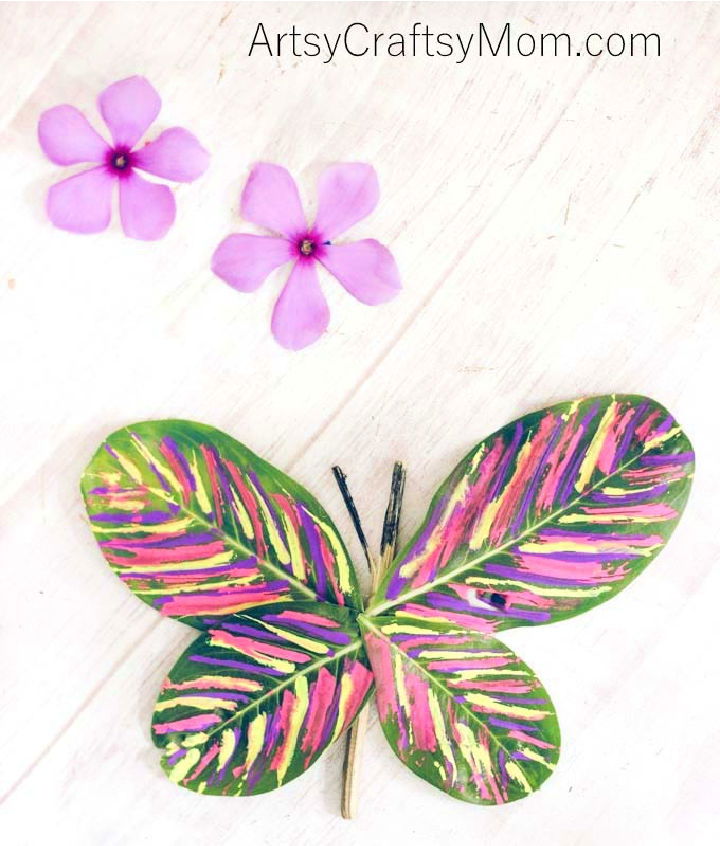 Create delightful memories as kids explore their artistic side through whimsical butterfly crafts for preschool activities. Welcome the season of renewal and celebrate the joy of nature's rebirth by crafting this adorable Stick and Leaf Butterfly! A perfect project to engage your kids, this spring craft stimulates creativity while encouraging an appreciation for natural resources. Prepare to gather fallen twigs, leaves, and flowers from spring walks.
You'll also need scissors, a glue gun, and black and brightly colored chalk markers to bring your butterfly to life. Making this butterfly involves leaf pressing, pattern designing, and twig cutting. It's a fun, educational hands-on experience for kids and adults alike.
Your little ones will take pride in their artwork, exploring nature's hues through the prism of their imagination. Furthermore, this craft challenge is an engaging communal activity! So, step outside, breathe in spring, and let the creative process commence with this project! artsycraftsymom
19. Simple DIY Felt Butterfly Mobile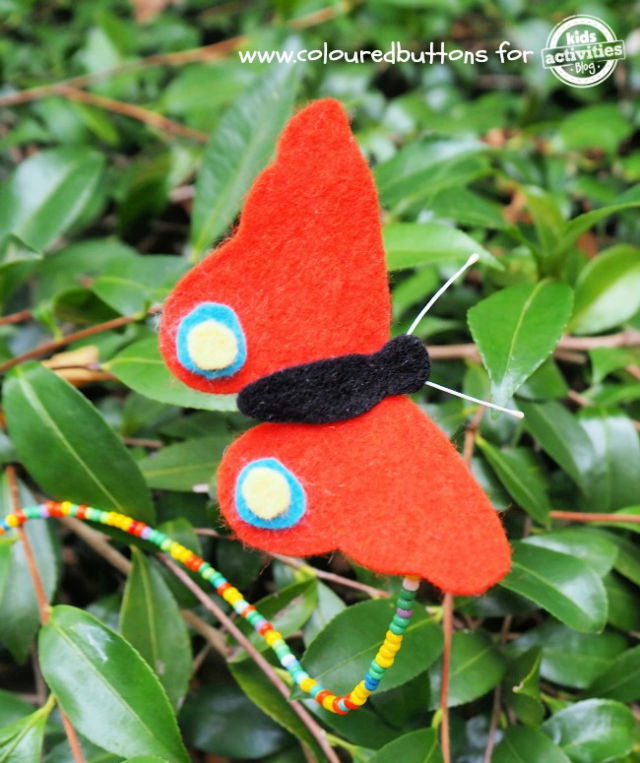 Boost your child's ingenuity and fine motor skills with this delightful DIY butterfly mobile project. Crafted using simple materials such as felt beads, 24 gauge wire, and artificial flower stamen, this mobile is an engaging activity and beautiful addition to any kid's room.
Detailed steps, including a helpful butterfly template, guide you in assembling the butterfly, from cutting the shape to beading the wire. This project offers kids a fun, hands-on way to appreciate butterflies' beauty and stunning colors.
You can also incorporate paper wings for a personalized touch. Enhance your child's concentration and hand-eye coordination while making this charming butterfly mobile. kidsactivities
20. How to Make a Butterfly With Clothespins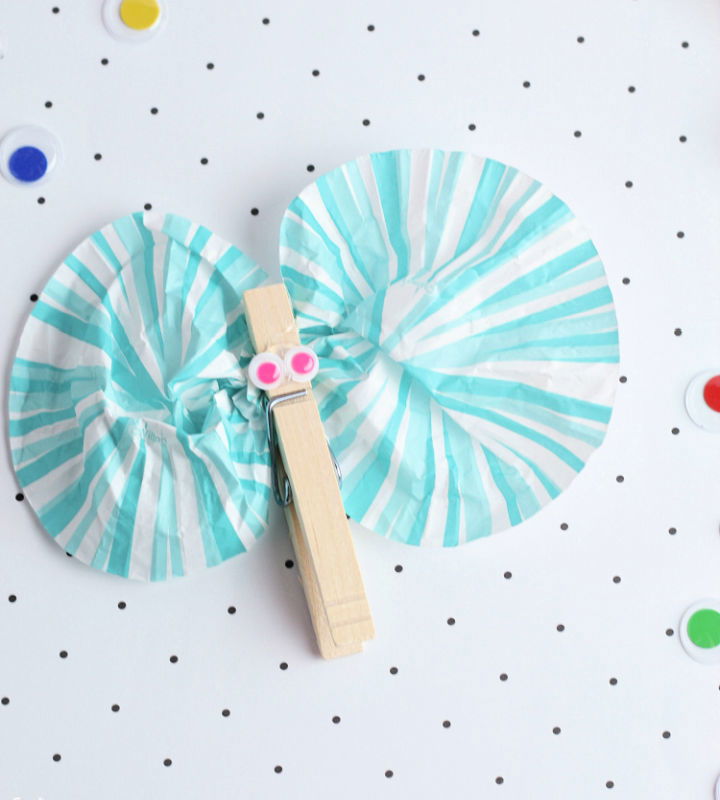 Rejoice in the blooming season by engaging in this easy and colorful DIY butterfly craft, perfect for kids of all ages. Your little ones can bring charming butterflies to life with just a handful of materials, such as clothespins, cupcake wrappers, googly eyes, and glue.
This craft cultivates creativity and promotes fine motor skills as kids add eyes and choose wing designs. The flexibility of using different colored cupcake liners, clothespins, and googly eyes adds a dash of fun, making each butterfly unique. It's a swift and delightful craft that enlivens any room, making it an excellent choice for springtime fun. findingzest
21. Beautiful Painted Doily Butterfly for Kids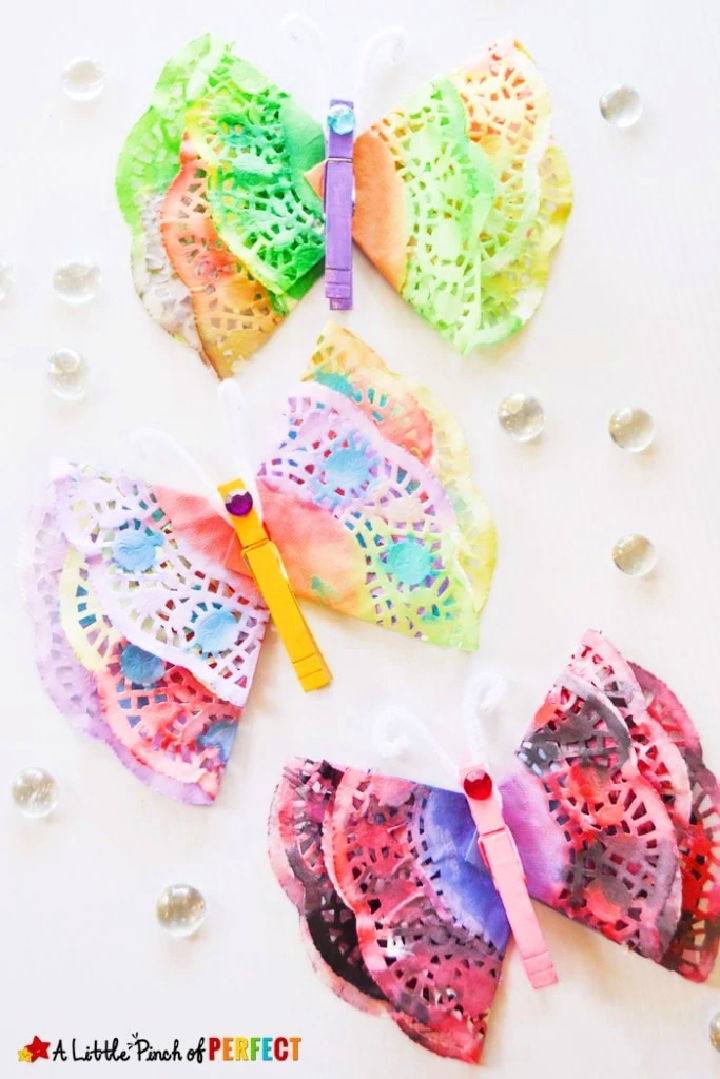 Immerse your kids in a creative and fun crafting session with this simple DIY lacy butterfly project! Children can construct their colorful, winged friends using easy-to-find materials like doilies, a clothespin, pipe cleaner, watercolors, craft paint, and an optional craft gem.
To begin, kids lightly paint the doilies and clothespins with watercolors and craft paint, respectively, setting them aside to dry. The next step involves folding and gluing the doilies to the back of the painted clothespin.
The process ends with adding pipe cleaner antennas and a craft gem face to the clothespin, culminating in making a charming butterfly ready to flutter around your home. The play and storytelling potential of these crafted butterflies further amplifies their appeal. Dive into this engaging project today! alittlepinch
22. Bright and Cheery DIY Paper Butterfly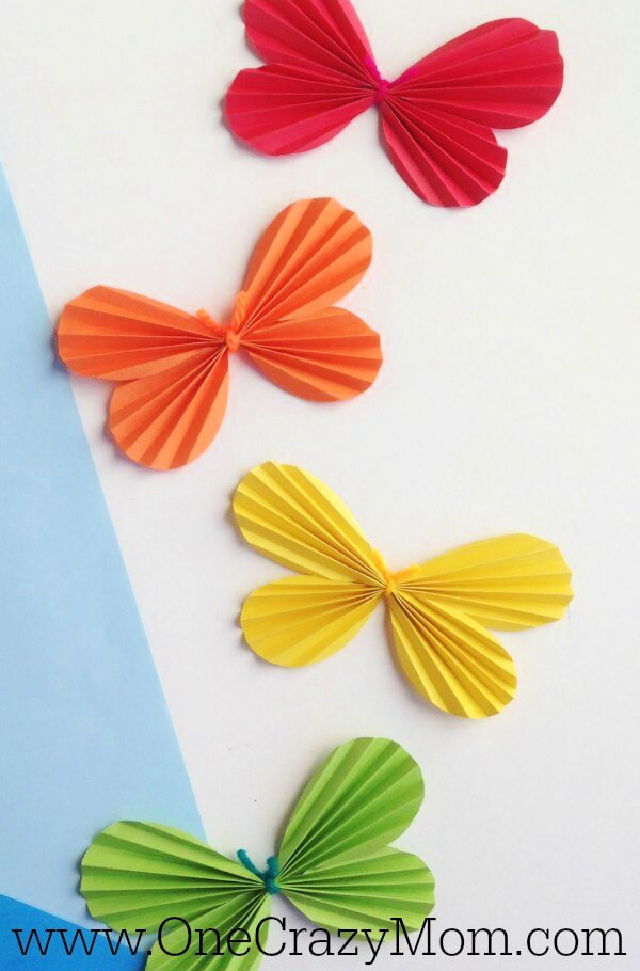 Dive into a vibrant world of creativity with an easy-to-make DIY paper butterfly craft. This fun and simple project engages kids, enhancing their creativity, fine motor skills, and color recognition. With just a few items, such as colored craft paper, scissors, craft glue, a pencil or marker, a template, and yarn, you can transform an afternoon into a captivating crafting session.
The beauty of this DIY project lies in its versatility – each child can personalize their butterfly with their favorite colors. The finished product can adorn bulletin boards, walls, or ceilings, adding a whimsical touch to any room.
Additionally, these handcrafted butterflies make splendid decorations for nurseries or children's rooms. So gather your supplies, follow the step-by-step instructions, and help your child unfold their creativity one fold at a time. This easy butterfly craft is a vibrant and delightful way to usher in spring colors! onecrazymom
23. Make a Classic Coffee Filter Butterfly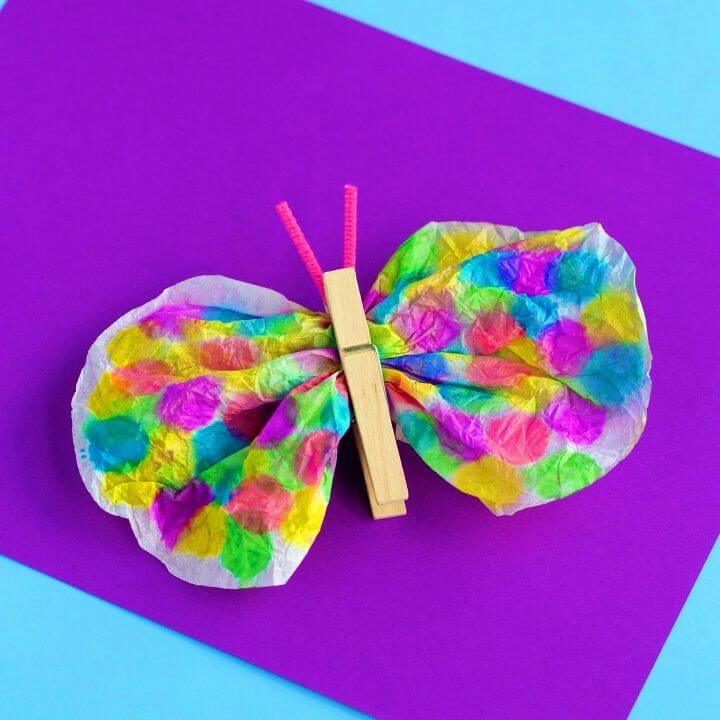 Take on a delightful summer crafting journey with this easy and fun DIY coffee filter butterfly project! This exquisite butterfly craft perfectly blends aesthetics and skill-building for kids. Children can express their creativity with markers, coffee filters, pipe cleaners, wooden clothespins, a spray bottle, and optional tacky craft glue while enhancing their fine motor skills.
This project is packed with hands-on experiences such as dabbing, squeezing, scrunching, and pinching, providing an engaging way for kids to learn. The result is a beautifully vibrant and colorful butterfly that would charm any room. Add a spark of whimsy to your child's summer activities with this creative crafting guide! fireflies
24. Colorful Stained Glass Butterfly Craft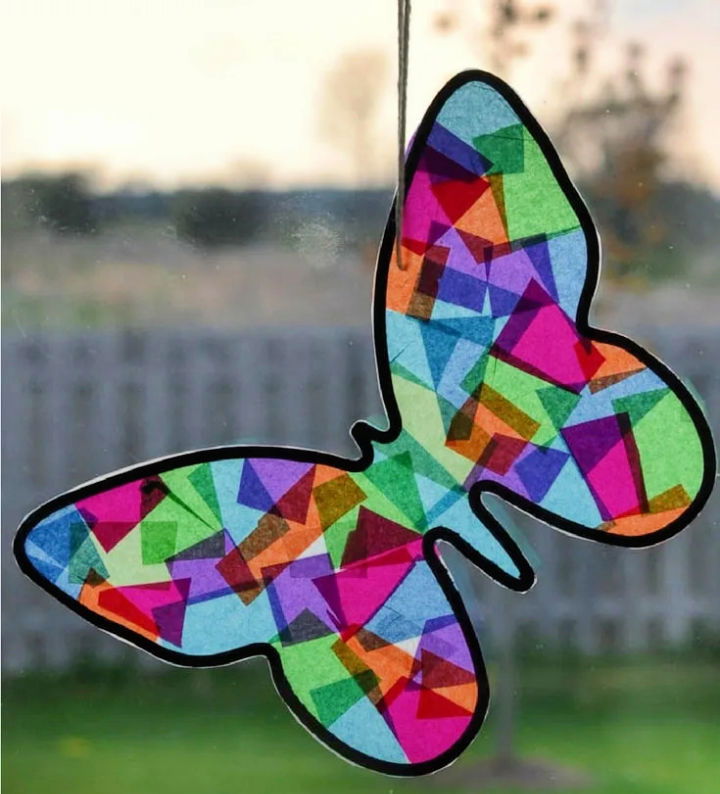 Engage little ones with colorful butterfly crafts for preschool, fostering creativity and a love for nature's beauty. Welcome the vibrancy of spring into your space with a charming DIY stained glass butterfly craft! This fun project is engaging and great for honing tracing, cutting, and pattern skills.
Crafted with easily available materials such as contact paper, black construction paper, a butterfly template, tissue paper, scissors, and some yarn or twine, this project can quickly transform a drab window into a vibrant display of colors. The process involves:
Tracing the butterfly template onto construction paper.
Cutting it out.
Creating a stained glass frame filled with small, overlapping squares of colorful tissue paper.
A final touch of stringing yarn through one of the wings allows your unique creation to hang elegantly in the window. This craft can easily be adapted to different seasons or holidays, making it a fun and flexible project at any time of the year. Welcome in spring today with this stained glass butterfly project. typicallysimple
25. Easy DIY Handprint Butterfly Card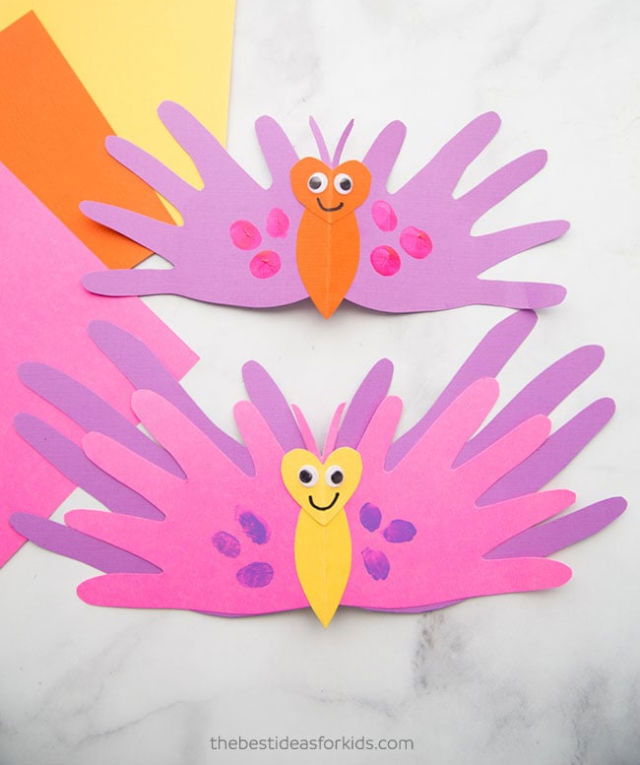 Experience the joy of making something heartfelt with your little ones with these DIY butterfly handprint Cards, perfect for Mother's Day or Father's Day. You only need simple craft supplies such as colored cardstock, small googly eyes, a fine black Sharpie, pompoms, felt or paint, and strong glue.
Using your child's handprint to craft the butterfly's wings adds a personal touch that makes the card all the more special. Follow the simple steps:
Trace your child's hand on folded cardstock.
Cut out the butterfly.
Decorate the wings.
Make a unique, heartfelt message inside.
The creativity is not limited to pompoms; you can use fingerprint-painted spots, rhinestones, or craft foam. You can even add a touching poem to express your love. Enjoy crafting these adorable keepsake cards, and bring a smile to someone's face with this unique and personalized gift! thebestideas
26. How to Make a Pony Bead Butterfly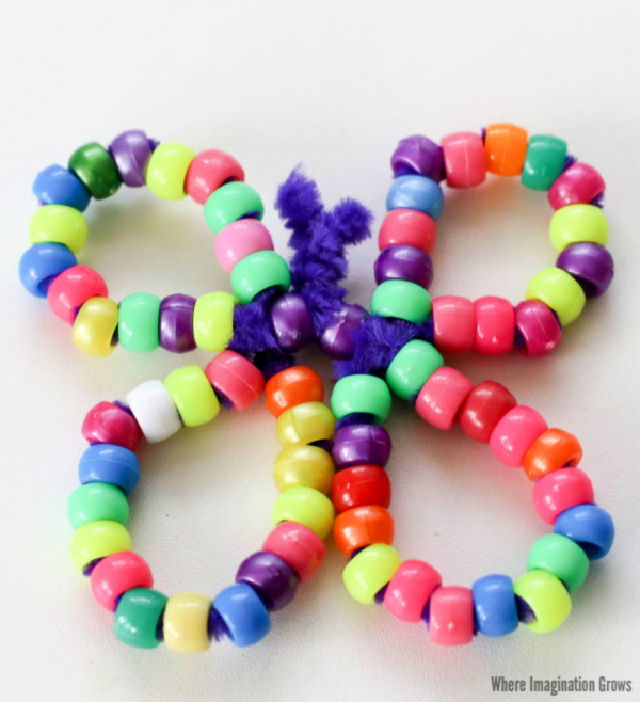 Capture your little ones in a fun-filled, hands-on activity with this delightful pony bead butterfly craft! Perfect for enhancing their fine motor skills, this craft activity combines colorful pony beads and fuzzy pipe cleaners, transforming them into whimsical butterfly creations.
The process is straightforward – thread pony beads onto pipe cleaners, twist them into an oval shape, and join them to form the butterfly's body and wings.
Adored by toddlers and preschoolers, these charming butterflies can brighten any room or become the perfect accessory to your child's bed. Start crafting today and watch your home transform into a butterfly-filled haven! whereimagination
27. Pretty DIY Coffee Filter Butterfly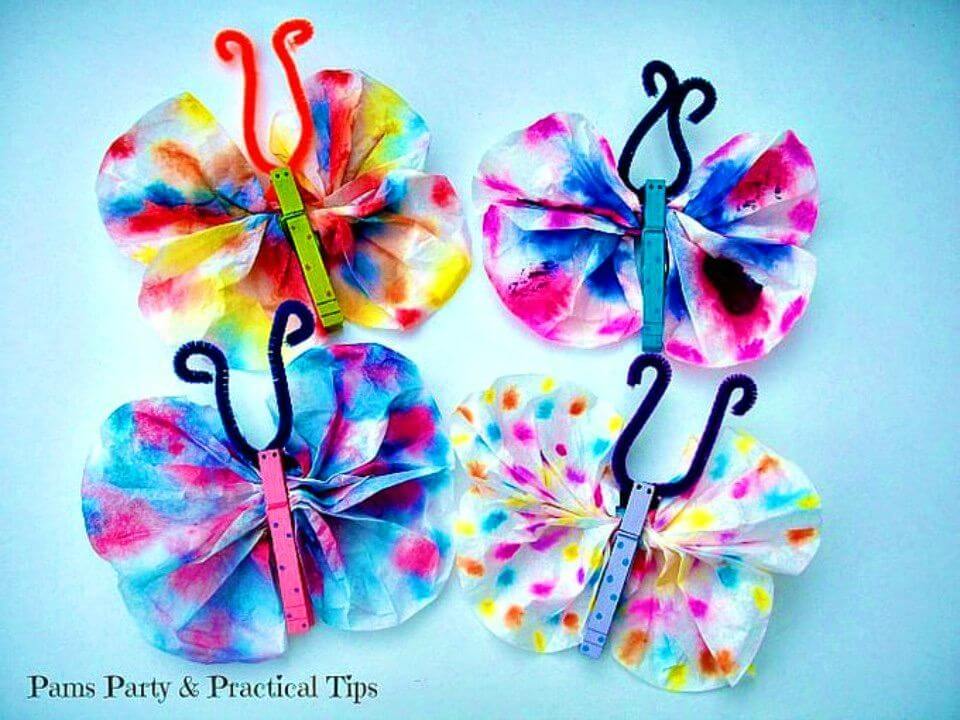 Organize a butterfly-themed birthday party to bring your child's special day joy! The party's highlight is a hands-on, engaging DIY butterfly craft using everyday items like coffee filters, clothespins, and pipe cleaners. The children will love coloring their designs on coffee filters, which transform into mesmerizing butterfly wings with the simple application of rubbing alcohol.
Drying the filters unveils beautiful, tie-dye-like patterns, ready to be folded and pinched together by clothespins. Adding pipe cleaners gives these charming butterflies a realistic touch with curled antennas.
Get creative with the same materials and make vibrant candy butterfly bags – a delightful take-home treat for the little guests. Boost the fun factor of your child's party with these unique butterfly crafts, turning it into a memorable event. yourmodern
28. Make a Toilet Paper Roll Butterfly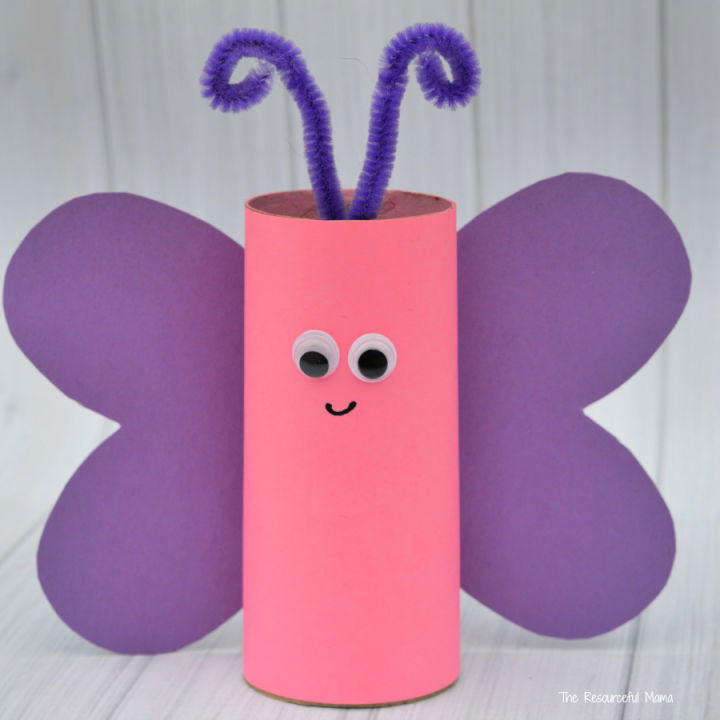 Enjoy fun, sustainable crafts with this toilet paper roll butterfly DIY tutorial. Ideal for Valentine's Day or any time of year, this charming project breathes new life into household waste, reducing costs while nurturing creativity.
You'll need empty toilet paper rolls, a pipe cleaner, googly eyes, a black marker, and cardstock or construction paper. The step-by-step instructions guide you through crafting the butterfly's body, affixing the eyes, designing expressive wings, and adding the final touch – a cute antenna!
This family-friendly activity promotes recycling, offering a whimsical, budget-friendly crafting solution perfect for home or classroom environments. Add color and fun to your day by making these adorable toilet paper roll butterflies. resourcefulmama
29. Paper Butterfly With Step by Step Instructions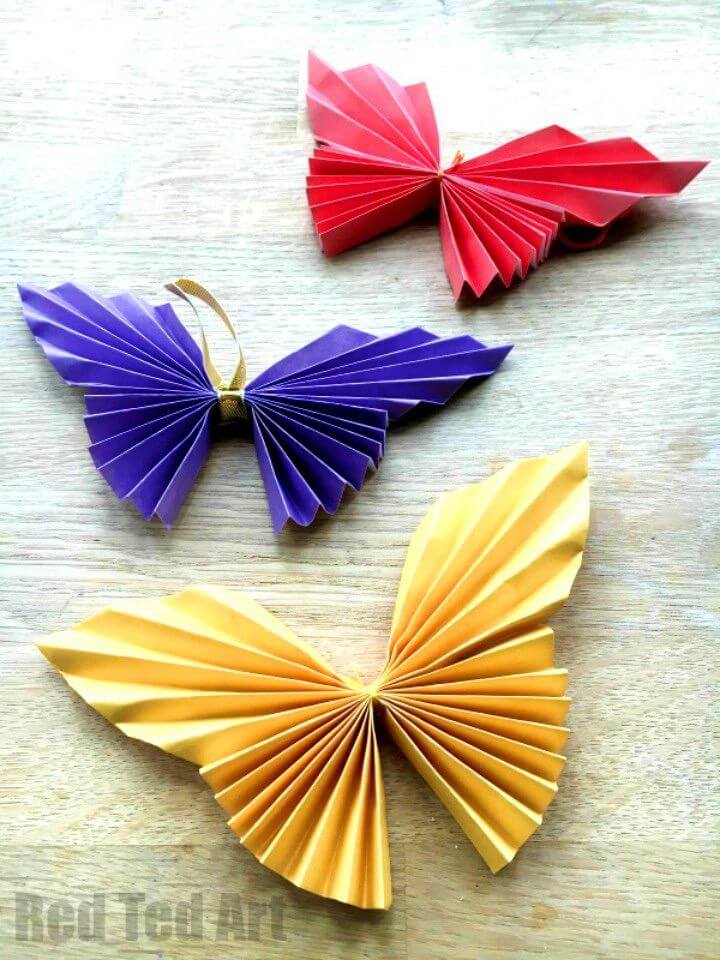 Encounter the joy of crafting a simple yet delightful DIY origami butterfly, a perfect way to engage with kids or introduce them to the world of origami and paper crafts. This charming creation requires only basic supplies: a square sheet of paper (about 15cm x 15cm), scissors, and a piece of ribbon, wire, or thread for tying and hanging.
This project uses an accordion fold technique, making it accessible and fun for everyone. These paper butterflies offer versatility in their use. They can become a vibrant butterfly mobile, adorn your wall, enhance an Alice band or brooch, or even decorate a photo frame or gift box.
This tutorial will guide you step-by-step in making both large and smaller wings for the butterfly, tied together to form a stunning 3D effect. These paper butterflies can be a simple yet effective way to bring a tinge of nature into your everyday life. So why wait? Start folding and crafting your very own beautiful, easy paper butterflies today! redtedart
30. Paper Butterfly Craft for School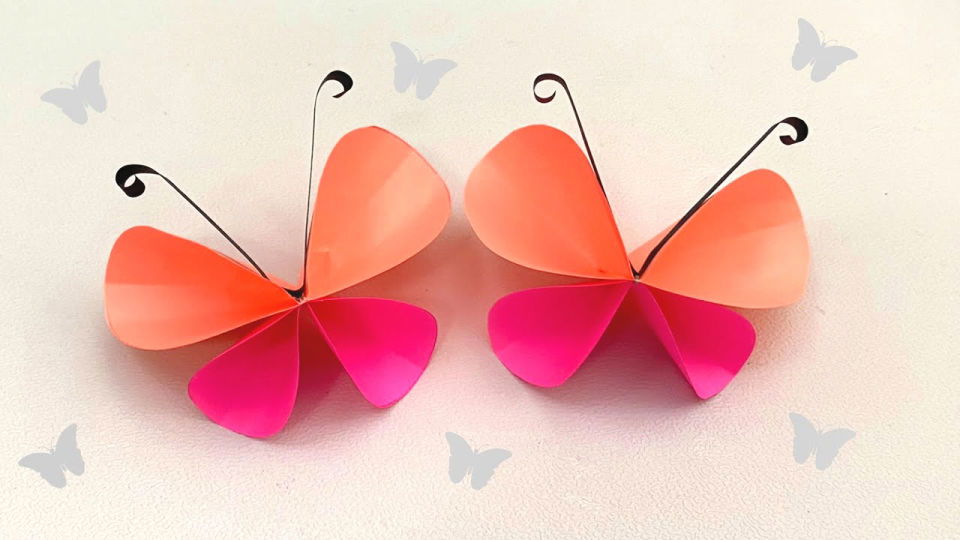 Familiarize your children with the joy of crafting with this easy DIY paper butterfly-making tutorial. This kid-friendly project ignites creativity and enhances fine motor skills while providing an engaging way to learn about the vibrant world of butterflies.
Crafted using readily available materials such as colorful papers, glue, and markers, these butterflies can be made quickly. The process includes the following:
Folding and cutting the paper.
Forming it into a butterfly shape.
Letting kids decorate their creations with their favorite colors and patterns.
What's more? These paper butterflies can be beautiful wall decor items, bringing a touch of nature into your home or child's bedroom. You can even use them as part of a school project, demonstrating the life cycle of a butterfly in a fun, hands-on way. So why wait? Prepare your crafting supplies and teach your kids how to make paper butterflies!
Conclusion: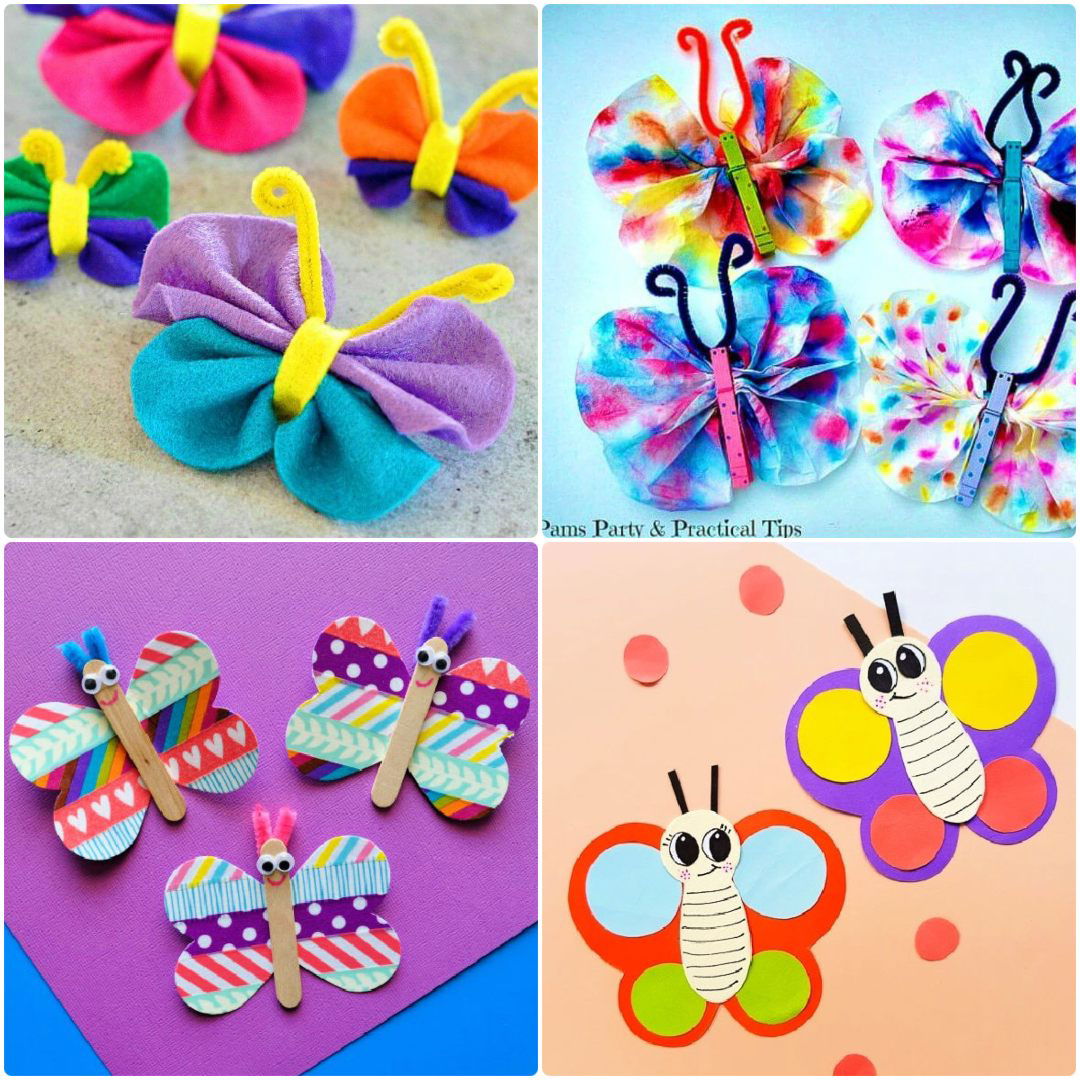 In conclusion, explore these 30 creative butterfly crafts for kids to engage children in exciting art activities. These projects offer an excellent opportunity for youngsters to unleash their imagination and develop their artistic skills. From fluttering paper butterflies to sponge-painted and stained glass versions, these crafts cater to various skill levels and interests. So, gather your art supplies and dive into the captivating realm of easy butterfly crafts, making unique and colorful masterpieces that kids will cherish. Embrace the joy of crafting with these clever butterfly crafts!