Learn how to make an origami flower with these 15 easy DIY origami flowers that come with detailed free instructions and techniques! The contemporary designers have introduced and new paper origami techniques and methods that are recorded. Now people are using them to make amazing things out of simple paper sheets. These origami flowers are one of those popular and amazing flower crafts! You can't go everywhere with real flowers due to their short life span. So, you can use these folded paper flowers that will not die early and will be a long-lasting part of your floral decorations!
Using the modern and mart origami techniques, you can make every type of flower at home using paper. Follow these 15 simple ways to make Origami flowers by yourself that are awesome and beautiful and are sure to impress! All these origami flowers are based on the creative and genius folding of paper that you can make in your free time! Folding the colorful papers to make beautiful beautiful roses, lilies, kusudama, tulips, lotuses, and hyacinths will make your mood happy by freeing the anxiety and tension!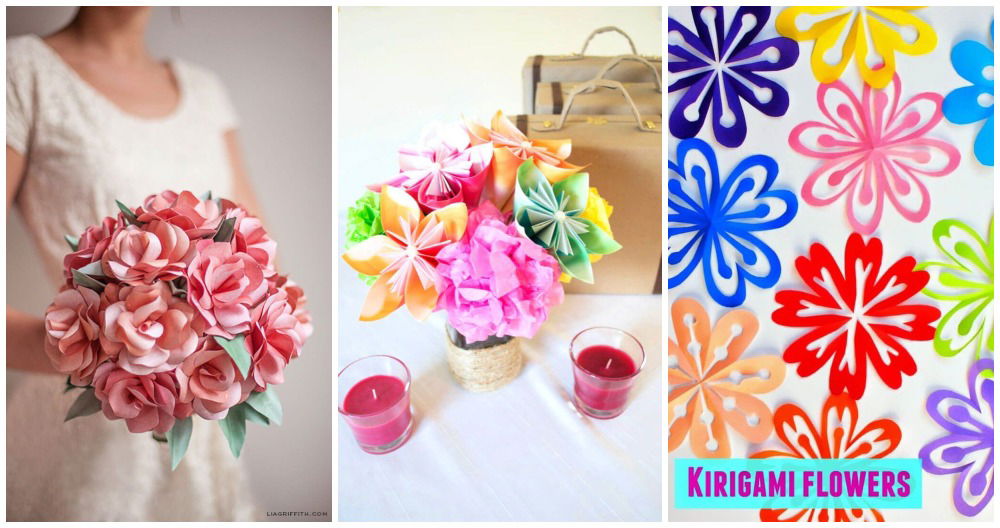 Make the origami roses to use as lovely toppers on your gift wraps. Add your origami flower son floral wires and then in the jars to make beautiful flower vases that will add a lot to your home decor. Put together the paper-made kusudamas to make interesting balls that you can hang pendants as precious ornaments and party decor. These flowers will win the heart of your lover on Valentine's Day by making a folding paper rose!
Easy DIY Origami Flower:
Of course, you can decorate your home with real flowers, but they will die soon. So rock your home with the long-lasting floral decor by making faux origami flowers just like this given one that is made of red paper! Simply fold the paper to make this flower and then add to your home decor! Instructions here instructables
Use the kirigami techniques to make amazing paper flowers that will make lovely decor and ornaments. Also, try to make fabulous tulips that you can put in the vases to make floral centerpieces for home decor! See the entire given list of origami flowers and browse the respective sources for full free instructions, origami flower techniques, and free folding patterns!
How to Make an Easy Origami Flower:
Planning ahead the party decor? Then do add a bunch of these homemade and inexpensive origami flowers to your party decorations that will go eye-catching and will look much near to real! Another easy to fold paper flower that everyone can make with great ease! Details here thesprucecrafts
Make Your Own Origami Flower: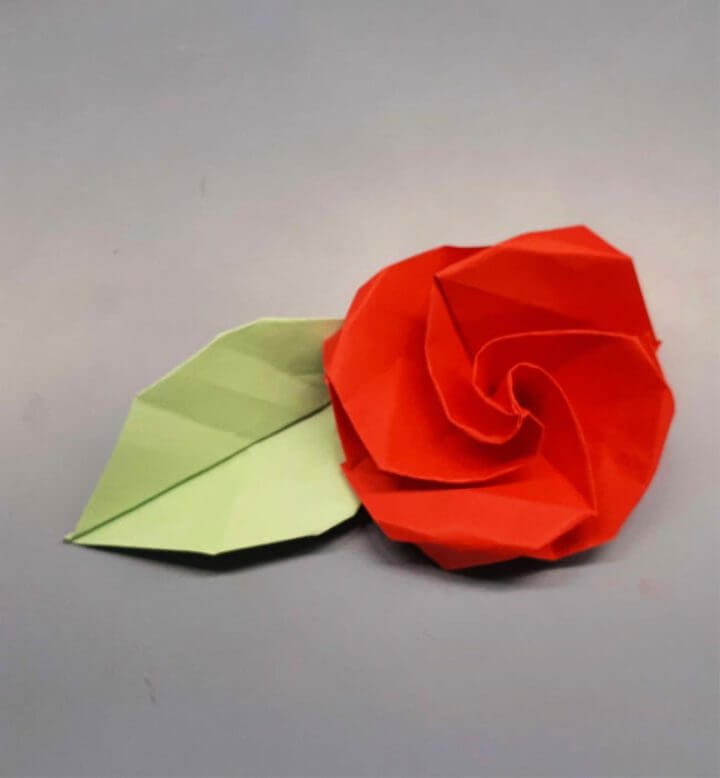 If you need to add some floral garlands to your party or home decor, then do make them with artificial homemade flowers so they will make a long-lasting decor! Try making this super lovely flower with paper, and it will only take a few folds to make this lovely paper flower! Full how-to tutorial here instructables
How to Make Origami Flowers – Origami Tulip: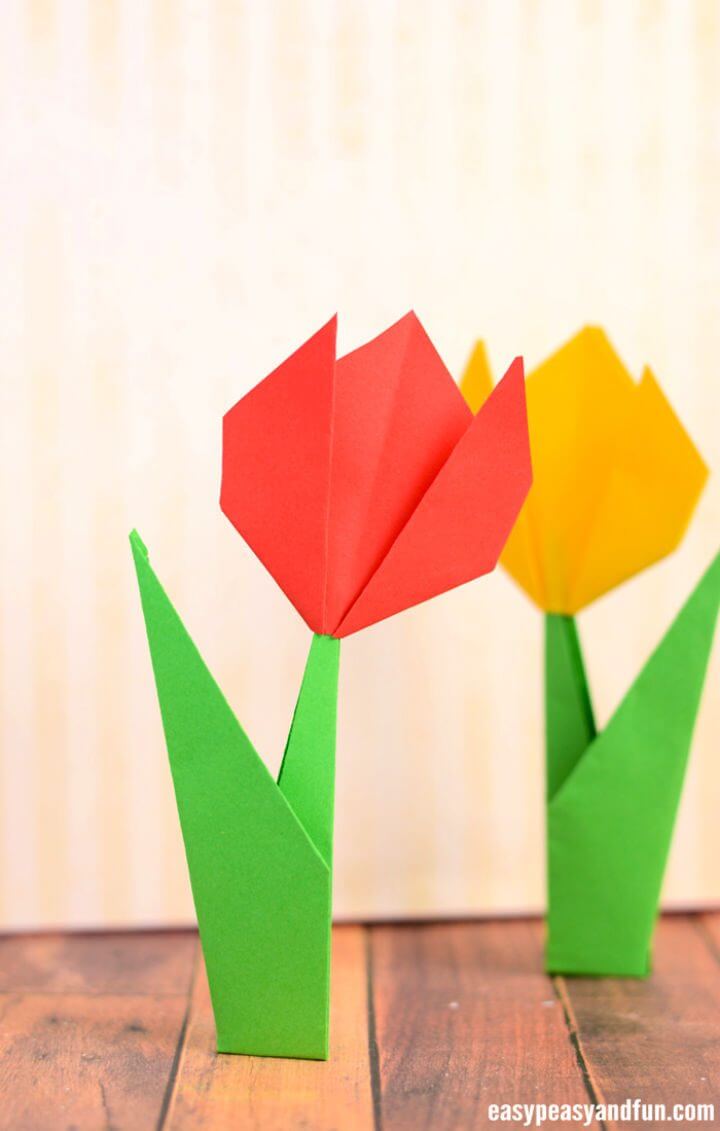 See instructions to fold your favorite colored square paper sheets into brilliant tulips that can be a part of various of your home decorations! Grab green, yellow, and red paper to fold these tulips that will also make precious gift wrap toppers! Details here easypeasyandfun
Create Origami Paper Flowers:
Make also a big bouquet of faux paper flowers that you can set in a pot to make a lovely planter gift, and they can also be given as a flower bouquet on any celebration or event! Get inspired by the given paper flower bouquet or planter that is made of origami paper and pipe cleaners! How-to tutorial here hgtv
How to Make Burlap Flowers: Making your own DIY burlap flower is an easy project to do.
Fabric Flowers Guide: Fabric flowers make beautiful embellishments for many items. Making fabric flowers can be quick to make by using the old fabric in your home.
Make Colorful Origami Kirigami Flowers:
Go with the different origami variations and make more amazing paper flowers that you can add as outstanding decor to your home and party spaces! Use both the origami and kirigami techniques to make these colorful flowers that are sure to make fabulous holiday party decor! Details here pinkstripeysocks
DIY Paper Rose Wedding Bouquet: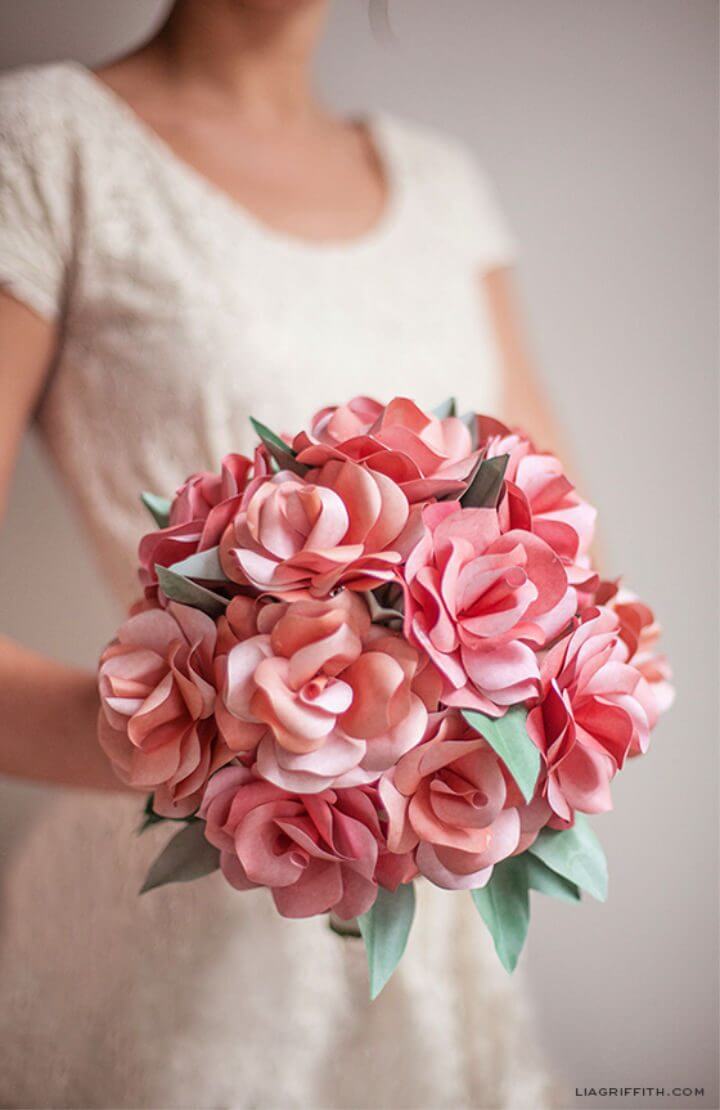 The rose flowers are great, and they are the most given flower gift and have always been a big lover of the lovers! Willing to congratulate a newly married couple? Then do make this paper rose wedding flower bouquet that will not expire with time and will be as fresh as it is now! Here is how to make it liagriffith
DIY an Origami Kusudama Flower:
Make a great paper selection and get busy with your art of origami and duplicate this kusudama flower that will be a part of various of your decorations and is pretty quick and simple to make also! This is a flower that will come with no expiry date! Here is how to fold it thesprucecrafts
DIY Origami Lotus Flower:
Rock your celebrations by making these origami lotus flowers that will fabulous decor, gift toppers and handmade gifts too! These lotus origami flowers will not die early and can be put around your lanterns and candle holders for making glorious home decor centerpieces! Details here icreativeideas
DIY Origami Paper Hyacinth Flowers: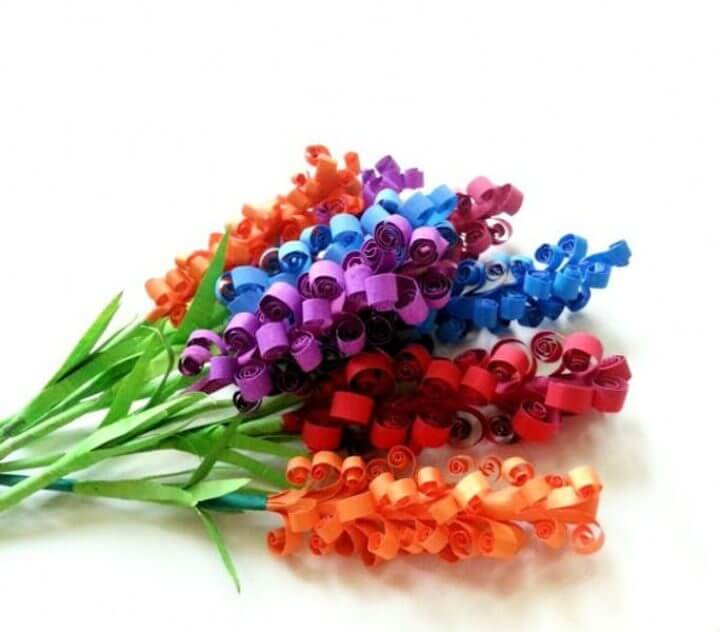 You can't guess if these flowers are real or paper-made ones as they are so beautiful and good looking ones and are sure to impress! Just take longer pieces of paper, cut fringes in it which you can roll back to make these hyacinth flowers in colors you really like! Don't forget to add green stems and leaves and here you go! Details here familymaven
Beautiful DIY Origami Flowers: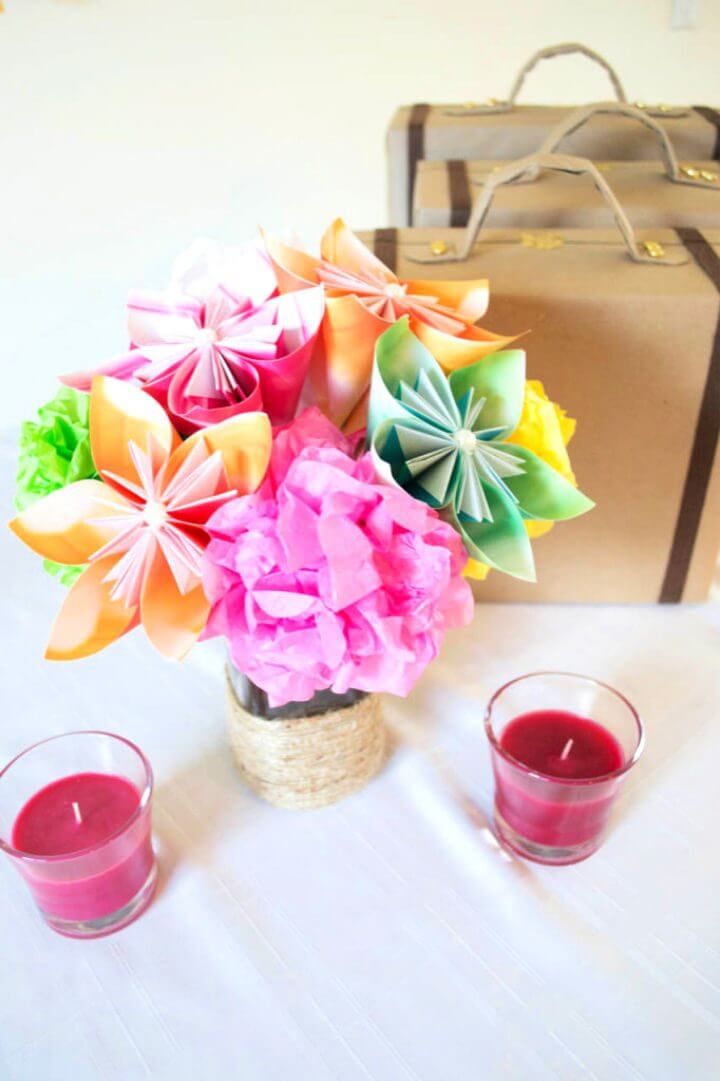 Here is the most cost-efficient flower bouquet to add to your home decor as a brilliant centerpiece! Fold your favorite colorful papers to make the paper kusudama flowers and then add them to a recycled bottle vase! Put around some candle lights and create a great scene! Here is how to fold these paper flowers flairmiami
How to Make Origami Roses:
You'll love doing origami art after taking a look at these origami roses that you can use for party decorations, enchanting gift toppers and making love flower bouquets! These are origami roses are super quick and easy to fold! Full how-to instructions and tutorial here bloomize
How to DIY Origami Flowers:
Do you love to decorate your home with your own beautiful homemade decor? Then do make these DIY origami flowers that can be used in unlimited different ways to boost your home decor. You can mount them on the walls and can be put in the vases with added stems. Full tutorial here paperlust
DIY Origami Flower Project:
You can make lots of home decor using origami flowers, this project will teach you a little in this case. Fold the yellow paper to make kusudama flowers. And then put them together into a ball-like shape and hang them in your home to make the lovely pendant decor! Full how-to tutorial here goodshomedesign
DIY Origami Rose for Valentine's Day: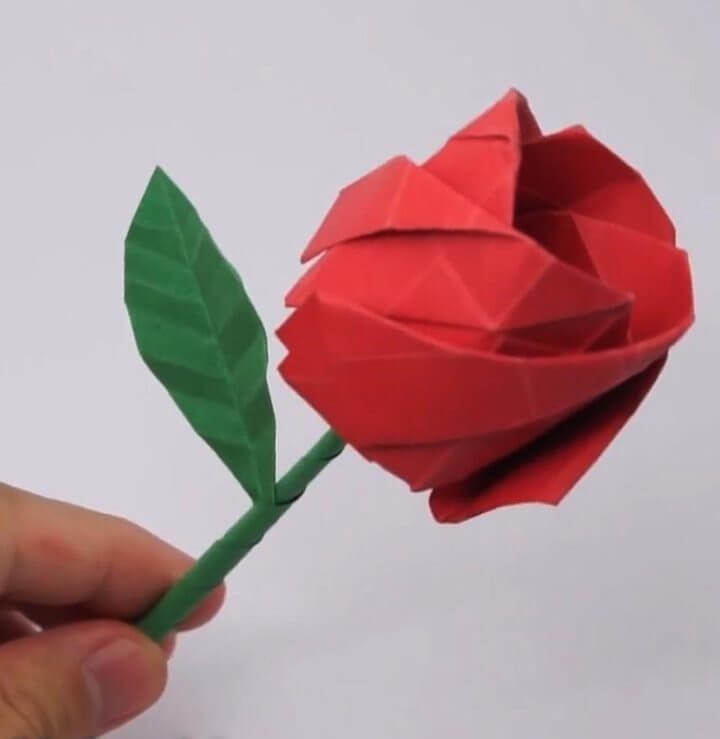 Delight your valentine by giving this beautiful origami rose that will remain fresh forever and is super easy to fold using red and green paper. Keep on folding the paper until you get a perfect rose and next just add the green stem and a leaf, and here you go! Look at the given sample that is hard to guess if it is handmade! How-to details here youtube