All the lovely mothers can be seen busy all the time in arranging and storing the baby's stuff! Time to share some amazing DIY nursery organization hacks that will would not less than a big pleasing gift for all the mothers!
All the baby's items look cutely small and tiny but are always difficult to store at the same time! A clean folding and better layering is not an issue while dealing with clothes of the mature group of home! But tiny baby clothes are always difficult to fold, store and arrange neatly! Here we have provided some highly adapted and low-cost solutions to this problem in shape of these 20 DIY genius ways to organize baby clothes, all these ideas and hacks are too amazing and creative to make you inspired! The big list of ideas include the reference links that will provide you total project details, picture guidance of construction steps and help for anything you are puzzled at!
The most pleasing thing is that you are not going to spend too much from your pocket, you are to use only the common home materials of home here for better nursery organization! So all you need is to get a little creative with your crafting-loving hands and to get a little smart with your brain!
You can use lots of genius things to organize the baby stuff like the ornament boxes, closet dividers, mesh bags, wire baskets etc to organize the clothes in a sorted way so that you can find the particular thing at a time while getting the baby ready or making him change. We would also show you to recycle some old stuff and use it for the baby cloth organization like an old bookcase, a tiered cart, shoe hanger with pockets, laundry baskets and lot more. So just get this amazing round and get your every issue solved that is related to the baby cloth storage. Browse to know every inch detail of these organizing projects so that its easy for you to adopt them for your baby's nursery room.
Use an Ornament Box to Organize Baby Clothes: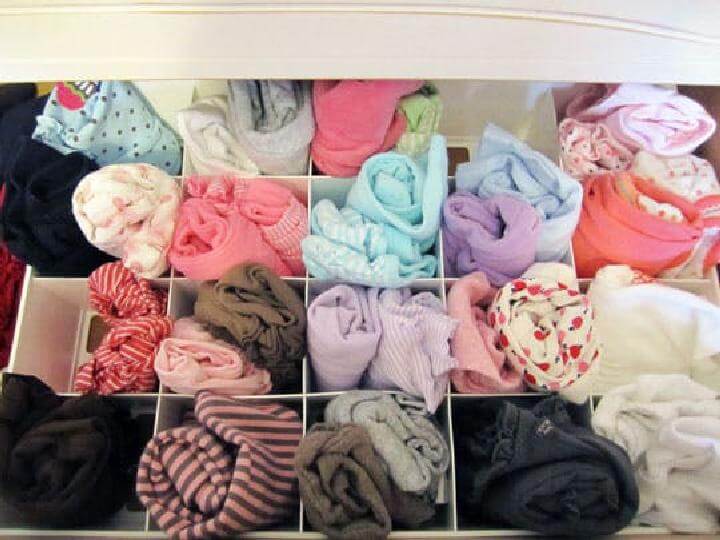 The babies have a huge collection of the clothes which are not so easy to organize for the mothers. So here we are providing you the easy yet smart tricks to organize the baby clothes nicely. An ornament box has been used to hold the folded baby clothes and get fully hide in a closet drawer. Its too simple and easy way so do try it apartmenttherapy
Use Mesh Laundry Bag to Organize Baby Clothes: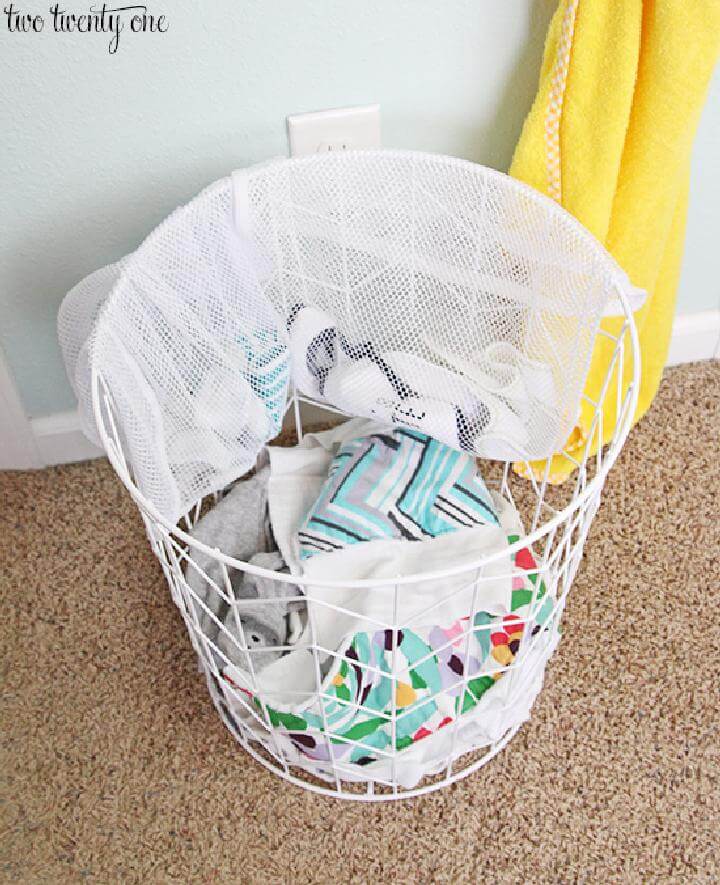 There are so many things included in the baby clothes like the bibs and swaddles and they are like regularly used, washed and reused. So make a perfect storage spot for them so that they can be kept there when dried. Here is a mesh bag idea for you to hold your baby's bibs and swaddles so that you can easily use them and organize them. More details here twotwentyone
Updated Kid's Closet Baby Clothes Storage Idea: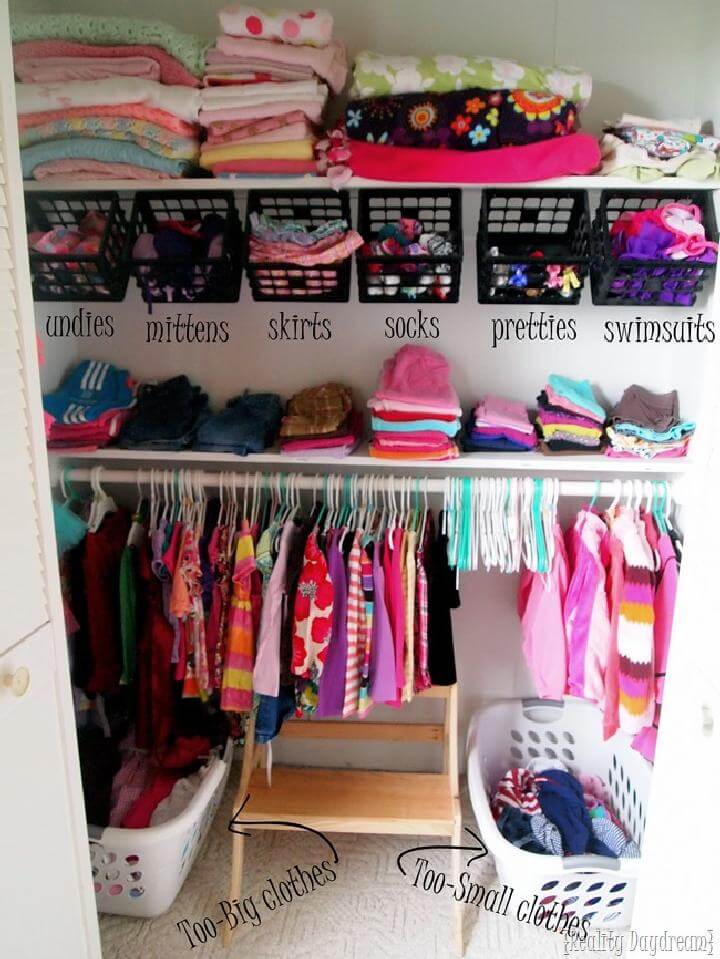 Its not easy to maintain the nursery room with all the tidiness and cleanliness. Especially the bundle of clothes are really a hassle to organize and store well. So you must learn some quick and smart tricks to organize the baby clothing nice and easily. Sorting and organizing separately is the best and easy idea, and you can use storage baskets for the purpose. Get to know more such smart organizing hacks here realitydaydream
DIY Chalkboard Kid's Closet Dividers with Silhouette Cut File: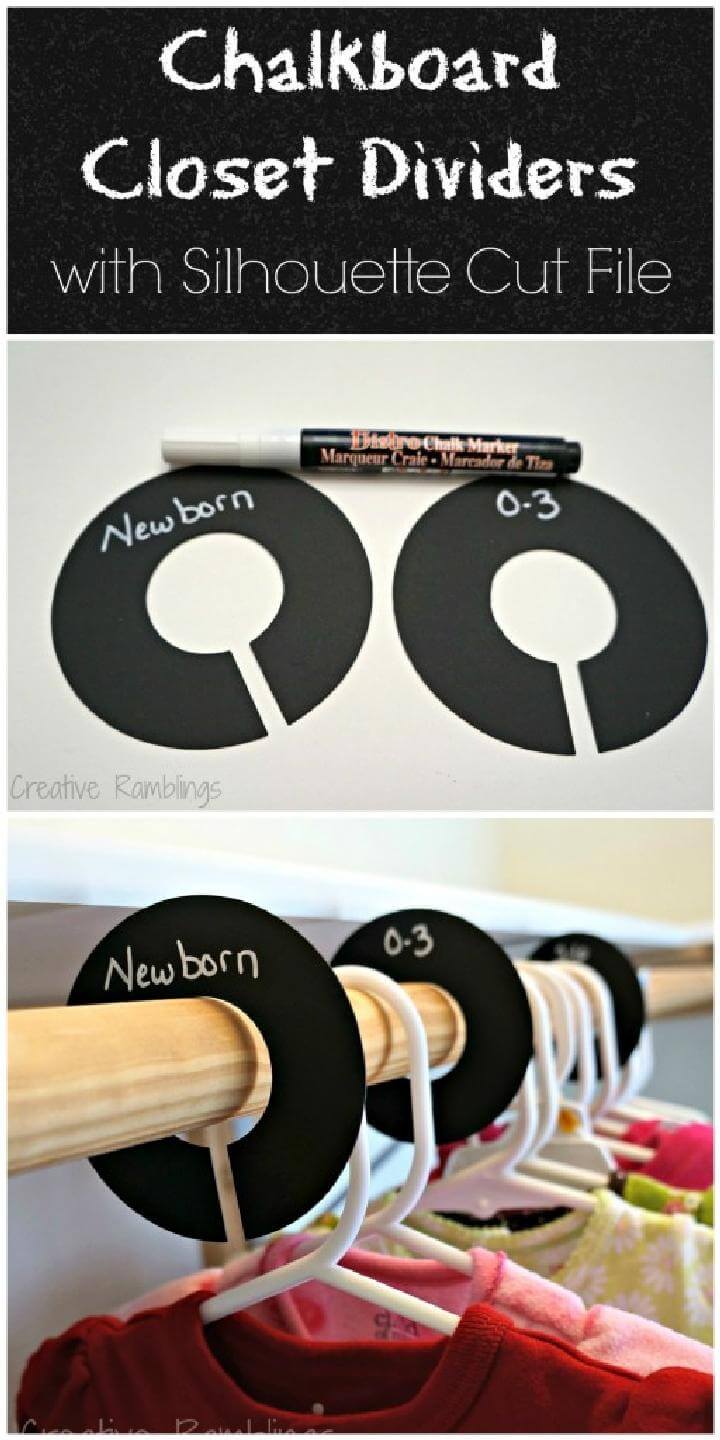 The clothes of babies are available in size from newborn to 3 months, 6, 9 and one year etc. And when there is a baby to come in a family all these sizes are bought by the parents and gifted by the near ones which can be hard to organize. But using the closet dividers would make it really for you to organize the baby clothes according to size and that too written on the dividers. Here is the tutorial showing you to make some nice closet dividers of your own creativeramblingsblog
DIY Baby Closet Dividers Tutorial: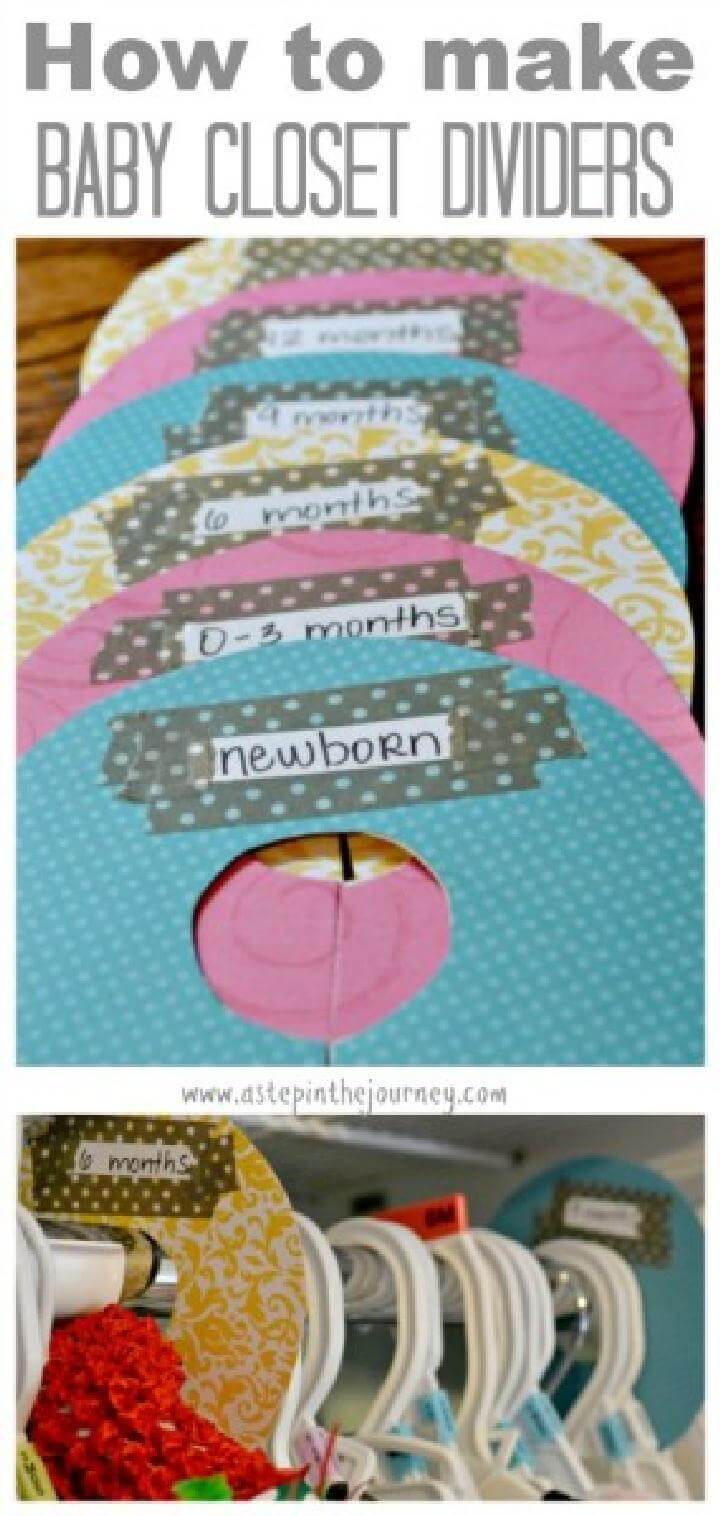 When you are having a baby there is a lot to do for him like making and decorating his/her room. Everything in the room is chose according to the theme of the nursery and so is the closet. So while you are organizing the closet do make some matching closet dividers so that they not only help to organize but also add to the decor of baby room. Here is the link to learn DIY baby closet dividers which are really cute and nice astepinthejourney
DIY Hanging Shoe Organizer to Organize Baby Clothes: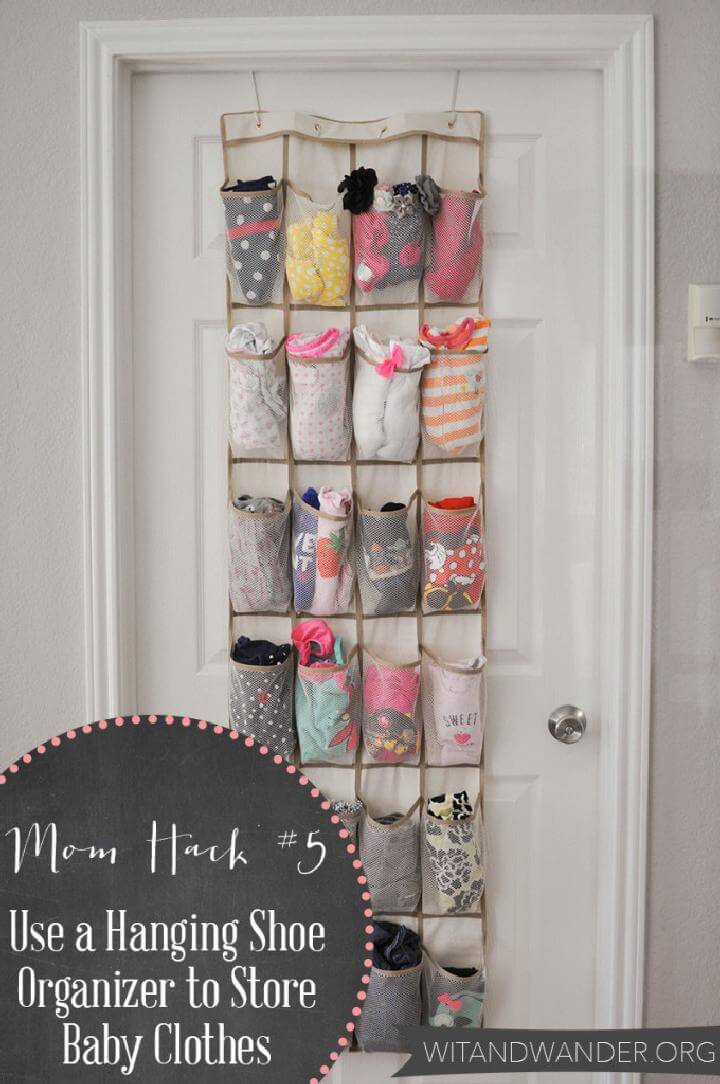 The shoe organizer that you use on your doors with lots of pockets can also be used to house the baby clothes. As the baby clothes are too small they can easily fit in those pockets and thus get easily managed. You can hang this organizer on the door of your baby's room and grab the needy clothes easily when needed. Check out more details here witandwander
DIY Bookshelf into Baby Closet: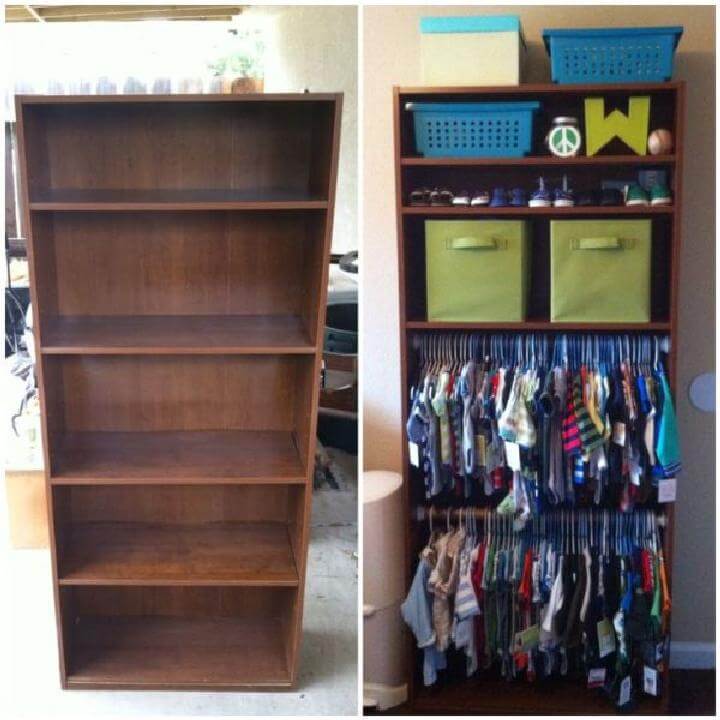 There are various reason behind an unorganized space and being short on space and money are also included in them. So if you are also facing these mentioned problems you can turn a simple bookshelf into a functional closet for the babies. The upper shelves can be use for the shoes, folded clothes, baskets etc and by removing the bottom shelve you can create a hanging sections there as shown in the picture. Catch all the details of this useful project here redtri
Baskets in a Drawer Nursery Clothes Organization Idea: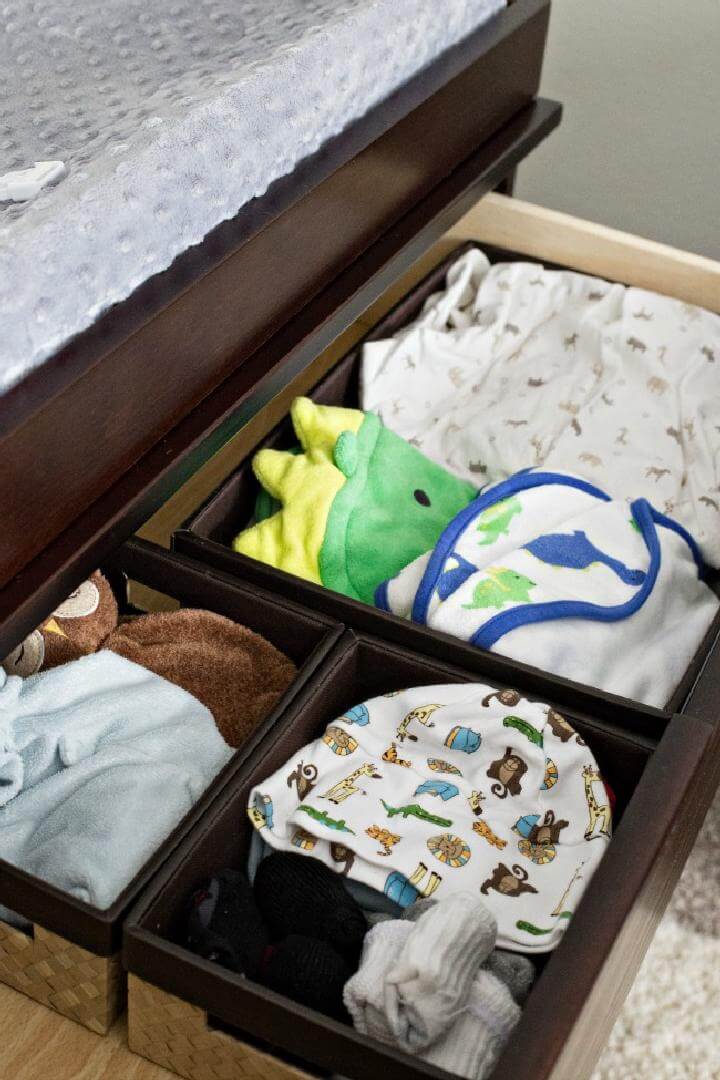 When you put some baby clothing items in one drawers there is a sure mess and you would find the needy ones at time. So to organize such things like socks, hats and lovies in a drawer you can use the shallow baskets for each. It would really make the organization easy and your closet drawer would never show you mess again. More hacks and ideas for organization here anightowlblog
DIY Old Wood and Clothespin Baby Headband Holder: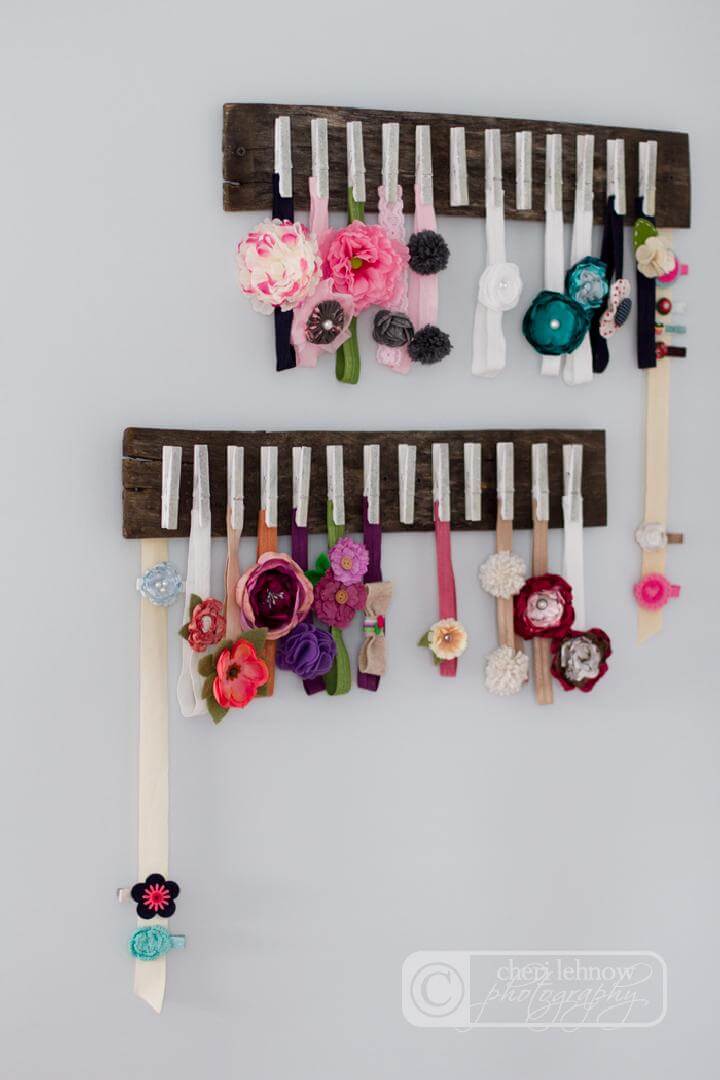 If you have a baby girl then you must have lots of head band, clips and pins to make them look more pretty and adorable. So you can make a separate organizer for these head accessories of the babies on the walls of the nursery room using some wooden planks and clothe pins. Here is the full tutorial to get complete details of this headband organizer tinkerwiththis
DIY Baby Shoes and Clothing Cart: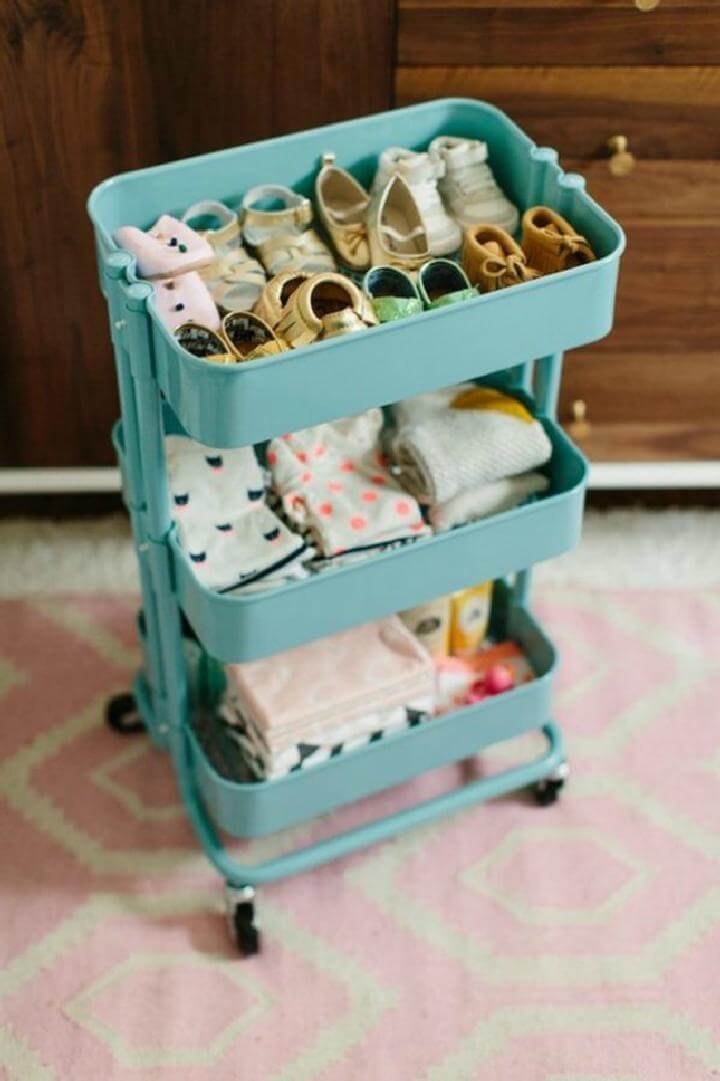 There are many things that you can use to organize and store baby accessories if you have a crafty mind. Like this three tiered cart has been perfectly used to hold the baby cloths and shoes and be a perfect part of the nursery room. so do hack the idea to save much of your time and money. More details here brit.co
DIY Wall Shelves to Organize Baby Clothes: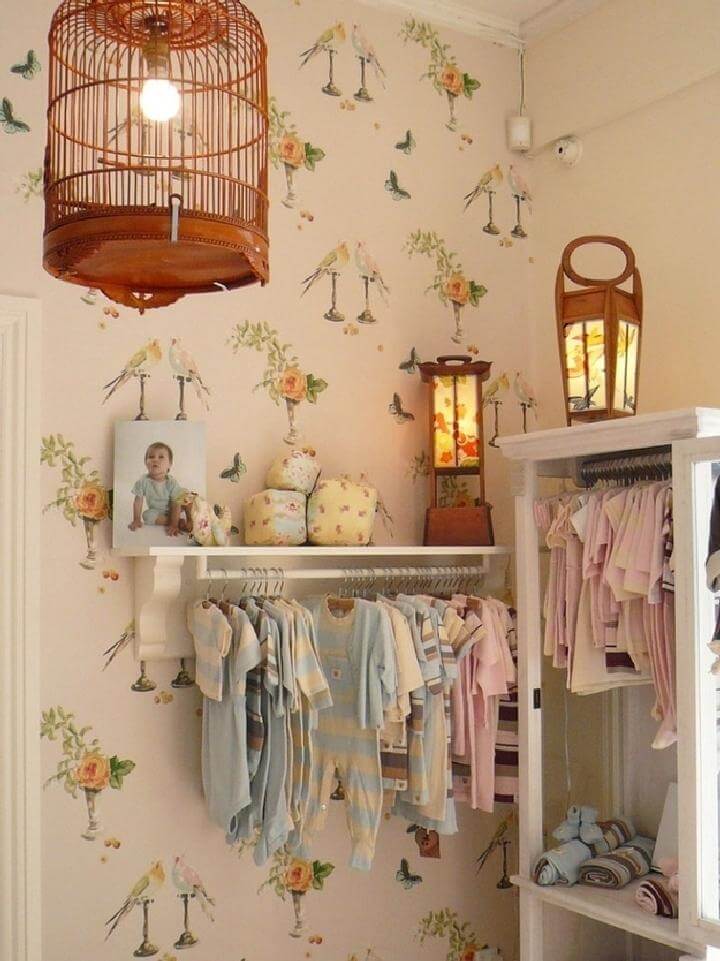 There are so many fun ways to maximize your storage ways with some smart tricks and hacks. Like if you are in need of some storage space for the organization of baby clothes you can use the space under the shelves. Just add a rod to the wall under the shelf and you can hang as many clothes on it as you want. Check our more such baby cloth organizing ideas here buzzfeed
DIY Baby Closet Tutorial: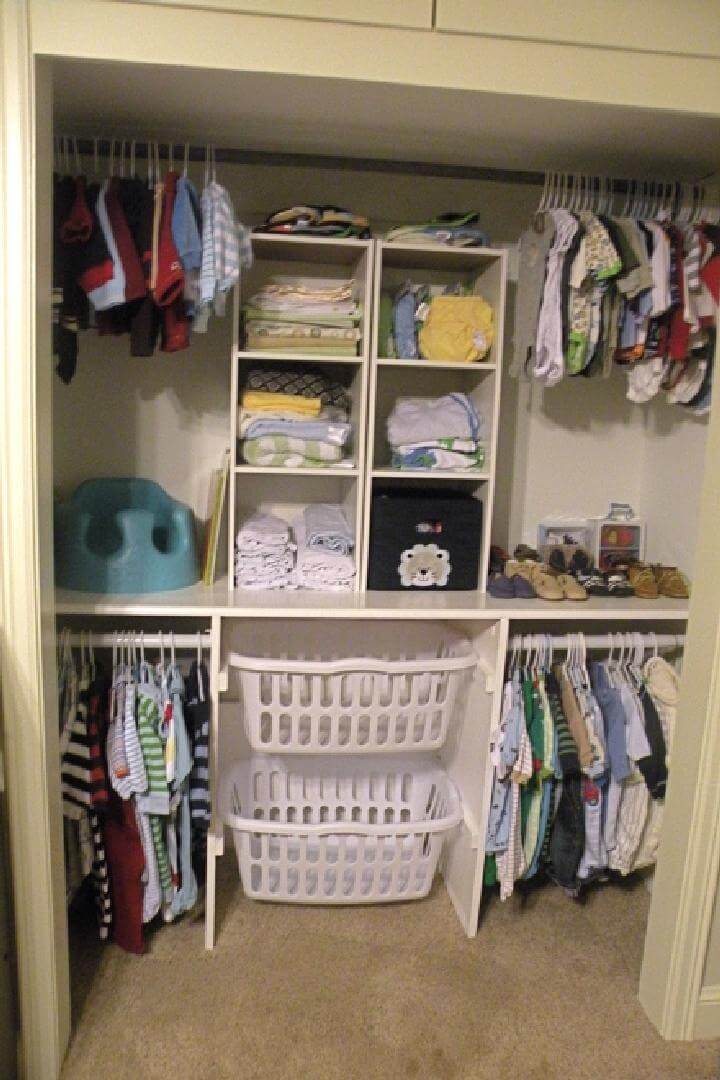 If you are unable to afford those branded closets for your kid's nursery then no need to be disappointed as you can create a whole closet yourself and that too with lots of storage space. Using the wood you can craft the closet shelves and cubbies an then add rods for the hangers and laundry baskets for the folded clothes. Learn this tutorial with all the details lying here aroundthefarmhousetable
DIY Regular Hanger and Clothespin Baby Outfit Holder: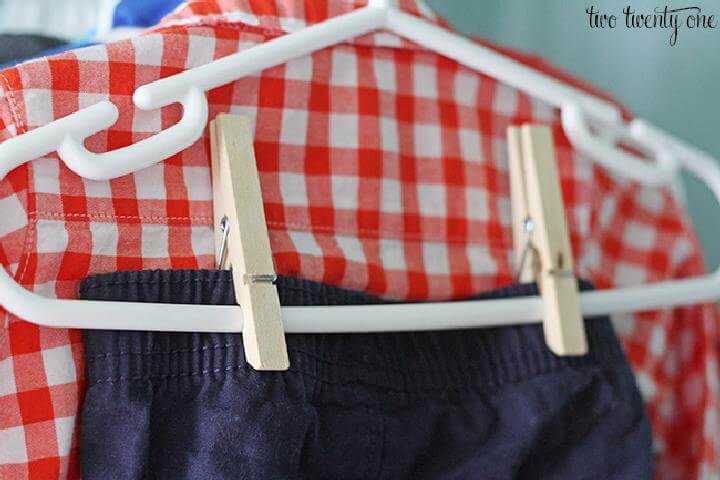 The organizing tips and hacks have really made it easier and fun for the mothers to deal with the baby clothes. Here is another amazing technique to hang the baby pants in the closet and for that you need hangers and the cloth pins. You can attach the pants in this way to the matching shirts and thus preparing a quick dress for the kids to wear anytime. Full details here twotwentyone
DIY Hanging Basket Baby Diaper Storage: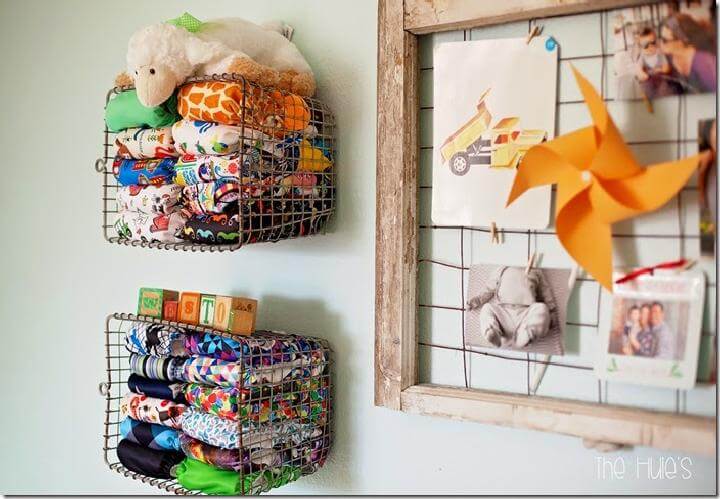 The baskets are the ready made storage solutions for almost all types of mess and so they are perfect for the baby clothes. And no doubt the diapers are the most important baby things and used so much on regular bases. So bring two wire baskets and screw them on the walls to hang and house the baby diapers in them perfectly. Complete project details here domesticprincessintraining
DIY Tips for Baby Clothes or Nursery Organization: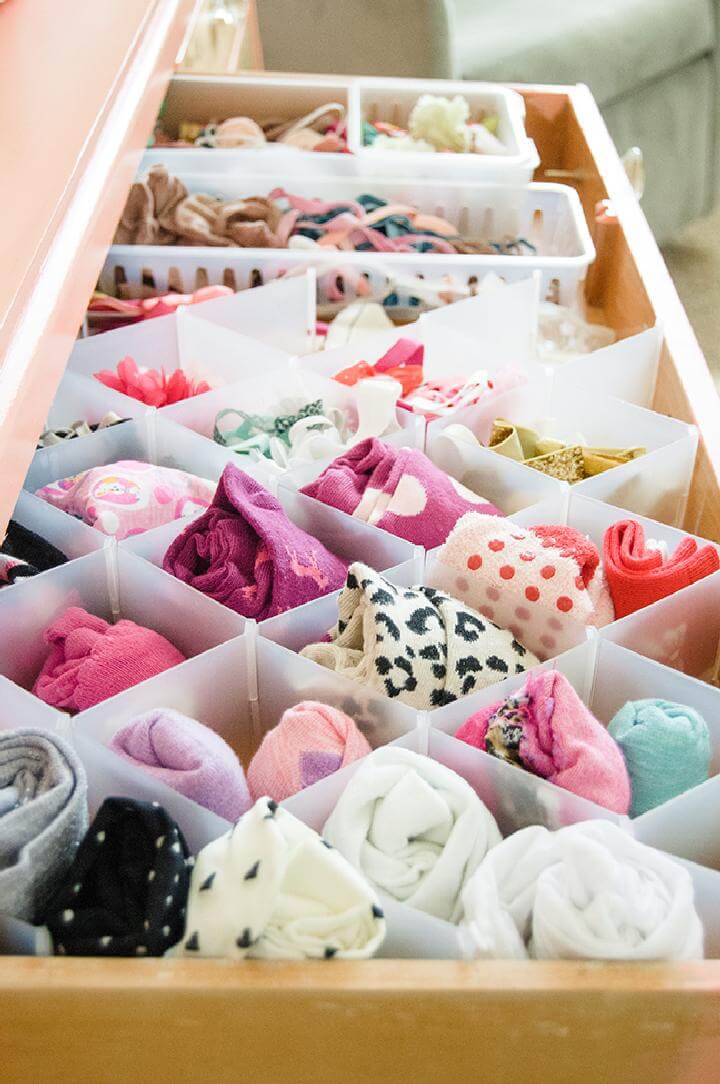 You can find some drawer organizer from the market and use them so nice and easily for the organization of baby clothes. So sort the baby clothes like socks, bibs, headbands, pins and many more such baby stuff and hold them in separate boxes for the convinient approach. More details of this easy and cheap idea are here momtastic
How to Store All Baby Clothes Project: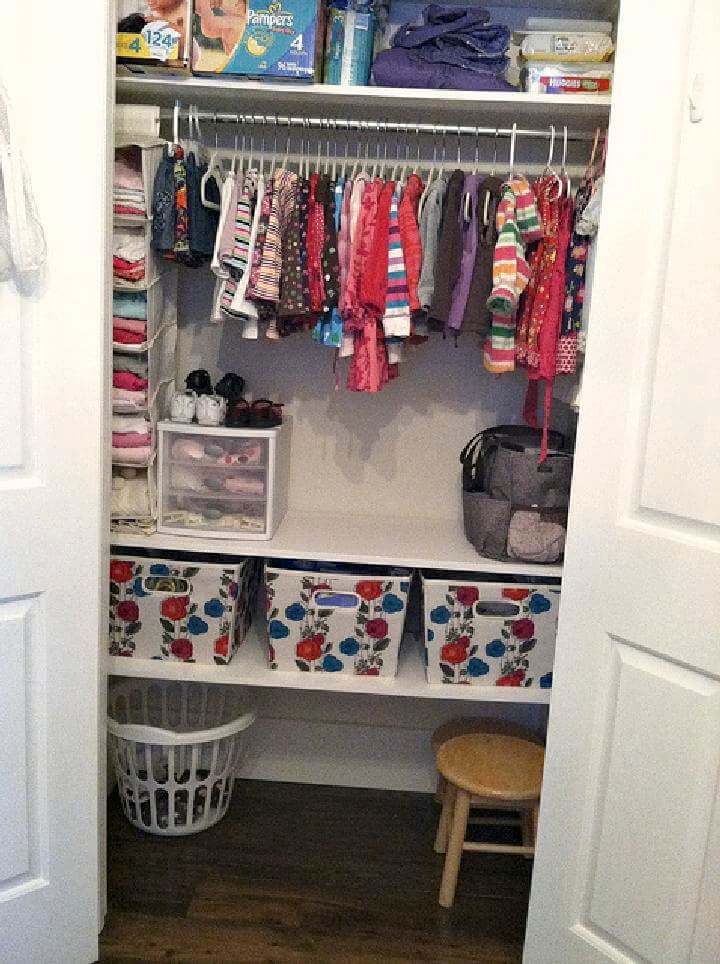 Being smart and crafty you can really face all the homey challenges of different kinds. For example if you are facing the hassle to organize the big bunch of baby clothes and other baby accessories you can do it all well and nicely of your own. We are here to help and here is the link to know the quick tricks an hacks to organize a baby closet in the most feasible and accurate way andreadekker
How to Organize Nursery Dresser: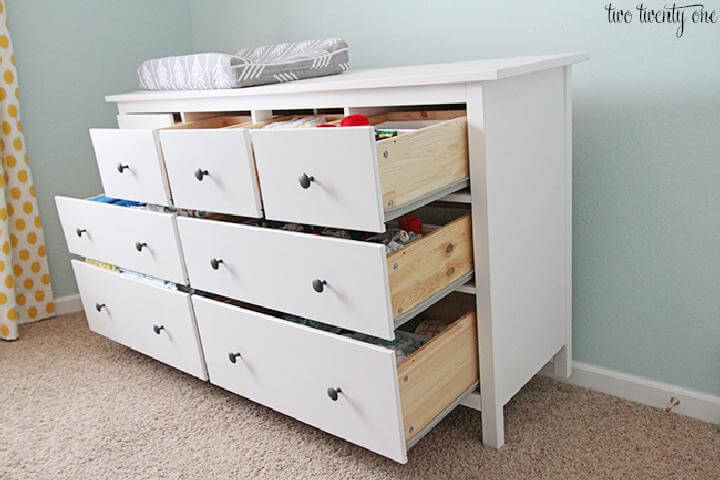 Having nursery dresser or simply a chest of drawers would really make it easy for you to organize the baby clothes and all other stuff related to the babies. The big drawers of the chest can be further divided into sections to make room for a lot of stuff at one place and dividers can be used for the purpose. The detailed guidance of this project is here twotwentyone
DIY Baby Cloth Dresser Organization: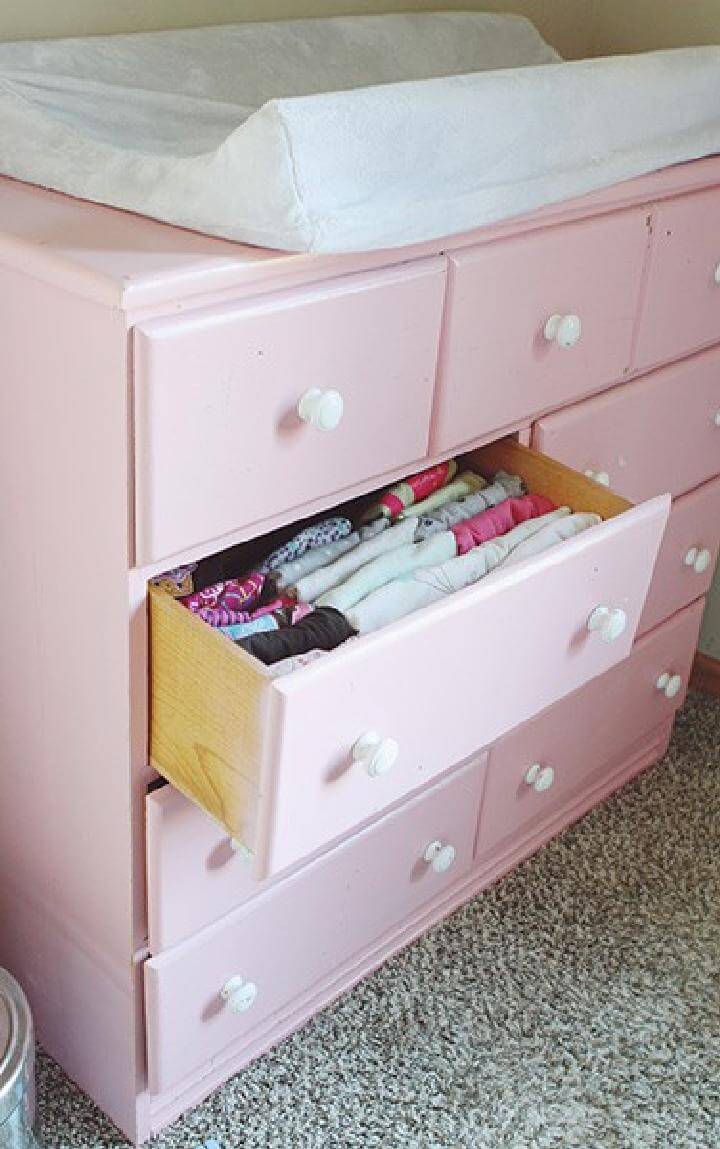 There are some very simple and easy tricks that can really make your routines easy and effortless especially with the organization of baby clothes. There are some smart folding techniques which would really make it easy to store all the baby stuff in the baby dresser and drawers so nicely. And you can have some of those common tips here iambaker