Learn how to make a chalkboard with these 25 homemade diy chalkboard ideas, including giant chalkboard, large wall chalkboard, and diy framed chalkboard plans with step by step instructions. Your kids will get excellent motor skills of your kids improved considerably using these DIY Chalkboards will allow kids to draw and write anything in their minds.
With these diy chalkboard ideas, you can create special spots to express yourself and decorate your home in a creative way. From having a giant chalkboard wall as the focal point of your living room to having a diy fresh-framed chalkboard in your kitchen for grocery lists, these diy chalkboard ideas are a great way to add charm and character to any space in your home.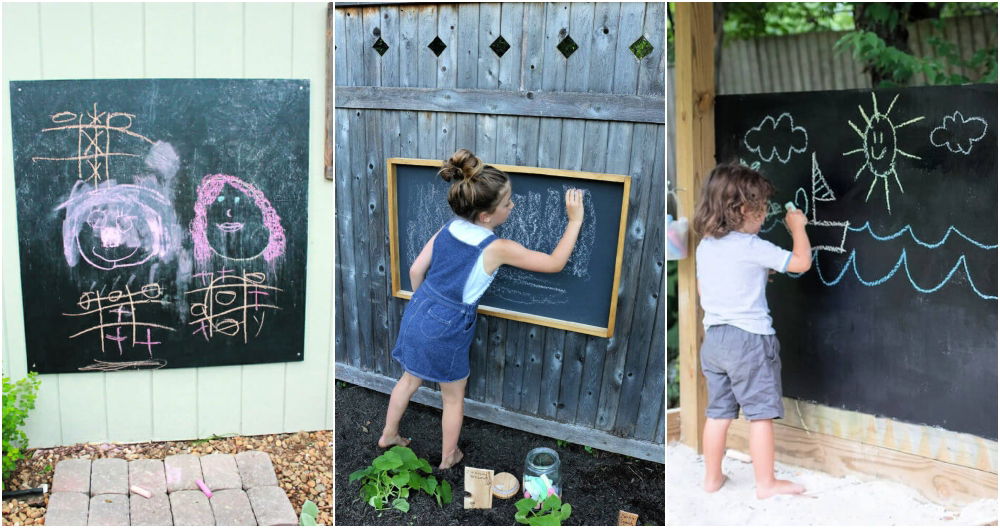 Homemade DIY Chalkboard Ideas To Make
These diy chalkboard ideas will make your kids creative and a great activity at home. It is super easy to cut plywood into any shape and to paint it with chalkboard paint. Get dozens of design inspirations from this collection of 25 easy DIY chalkboard ideas and plans encouraging kids to express themselves to boost self-confidence.
They will help kids solve their problems individually while establishing great concentration with these chalkboards; anyone can make them at home. Most of these DIY chalkboard ideas involve painting the plywood with black chalkboard paint, then adding accent borders, trim, chalk ledges, and hanging bucket holders. From small to the giant-sized chalkboard. The list has all the designs to impress. If you don't have artistic ability, these diy chalkboard plans are simple yet cost-effective. So why not make the most of your diy skills and try homemade chalkboard ideas today?
1. DIY Giant Vintage Chalkboard
Playing with chalkboards with chalk is an excellent activity for kids. Make this vintage plywood giant chalkboard wall for the excellent motor activities of your kids. They can draw everything that is in your imagination and hence expressing themselves in the best way. Make it with plywood. maisondepax
2. Building an Outdoor Or Indoor Chalkboard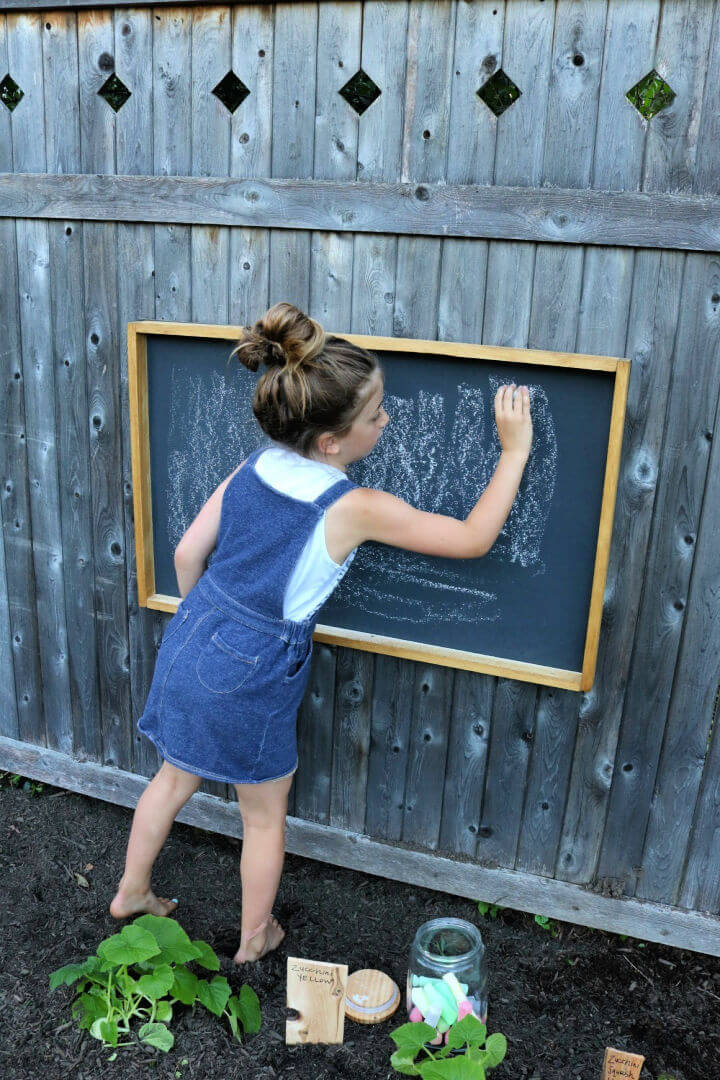 Let the kids satisfy their art and painting obsession with this chalkboard. It will rock for both indoor and outdoor spaces, made by painting a plywood panel with chalkboard paint, add the 1×2 pinewood border. Hang with the perfect hardware hanging system and enjoy it. How-to guides here nestingwithgrace
3. Simple DIY Chalkboard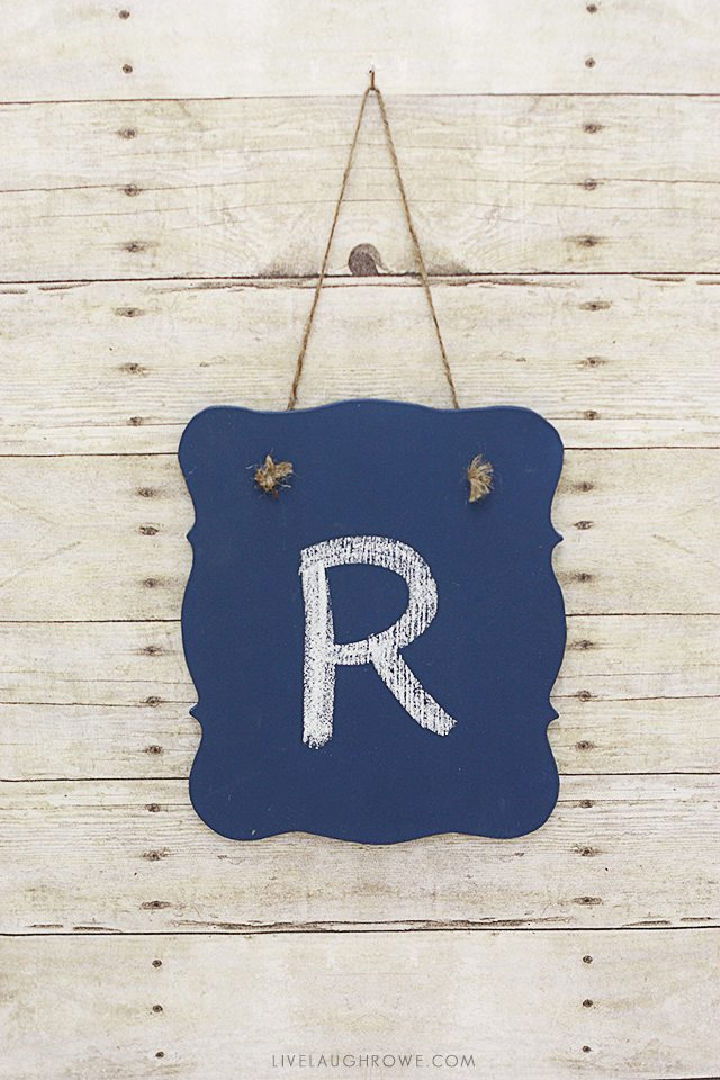 Cut out an artistic wood plaque out of plywood and a simple chalkboard paint it. Next, let the kids try out their creativity on it with chalk. By adding this chalkboard to any home part, you will encourage, hand, wrists, eye, and even creative movements in your kids. The easiest chalkboard to make at home. livelaughrowe
4. How to Build a Large Chalkboard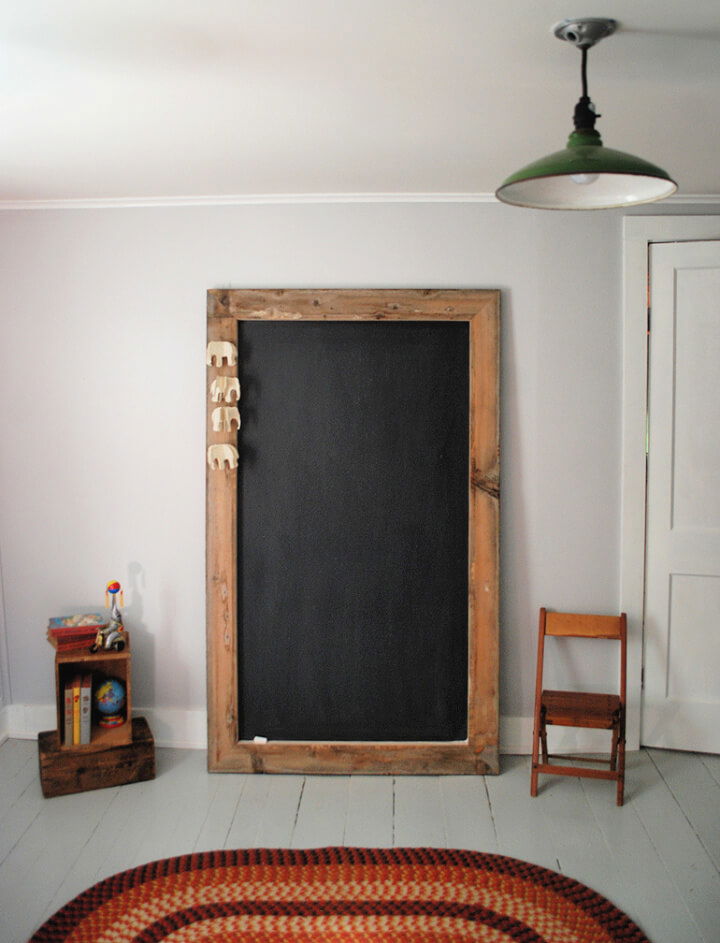 Get this big chalkboard made with plywood and reclaimed lumber. Give a few coats of black chalk paint to your plywood to build a chalkboard, and use reclaimed lumber planks to add the precise border. Adorn it with custom embellishments and let your kids start fun drawing on it. themerrythought
5. Homemade Chalkboard
Making a chalkboard is secure, and given instructions will make it easier to build a chalkboard of choice. A blank chalkboard and chalk in hands will make your kids think " out of the box" ideas, hence adding a lot in their creative vision. Use birch plywood and poplar boards to make this chalkboard. Painting options may contain using a magnetic primer and black chalkboard paint. lowes
6. How to Make a Giant Chalkboard
Instead of making your kids' restricted to use a set of specific supplies for art and craft sessions, provide them free-form creativity with this giant chalkboard. Kids can draw the whole world on this giant chalkboard, so it is going to be the best never-ending kids' fun choice. Make it with plywood and with custom 1x3x6 boards. mountainmodern
7. Simple DIY Large Chalkboard in a Weekend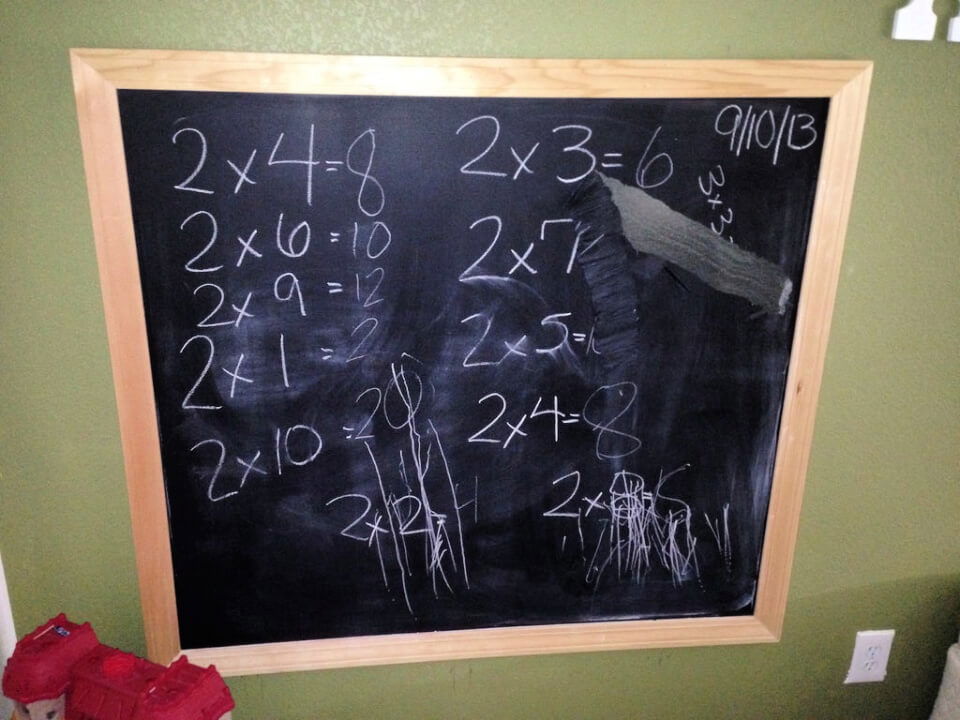 If you are sorting out some best projects to do for your kids this weekend, then you must make this large chalkboard. It will help to see what is in your kids' imagination by providing a space to write and draw what is in your kids' minds. So, adding a chalkboard to your home can also be a great way to read kids' interests. instructables
8. DIY Birch Chalkboard In an Afternoon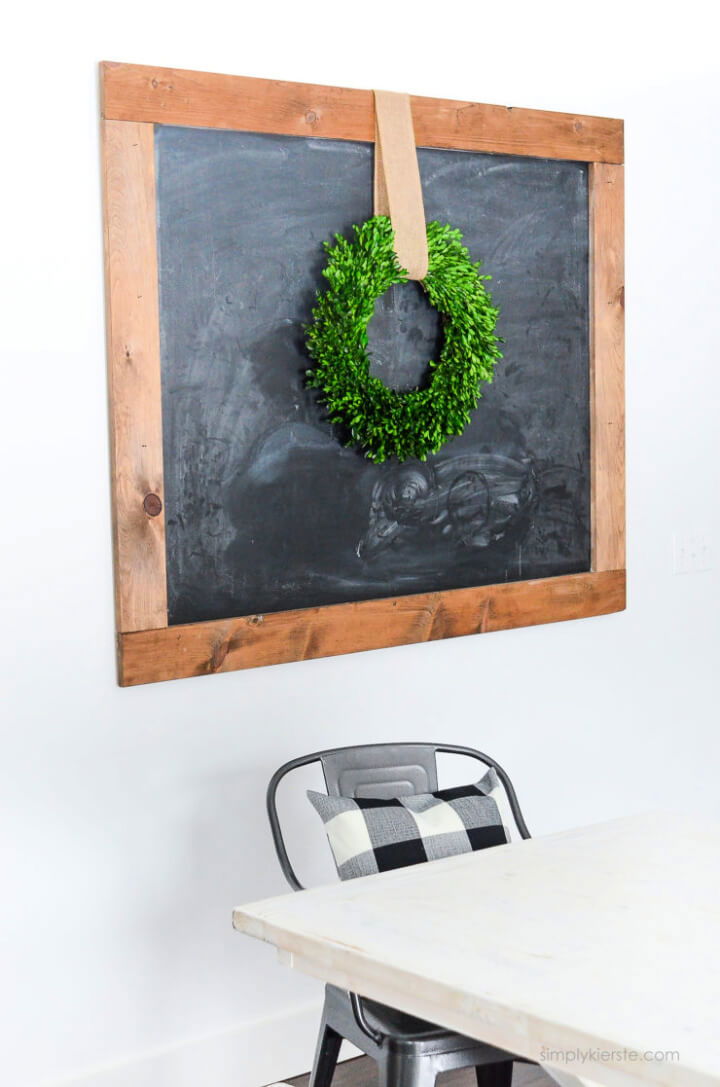 Spending only a Sunday afternoon to build this DIY chalkboard. Just do the fun painting on a plywood panel using black chalkboard paint. Trim it down with a wooden accent board, make sure you have added some storage for chalk supply management. Hang a green wreath to double up its charm. oldsaltfarm
9. Handmade Mini Chalkboard
Building a chalkboard with plywood is a cheaper way to get expensive chalkboards. They are the best thing to add to any indoor or outdoor space for the development of kids' excellent motor skills. Grab birch plywood, chalkboard paint, and spray paint to make it. removeandreplace
10. DIY Chalkboard Out of Plywood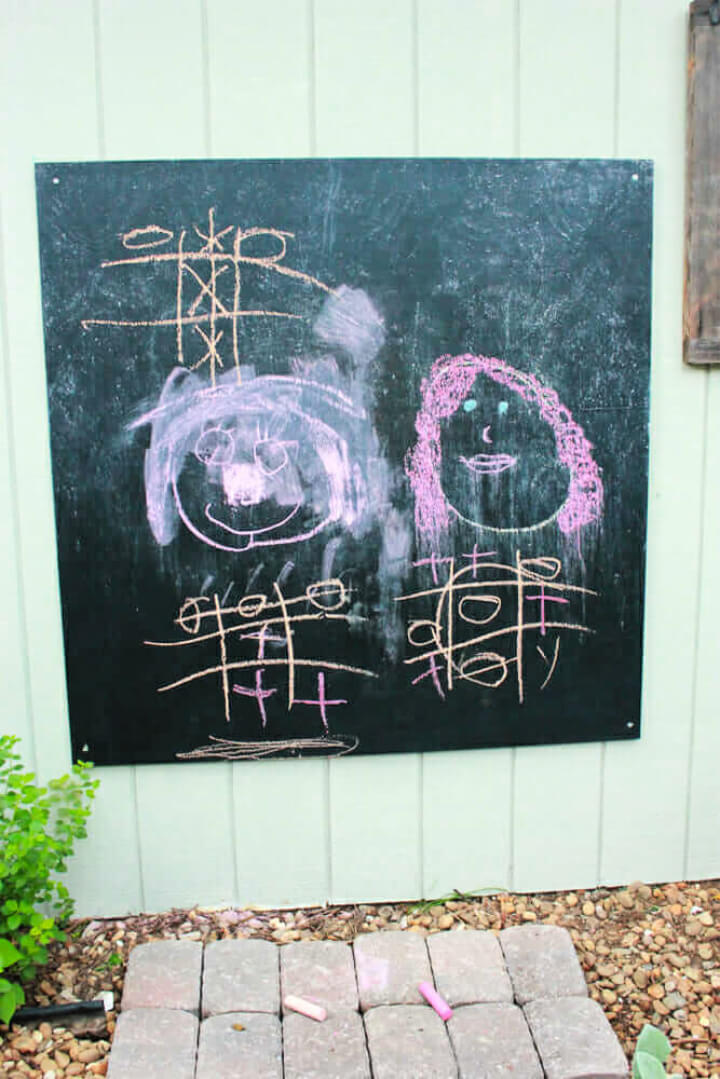 Willing to do a simple painting project that will boost the creative kids' activities? Paint a 4'x4′ feet plywood panel with black chalkboard, give it a few coats of wood primer too before your paint. Sand for smooth edges, and that's it. Adorn this chalkboard more by adding a frame all around. Full guides here artfulparent
11. Colorful Chalkboard for a Kids' Room
Want to know about the kids' interests and imaginations? Then consider adding this colorful chalkboard in kids' rooms. It will allow those tiny hands and fingers to write and draw what comes to the brain. So, you can be familiar with what you kids' think. Use dark pink chalkboard paint and plywood to make it. diynetwork
12. DIY Mini Chalkboard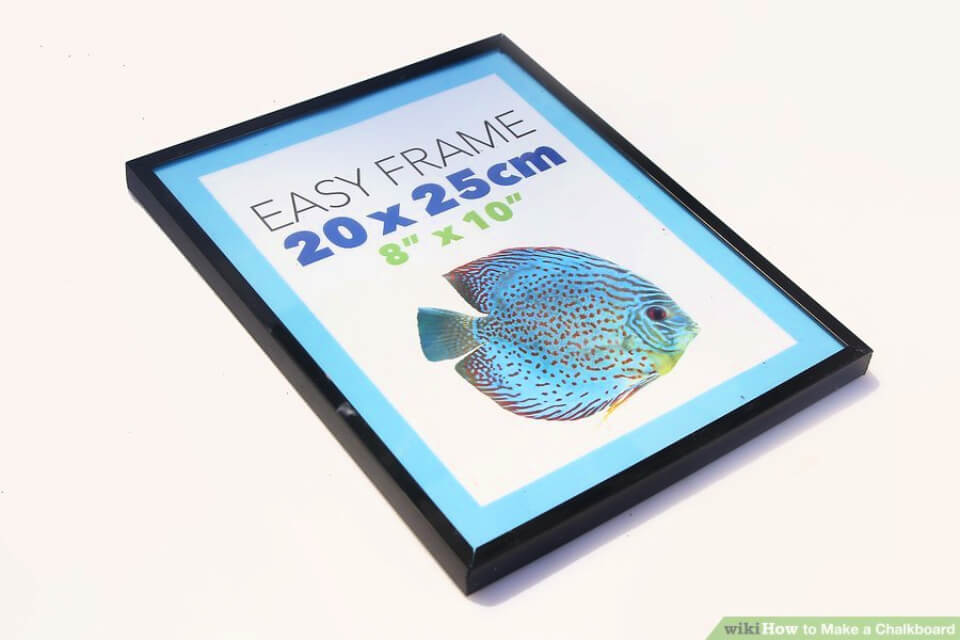 Upcycle the picture frames also to build lovely and cute DIY Framed chalkboards quickly. Make this one using a photo frame, sheet metal, magnets, fiberboard, plastic sheet, and primer to make this chalkboard. You will love doing this project with kids involved. One of the best kids' gifts to make at home. Details here wikihow
13. DIY Huge Fence Chalkboard for Backyard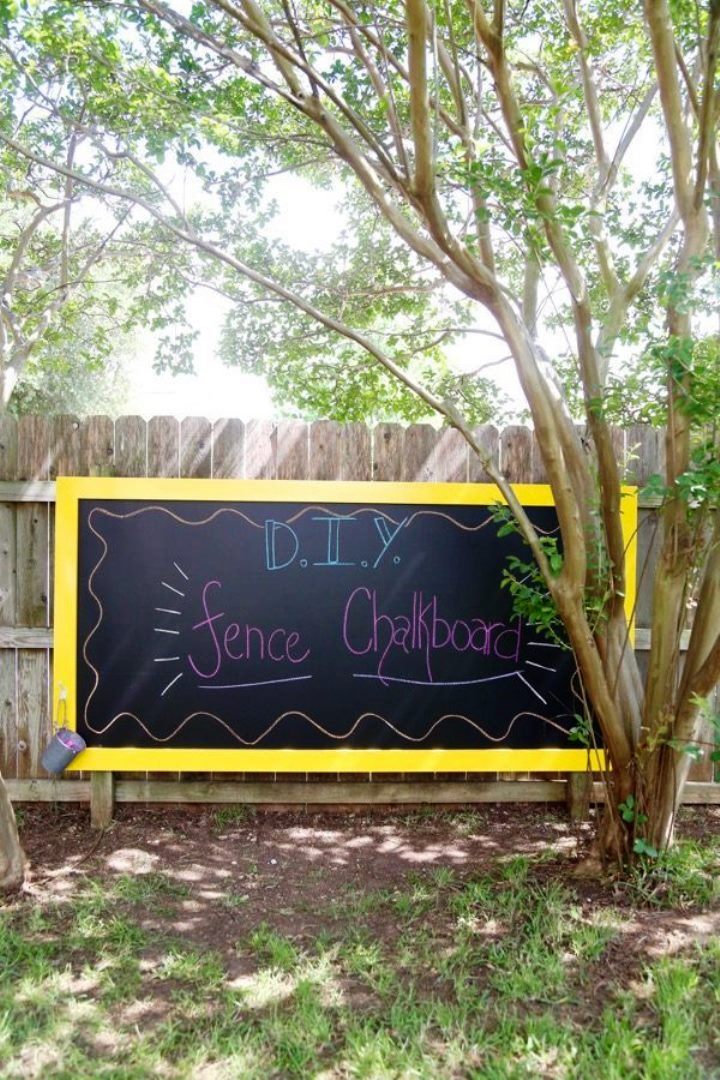 Turn a big creative spot for your kids in your backyard by installing this DIY large chalkboard. This one looks fabulous with a yellow border and will go focally stimulating to all kids' eyes. Making it would be the best way to encourage kids to learn art and to draw, along with improving their motor skills. loveandrenovat
14. Make Your Own Chalkboard
Building this chalkboard with wood molding gives it a gorgeous border. Use the rust-oleum chalkboard paint for painting the plywood for a bizarre chalkboard. Use a paint roller to ease yourself into painting this chalkboard.
15. Free To-Do List Chalkboard Plan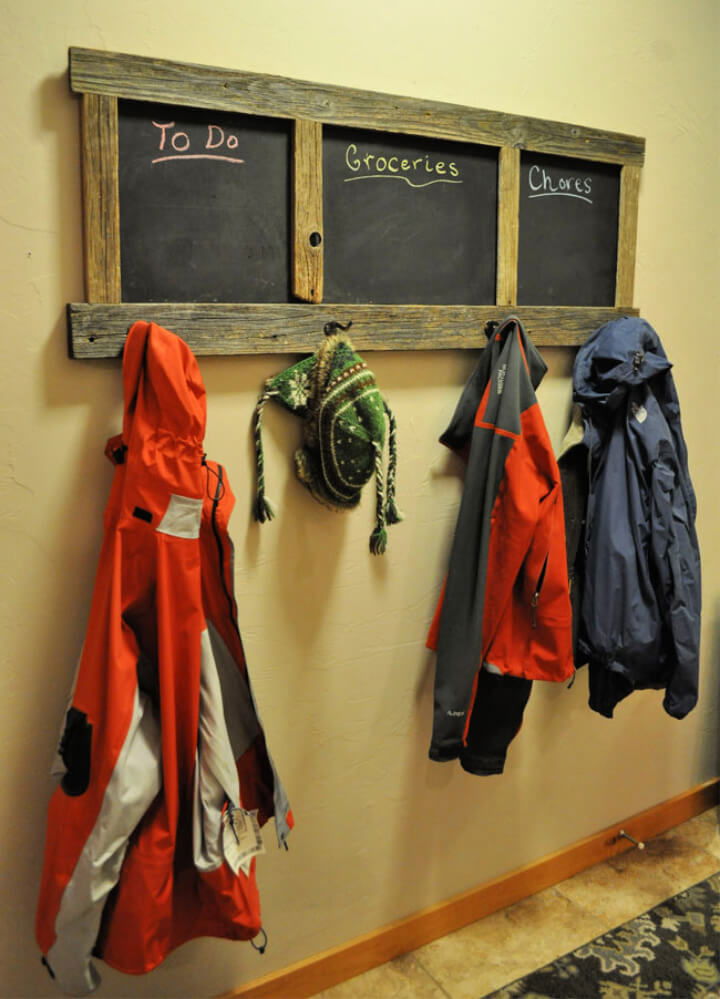 If you love the functional items of furniture with dual functional behavior, this chalkboard coat rack is for you. Build a big coat rack with reclaimed wood slats and plywood chalkboard panels, add hanging hooks to its bottom side for hanging your clothes and other items of interest like scarves and hats. diypete
16. Weatherproof and Durable Chalkboard Design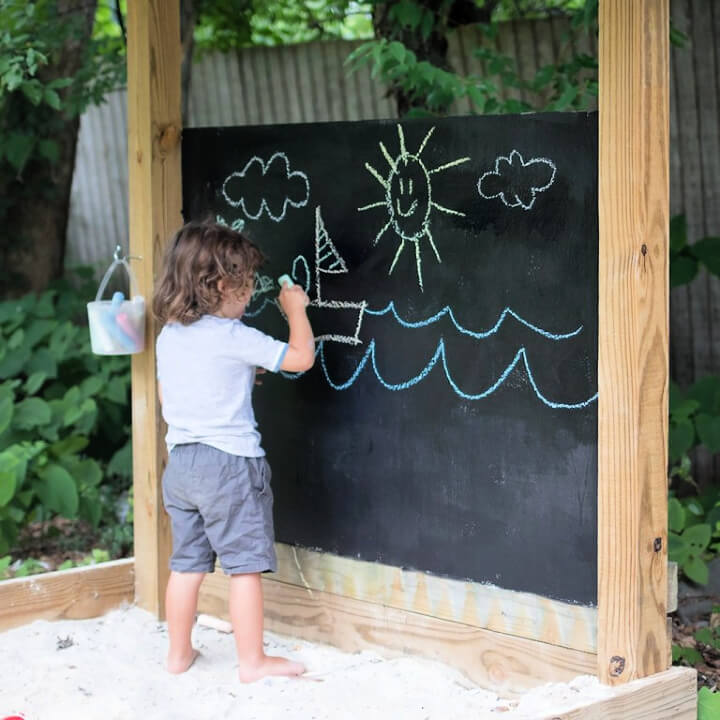 The outdoor chalkboard is often get damaged with the harsh weather and rainwater. So, make weatherproof chalkboards that will always be there for kids' chalk paintings and drawings. Building this chalkboard with plywood, you are giving your kids' a way to express themselves. gina michele
17. DIY Farmhouse Chalkboard Style Sign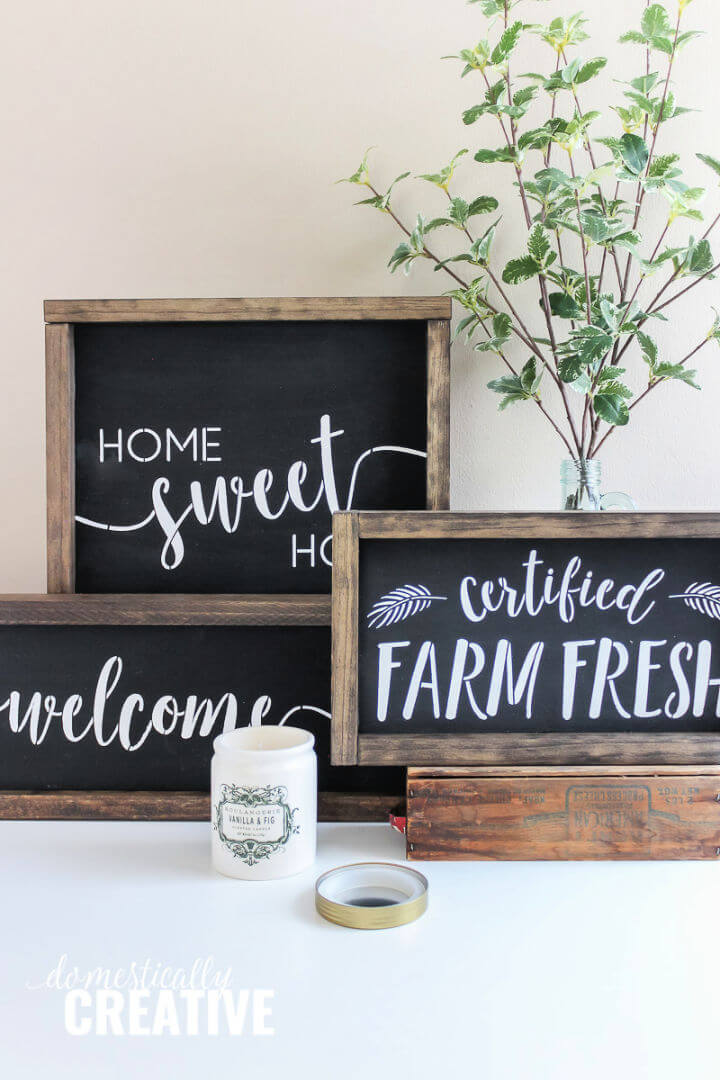 Help your kids establish concentration by installing this farmhouse chalkboard indoor, which will also be a perfect rustic decor sign. Use it also to deliver custom messages to your family. Give it to your kids for fun painting and drawing sessions, use it also as a message board on a wall. Details here domesticallycrea
18. Cheap DIY Giant Chalkboard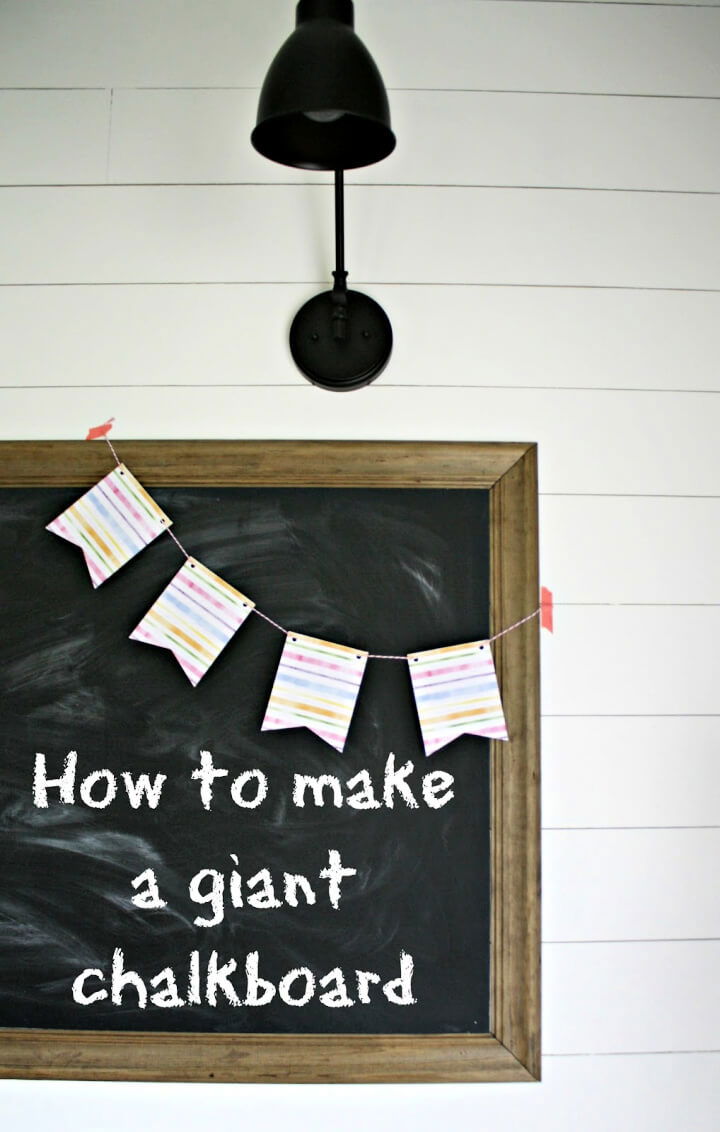 Using chalkboard paint and plywood, it is super easy to build a DIY chalkboard that will help boost the individual confidence of your kids. See your kids solving problems alone by building this large wall chalkboard will work up super quickly. It is super cheap to make too. thriftydecorchick
19. Chalkboard Calendar that Anyone Can Make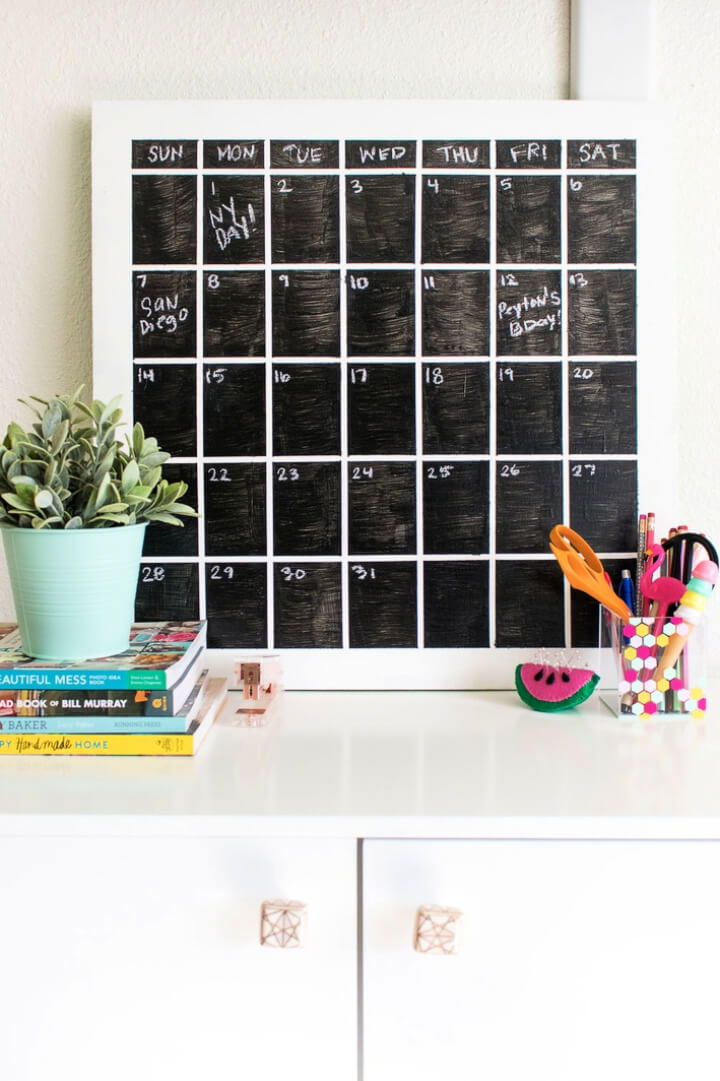 Do wonders with chalkboard paint, keep yourself regular and up to date with this chalkboard calendar. It will also rock for the home command center. Use the 2'x2′ plywood panel, divide it into calendar rows and columns, use masking tape for getting help for painted table lines. Write calendar dates and content with chalk. An all-season calendar to make with plywood. curbly
20. DIY Large Chalkboard Wall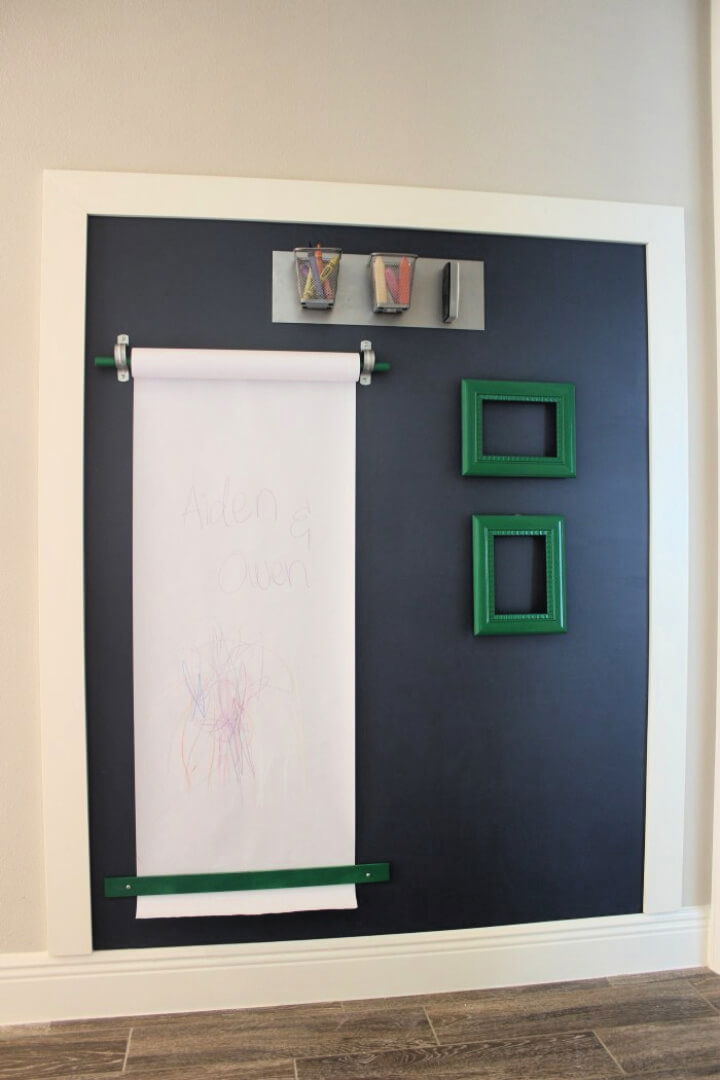 Featuring chalkboard in interior design decor will help you go for more prominent style statements. So, build this large wall chalkboard using plywood, chalkboard paint, 1×4 wood trim, primer and magnet strips, etc. Add up this chalkboard wall with picture frames, shelves, and folding calendars to build a full home command center. frillsanddrills
21. Building an Oversized Chalkboard Calendar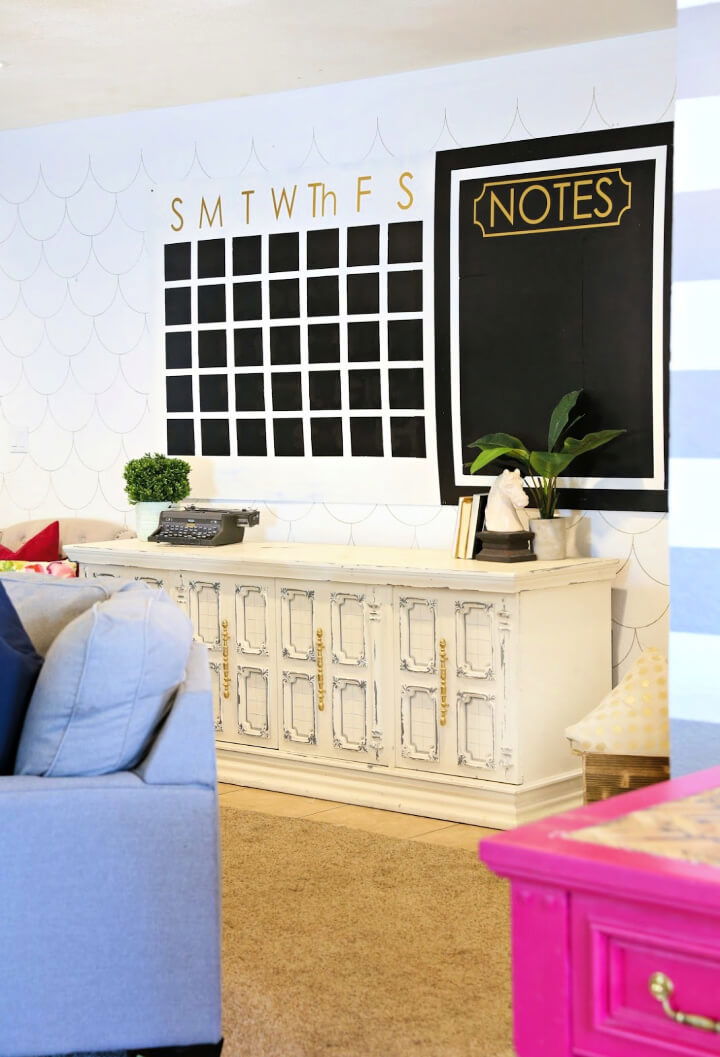 You will love this all-season calendar making your interiors look great by featuring chalkboard paint. The project is all about to use smartly and precisely the painters' tape while painting a large plywood panel for an oversized calendar. Give a white primer coat first to plywood so it will appear as accent white lines through black chalkboard surface. classyclutter
22. DIY Wall Chalkboard with a Chalk Ledge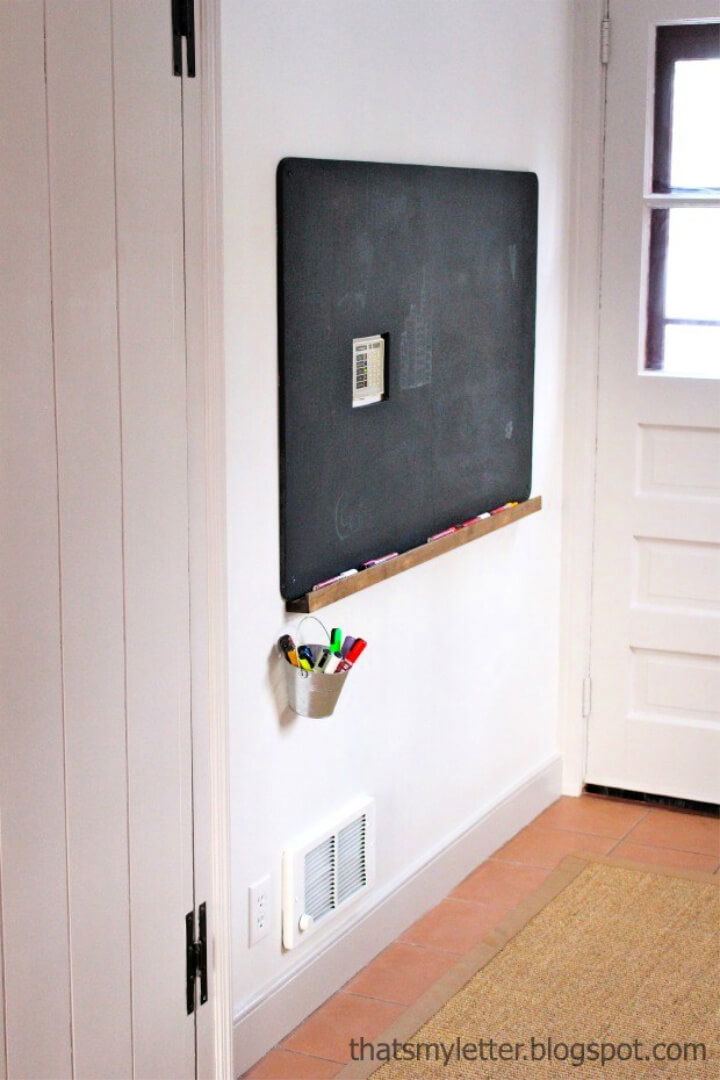 Another great plywood appreciation project, all home lovers will love. Build a plywood wall chalkboard with a little shelf underneath to hold the chalk stocks. The project will complete in a couple of minutes and will not cost you big. Also, hang a bucket to one of the corners for organizing more stocks. Details here prettyhandygirl
23. Making a DIY Framed Chalkboard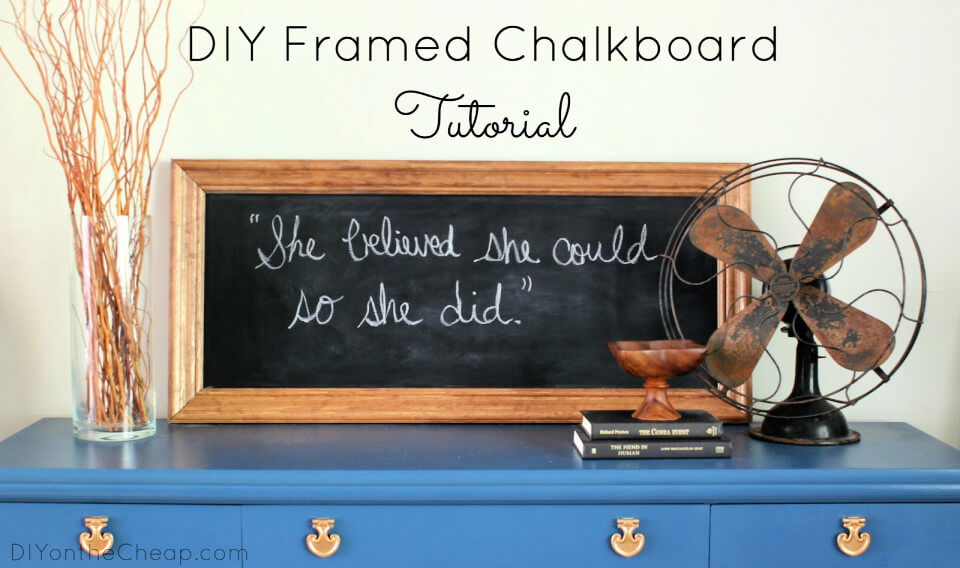 Build arresting chalkboard frames out of plywood; the paint surface of plywood will get half the work done for you. Just paint the surface with black chalkboard paint, next frame up with a cool wooden frame, and enjoy a framed chalkboard, will make the best message board for a home lover. Details here erinspain
24. Chalkboard Easel From One Sheet Of Plywood
As you can quickly paint the plywood to serve as a chalkboard, so do build this chalkboard easel using only one sheet of plywood. Build both side frames of this self-standing chalkboard easel with the wood slats of choice. Insert chalkboard painted plywood panels in them and hinge their tops. remodelaholic
25. DIY Chalkboard From Thrift Store Frame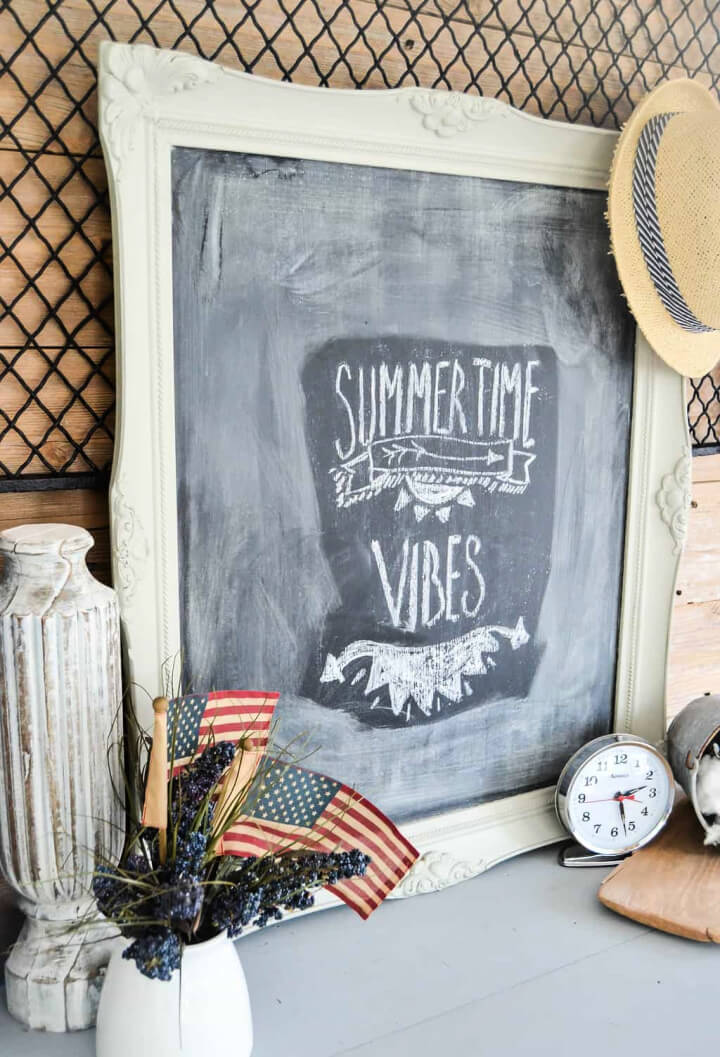 Craft good looking chalkboards also out of thrift store findings. Add up a thrift store frame with a plywood panel, painted with black chalkboard paint, and build a chalkboard in no time. The best hanging hardware would saw tooth hangers in this case. mycreativedays
Related DIY Projects and Ideas
Chalkboard Paint Ideas: Learn how to decorate with chalkboard paint, from turning old furniture into chalkboards to turning walls into chalkboards. These genius DIY chalkboard paint ideas are perfect for any home that is looking for a fun way to decorate.
Shark Crafts for Kids: Kids love sharks, and these easy shark crafts and activities for kids of all ages are the perfect way to get your little ones excited about ocean life!
Space Crafts for Kids: Let your children explore outer space with these super simple space crafts for kids. All of the projects include pictures, instructions, and materials lists.
DIY Fidget Toys: Fidget toys are a great way to help kids relieve stress and anxiety. Check out these fun DIY fidget toys that you can make at home with only a few household materials.
Easy Crafts for Kids: Here you'll find the latest and best crafts for kids, with new ideas. Whether it's an easy craft for preschoolers or a fun activity to do with your kids, we've got you covered.
Sensory Bags for Kids: Sensory bags are a fun and easy way to get kids experiencing different textures and scents. These squishy sensory bags for kids are perfect for school, daycares, or just at home.
Conclusion:
If you're in need of a little organization and want to add some style to your home, one of these 25 homemade DIY chalkboard ideas may be perfect for you. From giant chalkboards that can take up an entire wall to small framed boards that can be hung anywhere, there's sure to be a project here that will fit your needs and personality. So get creative and have fun with it! What's your favorite diy chalkboard idea?