There is nothing more enjoyable but to enjoy the serene outdoor environments by sitting or laying down comfortably! It fills you up with great joy to ride on an outdoor swing, and it is also a super enjoyable experience to hang out in the hammock to catch some rays and also to stare at the never-ending sky! Hammocks are favorite to many of us, and they make us super comfortable to read your favorite books while being in arms of nature!
It creates unforgettable moments to sleep in the hammock with your friends and siblings and also to enjoy the refreshing outdoor winds and breezes while swinging on a hammock! So, if you are also willing to feel great by laying down on a hammock then must get a hammock for your outdoor that can stand alone otherwise install a comfy one between the two-yard trees, tie the hammock ends to tree trunks or stems! However, buying a self-standing hammock can get expensive, so if you are not in a position to spend a lot of money on the hammock or just willing to save a lot of money then simply go with DIY hacks to make a hammock!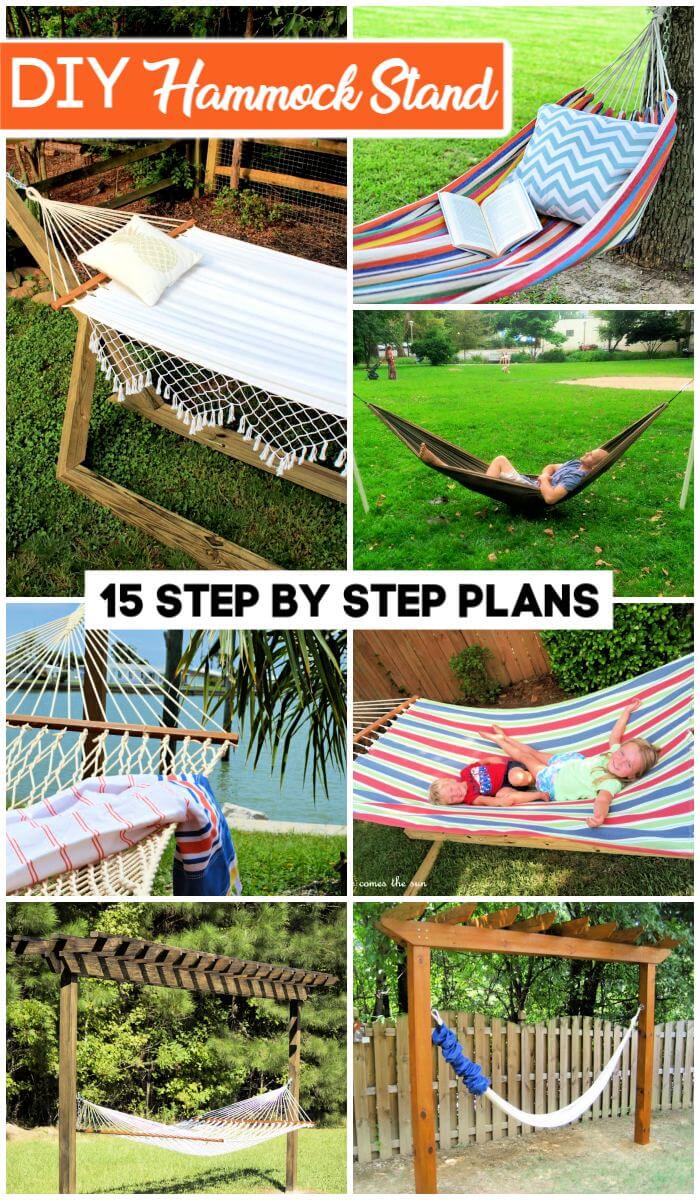 So, intending to make a hammock at home for your outdoor? If yes, then the very first thing would be to gain or build a stand that will not only hold the hammock in a tight position, but it should also be capable of handling a lot of weight! So, while making a smock at home, the main focus would be to build a hammock stand, and we have laid here too many samples here for you that will make amazing inspirations! Just check out here these DIY hammock stand plans & ideas with step by step tutorial that are amazing, durable and has creatively been built at home without getting a bit expensive! Here these ideas will teach you the engineering involved in making a lasting longer self-standing hammock stand, and you will also be guided for durable assembly of the parts!
DIY Garden Projects:
Just make the self-standing hammock stands using durable and thicker wooden posts, just lay down flat some wooden rails or beams and then finish them with vertical, angled arms to make a hammock stand! Install extra braces and supports to put extra strength and durability to your homemade hammock! Next, also make the rocking hammock stand that will stand alone but will come in moo-shape and would be something interesting to look at! Check out some great samples given below in the list! Next also make the hammock stand with roofs that will look like the swing stand or sets! Check out some more designs in the given below collection and don't forget to browse the respective attached links that will make you get with the full free instructions, step-by-step tutorial, and full free plans!
Durable DIY Hammock Stand From Posts: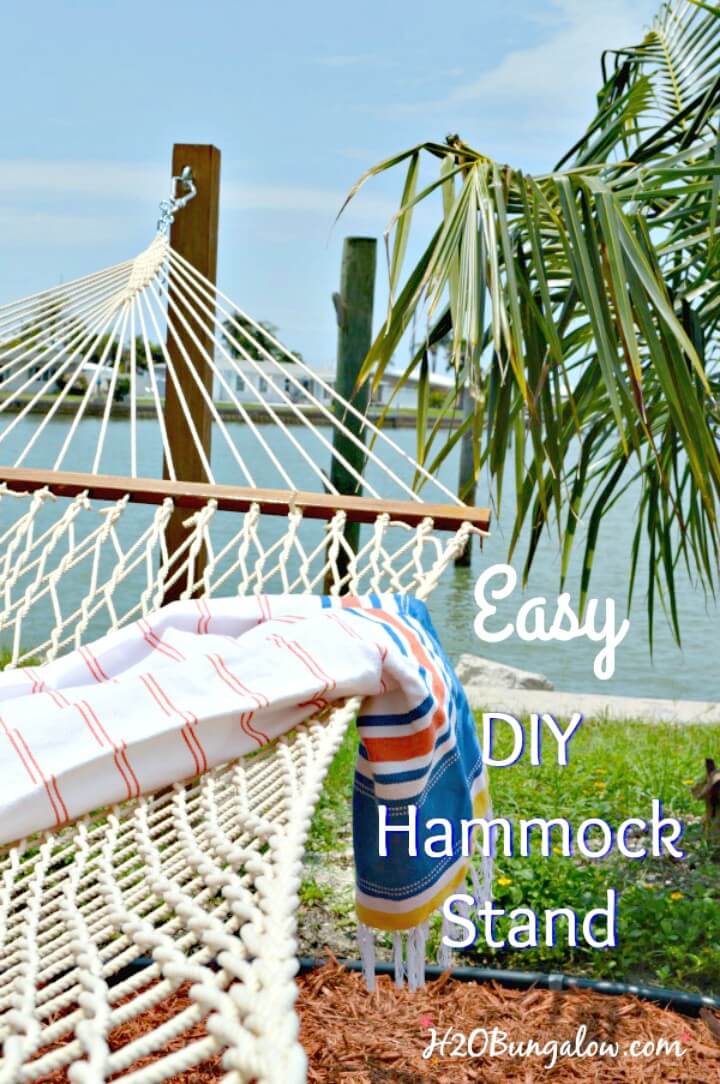 If you want to make your outdoors really more enjoyable and fun then adding a hammock there is a good idea and for your hammock, you need a functional and robust stand. So instead of building a hammock with the metal stand, you can go with the wooden posts as they can not rust and bear more weather effects. h2obungalow
Build A Free Standing Portable Hammock Stand: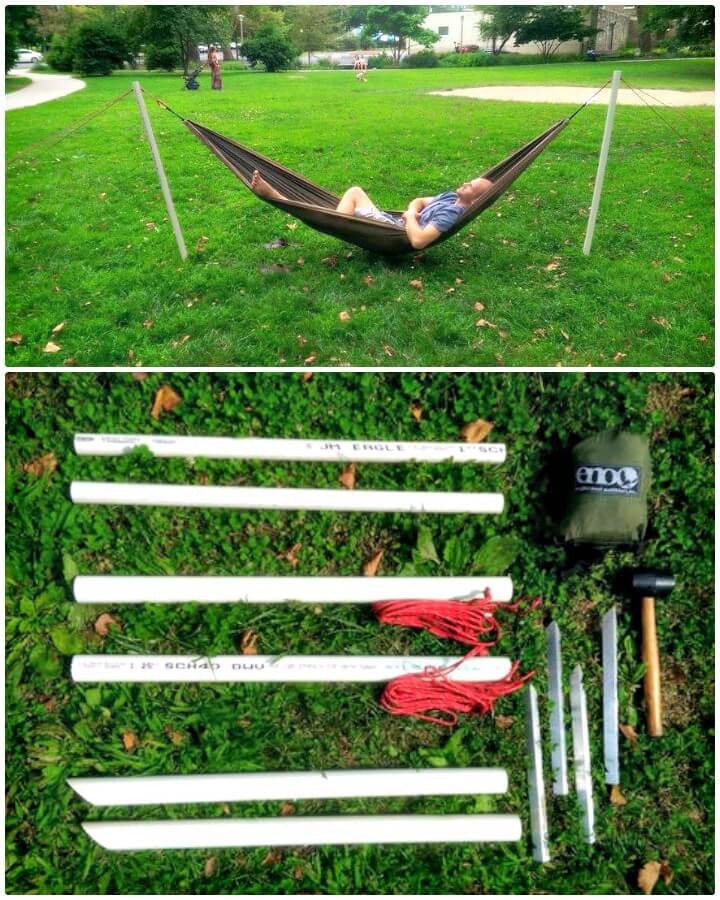 A Hammock is just the right thing to add so much more fun to your summer outdoor enjoyment and if you do not have a tree to tie your hammock then here is the idea of creating really strong and portable hammock support from the PVC pipes. Its super easy, fun and affordable to build yourself at home and details are shared here instructables
DIY Hammock Stand from Scratch: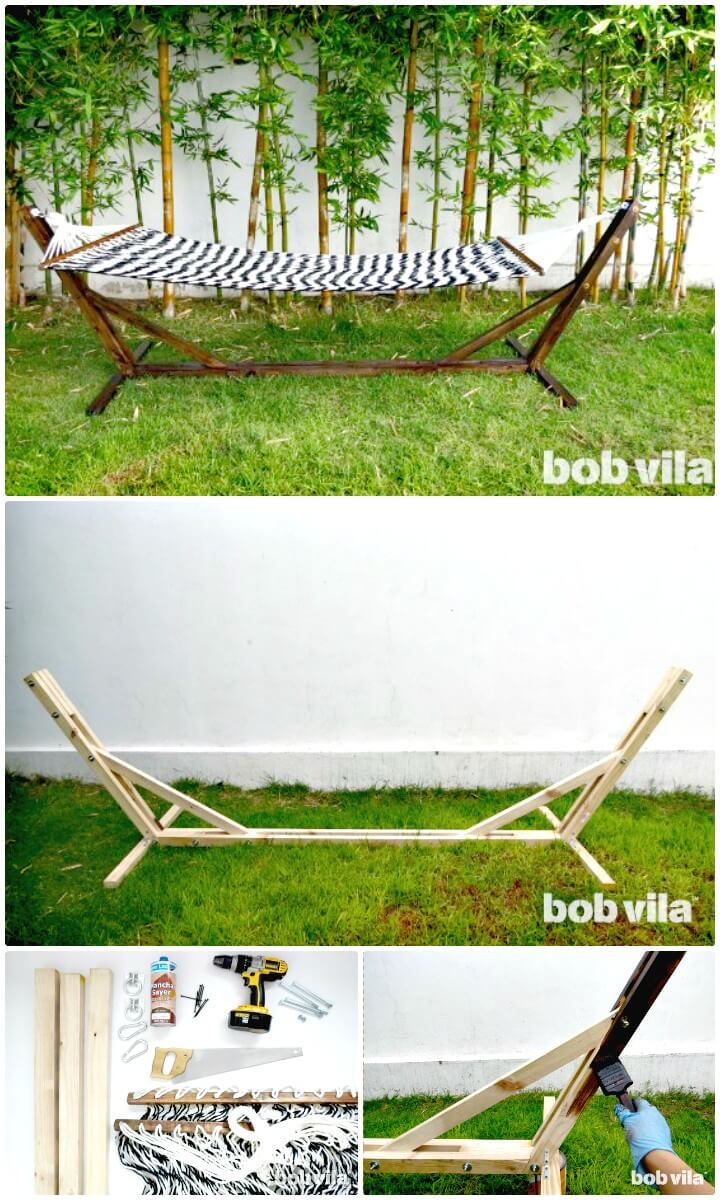 Here is the idea of creating this super functional and fun looking hammock stand when you do not have trees to put your hammock on it. The stand is super easy and fun to build on your own with the wooden pieces and the hardware. The stand has been stained in the rustic brown color to look so stunning and fun for your outdoor decor. bobvila
DIY Pergola Hammock Stand in a Weekend for Under $200: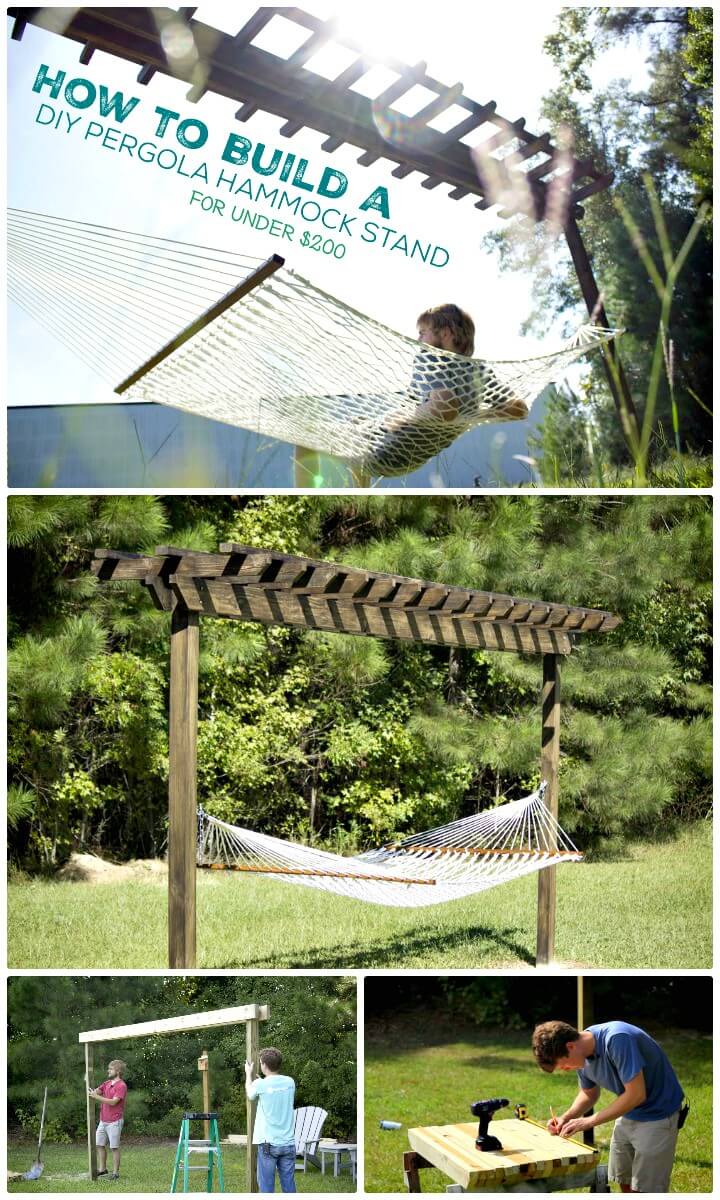 You can make the most out of your outdoors by creating this super cute and fun looking hammock with a handmade wooden stand because not everybody has the trees to support the hammock on. The wooden planks and bars have been made yoked together to shape up this functional support with a rod bar too. dfohome
Build a Handsome Hammock Stand: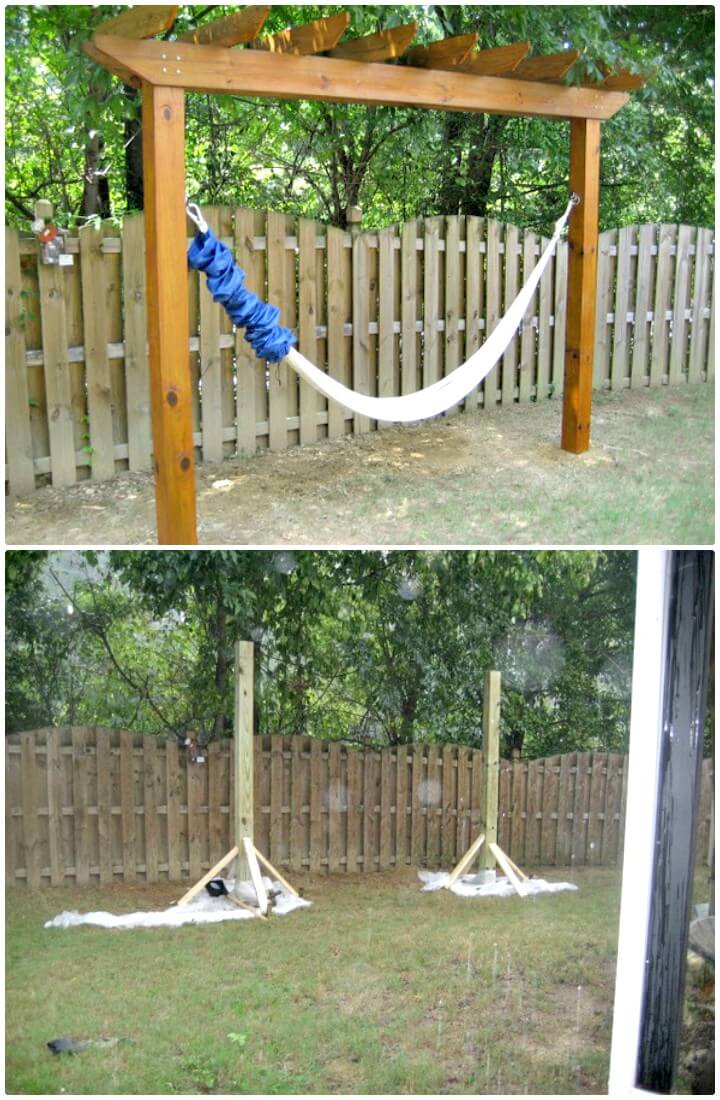 Make a hammock on your own and enjoy your outdoors in a more relaxing and fun way. Yes, using the wood around you can easily make the perfect wooden post stand with a roof bar too. If you can work with wood, you can efficiently work up the project and thus add the most exciting thing in your outdoors that everyone can enjoy. manmadediy
DIY Hammock Stand Under $40: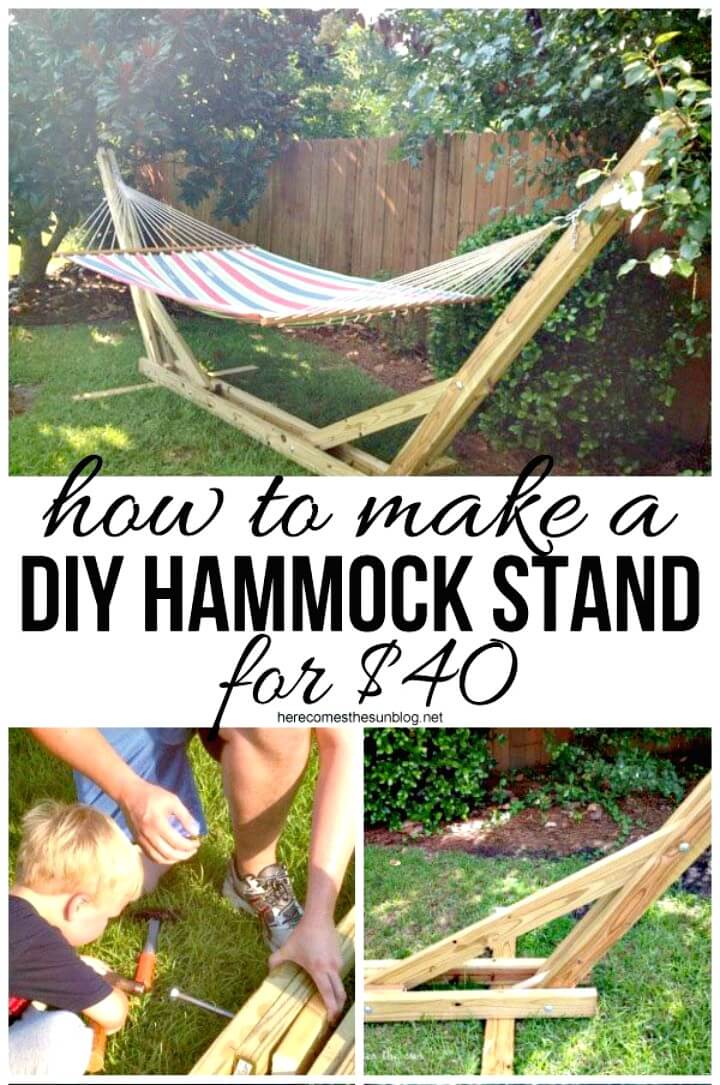 A fun sunny day in the summer is enjoyed the best when you have the hammock to relax on and enjoy your weekend more and more. This almost V-shaped wooden stand is super easy, and fun to build out of the wooden bars and the planks and some hardware and then tie your hammock on and it can easily be ported to any of the outdoor areas too. herecomesthesunblog
Make Your Own Rocking Hammock Stand Tutorial: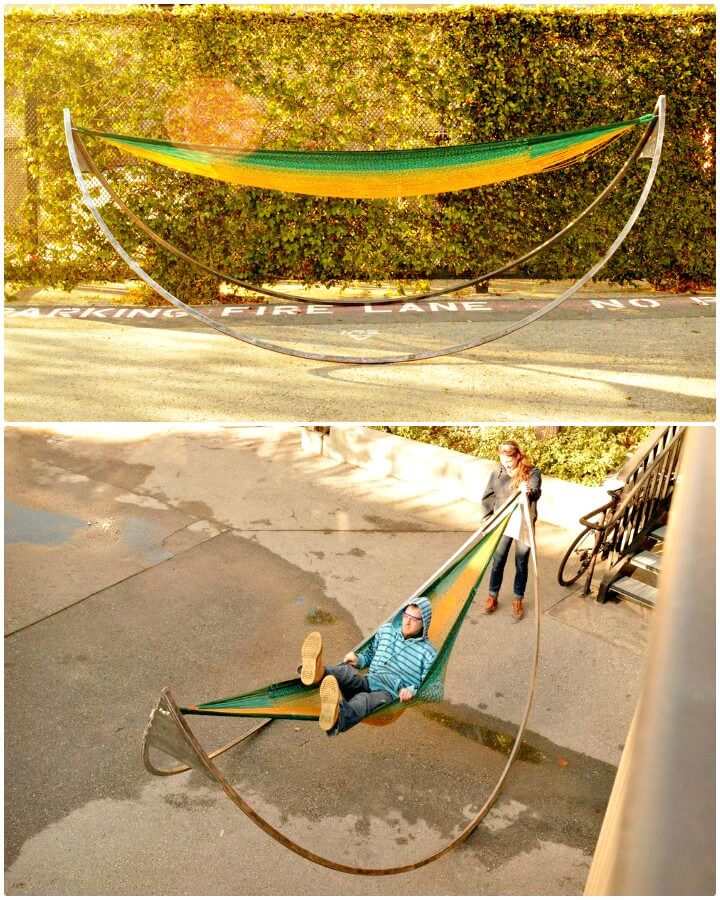 Here is how you can double up the fun of your hammock with this exciting and fun looking stand that can rock like a chair. This quirky and rocky stand has been made out of the arched wooden half circular wooden pieces being nicely yoked together with the hammock being installed in the center of it. instructables
How to Make a Free-Standing Hammock Stand: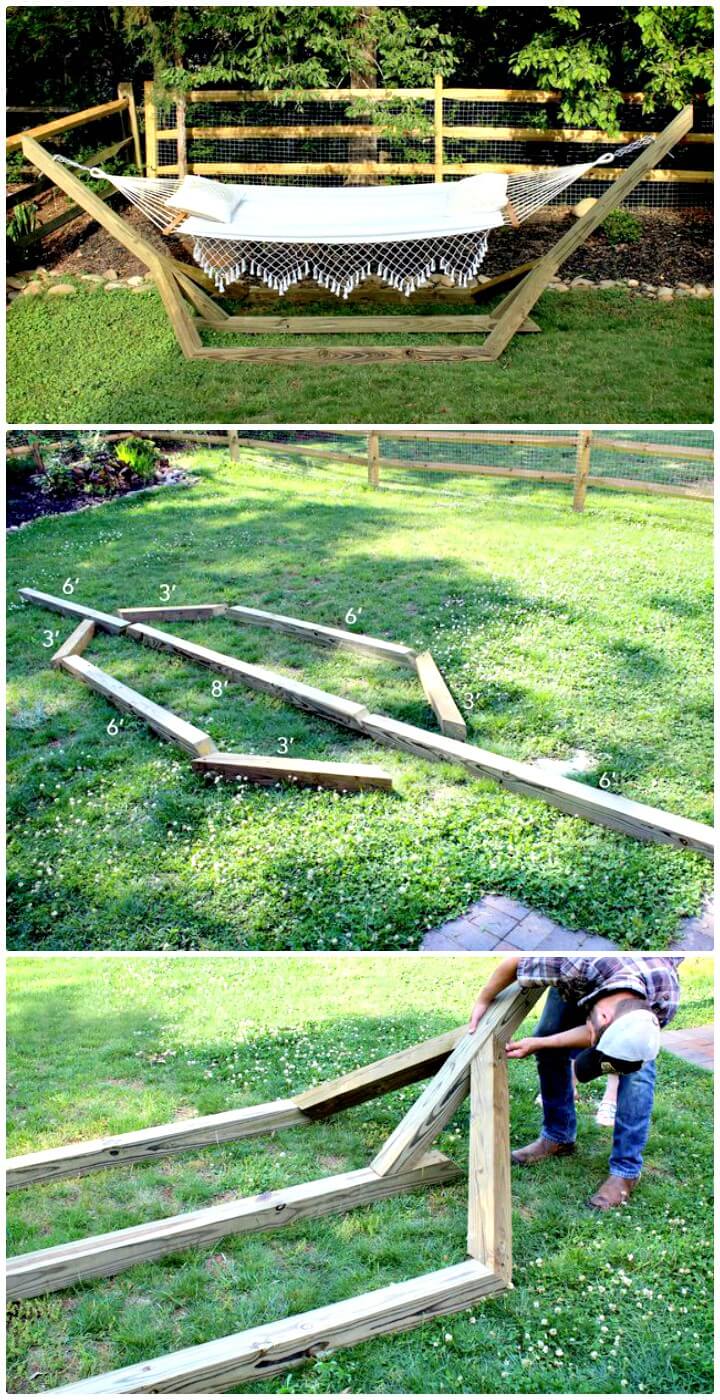 Step by Step Tutorial Here: hunker
Easy How to DIY a Hammock Stand Tutorial: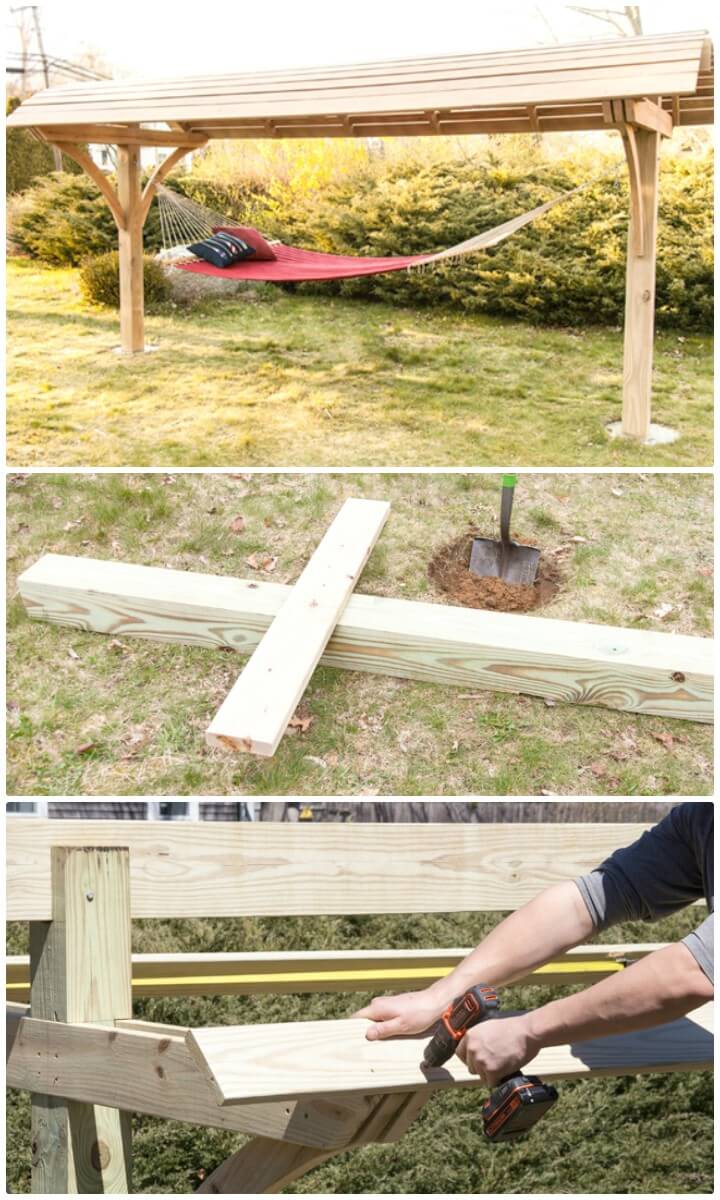 A free-standing support stands for your hammock is the best, and you can feasibly make it on your own at home with the use of some wooden planks and the bars and some hardware. This freestanding hammock stand looks like a wooden boat design, and the best thing is it is movable to any of your desirable positions in the garden. blackanddecker
DIY Happy Hammock Stand Tutorial: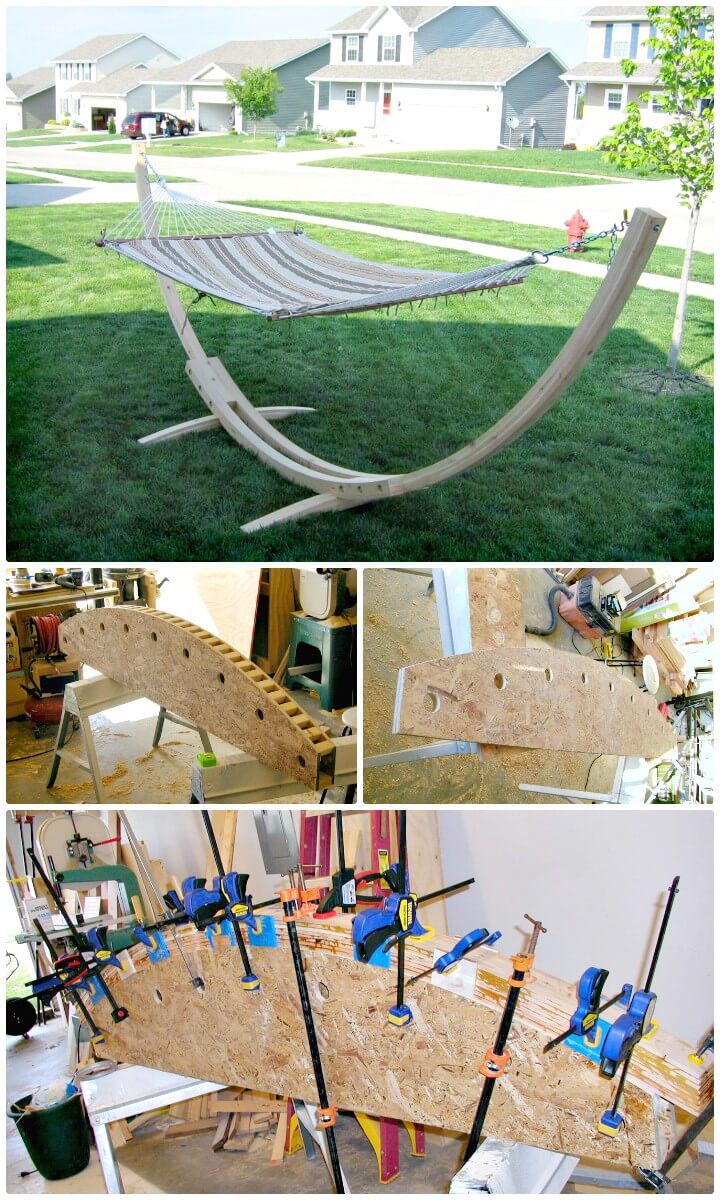 The hammock is the most fun thing that you can make the most out of it and here is the adorable version of the hammock to make and enjoy double fun out of it. Here is this hammock that can rock to and fro and thus make your hammock rides so much more fun and enjoyable and the complete tutorial of it can be hacked here woodmagazine
How to Make Garden Hammock with Stand Plan: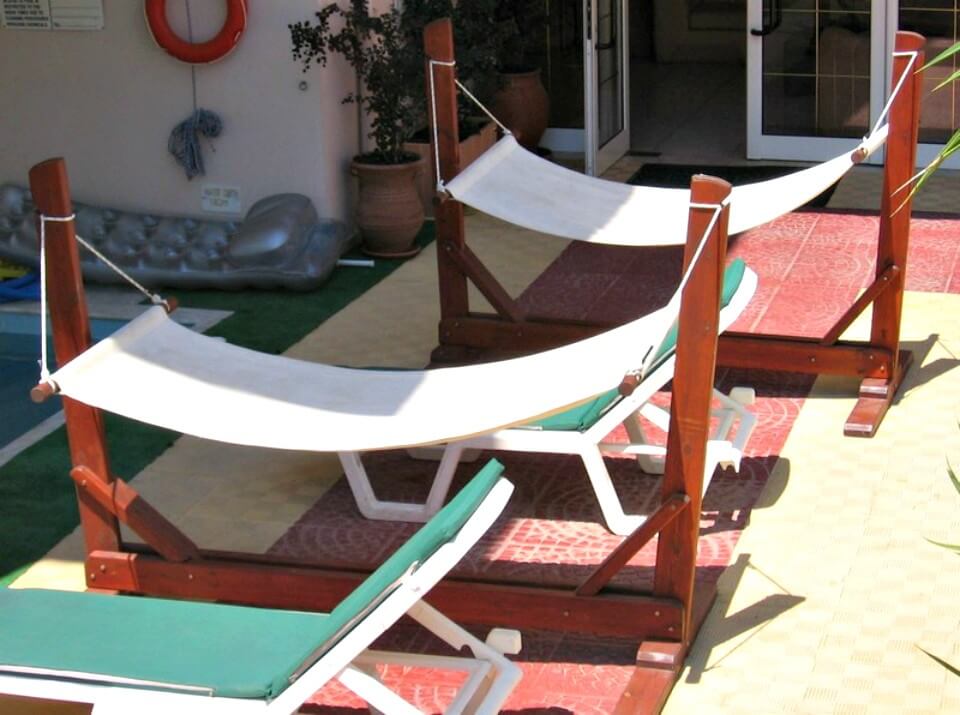 Easy How to DIY Hammock Stand: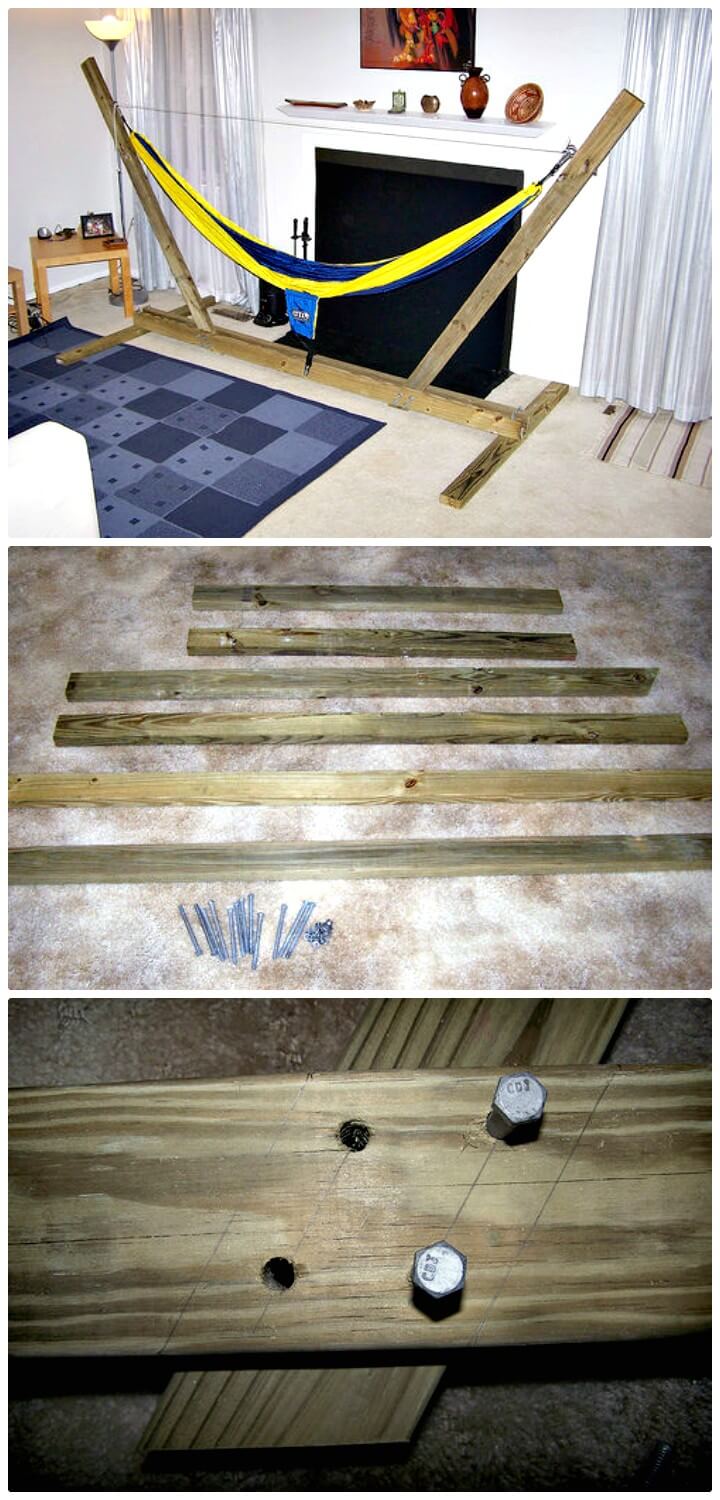 The wooden bars and the wooden planks have been used here for the cute and fun looking wooden stand made in the boat style using the wooden solid hardware. You can take you hammock and tie it over the stand and take it anywhere be it backyard, patio or the garden as it is portable. Follow the details of the idea here instructables
How to Make a Hammock Under $40: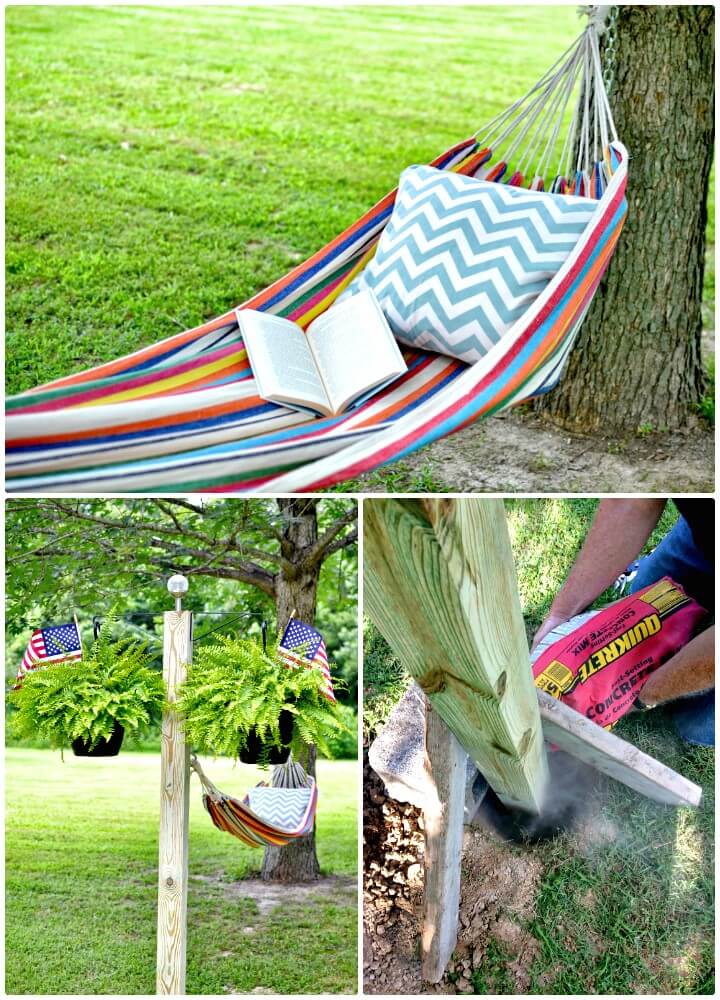 If you have one tree in your spaces then you need to make a wooden post so that you can enjoy a hammock there to relax, rest and enjoy on. Here is the fun idea of installing a wooden post in the ground with easy steps and instructions and you can do it so nice and easy in a one day job. You can check out the details of the idea here seegirlsblog
Make Your Own Indoor-outdoor Hammock Stand: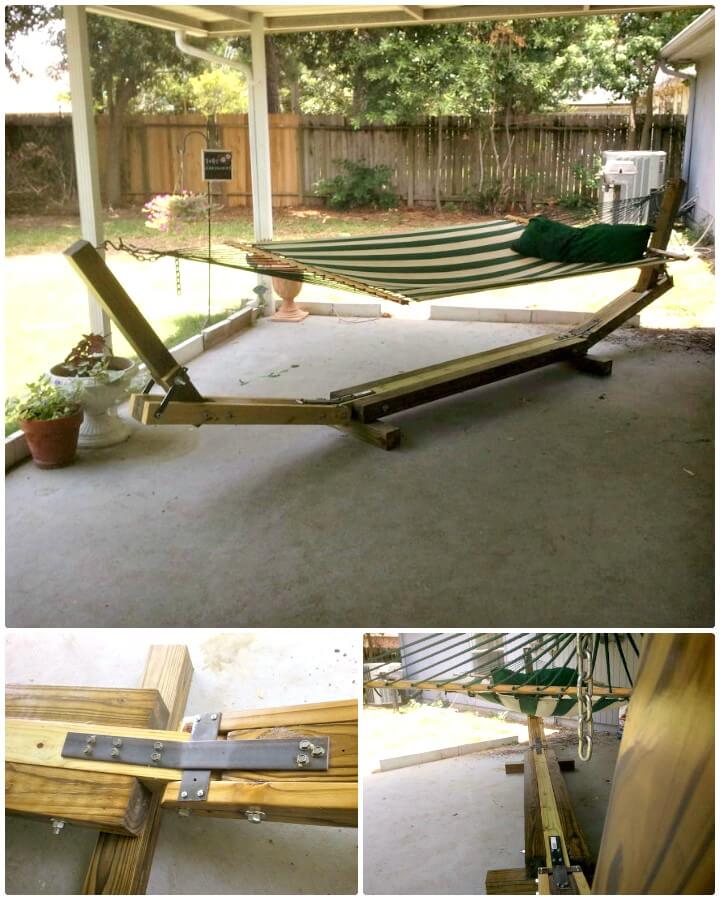 Its so much fun and relaxing to enjoy a fun hammock ride in the outdoor spaces to totally adore the beauty and fascination of the weather there. You can easily create the wooden stand for your hammock using the clamps and the brackets. You can take this lovely handmade hammock to any of your spaces and here is the tutorial instructables
Quick How To Make Portable Hammock Pipe Stand: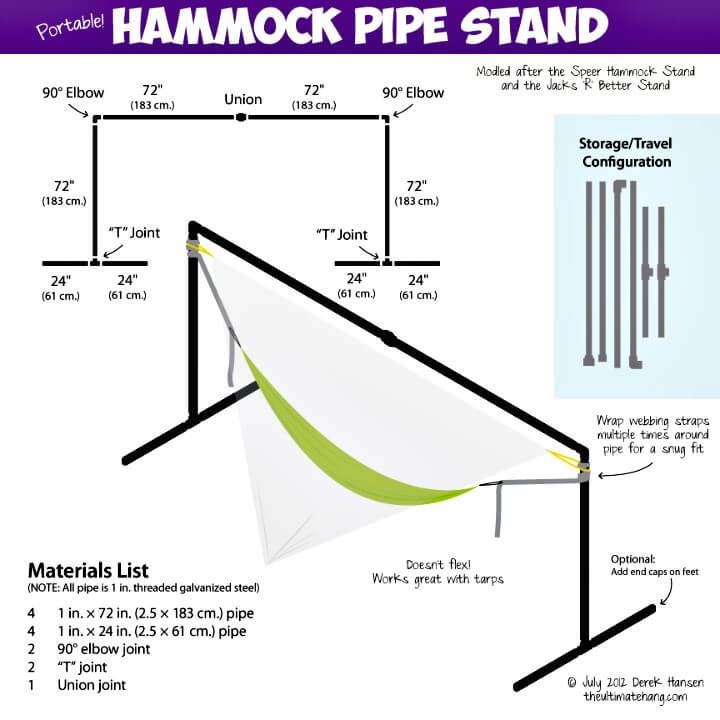 Here is the most sturdiest and the most durable kind of stand that you can make out of the pipes and enjoy it having in your outdoors for the complete hammock fun. Here is the idea of doing it on your own with all the written details and the instructions to perform the project so nice and easily at home. theultimatehang