Chalkboard walls are an innovative and creative way to add functionality and flair to any room. Learn how to make a chalkboard wall with these 20 easy DIY chalkboard wall ideas that will make your walls fun and functional! Each of these diy chalkboard wall ideas will that can transform your space, offering a unique and interactive element for both children and adults alike.
Learn how to make chalkboard walls with easy-to-follow instructions and transform ordinary rooms into dynamic spaces for drawing, writing, and expressing your creativity. Choose from various approaches, including budget-friendly DIY chalkboard walls, wood-framed chalkboard walls, magnetic chalkboard walls, and even framed chalkboard wall art. These step-by-step guides will help you make the perfect chalkboard wall for bedrooms, playrooms, kitchens, and more!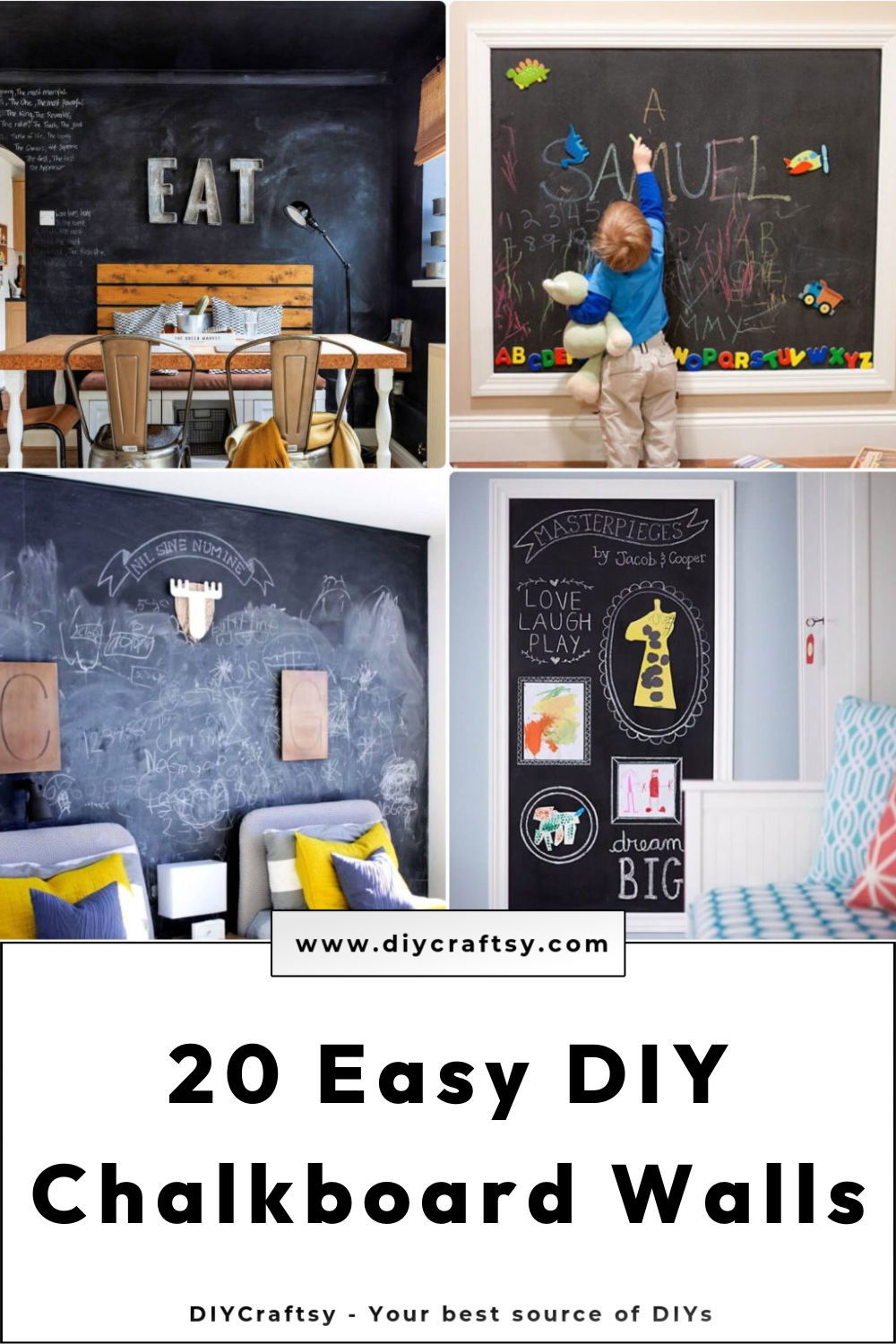 By opting for a DIY chalkboard wall, you can fully customize the size, shape, and finish to suit your specific needs and preferences. Customize your chalkboard wall with various colors and styles to match your room's existing décor. Whether you want to add a touch of sophistication to your home office or a playful nook for your child's playroom, there is a chalkboard wall design perfect for your unique requirements. Get started today and unleash your creativity with these 20 easy DIY chalkboard wall ideas!
1. Budget-Friendly DIY Chalkboard Wall
Transform your wall or door into an engaging space with a DIY chalkboard. Ideal for notes, reminders, or children's creativity, it's a simple project that only takes a few hours and five easy steps. Materials include MDF board, finishing nails, construction adhesive, latex primer, chalkboard paint, and your choice of trim. Start by making a smooth surface, prime it, and then apply chalkboard paint.
After drying, prime the chalkboard surface with chalk, then frame it. You can choose a trim that matches your home's decor, perhaps with a ledge for chalk storage. Not only does a chalkboard wall or door offer functional benefits, but it also brings a charming touch to your home.
Your color choices are endless with chalkboard paint, and you can personalize the area with decorative items like bunting banners. This project enhances your space in an exciting, creative, and cost-effective way. Engage your artistic side and add an interactive element to your home with this chalkboard project. interiorfrugalista
2. Build a Wood Framed Chalkboard Wall
Turn your breakfast nook into a dynamic centerpiece with an affordable DIY framed chalkboard wall. This easy project not only offers an avenue for your creative outbursts, but it also serves as a stylish focal point in your home. This step-by-step tutorial walks you through mapping it out with painter's tape, applying Rust-Oleum black chalkboard paint, framing it with Minwax-stained 1x4s, and finally enjoying the fruits of your labor. The additional feature of drawer pulls as a chalk holder provides convenience. Breathe new life into your home with a personalized statement piece that speaks volumes about your unique style. ahostinghome
3. How to Build a Magnetic Chalkboard Wall
Make a fun and practical space for your little one with a DIY magnetic chalkboard house. This functional wall décor piece is easy for a playroom using basic materials like plywood, furring strip board, chalkboard paint, a hanging hooks kit, and a sheet metal stock for the magnetic feature.
Engage your child's creative side while providing an interactive surface for learning and play. The project involves crafting a house-shaped board, adhering to sheet metal to make it magnetic, painting it with chalkboard paint, framing it with furring strips, and finally installing it on your wall.
With a perfect mix of creativity and simplicity, this DIY magnetic chalkboard house, measuring 60″ x 36″, can be a charming addition to your child's playroom without breaking your budget. Enjoy the fun and satisfaction of making your playroom accessory today! michealadiane
4. Easy DIY Framed Chalkboard Wall Art
Bring a vintage charm to your everyday home décor with a DIY framed chalkboard! This idea proves how creativity can transform waste into another's prized possession, from old furniture discarded on the roadside to an interactive artwork. Ideal for leaving notes or holiday wishes for loved ones, it also serves as an attractive addition to any wall, especially against a soft blue backdrop.
You only need a large picture frame (36″ x 48″), white paint, chalkboard paint, and brushes. Start by cleaning the frame and then applying the white paint. Once dried, use chalkboard paint on the frame backing, let it dry, and attach it back.
Optional seasonal magnets can add more fun. It's easy to create, adds a purposeful touch to your living space, and is a great way to utilize unused frames. If you ca unable to find an old frame, thrift stores or garage sales are great alternatives. Add a dose of creativity to your home with this innovative project! sustainmycraft
5. Make a Chalkboard Wall With Step by Step Instructions
Step up your interior game with an engaging and fun DIY chalkboard wall. Chalkboard walls are a brilliant way to add a dynamic touch to any room, especially a kids' playroom. This project involves transforming a plain wall into an interactive surface using chalk paint and some creativity.
Unlike chalkboard wallpaper, chalk paint is cost-effective, simple to apply, and offers a more robust and authentic chalkboard experience. With a handful of supplies, including chalk paint, a box of chalk, and optional trim or border, you can easily add an artistic touch to your home.
With its easy maintenance and the potential to change the designs anytime, this creative initiative is a sure way to bring life and creativity into any room. Don't forget to condition the chalkboard wall before use to achieve that authentic blackboard feel and allow for easy erasing. Ready to transform your space? Start crafting your chalkboard wall today! erynwhalenonline
6. How to Make a Perfect Chalkboard Wall
Unleash your creativity by transforming a mundane wall into an interactive DIY chalkboard wall. This guide offers simple steps to help you breathe life into a room, turning it into an engaging space. Starting with choosing the wall, the process also involves picking the right chalkboard paint, prepping the wall, painting, and seasoning.
Basic materials like painter's tape, sandpaper, chalk, and most importantly, Rustins, Dulux, or Rustoleum chalkboard paint are required. This project is an economical and easy way to add personality to your space while providing a practical and fun writing surface. A chalkboard wall is an exciting addition to any home, perfect for scribbling, drawing, or leaving messages. grillo
7. Turn Your Wall Into a Giant Chalkboard
Turn an ordinary wall in your home into an interesting and functional feature with a DIY chalkboard. This chalkboard wall promises endless fun and utility, from tracking upcoming projects to showcasing creativity.
Using Rust-Oleum chalkboard paint, Zinsser Primer, and 1×3 pine boards, you can construct a large, customizable chalkboard in just a few steps. This project is straightforward, manageable solo, and adaptable to fit any wall size.
It can be accomplished even while keeping an eye on your playful children. The chalkboard wall enhances your decor and offers a unique space to organize tasks or let your child's artistic skills shine. Make your chalkboard wall today for a blend of function, style, and play! loveand
8. Pretty DIY Giant Chalkboard Wall
Bring life and personality to your walls with an engaging DIY chalkboard wall project. Ideal for kids' doodling, birthday messages, or festive greetings, this giant chalkboard wall stands as a special accent in your home.
You can make this fun and interactive element to liven up any room with simple supplies such as chalkboard paint, wood trim, painter's tape, and other basic tools.
The chalkboard wall, framed for an eye-catching focal point, offers a creative solution for utilizing large wall spaces. It's an easy and cost-effective project, promising endless enjoyment and utility. Brighten up your living space with this innovative home decor idea! afiremanswife
9. How to Paint a Chalkboard Wall
Give a unique spin to your home's wall with the trendy chalkboard paint. This inexpensive, easy-to-apply, and creative DIY solution adds an interesting visual element and offers a space for doodles, messages, and reminders. The process, however, requires more than just applying a coat of paint. Firstly, apply a chosen brand of chalkboard paint and let it set to cure before writing on it.
The secret to a long-lasting chalkboard wall lies in the initial preparation. Utilize chalk to condition the wall, ensuring a more evenly blended writing surface. Remove the excess chalk, and draw or write to your heart's content. It's a mess but a fun one that even your kids can be part of.
When complete, the wall is not just a decorative element but a functional one. Enhance the chalkboard experience with vibrant or traditional chalk markers – both work perfectly! A little effort and time can transform an ordinary wall into an interactive hub, a work of art that everyone can contribute to. justagirl
10. Chalkboard Wall to Jazz Up for Child's Room
Craft a personalized space in your home with a unique DIY chalkboard wall. You can transform any wall into a creative canvas with simple supplies like a level, measuring tape, chalkboard paint, and a paint roller.
After preparing the surface, use your measuring tape and level to outline the area, then apply multiple coats of paint, allowing drying time between each coat. After a three-day setting period, bring the chalkboard to life by rubbing the surface with white chalk.
Accentuate the final look with wooden trim or painted frames, using a nail gun for secure placement. This unique decor piece serves multiple purposes, from showcasing artwork to jotting down reminders. It's a fun and functional addition to any room, set to evoke creativity and unique charm. todaysparent
11. DIY Playroom Chalkboard Wall for Kids
Step into the joy of designing a lively playroom for your little ones with the inclusion of a creative DIY chalkboard wall. This imaginative space is a perfect canvas for their thoughts, fostering their independence and creativity. Utilizing a can of Rust-oleum chalkboard paint, the transformation begins. The application process may require more than one coat to achieve a desired, robust finish.
Remember to exhibit patience – after painting, you should allow a 3-day gap before the drawing begins. Following this, "season" your chalkboard wall with a thin layer of chalk to prevent ghostly reminiscences of prior doodles.
Although vibrant chalkboard markers may seem attractive, their removal can be challenging – they're best used for long-term artwork. This chalkboard wall in your playroom promises an engaging, creative outlet for your children's bubbling imagination. swaddlesn
12. Make a Magnetic Chalkboard Wall
Elevate your home and entertain your toddler with a DIY magnetic chalkboard wall! This exciting home project seamlessly blends aesthetics and practicality, offering a fun space for children while also serving as a stylish, unique decor piece.
You'll need magnetic primer and chalkboard paint, a small paint roller, chalk, a soft cloth, an eraser, and magnetic accessories to bring this idea to life. Once you've chosen the perfect spot and sketched out your space, it's just a matter of painting, drying, and framing.
Soon enough, you'll have a wall that inspires your child's creativity and showcases your DIY flair. With minimal costs and simple instructions, this project is a rewarding addition to any playroom or child-friendly space. theculinary
13. Handmade Wooden Framed Chalkboard Wall
Brighten up a dull hallway with a DIY framed chalkboard wall! This straightforward project turns any wall into a fun, interactive space for under $30. This project can be completed swiftly using readily available materials like Pine or Whitewood boards, Rust-Oleum Chalkboard Paint, and Varathane Stain.
The chalkboard allows creative expression, while the frame adds a chic touch. This is a low-commitment project, as the chalkboard paint can be painted over when you desire a new look. This trendy, budget-friendly DIY framed chalkboard wall is functional and adds an aesthetic appeal, making your home more vibrant and personalized. shanty
14. Affordable DIY Chalkboard Wall
Express your child's artistic potential with a DIY chalkboard wall in their bedroom. This versatile chalkboard wall allows children to express themselves creatively at any time of the day. This wall has myriad uses, from practicing vocabulary and illustrating bedtime stories to hosting a game of Pictionary.
Amy used chalkboard-painted plywood to make this wall, which complements the room's vibrant yellow comforters and blue & white pillows. The supplies needed include 4×8 1/4″ plywood, Benjamin Moore Chalkboard Paint, and a foam roller.
This creative project elevates your child's room and fosters imagination and growth. Remember, a child's room isn't just a place to sleep – it's a space to dream, learn and create. momtastic
15. Make a Magnetic Chalkboard Wall for Kitchen
Experience the joy of having a creative corner in your home with your DIY chalkboard wall! This creative project uses magnetic primer and chalkboard paint to make a fun and functional space for kids and adults to unleash their creativity. Chosen spot: the narrow wall by the side of the fridge.
The process involved three coats of Rustoleum Magnetic Primer and two coats of latex chalkboard paint in black. The black wall might seem bold, but it becomes a conversation starter and a central point in the house.
From keeping toddlers entertained to mark special moments, this chalkboard wall serves as a canvas for creativity. Its magnetic feature also offers a unique twist for lightweight magnets, perfect for DIY alphabet learning tools. So go ahead and make every doodle count with your very own chalkboard wall! blueistyle
16. Make Your Own Chalkboard Wall at Home
Celebrate the joys of childhood creativity with a DIY chalkboard wall, a versatile addition to your home that will delight your little ones and make their artistic dreams come true. Crafted using quality Krylon chalkboard paint from Sherwin Williams, this wall is the perfect canvas for your child's imagination. The process involves:
Careful preparation of the wall.
Applying multiple coats of chalkboard paint for durability.
Treat it with white chalk to achieve the authentic chalkboard look.
A unique feature in your home, this chalkboard wall encourages your children to express their creativity freely without worrying about damage. It's a simple yet impactful way to foster artistic exploration and provide endless fun for your kids.
With this, you can effortlessly capture beautiful memories, celebrate milestones, or make exciting announcements – all while adding a touch of charm to your home decor. whiskingmama
17. Simple DIY Giant Chalkboard Wall
Craft a unique, personalized giant chalkboard using homemade paint for your workspace or any part of your home. Ideal for jotting down thoughts or plans, this functional and aesthetically pleasing DIY project is affordable and straightforward.
Essential materials include plywood, paint, 1 x 3 x 6 boards, upholstery nails, and other basic hardware items. The project demonstrates the use of chalkboard paint, an economical and easy-to-make alternative to store-bought variants, by blending the plaster of Paris with black paint.
Not just useful for listing tasks, this oversized chalkboard enhances the character and feel of your space while being an effective organization tool. Be ready to transform your wall into a creative and productive space! mountain
18. Homemade Framed Chalkboard Wall
Engage your little ones in a fun, educational, and creative pastime with a DIY chalkboard wall! This easily manageable project caters to your children's love for drawing on walls, providing a safe and encouraging platform for their artistic tendencies. Make an expansive canvas with chalkboard paint strategically placed in a 6ft x 3ft area of your hallway.
A $10 investment in paint covers around 100 sq. ft. – excellent value for money compared to store-bought chalkboards. Frame your artwork zone with wood and stain, complementing your home décor. The setup is a great tool for teaching letters and words and doubles as a menu board or an area for parents to hone their hand-lettering skills!
Embark on this creative venture post-kids bedtime, ensuring a smooth, uninterrupted paint job. A fully dry and ready-to-use chalkboard awaits after three days. Enjoy the versatile usage and fun family times a DIY chalkboard wall offers. thecozy
19. How to Make a Chalkboard Wall for Staircase Entry
Revamp your space with this engaging DIY chalkboard wall project! Perfect for school photos, birthdays, or parties, it is an eye-catching backdrop that brings an effortlessly fun vibe to your home. You'll need high-density foam rollers, Zinsser Bulls Eye 1-2-3 Primer, chalk paint, and a few more tools to transform any wall in your house into an interactive canvas for your little ones.
This project is great for showcasing their artistic talents in a unique way that also adds to your interior decor. Embrace the joy of creativity and watch how your wall becomes a conversation starter for everyone who walks in. Now, let the chalk do the talking! meandreegs
20. DIY Chalkboard Wall Design
Uplift your living space with an engaging chalkboard wall perfect for children's creativity. This wall isn't just a blackboard; it's an interactive addition to your home, offering a fun-filled activity for kids.
To make this chalkboard wall, grab your essentials like level, painter's tape, chalkboard paint (Rustoleum brand recommended), and a trim board. Outline the dimensions of your chalkboard, paint it, and let it dry. Frame it with painted trim boards for a professional look.
Remember to condition the chalkboard with chalk before the first use and after every cleaning. It's a rewarding project that'll keep the young ones entertained, fostering their artistic flair while adding an unexpected touch of decor to your space. magnoliamamas
Conclusion:
In conclusion, these DIY chalkboard wall ideas offer a versatile and creative way to enhance your living space. With 20 unique diy chalkboard wall ideas ranging from budget-friendly options to magnetic and framed designs, you can easily customize your chalkboard wall to suit your style and needs. From bedrooms to playrooms and kitchens, these projects will surely inspire you to embrace the chalkboard paint trend. So, gather your materials and get ready to transform your walls into a functional and stylish canvas for your thoughts and artwork.