Learn how to make cheap ping pong tables with these 10 homemade DIY ping pong table ideas with step by step instructions and simple plans. Having the perfect ping pong table can be expensive, but with these diy ping pong table ideas, you can use save money and still get a unique and custom table design. There are various ways to make your own diy ping pong table, using materials such as plywood, particle board and even dining table. All you need is some creativity, and you can build a homemade ping pong table that will give you hours of entertainment. Whether it's a quick build to get straight into the playing tennis table game or a bigger project with more amazing tennis table designs, these 10 easy and cheap diy ping pong table ideas are all you need to get started!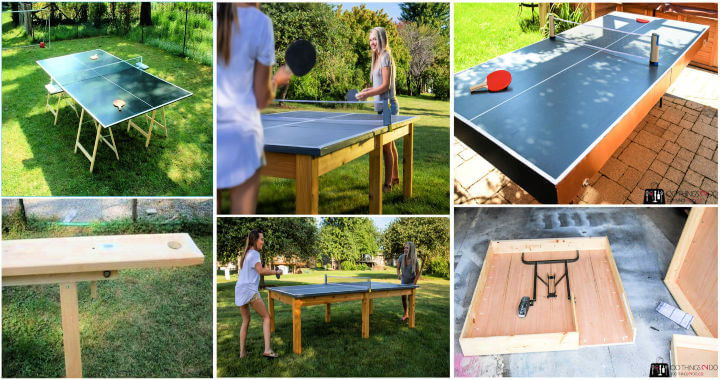 With ping pong being a favorite pastime for people of all ages, having a convenient, high-quality table at home is ideal. If you're up for a DIY project and have some basic building supplies and tools, why not build your own ping pong table from scratch? With 10 different homemade DIY ping pong table ideas to inspire you, you'll have many different options for making your own ping pong tables of any size.
From choosing the best dimensions and materials for maximum durability, to cool designs that will make your game room look extraordinary and inviting – there's an unlimited number of things you can do and unleash your creativity! From a simple folding ping pong table to a large ping pong table with storage options, All these DIY ping pong table tutorials come with detailed making plans and supplies guide
1. DIY Wooden Ping Pong Table
The tutorial features a 4′ x 8′ ping pong table! It is going to cost you even less than $100. To make this, you will need a sheet of 4′ x 8′ of MDF, four 23" plastic foldable saw horses, table tennis set, mending braces, thumb screws, and paint. instructables
2. How to Make Folding Ping Pong Table
This folding ping pong table is perfect for an ideal storage option too! You will need one 4 x 8 Ft sheet of ¾ inch plywood, a 14-inch square of ¾ inch plywood scrap, and six 1 x 6 x 6 Ft. boards with (1) 2 x 6 x 8 Ft. board. jenwoodhouse
3. Homemade Ping Pong Table
Check out this DIY ping pong table made using simple tools and wood mainly! You can find the technical drawings in 2D and 3D, with dimensions, part lists, notes, photos, and instructions! Get the full building plan here. instructables
4. Build Your Own Ping Pong Table
Build your own ping pong table in a reasonable budget and more sturdy materials! You will need one 4*8 sheet of MDF, two 12-foot width of moldings, painter's tape, wood glue, ping pong net, paintbrush, wood clamps, chalk, and Valspar paint. theidearoom
5. How to Make a Ping Pong Table
This DIY ping pong table is surely more than just a ping pong table! The base of this ping pong table is made with 2 full 4*8 sheets! All the table pieces are assembled together using pocket holes. Hot the tutorial for a complete plan. iliketomakestuff
6. DIY Outdoor Ping-Pong Table
If you too have an outdoor ping pong table in mind to enjoy some fun time in the outdoors, this ping pong table is going to charm up things. Made with a cedar base and cement top, nothing can beat the sturdiness of this table. buildsomething
7. Building a Flat Pack Mini Ping Pong Table
The main idea behind this ping pong table is to carry it anywhere with you easily! Enter the Collapsible feature! The entire table is made using about 3 sheets of polycarbonate. The cardboard L profiles are combined with the zip ties. instructables
8. DIY Door or Ping Pong Table
Did you see the versatility of this ping pong table? Can't decide if it is a DIY door or a ping pong table. Because guess what? It is both. You can totally make this DIY door come ping pong table. See the full details in the tutorial. youtube
9. DIY Custom Ping Pong Table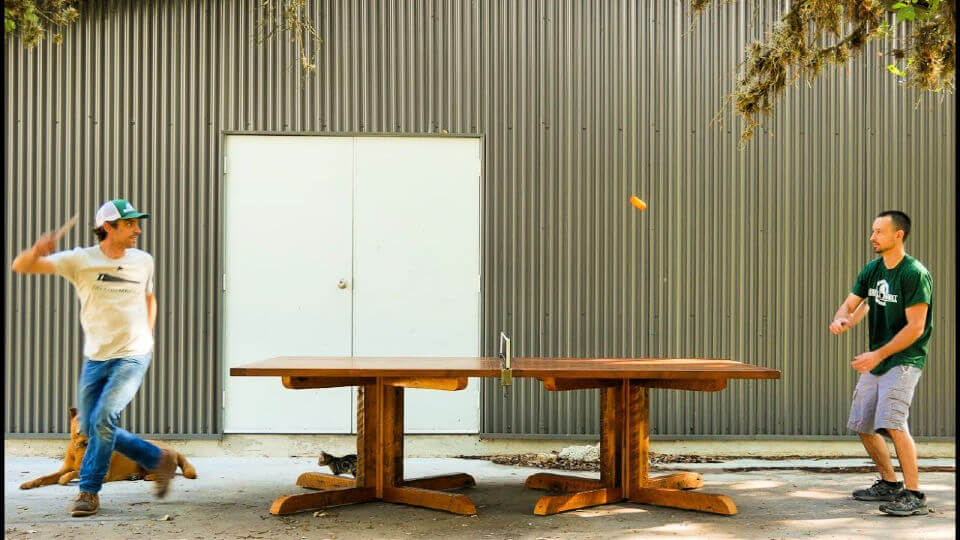 Like we always say, the fun with DIYing is that you can make it as catchy you would want it to be! These custom DIY ping pong tables don't have the typical table legs but some fancy table legs with an unusual appeal.
10. How to Build Walnut Ping Pong Table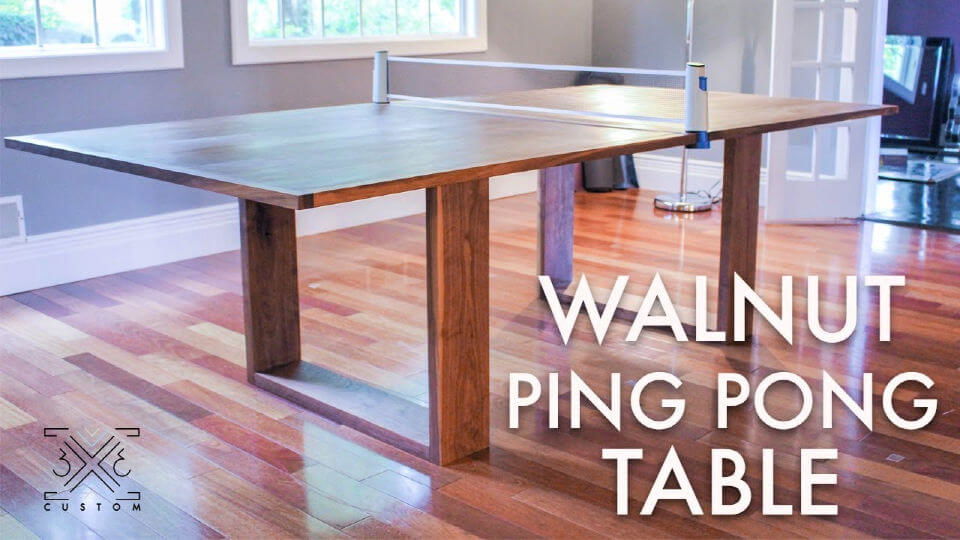 Check out this walnut ping pong table! It has this standard size, with a full playability structure and a minimalistic yet quite appealing design! It could also be a large dining table with the playing netting removed!
Frequently Asked Questions:
Can you build your own ping pong table?
Yes, you can build your own ping pong table with the right tools and instructions. With careful planning, attention to detail, and quality materials, you can construct a durable and enjoyable playing surface that will last for years.
What is the best material to make a ping pong table?
The best material for making a ping pong table is medium-density fibreboard (MDF) or particleboard, which provide an ideal balance of flatness and bounce. These materials are cost-effective and highly durable.
How much would it cost to make a ping pong table?
The cost of making a ping pong table can vary depending on the materials and labor used, but typically ranges from $100 to $500. Quality and customizations will affect the price.
How do you make a homemade table tennis table?
To make a homemade table tennis table, you'll need to have plywood and 2x4s for the frame, legs, netting and posts, paint or varnish for protection, and a ping pong surface. Put it all together following instructions from an online tutorial or video. Have fun!
What dimensions do you need for a ping pong table?
The official size for a ping pong table is 9 feet long, 5 feet wide, and 2.5 feet high. The playing surface should be level and the net should measure 6 inches high in the center. Additionally, the standard distance between the top of the net and the playing surface is 6 inches.
Related DIY Projects and Ideas
Gaming Table Plans: Need a cool gaming table to fit your small space? Here's inexpensive DIY gaming table plans anyone can make.
DIY Table Ideas: These free DIY table plans will to help build any size of table for your home or office. These table ideas includes different styles for dining room tables, side tables, coffee tables and much more.
Coffee Table Plans: If you're looking for a coffee table that is easy to build and will give you an instant update to your living room, these free DIY coffee table plans are perfect for you.
Craft Table Plans: These free DIY craft table plans will help you create a versatile and beautiful work space for all your crafting needs.
Pallet Table Ideas: Learn how to build pallet table with these unique DIY pallet table ideas that will give you a great start on your next project.
Entryway Table Ideas: An entryway table is the perfect place to display your keys, mail, plants, and other home decor. Here are best DIY entryway table ideas for creating a beautiful entryway table that fits your style.
Live Edge Wood Projects: Find designs for easy DIY live edge wood projects that you can make at home. All of these projects are doable with a few hours of work, and they will add a rustic touch to any surrounding.
Conclusion:
Whether you're a beginner or an experienced ping pong player, there's a DIY table design for you. With the right tools and materials, you can easily create your own ping pong table in just a few hours. So what are you waiting for? Get started on your very own homemade ping pong table today! Do you have any favorite DIY ping pong tables? Let us know in the comments below.