Learn how to make homemade cutting boards with these 25 homemade DIY cutting board ideas using wood with step by step instructions. Making a DIY cutting board can be a fun and rewarding experience, as you can customize it to suit your personal preferences and needs. With these homemade cutting board designs, you can find a unique and creative way to make your own functional and stylish addition to your kitchen. Each DIY cutting board design offers step-by-step instructions and a materials list, ensuring a smooth process for beginner and seasoned woodworkers.
The DIY wooden cutting board ideas range from basic and practical to more intricate and decorative, whether you're looking for a simple wooden board or a more elaborate end-grain cutting board with artistic patterns. You can choose from different types of wood to make a unique cutting board that suits your style and needs. Moreover, sealing your cutting board properly is crucial to maintain its longevity and functionality, and these designs will guide you through the necessary steps to ensure a proper finish.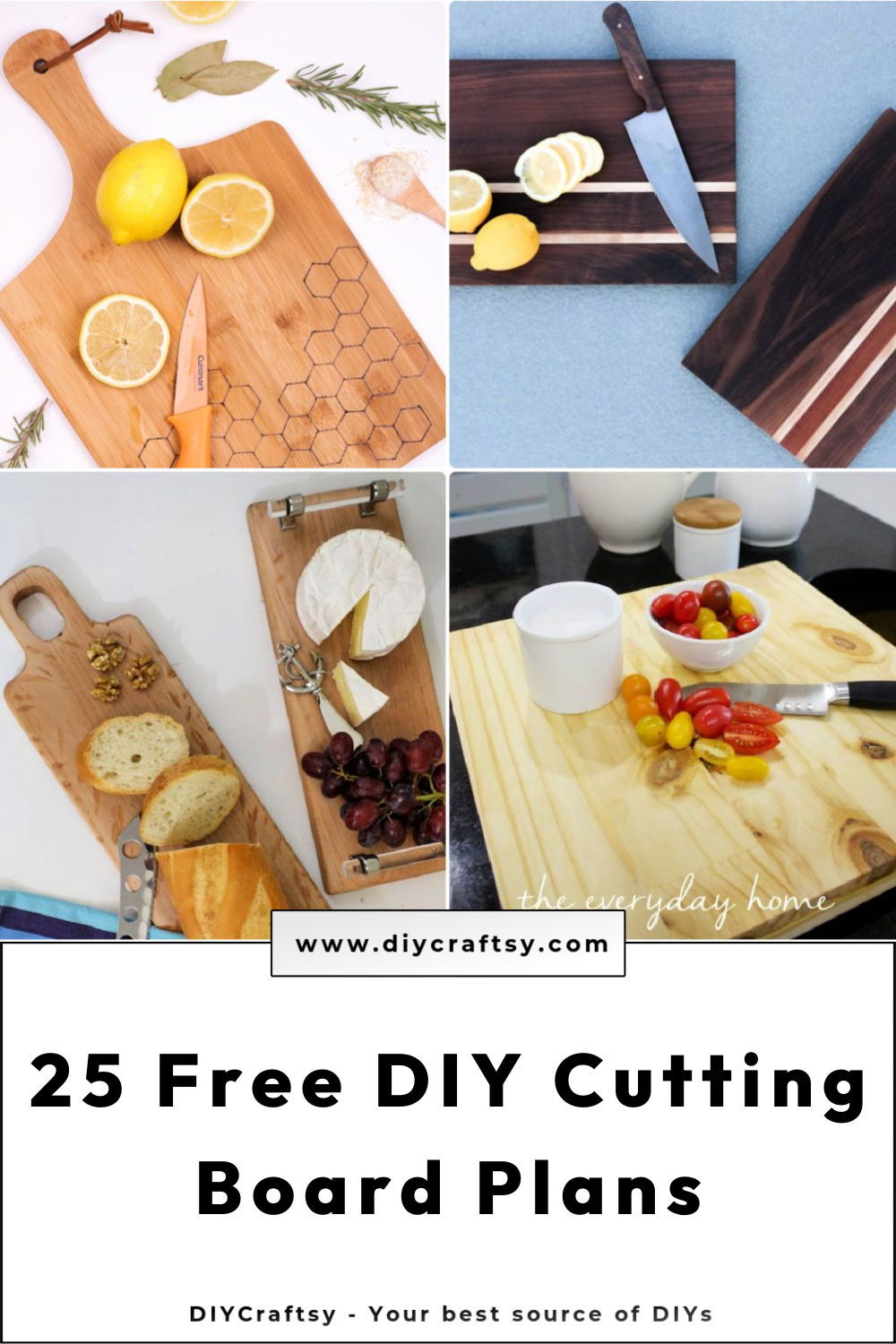 Making your own cutting board not only allows for a personalized touch to your kitchen but also makes for a great gifting option for friends and family. So, explore these 25 homemade cutting board ideas and start making your own custom cutting board today!
1. End Grain Cutting Board Woodworking Project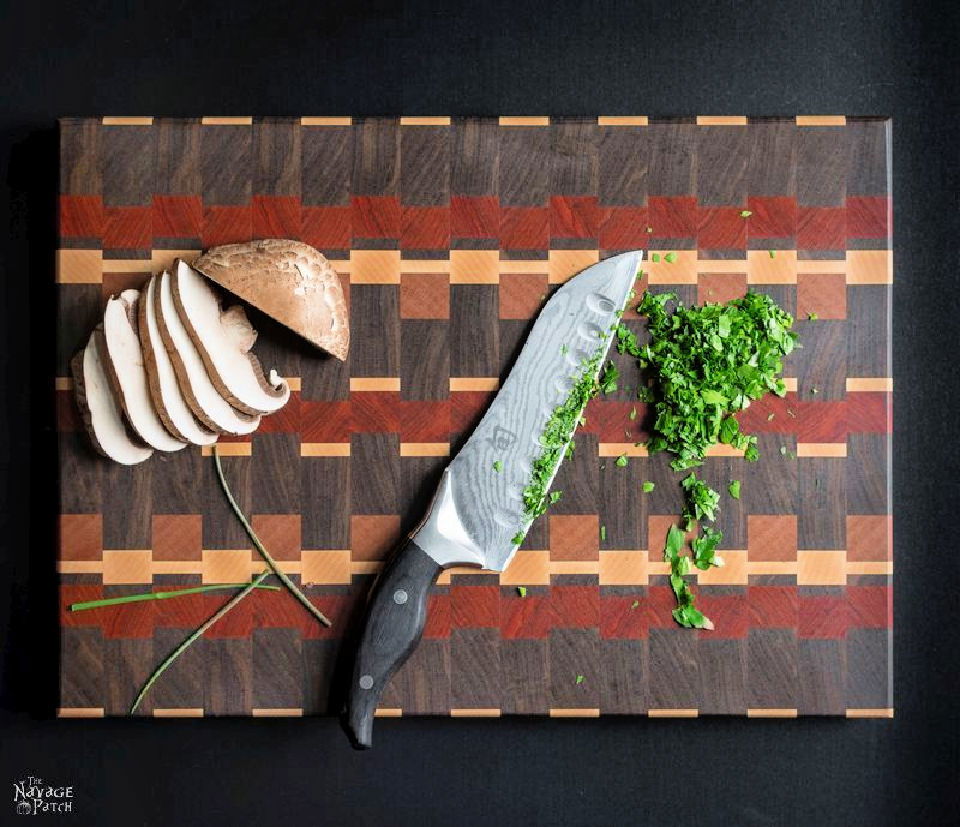 Bring a unique charm to your kitchen with this DIY end grain cutting board, elegantly designed using four contrasting types of wood. This exquisite pattern showcases the finesse of walnut, hard Maple, red heart, and jatoba, making a piece that is as fabulous as it is durable.
An end-grain cutting board not only looks stunning but also extends the longevity of your knives due to the wood fibers' gentle interaction with the blade. Moreover, it masks slice marks, maintaining its allure for years. Following six straightforward steps, you can make your cutting board.
With this helpful guide, crafting a beautiful, high-quality cutting board has never been easier. Give it a try today and undergo the joy of making an impressive kitchen essential that adds character and utility to your culinary space. thenavagepatch
2. Make a Cutting Board Out of Wood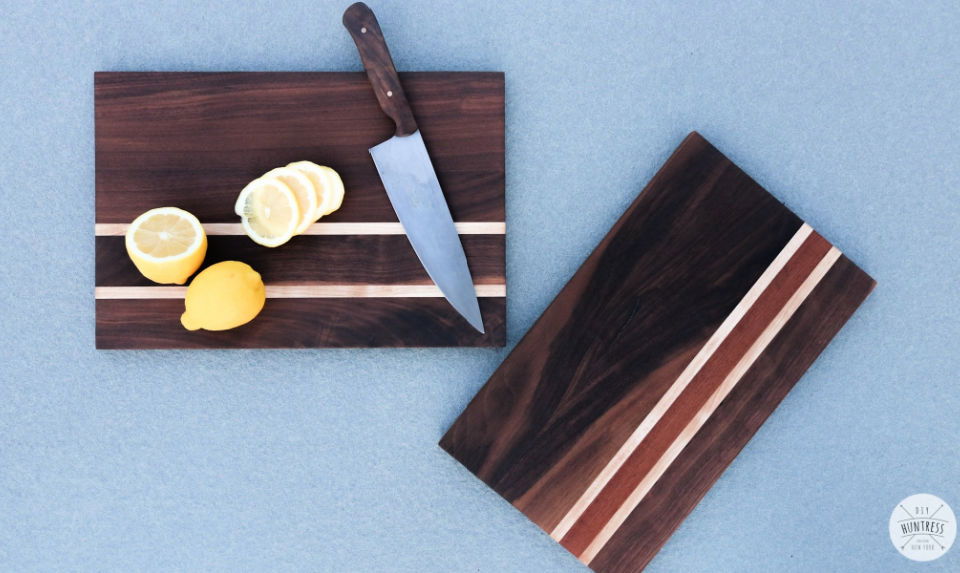 Get ready to make your DIY wood cutting board, crafted to fit your kitchen aesthetics and needs. It's a project you can tackle without needing a planner or an extensive toolkit! This hands-on endeavor involves using three power tools: a table saw, a sander, and a miter saw.
You'll need hardwoods like Maple, padauk, walnut, cutting board oil, assorted sanding discs, and DAP Weldwood Glue. You'll appreciate how a small assortment of tools and materials can result in a practical, custom-made kitchen accessory.
Not only is this evidence of your craft skills, but it also showcases the achievable beauty in simplicity. Making a wood cutting board is a great starting point for DIY projects that require minimal tools yet yield rewarding results. So, why wait? Start making today! diyhuntress
3. DIY Two-Tone Cutting Board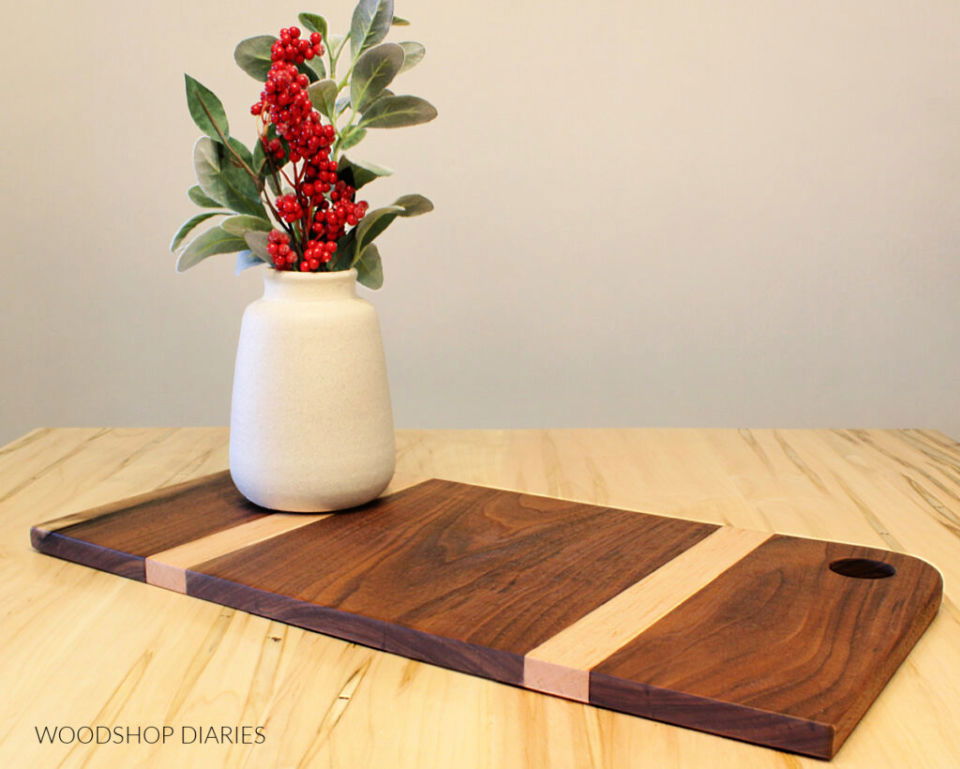 Craft an eye-catching DIY wooden cutting board with this step-by-step guide. Equally practical and stylish, it's perfect for serving food or adding a rustic touch to your kitchen. The guide explains how to select and cut your wood, glue it, sand and trim it, and add optional details such as handles or holes.
With tools like a miter saw, jig saw, drill, sander, clamps, and materials, including the hardwood you choose, wood glue, and wood finish, you can tailor your board's size, style, and finish.
You also learn about finish options and how to apply them. The wooden cutting board can be crafted from wood like Maple, walnut, or teak for versatility. Unleash your creativity and craft a personalized cutting board today! woodshopdiaries
4. DIY Cutting Board in 4 Steps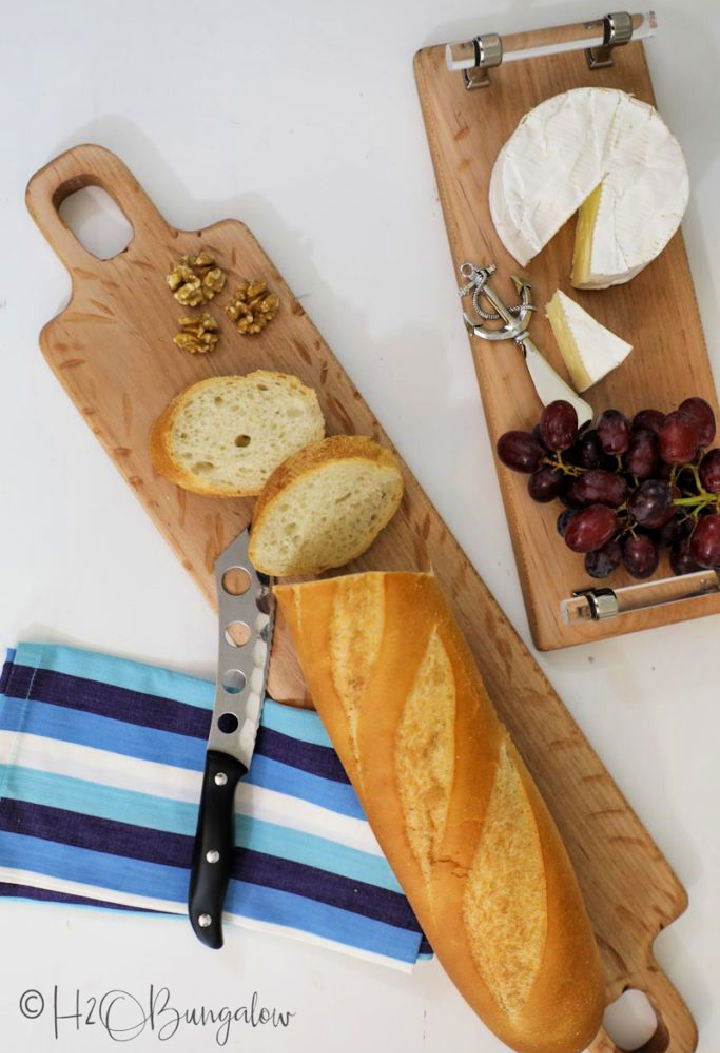 Craft a personalized kitchen essential with these easy DIY cutting board ideas and designs. Reinvigorate your kitchen with a DIY cutting board: four steps, and you'll be slicing in style! Building your cutting board from scrap wood will bring a trendy touch to your kitchen. This easy-to-follow project requires a few hours and several common hand tools. You'll need a jigsaw, drill, and random orbital sander for the serving plank.
All you need is a sander and drill for the cheese board with cabinet handles. Key materials include a 1″ x 6″ hardwood plank, the sandpaper of various grits, and food-grade mineral oil or Pure Simple Finishing oil for a safe and glossy finish.
Enjoy the practicality and rustic charm of homemade cutting boards or serving trays today! Remember, it's about making with what you have; these boards perfectly prove that! h2obungalow
5. Building a Wooden Pig Shaped Cutting Board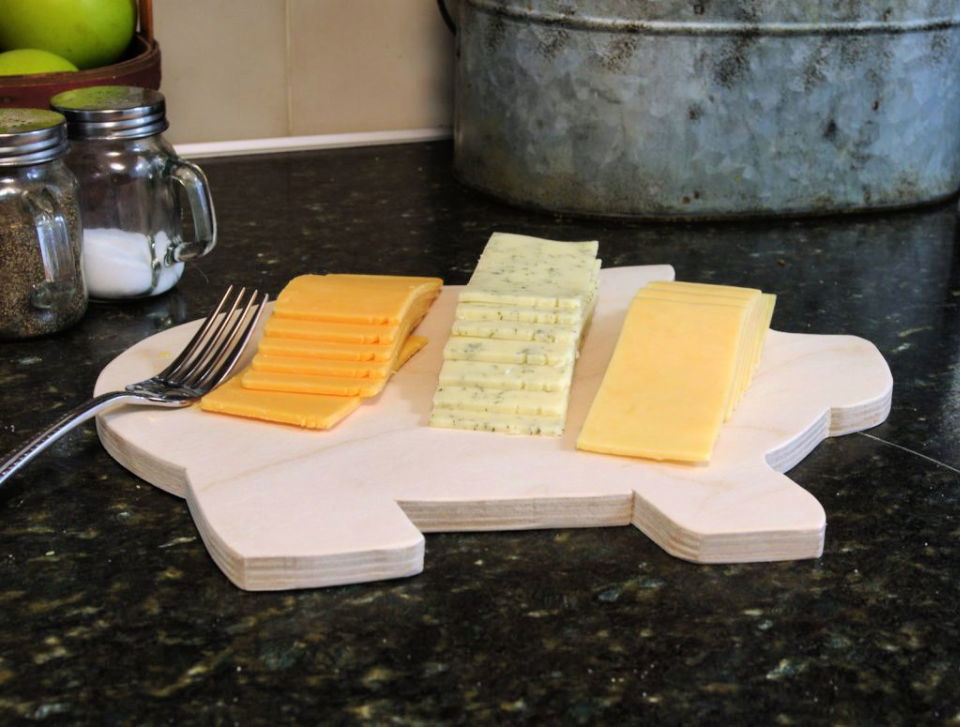 Discover the joy of bringing a personal touch to your kitchen with a DIY wooden pig cutting board. Reflecting the nostalgia of childhood memories and the comfort of homemade toast, this unique piece is crafted from 3/4″ birch plywood, giving a touch of rustic charm to your daily routines.
Engage in an uncomplicated 15-minute project involving a simple pig silhouette, repositionable adhesive spray, and a scroll saw, making a piece that functions perfectly and warms your heart.
It's a delightful journey of revisiting memories and bringing them back to life with your hands. Spruce up your kitchen decor today with a pig cutting board, and let the tales of yore live on. createandbabble
6. Easy Cutting Board Tutorial for Beginners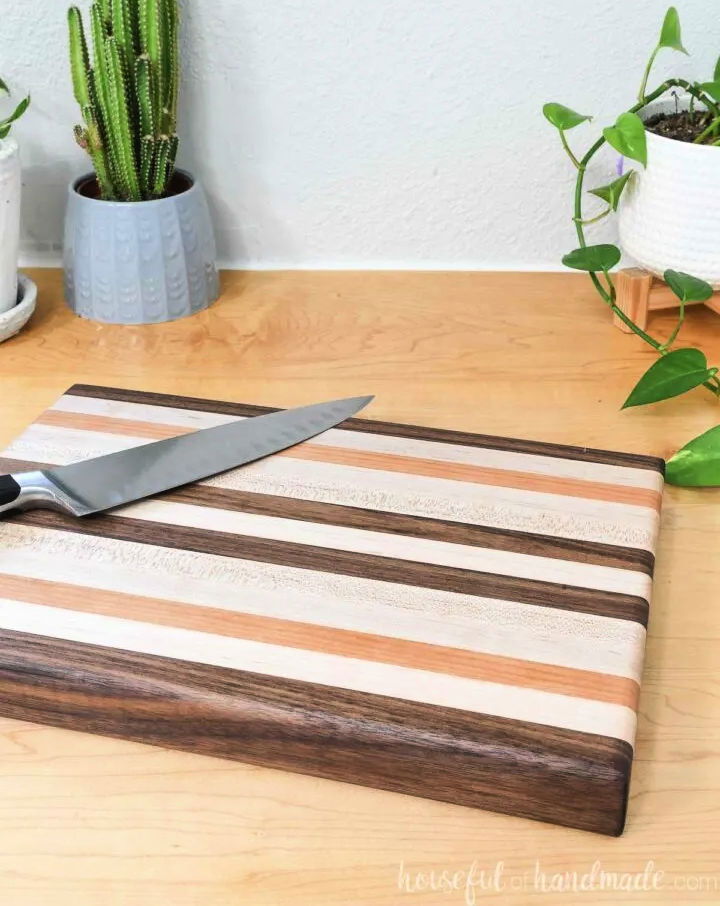 A cutting board is more than just a kitchen tool. It's a piece of art that you can personalize with these homemade DIY cutting board ideas. Add a touch of craftsmanship to your kitchen with a DIY edge grain cutting board. With its 1.5-inch thickness and durable edge-grain construction, this handmade cutting board is designed for longevity and consistent performance. It's a wonderful project that requires only a miter saw, clamps, and a sander.
Select from a range of hardwood boards like Maple, cherry, pecan, or walnut for an elegant and food-safe surface. For an extra touch, mix different species for a striped effect, or use the same type for a monochrome finish. This simple yet sturdy cutting board also makes a thoughtful and practical DIY gift.
This step-by-step guide covers everything from choosing the right wood, planning the dimensions, and gluing and clamping the boards, to sanding and sealing. Gather your 1×2 boards and embark on this fun and fulfilling woodworking project today! housefulofhand
7. Homemade Honeycomb Wood Burned Cutting Board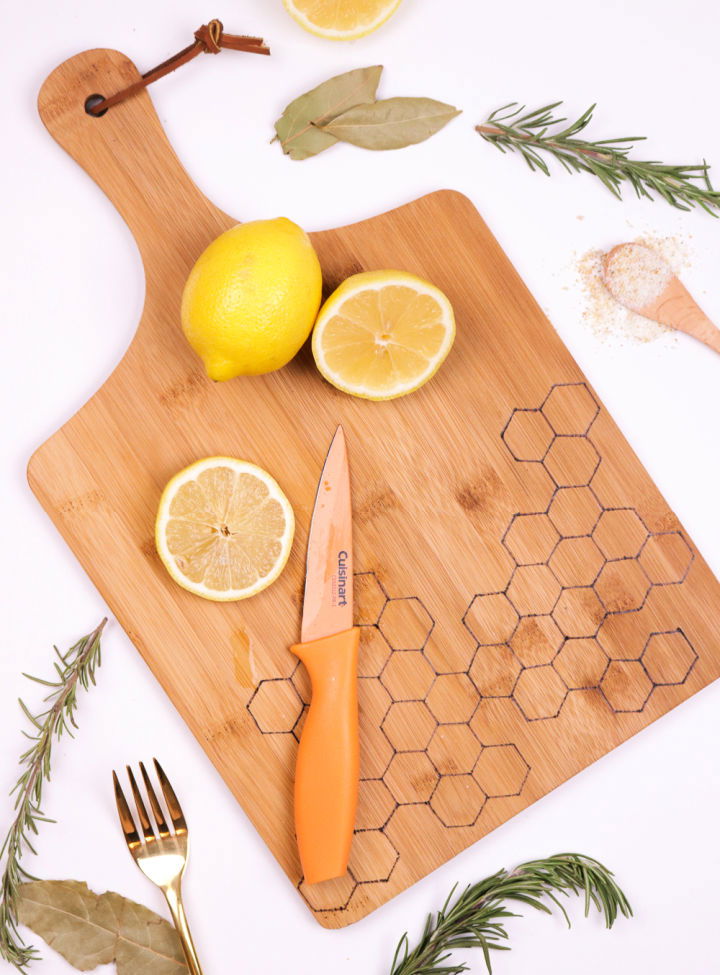 Get ready to enhance your kitchen aesthetics with a DIY honeycomb wood-burned cutting board. Made using a simple, standard cutting board, this project transforms a mundane kitchen item into an appealing work of art. This guide leads you through the simple steps of using a wood burner and hexagon stencil to make a honeycomb pattern on your cutting board.
An ideal tool for chopping veggies, slicing fruits, or even styling your culinary photos, the finished product adds a dash of creative flair to your kitchen ensemble. Additionally, it's effortless to maintain and adds character to your kitchen. Unleash your creativity today, and start crafting your custom kitchen masterpiece! clubcrafted
8. Free Chevron Cutting Board Plan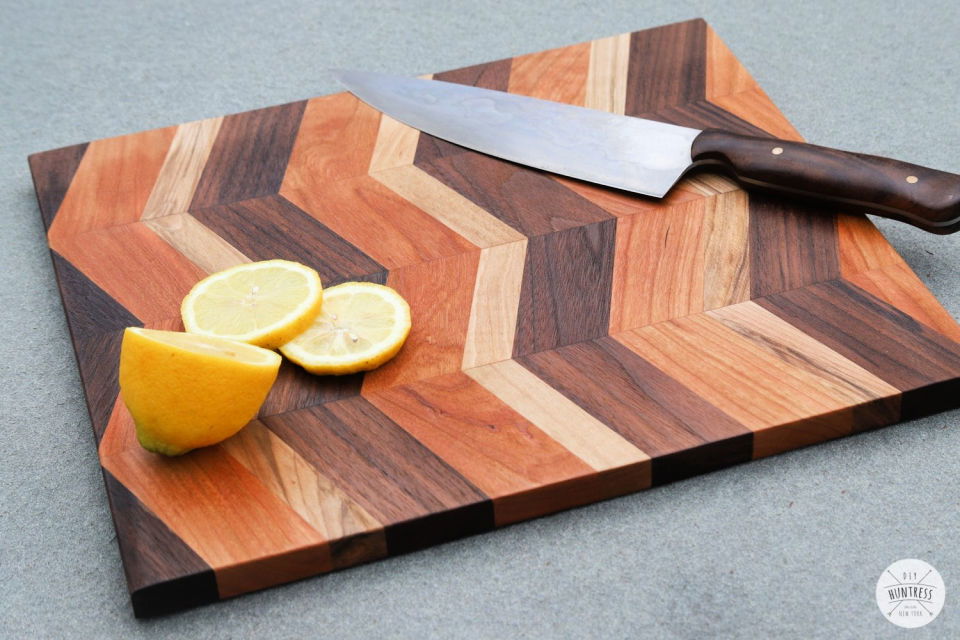 Explore unique and functional DIY cutting board ideas for a perfect addition to your culinary space. Revitalize your kitchen aesthetics with a bespoke DIY Chevron cutting board crafted with a harmonious fusion of patterned plywood and expert woodworking.
This project utilizes walnut and maple boards to manifest an elegant, useful piece and a visual treat. The crafting process employs a table saw, sander, wood clamps, and a cordless glue gun, among other tools.
If required, the step-by-step guide begins with milling your lumber and cutting the flattened boards into the desired dimensions. You'll glue these strips in an alternating pattern, then cut and align them to form a captivating chevron design.
After drying, sand the board thoroughly and finish with a coat of cutting board oil. The result: a spectacular, custom-made Chevron cutting board that makes a wonderful gift for a cherished friend or a delightful addition to your kitchen! diyhuntress
9. Cool DIY Wood Burned Cutting Board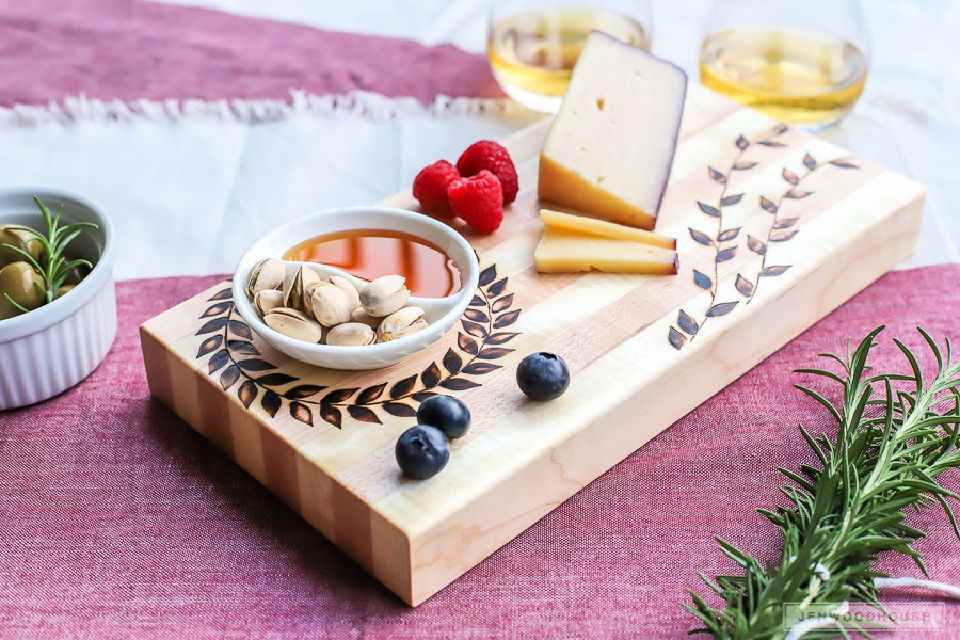 A unique way to express your creativity – show off this DIY wood-burned cutting board with pride! Perfect for a thoughtful, handmade gift, as a Mother's Day surprise, or as a token for any food enthusiast. This gift requires only a few key materials: a woodburning set, special woodburning tips, an unfinished cutting board, and mineral oil.
The design process involves making a pattern on the board, carefully burning your design, and sealing the masterpiece with mineral oil. The finished product, a beautifully customized cutting board, will enhance any kitchen and bring a smile to the receiver's face. A versatile project that combines creativity and functionality in a tangible keepsake! jenwoodhouse
10. Simple DIY Cutting Board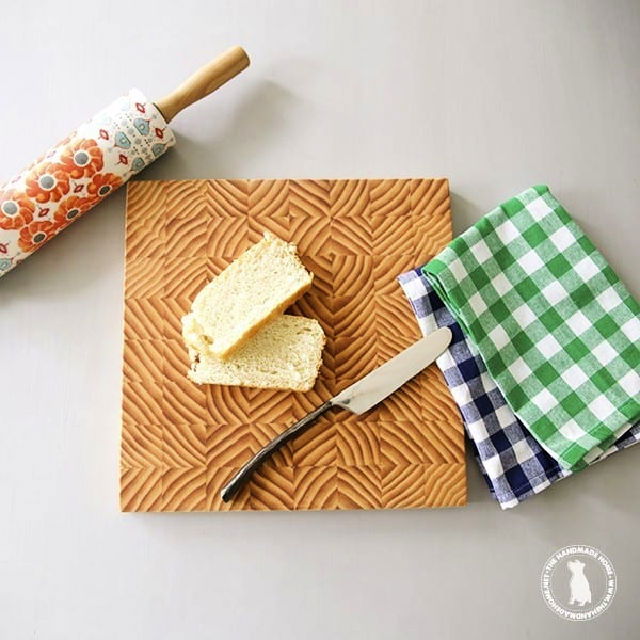 Relive the golden age of the 80s, a time of creativity and curiosity, with this DIY cutting board project. Combining the passions of cooking and power tools, this venture will introduce you to a homemade bread and stylish cutting board duo that will impress you. Your choice of wood is versatile, ranging from walnut to Maple, depending on your preference.
With some basic equipment, like a miter saw, wood glue, and bar clamp, you can make a 12×12 end-grain design. This versatile cutting board is a practical kitchen essential and makes for a unique and thoughtful gift. Instead of paying over $50 for a store-bought board, try this project and experience the joy of crafting your bespoke cutting board. thehandmadehome
11. Creative Wooden Cutting Board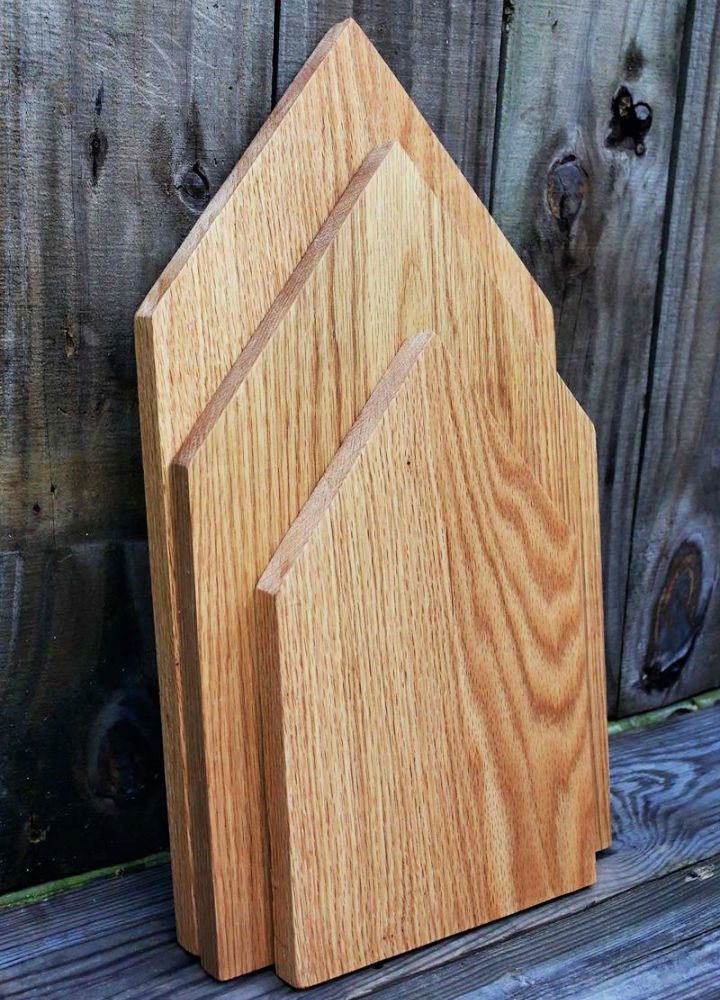 Make your kitchen uniquely yours with a DIY cutting board. Unleash your creativity with oak or other untreated hardwoods to make boards that serve a purpose and add a personal tinge to your space. This project demands simple tools such as a circular or table saw, sandpaper, and food-grade mineral oil.
Although designs with straight lines are suggested for beginners, don't limit yourself; you can achieve intricate designs with more advanced equipment. Remember to re-oil every 3-6 months and only hand wash it to keep your cutting board in good shape.
Making your cutting boards is a fun and thoughtful gift idea that will impress you. So, why wait? Get started today and bring more warmth and personality to your cooking experience. abeautifulmess
12. Unique DIY Ombre Cutting Board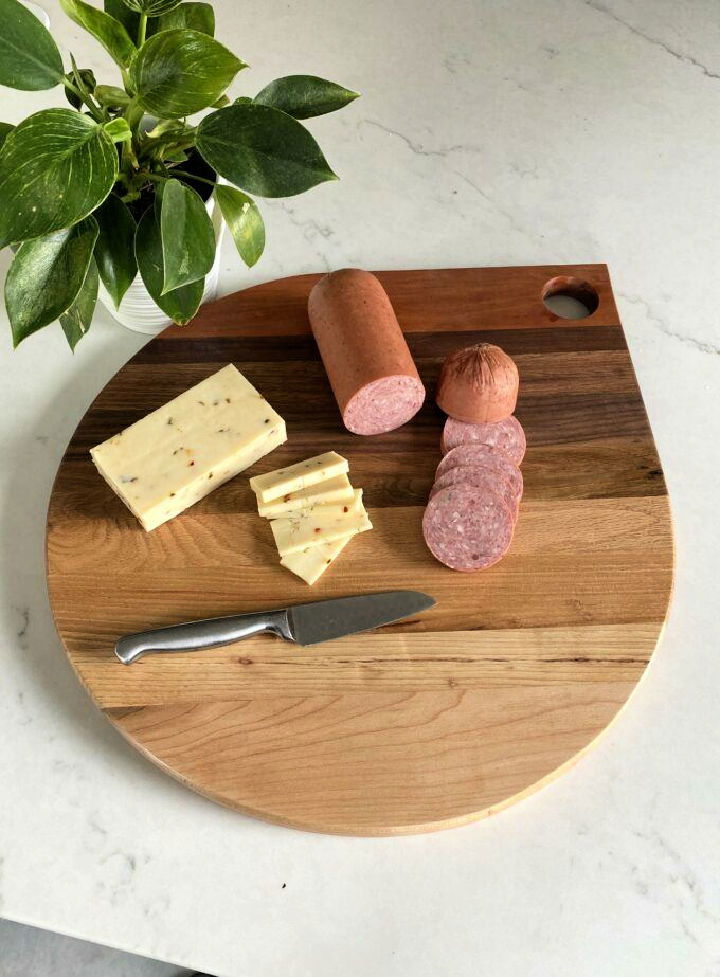 Make eye-catching, custom-made cutting boards using these inspiring DIY cutting board ideas and materials. Experience the delight of making your very own hardwood cutting board! Perfect for culinary enthusiasts or DIY lovers, this easy-to-follow guide lets you transform scrap hardwood into a functional and stylish cutting board. Using supplies such as wood glue, pipe clamps, butcher block oil, and an orbital sander, you can craft a unique, stripey cutting board that sports an appealing ombré pattern.
The unexpected teardrop shape, achievable with a scroll saw or jigsaw, sets this project apart, making your cutting board stand out among traditional rectangular versions. To elevate the finesse, use a round-over bit for smooth, rounded edges.
Then, seal your masterpiece with butcher block oil, allowing the rich colors and wood grain to pop! Get started today and transform your scrap wood into a treasured addition to your culinary tools! realitydaydream
13. How to Make a Walnut Cutting Board With Brass Inlay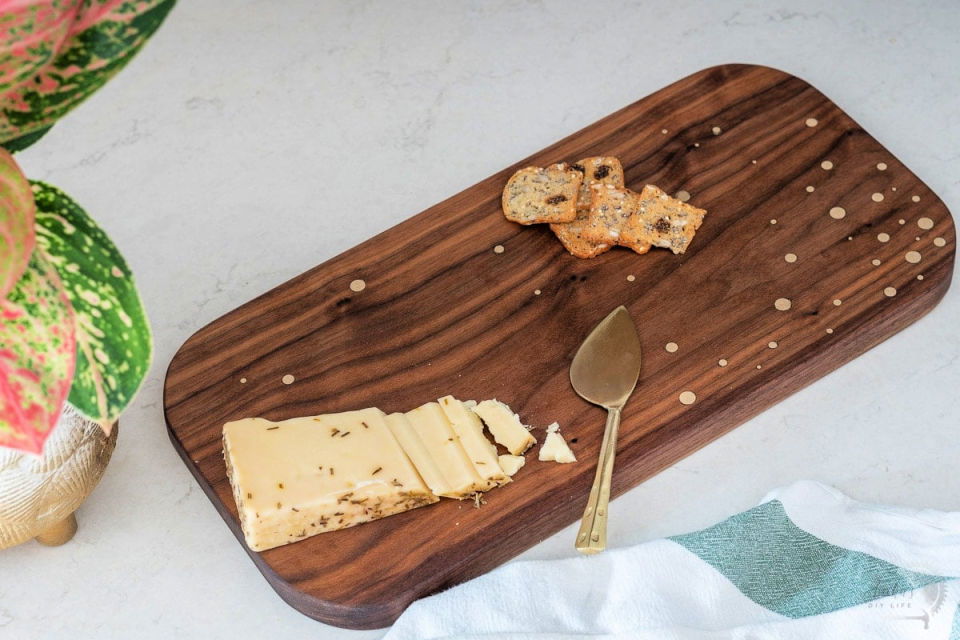 Enhance your woodworking skills and make a striking piece for your kitchen with this engaging tutorial on how to build a walnut DIY cutting board with a sunburst brass inlay. Using a walnut board and brass rods, you'll learn to transform a simple piece of wood into a stunning, functional piece of art.
The project involves drilling holes into the wood, inlaying brass rods, and then sanding and finishing the piece for a professional touch. The main highlight is the sunburst brass inlay which brings a unique decorative element to the cutting board.
No advanced machinery is required – all you need are simple tools such as a miter saw, a power drill, and a random orbital sander. The outcome is a beautiful, one-of-a-kind cutting board and a rewarding experience. anikasdiylife
14. DIY Cutting Board From Scrap Wood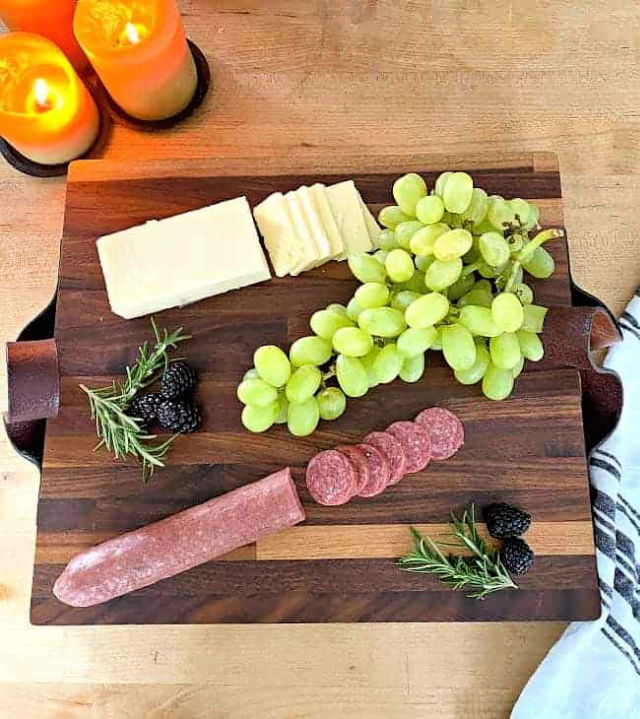 Inject some DIY flair into your kitchen by crafting your walnut butcher block cutting board, accentuated with vintage leather handles from a repurposed belt. With just a leftover piece of butcher block, an old leather belt, and some basic tools like a drill and sandpaper, you can transform your cooking experience and add a unique touch to your decor. Aside from being budget-friendly, this project is simple and easy to complete:
Give your wood a nice sanding to smooth it out.
Apply a food-safe wood conditioner to bring out the grain in the walnut.
Fix the belt pieces as handles with brass screws to complete your homemade cutting board.
Enjoy your customized, durable, stylish kitchen accessory that serves as a functional chopping surface and a conversation piece. Remember, the most valuable things in life are often made, not bought. chatfieldcourt
15. DIY Wood and Marble Cutting Board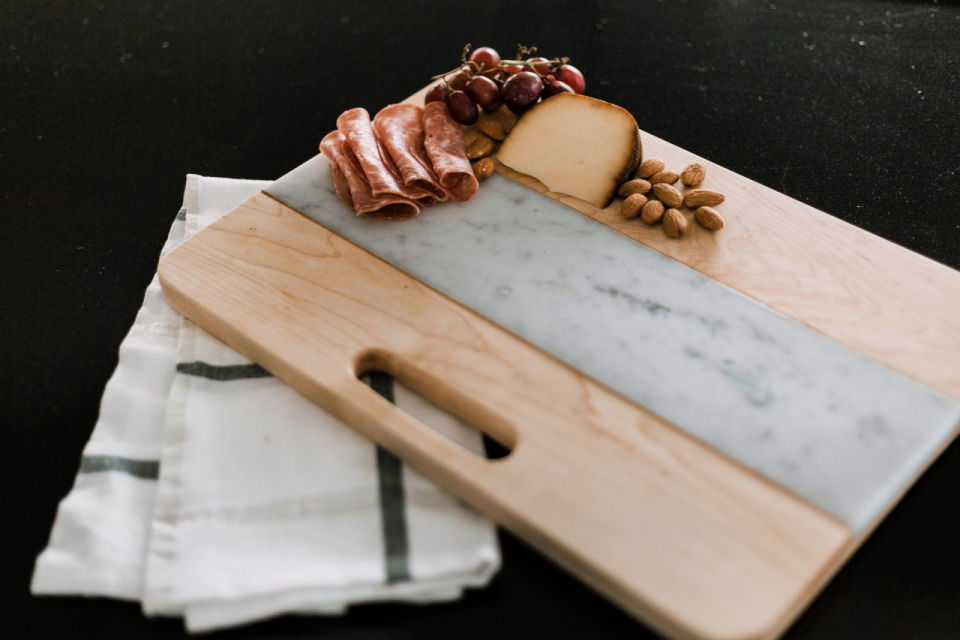 Looking for a classy and functional addition to your kitchen? Consider making your own custom wood and marble cutting board. This DIY project combines a piece of Maple wood with a 4 "x16" Italian Carrara Marble tile, resulting in an attractive and functional accessory.
To build it, you'll need a 1×6 board of Maple, a Carrara Marble tile, a table saw, a drill, a router table, a sander, and some specific glues. You'll notch the wood to fit the tile, make a handle for convenience, sand, and route for smooth edges, then secure the tile and seal the board.
The final product showcases a beautiful blend of wood and marble, offering a durable surface for meal prep tasks. And the best part? This high-end-looking board can be crafted at a fraction of the cost of store-bought versions. lovecreatecelebrate
16. How to Make a Pineapple Cutting Board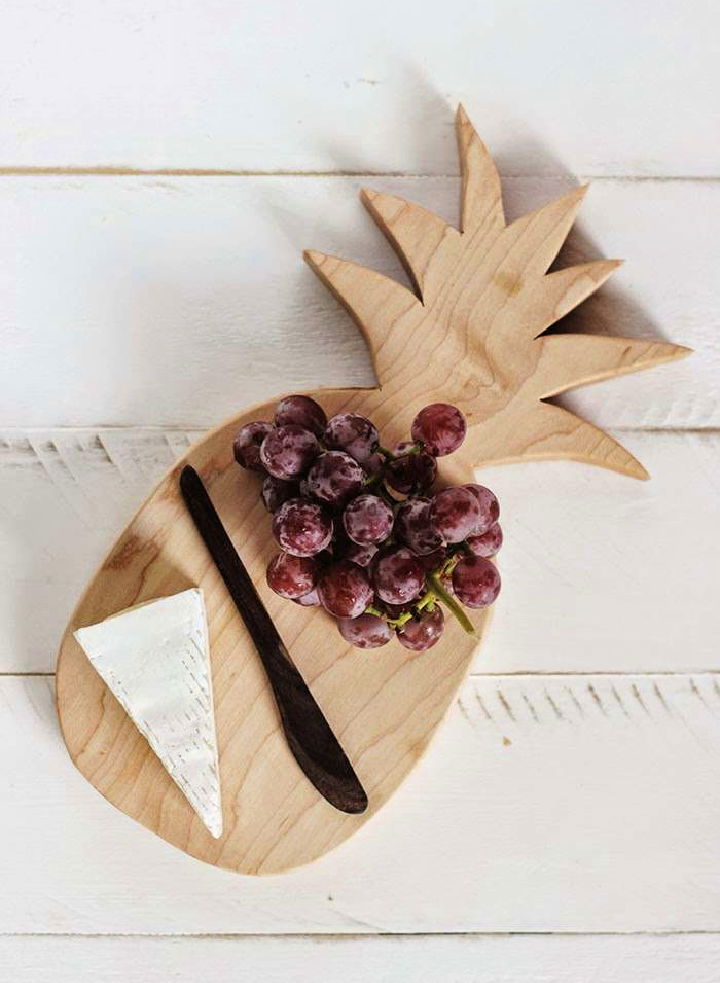 If you love cooking, you'll love these homemade DIY cutting board ideas that will inspire you to create your own custom cutting board. Get a fun and functional addition to your kitchen with a DIY pineapple-shaped cutting board! This project brings a tropical flair to everyday cooking tasks and is a perfect prop for photoshoots or party decor. The process is simple and allows for customization in terms of size and shape.
You can make this cutting board from the comfort of your home using a piece of hardwood like Maple, a printer for your pineapple template, a pencil, a scroll saw, a belt sander, sandpaper, and a butcher block finish.
The result is a unique and stylish kitchen tool to make your food prep more enjoyable. The best part? You can tweak the design to fit your preferences, making this project a truly unique addition to your kitchen. poppytalk
17. Making a Large Cutting Board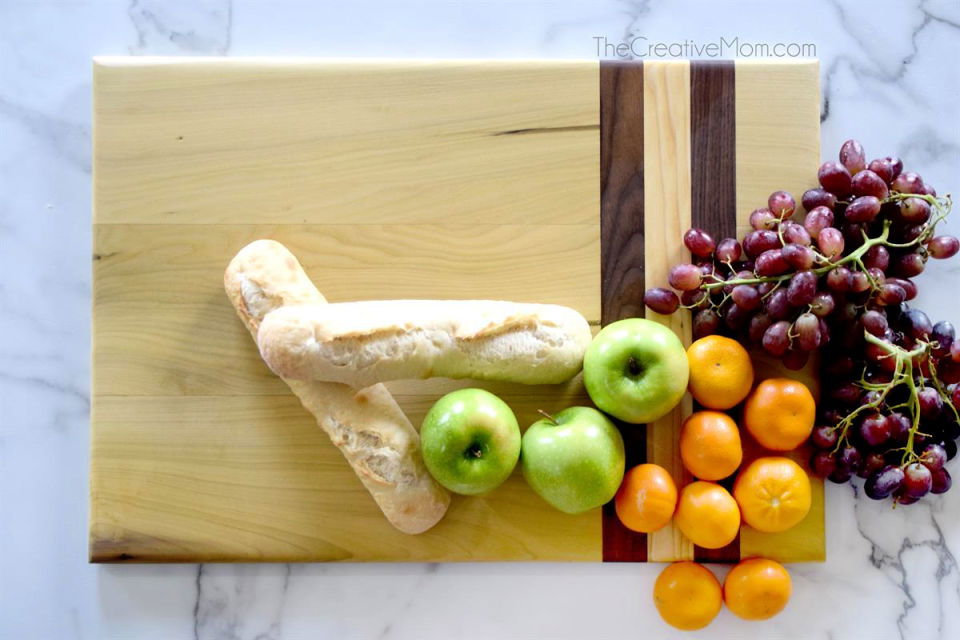 Make your kitchen prep easier with a DIY large cutting board – custom-made for all your slicing and dicing needs! It is an elegant and durable cutting board, perfectly suited for daily kitchen tasks or as an exquisite charcuterie board for your special gatherings. This woodworking project involves the creation of a glue-up board, requiring no hardware but meticulous attention to detail.
It is ideal for a novice project and allows you to hone your woodworking finesse. The process necessitates carefully preparing and cutting mainboards and accent boards, using your choice of wood for a personal touch.
The result is a stunning, functional piece of craftwork – ready to be used in your kitchen, gifted, or used to dazzle guests at your next event. Delve into this woodworking project and elevate your culinary presentation! learnkregtool
18. How to Make Your Own Cutting Board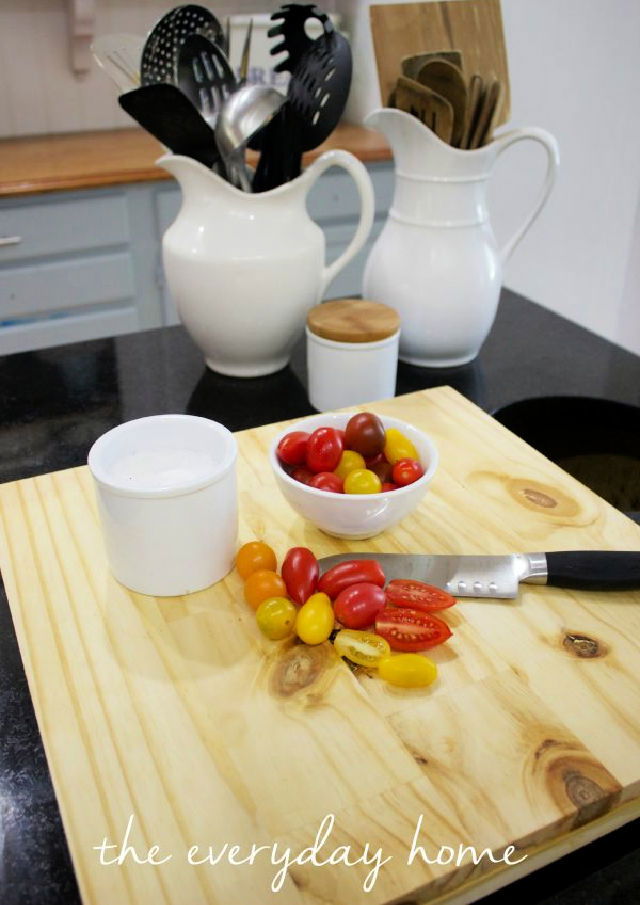 Take a leaf from your mom's book and add a tinge of personal charm to your kitchen essentials by making your DIY cutting board! Reminiscent of age-old traditions, this handcrafted piece can withstand the test of time and serve various uses, from slicing meats and veggies to chopping up seafood and pork.
You'll need shelving boards, a hand sander, wood glue, a dowel for the feet, and a butcher block sealer to make your own.
With a moderate investment of $15 for the main material, this project transforms an ordinary kitchen tool into a custom-made, functional work of art. Best of all, you can share this generous and thoughtful gift with your loved ones this Christmas! everydayhome
19. Ultimate DIY Cutting Board With Knife Storage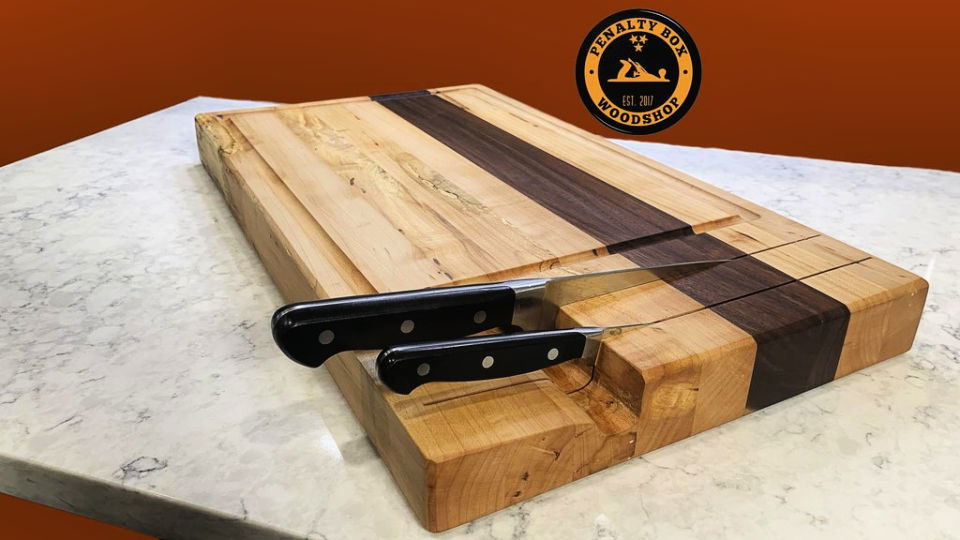 Master your culinary space with the ultimate DIY cutting board integrated with knife storage. A fusion of Maple and walnut, this board ensures your knives are conveniently placed when needed. The detailed process begins with sizing your lumber, arranging them, and gluing them up.
Subsequent steps include flattening the board, making the knife slots, and carving out recesses for the knife handles. To address drainage concerns, small holes are drilled for the excess liquid to escape.
The cutting board is given a final touch with a juice groove, sanding, and an all-natural finish. This project promises a practical addition to your kitchen and an aesthetically pleasing one. instructables
20. How to Make a Cutting Board at Home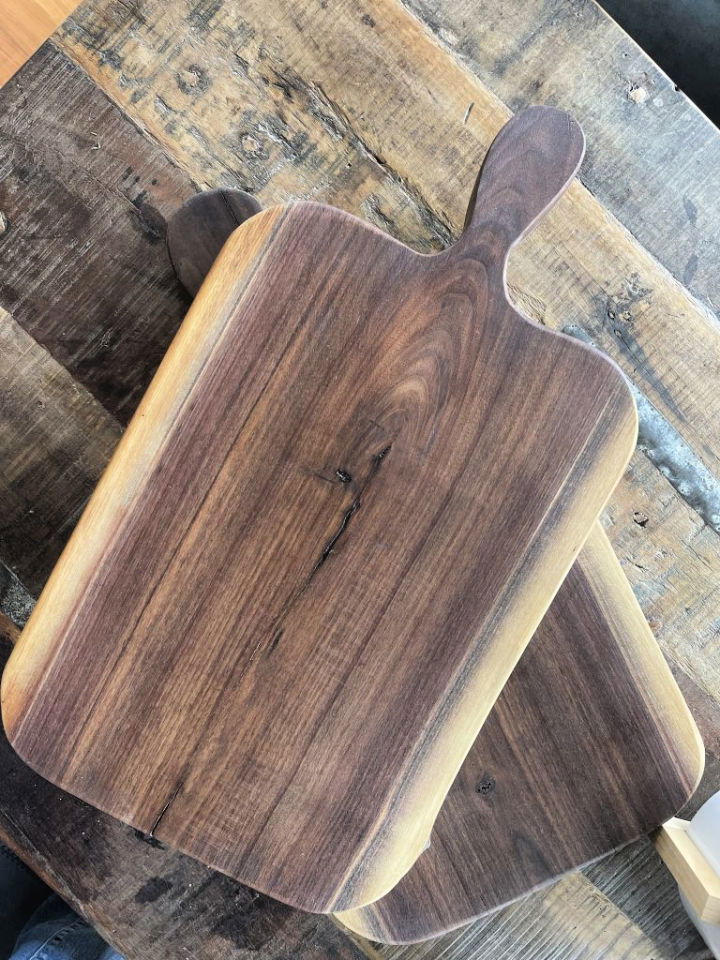 Unveil the beauty of crafting with a DIY black walnut charcuterie or cutting board. Black walnut, known for its hard, dense, and dark texture, offers a striking addition to your kitchenware. Begin your project by sourcing logs, letting them dry for about a year per inch of thickness to prevent cracks or splits as the wood adjusts to its moisture levels.
With careful sketching and cutting, followed by patient sanding and applying mineral oil, your handcrafted board will reveal the stunning appeal of black walnut. Your bespoke charcuterie or cutting board will radiate a unique warmth and elegance, ideal for serving appetizers or as a kitchen showpiece.
Crafting this gem requires a few tools – a jigsaw, palm sander, and mineral oil – to transform a simple black walnut log into a bespoke kitchen treasure. Engage your creative side and master the art of woodworking with this intriguing project. savedfromsalvage
21. How to Build a Cutting Board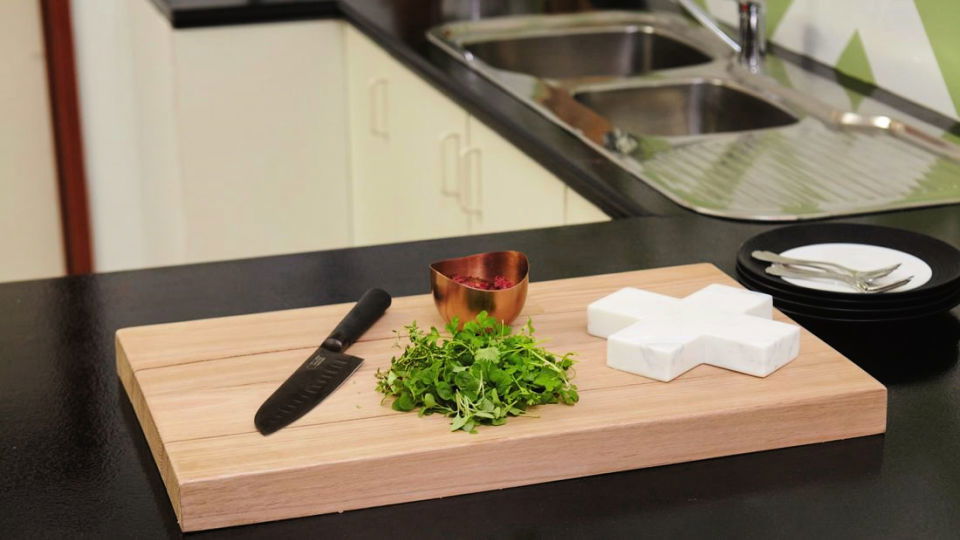 Put a personal spin on your kitchen by making this DIY cutting board! It's a perfect addition to any kitchen, providing an aesthetically pleasing and practical surface that shields your benchtop from knife marks and scratches.
Starting with pre-cut hardwood timber, the project involves drilling holes for dowels, assembling the timber pieces with PVA glue, clamping them together, sanding for a smooth finish, and finally applying a food-grade stain or oil for longevity.
This homemade butcher block enhances your kitchen decor and is a durable cutting board. The best part is its easy maintenance – just a quick sanding and re-application of oil or stain to keep it looking brand new. This a cost-effective and creative project for all DIY enthusiasts! bunnings
22. End Grain Cutting Boards From Scrap Wood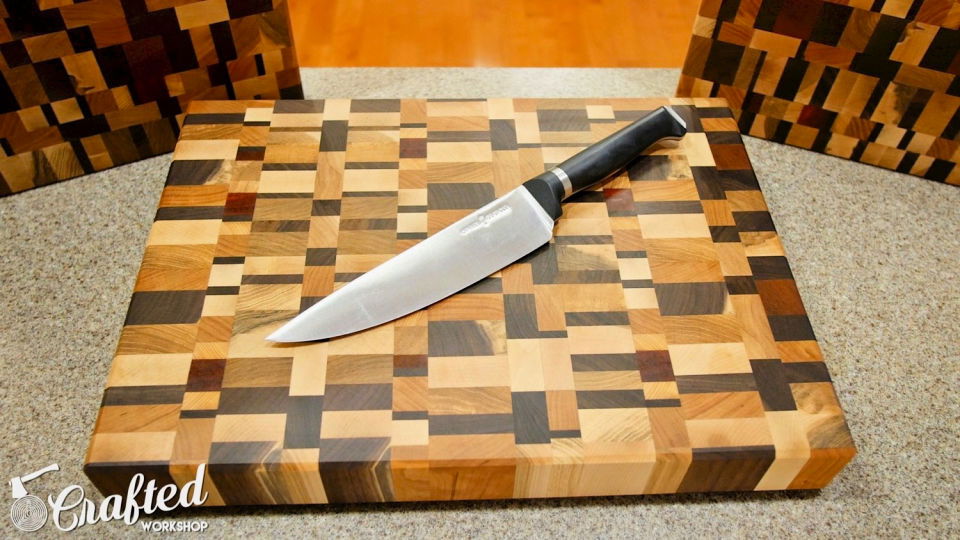 Combine form and function with these DIY cutting board ideas that make great gifts or kitchen upgrades. Learn the art of making end-grain cutting boards with this insightful DIY woodworking guide. Transform your leftover hardwood scraps into a beautiful and functional kitchen accessory, or source new scraps for this purpose.
With the right tools, such as a Dewalt impact driver, a bosch random orbit sander, and a titebond III wood glue, you'll be on your way to making a striking piece of art. This step-by-step process includes breaking down scraps, planing pieces, gluing and cutting them, and finally applying a food-safe mineral oil finish.
The resulting cutting board is aesthetically pleasing and beneficial for your knives due to the nature of end-grain wood. Immerse yourself in this hands-on project and add a custom touch to your kitchen tools! craftedworkshop
23. Build Your Own Cutting Board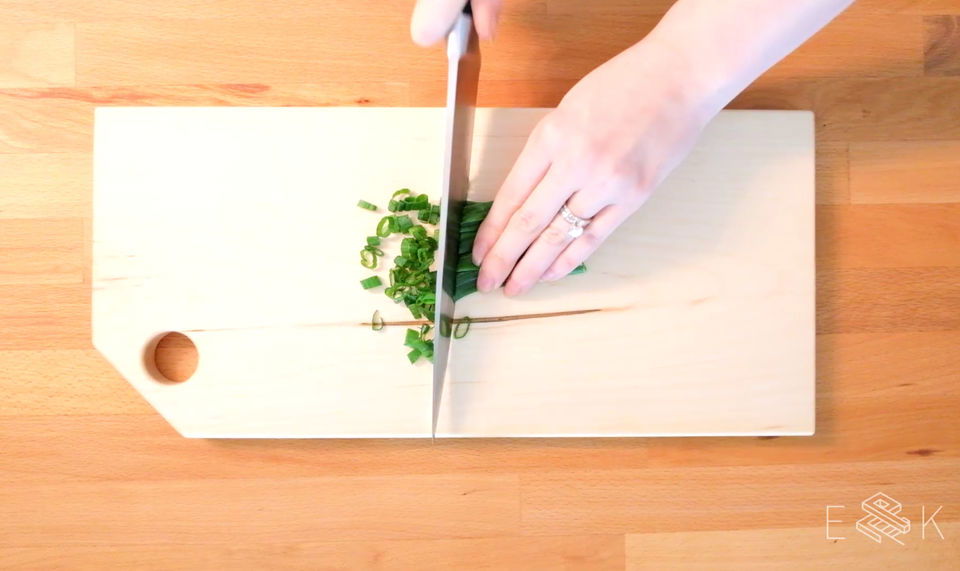 Boost your culinary endeavors with a homemade DIY cutting board. This simple and versatile piece is crafted from a single piece of wood, ensuring a beginner-friendly woodworking project. This cutting board performs well with a face grain display and showcases the wood's innate beauty.
The materials required for the project are a quality piece of wood, a miter saw, a drill press with a 1-1/8″ hole saw, a router with a 1/8″ radius round over bit, a random orbit sander with 220 grit sandpaper, extra 220-320 grit sandpaper, and wood oil, such as the preferred Natchez Solution.
This easy-to-follow guide to making your cutting board presents a wonderful opportunity to explore woodworking in a functional, everyday context. Build your cutting board today and enhance your kitchen with this handcrafted, durable, and stylish addition. instructables
24. Cutting Board Beginners Woodworking Project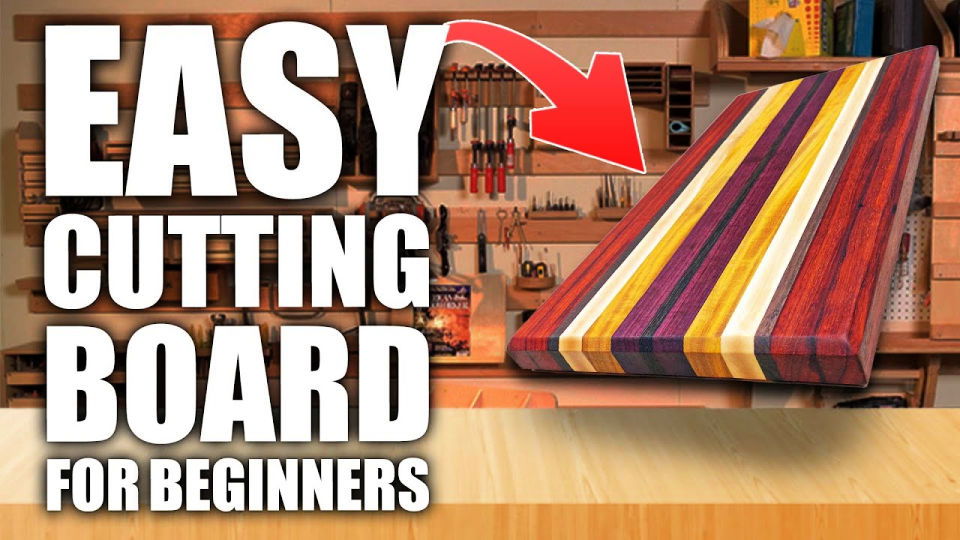 You don't need to buy a boring cutting board from the store. You can make your own with these homemade DIY cutting board ideas that are fun and functional. Swoop yourself in woodworking and build your own professional-grade DIY cutting board using a mix of domestic and exotic hardwoods. The beauty of this cutting board lies in its simplicity – no need for a joiner or planer.
Watch a step-by-step video tutorial that takes you from the selection of your wood – available in convenient kits – through to the final step of applying conditioner to your finished board. This engaging woodworking project requires basic tools such as a speed square, pipe clamps, sanders, and CA glue for filling cracks.
You'll also learn tips for using a clamping jig, acetone on exotic woods and making your board sit flat. Making your cutting board is a fantastic introduction to woodworking and functional and beautiful kitchen addition. Start your woodworking journey today!
25. Handmade Hickory Chop Board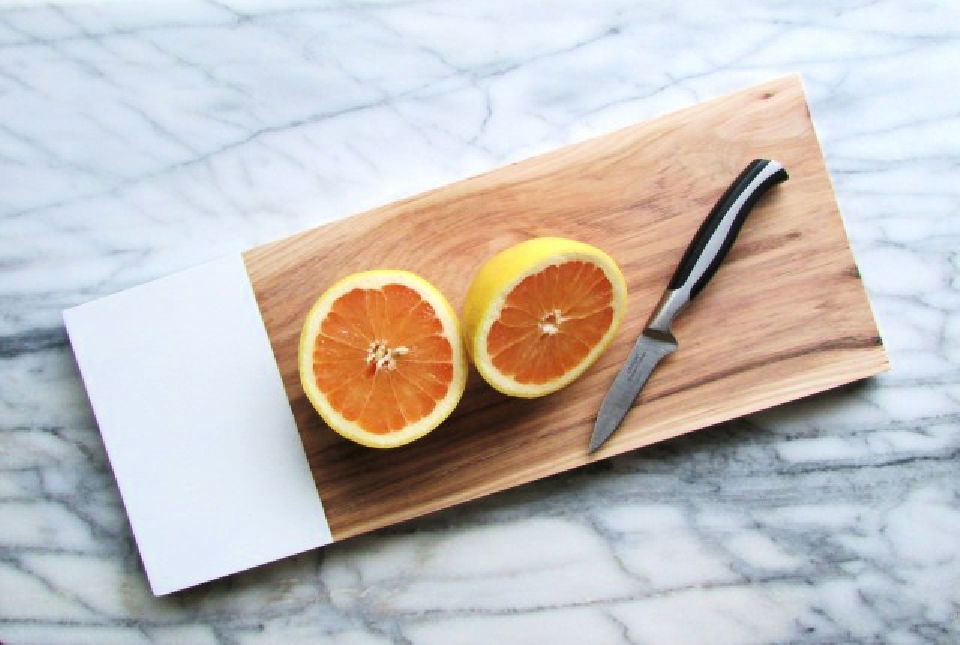 Turn an ordinary hardwood board into a smart, practical cutting board with a quick and easy DIY project. Ideal for everyday kitchen tasks and serving cheese or platters to guests, this versatile board brings a unique charm to your culinary space. Get started with an 8″x18″ hickory or walnut board from your local hardware store.
The process involves sanding, marking, and applying safe and wipeable Plasti Dip paint to the board. The results? A customized, food-safe cutting board is ready in just a few hours. Now's the time to add a personal touch to your kitchen essentials! francoisetmoi
Conclusion: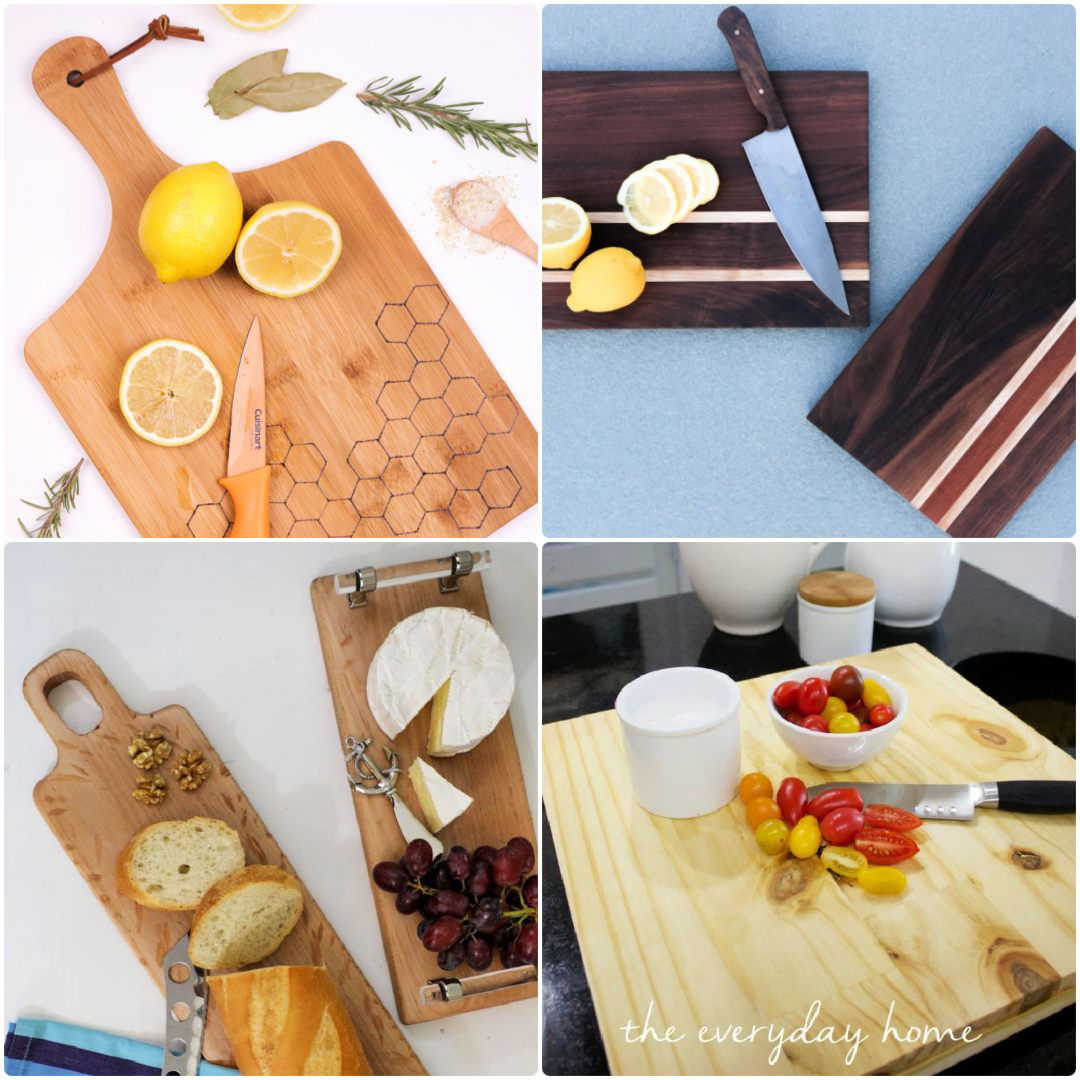 In conclusion, learning how to make a cutting board can be an enjoyable and rewarding experience. With many DIY cutting board ideas available, from end grain woodworking projects to creative wood burned designs, you can customize your homemade cutting board to suit your style and preferences. Don't forget the importance of sealing the final cutting board to ensure its longevity. So go ahead, explore the numerous DIY cutting board ideas and plans available, and make your own unique cutting boards today.