Discover 25 clever DIY bike rack ideas for your garage. From a functional garage bike stand to a stylish wooden bike rack, find practical and space-saving solutions for your garage bike storage. Explore various garage bike rack ideas to organize and store your bikes efficiently.
Building your own DIY bike rack is not only a fun and creative project but also a practical solution to keep your garage organized and your bikes safer from scratches or falls. We have gathered a list of 25 easy and free DIY bike rack ideas, complete with step-by-step instructions to help you make your own unique bike rack.
From a simple bike rack made from a single sheet of plywood to a modern design using industrial pipes and fittings, these DIY bike rack ideas are perfect for any space or style. You can build your own DIY bike rack for your garage, outdoor space, or even your van.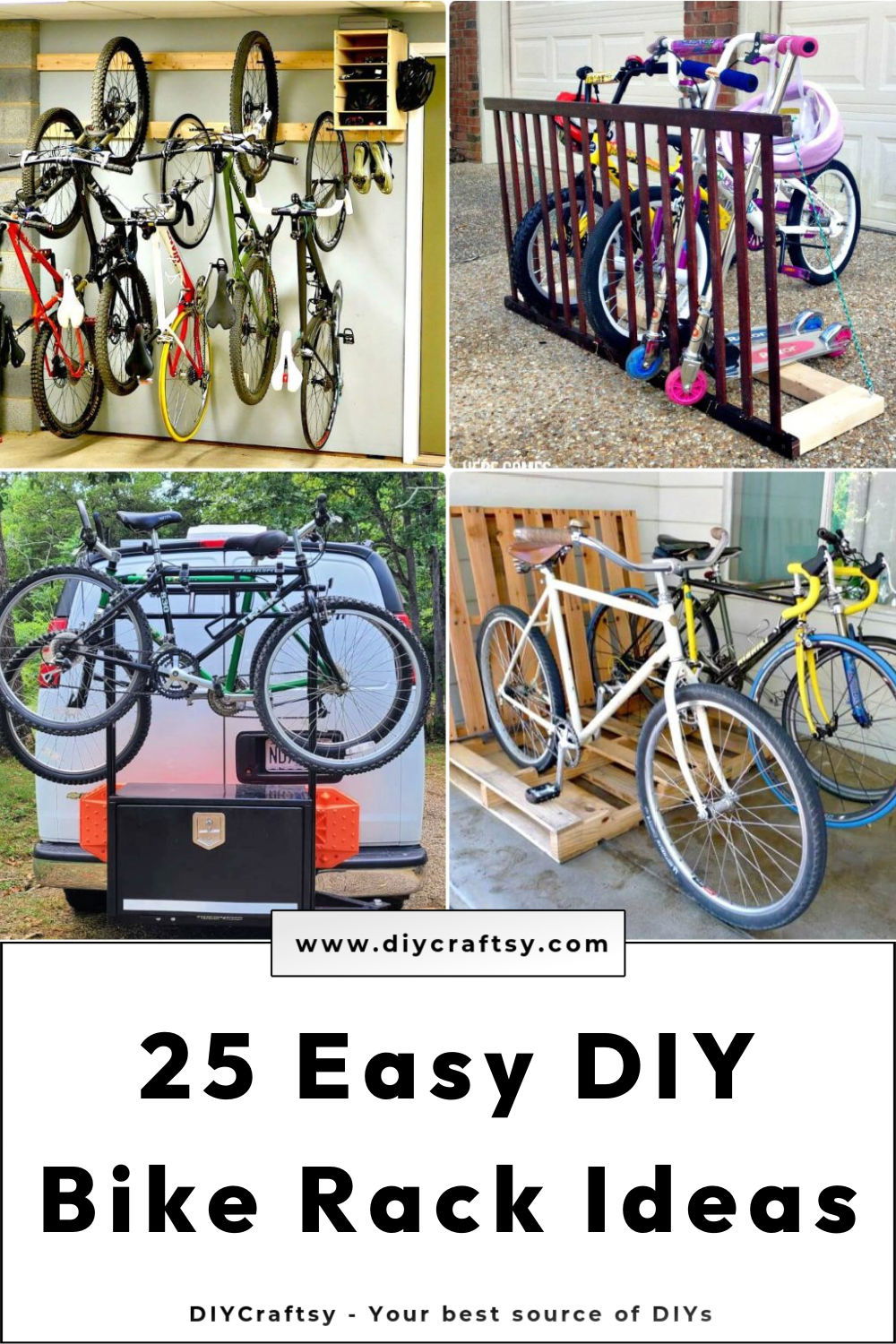 With the right materials and guidance, making a DIY bike rack can be an easy and enjoyable project. Some of the bike rack ideas are wall-mounted, which can help save space in your garage, while others are mobile to give you added convenience. So, gather your supplies, download the free DIY bike rack plans, and start building today.
1. Easy and Cheap DIY Bike Rack
If you're looking for a simple, cost-effective solution to store your bikes without taking up too much space, then look no further! This easy and cheap DIY bike rack is the perfect addition to any garage. It can comfortably store four bikes in 48″ of space or less – so even if you have a few extra bicycles but not much room for them, this bike rack has got you covered! All it takes is a couple of hours and a few dollars; follow this step-by-step guide today and make the perfect spot for all your cycling needs. housebecoming
2. Modern Bike Rack Building Plan
This modern bike rack is a perfect solution for parking and storing bikes. It's quick and easy to build, requiring only basic tools, around $30 in materials, and a couple of hours of your time. 2 boards, 2×2 96″, and 1/2″ thick plywood make up the wood products needed. For hardware & supplies, you'll need 1/4″ pocket hole screws, 3/4″ brad nails, and wood glue. Get creative with design options while building this minimalist bike rack – endless possibilities! Learn kregtool
3. Make a Wall Mounted Bike Rack
Are you looking for an easy DIY project to keep your bikes stored away during the winter months? Check out our modern wall-mounted bike rack! Experts created this stylish and functional storage solution that is perfect for any space.
With its sleek, minimalist design, you can store your bikes in style without wasting valuable floor space. This tutorial will walk you through every process step to make it independently with minimal materials and tools. Investing time in making this beautiful bike rack will save you money while ensuring all your bikes are safely tucked away until summer rolls around again! diyhuntress
4. Build a Bike Rack with 1 Sheet of Plywood
If you're passionate about DIY projects and looking for an easy way to store your bike, this tutorial is perfect! Learn how to make a stylish yet sturdy bike rack with just one sheet of plywood. All it takes is some simple cutting, assembly, and painting; in no time, you'll have the perfect place to store your ride! Not only will this project be easy on the wallet, but it's also super rewarding – so what are you waiting for? Watch the video now and start building your DIY bike rack today! woodbrew
5. DIY Bicycle Rack Built For Two
Are you a bike enthusiast looking for the perfect DIY project? Look no further! This bicycle rack built for two is an ideal option as it features a few more steps than similar projects, but the result is worth it. Not only can this project be completed in 5 hours with a moderate skill level, but it also does not require any extra tools or materials and costs around $150. So, get your hands dirty and make something fun – you won't regret it! apartmenttherapy
6. Wooden Wall Mount Bike Rack
DIY bike rack ideas are a great way to show off your bike and add some style to your home or garage. Make extra space in your garage with this easy DIY wooden wall-mount bike rack! Reclaim 2×4 boards from a neighbor's renovation and sand off the grime. In less than an hour, you can build your bike rack using only a drill – no other tools are needed. If you need more time to cut the wood, ask for help at the store. Hang several bikes vertically on the wall and get ready to enjoy more free floor space in your garage – without cleaning up leaves and grass clippings! thehandymansdaughter
7. How to Make a Bike Rack for $20
You don't need to buy an expensive bike rack when you can make one yourself. These diy bike rack ideas are easy and cheap to make. Maximize your bike storage space with this DIY bike rack for only $20! Perfect for garages, apartments, and any other area that needs some organization. This project doesn't require much work either – just a drill is all you need.
Watch the video to learn how to build a simple yet efficient bike stand or cabinet. Keep your garage clutter-free, and ensure all your bikes are properly stored with this easy DIY tutorial. Save money and time by transforming an unused corner of your home into a safe place to store bikes in no time! craftedworkshop
8. Truckbed PVC Bike Rack Design
Make sure your bikes are secure, and scratch-free with a DIY trucked PVC bike rack! Recently purchased two bikes, but don't want them to get scratched up by throwing them into the truck's bed? Get creative and build one using PVC pipes from the hardware store.
For more space and all the tools needed for assembly, head over to TechShop! The durable construction of this bike rack ensures that you can drive securely without worrying about any damage or scratches to your beloved bicycles. Start building now for an easy and affordable way to transport your bikes safely! instructables
9. DIY Bike Rack With Pipes and Fittings
Are you a cyclist looking for a DIY project to organize your bikes? Look no further! You can easily build your bike rack customized to fit any space with tubes and fittings. Design the dimensions so all your bikes fit in the racks, and modify them as needed. Plus, if you ever need to move or transform it, unassemble the whole thing and rebuild it elsewhere. Building your bike rack is easy and hassle-free – get started today with tubes and fittings! tinktube
10. Build a Wall Mounted Bike Rack
Make a great storage solution for your bike with this DIY wall-hanging bike rack! This awesome project will help you save precious floor space and keep accessories neatly stored, all while providing easy access to your beloved bicycle. With step-by-step instructions, materials needed list, and helpful tips included in the guide, you can complete this simple yet highly effective bike rack in no time. Don't wait any longer – start making yourself an amazing wall-mounted bike rack that will be useful for years! diyhuntress
11. Make Your Own Mobile Bicycle Rack
Are you searching for a practical storage solution to keep your children's bicycles safe and off the ground? Look no further than this DIY mobile bicycle rack! With easy-to-follow instructions and only a few materials needed, you can make an elegantly designed yet sturdy bike storage space in no time. Perfect for multipurpose garages, this mobile rack is easily moved out of the way when not in use, making it quick and simple to clean up after those muddy tires. Get all the details on building your bike rack today – it's sure to be a hit with kids of all ages! thisoldhouse
12. How to Build a Wall-Mounted Bike Rack
Learn how to build an inexpensive yet space-saving DIY wall-mounted bike rack that swivels! This easy tutorial will teach you to organize your bicycles with minimal effort. Make a simple, movable storage solution that swivels the bike flush against the wall when unused. This step-by-step guide ensures anyone can do this project easily- no matter your skill level! Get started today on making efficient storage for all of your cycling needs. Take advantage of this great project for the optimal organization – check it out today!
13. DIY Bike Rack – Step by Step Instructions
Maximize your storage and save space with this DIY bike rack! This easy-to-follow guide will show you how to construct a wall-hung bike rack made of wood. In no time, you'll have an effective method for storing bikes in any home without taking up too much room. Get ready to begin building your DIY bike rack – it's the perfect project for anyone looking to get creative with their home decorating ideas! Let's start building an affordable and stylish storage solution for all your wheels!
14. How to Build a Pallet Bike Rack
Are you looking for an affordable and simple bike rack? Look no further – two wooden pallets are the perfect solution! This DIY project requires little effort but makes a big difference. Salvage two pallets from a dumpster and lean them against each other to make your custom bike rack. Choose one with thinner boards as its narrower slots will hold bike wheels better, while the other should be placed upside-down for better stability. This simple pallet bike rack is the perfect solution- easy to make yet effective! instructables
15. Simple DIY Bike Storage Rack
Are you tired of your bikes taking up too much space in the garage? If so, why not build a DIY bike storage rack? With only 8ft 2x4s (two), 8ft 2x6s (three), 3in deck screws from a 1-pound box, and some sandpaper, you can make an affordable and secure storage solution. Once complete, your bikes will be neatly stacked away – goodbye mess and clutter! Get creative with colors and designs for a truly unique creation. So, what are you waiting for? Start building today and get organized! singletracks
16. Quick and Easy DIY Bike Rack
Are you frustrated with your kids dropping their bikes in the driveway? Look no further than this easy DIY bike rack! In just 10 minutes, you can have a movable bike rack perfect for keeping bikes off the lawn and organized. Don't worry if it takes a bit longer to assemble – it's worth every minute when all those bikes are finally in one place. From kids' bicycles to adults, this DIY project will make life easier – try it out today! twelveonmain
17. Make a Wall-mounted Bike Rack with a Bench
Are you looking for a way to add storage and seating space in your garage? Look no further! This wall-mounted bike rack with a bench is the perfect solution! Easily mount it on any wall, and store up to two bikes. Plus, its sleek design features a built-in bench for additional seating. Operation organize garage has never been easier or more stylish! Makeover one of your walls with this DIY storage project — no tools required! Cover it with faux brick panels for an even cooler look. Start your next big project and make your garage stand out! grayhousestudio
18. How to Make Bike Stand
Are you an avid cyclist looking for the perfect way to help you reach top speed? Then a DIY bike stand is just what you need. Ensure your bike is perfectly aerodynamic with sleek water bottles, a skin-tight bike suit, and no unnecessary accessories that might slow you down. With a DIY bike stand, you don't have to worry about having a kickstand – bikes can stand up independently without it! Get ready for an unbeatable performance at unbeatable speeds with this easy-to-assemble DIY bike stand. Stop wasting time and start improving your biking skills today! instructables
19. Build Your Own Bike Rack
Keep your family's bikes neatly organized and out of the way with this simple DIY bike rack! You don't have to be an experienced woodworker to build this project. With basic tools, a few materials, and some elbow grease, you can easily assemble a sturdy rack that will hold all your current wheels and provide room for future additions. Stop spending time untangling bikes from each other in the driveway – make one of these durable racks today and start enjoying easy access whenever you're ready for a ride! diynetwork
20. Build a Bike Rack from a Crib Rail
Spring is approaching, so why not organize your garage now? Make a DIY bike rack from an old crib rail – it's easier! With minimal tools and materials, this project will take up only a little of your time. Plus, you'll be able to store bikes in an orderly fashion without taking up too much space. Give your garage an easy facelift with this DIY bike rack made from a crib rail – it will make life at home more organized and convenient. herecomesthesun
21. DIY Bike Rack for $20
Are you looking for an inexpensive and straightforward way to store your bike? Look no further than this DIY bike rack. All that is needed is a two-by-four, some hooks, screws, and a drill. With just these few items, you can have your bike storage stand or cabinet for under $20 in the comfort of your garage! Follow the simple instructions in the video to get precise measurements, or use them as guidelines. So don't wait any longer – start making today and get organized with this affordable DIY solution! instructables
22. Cheap DIY Van Bike Rack
Are you seeking an innovative, DIY solution for your van storage and bike rack needs? Look no further! The perfect solution is a custom swinging hitch storage and bike rack. This product is designed to meet all your needs while allowing full access to the van's back doors.
With hours of research and a classic product designer attitude, we have crafted our unique design that offers both external storage and a strong bicycle mount. Whether you're planning on living out of your van or just hitting the road for vacation, this custom-made bike rack is perfect for any adventure! createyourownroad
23. How to Build a Bike Rack Of Wood
If you have an expensive bicycle and are looking for a way to store it stylishly, why not make your bike rack of wood? You can make your custom bike stand with the right materials, such as wooden plates and beams and tools like a jigsaw, miter saw, glue, clamps grinding machine, and varnish. Not only will it look great in your living or bedroom, but it will also ensure that your precious bicycle is safely stored away from damage. So, start crafting today and get creative with a bike rack of wood! instructables
24. Adorable DIY Wood Bike Rack:
Are you looking for an easy way to build a bike rack? Look no further! This guide will teach you how to construct your wood bike rack, custom-made to fit in the bed of your truck. This rack style can also be used on solid ground for parking multiple bikes. All measurements provided are approximate; take actual measurements from your vehicle and adjust accordingly – always have extra lumber on hand, just in case! Follow along with these step-by-step instructions and materials list and make the perfect wood bike rack today! instructables
25. DIY Bike and Scooter Rack
Do you have kids who love to ride their bikes and scooters around the house? If you're looking for an easy way to store them, look no further than this DIY bike & scooter rack! This great storage solution is perfect for those who strive for organization and tidiness. Attach command hooks and vinyl names onto your wall, and use it as a convenient home for all of your children's helmets. As far as the scooters go, they won't be able to stand up on their own – but that's where this rack comes in handy! You only have to hang them up easily when not in use. hertoolbelt
Relate DIY Projects to Try
Discover affordable and easy DIY Projects for building secure storage racks to get your space clutter-free in this handy guide.
Conclusion:
In conclusion, DIY bike rack ideas provide an excellent solution to organizing and storing your bicycles, offering various creative options. From garage bike hangers and wooden bike rack plans to more unique designs like the crib rail bike rack or wall-mounted bike rack with bench, there are abundant possibilities to suit diverse needs. Building your own bicycle rack offers a personalized storage solution and a satisfying DIY project. Let's explore these easy DIY bike rack ideas and plans today!