Learn how to make a twin bed frame with these 15 simple diy twin bed frame plans and ideas with step by step instructions. Making a twin bed frame can be an incredibly satisfying project, and with these different DIY twin bed frame plans to choose from—especially if you're looking for simple ones. From farmhouse-inspired twin bed made entirely out of wood to beachy pallet twin bed designs sporting upcycled headboards, there's something for every budget, preference, and skill level. And since most of these DIY twin bed frame plans are free, why not try them? Not only will you save money compared to buying a ready-made one, but you'll also have loads of fun crafting the perfect DIY twin bed frame for your kids.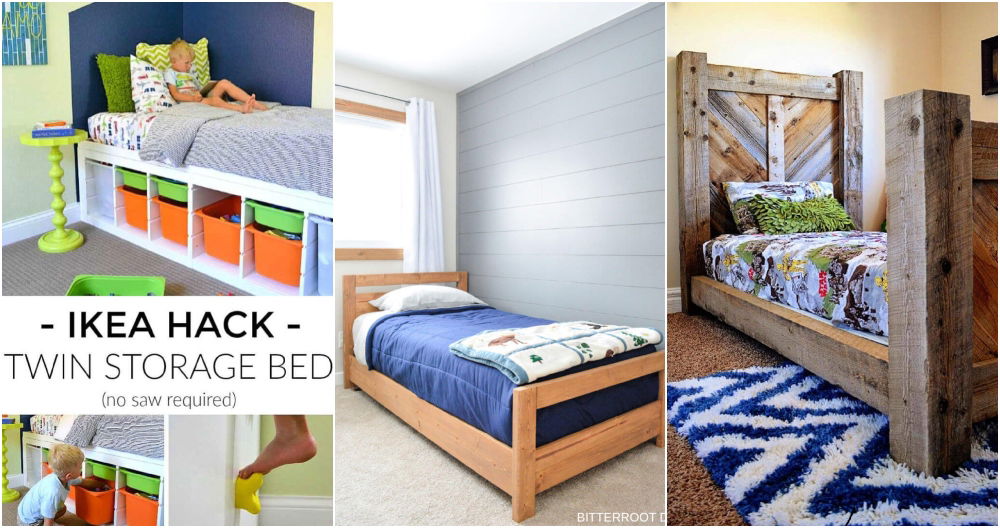 15 Simple DIY Twin Bed Frame Plans
Looking to give your bedroom an upgrade? Consider building your own diy twin bed frame! Find simple, yet stylish and durable DIY twin bed frame designs that can be tailored to any bedroom. Whether you're looking for a traditional or modern twin bed, these free diy twin bed frame plans are a great way to transform the look of your bedroom with minimal effort and cost. From clever storage solutions to creative and unique builds, these 15 simple diy twin bed frame plans offer plenty of great ideas for decorating on a budget. Put your do-it-yourself skills to use and customize it into something that is both functional, aesthetically pleasing and all about you!
Moreover, you will also find amazing IKEA hacks here that will help to build modern featured DIY twin bed frame ideas at home. You will also find amazing DIY twin bed frame plans to add storage drawers to your twin beds that will nicely store and organize all the bedroom clutter! Browse the entire compilation of these diy twin bed frame ideas to get full free plans, tutorials, and instructions!
1. Homemade Twin Platform Bed Under $30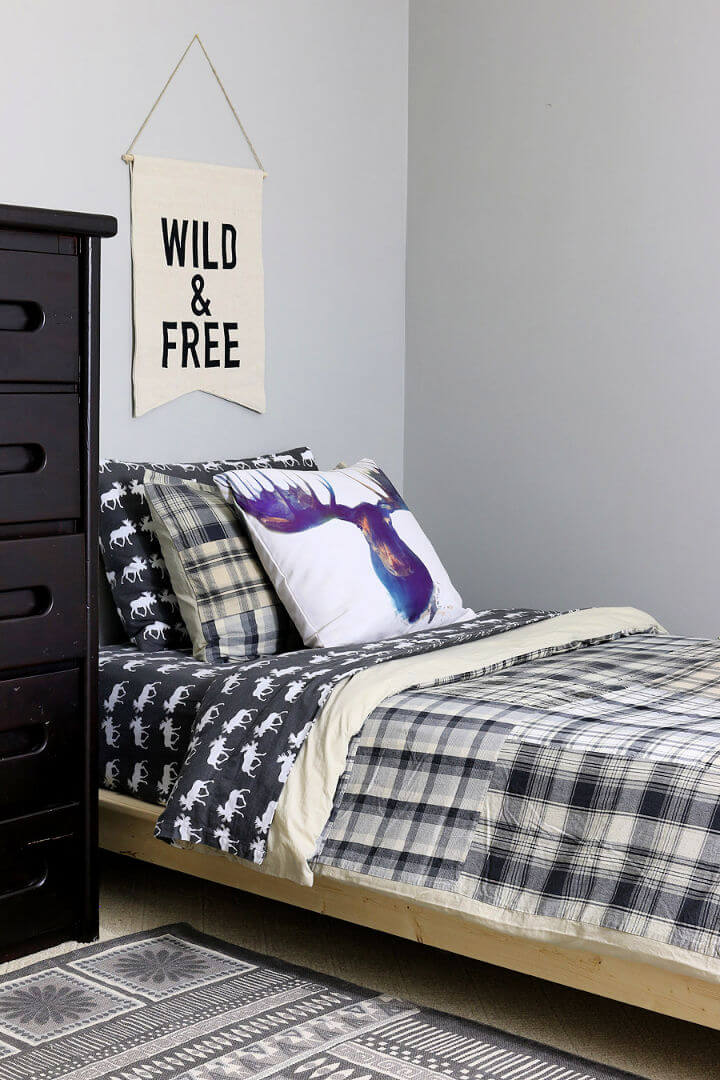 Looking for a discounted twin bed to add to a newly build guest room or children's room? Then use this plant to build a platform twin bed only at a cost price of $30. Time to live the luxury even when you are on a budget using the DIY Ideas. Build this bed will be fun and you will enjoy a lot the whole construction. Free plans, cut lists and tutorial here jenwoodhouse
2. Rustic DIY Barnwood Twin Bed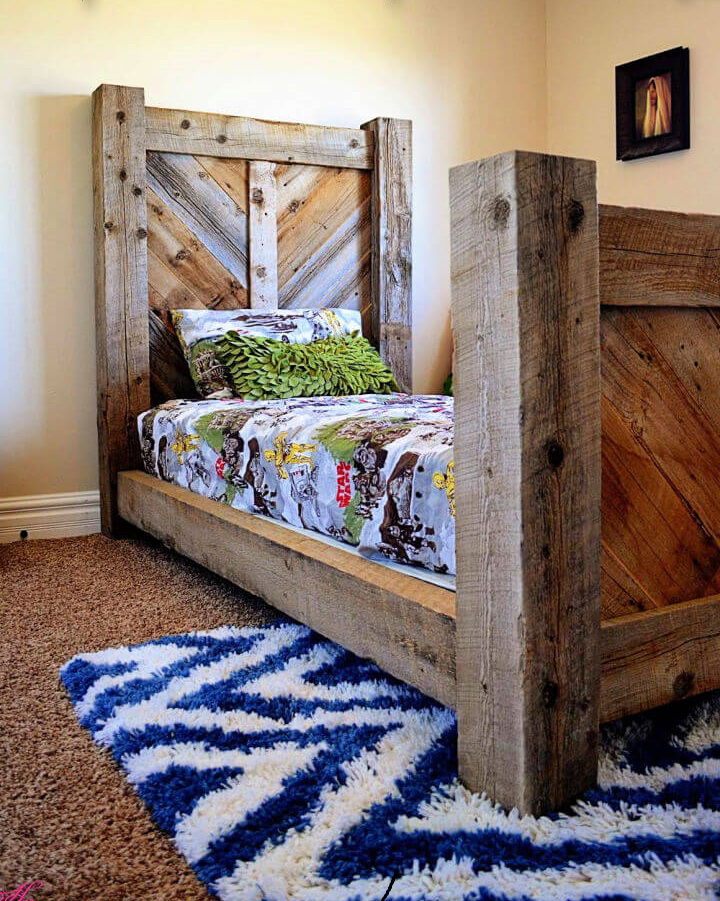 Let this hand-built twin bed design serve in you multiple different ways. It will add rusticity to space, will bring amazing chevron effect to a kids' bedroom ambiance and the raised headboard and footboard panel will bring tons of visual details to a bedroom. Complete how-to guides here hertoolbelt
3. How to Build a Twin Bed
Build this bench for kids', will be rewarding, will help you get the true love of your kids. The design is highly feasible if you go with a stock of wood slats and to build the accent headboard or mattress supports, use wood dowels for accent filling of panels. A comfy cushion at the end will bring luxurious comfort. Free plans and tutorial here instructables
4. Make Your Own Modern Twin Bed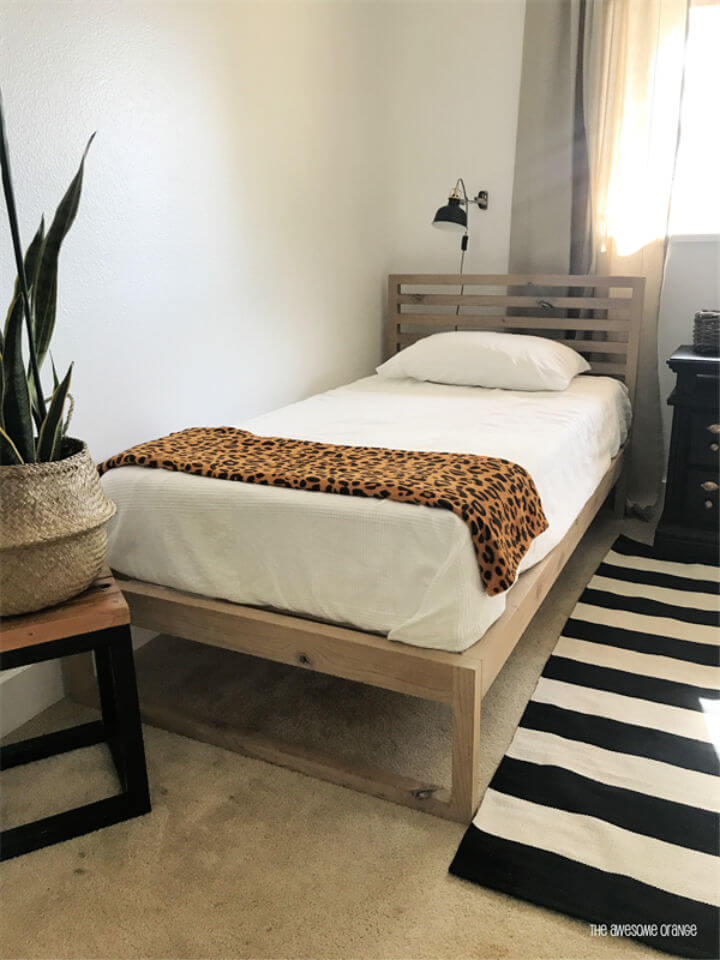 Build all sort of rustic, modern, farmhouse style or vintage twin beds at home with these help of these DIY twin bed plans. Duplicate this modern twin bed, having a slatted headboard and flat box style footboard. It gets covered with a highly soft and thicker mattress for ultimate sleeping comfort. Details here buildsomething
5. DIY Twin Platform Bed With Storage – Ikea Hack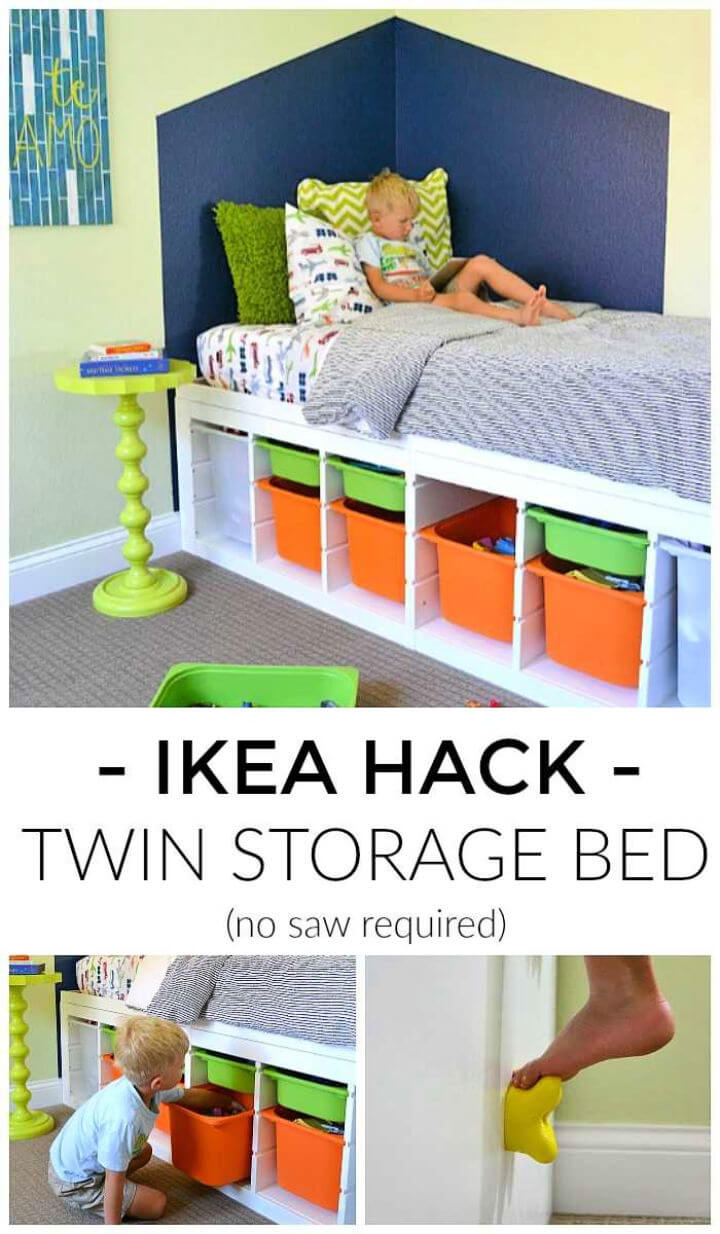 Make also smart use of IKEA components to get this platform bed made, will provide amazing options to stash your stuff. The brilliant cost-efficient IKEA hack for a super beautiful and functional storage bed. Build this bed without using a saw. The IKEA readymade components are going to rock. Free plans and tutorial here heytherehome
6. Handmade Twin Bed With Storage Drawers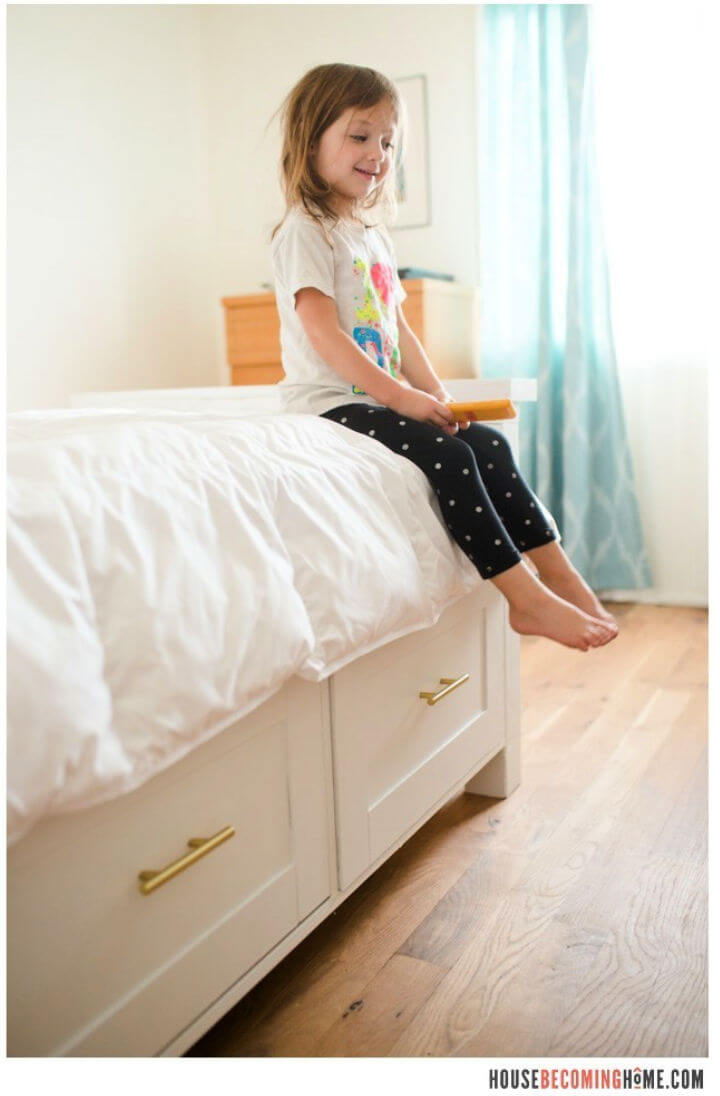 Go with these free twin bed plans to get a stylish twin bed with built-in storage options. Using square wood posts, slim wood slats, and plywood to execute this stunning twin bed. The sliding out peek-a-boo drawers on railings will help declutter the bedroom too. A fully functional bed to make at home. How-to tutorial here housebecoming
7. Building a Twin Bed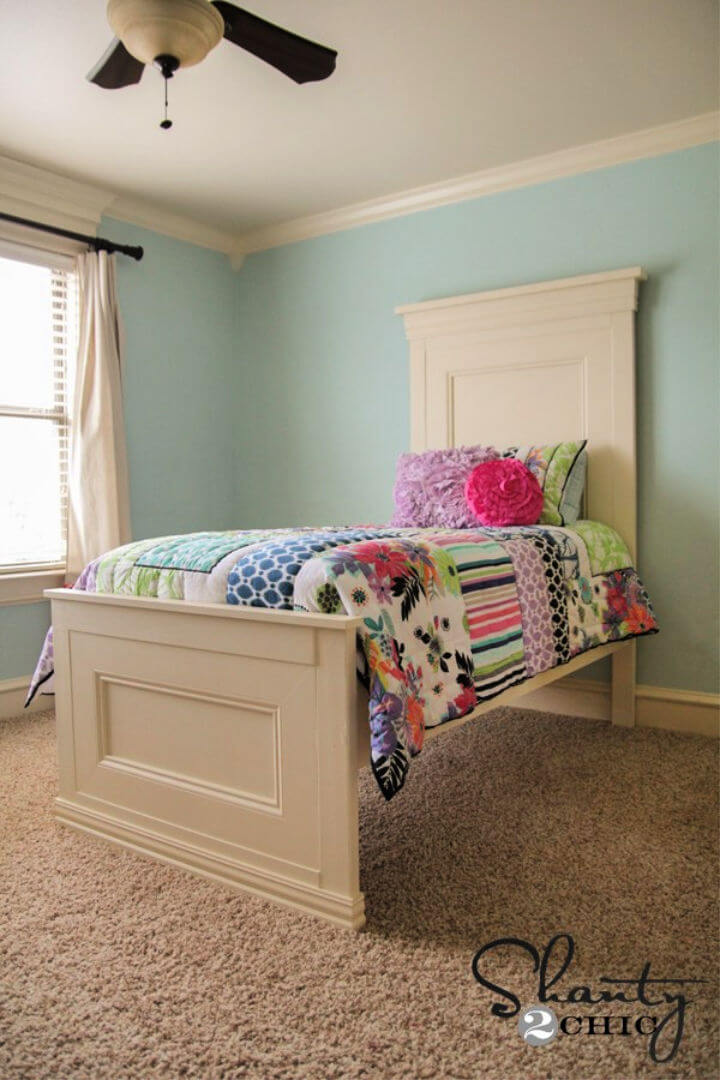 Want to get something amazing this time for a kids' bedroom? Then do build this handsome DIY twin bed, will be the full beauty of a guest or kids' bedroom. Use solid wood slats, hardwood plywood, and accent wood molding to build this stylishly beautiful twin bed design. Step-by-step tutorial here shanty 2 chic
8. How to Make Twin Storage Bed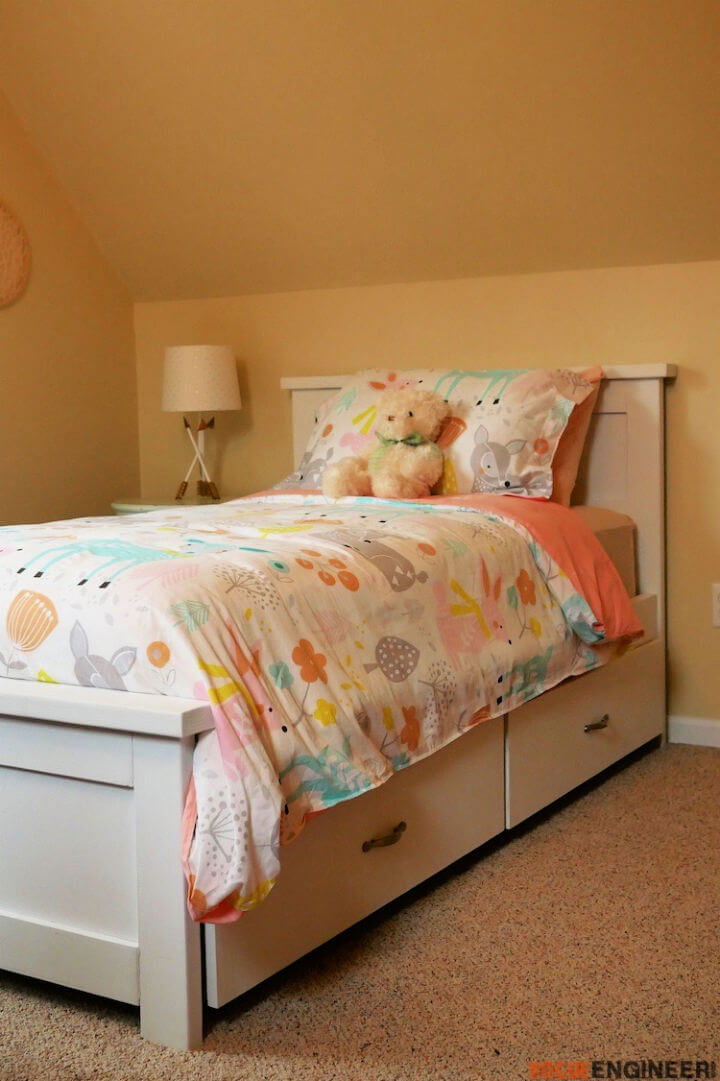 You will love building this another gorgeous twin storage bed, added with lots of brilliant storage options. Cut the wood slats to build the overall frame of the bed and add the panels using hardwood plywood. This bench design provides storage-drawers underside as amazing secrete stashes. This bench design is having all to dazzle the audience. Full tutorial here rogueengineer
9. DIY Daybed with Storage Drawers – Twin Size Bed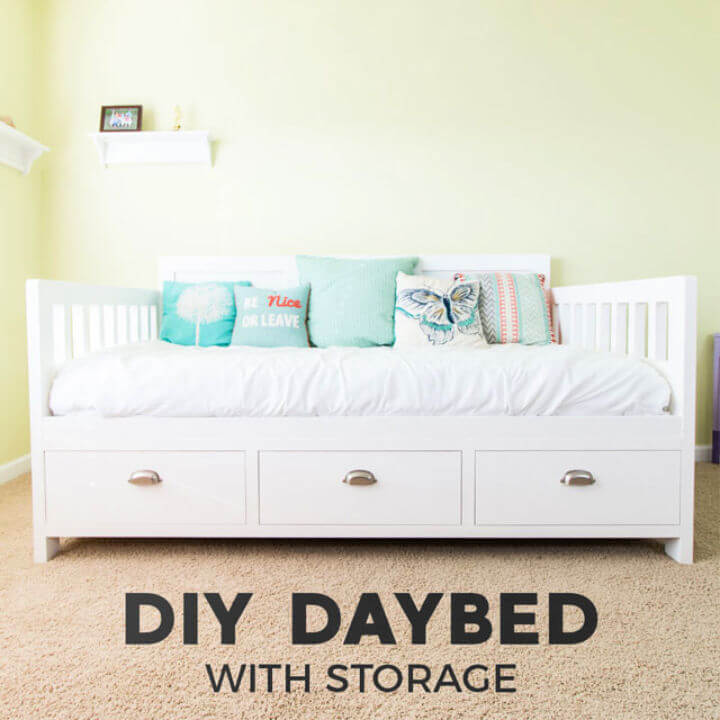 Bring a big wow factor to any of your space using this daybed that is loaded with lots of drawers and will also make a gorgeous party time sofa. This sofa designs built to its underside that will store a variety of items. A well-cushioned model of sofa to build like a pro with the provided plans. Full how-to tutorial here fixthisbuildthat
10. Build Your Own Twin Bed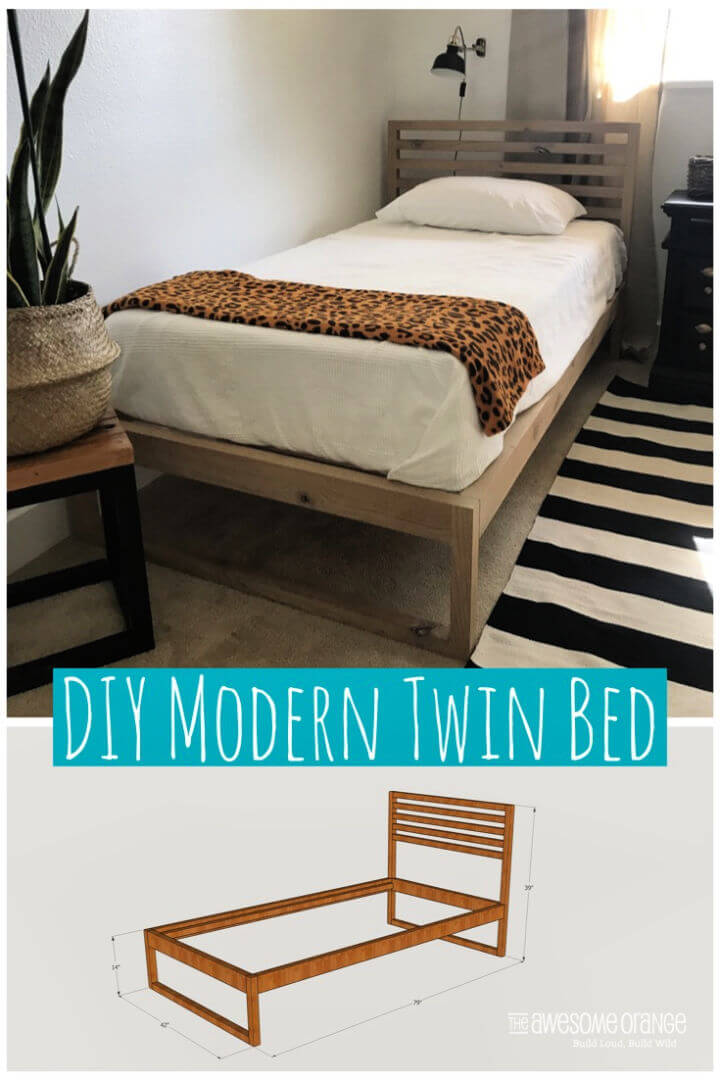 Another great and amazing type of twin bed to make at home in no time looks great with a simple design loaded with high-quality mattress or cushion. Here you need mostly the wood slats to get this whipped up like a pro, and you will love making it for sure. Complete how-to guides and tutorial here theawesomeorange
11. Simple DIY Basic Twin Bed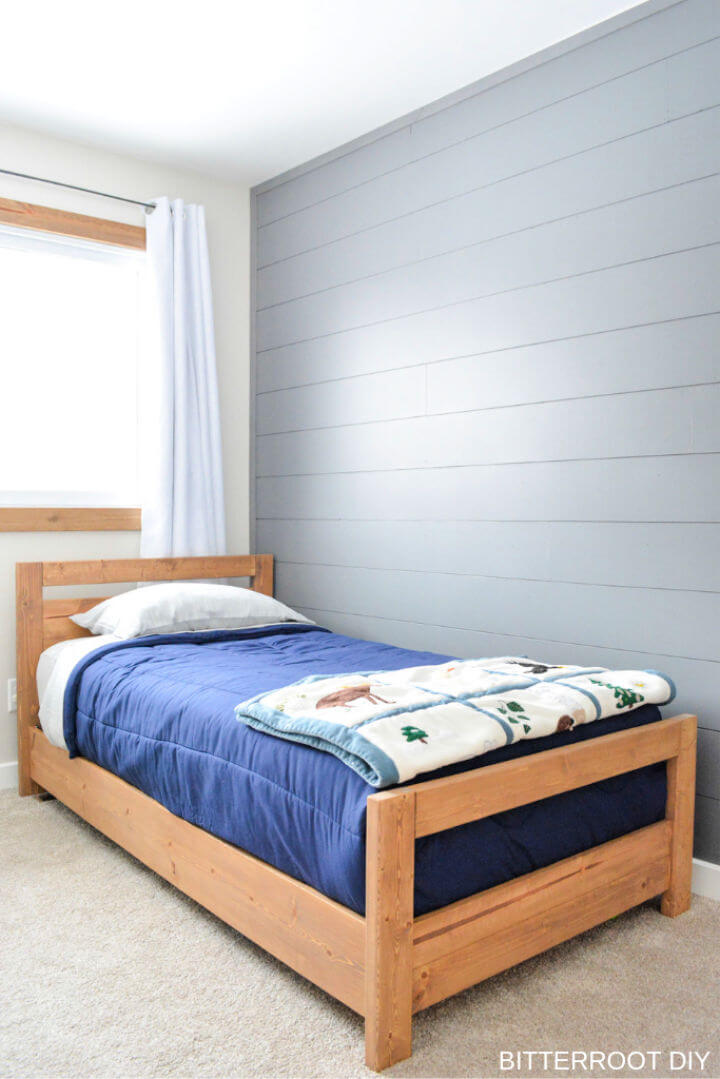 Build also this very basic twin bed for your kids' bedroom, will be equally beautiful to put in a guest bedroom too. It looks great in the new wooden appeal and solid dimensions and is having a gorgeous footboard and headboard. Do build this basic twin bed, will not take much time to be ready. Full how-to tutorial here bitterrootdiy
12. Creative Twin Size Kids House Bed
This handsome twin bed looks like a mini house, comes with chevron roof covered with a heavenly white fabric lighted for extra grace. Just build up the bottom of the bed and then raise the pillars from corners to support the chevron roof. Complete how-to guides here addicted2diy
13. DIY House Frame Twin Bed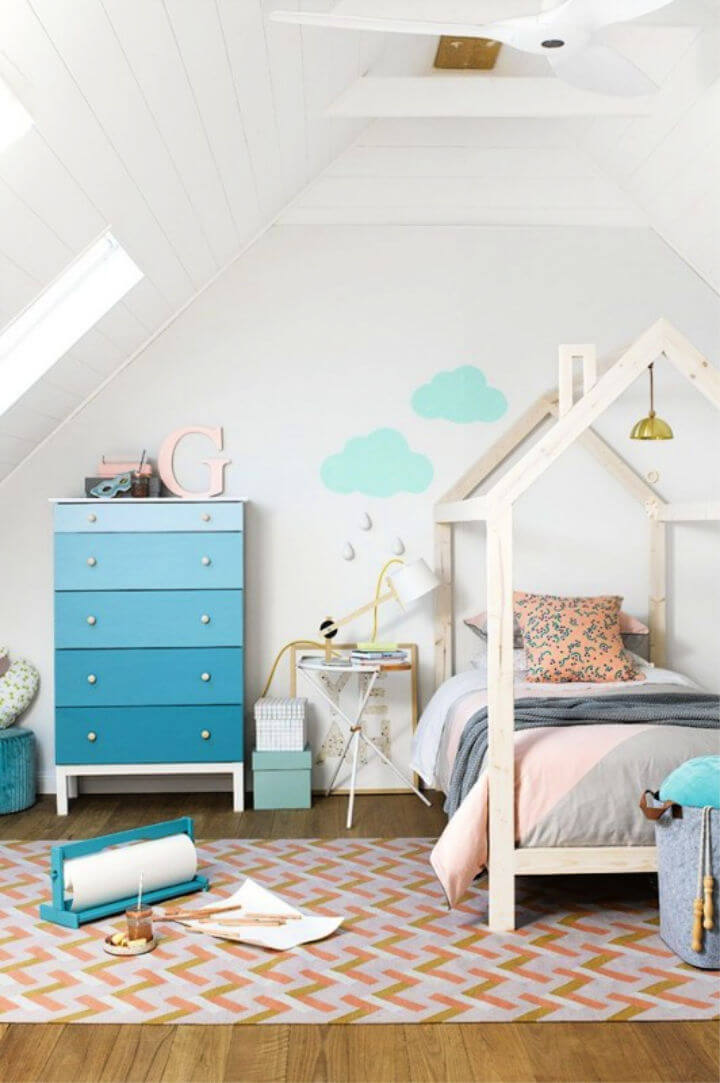 Look at this another gorgeous twin bed design having a house shape, the enticing kids' luxury bed that is quite easy and cost-efficient to build too. Hang a pendant lamp to a rafter for amazing decor statements and also cover up the whole chevron roof like a pro for bigger decor statements. Full how-to tutorial here remodelaholic
14. Cheap DIY Twin Bed from Wood Pallets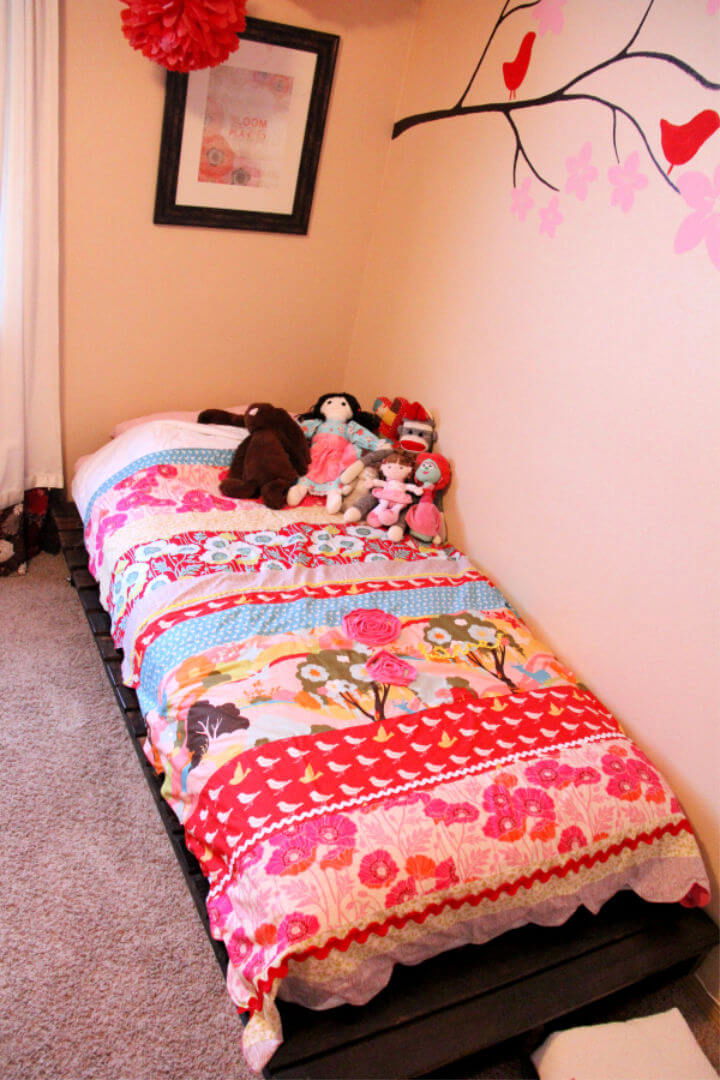 Build free of cost twin beds using the free discarded pallets, look at this twin bed frame, is the best platform twin bed here to make at a blink of an eye. Just cushion up a long skid of pallets to build this no-cost twin bed, will last for years to come. Complete how-to guides and tutorial here couplejones
15. Over Bed Kids Loft Building Plans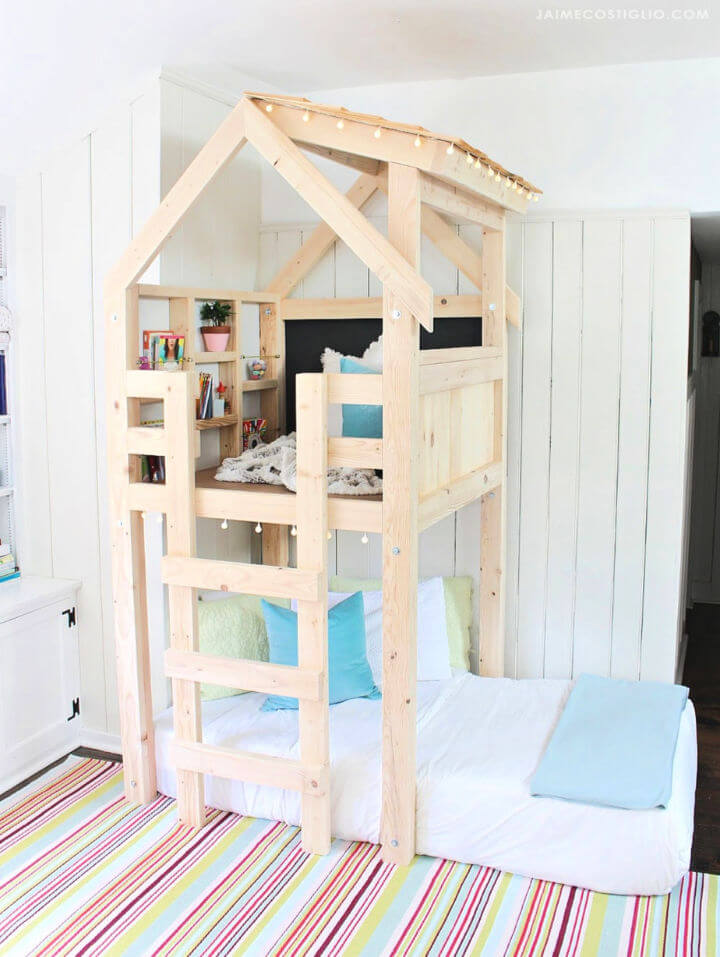 Boost also the kid's bedroom fun by installing this loft twin bed, is just like a sweet and soft playing castle for the kids where they play with siblings and play all the time. So by building this kids loft twin bed, you are going to start a never-ending fun for the kids. Free plans and instructions here jaimecostiglio
Related DIY Projects and Ideas
Bed Plans for Kids: Planning for a new bedroom for your kids? Create their dream bedroom by following these free DIY bed plans for kids that are easy to follow, and can be customized to fit your individual needs.
DIY Bunk Beds: Whether you're looking for bunk bed plans for your kids, or a guest bedroom, these free DIY bunk bed plans will give you everything you need to create an elegant home.
Loft Bed Plans: These free DIY loft bed plans with a PDF guide for how to build a loft bed for your kids. Make their bedroom more fun, creative and comfortable.
Pallet Bed Frame Ideas: Turn old wooden pallets into a DIY bed frame with these easy to follow free pallet bed frame plans. With step by step instructions, you can build your own bed for the fraction of the cost of buying one.
Pallet Headboard Ideas: These best pallet headboard ideas will help you create a headboard for your bed with materials found around the house.
DIY Daybed Plans: With these unique DIY plywood daybed ideas you can easily build a daybed that is a great way to create extra sleeping space for guests, or to increase the amount of seating in your living room.
DIY Toddler Bed: Learn how to make your own toddler bed with this list of DIY toddler bed ideas that will help you create a comfortable place for your little one to sleep.
Conclusion:
With just a few tools and some lumber, you can build a stylish and sturdy DIY twin bed frame in no time at all. Our collection of free DIY twin bed frame plans includes unique ideas for everyone, from the absolute beginner to the more experienced woodworker. Whether you are looking for a traditional-style homemade twin bed frame or a more unique diy twin platform bed, we've got you covered. So what are you waiting for? Start building diy twin bed today!