Learn how to make a sewing table with these 25 free DIY sewing table plans that are functional and have storage cabinets. From professional sewing to quilting, a sewing table is a big need for all your plans to embark on impressive art projects. So, build an elegant sewing table with these homemade diy sewing table ideas sharing pro tips to build a table with an inset sewing machine.
These step-by-step sewing table plans also show you how to upcycle an old and vintage table into a fully functional sewing table. Get visual tutorials and free sewing table plans to build a cheap sewing table using wood like plywood and custom wooden lengths. This great list provides amazing IKEA hacks to build a modern and storage-friendly sewing table in a budget-friendly way. From easy to intermediate to advanced, these homemade diy sewing table ideas will provide you free sewing table plans for every skill level.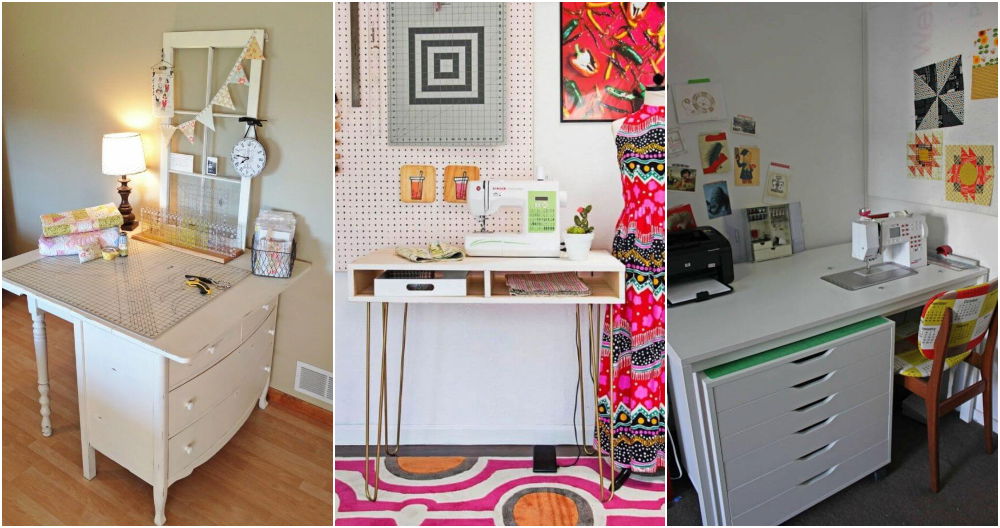 25 Homemade DIY Sewing Table Plans and Ideas
Sewing is a creative and rewarding hobby, but it can be difficult to find the perfect sewing table. If you're handy with tools, why not try to build your own diy sewing table? With our different free sewing table plans and designs, you're sure to find the perfect sewing table for your space and needs. Best of all, diy sewing table plans can be customized to perfectly suit your style. Check out these 25 diy sewing table plans and ideas to get started on your next project.
1. How to Build Sewing Machine Table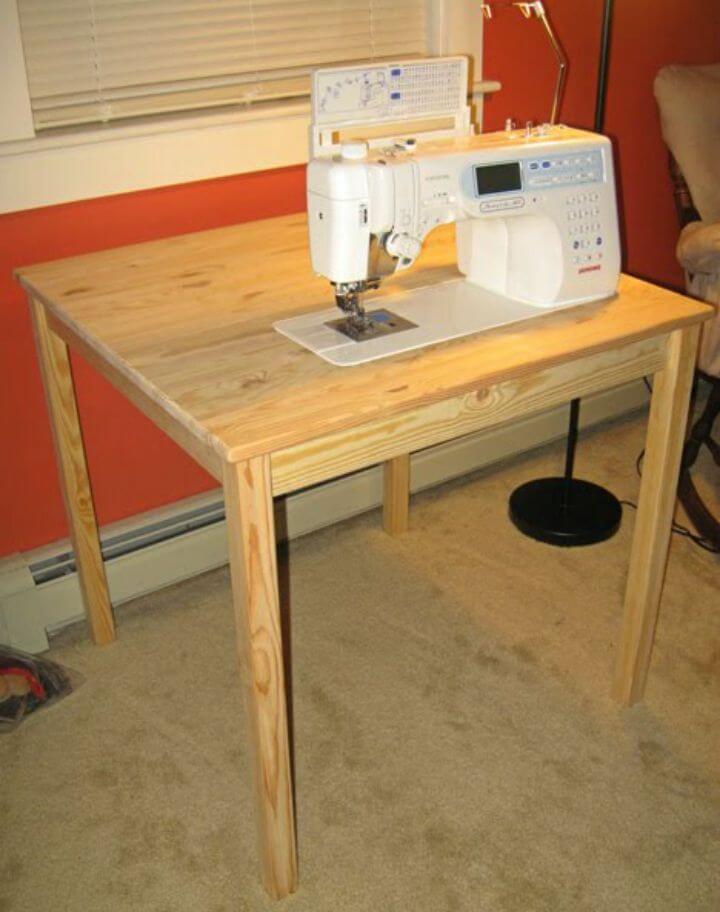 Go with this IKEA hack to build this sewing machine table. Add up an IKEA INGO table with a holding in which your sewing machine will sit beautifully. For a building that holding, use 2 pieces of 3/4″ x 1″ solid wooden boards, plywood, and 4 big screws with nuts. Tutorial here bluedinosaurs
2. DIY Sewing and Cutting Table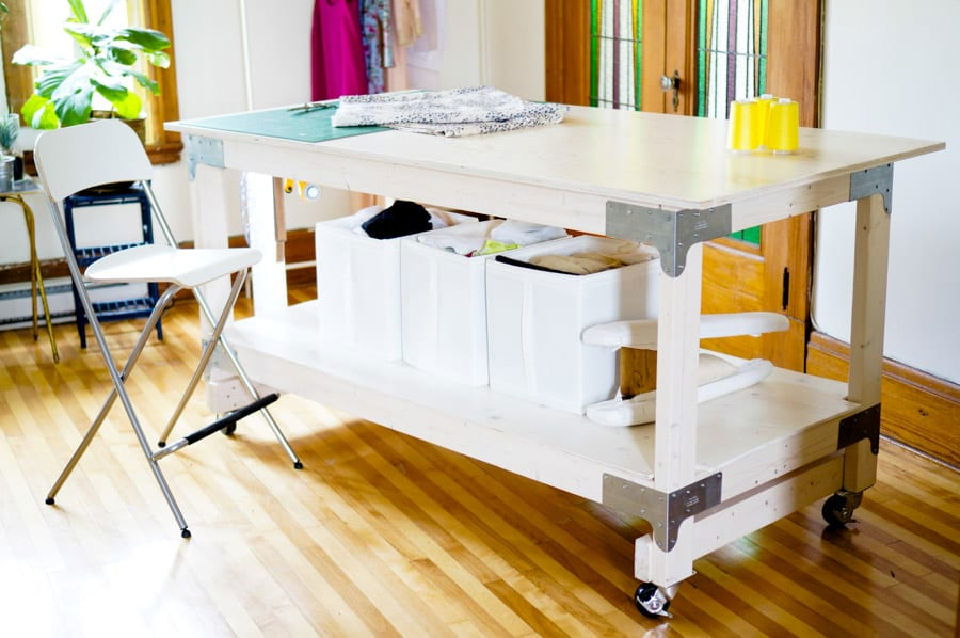 Sewing needs precise cuttings for amazing neatness in your completed design. So, built this table that will be great for both sewing and cutting purposes. Use the 2x4s and plywood to build the overall table, should be assembled with galvanized steel rigid ties and long wood screws. Finish with polyurethane and with your favorite paint. closetcasepattern
3. Inexpensive Sewing Table Plan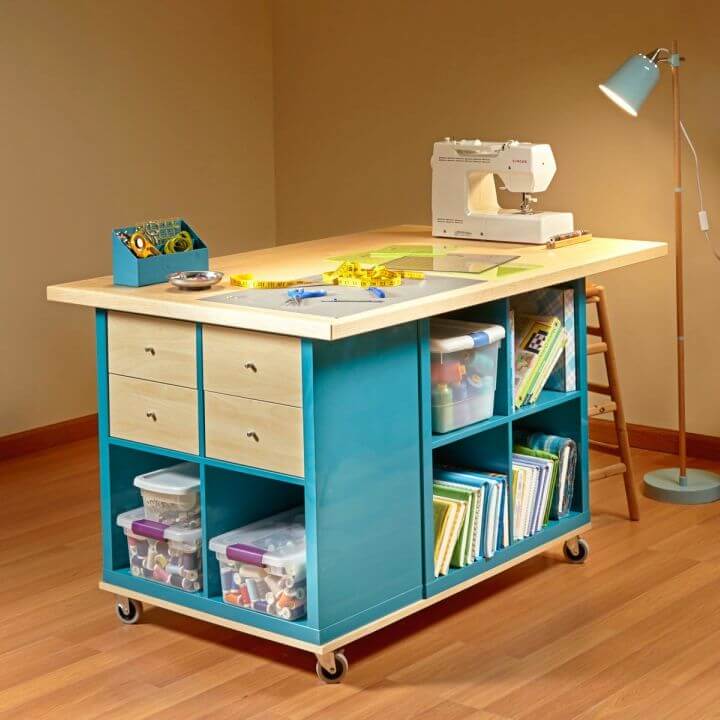 Go smart with the IKEA components to build a modern and featured sewing table like a pro. Build the whole storage-friendly inside of the table using IKEA kallax 2 drawer insert and IKEA kallax shelving unit. Use birch plywood sizes for the sewing table countertop and base. Complete the design caster wheels and birch Iron-on banding. Finish with polyurethane. familyhandyman
4. How to Make Cutting Table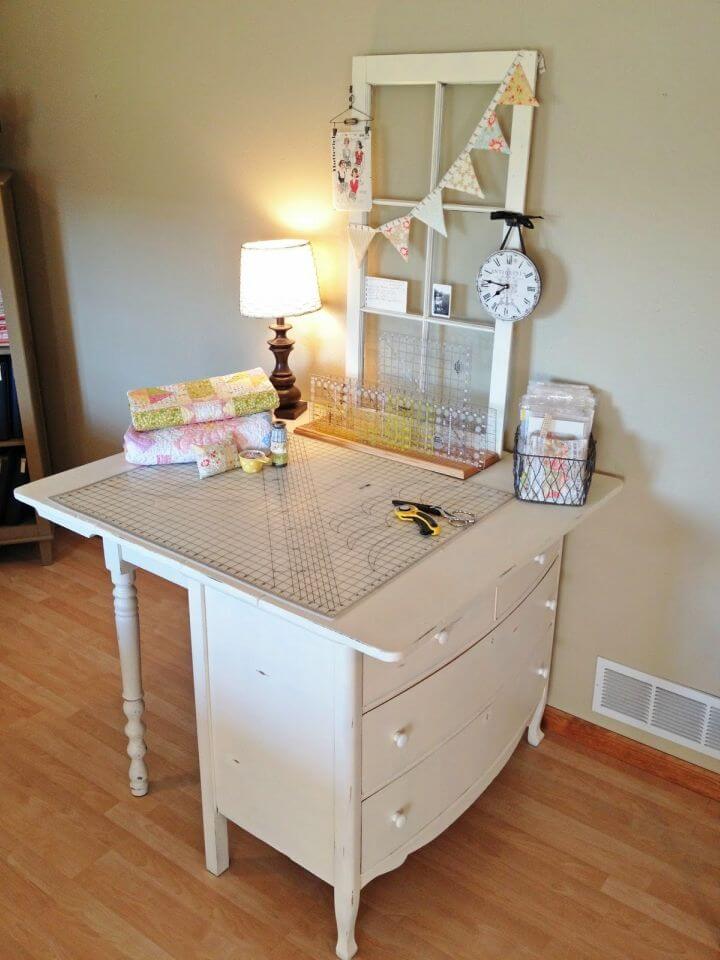 You will love this cutting table, a genius combo of a dresser and an old drop-leaf table. The whole transformations appear into a fab cutting table that is capable of storing lots of sewing supplies with great ease. Distress the table for an antique appeal and finish with a cutting ruler. carriedaway
5. Homemade Sewing Table for Small Spaces
Living in a congested space? Then maybe you can't handle the big sewing table there. So, opt for building this small sewing table that will fit best to small spaces. This table is mini but can expand with the help of drop leaves that are having folding legs attached too. Use 1x2s, 1x3s, and plywood to build this table. ana white
6. Easy DIY Sewing Table – IKEA Hack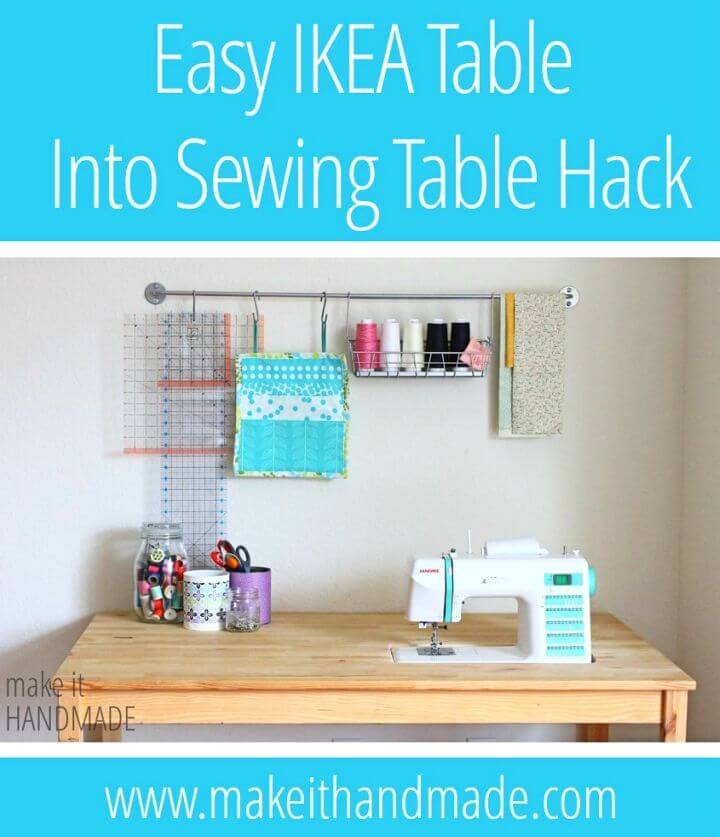 Go with IKEA components and tables to make modern inexpensive sewing tables with all features. Build this sewing table with the IKEA INGO table, just cut a lot in the tabletop to fit the sewing machine. Install a plywood base too with bigger bolts and nuts to support the bottom of the sewing machine. The table will cost you $138. makeithandmade
7. Make Your Own Sewing Table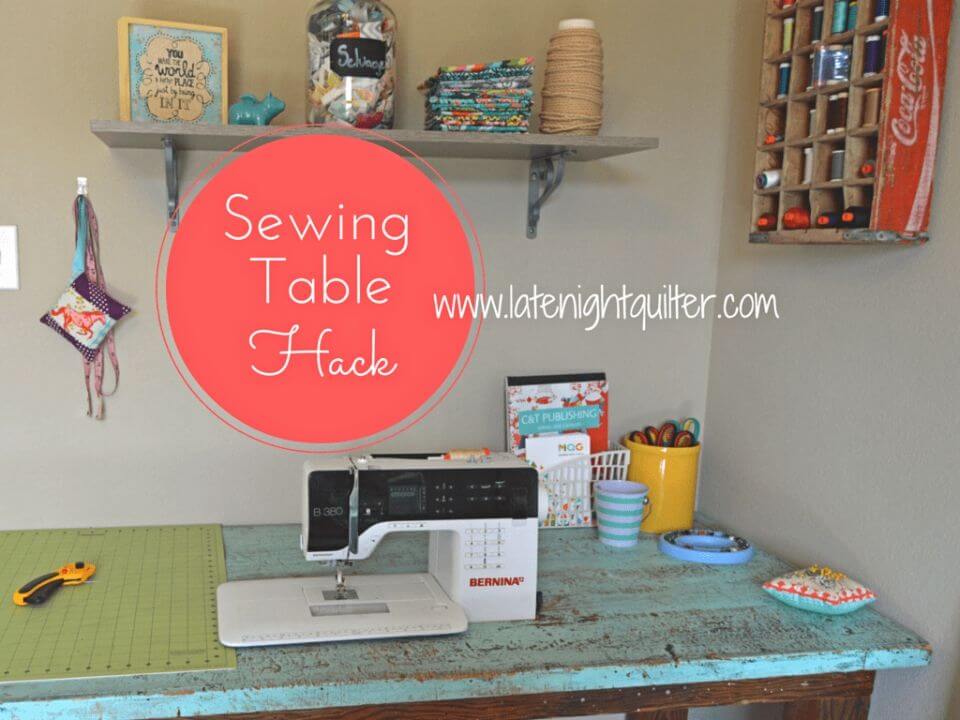 Modify the sewing tables you already have to build a more accurate and good looking sewing table. This project involves fitting a sewing machine in an old sewing tabletop. You need 3″ wood screws, a 2″x4″ piece of wood and wood cutting or drilling tools to make it. Full tutorial here latenightquilter
8. Handmade Fold Down Sewing Table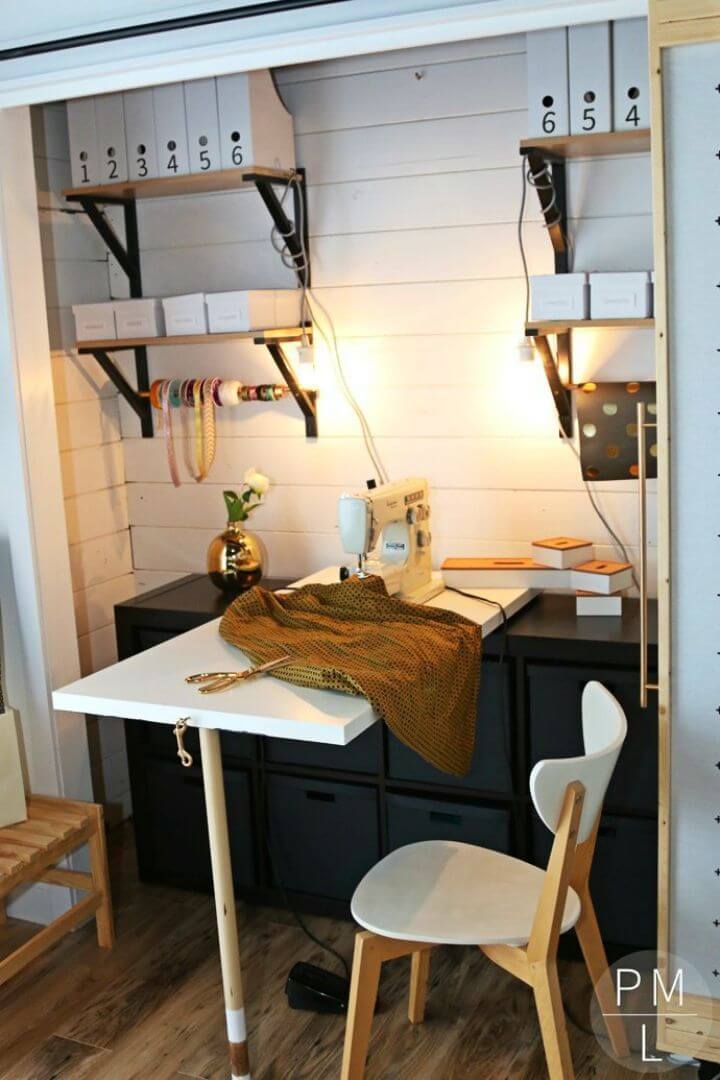 Satisfy your love for sewing table even when living in a narrower space. A total solution would be this fold down sewing table. Make it using IKEA kallax, IKEA Linnmon tabletop, 1.5″ x 32″ wood dowel, and the best hardware. Finish with the white primer, rustic oleum chalkboard paint, and with the stain. Details here petitemodern
9. IKEA Knockoff Sewing Table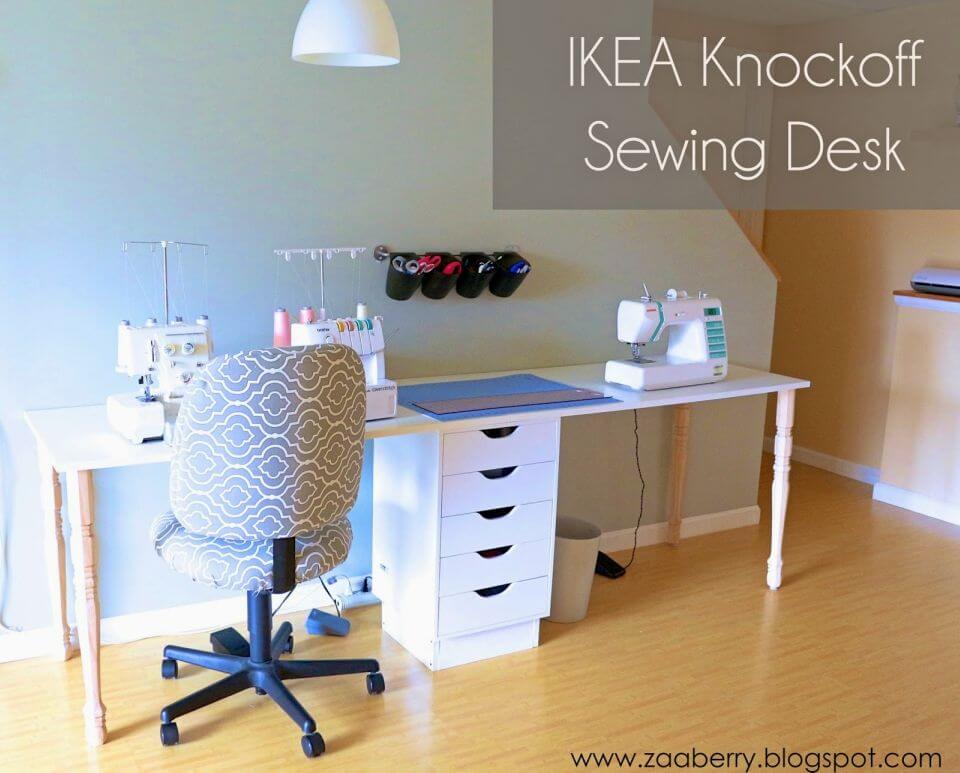 There are tons of different IKEA hacks out there to build a modern sewing table. Grab the IKEA Linnmon tabletop, Nipen legs, and an Alex Drawer unit to build this sewing table with modern storage options. Install the sewing machine to both sides, so it will be great for two avid sewists at the same time. zaaberry
10. Free Sewing Table Building Plans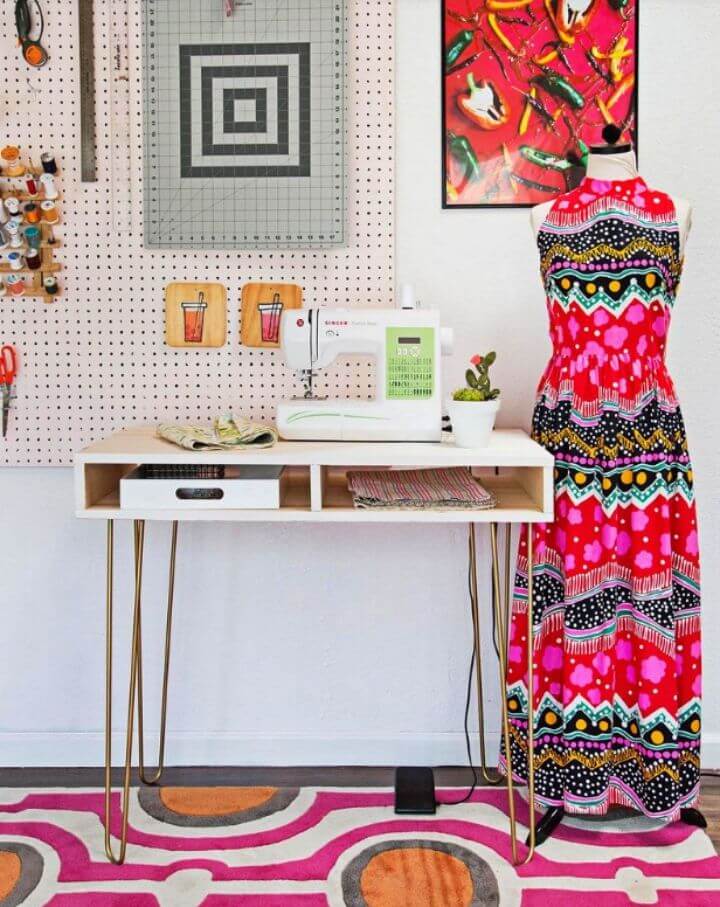 A quick-to-build sewing table design that stands on metal hairpin legs. The best industrial style sewing table that provides storage cubbies for secure storage of sewing supplies. You need 2 boards of size 36 x 20 inches and three boards of 3 x 20 inches to build a pallet like tabletop. It stands on 4 metal hairpin legs. Details here abeautifulmess
11. How to Build Cutting Table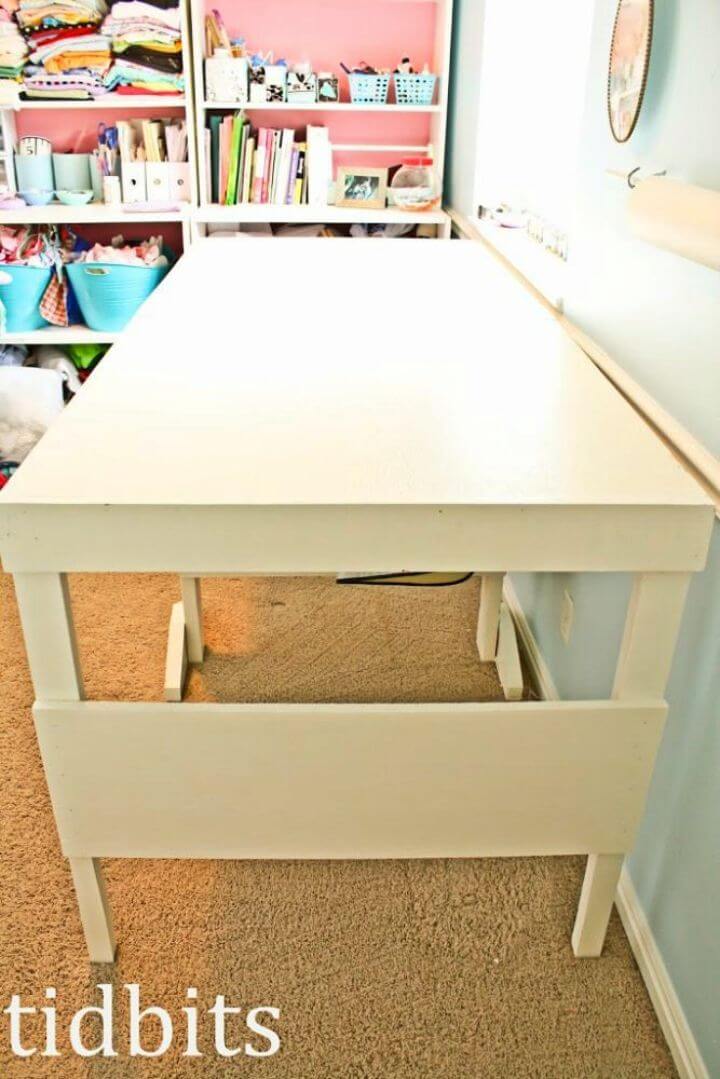 For short and narrow space interiors, this folding table will work great. It will amaze with its genius folding panels and is just super beautiful to look at. Here you need the2 sheets of 4×8 plywood, 2x4x8 bards, 2x6x4, 1x4x8, 3/8″ dowel, and 8 3″ inches hinges to make this cutting table. tidbits cami
12. Ana-white Narrow Farmhouse Table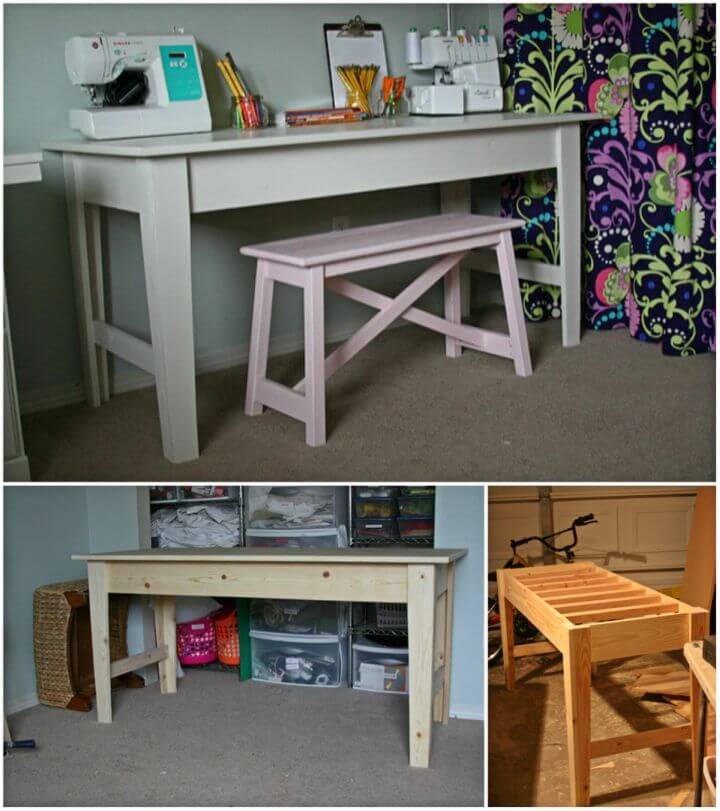 Get here instructions from the ana-white to build this farmhouse sewing table will fit best to a narrow space. First, build the frame of the table with legs and slatted top frame, next fill the frame solid using extra wood. Set our sewing machine and custom sewing organizers on its top, and that's it. beingbrook
13. How to Make Murphy Sewing Desk
Enjoy comfortable sewing even in your narrower home spaces with this genius folding layout of the sewing table. The Murphy sewing desk that provides shelf in a wall-mounted panel to provide storage to sewing supplies. It will fold back to provide a lovely chalkboard wall sign. Download the free plans here shanty 2 chic
14. Free Sewing Desk Plan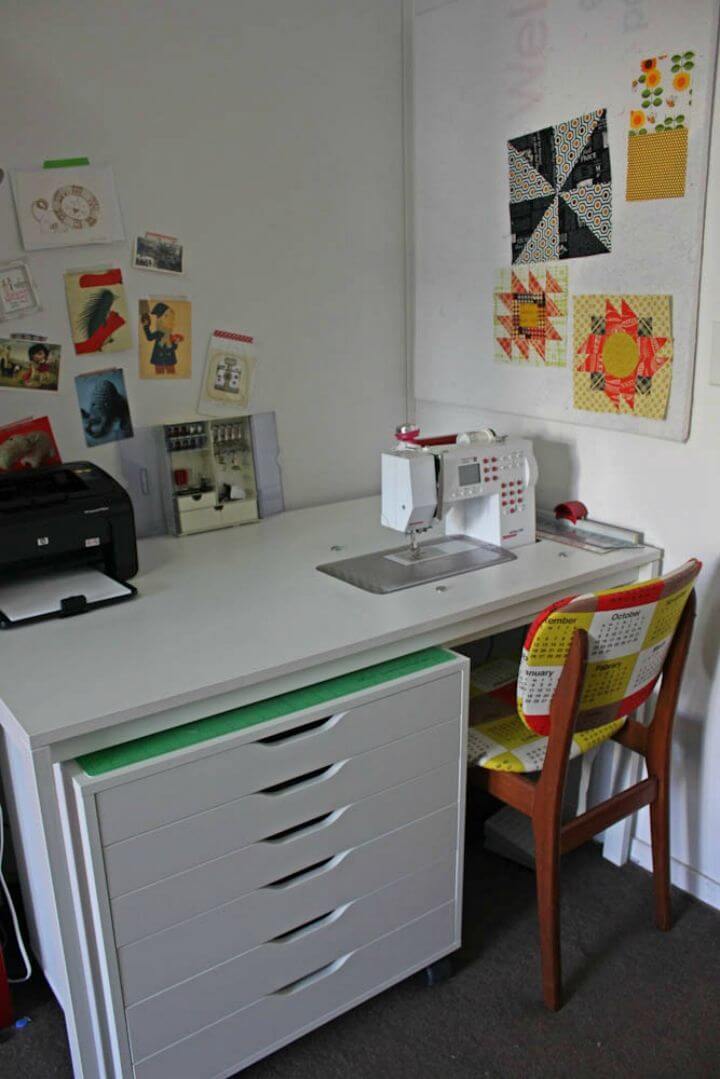 Get inspired by the modern IKEA hack to build a modern sewing desk. Use the IKEA MELLTOP table, IKEA EFFEKTIV door panel, to build this fully-featured sewing desk. It will demand an easy skill level, and the total project will cost you less than $65. A super storage-friendly sewing desk to make at home. badskirt
15. How to Make Sewing Station Table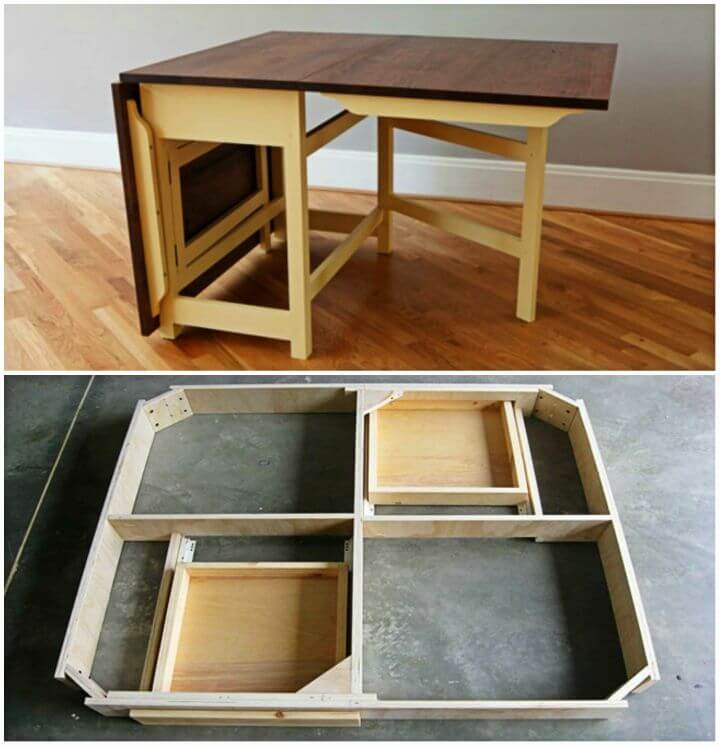 Get here step-by-step tutorial to build a fantastic sewing station like a pro. Upcycle an old table you already have to build this sewing station. Cut out a big slot to fit the sewing machine and add further storage options if needed. Build it manually, too if you don't have a table, look at the readymade sample that impresses with gate legs and drop-leaf panels. designmycost
16. DIY Large Sewing and Crafting Table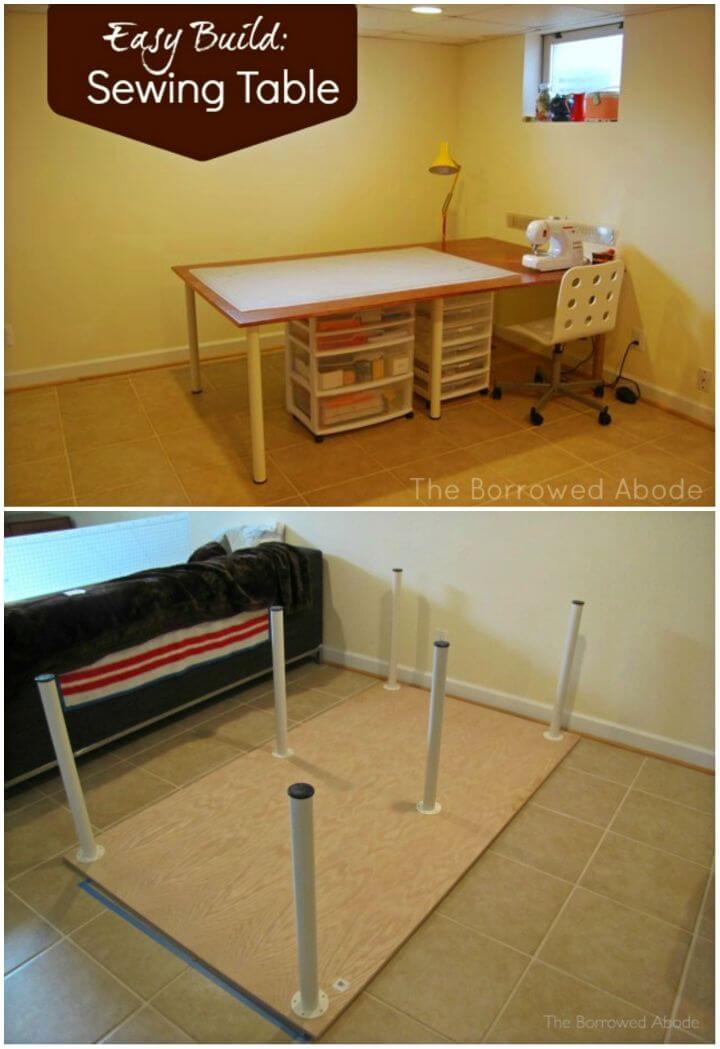 Enjoy your crafting and sewing sessions with this large table, will provide a fine workspace for easy sewing machine operating. You need the 6 IKEA desk legs, 1 sheet of Maple veneer plywood, and skinny pine trim moulding strips to build this table design that fascinates. How-to tutorial here theborrowedab
17. Build Your Own Wood Cutting Table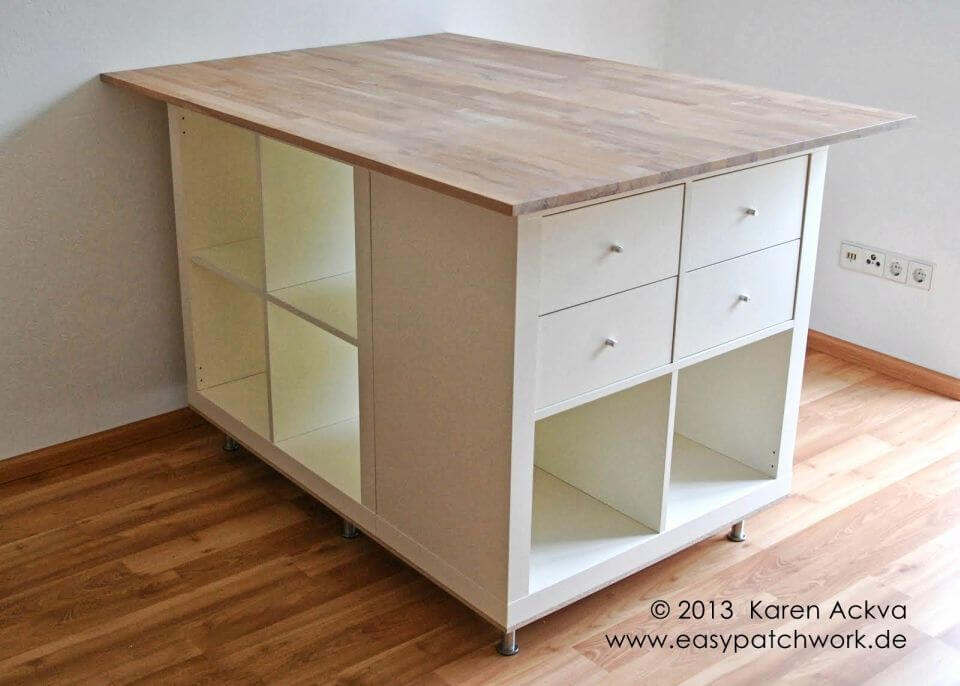 Turn sewing into a big fun while keeping your sewing supplies in arms reach, by building this fab sewing table. This table is a genius IKEA hack too. Build it with the 3 2×2 IKEA EXPEDIT shelves, use 7 CAPITA legs to make it stand in style. Build top using a 100 x 140cm butcher block. Further details here ikeahackers
18. Cheap DIY Vintage Sewing Table and Chair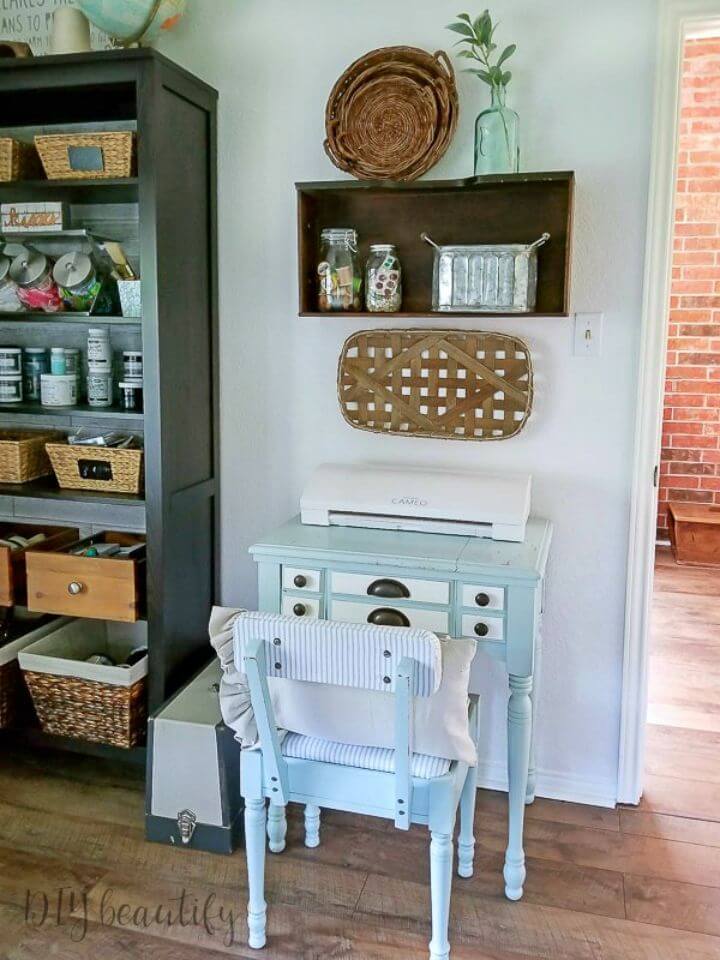 Give your sewing a touch of vintage elegance using this vintage sewing table, build a matching chair too. This project is all about to do a decorative makeover of an old vintage table and chair sewing set. Get the seat upholstered if needed and refurbish the sewing table using paint, wood panels, and accent knobs. diybeautify
19. Making Sewing and Cutting Table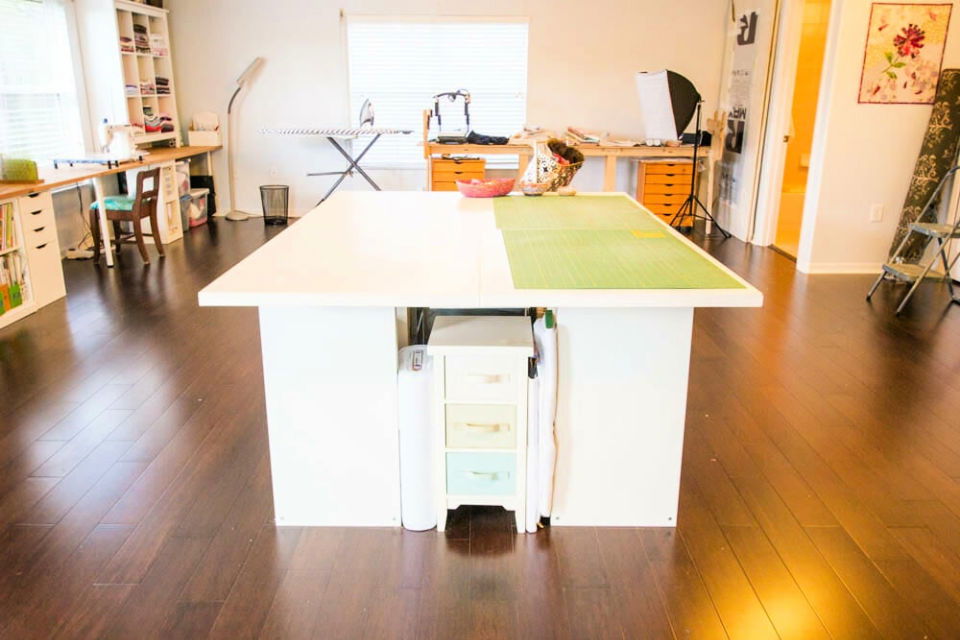 Sewing tables with built-in storage, often get the first priority of avid sewists. They save a lot of sewing time by giving easy access to sewing supplies. The same will do this sewing table, perfect for cuttings too. Build the base using 2 IKEA Kallax units will provide elegant storage cubbies. The top of the table is 80″ x 56″. sewcanshe
20. DIY Room Sewing Table
Build this slim but long sewing table with the help of provided guides and tutorials. Use custom wooden boards like 2x4s, 2×2, 1×4 to build the overall frame of the table, including legs. Grab a 20″ x 72″ panel to build the top. Go with prime, stain, and paint to get a custom appeal. decorandthedog
21. Professional Sewing Room Table Ideas
Add up your professional sewing room with this elegant sewing table that comes on a 34″ height. You need 2 sheets of 3/4″ plywood or fiberboard, 1 sheet of homasote, and 2x4s to build this professional design of the sewing table. The large bottom shelf will store your spare supplies nicely. Details here brooksan
22. Inset Sewing Machine Table Design
Want to build a sewing table with a machine fitting in the top? Then get step-by-step instructions from here. Make this table out of a 6′ pressboard table, cut the slot out to fit the sewing machine. Use extra wood or old boards to rest the bottom of the sewing machine. Install old cutting mats, and that's it. sherrilynnwood
23. Building a $100 Sewing Table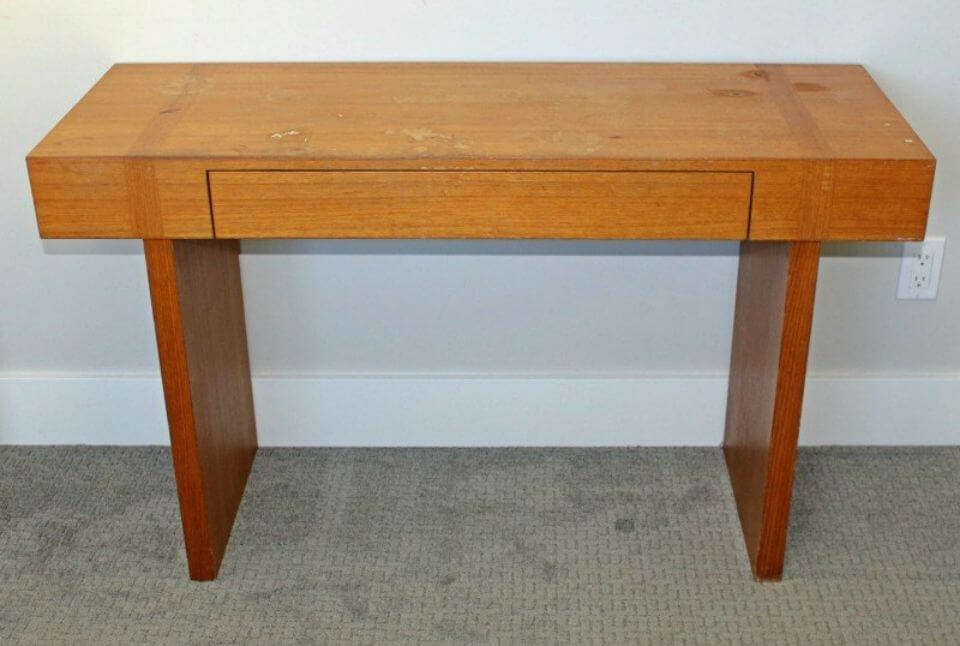 Buying a sewing table will cost you big. Avoid causing any load on your wallet by building a sewing table yourself. Get here a $100 dollar sewing inspiration, the elegant and simple design of the table. Upcycle an old manicure table to build this sewing table that provides a drawer too. Finish with custom stain coats. designbyd9
24. Simple DIY Wood Sewing Table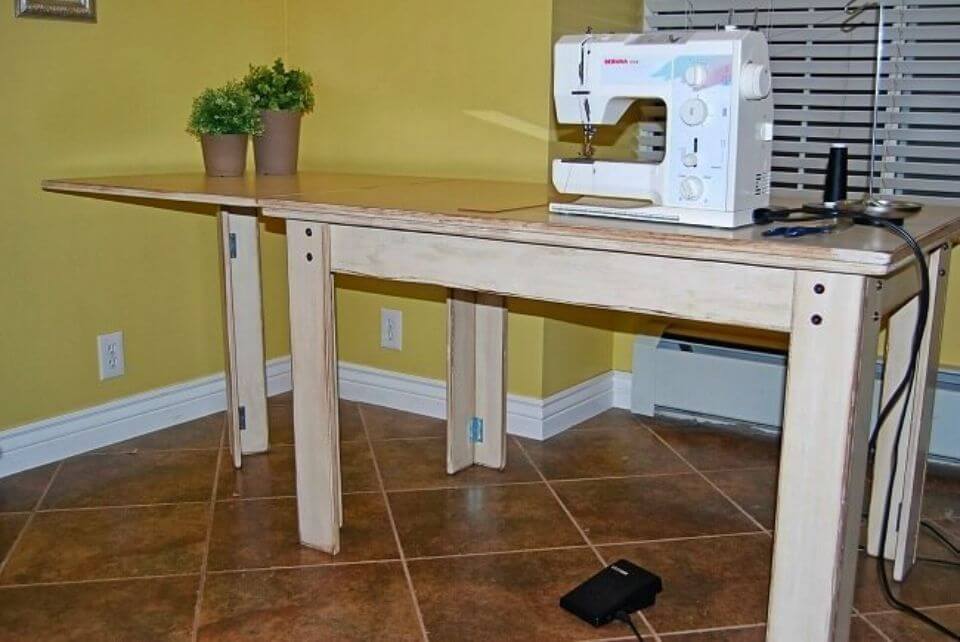 A sewing table is a big must-have for avid sewists. Build this sewing table using an old sewing table. Trace the machine base and cut outline to get a spot for sewing machine fitting. Support the base of the machine using extra wood and hardware. Add drop leaves and other folding panels according to needs. sewingmachin
25. DIY Sewing Machine Extension Table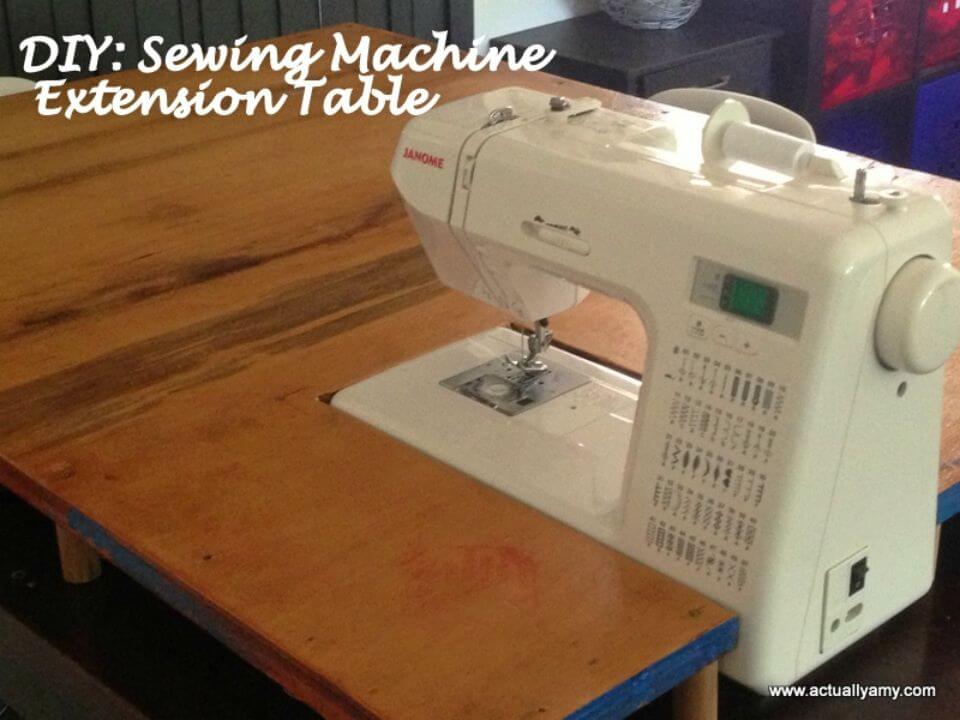 Follow the step-by-step guides here to build a sewing machine extension table. Build it using recycled plywood in 900mm x 1200mm, a wooden broom handle, screws, and varnish. The table stands on 14 miniature legs in style. This entire project will cost you less than $50. andsewwecraft
Related Projects and Ideas
Craft Table Plans: A DIY craft table can be a great space for parents with kids or crafters of any age. We will show you free craft table plans that are easy to make and can be done in a weekend.
DIY Table Ideas: From a rustic farm table to a long, narrow coffee table and beyond, here are easy DIY table ideas that you can build for every budget, space, and design style.
Coffee Table Plans: Coffee tables are an essential part of living room decor. This is a collection of free coffee table plans that you can build with basic carpentry skills.
Pallet Table Ideas: Looking for more pallet furniture ideas? Check out these easy pallet table ideas which are a great way to add an industrial touch to your home or make an inexpensive table.
Dining Table Plans: A DIY dining table is a great addition to your home, and you can build these free dining table plans for your kitchen or dining room.
Vanity Table Plans: From a simple makeup vanity to a full-on home salon. These cool diy vanity table plans will help you get your makeup station in order and make you feel like a pro.
Conclusion: Whether you are a beginner or experienced sewer, there is a DIY sewing table plan mentioned above for you. We have collected 25 of the best diy sewing table plans and ideas to get you started on your very own homemade sewing table. Find simple DIY sewing tables with minimal storage to more storage friendly designs that include cabinets, shelves and drawers. Do you have a favorite DIY sewing table plan that wasn't mentioned here? Share it in the comments below.