Are you looking to create a beautiful diy arbor or garden arbor in your backyard? Learn how to build an arbor with these 30 free diy arbor plans with step by step instructions, PDF and material list. These diy arbor plans will provide you with everything you need to know – from selecting the right type of wood to assembling and customizing your perfect homemade arbor to the finishing touches. All the free diy arbor plans are provided in pdf and blueprints to download and easily construct. They are specifically tailored to those new to carpentry and even beginners! So don't miss out on this great roundup of diy arbors plans and ideas to transform your outdoor space.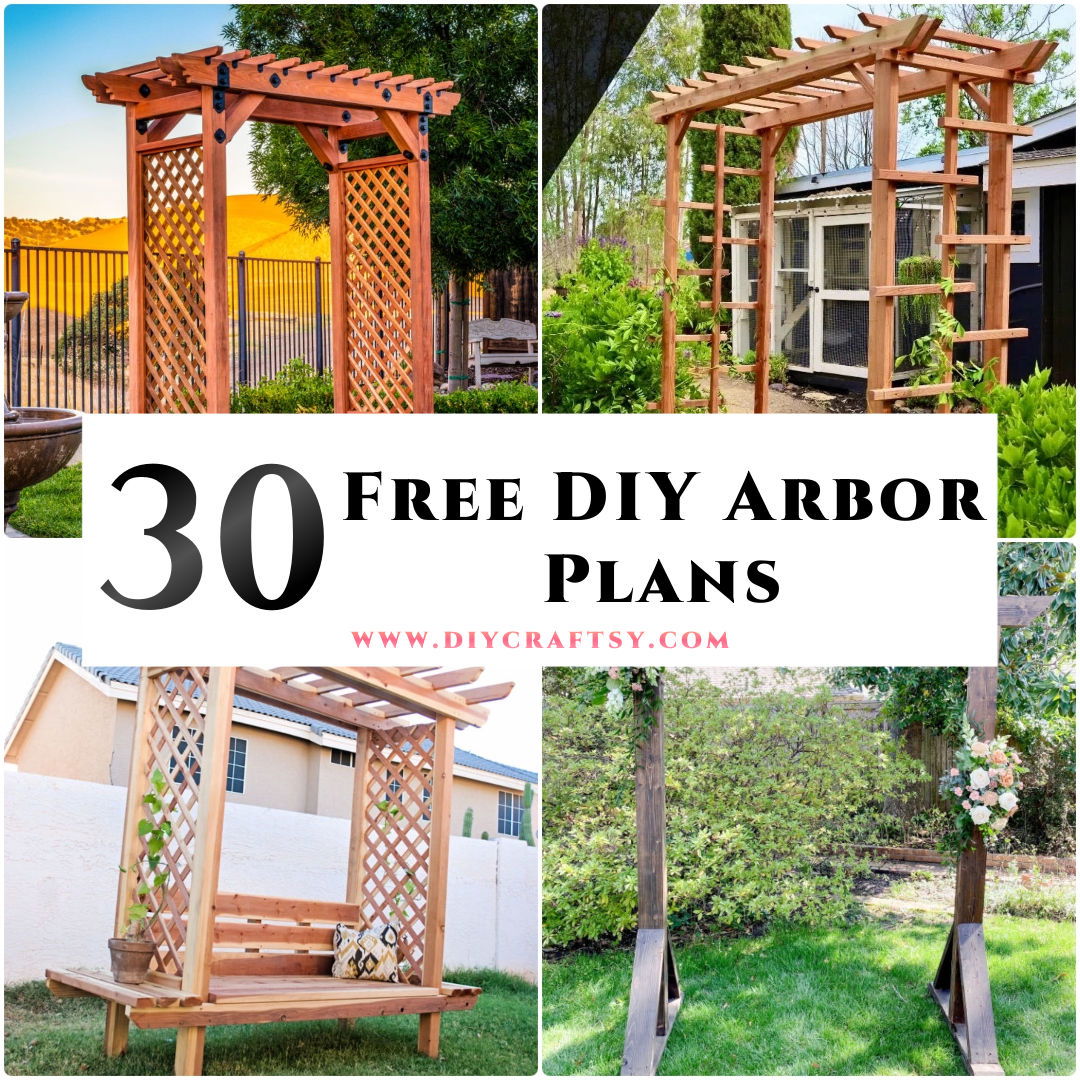 Free DIY Arbor Plans
Whether you're looking to create the perfect garden entrance or a shaded seating area, it's easy to find free DIY arbor plans for your next project. From simple diy arbor plans that require minimal tools to more complicated arbor designs that feature sliding doors, built-in benches or climbing vines, there are a variety of styles and materials available for your DIY garden arbor. With these free arbor plans, you can build a classic four-post piece with decorative accents, a wooden lattice arch framed in stone or cedar, a rustic pallet trellis covered in fragrant flowers, or even a whimsical octagon with an overhanging roof! Explore all the possibilities and add character and charm to your outdoor space today with these 30 free diy arbor plans.
Building a diy garden arbor is an excellent way to add architectural style and charm to your outdoor space. Not only are diy garden arbors a fun project, but they also provide an added level of privacy and shade while enhancing your garden's visual appeal. With numerous diy garden arbor ideas available below, selecting one that fits your aesthetic is easy. No matter what type of diy garden arbor you choose, it's sure to provide added beauty to your outdoor living space.
What is the purpose of a garden arbor?
A garden arbor is an outdoor structure that provides shade and shelter while adding a beautiful aesthetic value to a garden or backyard setting. It can also be the perfect place for relaxation and reflection, providing a peaceful atmosphere that encourages contemplation. Arbors can also support climbing plants and vines, creating a stunning visual effect in any outdoor space. Ultimately, the purpose of a garden arbor is to add beauty and provide a tranquil refuge.
What is considered an arbor?
An arbor is an outdoor structure, typically made of wood or other natural materials, designed to provide shade and a relaxing atmosphere. It usually consists of latticed sides with a roof and can be used as a seating area, walkway or entranceway. Arbor designs vary from simple trellises to elaborate pergolas and gazebos. They can be freestanding or attached to a building, wall or fence. Arbors are great additions to any garden or outdoor space and can add beauty and character to any landscape.
What is the best wood to build an arbor?
The best wood for building an arbor is cedar. Cedar is naturally resistant to rot, decay and pests. It's also sturdy enough for the structure and lightweight, making it easy to work with. Cedar is available in a variety of styles and sizes so you can find something that suits your specific needs. Plus, its attractive appearance will add elegance and beauty to your garden. All in all, cedar is the perfect choice for an arbor.
How do you make a simple wooden arbor?
To create a wooden arbor, start by choosing a location and marking out the area. Dig two 4-foot deep holes for the posts and add concrete footings to level them. Cut your wood pieces based on the desired size of your arbor and assemble it with galvanized screws or bolts. Finally, use a weatherproof finish to protect the wood from the elements.
The project shouldn't take more than a couple of hours and can make a great weekend DIY activity. To ensure success, be sure to use high-quality materials and follow diy arbor plans and instructions carefully. With just a little bit of work, you'll have an outdoor space that you can enjoy for years to come.
What material do you use on an Arbour?
The materials used to construct an arbour depend on the structure's design, size, and purpose. Commonly used materials include wood, metal, plastic and vinyl. Wood is a popular option as it is durable and can be easily manipulated into unique designs. Metal is often used for taller or larger arbours due to its strength and stability. Plastic and vinyl are also used for weatherproofing or to give the arbour a more modern look. Ultimately, the right material will depend on your needs and preferences.
How do I make a simple garden arch?
To make a simple garden arch, start by gathering four pieces of wood or metal to form the frame of the arch. Secure the pieces together with bolts and screws. Attach cross-pieces between the pieces to create an even arch shape. Finally, paint your arch to give it a finished look. This simple project is sure to add charm to your garden.
How do you make a sturdy arbor?
To make a sturdy arbor, you will need to assemble or purchase pre-made parts. Start with 4 posts sunk in the ground and secured by concrete. Use 2×6 boards for the frame and 2x4s for cross members to support the top. Attach metal brackets or braces at each corner before securing roofing materials such as wood shakes or shingles. Finally, add trellises, benches, and other accessories to make it look great!
How much does it cost to build a wood arbor?
The cost of building a wooden arbor varies greatly depending on the size, materials used and complexity of the project. It can range anywhere from a few hundred dollars to thousands. Hiring professional labor or using treated lumber will also affect the overall cost. Generally speaking though, most basic arbors will be in the low hundreds mark. It is best to contact a local carpenter or contractor for an accurate estimate.
How tall should a garden arbor be?
The ideal height for a garden arbor will depend on the plants and decorations you plan to place in it. Generally, it should be tall enough that people can comfortably walk underneath, but not so tall as to block sunlight from entering your garden. Consider how high your plants or decorations will be, and make sure there is enough room for them to fit. Additionally, consider the overall height of your garden before determining the appropriate height for your arbor.
What's the difference between a trellis and an arbor?
A trellis is an outdoor structure usually made of latticed wood or metal panels and used to support climbing plants such as vines, clematis, and roses. An arbor is a freestanding structure typically made from wooden posts and beams and may also feature an arching roof. Trellises are generally smaller than arbors and used mainly to support plants, while arbors are often larger and may also be used as a seating area or entranceway. Both can provide visual interest and beauty to your garden.
What is the difference between an arbor and a pergola?
The main difference between an arbor and a pergola is its structure. An arbor typically consists of two vertical posts with curved beams across the top, creating an archway. A pergola is typically more complex in structure, consisting of four or more vertical posts connected by criss-crossing horizontal beams that form a frame. While both structures may provide shade and beauty, an arbor is generally used as a passage, while a pergola may serve more of a decorative purpose.
What wood should I use for an arbor?
The type of wood used for an arbor depends on your climate and the look you want to achieve. Generally, cedar, redwood, and pressure-treated lumber are good choices as they are durable and rot resistant. Pressure-treated pine may also be suitable in areas with lower humidity or moisture levels. Consider the size, design and structure before making a final choice.
How to build an outdoor arbor?
Gather the necessary tools and materials such as wood, a saw, screws, drill and brackets. Begin by cutting the wood to size and attach it together with screws. Drill holes for extra stability and secure the arbor with brackets. Lastly, paint or stain for extra protection from the weather elements. End result is an outdoor arbor that is both stylish and functional. Enjoy!
How to build a freestanding arbor?
To build a freestanding arbor, the first mark and dig the four corner post holes. Insert posts in concrete and allow them to dry. Attach two or three beams of wood across the top of the posts to create a roof-like structure. Connect horizontal boards at each corner and attach additional boards as desired. Finally, use galvanized screws to secure the boards. Enjoy your sturdy and beautiful arbor!
1. Building an Outdoor Lattice Arbor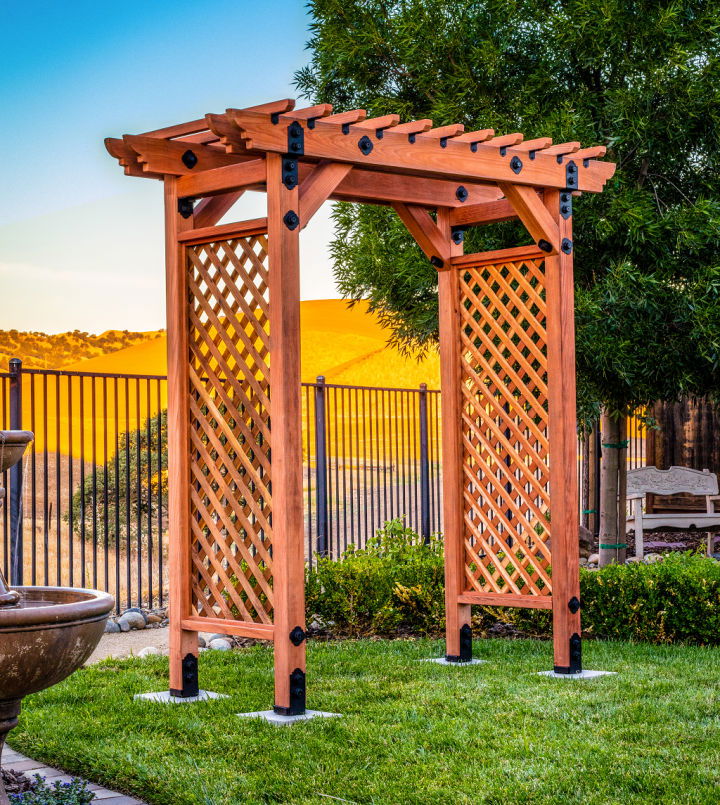 Bring a touch of enlightenment to your outdoor area with a DIY outdoor lattice arbor! This gorgeous arbor is perfect for adding a bit of shade and style to any backyard. You'll need some lumber, wood lattice, necessary hardware, saws, screw guns, tape measures, clamps, framing squares and straight edges to get started.
Thankfully this easy-to-follow tutorial can walk you through the project if you're ever feeling lost along the way! So what are you waiting for? Get out and start building your own DIY outdoor lattice arbor today! strongtie
2. DIY Copper Arbor for Wedding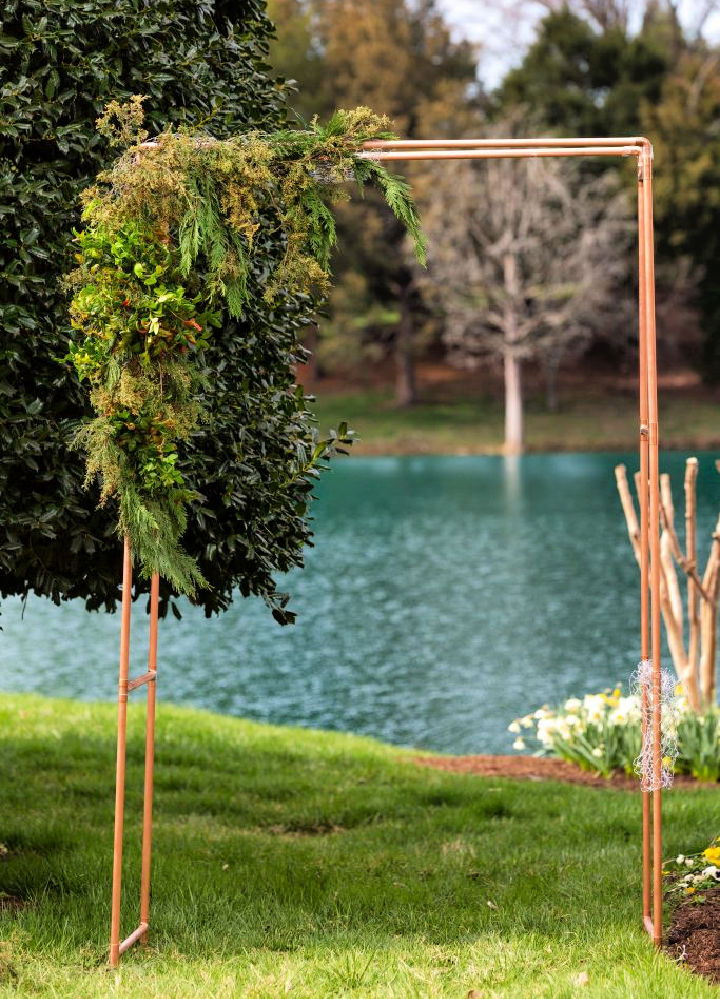 Making a DIY copper arbor for your wedding is incredibly rewarding and requires minimal input yet yields spectacular results. With a combination of 3/4″ copper piping and fittings, grocery store flowers, and additional elements like chicken wire, greenery and others, you can bring to life a great focal point for your special day.
Tools such as a pipe cutter, metal epoxy, protective gloves, shears, hammer and tent stakes will help you craft the perfect look. All these supplies will be easily accessible at most home improvement stores. Finishing touches with cotton rope provide a rustic touch you'll love!
This easy tutorial provides step-by-step instructions to create this timeless wedding backdrop. Plus, after your big day, you can repurpose it in your garden as a beautiful trellis or even use it as the perfect way to take family photos! bloomandgrow
3. Homemade Backyard Arbor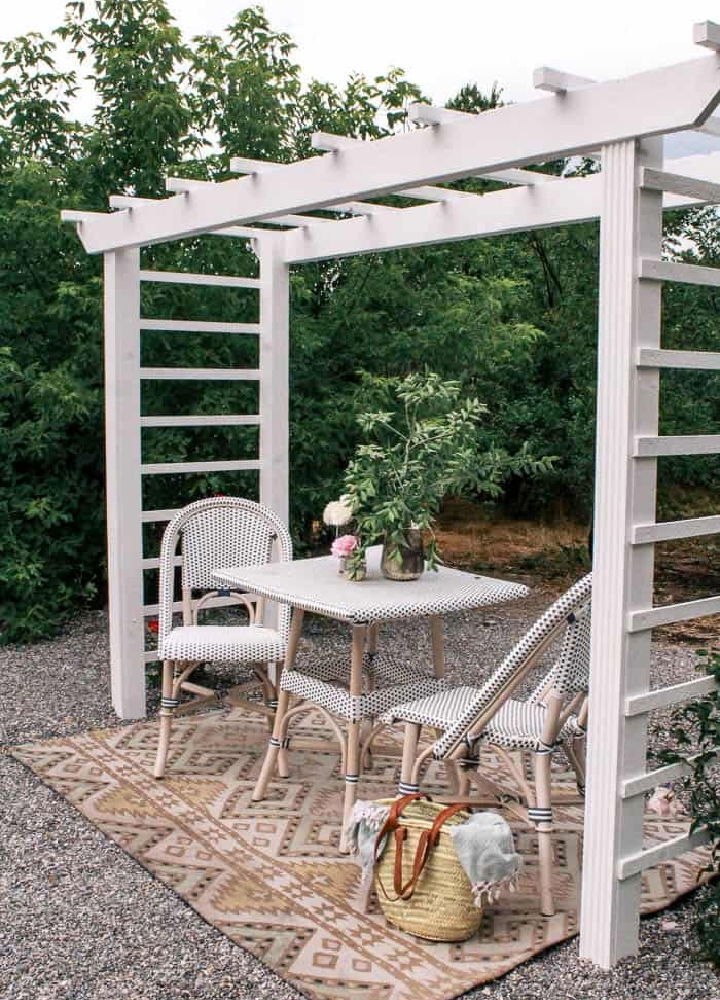 The perfect way to add some dimension to your outdoors is by building a homemade backyard arbor yourself! With the right supplies and an easy tutorial, you can create an amazing-looking arbor from recycled materials. For the project, you will need four 4x4x8 Pressure Treated Posts, concrete for installation, two 2x6x8 lumber for joists, two 2×2 lumber for rafters, and lattice strips and deck screws of 2 1/2 inches in length. So waste no time and get started on crafting this remarkable structure! withashley
4. DIY Outdoor Bench with Arbor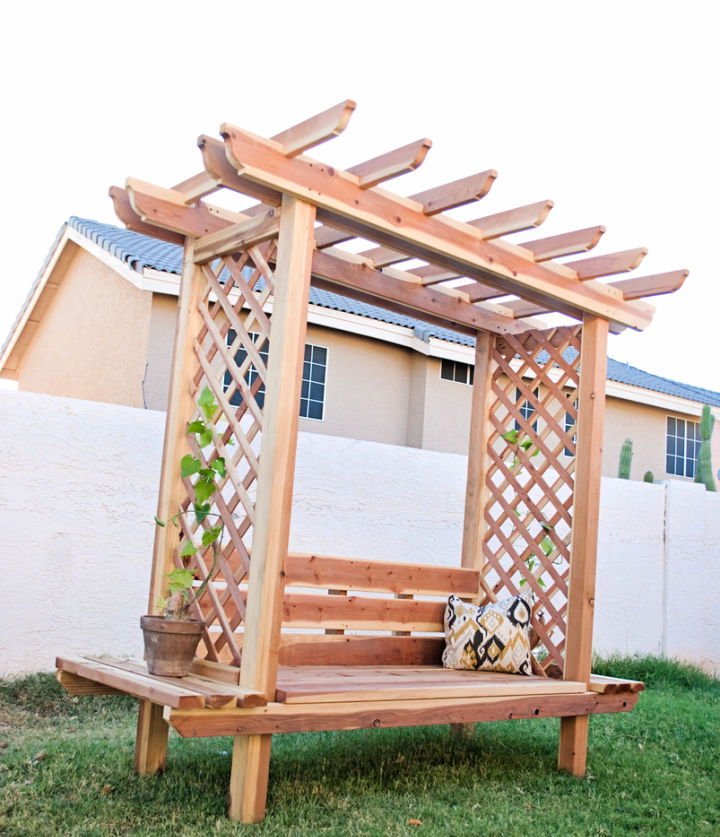 Create an inviting outdoor space with a DIY outdoor bench and arbor. This rustic yet decorative seating is both functional and beautiful. It will add beauty and function to your yard, providing a comfy relaxing spot.
Before you get started, you'll need lumber, screws, pocket hole screws, wood filler, sandpaper, primer or wood conditioner for the best results. Follow along with this easy tutorial for step-by-step instructions on creating this transformative outdoor piece.
With a few simple supplies, you'll soon have a cozy spot in the garden of your dreams that radiates warmth and charm. Get ready to enjoy more days outdoors with your gorgeous outdoor bench and arbor! ana white
5. Build Your Own Ceremony Arbor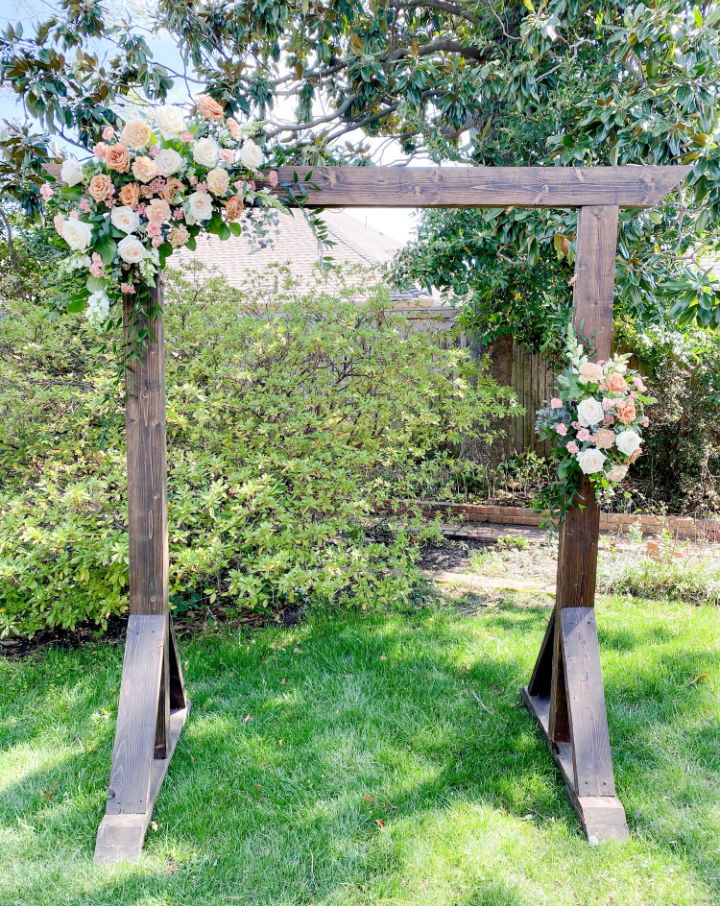 If you want an attractive yet affordably-priced wedding decor option, look no further than a DIY ceremony arbor. With the right supplies and this easy tutorial, you can have a beautiful wedding arbor in your backyard.
You'll need an arbor structure – whether it be one you build yourself or purchase, plus two floral foam cages (one large for the upper arrangement and one medium for the lower/middle arrangement).
Also, pick up some secondary supplies such as floral snips, zip ties, flowers and greenery. Have fun creating your one-of-a-kind arbor setting! cultureflowers
6. Corner Arbor Plan with a Bench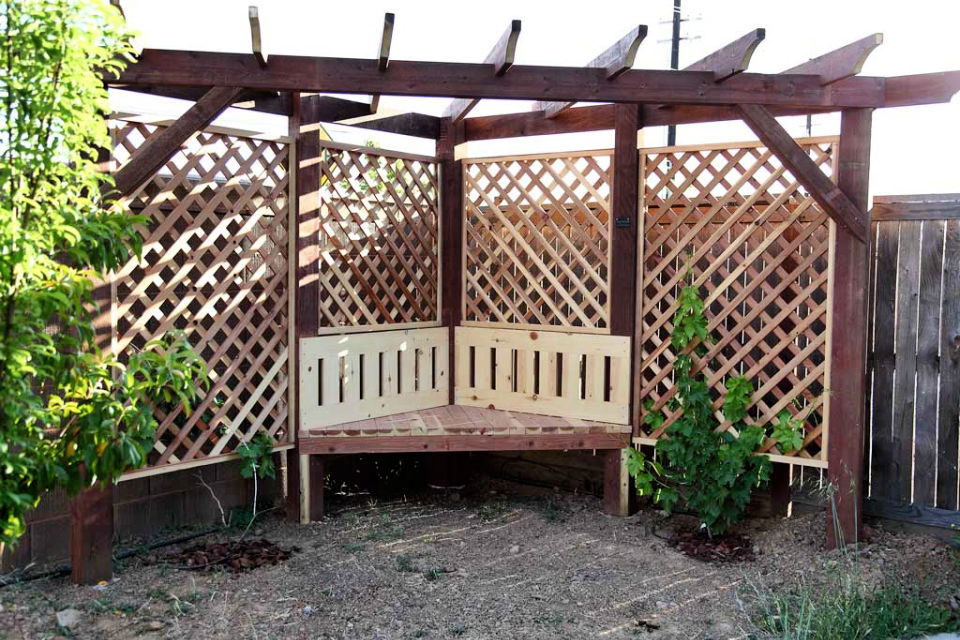 Are you looking for an easy-to-follow tutorial to build your corner arbor with a bench? This project is perfect for those with intermediate skills and will take about 12 hours. All the supplies needed are listed in the tutorial, and this is even an easy tutorial that can help you every step of the way. With this project, you'll have a gorgeous garden arbor with seating in no time. The best part is that all your friends will ask you how they can build their own! thediyplan
7. Building a Big Wooden Wedding Arbor for Less Than $100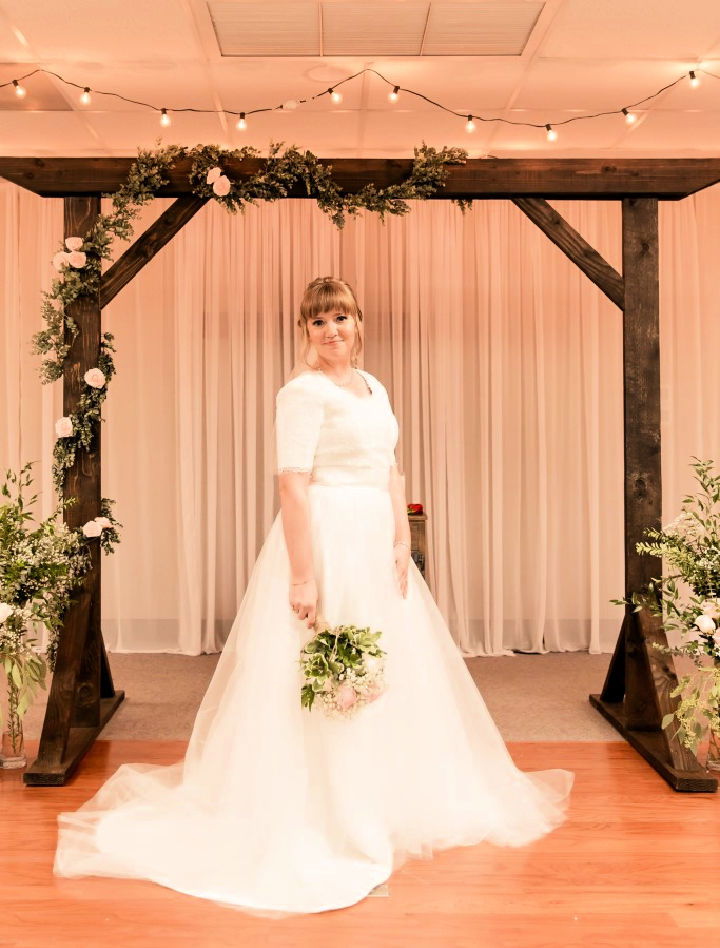 Building your DIY wooden arbor for less than $100 is a great way to create an impressive focal point and add a romantic touch to any outdoor wedding or event. This easy-to-follow tutorial will teach you the basic steps needed to craft an exquisite, handmade piece with the dimensions of 88″ x 90″ x 48″, perfect and big enough for any ceremony.
All you'll need are two 10-foot 2″ x 4″ boards, two 10-foot 2″ x 6″ boards, three 8-foot 2″ x 6″ boards, screws, and stain or paint (optional).
You will also need some extra decorations like flowers and greenery to complete the aesthetic. You'll surely be on your way to creating something truly special in no time! sixcleversisters
8. Easy DIY Garden Arbor With Gate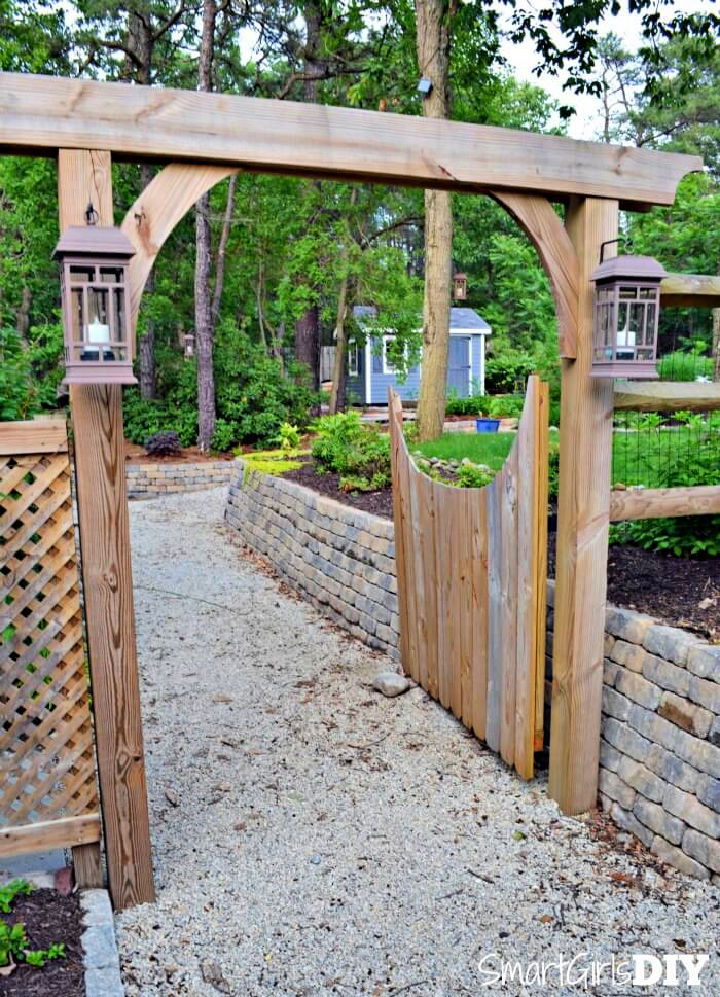 Transform your outdoor space with the addition of a stunning DIY garden arbor with a gate. With these simple, easy-to-follow instructions and easily attainable supplies, you'll be able to create a beautiful piece that adds an element of elegance to your backyard escape in no time.
You will need two pressure-treated 12′ 6x6s for posts, and two pressure-treated 10′ 2x8s for headers, one pressure-treated 8′ 2×10 for the arch, concrete mix, and deck screws.
With this supplies list combined with this easy tutorial and some elbow grease, you'll be able to take pride in your custom creation in no time! smartgirlsdiy
9. Build a Garden Arbor Arch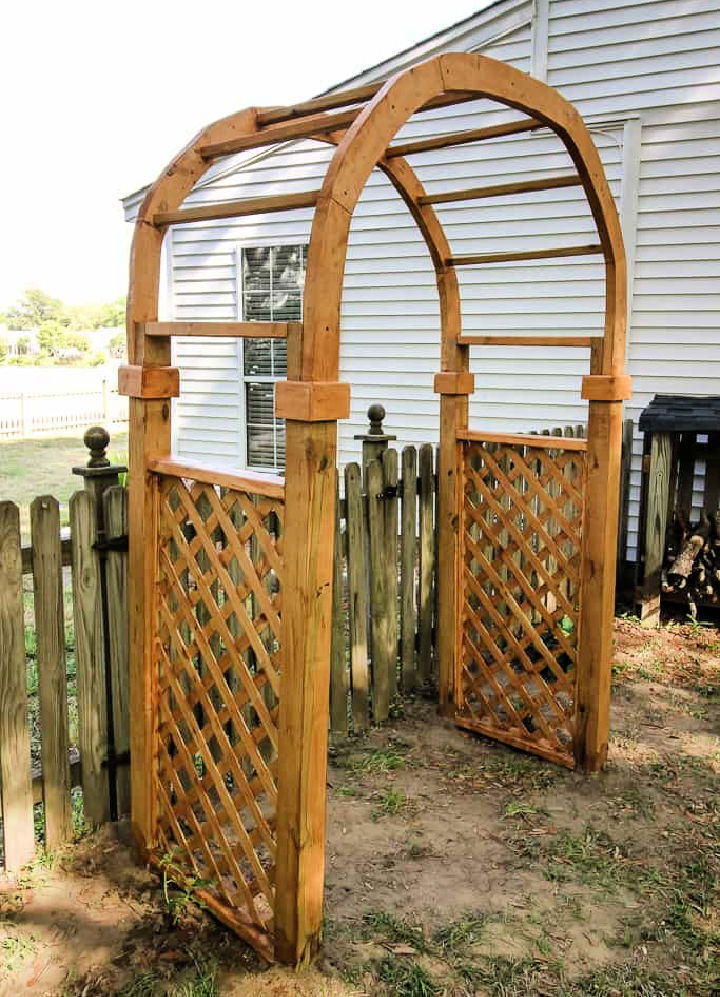 DIY enthusiasts rejoice! Building a garden arbor arch has never been easier. Creating a beautiful addition to your backyard is achievable with a few supplies and some inspiration. This project is incredibly simple to construct with the supplied printable PDF plans.
Using two 8ft 4×4 posts and 2'x4 ′ lattice, 3 two foot long 2″x4″s, and 4 four foot long 1″x1″s for each side, anyone can build a fantastic looking arch that will make all of your neighbors envy.
This tutorial makes the whole process straightforward for any DIY enthusiast who is feeling creative! toncrafted
10. DIY Wood Wedding Arbor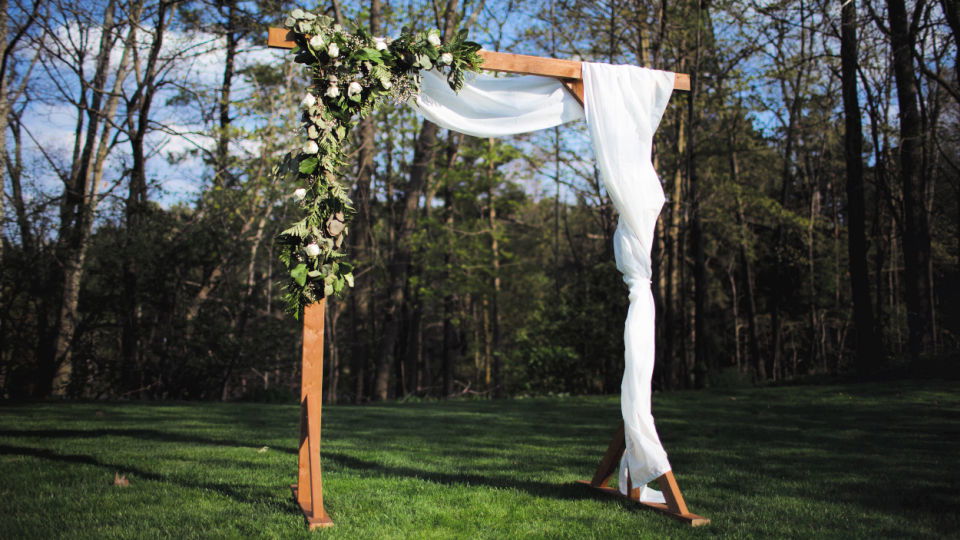 A DIY wood wedding arbor is a beautiful addition to any event or special occasion. You can create something exquisite and affordable with simple supplies and this easy tutorial. All it takes are three 2x4x12 pieces of wood, one 2x4x8 piece of wood, wood screws, plants and flowers and cloth (or other decors).
Plus, with its estimated cost of $50-$70, depending on the materials used, you can enjoy this beautiful addition to your event without taking a heavy hit to your wallet. So why not bring a bit of elegance from a wood wedding arbor? thesorrygirls
11. Classic Gateway Arbor Building Plan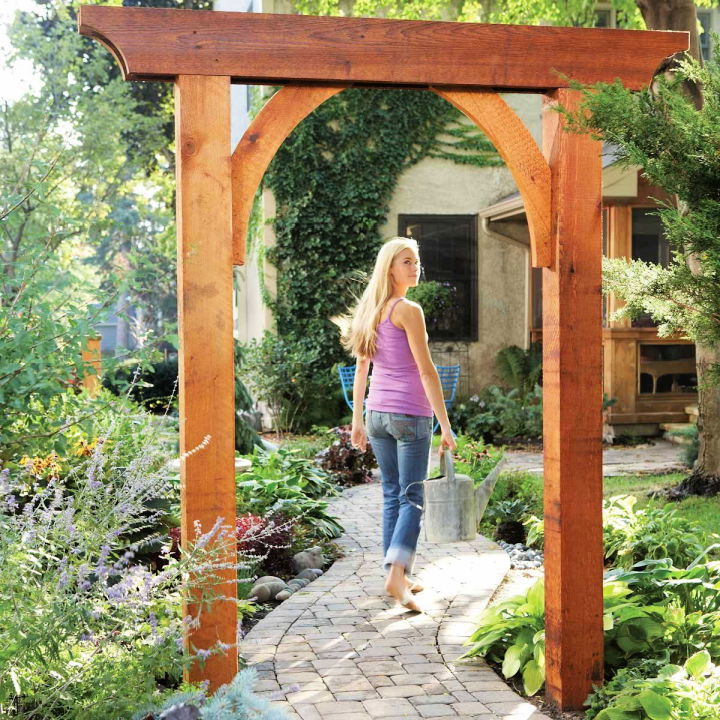 Creating a DIY classic gateway arbor is an easy but impressive way to add a stunning classic garden arch that can hugely impact your yard or garden. The best part is it only takes less than a day to build! Once done, you can also make it part of a trellis or pergola or use it as a gateway frame for a walkway in a fence.
All the material needed will be readily available at any home improvement store, such as 2x 8 x 8′ (2 for headers), 2×10 x 8′ (brackets), 2×4 x 8′ 3 for the stretcher, deck screws, 6×6 x 10′ (posts), braces, concrete mix and stakes.
Once you have gathered all these supplies and some basic tools, follow this easy tutorial and have fun building your classic gateway arbor today! familyhandyman
12. Make a Rustic Style Bamboo Arbor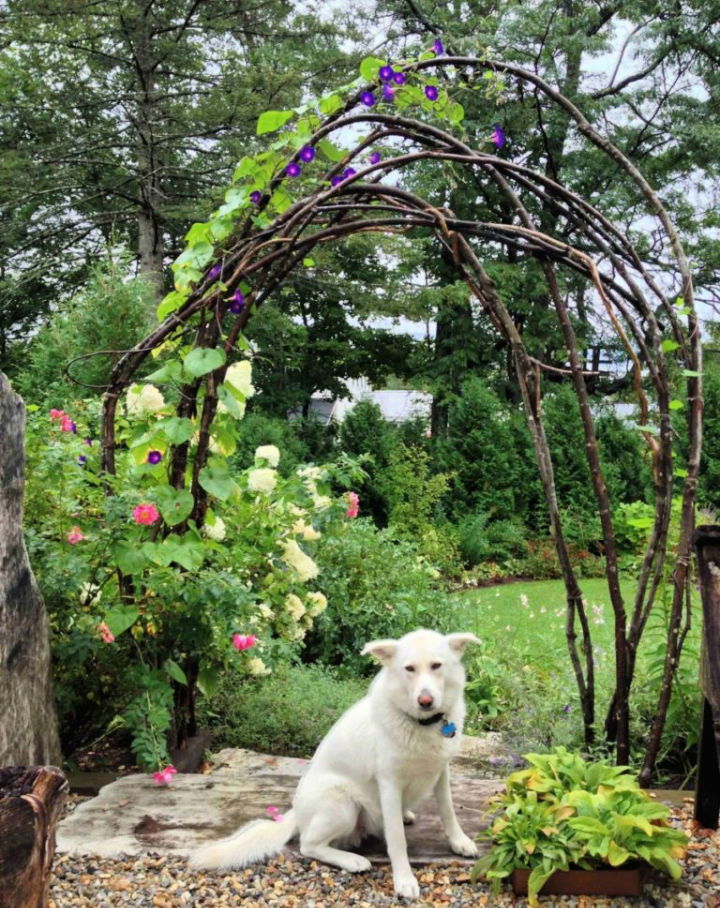 A DIY rustic-style bamboo arbor will be the perfect solution if you're looking for a project that will bring an enchanting and natural look to your party or event. With green saplings that can be bent into a free-form shape, two blocks of wood to drill holes large enough for the bentwood pieces and some natural jute twine, this arbor can easily be constructed using this easy tutorial. The use of flowers and greenery will give it the perfect decor for any special occasion or birthday event. This is a fun and creative idea that is sure to fetch compliments! ellenogden
13. How to Build a Freestanding Arbor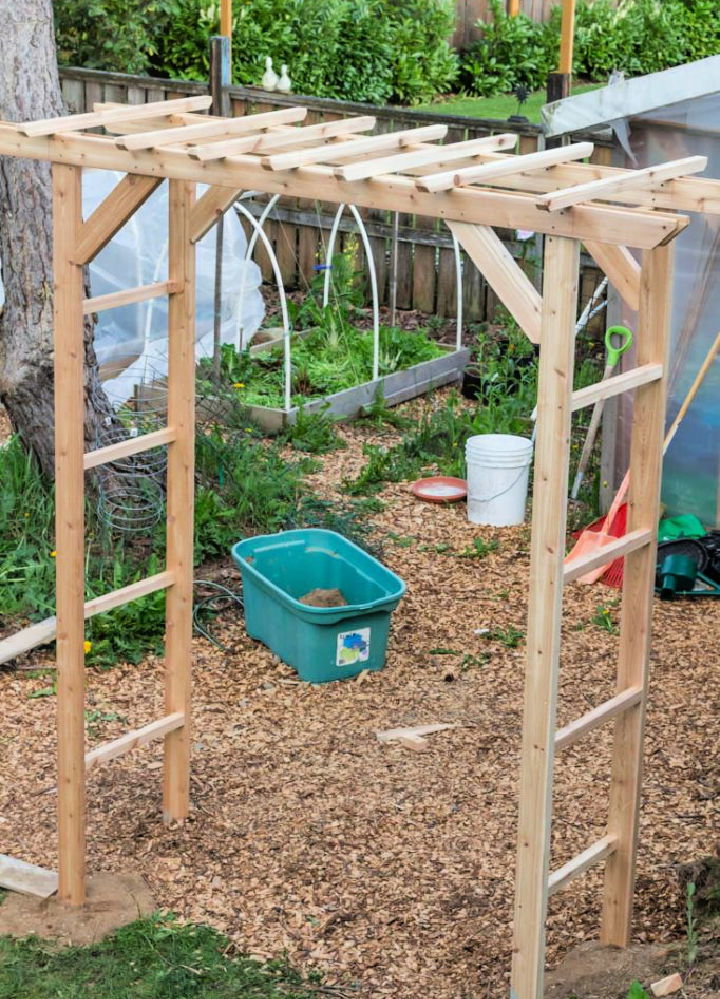 Transform your backyard with a DIY freestanding arbor! With a few simple steps and items, like cedar lumber, deck screws, galvanized nails, concrete mix bags and rocks of varying sizes, you can make an attractive addition to your yard in one day. Detailed instructions on how to build this elegant garden arbor, plus tips for making it weatherproof, can be found in this easy tutorial. Create an inviting spot in your garden with this amazing project. crazylife
14. DIY Garden Arbor With Faux Patina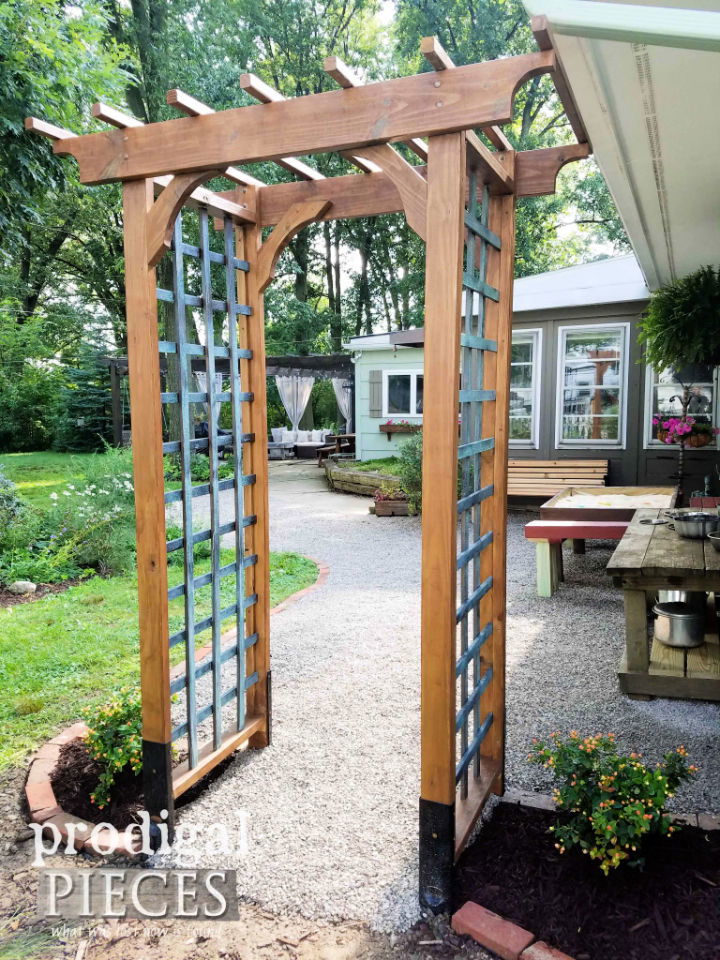 A DIY garden arbor with a faux patina is a great way to elevate the look of your backyard. With just a few supplies such as lumber, decking screws, carriage bolts with washers and hex nuts, crown staples for air nailer, a patina kit in a choice of finish (bronze, iron, copper), E-Z mender brackets and stain – Behr Waterproofing Stain in Chocolate – you can create an arbor that will have lasting durability and be resilient to the elements.
With this easy tutorial, you'll be able to build an arbor quickly and customize it in your unique style. In no time, you'll have created something beautiful for your outdoor space for enjoyment for years to come. prodigalpieces
15. How to Build a Pergola Arbor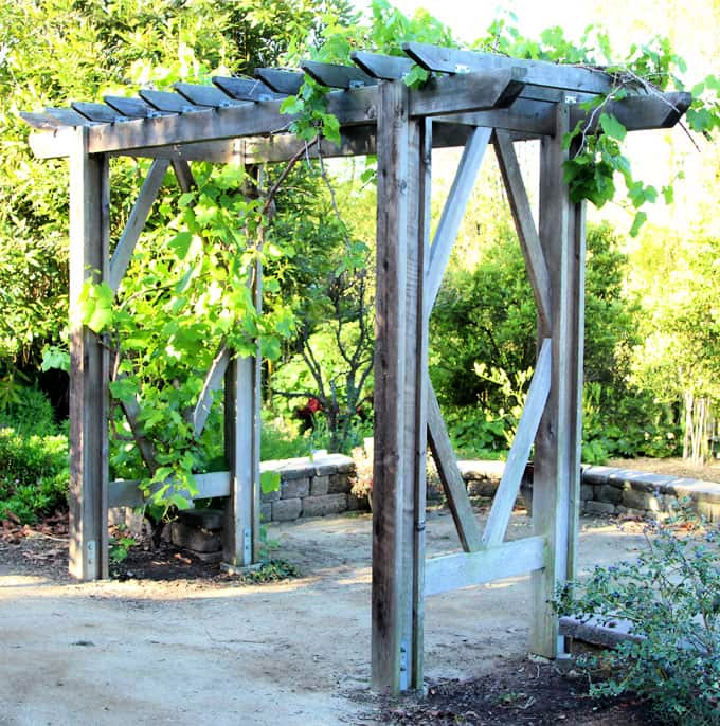 Creating a DIY pergola arbor is the perfect way to add an alluring, inviting outdoor area to your backyard. With its free building plan, this project can also be quite Simple to put together with the help of basic materials like lumber and hardware pieces such as braces, brackets, nuts, bolts, washers, screws, and connectors. With this easy tutorial and some basic knowledge of woodworking techniques, you can have a beautiful and shaded area ready in no time! apieceofrainbow
16. Free Wooden Entry Arbor Plans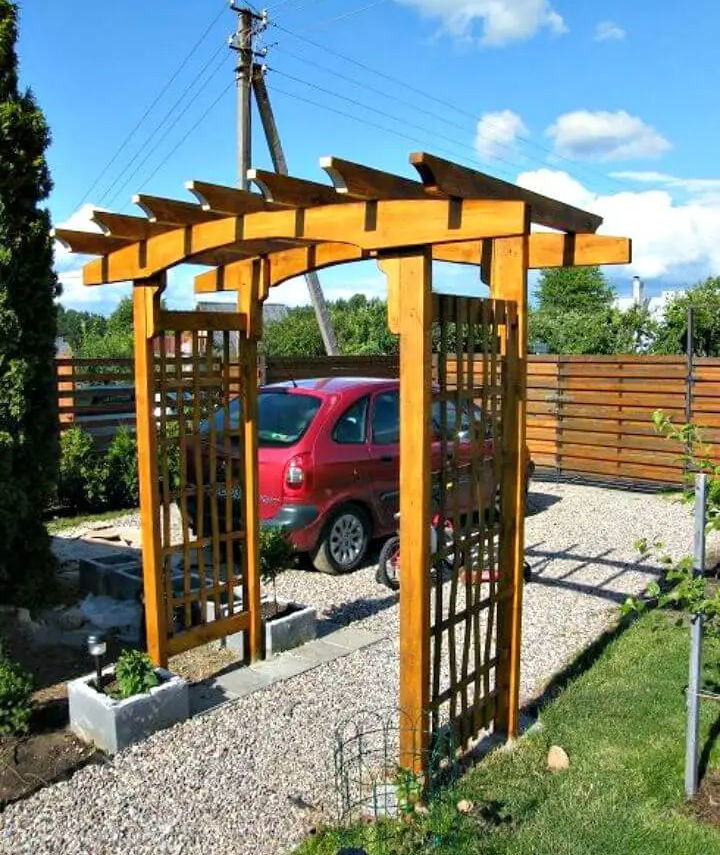 This DIY wooden arbor can make for a great weekend project; you don't need to break the bank. With around $100 for lumber, paint and concrete, you can craft your beautiful DIY archway that will stand the test of time. Show off your creativity with a simple DIY wooden arbor. Even if the DIY building isn't for you, all you need is some natural water-resistant wood and eight sheets of A4 paper.
Plus, a few basics such as glue, a fretsaw and a drill will be invaluable pieces of equipment to help bring life to your wooden arbor dreams. What's more, downloading free DIY plans means you get an easy-to-follow guide of instructions to build your own DIY Wooden Arbor Plans efficiently. instructables
17. Simple and Rustic DIY Shutter Arbor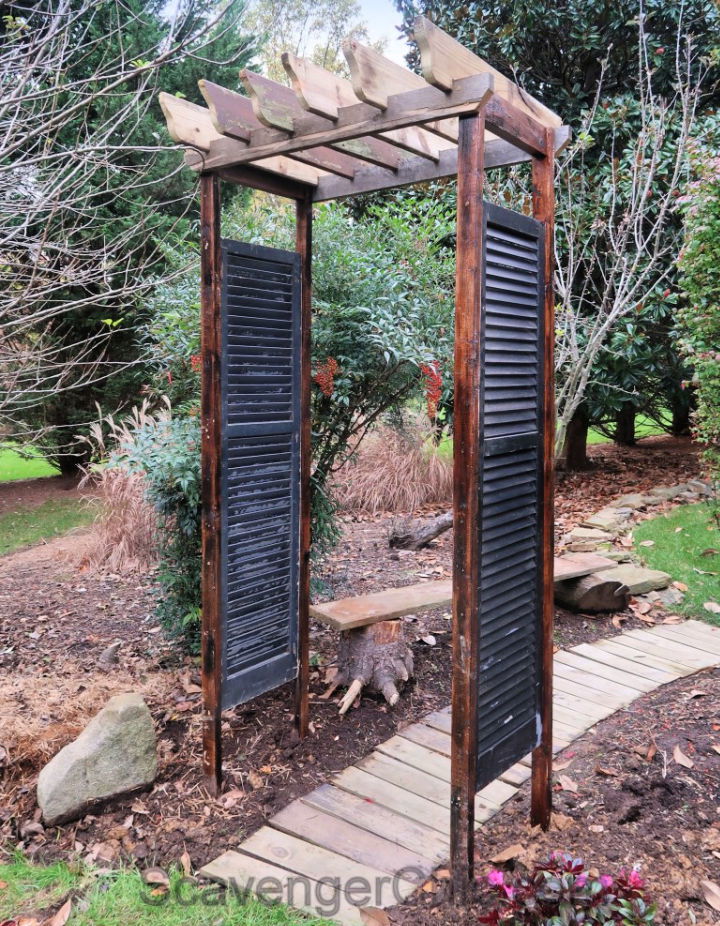 Transform your outdoor space with DIY magic and create a rustic shutter arbor! All you need are two matching shutters, three 2x4s or pallet side pieces cut to 18″ wide and 48″ long each, four 8-foot 2x3s or 2x4s, deck screws, and top arbor pieces (1x6s, 1x4s or pallet wood pieces) cut to 38″.
And if the dimensions don't fit your space perfectly, don't worry. You can adjust the lengths to accommodate narrower or wider shutters. This is a great weekend DIY project. You'll be pleasantly surprised that it adds some charm to your yard. scavengerchic
18. Free Wooden Garden Arbor Plan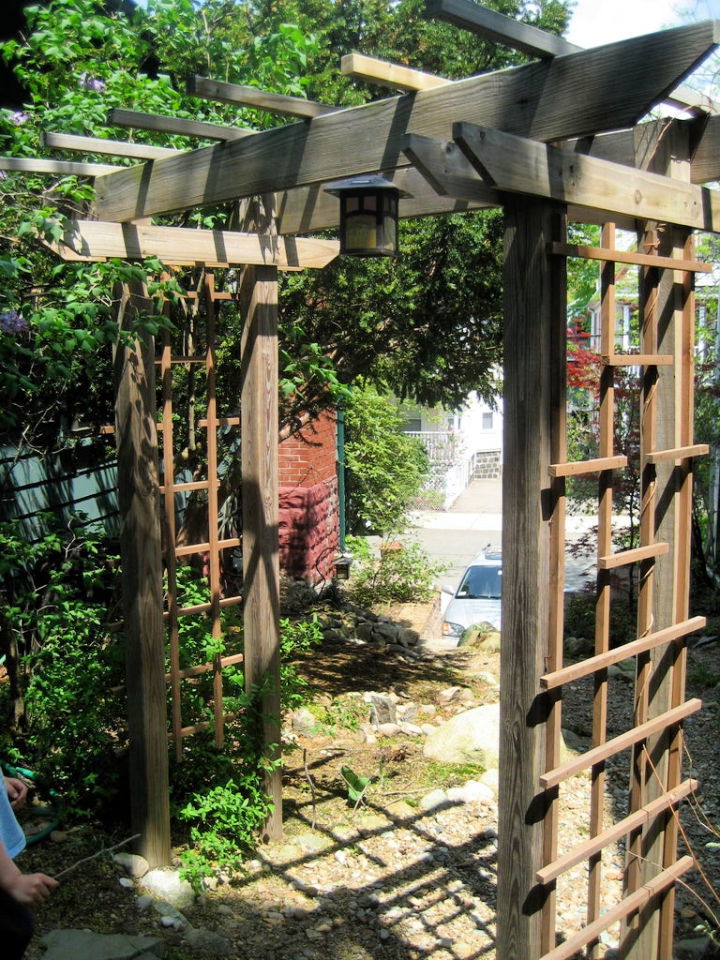 DIYers looking to brighten their garden with a wooden garden arbor don't need to break the bank. The construction looks simple, and it's easy to mimic many designs, so one can easily create a sturdy DIY wooden garden arbor with arts and crafts or artisan style. For those wondering what supplies might be needed, they include pressure-treated 4×4 posts and 1x6s, wooden ladder trellises, wood deck screws, a post-hole digger, a hand saw and drill/bits.
Depending on the type of arbor planned for the garden, one may also need 2×2 balusters, safety glasses for protection when using tools, rocks or bricks for additional support, pencils for marking lines and a plumb line for ensuring accuracy in construction. DIYers should find that most of these materials are simple and will cost less than 100 dollars. instructables
19. How to Make an Entry Arbor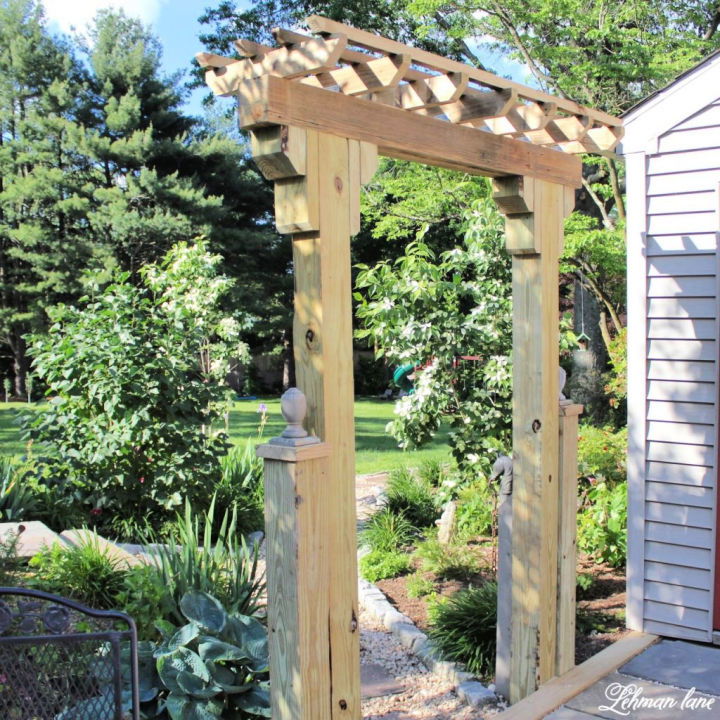 DIY projects can be incredibly rewarding, especially when they are as great as this DIY entry arbor. Using simple supplies and tools, you can construct a beautiful wooden arbor entry in under a few hours: added wood finials, lag bolts and L-shaped brackets for extra support and appeal.
You even can add scrap pressure-treated wood for angled wood at the top of the tall posts for a unique design element. As if that wasn't enough, it also landscaped around it with a flowering vine to cover the arbor and some white flowers along the edge of the garden patio. DIY entry arbor looks beautiful with clematis vine trailing on it! It does a wonderful job of making this outdoor space feel more like an outdoor room, so much so that anyone can love spending time here even more. lehmanlane
20. DIY Grape Arbor for Small Space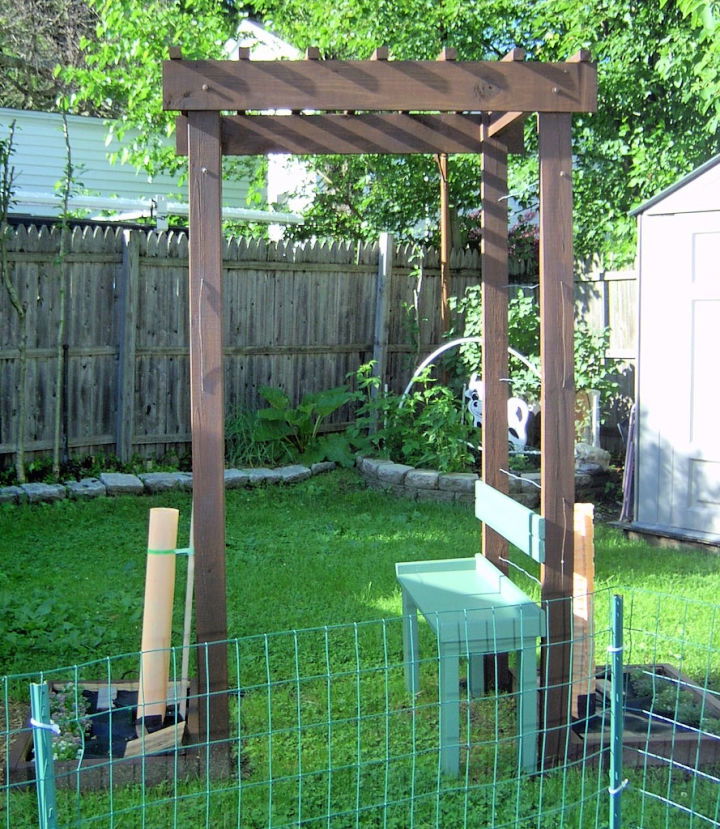 DIY projects are a great way to bring some old-school charm to small spaces. With a few simple materials and tools, you can build a DIY grape arbor for your small back garden and add character to the space. Materials needed include deck screws, lag screws, galvanized wire, gravel, cement, lumber, railings, paint and stain, garden soil and even grow tubes for baby plants.
A DIY grape arbor is a perfect project if you're looking for something to spark up your back garden, giving it more life and ambiance. Just make sure to bring it indoors when winter comes! instructables
21. Handmade Obelisk Arbor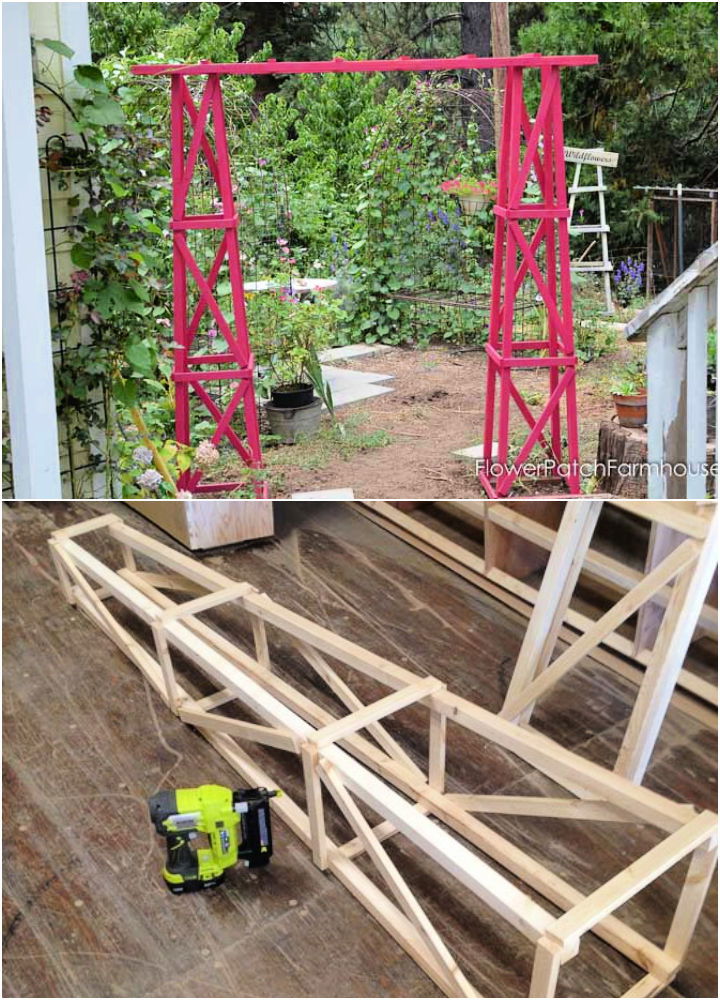 The DIY obelisk arbor is an awesome design that will make a grand statement in your garden. You can have your DIY garden arbor with minimal investment in materials ranging from just $50 to $60.
DIY obelisk arbor has easy-to-follow step-by-step photo plans and a schematic to easily build it yourself. It is also incredibly portable, making it easy to move around your garden when needed. A PDF file of DIY obelisk arbor plans is available so you can easily start building the perfect structure for your cottage garden! flowerpatch
22. DIY Trellis Arbor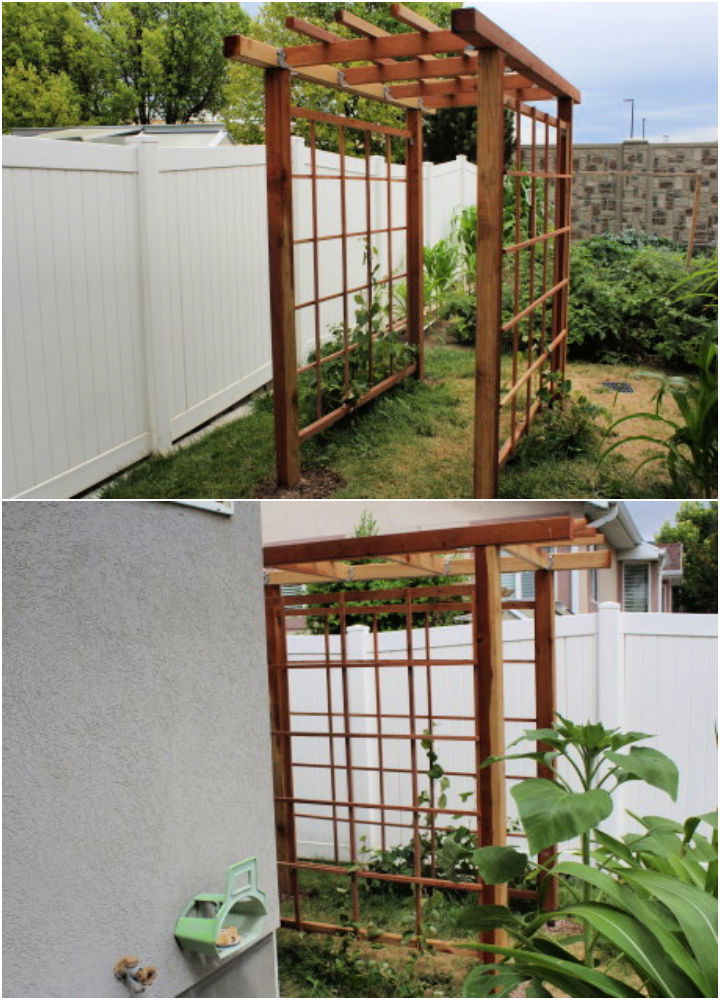 Making this DIY trellis arbor can be a game changer for the outdoor entrance of your garden, adding an aesthetically pleasing and calming retreat. Don't you need to break the bank for this DIY project, as you can use economical materials such as six eight-foot 4×4 posts, eight eight-foot 2×4 boards, joist hangers, L brackets, tie plates, plus cement and screws?
With these supplies, you'll build this trellis arbor in no time — the best part is that you can finish your DIY over a weekend or two. Don't forget to treat the wood with a preservative or paint after assembling it to keep it looking nice for months! stoneyacres
23. Cheap DIY Arbor for Entrance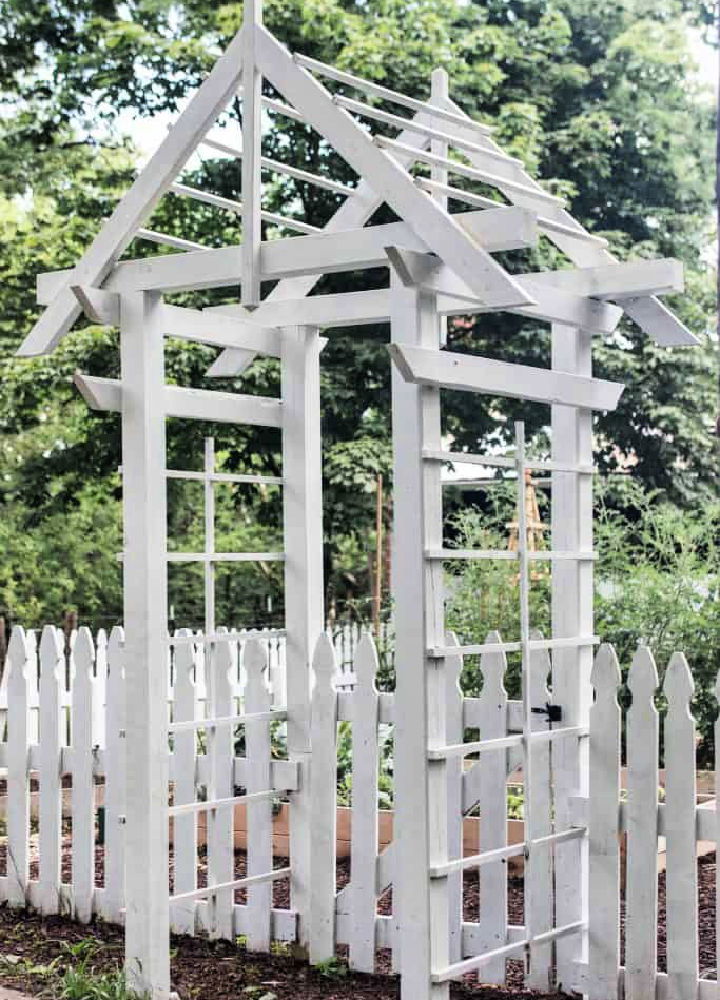 Creating a cheap DIY arbor for your entrance is a great way to give your garden a beautiful, homestead-style feel. With simple arbor plans and basic supplies that you can find in most home improvement stores (6 – 8′ 4x4s, 4 – 8′ 2x4s, 2 – 8′ 1x4s, paint or stain, drill and drill bits, table saw, miter saw, screws) you can build an attractive entrance in just one to two days.
Whether outfitted with a sweet picket fence or left as-is, this outdoor project will surely make any exterior more impressive and inviting. farmhouse
24. Decorative Garden Arbor Ideas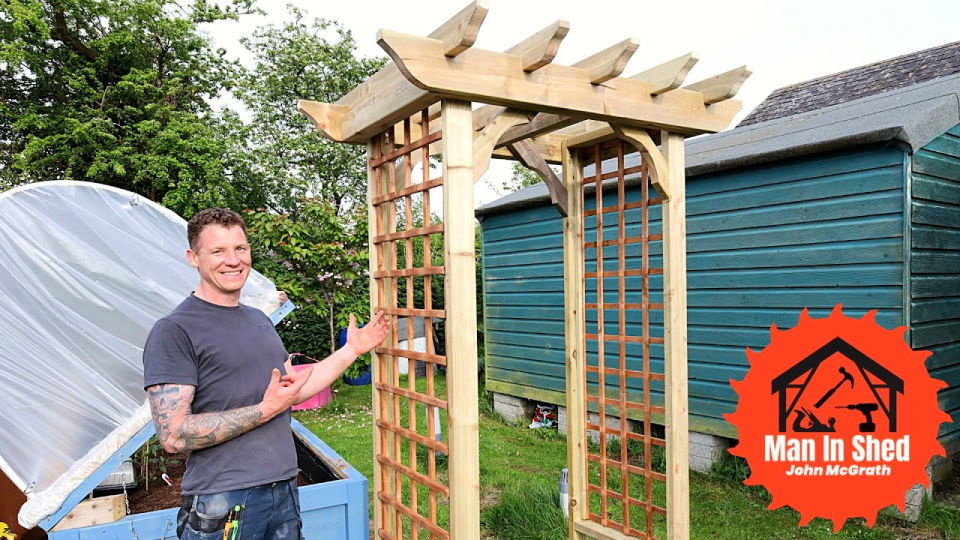 The DIY garden arbors can easily add a beautiful and eye-catching element to any garden. They don't require extensive DIY skills – anyone can make a great-looking one with simple construction techniques and supplies.
Every DIY enthusiast should have a go at creating their DIY garden arbor as it will look amazing and provide an easy way of sprucing up any garden with minimal effort or cost. It's also great for DIY novices who want to gain experience in more complex projects while making something beautiful they can keep forever.
Related DIY Projects You'll Love
Pallet Projects: Get creative with DIY pallet projects to make your own furniture, decorations, and other home decor items out of recycled pallets. Get tips on tools, step-by-step instructions for each project, and advice from expert woodworkers.
DIY Shed Plans: Get started on your outdoor project with these free DIY shed plans! Get detailed instructions, diagrams, and helpful hints on building a shed from the ground up.
DIY Concrete Projects: Craft something truly one-of-a-kind with unique DIY concrete projects! Learn how to make counters, tables, art pieces, furniture and decorations out of concrete.
Scrap Wood Projects: Unlock your inner creator with these simple scrap wood projects for beginners. Learn step-by-step instructions and all materials needed to transform scrap wood into beautiful and functional art pieces.
DIY Wood Projects: Become a master crafter with these easy DIY wood projects that sell. Get detailed instructions, tips and tricks to create unique pieces from scrap wood and turn them into beautiful artwork.
Small Woodworking Projects: Unleash your creativity with small woodworking projects. Learn the basics of woodworking, from essential tools and materials to ready-to-follow instructions.
25. Modern Arbors with Redwood Trellis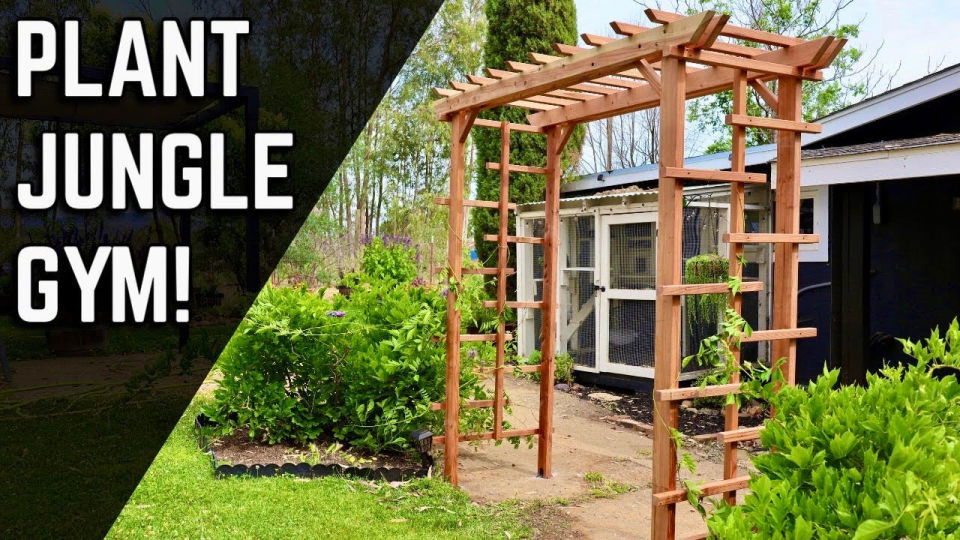 Building this DIY modern arbor with a redwood trellis is a great way to add style and flair to your yard. By creating an awesome redwood arbor and trellis, you can enjoy having more use of space in your yard that you may not have had before. This DIY project can easily be completed with the right set of tools, patience and the guidance of simple DIY plans.
It's also an achievement you can take pride in, as building something from scratch is rewarding. It will add aesthetic value to your house and save you money in the long run because DIY projects are cheaper than pre-built solutions.
26. DIY Driveway Arbor
A DIY driveway arbor adds charm and character to any home while providing a cost-effective way to upgrade your outdoor space. Installing a DIY driveway arbor is surprisingly easy and requires minimal supplies.
A basic DIY arbor consists of two 6x6x12 posts, two 2x8x12 pieces, a 2x6x12 piece, two 4×16 pieces, Simpson Strong-Tie 1-1/2″ x #10 Outdoor Accents Connector Screws 50ct, Simpson Strong-Tie Outdoor Accents Hex Head Washer 8ct, Simpson Strong-Tie 3 1/2″ x .220″ Outdoor Accents Structural Wood Screws 50ct, Simpson Strong-Tie #10 x 4″ Tan Galvanized/Coated Flat Exterior Wood Screws (50-Count), four Simpson Strong-Tie 14 gauge Zmax Deck Joist Tie(50 per pkg.), eight Simpson Strong-Tie 2 in. x 1 1/2″ x 1 3/8″ Z-Max Angle Chocolate Semi-Transparent Penetrating Oil Based Exterior Waterproofing Wood Stain (50 lb.).
To finish it off, you may attach a whimsical grapevine garden arbor or other decorations, such as solar LED decorative candle lanterns or wrought metal utility hooks, for that perfect touch.
27. Homemade Arbor Trellis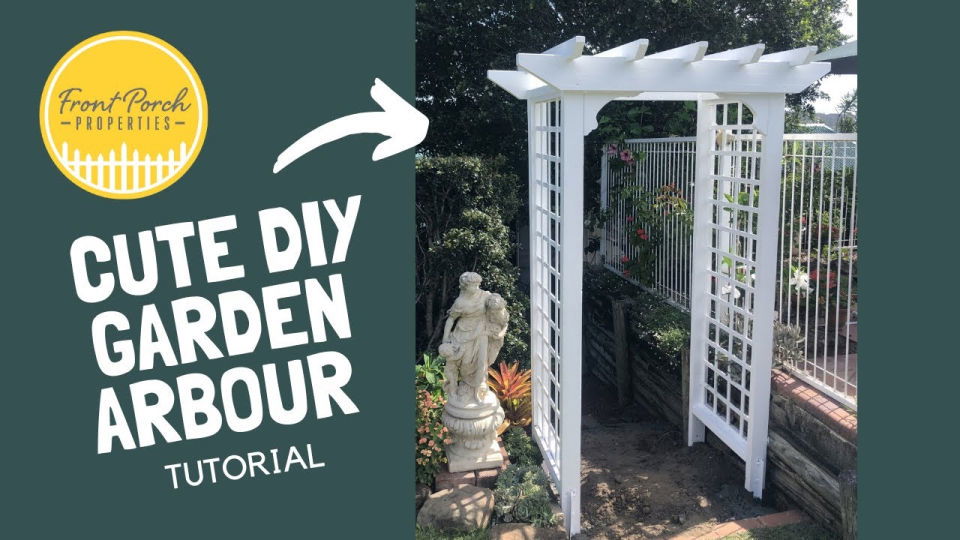 A homemade arbor trellis is a great way to give your garden an attractive, stylish and sophisticated look. With some simple supplies, including verandah brackets, framing timber, lattice and pink primed pine planks, you can easily create a beautiful arbor to frame a pretty view or dress up a path in one day.
Use a circular saw, drill, planer, drop saw, hammer and nail gun to cut the wood into its desired shape and ensure it is properly secured. Ensuring each piece is firmly attached to the others. By following these steps, you can create an impressive architectural structure with a unique style that will make your garden stand out from the rest!
28. How to Make an Arbor for Fence Gate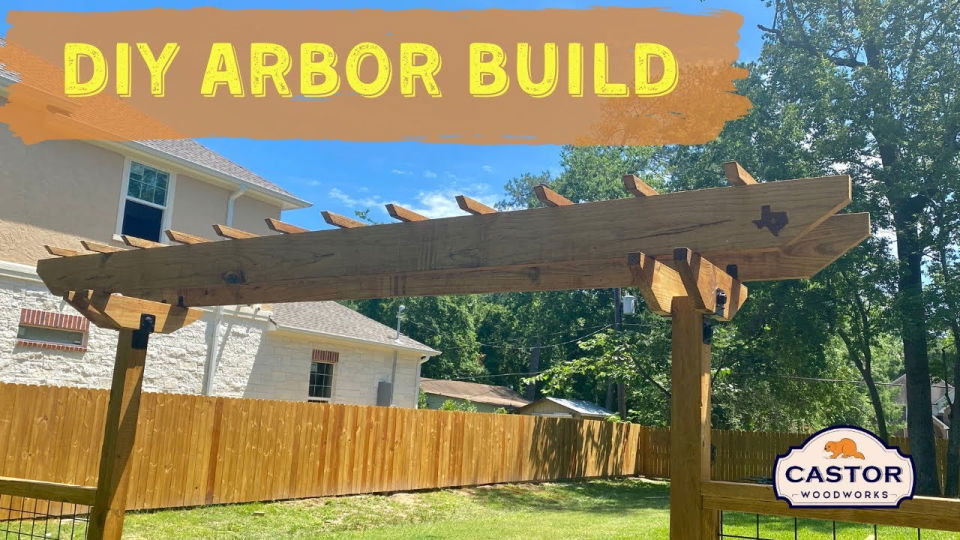 If you're looking for an easy and simple DIY project to spruce up your yard and make it stand out, consider building a DIY arbor for your fence gate. Not only is it an easy build with simple supplies, but it'll take your outdoor space to the next level with eye-catching appeal.
With a few tools and DIY know-how, you can have an attractive arbor to accentuate your fence gate in no time! DIY projects don't always have to take days of labor – with a DIY arbor for your fence gate, and you can complete the look of your outdoor area without Pouring effort or money.
29. Garden Arbor and Fence for Grapevines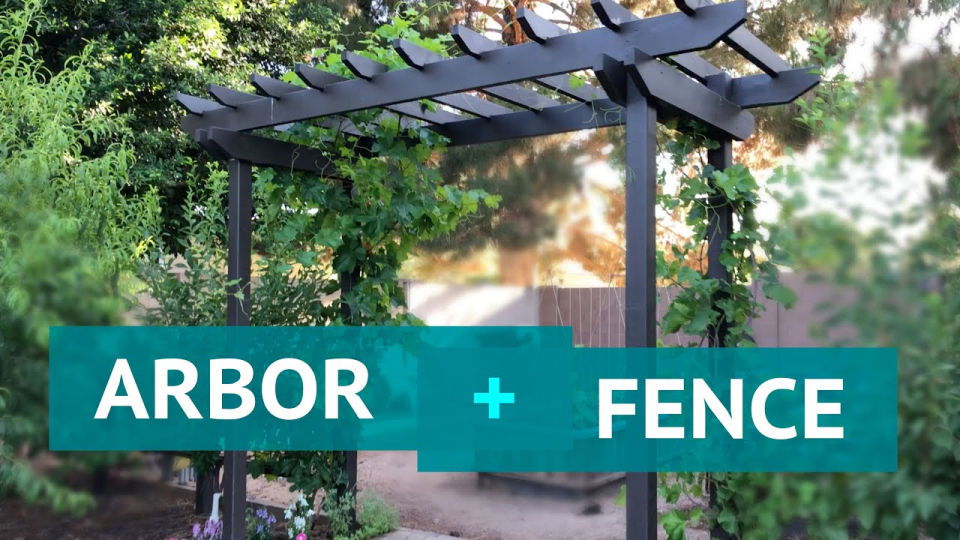 A DIY garden arbor and grapevine fence is a great project to tackle over the weekend. With basic woodworking skills, wooden materials and a day's work, you can create a stunning arbor and fence that will add an elegant touch to your garden. With a few simple supplies, such as screws and lumber, you can have a well-crafted arbor and fence in no time.
DIY projects like this allow you to bring creativity into your outdoor space while adding great value to your home. Plus, it can be done easily–take one day to build a beautiful DIY grapevine arbor and fence!
30. DIY Cedar Arbor with Bench and Planters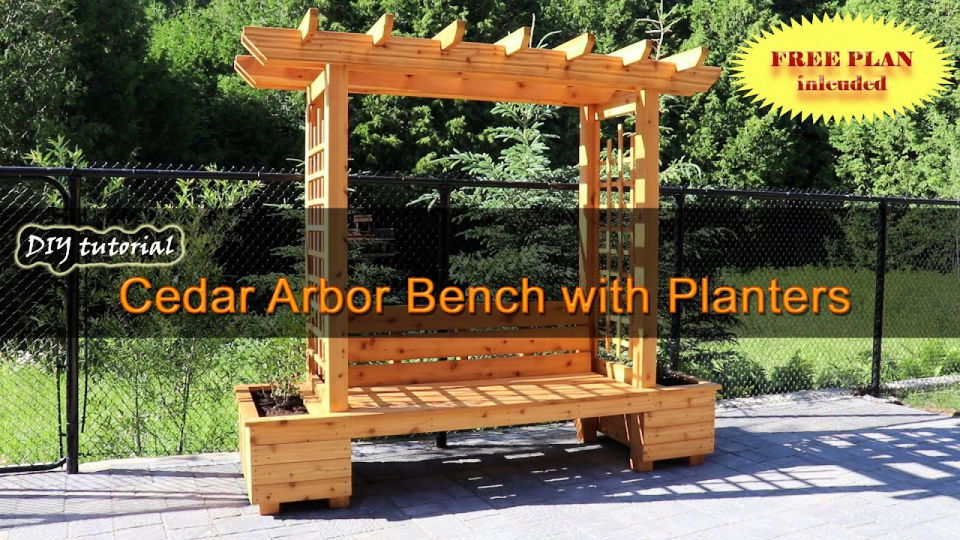 DIYers, look no further for a beautiful addition to your garden or patio. Transform your space with the DIY cedar arbor with bench and planters – complete with a free plan and step-by-step tutorial. With just a few simple supplies such as cedar boards, eye screws, anchors, L brackets and wood screws, you can build this showstopper in an afternoon for a fraction of what it would cost to buy it pre-made.
Whether you're looking to add charm to your outdoor seating area or want the perfect home for your plants during the hot summer, a DIY cedar arbor with a bench and planters is a perfect choice. Surprise yourself and others with your DIY capabilities and create this masterpiece today!
Related DIY Projects and Ideas
DIY Garden Furniture: Transform your outdoor space into a stylish and welcoming retreat with these DIY garden furniture ideas. Get inspired by dozens of creative ways to repurpose old furniture or build unique pieces from scratch.
DIY Outdoor Bench: Enjoy a backyard sanctuary by building your own outdoor bench with these ultimate DIY plans. Find detailed step-by-step instructions, helpful tips, and a list of materials needed to finish your project professionally.
DIY Garden Ideas: Bring your garden vision to life with these easy DIY garden ideas. Get inspired and learn how to craft unique planters, birdhouses, ornaments, and much more.
Repurposed Furniture: Get inspired to reuse and recycle with these unique repurposed furniture ideas. From outdated dressers to vintage chairs, learn how to bring old furniture back to life for beautiful and functional pieces for your home.
Pallet Outdoor Furniture: Transform your outdoor space with easy-to-follow pallet outdoor furniture ideas. With easy instructions, a few tools and materials, and repurposed wooden pallets to craft comfortable seating, tables, planters and more.
Free Pergola Plans: Transform your outdoor space with these free DIY pergola plans. From materials to tools and everything in between, learn how to build a beautiful and functional structure for your lawn.
Fire Pit Ideas: Create a warm and inviting atmosphere for your backyard with these DIY fire pit ideas to enjoy summer evenings with family and friends at an affordable cost.
DIY Backyard Ideas: Transform your outdoors on a budget with these easy and cheap DIY backyard projects. Find creative ideas and decor projects you can make in no time!
Conclusion: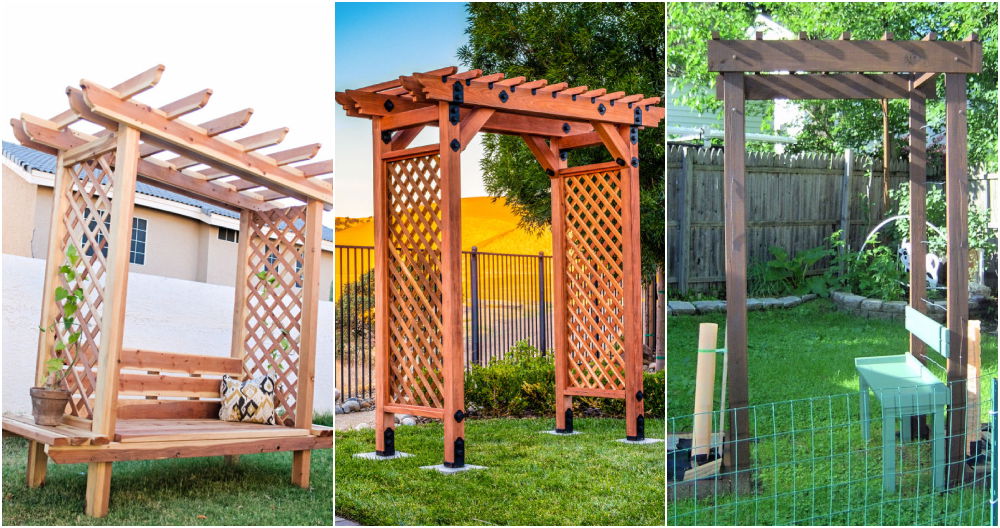 With these 30 free DIY arbor plans, you can add an attractive feature to your garden or entryway without breaking the bank. Whether you want a simple arbor arch or a more elaborate one with benches, there's sure to be a perfect plan here for your needs. So get out your tools and get started on building your own beautiful DIY arbor today!