Home restyling may also demand a bizarre display of plant holders and pots. Bring the mid-century decor vibes to your home with these 15 homemade DIY plant stand ideas that will boost your home decor on a worthy level. Most of these diy plant stand plans come with a criss-cross seat in the center where pots can easily sit for a stimulating display. Building these diy plant stands is a beginner wood project and you can also use scrap wood to build them. For all incredible inspirations, look through these 15 DIY plant stand ideas, quite easy to make without getting a bit expensive. Most of the diy plant stand designs are made of wood dowels and wood slats.
Use the equal wood dowel lengths to build the plant stand pillars, join them together through a criss-cross seat. Giving custom stain coats is going to be a brilliant way to get them in the desired wood tone that will compliment your home decor style.
Tier up round wood plates with the help of short wood legs making a cool round plant stand. Raise also wood round on tapered wood legs to gain a plant stand beauty in vintage style. Use paint to give amazing variations to your completed DIY plant stand designs.
1. DIY Mid Century Plant Stand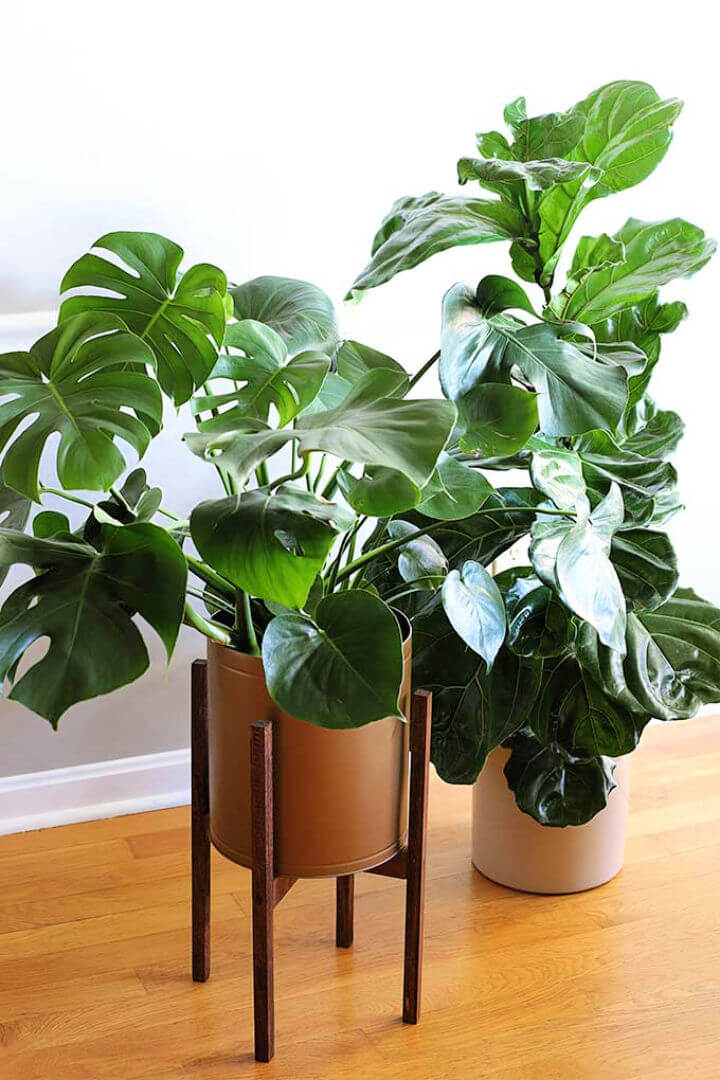 Bring the green outdoor quickly indoor in a mid-century style using this lovely homemade plant stand. It will allow easy changing of plants and pots and will be the real natural beauty station there. Plan the square wood dowels to build this stand quickly, next give a nice wood finish. How-to guides here houseofhawthornes
2. Build a Mid-century-Inspired Plant Stand

Need to raise your selected indoor planters or pots on a certain height level while adding more style to them? The must choose this midcentury-inspired plant stand, will spice up your interiors in no time. Use the wood planks and wooden dowels to build it in no time. Details here hunker
3. Mid Century Modern Plant Stands

If you wish to display your plants and pots indoor beautifully, then do build this collection of small and tall DIY plant stands. Small and big stands will hold small and big plants in them with great care and style. Establish the great aesthetics of your home with these easy-to-make small and diy tall plant stand stands. How-to tutorial here paultrandiy
4. Easy DIY Mid-century Plant Stand

Do you love the rustic yet modern type of decors? Then you are surely going to fall off this mid-century plant stand, will never get out of style and is guaranteed to impress. Combine four equal lengths of wood dowels through criss-cross flat supports and build this midcentury plant stand, will be a whole beautiful seat for your expensive pots to get raised on an attractive height level. Details here lovelyindeed
5. DIY Drainage Pot + Plant Stand

Brighten up boring corners of rooms with these lovely plant stands, will never get out of style. Moreover, these plant stands will allow you to change the pots and planter season-to-season easily. Get a lovely one for you using four reclaimed wood dowels and scrap wood lengths. Complete how-to guides here thesorrygirls
6. Mid-century Plant Stand With Wood Legs

Bring a more decorative character to your planters and pots you have got for natural garnishing of your indoor spaces, with this mid-century inspired plant stand. It is having little white painted legs, is also super easy to whip up using square wood dowels. Full how-to guides here designingvibes
7. Make Wooden Plant Stands On a Budget

If your indoor plants are lacking visual interest, then why not lure the number of views of them by raising them on these wooden plant stands? The best mid-century wooden plant stands to make for your modern indoors. Feature a brilliant style in your home with these quick-to-build and inexpensive plant stands. How-to tutorial here heytherehome
8. Mid Century Plant Stand With a Boho Vibe

Here this stand will help you bring both the mid-century and bohemian decor vibes to your home at the same time. Here a cardboard plant stand, built in the mid-century style, have been wrapped in yarn and decorated with pom-poms for a boho vibe. The ultimate gorgeous design of plant stands to make at home. How-to guides here jenniferperkins
9. Mid Century Modern Plant Stand

The mid-century modern plant stands are not merely to make with the round or square wood dowels or with wood slats, achieve them also using wood rounds. Use the plywood rounds, tapered legs, and wood blocks to build this nicely painted mid-century modern round plant stand. Complete how-to tutorial here h2obungalow
10. DIY Mid Century Planters

Want to build a mid-century planter in the easiest way ever? Then go with a wood round and tapered legs. Install the legs to the bottom side of the wood round and gain a mid-century modern planter in no time, will brilliant hold your pots on a decent height. Complete how-to guides here sugarandcloth
11. Mid Century Style Plant Stand

Give a stylish elevation to your pots and planters using this mid-century style plant style. Grab two timber wood lengths, scoop out arch shapes out from their bottom side for a stylish appeal. Cut notes in the middle and next slot them together making a lovely criss-cross mid-century plant stand. Complete how-to guides and tutorial here burkatron
12. Make West Elm Inspired Plant Stand

Are you deeply interested in the West Elm style? Then bring this style also to your home by building a West Elm inspired plant stand to knock off. West Elm furniture, plant stands, and decors are often expensive to buy but building this West Elm inspired plant stand will cost you only $6. How-to guides here whitepicketfarmhouse
13. DIY Modern Case Study Plant Stand

The movable plant stands allow you to bring the comfy and natural feel anywhere in your home. Same will make this modern mid-century plant stands that become more interesting due to being made of slim long wood dowels and cut to size wood slats. Here is how to build it mendonandbelle
14. DIY Mid-Century Plant Pot

Set also an amazing style on your corner console or side table by adding a pan or pot on a mid-century stand. Square wood dowels and wood slats have again been put together smartly to build this plant stand. It will greet the guests, spruce up the sitting environments, and freshen up the entire room ambiance. Details here thecraftygentleman
15. DIY Mini Mid Century Plant Stand

Minimize your plant stand expenditures by building stylish mid-century inspired plant stands at home in no time. Give an epic stylish elevation to your glass pots by building these mid-century plant stands, painted for a glorious appeal. Complete how-to guides here angean