Do-it-yourself enthusiasts will love these DIY PVC pipe garden ideas! These PVC projects are easy to do and can add a touch of personality to your outdoor space. From a simple planter box to a functional watering system, PVC pipes can be used to create all sorts of garden goodies. Check out these awesome PVC pipe gardening projects and get inspired to start building today!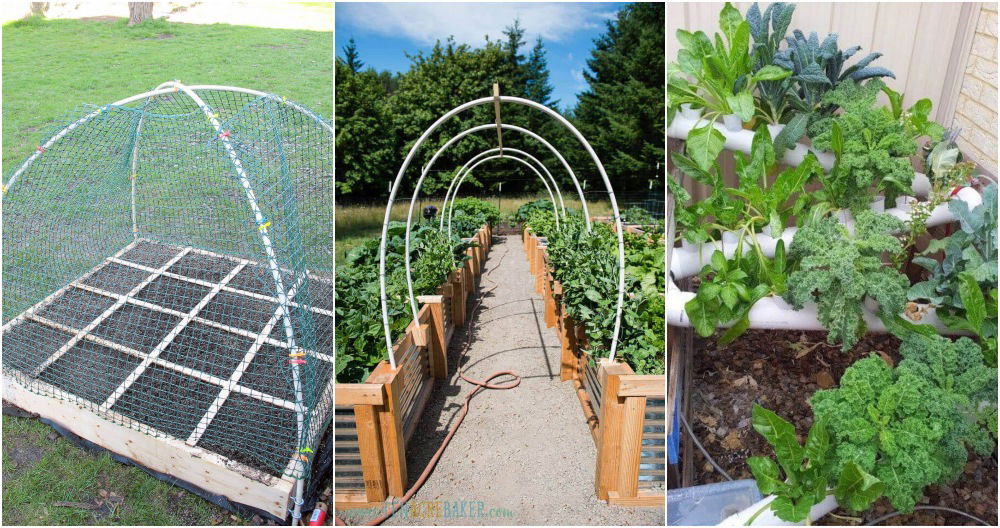 DIY Outdoor Solar Lamp Using PVC:
Need cool lighting systems in your garden for an amazing presentation of garden decors at night? Make this solar lamp using PVC pipe! Fix the PVC pipe in garden ground with the lamp bulb at the top and wires inside! Finish with an old lampshade and build a nice vertical lamp for your garden! Complete how-to guides here notjustahousewife
How to Make a Pillar Planter:

One more cost-efficient secrete of building a great garden appearance of your garden using PVC scrap! Build this big vertical pillar planter in your garden a big PVC pipe length! It will be easier to fill it up with potting soil and then to plant your favorite items in it! Complete guides here curbly
Make a Vertical Strawberry Tube Planter:

Switch to PVC pipe vertical gardening to bring outstanding style to your garden in no time! Cut out miniature holes in the PVC pipe, fill the potting soil in and let the strawberry stems come out from the holes! An amazing PVC gardening project idea! Full how-to guides here urbangreenspace
DIY Vertical Garden with PVC Pipe:

You will love the way it will look in your garden, a vertical PVC garden planter that has its roots in a square wood planter! Fix it in the planter and fill with potting soil, will also serve as a trellis to your pot planters! Full how-to instructions and guides here hgtv
Organic Vertical PVC Pipe Planter:

Create a wow appeal of your garden also by adding this organic vertical PVC pipe planter, is damn easy to build! This is what you need to create a big focal point in your garden! An expensive but great garden planter idea for a garden lover! Full how-to guides and tutorial here instructables
DIY Garden Tool Storage Out of PVC:

If don't want your garden to have a scatted pile of tools then give an opportunity to PVC pipes for garden tool organization! Yes, cut the PVC pipe lengths and add them on the wall-mounted wood planks to hold the tools in place in a lovely vertical manner! Full how-to guides here newlywoodwards
Easy DIY Rain Gutter Cleaner:

From organizing your garden to cleaning your garden to decorating your garden, you can do all sorts of projects with the PVC pipes! Build this rain butter cleaner using PVC pipes that can be connected to a garden hose for water supply and will help in instant cleaning of rain gutters where you can't reach without a ladder! Full guides here instructables
Build Your Own PVC Trellis:

Plan the PVC pipes for building amazing trellises in your garden! Want to do it like a pro? Then check out here the sample presentation of PVC pipe garden trellis, done to inspire! A smart and creative work to do with the PVC pipes will definitely rock your green garden space! How-to details here diynetwork
How to Make Victory Garden:

Using the PVC pipes smartly, you can really bring the gardening game to the next level! Build this victory garden using PVC pipes and fishnet! All you need is to install a dome style canopy over the raised wooden garden bed for extra safety! Incredibly smart use of PVC pipes to see here! Details here bigredkitchen
DIY PVC Hydroponics Unit:

You can really do wonders with PVC pipes especially when you need to fancy up your garden! Bring also a touch of hydroculture to your garden by adding this PVC hydroponics unit! An insanely smart PVC pipe project to do some fantastic gardening experiment! It will be a unique feature of your garden to impress! Full how-to guides here instructables
Easy to Make PVC Chicken Feeder:

Let the old and discarded also facilitate your pets in the garden for easy feeding! Reuse the PVC pipes and build this chicken feeder, can be installed anywhere in the garden for easy and no mess chicken feeding! Building this PVC chicken feeder will be damn easy! Full how-to guides and tutorial here prepforshtf
DIY Vegetable Garden Trellis:

Lacking of some cool trellises in the vegetable gardens? Then build some flawless ones inexpensively using the PVC pipes! Bend the flexible PVC pipes in arched shape and make cool looking trellises out of it for your vegetable garden! A smart garden trellis hack using PVC pipe, all gardeners will love it! Details here tenacrebaker
Make Garden Birds from PVC Pipe:

Transform your garden into a mini paradise using the PVC pipes smartly! Make these amazing birds with the PVC pipes, they are a really unbelievable PVC pipe craft! After you made the bird sculptures out of PVC pipes, set them on a height for better display using tree trunks! The best ever garden art to make at home with leftover PVC pipes! Step-by-step instructions here instructables
DIY Tomato Cage with PVC:

One more extra brilliant PVC pipe hack to for advanced gardening, build also giant tomato cages out of PVC pipes! Peek into creative details of this tomato cage, build to rock and inspire! Build a big cubic structure or skeleton with PVC pipe, will be your next most amazing tomato cage! Full how-to guides here ladyleeshome
DIY PVC Greenhouse for $360:

Enlarge the cultivation criteria of your garden also by building a lovely greenhouse with PVC pipes! This will help to grow the off-season fruits and veggies and will be the most inexpensive but functional type of greenhouse to build in your garden! Build the greenhouse frame using arched PVC pipe lengths! Full free plans and tutorial here mybluprint
Make Your Own Vertical Planter:

Another brilliant and good looking vertical planter to make with a PVC pipe length lying around! This planter will rock for the strawberries and flowers, it is having punched out holes in all sides that will let the flower stems come out! An easy to make a vertical planter to make in no time! Complete how-to guides here littlehouseinthesuburbs
How to Make a PVC Raised Beds:

A garden land with multiple built-in mini gardens like raised beds or veggie garden, always gains more attention! Create a divine appeal of your garden with this PVC raised beds, build the bed with wood and then add up with arched PVC lengths! This setup will also while willing to make a greenhouse out of PVC pipes! Complete how-to guides here instructables
Build a Squash Arch for Your Garden:

One more brilliant type of trellis to make with PVC pipes with great ease! Something must put in your garden when need to create a divine look of your garden! First, build the arched trellis out of PVC pipes and next spray paint them in black for an alluring appeal! Full how-to guides here getbusygardening
How to Make PVC Birdhouse:

The most beautiful, colorful and modern birdhouses to make with the PVC pipes! They will hang like modern decors in your garden and also come with beautiful perches! As obvious from the picture samples, you need wood rounds, PVC pipes, and wood dowels to build these PVC pipe birdhouses in no time! Full how-to tutorial here instructables
DIY Summer Camp Chair Tutorial:

Build also the most stable and stylish type of chairs out of PVC pipes and durable fabric like hammock fabric! Build the criss-cross chair frames out of PVC pipes and add them up with the fabric seats and that's it! Look at the given sample kids' chairs made of PVC pipes! Full how-to guides here simplesimonandco
DIY PVC pipe garden ideas are a great way to add some life to your outdoor spaces. They are easy to install and can be used to create a wide variety of designs. Whether you are looking to add some color or simply want to enjoy a private garden oasis, DIY PVC pipe garden ideas are the perfect way to go. Thanks for reading!