You must improve your outdoor lighting if you love to enjoy spring, summer, and winter evening gathering on your patio or in your garden. You can prettify the aesthetics of your outdoors for the daytime by adding jazzy flower pots and decor. But for a night, these 30 DIY solar light projects will save your money and lighting up your outdoor and garden creatively. The best lighting system to go with for bizarre outdoor light ornaments and whipping up these DIY solar lighting will not leave you with empty pockets. Whether you need to install the best ornamental lights for a festival or event outdoor or you need the permanent garden light fixtures on a budget, these garden ideas will great for every situation and purpose.
Using DIY solar lights removes the electrical wire mess and daily power ON and OFF button schedules. They will be independent of electric supply and will stand free anywhere without tangles of electrical supply wires.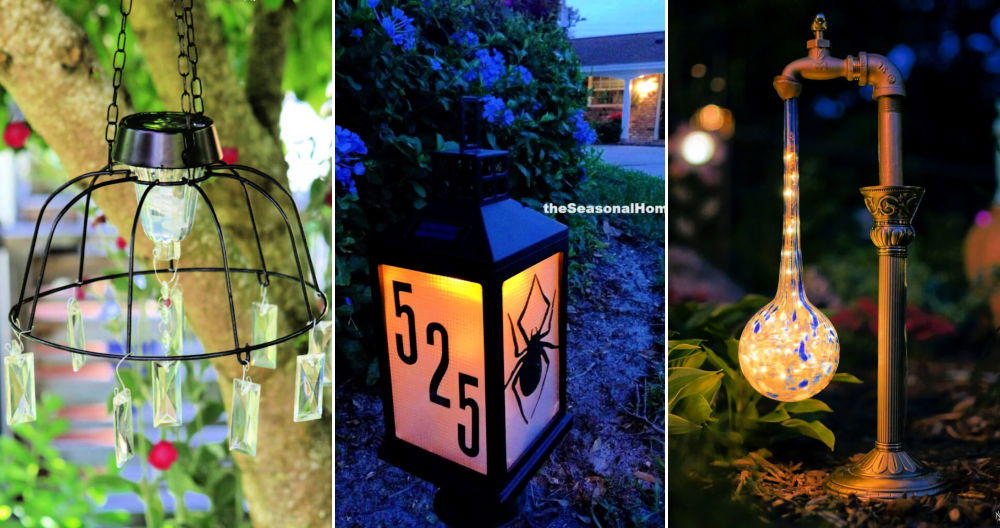 The list will show you all the different ways of DIY solar light landscaping. Make solar light path lights, pedant chandeliers, and also accent garden waterdrop lights. They can be on poles for getting your garden illuminated beautifully at night.
Time to improve your garden aesthetics, curb appeal, and overall property value with these easy-to-make and install DIY solar lights, made to rock, shared to inspire.
1. Build a Solar Cedar Path Light
The lights in your garden really add to the beauty of the spaces. So bring some wooden charm to your outdoors by installing this DIY solar cedar light. With only a few wooden boards and pieces, you can easily shape up this wooden light post with adjustable DIY light and top-mounted solar panel. build basic
2. DIY Waterdrop Solar Lights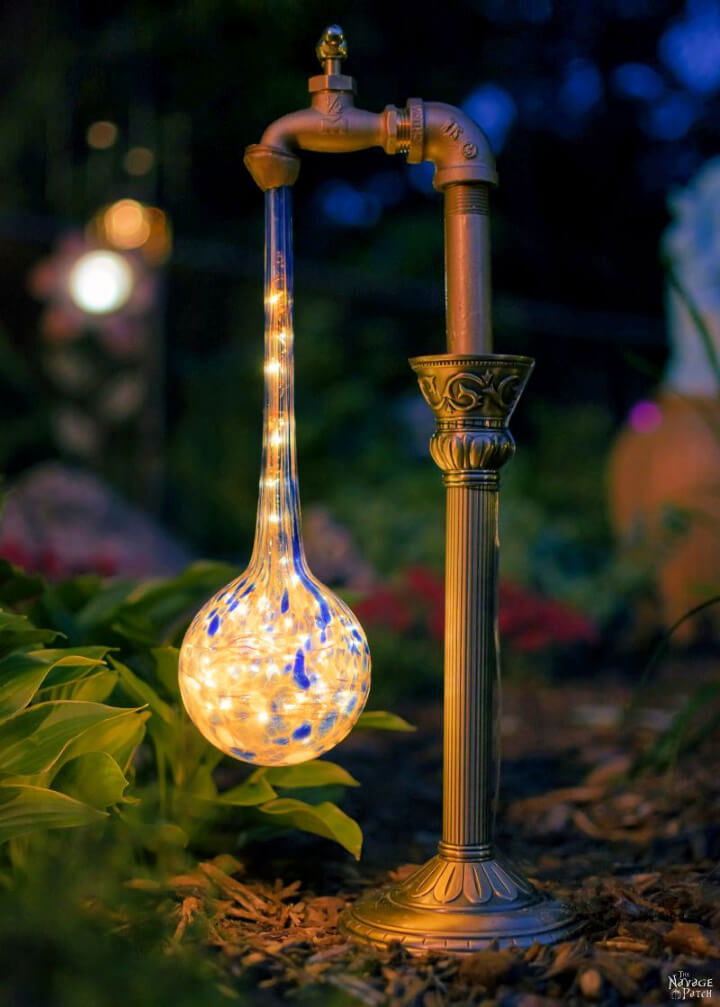 Bring utter charm and delight to your garden decor with these awesome and unique DIY waterdrop solar lights. There is a big list of the variety of things you would need to shape this eye-catchy light source in the outdoors. Grab the details here. thenavagepatch
3. Hanging Solar Light Chandelier

Chandeliers are the desire of every home decor lover, but they are too expensive to afford.  Here is the cheap but totally rich in style and beauty solar light chandelier. You would need a wire basket, crystal, solar light stake, and some chains to install this chandelier and hang it over your tree. gardentherapy
4. Stunning Garden Solar Light

This stunning DIY garden solar light is surely going to spruce up your garden decor. The best thing is it is super easy and cheap to make on your own at home. The solar light's wooden post is made from an old wooden lamp with a solar light on the top. Paint up the post in your desired hues for a perfectly customized look. Find a complete DIY guide on total backyard
5. Beach Glass Solar Lights

Here are the double functional beach glass solar lights for your outdoor spaces. This DIY beach glass solar lights project is super easy to make and bring oodles of charm to your spaces. A mini beach with moss, beach glasses, and shells has been created inside the jar, and when it glows, it looks just ethereal. gardentherapy
6. Cedar Cube Solar Landscape Lights

Enjoy an upgraded look of your outdoor landscape by adding these DIY cedar cube solar lights in your spaces. These solar lights with spiky ends find a perfect fitting into these wooden cedar cubical posts and look just so woodishly charming.  The lights are perfect for your backyard, garden, and patio as well. Complete tutorial here thenavagepatch
7. DIY Tin Can Solar Lantern

One of the best ways to recycle tin cans is to make these adorable and totally functional tin can solar lanterns. Add a hanging wire to the tin can, pierce some holes in a pattern to let the light come out and lastly, hold a solar light inside. Easy tutorial here. craftiments
8. Flower Stand with Solar Light

Here is another two one garden decor project with this idea of a flower stand with solar light. The gorgeous aqua stained flower pots create a lovely tiered flower stand to charm up the garden beauty. Solar light has been installed on its top to arouse its utility to provide you light in style. Details here. simplysouthern
9. DIY Spilling Solar Lights for Garden

We are so lost in the view when cherishing a glance of these DIY spilling solar lights for the garden. The illusion of the golden light spilling out of the black teapot looks just so mesmerizing. The good thing is that you can easily make one at home with the cheapest and feasible supplies lying around. Details here. thenavagepatch
10. How to Make a Solar Powered Fairy House

We love decorating out garden spaces with fantasy things like this fairy house. Now you can charm up the fairy house's beauty and appeal by adding some solar lights to it. The gorgeous stones around the fairy house look just so good for the landscape and lights to add icing on the cake. Details here. creativegreen
11. Solar Address Sign Gift for Dad

It's time to boost up the outdoors, and you can start by installing this solar address lantern for your frontal garden. The lantern is supported through the solar charging and has the house number on it to look and perform more functional roles in your spaces. How-to here. theseasonalhome
12. Build A Nocturnal Solar Light Bulb

Save electricity with this solar project of making a nocturnal solar light bulb for your outdoor areas. It can charge up all day under the sun and provide you ample light at night. You can easily install this energy-saving solar light bulb using the bulb's basic supplies in a mason jar. Tutorial here. instructables
13. Mason Jar Solar Lights

Enjoy adoring these cheapest but completely gorgeous Mason jar solar lights for your outdoors. These adorable mason jar lights are super easy and cheap to make at home right this weekend. So get your hands on some stake solar lights and the mason jars to install these garden light beauties. Details here. gardentherapy
14. Dollar Store Glass Garden Mushrooms

Summers are all about the colors, and now you can add these colors to your DIY garden decor with the help of solar lights. These dollar store DIY solar lights are so easy and cheap to make and bring the charm of summer hues to your spaces. The lights are installed from the colored glass vases and the bowls sewcando
15. DIY Solar Light Hanging Chandelier

No light bulb or lantern can bring the kind of charm and beauty in your decor that a chandelier can create.  The chandelier's magnanimous size and the rich style really add perks of beauty and embellishment to your spaces. Now you can install this cheap and easy DIY solar light hanging chandelier in your yards or gardens on your own. hallstromhome
16. DIY Mason Jars Solar Light

Lights are the need for every outdoor space, be it a deck, yard, or garden. Now you can install these super simple but highly gorgeous and chic Mason jar solar lights in your outdoor areas. The lids are solar-powered, and jars' insides are filled with acrylic gems to create a whimsical glowing view. u-createcrafts
17. DIY Solar Light Post Using 4×4 Boards

Make your front doors look just super welcoming and impressive with some additions like these solar lights with wooden boards. Yes, the lights have installed ove4*4 wooden cubical posts to look just so rustic and warm for your outdoor decor. Rest of the details here. anikasdiylife
18. DIY Bamboo Solar Lights with a Boho Vibe

If you want to bring some natural vibes to your outdoor seating areas, then make these bamboo solar lights. You can hang them over the seating and enjoy a perfectly subtle effect being added to your spaces. Either patio or the deck, these bamboo lights are going to fit all the areas. Details here. swoonworthy
19. How To Make Solar Power Outdoor Lights

Shift your outdoor lights to solar power and save your electric energy. With a gorgeous globe lamp and the solar panel, you can easily install this solar power outdoor light on your own. You would also need some wooden boards to shape the post that would connect both the panel and the lamp. Tutorial here. justmeasurin
20. Simple DIY Garden Globe Solar Light

This gorgeous garden glove looks to come out of a fairy tale for being so fantastic and whimsy. With two wire baskets and the string lights, and some paint, you can easily install this simple DIY garden globe solar light to glow your garden in the dark. Easy how-to here. thesolaradvan
21. Upcycled Lantern Solar Lights

If you visit the thrift store next, you will surely pick up some cheap lanterns from there. The reason is this project of upcycled lantern solar lights that you can make from them. Get two types of lanterns, paint them in your desired hues and place them on the same hued wooden bases, and it's done. Details here. stowandtellu
22. Outdoor Mason Jar Solar Lights

Mason jars are the best things to pick up for most of our DIY projects, so they are for the solar lights. Here are many Mason jar solar lights that would make a perfect table decor for your night gatherings. The mason jar lights have been decorated with blue stones to look so catchy and cool. How-to here. consumerqueen
23. DIY Industrial Style Concrete Pillar Solar Light

Here is a kind of solar light that would last just ages in your garden or patio, and you can relax once you have made it. Yes, we are talking about these DIY industrial style concrete pillar solar light to make at home easily. Just make a concrete paste and shape it as a thick round post and place your lamp globe on the top. theshabbycreek
24. Mason Jar Solar Lights

It is not only for the fun summer nights out, but you can also make your favorite Mason jar lights for the winter season. Here are these affordable DIY Mason jar solar lights with an enchanting frosting effect to look just so perfect for the winter festive decor. Learn to make them right here. consumercrafts
25. Outdoor Lighting – DIY Solar Lamp

Like the lamp that you have in your bedroom, resting on your side tables, you can have the same outdoors. Here is this gorgeous table lamp that would look so pretty on your side tables, either on your deck, yard, or the patio. This lamp is solar powered! So it would save your energy. Tutorial here. 100things2do
26. Solar Lamp Made with an Old Lampstand

Here is this gorgeous lamp that can be a part of your garden or other outdoor spaces too. The lifeline of this beautiful lampstand is the lampstand that can carry two solar lights or lamps at a time. The pretty glass butterfly and the glass globes really add to the charm of this solar lamp. Details here. simplysouthern
27. Shoji Style Solar Lamp

Those fancy outdoor lights you see in at the rich stores can be yours without their hefty price tags. Here are these gorgeous shoji style solar lamp which is super easy and fun to make in just a couple of hours. With just some wooden boards and glass pieces, you can nicely shape this lovely and stylish solar lamp. instructables
28. Wooden Lanterns with Solar Lights
This wooden lantern with solar lights is the best thing to look at in your outdoors. The lantern is wooden, but the complete fixation board and the setting have been done with the wooden boards to look just so purely rustic. Grab the details here to get this richly fashionable solar light fixed in your spaces. kippiathome
29. Easy, Cheap Landscape Lighting

These gorgeous solar garden lights are the best things to make for your garden decor boost up. Not only are they elegant and so strikingly gorgeous, but also super inexpensive and cheap to make. The solar light fixation really makes these pretty garden lights energy saving too. How to here. theartofdoing
30. Hanging Solar Mason Jar Lights

Mason jars prove to be a great bliss for creating some cheap but totally functional homey crafts. So here is the idea of creating this lovely hanging solar light for your garden or yard and that too using the Mason jar. The hanging position really makes the lights look so tempting and fun. Details here. joyfullytreasured