Are you serious about your garden decor? Sometimes the little changes can have bigger impacts on the overall beauty of your garden. Check these 30 beautiful and easy DIY stepping stones for a garden are one of those changes. These new decorative garden stepping stones will help build the new causeways and pathways across the garden water features and garden beds.
From personalized quoted stepping stones to mosaic stepping stones to natural-looking stepping stones, these 30 amazing DIY garden stepping stones will provide instructions to make all beautiful and decorative types of them at home. These decorative stepping stones will redefine your garden's look and are sure to add new decorative dimensions to your green spaces. From creating lovely stone steps to building a whole stone-work patio or path, you will learn here to build all like a pro.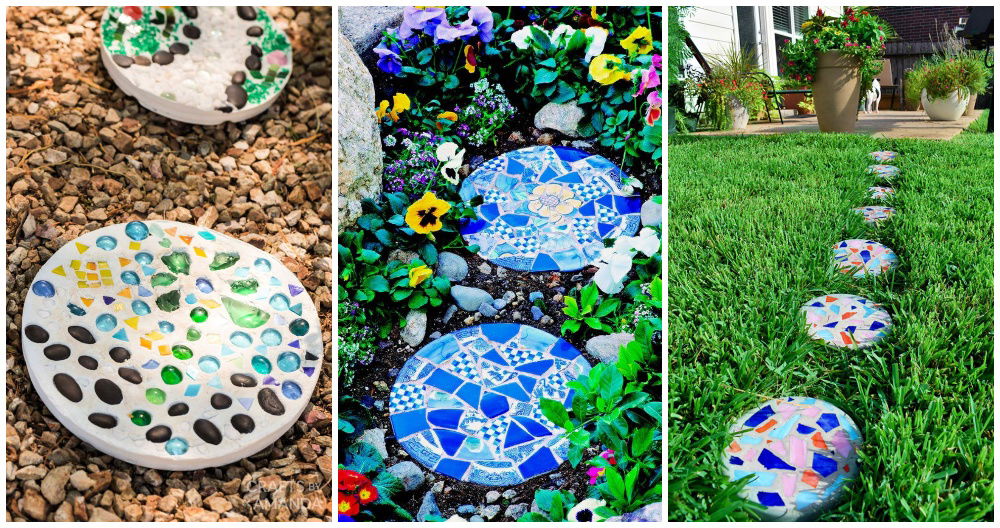 First, you must have is a custom mold that will make the shape and design of garden stepping stones. Opt for different materials like plastic buckets, wood, and various other items to make a custom square or round stepping stone molds. Next, fill the concrete or mortar in the molds if you will make the concrete stepping stones.
Decorate the stepping stones with sea glass, broken china, stones, letter stamps, and even footprints before they get dried in the targeted shape. For adding decorative patterns and art to them, do a little painting, stenciling, and even push down the decorative doormat cutouts on them.
Explore this entire collection of diy stepping stones to see a lot more unique designs and enhance your garden.
1. Garden Stepping Stones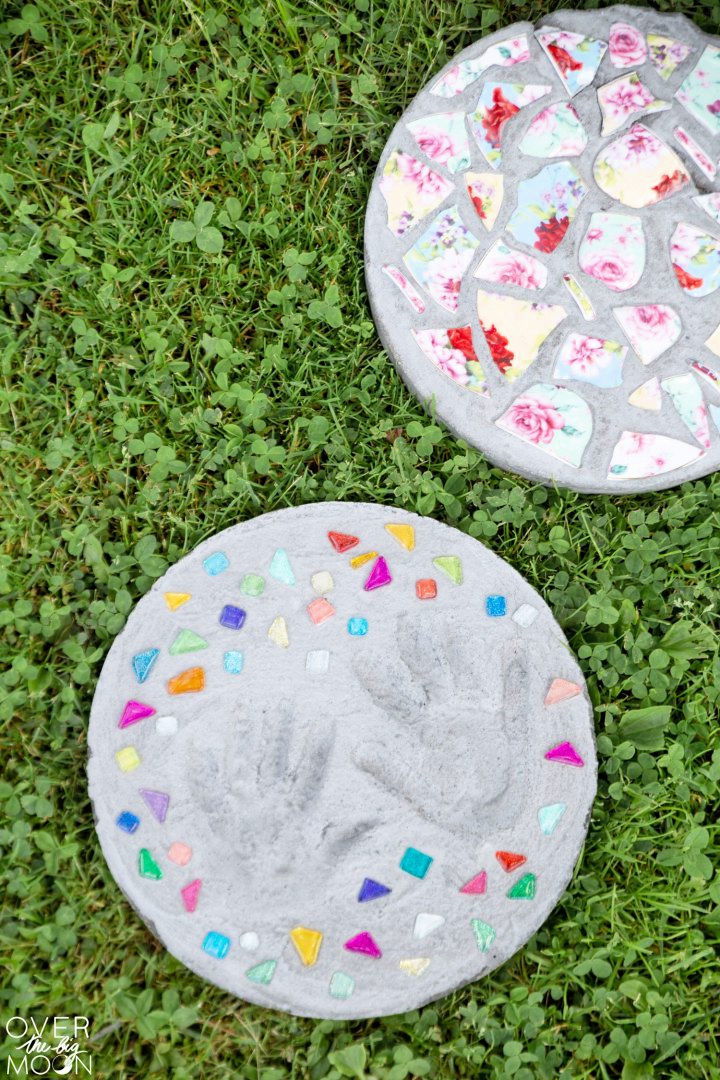 Fancy up your garden with these stepping stones will give your green spaces the new decorative dimensions. They are practical yet decorative additions to your garden and will also be a smart, indirect way to feature the garden's favorite colors. Here you need stepping stone mold, mortar mix, china cups, marbles or mosaic tiles, and cooking spray to make these quick-stepping stones. overthebigmoon
2. DIY Embossed Stepping Stones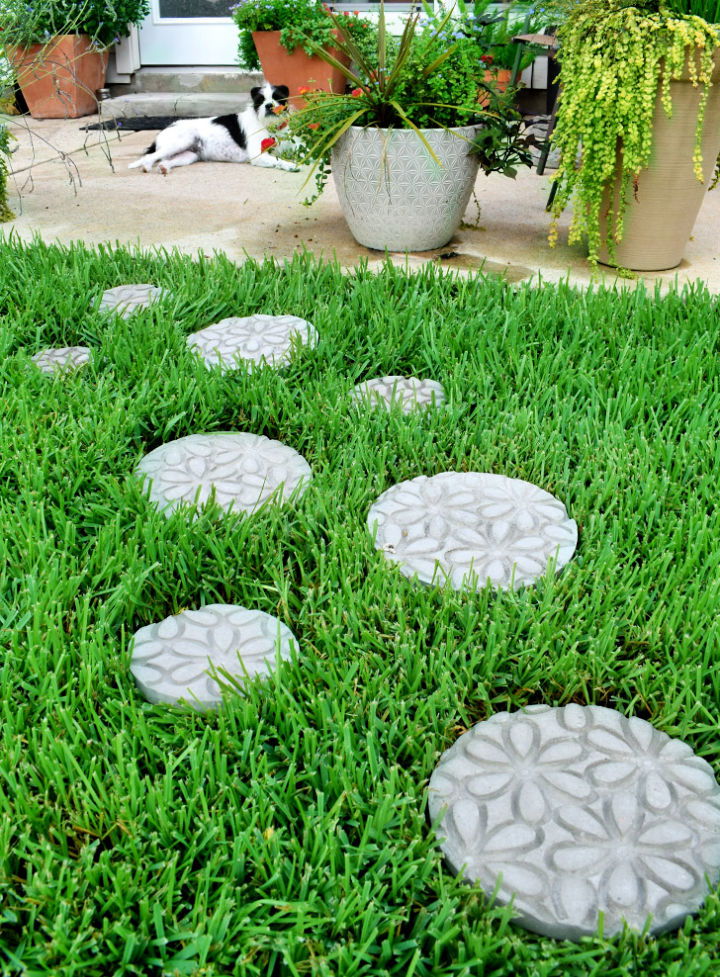 The floral design patterns making this stepping stone out of the ordinary. You can even paint the embossed flowers on the stone for added visual charm and grace. These decorative stepping stones will allow you to walk in the garden without doing any severe damage to garden plants and grass. Here you need the rubber doormat, sand, reusable plastic, plastic mixing bucket, trowel, cooking spray, stepping stone mold to make it. dreamalittlebig
DIY Projects for Garden:
DIY Garden: Spruce up your garden with these cheap and easy DIY garden ideas. From DIY planters to container gardening ideas, there are plenty of budget-friendly garden projects.
Fairy Garden: If you've ever wondered how to make a fairy garden, then these fairy garden ideas are for you. You can make these mini fairy gardens out of a wheelbarrow, a basket, and even an old teacup!
Pallet Garden: Making your own pallet garden is a quick and easy way to create a healthy and organized garden for flowers and vegetables alike!
Window Planter Box: These DIY window planter boxes are the perfect finishing touch for your home's exterior. Find a tutorial here that works for your home, and watch how easily these DIY window planter box ideas elevate your home's exterior.
3. DIY Faux Grass Decorative Stepping Stones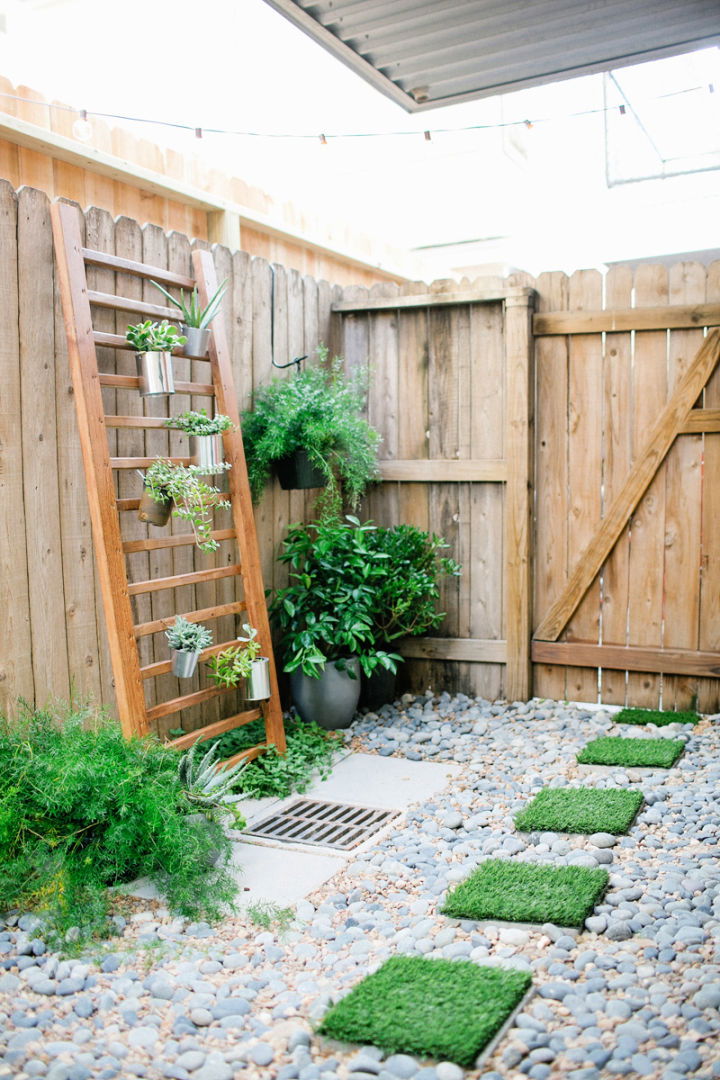 You will keep staring at these grassy stepping stones that will rock for outdoor decks, gardens, and even for the pebbled area around the winter firepit. What makes these stepping stones a lot more beautiful is the beautiful square shapes, and it will be big fun to make these beautiful stepping stones, sure to take your garden and deck decor to the next level. These stones will be soft to walk on also. You need concrete pavers, faux grass, indoor/outdoor turf adhesive, a box cutter, and a 3″ foam brush to make these stepping stones. sugarandcloth
4. DIY Terrazzo Stepping Stones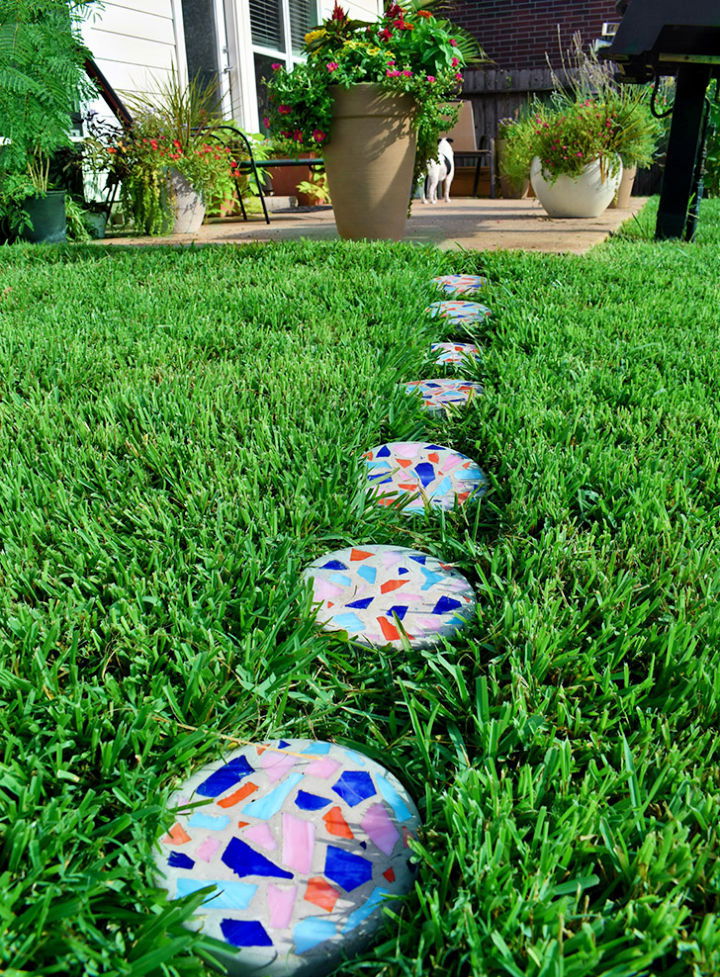 It will be highly satisfying to add these garden stepping stones to your garden, be a colorful addition to your garden, and create lovely and safe pathways. They will also guide the new visitors while taking a tour of your garden and rock as the garden space's beautiful feature. You need sand, stained glass, glass tile nippers, safety glasses, adhesive shelf liner, reusable plastic stepping stone mold, plastic mixing bucket, and trowel to whip up these stones. dreamalittlebig
5. DIY Garden Stepping Stones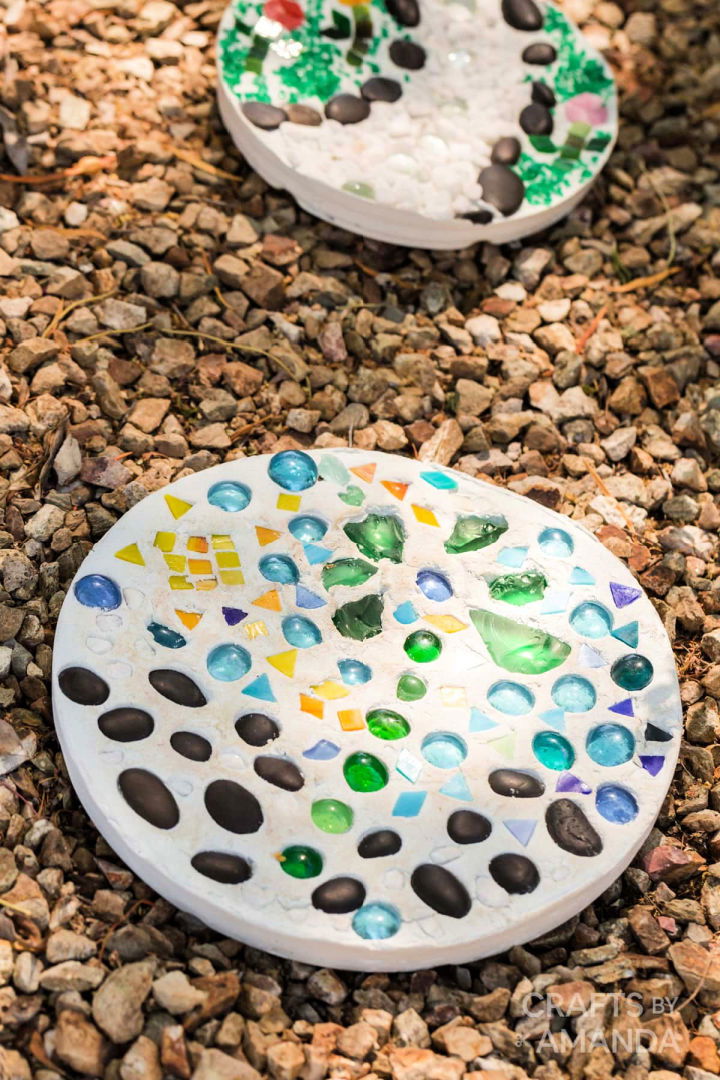 Every time you need to add your favorite patterns to your garden spaces, you can head over to decorative stepping stones. They will be a lovely and quick way to bring colors and lots of enchanting patterns to your green spaces. You will love the colorful sea glass and other embellishments put together on the stepping stones for lots of amazing design patterns. You need a bucket, quick-set mortar, embellishments, sandpaper, gloves, and pencil to whip up these stones. craftsbyamanda
6. Pebble Mosaic Stepping Stones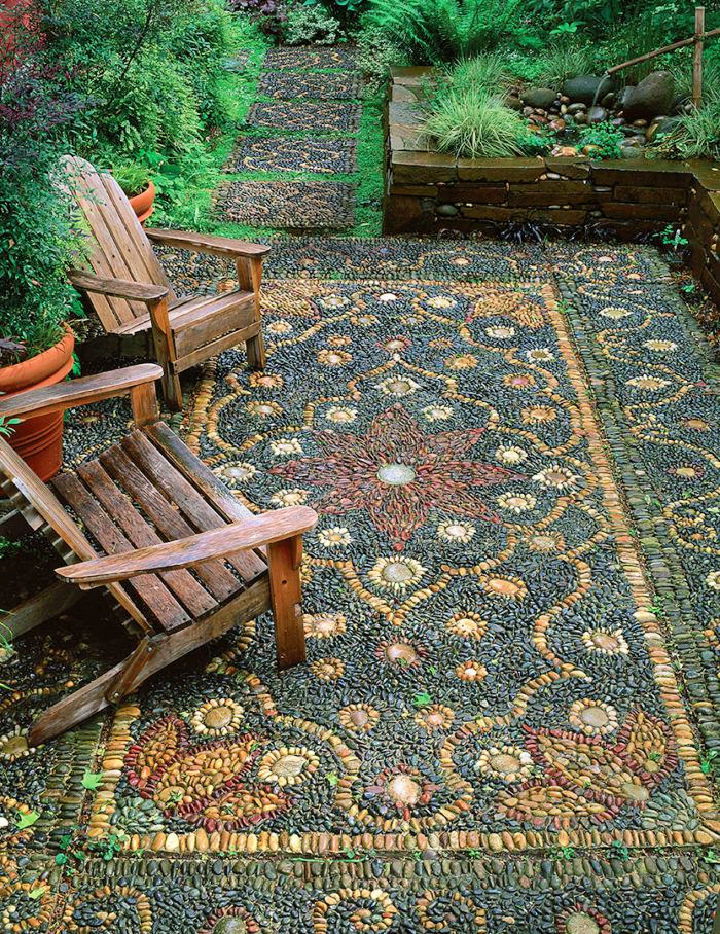 This project will guide you on making the mosaic pebble edging, stepping stones, and even a whole small patio that will be a big center of attention. Look at the given mosaic pebble stone art that absorbs and creates a great demonstration of the entire patio. The patterns in patterns are highly absorbing and fancy up the whole patio. In materials, you need wood to make form or mold, crushed gravel, premixed dry mortar, sorted drain-rock pebbles, and muriatic acid. finegardening
7. Making NES Stepping Stones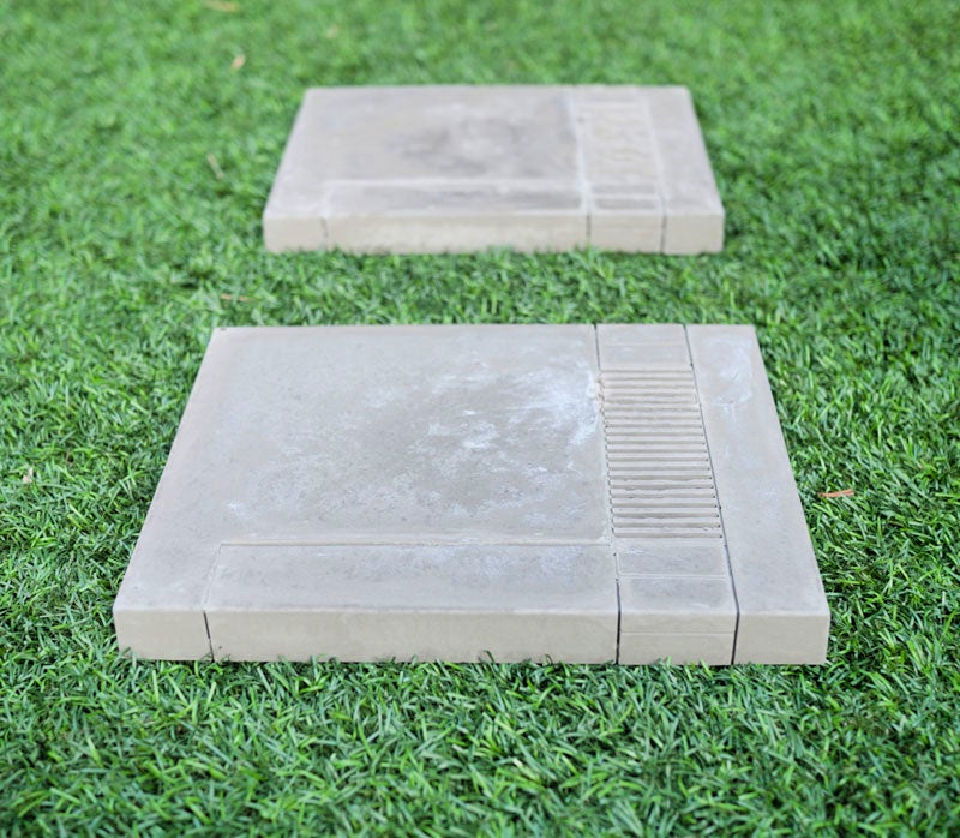 Follow here guides about how to quickly make the NES stepping stones, which will refine your garden's look. These stepping stones are inspired by the Nintendo Entertainment System (NES) and will make a sweet handmade gift to a garden lover. You need the top half of the NES to make the mold for the stepping stones and Duracell cement to whip up these very pretty and gorgeous stepping stones, beautiful and long-lasting ones. instructables
8. Homemade Colorful Stepping Stones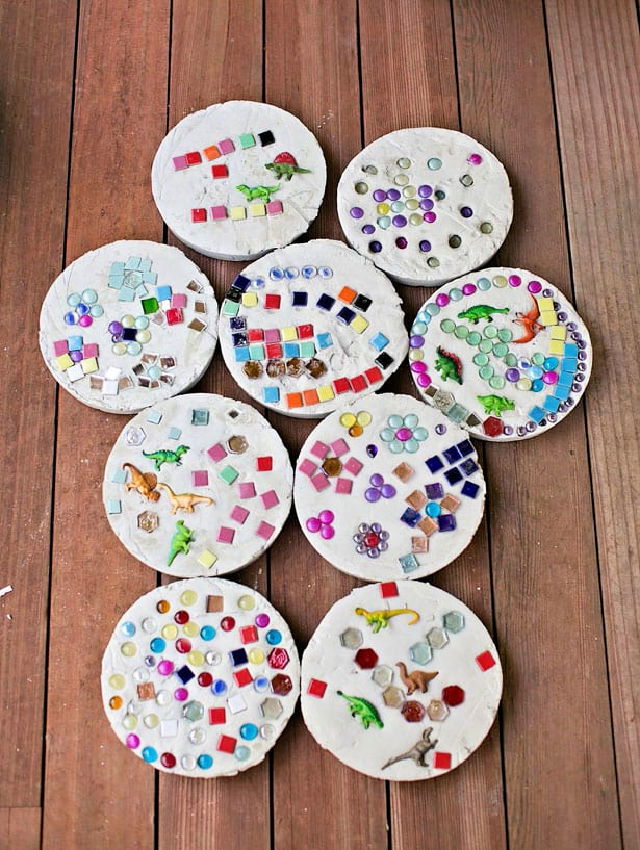 Jazz up your garden while featuring your favorite colors to your garden, using these stepping stones. These stepping stones are colorful, and even kids can make them with perfection. You need the quick-drying concrete, shallow plastic bin, rubber gloves, trowel, plastic cover, circular molds, and various tiles stones, mosaic pieces, and plastic figurines to work up these stepping stones. hellowonderful
9. DIY Sea Glass Stepping Stone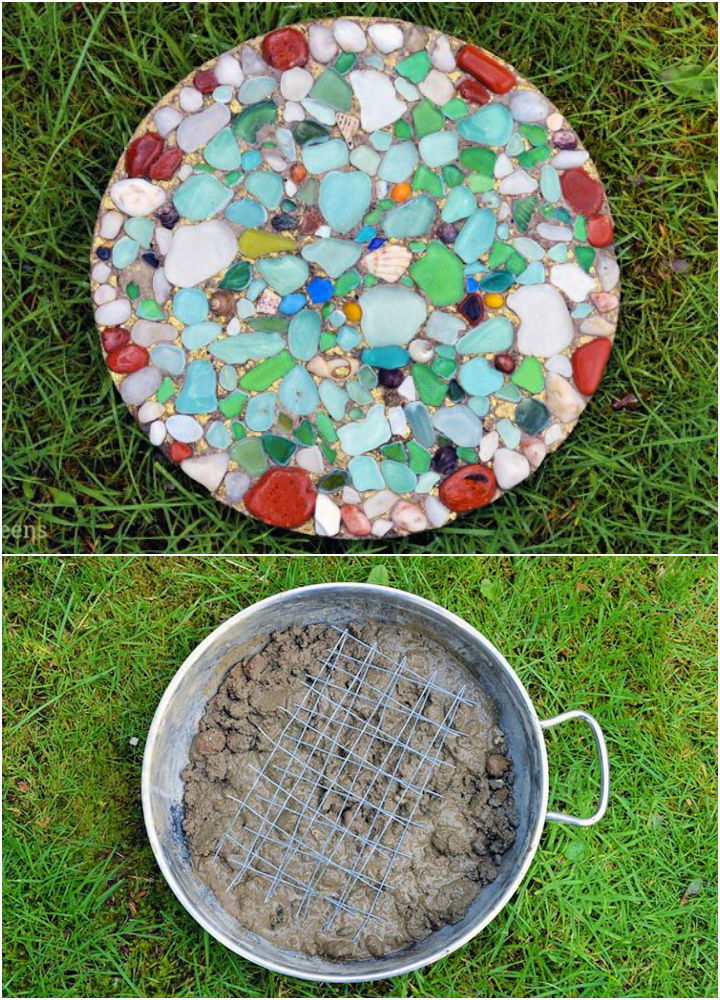 There are various creative hacks out there to make fabulous-looking garden stepping stones without getting expensive. Using the sea glass is a great idea to make the colorful stepping stones. First, you can collect the sea glass and then push it deep, making desired patterns in the soft wet concrete rounds that you can quickly make using the cement and custom round molds. A plastic rub will rock as a mold for this project. Further, you need glass spray paint, matte white spray paint, and clear glossy spray paint for a nice finish. lovelygreens
10. Button Stepping Stones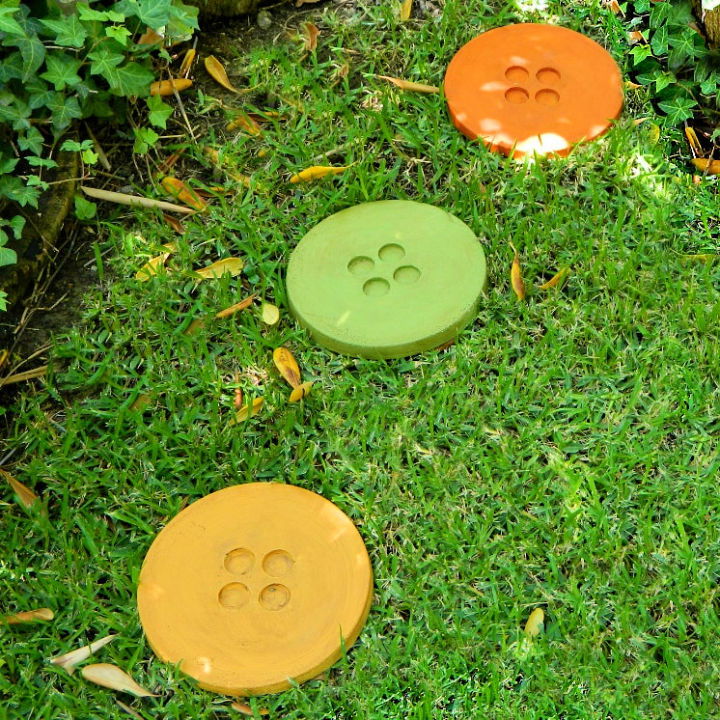 Make a safe yet beautiful and playful walkway in the garden using these button-style stepping stones. They are a total breeze to make and are one of the easiest beginner projects. Grab the rapid set cement, cooking spray, large lids as molds, plastic caps, paintbrush, and knife. After you complete the stepping stones, give them a nice finish using chalk finish paint and ultra-matte varnish from Americana Decor. instructables
11. How to Make Lace Like Stepping Stones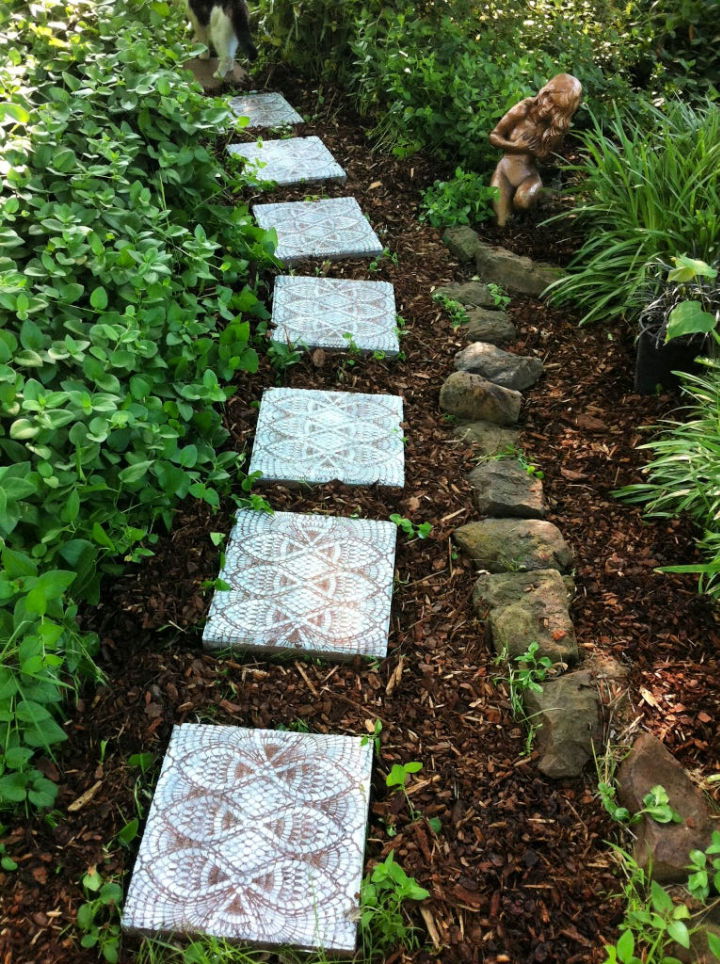 The lacey patterns are always beautiful and visually pleasing. So, fancying up your garden may also start by featuring the lace patterns in your garden or green space. Learn here to make the lacey stepping stones that will just like the laces on the garden grounds and will not be a big hassle to make. The project is all about doing a decorative makeover of the concrete stepping stones using a lace doily, stepping stones, and spray paint. instructables
12. DIY Stepping Stones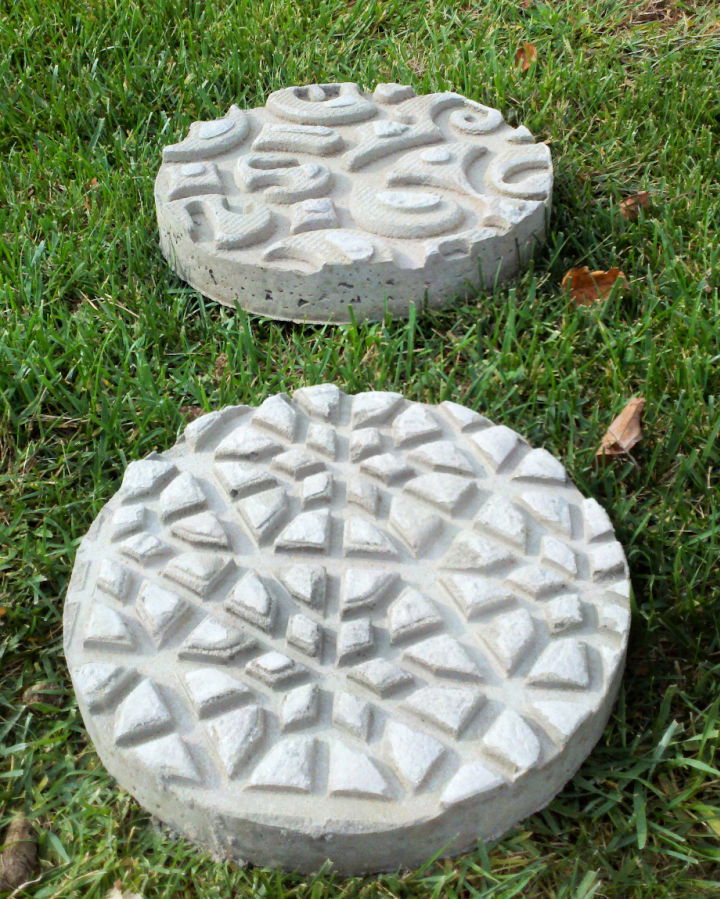 Dazzle the garden audience with these super beautiful DIY Stepping Stones that are away more impressive and good-looking. The project uses the doormat cutouts to add the designs on the soft wet concrete stepping stones. The idea is very impressive and cost-effective and much doable also at the same time. You need the fine concrete, cardboard tubing, rubber doormat with fun design, cooking spray, etc to whip up these decorative stepping stones. nancymizelle
13. Concrete Stepping Stones Shaped Like Natural Stone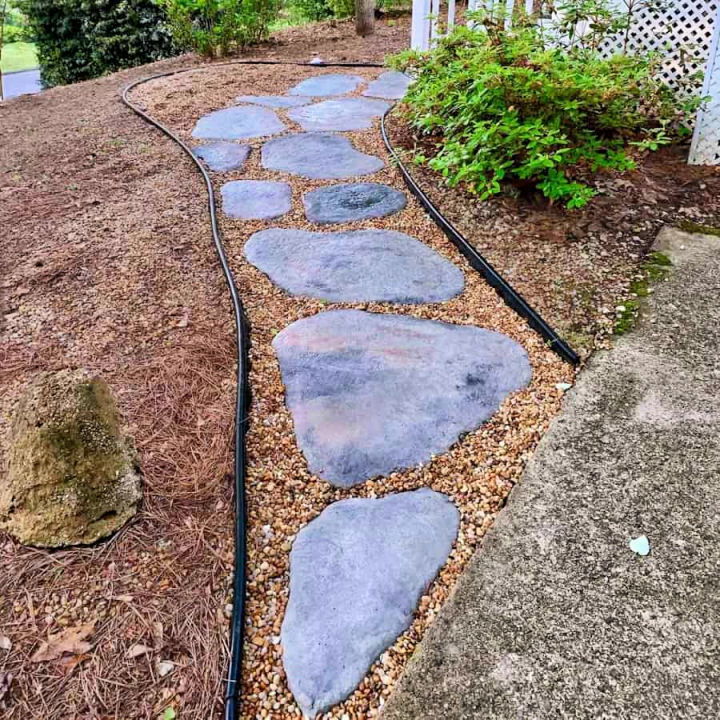 If you like it all-natural and wishing to feature the natural decorations in the garden, then you must go with this hack. The hack involves making the natural stone-like stepping stones, and they can be put together to make a quick lovely garden pathway in no time. You need fabric pegs, vinyl furniture strapping, a large mixing bin, sand topping mix, sealer, and lots of other supplies to complete these natural-looking concrete stepping stones. artsyprettyplants
14. Decorative Stepping Stones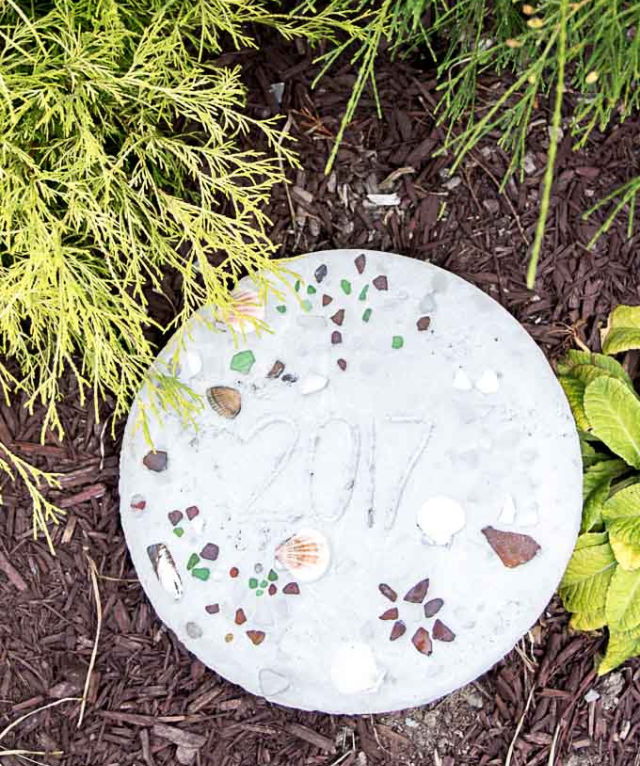 The stepping stones are much more for your garden than just the garden path. So, follow here guides and instructions about making decorative round stepping stones that will take the garden beauty and decorations to the next level. Along with the decorative and colorful sea glass patterns on the top, the stones also come with the year mentioned in the center. You can make them with your favorite letters in the center. You need the round plastic tray, Portland cement or tile mortar, sea glass, and vegetable oil for this project. sustainmycraft
15. How to Make a Stepping Stone Pathway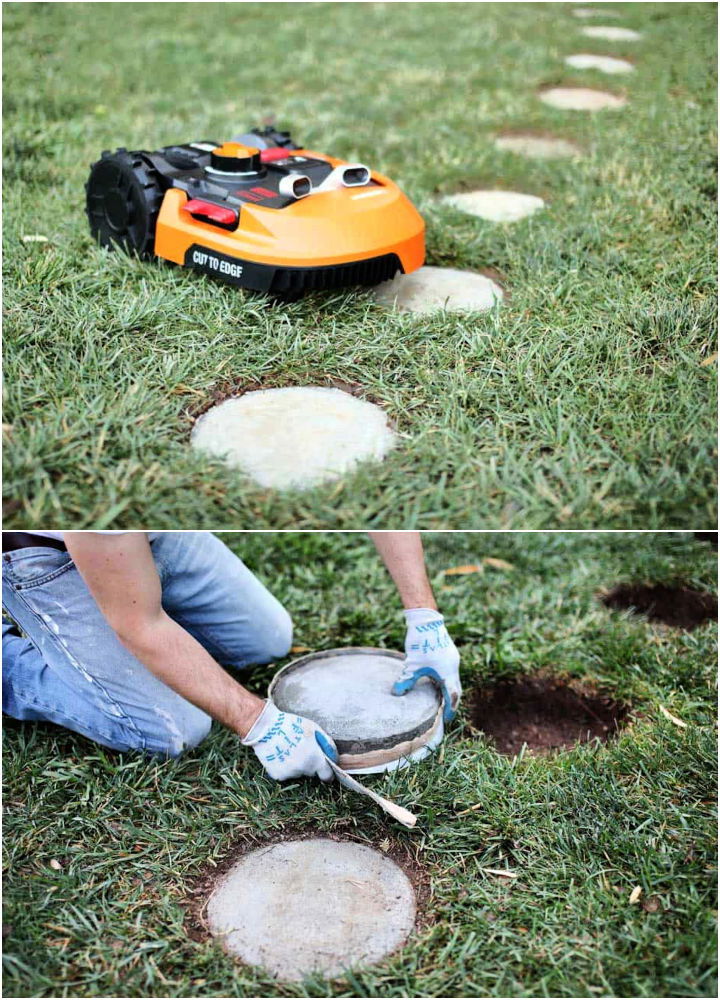 Are you a beginner and willing to make some quick decorative stepping stones? Follow here the guides and tutorials to make a few ones in no time. The project involves creating a whole beautiful garden pathway using round concrete step stones. The whole project will cost you about $40 and 5 hours. First, you have to mold the stepping stones using a concrete form tube and then fill the cement in it. 12″ concrete tube form will rock for the project. thediyplan
16. Pebble Mosaic Stepping Stone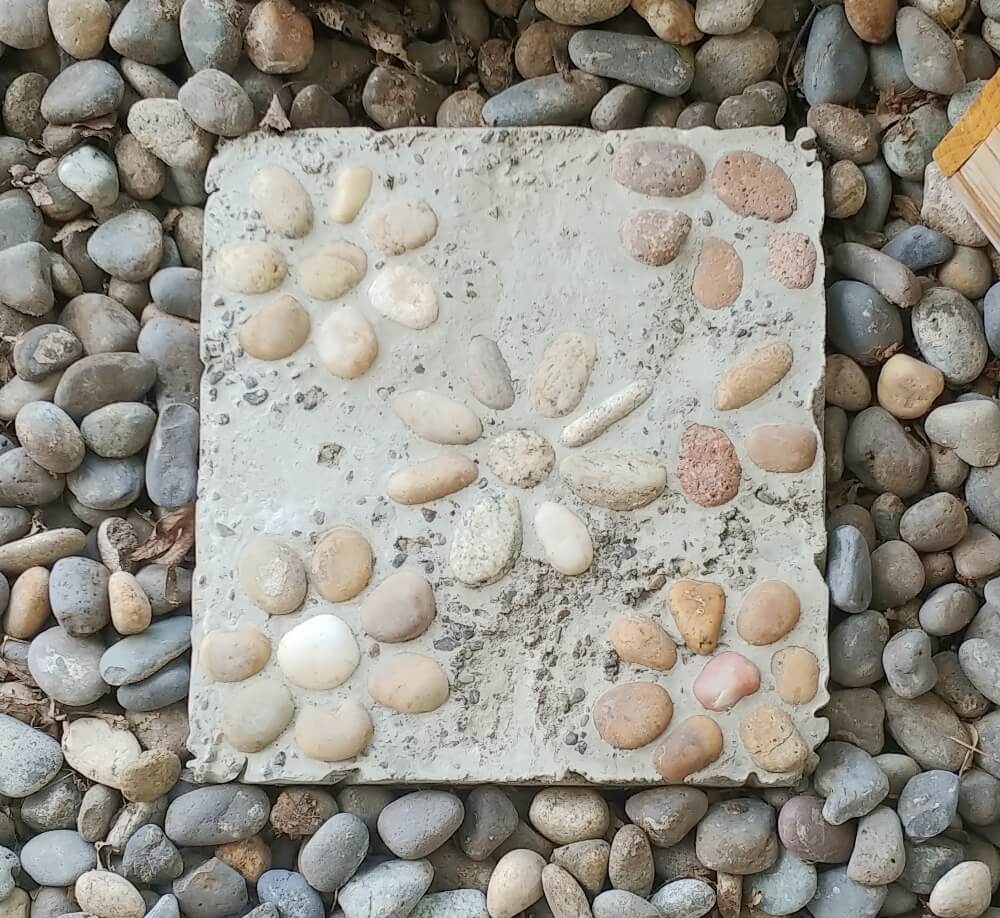 You will love this square stepping stone that features lovely flowers made of pebbles and stones. They will help create a decorative pathway in the entire garden. So, this is going to be the perfect way to add directions to your garden. You need scrap wood, concrete, plastic to line the mold, and rocks to work up these mosaic stepping stones. The finished stones are the perfect 12″ squares. littlevintagecottage
17. Stenciled Garden Stepping Stones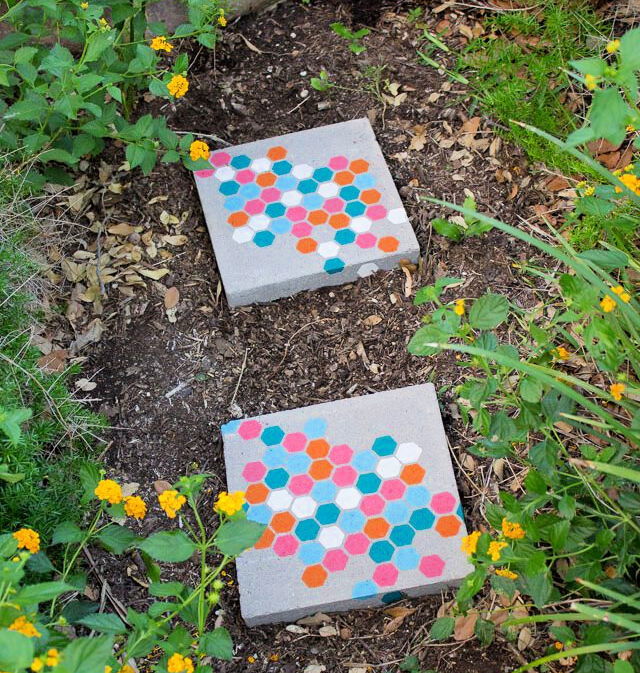 Use also the stenciling technique to make the most amazing and decorative stepping stones for your garden. So, you can easily stencil the concrete stepping stones to feature your custom pattern, letter, or art on them. These stenciled garden stepping stones come with color hexagons and are truly looking sensational. You need the concrete pavers, stencil honey bee stencil, weather-resistant acrylic craft paint, foam brushes, and painter's tape to do this project. designimprovised
18. Make Your Own Stepping Stones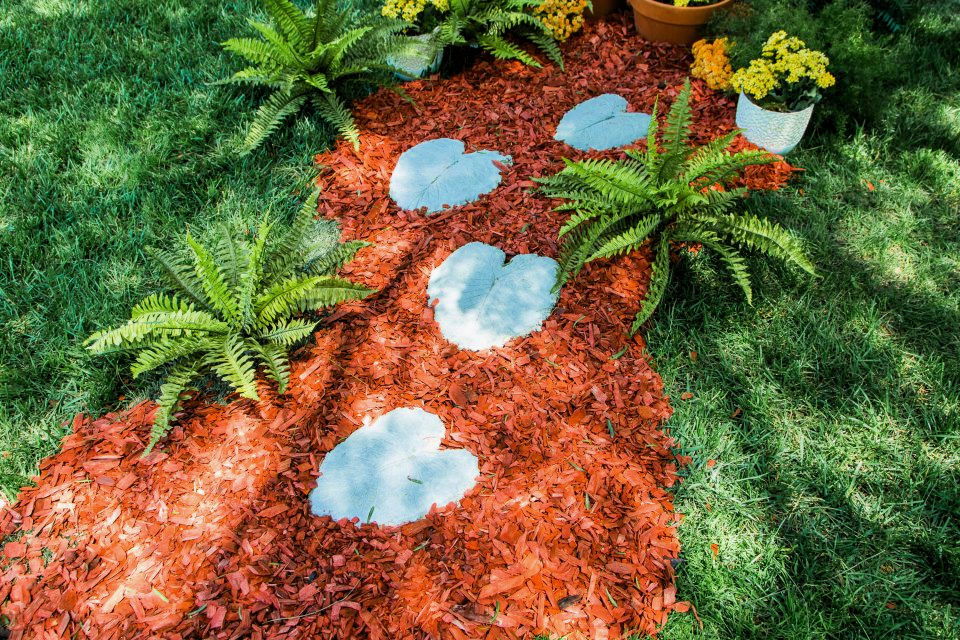 Do you love to prefer natural decor for your garden? Then follow here guides to make the giant leaf-like stepping stones, will go much natural to your garden and create a loving pathway. You need 2c4s for the mold and the plywood for the back frame. Once the mold is ready, fill it up with the play sand and high strength quick concrete mix, top stones up with a large leaf to get the leafy texture, and there you go. You also need fencing mesh, a clear Masonry sealer, and a plastic bucket for the project. hallmarkchannel
19. How To Make Footprint Stepping Stones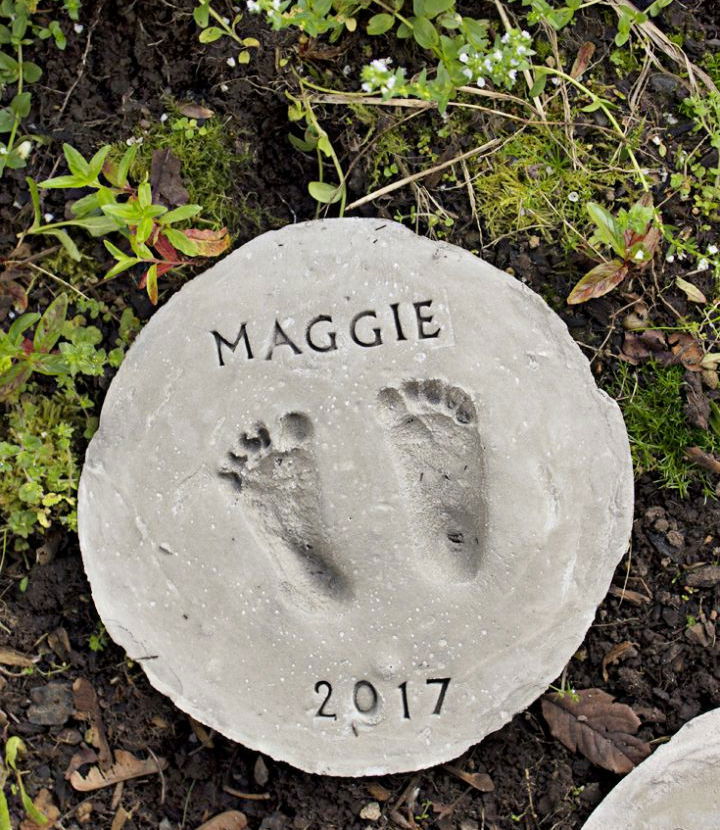 This super unique stepping stone idea will surely inspire your creativity. The project involves creating lovely stepping stones with the footprints, and you can mention the year and name of the person also for so much fun. So, you can create the stepping stones with the footprints and names of the whole family. This will also help personalize your entire garden space. Grab the cement mix, disposable tray, water, stirrer, plastic plant tray, wax paper, and cement letter stamps to do this project. acraftedpassion
20. Turn Kids Artwork Into Garden Stepping Stones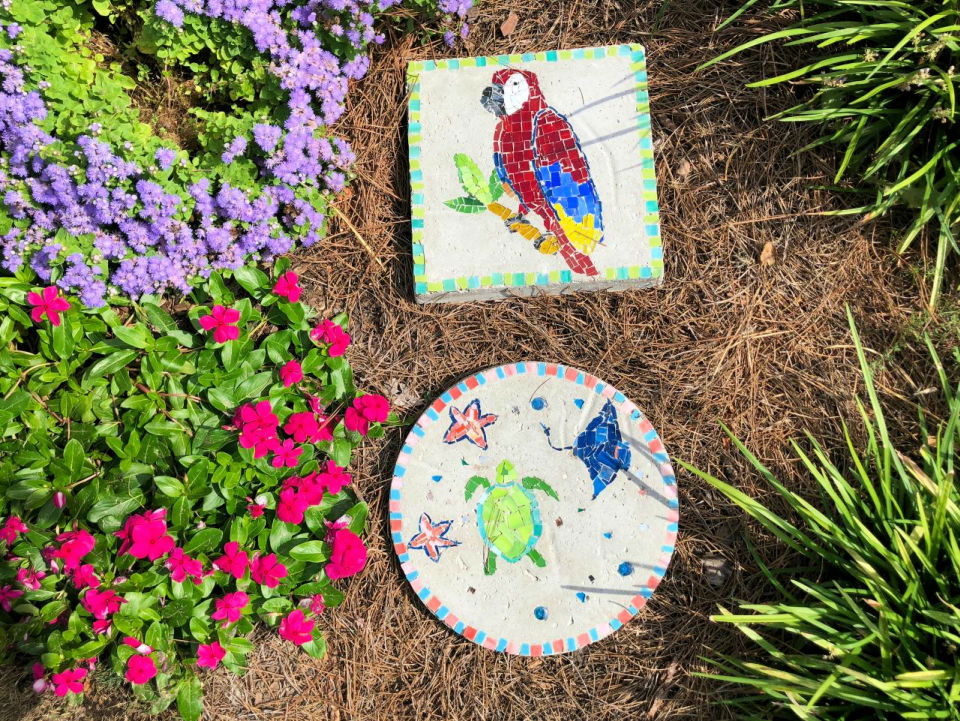 The stepping stones are the best way to feature anything special and brilliant in your garden. So, feature also the kids' artwork in your garden by making stepping stones with them. First, you can make the round stepping stones using custom round molds, and cement and next, you can paste the kids' artwork on them to make the quick yet beautiful stepping stones in no time. The project is going to be quicker, and this will give that rewarding feeling to your kids. diynetwork
21. Kids Footprint Keepsakes With DIY Cement Molds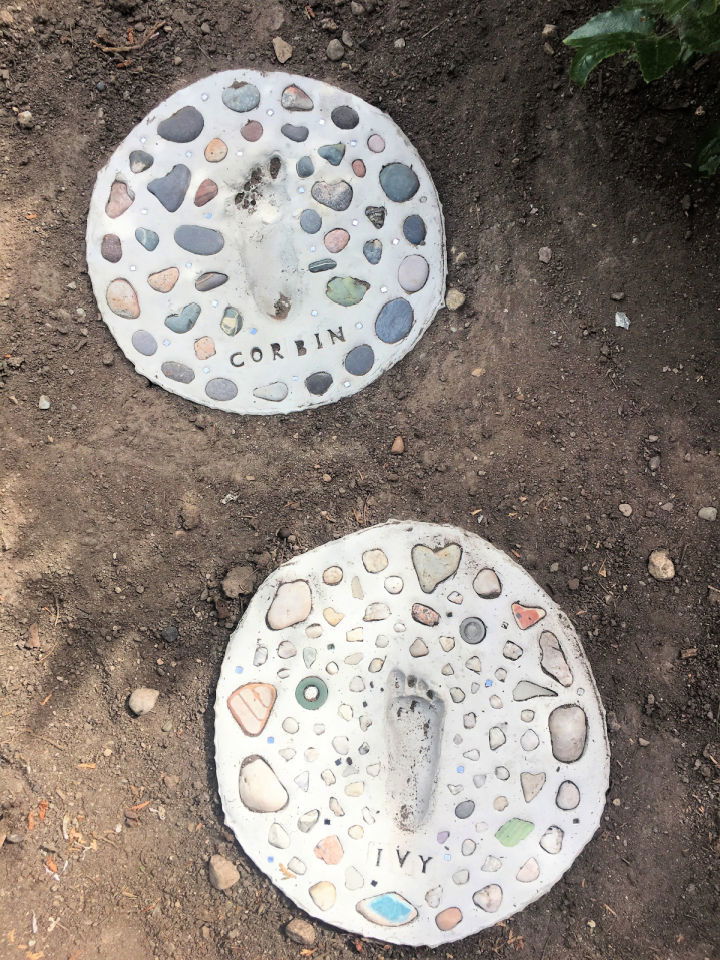 This idea of making stepping stones will surely impress the garden-loving crowd. It will not take much time to whip up this stepping stone that is amazingly cute and beautiful. First, you have to make the round stepping stone using cement and a mold, and next, you can add it up with the pebbles and footprints. Make the stepping stones with all the kids' footprints, and then add them to your garden. makingthing
22. Gigantosaurus Themed Dinosaur Fossil Stepping Stones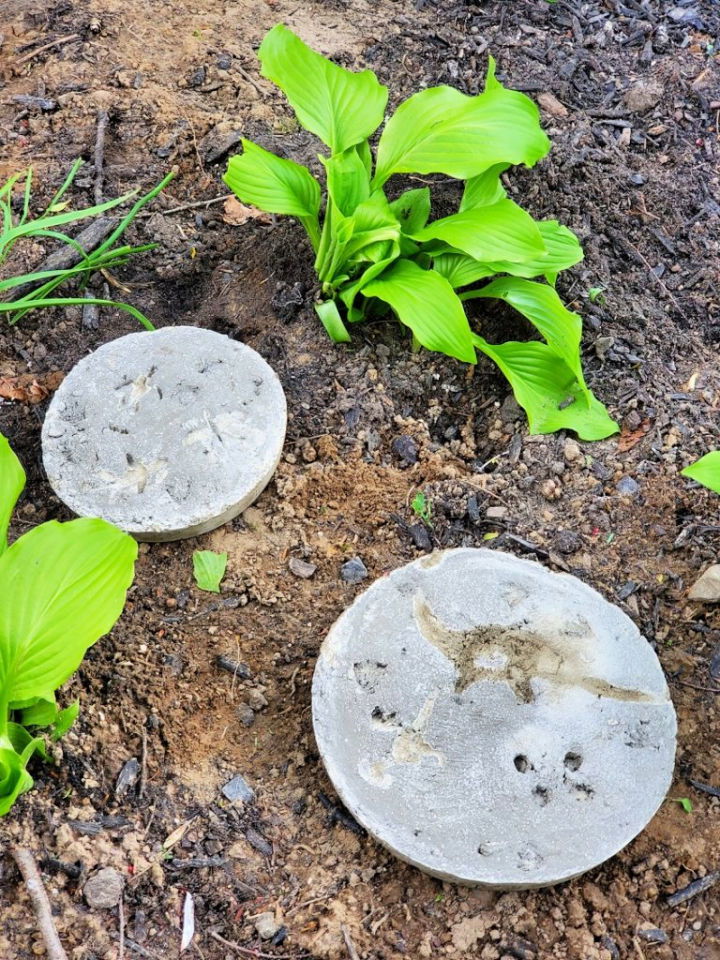 Get inspired by any favorite thing, art, and objects to make the precious stepping stones for your garden. Feature also these lovely dinosaur fossils stepping stones to your garden, and they will be a total breeze to make with the simple supplies. You need various sized toy dinosaurs, no-stick cooking spray, quick-dry powdered concrete mix, water, mod-podge, and paints to hook up these dinosaur fossil stepping stones. mamasgeeky
23. Create An Easy Stepping Stone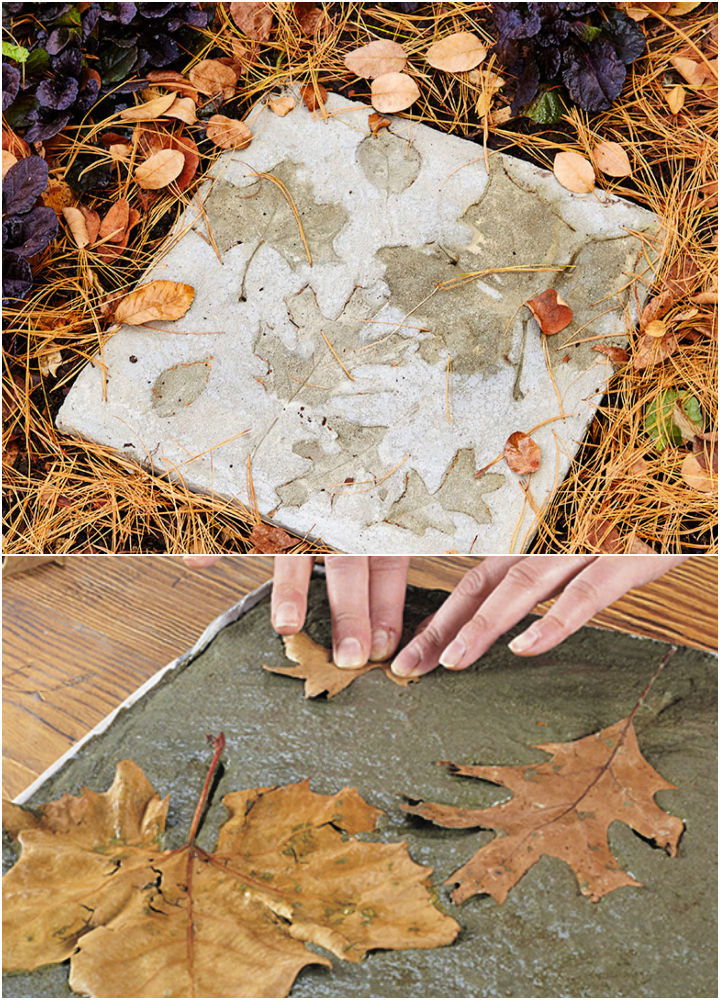 Take your garden decor to the next level with this lovely homemade stepping stones that is beautiful and cute to look at. The stepping stone features the fall leaf art, and you can use any leaves from the garden for the art. Use a pizza box as a great mold for this square stepping stone. It will impress at the very first glance. You need a pizza box, plastic bag, ready-to-use concrete mix, leaves from the garden to make these stepping stones. gardengatemaga
24. Hand Painted Stepping Stones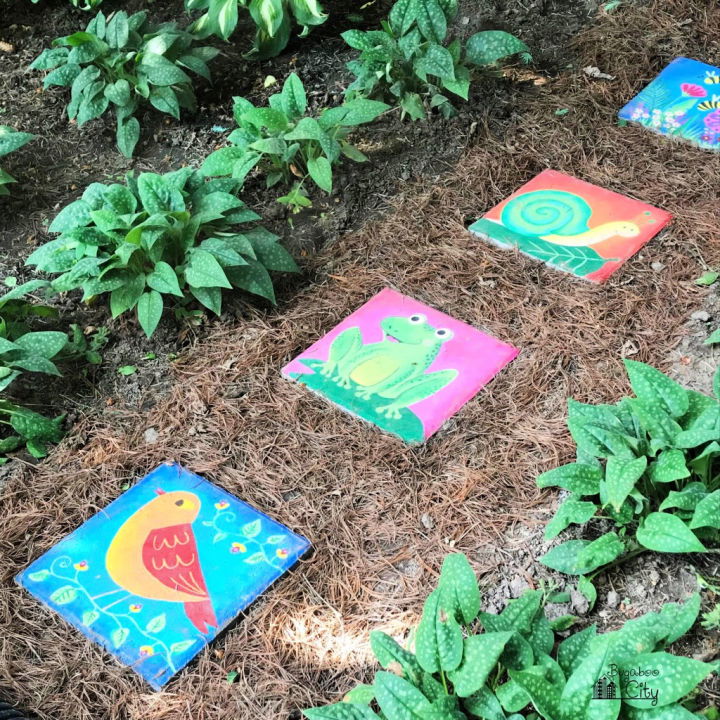 Paint also the so many different arts and shapes on the garden stepping stones to bring more colors and fun to your garden and add lots of colors. Painting the kids' favorite art on the stones will also rock for educational purposes of the kids. You can paint any of the favorite art on the stepping stones. These projects will be a smart and nice way also to add colors to your green garden space. One of the best stepping stones ever made. craftingcheerfully
25. Rainbow Flower DIY Stepping Stones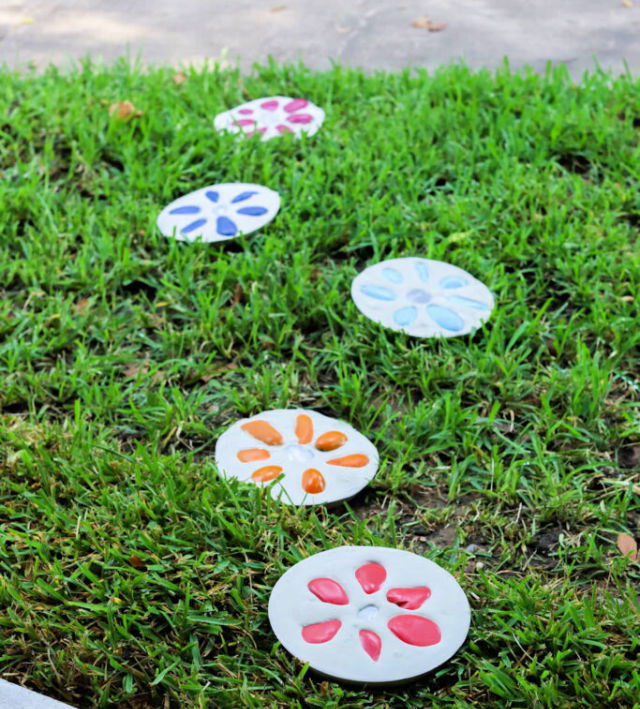 Feature the colorful flowers on the floor or your garden also. Work up these rainbow flower stepping stones, and they will make a better handmade gift to a garden-loving person also. Here you need the river rocks, quicker, etc, spray paint, pie tins, petroleum jelly, and sanding block to work up these DIY stepping stones. One of the best and quick DIY garden decor ideas. Everyone will just fall in love with these decorative stepping stones. amber oliver
26. How to Make Mosaic Garden Stepping Stones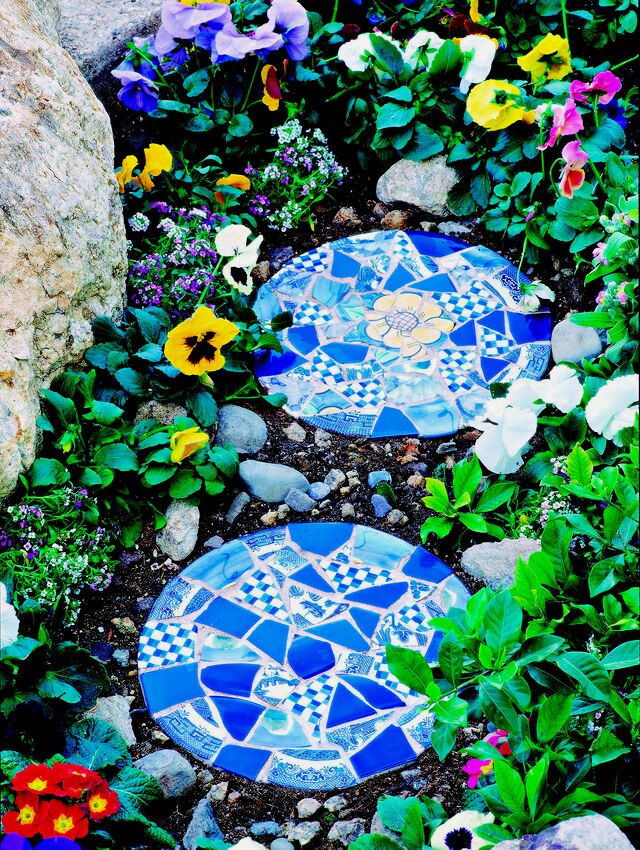 Are you deeply in love with the mosaic crochet patterns? So you will fall for these mosaic stepping stones that are incredibly cute and beautiful and will make a better handmade gift also. You need the plain concrete stepping stones and the broken china, bits of glass, stones, crystals, and marbles to complete these mosaic garden stepping stones, will be a big center of attention. It will not take much time to complete this project. midwestliving
27. Concrete Stepping Stones In Backyard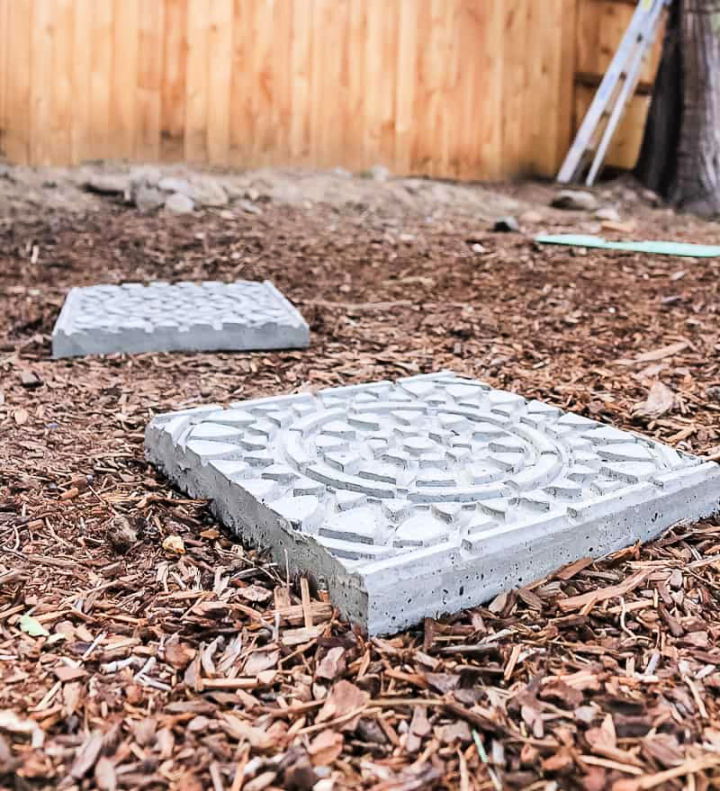 Guide the new garden visitors with these decorative stepping stones, and they are much easier to whip up with the beginner crafting skills and be a total breeze to work up. For adding decorative patterns, you must opt for decorative rubber doormats. Here you need, 2x3s, plywood, concrete, rubber doormat, bucket, sponge, concrete trowel, and rubber mallet to whip up these stepping stones. The whole project is much beginner-friendly and budget-friendly. makingmanzanita
28. How To Make Footprint Stepping Stone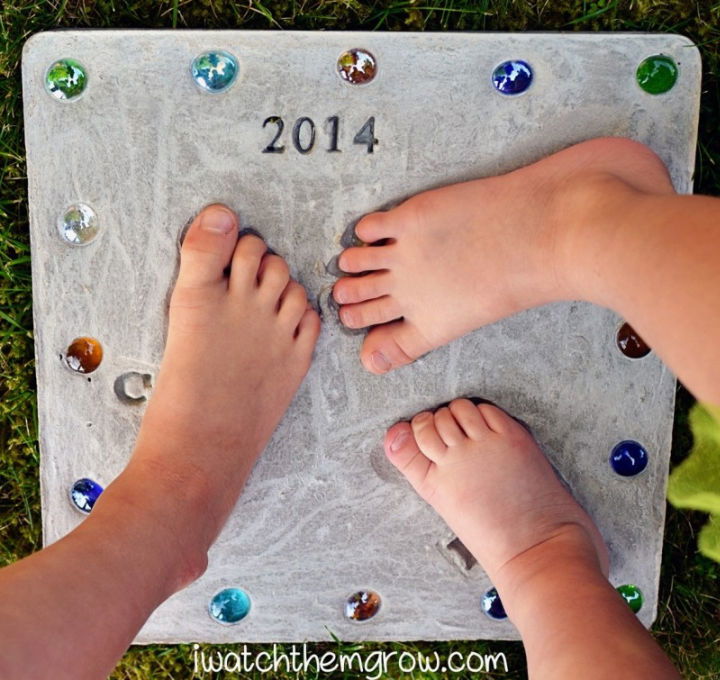 Are you decorating your garden on a new decorative theme? Need to update your garden decor? Why not start by replacing the old and boring step stones with the new enchanting ones? Here is a great idea for the stepping stones, just make the concrete tiles, decorate them with sea glass or glass beads or gems and then add the family's footprint. Finally, add them to your garden space, and there you go. Get inspired by the given samples. iwatchthemgrow
29. How To Make Stepping Stones Out Of Concrete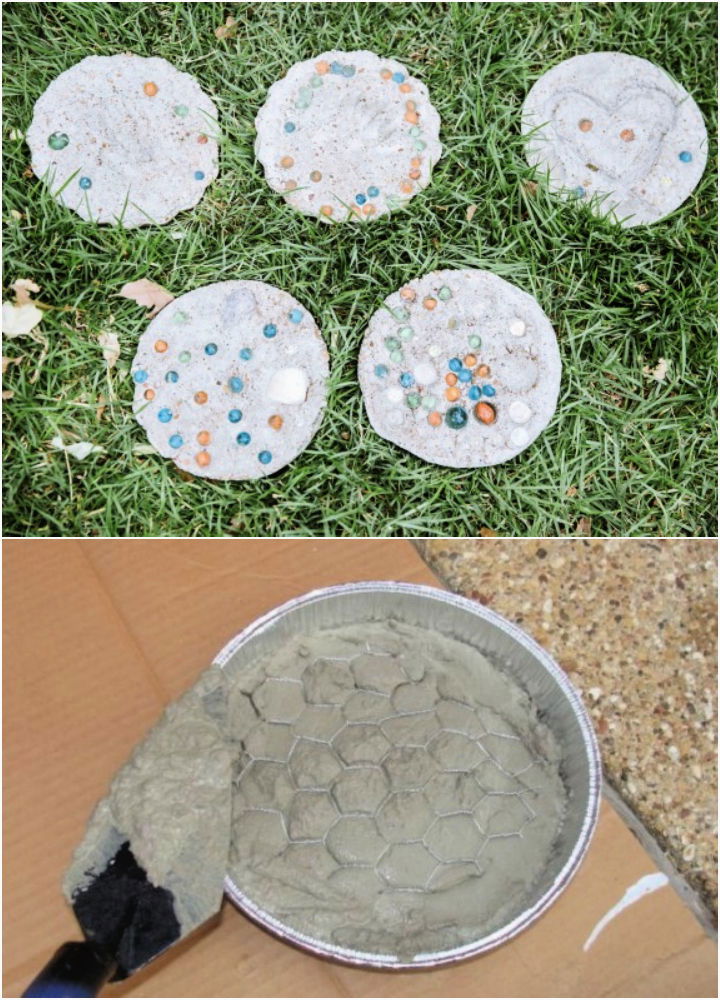 One of the best DIY Concrete Project that you can do to spruce up your garden decorations. These are here the concrete stepping stones that come adorned with the glass gems, and you use the rocks and marbles. Duplicating these stepping stones will need a 5-gallon bucket, quick-dry concrete, wire cutters, tin foil pie pans, embellishments, tarp, nonstick cooking spray, and some tools like a shovel. The whole project will cost you next to nothing. creatingreally
30. Personalized Garden Stepping Stones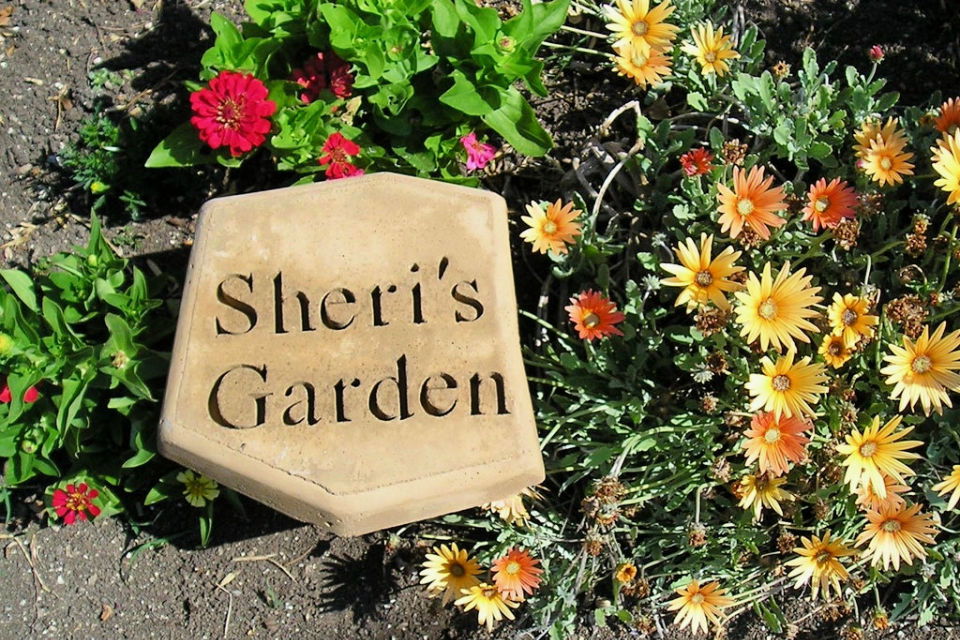 This project is ultimate to learn and master making the stepping stones of all kinds, especially of the lettered ones. The project will provide a variety of hacks to stamp and carve the letters in the concrete stones, which will help make the stepping stones with family names written over. Making these name-letter garden stepping stones will be a great idea to personalize your garden space. instructables
Conclusion:
You can easily make your garden look more beautiful and graceful by adding impressive new decorations. So, this episode of DIY projects will make you master making the super beautiful and decorative stepping stones like a pro, and they will work great to create that marvelous new appeal of your garden space. These ideas are unique and full of creative hacks that are guaranteed to refine your garden's look. Along with being a great decorative element for your garden, they will be a practical addition also to your garden space. These projects will provide step-by-step instructions, visual tutorials, complete material lists, and tool lists to easily make the stepping stones of all types at home.