There are various types of centerpieces, decors, and systems that can be installed and added to your garden to transform into a fairyland! You can transform your garden into mini heaven by introducing custom water features, and you can also create various focal points in your garden by installing custom garden planters and topiaries! You can make your garden unique by installing stacked, wall mounted and hanging planters, and you can also raise the garden decors to peak level by adding custom garden accent balls, hanging decorations and even by installing custom step stones! Raise also the beauties of your garden by installing beautiful walkways and also give a visual boost your garden by introducing beautiful bridges that will play both a functional and decorative role there! The garden bridges, if decorated well, can be the most prominent décor and feature of your garden that will also make your garden or green outdoor unique from the neighbors and friends!
So, if you are looking forward to installing some cool garden bridges over the garden water canals and ponds to facilitate the walking persons in your garden, then we have laid here some ideas to choose from! Check out here these DIY Garden Bridge Plans made with wood that will guide you to make any garden bridge design like a pro and you will learn a lot of professional bridge-making tricks here that you have never thought before or have seen anywhere else! Here the list will also guide you that which type of materials you can use from the home to making durable and eye-catching garden bridges that will rock your garden space! Here most of these bridges are made of recycled wood and hence would be super budget-friendly to make at home!
You can make use of the old woods like pallets, cedar wood planks, fence wood and other old wood lying in the home trash store for making visually captivating bridges for your garden space! Just make the wooden rail first according to decided wood bridge dimensions and then fill it up with the slatted arrangements of equally thick and long wooden slats, the final step would be to install the side fence wall that would be the whole beauty of the bridge! You can decorate the side fence wall in so many different ways like by painting them, stenciling them and also by installing solar light onto them! Just have a look at the given below sample that will boost your creativity!
If you intend to make the arched garden bridges that you can also cut the wooden beams in arched shape that will make the rails or poles of the bridge structure and next you can again fill the arched wooden rails with the wooden lengths that can be packed tight for extra durability! Check out also an arched homemade bridge sample that is cool and great to look at! A list will also provide you tutorials for installing larger and lasting longer wooden bridges, visit all ideas and open up the attached links to get full free garden bridge tutorials, free plans, and step-by-step guides!
How To Build Wood Garden Bridge: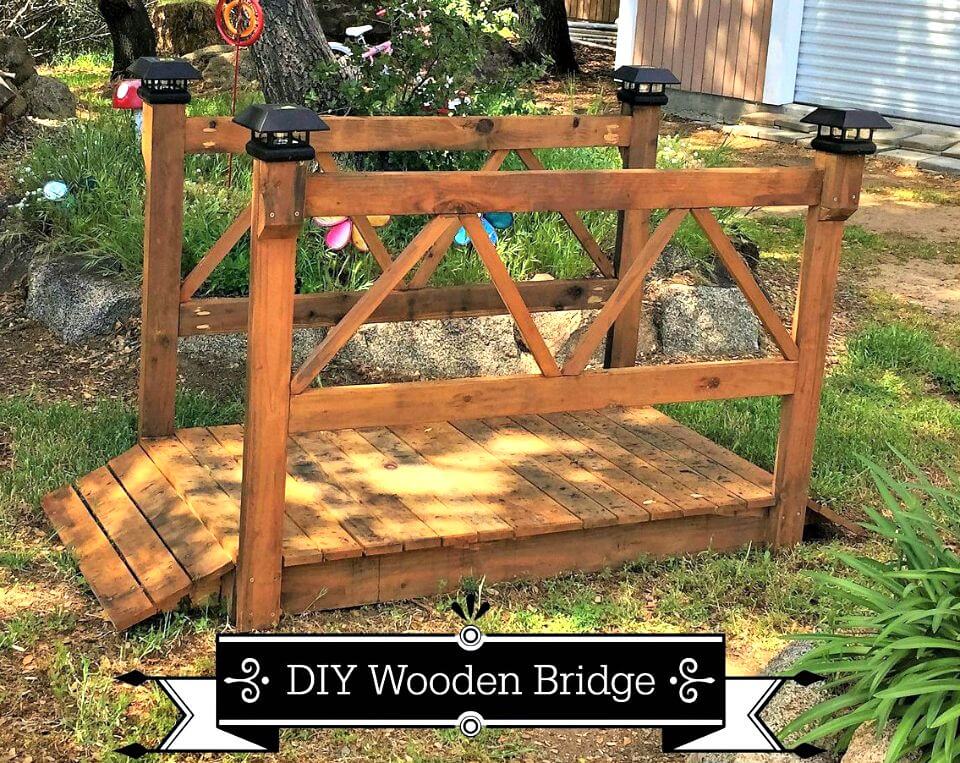 If you have a big beautiful garden with gorgeous natural possessions then here is how you can spruce up the look and beauty of it more with this wooden garden bridge. With some wooden planks and the slat pieces, the bridge is easy and fun to build yourself and thus add oodles of charm and beauty to your garden decor. Here the complete details of the idea showing step by step making of the bridge hometalk
Adorable DIY Small Garden Bridge:
When you want to bring some interesting touches to your garden beauty and fun, you can add the perfect view of a waterfall and the bridge to it, and it would turn out to be a more natural and serene place to rest and relax in. Using the wooden slat and plank pieces of custom dimensions and size, you can easily create this cute and mini bridge to uplift the sight and beauty of your garden on your own. Find out the details of the idea right on the link here gnhlumber
Build Your Own Footbridge in Your Garden:
If your garden has a landscape section, then an addition of a wooden bridge would surely bring more natural appeal and beauty to the spaces and now you can create this lovely wooden bridge on your own. Stacking the sleek wooden bars together you can quickly shape up the wooden bridge with the cross design on the sides and thus add let your garden look more gorgeous and a peaceful space to step in and enjoy the natural scenes there. You can grab the complete tutorial details of the idea right on the link here lowes