Repurposing furniture is a resourceful, creative and eco-friendly way to upcycle old furniture that would otherwise end up in a landfill. With a bit of imagination, repurposed furniture can be used to express a unique style or give a modern touch to an older piece. Instead of throwing it out, repurposing furniture allows us to both preserve memories and create something new. There are countless repurposed furniture ideas available on the web today – from repainted dressers and repurposed cabinets to DIY upcycled chairs and tables – with something sure to meet every preference and budget. With these stylish furniture upcycling ideas, now's the time to enjoy the process of repurposing your beloved furniture into something modern and chic!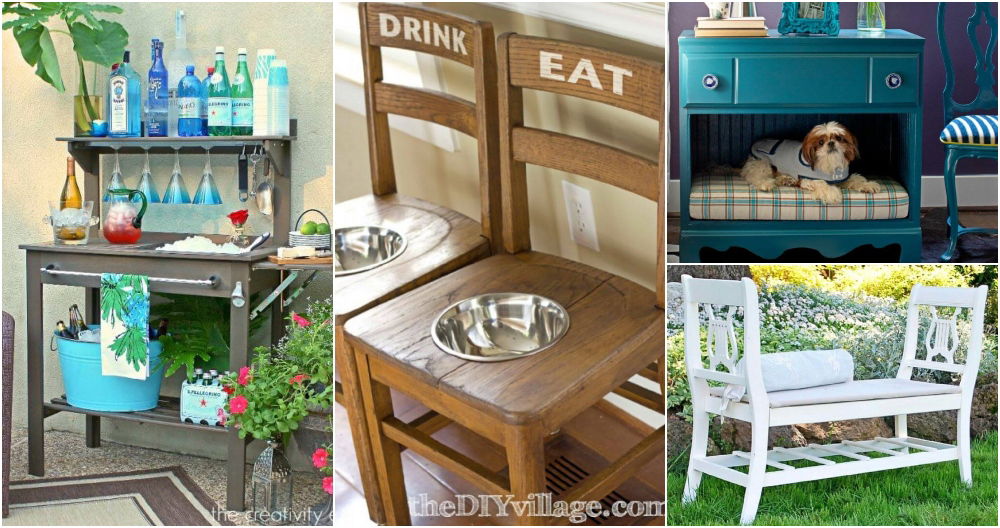 Unique Repurposed Furniture Ideas
Learn How to upcycle old furniture with these 60 easy repurposed furniture ideas for beginners. If you want to breathe new life into old furniture, repurposing them is one of the smartest and most cost-effective ways. On top of that, it's also a great way to be mindful of the environment. These unique repurposed furniture ideas range from simple DIY projects to help maximize your space, creative upcycling ideas to repurpose wood furniture or even diy old furniture for beginners. Overall, repurposing furniture can be fun and inspiring and turn your outdated pieces into something completely anew. Get ready to discover 60 amazing furniture upcycling ideas with your old and waste pieces of furniture!
What is repurposed furniture?
Repurposed furniture is previously used furniture that has been upcycled or given new life with creative modifications. It can involve restoring an existing piece, or using parts of multiple pieces to create something entirely new. Repurposing furniture helps to reduce waste and promote sustainability. It also allows people to express their own personal style while being mindful of their budget.
What can I do with old furniture pieces?
Old furniture pieces can be reused in creative ways. Repaint them, refinish them, upcycle them, or use parts of the furniture for new projects. You can also donate them to thrift stores or give them away to family and friends. If you don't want to repurpose your furniture, consider selling it online or at a yard sale.
What is it called when you upcycle furniture?
Upcycling furniture is the process of giving old and discarded items new life through refurbishing, repurposing, and reuse. It's an alternative to throwing out old furniture and instead transforming it into something new and beautiful. This practice is also known as creative reuse or resourceful upcycling. It's a great way to be sustainable and reduce waste.
What can you make out of old furniture?
Old furniture can be used to create various new and innovative items. With some creativity, old furniture can be repurposed into shelves, tables, benches, planters, headboards or chairs. Old dressers can become entertainment centers and desks can turn into playhouses for kids. The possibilities are endless!
How to upcycle furniture for beginners?
Upcycling furniture is a great way to make old items unique and stylish. Start by gathering supplies such as sandpaper, paint, varnish and any decorative additions you may want. Clean the item carefully and prepare it for painting or refinishing. Experiment with colors, patterns and textures to achieve the desired look. Finally, seal the item with varnish to protect it. You can then enjoy your upcycled furniture!
What can I do with old wooden furniture?
Old wooden furniture can be given a new lease of life by refinishing, repainting or reupholstering them. You could also get creative and upcycle it into something entirely different such as a bookshelf, planter box or even an outdoor seating area. Alternatively, you could donate it to charity stores or sell it online to help others find new homes for the furniture.
How to redesign old furniture?
Redesigning old furniture can be a great way to give it new life. Start by removing the existing hardware and paint, then sand any rough surfaces. Choose a new stain or paint color that compliments the piece's design, and use painter's tape to add decorative flair. Finally, replace it with updated hardware and enjoy your refreshed look.
1. Turn a Dresser Into a Vanity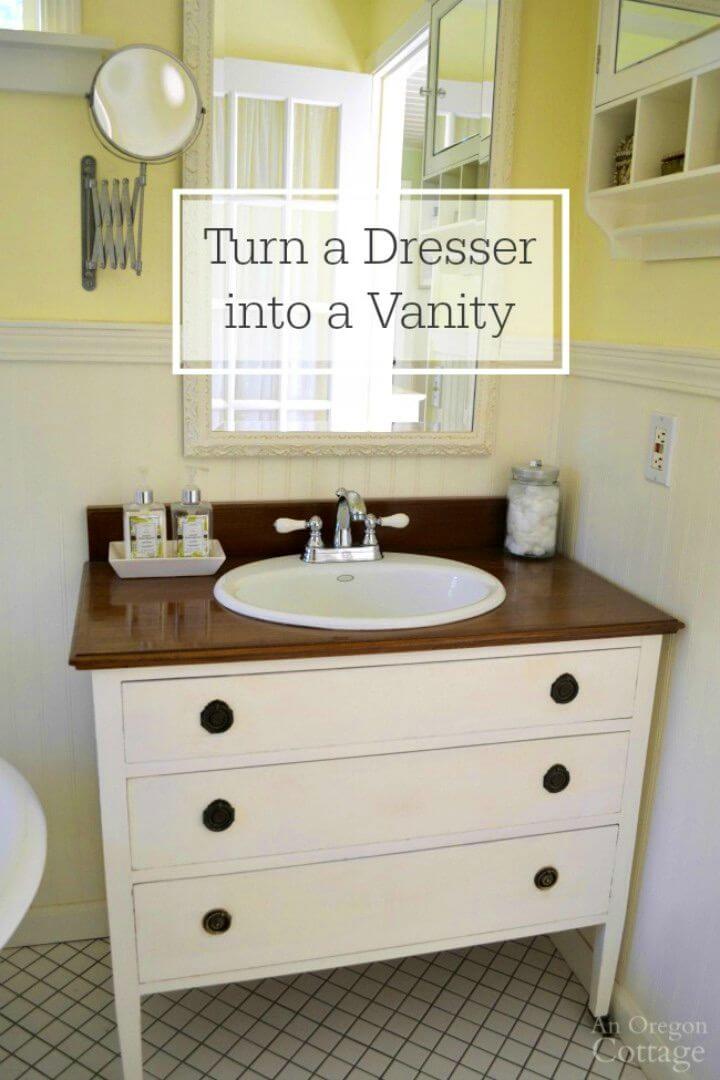 Don't throw your dressers, here is a way to bring back them to services at home. Repurpose an old dresser and build this vanity, you will love to treasure for years. Add up a dresser with a new sink top and install the plumbing pipes inside. Full tutorial here anoregoncottage
2. Ladder to a Light Fixture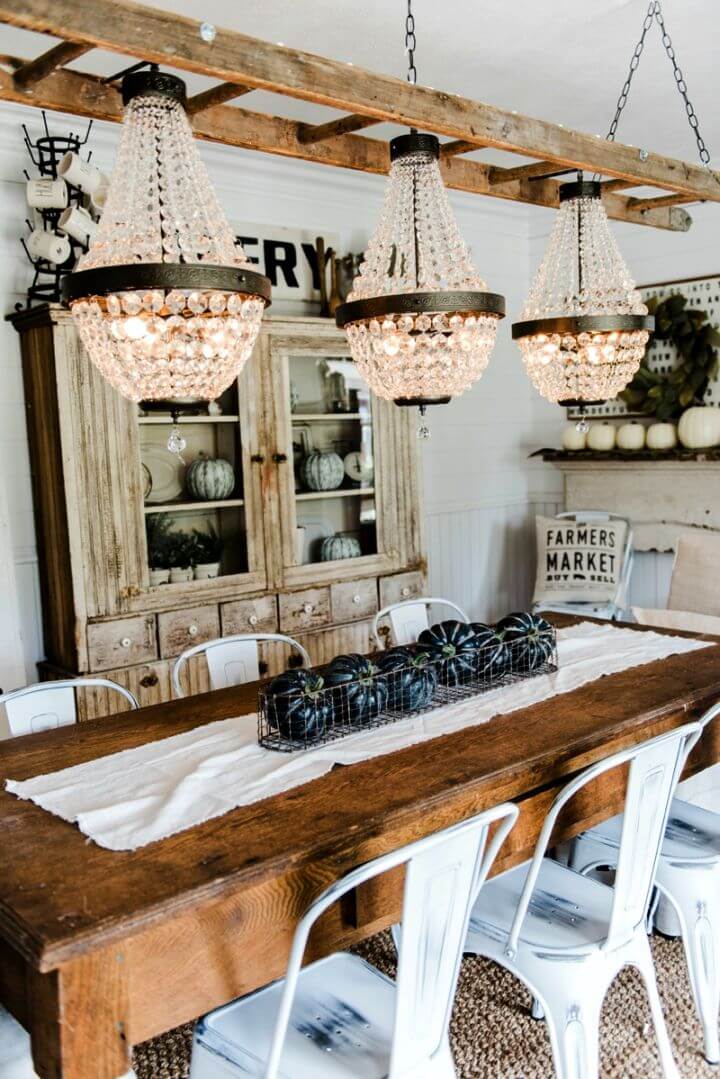 Upcycle the old wooden ladders and style up your dining routines with it. Just hang some light chandeliers on the ladder rungs and then hang it aloft over the dining table for an amazing pendant light fixture, insanely smart reuse of an old wooden ladder. Full how-to guides here thewhitecottage
3. DIY Spindle Wind Chimes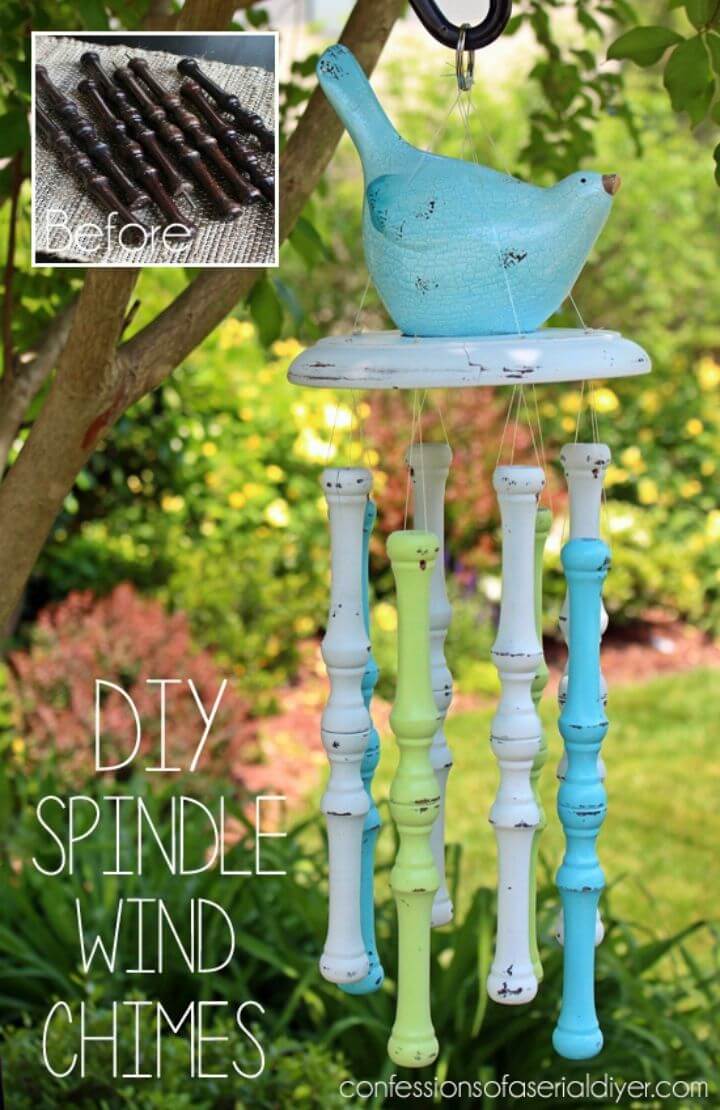 Grab also the spindles or legs from old broken up ladders and furniture respectively to make excellent hanging decors out of them. Stare at the given lovely wind chime, made of a wood plate and repurposed wood spindles, looks great in distressed painted appeal. Here is how to make it confessionsofa
4. Wooden Stool to a Tool and Crafts Organizer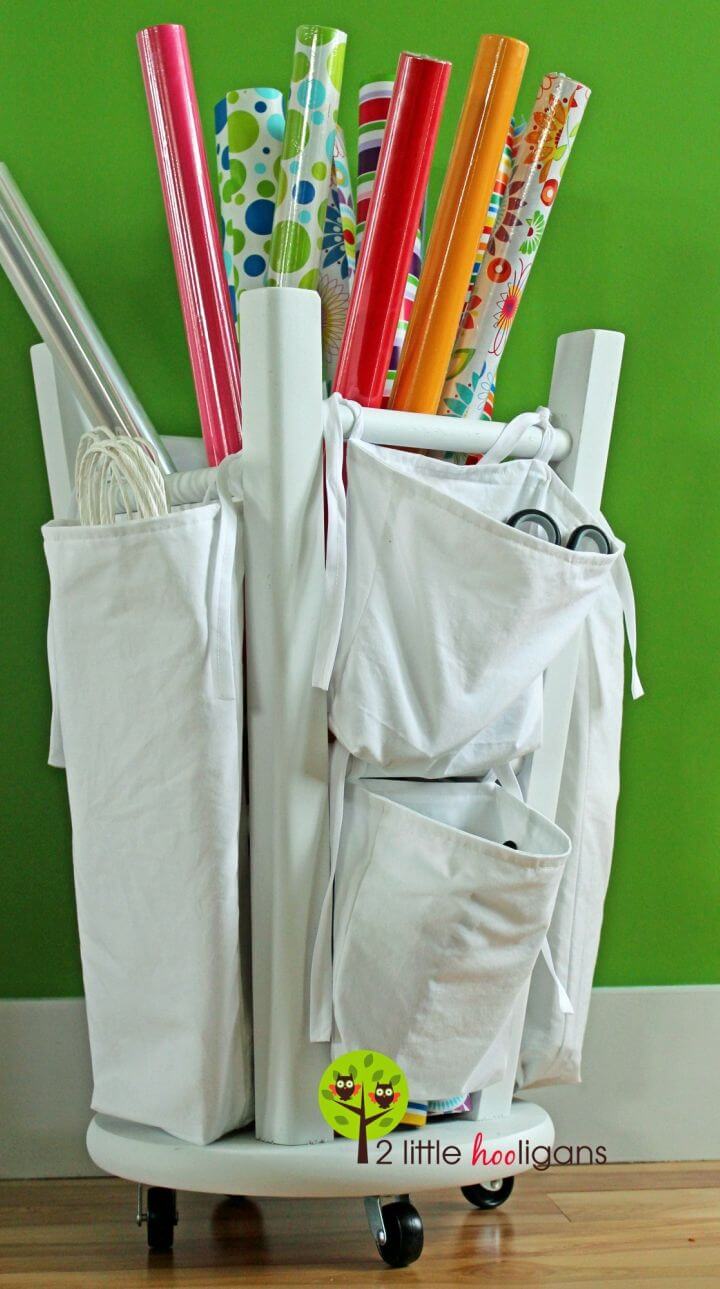 Here is totally a new concept to keep using your old stools at home, they can be the most beautiful organizers next in your home. Paint your old stools, get them in an inverted position, cover the sides with fabric pockets and gain beautiful organizers out of them, get inspired by the given sample. Complete tutorial here 2littlehooligans
5. Making a Foot Rest from Old Drawers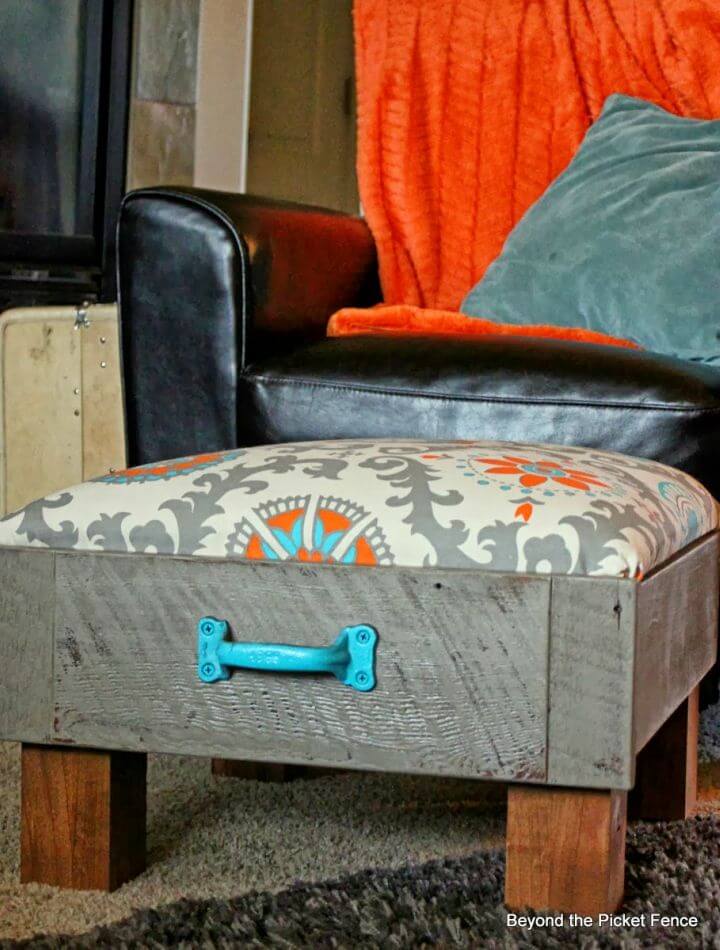 Upholster your old drawers to get this stunning footrest made, will be a better alternative to an ottoman. Epic reuse of an old drawer you probably had destined to landfills. Look at the old furniture items with a different angle to make this food rest. Full tutorial here beyondthepicket
6. How to Make Headboard from Old Door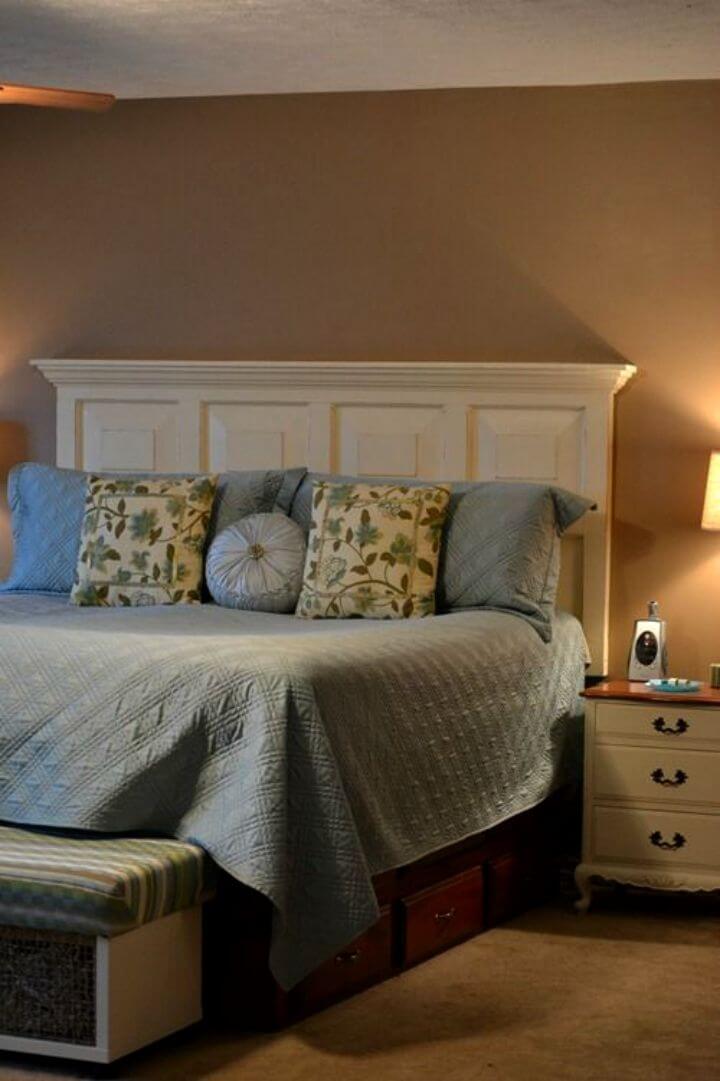 Regain your old doors as pretty heads of your beds, this will all take to reuse them for making gorgeous headboards. Remove the hardware and repaint an old door, next add it up with accent wood molding and build a gorgeous headboard with a decorative mantle. Detailed guides here infarrantlycreative
7. Easy DIY Ladder Towel Rack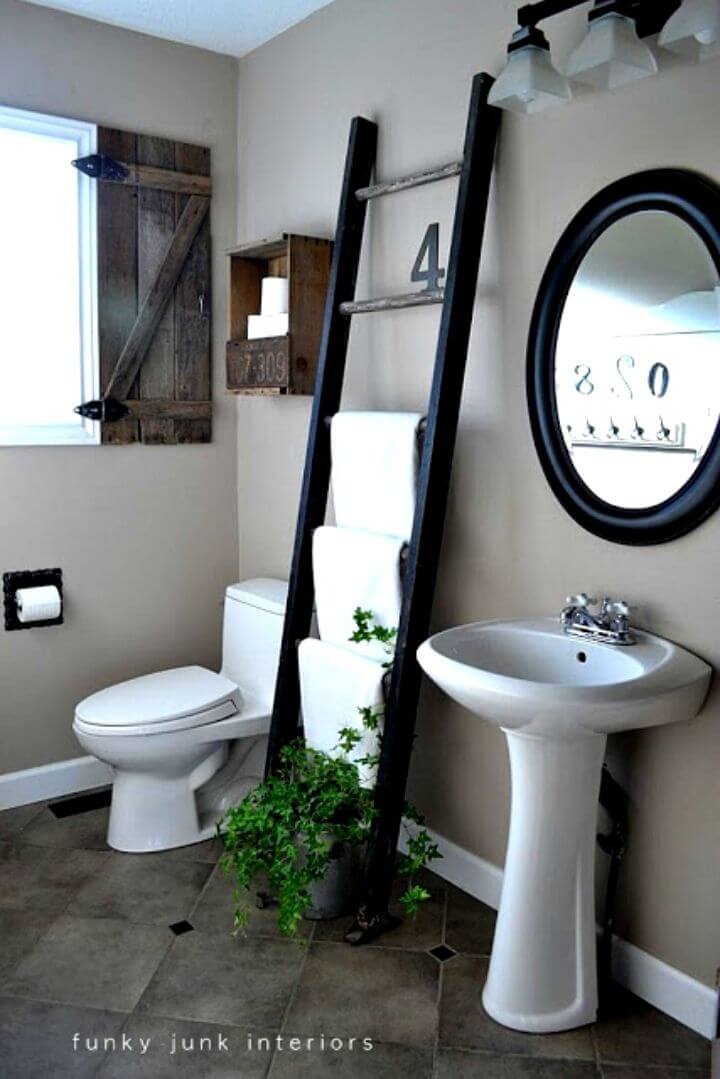 Hack your old ladders to get a stylish organized look of your bathrooms. Upcycle your old ladders to build lovely towel racks, so get your hands onto some old ladders to get your bathroom decluttered. If added with some shelving levels, the ladder towel rack can do a lot more in your bathroom. How-to details here funkyjunkinter
8. DIY Cabinet Transformed Into a Kitchen Island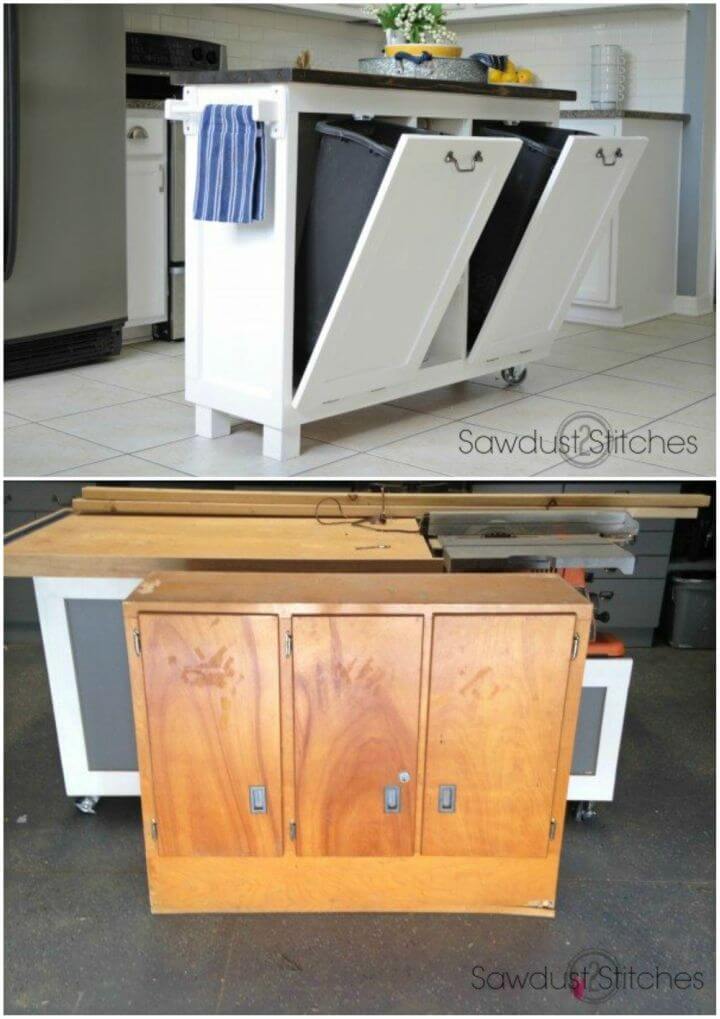 Let your old cabinets serve gracefully again in your kitchen. Install the solid countertops to them and start using them as storage-friendly kitchen island tables. A little refurbishment will be necessary for an enhanced visual appeal. Look at the brilliant sample remake of an old cabinet, a gorgeous kitchen island. How-to tutorial here sawdust2stitches
9. How to Turn an Old Tire Into a Rope Ottoman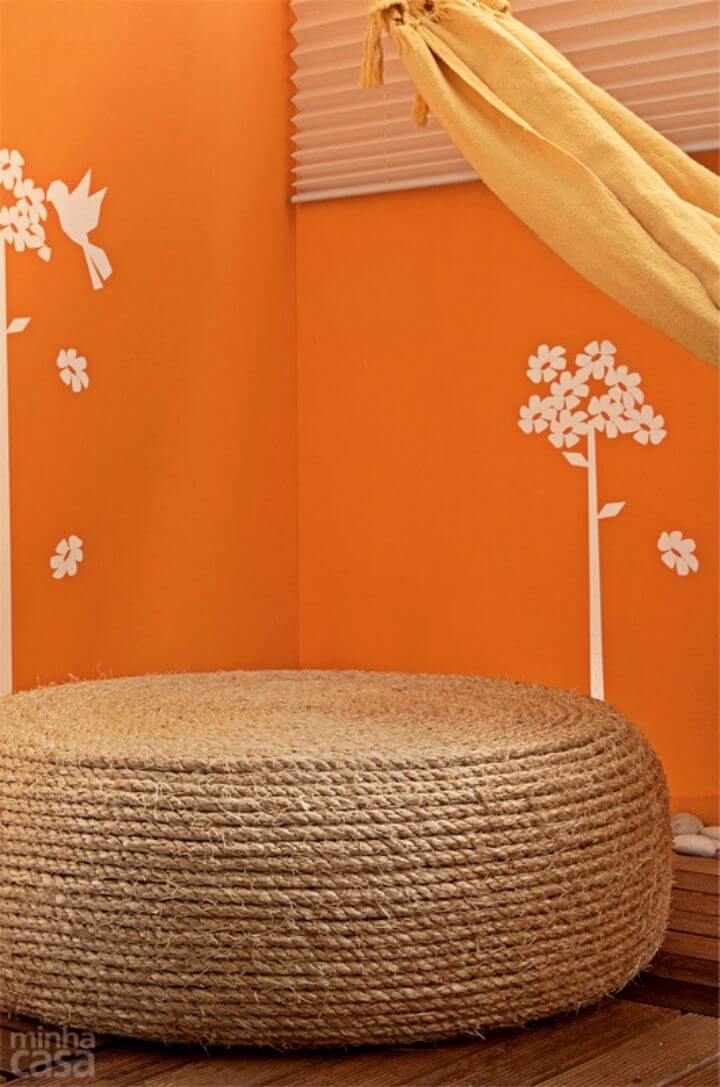 Look also at the old tires like a genius and bring them in your home as stunning items of furniture. They will be damn doable to make a gorgeous ottoman. Cover both sides of an old tire with wooden rounds and wrap the rope all around the tire to gain a brilliant ottoman. Full how-to tutorial here handimania
10. Homemade French-style Bench from Old Chairs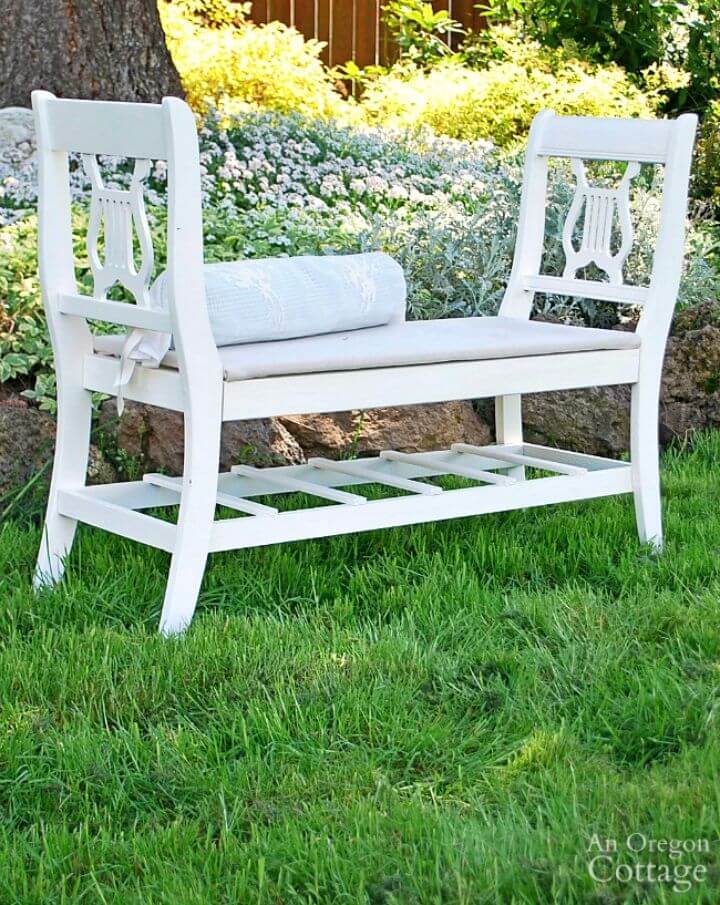 Repurpose also the old chairs from home to build extra functional, stylish and unique furniture items. Wow your garden audience with this French-style bench, made from two old chairs. The trick is to give a combined large berth to both of chairs to build this bench design in no time. Full how-to guides here anoregoncottage
11. DIY Vintage Chair Drink Stand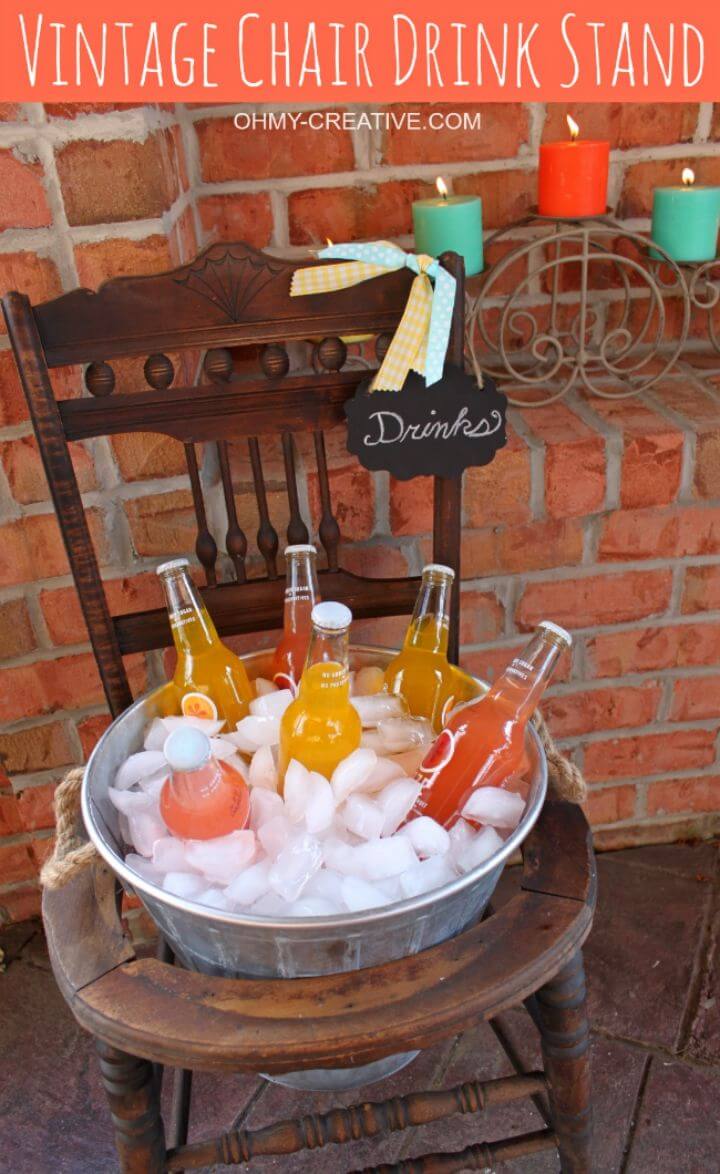 Upcycle also the old vintage chairs to boost your party fun. Fit the tin ice buckets in the old chair seats and start using your old chairs as brilliant drink stands. A better way to reuse your old chairs for outdoor parties. One smarter reuse of old chair furniture. Comprehensive details here ohmy creative
12. How to Make Dog Bowl Chairs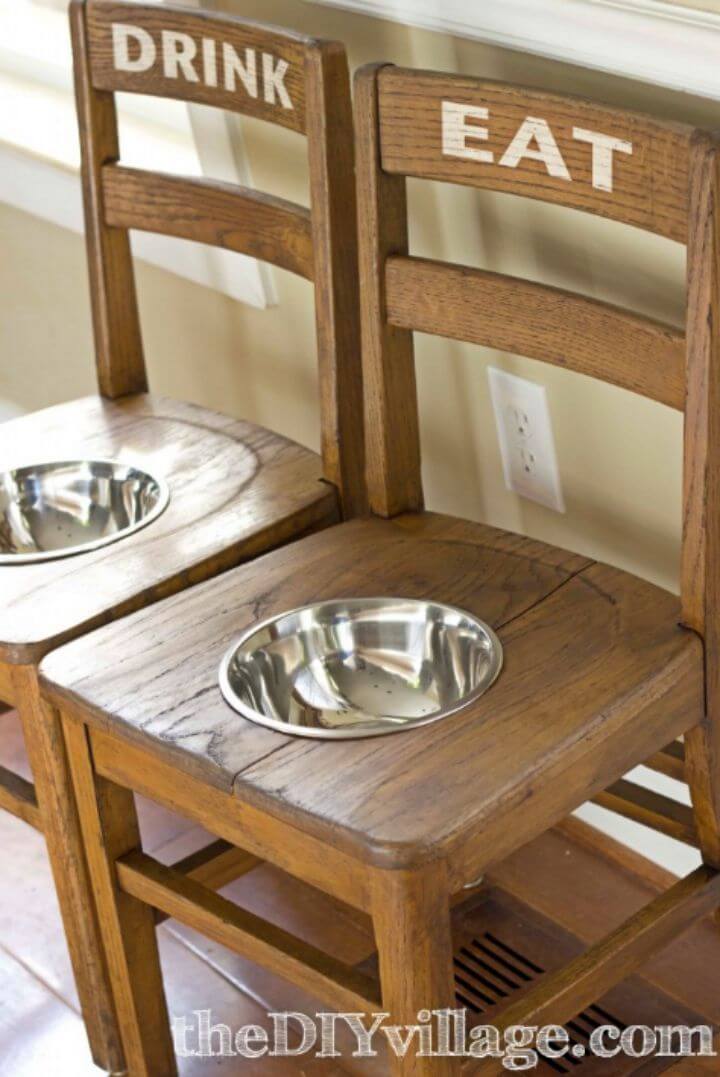 Take out your old chairs from the home garage or trash stores and start reusing them as brilliant dog feeders. Rebuild the seats solid using extra wood and then fit the steel dog bowls in them. Smart reuse of old chairs for amazing pet care. Full project details here thediyvillage
13. DIY TV Stand Out Of Thrifted Dresser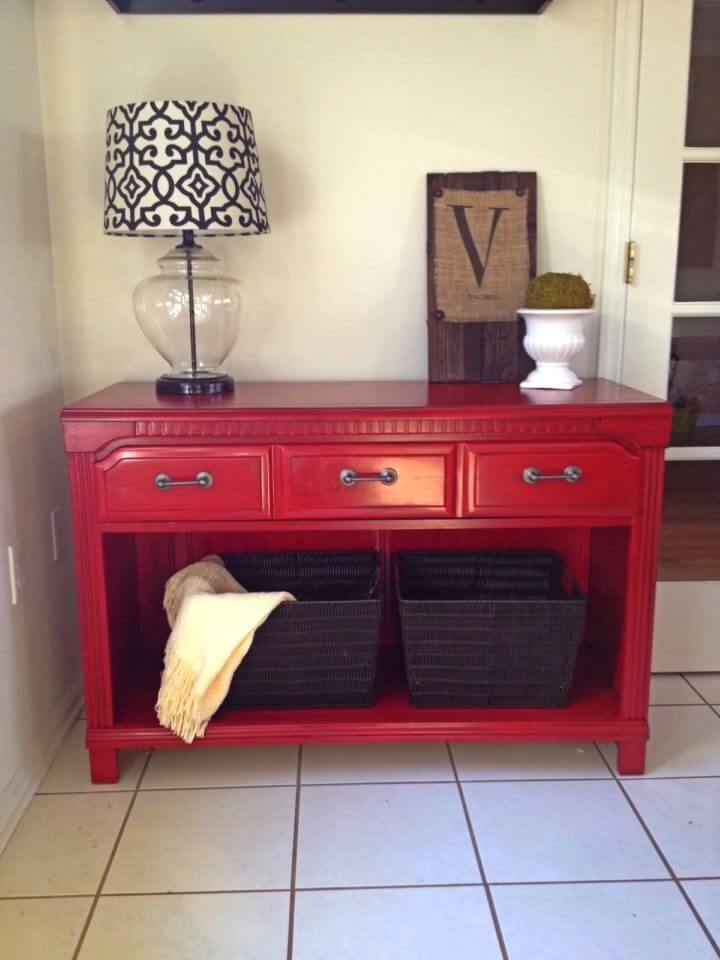 Instead of wasting your old furniture consider reusing it in your home in different ways, will be a genius concept to trim down your furniture expenditures. A lovely and creative remake of a thrifted dresser. Full how-to tutorial here twoityourself
14. Building a Bench from Old Dresser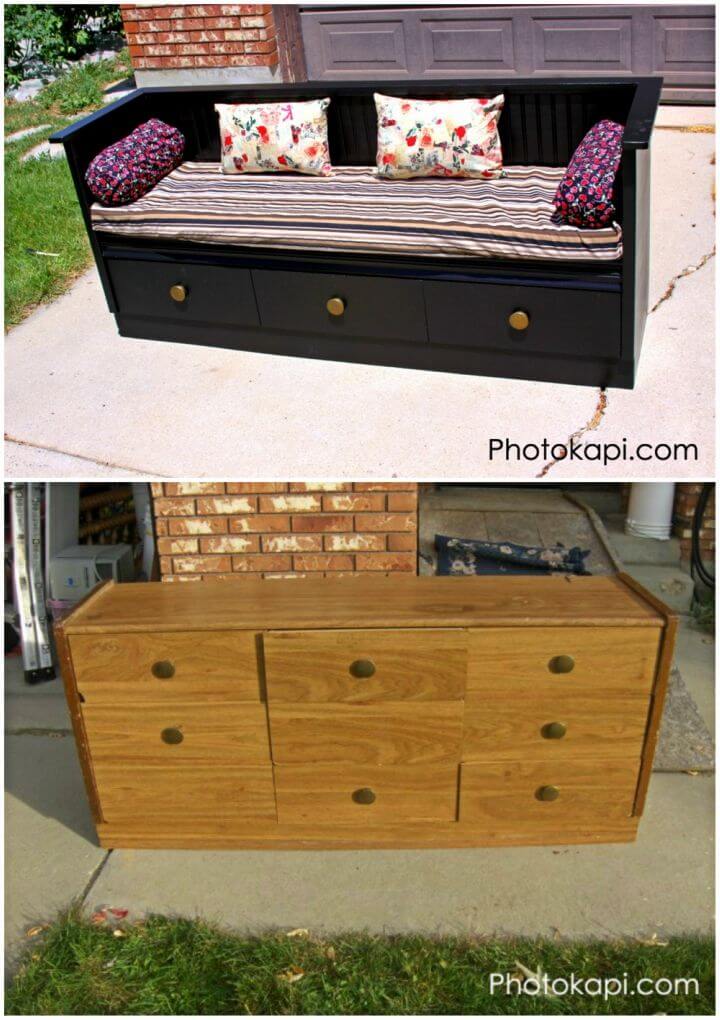 The benches with smartly added storage options are a big hit, especially when you are sorting out special sitting furniture for your patio or outdoors. Do some creative alterations and modifications in the old dressers and regain them as stylish benches with drawers. Check out the sample rehabilitation of the given sample dresser and get inspired. Full how-to guides here photokapi
15. Making Headboard Chalkboard Coat Rack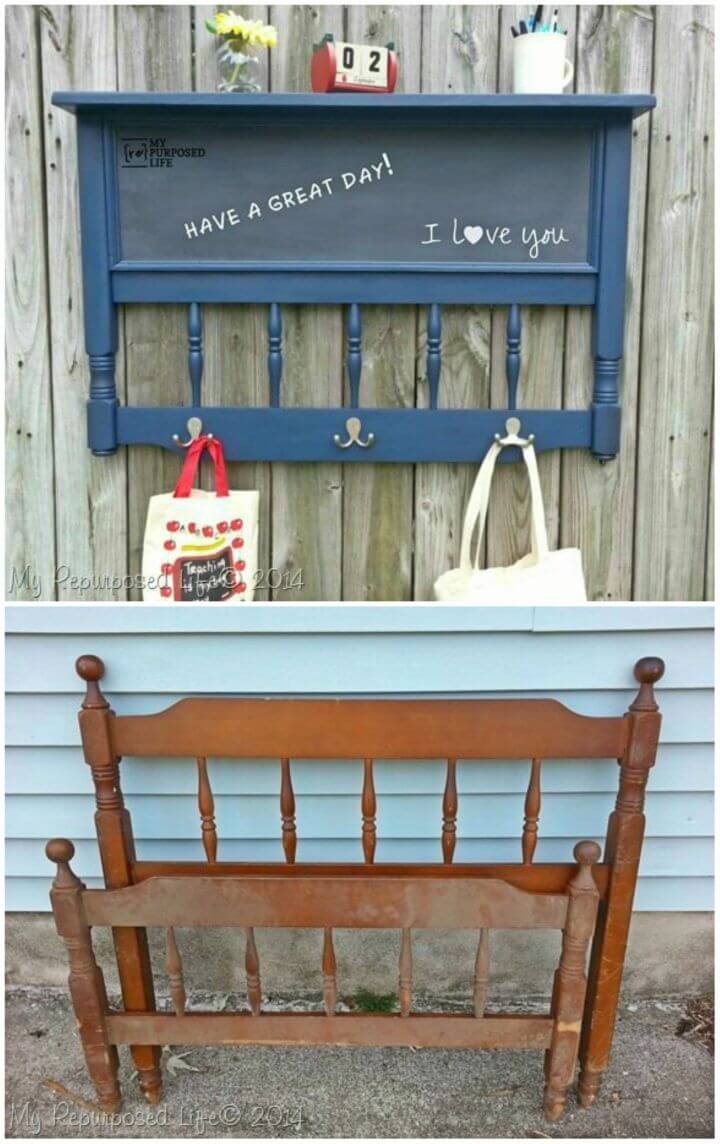 Raise the aesthetics of any home wall with this functional design of coat rack, made of a recycled headboard. Repaint your headboard and add it very lower part with some hardware double hooks and also paint leftover portion with chalkboard paint to get also a cool chalkboard sign for a wall. Full makeover details here myrepurposed
16. DIY Dresser to Wine Bar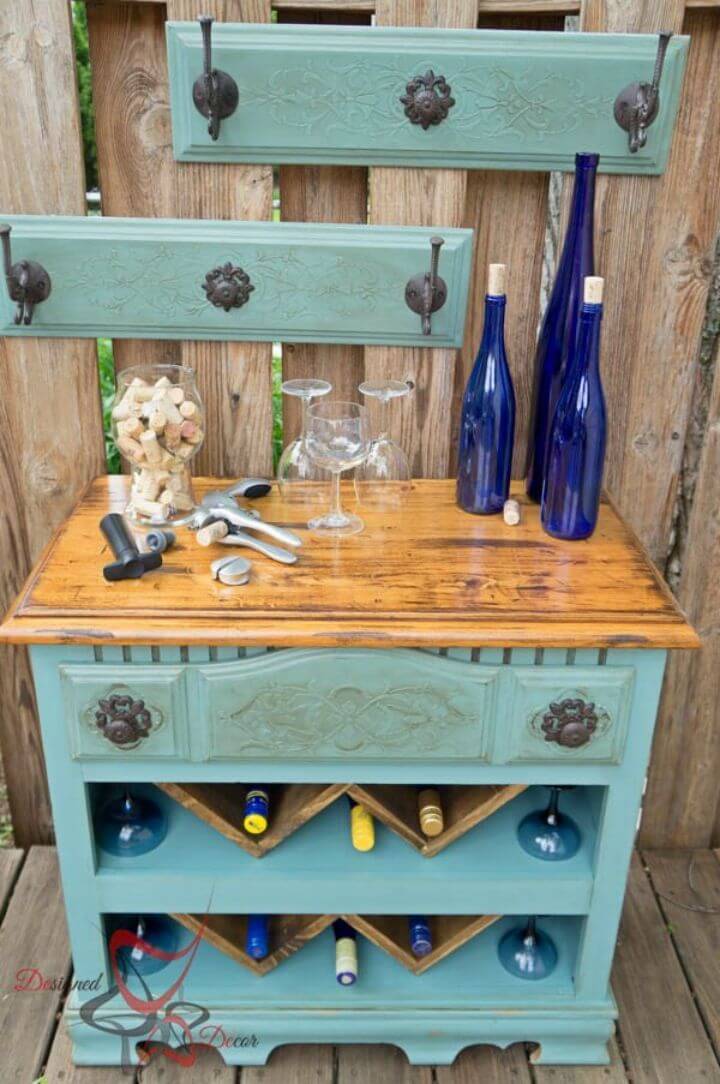 Let the old dressers boost your outdoor or indoor party fun. Reconstruct them to build fantastic bars with built-in storage options. Hack more details by looking at the creative transformation of a dresser into a bar, this will mean a lot to party lovers. Full how-to guides here designeddecor
17. How to Make Door Shelf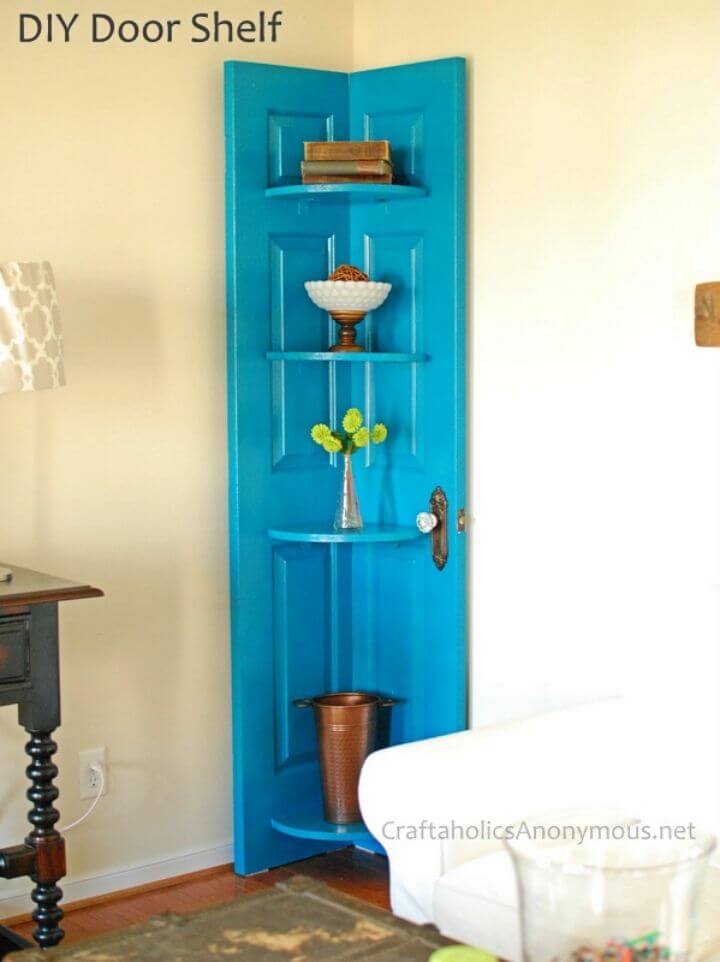 Have you got some doors after home renovation? Then they are not to waste but to reuse again in your home. Take them into vertical halves and join again to build epic corner shelves, use extra wood to build a corner shelf. Looking at the given readymade sample will make you think more out of the box. Full how-to guides here craftaholicsanon
18. Handmade Great Crate Book Storage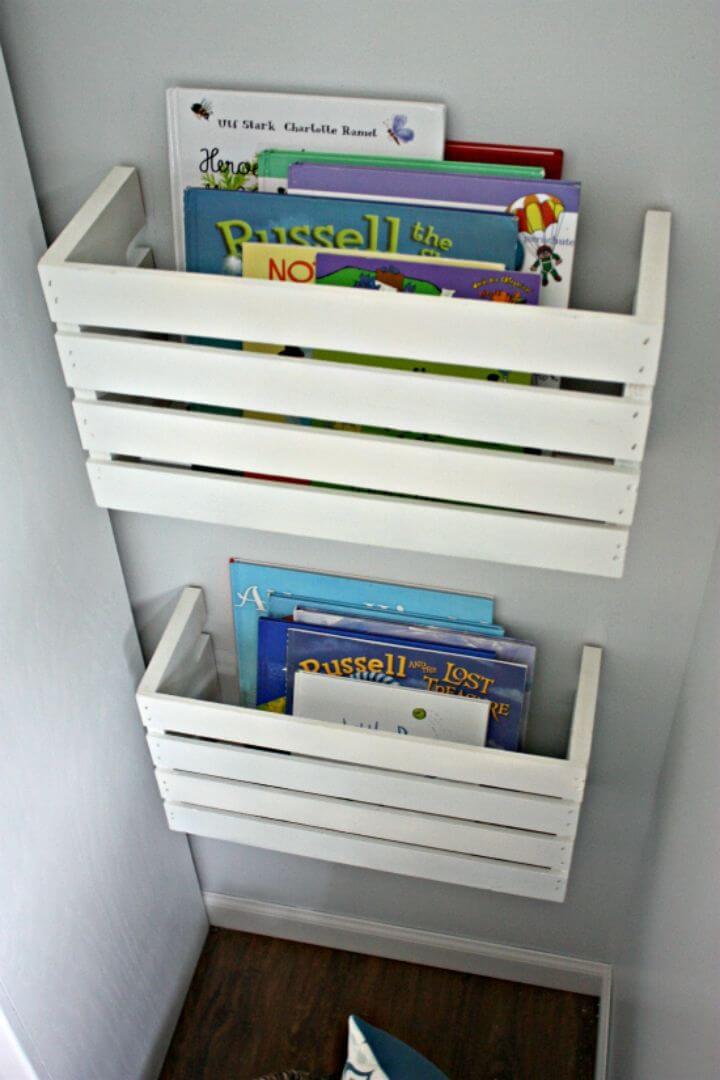 Solve also the annoying storage space problems in home cheaply using the recycled wood crates. Just take the crates into halves and mount on the wall as gorgeous pockets. From books to magazines to mails, they can hold anything inside properly. Full instructions here iheartorganizing
19. How to Build Headboard Bench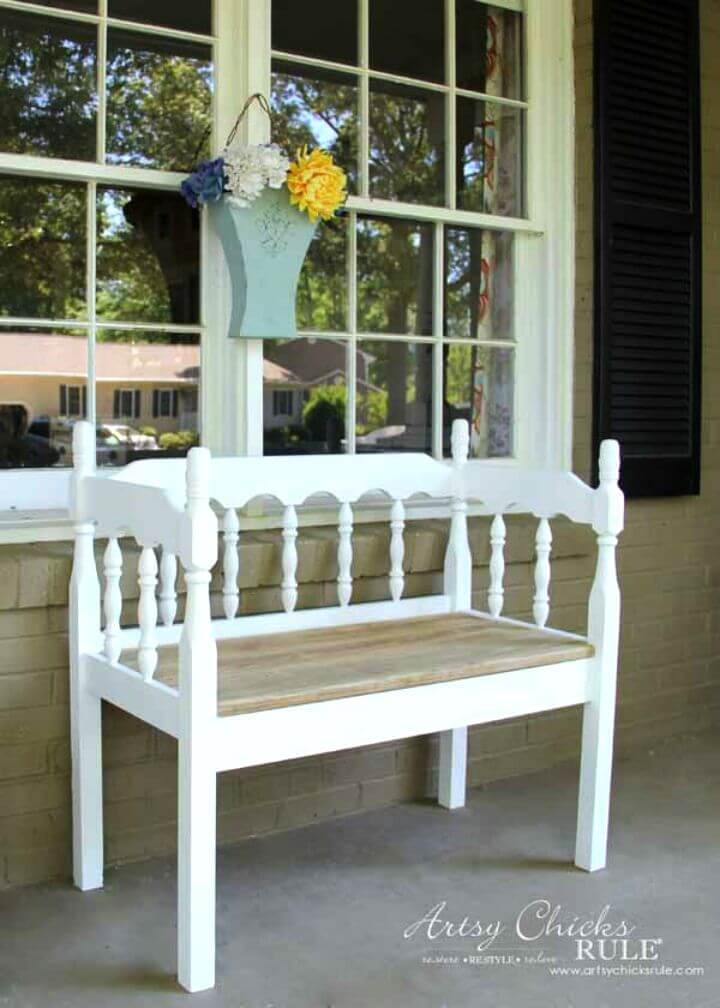 Think twice before you throw your old furniture components outside, have served long in your home. keeping using them in the home by reconstructing them into other functional pieces of furniture. Rebuild a headboard into a flawless bench, make the seat using extra wood slats. A perfect bench for a patio or garden setting. Details here artsychicksrule
20. DIY King Size Headboard Bench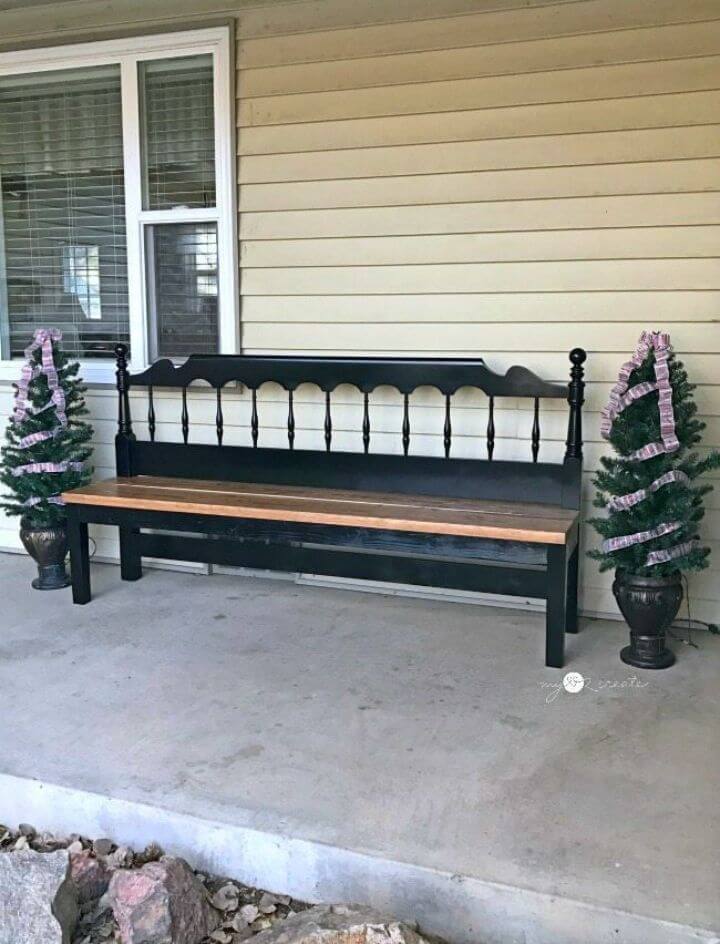 Get organized at your patio in a style by adding this most stylish bench, painted in black is really big. It is a genius remake of a king-size headboard and it will only cost you the price of durable wood slats that build the solid berth of this bench. Complete how-to instructions and tutorial here myrepurposed
21. Homemade Chair Back Towel Rack Shelf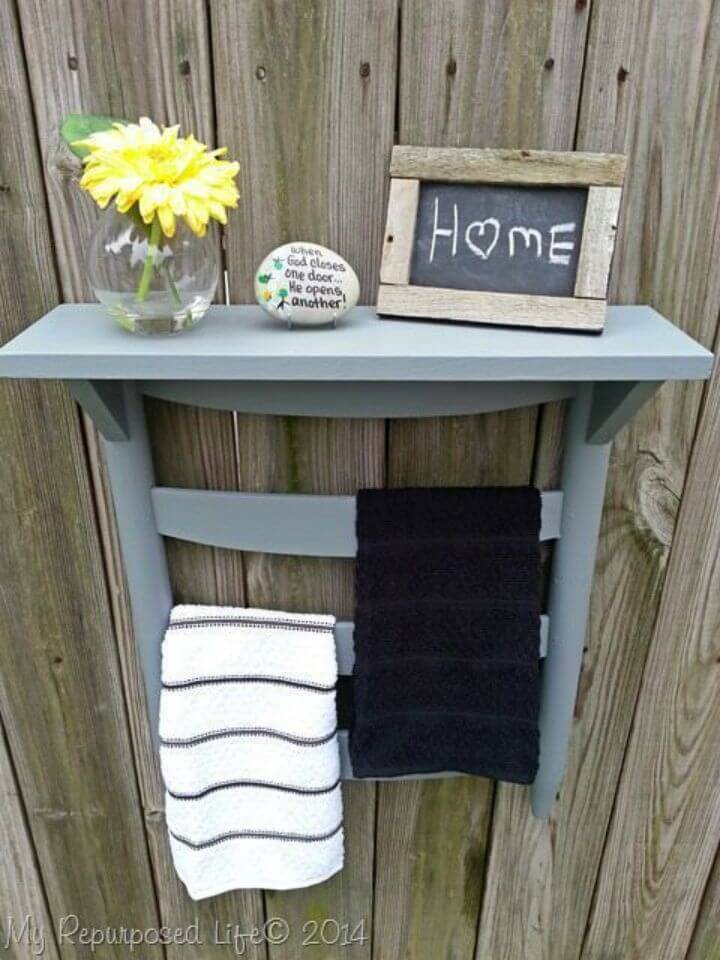 Go with your smart imaginations and turn the trash into treasure. Accomplish your home storage desires by hanging this towel rack shelf on the wall. Repurpose an old chair back to make this dual functional wall organizer. Use extra wood for building shelf and add the hardware double sided hooks to bottom side of it. How-to details here sisterssuitcase
22. Simple DIY Shoe Storage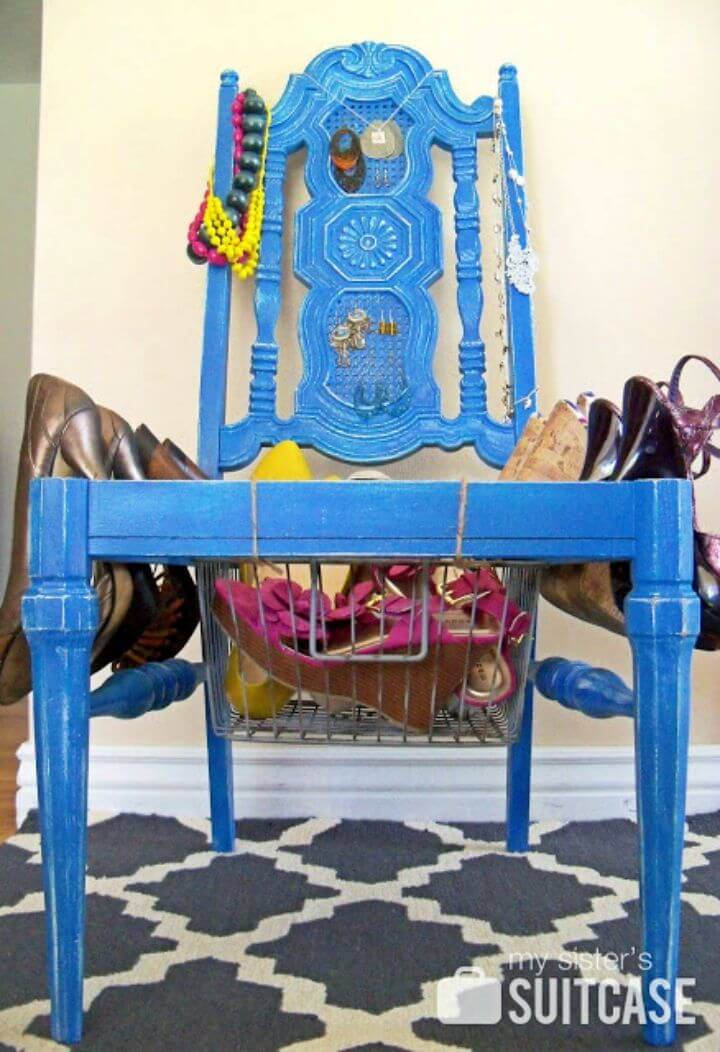 The home lovers often run after the cool storage options for storing shoes. The ultimate furniture recycling hack, a better shoe organizer to make with an old chair. Repaint an old chair for a graceful visual and then do creative modifications in the design to let it serve ideally for the decided purpose. Full how-to tutorial here dukesandduc
23. Make Your Own Potted Chair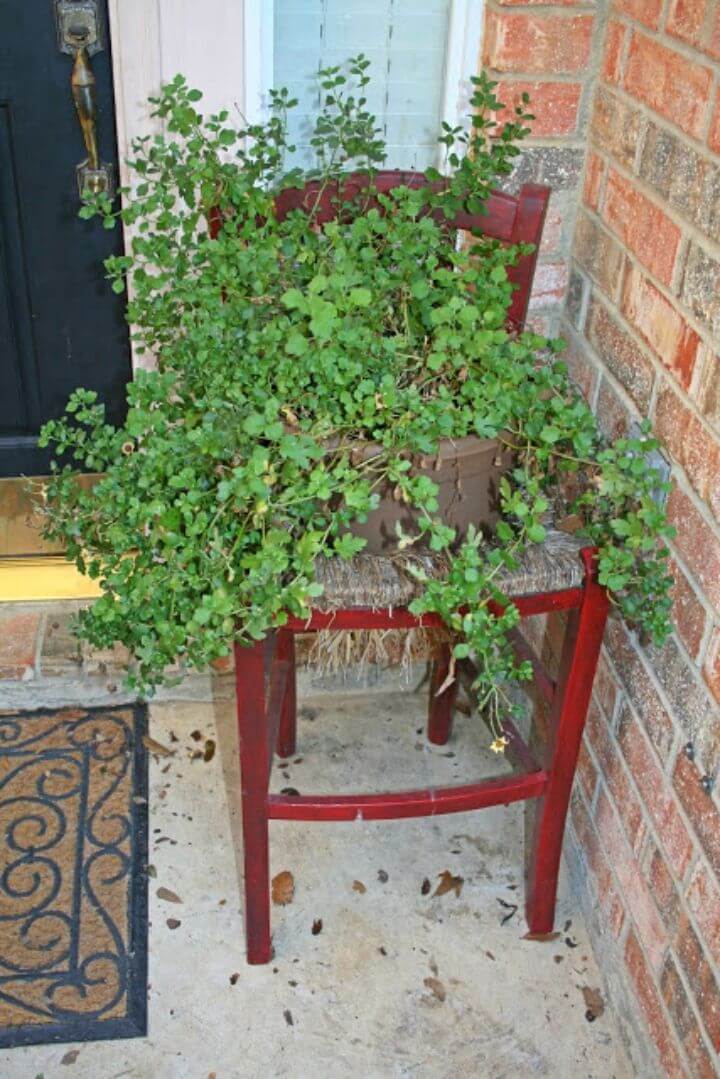 Do you have some old chairs that do not fit in the current decor style of your home? Then reuse them to make better planter stands, will instantly fancy up your patio and any outdoor area that need to be spiced up. Looking this potted chairs, painted for a graceful appeal to serve better for the purpose. Details here myrepurposed
24. DIY Chair Back Coat Rack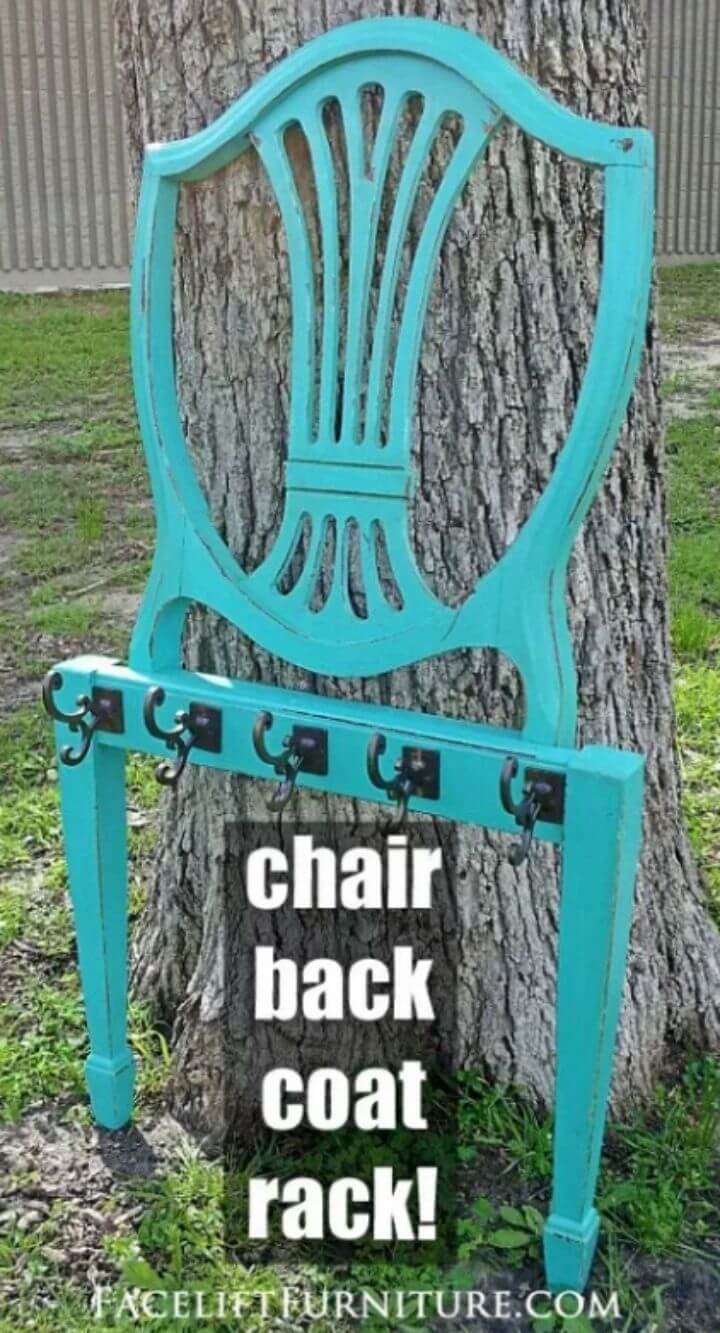 Old chair backs can be thought in number of different ways to use again in the home. They are an ideal candidate for making a coat rack. Just add them up with custom coat hooks and hang on your favorite wall for hanging stylishly your clothes and accessories. A genius repurposing old furniture project. Full how-to guides and tutorial here faceliftfurniture
25. How to Make Salvaged Chair Bird Bath
One more amazing rescue of old chairs, put them in your garden for establishing great aesthetics of your green spaces. Make an old recycled chair hold a terracotta saucer and get a beautiful birth bath in your garden. A better way to grace up your garden using the old leftover chairs in home. Complete how-to guides here daisymaebelle
26. How to Turn Kitchen Chairs Into Bench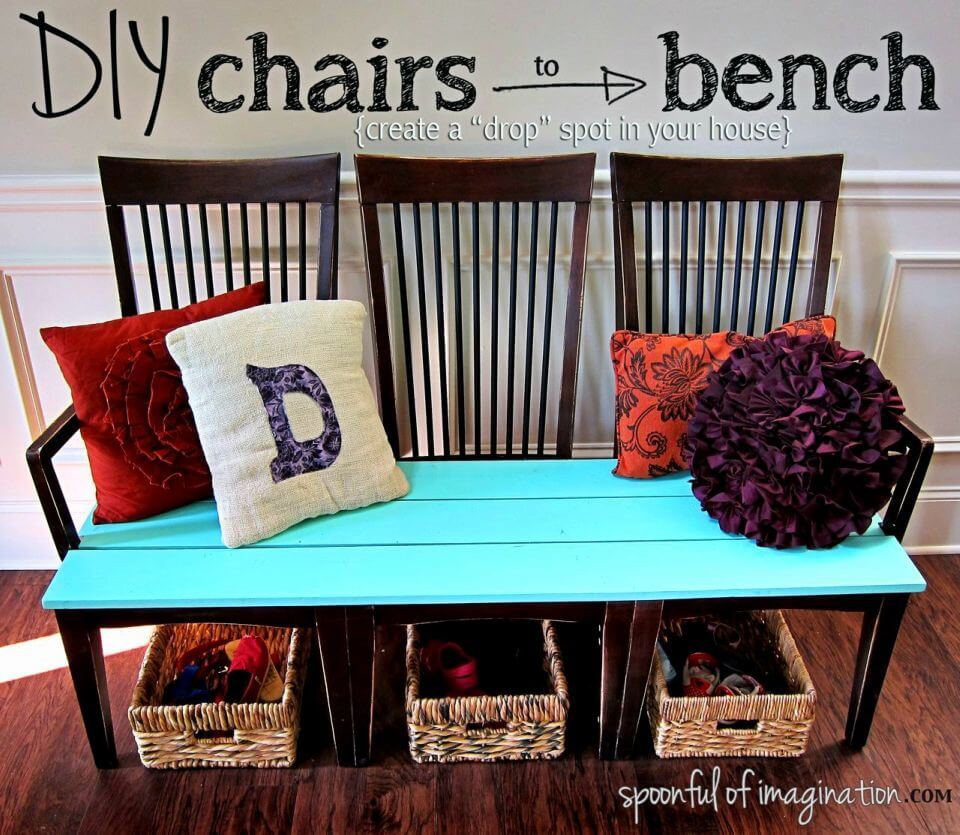 Reuse your old kitchen chairs also to build fantastic benches, will serve long for both indoor and outdoor sitting space desires. Just put together the 3 or more kitchen chairs and connect them together by installing a combined slatted berth. A handsome bench for 3 people, will be a great addition to your front porch or patio area. How-to guides here spoonfulofimag
27. DIY Hallway Wall Organizer From a Shutter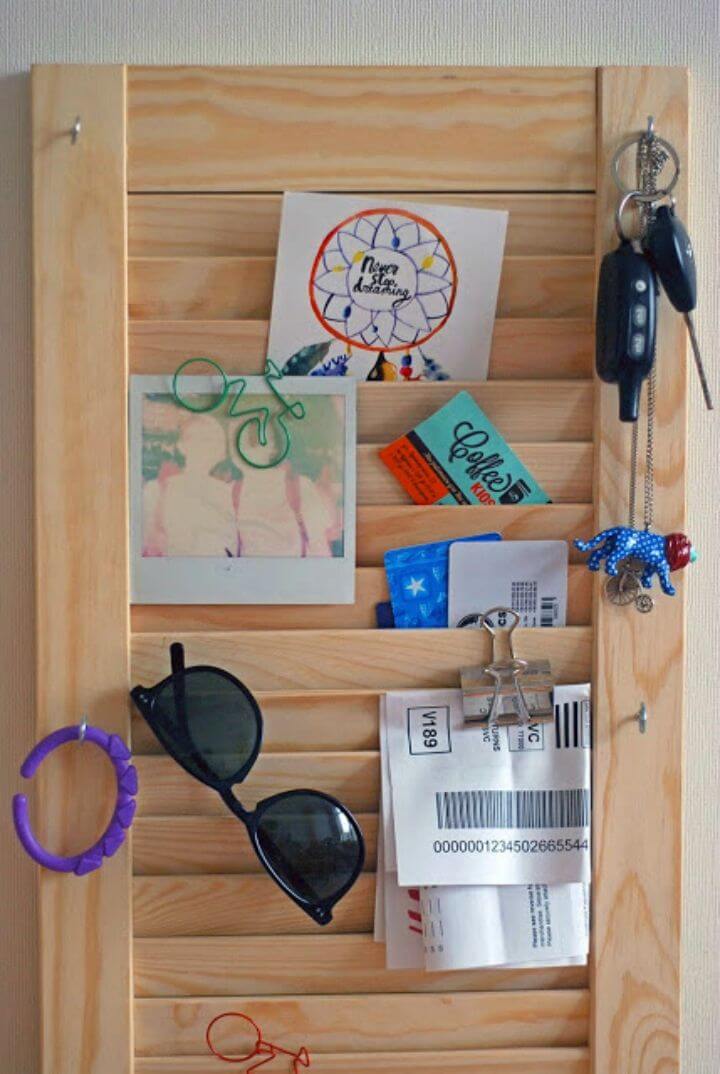 Save tons of your wall organizer costs by building smartly beautiful wall organizers out of recycled window shutters. The blinds in the wooden shutter will make lovely slots to hold your things like mails and photos. Look at the sample shutter organize that hold all from keys to cards to custom accessories. How-to tutorial here thethings
28. Make Your Own Chalkboard Window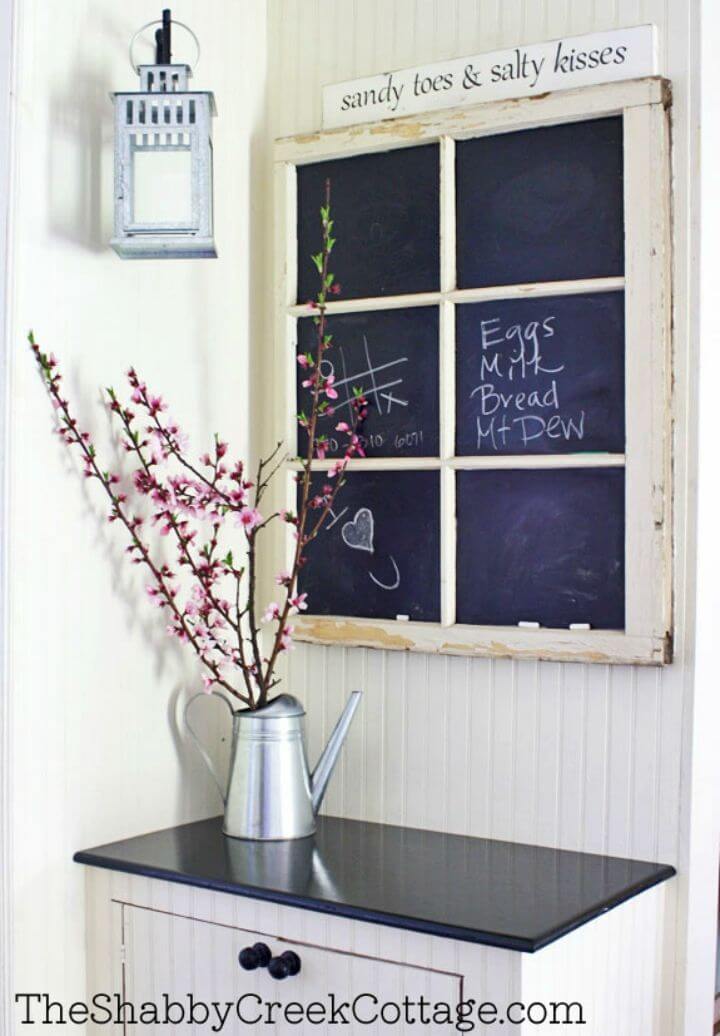 An old window can create a big focal point in your home if you think like a genius. Use chalkboard paint to paint then inside panels of the windows so you can easily write on them from custom messages to moral and love quotes. A nice and brilliant way to style up your home using windows and chalkboard paint. Full how-to tutorial here theshabbycreek
29. DIY Salvaged Window Frame Mirror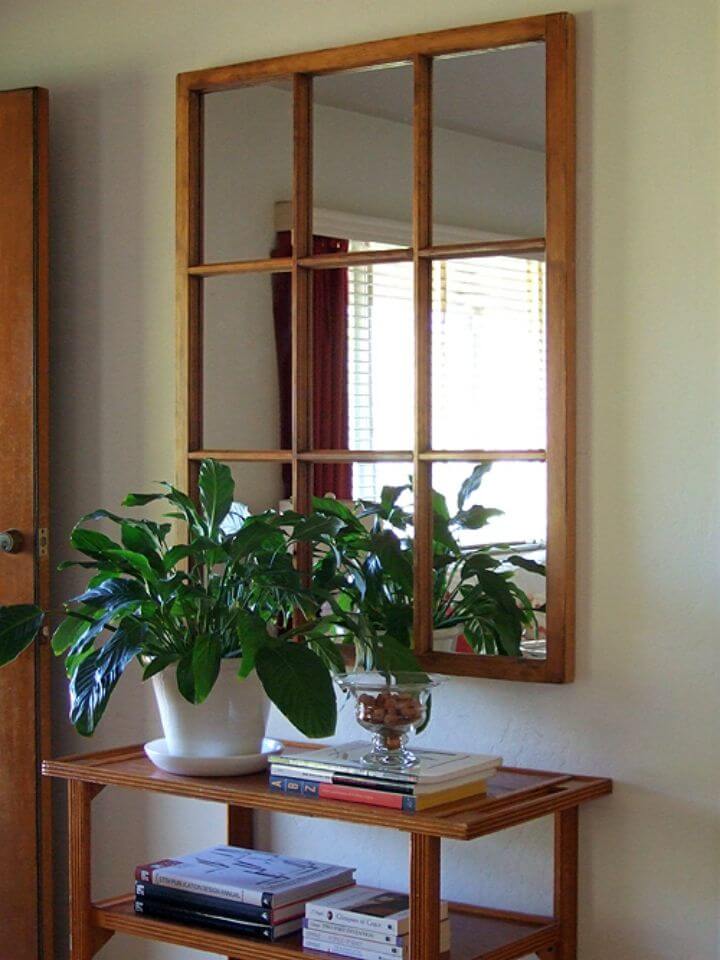 Repurpose also the old window frames to create bigger statements of home decors. Add up your old and recycled windows with the mirror panels and make enticing window frame wall mirrors. Hack amazing elegance from old windows to fancy up your home interiors. Full how-to guides here craftynest
30. How to Build Cold Frame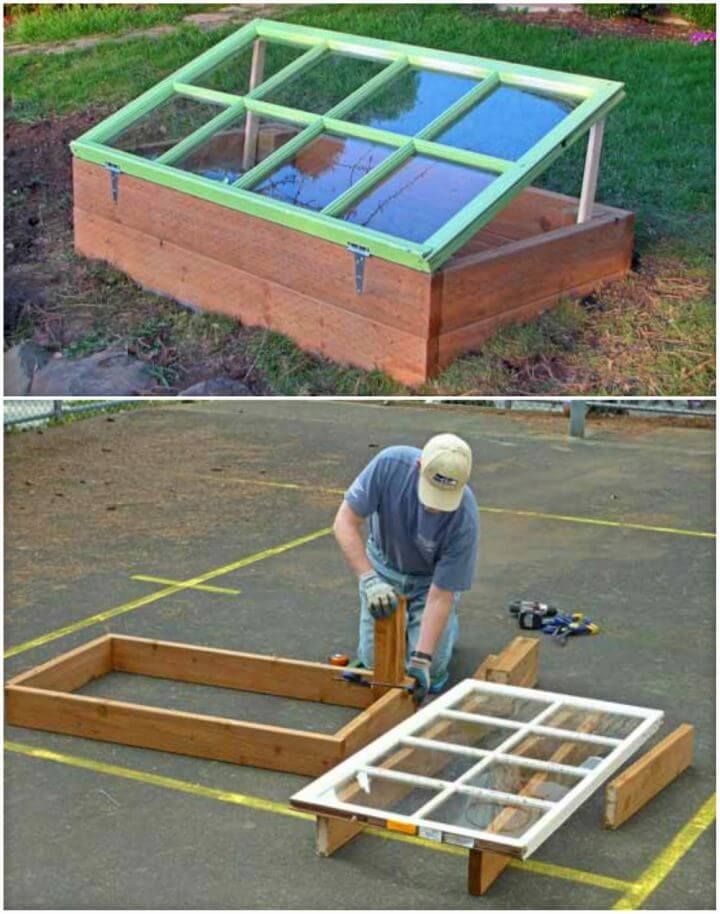 Repurpose also the old windows for crazy garden renovations and improvements. Large glass paneled windows can be used next to build a mini greenhouse in your garden, so there will be never an off season for the plants, fruits and herb you always need and love to eat. Complete tutorial here growgardento
31. DIY Having Lunch With an Old Window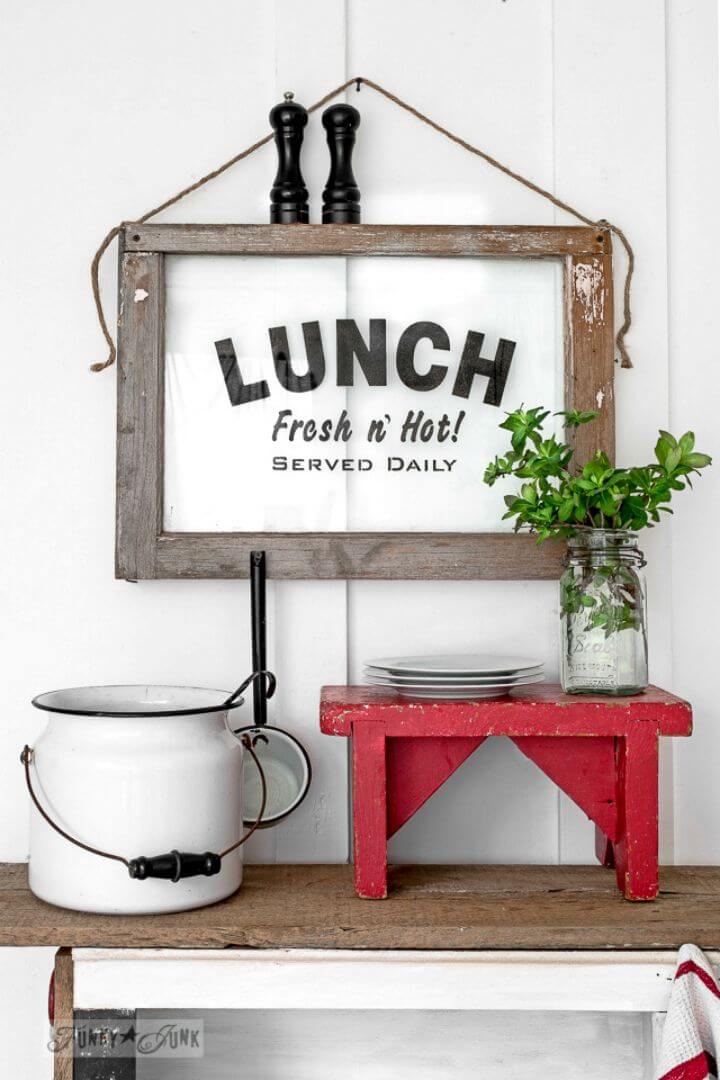 Make also quotes signs out of old windows that can be hanged anywhere in home and even in your kitchen or to a lunch place. Look at this precious old window lunch sign, made to rock. Use the window as a frame for your quotes art. Full tutorial here funkyjunkinter
32. How to Turn Dresser Into Bench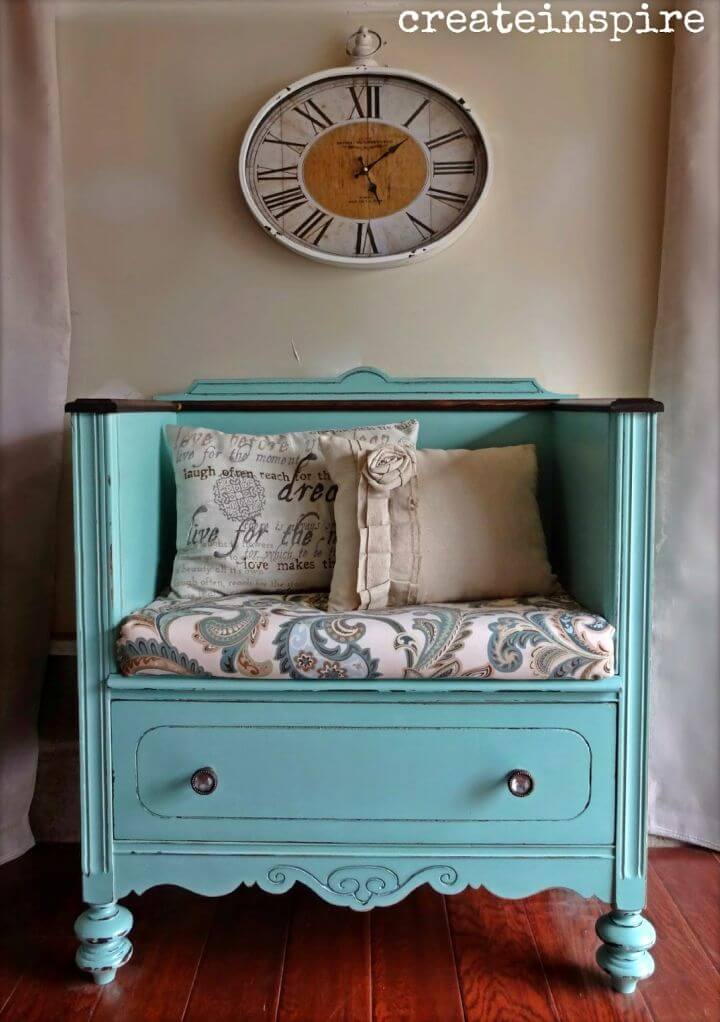 May be you are going to replace the your old dresser, it would be a great idea but what to do with the old one? Rebuild it into an adorable storage bench, will be a genius way to never say bye to your old dresser. A better way to show some respect to your old furniture in home. Full how-to guides here createinspireme
33. DIY Patio Chair Planters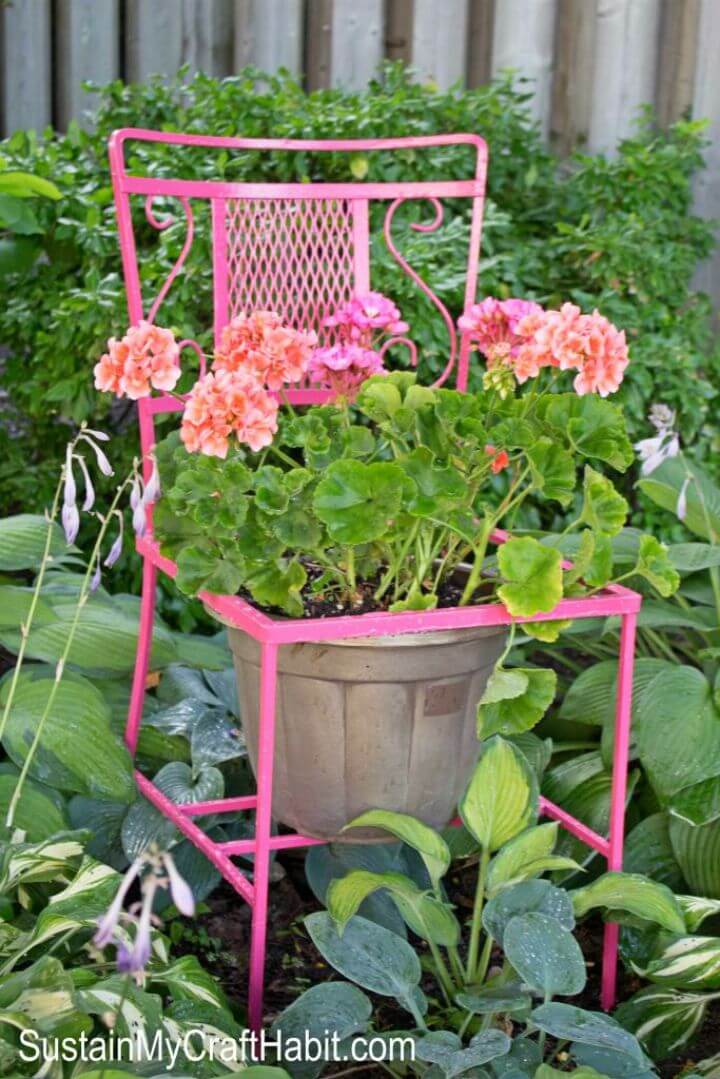 Jazz up your patio with this chair planters, will cost you almost nothing but will be the real patio beauty when you need to impress the outdoor audience. Salvage a vintage old chair and fit a planter in its seat. Paint the chair in any custom color for a prominent appeal. Step-by-step guides here sustainmycraft
34. Re-purposed Headboard Coat Rack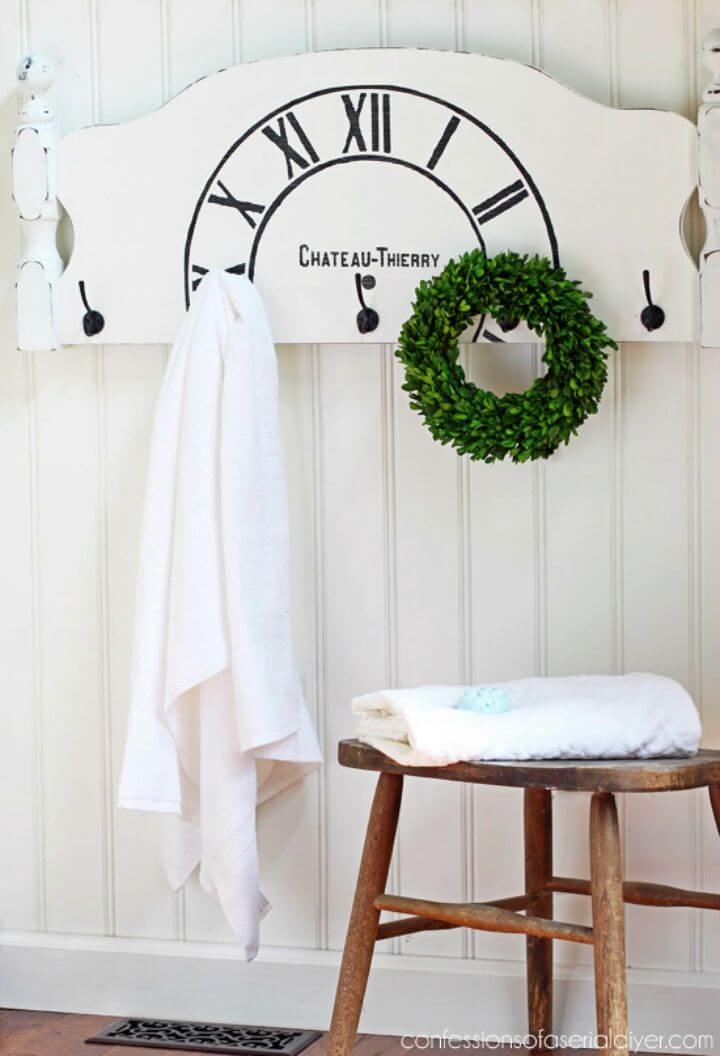 Get also crafty with the old headboard retiring from your old head frames, to build fantastic wall organizers. This handsome wall coat rack will get ten out ten from you and will surely be a pleasurable addition to any indoor wall. Black painted hooks match perfectly with the white painted headboard. Full tutorial here confessionsofa
35. Make Your Own Office Stenciled Sign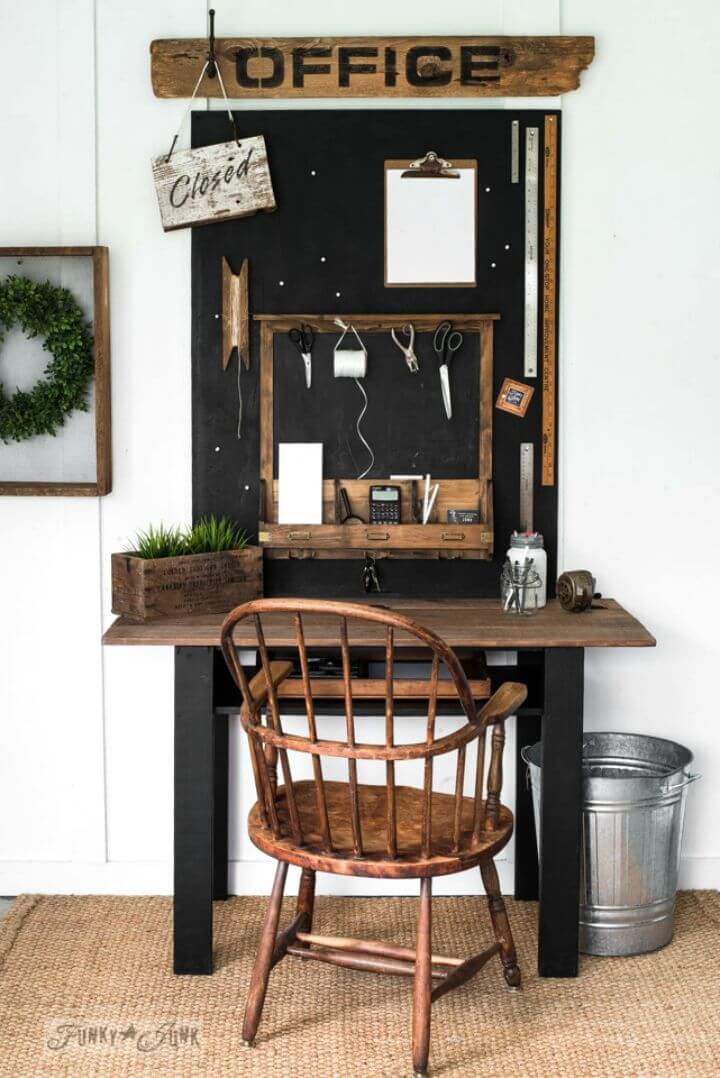 Repurpose the old furniture components and make adorable home decors, functional objects and various other items of furniture out of them. Stencil a single wood slat for custom letters or quotes and hang it up on the wall as a glorious wall art sign. Get inspired of this rocking office stenciled sign. How-to details here funkyjunkinter
36. Easy to Make Platter Shelves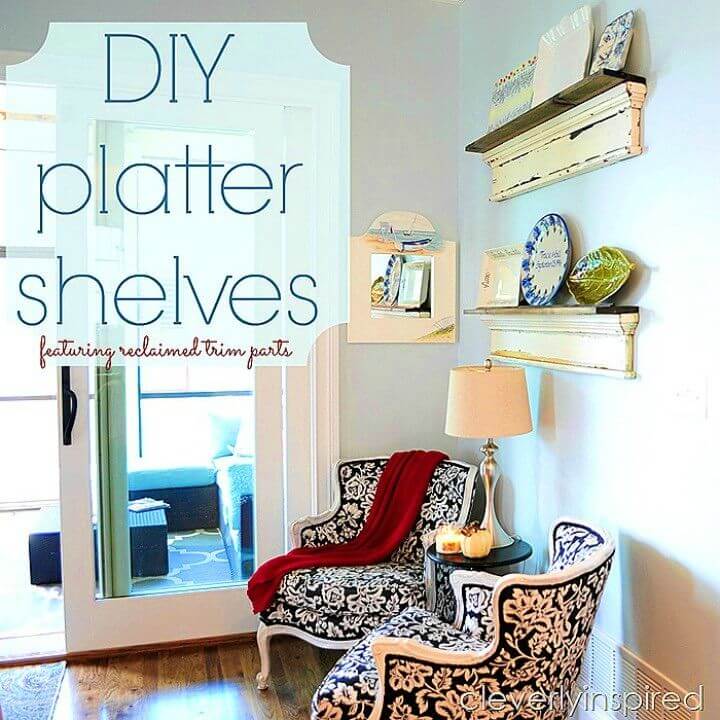 Upcycle also the wood platters to make adorably cute wall accent shelves, will nicely hold and display your items. Use extra pine boards and wood trim for amazing design appeal of the shelves. The given platter shelves come in distressed white appeal and will rock in both vintage inspired or modern chic home interior. Full how-to guides here cleverlyinspired
37. DIY Dresser Drawer Dog Bed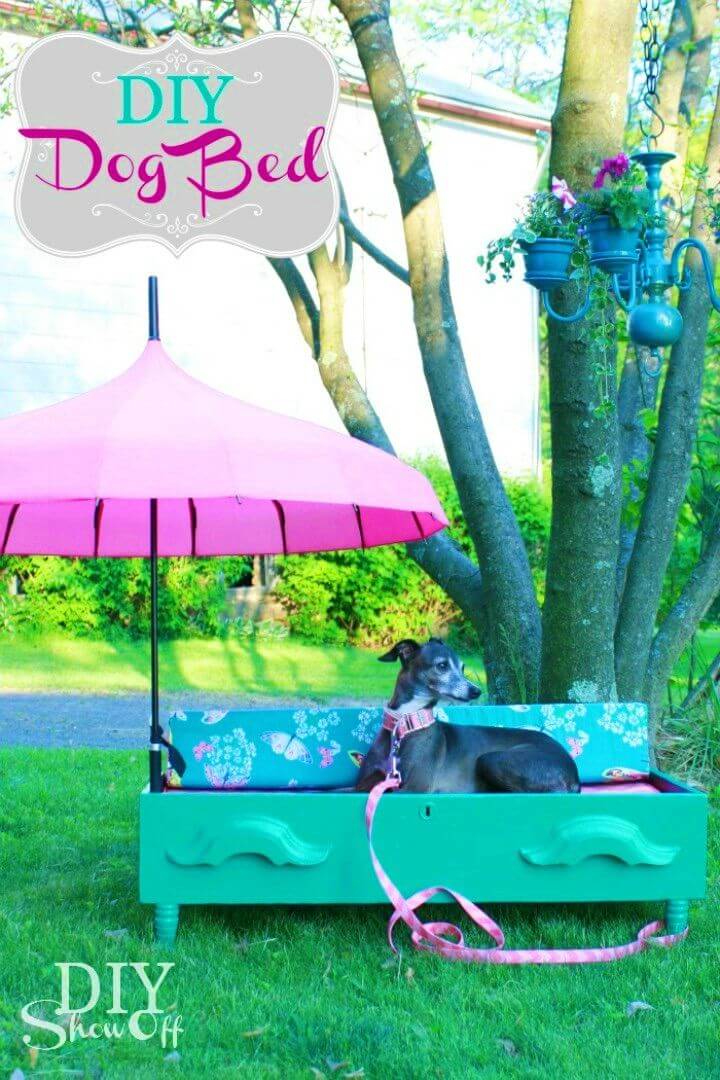 Build also amazing pet care stuff out of recycled old furniture. Upcycle an old big drawer from a broken up dresser and cushion it up to build durable dog bed, will provide an amazing comfort to your dog. A better gift to make for your pet friend using an old drawer, otherwise dog beds can cost you big. Full instructions here diyshowoff
38. Building a Barn Door Coffee Table
Have you recently replaced a barn door with a new one? Then use again the old barn doors for building epic rustic furniture like this gorgeous barn door coffee table. Raise the barn door on solid wooden legs and finish with an elegant glass to make a modern design of coffee table, will have a strong impression on living room decors. How-to tutorial here cleverlyinspired
39. Turn any Desk to Bench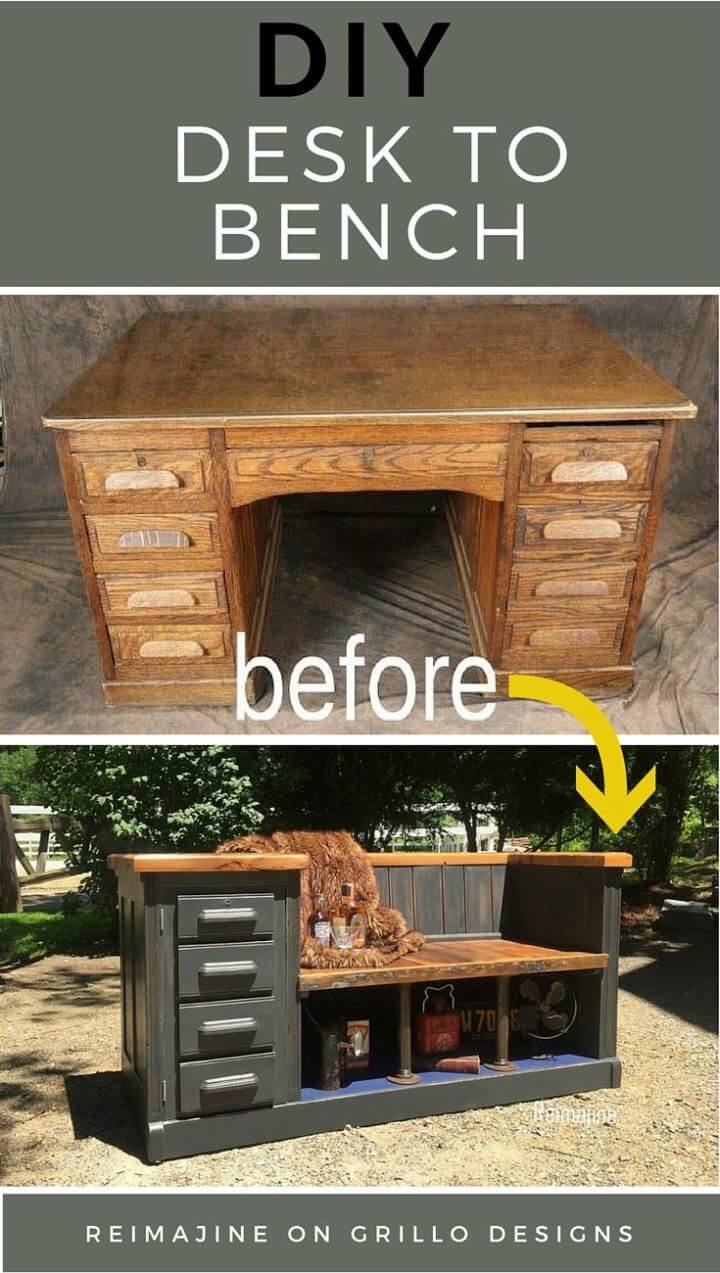 It is great to invest on stylish furniture but you can also save a lot of money by building stylish furniture out of old furniture items. Rock your spaces wit this unique and storage-friendly bench design, made of an old desk. This unique bench design will rock indoor and at outdoor and will nicely store your items of need. Full how-to guides here grillo designs
40. DIY Shutter Cabinet from Fencing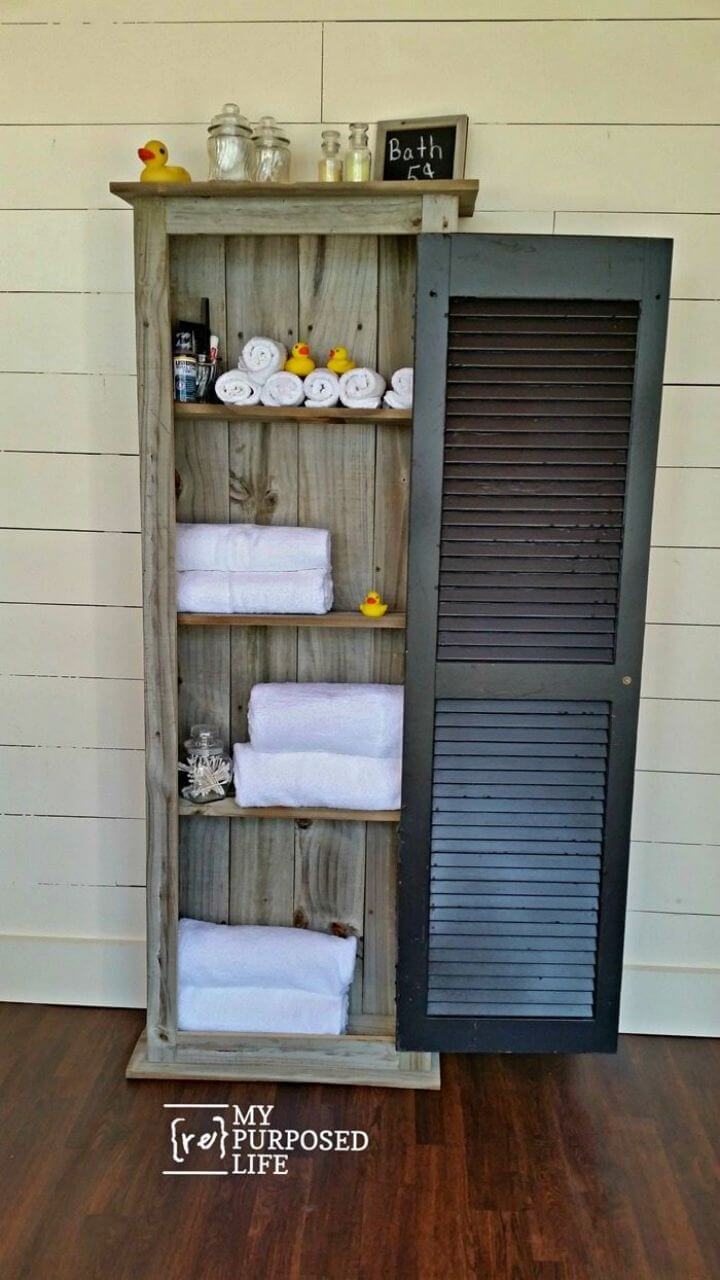 Reuse also the old wooden fence pickets and window shutters to build highly functional storage units and organizers. Look at this stunning cabinet made of fencing and has durable shutter doors hinged in place. Step-by-step instructions here myrepurposed
41. DIY Cooler Stand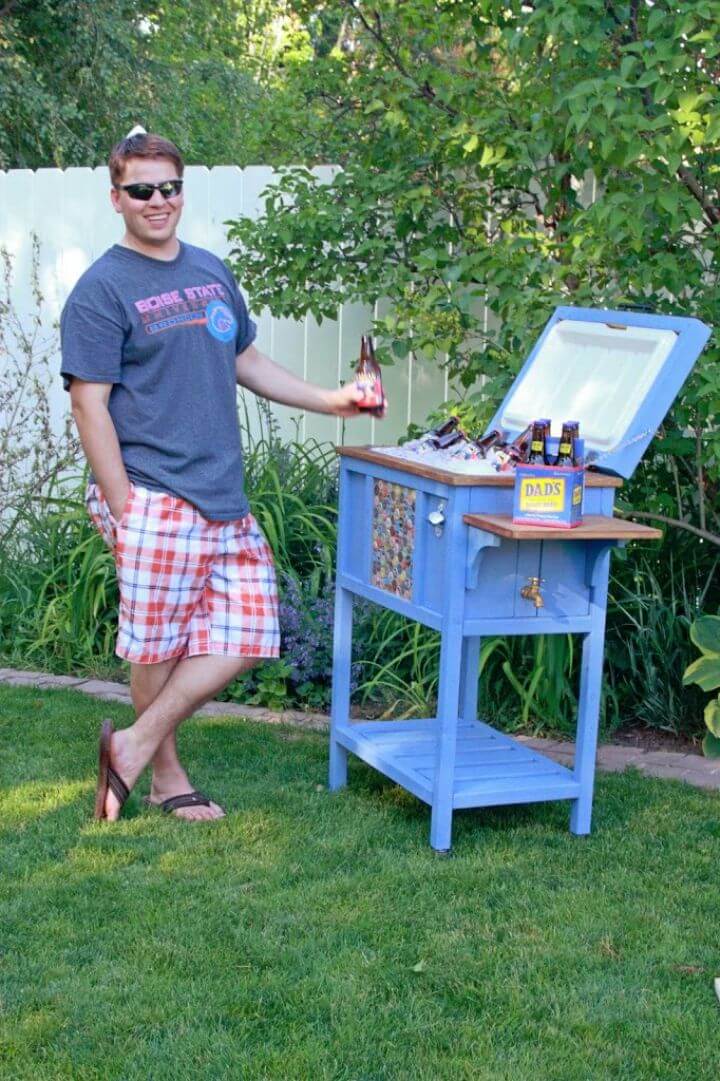 If your old furniture items can provide you a lot of wood then you can build anything from them even this DIY cooler stand, will rock for outdoor parties. Here this cooler also comes with a solid lid and drops leaves. Building the wooden housing with wood and then fit a plastic cooler inside. Full how-to tutorial here birdsandsoap
42. DIY Faux Industrial Cart Coffee Crate Side Table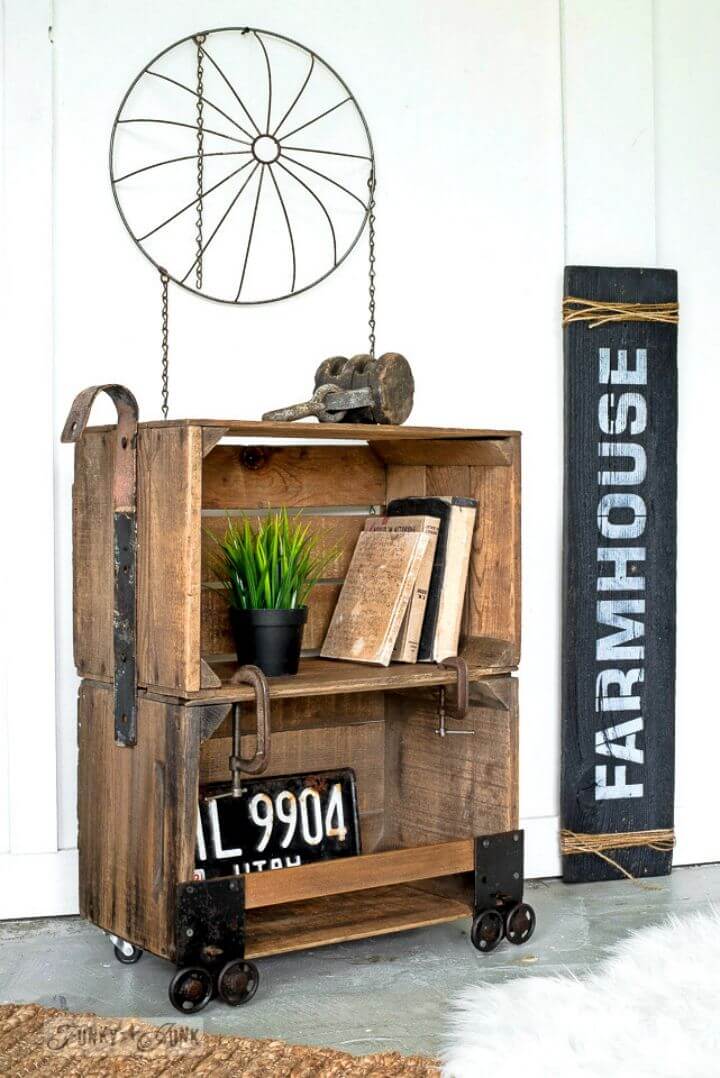 The best cart style side table or nightstand to make with old recycled crates. Stack the wooden coffee crates, raise them up on the vintage industrial cart wheels and build a lovely side table or nightstand. Full how-to guides here kinteriors
43. How to Build Entryway Benches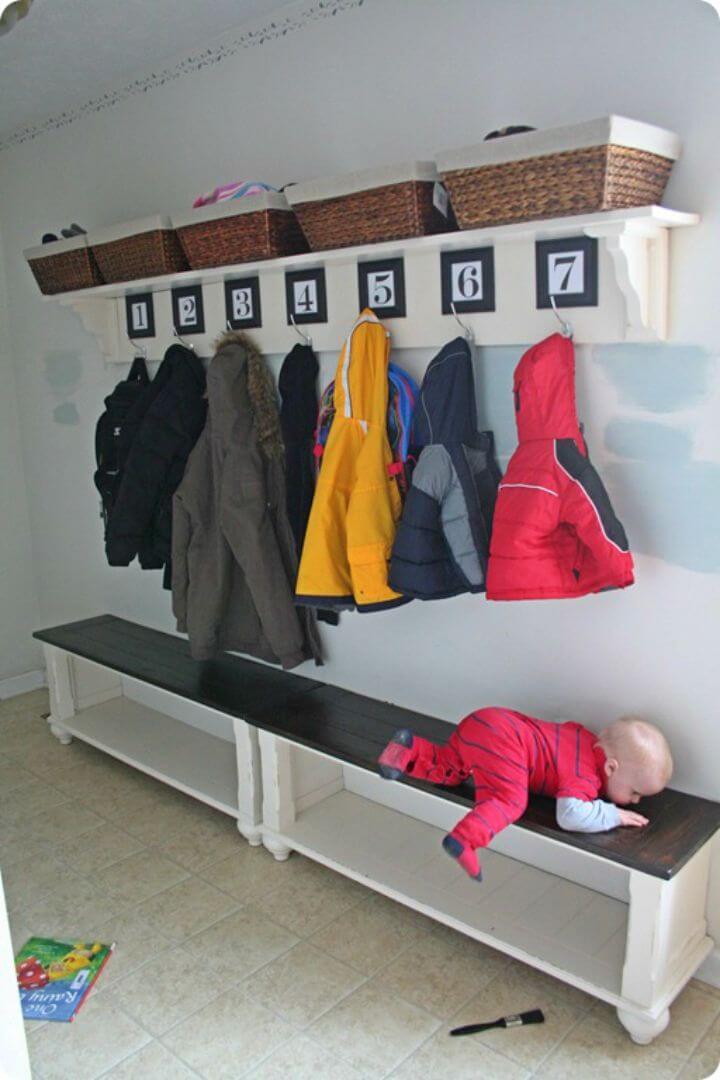 Not having enough money to organize your mudroom? Then here is a brilliant cost-efficient hack to update your mudroom stylishly along with adding lot of sitting and storage space. Cut coffee table with built-in storage into halves and use both halves as storage-friendly mudroom benches as you can see. Full how-to guides here 320sycamore
44. DIY Coffee Table to Bench Reveal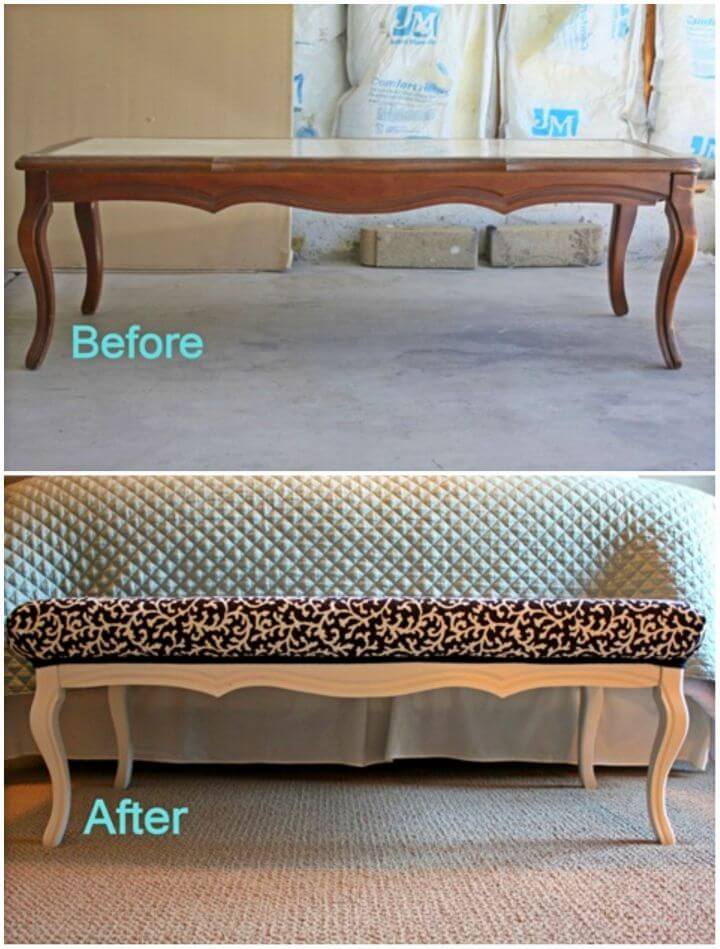 Look at this another stylish bench design that will never get out of style and is made cheaply with an old coffee table. Just upholster the top of a coffee table and repaint the legs to gain a beautiful cushioned bench design. A super smart and creative DIY furniture transformation. Full tutorial here sabbyinsuburbia
45. DIY Re-purposed Crib Dog Crate
Upcycle old wood cribs to build awesome dog crates, will be both the pretty dog houses and comfy dog beds at the same time. Here the finally finished design come painted in white but has a rustic wooden top. Don't forget to raise it up on wheels. Full how-to tutorial here myrepurposed
46. DIY Corner Table Bench for the Kids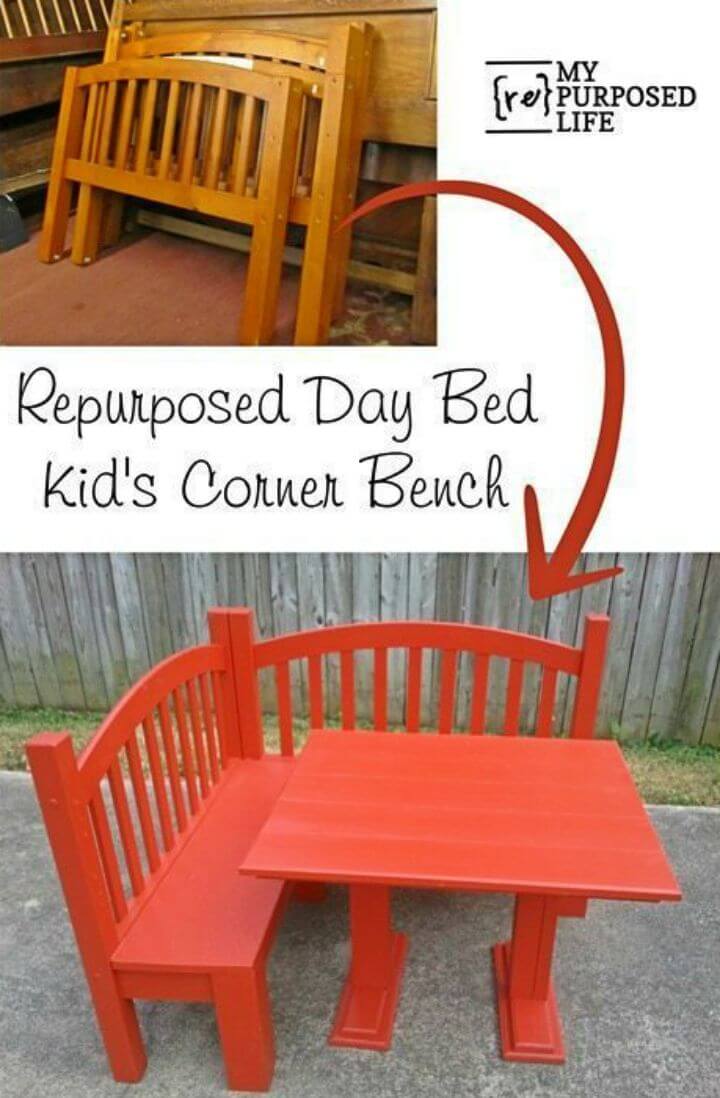 The one of the most beautiful corner table and bench ever made at home using old headboard and footboard set. It will be a highly genius way to keep using your old bed components to save lot of furniture investments. Paint the finally finished bench design in any color you want for a gorgeous lovely appeal. Full how-to guides here myrepurposed
47. DIY Dresser to Mudroom Bench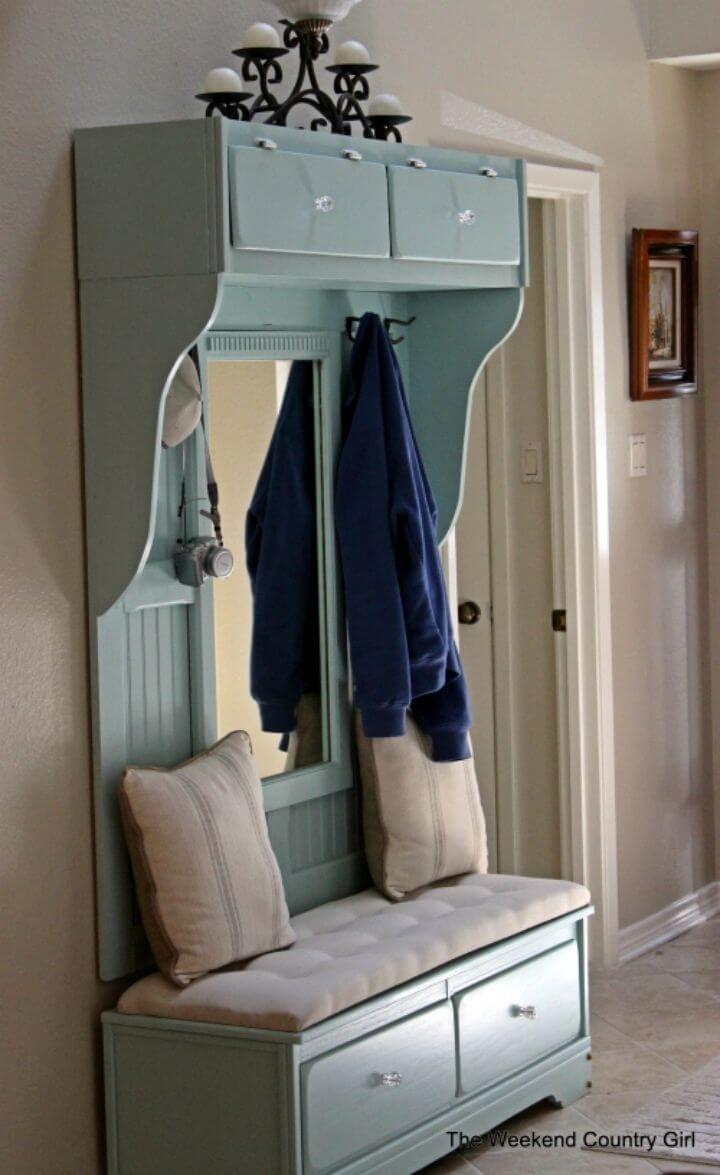 We can bet that you have never see a creative remake of a dresser than this mudroom bench. It is a wholly functional and super storage-friendly hall tree where you can sit to take off shoes, and can organize all your accessories. It contains two drawers in the top and two in the bottom bench. Full project details here theweekendcoun
48. How to Turn Free Chair Into a Planter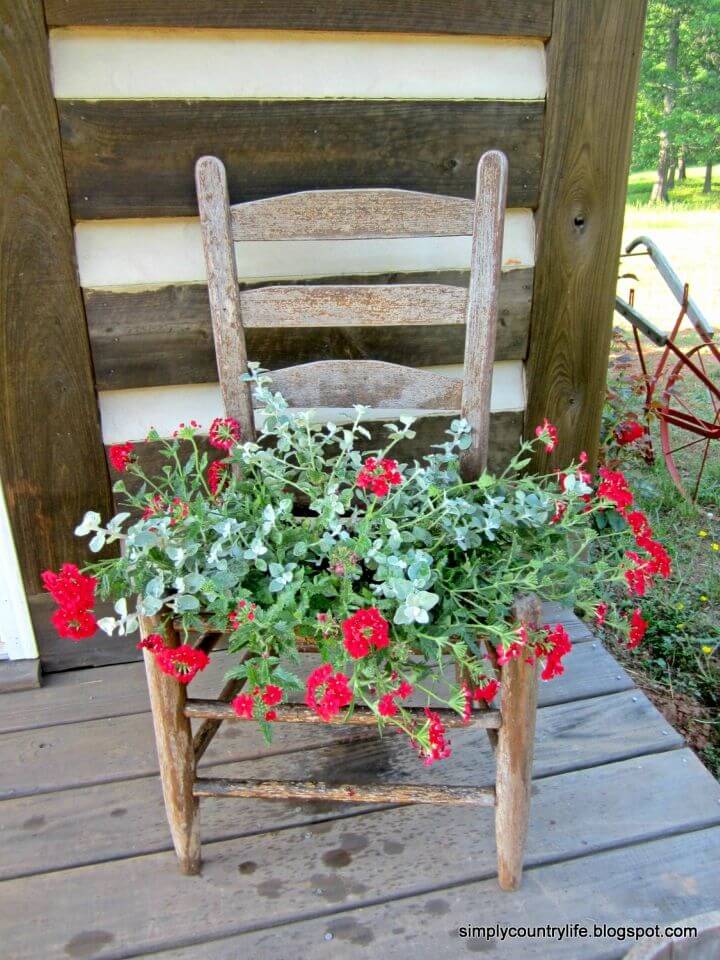 Display also your old chairs into graceful patio planters. So, repurpose also your old furniture pieces to style up your outdoors. Repaint or distress the old chairs for creating a custom appeal of chair planter and start potting in the seat. Get surprised with this readymade patio chair planter. Tutorial here simplycountry
49. Build Your Own Ladder Shelf Organizer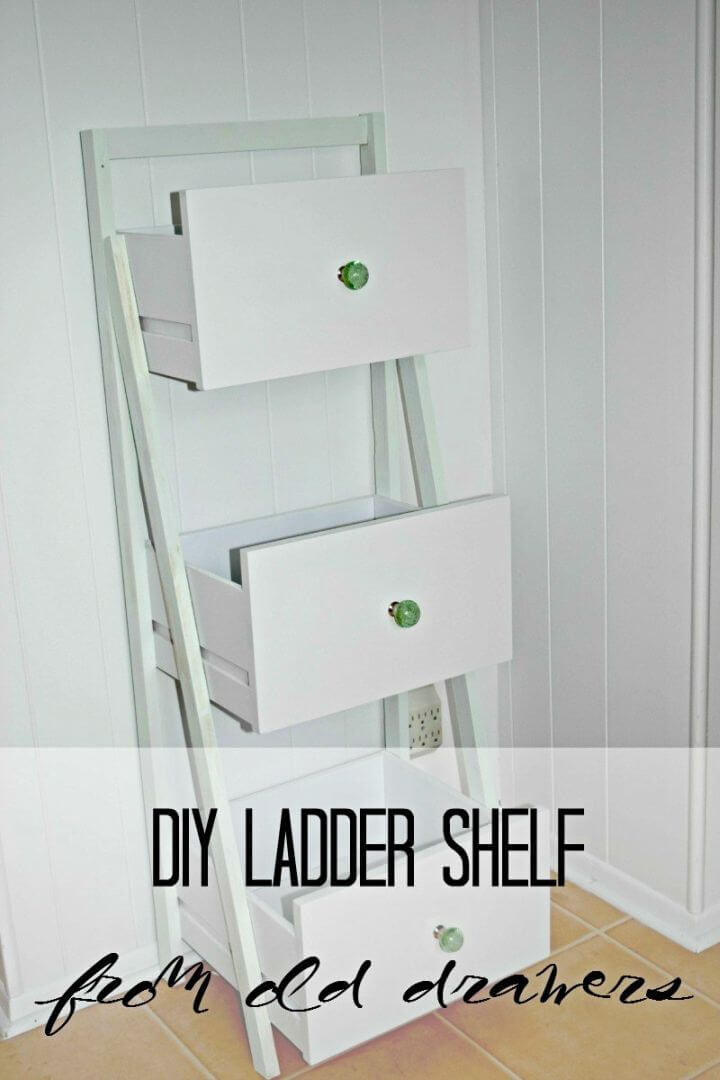 If you are going short on storage space in your home then you will definitely appreciate this creative remake of a ladder. Replace the ladder rungs or spindles with drawers gained from old dressers and make precious ladder shelf organizers, will be idea storage options for a home. Complete instructions here houseologie
50. DIY Drawers Bookcase Using the Ugliest Drawers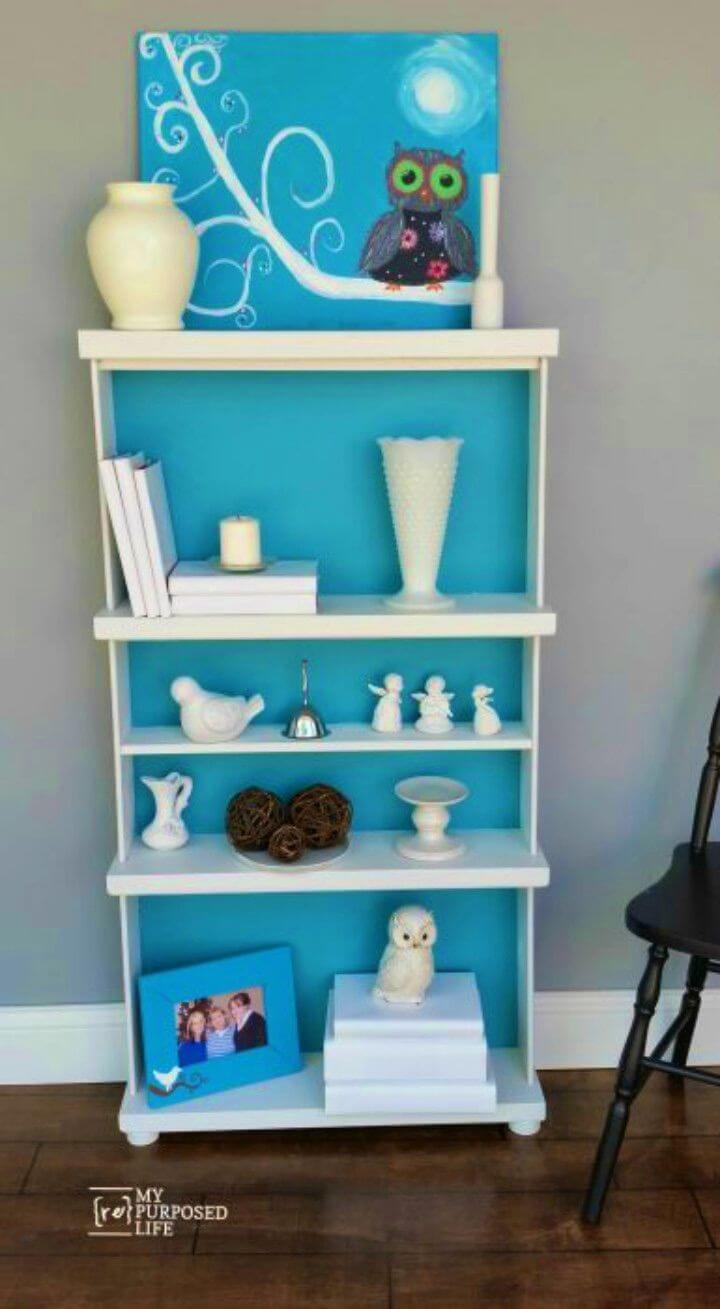 This not ends here, build also fantastic bookcases out of old drawers, they will be a prominent addition to your home and will take good care of your book stacks. The cheaper beauty station to make for your home out of old drawers. Paint will be a great choice to gain any colorful appeal of bookcase. Full how-to tutorial here myrepurposed
51. Unique DIY Drawer Shelves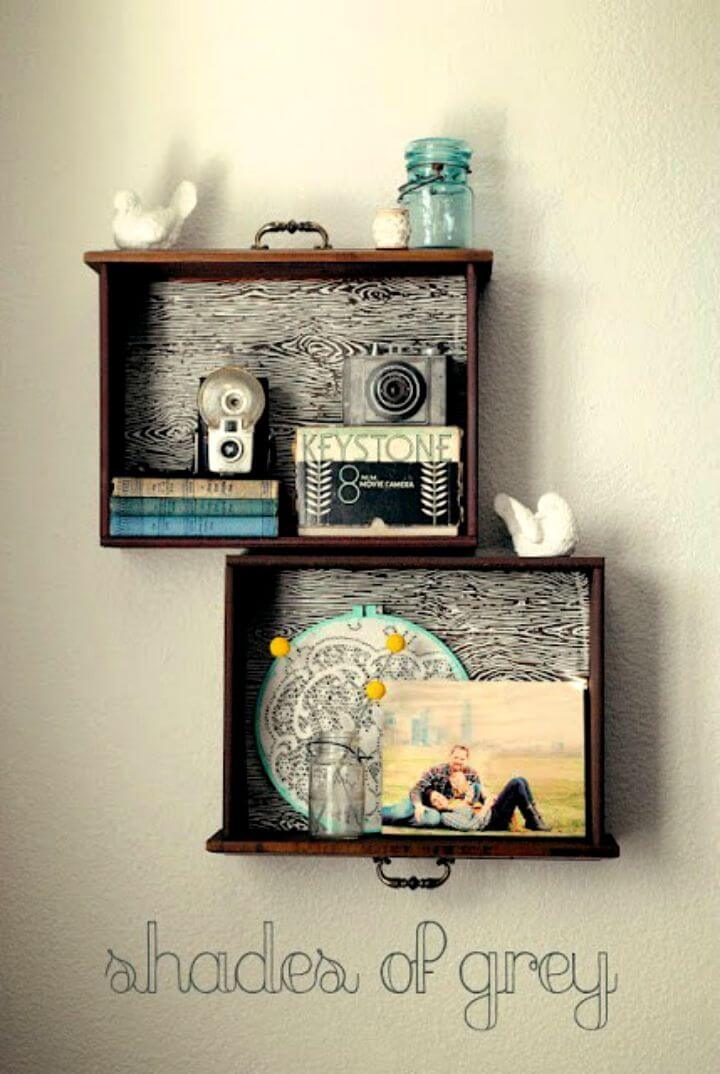 Having nothing to do with your old dressers? Then take out the drawers from them and hang them up on the wall as brilliant display and storage shelves. Will be a great practical choice to display your photos and wedding gifts in a graceful manner. Arrange the drawers on the wall in custom configurations for better results. remodelaholic
52. Modern DIY Colorful Bar Cart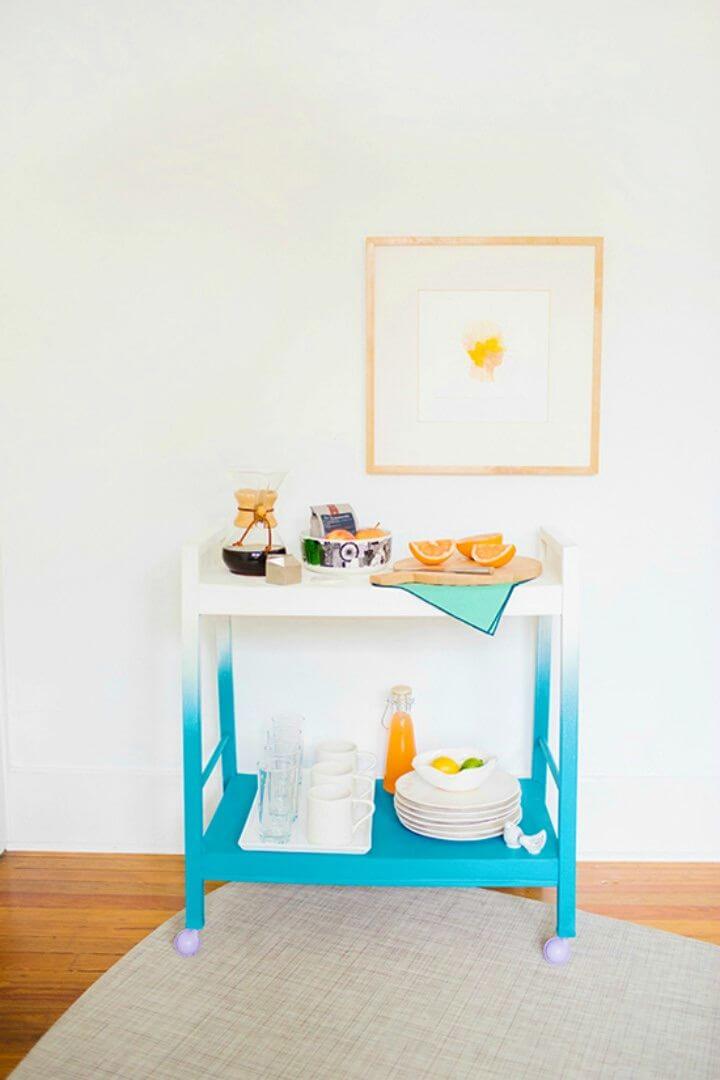 Looking for a modern bar cart to add to your interior home spaces? Then consider updating an old one using some paint. Have a look at this colorful bar cart, has beautiful rolling feet and will fit best in a modern decor style. The upper part has been painted in white that blends beautifully in the dark blue painted appeal of bar cart. Full how-to guides here papernstitch
53. \Modernized Queen Anne Settee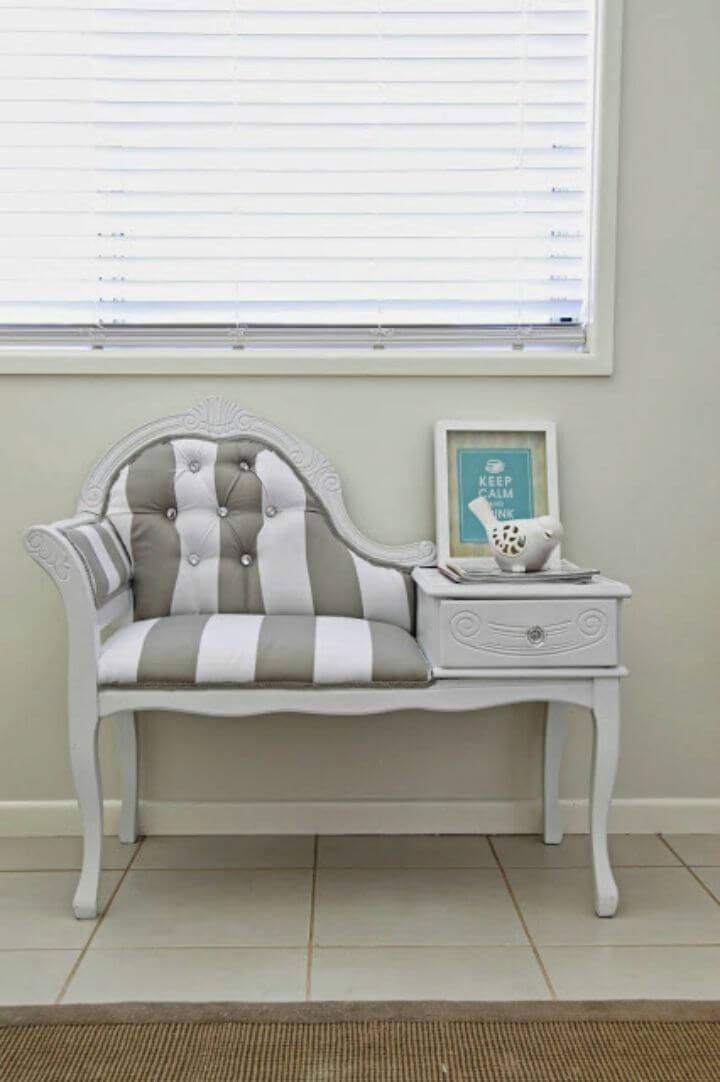 Don't give up with your old furniture, time to bring life in your about-to-die furniture pieces so they will live again with you. Just do creative makeovers of them and regain them back as brand new furniture pieces again. You will get to know the whole story from this modernized queen Anne Sette. Full tutorial here thewhimsicalwife
54. DIY Upholster a Coffee Table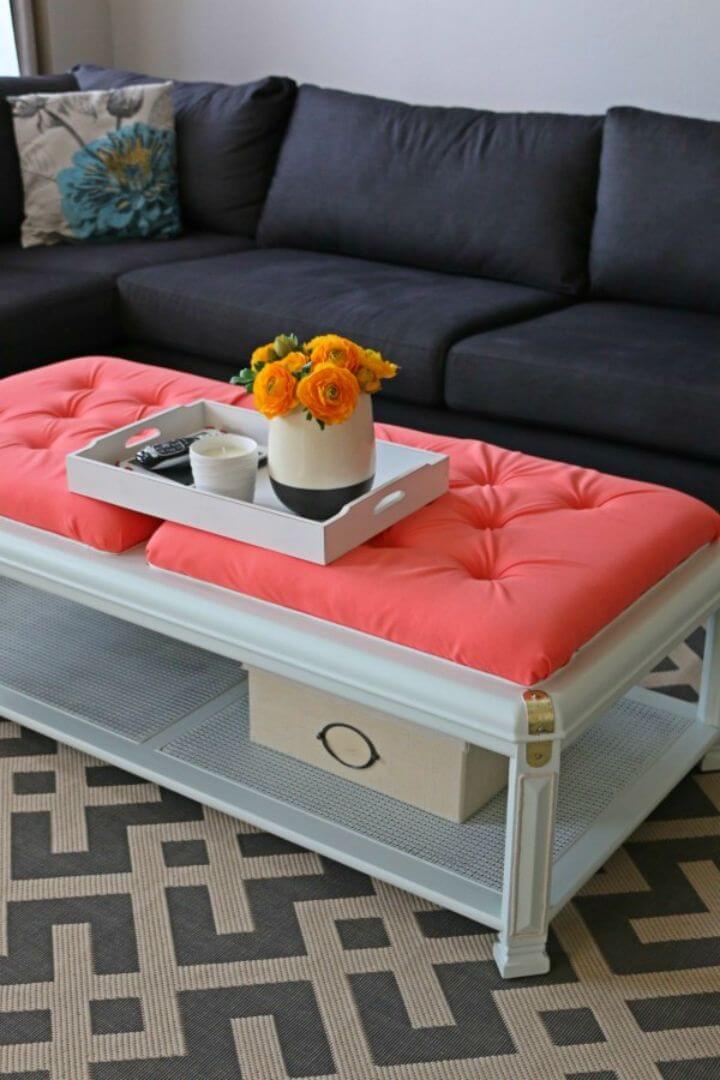 Think twice before you replace the old furniture pieces, have been in serving for years, with the new ones. Show a little respect to them and just redecorate them to fit again in your current home decor theme. Get your living room to liven up again with this upholstered coffee table, a smart remake of an old and boring living room coffee table. How-to guides here oheverything
55. Old Chair Into a Side Chair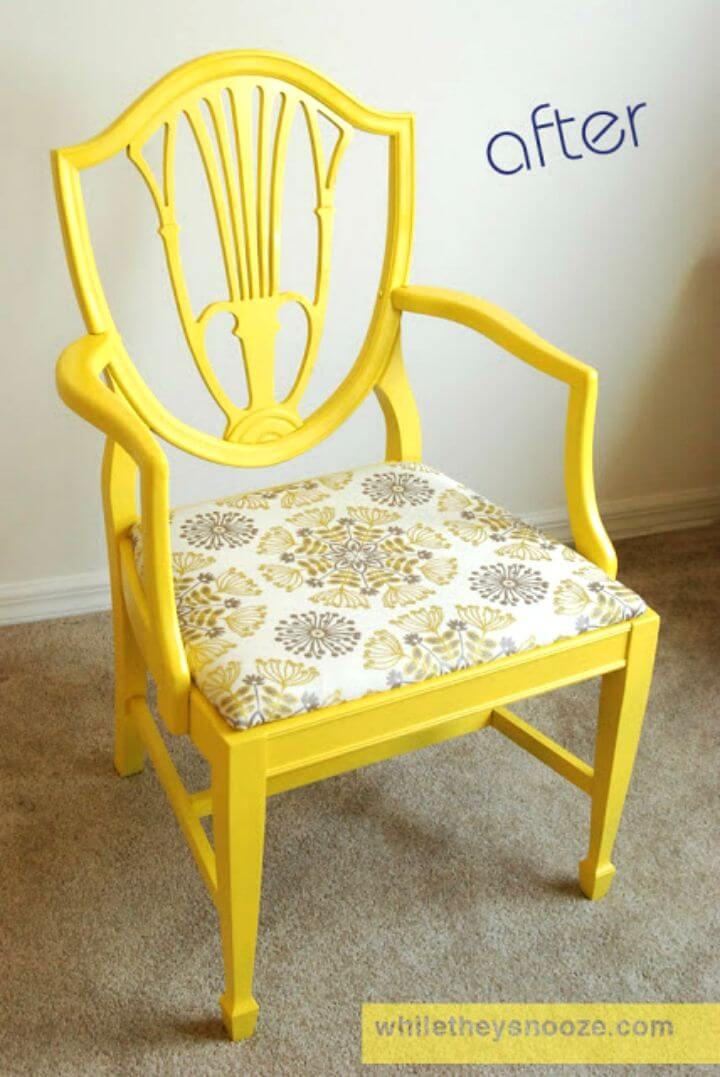 If you love the colorful and stylish furniture items then you are definitely adding this handsome yellow painted chair in your wish-list of furniture. Use a little paint and your upholstering art to regain your old chairs into modern sitting side chairs, will be a smart way to never say bye to your old furniture. Full how-to guides here whiletheysnooze
56. How to Turn Outdoor Bar Into Potting Bench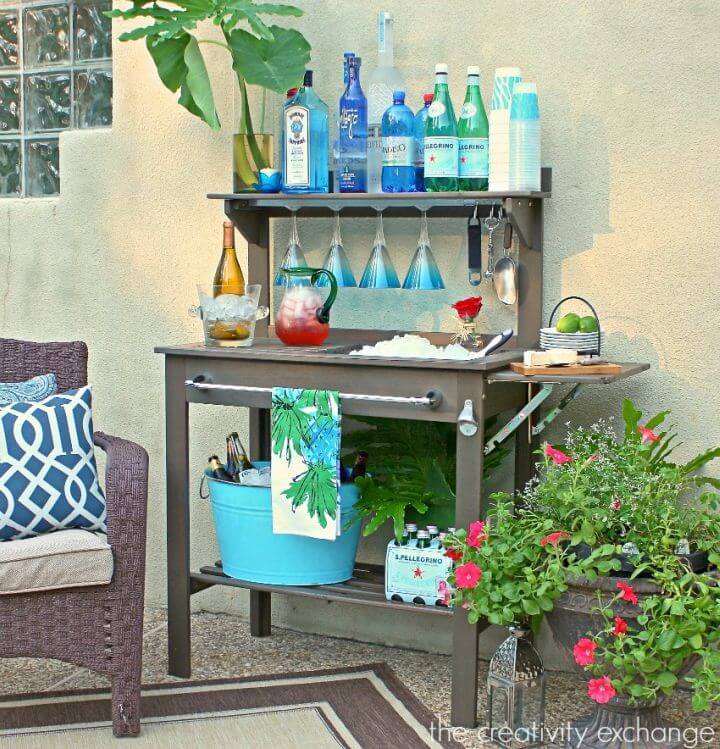 Maybe you are having many other options for building an outdoor bar, but if you are having an old potting bench, you definitely modify it to serve as a functional outdoor bar. Add an ice box, custom hooks and repaint an old potting bench to serve as a handsome outdoor bar as you can see. Full tutorial here thecreativityex
57. Easy DIY Up-cycled Side Table + Planter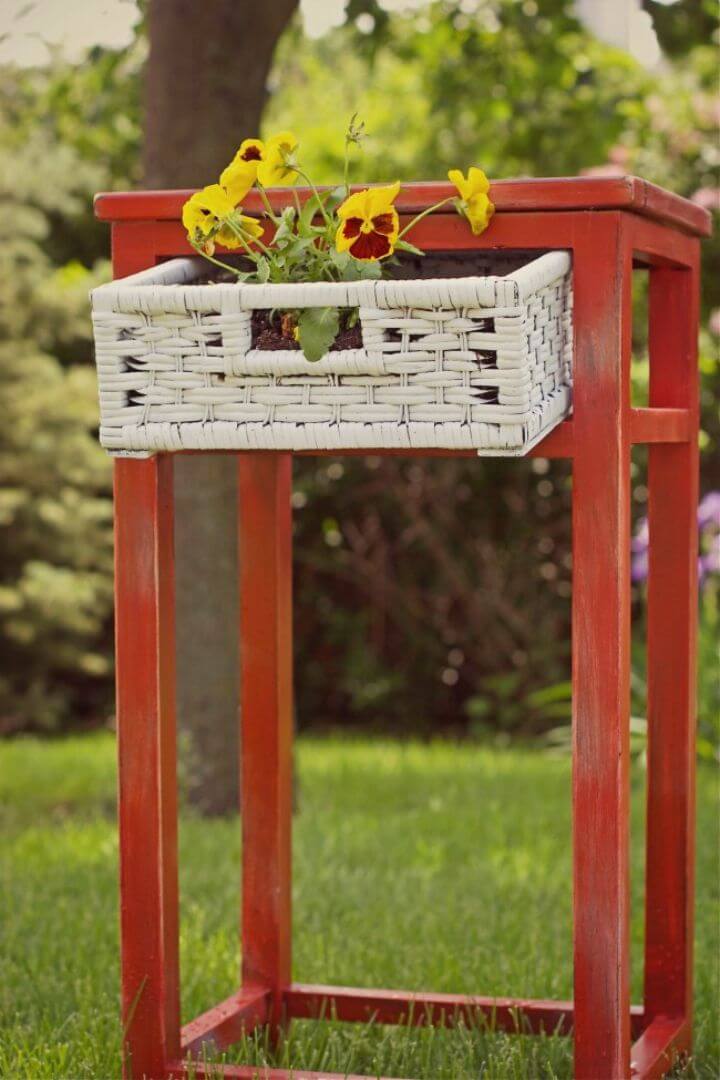 If you are having great emotions for the green life and often wish to display them in the home then here is a hack for it. Build this upcycled side table with planter, a smart remake of an old side table, repainted for a stylish modern appeal. The planter basket has also been painted for a glam appeal. Full how-to guides and tutorial here tifforelie
58. DIY Ottoman from Coffee Table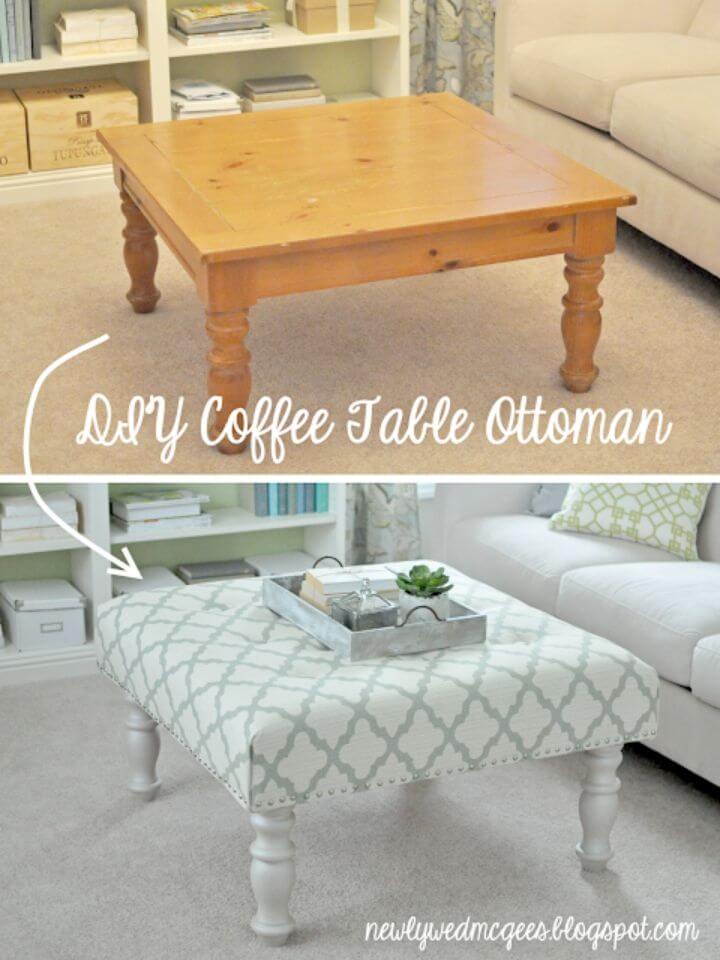 Maybe you are an ottoman deficient in your living room but having a spare coffee table at the same time. If yes, then just upholster your old or spare mini coffee table to build a lovely ottoman, will be the comfy kind of footrest to make at home without getting a bit expensive. A smart repurposing of an old coffee table. Full tutorial here newlywedmcgees
59. How to DIY Lego Table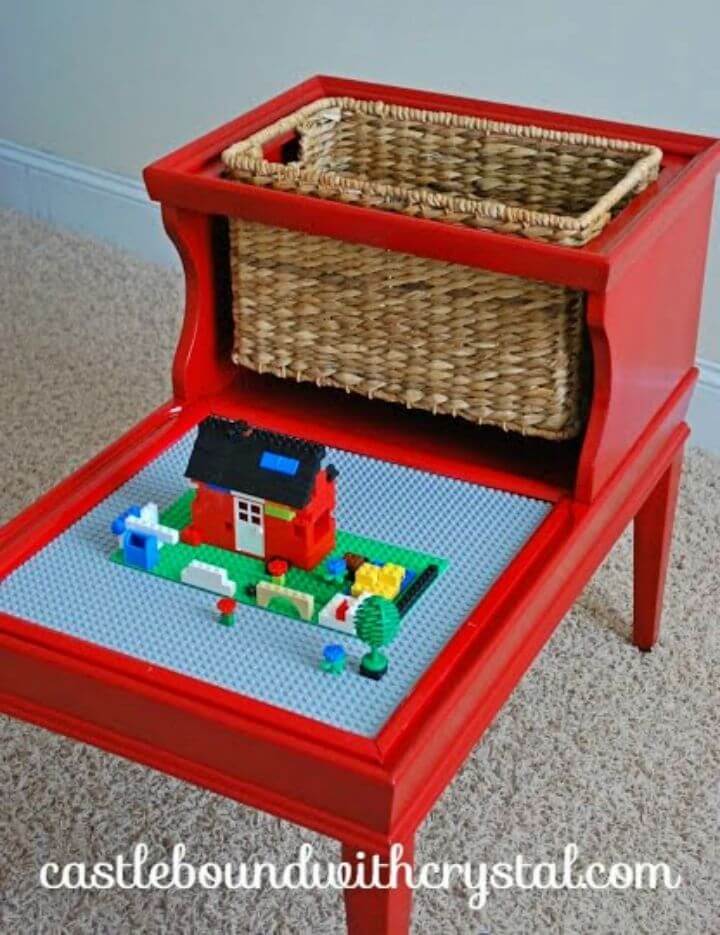 Nothing can surprise the kids more but this LEGO table gift, a handsome gaming table built for never-ending kids' fun. This is here also a refurbished version of an old table and will be praised by all the kids in the home. Want to get raised in the eyes of your kids by giving this table present? Here is how to make it fussymonkeybiz
60. DIY Dresser Into a Pet Bed and Nightstand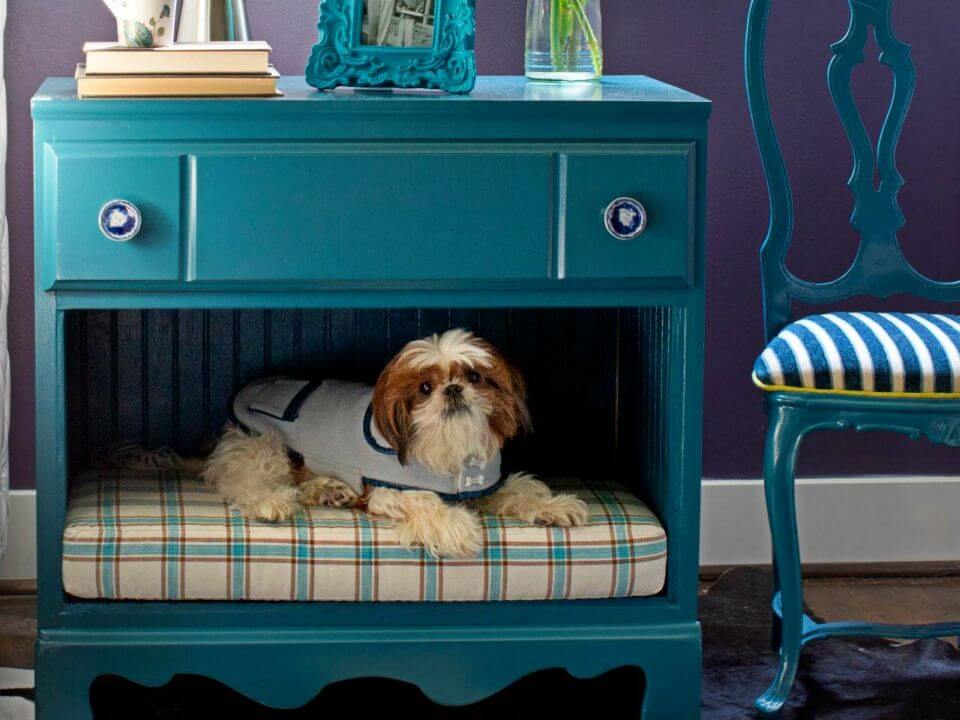 Old dressers or chest of drawers in the home are one of the most versatile home decor furniture pieces from repurposing point of view. Yes, if they have been got old enough to be replaced then consider changing them into some other items of furniture instead of wasting uselessly. Build this pet bed and nightstand out of a dresser, a storage-friendly nightstand will help keep your furry friend in arm's reach. Details here diynetwork
61. DIY Old Crib to Ben's New Toy Chest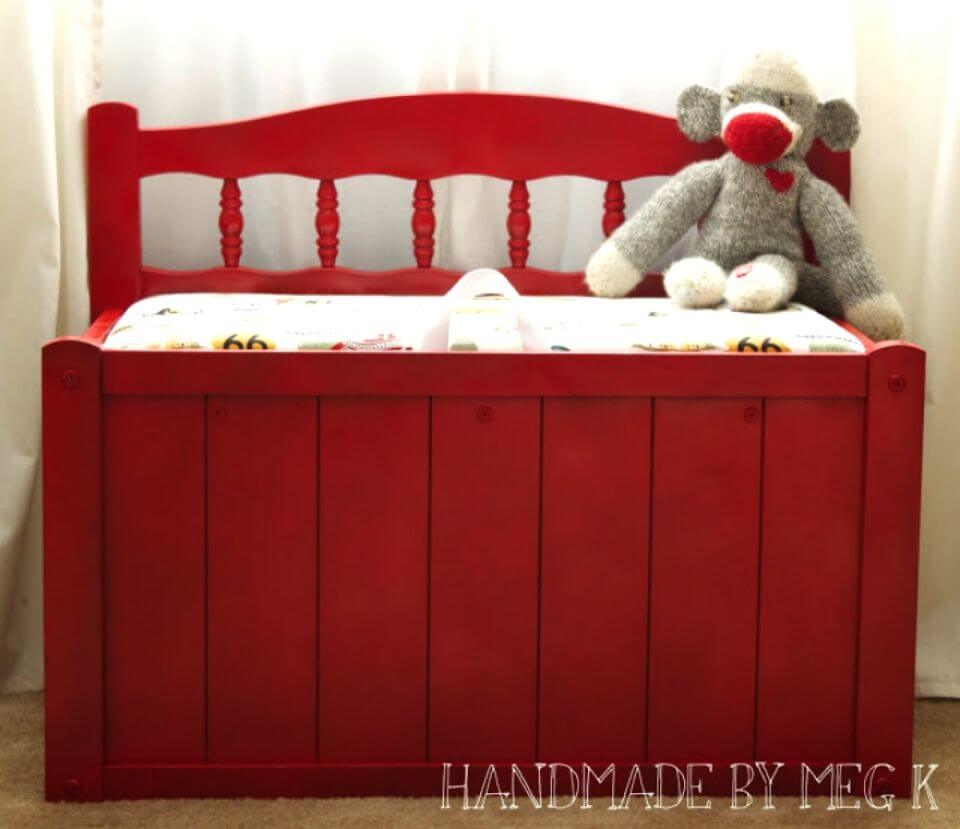 Have you got your toddlers grown enough to escape from a crib then time to repurpose the old toddler cribs? Just rebuild them to make fabulous toy chests, will again serve better in the kids' playrooms. A better way to save the old baby cribs as a sweet memory in the kids' room. Full how-to tutorial here handmademegk
Frequently Asked Questions:
Where to get free furniture?
If you're looking for free furniture, the best place to start is with local organizations that provide assistance to those in need. Charities like Furniture Bank and Habitat for Humanity often have donated furniture available at no cost. You can also check with your city or state resources, as they may have a program designed to help low-income households with furniture. Online marketplaces like Freecycle and Craigslist also have sections dedicated to giving away furniture for free. Finally, you can reach out to family and friends who may be willing to donate their old pieces. No matter which route you take, just remember to do your research before accepting any items. Safety always comes first!
How to paint furniture?
Painting furniture is a great way to update the look of your home. Start by cleaning and sanding down the surfaces of the furniture you plan to paint. Then, prime it with a good quality primer and let it dry completely before applying two coats of your chosen paint color. Make sure you use even strokes when painting, and wait for each coat to fully dry before applying the next one. Use a clear sealer after finishing for added protection. With these steps, you can easily update your old furniture!
Where to donate furniture?
Furniture donations are greatly appreciated and can be made through several organizations. Local charities, thrift shops, and churches often accept furniture donations. Contact local homeless shelters and non-profits to see if they need furniture for their clients.
Some organizations like Goodwill and the Salvation Army offer pickup services for larger pieces of furniture. Visit websites such as Donation Town or Furniture Bank Network to find more information about donating in your area. Donating used furniture is a great way to help those in need while also helping the environment by reducing waste.
Most importantly, remember that even small contributions can make a big difference in someone's life! Your furniture donations can bring much-needed warmth and comfort to those in need.
Where can I throw away furniture for free?
Most local authorities will provide collection services to dispose of old furniture. Alternatively, there are many charities and organisations that accept donations of furniture that is in good condition. Depending on your location, you may be able to find a donation center near you or list the item online. You may also want to look into freecycle groups in your area as they often have furniture available for free. Remember to check the safety of any second-hand items before collecting or accepting them.
How to chalk paint furniture?
Chalk painting furniture is an easy and cost-effective way to breathe new life into your home decor. Before you start, it's important to prepare the surface by sanding and wiping down with a damp cloth. Next, apply a thin coat of primer, let dry completely before beginning the paint process. Use high-quality chalk paint and a brush to begin painting the furniture. Apply a minimum of two coats, letting each coat dry before applying the second. Finally, seal with wax or polyurethane for extra durability and protection. Enjoy your new look!
How to paint wood furniture
Painting furniture can be a fun and rewarding project when done correctly. Begin by sanding down the wood surface with fine-grit sandpaper to create a smooth finish. Next, use a degreasing cleaner to remove any remaining dirt or oil that may have built up over time. Lastly, apply a primer designed for wood, followed by multiple coats of quality paint. Allow each layer to dry before applying the next one for a professional, lasting finish. With these simple steps, you can easily give your furniture a new look!
Who Will pick up furniture donations for free?
Many charities and organizations accept furniture donations free of charge. Local Salvation Army or Goodwill locations are often willing to pick up large items such as furniture, while Habitat for Humanity may have pickup services available in certain areas. Others may require you to bring the furniture donation to them. When in doubt, it is always best to contact your local charity to ask about their pickup options. There may even be private companies in your area that will remove large items for free or at a minimal fee. With enough research, you can find the perfect option for donating your furniture!
Where to sell used furniture?
There are numerous ways to sell used furniture. You can list your items on various online marketplaces such as eBay, Craigslist and Letgo. Local consignment stores, thrift stores and antique dealers may be willing to purchase certain pieces from you. Additionally, classified ads in local newspapers or on community bulletin boards offer another way to get the word out about your used furniture. If you have higher-end items, consider an auction house or estate sale to maximize the value of these items.
How to refinish wood furniture?
Refinishing wood furniture requires careful preparation and sanding before applying a stain or finish. Begin by removing all hardware, cleaning the surface with a damp cloth and lightly sanding. Apply an even coat of finishing product such as varnish, oil, stain or paint, taking care to wipe away any excess. Allow the piece to dry and then apply additional coats if needed. Finish the project by adding hardware back to the piece and buffing with a soft cloth. Enjoy your newly refinished furniture!
How to distress furniture?
Distressing furniture is a popular DIY technique to give old or new furniture an aged and rustic look. To distress your furniture, you need sandpaper, paint, protective sealant and distressing tools such as a hammer or screwdriver. Start by lightly sanding the surface of the piece; then apply and dry several layers of paint until the desired effect is achieved. Finish with a protective sealant to protect the furniture from wear and tear. Finally, use distressing tools to distress areas of the piece for an aged look. With these steps, you can easily distress furniture at home!
How to clean wood furniture?
To clean wooden furniture, dust it first with a soft cloth or feather duster. Then use a damp cloth to wipe away any dirt and debris. Avoid using harsh soaps, as they can strip the wood of its protective coating. For tougher stains, mix equal parts vinegar and water in a spray bottle and apply it to the affected area. Let the mixture sit for a few minutes and then wipe off with a damp cloth. For best results, finish with a wood furniture polish to give the surface some added shine and protection.
How to refinish furniture?
Refinishing furniture requires time, patience and the right supplies. Start by thoroughly cleaning the piece of furniture with a mild detergent, then sanding it down to prepare for staining or painting. Once finished, apply about three coats of paint, allowing each layer to dry before applying the next. To protect your newly painted surface, finish it with a sealant and clear coat of polyurethane. Lastly, buff the furniture to achieve a smooth finish. When done correctly, you can create beautiful pieces that will last for years.
Who Will pick up junk furniture for free?
A variety of organizations can pick up junk furniture for free, such as charities and non-profits. Depending on the area, Goodwill and Salvation Army often have donation pickup services. Additionally, local churches or religious organizations might offer similar services. Alternatively, many cities have bulky item pickups available through their sanitation departments. To find out what services are available in the area, it is best to contact local organizations or government offices. Freecycle and other online forums may also have listings for free furniture removal.
Other than these options, private companies often provide junk removal services. Many of them offer free pickup for certain items, such as mattresses and appliances. It is important to research services in the area before making a decision. With the right resources and effort, finding a free pickup option for junk furniture should be easy.
How to paint laminate furniture?
Painting laminate furniture is a great way to update the look of your home. Start by sanding and cleaning the surface to ensure proper adhesion. Use a primer that's specifically designed for laminate surfaces, then paint with a high-quality acrylic enamel. For best results, use several thin coats of paint and allow each layer to dry before applying the next. Use a foam roller or brush for best results, and finish with a sealant to protect your work. Enjoy your refreshed look!
How to get rid of old furniture?
Getting rid of old furniture doesn't have to be challenging. There are several options available, depending on the condition and value of your furniture. Consider donating it to a local charity, selling it online or at a consignment shop, or listing it on an online marketplace such as Craigslist. You may also opt for professional removal services if you don't have the means to dispose of it yourself. Ultimately, getting rid of your old furniture can be easy if you know where to look for help.
How to paint IKEA furniture?
Painting IKEA furniture can be an easy and affordable way to give your home a personal touch. Before painting, make sure the surface is clean and dry. Use light sandpaper on wood surfaces for better adhesion of paint. Prime the piece with a primer before painting with latex or acrylic paint. After the first coat dries, sand the surface again before applying a second coat. For best results, use two to three coats of paint and finish with a varnish or sealant. Enjoy your new look!
How to repair wicker furniture?
If your wicker furniture has sustained damage, it can often be repaired. To fix minor breaks, use super glue or epoxy to hold the pieces together. You may need to replace broken weaves with new materials for more serious damage. When painting, you should use a primer over the entire surface and apply several outdoor paint coats. You may also need to use a sealant or finish for added protection from the elements. With proper care, your wicker furniture can last for many years.
How to repair leather furniture?
If the leather of your furniture is cracked, torn or faded, you can repair it to restore its beauty. First, clean the leather surface with a damp cloth and then dry it thoroughly. Next, apply a leather conditioner to soften the material and make repairs easier. If needed, use adhesive to stick down any flaps or rips. Finally, use a leather repair kit to fill in any deep cracks or holes. Allow the material to dry before using it again. With proper care, your furniture will look good as new.
How to repair wood furniture?
Wood furniture can be repaired with a few simple steps. Start by cleaning the surface of the furniture to remove any dirt or grime that may have accumulated over time. Sand down any rough patches and make sure to fill in any gaps with wood filler. Apply a clear sealant or paint to protect the furniture from further damage. Consider consulting a professional carpenter or furniture repair specialist for more extensive repairs. With the right tools and expertise, your furniture can be restored to its former glory.
How to repair rattan furniture?
When it comes to repairing rattan furniture, the first step is to identify the source of the damage. Once you have determined where the problem lies, use sandpaper and steel wool to remove any rust or dirt build-up around the area. Next, use a strong adhesive to fix any broken pieces and fill in any cracks with wood filler. Once you have made the repairs, give the piece a coat of paint or varnish to protect it from further damage. With these simple steps, you can easily repair your rattan furniture and keep it looking great for years to come.
How to spray paint furniture?
Spray painting furniture is a great way to give an old piece new life. First, clean the surface of your furniture with warm soapy water and allow it to dry completely. Next, lightly sand any rough areas and wipe down with a cloth. Finally, use even strokes to spray paint in a well-ventilated area using several thin layers, allowing each layer to dry before applying the next. Once complete, add a top coat of sealer for increased durability and to protect your newly painted piece. With these steps, you can easily create a new look for any piece of furniture!
What spray paint to use on outdoor wicker furniture?
For outdoor wicker furniture, it is best to use a spray paint specifically designed to be used on wicker. Choose a paint that contains UV inhibitors or colored pigments to prevent the paint from fading in direct sunlight. Before painting, make sure to clean the furniture and sand any rough areas for better adhesion of the paint. Additionally, use multiple light coats of paint instead of one heavy coat to avoid drips and runs. Lastly, always let the paint dry completely before moving on to the next step.
This will ensure that your wicker furniture looks as good as new for years to come!
Related DIY Projects and Ideas
Repurposing Bookshelf Ideas: If you're looking for a fun new way to use your old bookshelf, check out these ideas to transform old bookshelf into something beautiful, useful, or remarkable.
DIY Upcycling Ideas: Don't just throw your old stuff away or give it to the thrift store. There are a ton of creative ways to repurpose your old stuff into useful home decor items.
Repurpose Old Curtains: Discover cool ways to repurpose old curtains into something beautiful and fresh. This is a quick and inexpensive way to update your room.
Repurpose Old Garden Tools: If you have an old garden tool laying around that you don't want anymore, Then check out these clever ways to transform old garden tools into something new.
Repurposed Bicycle Wheel Ideas: These useful DIY repurposed bicycle wheel ideas are sure to have you inspired for your next project. From a recycled bike tire and a garden cart, to a chair, these wheels will make your day.
DIY Furniture Projects: Whether you're a DIY beginner or an experienced woodworker, these cheap DIY furniture ideas will inspire you to create something new.
Pallet Outdoor Furniture: Check out these affordable DIY pallet outdoor furniture ideas for your patio. You'll find design inspiration and other tips to help you create the perfect outdoor space.
Patio Furniture Plans: Need an outdoor table & chairs? Want to create your own outdoor furniture? Discover stunning DIY patio furniture plans and ideas that are easy to build, inexpensive and take less than an hour.
Conclusion:
These 60 old furniture upcycling ideas are a great way to add a personal touch to your home. Whether you're looking for a new coffee table or end table, these repurposed furniture ideas are sure to give you the inspiration you need. If you're not interested in upcycling your own furniture, there are plenty of companies that specialize in selling repurposed furniture. So if you're looking for a unique piece of furniture, be sure to check out our complete list of upcycled furniture ideas.