Learn how to make cornhole boards with these 55 free DIY cornhole board plans, designs and ideas, including step by step PDF blueprints. For those looking to add a bit of fun and excitement to their backyard or game room, diy cornhole boards are the perfect solution. With 55 free cornhole board plans available below, anyone can make a cornhole board with ease. Whether you want just a simple rectangular board for casual play or want to get more creative with curves, angles, and designs, free diy cornhole board plans are sure to have something that appeals to your tastes. Plus, building your own cornhole boards is more rewarding than buying them pre-assembled. So why not take the challenge and get your diy cornhole board project going today!
How to Build Your Own DIY Cornhole Boards?
These 55 best and free DIY cornhole board plans are one of the best outdoor games in the backyard when you have parties, reunions, etc., to host. Customize these wood planks into any theme or colors of the teams you plan to play with. Moreover, all cornhole board plans have a good size for later on storing them in a cupboard or store. Since you will be spending lots of outside on your lawn for the upcoming summer season, so why not make it fun and exciting too? These cornhole board ideas are perfect for such a time. Use bright colors to give a more exciting look to the games and entice people into playing them.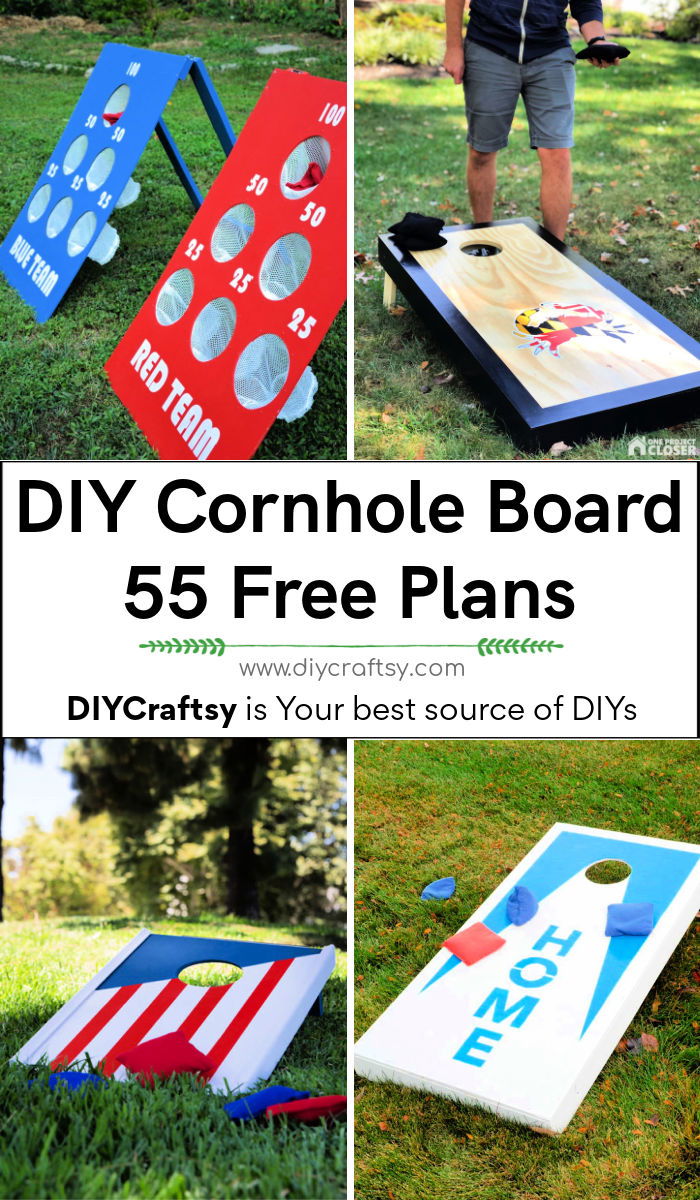 Here we have an article with free cornhole board plans to make cornhole boards ranging from Halloween to the 4th of July. This will be the best option if you are looking for a useful and fun activity to pass the time this weekend. One thing similar in all the ideas is that they are creatively made with wood boards using colors, patterns, and different stencils to decorate them. Furthermore, these summer game projects are oddly satisfying and crafty options for an enjoyable evening. Once you make them, you will get the hang of how to make them and finally, master the skill. Hence, without delaying time, let's start looking into it and making these amazing DIY cornhole boards.
What is the cornhole game?
Cornhole is a popular outdoor game in which players toss bean bags at a raised platform with a hole in the far end. The goal is to score points by landing the bags in the hole or on the platform. It's a great game for all ages and can be played indoors or outdoors, making it perfect for family time or parties! Simple yet fun, it's easy to see why cornhole has become so popular. Have a blast with this classic game!
How do you play cornhole?
Cornhole is quite simple: two boards with a hole cut into each one and four beanbags. Players divide into two teams, stand at opposite sides of the boards, and take turns throwing the bags. The goal is to get the bag in the hole for three points or on the board for one point. The first team to 21 points wins the game. Have fun!
Who invented cornhole?
The history of cornhole is a bit fuzzy, but it is believed to have been invented by a group of farmers in the mid-19th century. The game was popular among rural communities and eventually spread throughout the United States. It has since become an American backyard favorite, with different variations and rules depending on where you live. Cornhole has been around for well over a century, continuing to be enjoyed by many generations. It's a great way to have fun and bond with friends and family!
Why is it called cornhole?
The game of cornhole is thought to have originated in the Midwestern United States and typically goes by several names such as bean bag toss, soft horseshoes, or bags. It is believed that the name "cornhole" was derived from the fact that the original bags used were filled with dried corn kernels. The name stuck and has become the commonly used term for the game. The aim of the game is to toss small bean bags filled with corn at a raised platform with a hole in it. Points are gained when a bag goes into the hole or lands on the board. Have fun playing!
How to play cornhole?
To play cornhole, grab two boards and eight bean bags. Set up the boards across from each other with a gap of 27 feet. Take turns tossing the bags towards the hole on the board with points awarded for landing in or near the hole. The first to reach 21 points wins! Enjoy this fun game with family and friends!
How far apart are cornhole boards?
The standard distance between cornhole boards is 27 feet, or 8.23 meters. This is known as a "cornhole court" and is the regulation distance for tournament play. However, if desired, you are welcome to set up your boards closer or further apart. Make sure to keep a consistent distance when playing with friends! Enjoy the game!
How to make cornhole boards?
To make a cornhole board, you'll need two 48″x24″ boards of 1/2-inch plywood, two 2x4s cut to 24″, four 2.5″ lag screws, drill and bit set, sandpaper, wood glue and paint. Start by drilling pilot holes in each corner of the plywood boards. Secure the 2x4s to the plywood with the lag screws and wood glue. Sand, paint and decorate your board according to your preference. Enjoy a game of cornhole!
How to throw a cornhole bag?
To throw a cornhole bag, stand about 15-30 feet away from the board and hold the bag in your dominant hand. Grip it securely with four fingers around the bottom of the bag and one finger to support it from underneath. Then, swing your arm forward in an underhand motion while releasing the bag when your arm is parallel to the ground. Aim for the hole and watch your cornhole bag sail to victory!
How to score cornhole?
Cornhole scoring is easy and fun. The goal of the game is to be the first team to reach 21 points. Points are earned by tossing bags onto the board and if a bag lands on or in the hole, an additional 3 points are awarded. Whoever throws their bag closest to the hole, earns 1 point for each bag that is closer to the hole than the opposing teams. The team with the most points at the end of the game wins!
How to paint cornhole boards?
To paint cornhole boards you'll need a few supplies. Begin by sanding the wooden boards to prepare them for painting. Then apply an even coat of primer, let it dry completely and paint two coats of acrylic paint. Make sure to let the first coat dry before applying the second one. Finally, protect your artwork with a clear sealer. Enjoy your custom painted boards!
When was cornhole invented?
The game of cornhole is believed to have origins dating back to the 14th century in Germany. Though, it wasn't until the late 19th century that it gained popularity in the United States. In its current form, cornhole was invented around 1920 by an anonymous source from Cincinnati, Ohio. The game quickly grew in popularity and continues to be a popular pastime for many people around the world.
How to finish cornhole boards?
Once the cornhole boards are built, they can be finished with sandpaper and paint. Sanding the boards down smooth helps give a better surface for painting. After sanding, use quality exterior grade paints to apply two coats of paint, allowing each coat to dry before applying the next one. Once painted, you'll have beautiful cornhole boards ready for play! Enjoy.
How much does a cornhole bag weigh?
Cornhole bags typically weigh between 14-16 ounces. The regulation weight for a cornhole bag is 16 ounces, which is the official size for tournament play and other competitive events. Cornhole bags can be filled with plastic resin pellets or feed corn to meet the 16-ounce standard. Depending on the type of material used, the bags may vary in weight slightly. For example, plastic resin bags tend to weigh more than feed corn filled bags. All in all, a typical cornhole bag will weigh between 14-16 ounces.
What size are cornhole boards?
Cornhole boards typically measure 48 inches long by 24 inches wide and are made from either wood or plastic. The hole in the board is usually 6 inches in diameter, while the board's surface should be 4 to 12 inches from the ground. Cornhole bags should also measure around 6 inches across and be filled with corn, plastic pellets, or whole beans. Different sizes can also be used for different age players.
What is Regulation size cornhole boards?
Regulation size cornhole boards are two wooden boards that measure 2 feet wide by 4 feet long with a 6 inch hole in the center. They come with 8 bags of corn or bean filled fabric and have a design. The game is played by throwing the bags at the board to score points depending on where they land. The first person to reach 21 points wins!
What is the Standard cornhole board size?
Standard cornhole boards measure 2 feet wide by 4 feet long and the playing surface is a little bit smaller, measuring 2 x 3.5 feet. The hole should be 6 inches in diameter and centered 9 inches from the top of the board and 12 inches from each side. You can also find tournament-style cornhole boards that measure 2.5 feet wide by 5 feet long, with a playing surface that measures 2.25 x 4.5 feet and the hole is 8 inches in diameter and centered 9 inches from the top of the board and 12 inches from each side.
1. DIY Portable Cornhole Board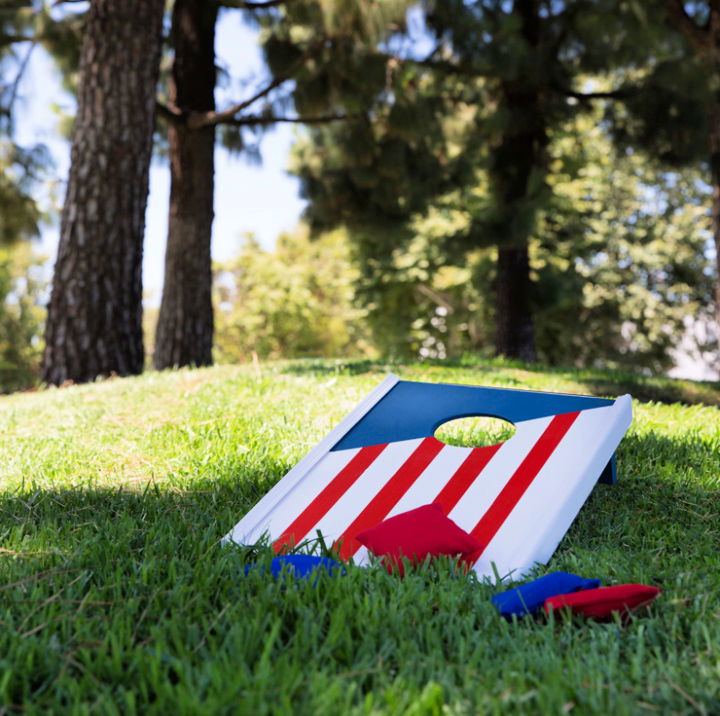 Is there anything better than spending time on the 4th of July with family and friends? We don't think so! Make this holiday more festive with this DIY portable cornhole board, and have fun wherever you go. You will need supplies like a wood board, wood stick, wood trim, hinges, power drill, and few other supplies. behr
2. How to Make Cornhole Boards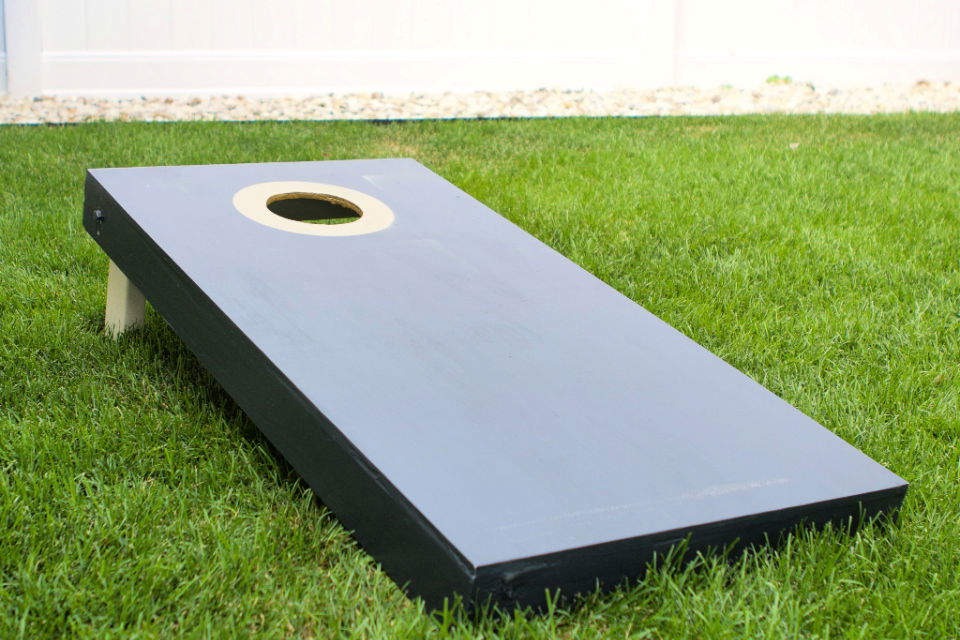 Since summer is around the corner, you have a lot of time on your hands to spend, so why not make these classic DIY cornhole board plans for fun game nights. Buying new can be costly, so here is a DIY option that is quite easy and inexpensive to make. Moreover, you will need wood, plywood, clamps, drill, paint, stencils, jigsaw, and few other materials to make this project. thediyplaybook
3. Homemade Cornhole Board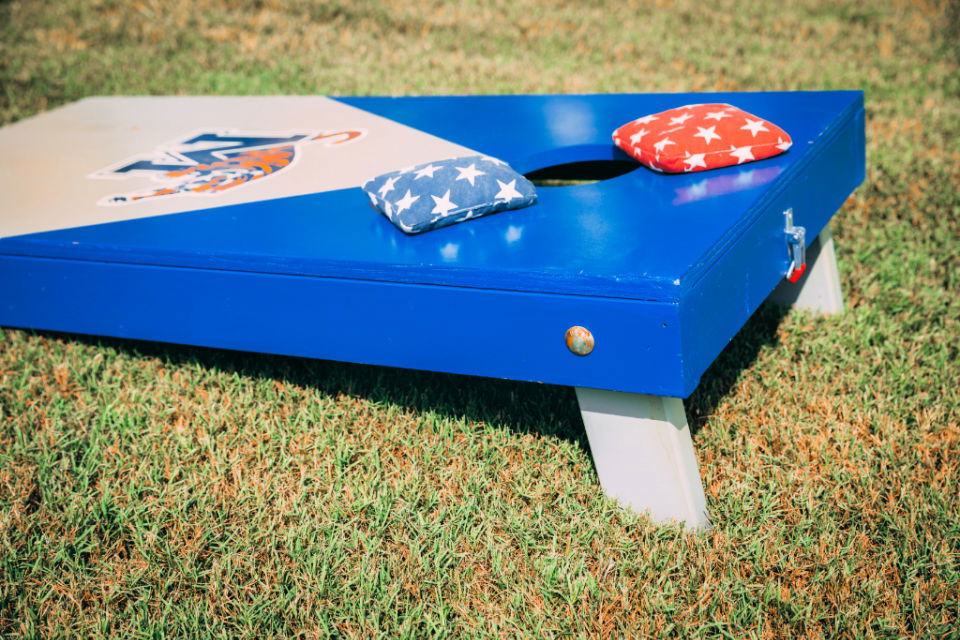 This homemade DIY cornhole board plan is an easy and simpler tutorial that anyone can follow and make. It is a simple build using basic tools and lots of fun. Furthermore, make sure you have all the supplies for completing this project. tourcollierville
4. Auburn Themed Cornhole Boards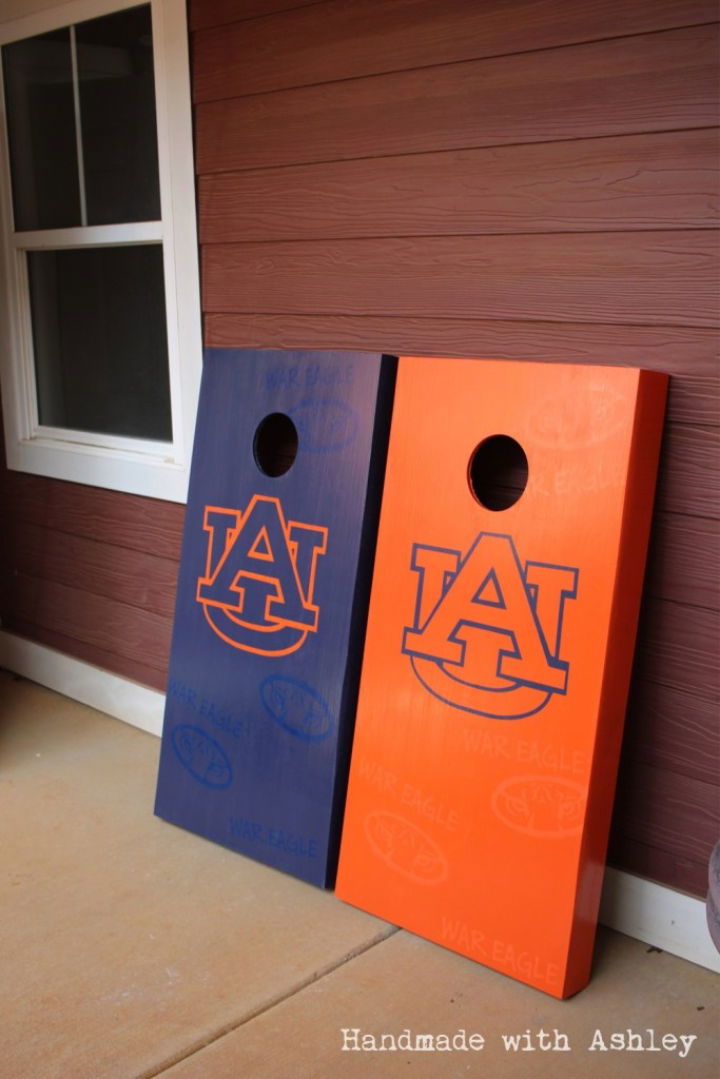 A themed DIY cornhole board plan is a cool and fun way to play games on these DIY cornhole boards. Either use colors or the emblem of a specific team that you like and support and use the specific colors. The supplies you will be needing are a hole saw, plywood, carriage bolts, washers, wing nuts, and paints, of course! ashleygrenon
Playdough: How to make playdough? find these ultimate homemade playdough recipes to give your kids a fun game.
5. Wooden Cornhole Game Board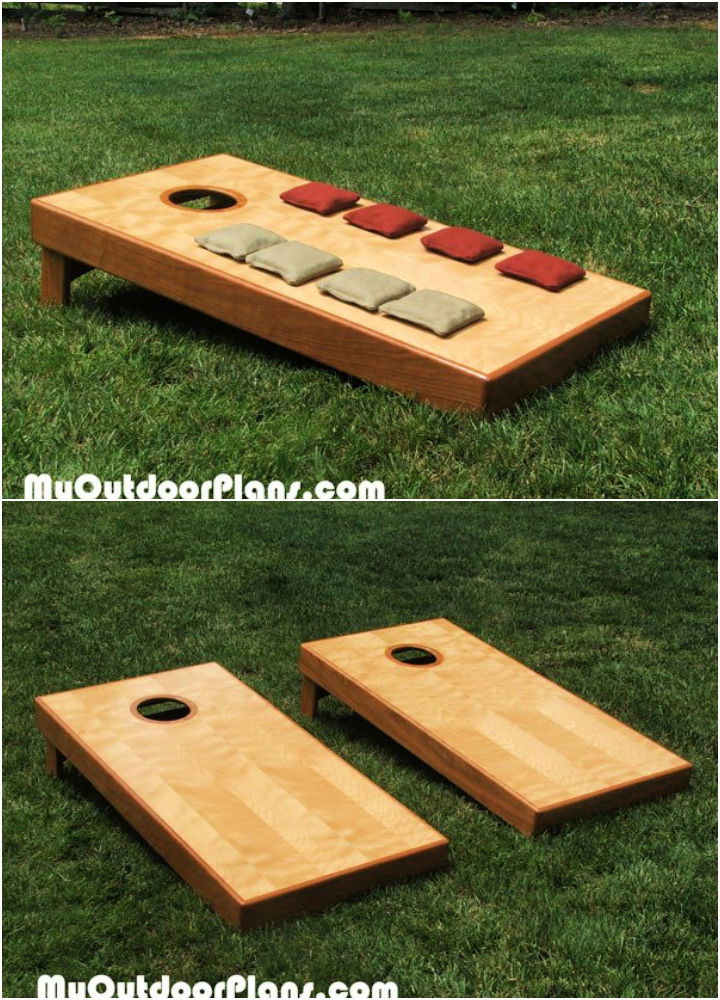 This features detailed steps of instructions for making a cornhole board for game nights. It is very easy to make and has the least amount of work to build it. Moreover, you must have plywood, lumber, screws, filler, and glue to make this. myoutdoorplans
6. DIY Bean Bag Toss Game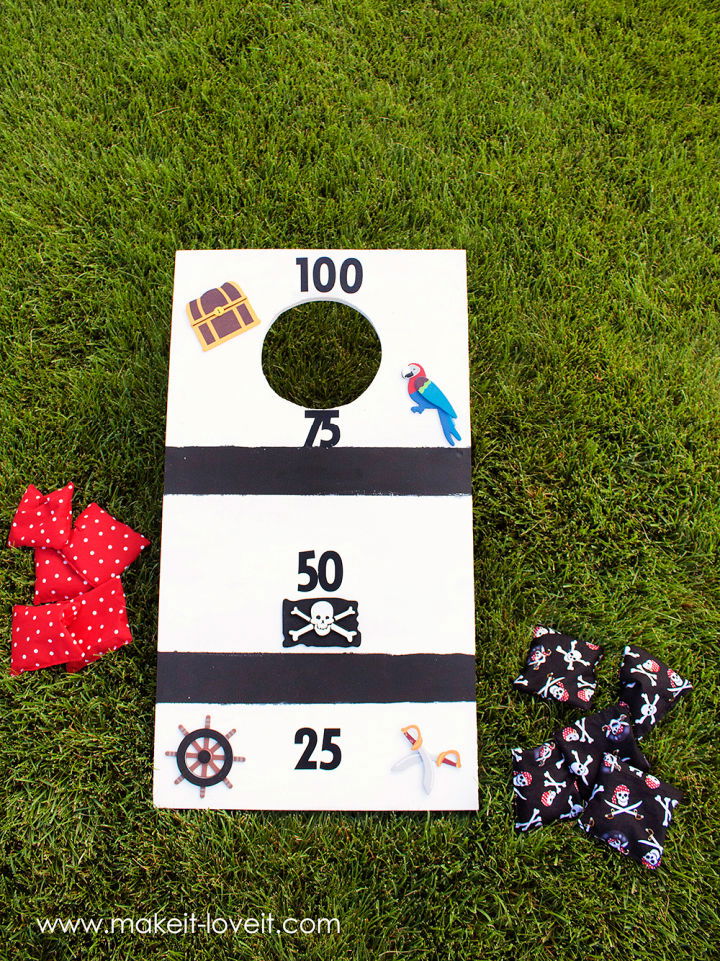 Here is a wonderful DIY bean bag toss game that is perfect for outdoor summer games but can also be a great game for indoors all year long! Moreover, you will need supplies like a scrap of plywood, saw, drill, screws, and beanbags. makeit loveit
7. Build a Regulation Cornhole Set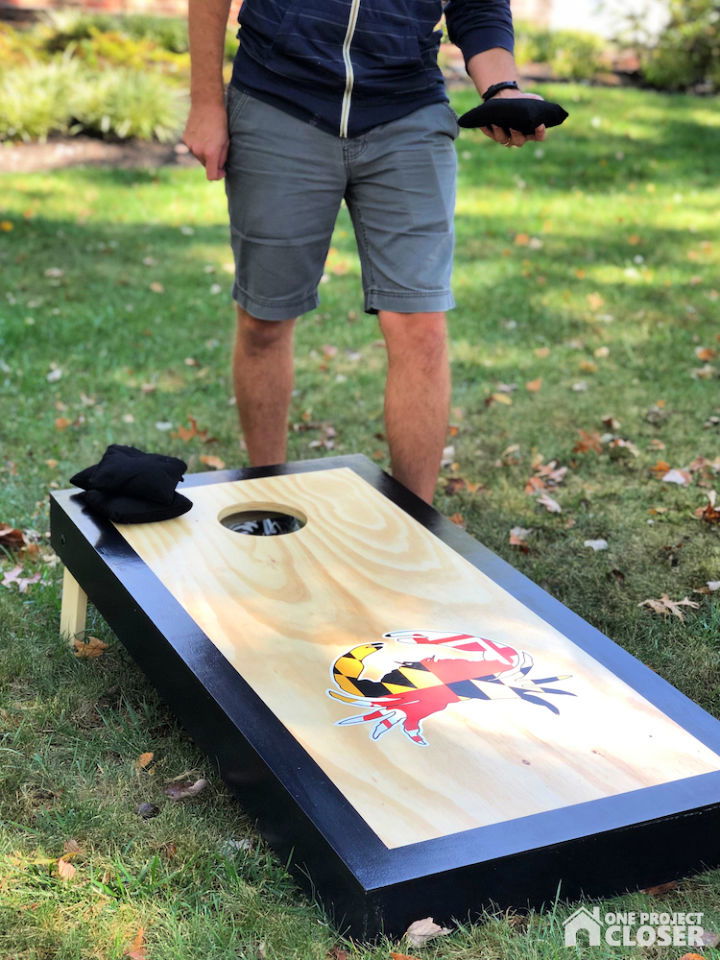 If you love to play semi-competitive yard games, then this DIY cornhole board plan will be your favorite one. You can easily make it within a few hours, and you can also customize the pattern on it, like anything you want. Moreover, you need plywood, screws, carriage bolt, nuts, and few other supplies. oneprojectcloser
8. DIY Backyard Cornhole Boards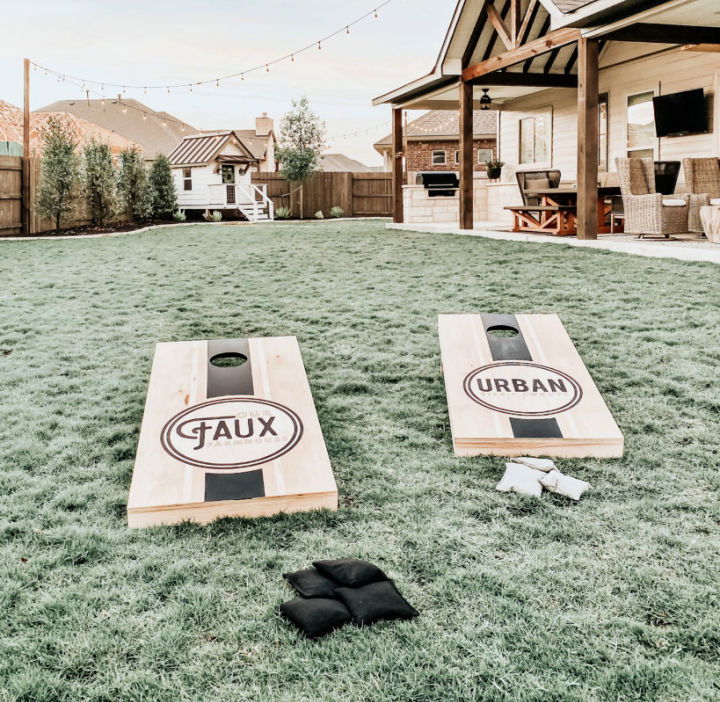 Planning on inviting friends over this summer vacation? Well, here is a fun game that you can make and have fun with your friends – the DIY cornhole board plans for your backyards. Furthermore, the supplies used are maple plywood, kayak handles, chest latches, carriage bolts, and few more things are needed. ourfauxfarmhouse
9. Professional Cornhole Boards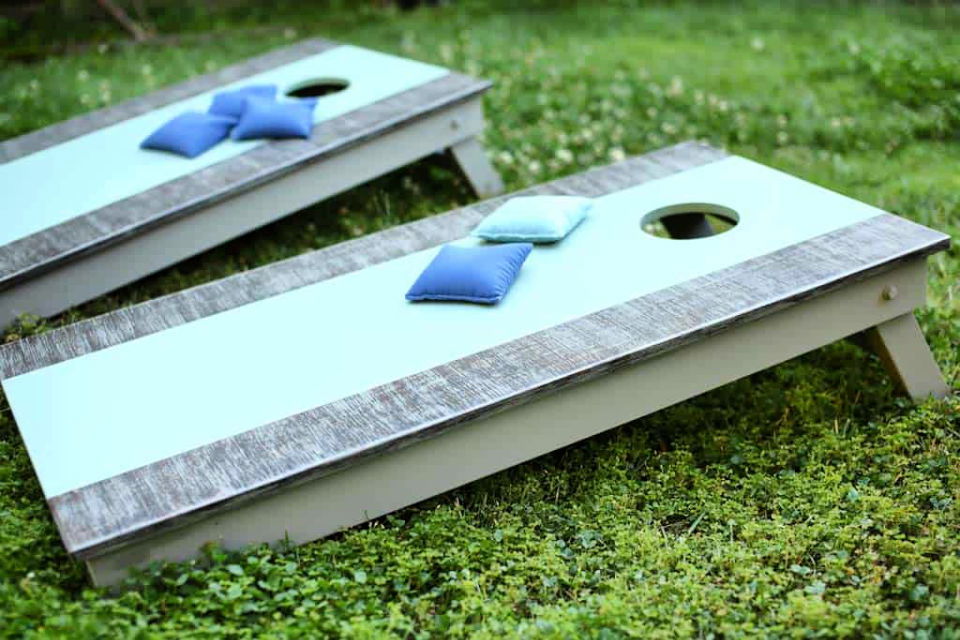 Do you know of the simplest and easiest lawn game ever? This DIY cornhole board game is an awesome game to play with friends and family on a nice summery day on vacations. Making it on your own will not only help you cost less, but you can use good wood material for it, making it sturdier to use. thediyplan
10. How to Build a Cornhole Board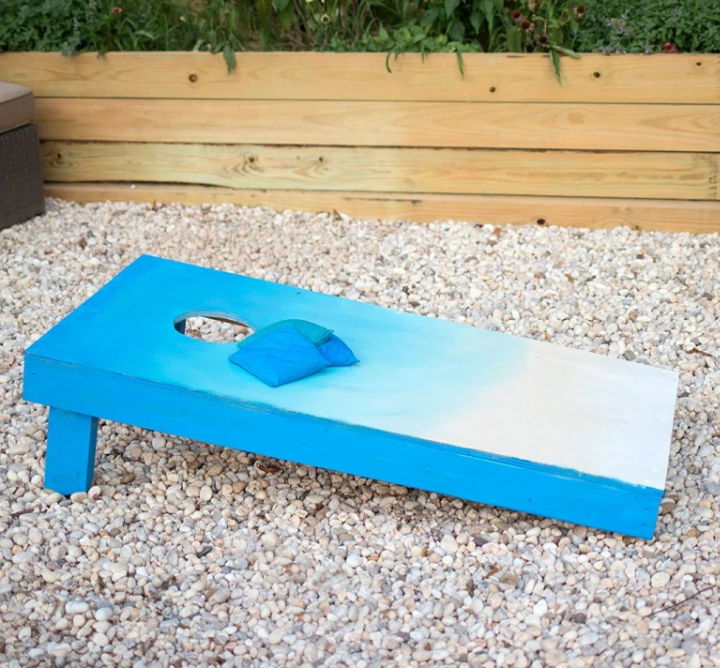 This DIY cornhole board is relatively easy to make and can be customized in any way you would like to make them. It is an ombre design that is inspired by the beach. It is quite a fun addition to your game night. Moreover, it is made with plywood sheets, screws, compass, jigsaw, etc. gina michele
11. DIY Cornhole Boards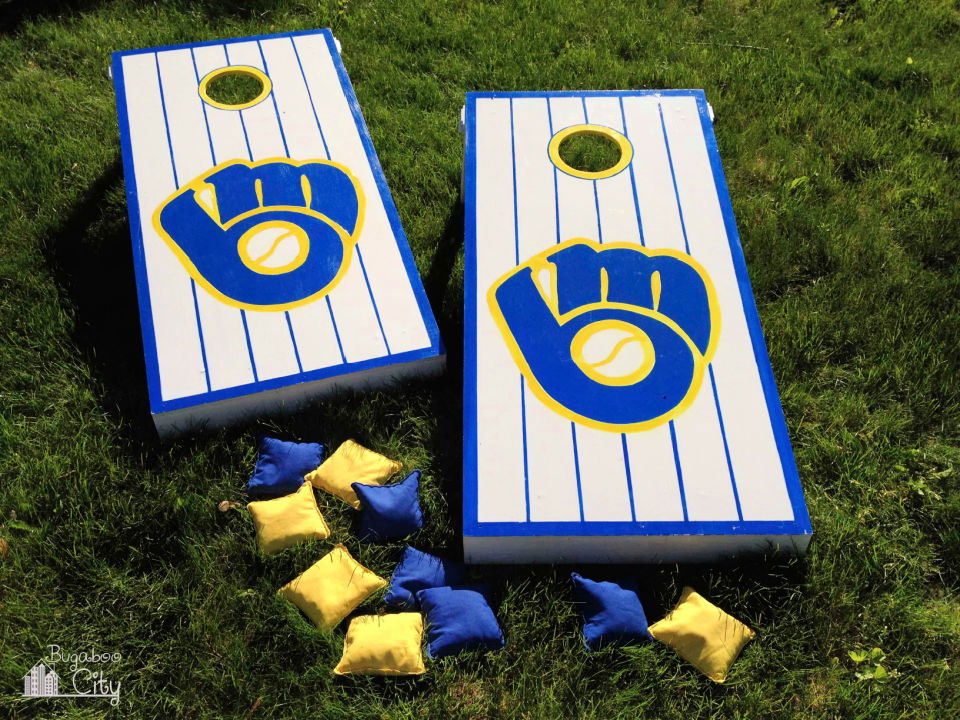 Looking for the perfects father's day gift? Well, look no further! Here is an amazing DIY cornhole board plan for incredible summertime gaming. furthermore, we will need plywood, jigsaw, metal door hinges, angle brackets, white window latches, and wood glue, etc. craftingcheerfully
Here are more easy craft ideas for your kids:
Puppet Crafts: You can make easy puppet crafts for kids out of so many different things at home. Like Paper bags, cardboard tubes, tissue paper etc.
Crayon Holder: Just have a look at these DIY Crayon Holder Ideas that are full of creative hacks and hence will help you make the amazing pencil holders at home like a pro.
12. Build Your Own Cornhole Boards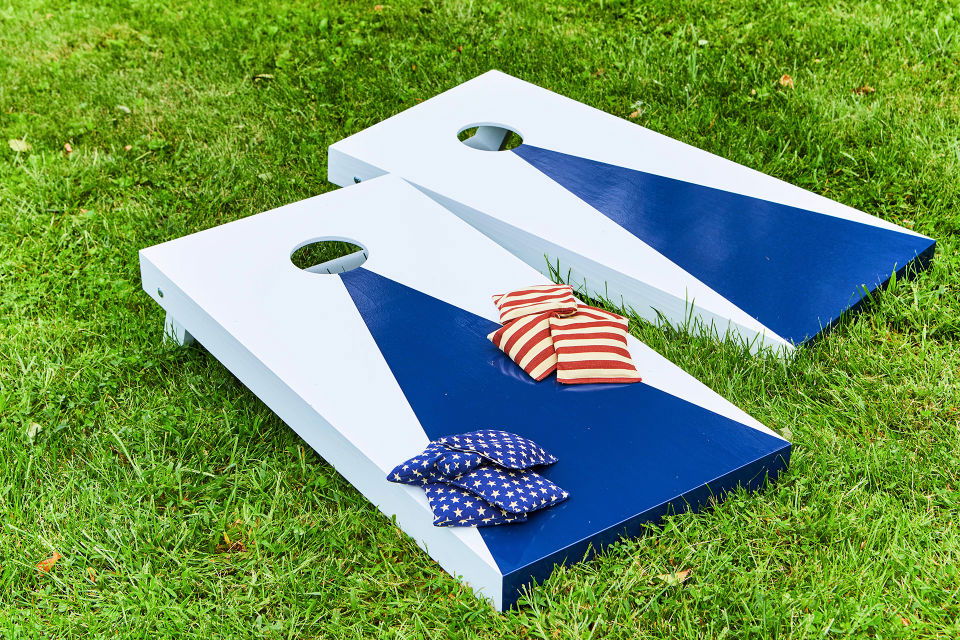 DIY cornhole board plans are a classic and traditional backyard indoor game popular among family or friends gathering. It has the perfect step-wise instructions not to have to worry about the design is difficult to understand. Moreover, you'll need a table saw, tape measure, compass, pencil, wood clamps, and few other things. bhg
13. Cornhole Boards Using Pallets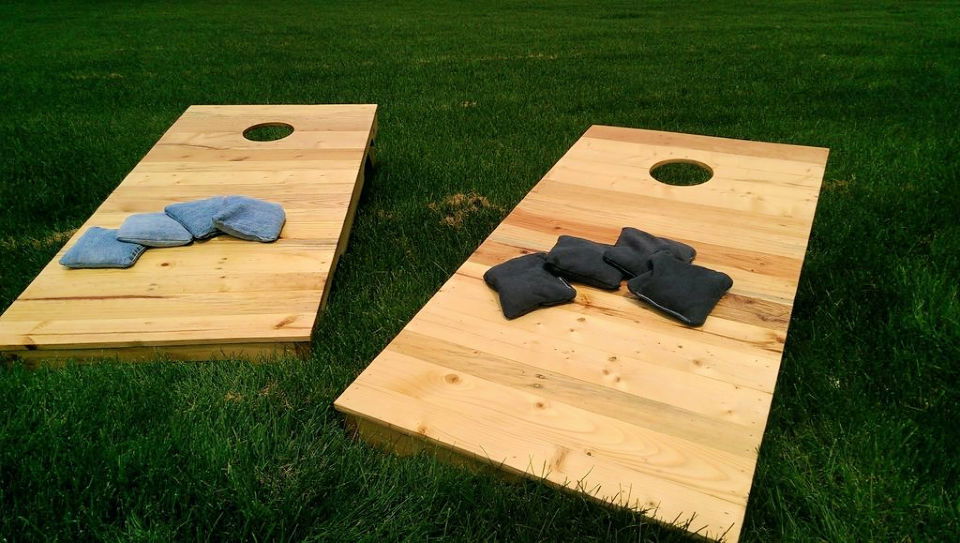 Making something from pallets is cost-efficient and quite rewarding as you will be making use out of junk. Additionally, you will need nails, screws, glue, bolts, hammers, drill, and few other supplies to make this project. instructables
14. Hairpin Leg Cornhole Boards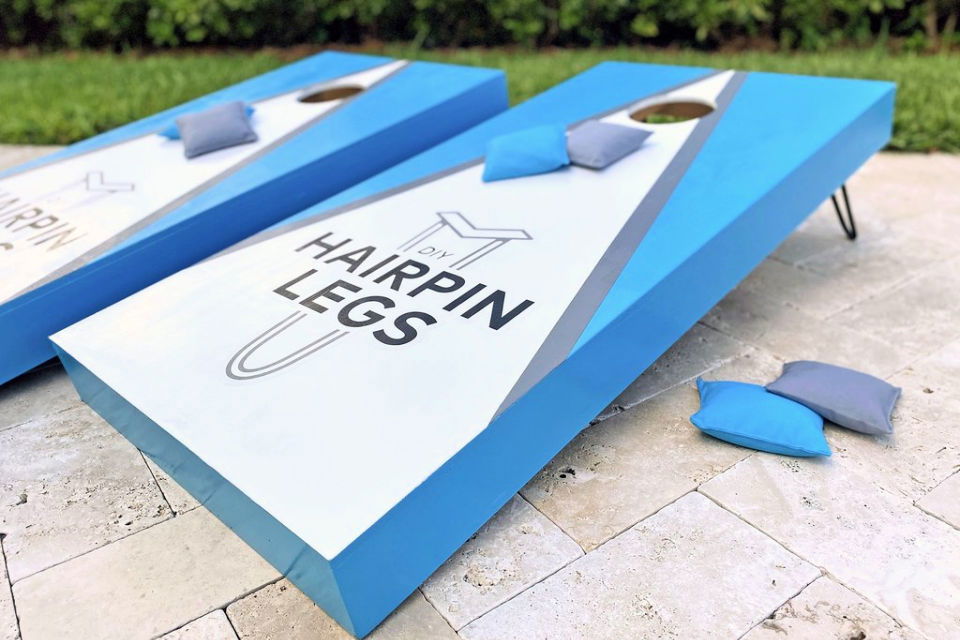 Are you ready to take your outdoor games to a whole new level? This DIY cornhole board plan from hairpin legs is going to be the best option for you. They are rust-proof and also do not get destroyed in the rains. Makes sure to have hairpins, wood mounting blocks, tape measure, compass, pencil, drill, jigsaw, wood glue, and few other things are included as well. diyhairpinlegs
15. Cornhole Game for Backyard Fun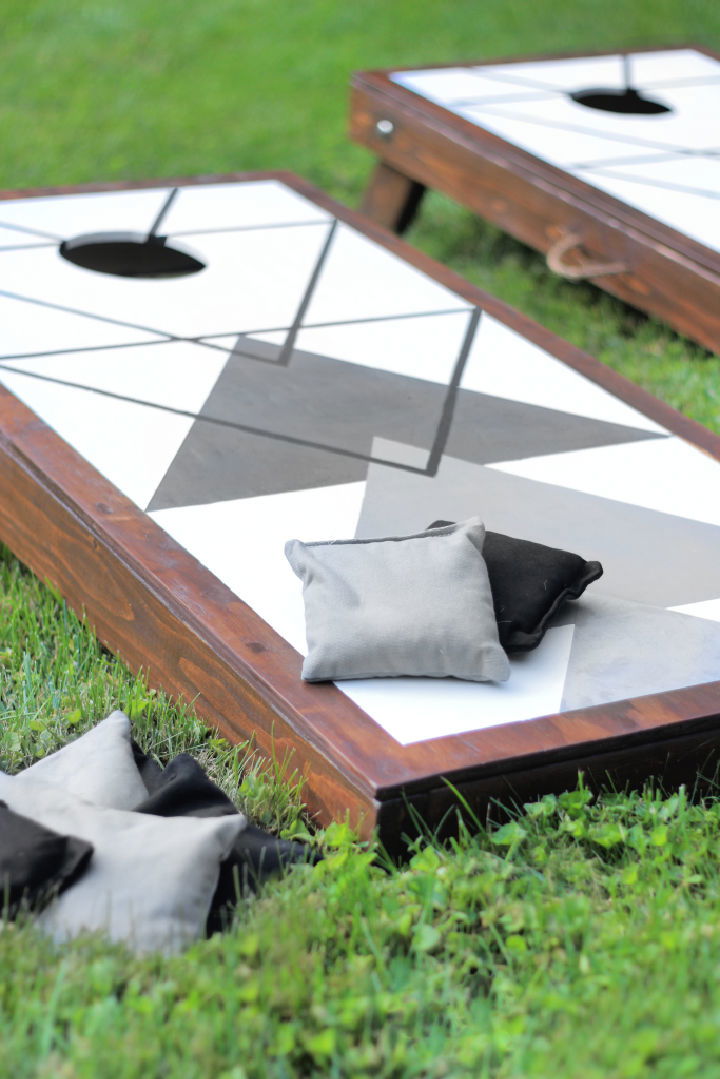 Cornhole, baggo, or bag toss – you can call this fun game anything! The main key is to make the simple frame with folded legs and customized it to any color you prefer the most. Use the tape measure, miter saw, jigsaw, drill, driver, rope, hammer, etc., to complete this project. homedepot
16. Cornhole Boards Plan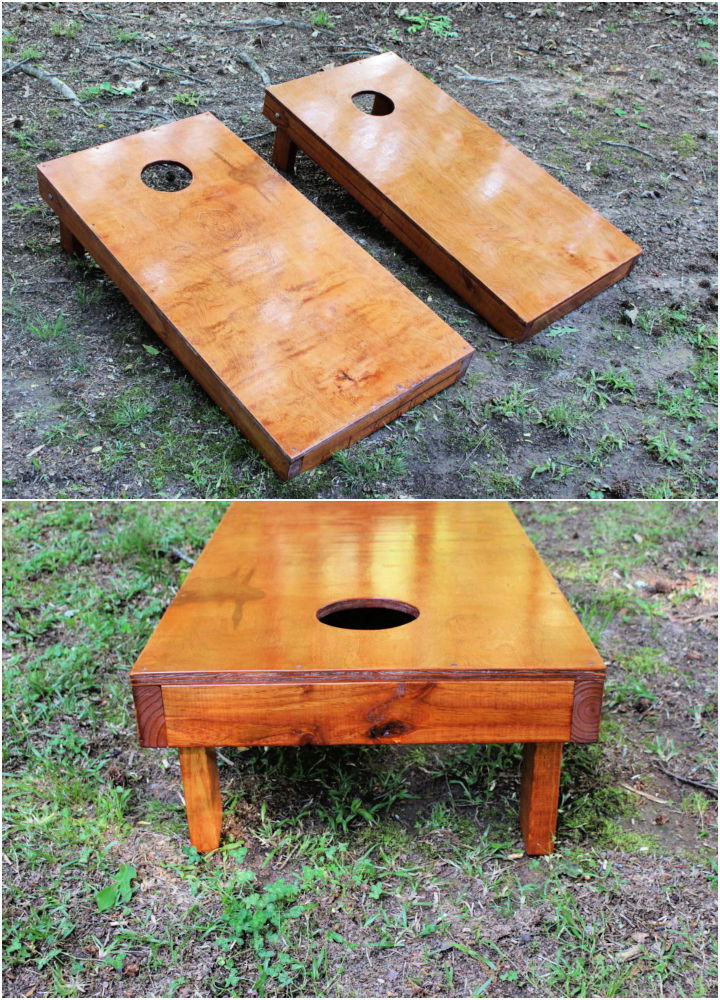 Electric hand drill, jigsaw, orbital sander, circular saw, and screws make this classic yet vintage cornhole board. It is made with wood type look, which makes it even more sturdy and versatile. Enjoy drinks with friends while playing with this easy-to-make board! fouroakscrafts
17. Portable Cornhole Board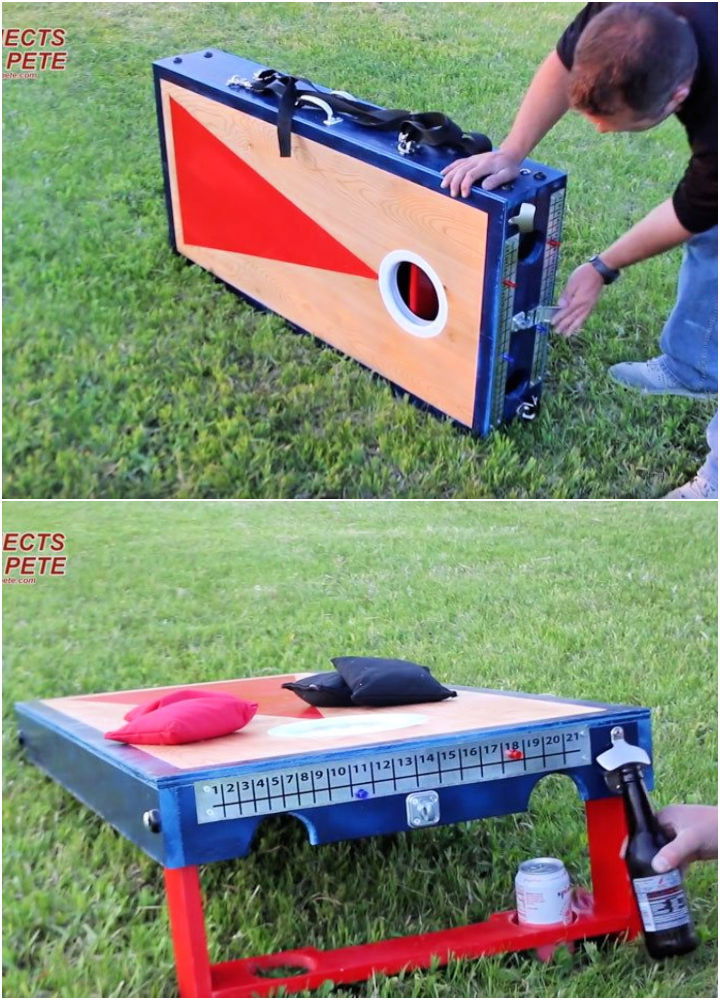 In this tutorial, we will walk you through the process of making a cornhole board plan. It is multipurpose, and has accessories like beverage holders, LED lights, cornhole scoreboard, built-in cornhole bag storage and handles, etc. Make sure to use a sturdy wood, so it doesn't break away easily. diypete
18. DIY Cavaliers Cornhole Boards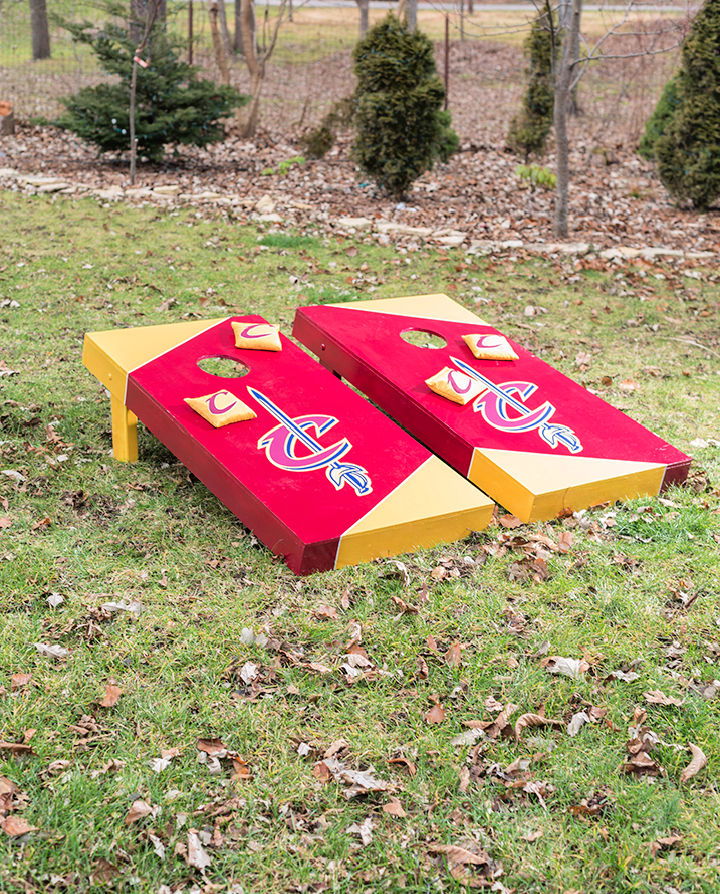 Celebrate a gold win while playing this Cavalier's cornhole boards and impress family and friends with your gaming skills. Keep the party going on, and make sure you have made powerful pieces of wood, so it does not get ruined in the first game. Moreover, use primers, protective enamel spray on the boards to keep them intact for longer. rustoleum
19. Star Wars themed Cornhole Boards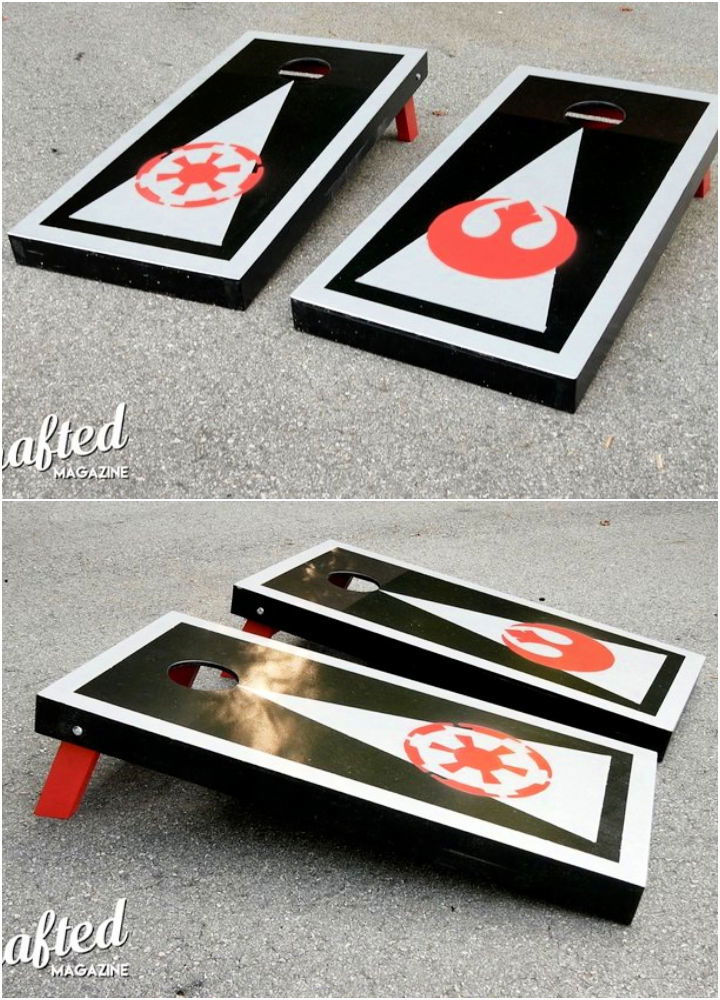 Out of all the DIY cornhole board plans, this Star Wars-themed one would definitely become your favorite! It is made with black, white and red colors. Use plywood, lumber, pocket hole screws, wood glue, primer, and bolts, etc. are used to make these. craftedworkshop
20. Glow in the Dark Cornhole Boards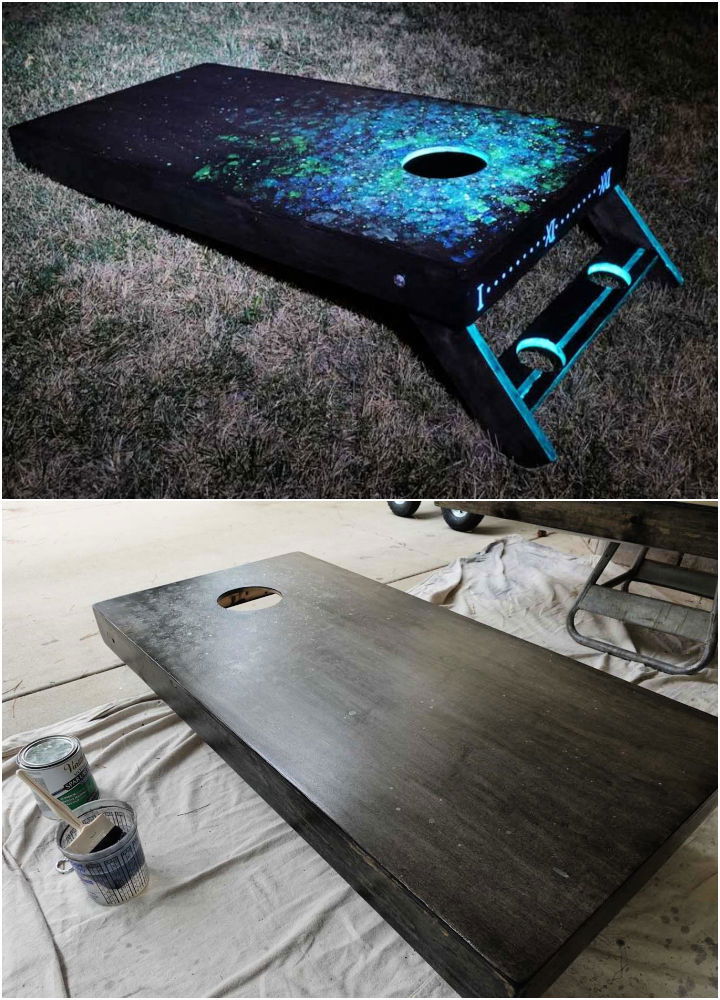 Hey there, do you ever wonder what you need to engage your friends and family in a game? You'll need this DIY glow-in-the-dark cornhole board, which can be a fun way to kill time and has a cheerful evening with your friends and family. It's absolutely engaging and easy to assemble all you need: wood glue, wood filler, putty knives, and a few other things, and you'll be good to go! inspiration cricut
21. Homemade Cornhole Boards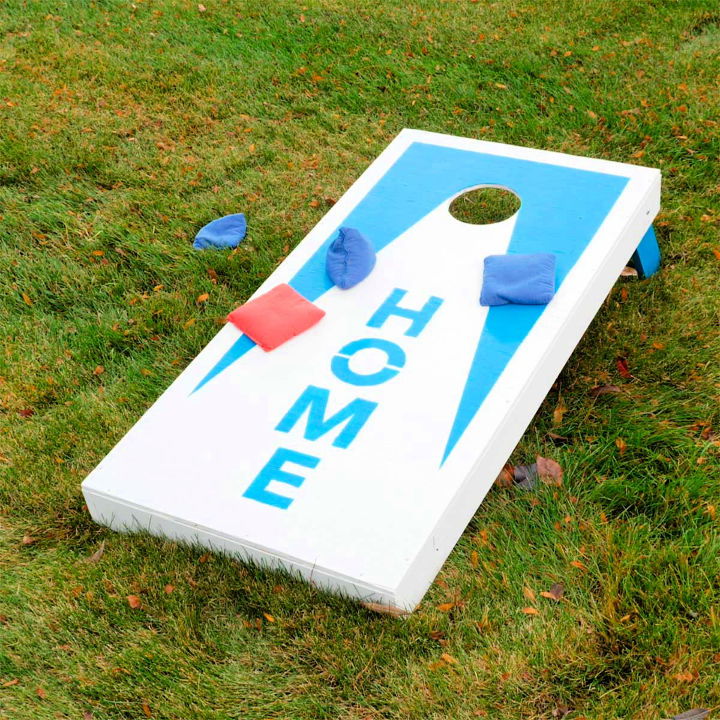 Are you on the lookout to get out of the house and play some activity on the lawn? Here is a classic and fun game that is very easy to make, and you are bound to have fun! This DIY cornhole board plan is made with a circular saw, plywood, screws, nuts, clamps, compass, and drill. familyhandyman
22. Wooden Cornhole Boards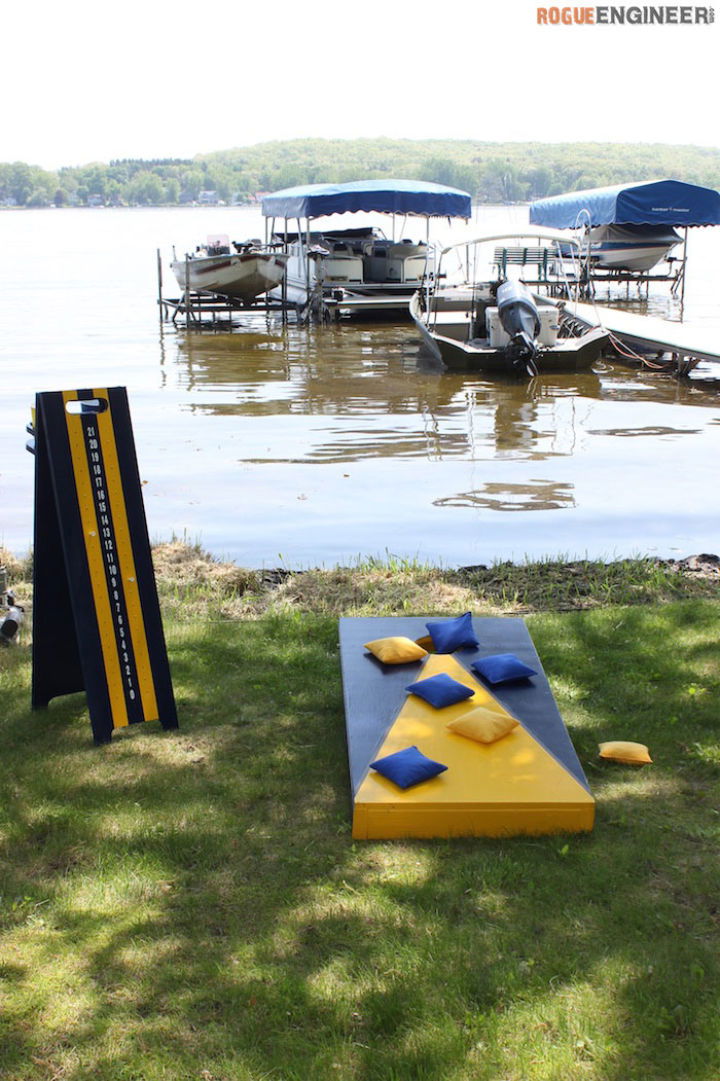 We think wood is the best material to use for a sturdy and versatile cornhole board that will also look great in a backyard where you wish to play the games. The required tools will be drill, wood bit, miter saw, jigsaw, tape measure, pencil, and safety glasses. rogueengineer
23. DIY Regulation Cornhole Set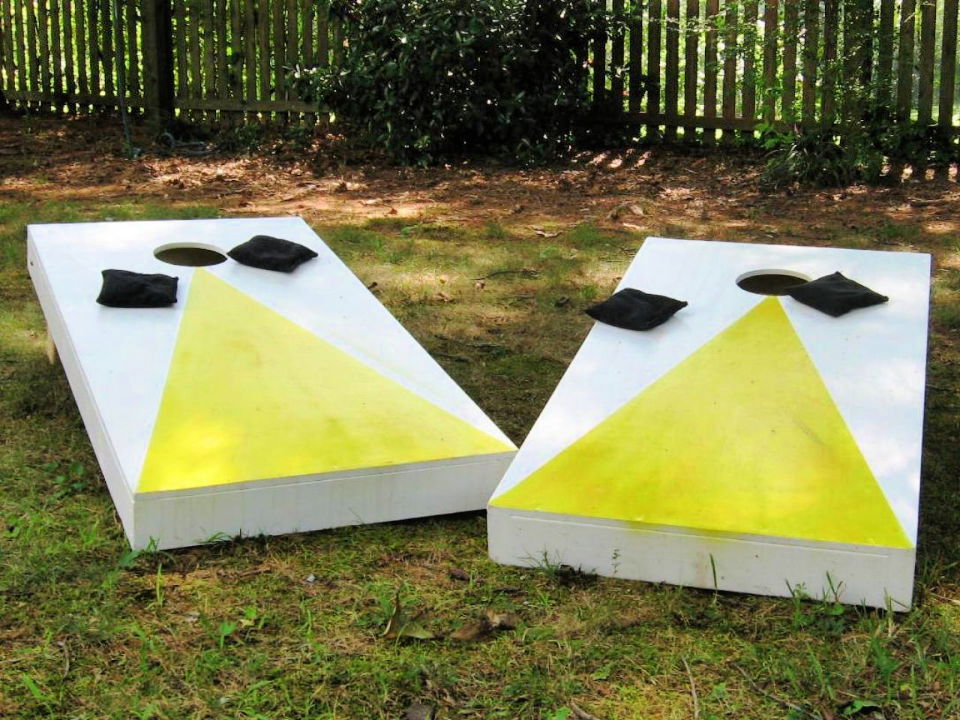 A fairly easy to make, this bean bag toss game is easy and fun for the whole family or even friends! Making this set is easy woodwork that can be completed in a day as well! Moreover, make sure to grab essentials like plywood, jigsaw, measuring tape, clamps, compass, drill bit, paint roller, and a few other stuff. hgtv
24. Cornhole Boards with Custom Logos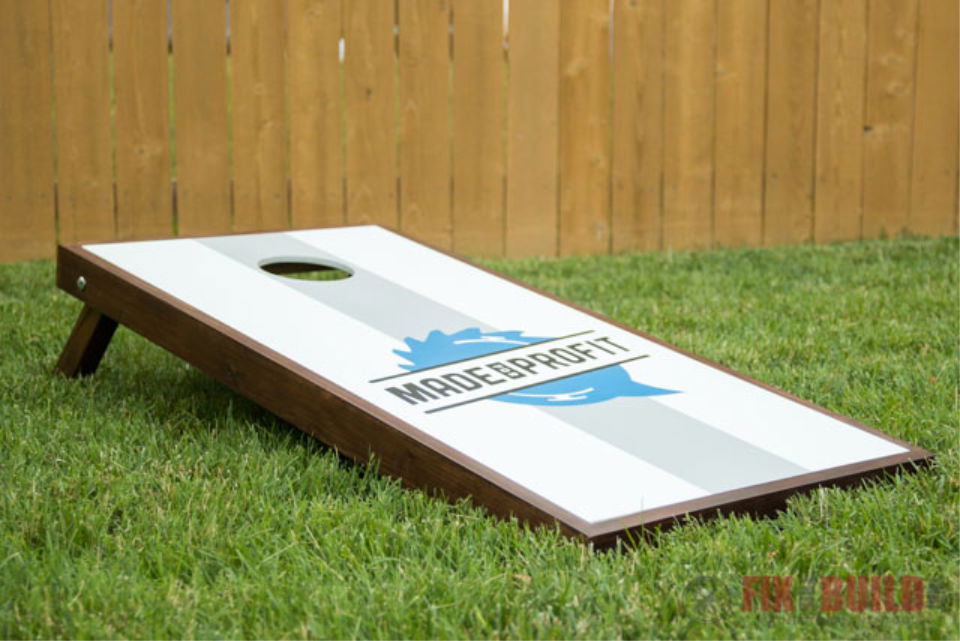 DIY cornhole board plans are wonderful summertime projects to add fun to outdoor games. Whenever you host a party, you can use these to entertain your guests as it is a top-rated game, and surely everyone will love playing it, especially when you tell them you also make it. fixthisbuildthat
25. Cornhole Boards for Memorial Day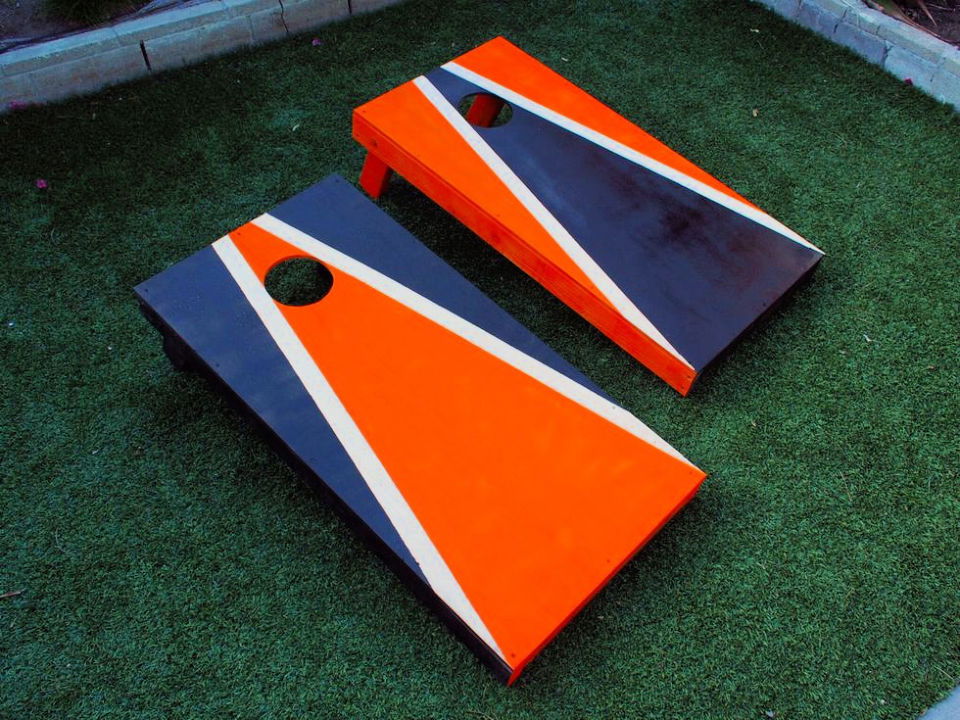 Make memorial days even more memorable with these DIY cornhole boards in orange and blue color. You can even customize them in any color preferable; however, the design of the board will be the same. Make sure you have all supplies with you before starting to work on this project. popularmechanics
26. Plywood Cornhole Board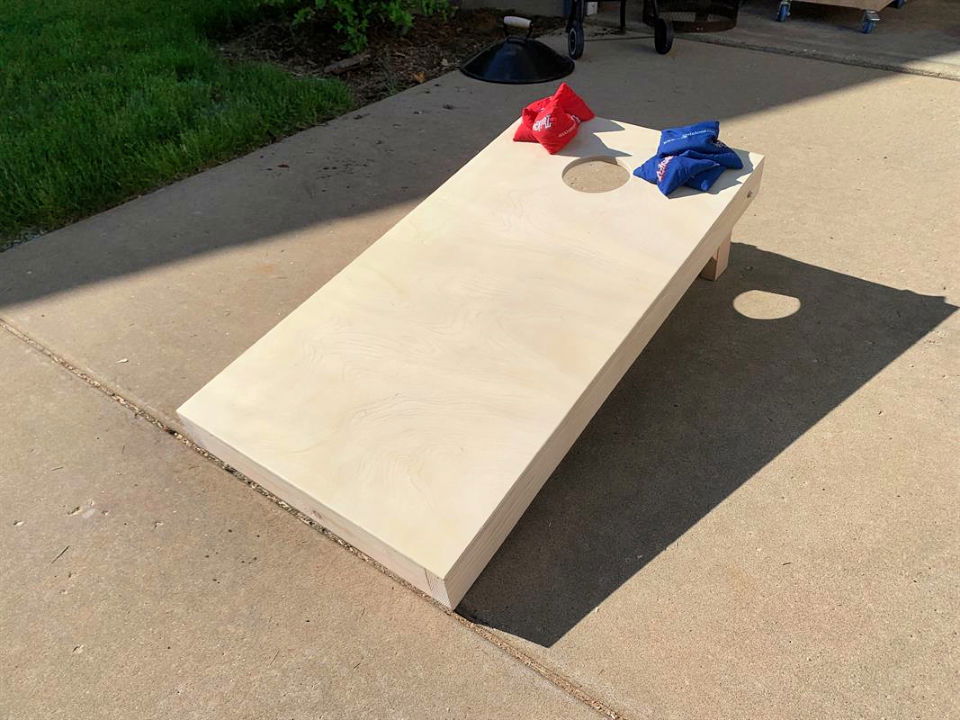 A very simple and basic yet robust cornhole board is what we have here. It is built strongly, to last years and years. For this, you must have the supplies like plywood sheets, stainless hex bolts, stainless locknuts, fender washers, and pocket screws. buildsomething
27. Stars and Stripes Cornhole Board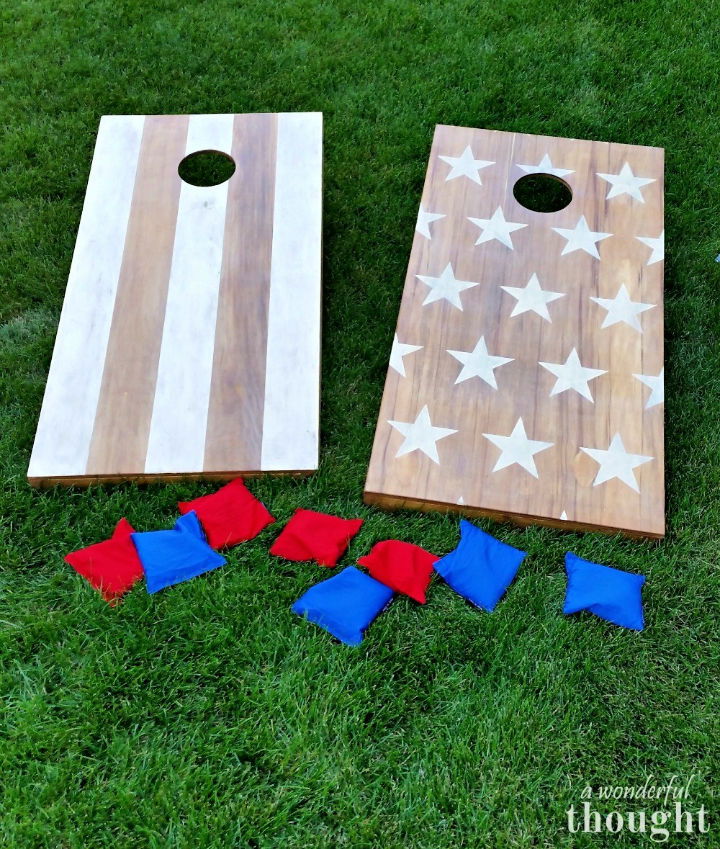 Summer is just going to be here in a few days, so this is the perfect time to share this DIY cornhole board plans tutorial with you all. It is great to use while camping or simply while hosting a summer night at your place. Moreover, you'll need to have plywood panels, carriage bolts, washers, nuts, wood glue, etc. to complete this project easily. awonderfulthought
28. Painted Cornhole Boards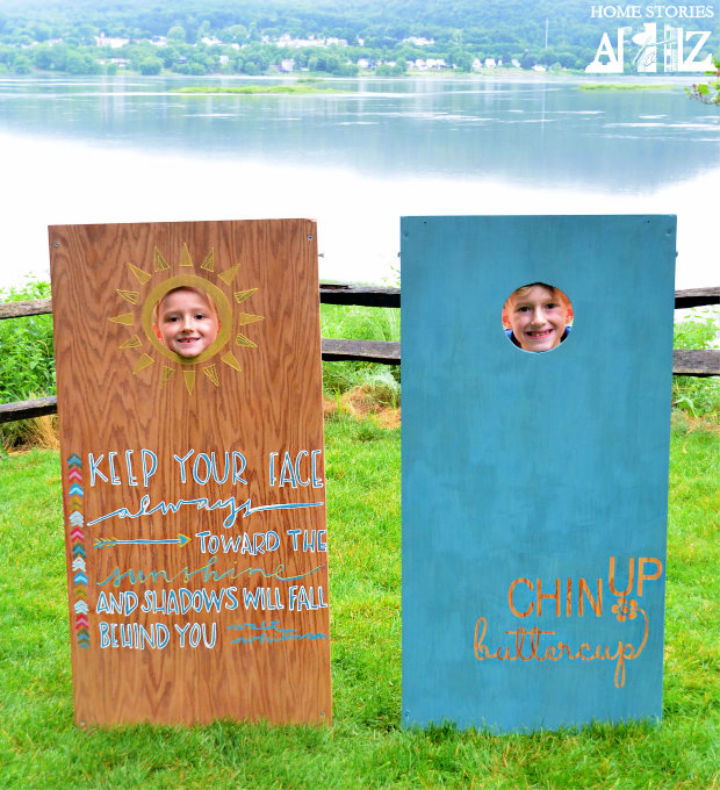 Cornhole toss is a fun and exciting game to play with friends and family for a nice summer vacation holiday. Moreover, it also makes a great DIY gift. Personalize it by painting with whatever color you like. Use plywood sheets, carriage bolts, wing nuts, wood screws, chop saw, and jigsaw. homestoriesatoz
29. Custom Cornhole Board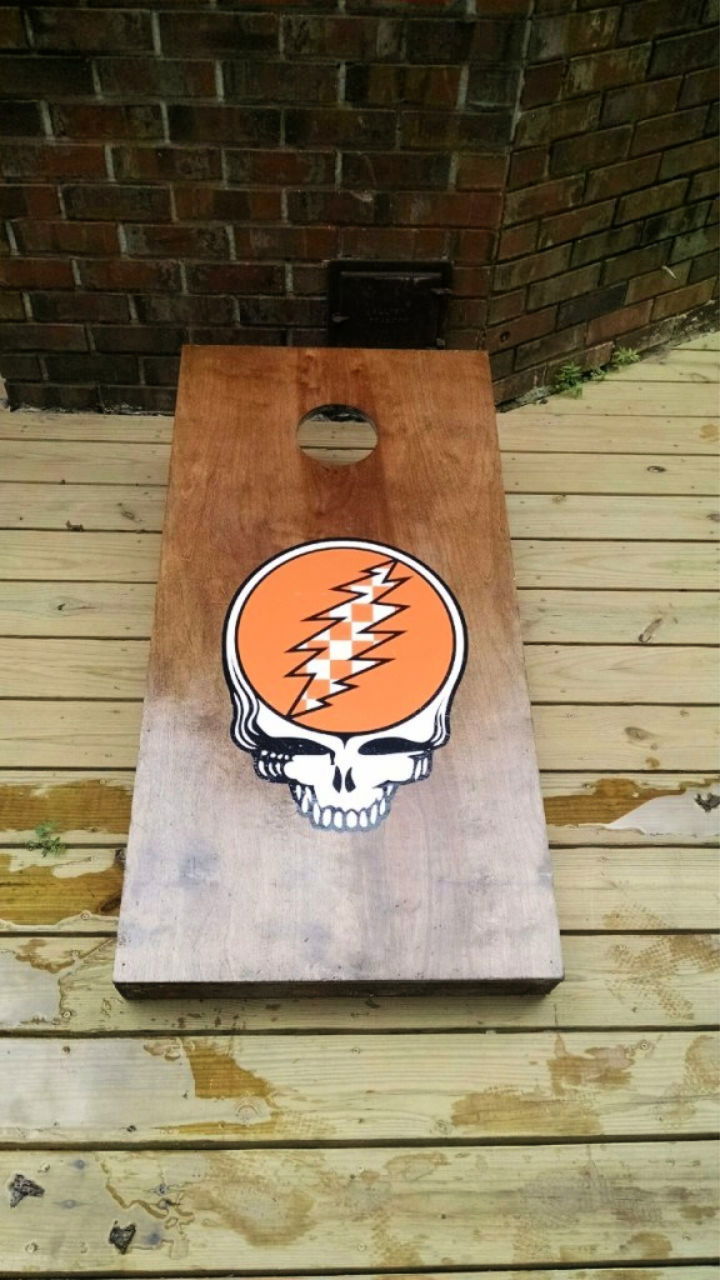 College football season is here, and we have this wonderful DIY cornhole board plan tutorial for all festivities with customized design. Use materials plywood sheets, screws, hole saw, drill, weather-resistant wood sealer, and circular or miter saw. designingvibes
30. How To Build A Cornhole Set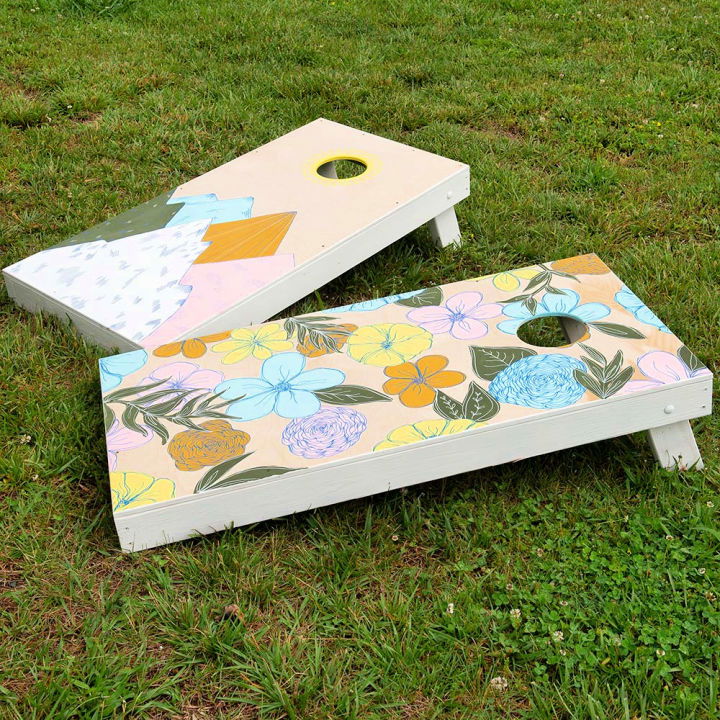 Picture perfect and sweet – this cornhole board in pastel floral print is quite girly and feminine, which makes it a perfect game board for a girl's night. Make sure you use good quality wood and supplies so that your board can last for a longer time and you can play on it without the fear of it breaking. homedepot
31. Cornhole Boards without Plywood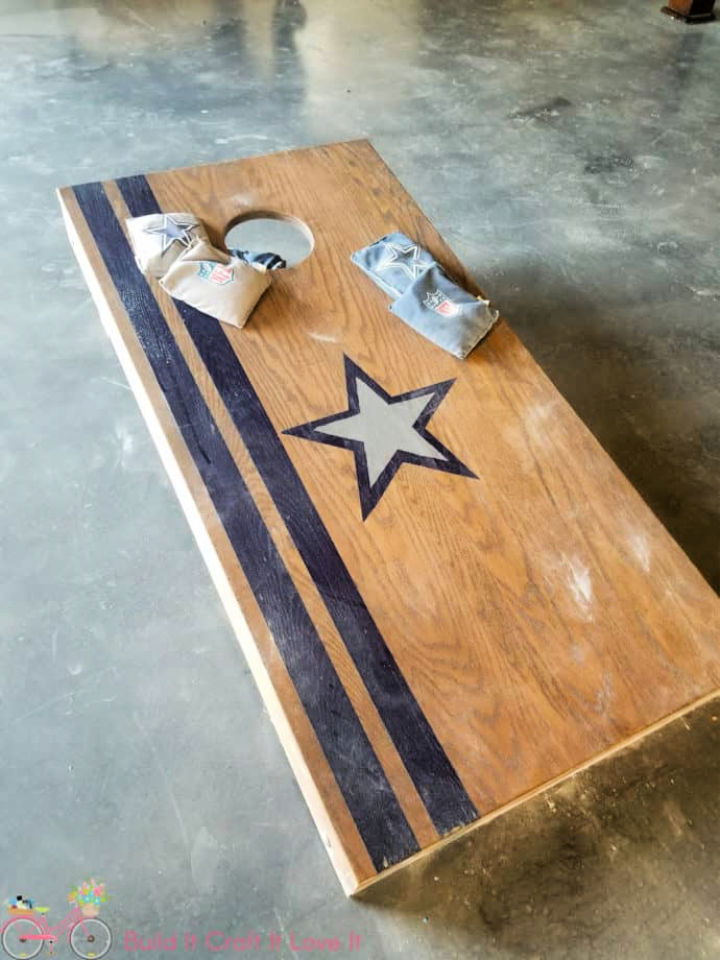 Make the most memorable and happy memories this summer. This simple yet classy striped and star design looks great on the board and will turn out great. It is quite heavy-duty yet inexpensive as compared to the ones you see in stores. theinspiredwork
32. Cabinet Doors to Cornhole Boards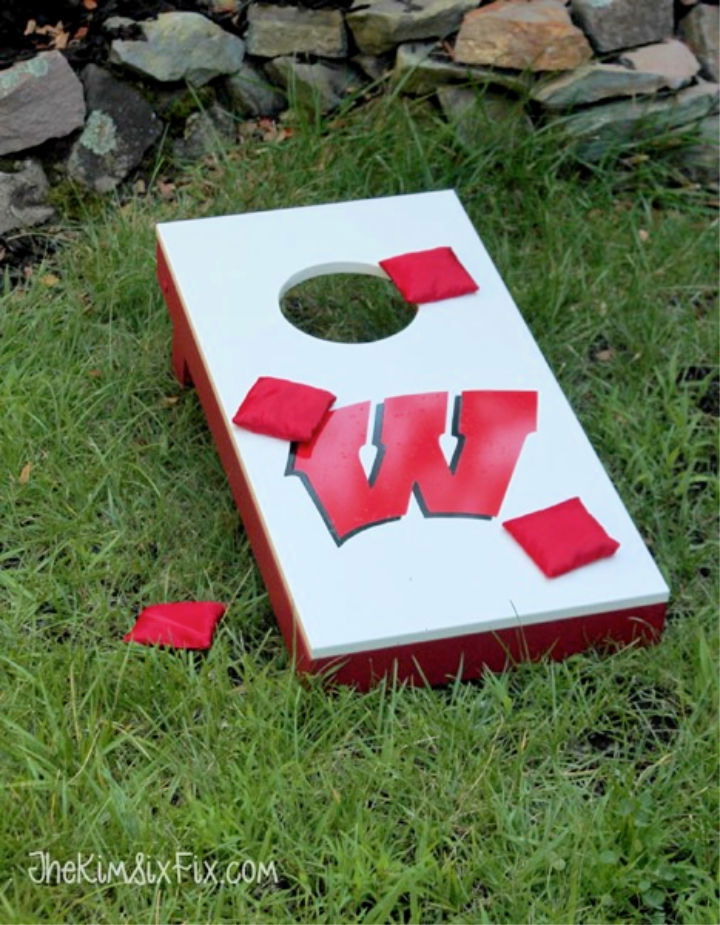 Are you looking for ideas to play something when all your friends gather for a game night? Well, here is the perfect option for you. These DIY cornhole boards from Cabinet doors. It is also a very eco-friendly design as we have used cabinet doors for this. Use furring strips, cabinet doors, carriage bolts, washers, and wingnuts for this project thekimsixfix
33. Foldable Cornhole Boards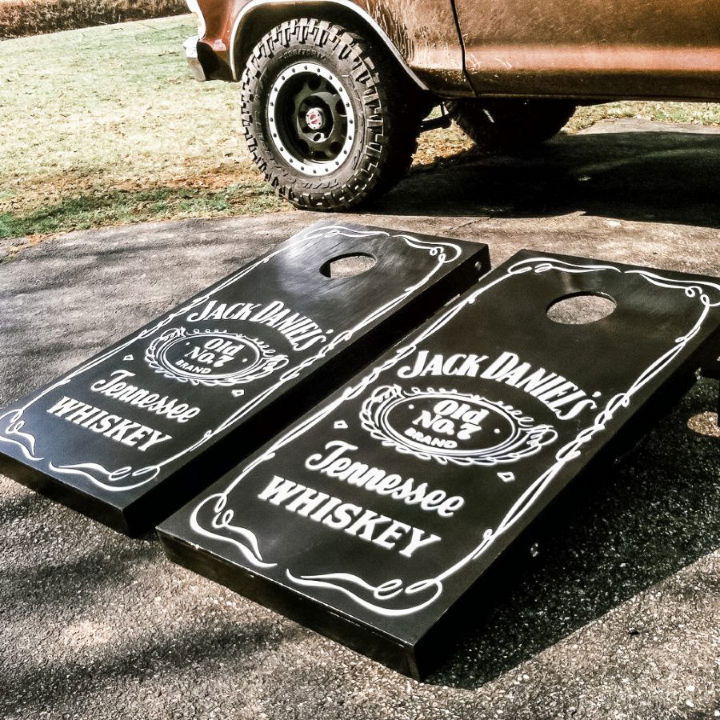 Create your own cornhole board from a lightweight, portable carrying case. This is a classic black and white design which can be carried everywhere easily. Moreover, you will need wood glue, tape measure, speed square, pencil, safety glasses, circular saw, paddle, or drill bit. cahillscreative
34. Backyard Cornhole Board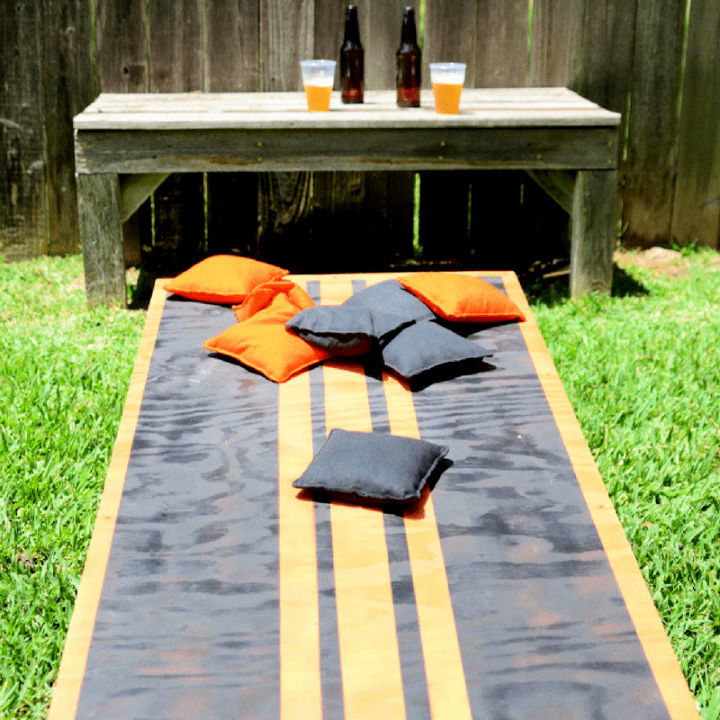 You are really missing out in life if you haven't yet planned a nice summer game night with friends and played this cornhole toss. You have to make sure that for the specific game, you need perfect size and weight; otherwise, there will be no consistency in the design. Furthermore, you must have a jigsaw, measuring tape, compass, etc. gogreenlawnco
35. Unicorn Spit Cornhole Boards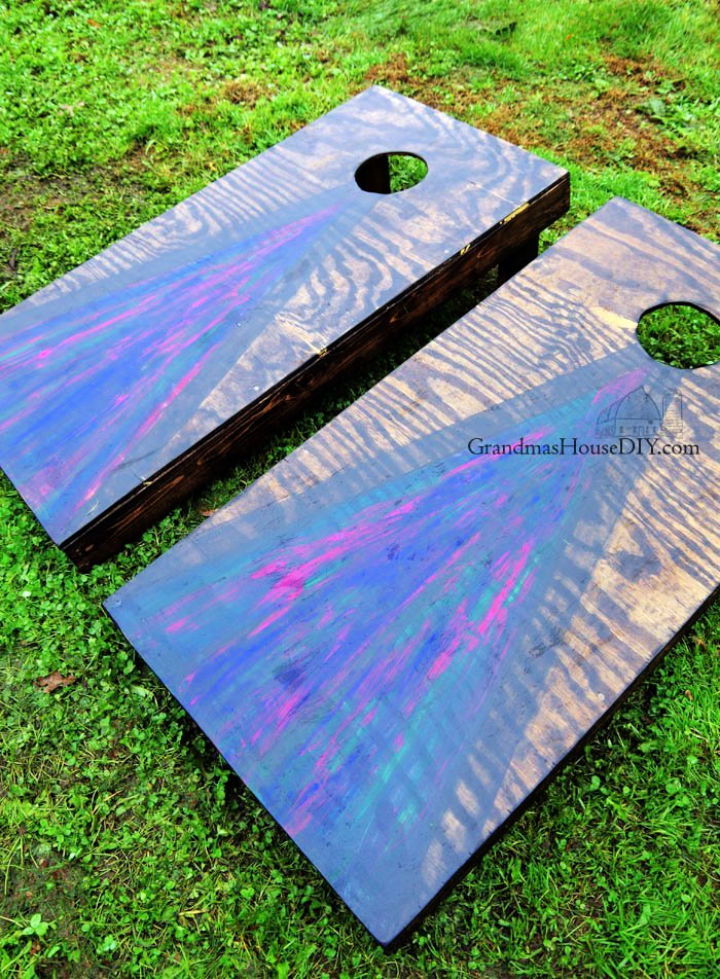 Unicorns are considered magical and mystic, making these DIY cornhole board plans with unicorn spit design that makes the best yard game for a large family or friends gathering. It is not only easy to make, but you will be saving lots of money instead of buying expensive ones from the stores. grandmashouse
36. How to Build Cornhole Game Boards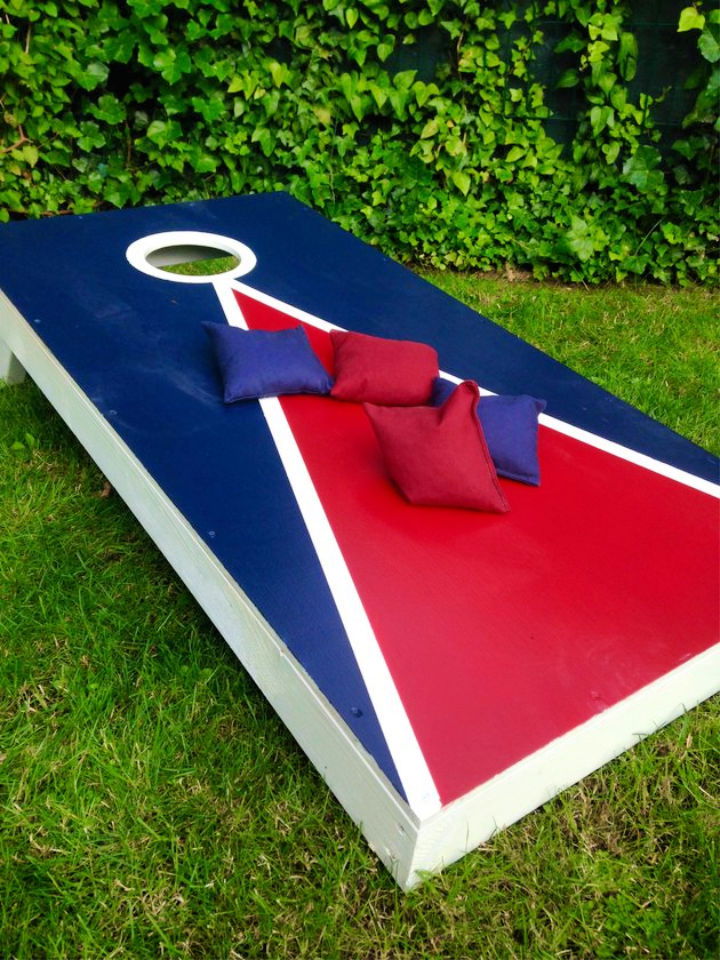 Beginner friendly and easy to make, this DIR cornhole board is here to make your summers even more exciting! You must make sure to have the perfect size and design of the boards, which you can also customize. Moreover, you will need a tape measure, pencil, straightedge, jigsaw, circular saw, drill driver, and some other supplies as well. hunker
37. Regulation DIY Cornhole Boards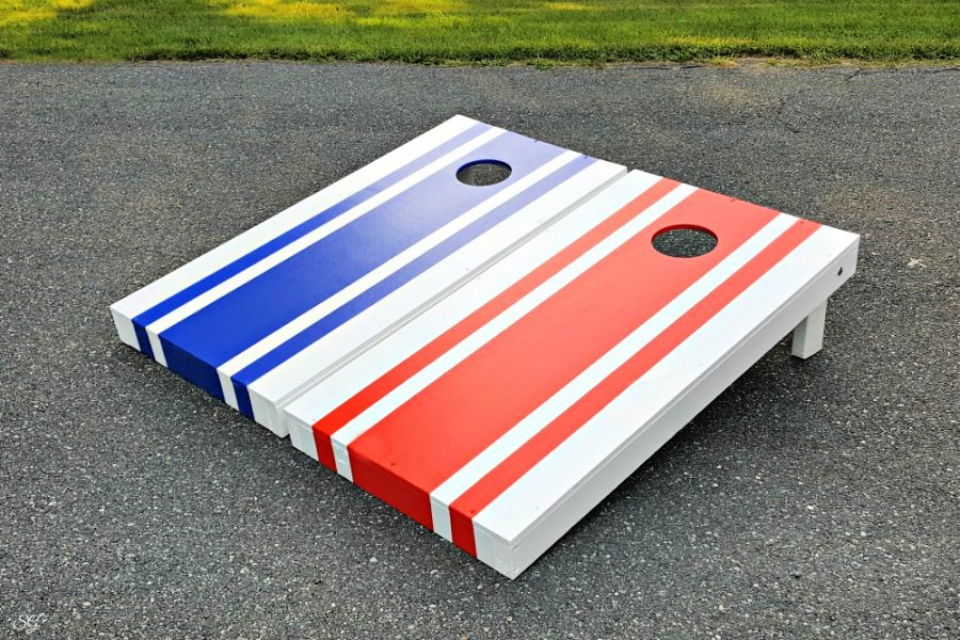 Do you want to learn to make a DIY cornhole board plan at home? Well, you are in the perfect place! Just in a couple of hours, you can have a full-fledge cornhole board and can start playing this amazing game with friends. The rules are also easy to learn; in addition to that, materials needed are plywood, handles, deck screws, primer paint, and polyacrylic gloss. scrappygeek
38. Rolling Cornhole Boards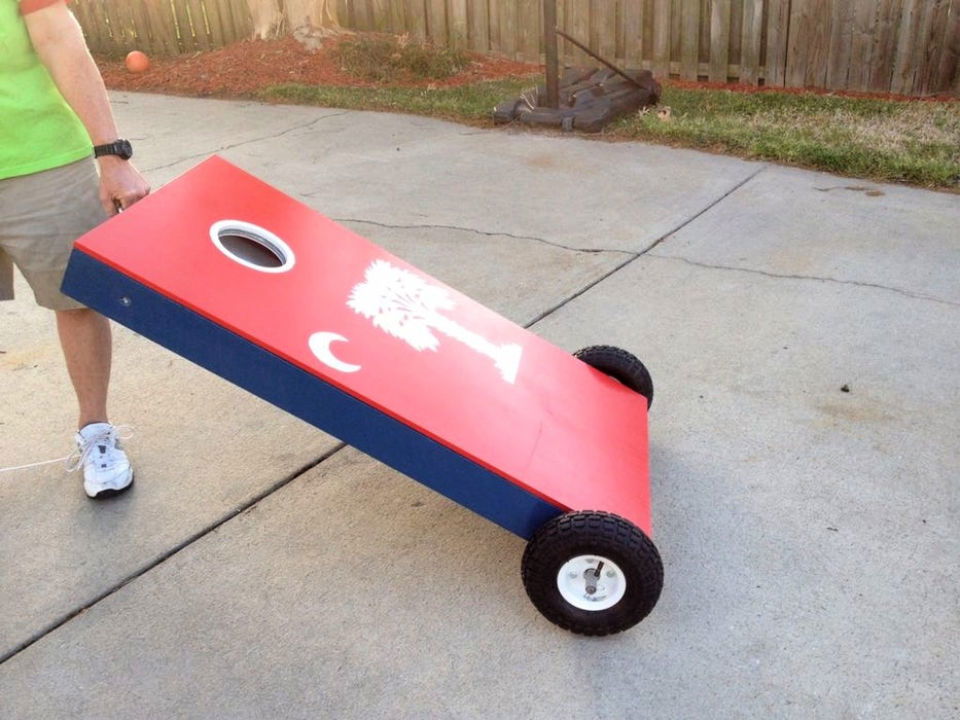 Beach day can be more fun and delightful with cornhole boards. However, carrying them would be a hassle! So here is a rolling board! It is easy to carry and can be taken anywhere easily, no matter how big it is. This DIY cornhole board is a primary red and blue color, but you can customize it according to your preference as well. instructables
39. How to Build Cornhole Board Set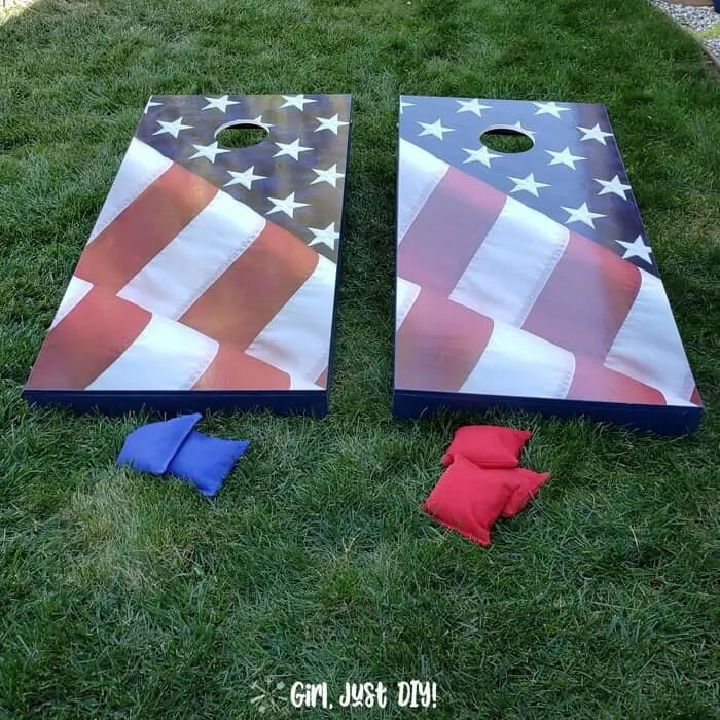 Here is a cornhole board to make, which will now become your new backyard game! It is super popular as it is fun and competitive and gets you some exercise as well. You must have with you plywood, miter saw, table saw, jigsaw, cordless drill, drill bits, tape measure, and clamps to make this project. girljustdiy
40. Cornhole Boards from a Pallet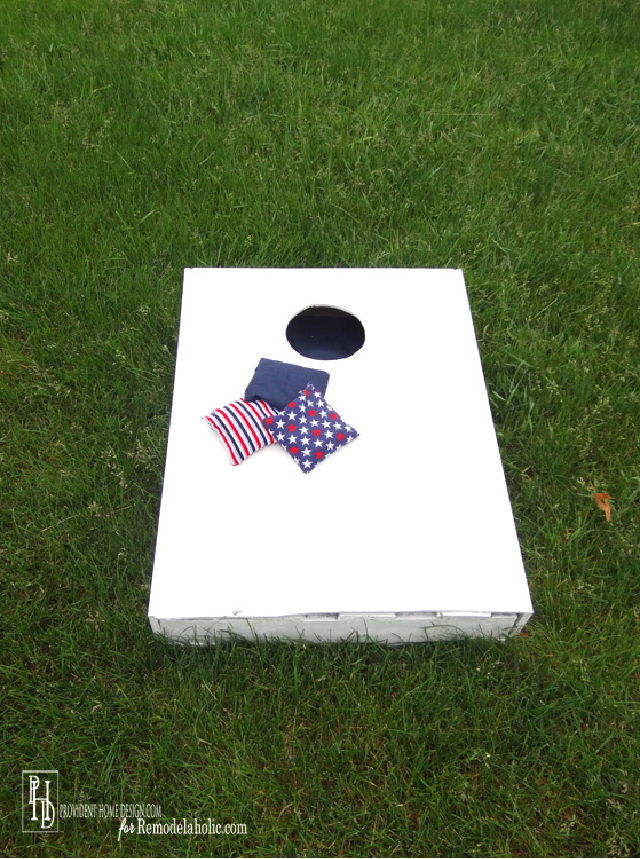 Perfect for kids, birthday parties, reunions, and other celebratory occasions for the backyard and quite easy to store as well. They have a perfect size which you can carry easily as well. Besides, you need your material like a drill, miter saw, pallet, wood screws, jigsaw, and few other things to complete this. remodelaholic
41. Halloween Bean Bag Bucket Toss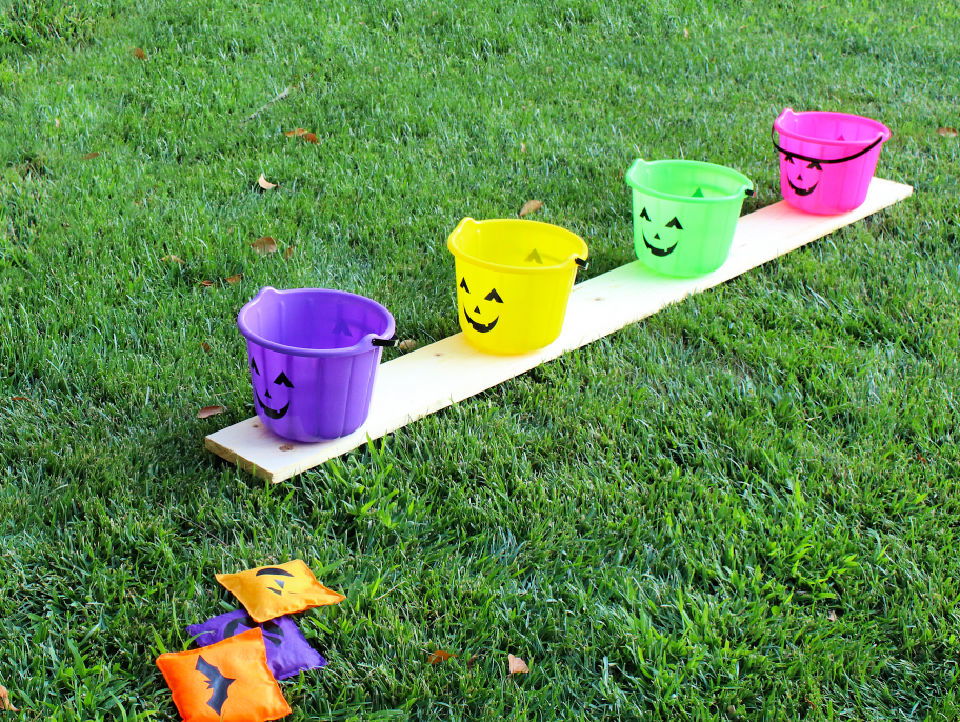 Halloween is everyone's favorite holiday where people gather and celebrate the day with lots of games, fun, and food. Here we have a Halloween bean bag bucket toss game that you can easily make at home and enjoy a fun game with friends or family and make the day a memorable one! orientaltrading
42. Make A Bean Bag Toss Game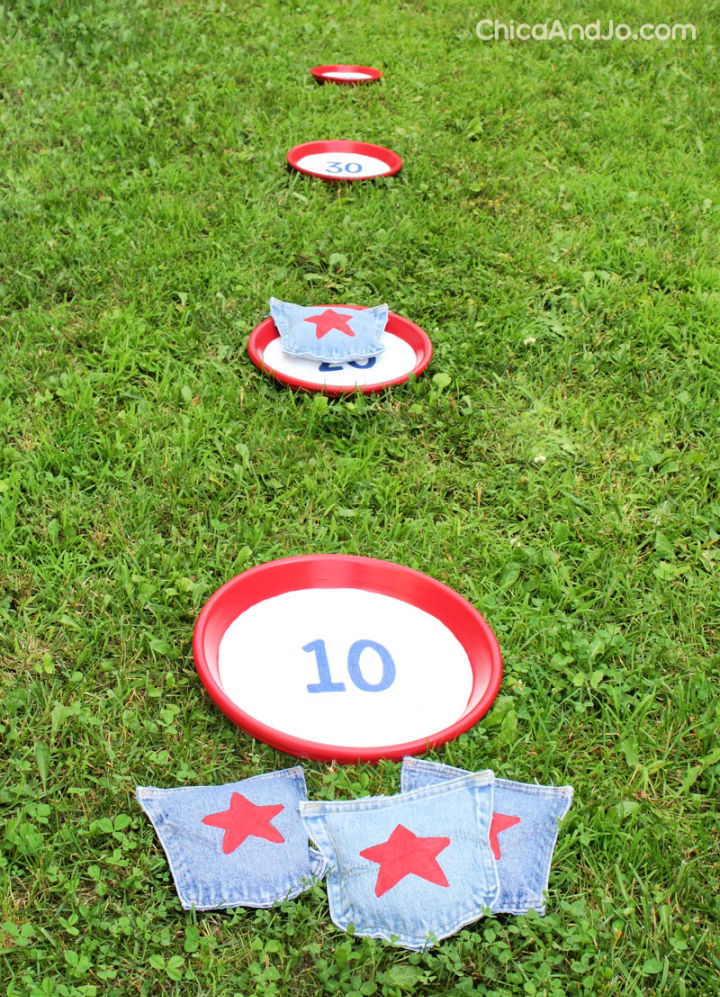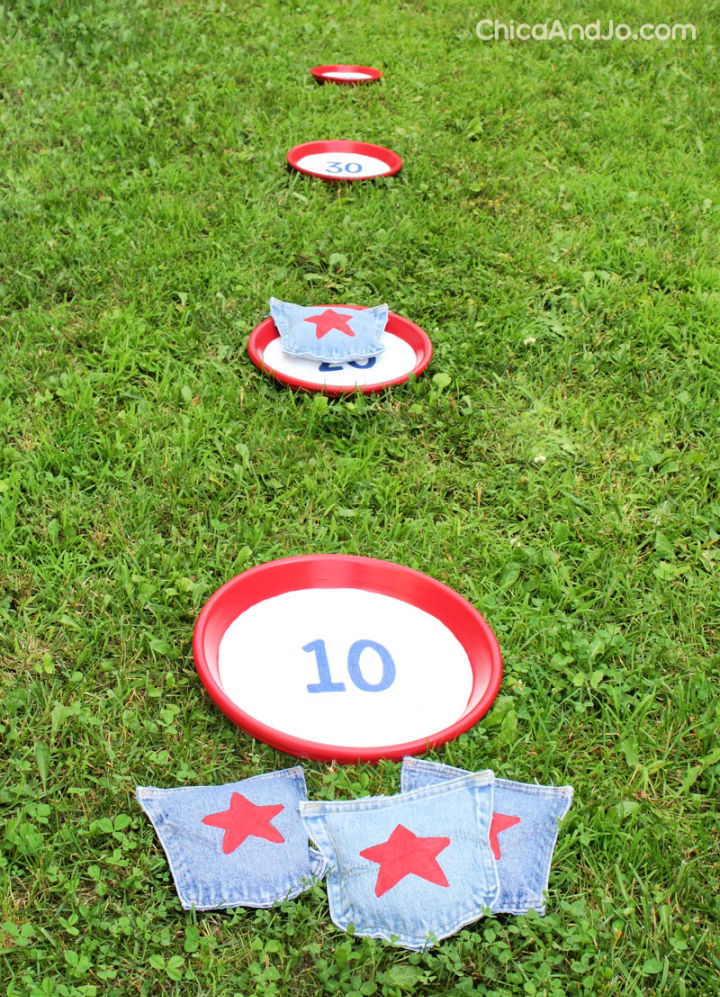 Thinking of ideas to celebrate the 4th of July? Look no further! Here is a bean bag toss game to decorate and entertain your guests this holiday season. Just take out any old jeans of yours that don't fit you anymore and make this amazing idea of the game. Go creative and even paint on the pockets if you like! chicaandjo
43. Bean Bag Toss Game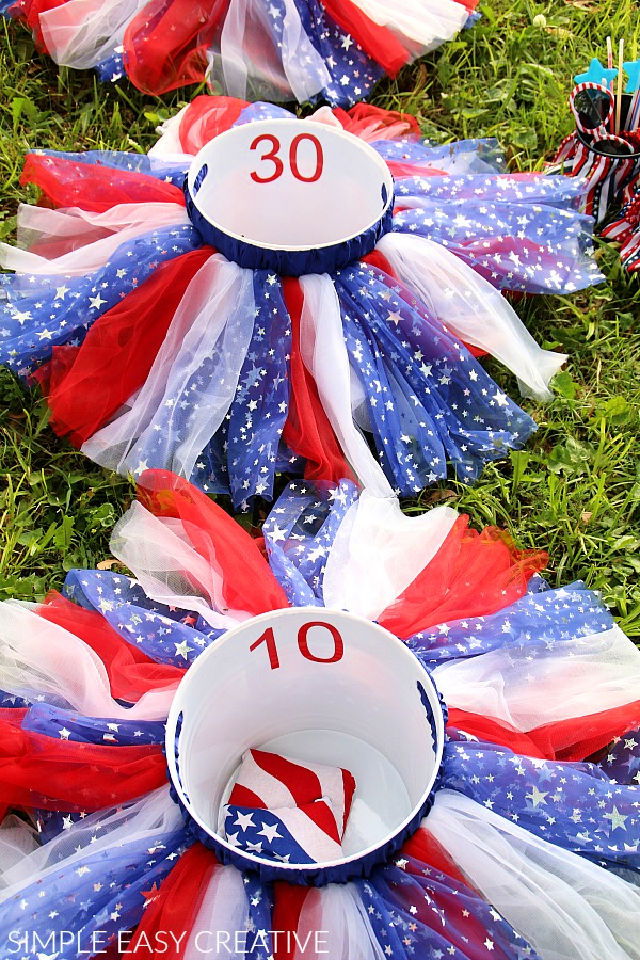 Here is another fancy bean bag toss game perfect for parties like this one is 4th of July inspired! It is very easy to make and can be completed in a short time. You can even customize this game for any other day by changing its color palate. The supplies you'll be needing are a bucket, tutu skirt, bandana, fabric glue, scissors, and a few other stuff as well. hoosierhomemade
44. Halloween Bean Bag Toss Game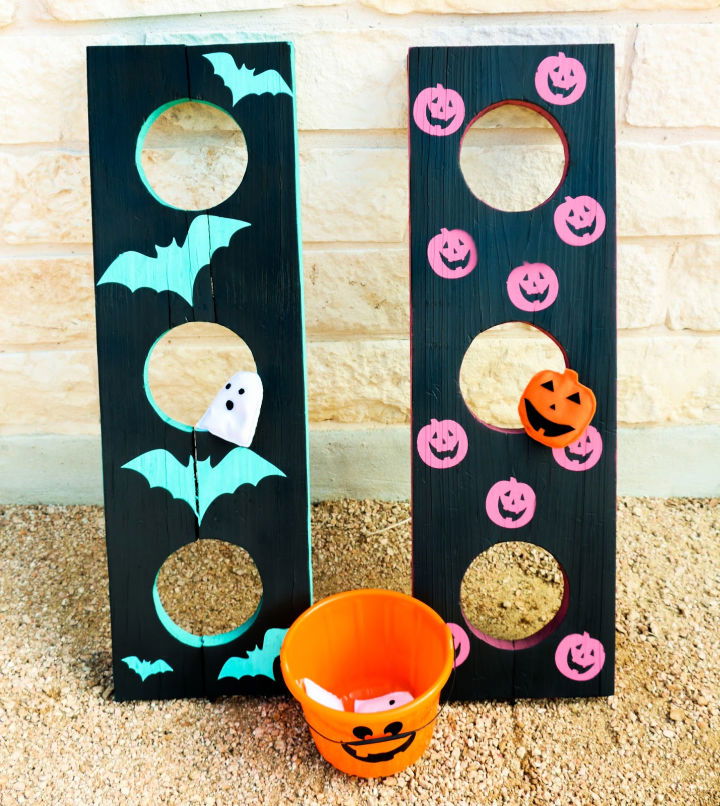 Do you have spare boards at home and would like to use them while making something useful out of them? Here is a great idea! Spray the boards to make a DIY Halloween bean bag toss game to a base color. Then you can add few stencils of pumpkins, spiders, or anything themed, let it dry, and you have your cornhole board ready in no time! akailochiclife
45. Easy No Sew Bean Bags Game for Kids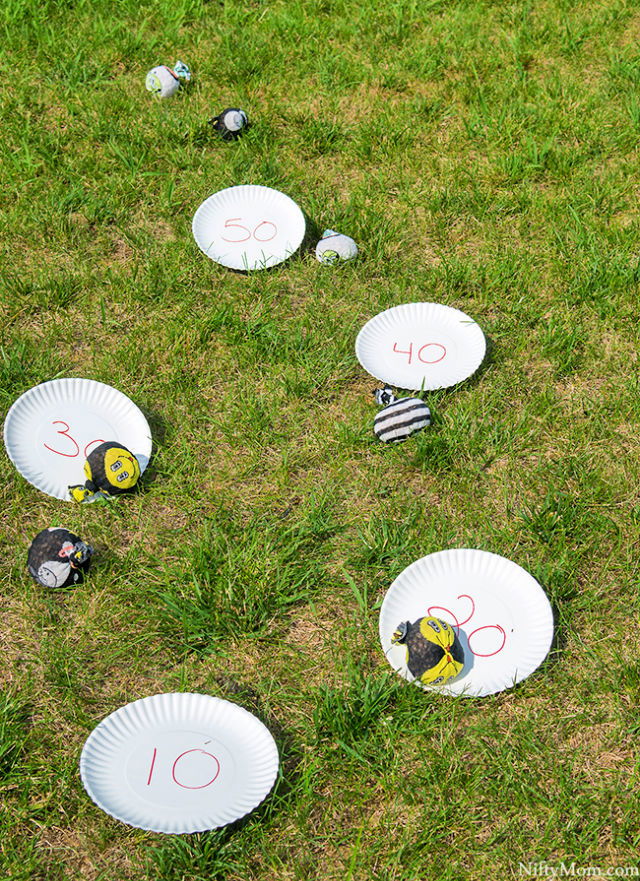 This easy, no-sew bean bags game idea is the perfect emergency idea for a party the next day! It is also a fast and quick entertainment source for kids getting bored in the summers a lot. Moreover, it is quick to set up and works perfectly for kids. Use up old socks and dry beans for this fun idea! niftymom
46. Bean Bag Basket Toss Carnival Games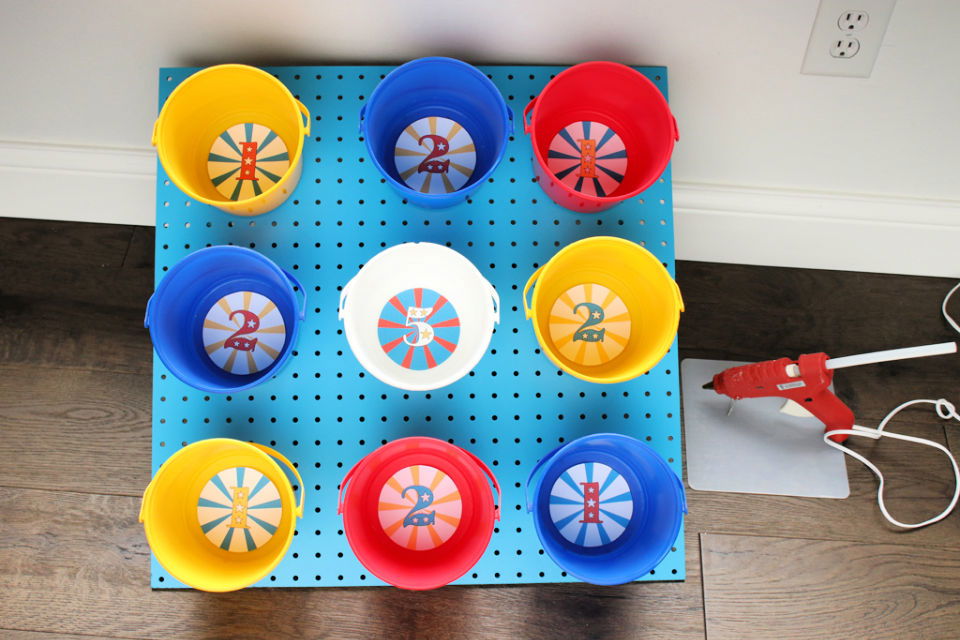 Bring a carnival vibe at home with this DIY bean bag basket toss. You can use bright and vibrant colors like red, yellow, and blue buckets. It is a fun activity to incorporate for a summer party along with friends or even family and have fun, especially when we cannot go out, so we can bring one at home! ageekdaddy
47. Minecraft Bean Bag Toss Game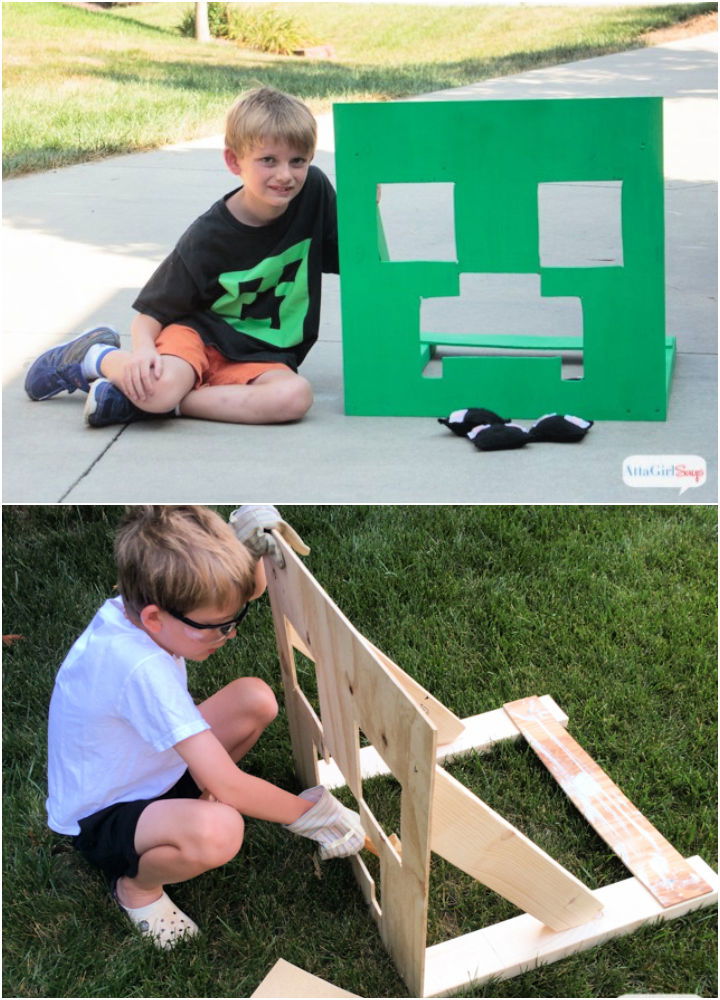 We're sure your child is a huge fan of Minecraft; well, who isn't? make this bean bag toss game for endless summertime fun or even birthday parties for your little one. Moreover, you'll need to have safety glasses, plywood, pencil, tape measure, jigsaw, drill, t square, and few more supplies. attagirlsays
48. DIY Corn Hole Game For Kids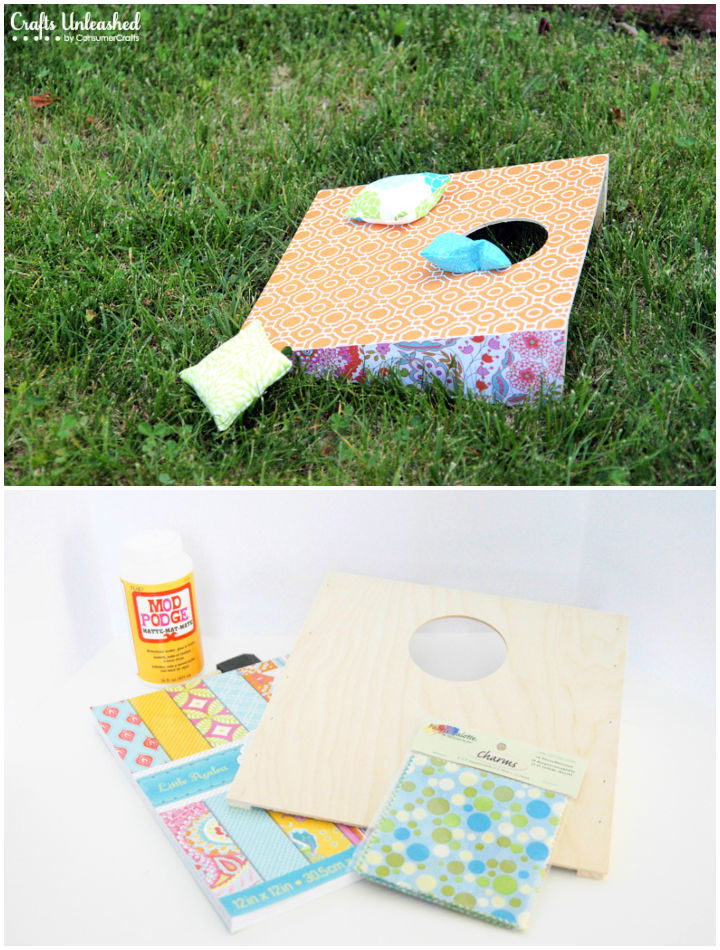 Every kid loves to play outdoors, especially in the summer vacations, so why not make them play fun and exciting games as well, just like this DIY cornhole game which is very simple and easy to make. Furthermore, we have used materials like a tabletop, foam brush, cutting mat, fabric palette charm square pack, sewing machine, and bean bag fillings. consumercrafts
49. DIY Bean Bag Toss The Best Outdoor Game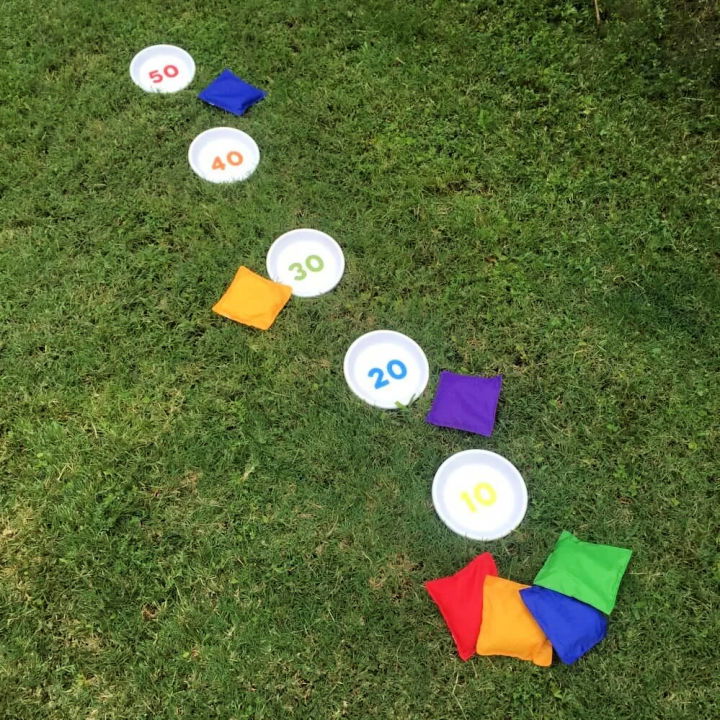 Recreate your childhood with this DIY beanbag toss game using clay saucers and printable. Moreover, it is easy to assemble the game. Moreover, gather materials like printer, paper, bean bag toss printable, clay pot saucers, spray paint, scissors, paintbrush, and spray adhesive to complete this. modpodgerock
50. Make Bean Bag Toss Game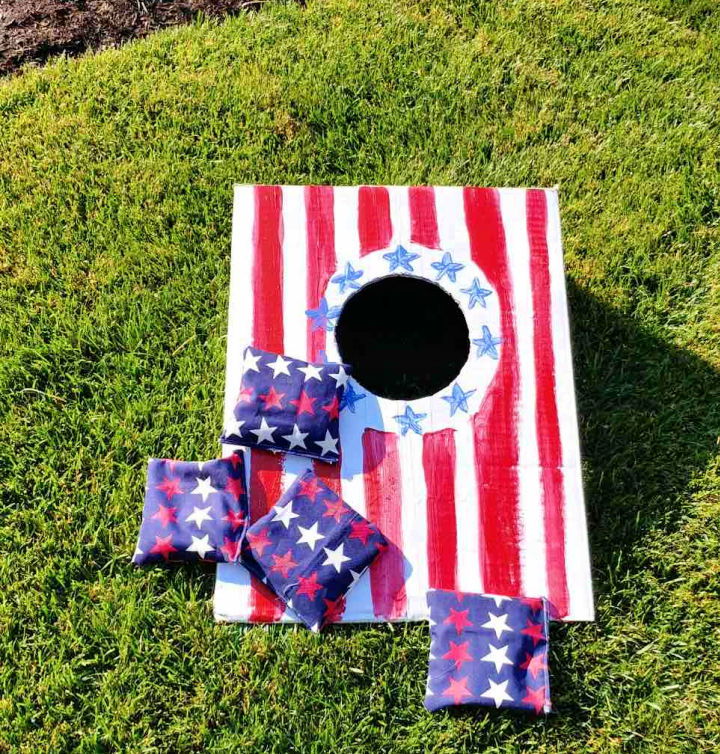 Bring back the church picnic memories with this DIY cornhole board plan game which is fun for all ages. It is not just a game; it is also a craft that will keep you engaged over the weekend as well. Collect your supplies like a cardboard box, ruler, marking pencil, craft scissors, spray, paintbrushes, fabric, and dry beans, etc. mariebostwick
51. DIY Baseball Beanbag Toss Game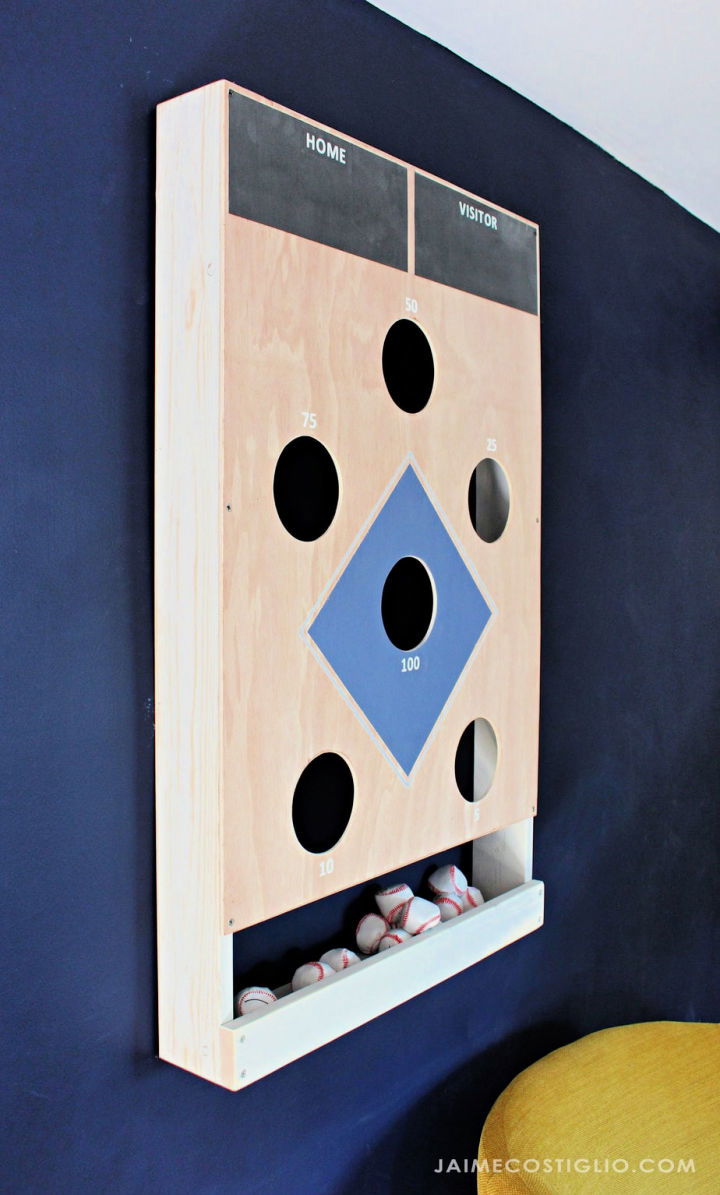 Hey there, all baseball fans! We have a great game option for you all! Here is a nice DIY baseball beanbag toss game for everyone with a competitive spirit! Moreover, it is also a wonderful gift option too. Make sure you have all the standard building tools, jigsaw, screws, baseball-shaped beanbags etc. jaimecostiglio
52. DIY Beanbag Toss Game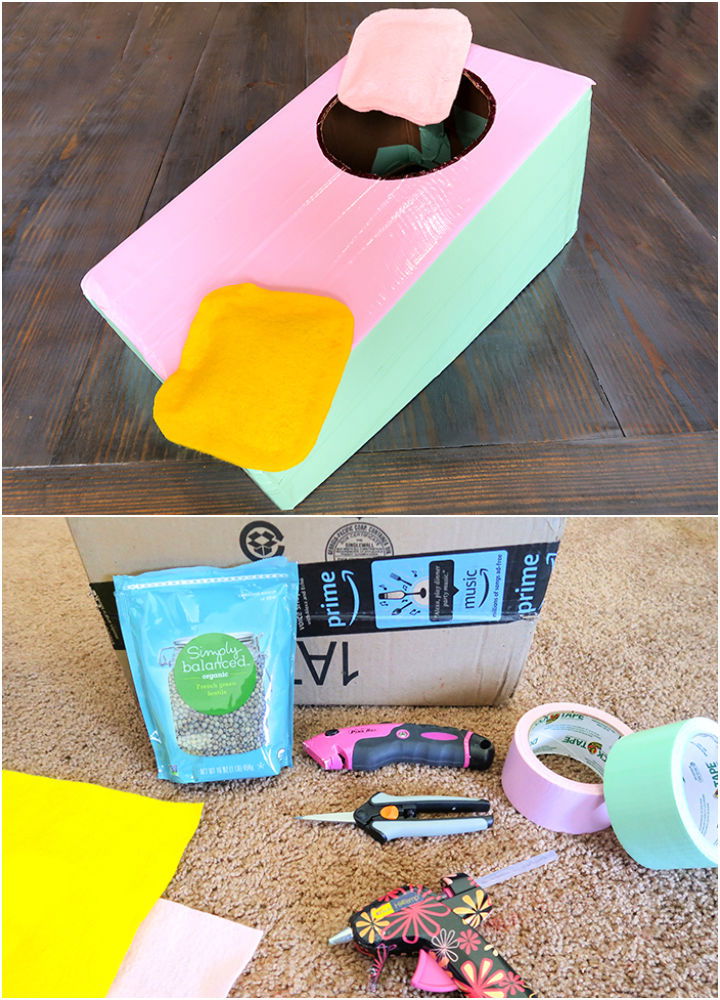 Perfect for little kids to play in the house's backyard, this DIY beanbag toss game is great for developing a child's gross motor skills, and their size is suitable for them. Additionally, collect your supplies, including a large empty box, soft felt, utility knife, hot glue gun, marker, ruler, and compass. woojr
53. DIY Bean Bag Toss Board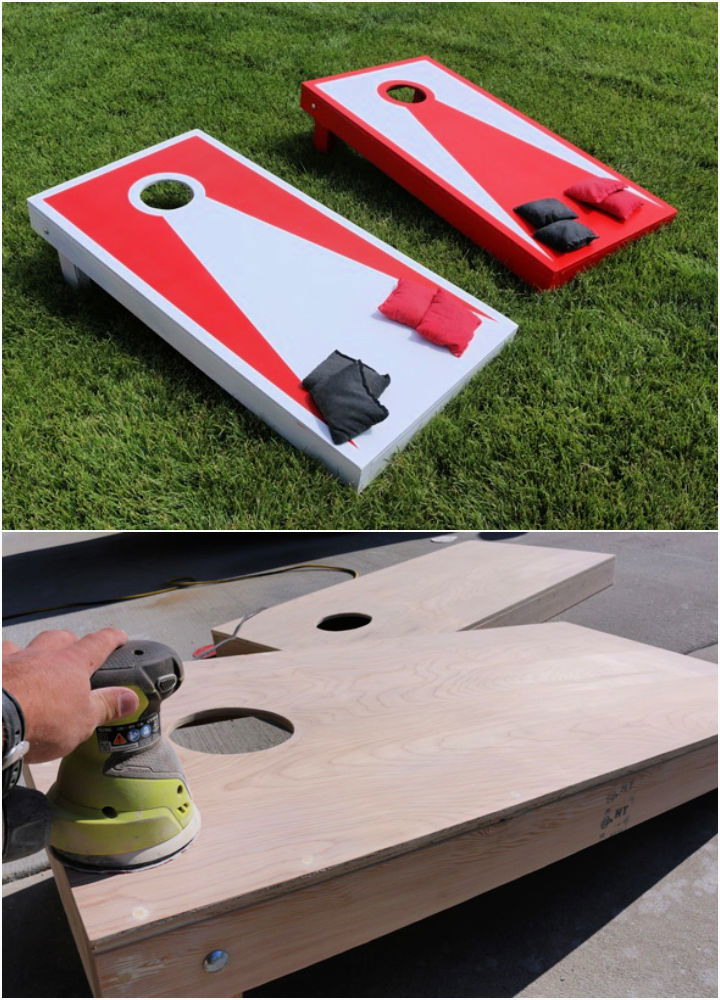 Cornhole board is a great toss game to play while you barbeque yummy chicken for friends or family. It is an easy project which you can do simply over a weekend. Just make sure you already have all your supplies with you before starting this fun project. diypete
54. Free Pattern For Backyard Bean Bag Toss Game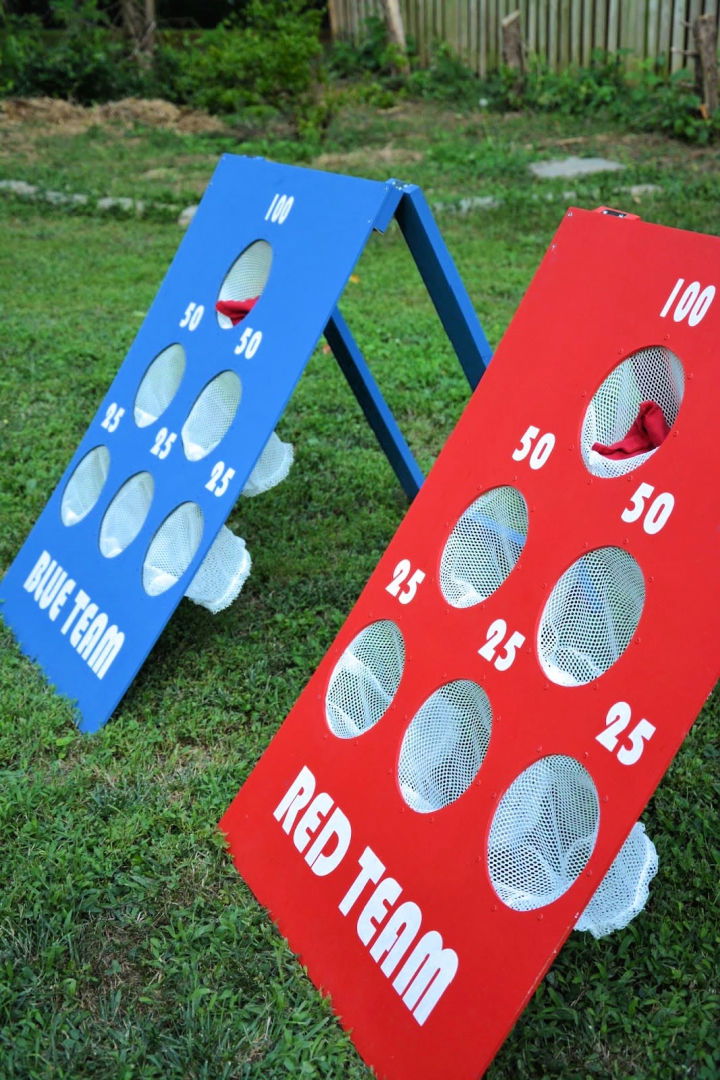 Make this team-wise beanbag toss game for two separate teams on a fun, summer game night. Now the background won't be so boring anymore! Furthermore, grab supplies like arrow fastener riveter, plywood, rivets, mesh fabric, sandpaper, a jigsaw, and few other things. thriftdiving
55. Fun Simple Cornhole Game for Kids to Make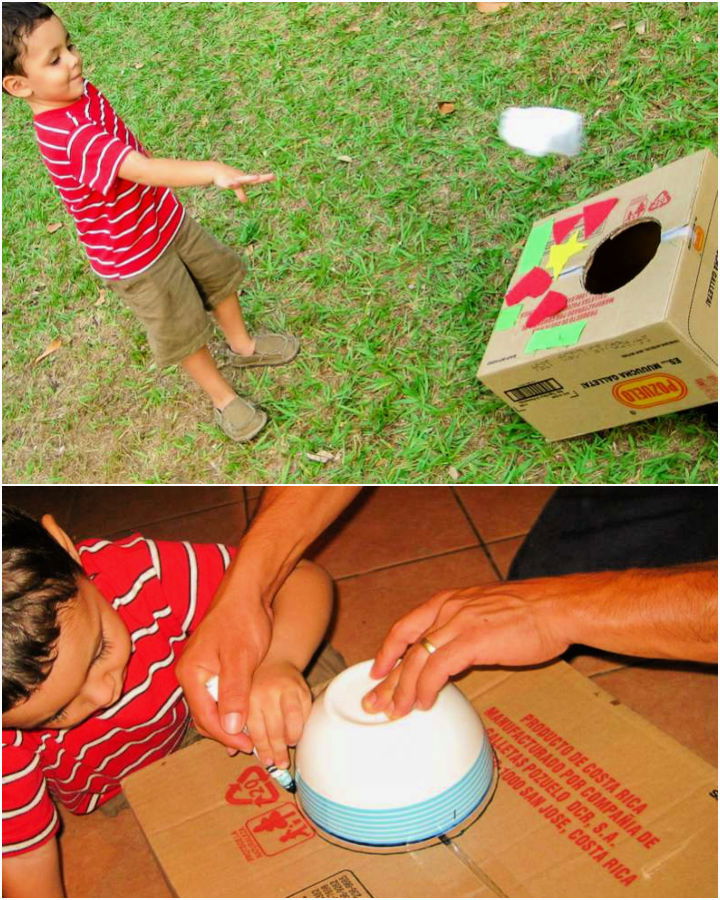 Finally, here is a super-easy way to make a cornhole board game for the kids that bridges creativity with physical playtime. Firstly, make sure you have all materials like cardboard boxes, circular templates, box cutters, tape, bean bags, and other art supplies to complete this incredible project! handsonaswegrow
Related DIY Projects and Ideas
Family Reunion Games: We love reunions. And we've got some great ways to celebrate with your family this summer. Check out our fun family reunion game ideas that are perfect for reunions and backyard barbecues.
Gender Reveal Ideas: I'm so excited you're having a baby! Surprise your family, friends, and the world with a gender reveal party that is fun and unique. Check out these fun gender reveal ideas to find the perfect one for your party.
Conclusion about these cornhole board plans
Now that you know how to make a cornhole board and what design options are available to you, it's time to get building! These DIY cornhole boards should give you everything you need to get started. Remember, have fun with the process and personalize your board, so it's unique. If you run into any trouble along the way or have questions, don't hesitate to ask for help from a friend or family member who may be more experienced in carpentry. With some time, effort, and these great cornhole board plans, you'll have a brand-new cornhole set that everyone will enjoy using at your next cookout or party. Are you going to try out one of these free DIY cornhole board plans?