Learn how to build a toddler bed for your kids with these 10 easy DIY toddler bed ideas, including free step by step plans and videos. You can make the toddler bed frame yourself that are sure to help create a new, comfy sleeping spot for your toddler. A DIY toddler bed is a great way to give your little one an extra special sleep space. Creating an enjoyable sleeping space for your toddler can be easy and fun if you take on the task yourself!
Whether it's repurposing an old crib, a handcrafted custom build, or an upgrade from a twin bed, there are plenty of creative diy toddler bed ideas available below. These free diy toddler bed plans all provide the perfect blend of comfort and style – with a few hours and some basic supplies, you can find exactly what you're looking for to make your little one's bedroom feel special and exciting.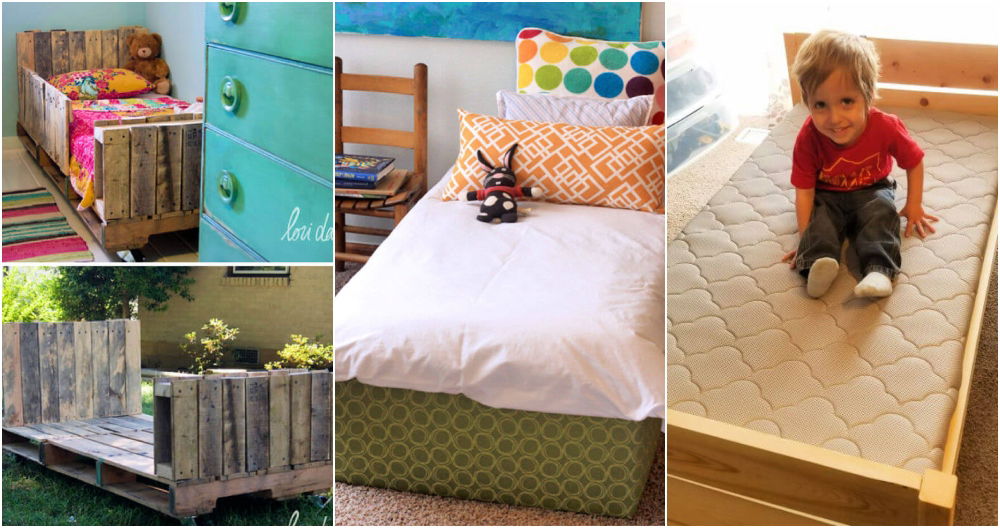 From cozy pallet beds to vibrant upholstered frames, these easy DIY toddler bed plans are sure to help create a gorgeous sleep space that your child will love!
1. How to Build a DIY Toddler Bed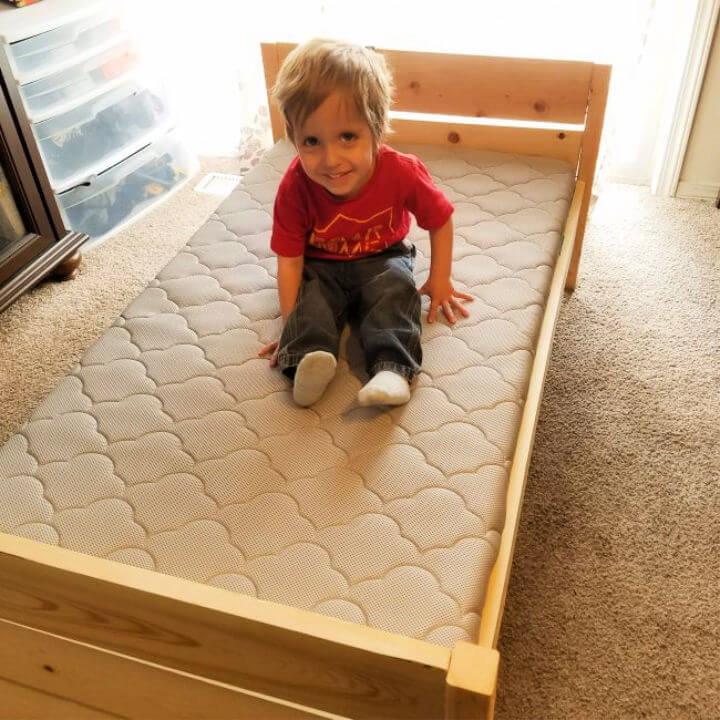 Have your babies grown enough to escape from an infant bed or cradle? Then you must make some new beds for them to let them enjoy the toddler phase. If simplicity is the real style in your eyes then construct this simple yet beautiful toddler beds, has nicely been cushioned. Free plans plus tutorial here loveourcrazy
2. DIY Upholstered Toddler Bed
Are you really good at upholstering? Then here is a project to do using this technique, an upholstered toddler bed, will be super comfy to sit and sleep on. Build first the wooden base for the bed using plywood, then upholster all its sit and add bed mattress. Complete guides here designsponge
3. Homemade Toddler Bed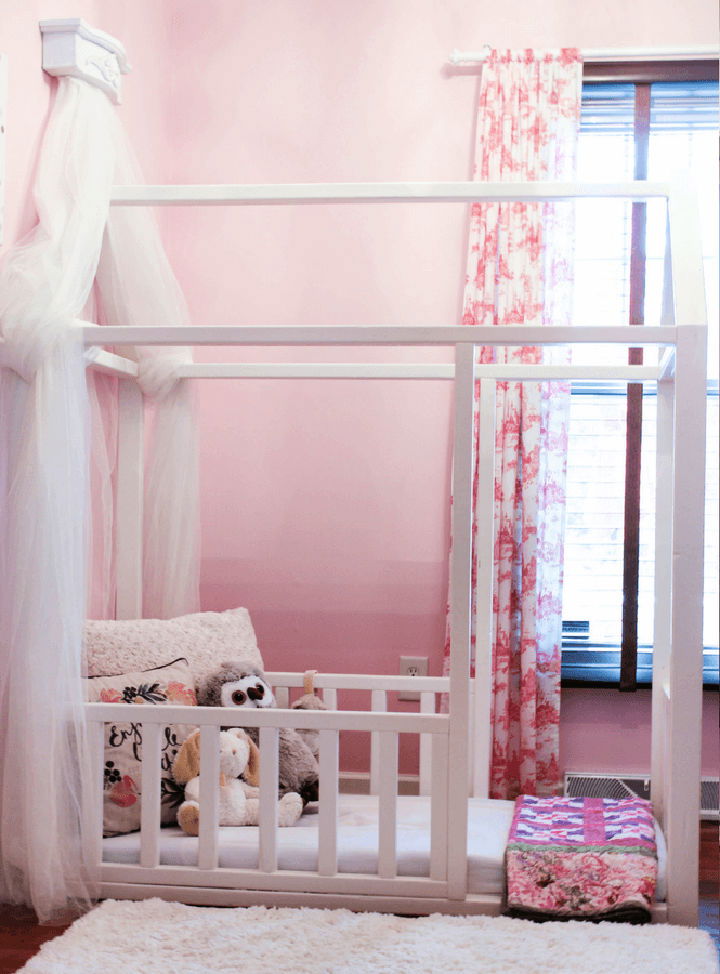 See here an amazing transformation of a little girls bedroom? The princess castle style bed has a chevron roof and also the white curtains. Make use of solid wood planks to build the frame of the bed, put the cushion over and finish with slatted side rails. Complete how-to guides here leggingsnlattes
4. Simple DIY Toddler Bed for Under $40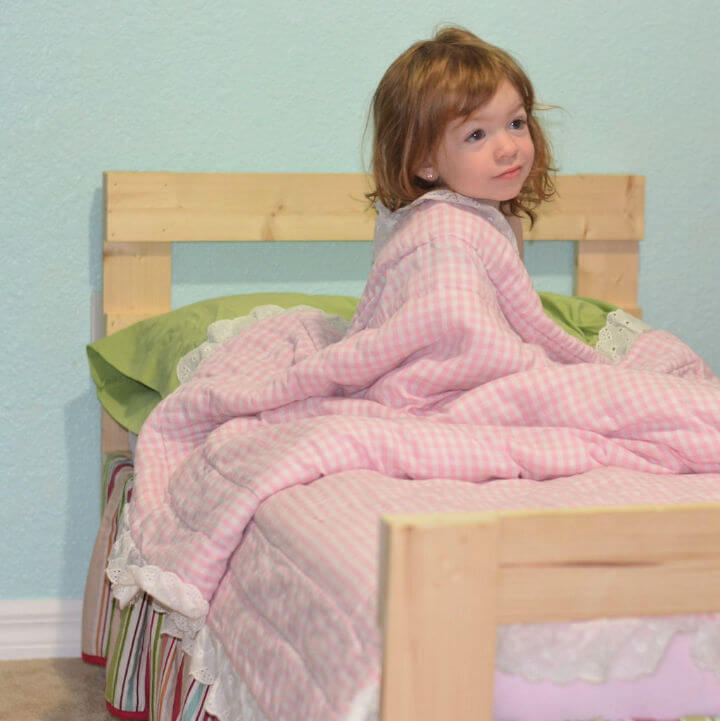 It will only take $40 dollars to style up a toddler bedroom. Spend this cheap amount of money to build this toddler bed, features easy but stable design dimensions is guaranteed to be loved by all the toddlers. Free plans and how-to tutorial here instructables
5. How to Make a Toddler Bed
No need to waste those old bed components like the twin headboard and footboards. They can again be put together in custom dimensions along with some other wooden boards to make stylish toddler beds. Stare at the alluring painted appeal and design dimensions of the given sample, will also make a great daybed. Full how-to guides here thecreated
6. DIY Farmhouse Toddler Bed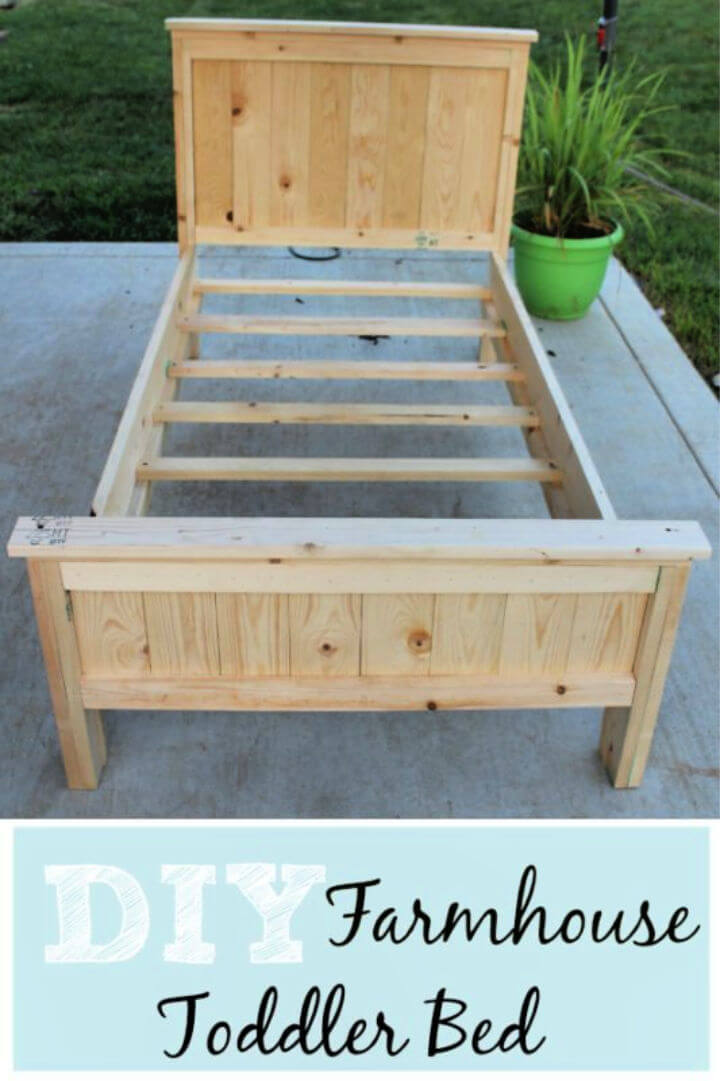 Want to get raised in your kids' eyes by giving something special as a gift? Then make your kids fall in love with you more by giving this toddler bed as a gift. In features, it offers an accent head and footboard built separately. Amazing bed in cute mini dimensions, as cute as your kids. Full guides here fivelittlebears
7. Building a Toddler Pallet Bed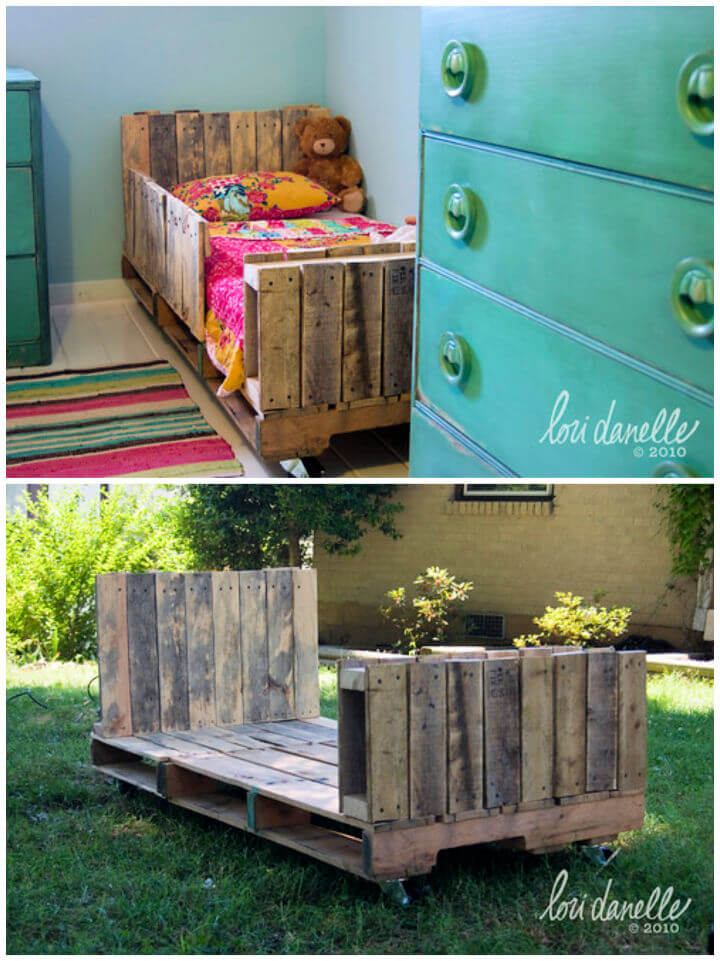 Build also durable and lasting longer design of diy toddler bed using free wood sources like pallets. Learn how to dismantle pallets then take a few skids into pieces. After you have a good stack, start building a toddler bed, can also be painted be modern. This pallet toddler bed involves much fewer cuttings. Details here loridanelle
8. Easy Toddler Bed Tutorial
The kids' room or bedroom furniture may have miniature dimensions but that does not mean it will be cheap to buy. Again you have to build a base with the plywood or any other wood and next you can upholster it for a comfy sitting and sleeping. An easy to build DIY toddler bed to build in no time. Details here twindragon
9. Modern DIY Toddler Bed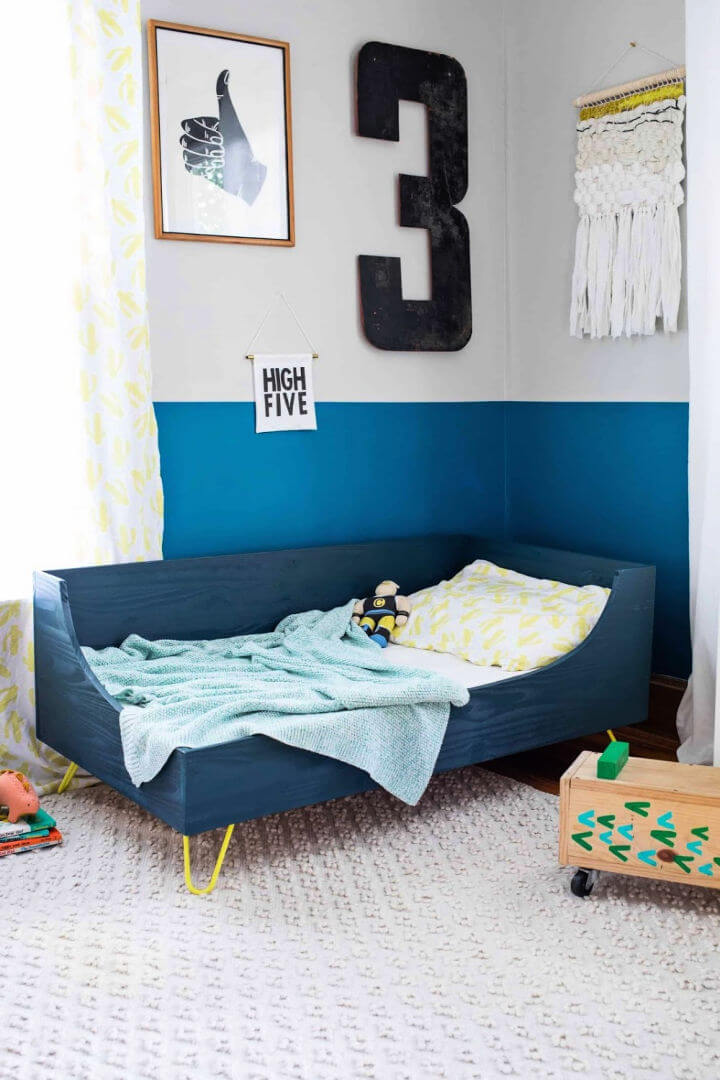 There are diverse different designs of toddler beds out there that you can build at home without getting a bit expensive. Build also this awesome plywood toddler bed, stands on metal hairpin legs painted in yellow. The curved corner adds a lot in the beauty of this plywood bed design, well-cushioned for ultimate sleeping comfort. Complete how-to guides here abeautifulmess
10. DIY Toddler Bed Bumper
If you have learned to make the outstanding toddler beds at home like a pro then time to move one step ahead. Add them with extra features that toddlers will like. Turn your finally finished toddler beds into lovely bumpers using pool noodles, duct tape, and fabric. Complete makeover details here mamafran
DIY Toddler Floor Bed With Rails
Making your own diy toddler floor bed with rails is a great way to provide your little one with a comfortable and safe sleeping area. This diy project is not only budget-friendly, but can also be customized to fit the size, shape, or colour of your choosing. With the right tools and materials, you can have them lounging in their very own personalized mattress in no time at all. Plus, most diy projects such as this one can help parents save on costs while creating something that will last for years to come.
Related DIY Projects and Ideas
Bed Plans for Kids: Turn your little one's bedroom into a kingdom with these free DIY bed plans for kids. There are blueprints for a loft, bunk beds, and more.
Loft Bed Plans: Get inspired with these free DIY loft bed plans that are perfect for small spaces. Download the free PDF guide with all the tips and tricks for building your own loft bed.
Pallet Bed Frame Ideas: Turn wooden pallets into a bed frame for your home, guest room, or even a small apartment. These easy pallet bed frame ideas are functional and affordable.
Pallet Headboard Ideas: Discover these cheap and easy Pallet headboard ideas to have a rustic and stylish look in your bedroom without breaking the bank.
Wood Headboard Ideas: DIY headboards can be a great way to add a personal touch to your bedroom decor, and these incredible DIY wood headboard ideas will help give you some inspiration.
DIY Headboard Ideas: Get the perfect headboard for your bed with these amazing DIY headboard ideas! From wood, to pallet boards, foam board and more.
DIY Furniture Projects: Discover easy DIY furniture projects to build your own bed, dining table, nightstand, shelving unit, and more with step by step plans for all skill levels.
Conclusion:
If you are in the market for a toddler bed, or just want to see some fun and creative toddler bed ideas, we hope you enjoyed this roundup of 10 free DIY toddler bed plans. We had so much fun finding these unique and clever designs, and we can't wait to hear which one is your favorite. Did you make one of these beds? We would love to see pictures! If not, maybe one of these diy toddler bed ideas has inspired you to create your own custom toddler bed. Be sure to share it with us when you do.