Add value to your yard, lawn, or any outdoor space with these DIY pergola plans that will help you to learn how to build a cheap and simple pergola at home. Whether you need to set up a perfectly relaxing and fun outdoor sitting spot or you want the shade or protection from elements there, building a pergola will be a smart choice. These free pergola plans are sharing all the guides about how to build a pergola like a pro without causing any load on your wallet.
See this list of 20 free DIY pergola plans that include step by step detailed instructions for both free-standing pergola and pergola on deck. and will provide various designs inspiration to choose from according to need and desires. The very first step would be to decide the area and to clean the targeted space for installing a base may of concrete too. Next, install heavy-duty pillars to install a robust roof.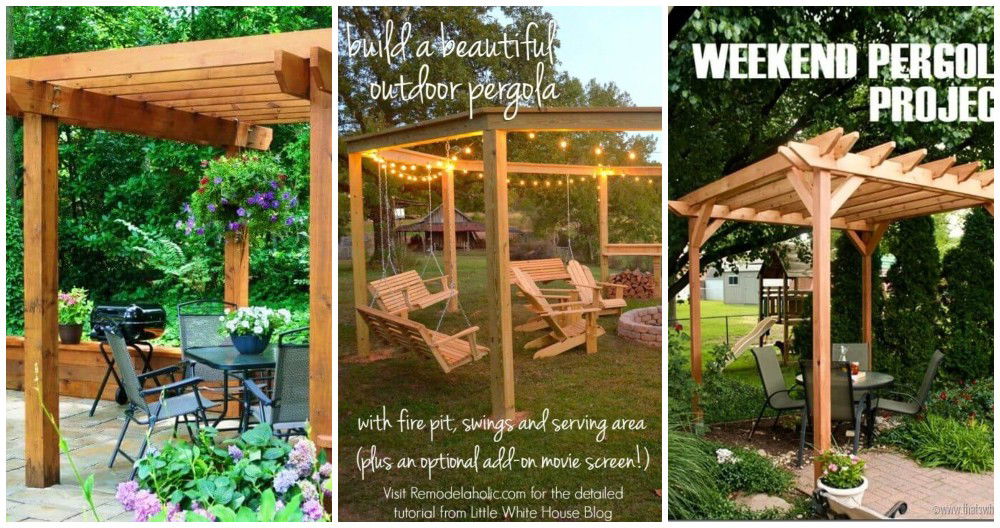 All these pergola designs are made of wood and have designs that are unbeatable in both beauty and cost price. Depending on the size of your pergola, you can set up 4 or 6 pillars to support the roof cross beams and braces. The final step would be to use the wood-like pressure-treated lumber to install the rafters for a lattice-style roof. From building a resort-style pergola to an entire outdoor private room pergola, this list of free pergola plans and designs will provide step-by-step instructions and tutorials to build all the designs in a budget-friendly way. Be on the list to check them all.
1. DIY Pergola for Your Home Or Garden
Redefine the look of your outdoor by adding a pergola. Opt for this durable that will require lots of different wood boards like 1×3, 2×8, 2×6, 2×2 and 4x4s wooden posts that will make corner pillars. Use the galvanized steel brackets for overall assembly. Free plans here diynetwork
2. How to Build a Pergola
Sorting out the ways to make privacy possible at your outdoor? Then do build this pergola, which will impress with its square design. The heavy-duty pressure-treated wooden beams and wood lengths should be put together to make this pergola design. Posts are fixed in a 10 x 10ft square. The design will rock for backyard landscaping. instructables
3. DIY Super Frugal Pergola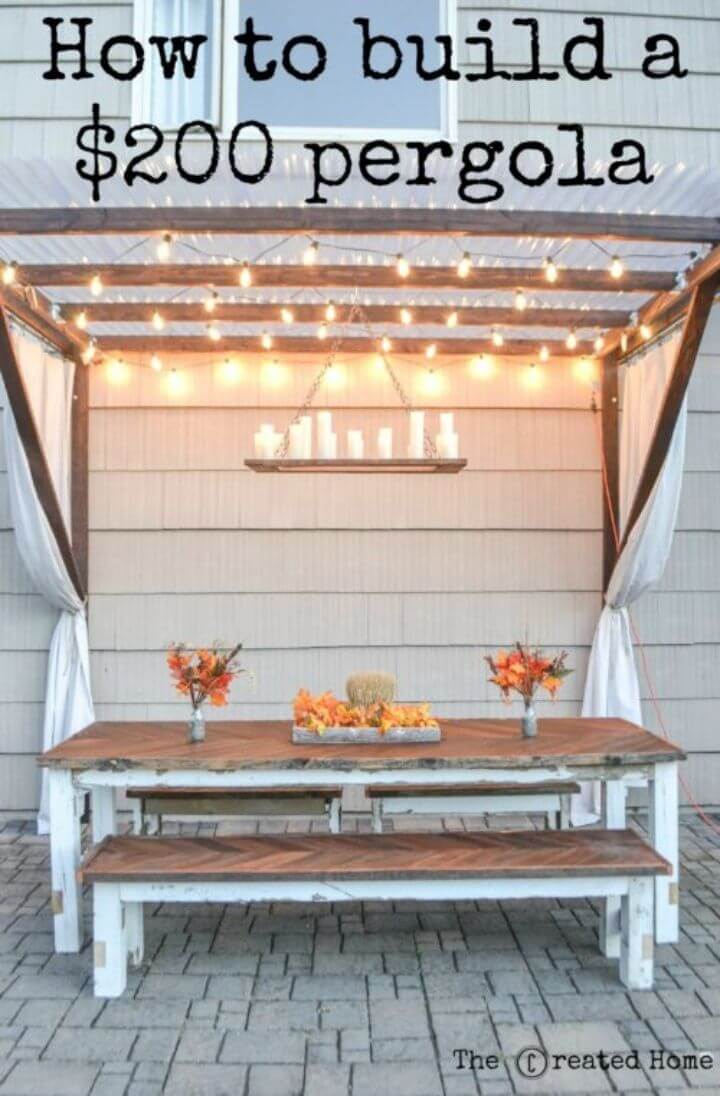 Building a pergola can demand a lot of wood, will be super expensive to buy. Get here plans to build a pergola in a budget-friendly way. Use 6 lengths of 2x4x8s and 6 lengths of 2x4x10s to build this epic wall-mounted pergola design. Use joists hangers, joists bolts and nuts for durable wall hanging. Don't forget to add lights and curtains. thecreatedhome
DIY Projects for Your Garden:
Pallet patio furniture: Find these easy pallet patio furniture ideas that include detailed instructions and step by step guide to building all your patio furniture with free pallets.
DIY outdoor furniture: See these DIY outdoor furniture plans that will get you the deck or patio furniture set of your dreams on a low budget!
Building a garden bench: Overcome your garden bench problems with these simple bench plans that will win your heart with their beautiful and superior designs.
DIY outdoor games: These DIY outdoor game ideas are perfect for summer parties and activities.
Outdoor serving station: if your backyard doesn't have space for an outdoor bar, then build your own outdoor serving station to entertain your guests easily!
Backyard Ideas: Get these DIY backyard ideas that are easy to build and will surely make your backyard enjoyable for this summertime venture.
Outdoor table: These free outdoor farmhouse table plans build a modern farmhouse dining table that's perfect for having outside on a deck or porch under the pergola.
4. How to Build a Basic Square Pergola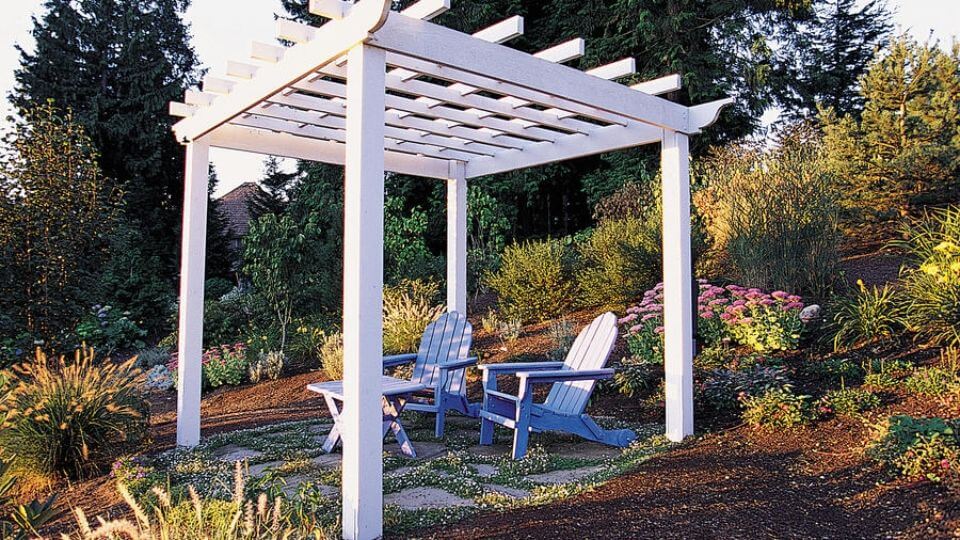 Are you having a big love for squares, then you will surely lust over this square pergola design. Building it will be a great too for outdoor landscaping. Enjoy Adirondack chair sitting by sitting under the shade of this pergola shelter. You need concrete, 6×6 posts, 2×8 beams, 2×4 trellis stock, and 1×8 trim to construct it. Details here sunset
5. Homemade Backyard Shade Pergola
Add a lot of privacy to your backyard along with getting a covered sitting area using this backyard shade pergola. It stands on 6×6 posts, comes with a roof supported with 2×12 beams. Build the slatted style roof using 2×10 lengths. Build the rest using 2x4s, finish by installing curtains and lights. Full tutorial here remodelaholic
6. Build a Pergola – Two Days and $500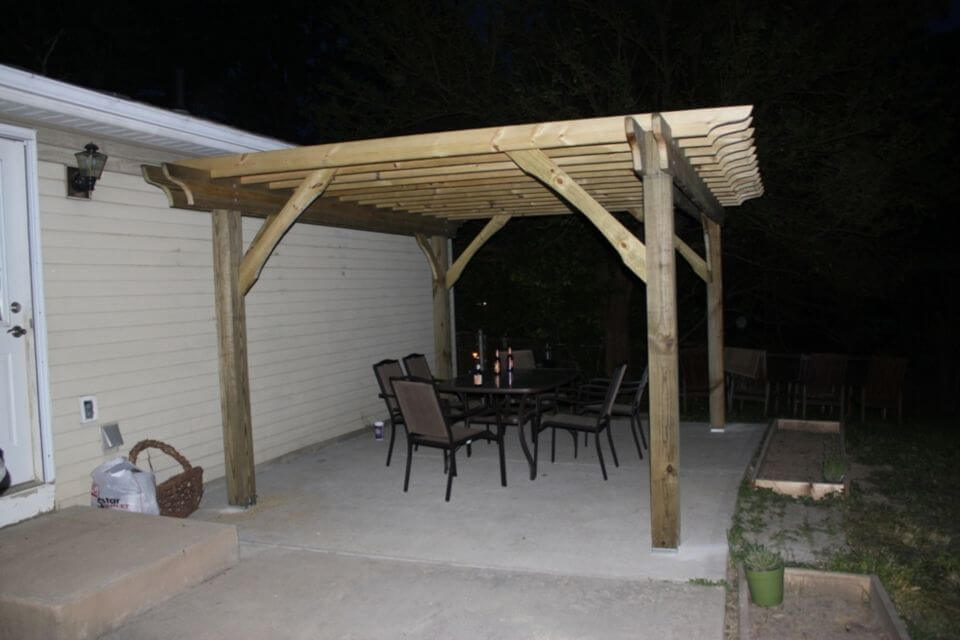 Spend two weekends to build this pergola, will add new decorative dimensions to a backyard. Along with pressure-treated 6x6x8′ posts, you need lots of pressure-treated wood slats like 2×6, 2×10 and 1×4 to build this pergola, which will create a super fun and party spot at the backyard. The project will cost you $500. homefixated
7. Awesome DIY Weekend Pergola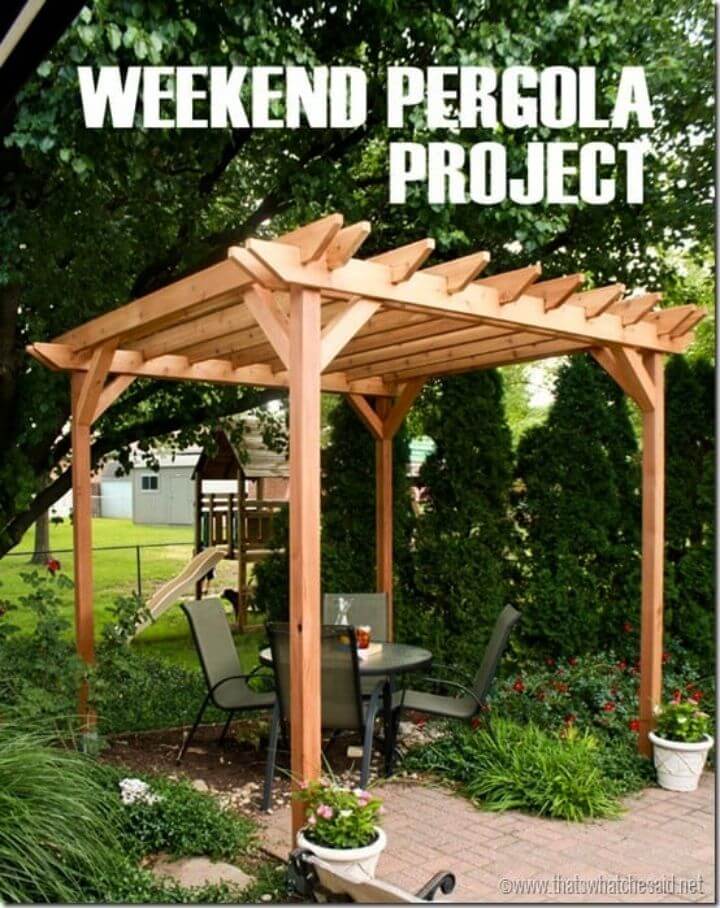 Spend a whole weekend to build this incredible wooden infrastructure, will improve the aesthetics of your outdoor. Build it to get a private sitting spot at your outdoor, will make you enjoy the fun conversations. All you need the heavy-duty pressure treated wood boards and wood posts to build it. thatswhatchesaid
8. Modern DIY Deck Pergola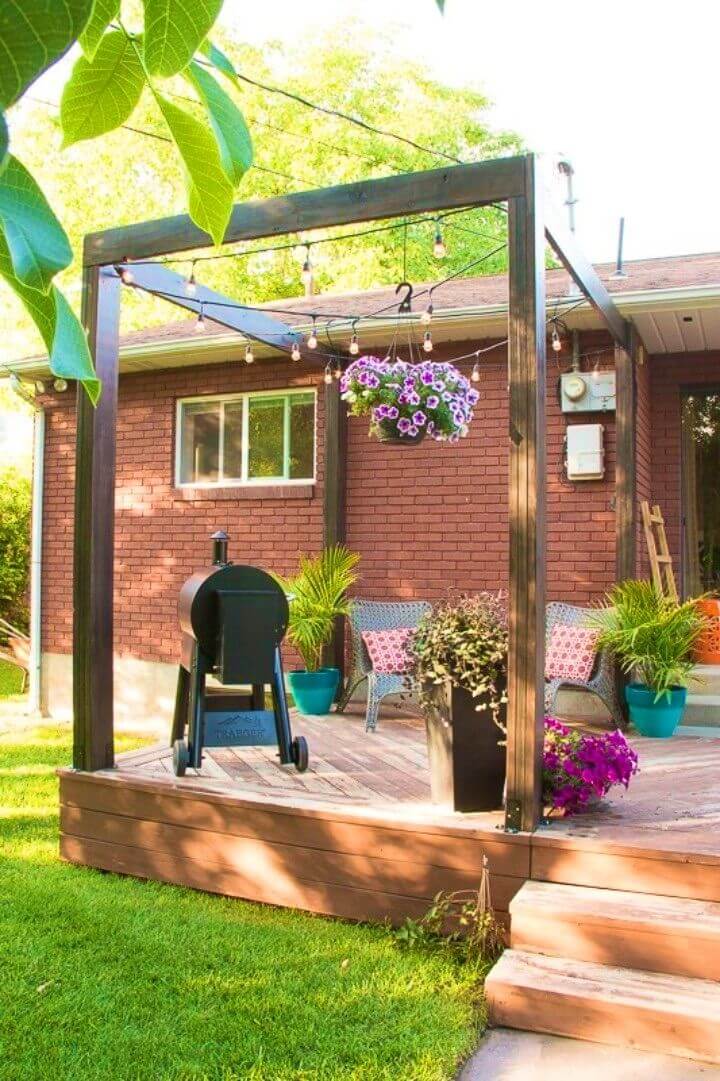 Add up your deck spaces too with the pergolas for instant beautification. Set up a great look of your deck with this modern DIY deck pergola, will work up super quickly. It doesn't come with a filled roof but sure to make your deck space look private. Hang light strands to let it fascinate more. remodelaholic
9. Modern Pergola Idea – Outdoor Room
Get a luxurious sitting and entertainment room outdoor too like your living room, by building a pergola. In this design, the roof columns have been supported with heavy-duty pillars having beautiful design appeal. Opt for this design if you want to enjoy dinners, coffees, and fun gossips outdoors. Live the luxury. hgtv
Pallet Sofa: Get inspired by these pallet sofa ideas which are sure to make you get with your favorite and cozy sofa design for a pergola project.
10. How to Build a Wood Pergola
Sorting out best outdoor landscaping projects? Then you must consider installing this wooden pergola, the best focal point to add to your outdoor along with added privacy. Grab the 4×4, 2×4, 2×6 and 2×10 pressure treated lumber lengths to build this fancy pergola design. Full instructions here hgtv
11. DIY 8×10 Feet Pergola for Your Backyard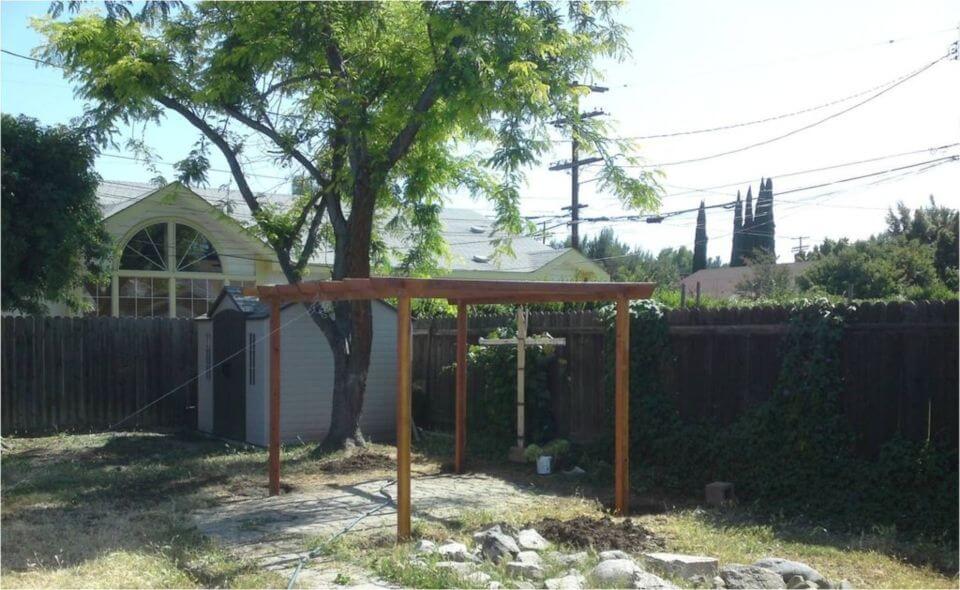 If you love to sit at outdoor but blazing suntans and burns your skin then opt for this 8x10ft pergola solution. It will add a shelter along with making your sitting space bit more private. Start building it by installing heavy-duty wooden posts, should be 4×4 or 6×6. Use 2x4s for rafters and 2x6s as cross beams. instructables
12. Build an Easy to Customize Pergola
Install 4x4x12 wooden posts to build this stunning outdoor beauty, the pergola. Use 2×8 and 2×2 as roof beams and rafts and this pergola design will cover almost 12ft x 14ft to provide instant shaded space for outdoor sitting. Add curtains for extra privacy and hang lights to enjoy this fun spot at night too. lowes
13. Pergola and Firepit With Swings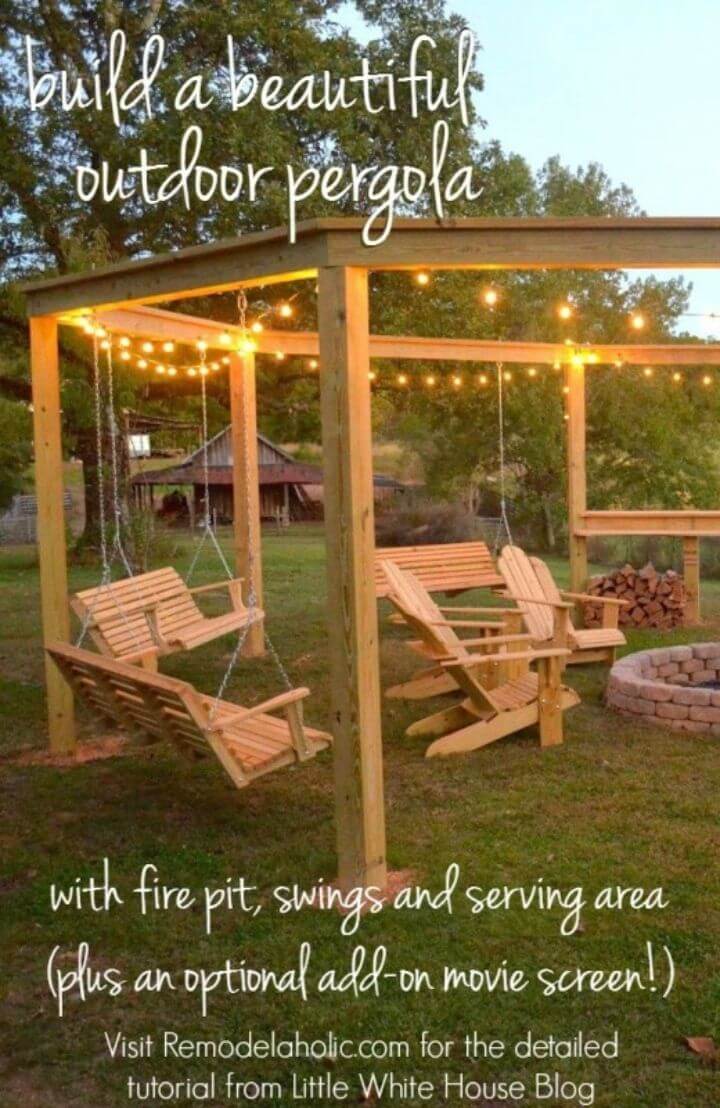 Make your backyard or any outdoor look heavenly by installing this geometrical pergola. It provides the swing hanging seats to enjoy the winter evenings around a central fire pit. The addition of string lights transforms the entire pergola design into mini heaven. The project will cost you $2300 approximately. remodelaholic
Build your own Adirondack chairs: Follow these free Adirondack chair plans to build the perfect chair set for your pergola project.
14. How to Build a Pergola for Shade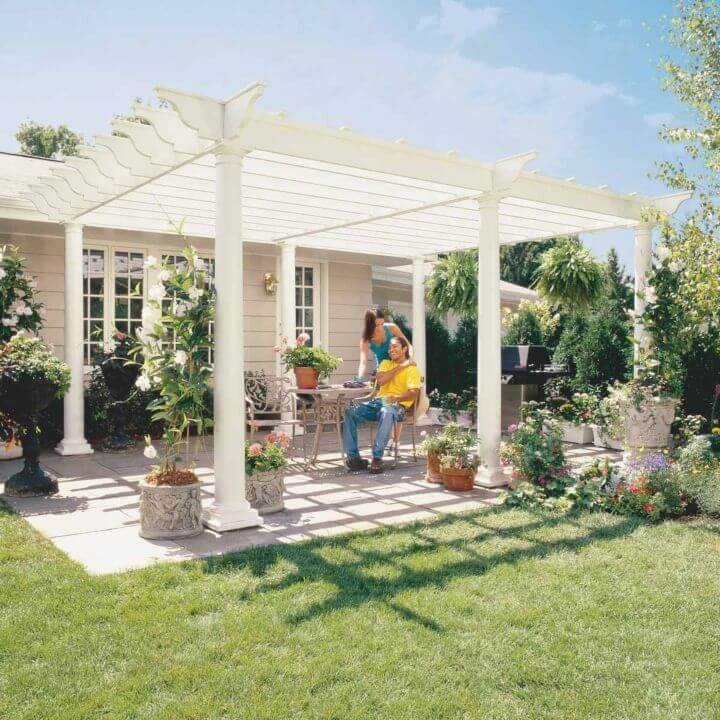 Don't let the roasting sun tease you more while being at outdoor to enjoy the greenery. Update your outdoors for summer vacations by installing the pergola, will fancy up your backyard along with providing sun-shade. Enjoy the afternoons under this pergola while enjoying gossips with friends. The amazing over the head latticework done with classic columns, will impress everyone one. familyhandyman
15. Pergola for Your Patio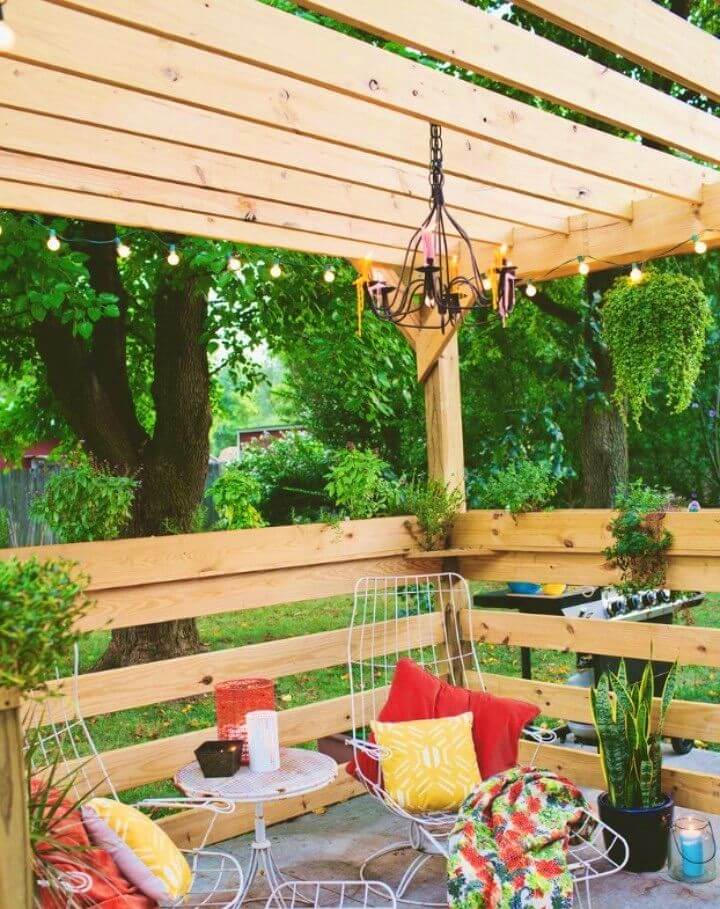 Create amazing shade at your outdoor along with adding protection against various elements by installing this pergola. Go with the custom straight columns to build the lattice style edged roof, which should be supported with heavy-duty wooden beams. Install underside seats to transform it into a big recreational spot. abeautifulmess
16. DIY Pergola with Adjustable Roof Panels
There are various designs of pergolas here to choose from, opt for this one that offers adjustable roof panels. Fix first the 4×4 wooden beams in place to support the roof rafters and beams on an over the head height. Use 2×4, 2×6 and 1×6 to build the roof, the lattice wooden framework. Guides here hgtv
17. How to Build a Simple Backyard Pergola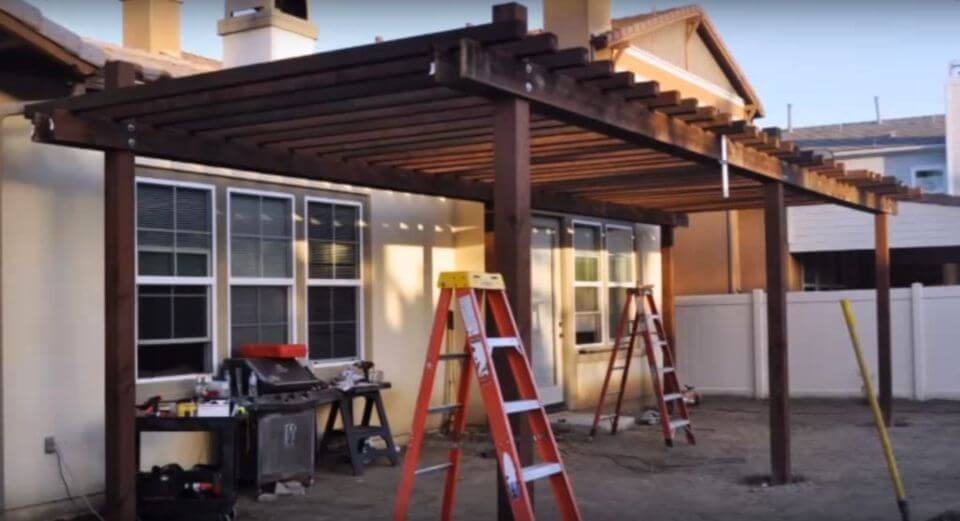 From simple to advanced, you get all sorts of pergola building plans here. Improve your backyard aesthetics with this simple pergola looking great in the choco tone of the wood. Build it using 6×6, 4×4, 2×8. 1×2, 2×3 and lots other wood lengths instructables
18. Build The Ultimate Resort-Style Pergola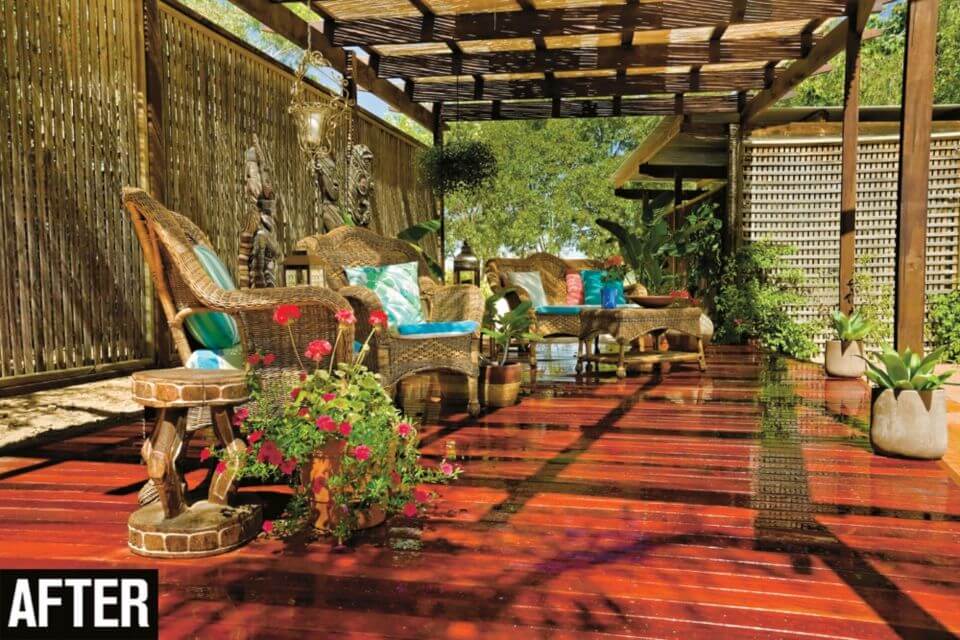 Live the luxurious outdoor life by adding this resort-style pergola to any of your most visited outdoor, will complete in 8 days at $4250. First prep the site, install the concrete footing, and build then a wooden deck. The get a big help from the 4×4 or 6×6 wood posts to install the pergola pillars. Next, add the roof cross beams and rafters. handyman
19. Guide to Building Your Own or Hiring a Pro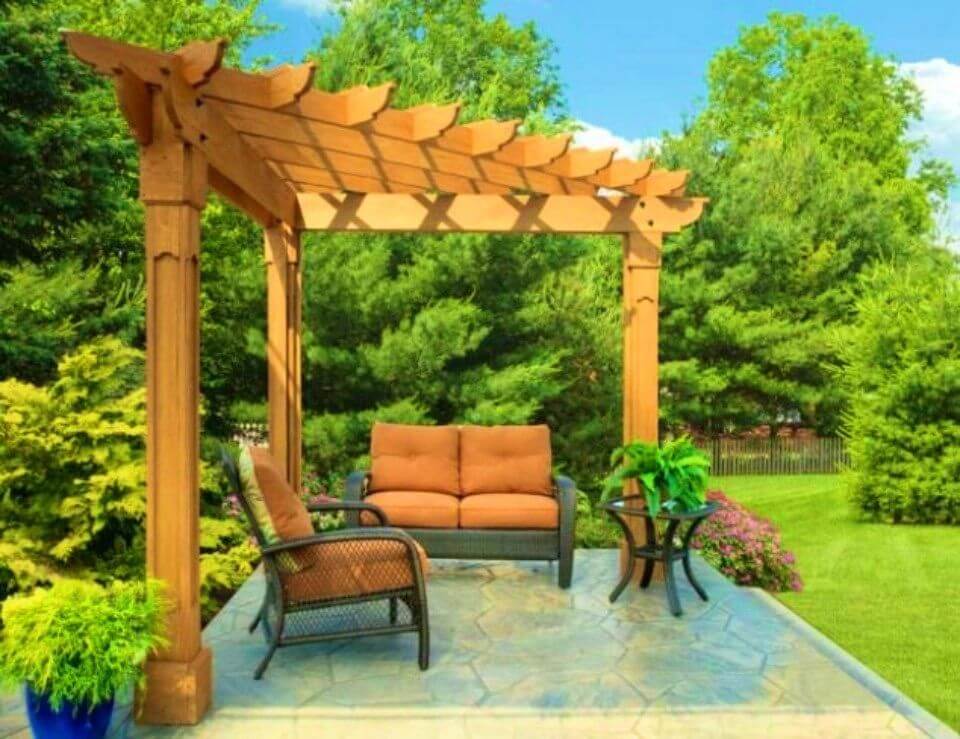 Build this pergola that comes in a triangular shape. It provides stronger pillars that you can fix in the ground by digging up space. Top up the pillars with cross beams that you can cover with evenly flat rafter, will be the perfect slatted roof. Build this pergola in less than a weekend in a budget-friendly way. homeadvisor
20. DIY Waterproof Canopy Pergola
For a backyard deck and front home porch, this canopy pergola design will make a smart choice. This is here a waterproof canopy pergola that comes supported with 6 massive duty pillars. It covers a large area for shade and will improve the aesthetics of your entire home or room. fencecenter