There are certain garden features that if you install to your garden or any green outdoor, you can quickly raise the decor of that space to peak levels! The pergolas are one of the features that if added to a garden space, can create a divine look of your green garden space! The pergolas or the arbors just can be built around any garden sitting area too to gain sun-protection stylishly! Moreover, the structures of the pergolas and arbors come with the custom trellis framework that trains the climbing garden plans and hence the whole pergolas sometime looks fully covered in the flowers or greenery and that turn a garden space into a little heaven on the earth!
The pergolas or arbors differ a little, but both are made with the vertical wooden posts and pillars that support a lattice style open roof built with the cross arrangements of wooden planks or beams! So, are you planning to make a wonderful DIY pergola design in your garden? Then check out these DIY Pergola Projects that will help you build a great looking pergola to your favorite location in the garden!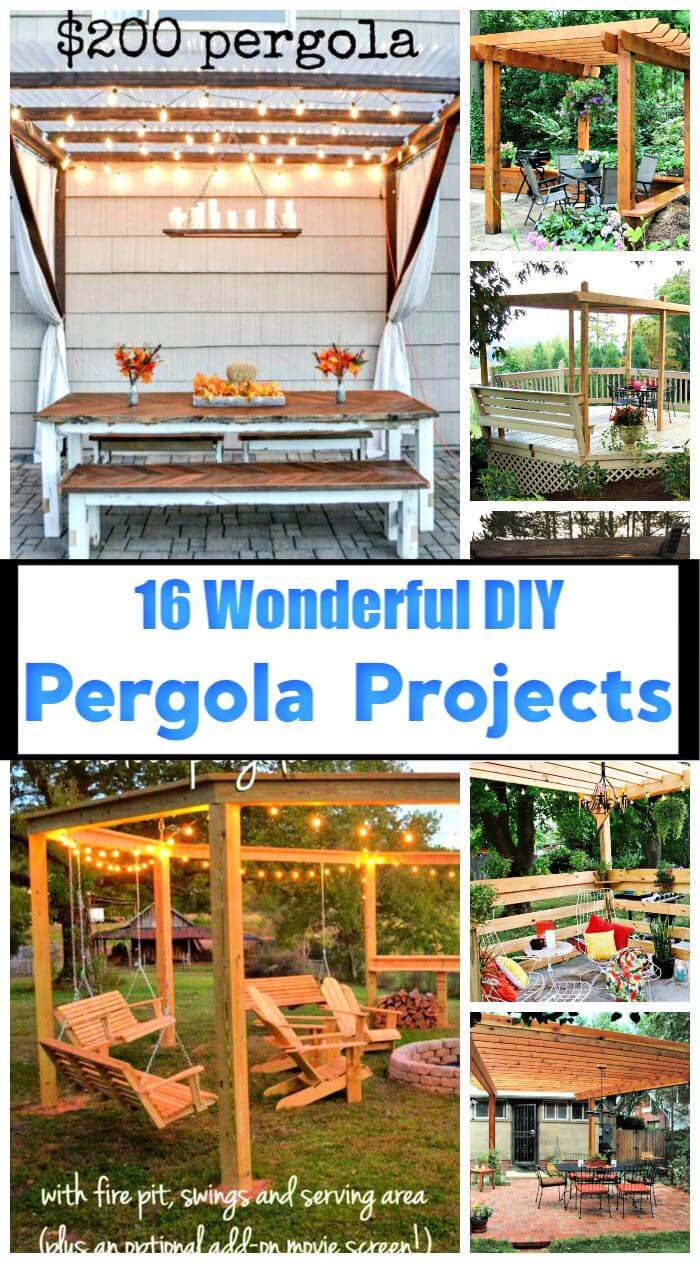 Make the backyard pergolas around the backyard sitting area to get amazing sun-protection, and it will also bring great visual details to the backyard sitting deck, just peek into more information about the given sample! Build also the special garden pergolas under which you can sit with your friends using some chairs and tables, and it will provide you with a big pleasure for sure! Also, build the pergolas around your front deck or patio space that may also come covered with the curtain for added privacy, just take a look at the given sample patio pergola that comes with wooden lattice covered roof that looks beautiful! Build also the fenced pergolas around any of your outdoor sitting area; the fence wall all around will bring lots of focal stimulation to design also some privacy to sitting members!
DIY Projects for Your Garden:
Next, the list will also guide you that how you can decorate the pergolas that you have recently been made! You can hang custom chandeliers to the open pergola roofs that will look great at night, and you can also install amazing lighting to you pergola using custom light fixtures, LED string lights and custom strands of bulbs! The list will amaze you will so many different handmade pergola designs from simple to professional to a little-complicated design! Build the fantastic looking pergolas with custom concrete pillars and with rustic wooden open roofs, and they will be unbeatable in beauty!
Make also the custom pergolas with firepit in the center and even with built-in swings! Check out more amazing self-made pergola design in the given below list and do duplicate your favorite ones! Open complete project tutorials, free pergola plans, and visual guides just by clicking once the attached links!
Make Your Own Backyard Pergola: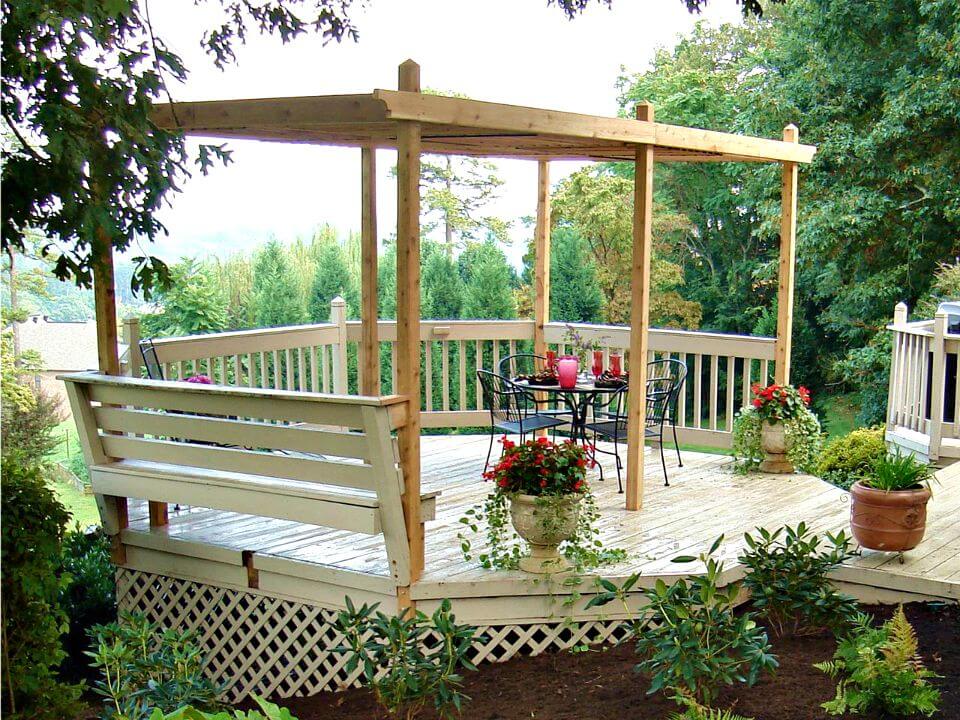 You can make your deck look more graceful and gorgeous with the addition of the pergola over it that would provide your so much shade for the outdoor seating in the summers. You can easily install this fun pergola with wooden bars and logs and here is the link to check out the details of this pergola on your own at home hgtv
DIY Garden Pergola: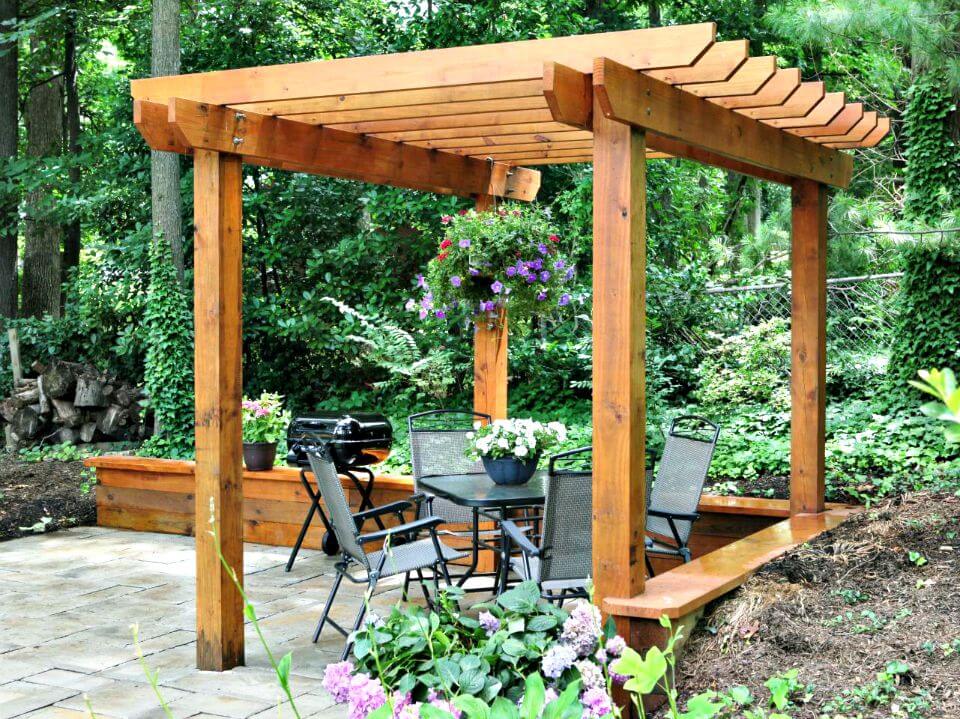 Outdoor fun is at its peak in the summers and here is how you can enjoy it more this time. Yes, you can build this pergola space for your patio or deck and enjoy a shady and cool seating even under the sun. This pergola is super easy and fun to build yourself with some wooden logs, and the complete project details have been shared here diynetwork
Easy DIY Pergola Tutorial: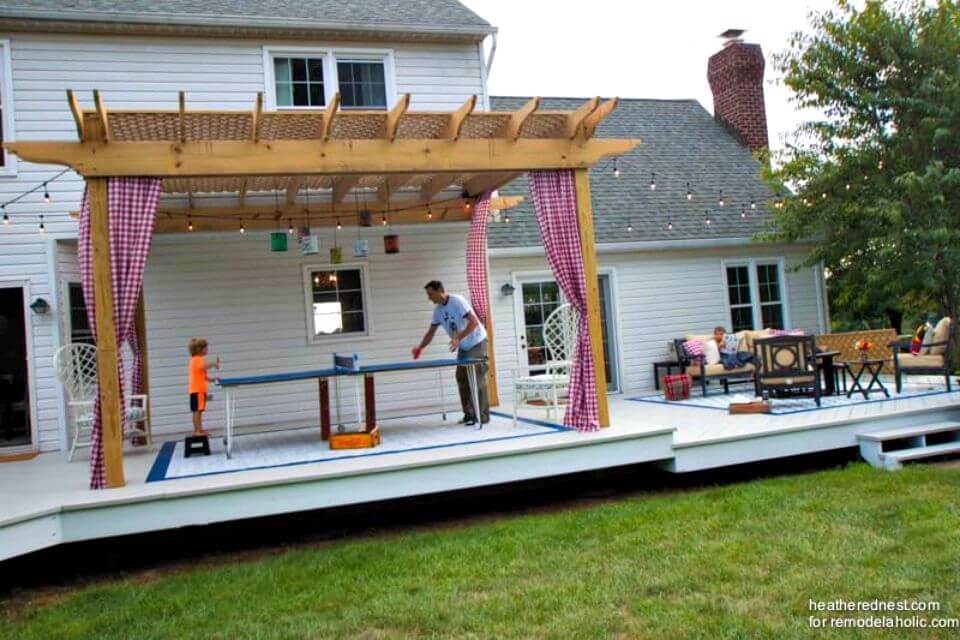 Here is the idea of creating a pergola to your deck spaces and sprucing up its style and beauty in a really graceful way. You would also get enough shade for your summer outdoor seating sessions with this wooden pergola consisting of a wooden roof with four sturdy wooden pillars as the support. Learn the complete details of the tutorial right on the link given here remodelaholic
How To Build Your Own Pergola: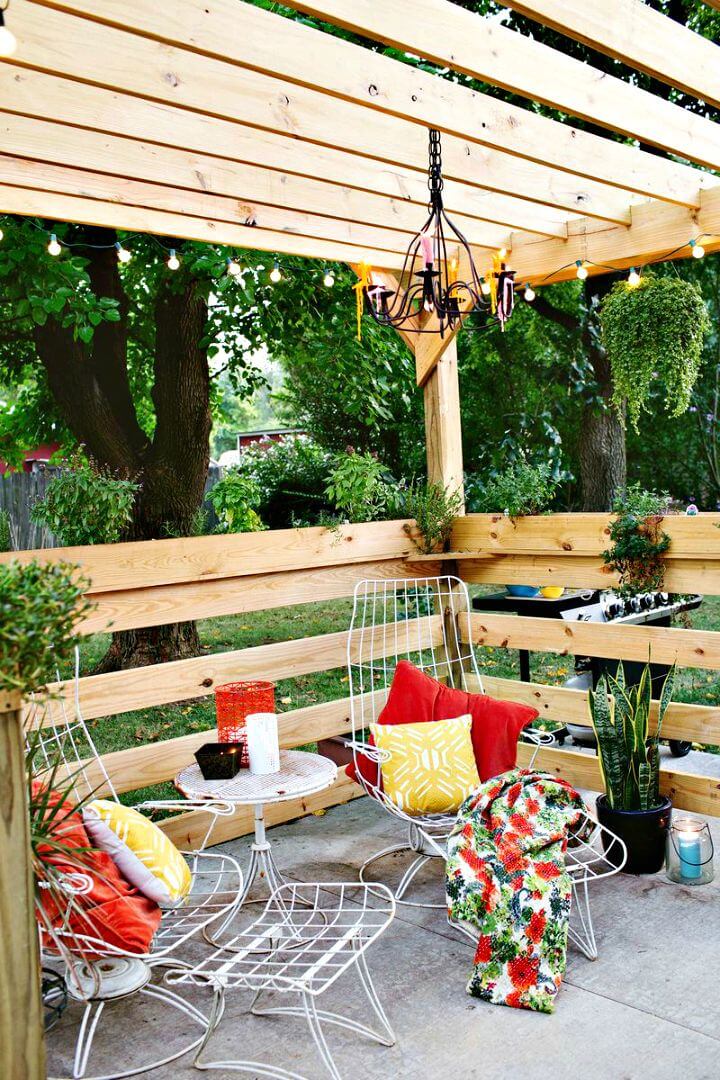 If you want to add some shade to your outdoor seating area then adding this perfectly built wooden pergola is the perfect idea to get your hands dirty with. With the cheap but sturdy wood you can easily install this pergola with support pillars and the roof and here is the link to hack the complete structure plans of this easy and fun pergola abeautifulmess
DIY Deck Pergola with Plant Hangers: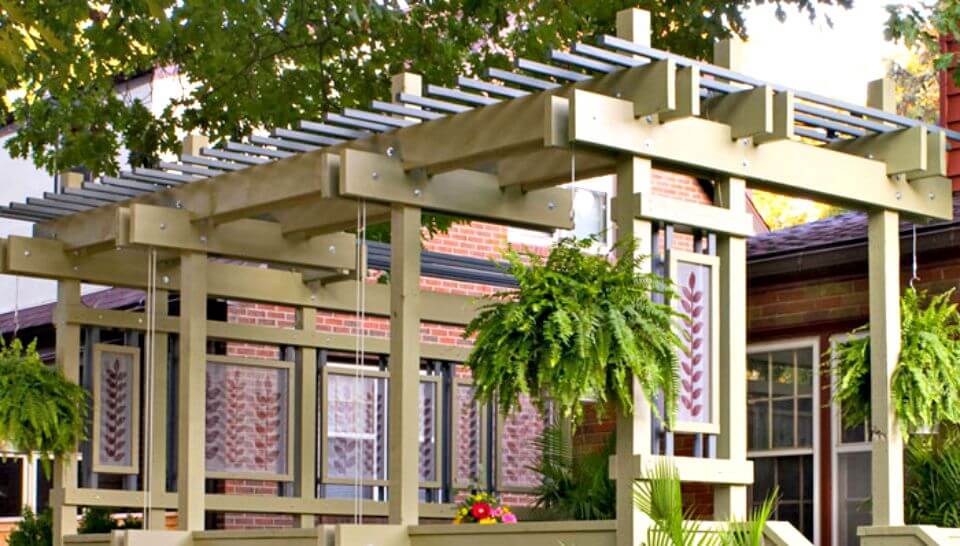 A pergola roof allows you to feel your patio or deck your second home but without the enclosure of the walls. So now you can install a pergola on your outdoor deck using the wooden logs and planks, and this one is the modern and chic one to be followed for the structural details. It got extended roof logs too where you can hang your pretty flower and planters to add more beauty grace to the outdoor spaces. Complete tutorial details here lowes
DIY Weekend Pergola Project: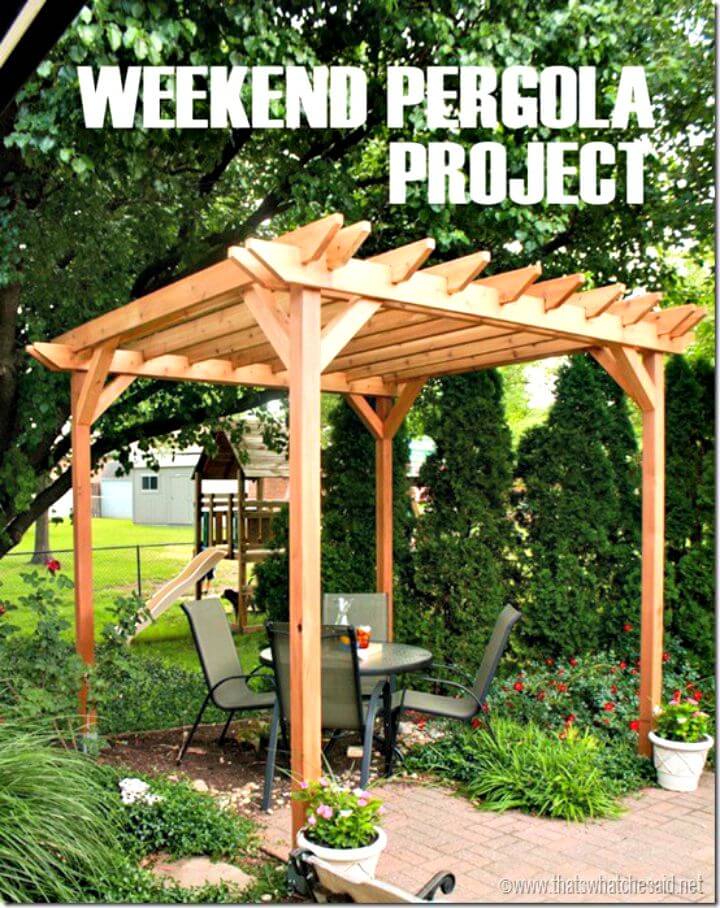 You want to enjoy the lovely rain in the outdoors but do not want to get wet, so you know what the solution to the problem is? A pergola is an answer! Yes, a wooden pergola over your outdoor patio of seating space would be just the perfect shelter from the rain, but still, you can enjoy the rain standing under it. You can check out the features of the idea right on the link given here thatswhatchesaid
Build Your Own Outdoor Pergola: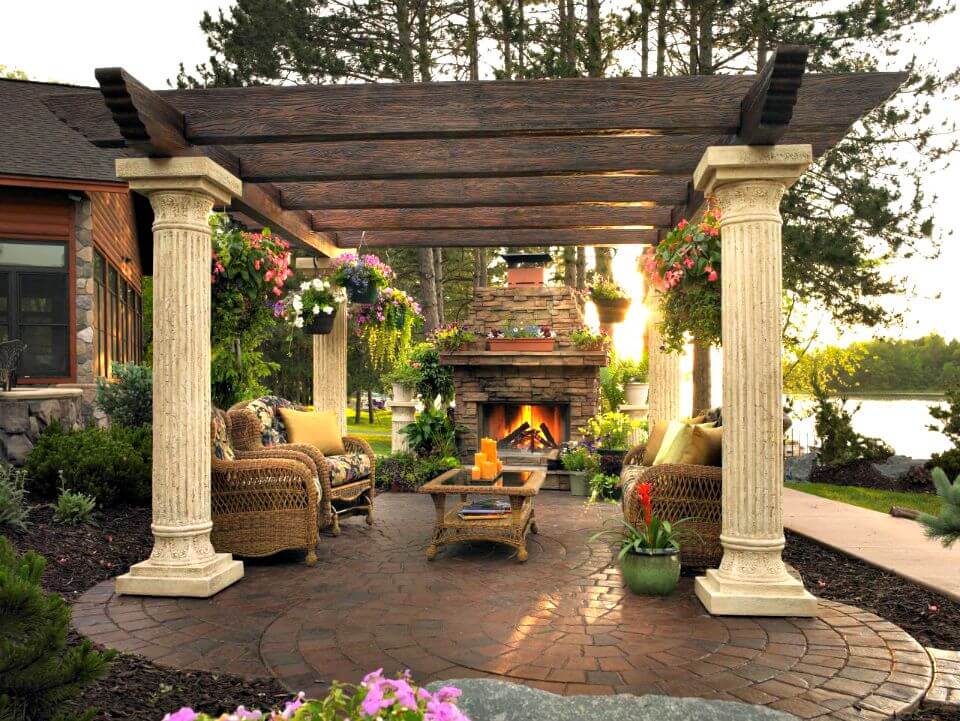 One thing can bring a huge change in the outdoor setting of your seating spaces to just like the idea of this pergola over your deck to keep you the comfort and coziness of the room yet enjoy the cool and fresh outdoor breeze there. Here is the idea of showing how easy and nicely you can create this pergola on your own and bring the perfect charm and style to your spaces too.You can check out the idea right on the link here hgtv
Modern DIY Deck Pergola Plan: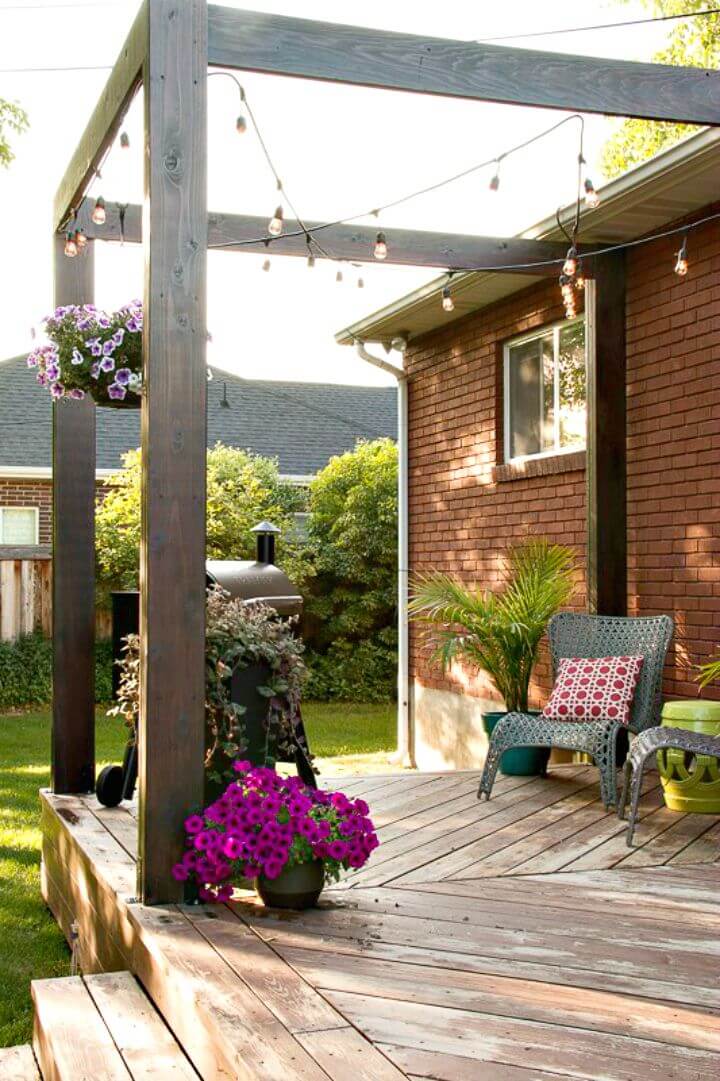 There are so many plans to make your outdoor spaces look so much different and unique than your neighbors, and a pergola would be totally a nice plan to bring some quirky and chic value in your outdoor spaces. Here is the simple and stylish in design pergola to be built over your deck spaces and add some perfect modern style statement to the decor there along with the lighting to jazz it up more.You can learn the complete idea here to try this pergola right this weekend remodelaholic
Adorable DIY Wood Pergola Tutorial: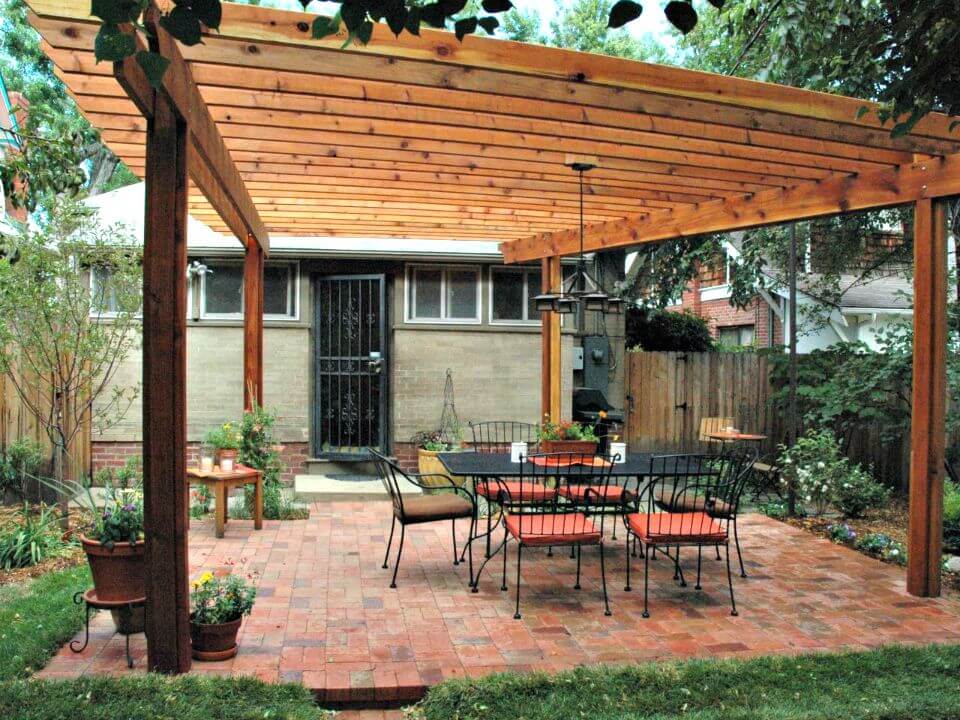 The outdoors are so much fun to sit around and feel so relaxing and comfortable after a tiring day. So you must keep seeking help to improve the charm and comfort of your deck or patio and here is the idea of adding a pergola shelter there. With this pergola, you would get a perfect shade for the summer days and also a more cozy area to relax in. So do hack all the details of your pergola building to try it right this weekend hgtv
Amazing DIY Pergola And Firepit With Swings: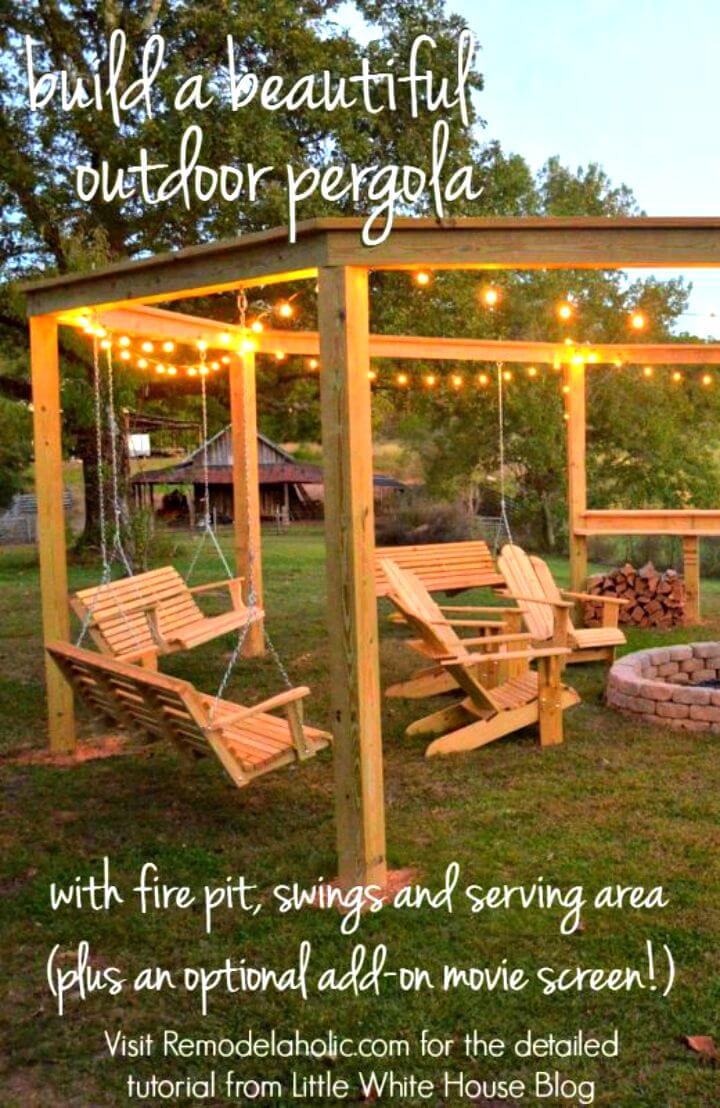 Turn your outdoors the utter fun place for you and your gang to make the most out of your weekends, summer holidays or any free time you get to spend with your family or friends. With this pergola built up in your outdoors, you would get the fun space with swing seats, fire pit in the center and a cinema wall to enjoy the movies in the cool barbecue nights too. Here is the link to check out the details of the idea so that you can create this perfect outdoor fun station for your spaces too. remodelaholic
How to Build a Pergola: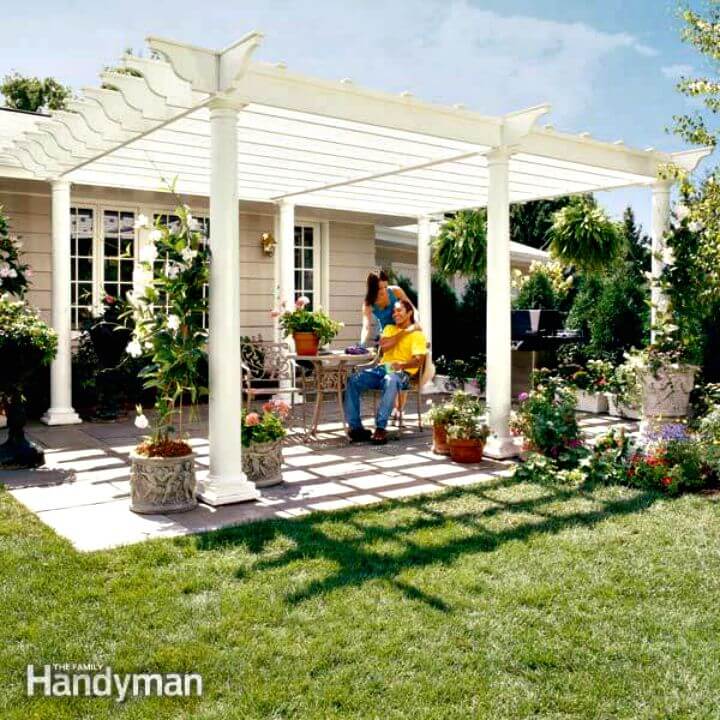 If the sun is restricting you to enjoy the fun summer days on your deck, a then the time has come to add the pergola there and get the perfectly stylish shade for your seating area where you relax and enjoy quality time with your family and the friends. You can follow the complete structural plans of this gorgeous and modern chic pergola to be built yourself at home, right on the link here familyhandyman
Build Your Own Pergola: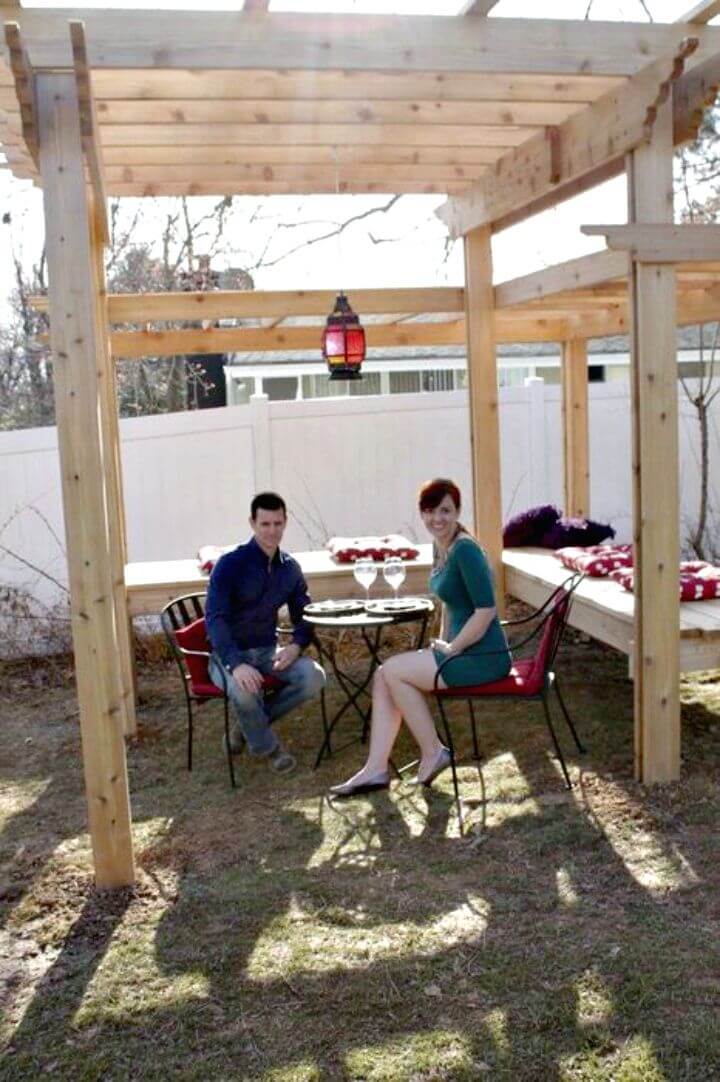 If you got a wide and spacious outdoor space and want to make the most out of it for your relaxing and outdoor fun then a pergola built up must be on your to-do list. Yes with the wooden logs you can easily install this feasible in structure pergola with pillars and a roof and get yourself a nice seating space to enjoy with family and friends.You can check out the details of the pergola building right on the link here instructables
DIY Super Frugal Pergola For $200: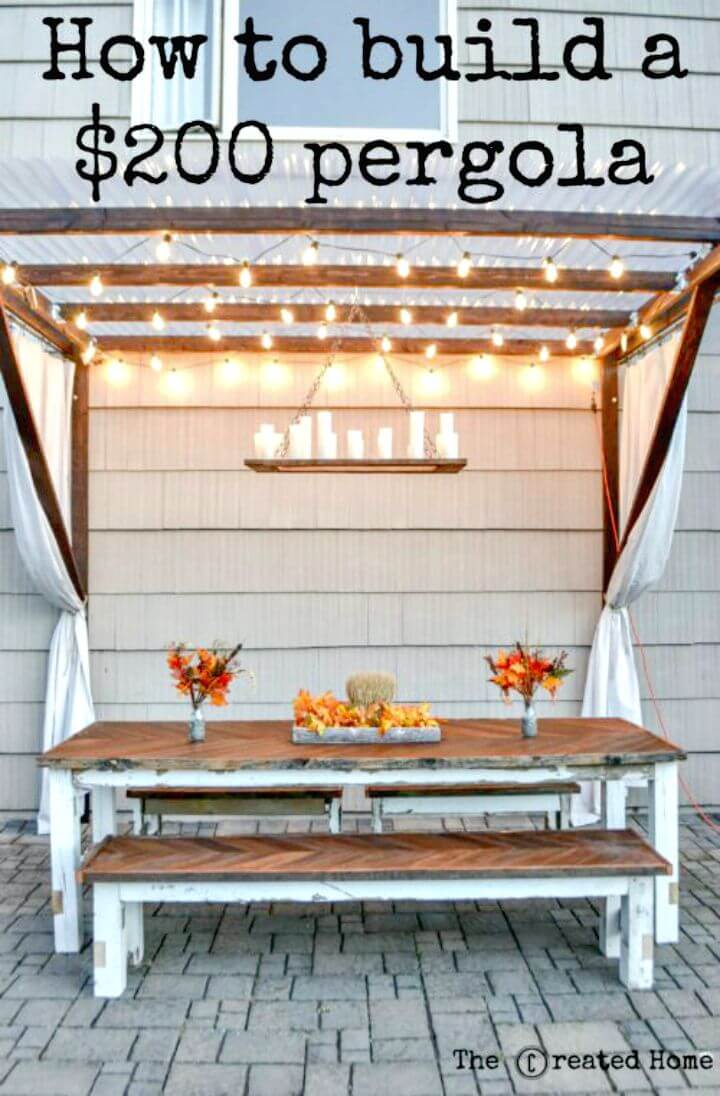 If your weekend starts with the family breakfast in the outdoors, then you would surely fall in love with this idea of creating a fun pergola for your breakfast table in the patio or deck.? Not only the pergola has been built with the wooden logs and the bars but it has been decorated with the curtains and the handmade chandelier to look more enchanting and fun.You can check out the details of the pergola making and building right on the link given here with all the details and the instructions thecreatedhome
DIY Basic Square Pergola: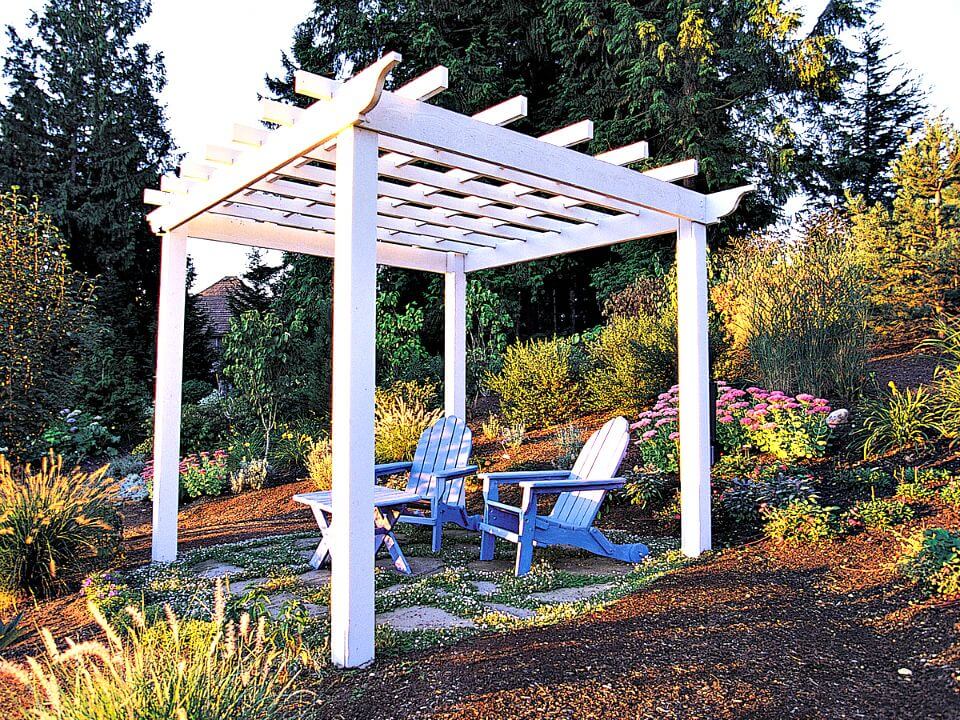 The backyard area of the house can be your perfect spot for the relaxing and comfortable for you, your family and the friends and here is the perfect idea of creating the lovely seating space with pergola and your Adirondack chairs. You can easily install the pergola with wooden logs and the planks and it would be really easy and fun to do with your buddy gang. You can check out the details of the idea right on this link to follow the instructional planks of the pergola sunset
Simple DIY Pergola Project: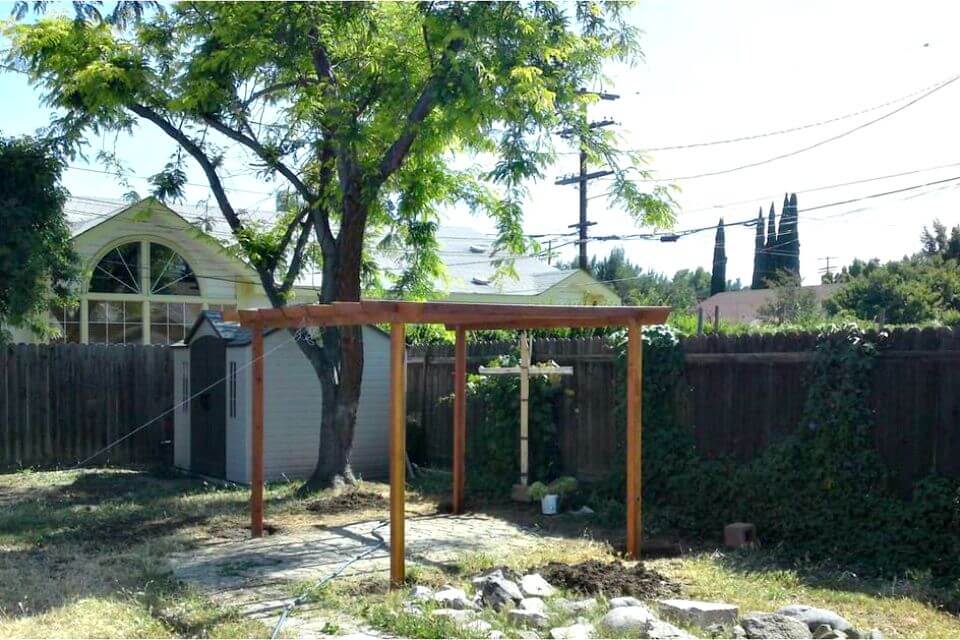 When you can work with the wood and the crafty tools of yours you can really make your spaces look jazzed up in the decor and utility.? So this time you can work on this fun project of your outdoor boost up with this simple pergola space for the perfect seating and relaxing spot in the outdoors with your family and friends. It would be really a fun idea to do yourself and your crafting gang this weekend so check out the details of the idea here instructables
How to Build A Pergola under $500: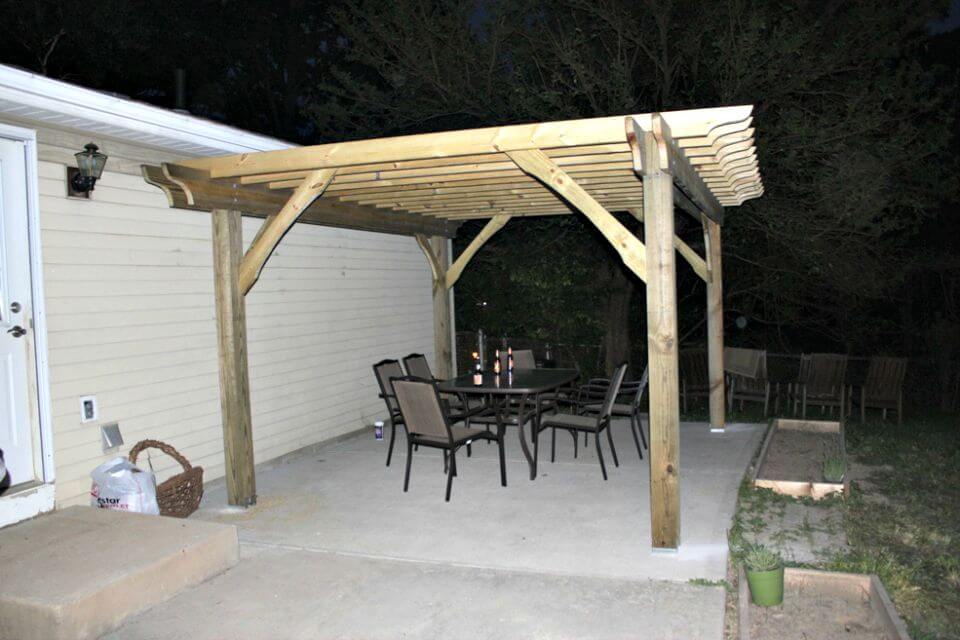 A pergola makes the the deck, patio and the seating area of your outdoors a more specific and fun space. So you really need to spruce up the charm and functionality of your spaces with the addition of this super easy and fun looking wooden pergola to be installed over your deck or the patio spaces. You would need some wooden logs and your toolkit to work on this pergola project and for the rest of the structural details and ideas you can check out the link here homefixated