Make a charming DIY scarecrow to spruce up your garden or outdoor space. Learn how to make a homemade scarecrow with our 25 easy and practical DIY scarecrow ideas. These homemade scarecrow ideas are perfect for gardeners and craft lovers alike, as they provide detailed instructions on how to make scarecrows using a variety of materials and techniques. From simple scarecrow heads to elaborate garden protectors, these DIY scarecrow projects offer a wide range of options to suit different preferences and skill levels. Whether you're interested in crafting a scarecrow for fall decorating, Halloween fun, or as a functional deterrent to keep birds away from your garden, our DIY scarecrow ideas cater to all your needs.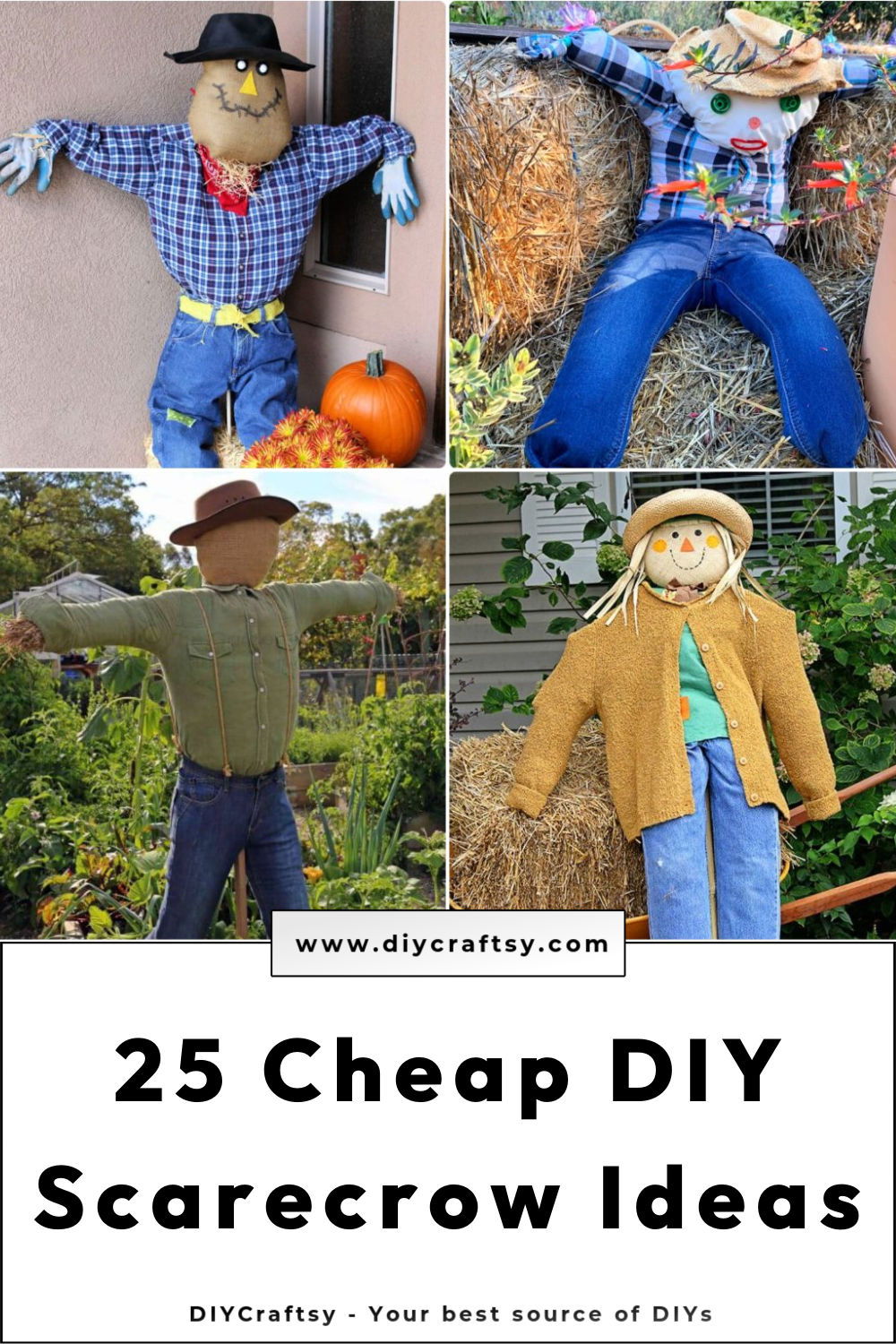 Make scarecrows using plaid shirts and jeans, PVC pipes, recycled cans, or rustic junk – the possibilities are endless. These DIY scarecrow projects are not only cost-effective and easy to make but also provide a great way to engage the entire family in a creative activity. So why wait? Explore these 25 easy DIY scarecrow ideas and start making your own whimsical and unique scarecrows that are sure to add character and personality to your garden while also helping protect your plants and crops.
1. Cheap and Easy DIY Scarecrow
Boost your autumn aesthetics with a DIY scarecrow revamp! This simple and swift tutorial shows how a budget-friendly, craft-store scarecrow can become the spectacle of your neighborhood. To start, snag a basic stick scarecrow. Next, gather inexpensive or thrifted clothes and perhaps a straw hat if you stumble upon one.
Inject personality into your scarecrow by stuffing its arms and legs with straw tucked into plastic bags for neatness. Staple on your chosen attire and top it off with some straw details at the hands and feet for that authentic scarecrow look.
No scarecrow is complete without its perch, so plant it securely and watch as it livens up your fall decor. It's an easy and fun way to add a striking touch to your outdoor space this season. Give this tutorial a go today! houseofhawthorn
2. Make a Scarecrow Using Plaid Shirt and Jeans
Embrace the warmth of the fall season with a fun and creative project – crafting non-scary, charming DIY scarecrows! Utilize an old plaid shirt, jeans, dowels, some string, and more to make a familiar figure that symbolizes the arrival of autumn. It's the perfect project to engage with friends, families, or your neighborhood community.
The easy-to-follow instructions make the process accessible and enjoyable. The end product is a personalized, delightful scarecrow that will enhance your porch decor and might beckon some pleasant, cooler weather. So gather your materials, invite some friends, and get crafting to welcome fall memorably! lets get together
3. Homemade Scarecrow for Fall Decorating
Welcome the autumn season with an elegant DIY scarecrow perfect for your French Country home. This easy-to-make scarecrow project, designed with a chic touch, infuses charm into your fall decor. You'll need a child-sized pair of overalls, a T-shirt, lace ribbon, Mod Podge, hot glue gun & glue sticks, flowers for decoration, and some scrap wood for the structure.
The unique design accentuates the overalls with lace, adding a layer of outdoor Mod Podge for protection from the elements. Construct a simple wood skeleton to hold the scarecrow's attire, eliminating the need for conventional stuffing materials.
Styled with baby's breath in the pocket, dried orange slices, and pumpkins, this scarecrow captures the rustic beauty of the fall season creatively and uniquely. Try this scarecrow for an affordable cost of $13, and add a distinctive flair to your autumn decoration! clochesandlaven
4. DIY Scarecrow Using Items You Already Have
Enhance your fall decor with a unique DIY scarecrow crafted using mostly household items. Gather tools, safety pins, rope, burlap, markers, yarn or straw, gloves, leaves or straw, a wire hanger, a T-post, scrap lumber, wire or twine, high-top shoes, a hat, and used clothes.
Start by arranging your clothes and securing them with safety pins and rope. Make a face on the burlap sack, adding yarn or straw for hair. Stuff your scarecrow, add a wire hanger for support, and fix it to a T-post using your lumber.
Secure the legs inside your shoes, top off with a hat, and your customized scarecrow is ready! The options are limitless – from a Neil Armstrong scarecrow to a haunted wedding scene, your creativity is the only limit. livingonthecheap
5. Make a Scarecrow Using PVC Pipe
Making a scarecrow is a fun DIY project and serves a practical purpose in protecting your garden. This guide leads you through crafting a scarecrow using PVC pipes, elbow connectors, and T-connectors, with items like a saw, safety goggles, and tape measure at the ready. The scarecrow, fondly named Sally, brings charm to your garden while safeguarding your plants from pesky birds.
Fashioned to mimic a human figure, Sally can be attired in clothes of your choice, allowing endless customization possibilities. Remember, a solid structure makes a good scarecrow – the same holds in life. Give your garden a personal touch with this easy and enjoyable scarecrow project! downshilohroad
6. How to Make a Wood Scrap Scarecrow
Breathe life into your garden with an enchanting DIY wood scrap scarecrow, a delightful fusion of craftsmanship and green-thumb creativity. With a handful of basic tools and some scrap lumber, you can build this whimsical garden accent that adds an aesthetic appeal to your outdoors.
Using a garden stake and pieces of lumber for constructing the frame, the scarecrow takes shape, gaining personality with a thrift store shirt, floral dress, and a charming straw bonnet. Adjustable joints, courtesy of wing nuts at the scarecrow's shoulders and elbows, allow it to pose and hold garden items, adding a dynamic element to its appeal.
After trial placements by the Hydrangeas and the driveway, this garden maiden finally found her perfect spot by the arbor in the shade garden, ready to greet visitors. Add this unique DIY touch to your garden today, and watch it transform with the vibrance and charm of the garden maiden! ourfairfieldhome
7. Make a Scarecrow in Simple Steps
Add charm and functionality to your garden by crafting your DIY scarecrow. In a simple yet engaging process, learn how to assemble a garden guard from everyday materials like hangers, yarn, a hoodie, and a mask, which are easily available. This project takes an imaginative approach to the traditional scarecrow, turning it into an intriguing and useful ornament for your outdoor space.
Your scarecrow, featuring a hanger skeleton and hoodie for structure, serves the dual purpose of deterring birds and other pests and bringing creativity to your yard.
The finished product is more than just a scarecrow – it reflects your style and is a testament to your DIY skills. In addition to providing an eco-friendly solution for protecting your crops, this project is a fun activity that you can involve your family in! homify
8. DIY Scarecrow Using Recycled Cans
Put a dash of fall spirit into your space by crafting an adorable scarecrow from recycled cans! This DIY project helps recycle and repurpose cans of varying sizes into a fun, unique decoration. You'll need three different-sized recycled cans, hot glue, a drill, nautical rope, wooden bobbins, scissors, raffia, and various Rust-oleum spray paint and acrylic colors.
Start by cleaning the cans and applying the chosen colors. Then drill holes for adding bobbins as limbs and use a rope to tie them to the body. The addition of raffia gives our scarecrow a rustic hairdo, topped by a can hat. After painting a charming face, your homemade scarecrow is ready to greet the fall season! theshabbytree
9. Make Your Own Scarecrow
Have a welcoming fall display with a charming, homemade scarecrow that exudes authenticity and seasonal spirit. By crafting this traditional hay-stuffed symbol of harvest time, you'll bring a nostalgic touch to your garden or yard. For this project, the materials needed are clothing, two-by-twos, hay bales, jute, and canvas for the face.
You'll start by measuring and cutting two-by-twos to fit the shirt and pants of your scarecrow. Next, the two-by-twos are secured, forming the body and arms of the scarecrow. After dressing the frame, the clothing is stuffed with hay to give the scarecrow its form. The face is made from canvas, drawn, and painted on to bring the character to life.
Finally, once your scarecrow's head is stuffed and attached, finalize the project with personalized touches such as gloves, boots, or a rope belt. Enjoy the process of bringing this classic autumn character to life and adding a unique, pleasant presence to your outdoor space this season. diy dunnlumber
10. Make a Garden Scarecrow With Rustic Junk
Discover charming and creative ideas for your garden with this DIY scarecrow with rustic junk project to add personality to your outdoor space. In this guide, learn to transform free and simple materials into an adorable scarecrow!
Using an 8ft. landscape tie, a wooden tomato stake, and items from your craft stash, it's easy to make a unique and rustic decoration that keeps critters at bay. Fashion a head from a clay pot and an old hat, and adorn it with a faux Forsythia necklace. Dress up your scarecrow with a denim shirt for the ultimate rustic charm. Let your creativity bloom in your garden for free! creativecaincabin
11. Make a Scarecrow to Frighten Away Birds
Learn how to make a DIY scarecrow to safeguard your vegetable crops from pesky birds. You can make an effective scarecrow with simple materials like bamboo canes, old clothes, tights, string, and straw or leaves. Follow the step-by-step instructions to make a sturdy frame, craft a head with a funny or scary face, and dress your scarecrow uniquely. Get creative and design it as a favorite book or film character. Protect your garden while adding a touch of creativity with this scarecrow project. rhs
12. Best DIY Scarecrow for Halloween
Bring life into your Halloween decorations with DIY scarecrows! Repurpose your old Halloween costumes and make unique yard decorations that delight visitors and trick-or-treaters alike.
With simple supplies like a pressure-treated board, exterior screws, a small bale of hay, and vine wrap wire, you can construct a scarecrow that stands 6 feet tall. The step-by-step guide provides the following:
Clear instructions on assembling the T-shaped frame.
Creating a scarecrow head form.
Stuffing your scarecrow.
Displaying it in your yard.
The creative possibilities, from Peter Pan to Harry Potter, are endless as you transform your yard into a Halloween wonderland. Enjoy this fun, family-friendly project that combines creativity, recycling, and holiday spirit! lehmanlane
13. How to Make Scarecrow With Kids
Squeeze the charm of the autumn season by crafting an easy yet delightful DIY scarecrow with the kids! This eco-friendly craft project utilizes common household items such as rubber bands, old clothing, safety pins, a hat, and some straws or plastic bags for filling.
Adding creativity to your child's playtime, this project involves assembling the shirt and pants, filling them to shape the scarecrow, making a straw-filled head, and finally personalizing it with a painted or glued-on face.
This homemade scarecrow remains a fun and creative fall activity despite its inability to stand. Get involved and celebrate the season with this simple scarecrow project! pinkstripeysocks
14. How to Make Your Own Scarecrow
Unleash the potential of your cornfields with an understanding of nature's rhythms and clever deterrence methods for pests. Explore the advantages of simultaneous planting of short-, mid-, and long-season corn varieties, with timing based on sugar maple leaf size.
Successful yields largely depend on well-timed planting, which can combat potential weather challenges. Protect your crop from sweet-toothed crows, which might devastate early sprouting, with a simple yet ingenious solution: using cut lengths of old garden hose as faux snakes.
Regularly shifting the positions of these 'snakes' keeps the crows at bay until your corn reaches a crow-resistant height. Paired with a DIY noise-making scarecrow, your corn is well-guarded, paving the way for a fruitful harvest! iamcountryside
15. Easy Steps to Make Scarecrow
Exalt the charm of your backyard this fall with a fun DIY scarecrow project that can engage the whole family. The homemade scarecrow not only adorns your yard with its rustic appeal, but it also creates cherished memories. This engaging project starts with sizing the scarecrow, selecting its attire, and designing its hat using materials you have on hand.
The beauty of this scarecrow is not only in its visual appeal but also in its cost-effectiveness, with an estimated total expenditure of just $2. The joy it brings as it stands proudly among the pumpkins and mums in your backyard, visible even at night under a spotlight, is immeasurable.
As winter approaches, you can easily store your scarecrow away until it's time to greet another colorful fall season. So, why not add a touch of creativity to your yard this season with this fun-filled scarecrow project? projectwhim
16. Quick and Easy DIY Mini Scarecrow
Relish the harvest season's splendor by crafting your DIY mini scarecrow, a charming symbol of autumn. This easy project is perfect for kids and requires no complex tools. Using hay for structure, the scarecrow can be personalized with doll clothes, yarn hair, and other decorative elements.
Materials include hay, rubber bands, burlap, doll clothes, yarn, scissors, craft wire, a drop cloth, and scarecrow accessories such as a hat, buttons, or a permanent marker. Assemble the scarecrow's body, legs, and arms using hay and rubber bands, attach clothing, then make a burlap head and secure it with yarn hair.
Personalize your scarecrow's face with chosen embellishments. Display this delightful autumnal decoration outdoors to spread festive joy or make an entire family of scarecrows for more fun! This creative project not only celebrates the season but also encourages artistic expression. dragonflyfun
17. How to Make a Friendly Scarecrow
Adding a big smile to your scarecrow can help make friends in the garden, no matter how spooky they look! Make your festive Fall front door greeter with a DIY scarecrow! From a fun family activity to a charming home decoration, this project will bring you joy and laughter.
With materials such as old clothes, two sticks, straw or newspaper for stuffing, and an old pillowcase for the head, you can assemble a scarecrow with a unique personality. Overalls work wonders as they help keep the scarecrow intact, but if you opt for a shirt and pants, old suspenders or a DIY twine version would do the trick.
With a sprinkle of creativity and a dash of humor, your scarecrow can even resemble a beloved family member! Dress up your entrance this season with this adorable scarecrow, guaranteed to put a smile on anyone who enters your door. welcometonanas
18. DIY Scarecrow for Garden
Brighten your fall season with an interesting DIY project – make a fun and functional scarecrow for your garden! This project is affordable and serves multiple purposes and is made from basic supplies like longboards, old clothes, straw, and twine. It guards your vegetable patch, keeps unwanted creatures away, and adds a charming rustic element to your backyard decor.
Simply construct the scarecrow's frame using the boards and nails, dress it up with the old jeans and shirt, and fill it with straw to give it a realistic, full-bodied appearance. To give it a face, employ your creativity with pieces of felt and burlap, topped off with an old hat for the quintessential scarecrow look.
In addition to scaring away the critters, this homemade scarecrow will undoubtedly enhance your garden's autumnal ambiance. Grab your supplies and kick-start this fun project today! momtastic
19. Build a Scarecrow Using Wooden Garden Stakes
Design your captivating scarecrow to add a unique touch to your garden or backyard using easily available items like wooden stakes, old attire, and creativity. This DIY project serves dual purposes – it adds a festive charm to your yard during fall, Halloween, or Thanksgiving and effectively scares off unwanted critters from your garden.
You can construct a visually cute scarecrow by following straightforward steps involving arranging the scarecrow frame, making the top and bottom half, and adding finishing touches. No need for elaborate materials – wooden stakes, a hammer, old clothes, shoes, twine, straw or dried grass, and an old pillowcase are all you need.
Breathe life into your old clothes and shoes by transforming them into a unique garden accessory, and enjoy the added benefit of warding off garden pests. Enhance your garden's allure with this simple, fun, and resourceful project today! diynetwork
20. Easy DIY Fabric Strip Scarecrow
Looking to guard your garden and make it aesthetically pleasing? This simple and fun DIY project of making a scarecrow might be the perfect fit for you! It's an enjoyable and creative activity you can do with kids that helps keep the crows at bay. You'll need some clothes ( use thrift store finds), a hat, and lumber.
Construct the structure by nailing two pieces of wood together. Dress up the scarecrow, ensuring clothes are snug enough to withstand winds. Make sure to cut holes in the outfit to fit the wooden frame. Secure your creation in the garden, and finish with accessories like a hat or bunting for more movement. Move it around occasionally for optimal results! 2littlehooligans
21. How to Make a Wooden Stakes Scarecrow
Ignite your inner child and bring a delightful touch to your vegetable patch with a DIY scarecrow. This engaging project, originally crafted by a passionate horticulturist, Bonnie-Marie, is an ideal weekend activity, merging creativity and practicality.
With wooden stakes, rope, hessian material, old clothing, straw, and a sewing machine, you're well on your way to making a charming garden companion. The steps are simple, with the most challenging aspect being sewing the hessian for the head, but alternatives are suggested.
Not only will this scarecrow protect your garden from birds, but it will also add a whimsical charm to your outdoor space. So why wait? Start constructing your garden buddy today and reminisce childhood memories while enhancing your green patch. gardenersnote
22. DIY Scarecrow With Little Veggie Patch
Embark on a fun DIY project with this tutorial on crafting your scarecrow! This scarecrow is a unique and functional piece for your garden, crafted with everyday materials like old clothes, gumboots, and wooden stakes. The process involves:
Building a sturdy wooden frame.
Dressing it up.
Giving it a frightening or friendly face, depending on your preference.
The result? A garden scarecrow that deters wildlife and adds personality to your vegetable patch. Step into your role as a stylist and builder and enjoy a creative and practical project. Start constructing your garden guardian today! thedesignfiles
23. Make Your Own Giant Scarecrow
Dive into the spirit of Halloween with this engaging DIY project – making giant scarecrows! You only need PVC pipes of various sizes, connectors, landscape stakes, screws, zip ties, burlap, branches, rope, straw, LED lanterns, and a plastic pumpkin head with an LED light. Start by constructing the PVC body, connecting different sections using screws and a 4-way connector.
Once you have a stable framework, add character to your scarecrow by covering the arms and base with burlap, adding branches for hands, and tying the base with rope. Adding straw to arms and base gives a traditional touch, while LED lanterns make it shine bright at night.
Crown your creation with a lit-up pumpkin head for the perfect Halloween vibe. This giant scarecrow adds a spooky charm to your home and is a fun-filled activity to enjoy this festive season. Get started today, and let the Halloween spirit come alive! hallmarkchannel
24. Handmade Garden Scarecrow
Inject a dash of Halloween fun and garden charm with your handmade scarecrow! Perfect for a family activity or an engaging project during school holidays, crafting a DIY scarecrow offers an entertaining pastime and serves as a functional element for your garden.
Made from re-purposed old clothes, long wooden stakes, some straw, and a few other simple supplies, this project is as environmentally friendly as it is easy. Follow the straightforward nine-step guide to make your ghoulish guardian – from constructing the frame, stuffing the figure, and finally bringing it to life with a dash of character using hats, sunglasses, and scarves.
In addition to warding off unwanted birds, this scarecrow may spook some inquisitive neighbors too. Make your garden an exciting focal point today by crafting your scarecrow, perfect for Halloween or any time of year! realestate
25. DIY Life-sized Scarecrow With Stand
Unearth your creativity and foster a fun, festive atmosphere in your garden or porch by crafting a life-sized DIY scarecrow with a stand. This scarecrow is made from lightweight, waterproof PVC and stuffed with packing materials, and surpasses ordinary store-bought versions. You'llFor this venture, you'll need PVC tubes, caps and glue, old clothes, a straw hat, raffia, and other household items.
Detailed instructions guide you in cutting and assembling PVC for the frame, making the body and head, and adding finishing touches, including a raffia 'hair' and customized face. Save money and elevate your space with this eco-friendly, engaging project that promises to charm onlookers. instructables
Conclusion:
In conclusion, exploring DIY scarecrow ideas can be a fun and creative way to enhance your garden or celebrate seasonal events. From simple homemade scarecrows to more elaborate creations, there are numerous diy scarecrow ideas for those interested in making their own garden protector. With various materials, such as plaid shirts, jeans, PVC pipes, or recycled cans, you can personalize your scarecrow to fit your preferences. So, embark on your scarecrow-making journey and add a touch of whimsy to your outdoor space.