The stylish furniture we see in stores and shops enchants our eyes, but a sudden disappoint comes to us when we look the price tags! They are often too expensive to buy especially the outdoor furniture furnishings cost you an arm and a leg! So, if you are on a mission to develop your outdoors by installing some great looking items of DIY furniture, then it may be game of big investments! Sky high prices can't be affordable to all home lovers having tense desires to improve their home outdoors so how to reach the great looking outdoor DIY garden furniture in a wallet-friendly way!
In this situations, we only left with DIY projects that have always been helping the home lovers in low-cost home developments and improvement! There are amazing DIY furniture projects that will make your get with adorable outdoor furniture at minimum possible cost prices or for free! We would like to explain it more with these amazing 54 easy DIY garden furniture ideas that are all great and will help to organize your green spaces without getting expensive and in a dashing way!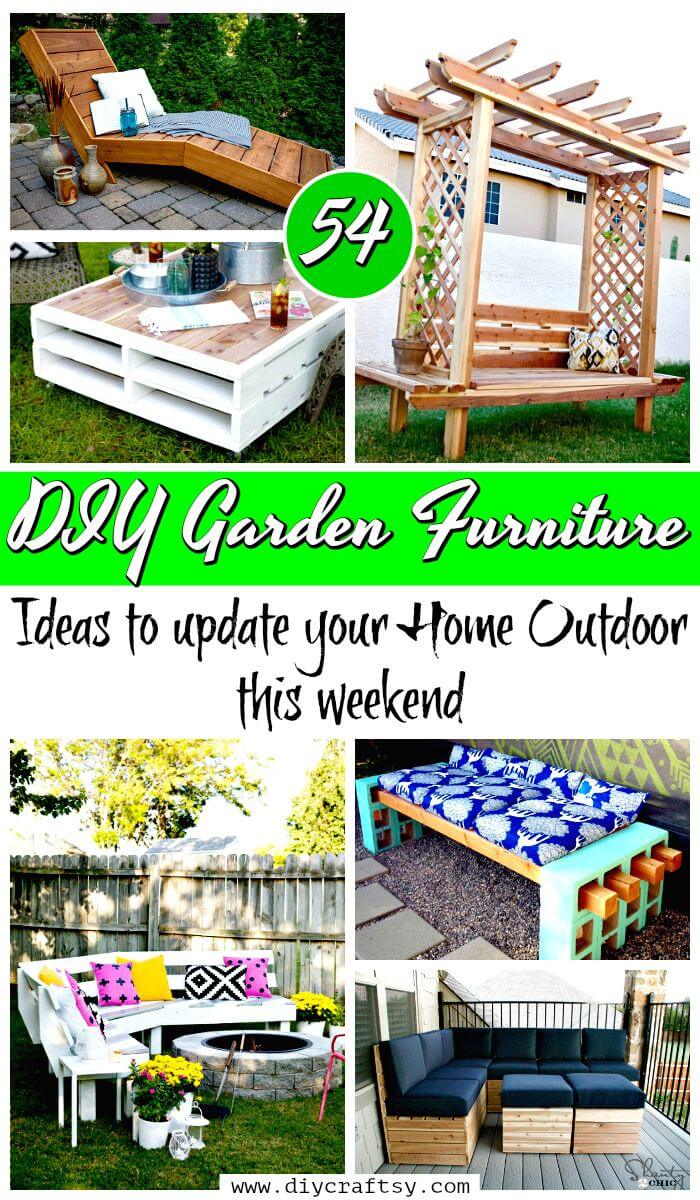 Go with pallet wood or garden picket fence planks and make adorable wooden benches for your patio and garden spaces! Stack the clone sizes of pallets and raise them on caster wheels to make great looking coffee tables in just no time, don't forget to paint you finally finished coffee table in custom paint colors, take a look at the given sample! The list will also provide you instructions on how to make flawless garden arbor benches at home using recycled wood, and you will be guided to build block style wooden garden benches that will live for a decade!
Go with the reclaimed wood and make the stunning looking firepit DIY pallet sofa ideas that will have a curved design and also build durable herringbone dining tables at home that may come with brilliant criss-cross legs for a stylish standing style!
Check out much more DIY garden furniture inspirations and projects given and get inspired! Do each the attached tutorial for complete project and instructions!
DIY Projects to Upgrade your Home:
How To Turn Pallet Into Garden Coffee Table:
Intending to own some extra beautiful looking coffee tables for your garden sitting plans? If yes, then only the 2 clones of pallets would be a super low-cost solution for it! Just Check out this stunning square coffee table that provides amazing storage space inside and is only made of 2 pallets stacked together and finished with rolling casters! Create a custom look of this coffee table using custom paint colors or just vary only the wood tone with a custom stain finish! Grab the full free guide and visual tutorial from here southernrevivals
Build Your Own Garden Bench with Arbor:
If you are addicted to outdoors then you will definitely fall in love with this arbor garden bench that is also a homemade creation! Here custom wooden planks, posts and beams have been used to craft this adorable garden bench that comes with a roof and closed sides and hence provides you shelter and protection against harsh weather conditions! Heavy duty wooden posts have been used to install the upper and lower rafters and the wooden lattice style sides raises the beauty of the bench to peak level! Complete instruction and visual tutorial here ana-white
Modern DIY Outdoor Bench for $35:
Adorn your outdoor also with this expensive looking bench that will only cost your $35! Here this beefy block style wooden bench has been done using heavy duty 2x4s wooden lengths which have beautifully been packed to build a solid wooden bench that comes with no backrest or armrest positions! This wooden bench can also serve as a coffee table if you like to do so! Here finally this wooden bench has been stained for a darker tone of wood and also for ultimate weather protection! Complete instructions here diycandy
Make Your Own Curved Fire Pit Bench With $125: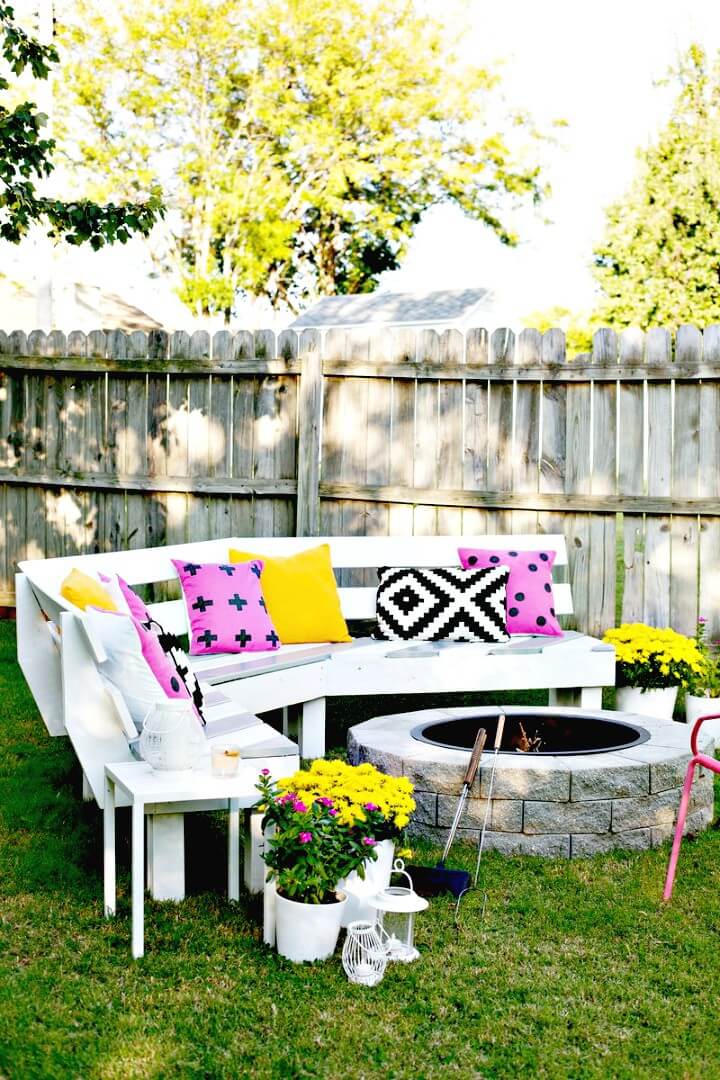 Nothing freshen up your mood too soon but to sitting around an outdoor firepit with a whole family or with couple of special friends! So, here is another outdoor bench creation that comes in curved design that will be go perfectly around the firepit! Here this handsome bench model has also been build by starting out the frame first and next legs have been installed! Finally the bench seats have been filed with diagonal filling of wooden slats! Install custom angled or straight backrests and don't forget to cushion your fire pit bench! Complete tutorial and instructions here hgnv
How to Build Outdoor Garden Table:
You will definitely fall in love with this another hand-built items of outdoor furniture that is having amazing design and dimensions! This is here the outdoor garden table which can be used for both dining and lunch purposes or just to enjoy the never ending conversations! Here again the custom wooden lengths and planks have been put together to build eye-catching model of garden bench! First heavy duty wooden posts have been cut to size and have been assembled in X-shape through lap joints! Next the tabletop frame has been installed which have been filled with wooden lengths for a precious herringbone pattern! Complete tutorial and instructions here cherishedbliss
DIY Garden Chaise Lounge:
Make also durable wooden chaise lounges at home that will provide you a rocking sitting experience for sure! It can be dragged to any patio, outdoor, garden or to poolside to enjoy the weather and to catch some rays in half lay down position! Making this chaise lounge if pretty simple, just cut the back and seat rails first and put them together for building the primary skeleton and next just install the cross braces and fill up the entire frame! Complete visual tutorial here buildsomething
How to Make Garden Outdoor Chair:
If you are wise enough in your imaginations then you can build all items of outdoor luxury furniture at home using the wood from home or store and this will really trim down your furniture expenditures! An interesting sample here is this garden chair that comes in neat block style dimensions! Here building this chair is pretty simple, just built separately the side frames, berth and backrest and then assemble them using durable hardware! Grab the full free guides and visual instructions from here graytablehome
DIY Garden Storage Box Bench:
Dual functional behavior of this wooden storage box bench will definitely make you fall in love it! here a bigger wooden storage box has been build that comes with a hinged lid! Due to being enough sturdy to hold lot of weight on the lid, this storage box also serves as a handsome garden bench and you only need to add some cushions or seat mattress to it to go for a comfy sitting experience! This is what you need for both sitting and storage space at your outdoor! Don't forget to install the caster wheels to bench for easy dragging and pushing! Complete project details and instructions here sandandsisal
Adorable DIY Planter Box Bench:
One more dual functional outdoor bench design is here that is having sides made of two planter boxes! Here wooden planter boxes have been interconnected by installing a thicker wooden platform between them that makes a perfect sitting berth and hence a fantastic garden bench has been achieved out of two wooden planters! This will also entertain the sitting members more with the natural sensations coming from the side planters! Grab the full free tutorial and instructions from here shanty-2-chic
Modern DIY 2×4 Finger Joint Bench:
Here an adorable outdoor furniture creation has been done using the finger joint! Here 2x4s wooden lengths have been put together in finger joint technique and hence a fab looking model of bench has been achieved that is having the solid dimensions! Stain your finally finished bench design and drag it to your favorite outdoor locations for part time sitting! Complete instructions and tutorial here diymontreal
Modern DIY Outdoor Garden Chair:
Double up your outdoor sitting experience with these handsome square wooden chairs that have been done to inspire and are really looking stylish! These are here the special chairs, built to inspire! Here you can start making these chairs by making square shape arm frame which can be filled with cross braces to build both backrest and seat of the chair! Just install first the additional seat facing before you install the braces! Cushion your chair and go for a great sitting experience! Complete project instructions here buildsomething
How to Build Garden Outdoor Chairs:
Here are more good looking outdoor chairs that are also self-made and come in adorable design dimensions! Here these chairs have also been made by building the side frames first and then have been added with cross braces to build the backrest and berth! This is here another brilliant outdoor furniture project that you can do with both store-bought and recycled wood! You can also make a copy of these outdoor chairs using pallets! Complete project tutorial here notjustahousewife
DIY Garden Bench From Repurposed Chairs:
Repurpose also the old furniture from home to make cost-efficient yet stylish outdoor furniture pieces! A very interesting sample here is this handsome wooden garden bench that is made of two old chairs! Here the backrests from 2 old chairs have been reclaimed to build this garden bench that also come with back legs! Next the seat facing has been installed that also stands on 2 reclaimed legs! The idea is just to give a combined berth to 2 old chairs to gain a 2 seater bench! Complete project details and tutorial here myrepurposedlife
How To Make Garden Benches – Outdoor Furniture:
Look at this another furniture set that has been done to rock any outdoor, this is here the dining set that comes with matching benches! Here the dining table is made of an extra large pallet skid that build the top of the dining table and it stands on a custom built wooden base assembled with heavy duty hardware! Here two matching benches have also been made using custom wooden lengths! Here bases of both bench and dining table have been painted black that really looks great when combined with the blanket wooden tops or berths! Complete tutorial here kleinworthco
Make Your Own Garden Side Table:
Need some side tables to put in sides of your garden sofa or outdoor chairs or chaise lounges? If yes, then you will definitely love to build this handsome garden side table that is looking damn beautiful and eye-catching! Here you need is to put together the wooden braces and cross supports to make a cubic frame which can then simply be added with a solid flat wooden top! Grab the full free tutorial and instructional guides from here southernrevivals
Easy DIY Table with a Concrete Top: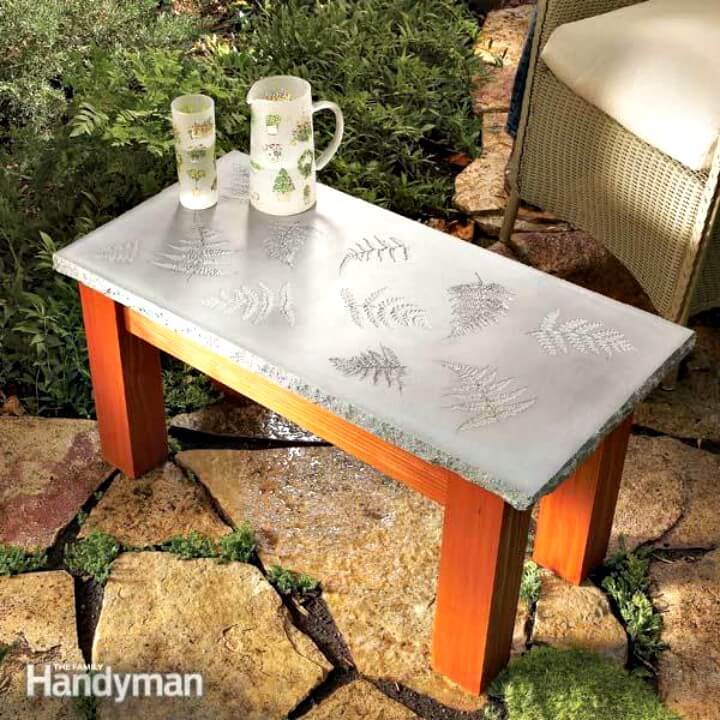 Intending to gain long lasting outdoor furniture furnishings that will last for years to come? If yes, then this handsome handmade table in only for you, this precious looking table comes with a solid wooden base and is having a dashing concrete top and hence it would definitely live for decades! Before the concrete top gets dried, just make custom patterns and designs or write custom letters that will appear on your table! Complete tutorial and instructions here familyhandyman
DIY Tree Bench From Kitchen Chairs:
You can build amazing tree benches that simply go all around the tree stem, to create a beautiful curb appeal! So, you can also repurpose the kitchen chairs to make outstanding tree benches at just a minimum cost price! Here kitchen chairs with removed seat planks have been put together around the tree and then have been transformed into a precious tree bench by installing a combined hexagonal berth or bench seat! For making seat just use of solid wooden lengths! Complete project instructions and tutorial here tooinspiredtosleep
Easy DIY Pallet Daybed Tutorial:
Get smartly crafty with pallets to build amazing looking outdoor furniture at cost next to nothing! A very fabulous example here is this wooden pallet daybed that has been done to inspire and is made of a bigger wooden pallet skid that has been raised on caster rolls! Next the plumbing scrap has been used to build the heavy duty armrest and backrest fence! Cushion your pallet-made daybed and throw some pillow to gain a brilliant sitting and sleeping spot! Complete project instructions here prettyprudent
Build Your Own Pallet Swing Bed:
Installing swings to your outdoor or garden means that you are adding too much fun to your spaces! So, you can also go with the rustic pallet skids to install durable wooden swings anywhere in your garden! Just Check out here this handsome looking pallet bed swing that is made of a single pallet skid which comes with all 4 ends fastened with nautical rope to build a handsome looking garden swing! Put a bed mattress on it and enjoy reading books by laying down on it! Complete project instructions and tutorial here themerrythought
How to Build Rope Garden Table:
One more epic outdoor furniture idea is here using the recycled and reclaimed woods! Reclaim also the empty cable spools and make them perform as handsome looking side tables in your garden! Here a repurposed cable spool comes with central support wrapped in rustic rope and has been made stand vertically to perform as a side table! Next this spool side table has been finished with a glass top for a modern appeal! Complete project instructions and tutorial here camelotartcreations
How to Make Outdoor Rolling Cart:
The rolling carts always come in handy to transport the food items and different materials to your outdoors so why no make some rolling carts at home? This can be a quickest and easiest outdoor furniture project ever! Just install the top and bottom shelf frame using equal cut sets of wooden planks ant the legs have been installed to assemble the both shelves in place! Next this outdoor rolling cart has been finished with caster rolls and hence a charming rolling cart has been gained! Don't forget to create a custom appeal of the cart using your own paint colors! Complete project instructions and tutorial here anythingpretty
Make Your Own Antique Milk Can Side Table:
One more brilliant hack is here for making low-cost but handsome looking outdoor side table! Just repurpose the old milk cans and make fab looking side tables at just almost zero-cost prices! Here an old milk can has been finished with a round wooden top and performs beautifully as a side table! Another great and brilliant outdoor furniture project to tryout! Complete project details here thegirlinspired
DIY Wood Garden Chaise Lounges for $35: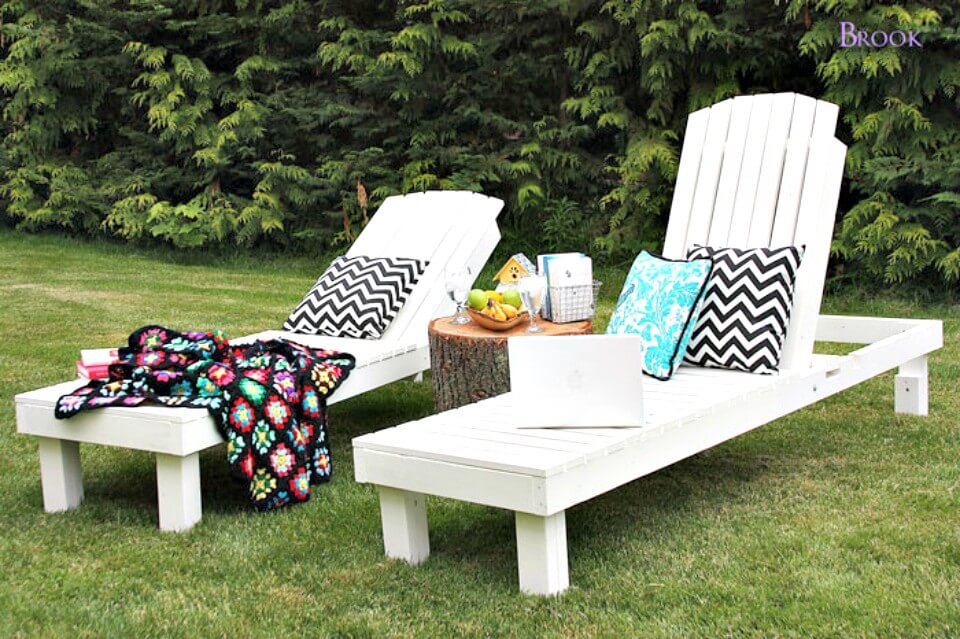 Nothing can make your more relaxed at outdoor but the beautiful looking chaise lounges! Now you can make beautiful looking chaise lounges at home using custom wooden planks and lengths! Check out here these sample hand-built chaise lounges that will only cost you $35! Here these chic white chaise lounges come with great looking backrest position that can be set to a desired angle and can also be folded flat! Start also building this chaise lounge by making a rectangular frame! Build the backrest separately and fix them in place using longer carriage bolt! Complete free construction plans and tutorial here ana-white
How To Turn Pallets Into Garden Long Bench: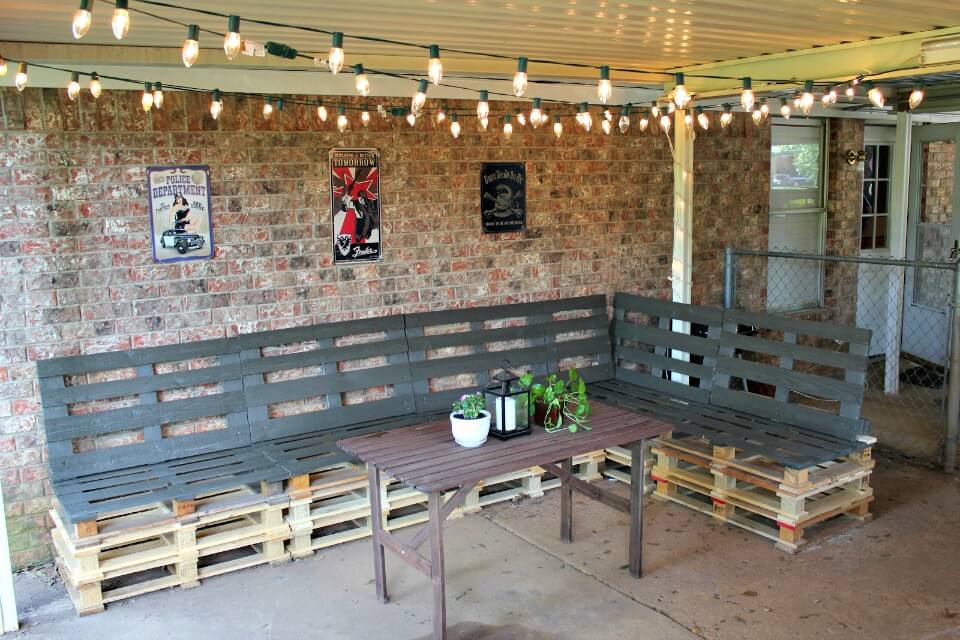 Get inspired of this another fab creation that has been done with pallets, here a long garden bench has been made by stacking the recycled pallet skids! For building the backrests, some more pallets have been made free from backside planks and the remaining wooden panels have been set off as backrests! The pallet chocks or dices have been as the supports for the backrests and they help gaining the backrest positions to an angle as you can see! Another brilliant garden furniture project that you duplicate easily! Complete instructions and tutorial here thesassysparrowblog
DIY Pallet Garden Furniture Set:
One more brilliant outdoor furniture project is here that will really help organizing any outdoor in a nice way! Just make use of both new and recycled woods to build custom items of furniture at home! Just peek into details of this hand-built wooden sitting set that is made of mostly with pallets! For building table, just build the rectangular frame, install legs and then add a pallet with upside down as a top of the table! Give a glass top finish to pallet top and also make the chairs out of remaining wood! Here this sample sitting set comes with white painted table and with blue painted chairs that surrounds it! Complete project instructions and tutorial from here bridgman
Easy DIY Modular Outdoor Seating:
Here is how to organize your outdoors with hand-built sofa sets that can easily be made at home without getting a bit expensive! You will definitely fall in love with this L-shape modular outdoor sofa set that has been beautifully cushioned in black for an enjoyable sitting experience! This set appears in natural blank tone of wood and the solid block style dimensions just make it look extra graceful and stunning! Here is how to make this gorgeous outdoor sofa set shanty-2-chic
How To Make Pallet Swing Chair:
If you are willing to install some beautiful swings to your outdoor that will be a part time reading nook and will help spending the spare time in leisure! Check out here this wooden chair swing that comes in arresting design dimensions! Here the roundness of the edges just make this chair swing look a bit more fantastic and eye-catching! Cushion your chair swing and then hang it over using metal chain supports and eye-hooks! Another fabulous and fantastic outdoor furniture project to duplicate! Complete project instructions here instructables
Adorable DIY Garden Potting Bench: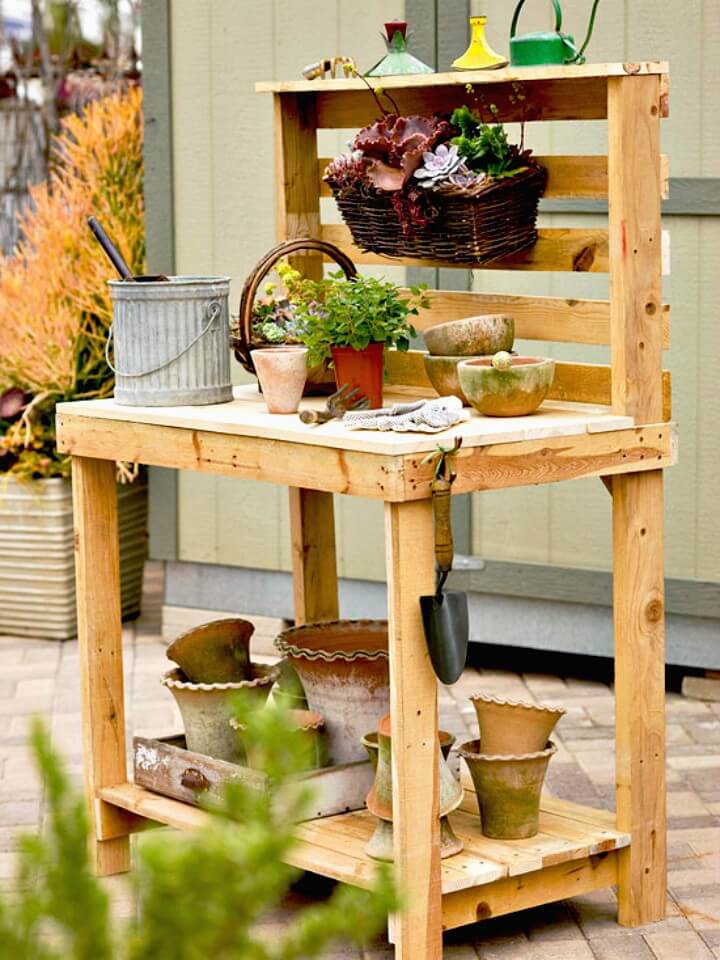 Check out here an eye-captivating design of outdoor potting bench, crafted to amaze, rock and inspire! This potting bench has been designed to store the garden stuff and also to do the garden repairing tasks! Here this potting bench has been added with custom hooks and also with a basket hanging planter that doubles up its beauty! You can go handmade with any type of wood like pallet wood to duplicate this handsome looking garden potting bench! Here is how to make this potting bench bhg
How To Build Broad Pallet Garden Table: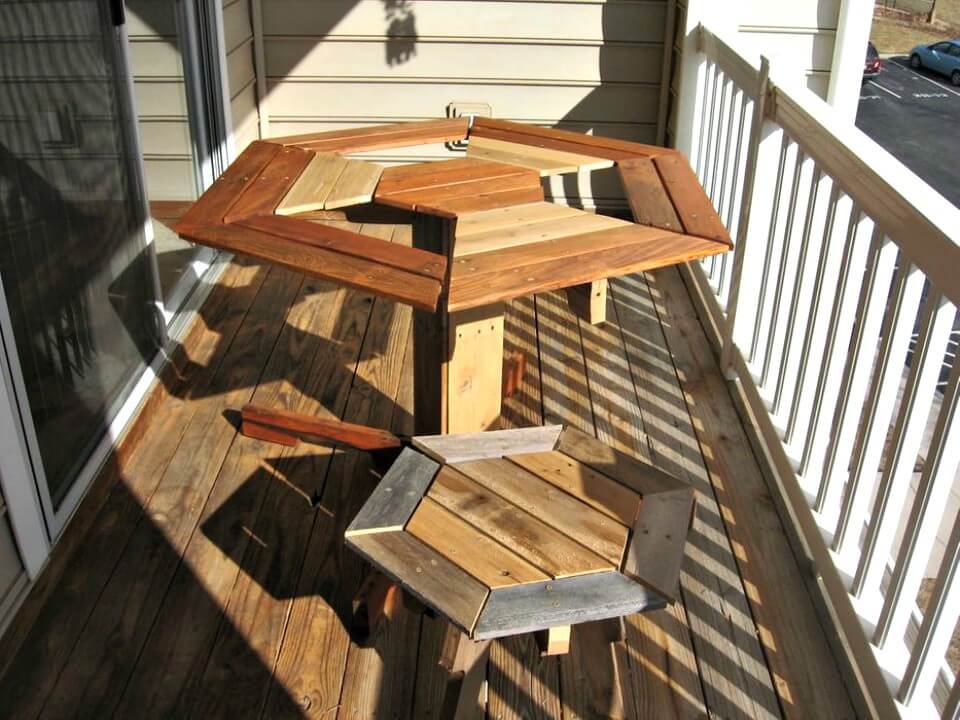 Build also the very modern looking furniture out of pallets without spending even a penny from your pocket! You can bet that you will fall in love with these solid hexagonal garden tables that are just looking fantastic in brilliant geometrical designs! Here the bigger hexagonal table will rock as a 6 people dining table while the smaller one will make a great coffee or side table! This is here another fantastic DIY furniture building achievement that will put everyone in a big amazement! Complete free plans and tutorial here instructables
Easy and Simple DIY Garden Storage Bench:
Here is another rocking bench design to add to your patio or outdoor that will bring both sitting and storage space there! This is here the garden storage bench that provides storage space in the seat! You can simply lift up the berth to reveal the big storage space! Just cut the back legs first that comes with top sides that becomes gradually narrower! Add braces to mid side of the back legs and then finish them up with front legs and hence cover the entire frame solid for a box style base of the bench! Install the backrest and hinged and berth and cushion it up! Complete instructions and tutorial here instructables
Build Your Own Ep14 Log Lounger:
Go for a rocking sitting experience in your garden with this wood log lounger that is a fabulous furniture creation! Making this lounger is pretty simple just trace out design curve of the lounger on the floor and then place the custom cut lengths of wood longs on the traced out line and then just screw them together to finish up the lounger! Here longer screws have been drilled straight in to hold the wood logs in place! Next the metal plates have been used to keep the wood longs tightly in position! Complete project instructions and tutorial here homemade-modern
Easy DIY Garden Love Seat Tutorial:
Enjoy a comfy sitting experience at your outdoor by making this outstanding love seat that is much praise-worthy! Here this fantastic-looking garden seat is made of a made of pine wood and custom wooden planks! The curved design of this seat would dazzle the audience! Here the clone curved sides have been made of plywood and next to this curved side rails have been filled solid with cross wood braces making a cool loveseat! Another brilliant and adorable garden bench project! Complete instructions and tutorial here instructables
Make Your Own Hammock Stand:
Hammocks can bring great comfort and luxury to your garden space and here we are with a project in which you will learn that how to build a self-standing hammock for your green garden space! Here this epic looking hammock stand is made of 2x4s wooden planks that have been put together to install the U-shape frame that can comes with flat side edges outward that will makes it stand alone! Here the side arms of this hammock stand come on an custom angle and have been made extra durable using extra wood braces! Complete project instructions and tutorial here herecomesthesunblog
DIY Five Piece Garden Adirondack for $45:
Every time you intend to enjoy the outdoor greenery you can just sit on an Adirondack chair that will give you an amusing sitting position to make a direct eye-contact to outdoors and greenery all around! So, why not add some Adirondack sitting sets to your garden space to enjoy part-time sitting? You just no need to buy the Adirondack sitting set, just build them at home without getting expensive! Just have a look at this five piece garden Adirondack set that will only cost you $45 and is super easy to make! Here is how to make this set savedbylovecreations
Make Your Own Outdoor Seating:
Here is another adorable creation that will rock as a outdoor bench, daybed or simply outdoor bed! This fancy looking outdoor or patio bed has been installed using solid cinderblocks and heavy duty wooden posts! Stack the concrete blocks for sides of the bench and then put the thicker wooden beams straight through them for the bench berth! This is here another exceptional outdoor furniture project that you can do without getting a bit expensive! Complete project instructions here lenasekine
Amazing DIY Pergola And Firepit With Swings:

Check out here that how an outdoor firepit area has been transformed into a mini heaven! Here a pergola structure has been installed all around the fire pit which comes with hanging swing seats and a whole family can sit on them while enjoying the chilly evenings by sitting insides of firepit! Here custom lights have also been installed to pergola so it will be just super visible at night! This is project includes smart engineering and is really precision taking! Complete project details, instructions and tutorial here remodelaholic
How To Make Outdoor Movie Theater Seats:
Another fab garden sitting furniture idea that will rock for an outdoor theater! Here the custom plywood pieces have been turned into V-shapes that can stand alone to support your back while the green garden grass would make your seat! Add mattress to backrests and enjoy watching movie at your outdoor by installing first a movie project! Don't forget to hold the popcorns in your hands! This is here another amazing but super easy outdoor furniture project that every outdoor lover can do! Complete project instructions and tutorial here notjustahousewife
Build 2×4 and Concrete Side Table:
Another brilliant outdoor furniture project that has been done with wood and concrete! Here an adorable side table has been made that comes with wooden base frame and solid concrete top! Go handmade with custom wooden lengths and build the cube-shaped frame of the table and next finish it up with solid concrete top! Complete project instructions here fixthisbuildthat
How To Make Outdoor Chaise Lounge:
Willing to enjoy outdoor more in a super relaxed way? If yes, then you must own a chaise lounge which can be expensive to buy but can be low-cost to build at home! Have a look at this stunning outdoor chaise lounge that is made of custom cut wooden planks which have been packed together to build a little bed like frame! Start building this chaise lounge by making the rectangular frame first and then fill it up with cross braces! Installing the folding down tilted backrest and enjoy! Complete free plans and step-by-step visual instructions here blackanddecker
DIY Scrap Adirondack Chair:
Fall in love with this another great looking garden furniture piece that is purely handcrafted! This is here the Adirondack chair that is made of different wood scraps and hence comes so many different tones of wood! Here start building this chair by installing first the titled base and then add the backrest position! Here two clone sizes of wooden lengths that have been given an angled cut, have been used as side rails for the berth! A super unique but handsome design of chair that also comes with armrests! Complete instructions and tutorial here instructables
Easy DIY Wire Patio Table:
Repurpose also the round wooden discs and metal wire tomato cages to build outstanding outdoor tables! Here a pinewood round has been secured on a tomato cage using mending plates and hence a brilliant patio wire table has been achieved that will make a great side table and end table if you like to do so! Paint or stain the round wooden top for more glam appeal of this patio wire table! Complete instructions and tutorial here
Build Your Own Picnic Table:
Spruce up your garden or any outdoor space by adding this handsome picnic table that comes with two matching benches and with a central table and all have been put on the connecting wood rails and have been fixed in place using long threaded rods and nuts! Here this entire project has been done using 2×4 lumber wood planks and the project has been start by building the benches first! Here the mid side table comes on criss cross legs that bring great visual details to entire picnic table design! Complete visual tutorial and instructions here theownerbuildernetwork
DIY Outdoor Bench Under $13:
Make your patio or garden look divine by adding this handsome outdoor bench that will cost you almost nothing! Here again this adorable bench creation has been done with the lumber planks! This bench comes on angled legs and hence gains style and more grace has been added by installing the criss cross brace underside that also make the bench more durable! Finally the entire bench has been painted in white and then has been distressed for a rustic or vintage look! Complete instructions here theidearoom
Make Pallet Sectional For Garden:
Intending to add some brilliant L-shape sofas to your garden sitting corners? If yes then here is how to make a low-cost wooden sectional sofa without getting a bit expensive! Just go handmade with pallets and make outstanding looking sectional sofas for your garden at almost no-cost! Check out here the sample L-shape sofa that is just like to build a big L-shape box which comes with hinged lid or tops! This sectional sofa also provides amazing storage space in the seats and finally has been cushioned beautifully! Complete instructions and tutorial here liketheyogurt
DIY Industrial Wood & Steel Console:
Duplicate also this very interesting looking wood and steel console that is made of lumber wood planks and is definitely something praise-worthy! This adorable creation is a mixture of durable wood and steel and hence will definitely last for a decade! Here custom wood planks have been put together to build the console with 3 shelving levels and the complete console has been raised on vintage cart wheels for an industrial appeal! Next the steel pipes or rods have been fitted to backside of the shelves for extra security to inside stored items and utensils! Complete constructions plans and tutorial here jenwoodhouse
How To Build A Garden Table With Built-in Ice Boxes:
If you are addicted to outdoor parties or just take great pleasure in sitting on an outdoor bench with your favorite drink bottle in hands then you will definitely like this garden furniture project! Here a good looking wooden garden table has been made that comes with 2 built-in ice boxes where you can keep your drink bottles cold for a long time! Willing to duplicate this very interesting looking garden table? Then just grab the full free tutorial and instructions from here remodelaholic
Simple DIY Chevron Outdoor Garden Privacy Wall: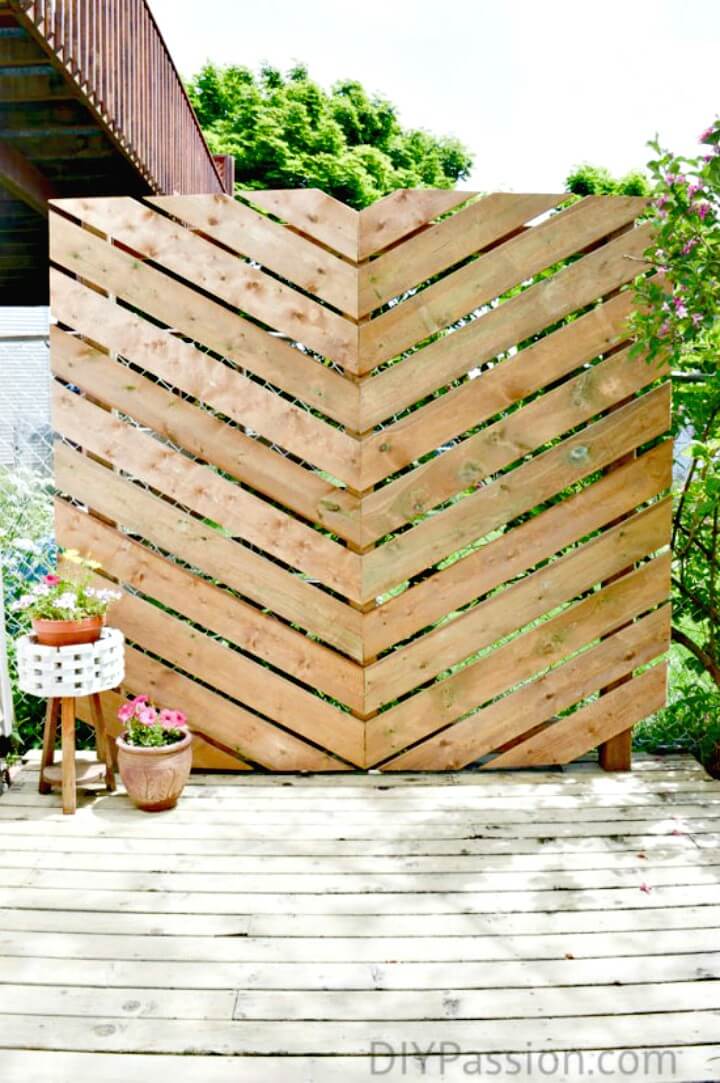 If you willing to create some privacy in your garden then you must build a wooden privacy wall that can be dragged to any space or location which you want to make private! Check out here this sample flat that has been done with chevron style filling of wood planks and is really looking enticing and bewitching to eyes! First make a rectangular wall frame then fill it up with chevron alignments of wooden planks! Trim the excess of edges and enjoy! Complete project instructions here diypassion
DIY Corner Bench With Built-in Table:
One more exceptional wood creation is here that will also make a great piece of outdoor furniture! This is here the very good looking corner bench that comes with built in end tables! The idea here is to build an L-shape frame first for the table. Next install legs and final step would be fill the frame for the solid berth sections! Install the box frame for the corner table and also fill it up using extra wood for a flat table top! Don't forget to stain this bench with custom stain coats and paint for weather protection! Complete instructions and tutorial here remodelaholic
DIY Outdoor Garden Storage Bench:
If you are willing to organize a custom corner of your green space or garden area, then you must own this handsome-looking sitting sofa set for your garden space! Here this brilliant garden sitting sofa comes with two cushioned chairs, with a two seater sofa and also with a central coffee table! Here this entire sitting sofas set comes in block style dimensions, and there are not legs installed to chairs or sofa! Here the coffee table also provide storage in the top and can also be used as the part-time bench! Complete tutorial and instructions here instructables
How to Build Pallet Garden Furniture: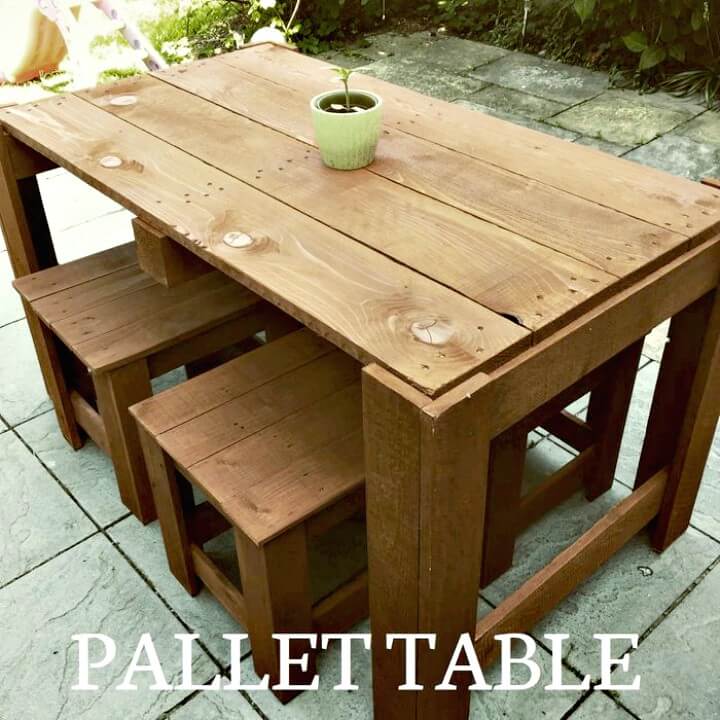 If you love to gather in your garden space with a whole family and friends and you must have some adorable sitting furniture sets to enjoy both part-time sitting and eating with friends and family members! Check out here the sample garden sitting furniture set that has been done to inspire and is looking amazingly beautiful! Here this sitting set comes with a grand table with matching stools, all have been made of pallet wood! Complete tutorial and instructions here instructables
How To Make Wood + Concrete Side Table:
Here is another outstanding looking item of garden furniture that will live for many years to come! This is here the great looking side table that comes with the wooden base and with a solid concrete top! This is here the beautiful side table that will come in handy to hold your refreshments and items of need! Complete tutorial and instructions here storefrontlife
Build Your Wood Deck Cooler: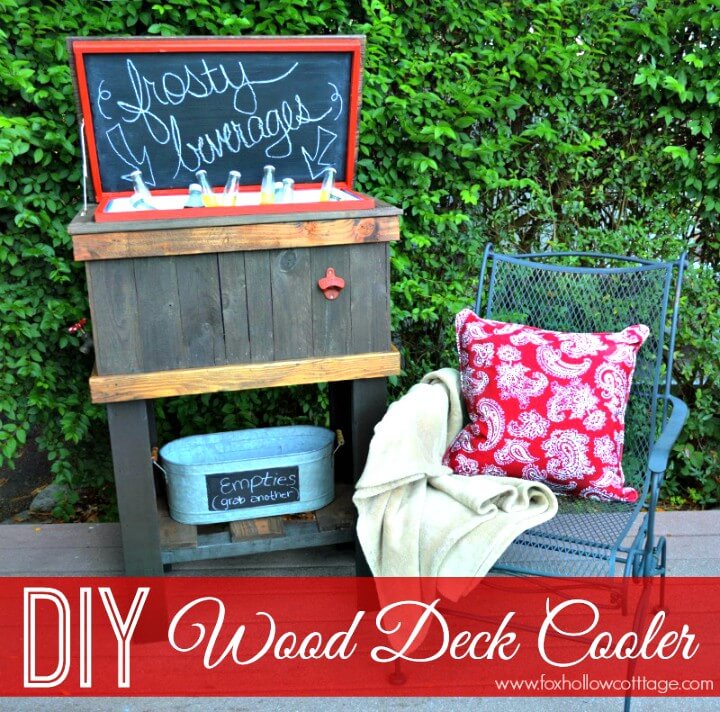 One more outstanding garden furniture project is here that will undoubtedly inspire your creativity! Build outstanding looking outdoor beverage coolers that will help to keep your beverage cool for through the party or outdoor conversations! Check out here the sample wooden deck cooler that comes with a plastic igloo cooler fitted inside and is something super beautiful to look at! Here all you need to create a wooden housing for the igloo cooler that may come with a drainage hose and with a bottle opener! Complete instructions and tutorial here foxhollowcottage
DIY Outdoor Sectional Sofa Tutorial:
Enjoy your leisure time with pleasure by sitting on this hand-built garden sectional sofa that is sturdy and amazingly beautiful! This handsome sectional garden sofa is made of redwood and plywood and comes in precise dimensions! Here this gorgeous sofa model also comes with short backrest positions and is super praise-worthy! It has finally been cushioned with thicker seat cushions and is looking beautiful! Complete project tutorial and instructions here remodelaholic
Adorable DIY Garden Bench:
Enjoy your spare time by sitting on this wooden garden bench, made at home using 2x4s wood planks! You can simply start building this garden bench by making the basic rectangular frame with inside braces, add it with legs and then fill the surfaces to gain a bench! Don't forget to install both the backrest and armrest positions and just give a custom stain or paint finish for a beautiful look and weather protection of the bench! Complete instructions and tutorial here overthebigmoon