Building a diy shadow box is a creative way to immortalize and display your favorite memorabilia. From tickets, coins, postcards, or photographs, you can customize the look of your own shadow box according to your taste and desires. Take a look at various diy shadow box ideas – from rustic to contemporary – that can fit perfectly into any room in the house. Learn how to make shadow boxes with these 25 easy diy shadow box ideas, including detailed free plans to build and decor yours, you can easily bring life back into organizing and displaying all those special items in an attractive and personal way.
Make enchanting decor for your home with these simple DIY shadow box ideas that will help you get crafty with a shadow box in numerous ways! The shadow boxes are beautiful frames that come with delicate glass front and are capable of holding and displaying the things inside!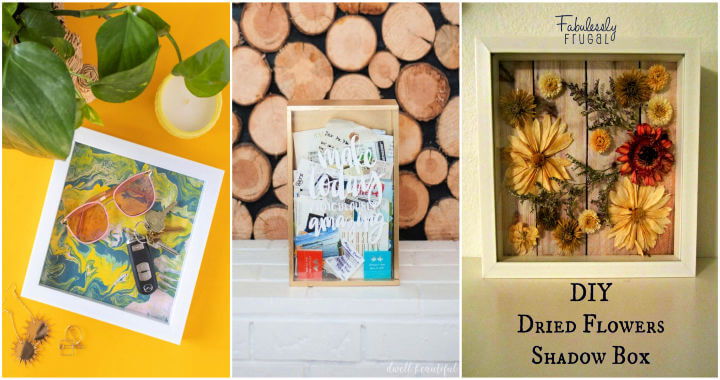 25 DIY Shadow Box Ideas (Free Plans to Make Your Own)
If you're looking for creative diy shadow box ideas, you've come to the right place. Shadow boxes are a great way to show off meaningful trinkets, mementos, and special keepsakes. With 25 diy shadow box plans to make your own – from DIY shadow box decor to poster frames and creative shadow box display – there is sure to be something that suits your style.
If you don't know what to do with shadow boxes, these 25 unique DIY shadow box ideas will inspire your thinking and creativity! By easily showcasing the items in a shadow box, you can quickly transform them into something adorable!
Fill a shadow box with soil, sand, custom plants, and succulents and make interesting terrariums for your home spaces. Also, showcase the seashells and starfish figurines in a shadow box to make a nautical decor centerpiece that you can hang on a wall or display nicely on a shelf or tabletop!
Showcase your travel memories in a shadow box and make a lovely keepsake. Also, add the backings of the shadow box with custom paintings and art to make fabulous wall art frames! Showcase also the flowers in the shadow boxes to make interesting floral shadow boxes that will work up super quickly!
Each diy shadow box idea includes detailed instructions, so making your own beautiful shadow box is simple and easy. Get inspired today with these diy shadow box ideas!
1. DIY Patrick's Day Shadow Box
Fetching amazing decor solutions from the shadow box to celebrate St. Patrick's Day. Cut out green shamrocks out of green paper and then display them in a shadow box over a shelf or wall. Also, add interesting backgrounds to the backing of a shadow box for more amazing looks. Full how-to guides here thecraftingnook
2. Make Shadow Box Terrarium
Shadow boxes are sweet and always an ideal choice to display your 3D art and stuff. Fill also the shadow boxes with rocks, soil, sand and then with a top layer of succulents, maybe popped out, to make interesting shadow box terrariums. A natural decor treatment for your home built in a modern way. Details here alittlecraftinyourday
3. Homemade Shell Specimen Wall Art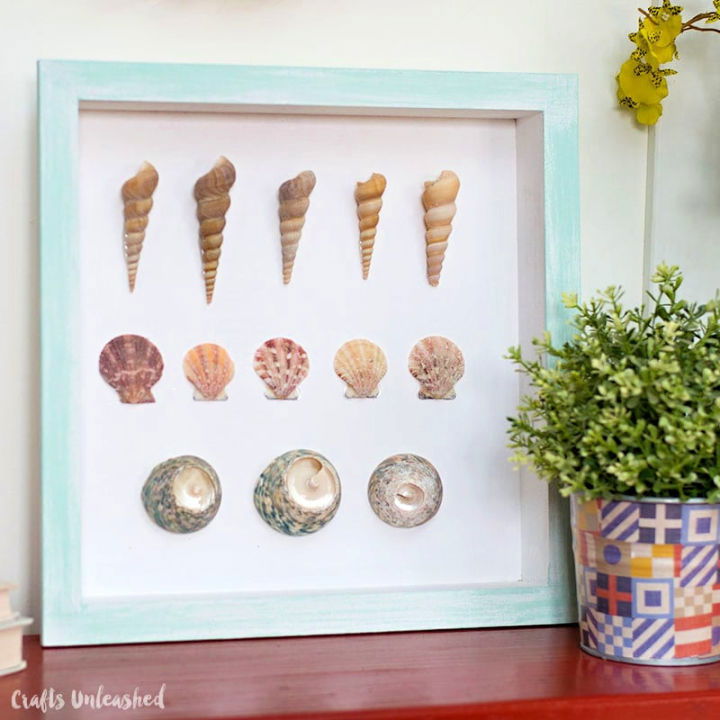 Showcase also your beach nostalgia in a shadow box to keep remembering those amazing beach visits. Grab a showcase and nicely display your beach mementos in them, peek into details of this pretty DIY shell specimen wall art, will be a big center of attention. Full how-to guides here craftsbycourtney
4. DIY Travel Memories Shadow Box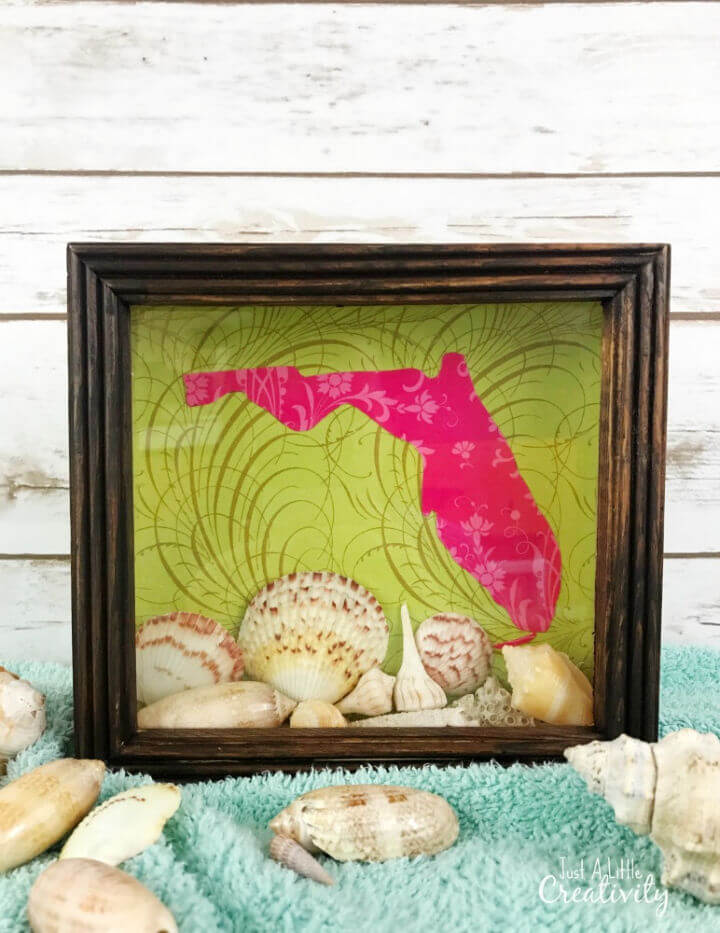 Shadow boxes will also be a smart choice to display all the travel mementos you have got during the most enjoyable journeys and traveling sessions. Look at the sample shadow box that beautifully displays the travel memories like seashells. Experiment this project using your own travel memories. Instructions here justalittle
5. Simple 3D Shadow Box Paper Frames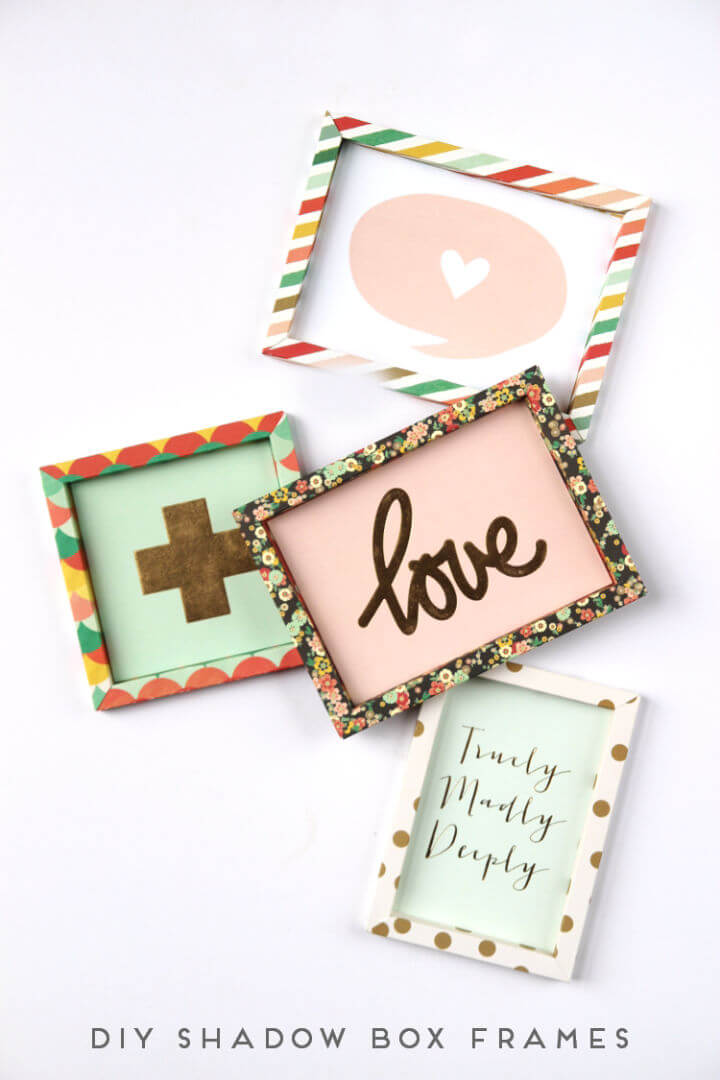 Whether you're looking for a way to store your child's artwork or want to commemorate a special event, shadow boxes make great DIY projects. The free diy shadow box plans we've shared will help you get started on creating your own unique shadow box.
Decorate the shadow boxes with scrapbook paper, wallpapers, custom magazine cutouts and make precious wall art frames like these 3D paper frames made of shadow boxes. They will create a divine decorative look of any wall, a brilliant way to jazz up and personalize your boring interior walls. Details here gatheringbeauty
6. Easy DIY Floral Fall Shadow Box
Decide also the shadow boxes to make outstanding spring and fall decor. Simply display your flowers in them, and next set them on the accent shelves or on the wall as prominent spring or fall floral decor. Here this floral fall shadow box comes with a sunflower inside. Complete guides here natashalh
7. How to Make Succulent Wall Art
The shadow boxes will welcome everything to put in them that you want to display smartly on the wall. Add up the backing of a shadow box with the succulents and make a precious 3D succulent wall art frame, will be the most modern natural decor centerpiece on your walls. How-to tutorial here craftsbycourtney
8. Handmade Ticket Memory Box
The best travel memory box to make out of a shadow box super quickly. Just put all your tickets in the shadow box and keep in touch with the old journeys you enjoyed with friends and family. Another smart use of shadow boxes. Full tutorial here dwellbeautiful
9. DIY Seasonal Fall Shadow Box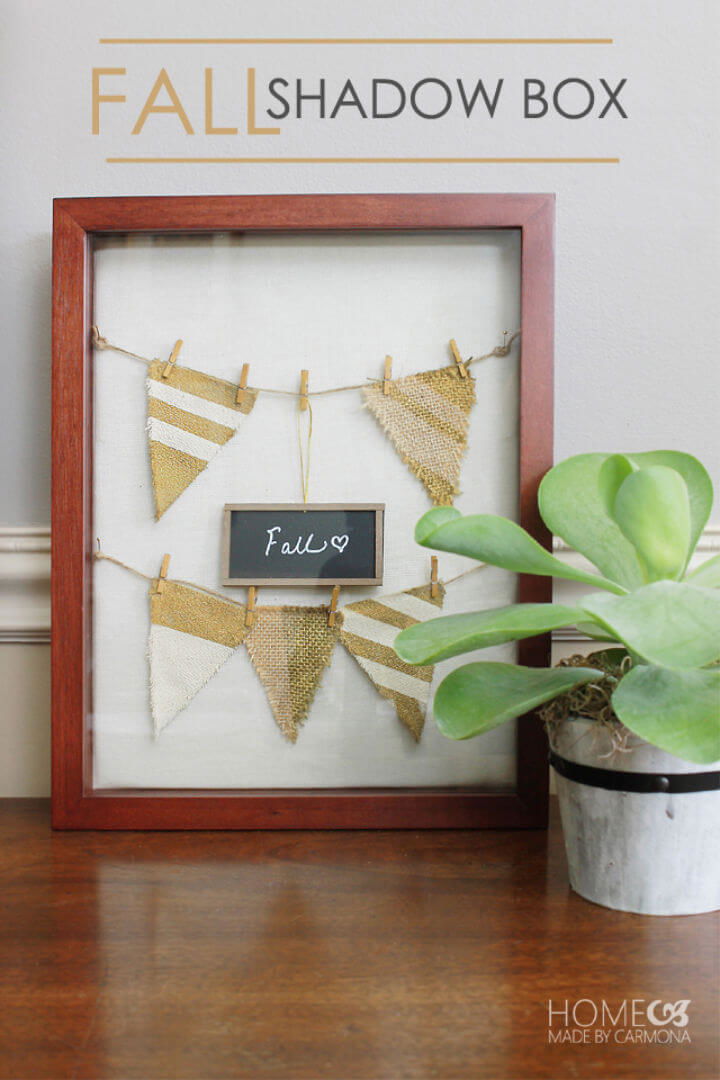 Plan the shadow boxes to make epic seasonal decor like this stunning fall shadow box. Just make some cool burlap buntings and display them in a shadow box with some other fall quoted arts and that's it. Give a custom finish to the frame of the shadow box using paint or wood stain and that's it. Full how-to guides here homemade
10. Making a St. Patrick's Day Shadow Box
Write custom St. Patrick's Day quotes on the backside of a show box and then fill the shadow box a little with the shamrocks. This will make you get with a gorgeous Patrick's Day centerpiece, look at the lovely given sample that is sure to impress and is looking much beautiful. Full how-to guides here houseful
11. Make Your Own Birch Shadow Box
Fancy up your interior home walls also with this 3D birch shadow box, will be the next superior and more elegant wall art sign on a wall and also on a shelf. Cut your birch shadow art using silhouette machine and next glue it in front of your shadow box. Full tutorial here apieceofrainbow
12. DIY Butterfly Specimen Wall Art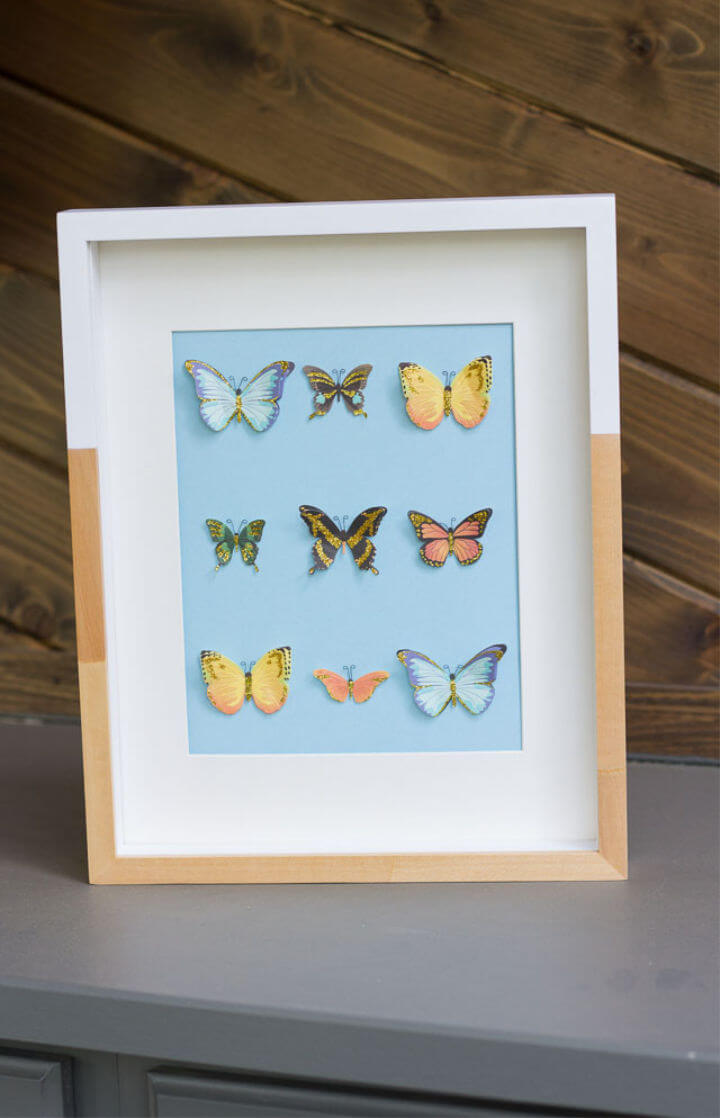 If you are researching on butterflies, then you will like to make this butterfly specimen wall art, will nicely showcase different species of butterflies. The butterfly inside a shadow box will be a smart choice too for a brilliant spring wall art signs. Complete tutorial here designimprovised
13. Nautical Decor Shadowbox Tutorial
A perfect 3D wall art frame for a beach house or for any room you want to get distinguished with a nautical decor touch. Display the starfish figurines, seashell and other nautical decor inside the shadow box and make a brilliant nautical decor shadowbox as you can see. Complete how-to tutorial here darice
14. How to Make Floral Wreath Art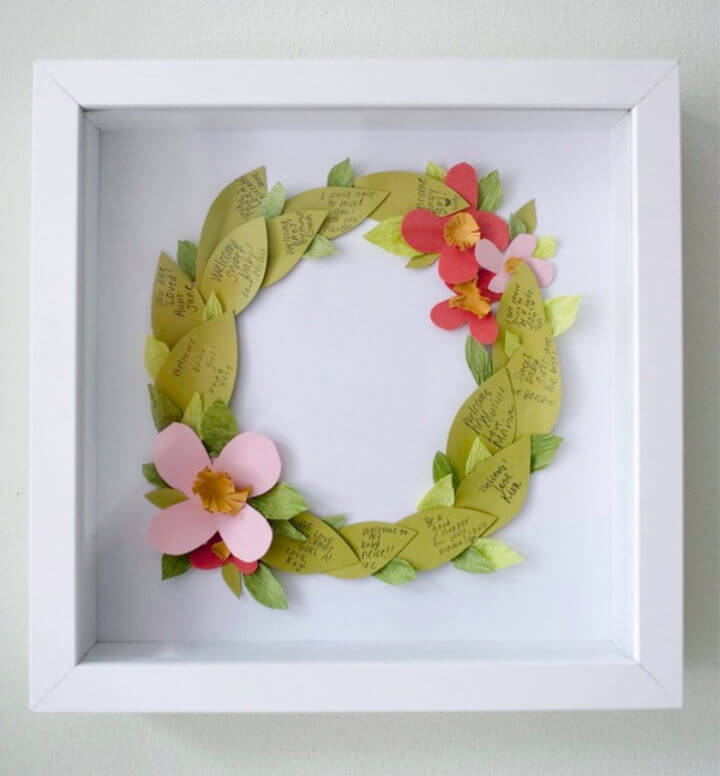 Make the paper leaves and flowers, glue them to the backside of a shadow box, making a brilliant floral wreath, next add the glass front. A 3D floral wreath art frame will fancy up any wall begging for a decor treatment. Complete project instructions here ohhappyday
15. Simple DIY Shadow Box Art
Your creative imaginations are the limit to make brilliant decor and centerpieces out of shadow boxes. Display anything in a shadow box that is in your imagination to make a cool shadow box art. Get inspired of this lovely given sample, features a hand, a nested eye, angel wings, and a heart. Full how-to tutorial here kitkraft
16. How to Make a Travel Shadow Box
Create stunning travel shadow boxes using the travel mementos, will make sweet travel memory gifts too for friends. This shadow box provides compartments for a brilliant categorical display of your travel mementos. Here is how to make it sugarspice
17. Memory Shadow Box with Travel Maps
Show you unique traveling interests to the home audience by making this brilliant travel map shadow box. It will be a beautiful presentation of your journeys. Brilliant use of shadow box to make a travel memory gift and centerpiece. Complete how-to guides here diynetwork
18. DIY Travel Memory Shadow Box
Let a shadow box showcase the pictures of your most visited travel places to make a travel memory shadow box gift. Looking at the sample demonstration will be a brilliant way to remember your traveling achievements every day. How-to details here skiptomylou
19. Memory-Filled Shadow Boxes with Shutterfly
An innovative concept to transform a shadow box into a brilliant memory gift will be ready in a couple of minutes for sure. Use the Shutterfly materials and objects and make a memory-filled shadow box, will hang like a beautiful charm on the wall. A brilliant centerpiece to hang on your indoor walls. Full project guides here stylebyemily
20. DIY Shadow Box for Baby Keepsakes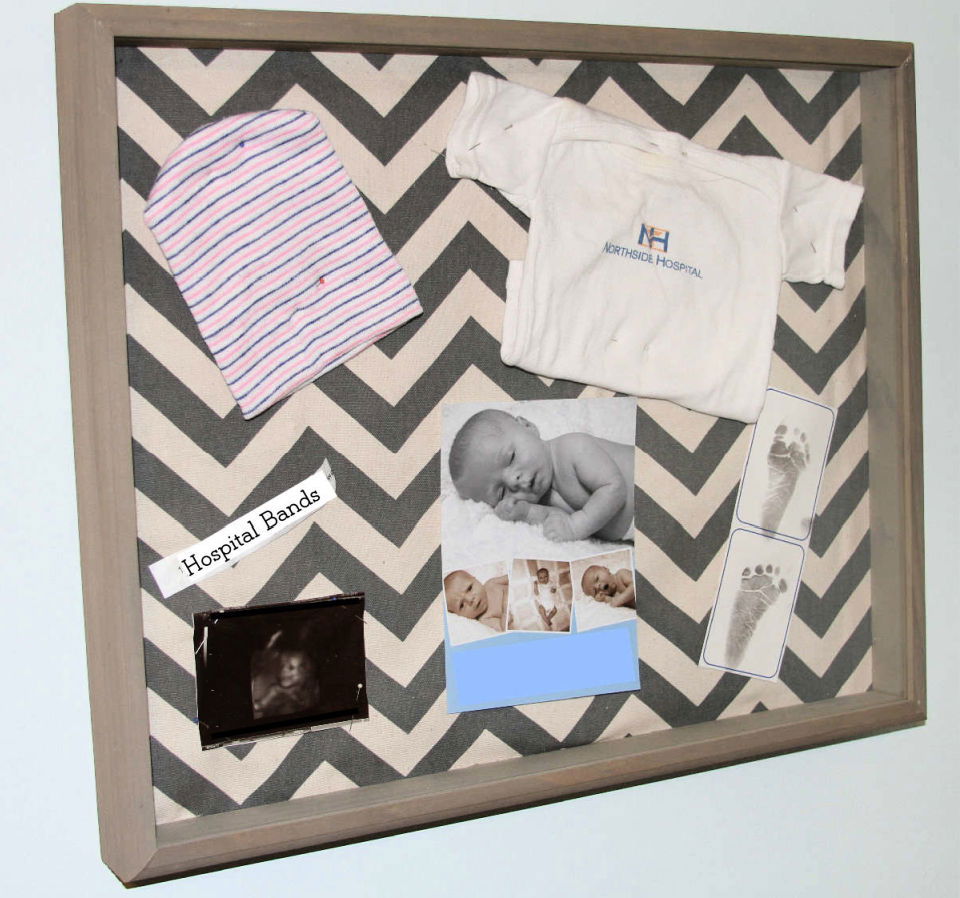 Want an ideal way to treasure your baby keepsakes like footprints, onesies, first photoshoot pictures and other items of this kind? Then nothing will work great but a shadow box. By showcasing baby keepsakes in the shadow box, you will grab a brilliant keepsake shadow box memory gift. Complete tutorial here thriftylittlemom
21. Dried Flowers Shadow Box
Make also the real flower art pieces using the shadow box. The idea is to showcase the dried flowers in a shadow box making a brilliant shadow box, will hang like a brilliant charm on the wall. The best way to go with the shadow boxes while intending to make the best fall or spring decor centerpieces. Full how-to guides here fabulesslyfrugal
22. Fluid Painted Marbled Tray from a Photo Frame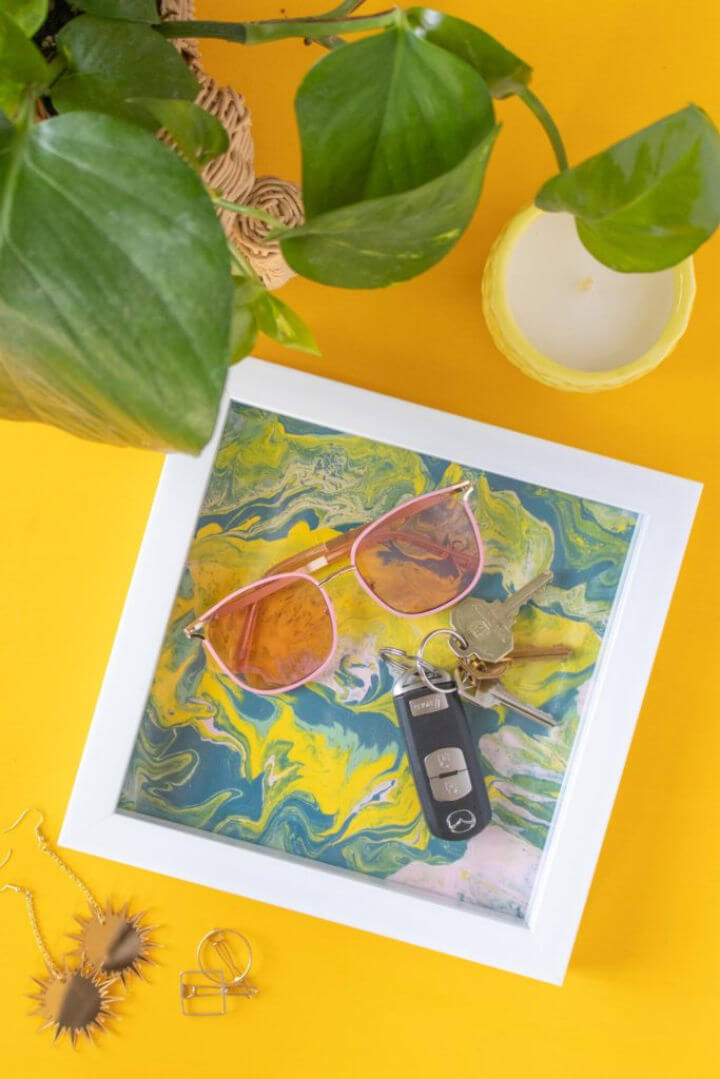 Get the things marbleized instantly like a pro using the fluid painting technique. Use also this technique to create this marbled tray, will be brilliant to hang on the wall with your favorite items inside. Use it as a stylish jewelry tray also in your makeup room. Full how-to guides here clubcrafted
23. Creative Map and Swallows Shadowbox
Maybe your lacking interesting wall art frames for amazing visual attractiveness of your interiors. If yes, then spend a few minutes with shadow box, map and swallows paper cut-outs to make this map and swallows shadowbox, will instantly spruce up interior home walls. Complete how-to guides here whistleandlively
24. Easy DIY Paper Punch Art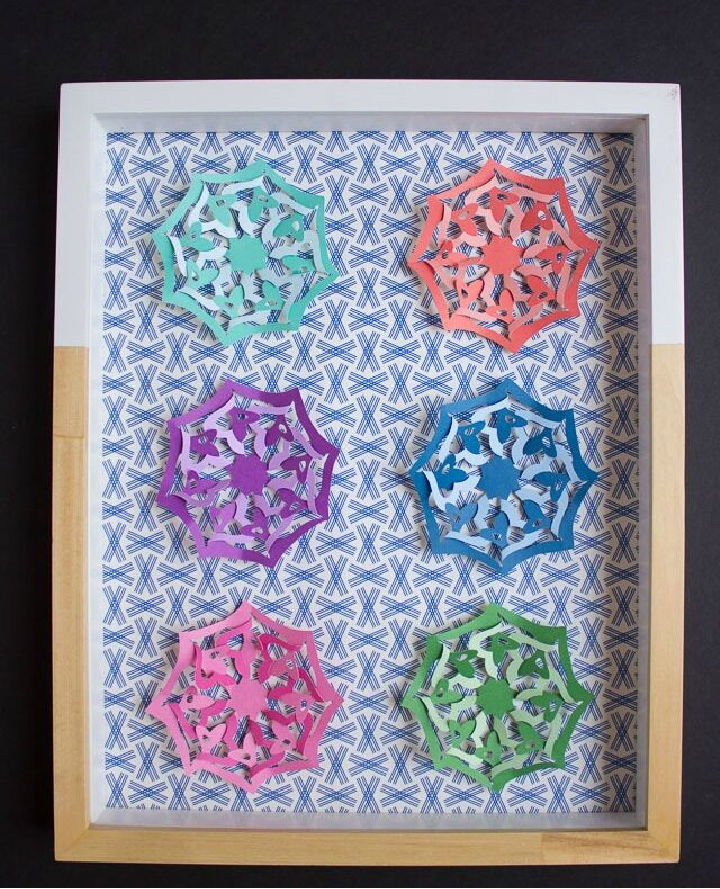 Depending on the style of decor you are currently following, you can display anything in a shadow box to get the respective wall decor and art frames. Use decorative paper punch to cut out custom paper flowers and art shapes, put them inside a shadow box for a gorgeous display. A complete visual guide here designimprovised
25. DIY Baby Shadow Box
Another brilliant shadow box to make for baby keepsakes. Put the nicely folded baby suits, pictures, and other interesting baby stuff in a shadow box to make a gorgeous baby shadow box. Interesting work to do with the shadow box. Complete guides here baby-chick
Related DIY Projects and Ideas
Picture Frame Ideas: Craft your own picture frame with these inexpensive DIY picture frame ideas to make perfect gifts, home decor, and thoughtful gestures.
DIY Wall Art Ideas: With these creative DIY wall art ideas you can easily make a wall art to transform your blank walls into beautiful works of art that you'll love looking at every day.
DIY Pallet Signs: You can make your own pallet signs and pallet wall art with these artistic & creative DIY pallet sign projects that is a great way to save money and have fun!
Large Scale Wall Art Ideas: Give your home a makeover with these eye-catchy DIY large scale wall art Ideas that are all affordable, quick, and easy to make!
String Art Projects: String art is a simple and beautiful form of art. Here are amazing DIY string art projects that will help you create your own original artwork!
DIY Wall Decor Ideas: Check out these best DIY wall decor ideas to spruce up any room of your home. From decorative mirrors to photo canvases, you're sure to find something that speaks to your style and personality.
DIY Wreath Ideas: These beautiful DIY wreath ideas are a quick and easy way to dress up your front door, mantelpiece, or any other space in your home.
DIY Wooden Box Centerpiece: If you're looking for unique and creative ways to dress up your wedding tables, look no further! This article contains DIY Wooden Box Centerpiece Ideas with full tutorials. These centerpieces give a rustic yet elegant feel that can complement any wedding or event tablescape.
Conclusion:
Shadow boxes are a great way to display your favorite items or cherished memories. We've shared 25 different DIY shadow box ideas with you, as well as free plans and tutorials on how to make your own shadow box. Whether you want to create a simple shadow box for your coins and stamps or a more intricate one for your wedding photos, we've got you covered. What type of shadow box are you most excited to make?