Discover 10 amazing DIY live edge table ideas and free plans for creating your own unique piece of furniture. Create a stunning statement in any room with these beautiful diy live edge tables crafted from real wood slices. Learn how to make a rustic coffee table, dining table, side table, end table and more using the natural edges of fallen trees or logs or create new edges by yourself. Get inspired to build your own DIY live edge furniture that will last you for years to come!
Live edge tables are a great way to add a unique, rustic touch to your home decor. While it might be tempting to purchase these beautiful and natural-looking wooden tables, why not take this opportunity to craft one yourself? With the right tools and skills, you can make an eye-catching diy live edge table that is sure to become the star of any room. Learn how to make live edge tables with these 10 easy diy live edge table ideas, including step by step instructions and free plans. So why not get creative and make something special?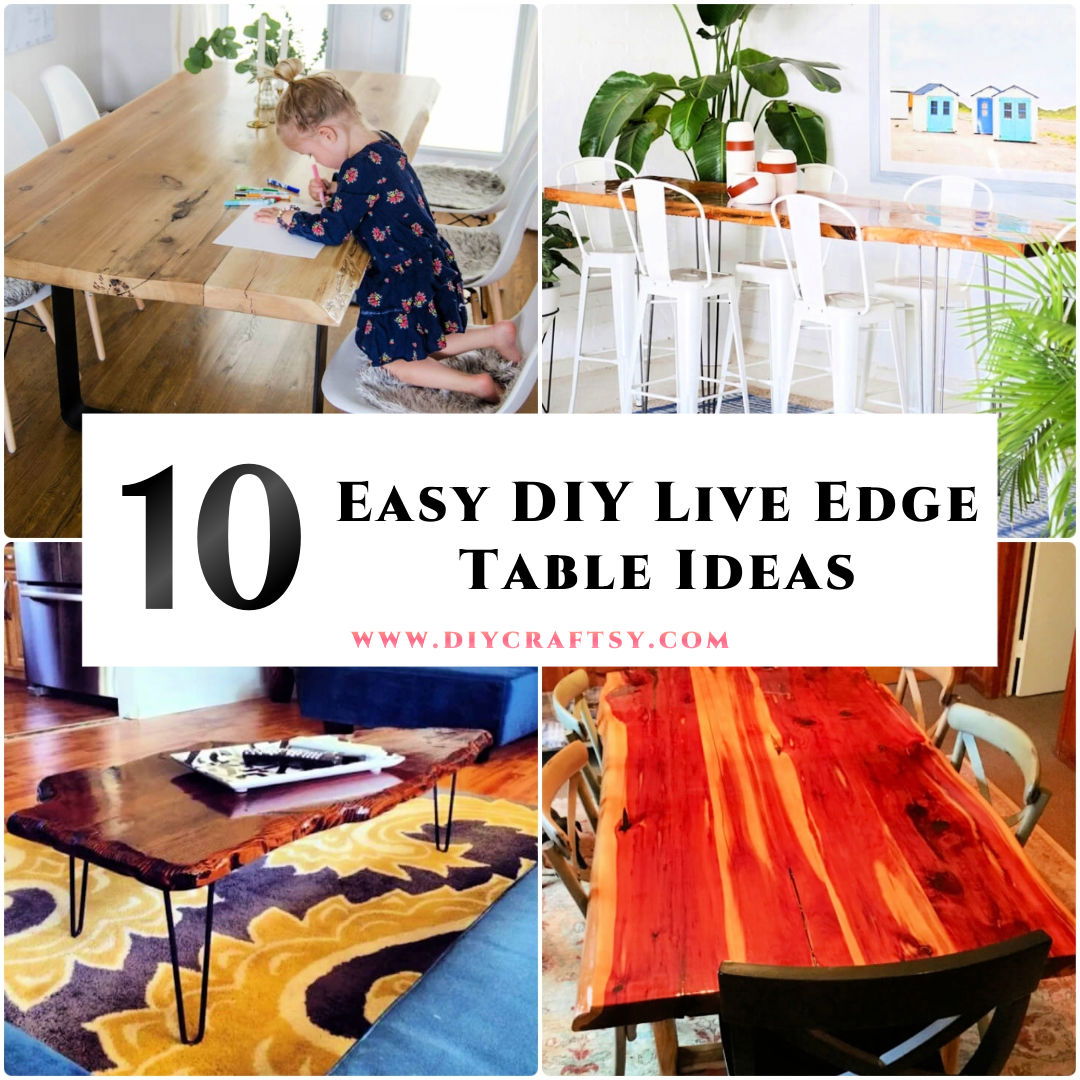 Free DIY Live Edge Table Plans
Let's put together a beautiful, one-of-a-kind diy live edge table that is easy to make! With these diy live edge table ideas, the most inexperienced DIYer can craft an amazing piece. You can choose from diy live edge desks, diy live edge dining tables, live edge diy and even live edge coffee tables – all you need is access to the right materials and tools. The live edge result will be a unique, timeless addition to your home that you'll be proud of for years to come!
How much does it cost to make a live edge table?
The cost of building a live edge table can vary greatly depending on the materials used, size and complexity. Making a diy live edge table doesn't have to break the bank. Depending on the materials you choose, it can be quite affordable. Wood slabs and metal bases can range anywhere from $50 – $300, depending on the size and type of wood. You may need other supplies, such as screws, sandpaper, clamps, and sealant, but the cost will remain relatively low. With some patience and skill, you can make a beautiful diy live edge table for your home at a fraction of the cost.
What kind of wood is used for live edge tables?
Live edge tables are commonly made with hardwoods such as Oak, Walnut, and Maple. For a diy project, softer woods like Cedar or Pine can also be used to create a unique look. You can find live edge slabs at local lumberyards or on websites selling these types of products. Remember that you may have to sand and finish the wood before creating your diy live edge table.
Are live edge tables worth it?
Live edge tables can make a stunning statement in any home. Not only are they beautiful, but DIYing your own live edge table can be an incredibly rewarding experience. It can also be cost-effective depending on your chosen materials and the level of craftsmanship involved. Ultimately, it's up to you whether or not diy-ing a live edge table is worth it. Consider your budget, your skills, and the final look you want to achieve before making a decision.
How thick should my live edge table be?
The thickness of your diy live edge table will depend on the type of material you use and how much weight it needs to support. Generally, thicker tables are more durable, making them suitable for heavier items or areas with high levels of foot traffic. Generally speaking, a good thickness for a live edge table is between 1-2 inches. Experiment with different thicknesses to find the optimal weight-bearing and aesthetic combination for your diy table.
How do you make legs for a live edge table?
Making legs for a live edge table is relatively straightforward. You'll need to purchase wood that's thick enough to hold the weight of the tabletop and then cut it into four pieces with a circular saw. Mark your top and bottom points on each leg, drill pocket holes and assemble using screws before attaching them to the underside of the tabletop. With patience and skill, you can easily create your own diy live edge table.
How do you make a live edge slab for a table?
Building a diy live edge table is easier than you think. Start by searching for an appropriate slab from a local sawmill or lumber yard. Make sure to check the condition of the wood before purchasing. Once you have your slab, cut and sand it to your desired shape, attach legs, and finish with a sealant for added protection. You can easily create your own beautiful live edge table with the right tools and creativity.
What can I use for DIY table legs?
DIY table legs can be made from any available sturdy material, such as wood, metal, or plastic. You can purchase the materials at a local hardware store or use reclaimed wood or other items to create your own unique design. With some creativity and imagination, you can make your own custom table legs for your project. Good luck!
What do you seal a live edge table with?
When sealing a live edge table, you should use a high-quality sealer designed specifically for wood surfaces. This will protect your table from fading due to UV exposure and wear and tear from everyday use. Apply multiple thin coats of the sealer evenly across the surface, ensuring that it penetrates deep into the wood's grain. Once the sealer is dry, you can apply a top coat of wax or polyurethane for extra protection. With proper care, your Live Edge table will stay beautiful for years to come.
What is the best finish for live edge?
The best finish for live edge depends on the type of wood used and the desired look. Generally, oils such as tung oil or boiled linseed oil work well to protect and enhance the natural beauty of the wood. Waxes can also be used but must be reapplied regularly to ensure lasting protection. Clear finishes such as lacquer and varnish can also give the wood a glossy finish. Experiment with different finishes to find the perfect look for your project.
1. DIY Live Edge Table With Hairpin Legs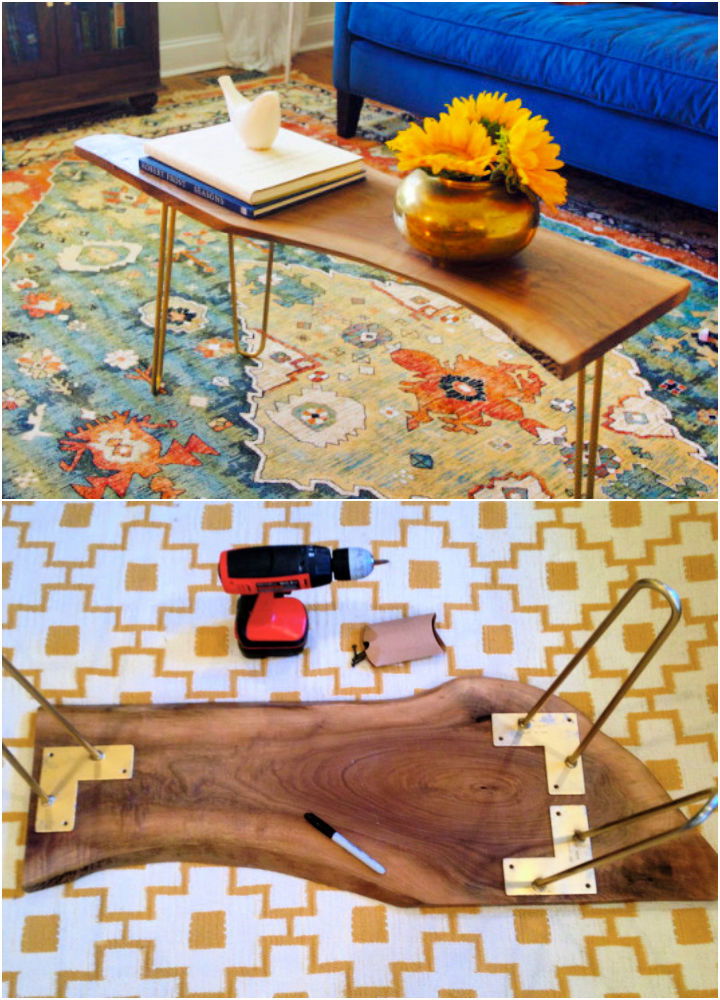 Display the live edge wooden beauty to your modern chic interiors, an instant way to grace up your sophisticated interiors! Grab a rustic slab of wood with lovely natural worn holes, wooden knots, or weathered signs! Next, just finish it up with durable wooden legs, here metallic hairpin legs have been used, and that's it! Details here annabode
2. How to Build a Live Edge Coffee Table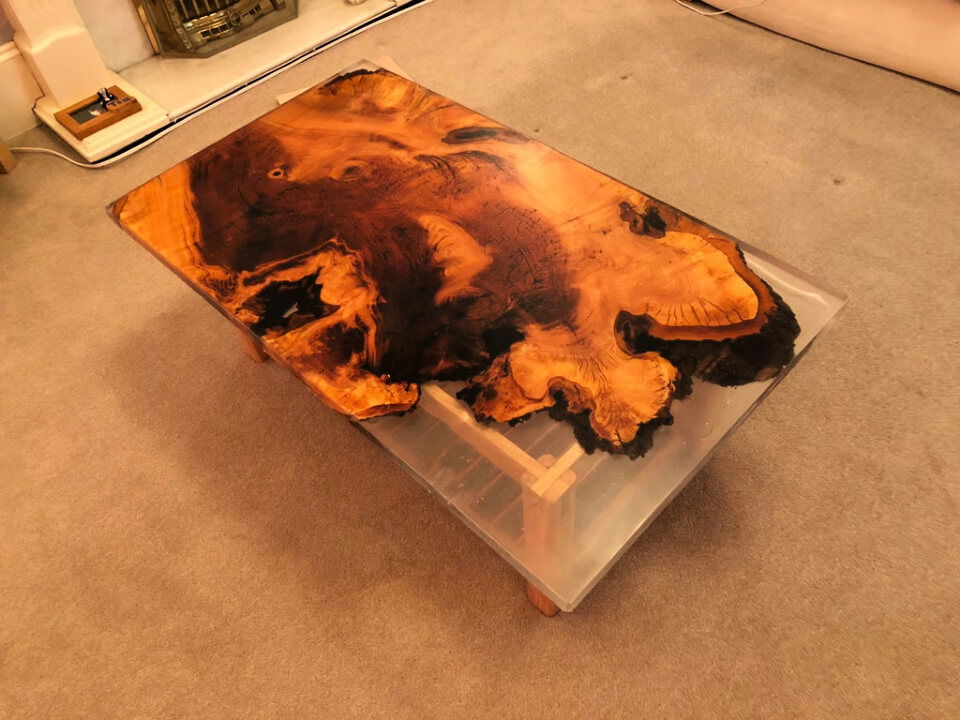 Combine the natural wood design textures to man created surfaces and gain this fantastic live edge coffee table! A rustic yet modern version of coffee table to put in the center of your sofa set to wow the guests! Make this very adorable half wood and a half glass table with cherry slab and clear casting resin! Complete tutorial here instructables
3. Homemade DIY Live Edge Dining Room Table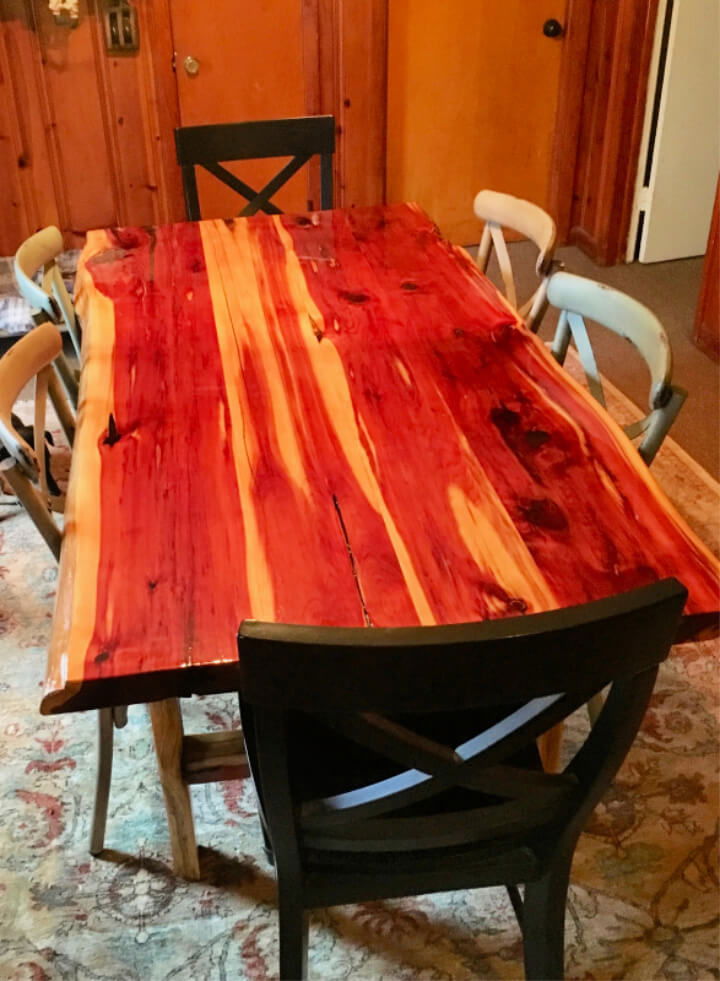 Display the natural wood edges in your dining room too, a smart way to bring rusticity and a great wooden character to your dining table! Grab the live edge wood slabs and build this very gorgeous looking dining table, made of red cedar, a hottest ever dining table to make at home! Details here survivalsherpa
4. Making a DIY Live-Edge Walnut Dining Table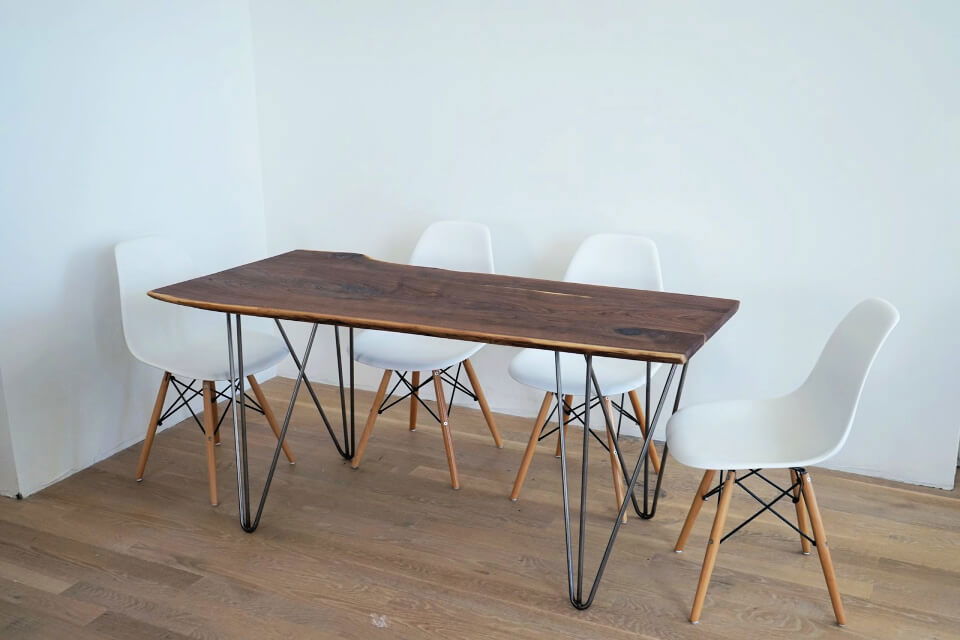 Display the unique surfaces and curves of live edge wood in your elegant modern interiors by building this live-edge walnut dining table! Grab the walnut live-edge slabs, sand it for smoothness and next install the metal hairpin legs for an unbeatable stability and accent metallic touch! Full instructions here dwell
5. Build Your Own DIY Live Edge Table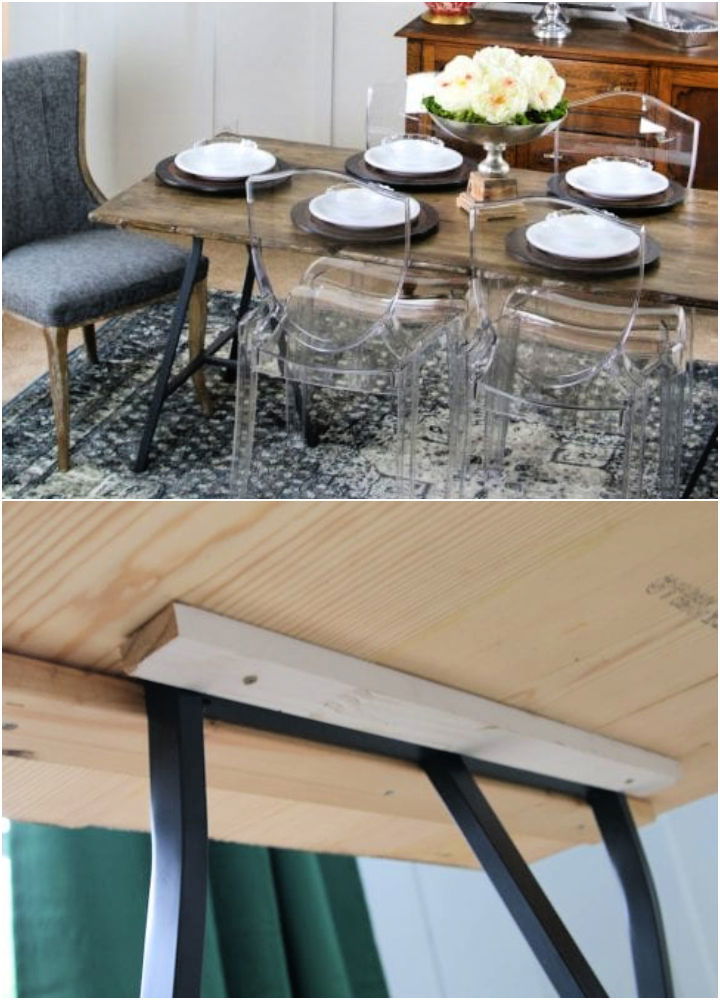 Build also a live edge breakfast, dining, or lunch party table, will be a graceful addition to any modern interior! Time to use the wood slabs with barks, wormholes, and natural wood grains as readymade tabletops! Finish them with custom wood legs and build a live edge table, will be appreciated the addition to any space! Details here remodelaholic
6. DIY Live Edge Wood Resin Table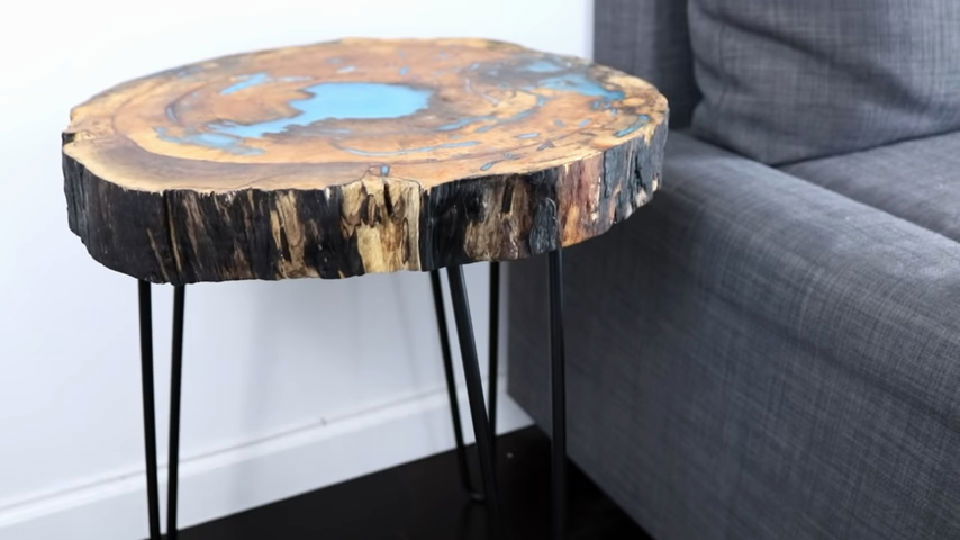 Check out here this another marvelous design of live edge wood table, made of wood slice having wormholes filled with the resins! After your resins are dried well, mill down the wooden surfaces straight to resin surface and then finish with metal hairpin legs! A lovely design of the wood table to put in any room for instant focal stimulation! Details here diyhuntress
7. Modern Live Edge Dining Table Plan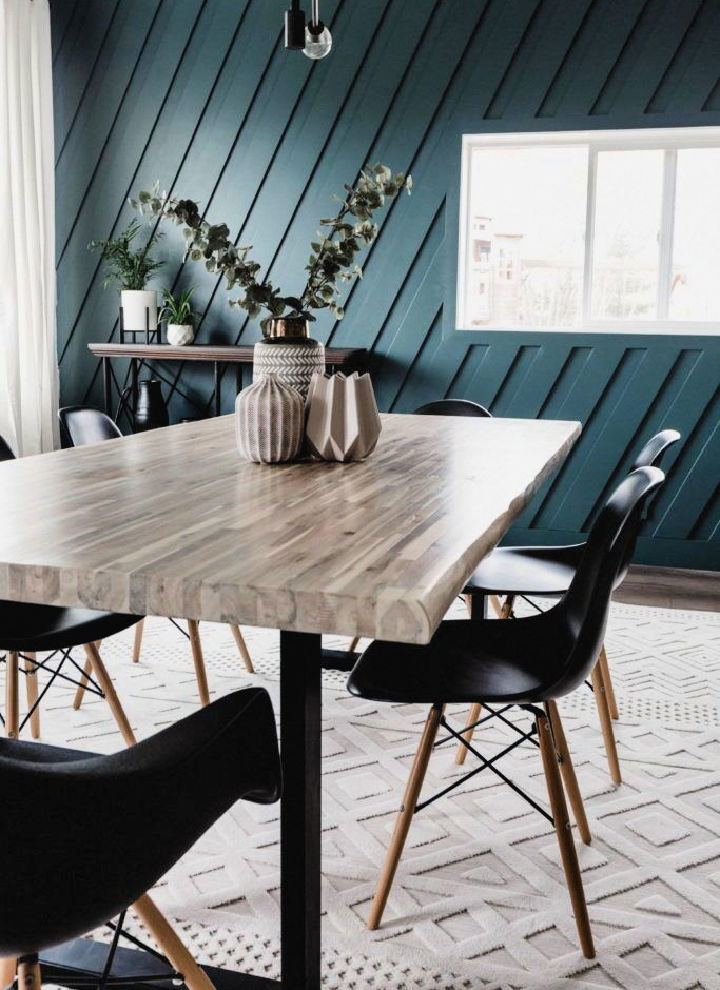 Bring both the traditional style and modern aesthetics to your home with this live edge table, built to inspire! A perfect dining table for six people and will also make a great part-time conference table! Just raise your live edge wood slat no box style flat wood legs, and here you go! How-to details here lovecreate
8. DIY Live Edge Slab Bar Top Table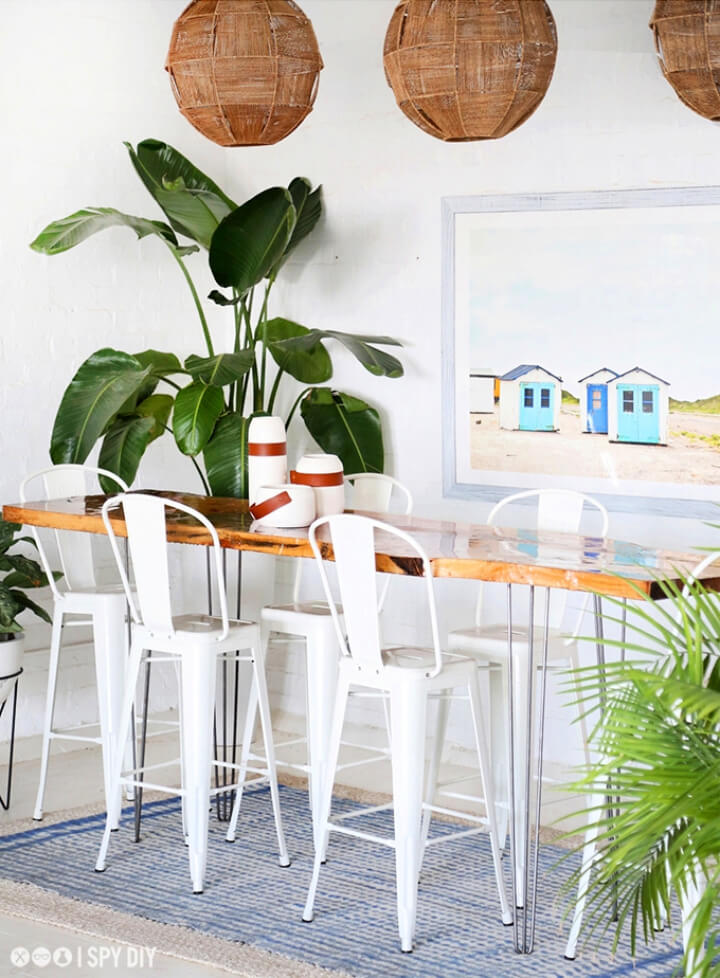 The live edge wood slabs are the art that nature builds itself, and here is a way to display this art in your home! Raise the live edge wood slabs again on metallic hairpin legs and construct this bar top table, will be a glam party table to add to any indoor space! How-to tutorial here ispydiy
9. Easy DIY Live Edge Coffee Table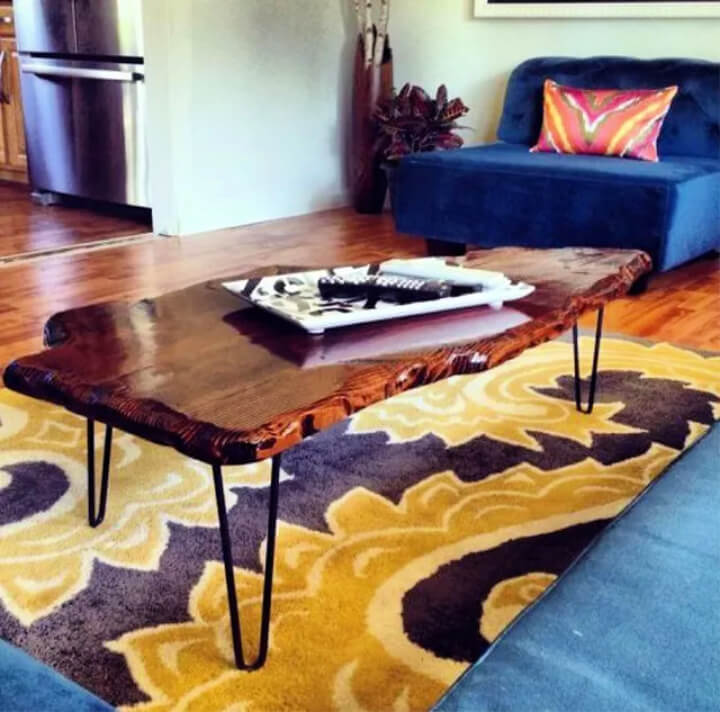 Add a great focal point in your living room by incorporating a live edge coffee table, will also be a smart way to display natural wood elements in your home! Give a nice wood finish to live edge wood slabs, give it a decide height by installing metal hairpin legs, will also bring metal accent to rustic wooden appeal! How-to details here thespruce
10. DIY Live Edge Table With Steel Base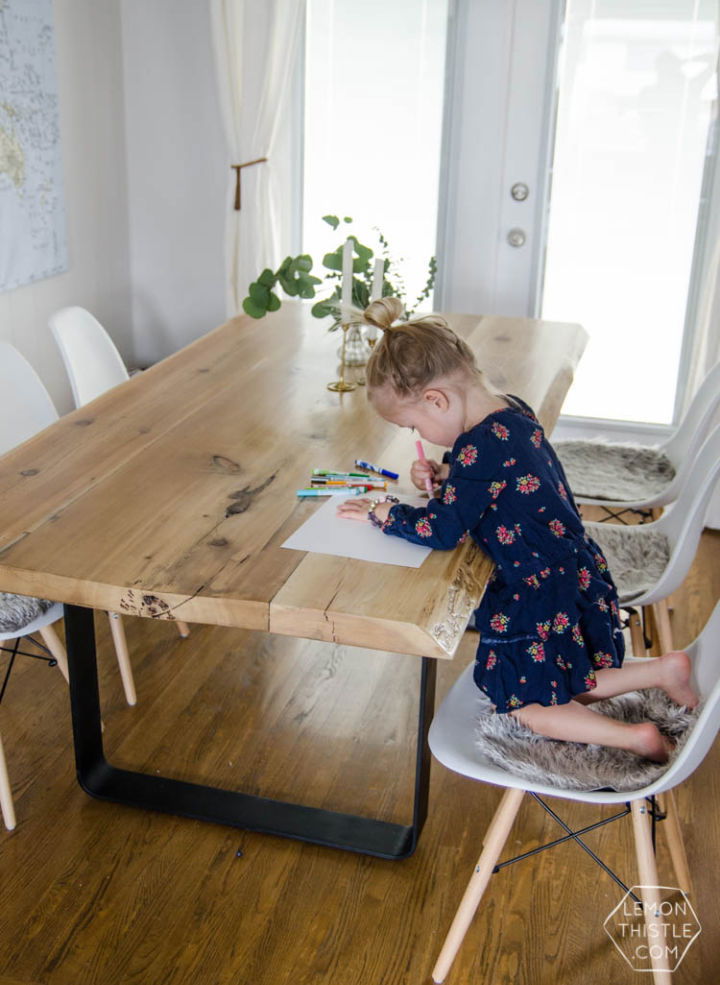 Time to bring nature directly to your indoor spaces by making some live edge wood tables just like this dining table that stands on a steel base! It stands on a box style steel base and will look much visually attractive in any space! Another brilliant live edge table to build at home in no time! Full how-to instructions here lemonthistle
Related DIY Projects and Ideas
DIY Table Ideas: Looking for cheap and easy DIY table ideas? Check out our top picks for budget-friendly tables you can build yourself in a few hours. Perfect for any home decor!
Dining Table Plans: Explore a range of free DIY dining table plans! Learn how to build your own custom, stylish and sturdy table without spending a fortune. Get started today!
DIY Vanity Tables: Transform your bedroom into a luxurious retreat with this selection of creative and stylish DIY vanity table plans. Find the perfect storage solution for cosmetics, jewelry & more!
Coffee Table Plans: Make your own stylish and functional coffee table with these free coffee table plans, including step-by-step instructions, a supplies list and helpful tips.
Pallet Coffee Table Ideas: Spruce up your living space with these creative DIY pallet coffee table ideas! Learn how to make a unique and stylish pallet table you'll love.
Driftwood Table Ideas: Create a unique decor piece for your home with these easy DIY driftwood table ideas. Transform wood from the beach into a beautiful statement piece using easy-to-follow instructions and tutorials.
Entryway Table Ideas: Discover the best DIY entryway table ideas to instantly add charm and style to your foyer. Create a stunning first impression with these easy and affordable projects!
Pallet Table Ideas: Looking for an affordable and stylish way to furnish your home? Check out these cheap DIY pallet table ideas that can be customized to fit any space!
Gaming Table Plans: Save money and build your own gaming table with these easy to follow DIY plans. Check out our selection of inexpensive, high quality projects today!
DIY Sofa Tables: Get free DIY sofa table plans from our easy-to-follow guide. Learn how to build a stylish, functional piece of furniture that fits your home decor needs!
Easy DIY Projects to Try
Pallet Projects: Make your home unique with these easy DIY Pallet Projects. Get creative and have fun crafting beautiful pieces for any room in the house. These inexpensive projects are simple to complete and add a personal touch to your space.
Small Woodworking Projects: Want to get creative with woodworking? Check out these simple DIY small woodworking projects! Learn how to make everything from furniture and home decor to toys and gifts.
Conclusion:
These 10 easy DIY live edge table ideas and free plans presented in this article provide a great starting point for anyone looking to make their own stunning, one-of-a-kind live edge table. These free diy live edge table plans showcase the natural beauty of woodgrain, making them perfect for nature lovers or those who prefer organic materials in their home decor. The instructions are easy to follow and will have even novice DIYers creating amazing tables with minimal effort. Whether it's a coffee table, entryway bench or sideboard, these ideas will help you create an eye-catching piece that is sure to be admired by all who enter your home.