Keeping your feathered fellows in a homey and at the same time secure coop is all one needs! For high egg layers, in a limited space available, you definitely need a perfect DIY chicken tractor! Check out these 20 brilliant DIY chicken tractor plans for your feathered friends! These are all perfectly designed with a reasonable budget and quite easier building techniques. If you don't have much time on your hands to take your chickens out for a regular fresh air walk or out in the fresh grass, these DIY chicken tractor plans have ample running space available, with cozy and warm nesting boxes. Plus, they are all totally secured and predator-free.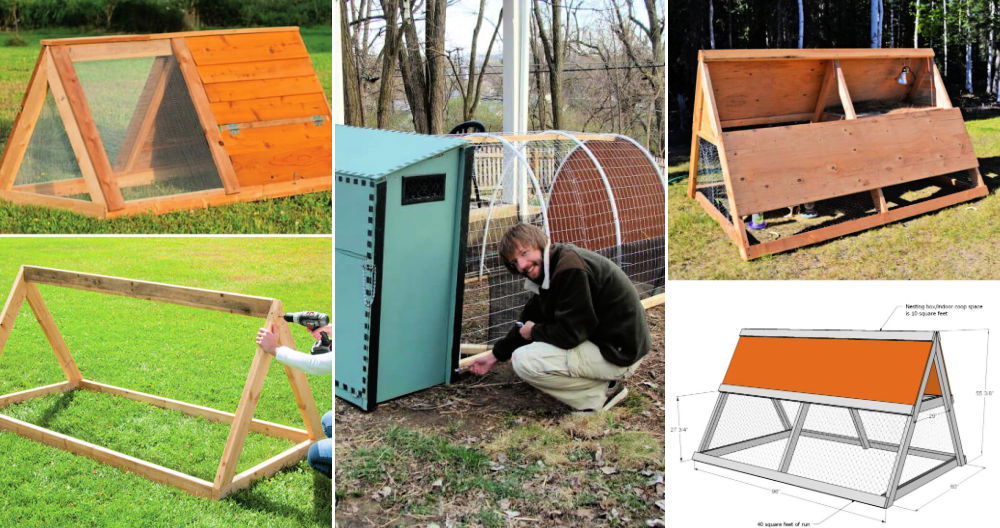 With our DIY chicken tractor plans, you can manage your predator problems, keep your chickens happy and secure, and if you are moving, say to a new place, you can easily take this "mobile home" of your chickens with you! These chicken coops can be easily moved by one person, and they have this multi-usage option too. You can use them as a chicken hospital or later also as a house for any other pet. Our collection of these free chicken tractor plans has a modern and tidy look, and they can make quite the chicken coop for your backyard! So, gather around your basic building tools and get building a chicken feeder for your feathered fellows!
1. Build a Chicken Tractor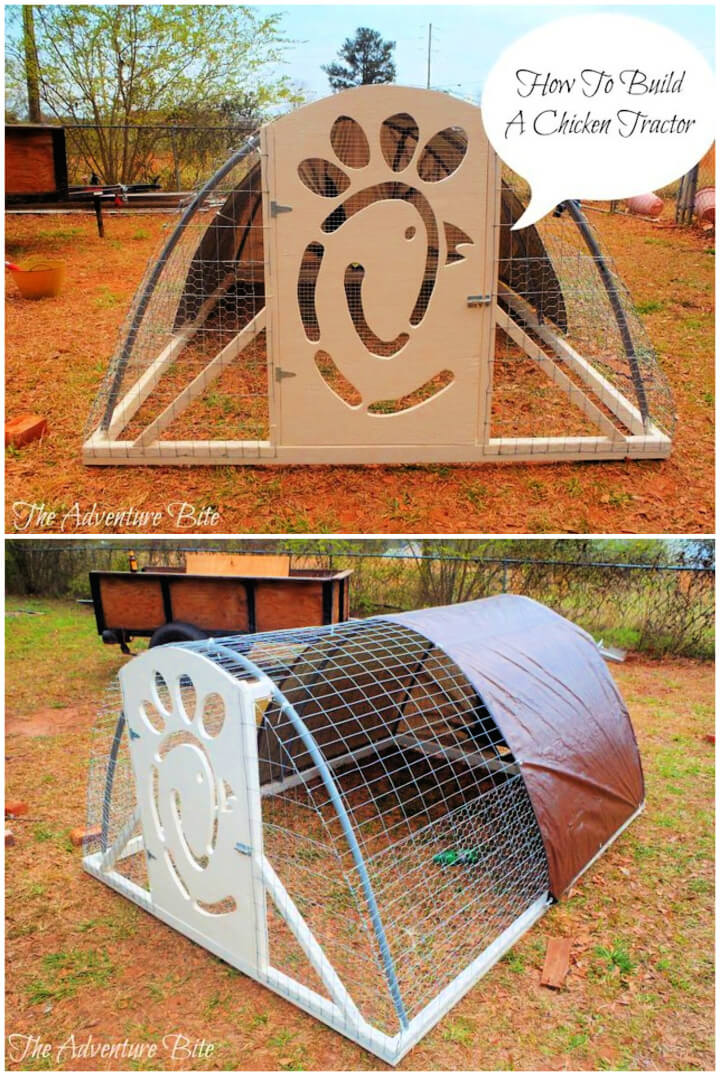 If you are not looking for a permanent place to house your chickens, this DIY chicken tractor is going to be quite perfect! You can start by building the base with basic 2 x 3's! Everything is connected with a cordless drill and wood screws. fresheggsdaily
2. How to Make Chicken Tractor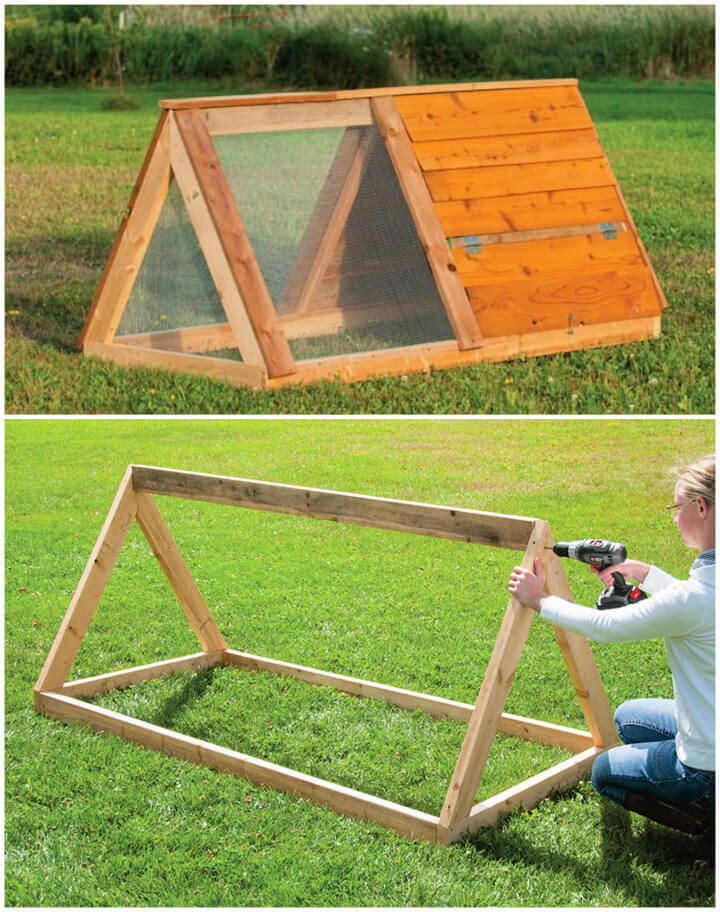 Check out our portable chicken coop ideas! It is going to make your chicken coop problems much more manageable. Made by using some cedar boards with framing square, screwdriver, roofing nails, hammer, chop saw, and get the measurements. hobbyfarms
3. Movable Chicken Tractor

This movable chicken tractor is both highly functional for a chicken coop and at the same time, looks perfect! Inspired by the concept of "rickshaw" in Asian culture, this one here is named "ChickShaw." With two wheels and pulling from the front. abundantperma
4. DIY Chicken Tractor on Wheels

The uprights of this DIY chicken tractor are made by 2"x2"! Everything in it is attached with glue and screws with pre-drilled holes! Start off by installing the floor supports, set gussets on the upright! Get the full step by step guide in the tutorial. backyardchic
5. Up-cycle Furniture Into a Chicken Tractor

If you have an unwanted sofa somewhere in your house, time to transform it into a stylish chicken coop. You are going to need a weatherproof stain and a paintbrush, 6 zip ties, nesting box, hinge, 6 wood screws, and wire with a staple gun. craftfoxes
6. DIY Light Weight Chicken Tractor

This lightweight chicken tractor looks totally homey for your feathered friends! Keep your backyard spruced up with this DIY chicken tractor! It has ample space for your chickens to roam around and have a proper nesting box too! backyardchi
7. Make a Chicken Tractor

Give your feathered fellows the perfect place to nest, lay eggs and roam around! This one is made with 2 x 6 boards, which are 7′ feet long x 6'8″ wide. This fencing is 16″ long, and you can attach the chicken wire at the inside to keep your chicks safe. thelazybfarm
8. Chicken Tractor for Backyard

This perfectly spacious and huge DIY chicken tractor is surely going to be a heart stealer and is going to keep your chickens happy and at home! This coop is about 12′ long x5′ wide. The sides of this chicken tractor are attached using joist hangers. backyardchickens
9. Make Your Own Chicken Tractor

This chicken tractor is perfect for housing five laying chickens! It has a perfect roosting space available in the upper portion of the A-frame. These two nesting boxes are quite easily accessible from the outer ends. instructables
10. How to Build a Frame Chicken Tractor

You can easily build this chicken tractor using some lumber, chicken wires, staples, and wheels. With some screws, hinges, and plastic-coated metal shelving. The roof cap is made using vinyl siding.
11. Build Your Own Chicken Tractor

Give your chickens a secured outdoor access with this fenced-in area! You will need three 2×4's, scraps of chipped plywood, dowel, chicken wire, chicken wire staples, screws, and wheels (which you can get from an old trike.) simplyresour
12. DIY Mobile Chicken Tractor

This DIY mobile chicken tractor can be a perfect cozy home for your feathered friends and a secured cooping space for your home or backyard! This is hardly going to cost you around $400. And your birds could freely and securely access the grass! greenwillow
13. Easy to Build a Chicken Tractor

This tutorial features a 32 sq. Feet chicken tractor! Built using 2x4s, wheels, plywood, chicken wire, or you can use heavier gauge wire, hinge, and latch with a handle. The handle can come in really handy while moving the chicken tractor. weedemandreap
14. Reclaimed Chicken Tractor

This reclaimed chicken coop is perfectly able to house 8 chickens! Apart from the nesting box and the boxes on the top, there is also much space available at the bottom! Wrapped with chicken wire for your chickens to roam freshly! backyardchickens
15. Easy DIY Chicken Tractor

The base frame of this DIY chicken tractor is made using 2×4's. The cattle panel is arched from the inside from one end to the other and secured with staples. After attaching the cattle panel, you can secure the whole thing with chicken wire. longbournfarm
16. $30 Chicken Tractor Built in 30 Minutes

Are you willing to spend $30 in just 30 minutes to build this super simple and sturdy DIY chicken tractor! You will need twelve 6-foot ear fence pickets, four 36" deck spindles, and one 50-foot-long chicken wire roll. lumnahacres
17. Portable DIY Chicken Tractor

This DIY chicken tractor by Ana White features about 40 square feet of a run for your chickens! This will need about 14 of 2x4s (each 8-foot-long), 6 total T-strap hinges, 30" wide chicken wire of 30 feet and scrap plywood piece for floor and stairs of this coop. ana white
18. Hawk Hill's Collapsible Chicken Tractor

Check out this Hawks Hill collapsible chicken tractor made with 1×3 furring strips. The two rectangle frames are 4'x8′, and the top rectangle piece is of 2'x8′. However, the sled is created with 2×4 pressure treated boards. hawk hill
19. Chicken Tractor for Small Backyard

If you have a small backyard but at the same time love for chickens, this DIY chicken tractor plan is perfectly befitting for a backyard! The tools that you will need for building this are cordless drill, square, and jigsaw. Get the full list of materials theownerbuild.
20. How to Make Barn Tractor

Isn't this barn tractor lovely for your chickens? It is like the luxurious version of a mobile home for your feathered friends. You can easily access the coop from the panels opening inside the coop or from the chicken run too! backyardchickens
One of the best parts with the option for a DIY chicken tractor is that you can work around the costings according to your budget! Another plus point is that you can totally customize the space and size of the chicken coop as per the number of chickens you wish to raise or house in it! There is nothing better than having some homebred, organize eggs and chicken for your family and stay healthier. Happy cooping!