Summers are mostly to make addicted to the outdoor, and we just love to do everything outdoor, from eating food to celebrating an event and also from enjoying the part conversations to enjoy drink parties with friends. Ever of your outdoor fun affair, just demands for suitable kind of furniture which mostly comes with high price tags are hence becoming unaffordable for many of us. But your creative mind and passion for recycling, upcycling, and repurposing the old and useless things can help you gain luxurious pallet outdoor furniture for free!
You can only reuse some free pallets to build lasting longer and stylish items of outdoor furniture that will be loved dearly by all and would live for years to come for sure! Build all sorts of outdoor furniture with pallets like outdoor benches, pallet chair, picnic tables, patio lounge, poolside loungers, Adirondack chairs, and to fantastic L-shape pallet sofa and if you need to look at some ready-made samples, then just browse this list of 45 DIY pallet outdoor furniture ideas that are all amazing and creative and would inspire your Patio!
These pallet ideas involve the best patio, home deck, terrace, and garden furniture ideas too, so pallets are going to be super magical skids for you here, making the outdoor life a lot easier!
Here most of the given sitting furniture projects are based on stacking of pallets, and you can use the pallet stacking formula to build adorably cute wooden benches, sofas, large L-shape couches, and also the storage-friendly coffee table that can be put in front side of the sitting furniture that you can build with pallets! Also, paint the pallets you will stack and install the bottom rolling wheels to your finally finished items of furniture or an added grace and industrial touch!
The beauty of the pallet couch or sofas will also depend on the cushion or seat mattress that you will use! Browse the entire list to find out the best pallet patio furniture and click on the attached reference links to grab the full free instructions and tutorials!
Low Budget DIY Pallet Outdoor Lounge:
Set up your outdoor lounge areas for party time sitting by building lovely sitting furniture sets with pallets!
From building the lovely wooden floor to the stylish L-shape sofa set, all has been made with pallets for free! instructables
Build an Outdoor Pallet Furniture: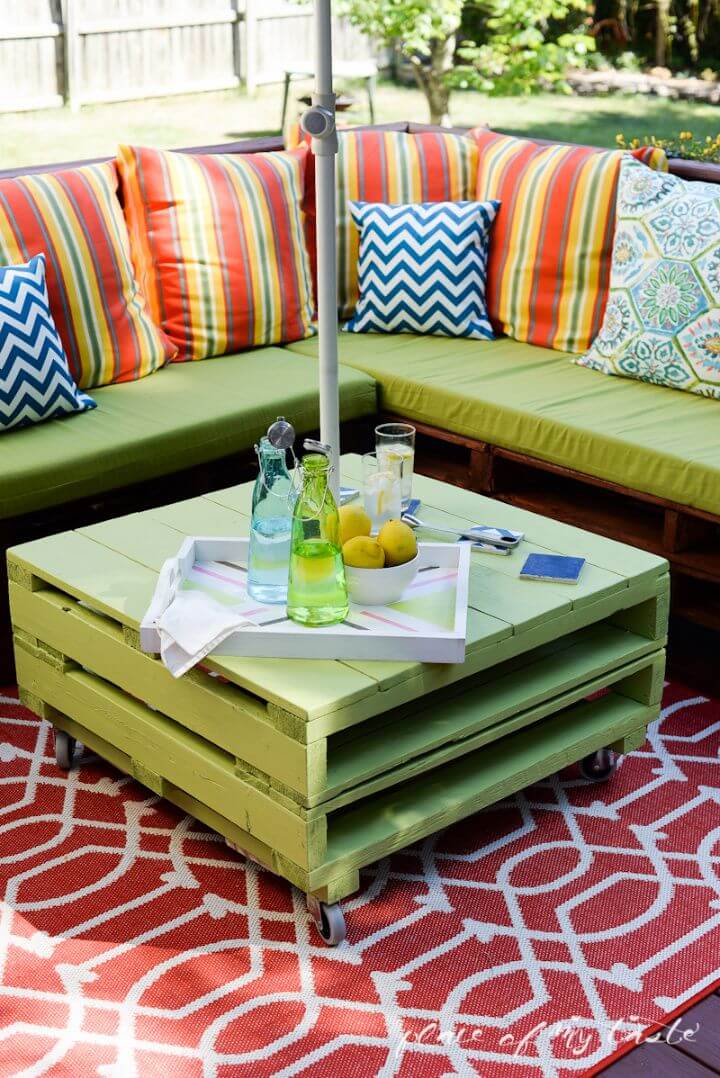 Spend a great time with your family, and catch some rays by making this fantastic outdoor sofa set at home!
No need to do manual woodwork, just pile up the pallets to build all from cozy sofa to fantastic rolling coffee table! placeofmytaste
DIY Wooden Pallet Chillout Lounge: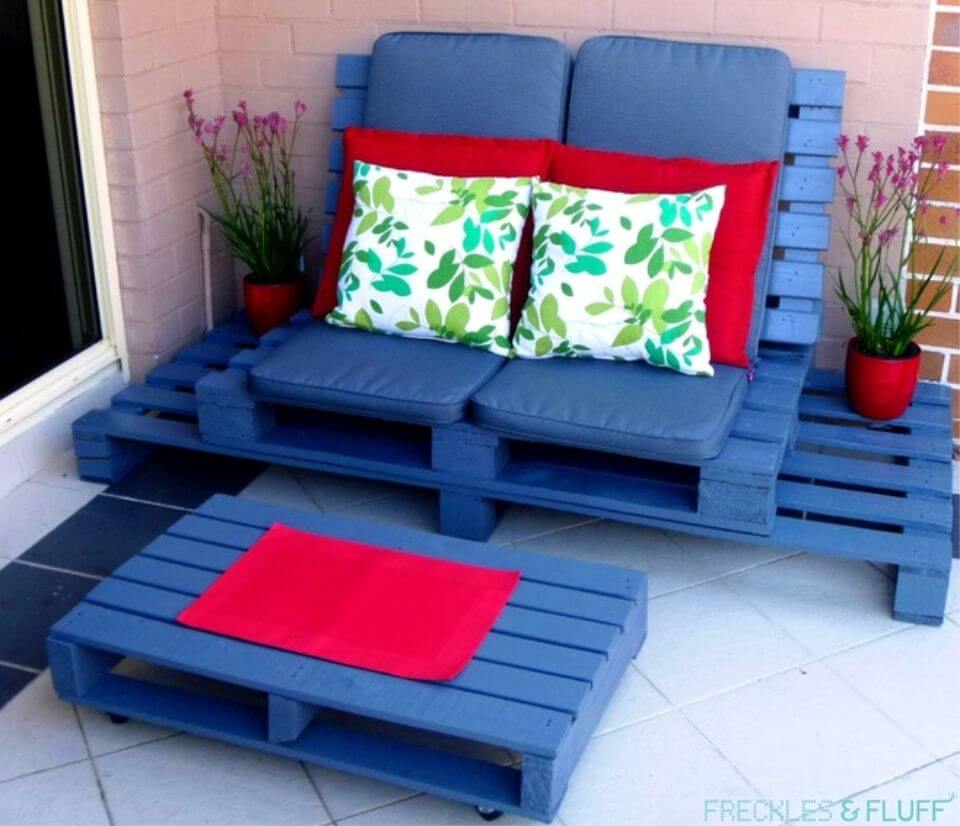 Get yourself relaxed by building this chill-out lounge with pallets; involves no cutting or dismantling but simple arrangements and stacking of pallets!
Finish a pallet with bottom wheels to gain a fantastic low-wooden coffee table! frecklesandfluff
Build Your Own Fold-down Murphy Bar: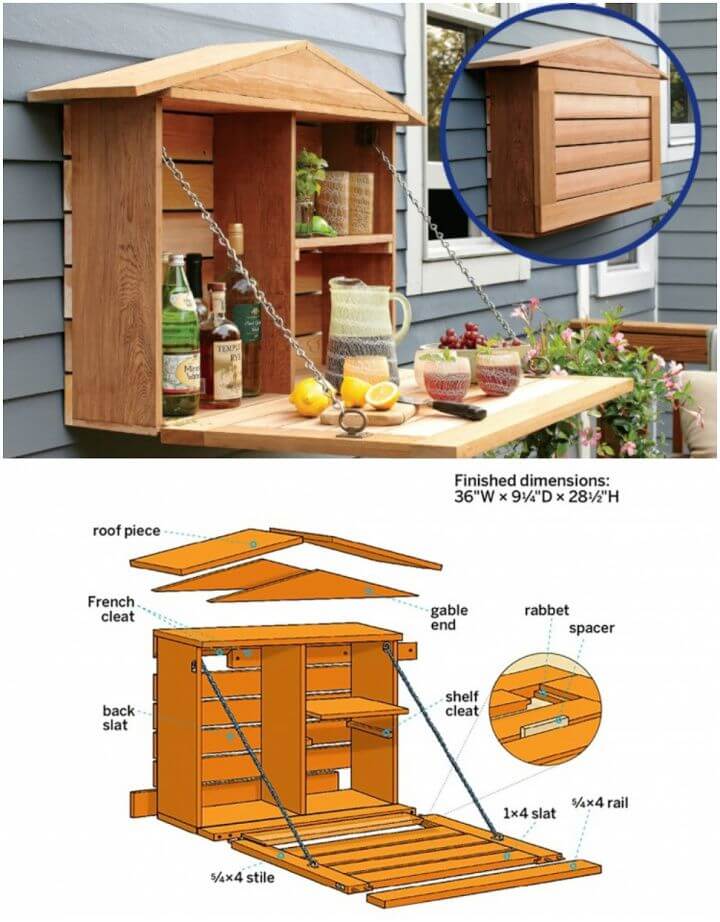 A super fantastic and creative pallet achievement, a home shaped wall-mounted Murphy bar that will help keep the outdoor parties going on any time!
The things will be stored in the wall-mounted panel while the folding down surface supported with chains will rock for preparing drinks! thisoldhouse
DIY Outdoor Pallet Swing Bed: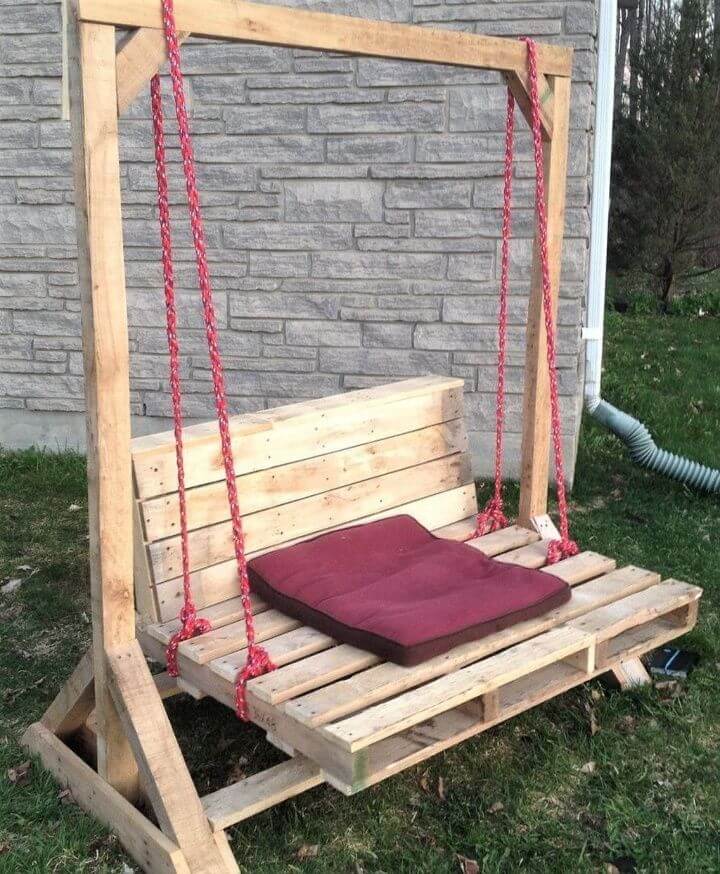 A mind-blowing pallet achievement that will help soothe your nerves by making your relaxed outdoor, a movable wooden pallet swing bed that is also having the swing frame made of pallets!
How to Make Modular Outdoor Seating: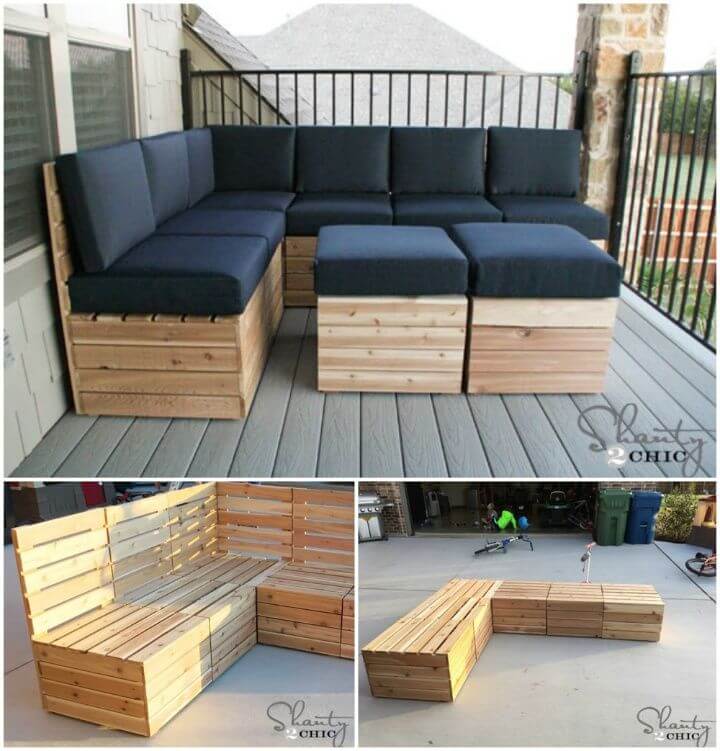 Buying outdoor furniture furnishings is always expensive, so bypass the luxurious outdoor furniture with pallets!
Duplicate this modular outdoor seating that will rock for the outdoor family gatherings and parties! Its price would be equal to the cost price of the seat mattresses! shanty-2-chic
Outdoor Pallet Coffee Table and Bench:
If you strive for the uniqueness in everything, then this unique pallet coffee table and bench set are only for you!
A box style pallet coffee table and a box style wooden bench will make you sit comfortably outdoor! apieceofrainbow
Easy DIY Pallet Gardening Table: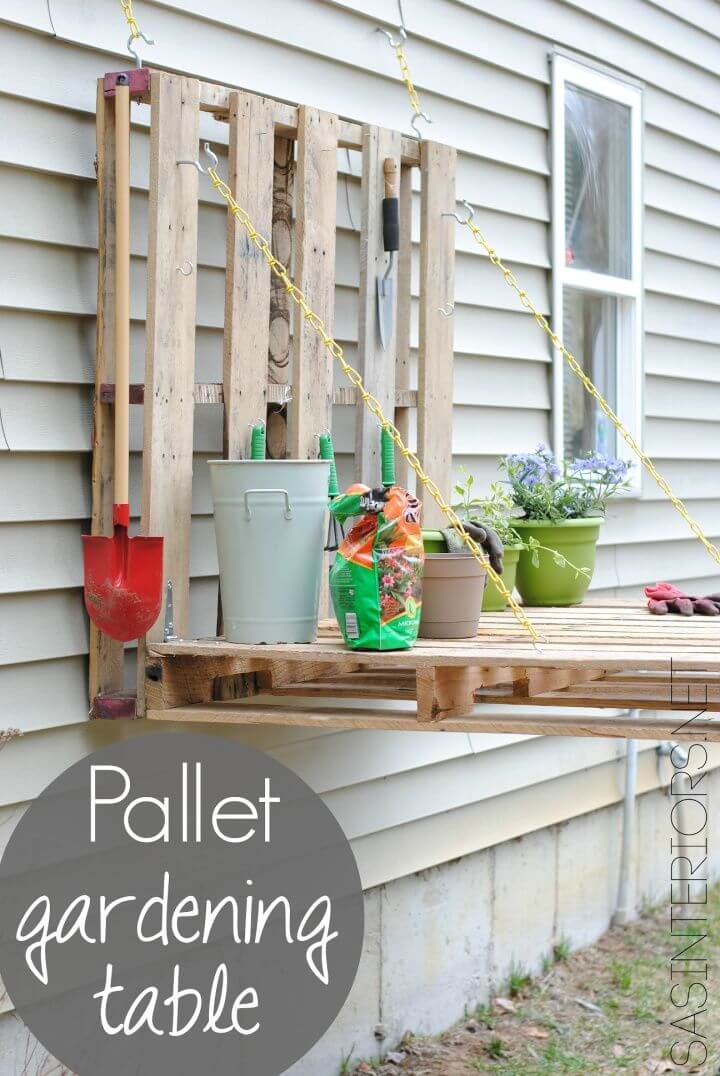 Willing to do some quick garden repairs? Then do install a fantastic wall mounted pallet gardening table at home using only two pallets!
Hinge the pallets and mount on the wall and support the folding-down one with metal chain and hooks! jennaburger
Make Pallet Patio Day Bed:
Jazz up your patio by building this fantastic wooden daybed that is a breeze to make for sure!
Cover the decided area with a stockpile of pallets and then finish it up with a mattress, and that's it! lovelygreens
DIY Outdoor Pallet End Table: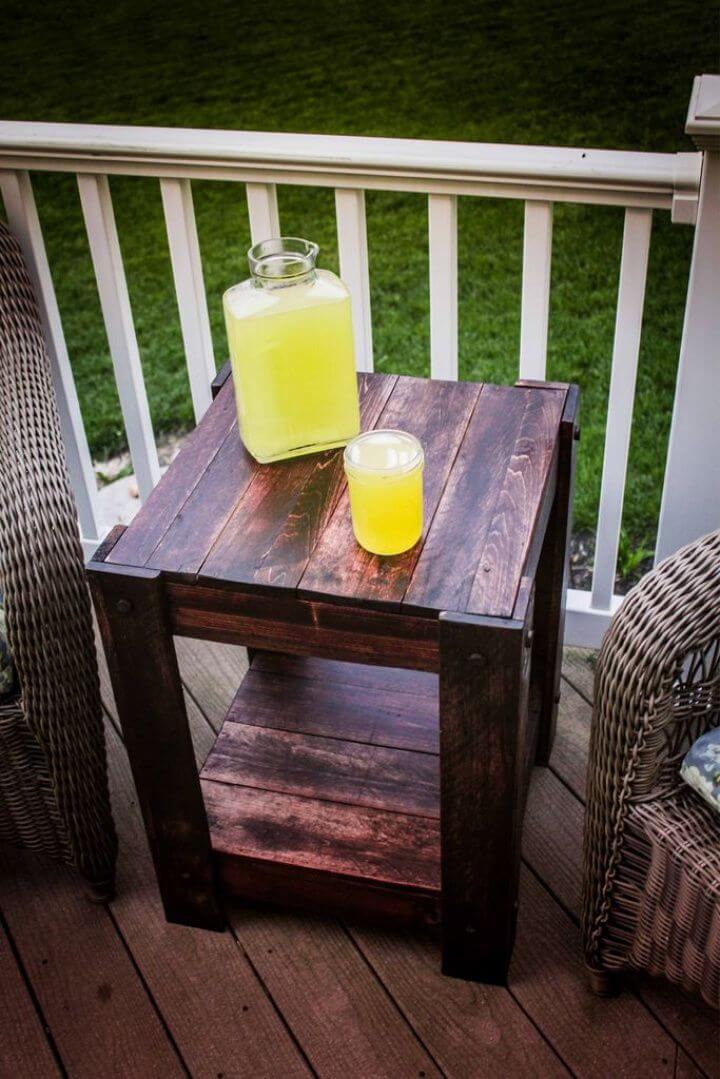 Keep your hands free to involve in outdoor conversations by building this cute mini outdoor pallet end table, can also be cloned with the leftover pallets!
It also provides a bottom shelf and comes in a fantastic dark wooden tone that is mesmerizing! instructables
Affordable DIY Outdoor Pallet Furniture: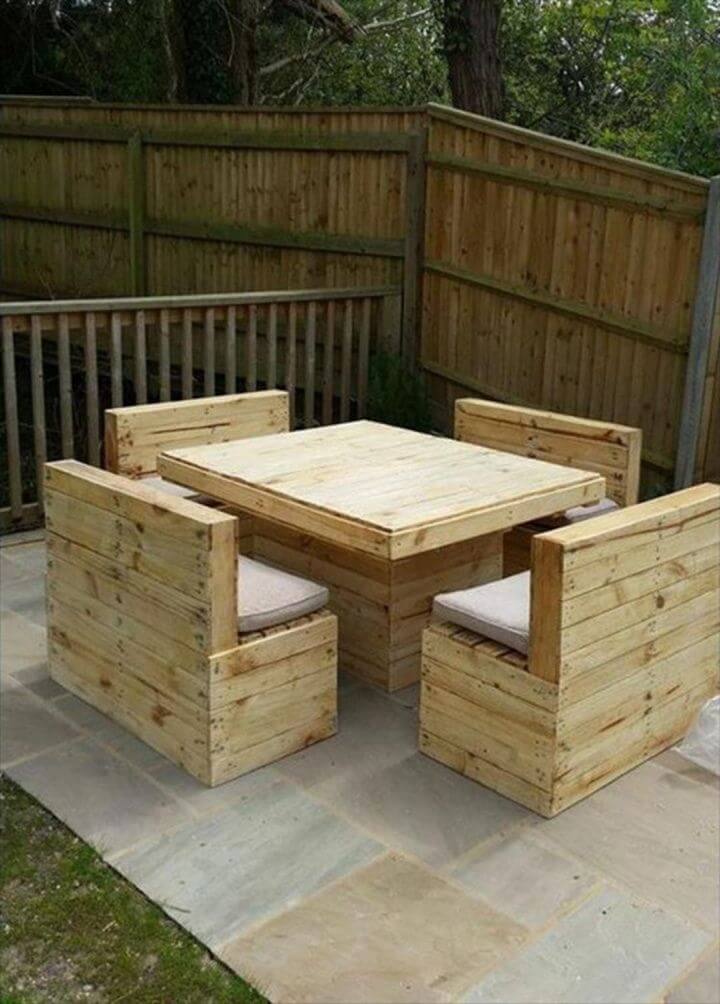 This is something affordable and adorable at the same time, a very nicely build block style wooden pallet sitting set that comes with a pedestal square coffee table in the center and is surrounded by 4 L-shaped cushioned pallet chairs!
Adorable DIY Outdoor Pallet Coffee Table: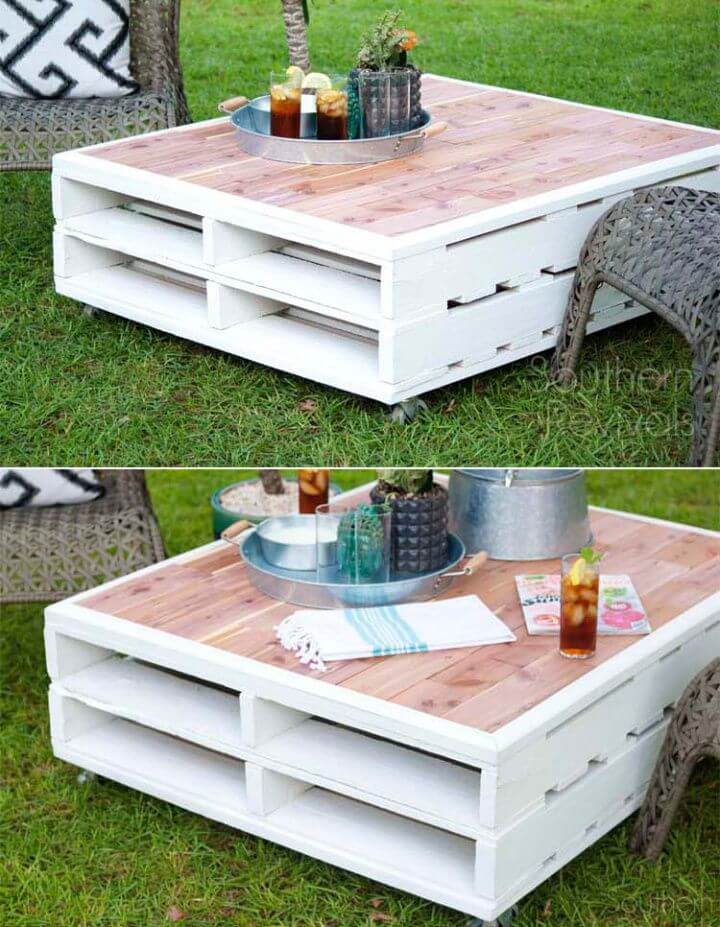 A super attention-grabbing model of a wooden coffee table that comes painted in white but looks great with a textured wooden top!
It is a cool stack of only pallet skids raised on caster rolls! southernrevivals
Easy to Build Outdoor Pallet Lounge
Sit like a king in this chair that will also rock for the outdoor lounge!
A chair made of whole pallet skids that have been stacked, and here almost no dismantling of pallets involved in this project!
Finally, it has been raised on wheels for easy dragging and pushing! carstensleisuretime
Outdoor Patio Furniture from Pallets:
Pile up the wooden pallet skids and then cushion them up and build a fantastic large sitting sofa in L-shape or U-shape that you use to organize any patio, deck, or garden area for parties and part-time sitting! Get inspired by the given sample thesassysparrowblog
Build a Murphy Bar Out of Pallets:
See this pallet wood creation that will never go unappreciated for sure!
It would make a great gift for the drink lovers, a lovely Murphy bar that folds down stylishly and is sure to be loved by all the outdoor party lovers! Details here hunker
DIY Paracord Laced Pallet, Hanging Chair: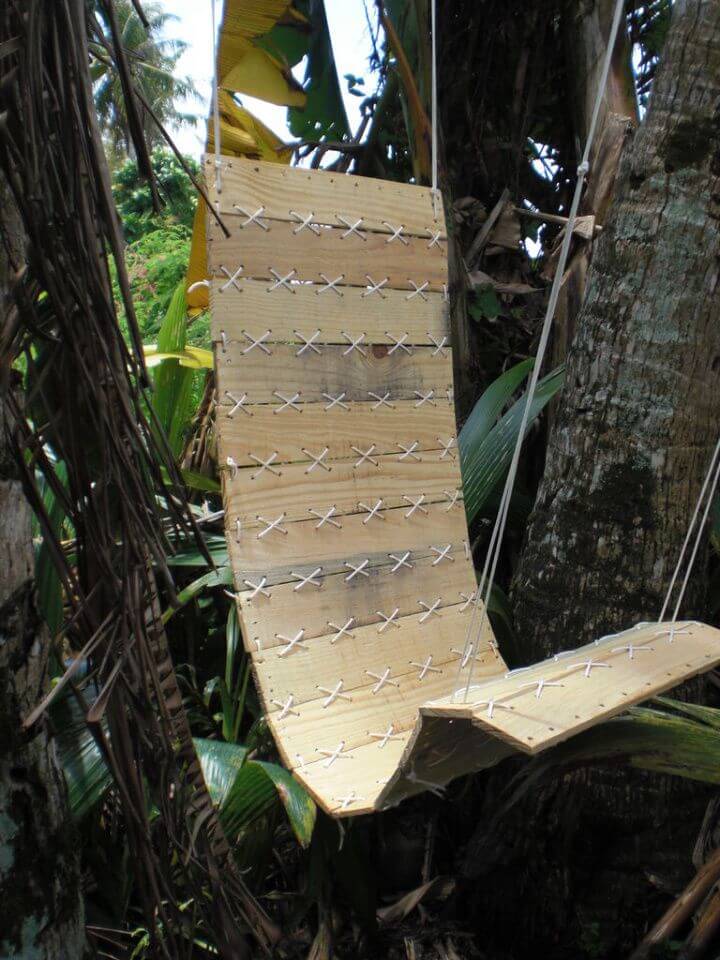 Enjoy also the outdoors more with this hanging pallet chair, made of pallet wood slats that have been laced with paracord threaded into side holes in the planks! It is flexible and would make a great chair swing for the kids! instructables
How to Build Your Pallet Swing Bed: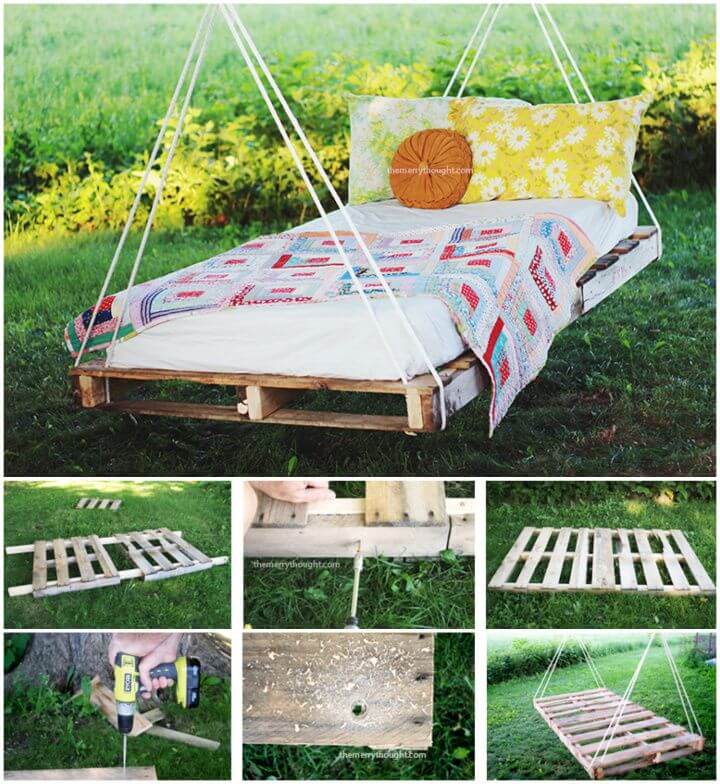 Fasten the edges of a pallet skid with rope and bring it in the air and finish with a comfy mattress. This will make you get a superb pallet swing bed that will make your life the luxury at outdoor!
A lovely gift to an outdoor lover! themerrythought
Build an Outdoor Wood Pallet Enclosed Seating Area: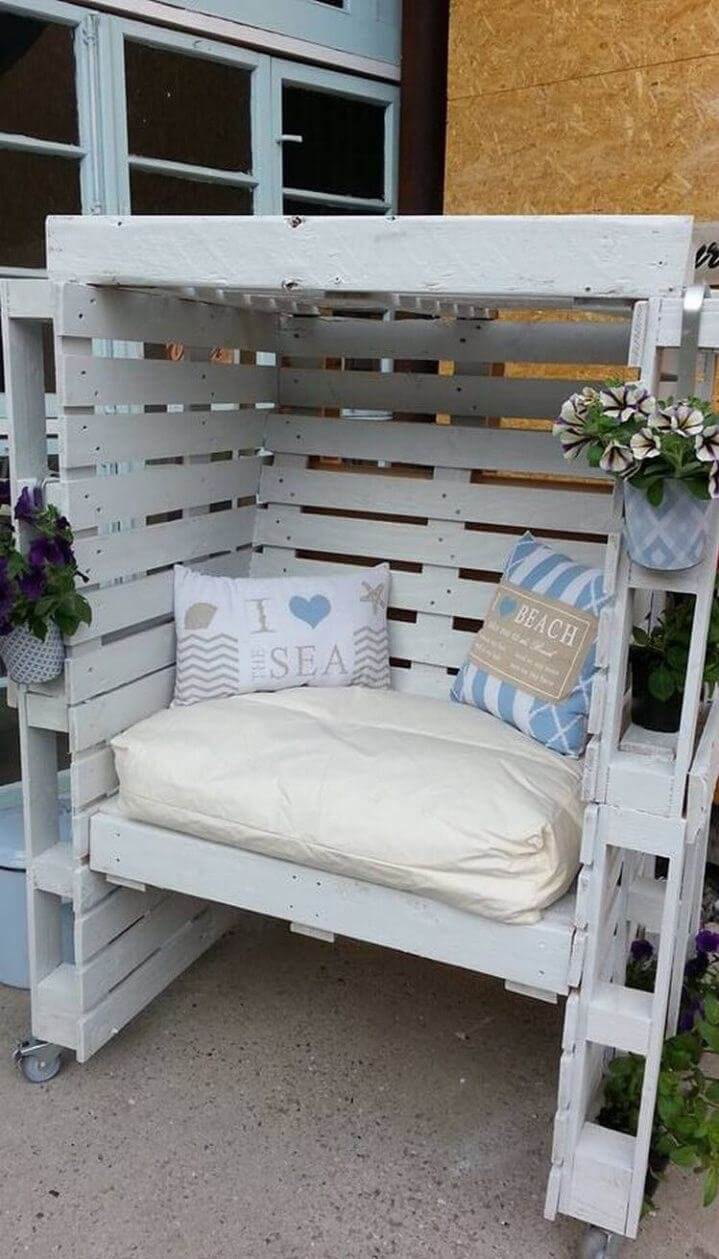 The ordinary benches and chair will not work when need to sit at the outdoor in sunny days, the sun protection will be a big demand, and hence this enclosed pallet seating area comes for a big rescue, made to rock and inspire and it also comes on wheels!
Kids Picnic Table from Pallet Wood: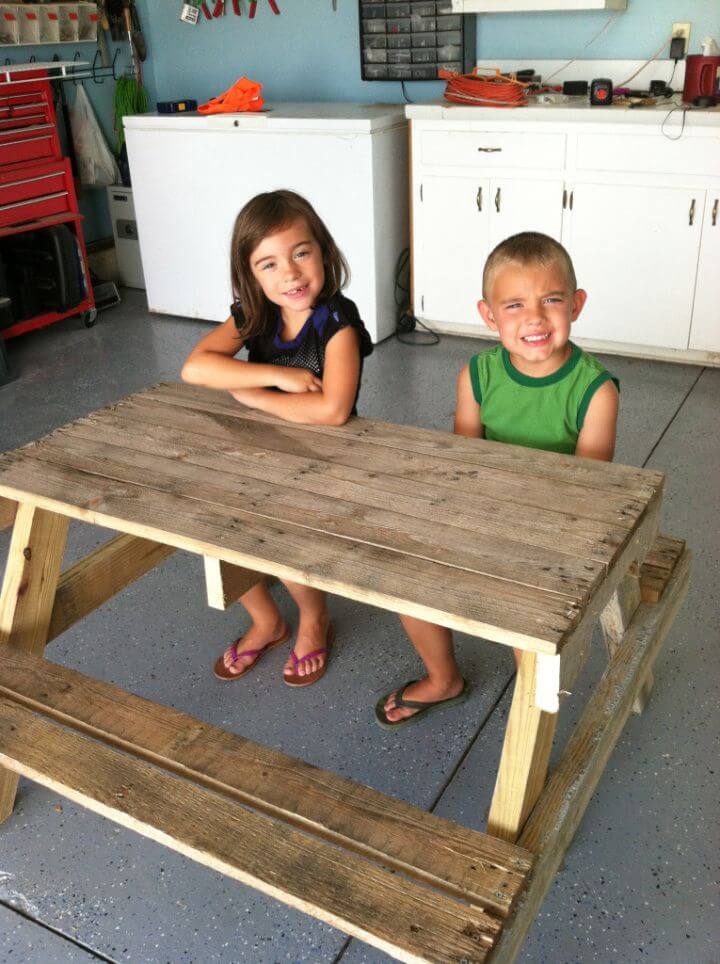 Want your kids to stay longer outdoor than build this wooden pallet picnic table that will be a fun reason to indulge the kids in outdoor fun activities!
Use pallet deck boards and stringer boards to build it! needlesandnailsblog
How to Make Outdoor Pallet Sofa: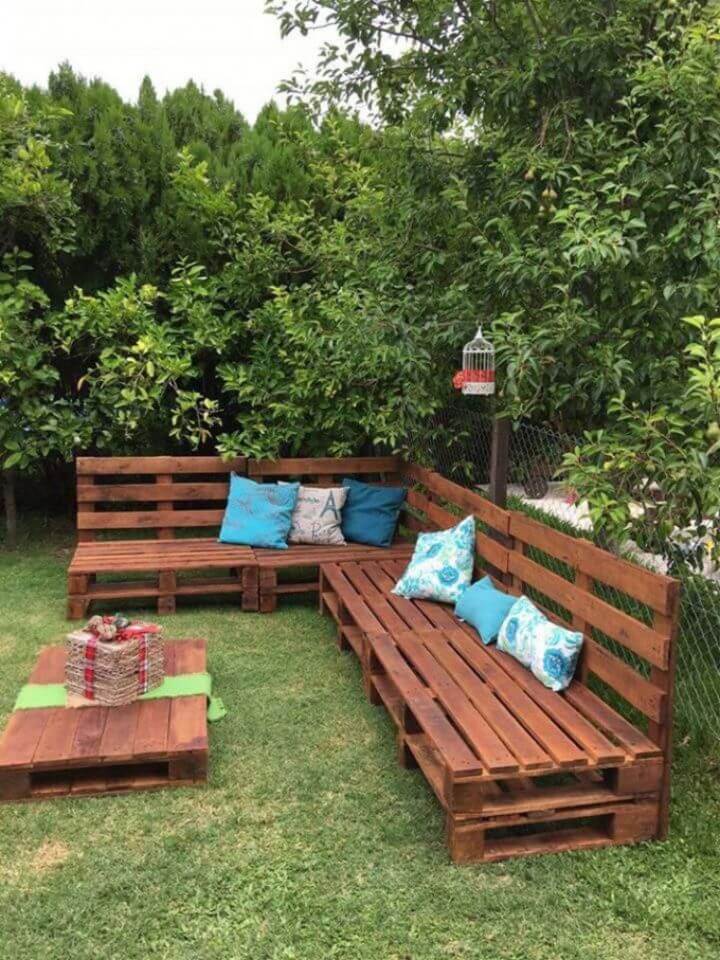 Make every of your stay at outdoor special by building this grand L-shape wooden sofa set with pallets! It will be zero in the cost price and will be super quick to build also!
Stack 2 pallets for a seat and use a single pallet board with removed dice section as a backrest! Pretty simple and easy peasy! DIY Pallet Sofa
Pallet Mud Outdoor Kitchen for Kids: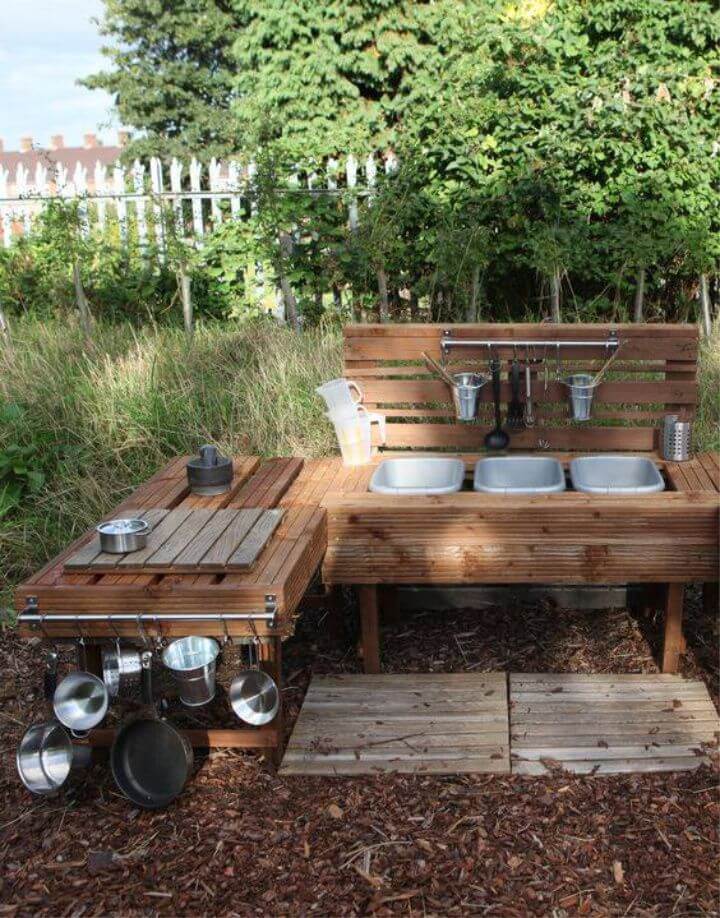 Boost also the fun outdoor activities of your kids by building the fantastic play kitchen with free pallets! Another great pallet furniture idea for kids!
Look at this sample homemade pallet play kitchen sample that also comes with utensil racks! fazeleypreschool
Outdoor L-shaped Counter Top From Pallets: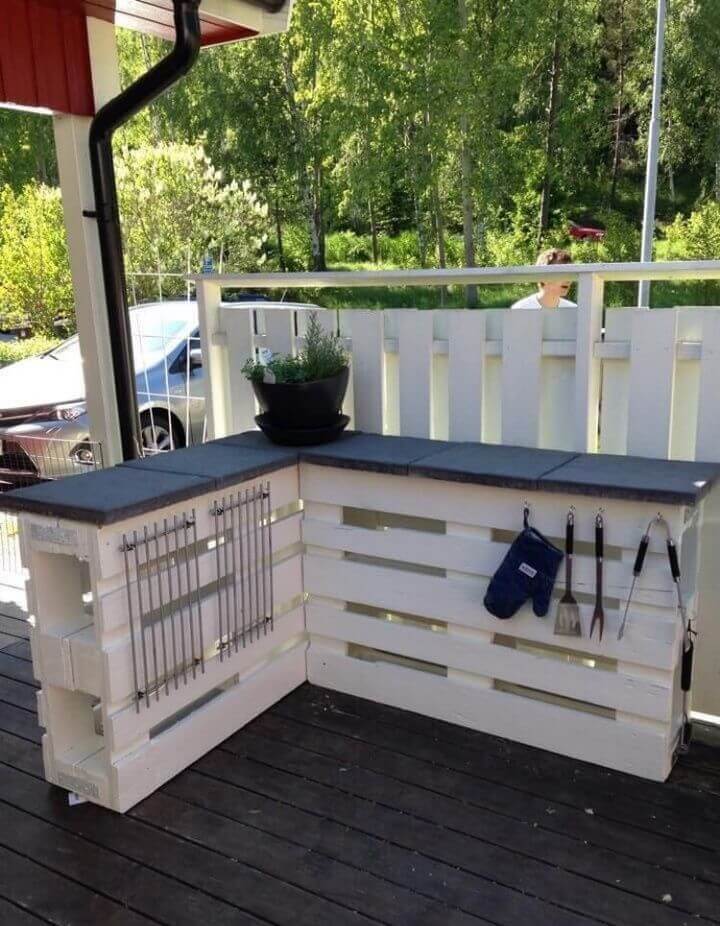 Whether you are willing to build an outdoor kitchen, a bar, or a BBQ grill, this L-shaped countertop will be in your need-list!
It is super easy to build and made with pallets vertically put together in L-shape and finished with a lovely countertop!
Use both concrete tiles and wooden boards for the flat and solid countertop!
DIY Pallet Lemonade Stand: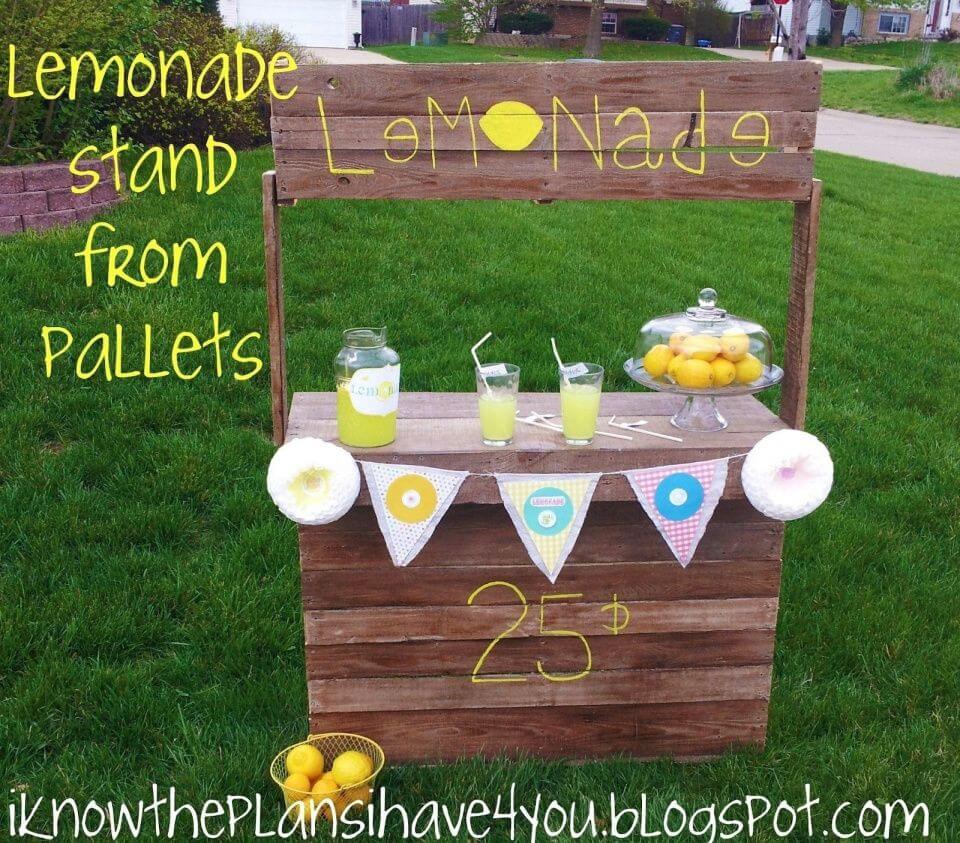 Help your kids to start their own business by building a cool wooden lemonade stand with pallets!
If you need to look at a ready-made sample,, look at this given one that also comes with a nameplate and is wholly made of pallet wood slats! iknowtheplansihave4you
Make Pallet Wood Patio Chair: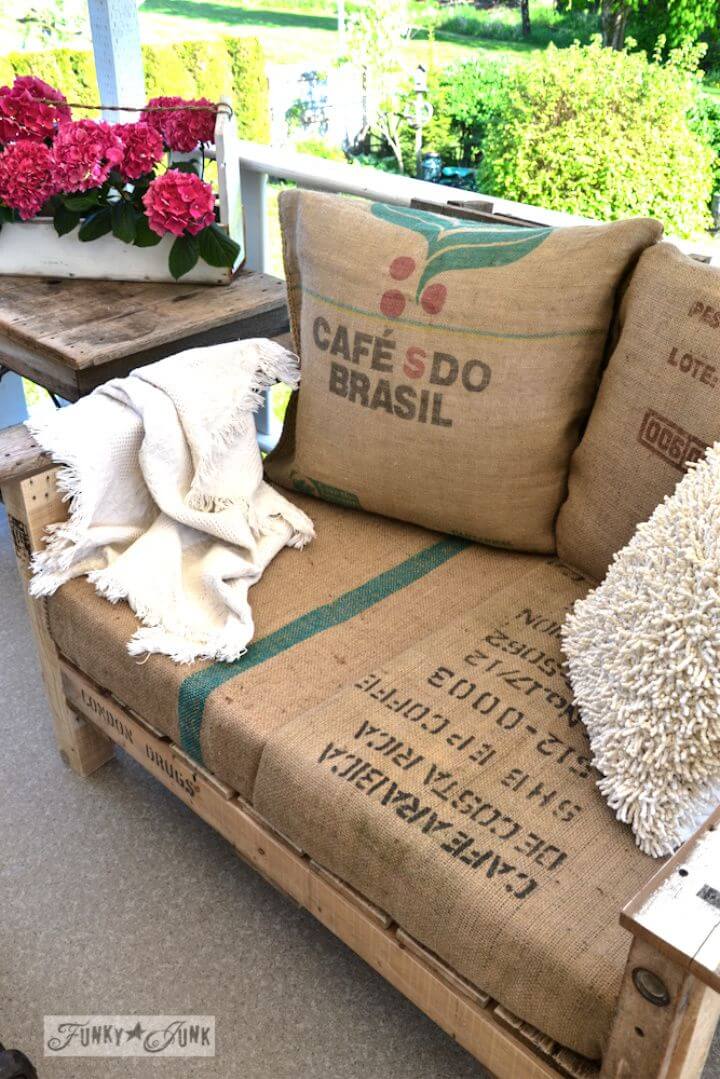 If you take great pleasure in sitting at the patio, then you will definitely like this wooden pallet patio chair that will be as simple as ABC to build with pallets!
Comfy it up with burlap cushion and gain a super rustic patio chair! funkyjunkinteriors
Amazing DIY Pallet Lounge Tree Swing: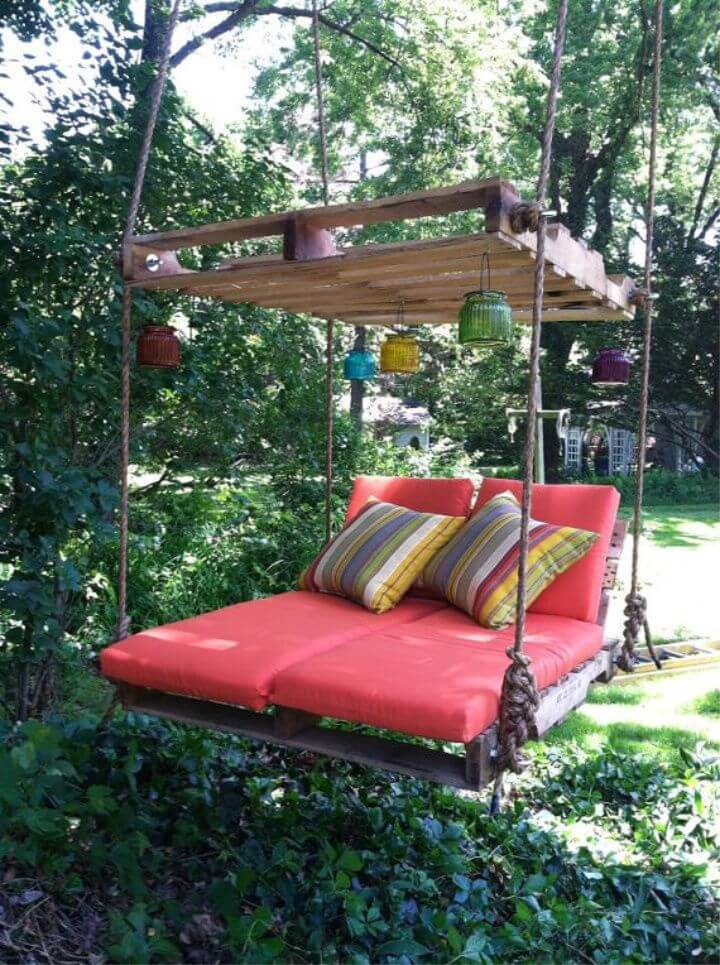 Sitting, laying down, and relaxing at this tree lounge swing would be total heaven, another great pallet furniture ideas!
Build a seat and hang it up in the air using rope and then add another pallet as a roof on which you can also hang the colorful lanterns, as you can see! imgur
Inexpensive DIY Two Pallet Potting Bench: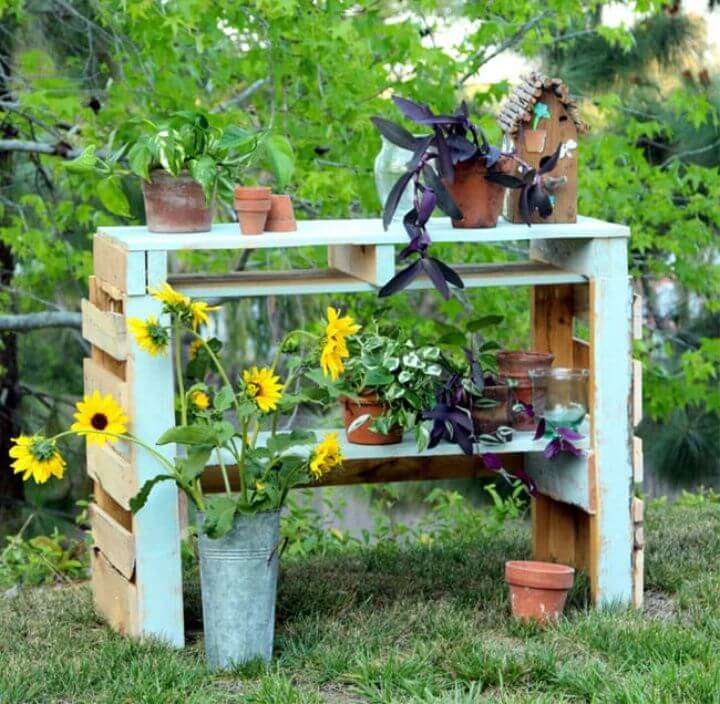 You can do wonders with the free recycled pallets, build this adorable wooden potting bench using only two pallets, and it will make a great display station for your garden pots and will also come in handy to do some quick garden repairs! apieceofrainbow
How to Turn Pallet Into an Outdoor Patio Bench: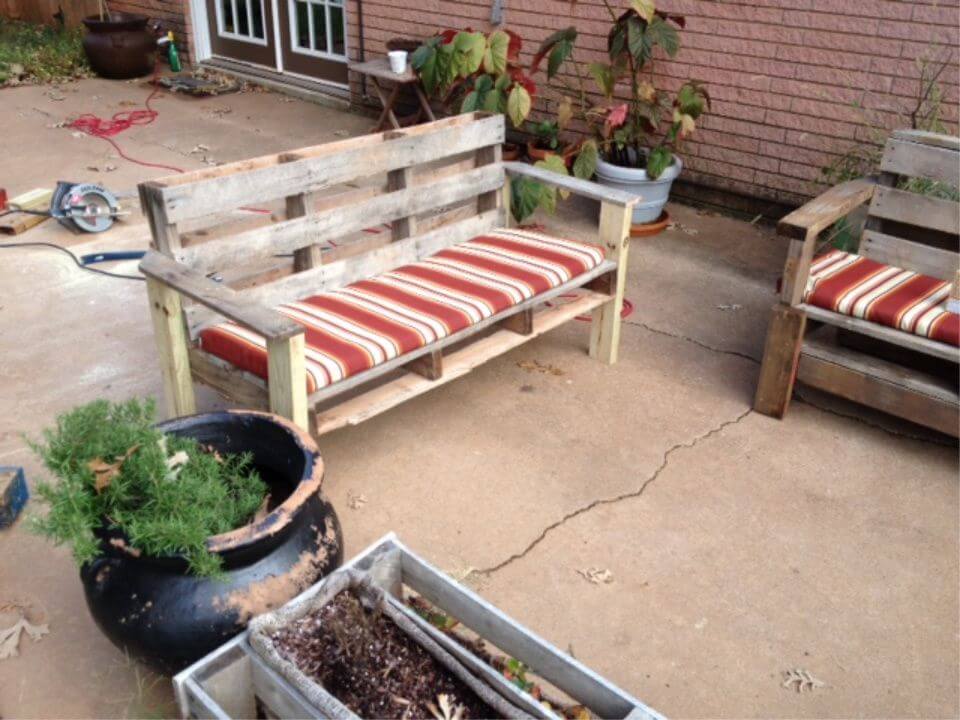 Again build an L-shape out of custom-cut pallet sizes and then add them up with legs and armrests and build lasting longer patio benches or sofas!
Add seat mattresses to make them look great outdoor! rkblack
DIY Outdoor Pallet Board Bed Swing:
Look at this another smartly build wooden pallet bed swing that comes with super soft pool noodle side rails and is super easy to make also!
Here a giant size of a pallet has been brought in the air using rope, and then it has been cushioned nicely! isavea2z
How to Build an Outdoor Pallet Table: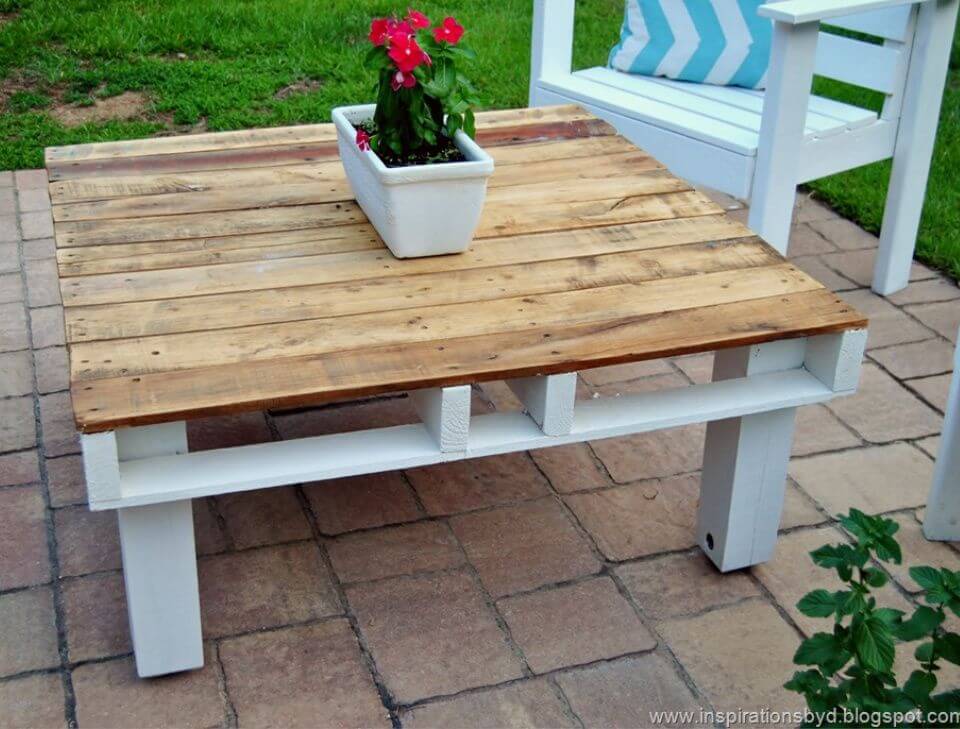 Build all sorts of outdoor furniture with pallets. Create a complete look of your outdoor sitting furniture plans by adding this wooden pallet coffee table in the center that is quick to build, simply finish a square pallet with durable wooden legs! inspirationsbyd
Build a Pallet Daybed:
Grab the plumbing pipe scrap, one or two huge pallets, caster wheels, and a lovely mattress to build this outstanding pallet daybed that will bring great comfort to your outdoor life!
Add up the pallet with rolling wheels legs and also with metal pipe armrests and side fencing! prettyprudent
How to Make Pallet Chair: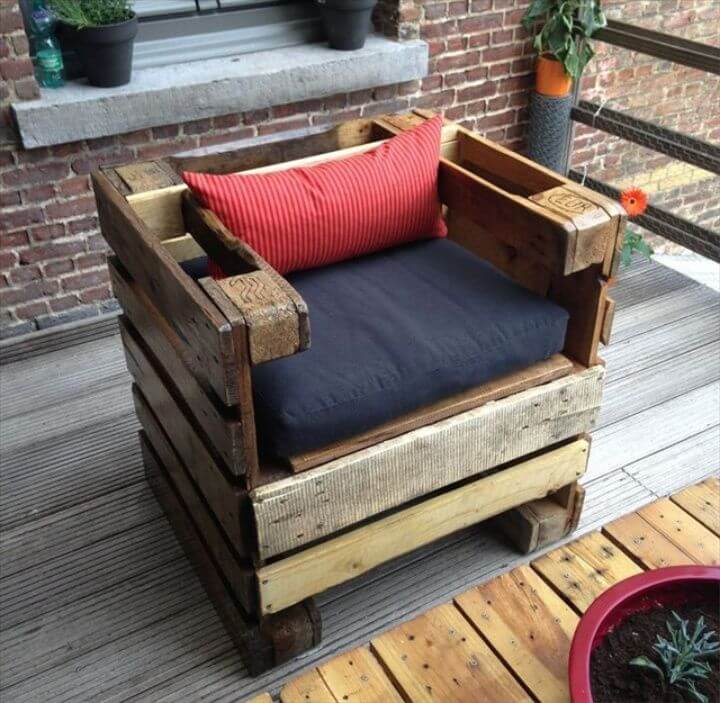 Feel like a boss by sitting in this miniature pallet chair that is durable and has been cushioned nicely!
Use the miniature pallet sizes to build this chair that will rock at both indoor and outdoor spaces!
Wooden Pallet Adirondack Chair: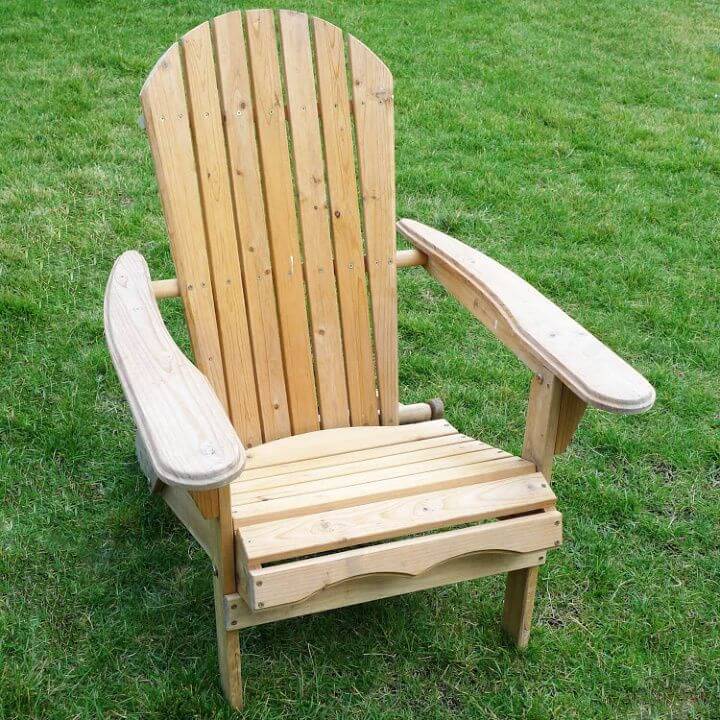 If you just can't live without looking the nature and naturally occurring scenes around, then do build this Adirondack chair with pallets that will allow you to enjoy the outdoors and greenery all around in a super comfortable way!
Here is how to make it with pallets! homestratosphere
DIY Hanging Lounger from Recycled Pallets: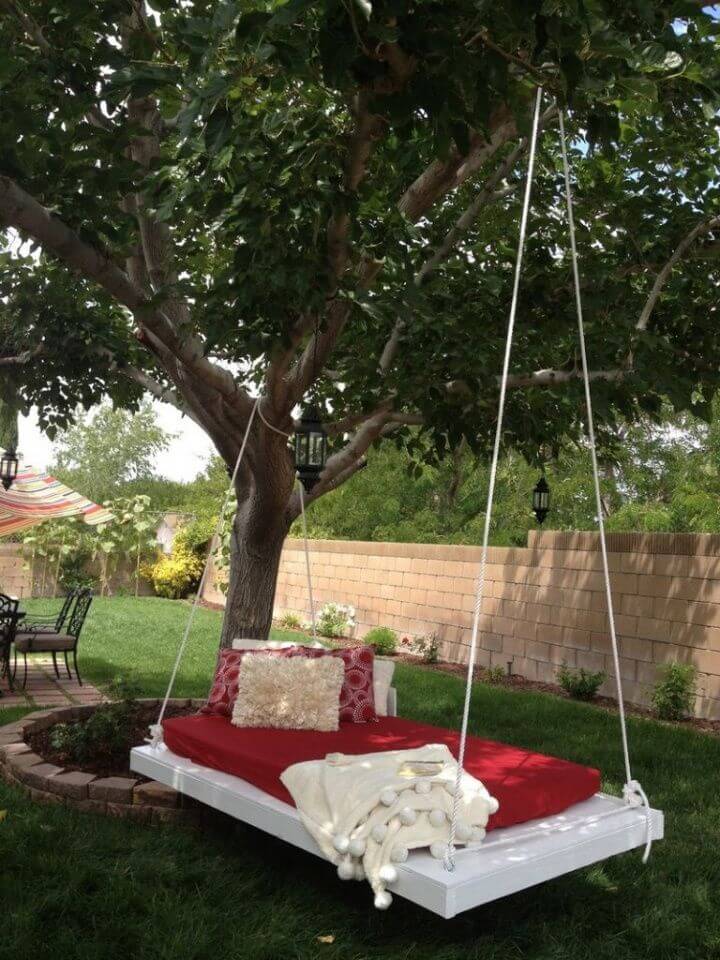 Hang a large pallet on the tree branches using heavy-duty rope and then add a seat mattress to it and gain a lovely hanging pallet lounger or swing bed that will be a super relaxing nook at your outdoors!
Build a Pallet Coffee Table:
One of the easiest pallet projects is to build a coffee table, you can make a coffee table using a single, two, or three pallets, and all you need is just to stack them! Clone this given model using only two pallets, and it will also be storage-friendly! bhg
Adorable DIY Pallet Couch and Table with Wheels: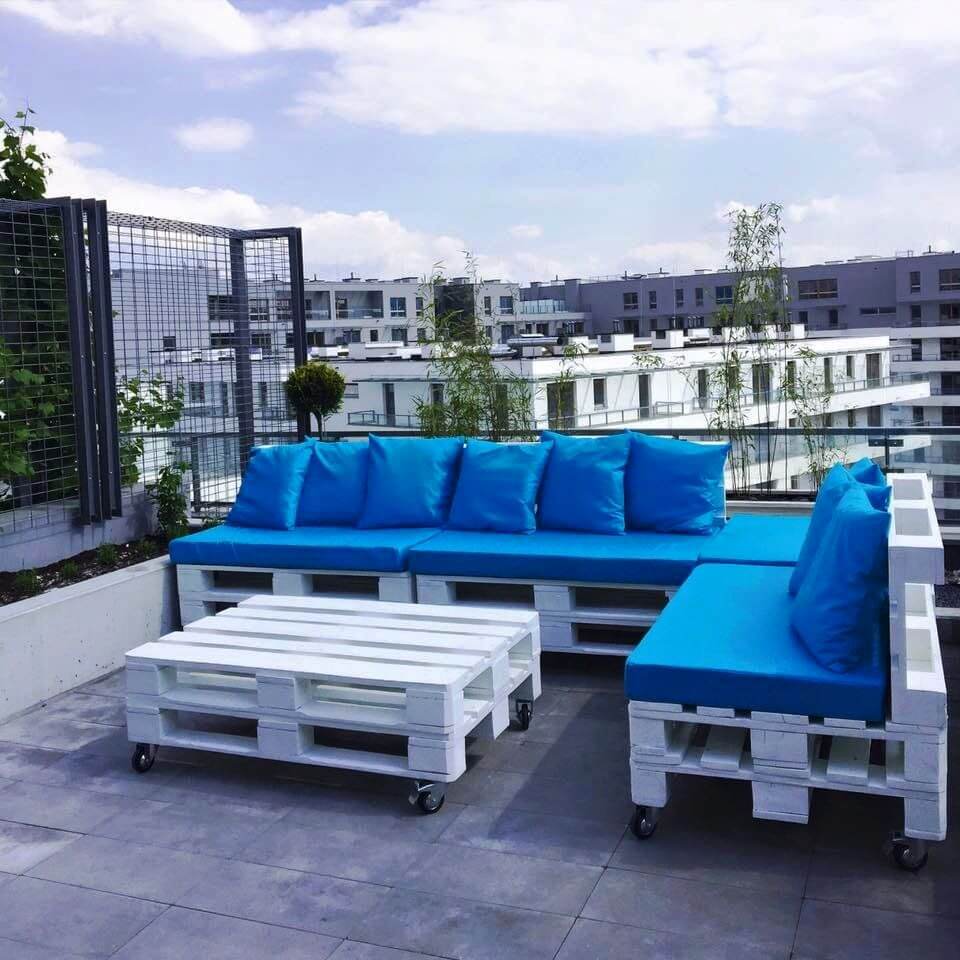 Is it sorting out the perfect sitting furniture set to organize your terrace or balcony space? Then do make exceptionally beautiful ones at home using free recycled pallets! Look at this amazing L-shape white and blue pallet sofa set on the wheel and is super easy to put together using pallet skids!
Build a Pallet Wood Deck Cooler: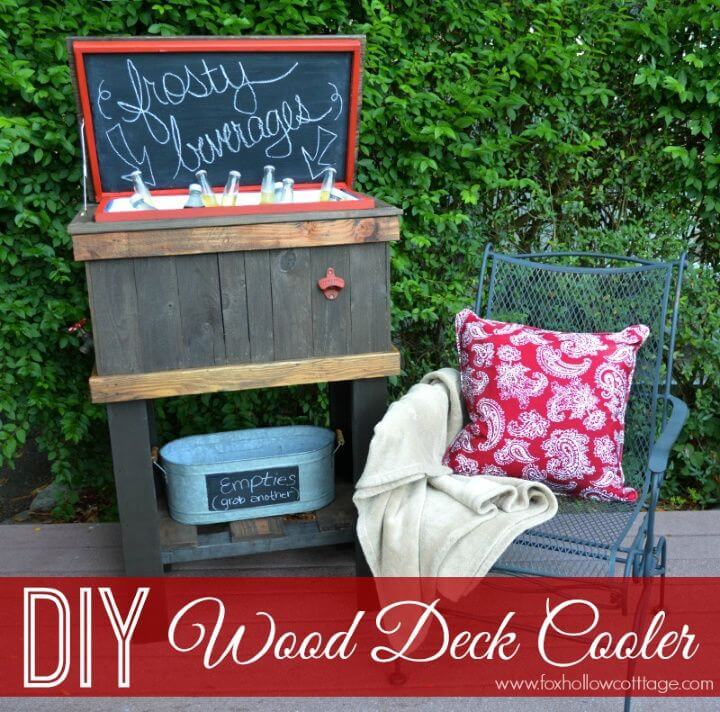 A perfect solution for the freezer that you can drag to any outdoor where you can't get a fridge!
This is here a lovely wooden pallet deck cooler that you can easily make using pallet wood slats and a plastic igloo cooler! foxhollowcottage
Build Your Own Pallet Garden Loungers: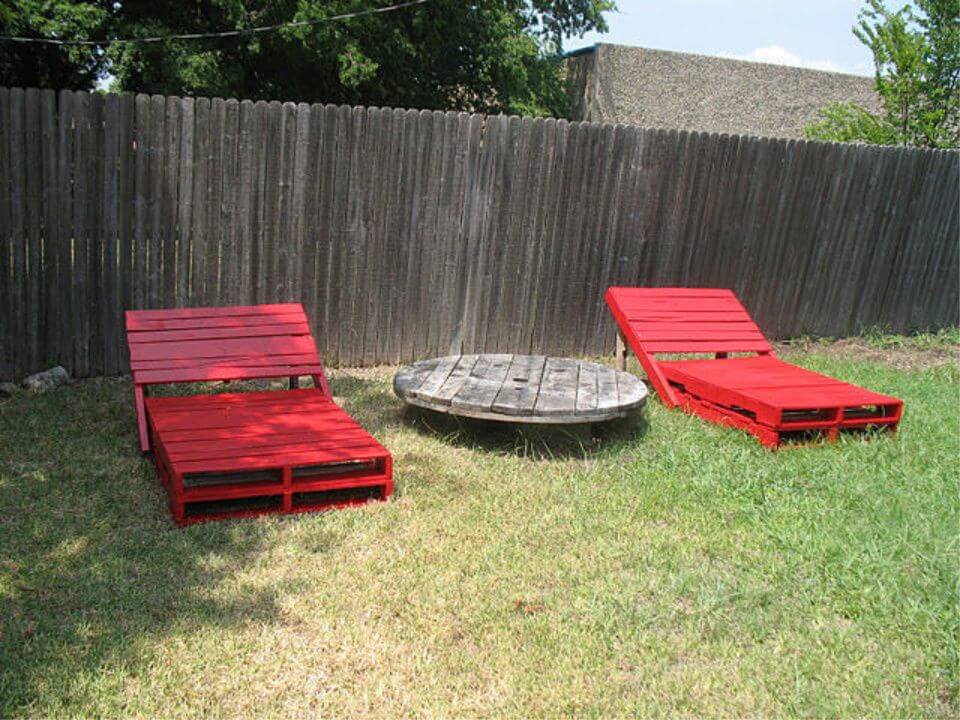 Enjoy the poolside or any sunny outdoor by laying down on these wooden pallet loungers, painted in red, and comes with raised backs and are super quick and easy to build!
A giant spool wheel in the center makes a great side table! instructables
DIY Outdoor Pallet Couch:
This is something fantastic for the outdoor lovers who take great pleasure in sitting outdoor, a handmade wooden pallet couch, stained for a dark choco appeal, and looks superb with the lovely cushion and seat mattress! hellocreativefamily
Make Your Own Garden Pallets Furniture Set: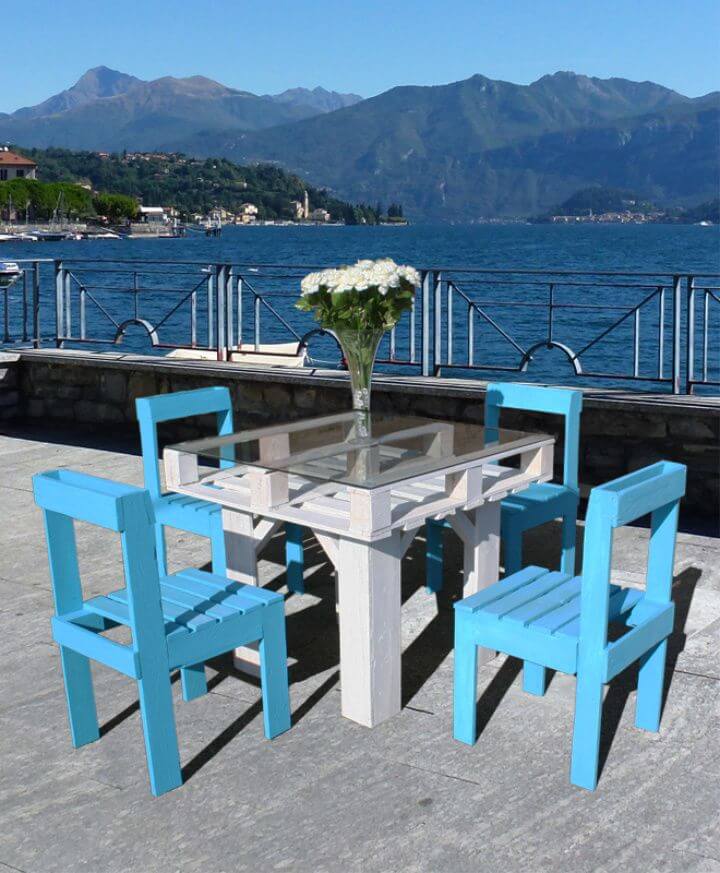 It is super easy to build chairs and tables out of a pallet, and hence you can build all sorts of sitting furniture sets with pallets just like this given one that will rock for kids!
It is painted in blue and white! hometalk
Inexpensive DIY Outdoor Pallet Furniture: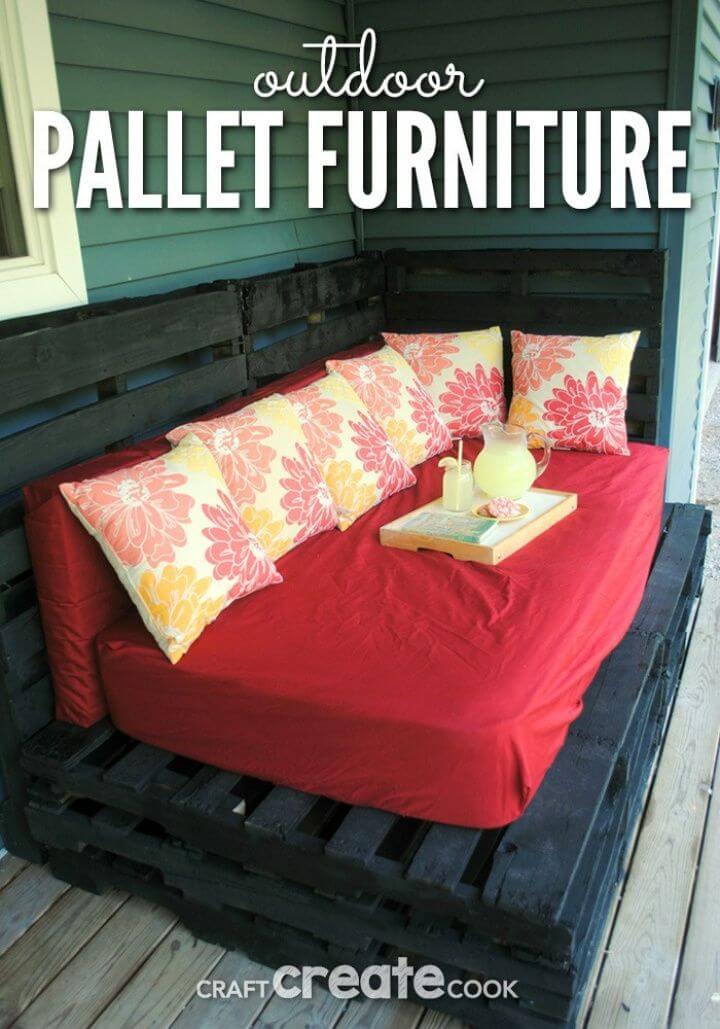 A perfect daybed for your porch and a lovely couch for your patio, a piece of superb pallet-made sitting furniture that comes with a bed mattress and its constructions is all about to stack some pallets up!
Pretty simple and quick! craftcreatecook
Gorgeous DIY Pallet Outdoor Dining Table: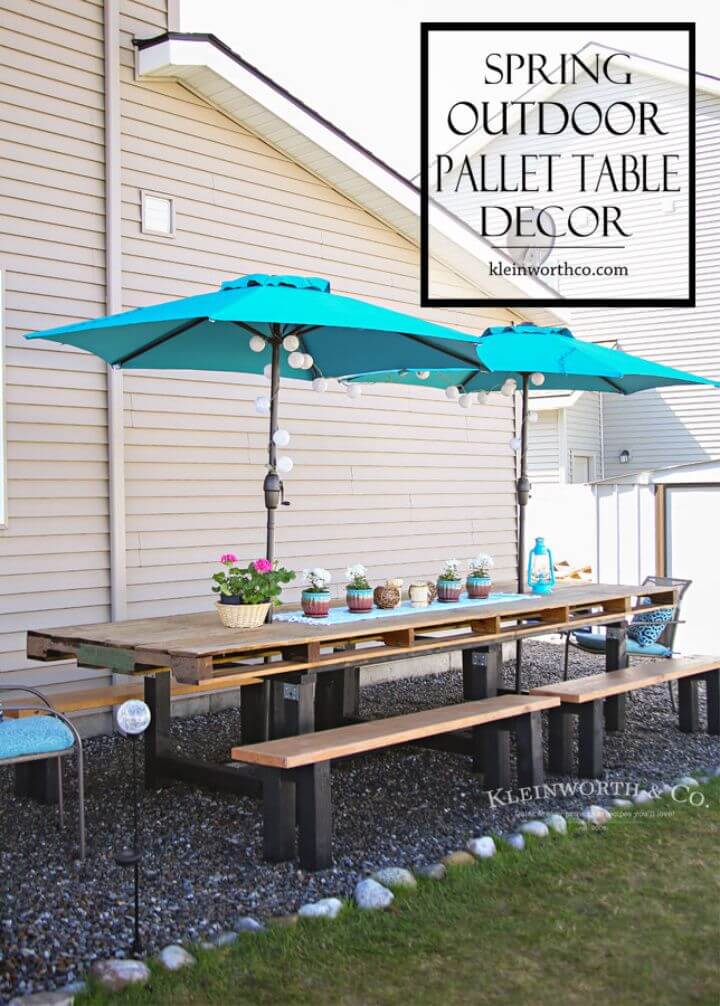 Willing to enjoy great dinners at your outdoor? Then it will demand a lovely dining furniture set and also get it from the recycled free pallets!
Finish a huge slim pallet and wooden shelving boards with custom legs to build a dining table and matching benches, respectively, as you can see! kleinworthco
DIY Outdoor Pallet Sofa: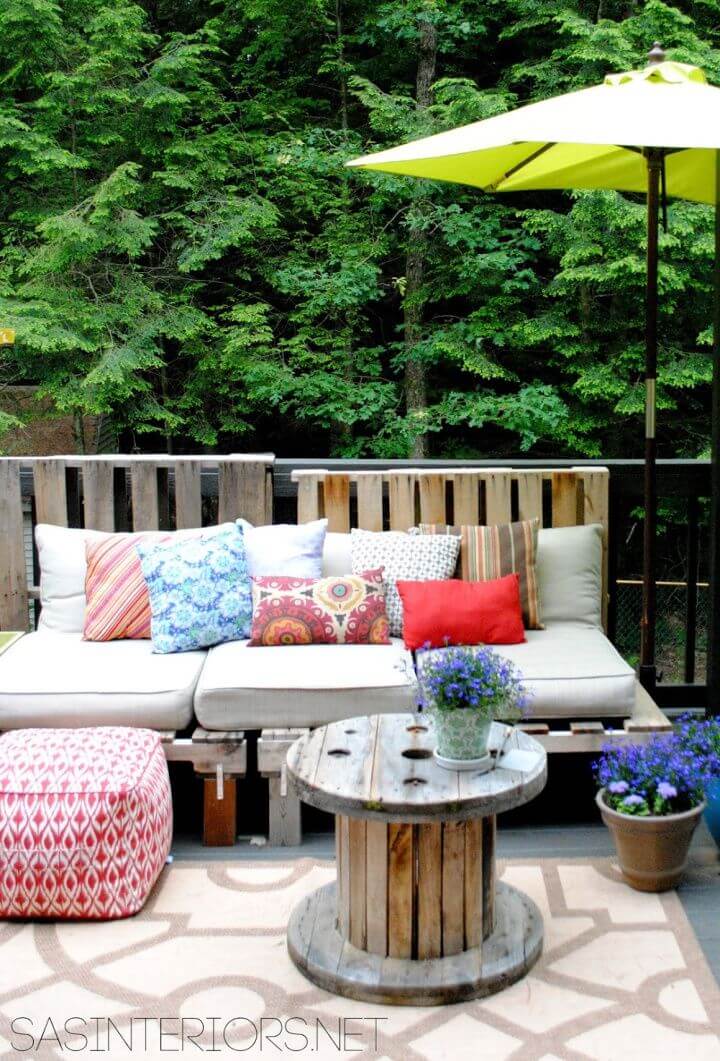 Willing to gain a perfect sitting area at your outdoor then you only need this quick-to-build wooden pallet sofa that will be as simple as ABC to build with a few of pallet skids which you can pile up and finish with a mattress! Upcycle wood spools to serve as side tables! jennaburger
Outdoor Sofa and Bench Using Pallets: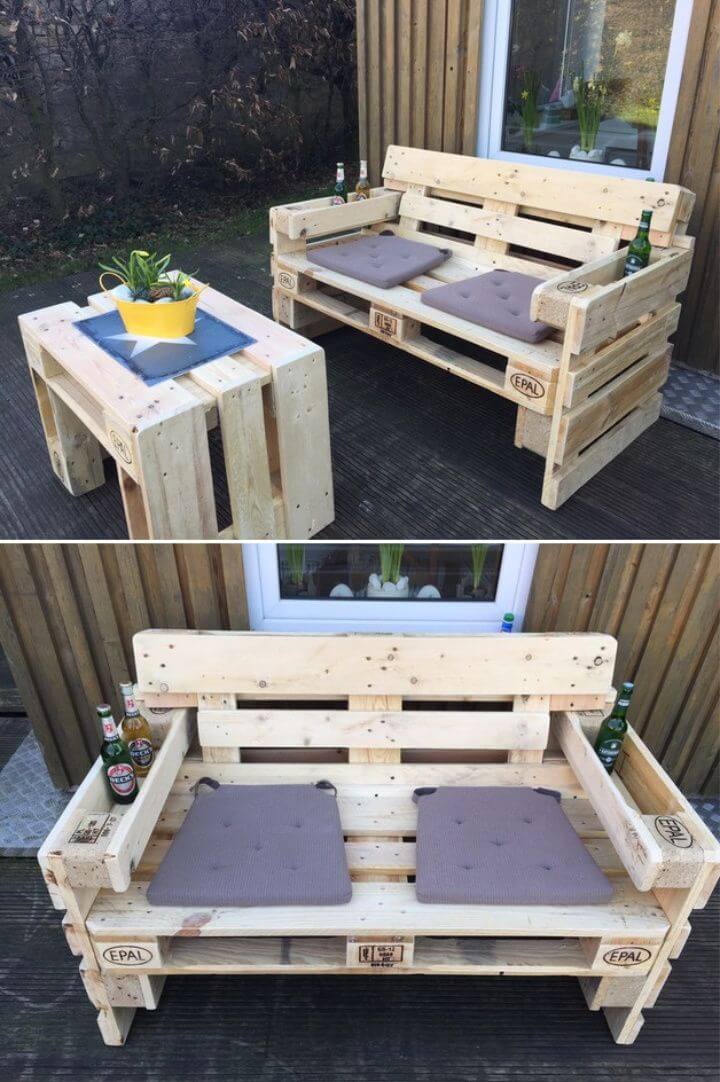 Look at this another fantastic and adorable pallet furniture creation, a sofa and a coffee table. Both can be put together to gain a perfect sitting set. Here the sofa also provides drink bottle holders in armrests! A project to do with EPAL pallets! Pallet Sofa
How to Make Pallet Seating: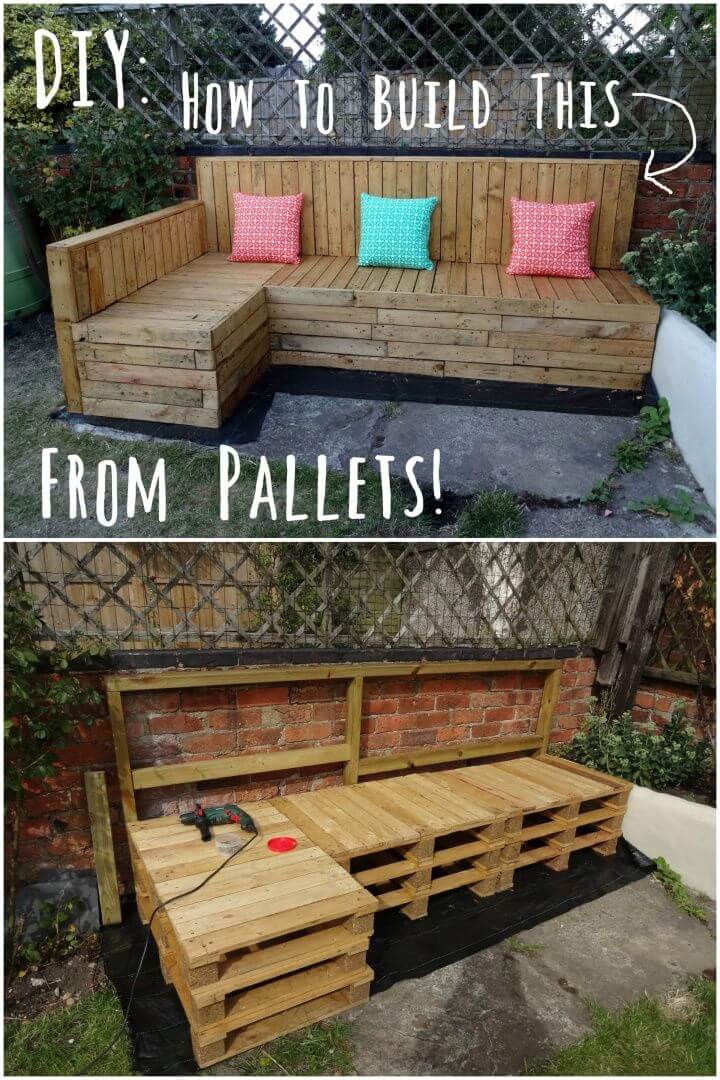 Stack the pallets in L-shape, adding the vertical backrest, and then use extra pallet slats from dismantled pallets to fill them solid and gain a durable block style corner sofa which you can cushion for a luxurious seating at outdoor! kezzabeth
Faux Pallet Wood Surfboard Coffee Table: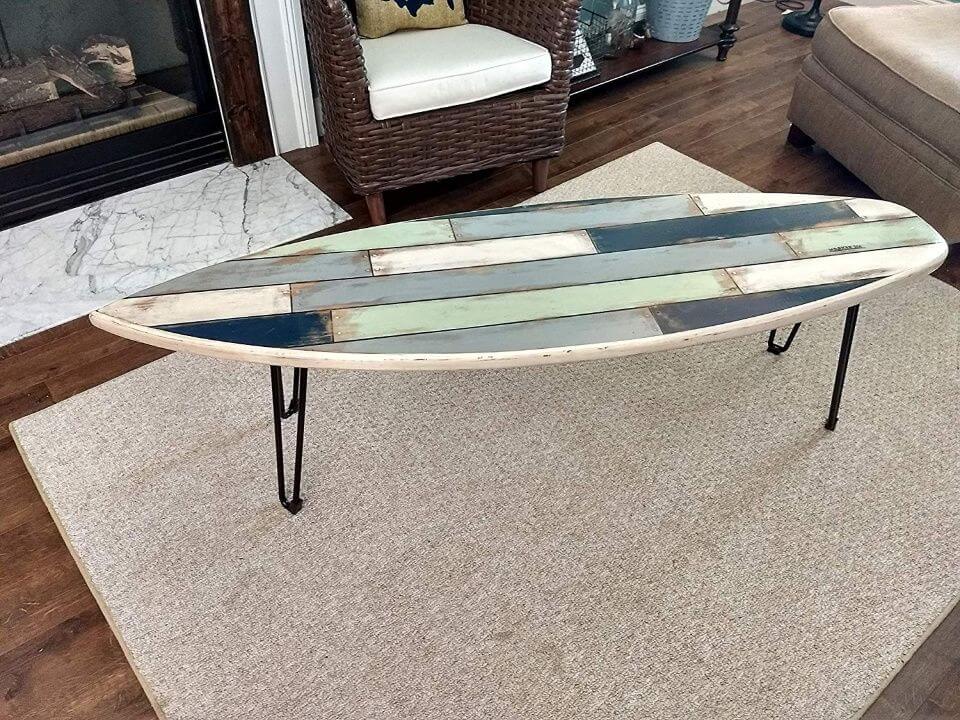 Bring the beach to your outdoor by making this faux wooden surfboard coffee table with pallets, which will be super quick and easy to build and comes on metal hairpin legs!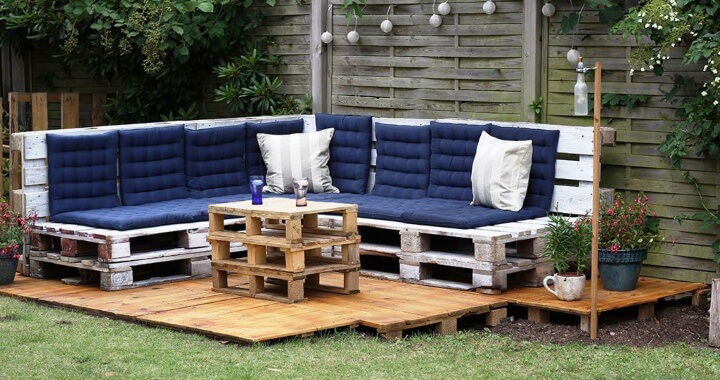 It will make a great centerpiece to every sitting plan due to its arresting design! We've found some of the best Pallet Ideas here!