The scroll saw must be added in your workshop if are you having a great knack for intarsia wood projects. Cutting intricate details, patterns and doing all sorts of designing on the wood has been made easier with the scroll saw and accuracy is guaranteed to be in your finally finished products. Here we are sharing these 15 free scroll saw projects that involve adding elegant designs to complex wood patterns on the wood with great ease. A scroll saw is a most loved tool for a wood artist to do easy wood designing projects in a neat way. These scroll saw projects will really make you meet with the accuracy potential of this amazing wood saw. It has made the wood cutting easier in every way like for cutting out different shapes in the wood and also to cut out the joints like dovetail joints.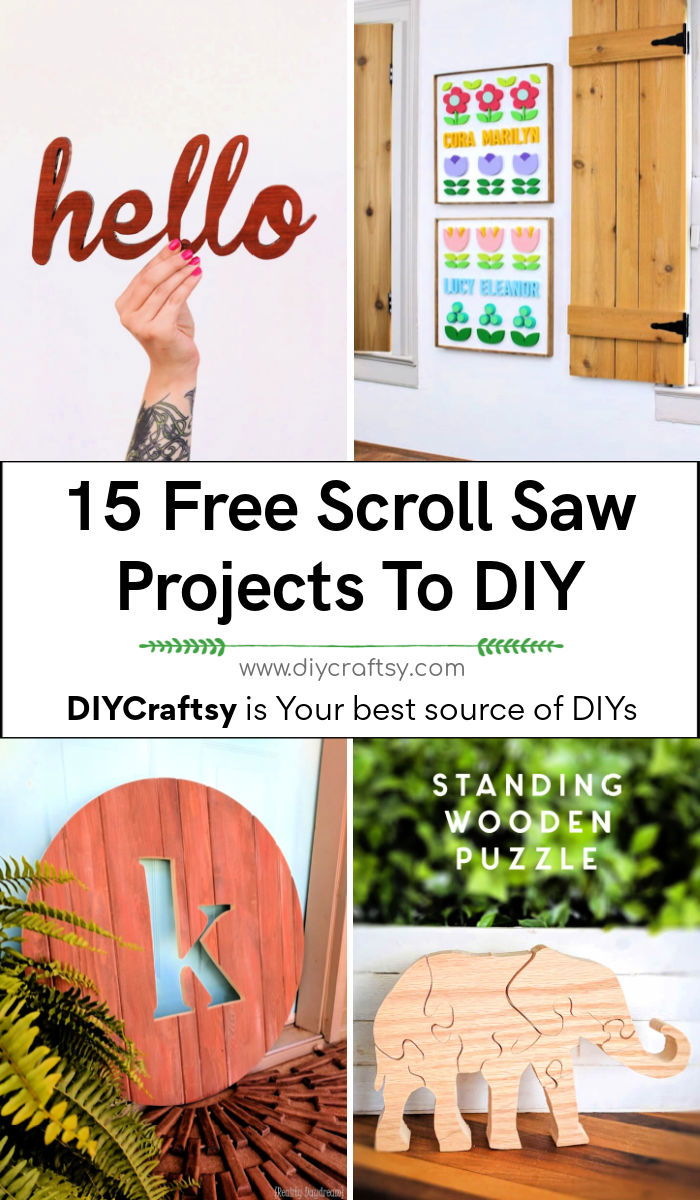 This tool will really work great when you need to cut out precious wooden letters, art shapes and every design that you can't cut out using a normal saw. Bring woodworking to the next level with these DIY scroll saw projects, the right tool got for the neatest and precise wood cuttings.
While exploring these scroll saw patterns, you will find step-by-step guides, visual tutorials and instructions to make cool kitchen ornaments to fantastic wall art signs and also the cool everyday stuff with amazing artistic details.
1. DIY Wooden Sign Using Scroll Saw
Green every guest and family with this "Hello" wood sign, cut accurately out of a wooden board using a scroll saw. Use a template to trace out the letters on the wood, cut them out, sand and stain for a subtle finish, and then hang them on the wall as a gorgeous wooden letter art. Make it also a part of your wreaths. poppytalk
2. How to Make Botanical Trivets

Vegetable and fruit-inspired decor go best to a kitchen. Look at these masterpieces, created with a scroll saw, the botanical trivets, are super easy to cut out. Everyone will love to glare at these botanical trivets, the best way to bring greenery to your kitchen. Do tracing using botanical templates, cut them out with the magical scroll saw, and then paint in green. Complete how-to guides here realitydaydream
3. Pretty DIY Scroll Saw Name Plaques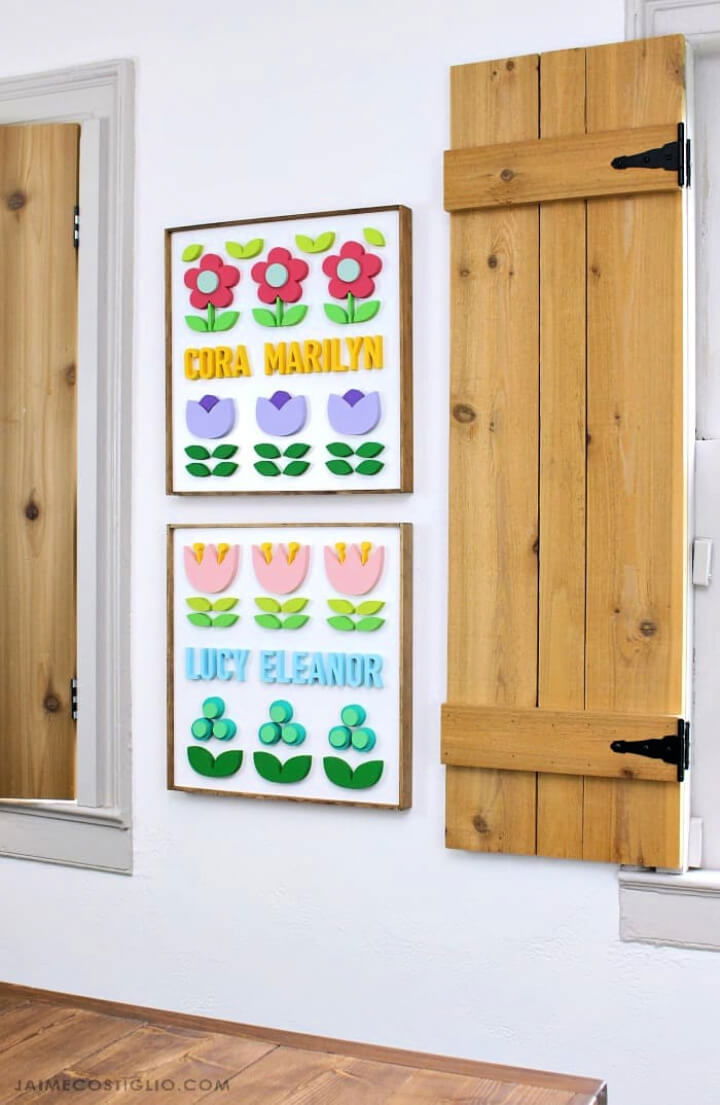 Get helped by the scroll saw also to make cool 3D art frames, which will make you outstanding by DIY wall decor trends. Cut your letters and flowers out of the MDF board using a template, and also the Ryobi scroll saw. Use an adhesive to glue all the cut out shapes on a wooden board, add trim or molding to get a 3D flower, and lettered wall art signs. Complete how-to guides here jaimecostiglio
4. Standing Wooden Elephant Puzzle

Do also some great fun projects using a scroll saw. Trace and cut a wooden elephant shape that you can further cut as parts of a puzzle, creating a puzzle game for the kids. Have a peek at the given sample that can stand alone, paint it to serve also as a home decor when not in kids' hands to play with. uglyduckling
5. DIY Circle Monogram Pallet Sign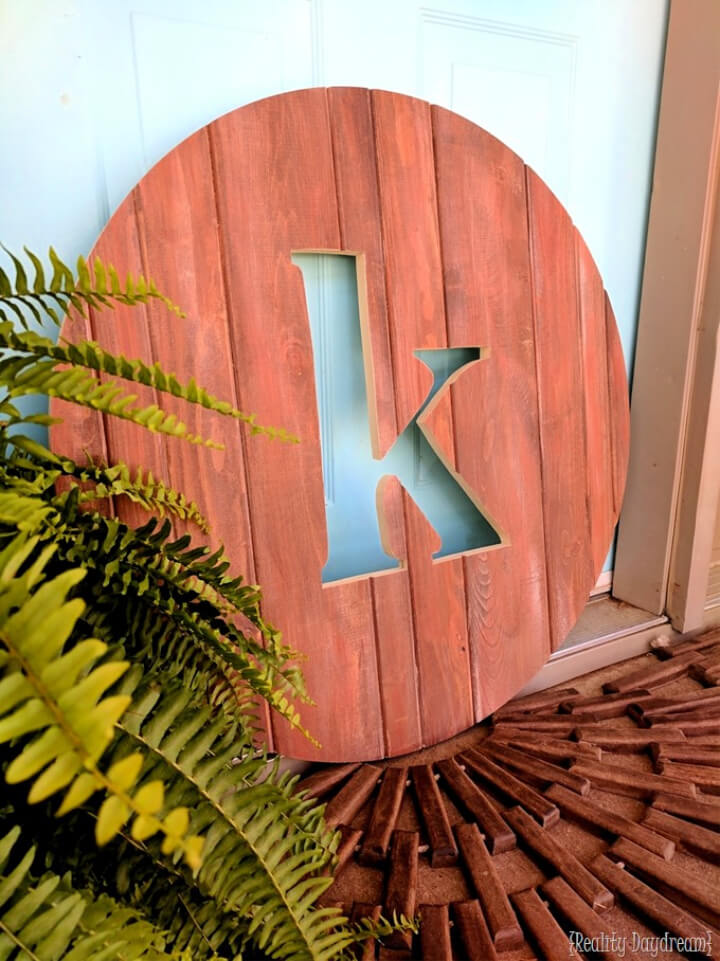 Rock your porch and any patio area with this monogrammed pallet signs, having a "K" letter cut out with the help of a scroll saw. Put the pallet wood slats together, shaping up a wood board, cut a big round of it. Trace your letter and finish the rest of the project with a scroll saw of choice. A wall art monogram sign will help create a personal statement. realitydaydream
6. Sports Medal Holder Using the Scroll Saw

Encourage little sportsmen in the home more by hanging their won medals on the focally stimulating wall. Use the scroll saw to cut out wood name letters and some sports equipment art like balls, bats, baseballs, and even a golf stick. Add the knobs to the very bottom side to hang the medal. hazelandgold
7. Make Scroll Saw Cell Phone Stand

The scroll saw allows you to cut even wood of every thickness in any desired shape. The rest of the story will tell this bird-inspired cell phone stand. A smart scroll saw creation. Painted and polka-dotted cell phone stand to make quickly right in your workshop. It provides a mobile phone holder on its tail. tamarasjoy
8. Decorative Wooden Bookends with a Scroll Saw

Cutting intricate designs and patterns is more comfortable using a scroll saw. Cut the swirls out of wood slats using some templates with accurate details. Use them, making the artistic design of bookends, can be finished weathered for an antique appeal. Another big thanks to scroll saw and creativity for this adorable creation. jenwoodhouse
9. Make Your Own Wooden Bowl

Another big scroll saw secrete to reveal here finally, the wooden bowl, a flawless scroll saw creation ever done. The red and white inlay line strips in the bowl go great with the wood appeal of the appeal. Finishing for a sleek, gorgeous appeal will make it look more decorative. rockler
10. Band Saw-Style Lidded Box

Precise cuttings with scroll saw can also make you get this lidded box, perfect for storing your precious but mini keepsakes. You have to cut the solid and hollow owl shapes out of wooden boards that you can glue together, making this saw-style lidded box. It will also make a stunning wooden gift box. Complete tutorial here woodworkers
11. How to Cut Letters Using a Scroll Saw

Do a stylish remodel of your interior home walls with these 3D letter wall art signs. The whole credit goes to scroll saw for cutting the letters out in precious. Paint your letter in any color that will compliment your room decor style, and put together letters on the wall. Personalization of interior home walls made easier with a scroll saw. sewwoodsy
12. DIY Butcher Block 'Utensil' Trivet

Kitchen decor matters when you strive for style in everything. Craft this expensive-looking butcher block "Utensil" trivet using a scroll saw, features different tones of wood. The thickness adds extra durability, and variable tones of wood will work great to style it up more. A unique gift also to make with a scroll saw. realitydaydream
13. Homemade Scroll Saw Mug

Cut out solid wood discs and hollowed out a wood ring out of a wooden board using a scroll saw. Stack wood rings or mini hoops while gluing at the same time, finish with a round wood disc bottom. Add the handle and sand the inside and outside for the best results. An impressive coffee lover gift to make with a scroll saw. youtube
14. Pocket Stuff Dish – Scroll Saw Pattern

Scroll saw is a revolutionary and magical tool in woodwork history. It has new creative dimensions to the way of doing woodworks. Now you can also make cool utensils with wood with sufficient inside depth. Look at this pocket stuff dish that is all about cutting arched lengths of wood that can be glued together for making this dish. Cut out also some fall leaf accents out of leftover wood to put in front of it. scrollsawwork
15. DIY Corbels for a Breakfast Bar

The hottest wooden project to do with the scroll saw, also make decorative corbels out of the wood of choice using a design template and scroll saw. Make this pair of corbels to support a breakfast countertop or a shelf on the wall. Rest of details here realitydaydream