Personal adornments are of the affairs that all style lovers take seriously! The fashion enthusiasts can mostly be seen busy in conversations about the latest fashion trends, the new jewelry designs and also about how to gain unique and bigger fashion statements! However, if you are to talk about the fashion jewelry then you just can't overlook the DIY bracelets that are mostly to wear as forearm jewelry or charm and their various custom designs can be used to boost your fashion and style also! Bracelets are one of the most worn jewelry items that are equally popular in both genres! Moreover, they can also add a glam finishing touch to any of your fashion outfit!
It can really get expensive to buy a designer style bracelet from a shop you look at for a long time! So, instead of spending too much fortune, why not make your own fashion-worthy and designer-style bracelets at home? This will cost you less and the results would be amazing! So, just to make you professional bracelet maker, we have shared here the 143 easy DIY Bracelets that are full of creative hacks and will let you know all the jewelry making secrets that you are intending to unveil from a long long time! Whether you are looking for a statement bracelet and intending to wear a visually attractive cuff around your wrist, these ideas will help you to make any custom style of bracelet you are a big fan of!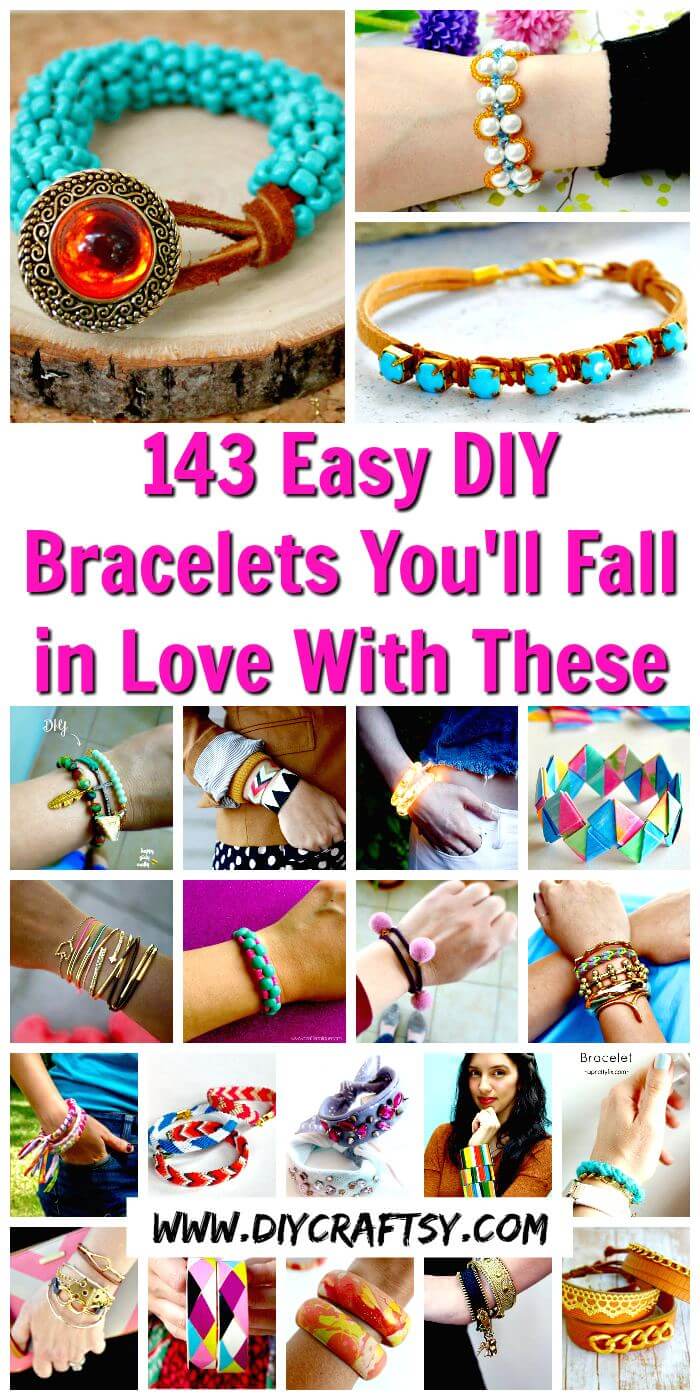 Connect together the glass cabochons through jump rings and metal chain and make modern glam necklaces! Finish a custom length of leather or simple cord with magnetic ending clasps and make great looking bracelets at just a drop of the hat! Get also crafty with the leather cord and rhinestones to make amazing statement necklaces for yourself and also for your beloved ones! Check out some brilliant samples are given below!
Bring a vintage touch to your personality by wearing the vintage bracelets that can easily be made using vintage buttons and metal chain and boost your bohemian fashion by wearing the special boho bracelets around your writs, the given goddess turquoise wrapped bracelet is a brilliant example of it! Adorn your writs also by wearing the custom leather cuff bracelets and also go smartly handmade with zippers to make cool metal glam bracelets in no time! Braid the studded cords to make modern bracelets and also braid the leather cords for vintage-inspired DIY bracelets!
More DIY Ideas You May Love:
Here you will also be guided comprehensively that what type of jewelry hardware to use for the bracelets for extra durability, charm, and grace! Using lobster clasp, ending cup, button snaps, jump rings, and magnetic snaps would just be the rocking choices to finish your bracelets! Moreover, you will also be given the tons of ideas about how to use best-looking charms for your bracelets and how to add them to your bracelets beautifully without sacrificing the style of your bracelet!
Check out too much more by browsing the entire list and don't forget to check out the complete visual tutorial and instructions for your favorite bracelet projects which are hidden in the given source links!
Beautiful DIY Glass Cabochon Bracelet: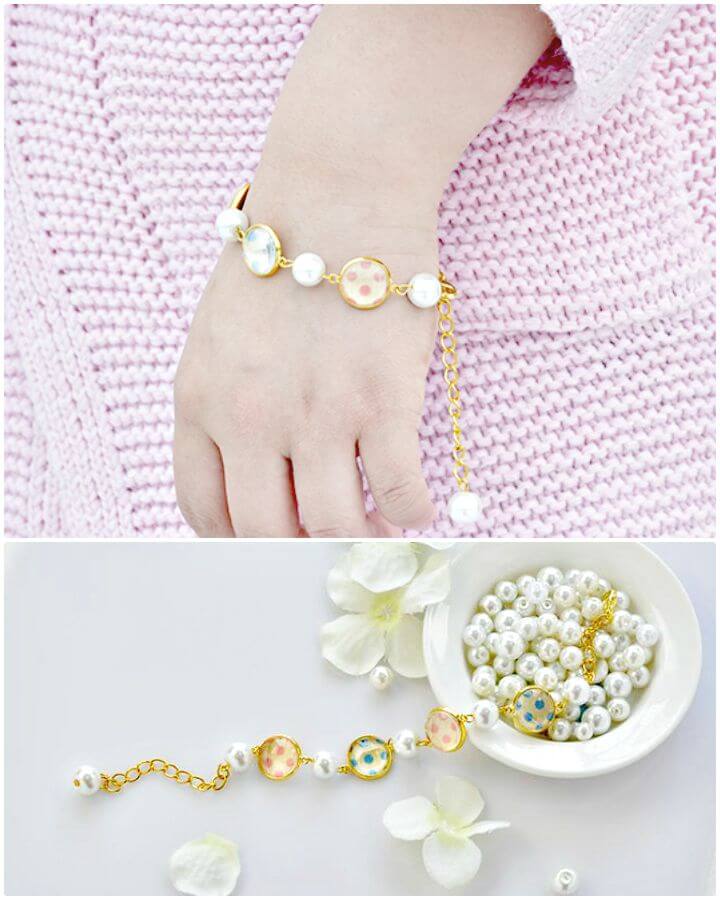 Make the professional looking bracelets at home that you see in the jewelry shops! Just check out here this handsome-looking cabochon bracelet has been made that is looking damn beautiful and fashion-worthy! Here all you need the gold cabochon set, the scrapbook paper adhesive tape, iron chain and round pearl beads to make this great looking cabochon bracelet! Intending to duplicate it now? Grab the full free tutorial and instructions from here lc.pandahall
How to Make Boho Leather Bracelets: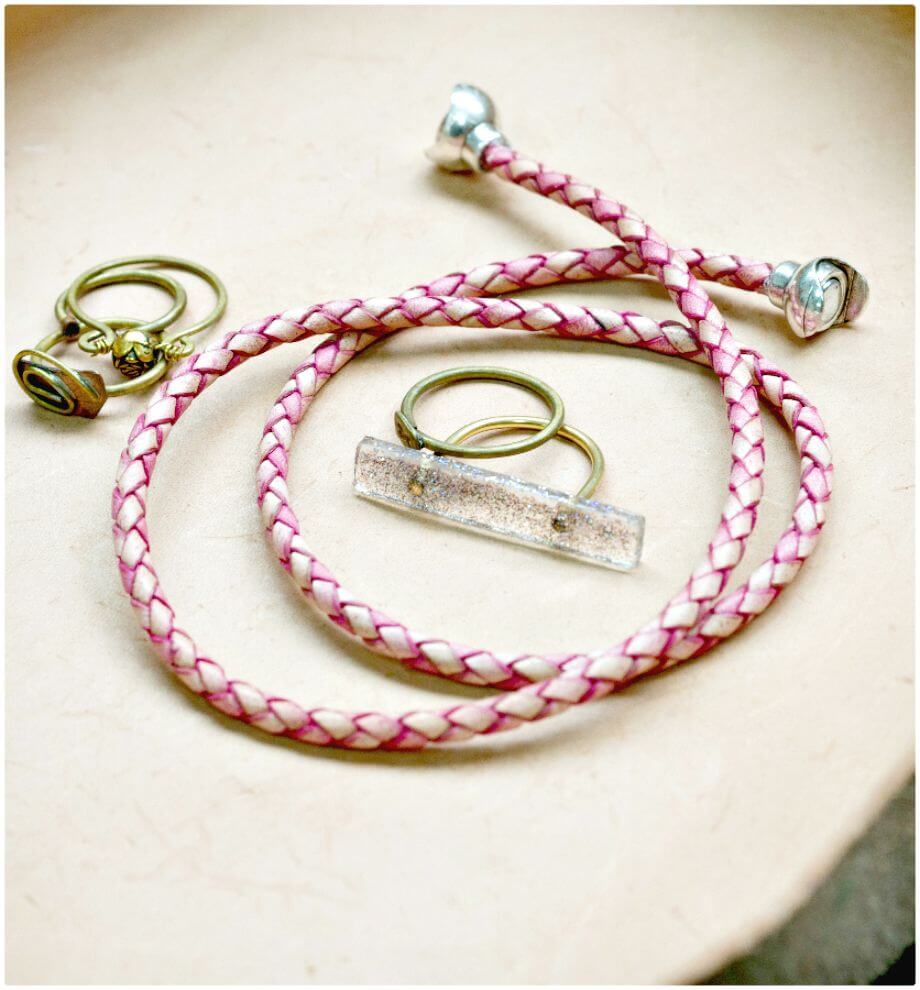 Check out here more glam looking bracelets that will definitely help boost your fashion! Here the old corded leather and suede have been braided together to make the bracelet which has then been finished with magnetic ending clasps! Use the hot glue as an adhesive and do duplicate these bracelets to give as sweet friendship gifts to friends and family members! Grab the full free details and visual tutorial from here popshopamerica
Simple DIY Turquoise Rhinestone Wrapped Bracelet: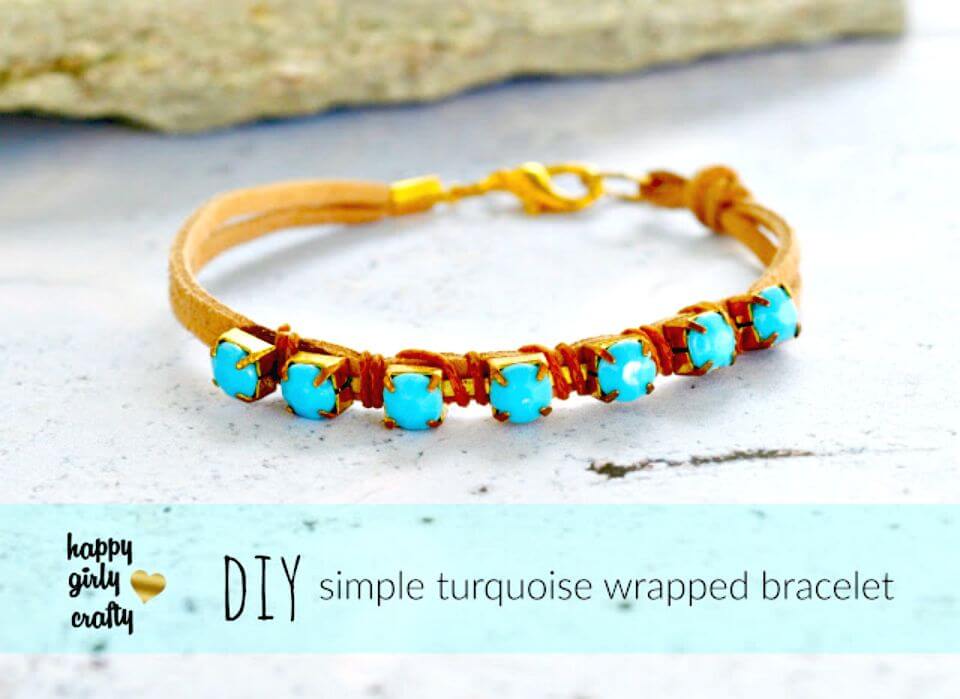 Fancy up your wrist also with the enchanting rhinestone that can easily be worn as a bracelet! Yes, the idea hee is to make a rhinestone bracelet using rhinestone cup chain, wax cord, suede cord, and rhinestones! Check out here this sample rhinestone bracelet that comes has been finished with jump rings and lobster clasp! Another cool bracelet to make at home and it will also make a great gift for the friend and family members! Complete project instructions here happygirlycrafty
Create Vintage Button Bracelet:
If you are the big fan of vintage jewelry then also make cool looking vintage bracelets at home using different vintage materials lying in your home! Here the vintage buttons have been added to a piece o jewelry chain and hence a fantastic button bracelet has been made that has been finished with jewelry closure! Take a look at the given sample bracelet and get inspired! Complete project instructions here thecraftaholicwitch
DIY Bohemian Goddess Turquoise Wrapped Bracelet:
If you are following the bohemian fashion then you will also like to do personal adornments using the matching jewelry for sure! So, presenting here the bohemian goddess turquoise wrapped bracket that is made at home and is super beautiful to look at! Here all you need, turquoise beads, leather cord, a large button and bead stringing wire to duplicate this stunning-looking bracelet! Complete project instruction and tutorial here craftpaperscissors
DIY Leather Cuff Bracelets:
Spice up your wrists in a style by wearing these handsome leather cuff bracelets that are purely handmade! Here this bracelet is made of faux leather cuffs that have been adorned with differently sized metal chain accents mounted on different positions for a metallic touch! Next, you will need and suede cord and faux leather ribbon for decorating the bracelet more! Complete visual tutorial and instructions here happygirlycrafty
How To Make A Wrap Bracelet:
Check out there another fantastic bracelet design to make at home that can be crafted in any length to be wrapped around your wrist multiple times as you want! Here all you need the colorful beads, nylon thread, leather cord and a button to duplicate this handsome-looking wrap bracelet that would be a big breeze to craft for everyone! Here you have to do a little needle work to make this bracelet! Complete project tutorial and instructions here craftandcreativity
Make Your Own Zipper Bracelet: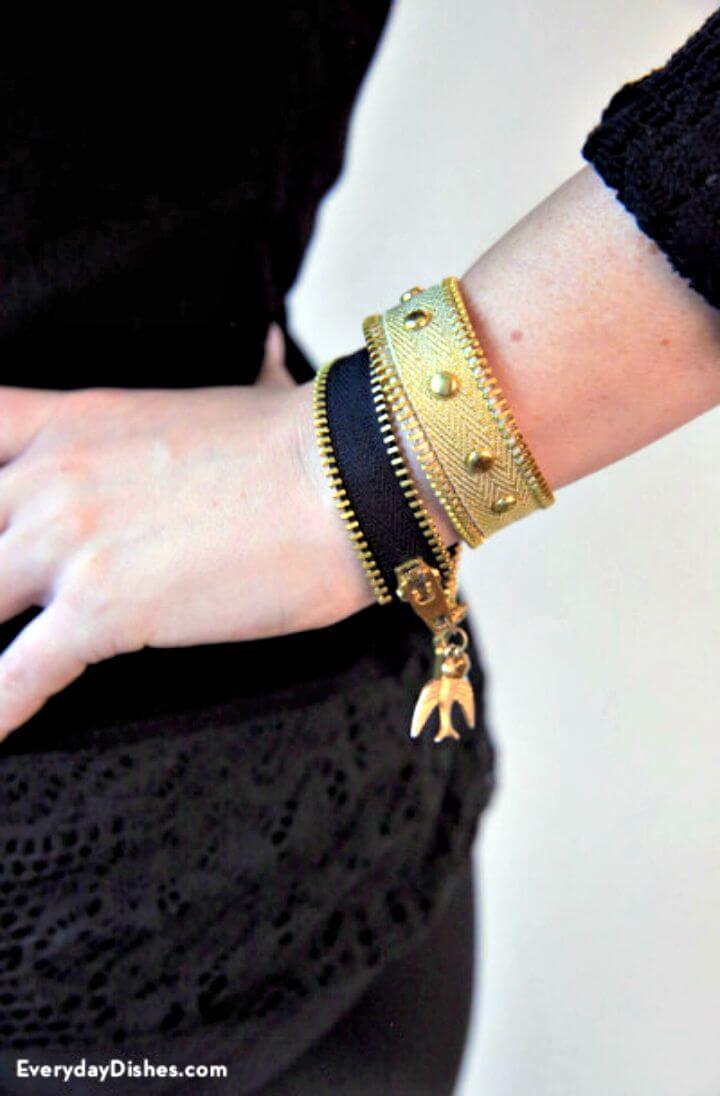 Get also smartly crafty with the zippers to make adorable bracelets with enchanting metal charm! You will fall in love with these zipper bracelets that are made of custom zippers that have been adorned with custom studs and have been finished with the jump ring and lobster claw clasp! You can decorate the bracelet more using custom embellishments and charms you like! Another cool DIY bracelet idea to inspire your creativity! Complete tutorial and instructions here everydaydishes
Beautiful DIY Studded Braid Bracelets:
Style up your wrists with these handsome studded braids that make outstanding bracelets! Here all you need studded cording which you can cut down to bracelet length and can braid it to gain a fantastic necklace! Finish your finally braided bracelet with a crimp and lobster clasp and also with a jump ring! These studded braid bracelets would also make heart winning gifts for all fashion loving friends! Complete tutorial and instructions here apumpkinandaprincess
Make A Suede Tassel Bracelet: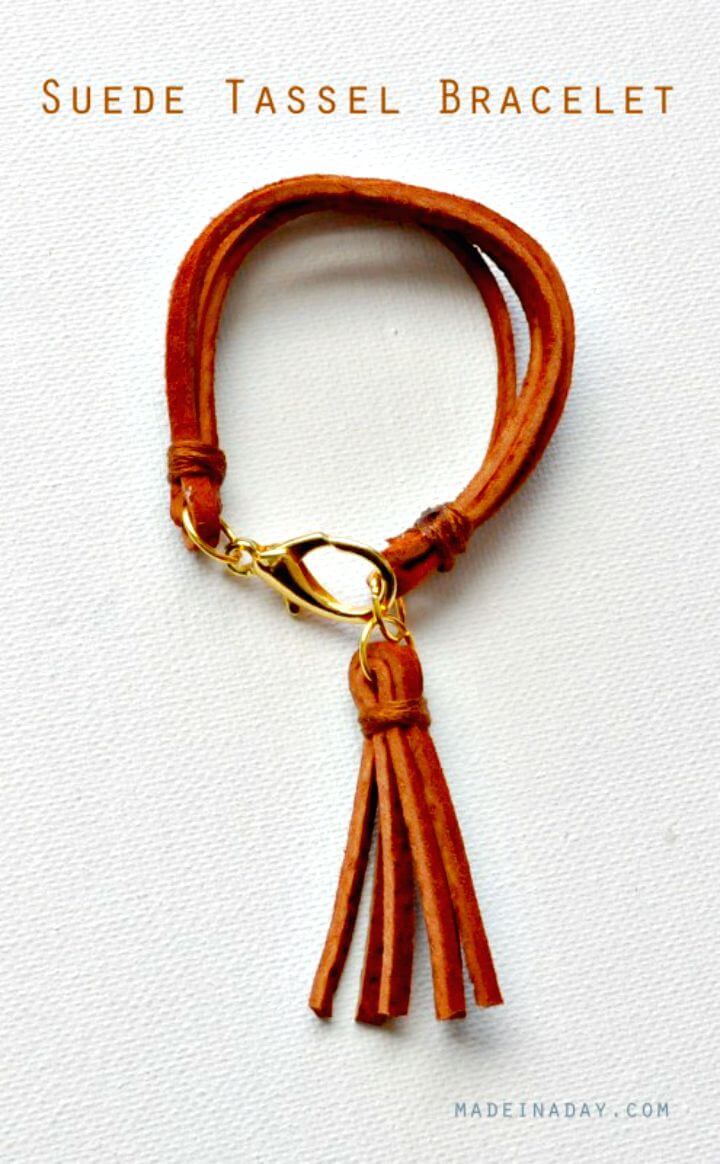 Here is something simple but super beautiful to look at, this is here the suede tassel bracelet that is made of leather suede cording! Cut custom loops of leather cording to make a bracket and then also make a tassel out of it that will fit bracelet using a jump ring! Don't forget to install the bracelet hardware at the end like the lobster clasp, here metallic gold lobster clasp has been used! Complete project instructions here madeinaday
DIY Macrame Glass Connector Bracelet:
If you know the art of macrame-ing then you can also make gorgeous looking bracelets at home without getting a bit expensive! Just Check out there this sample bracelet designs that are exceptional and eye-captivating! This is here the macrame glass connector bracelet that has been done to inspire and is really looking great! Here all you need the 3mm cord and the glass connector to make this great looking bracelet for yourself and also for your beloved ones! Complete project instructions and tutorial here happygirlycrafty
DIY Phone Strap Bracelet:
Here is another great bracelet design that will be ready in just no time and is looking super beautiful! Here the custom phone straps have been used to make this very handsome looking strap bracelet that is both gift-worthy and praise-worthy! Here the phone straps have been put together and connected through jump rings making a super beautiful bracelet! Final step would to add custom charms and to gain a good looking bracelet design in just no time! Complete project tutorial here onelmon
Extraordinary DIY Leaf-shape Wire Bracelet: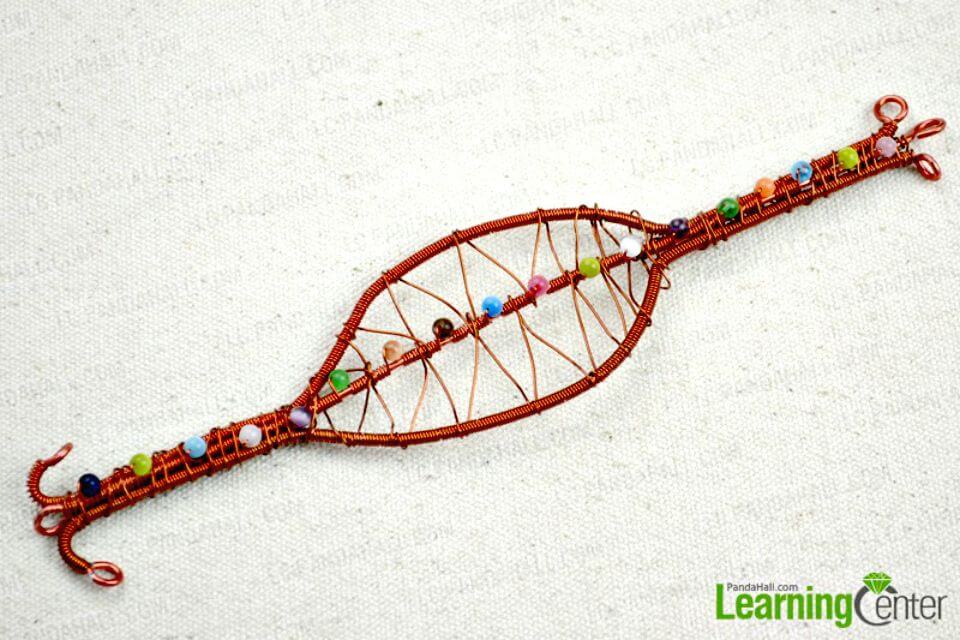 Here all you need brass wire, aluminum wire and cat eye bead to make this handsome-looking bracelet that is having a leaf shape to be eye-catching and enticing to eyes! This is here another perfect design of handmade bracelet that has been done to rock and inspire and is really looking beautiful! Another great and handsome looking bracelet design to make at home! Complete project tutorial and instructions here pandahall
DIY Stingray Leather Chunky Chain Bracelet:
Grab a piece of stitched leather cord and chunk gold metal chain and make a handsome looking metal charm bracelet that will definitely go enticing to your wrist! Here the leather cord has been finished with gold end cups and has been attached to chunky metal chain using jump rings! Finally the lobster clasp has been installed to make a good looking chain bracelet! Another great and outstanding bracelet design to make at home! mintedstrawberry
Make a Double Strand White Pearl Bracelet:

Check out here the amazing arrangements of white pearls and custom beads that result into a fantastic looking bracelet that is sure make an epic present to a big jewelry wearer and lover! Here along with white pearls, the orange and sky blue beads have been threaded onto the string to make a very handsome looking design of bracelet that is just looking fabulous! Complete tutorial and instructions here lc.pandahall
DIY Embellished Red Bead Weaving Bracelet: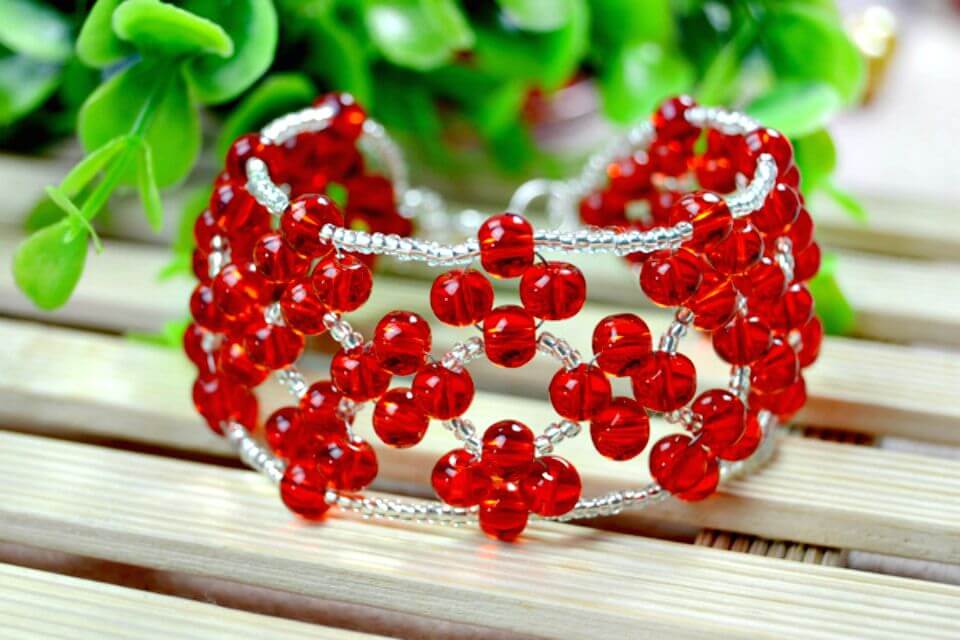 Check out here another dashing design of handmade bracelet that has been done using the red bead and white see beads! Here mini squares of 4 red glass beads have been interconnected through strung up white seed beads for making a gorgeous looking bracelet that would definitely be a big pleasure to wear around your wrist! Complete project tutorial here lc.pandahall.
DIY Brass and Rope Bracelet: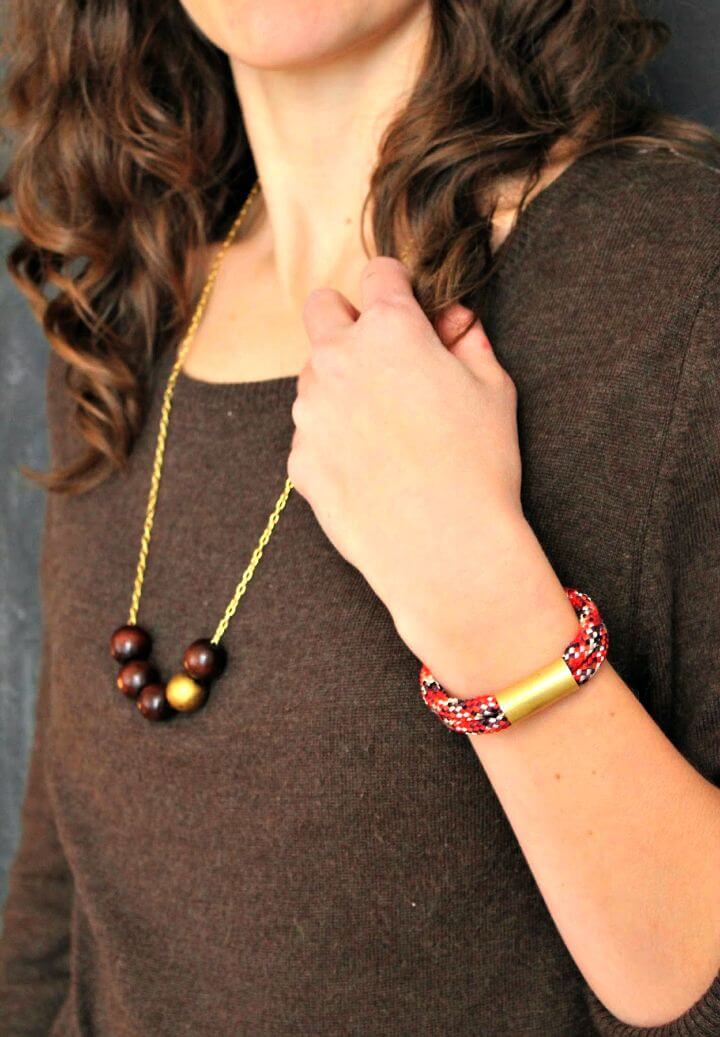 One more mind-blowing and innovative design of handmade bracelet is here that will definitely captivate your eyes! This is here a very handsome looking brass and rope bracelet that is looking much focally stimulating due to accent metallic brass touch! Just cut the bracelet length of the rope and then slip the brass tube onto it, next wrap the final ends of the rope in loop shape and secure them in shape by wrapping the gold wire around! Complete project tutorial here eatsleepmake
How To Make Harlequin Bangles:
Give a final graceful touch to your outfit by wearing these colorful harlequin bangles that are equally beautiful as the bracelets! Here all you need the blank wooden bangles, the origami paper and some glue to duplicate these interesting looking bangles! The idea here to cut the origami paper in different geometrical shapes and then to paste them on the wooden bangles using glue! Complete tutorial and instructions here mypoppet
DIY Chain And Leather Wrap Bracelet: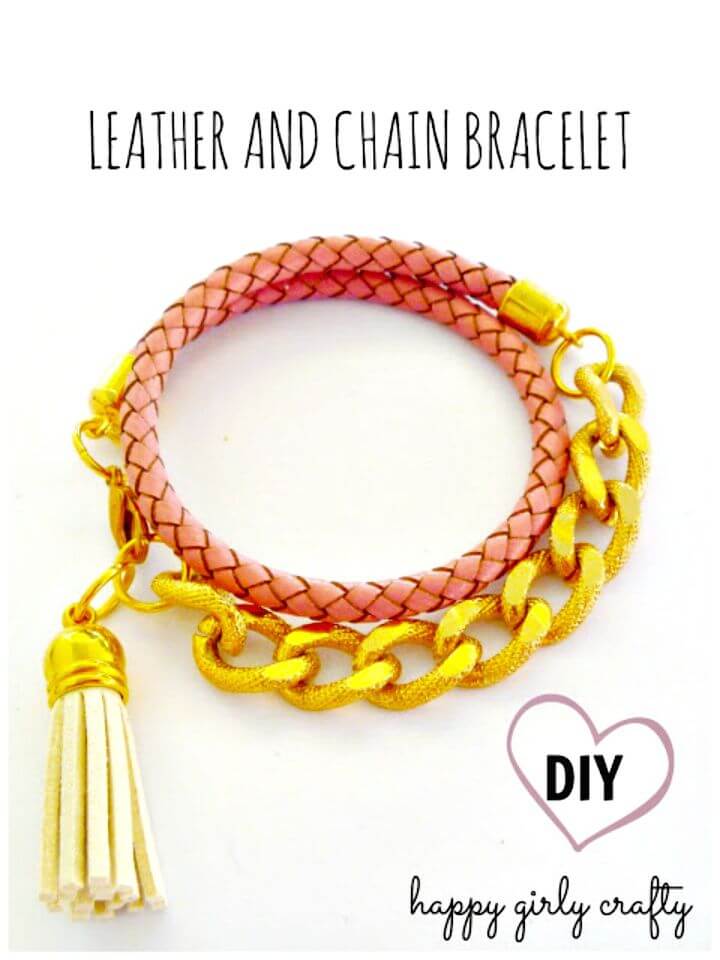 Go for bigger fashion statements for wearing this graceful looking bracelet that is looking damn beautiful and enticing! Here the leather cord and chunky brass chain have been connected together using ending cups and next a tassel charm has been added to bracelet! The pink leather gold and gold metallic color look extra ordinary together! Complete project instructions and tutorial here happygirlycrafty
DIY Cascading Beaded Fringe Bracelet:
Threaded the glass pearl beads onto a gold metal bead wire and stop adding more beads until you grab a bracelet length! Next hang custom cut gold chain lengths to bracelet and let them also with the pearl beads slide beautifully onto! Add the gold chain lengths using jump rings and just finish the entire bracelet with a toggle clasp! Another great bracelet design to duplicate! Complete project instructions here craftaholique
Easy DIY Leather Cuff Bracelet: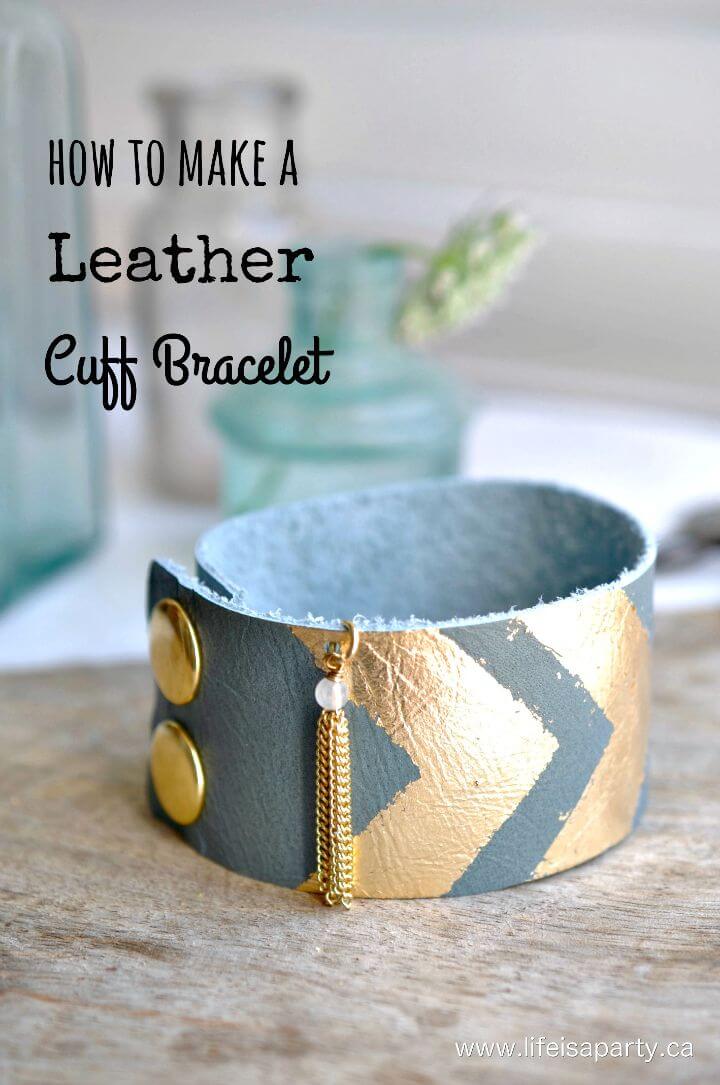 Check out here another outstanding and graceful design of handmade bracelet that is made of a leather strap! This leather cuff bracelet comes with gold chevron pattern lines and has been finished with gold snap closures for an outstanding gold charm! Finally a gold chain tassel has been added as a mind-blowing charm to bracelet and hence a great looking bracelet has been achieved! Complete project tutorial and instructions here lifeisaparty
Gorgeous DIY Popsicle Stick Bracelets: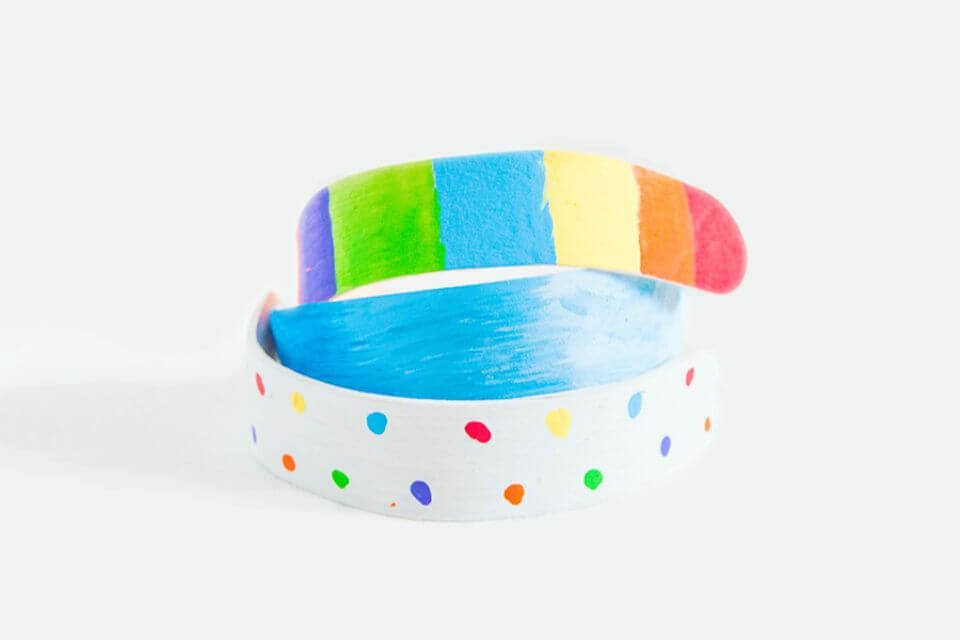 Another great inspirations is here for no-cost but glam looking bracelets! Just go handmade with popsicle sticks and make outstanding looking bracelets for yourself and also for your fashion enthusiast friend! Just have a look at these sample popsicle stick bracelets that have been painted in so many different colors and are looking just fantastic! Just boil the popsicle sticks and then they would be easy to bend into a bracelet shape! Complete tutorial here homanathome
How To Make Mars Bracelet: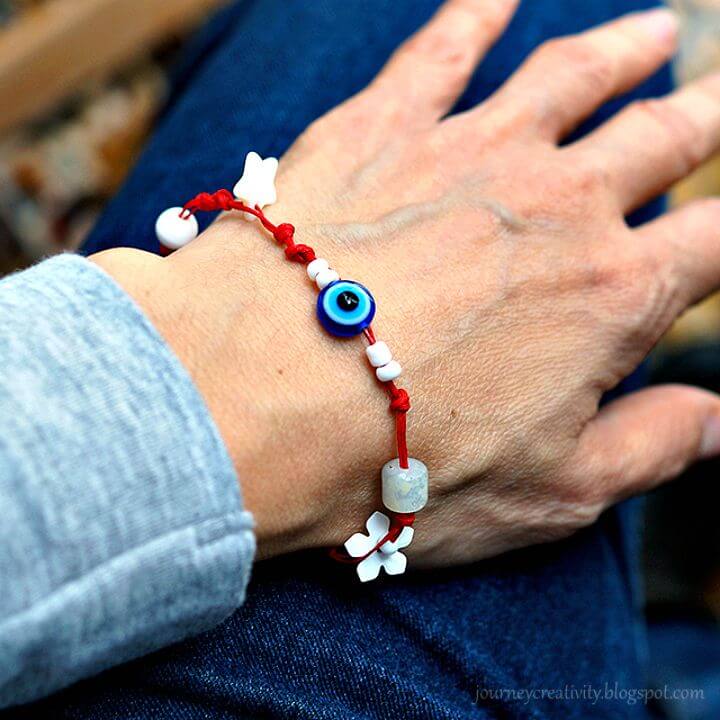 This bracelet will whip up quickly and is super beautiful to look at! This is here a very good looking mars bracelet that has been for the fashion lover! Here all you need the various different sizes of white beads, red cord, a big mars bead and custom charms to duplicate this very interesting looking bracelet design at home! Get inspired of this given sample design that comes also with custom white star and flower charm and is looking just fantastic! Complete project instructions and tutorial here journeycreativity
DIY Boho Spring Bracelets – 3 Ways To Make:
If you are striving for unique fashion looks and statements then you will definitely like to make these boho spring bracelets that are a delight to view and a big breeze to make! Here again you need the suede leather cord, beads in various sizes and colors, metal gold chain, tassels, feather charm, crimp beads and a lobster clasp to duplicate these very interesting looking bracelets! Here these bracelets can be made in 3 different way so just Check out them out here happygirlycrafty
Easy DIY Kate Spade Inspired Balloon Bracelet:
You will also fall in love with this another pretty and awesome looking bracelet design that has been made to inspire! This is here the special kate spade inspired balloon bracelet that is made of 16 gauge aluminum wire cut in bracelet size! Here the ends of the wire has been twisted a little to make the cute looking loops and custom painted wooden "PARTY" letters have been glued in front of the bracelet wire! Complete project tutorial here partyhardiy
DIY Painted Donuts Bangles:
Here the custom wooden bangles have been painted to take a shape of donuts and hence make cute looking bangles or wooden bracelets! Here the wooden bangles have been painted for donut icing and hence a cute donut avatar of bangles has been created! Next you can adorn them more using ribbon and custom embellishments and can give them as fantastic gifts to your beloved and special ones! Complete instructions here doitmakeitloveit
Gorgeous DIY Braided Bracelet:
Show off also by wearing this braided bracelet that is super easy to make! Here all you need 2 leather cords in same or different colors, metal jump rings, cord ends and lobster clasp to duplicate this interesting looking braided bracelet that is both fashion-worthy and gift-worthy! Another glam bracelet design to duplicate at home! Complete project tutorial here thecraftingnook
DIY Wooden Bangle Bracelets:
This is actually here a smart bracelet makeover! Here the wooden bangles have been turned into charming bracelets by getting wrapping in napkin strips! Just grab napkins and cut custom sized strips of them that can easily be glued around the bangles for making great looking bracelets! This is here another fantastic hack to make statement necklaces just at a drop of hat! Complete project instructions and tutorial here journeycreativity
Quick DIY 5 Styles Of Hair Tie Bracelets:
If you need to make a bracelet in a last minute then Check out here 5 great inspirations! Just cut the ribbon first in bracelet length and finish it up with lobster clasp to make a good looking bracelet! Also braid the elastic cord and add beads to make a handsome bracelet! Make knot elastic cord bracelet also that may also come with custom charms and beads to look fantastic! Complete project instructions here curlymade
Gorgeous DIY Firefly LED Bracelet: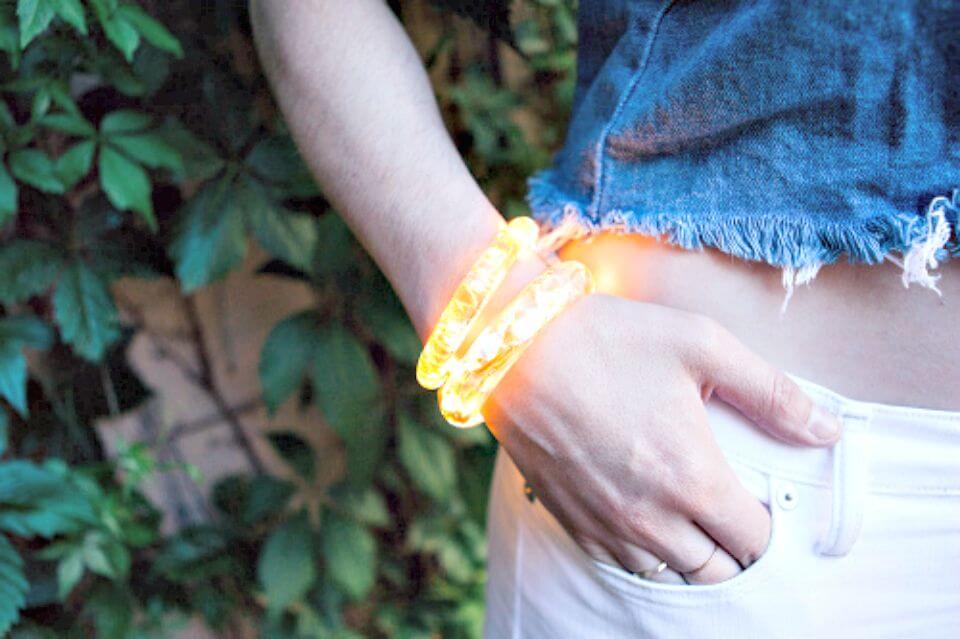 Check out here the one-of-a-kind bracelet that is super easy to make and will definitely make a great gift to a fashion-loving friend! This is here the Firefly LED bracelet that will light up your wrist at night in a fashion way! Here you need the cast clear casting epoxy, silicone bracelet mold, fairy string lights and glitter to make this light bracelet! Complete project instructions here sparkfun
Quick DIY Wire Wrapped Stone Bracelets: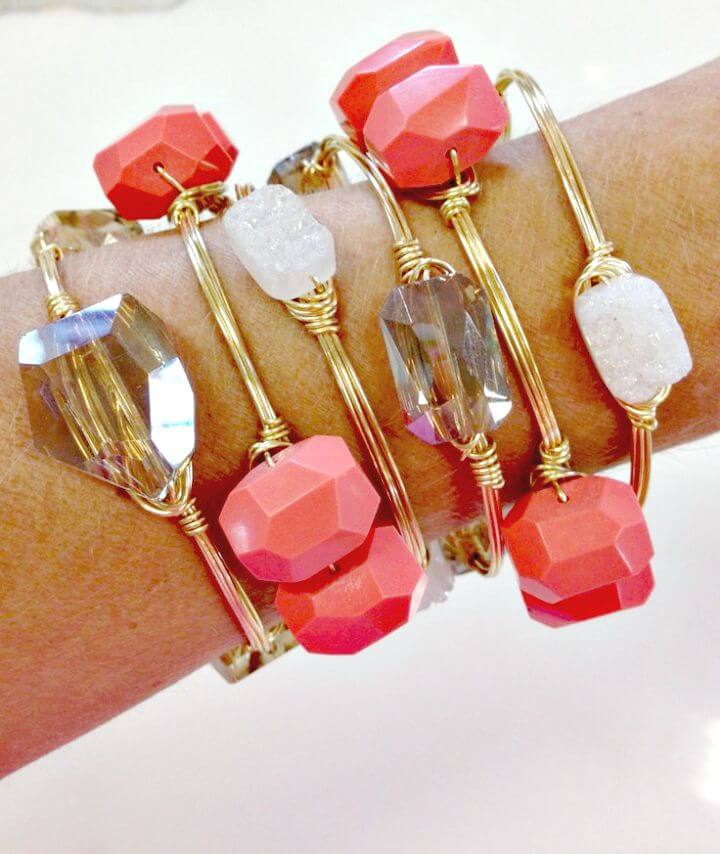 One more extraordinary bracelet design inspirations is here that will definitely grab your attention! Here all you need the metal wire and custom stone beads to make these bracelets that will make Thanksgiving gifts also! Here the idea is to coil the wire to bracelet length and then thread beads onto the wire which can also be wrapped can be secured on the wire bracelet easily! Check out here the sample bracelets to get inspired! Complete instructions here 5feetofstyle
Easiest DIY Wrap Bracelet Ever: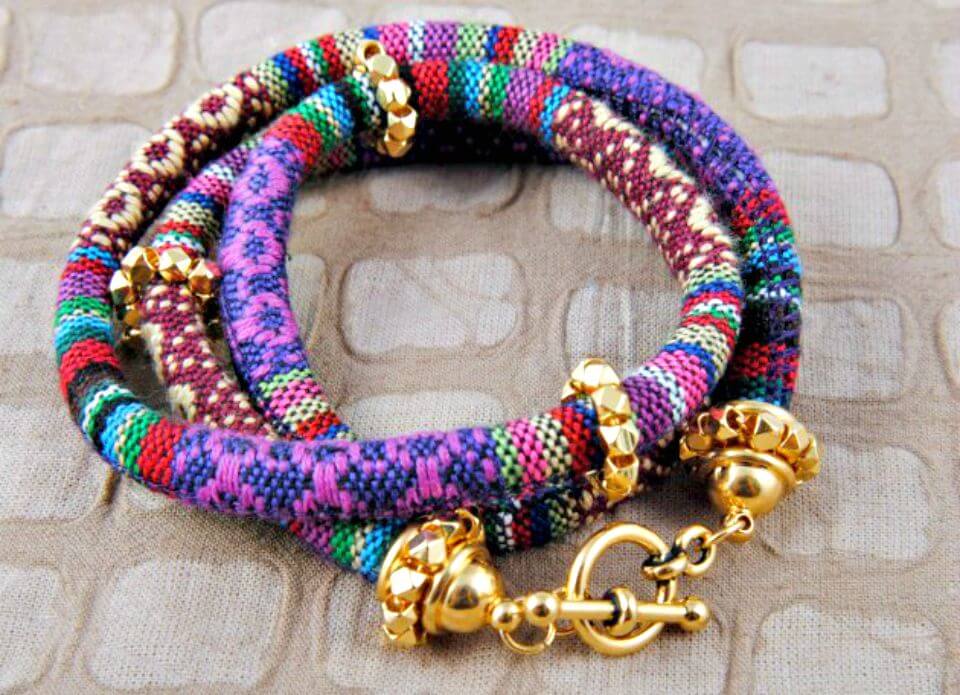 Boost your wrist style also by wearing these wrap bracelets that are just a matter of seconds to make! Here all you need end clasp set, custom charms and embellishments and also the tapestry cord to make this wrap bracelet that would be a big bliss to wear around your wrist! These bracelets would bring a great finishing touch to any outfit! Complete project tutorial here baublesandbeadsblog
DIY Candy Bead & Memory Wire Cuff Bracelet: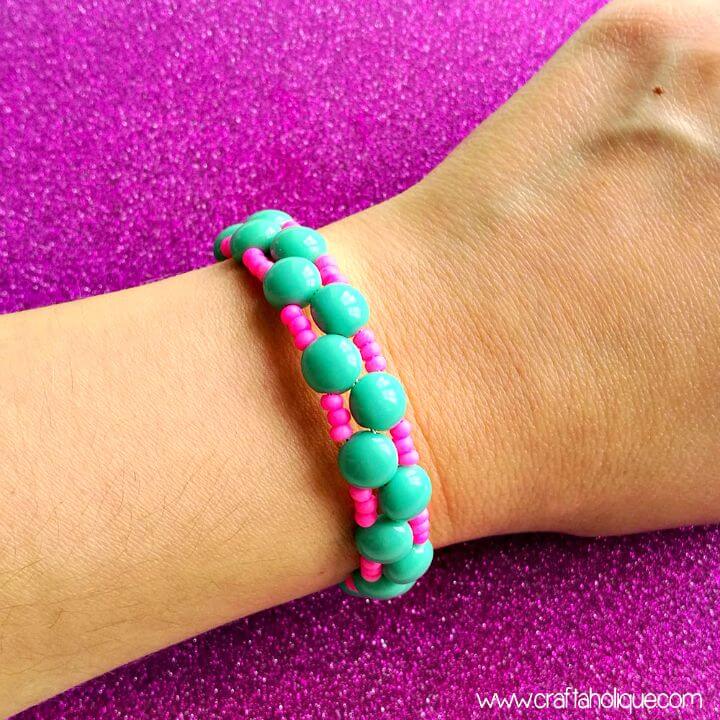 You will definitely like to praise this another adorable bracelet creation that has been done to amaze and inspire! Here the custom glassy candy beads and pink seed beads have been slipped onto the memory cuff wire to make gorgeously colorful bead cuff bracelets that will also make a great gift to friends and family members! Another great but easy to make bracelet! Complete project instructions here craftaholique
How To Make Colorful Marbled Bangles:
If you are a big fan of marble effect and just want to incorporate it to your daily fashionable looks then here is how to do it smartly! Just make the cool looking marbled bangles at home that will be ready in just no time! Just Check out here these marbled bangles that are made of wooden bangles dipped in the hot nail polish water! You can mix different colors of nail polish to create the marble effect in respective colors! These bangles would also pair up nicely with any of your outfit! Complete project details here delineateyourdwelling
Adorable DIY Rhinestone Bandana Bracelets: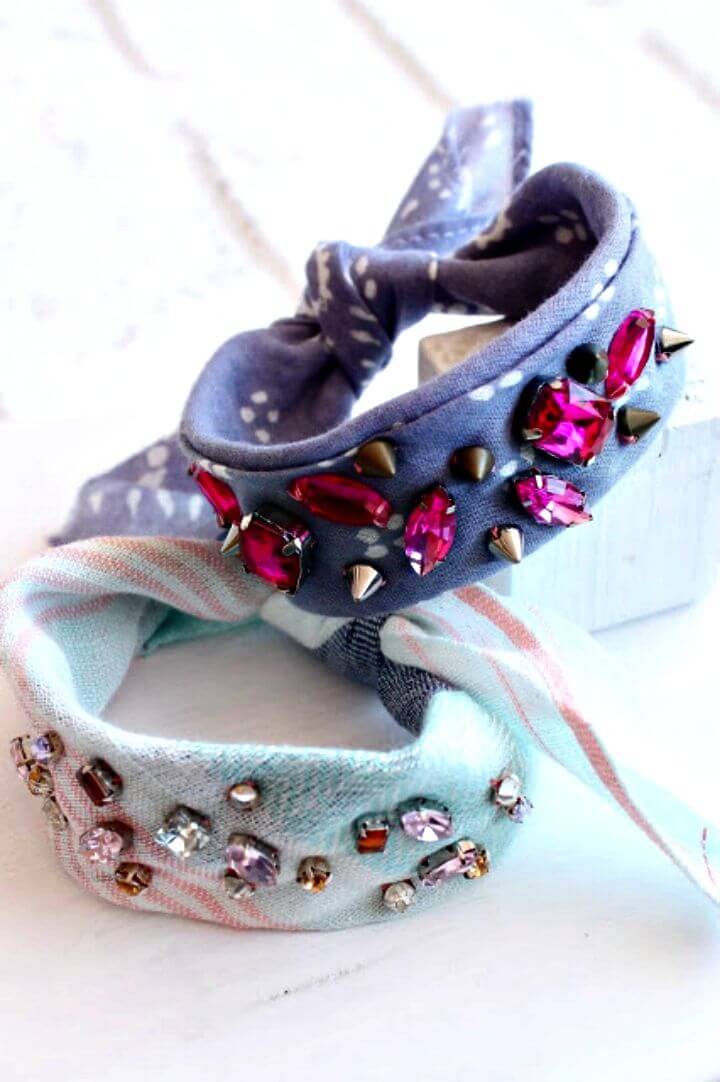 You can use custom materials from home and also the custom beads to make fantastic looking bracelets in just no time! Here the custom rhinestones and bandana have been used to make outstanding wrist charm bracelets that would amaze all the audience for sure! Here all you need the custom bandana strips which can be folded to make beautiful bracelets! Final step would be mount rhinestones on them using needle and thread! Complete project instructions and tutorial here lindseycrafterblog
Make Five Stranded Braid Bracelets:
If you like the colorful things then you will definitely appreciate this adorable bracelet creation! Here the embroidery thread in 5 different colors has been used to craft his braid bracelet! The idea here is to braid together the all five colors of thread until you get a bracelet length! Next you can just sew the ends to secure them in braided position and can then add the lobster clasp and other bracelet hardware! Complete project details and tutorial here flaxandtwine
DIY Handmade Name Bracelet:
Just make custom name letters or symbols or even the religious signs by twisting the metal wire and then just add them to metal chain lengths through jump rings to make outstanding looking charm necklaces! Adorn your wrist with these given name bracelets that have been done to amaze and inspire and are really looking beautiful! Don't forget to give a lobster clasp finish to your bracelet! Also give these bracelets as a gift to your friends! Complete visual tutorial and instructions here chocolateandcraft
Quick DIY Essential Oil Diffuser Bracelet:
If you are thinking to make a handsome gift in last 5 minute then this essential oil diffuser bracelet would make a great choice! This is here the bracelet that is gift-worthy and fashion worthy and will whip up quickly! Here all you need is the leather suede cord and an infinity symbol metal charm to make this outstanding-looking bracelet! Don't forget to treat the bracelet with custom essential oil for amazing scents and pleasant smelling! Complete project tutorial here practicallyfunctional
DIY Morse Code Beaded Wrap Bracelet: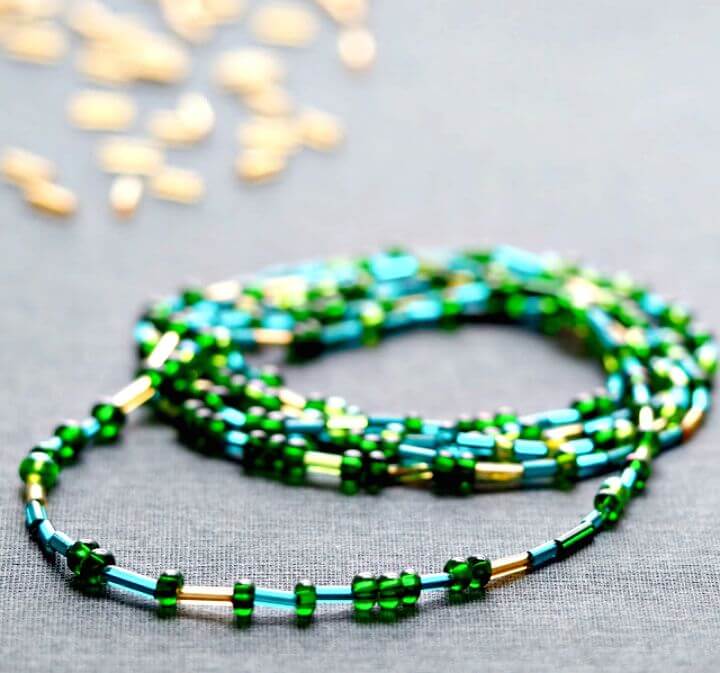 Boost your fashion also by wearing this morse code beaded bracelet that has been done with 3 different colored beads used for dashes and spaces and also for round accents! Here all you need is to thread the beads onto the bracelet thread which can then be finished with lobster clasp or jump ring to make a gorgeous looking wrap bracelet! Complete project tutorial and instructions here kimberlystoney
DIY Filigrane Armbänder Bracelets: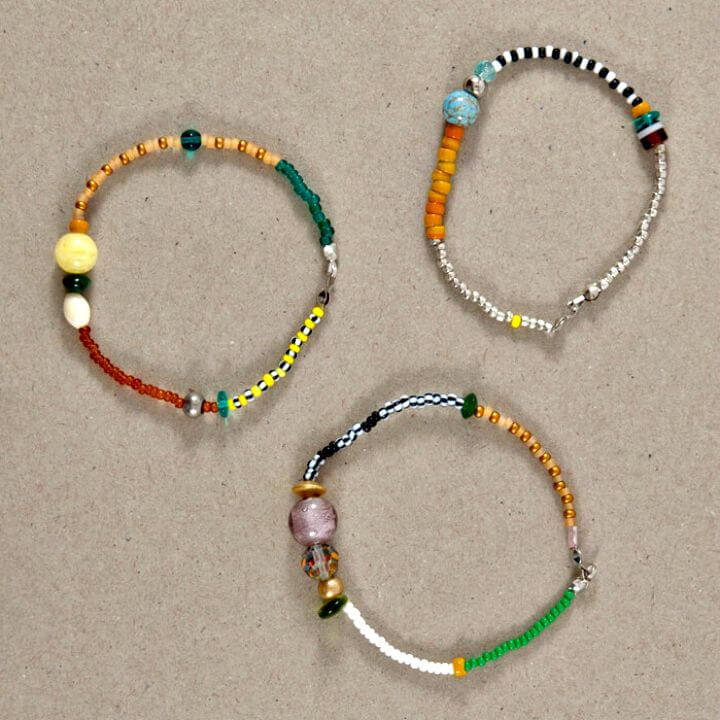 One more amazing creation done with different colored beads that will definitely be noticeable if worn around the wrist, the filigree armbinder bracelet made to rock and inspire! Here the custom seed beads, round beads, mini round beads and flat crystal beads have been threaded onto the bracelet string, twine or metal wire to make this handsome-looking bracelet! Willing to duplicate these good looking bracelets? Grab the full free guides and visual instructions from here johannarundel
DIY Leather Friendship Bracelets:
Fall in love with this another epic looking friendship bracelet that is made of leather cord and is looking damn gorgeous! All the fashion-loving teen will find it a great gift to show off and these bracelets are super easy to make also! Here all you need is to braid together the leather cord and custom strands and then to finish them up with magnetic clasp to make a great looking necklace! This is here another beautiful and smart DIY bracelet project that everyone can do! Complete tutorial here curlymade
How To Make Bracelets From Recycled T-shirts: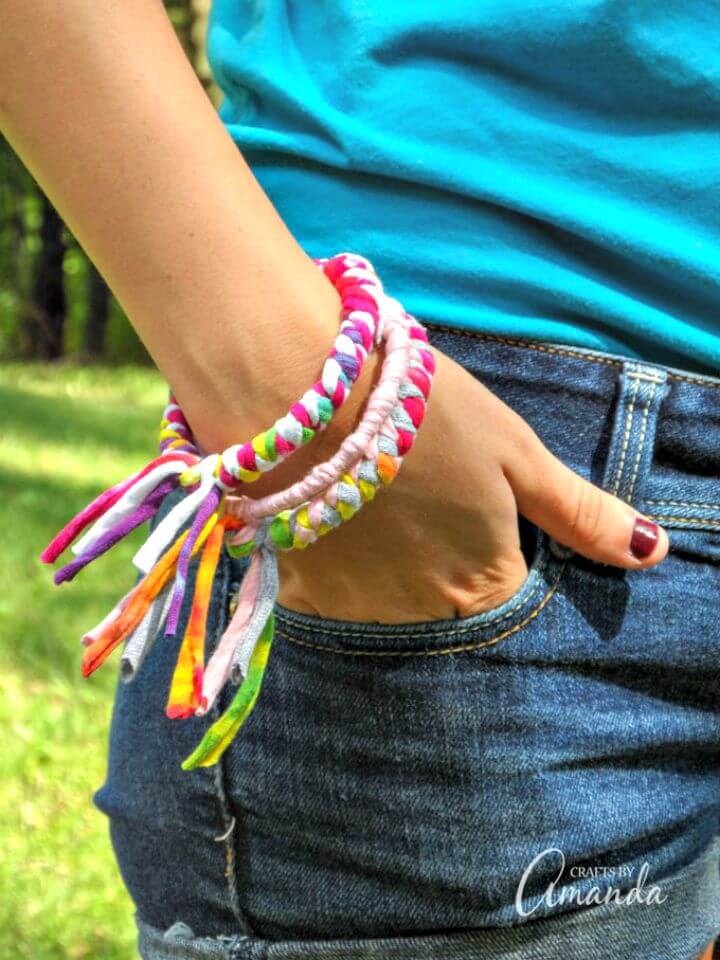 You can also repurpose the old fabric from home to make fashion-worthy necklaces at just a drop of hat! Here the old t-shirts have been turned into fabric yarn and different colors of fabric yarn have been braided together to make amazing looking bracelets that will definitely boost one's fashion! Check out here the sample bracelets that are easy to whip up and will make great friendship gifts too! Complete tutorial and instructions here craftsbyamanda
Adorable DIY Spring Bracelets:
Fall in love with these super cute bracelets that comes with different animal toys sit on them! These bracelets would just rock for cartoon and toy loving kids and would also make great birthday gifts! You will be need pipe cleaners, big wooden beads, felt, small black beads, pompoms and custom templates to make these amazing looking spring bracelets! Here is how to make these bracelets handmadecharlotte
Make An Embroidered Wrist Cuff: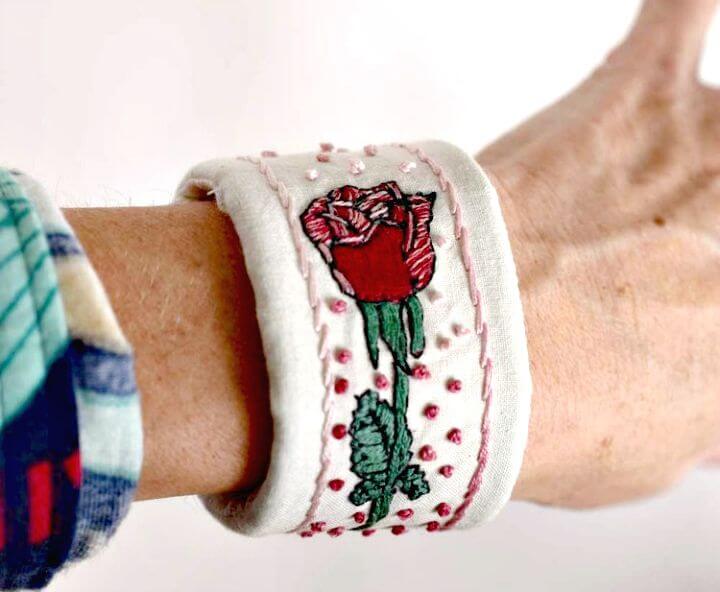 Style yourself up also with this embroidered wrist cuff , easy to make and is super gift worthy! Here this great looking bracelet is made of felt and also with fabric having embroidered rose on it! Finally it has been finished with sew on snaps! It has also been adorned with the random French knots that come as handsome red polka dots all around the embroidered flower! Complete step-by-step instructions here pamash.squarespace
DIY Abstract Painted Wood Bangle Bracelet: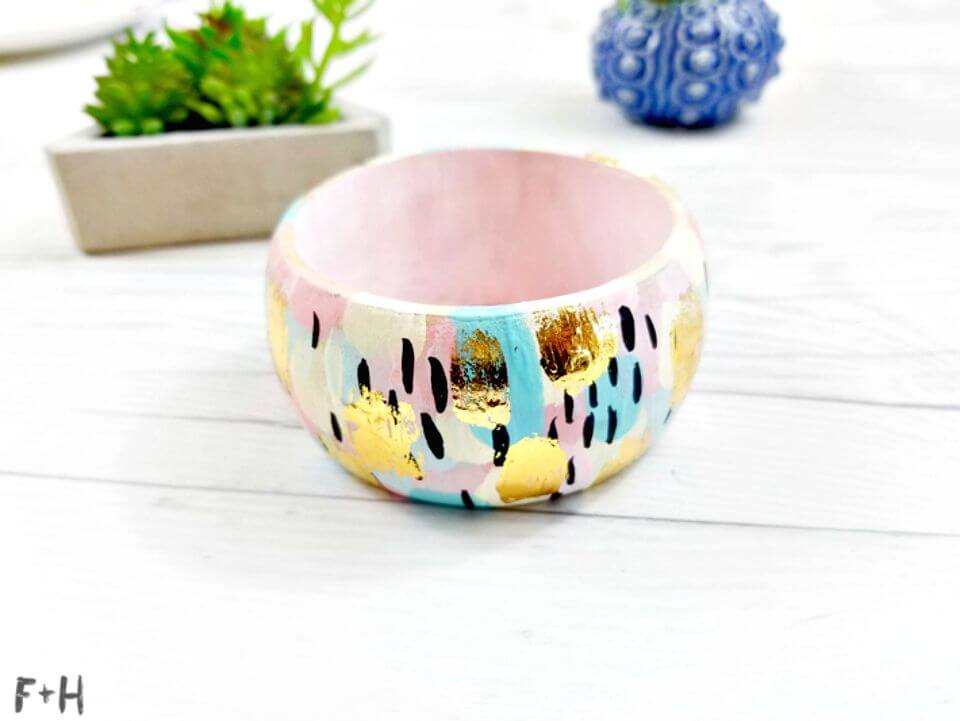 If you are having great painting skill then this DIY bracelet is only for you to do! This is here the abstract painted wood bangle bracelet that has been done to rock your wrist! Here the idea is just to paint your wooden bangles with different colors of acrylic paint making beautiful abstract art! You can also make use of gold transfer sheet and can also finish your art with high gloss acrylic varnish! Another outstanding DIY bracelet project to hold your attention! Complete tutorial and instructions here foxandhazel
Easy DIY Bracelets and No Tools: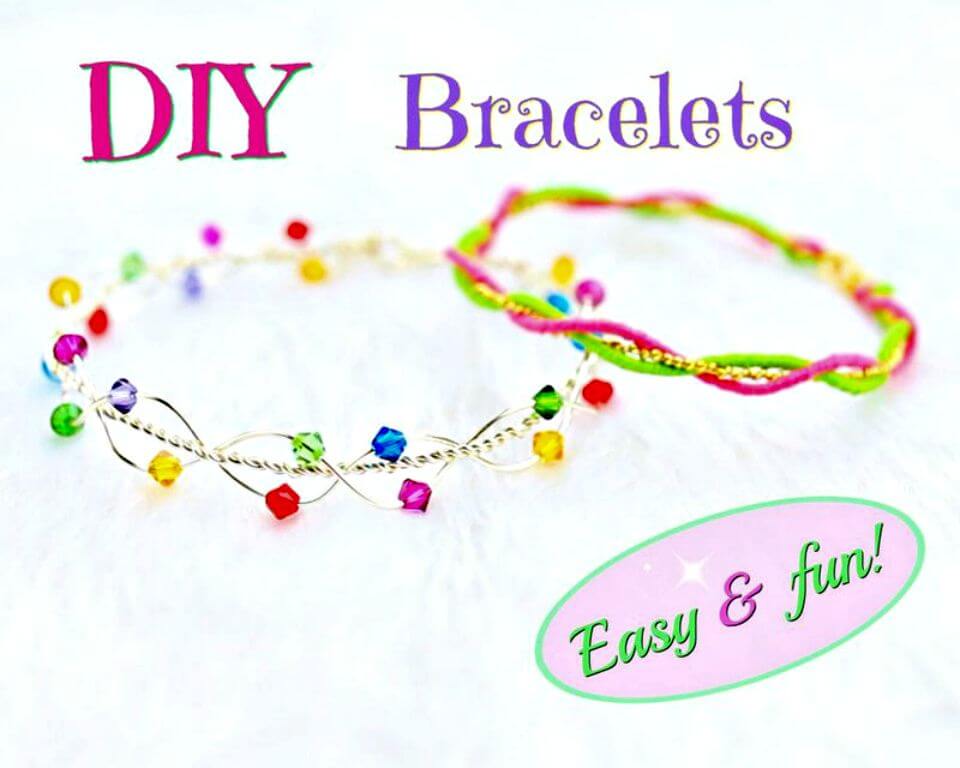 Go smartly handmade also with embroidery floss and gold platted copper wire to make amazing looking bracelets for yourself and for your beloved ones! Check out there the sample bracelets that are much visually attractive and comes with crystal bicone beads charms that also bring accent colors to entire bracelet design! This is here another brilliant and innovative bracelet project to do at home! Complete visual instructions here instructables
Create Your Own Paracord Bracelets: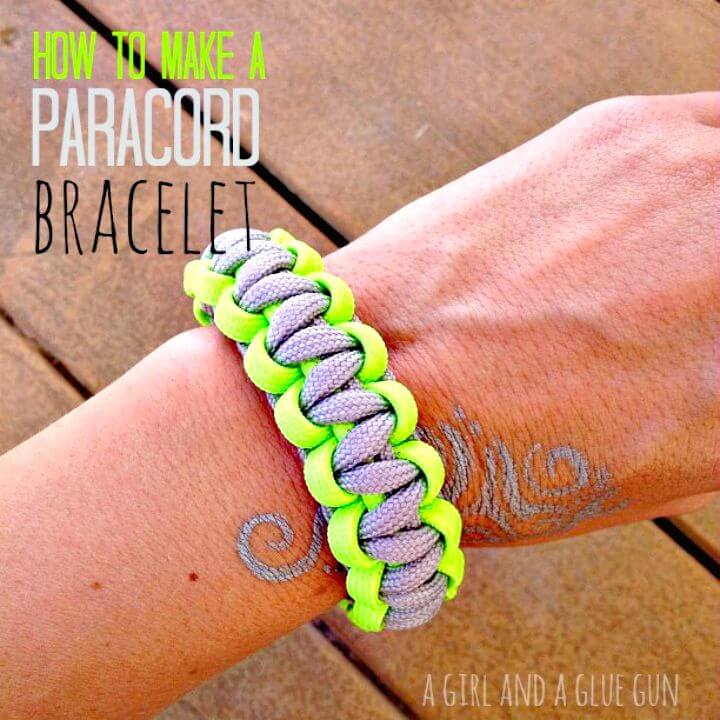 Paracord is one of the strongest ropes ever made and it comes in all the colors under the sun! So, you can go creative with the paracord to make handsome designs of bracelets at home! Check out here the sample paracord bracelet that come in grey and neon grey color and is definitely something to adorn your wrist beautifully! Willing to duplicate this another interesting looking bracelet? Here is how to make it agirlandagluegun
How To Make Mixed Leather Bracelet: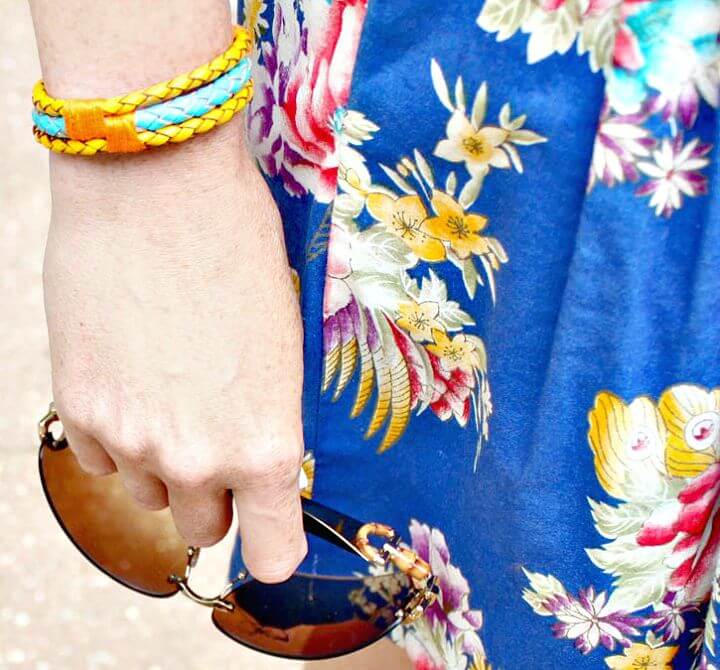 Mix also different shades of leather to make superb leather bracelets that bring both modern and vintage touch to your personality! Check out here the mixed leather bracelet that will pair up beautifully with any of your style worthy t-shirt or outfit and would something to show off! This leather bracelet would bring a great style to your wrist and will also make thanksgiving friendship gift! Here all you need the custom leather cord lengths trimmed down to bracelet size! Just put them together and tie by wrapping the embroidery floss all around them! Next you can finish them up with magnetic closures for making outstanding looking bracelets! Complete project instructions and step-by-step tutorial here gina-michele
DIY Recycled Magazine Bracelets:
Style up your forearm also by wearing these very special and colorful looking bangle style bracelets! Here these bracelets are super cost effective and are super easy to make! Here all you need is to get some cardboard or cereal box and magazine pages to make these bracelets! Next you can use custom charms to make the bracelet a bit more beautiful! Use glue for all adhesive demands! Complete tutorial here markmontano
Chic and Easy DIY Colorblock Bracelet: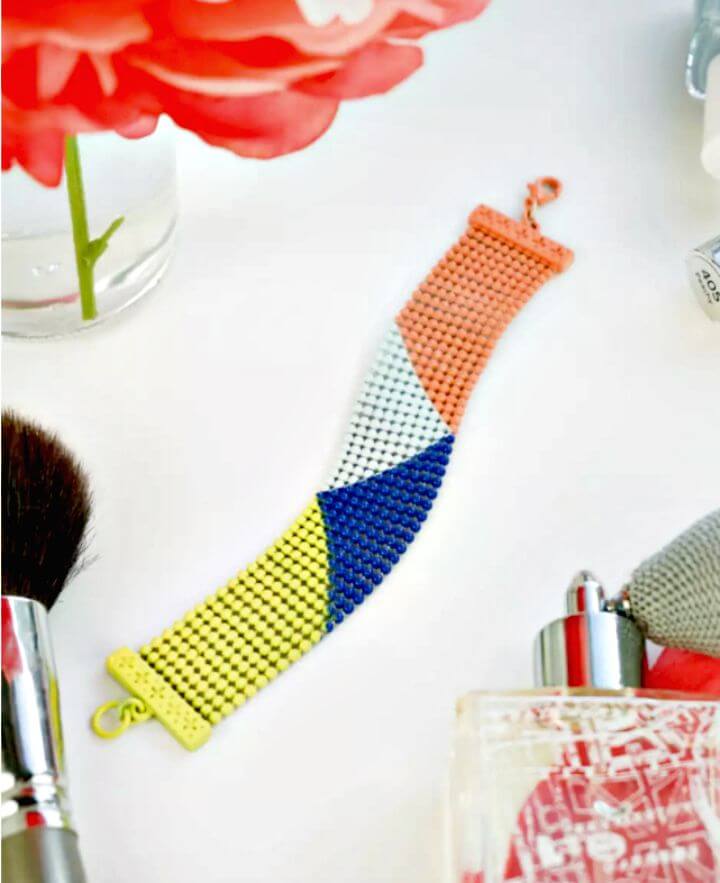 Also upgrade your old bracelets at home by doing some custom paint makeovers! Check out here the enticing color block bracelet that looks stunning due to being colorful! Here an old metallic bracelet has been painted using spray paint and masking tape for a charming color block pattern and hence looks perfectly eye-catching! Another great idea to update your old bracelets! Complete visual tutorial and instructions here sheknows
Awesome DIY Infinity Beaded Bracelet:
Make also eye-catching infinity bracelets at home that will be a delight to wear and will definitely bring a great style to your wrist! All you need gold beads, embroidery floss, metallic gold infinity signs and the lobster clasp to duplicate this very interesting looking design of infinity bracelet! Intending to duplicate this bracelet for a friend or for your jewelry organizer? Complete project instructions and tutorial here highondiy
How To Make Yarn-Wrapped Bracelet:
Duplicate this another fantastic looking design of handmade bracelet that is made of chunky gold metallic chain and with the turquoise yarn and is super fashion-worthy! Here all you need is to thread the yarn onto the needle and next pass it through the metallic chain rings! Keeping doing so until you get a handsome looking yarn wrapped bracelet! This is here another gift-worthy and fashion worthy bracelet design to make at home! Complete instructions and tutorial here aprettyfix
Cute DIY Fishbone Crystal Bracelets:
Once you look at this handsome looking bracelet design you will definitely be duplicating it in your free time! Here these are the fishbone crystal bracelets that are sure to bring lots of fashion to any wrist of a girl! Here all you need the fishbone gold chain, sew-on crystals, jump rings and a lobster clasp to make this very interesting looking bracelet at home! A cost-effective but designer style bracelet to make at home! Complete tutorial and instructions here highondiy
Gorgeous DIY Leather Wrap Bracelet: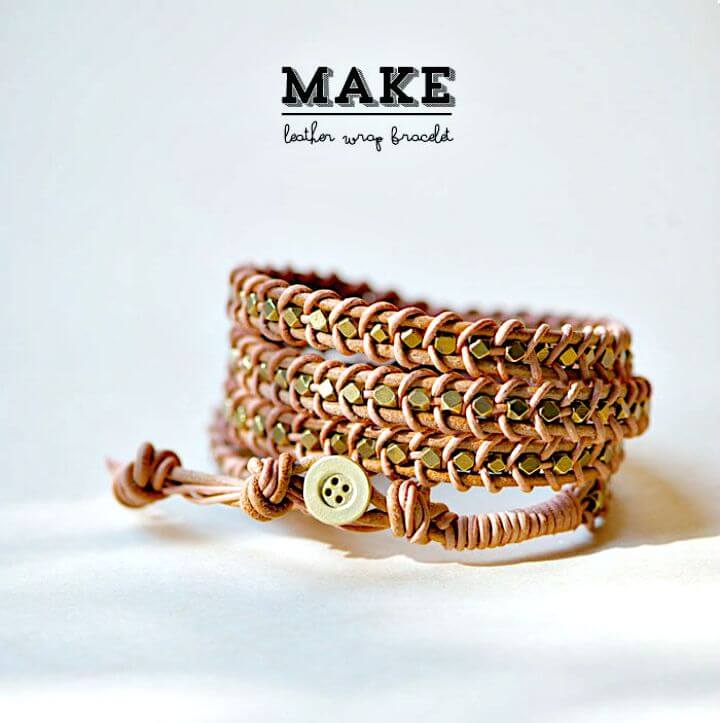 Clone this another fab looking bracelet that will make a superb addition to your bracelet collection! This is here a leather wrap bracelet that is sure to create bigger fashion statements of your wrist and will also pair up with your dresses and outfits beautifully! Here all you need 3 different sizes of leather cords of different thickness and small beads to make this handsome looking bracelet! Complete project tutorial here poppytalk
How To Make Confetti Bracelets: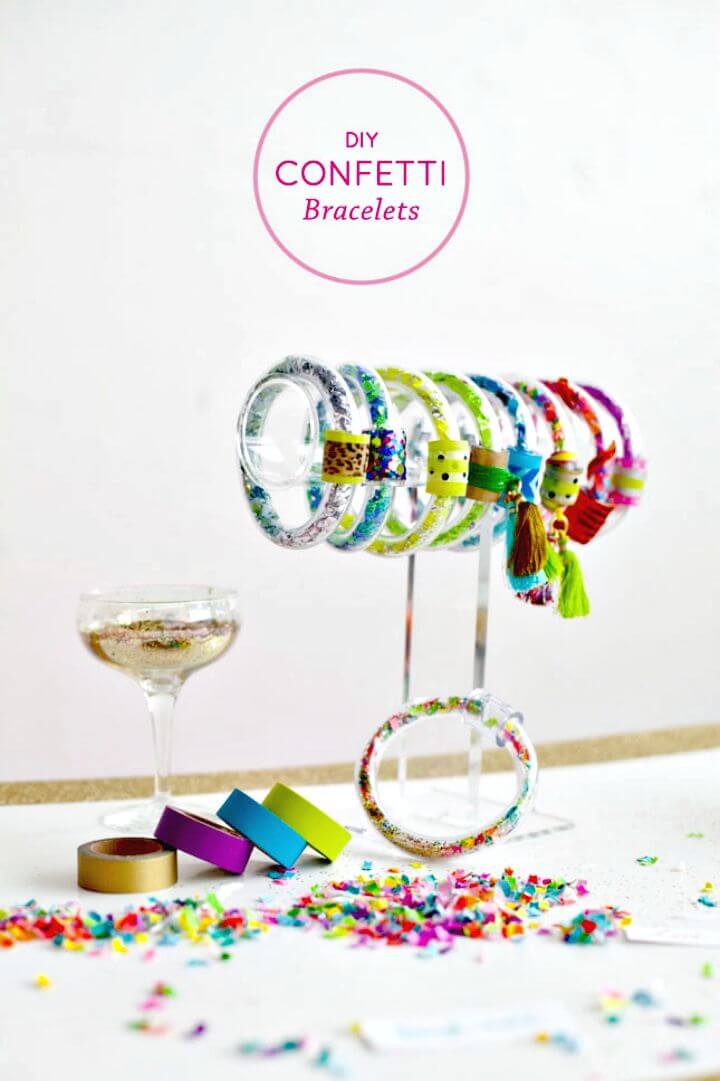 Check out here another genius hack that help gaining a one-of-a-kind and modern bracelet! Here the idea is to use the clear vinyl tubing and confetti to make a gorgeous looking bracelet at home that will make a great gift to a fashion loving friend and also to a style enthusiast in your family! Here the idea is just fill the a custom cut length of vinyl tube with confetti and then to make its both ends sealed with glue that will dry inside! Final step would to be connect both ends together using a bigger glass tube and then you can hang custom embellishments and ribbons for more glam look! Complete project tutorial here bestfriendsforfrosting
Create Hinge Bracelet With Gold Chains:
You can also get crafty with the leftover hardware materials to make gorgeous metal charm bracelets at home that will definitely go eye-catching to eyes! Check out there this great looking hinge bracelet that is made of a metallic hinge and with gold metal chain links! Next it has been finished with an ending clasp making a gorgeous looking bracelet! Another brilliant bracelet idea and project that you can duplicate in no time! Complete project tutorial here lovemaegan
Beautiful DIY Friendship Bracelets: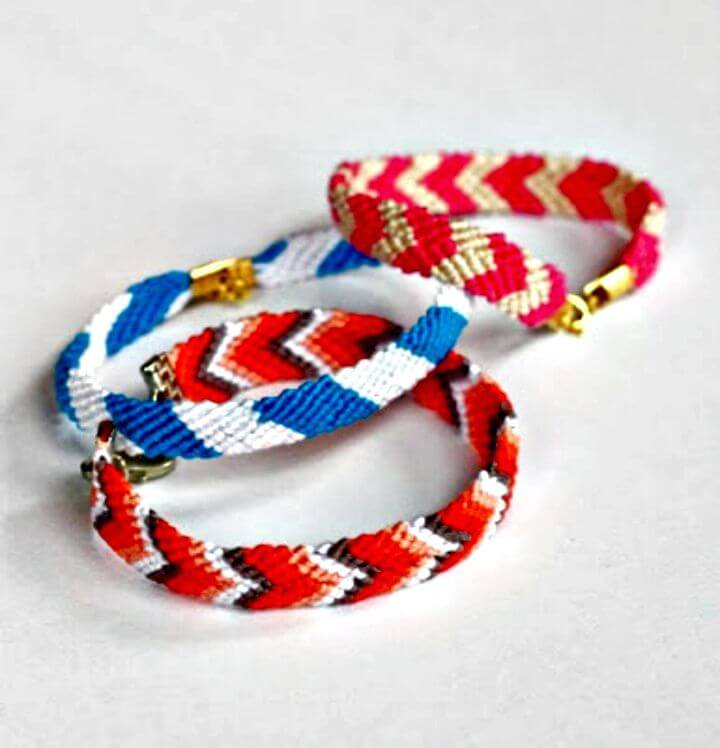 Make also use of colorful embroidery flosses to make handsome looking friendship bracelets that can be added with custom charms and pendants to look extra stunning and graceful! Have a look at these great looking friendship bracelets that has been added with jewelry hardware to look extra beautiful! Here all you need the crimp connectors, jump rings and a lobster clasp to give a nice finish to your friendship bracelets! Complete tutorial and instructions here howaboutorange
How To Make Chanel-Inspired Bracelet: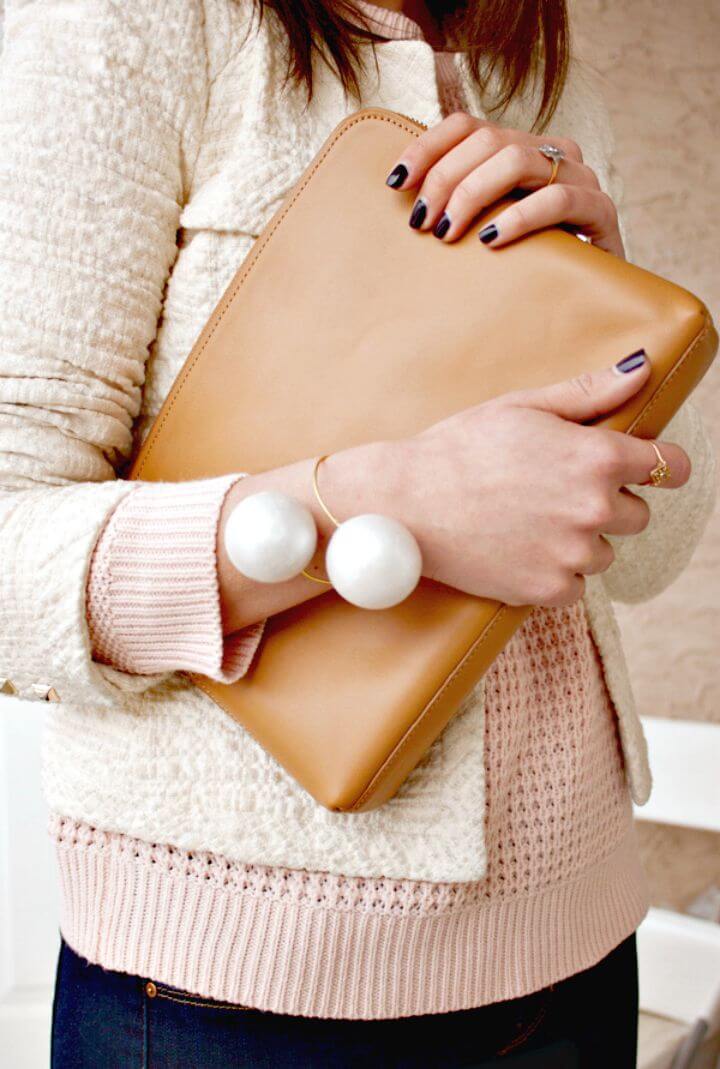 Look at this another fantastic bracelet design that has been done to inspire and is really looking beautiful! Here this very expensive looking bracelet that is chanel-inspired, have been made of gold wire and wooden balls that have been painted with pearl paint! Finally step would be to each painted wooden ball to the end of the metal chain bracelet loop to make a great bracelet! Complete project instructions and tutorial here adventuresinfashion
DIY Marbled Clay Beads for Kids:
One more extra beautiful design of homemade bracelet is here that will definitely put you in big amazement! Here the custom marbled balls have been made using the air dry clay and custom colors which have been threaded onto a piece of twine or string to make amazingly cute necklaces! These necklaces would make outstanding gifts for all fun loving kids and are super easy to make at home! Another great and outstanding bracelet idea! Complete project instructions and tutorial here craftulate
DIY Bracelet with Embellished Beads: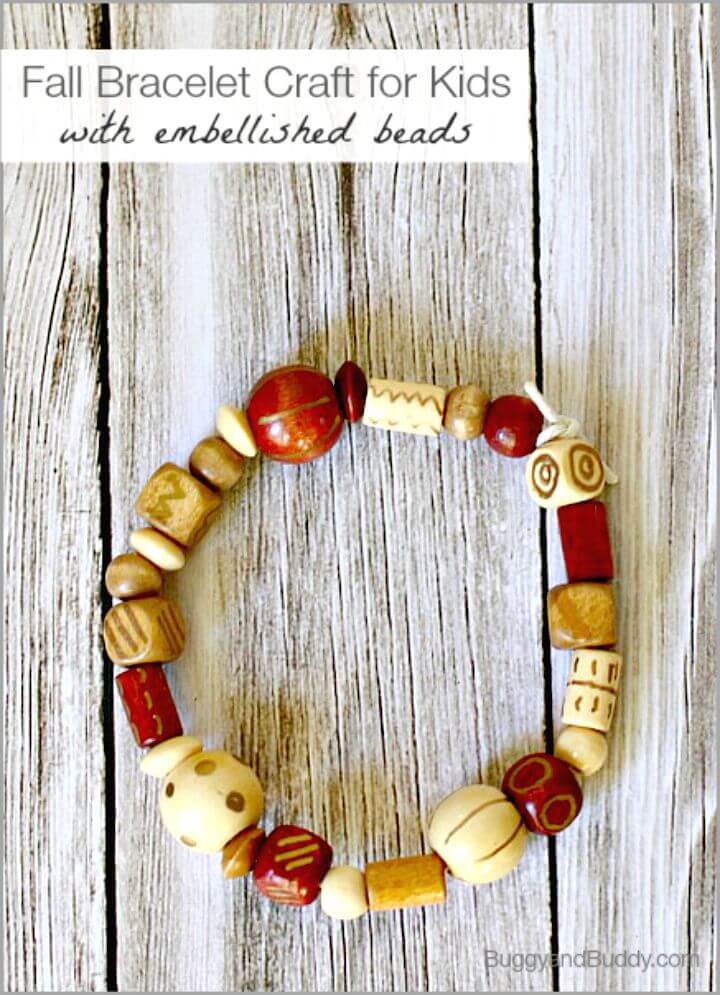 You will definitely fall in love with this given bracelet that is both vintage inspired and modern looking! Here this handsome looking bracelet is made of assorted wooden beads that come in different geometrical shapes and have been spruced up with metallic sharpies! Finally finished wooden beads have been threaded onto the a piece of string or cord and hence a charming bracelet has been achieved that will rock every wrist! Another fantastic bracelet design that will make a great gift for a fashion loving lady! Complete visual tutorial and instructions here buggyandbuddy
Create Your Own Tin Foil Bangles: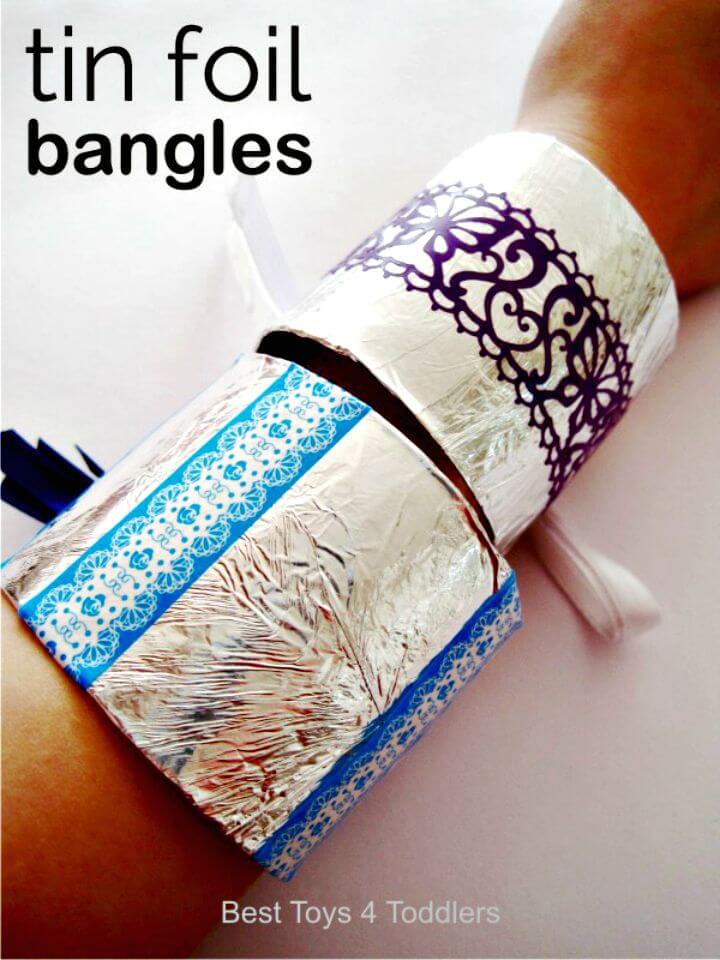 Intending to make a necklace without getting expensive? If yes, then here is another brilliant hack that will definitely inspire your creativity! Just chop a toilet paper roll to get some bracelet like lengths which you can adorn with aluminum foil and also with lacey style and patterned tapes to make great looking bracelets! Check out there the sample bracelets that are looking damn beautiful! Complete visual tutorial and instructions here besttoys4toddlers
Simple DIY Folded Paper Bracelets: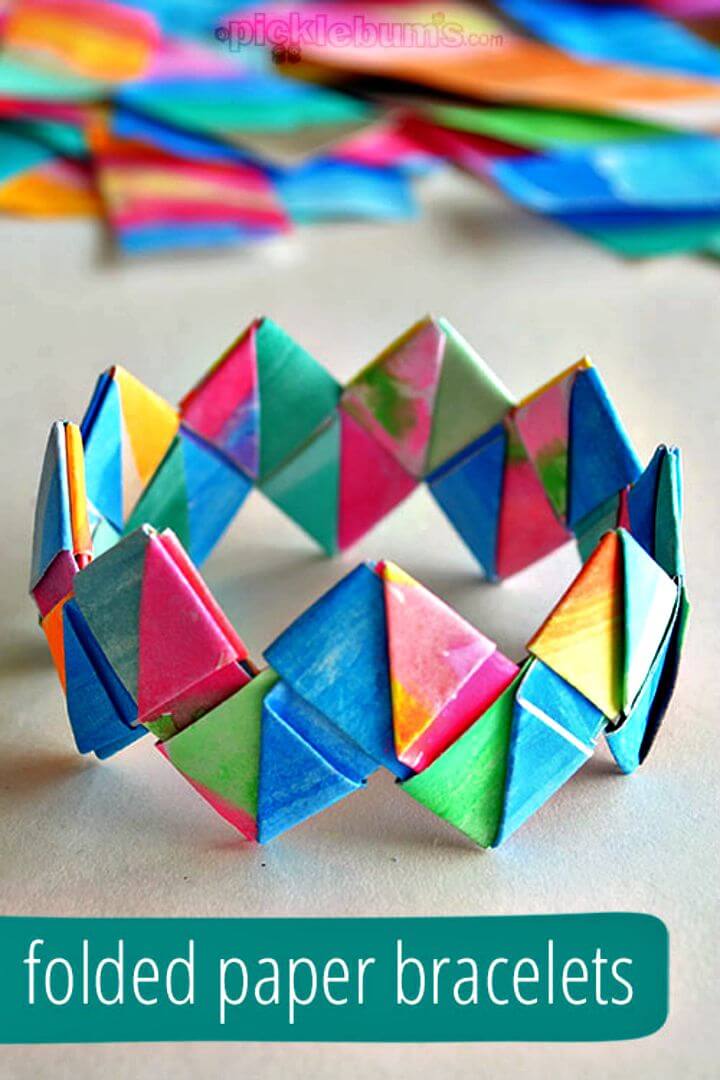 Here is what amazing you can do with the ordinary and scrap papers! Just go handmade with custom paper folds and make geometrical statement necklaces that will be loved dearly by all friends if given as a gift! Here kids painted papers have been cut into custom stripes which has put together and folded ingeniously to make a very gorgeous looking paper bracelet! Intending to duplicate this bracelet? Complete project tutorial and instructions here picklebums
Adorable DIY Charm Bracelet: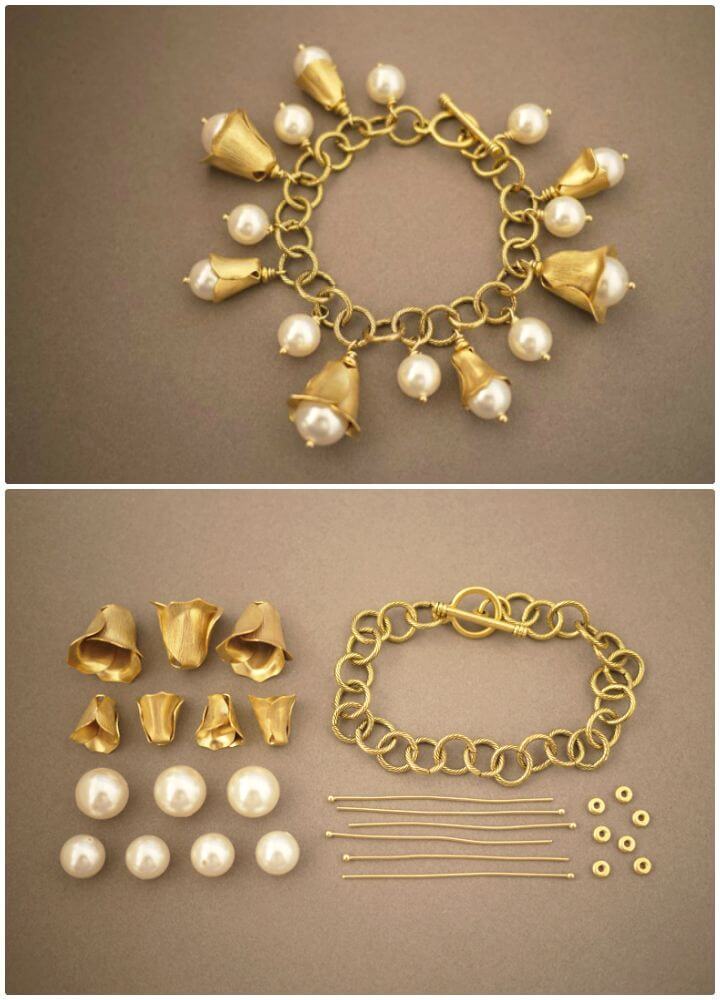 Create a posh appeal of your wrist by wearing this charm bracelet that is purely handcrafted and is really looking expensive! This charm bracelet is actually a smart remake of an charm metal chain bracelet that is looking damn beautiful! Here the white pearls have been fitted in metal petal caps and then have been added to charm bracelet using gold plated headpins! An outstanding bracelet makeover ever done! Complete project tutorial and visual guides are here honestlywtf
DIY Earth Day Eco Bead Bracelet Craft:
Here is a very special and exclusive handmade bead bracelet that would make a great gift for the Earth Day! Here all you need an artwork page or a painting which can be cut into strips! Just roll the strips to make bracelet beads and then add them to bracelet cord with other bead spacers and make outstanding looking Earth Day bracelets! This is here another fantastic and good looking bracelet that everyone can duplicate! Complete project tutorial and instructions here intheplayroom
Cute DIY T-Shirt Bracelet: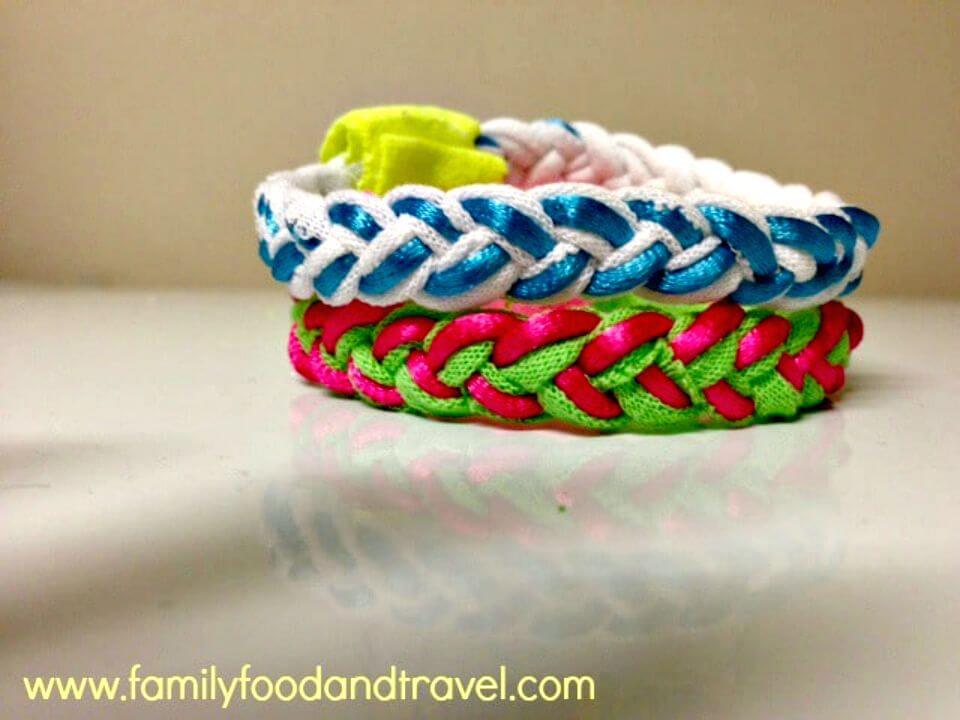 If you are having some old t-shirts in home that are no more in use then why not transform them into handsome looking pieces of jewelry? This may sound strange to you but you will find it so true after taking a look at this t-shirt bracelet that is made of t-shirt yarn! Here different colored t-shirt yarn has been braided together to make gorgeous looking bracelet in no time! Don't forget to finish your bracelet with lobster clasp and other jewelry hardware! Complete tutorial here familyfoodandtravel
How to Make Shoelace Wrap Watch:
We all love to wear watches and bracelets to adorn our wrists but you can mix also both things to make gorgeous looking bracelets in just no time! Here a shoelace and a watch has been used to make lovely bracelet that will also count the time! Here all you need to detach first the watch straps and then to add the green shoelace in place that will help gain a beautiful looking bracelet! Get inspired of this lovely sample bracelet here that is looking much beautiful and enticing to eyes! Complete visual guide and tutorial here artscrackers
Beautiful DIY Scrapbusting Fabric Twine Bracelet:
Turn the old fabric into twine and then just braid the twine lengths together to make great looking bracelets! Have a look at this another fantastic scrapbusting fabric twine bracelet that is looking damn beautiful and would also make a handsome gift to someone special! Finished your bracelet braids with ribbon ends and also with lobster clasp using the jump rings! Another beautiful and outstanding bracelet design to make at home! Complete visual instructions here sumoftheirstories
Cute DIY Gold Tube Bracelets: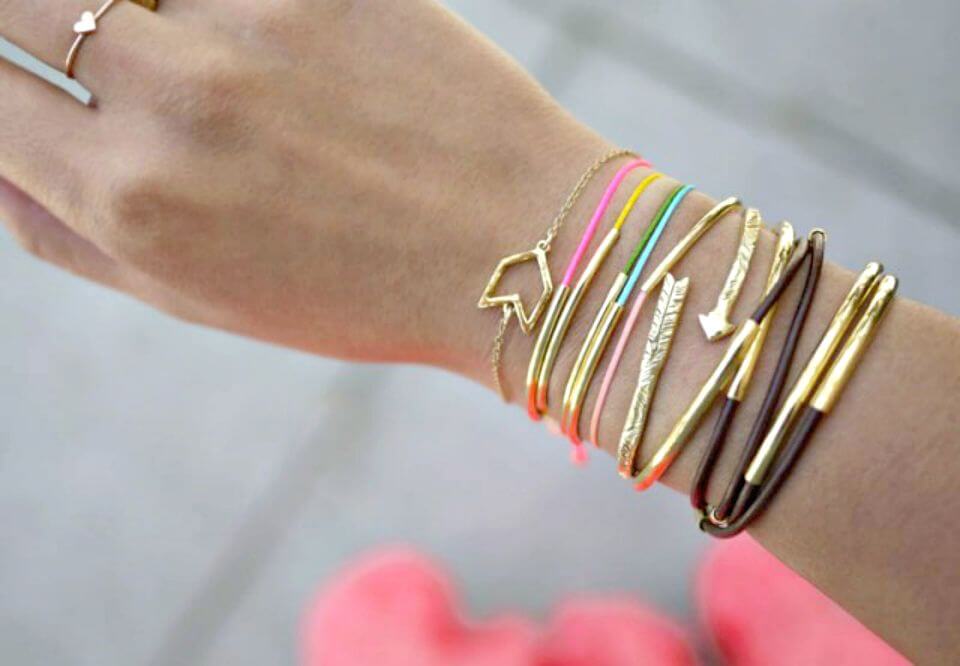 Look at this another fantastic design of bracelet that is totally unique and praise-worthy! Here the gold noodle tube has been threaded onto the knotting cord and then custom knots have been tied along with adding custom gold spacer beads! Hence a fabulous gold tube bracelet has been made that just look amazing and outstanding! You can also experiment this tube bracelet with leather cord! Grab the full free instructions and tutorial from here honestlywtf
How to Make a Wire Wrapped Bracelet:
Have a look at this another great bracelet achievement that has been done using the gemstone beads, golden aluminum wire and gold jewelry wire! Here all you need is to wrap the thin wire onto the thicker wire cut in bracelet size and the creative twist is that you have to add the gemstone beads too while wrapping the wire around the bigger wire! This bracelet would definitely bring extra charm and grace to your wrist! Complete project tutorial and instructions here pandahall
DIY Painted Leather Bracelet: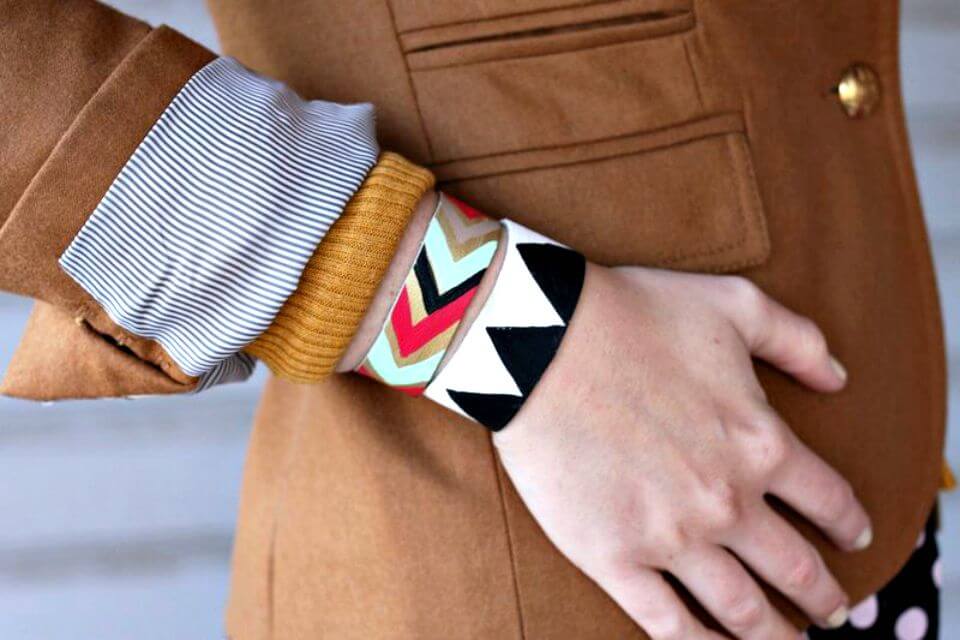 You can also use the leather strips to make instant cuff bracelets in just no time! Here the painted leather straps have been painted for custom geometrical patterns and designs and have finally been finished with snap hardware to make great looking leather bracelets in just no time! Just Check out here the sample leather bracelets that come with custom chevron and triangular geometrical patterns and are looking damn cute! Grab the full free instructions and tutorial from here abeautifulmess
Cute DIY Hex Nut Diamond Bracelet:
The hex nuts can be much more than just being a hardware item! You can also make smart use of them to make gorgeous looking bracelets at home without getting expensive! Here the hex nuts have been put together using jump rings to make a diamond shaped charm and next has been finished with the rat tail cord to make a gorgeous looking diamond bracelet! Here both the nuts and jump rings have been selected in sparkling brass shade! Another outstanding and beautiful bracelet idea! Complete project instructions here trinketsinbloom
Gorgeous DIY Trendy Bee Cuff:
You will not find a bracelet more beautiful than this trendy bee cuff that is inspired of celebrity fashion and is looking much expensive item of jewelry! Here a brass cuff has been adorned with bee enamel blanks and next has been spruce up more with the stick on rhinestone for an alluring sparkle and shine! Here the blank enamel bees can be given respective colors using the toothpick and paint! Another designer inspired bracelet to make at home! helloglow
Quick DIY Leather Bow Bracelet: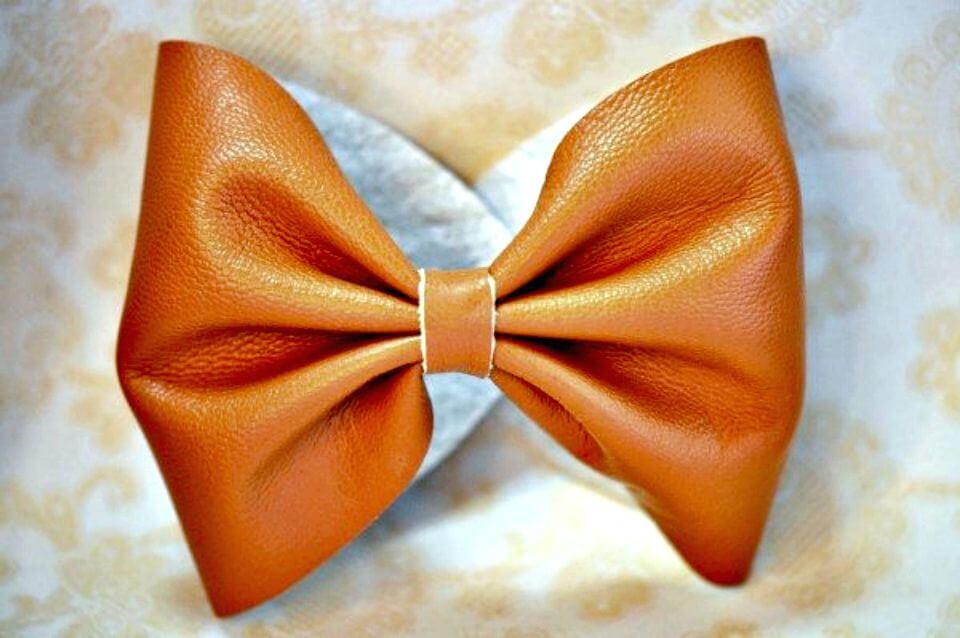 Here is another outlandish design of homemade bracelet that has been made with an oval shaped leather piece cut out from a leather sheet! Wrap the string around the center of the oval shaped leather piece to get a bow shape and you can finish the end of leather bow with snap buttons to make a glam bow wrist bracelet! Get inspired of the given design that is looking damn beautiful! Complete project instructions here ohthelovelythings
How To Make Evil Eye Bracelet:
While making custom bracelet you can get inspired of anything special lying around! Here is another great bracelet inspiration that is a little creepy! This is here the evil eye bracelet that would definitely make a great Halloween gift and will also help to boost your fashion! This is here another fantastic bracelet design that has been made knotting cord, evil eye charm and with a metal chain! Willing to duplicate it now? Grab the full free guides and visual tutorial from here mylittlesecrets
DIY Stamped Initial Bracelets: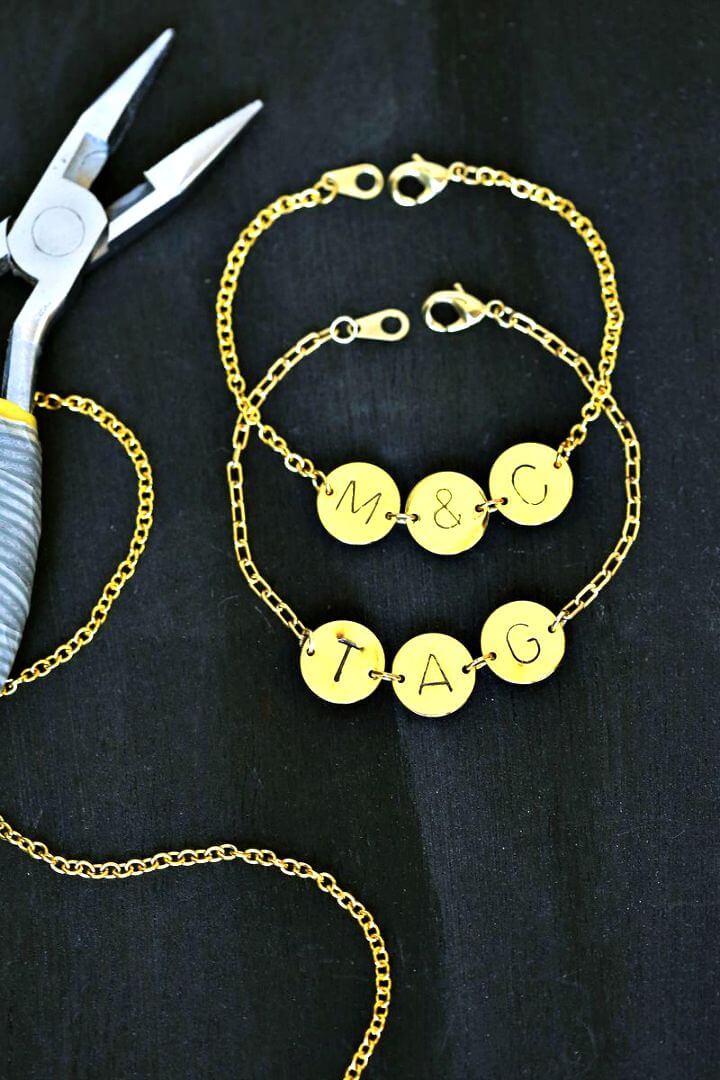 One more innovative design of handmade necklace that comes with stamped round charms! You will require here the gold coin discs, metal chain, lobster clasp, jump rings and letter punch stamps to make these stamped initial bracelets for yourself and for your beloved ones! This is here another exceptional design of handcrafted necklace that has been done to inspire and also to rock your wrist! Grab the full free tutorial and instructions from here abeautifulmess
Easy DIY Chunky Leather Bracelets: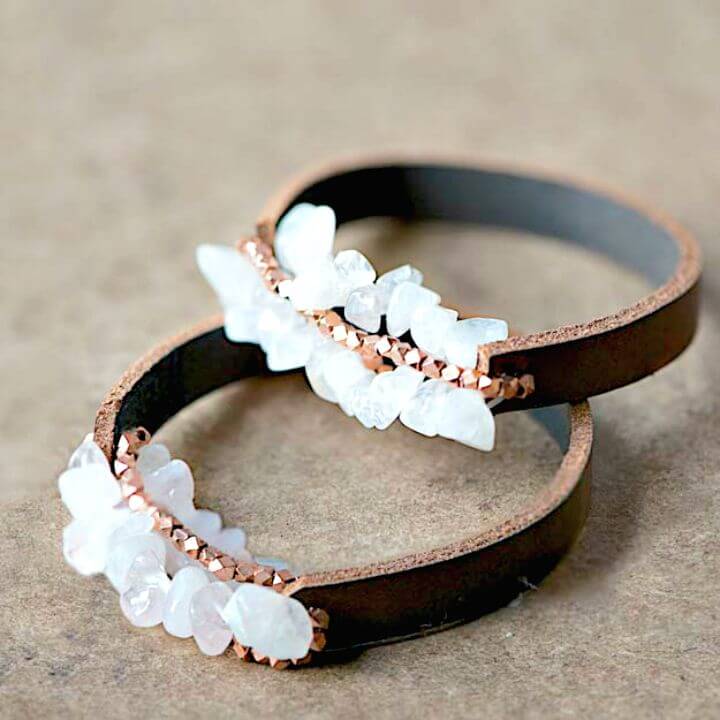 You will surely fall in love with these chunky leather bracelets that are looking much focally stimulating! Here the chunky leather straps have been holed in both ends and then have been connected through a piece of elastic that comes through both ending holes and is full of strung up rose quartz beads! This is here a no-closure leather bracelet that will also make a great gift for any occasion or festival! Complete tutorial here lebenslustiger
Quick DIY Etched Copper Cuff: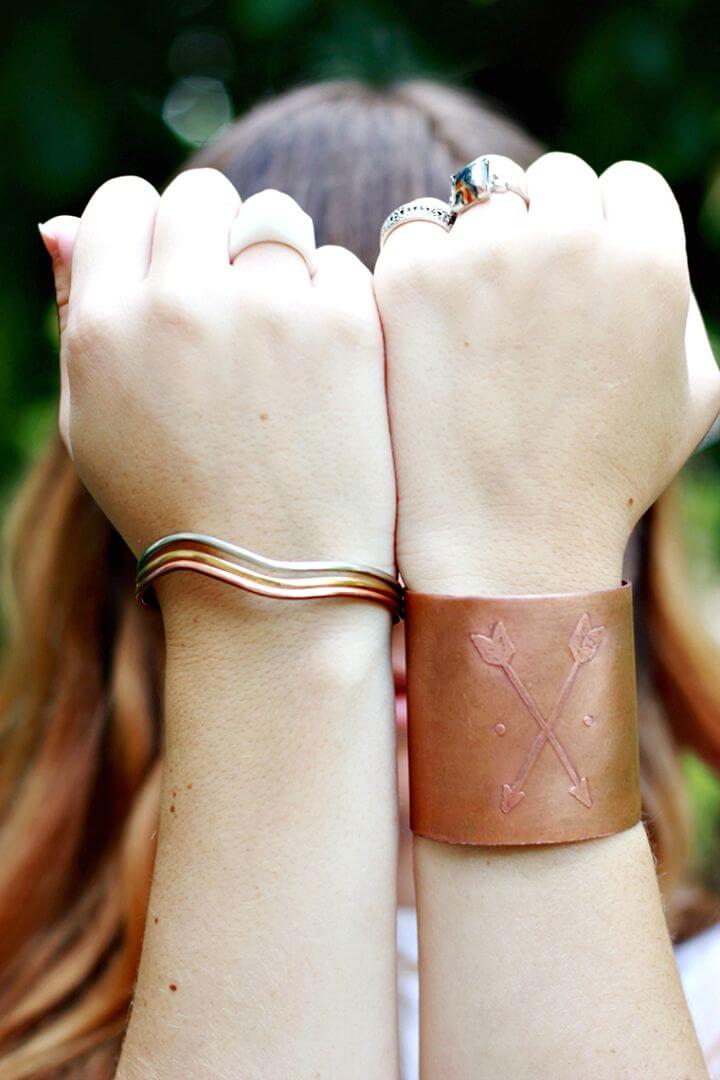 Duplicate also this etched copper cuff that will definitely spruce up your wrist and boost your fashion! Here to make the copper cuff, you need to cut a custom size from a copper pipe and next you can give a cut to gain a copper cuff! Final step would be to use the etching technique to make custom symbols, signs and shapes on your copper cuff bracelet! Complete project details and etching tutorial here themerrythought
How To Make Pom-Pom Bracelet:
One more enticing looking design of handmade bracelet that has been done to inspire and is really looking great! Here this handsome bracelet design is made of gold chunky chain, black pom-pom ribbon or trim and thin cord that has been selected in charming aqua color! This is here another fantastic looking bracelet design that has been done to inspire and is looking damn beautiful and enticing! Willing to duplicate this bracelet? Grab the full free tutorial and instructions from here thanksimadeitblog
DIY Pom Pom Wrap Bracelet: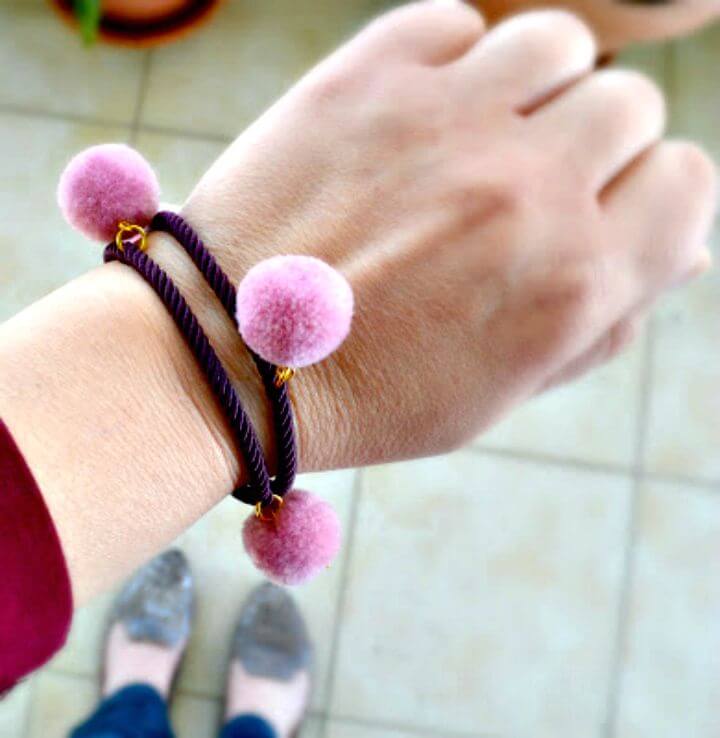 Intending to make a bracelet quickly for a friend or family member? If yes, then here is a great bracelet design that you can duplicate in no time and it will bring great visual appeal to your wrist! This is here the special pom-pom wrap bracelet that has been made with silk cord that comes with pink pom-pom adornments added to cord using gold jump rings! This is here another lovely and enticing looking bracelet that is super gift-worthy too! Complete visual instruction and tutorial here happygirlycrafty
Gorgeous DIY Seed Bead Epoxy Clay Bangle: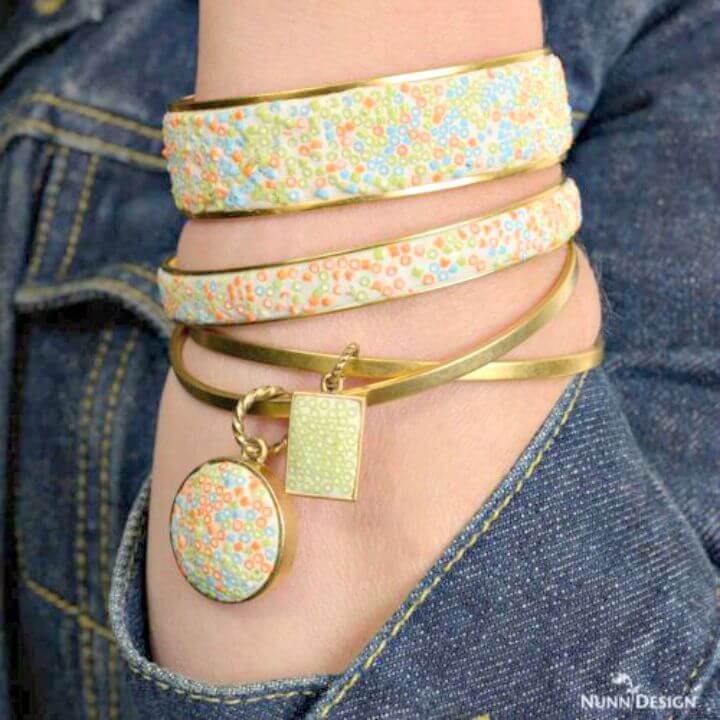 Bring glam finishing touch to your outfit by wearing also this enticing looking epoxy clay bangle bracelet that comes filled with seed beads that also bring lots of colors to it! Here all you need the bangle bracelet channel that can be filled with crystal white clay! Next you can spread the seed beads over a flat surface and can just roll your bracelet over it to let the seed beads stick all over the clay track! Give a custom finish and just get your necklace to wear around your wrist! Complete project tutorial here nunndesign
Make Stylish Rope Jewelry Bracelet: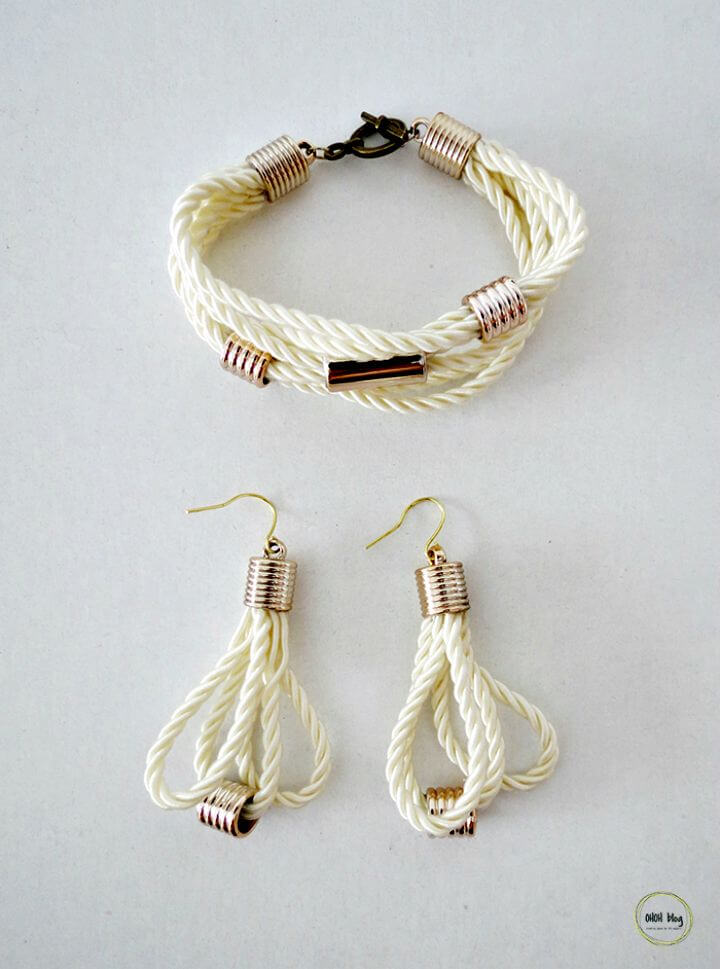 If you are a big jewelry wearer then you will definitely love to grab to this stylish rope bracelet and earring set that has been done to inspire and amaze! Here this rope bracelet has been done using the rope, metal tube bead and spring style end beads! Finally this rope bracelet has been finished with custom ring clasp and jump rings and makes a stunning piece of jewelry! Intending to duplicate this stylish rope bracelet? Grab the full free instructions and tutorial from here ohohblog
Gorgeous DIY Embroidered Copper Bracelet: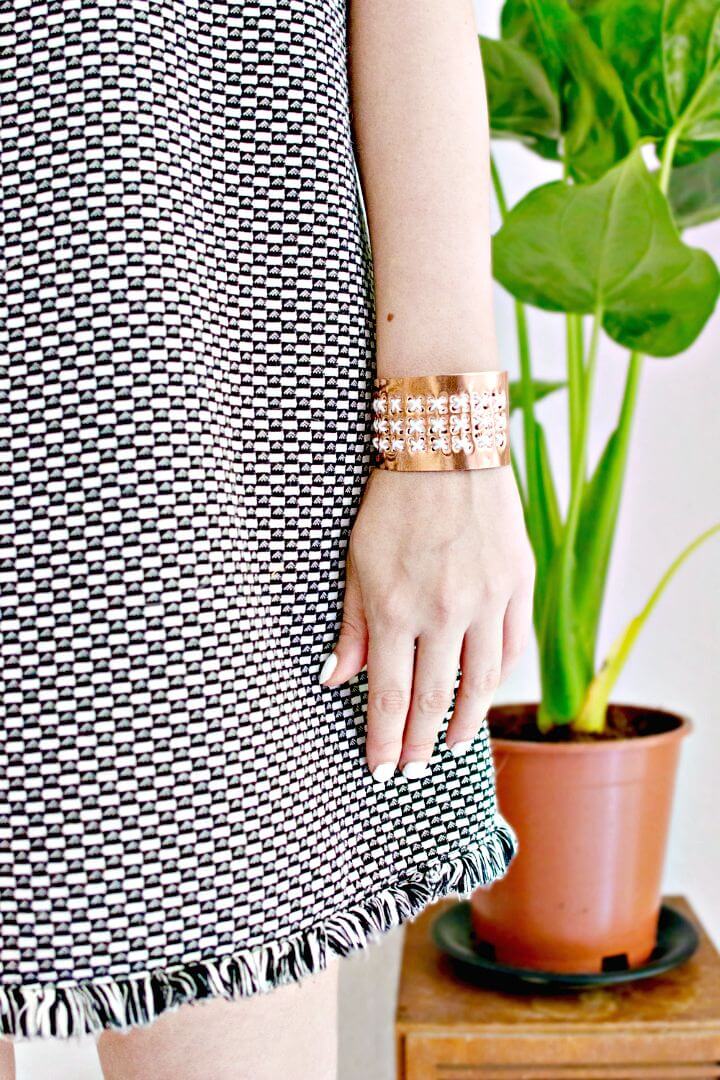 Check out here very fantastic looking bracelet design that you see in boutiques and jewelry shops but here it has purely been made at home! Cut a strap of copper foil and make its edges round! Drill custom holes in it and next get the thread the embroidery floss in the needle and start the embroidery the work! Embroider the copper foil bracelet by passing the needle thread through the holes and make a superb bracelet that would also make an epic present to a fashion lover! Complete tutorial here lanaredstudio
Stylish DIY Leather Bow Charm Bracelet: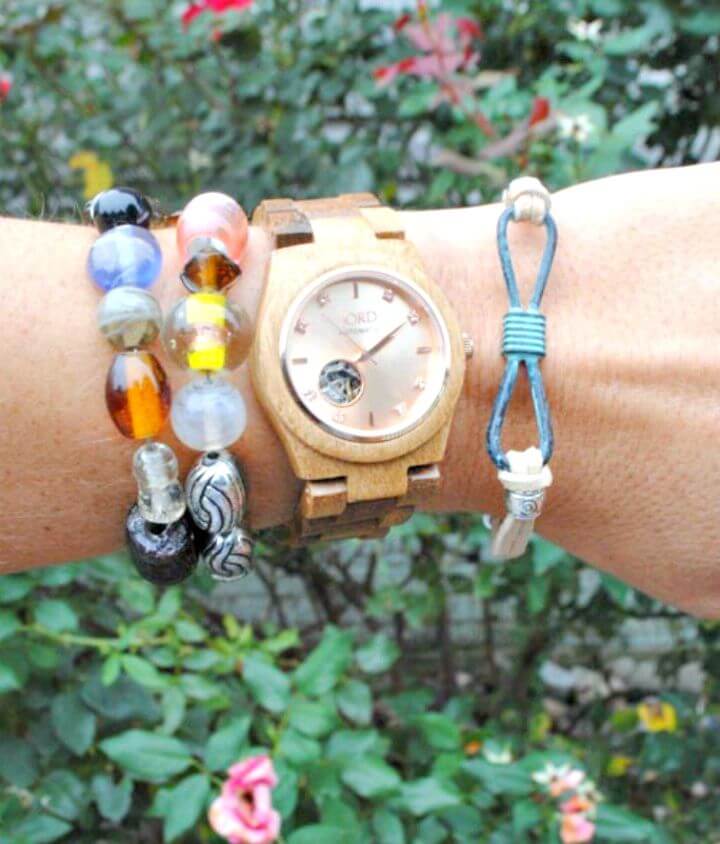 Have a look at this another glam looking charm bracelet that will pair up beautifully to any outfit and is damn lovely to look at! here all you need the leather cord, leather bow charm, silver space beads, small silver jump rings and fold over cord to make this interesting looking charm bracelet that is looking damn beautiful and enticing! Want to own this handsome looking bracelet? Then just grab the full free instructions from here beatnikkids
Simple DIY Crocheted Bracelet:
Please your friends and family members also by making these crocheted bracelet gifts! Just grab the scrap fabric from home like the old t-shirts and just cut them into longer stripes! Next fold the strips to make the fabric yarn which can then be crocheted to make the lovely looking fashion bracelets just like the given ones that are much focally stimulating! Another brilliant and fantastic bracelet design that you can duplicate in no time! Complete tutorial here scatteredthoughtsofacraftymom
How To Make Infinity Knot Bracelet:
Make also handsome looking bracelets at home by giving custom accent knots to your selected cords or rope lengths! Here the custom colored cotton cords have been put together and have been changed into a brilliantly beautiful design of bracelet by giving the infinity knots! This is here another outstanding and fantastic bracelet design hat you can duplicate in just no time! Complete visual instructions and tutorial here likelybysea
DIY Watch Strap Rhinestone Bracelet: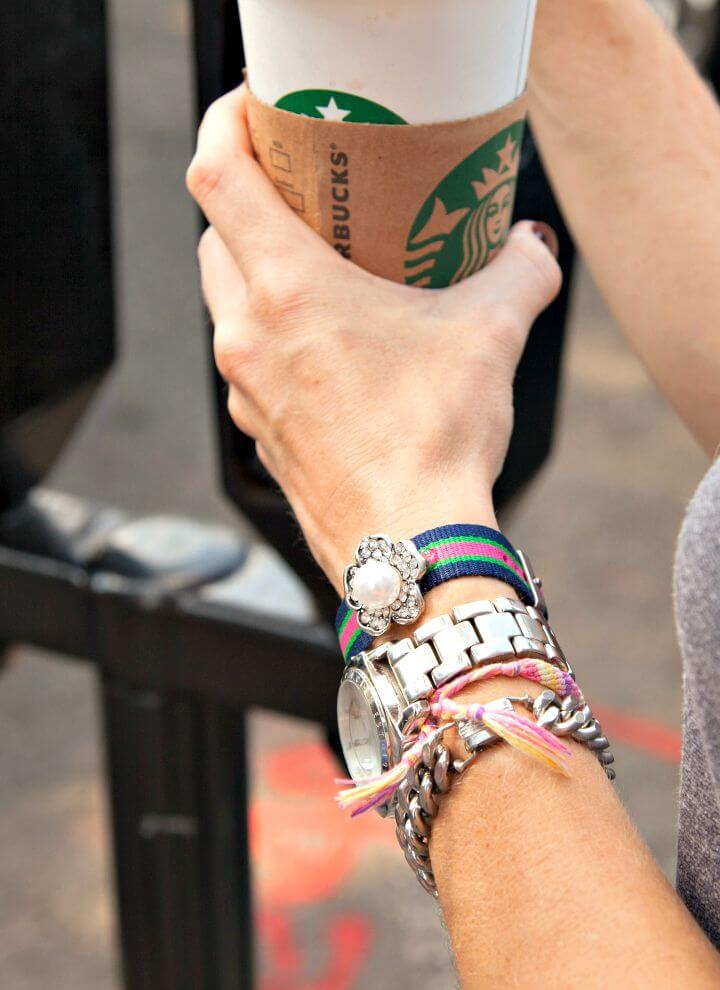 Raise your wrist style also by wearing this rhinestone watch bracelet that is looking extra beautiful and stunning! Time to bring great charm to your wrist with this fashion-worthy rhinestone watch bracelet! Here all you need a watch strap and a rhinestone brooch or button to make this glam design of bracelet in just no time! Another brilliant and mind-blowing bracelet design to duplicate for a friend of for style lover in family! Complete instructions here trinketsinbloom
Beautiful DIY Paper Wrapped Bangles:
Here a pretty quick and simple idea to make graceful bracelets at home! Check out these sample bangle bracelets that are a big delight to view and have been made by wrapping the wooden bangles in custom printed papers! Just cover the wooden bangles with mod-podge and then with your favorite paper strips to gain outstanding looking bangle bracelets that will also make a great gift! Complete visual instructions here thecraftedlife
Make Your Own Bead Loom Cuff Bracelets: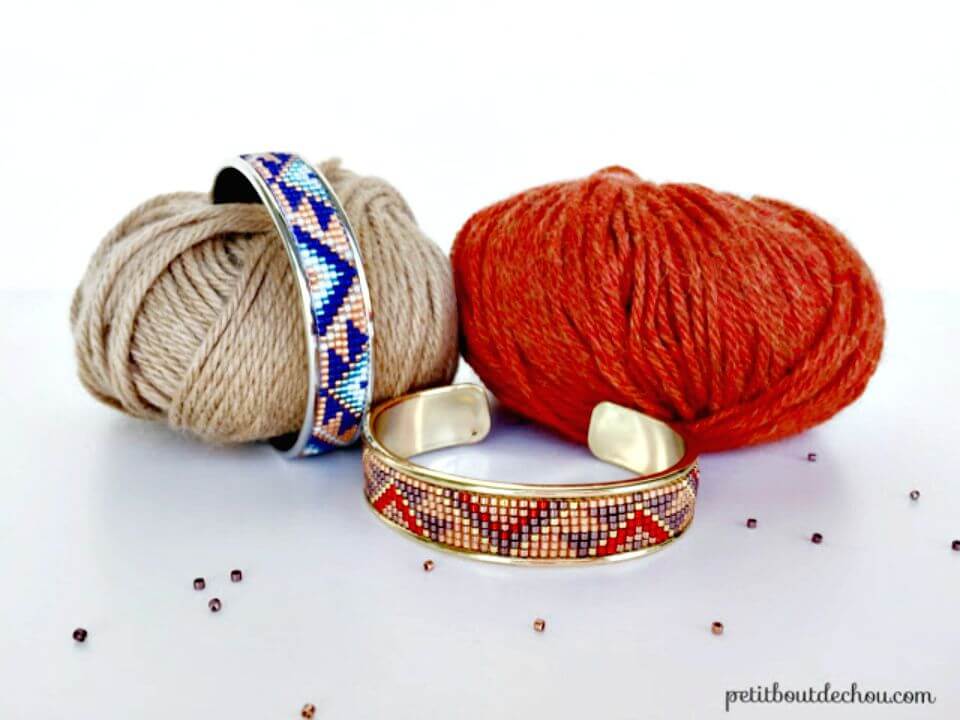 Have a look at this another dashing design of handmade bracelet that has been done to inspire, rock and amaze! Here a beaded loom strip has been dropped in a metal cuff bracelet channel and has been secured around it using hot glue and hence a precious looking bead loom cuff bracelet it is made that is just unbeatable in beauty and cost price! This would make a heart touching gift for a style loving girl or lady in your home! Here is how to make your bead loop and the overall bracelet petitboutdechou
Famous How to DIY Bracelets: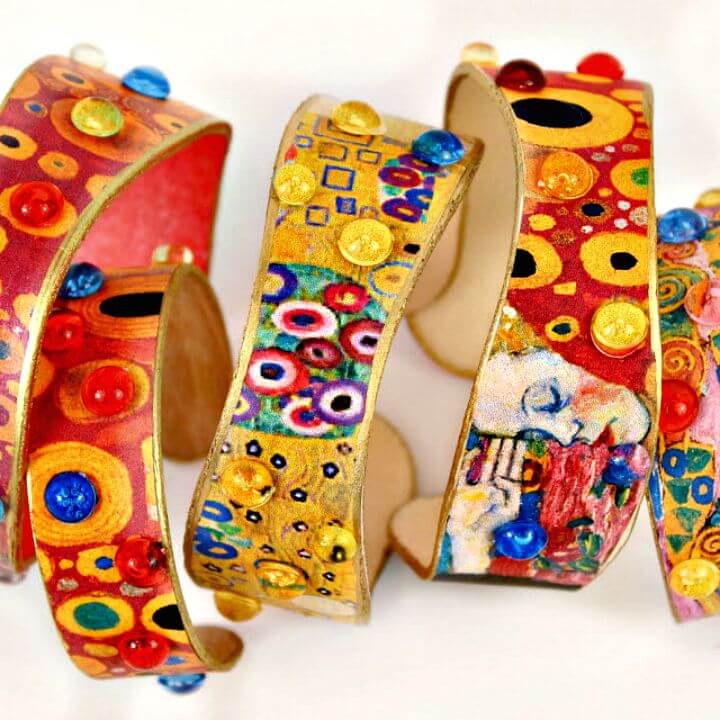 Another great bracelet discovery here, the very gorgeous looking bracelet that has been done to inspire and will just cost you almost nothing! Here the popsicle sticks have been boiled and then have been bend into a bracelet shape! Finally they have been adorned with metallic gold paint markers and also with glass gems to make beautiful looking bracelets! Get inspired of the given sample bracelets! Complete tutorial and instructions here markmontano
DIY Thread-wrapped Bracelets Two Ways:
Duplicate this another fantastic looking bracelet design that is made of bracelet cord that has been brought to a colorful appeal by getting wrapped in colorful embroidery floss selected in different colors! Here the finally completed thread wrapped cord has been brought to competition with end caps and with lobster claps to get a precious looking bracelet! Finally the rhinestones and tassel charms have been added to raise the beauty of the necklace to next level! Complete visual tutorial here whydontyoumakeme
Beautiful DIY Princess Jasmine Bangles:
Check out here another most expensive looking bracelet design that is made of recycled and home materials and is amazingly cost-efficient! This is here the princess jasmine bangle that has been made to inspire and rock and is really looking lovely! What you have to do is to cut a bangle size from a chip can or towel tube and then to add dried pasta all around its edges as artistic accents! Next just gold spray paint the entire bangle and finish with the glitter and gems! Have a look at the given sample and get inspired! Complete visual instructions and tutorial here sugarspiceandglitter
Make Your Own Silk Tassel Bracelet:
If you are a fashion enthusiast then you will surely like to praise this silk tassel bracelet that is a great discovery and achievement! Here a custom cut piece of silk cord has been finished with ending cups, jump rings and clasp and also with cotton tassel charm to make a great looking bracelet! This is here another gift-worthy and praise-worthy bracelet design to make at home with getting a bit expensive! Grab the full free instructions and tutorial from here lottsandlots
Adorable DIY Evil Eye Macramé Friendship Bracelets: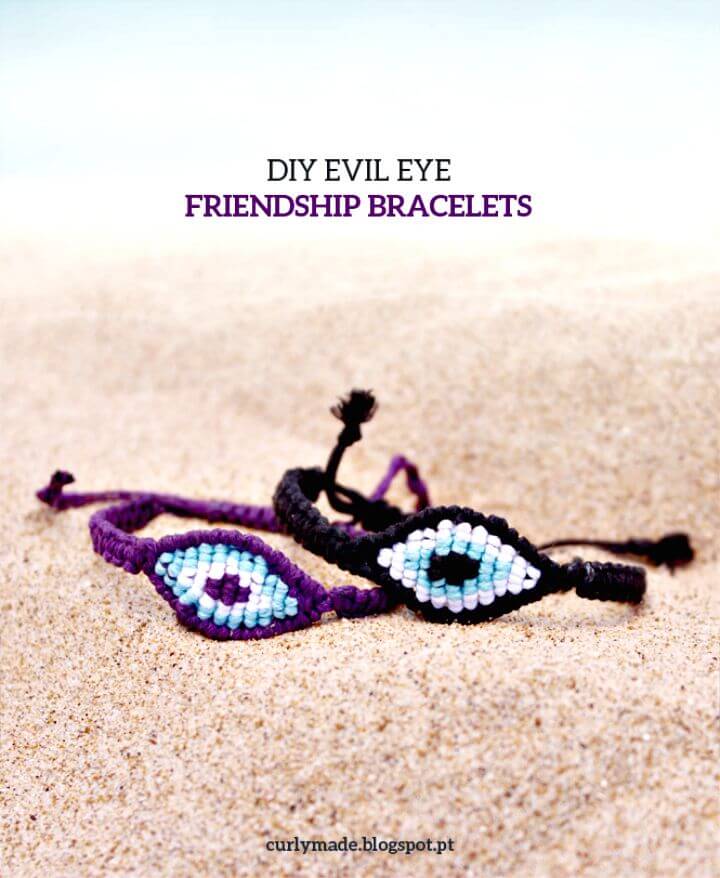 Create a praise-worthy appeal of your forearms also by wearing these macrame bracelets that are just perfect to give to your friends as friendship bracelets! These are here the evil eye macrame friendship bracelets that unique and fashion-worthy! If you know the art of knotting and macrame-ing then making these bracelets would just be a piece of cake! Grab the full free tutorial and instructions from here curlymade
DIY Double Wrap Leather Beaded Bracelet:
Get smartly crafty also with thread and leather cord to make very good looking forearm bracelets! Here the double leather cord comes with line of beads in the center secured in place using thread wrapped around both of the cord lengths tightly! This is here another beautiful and graceful design of bracelet to make at home without getting a bit expensive! Finished the bracelet with closure knots given to base and that's it! Grab the full free instruction and tutorial from here likelybysea
Beautiful DIY Foil Fruit Charm Bracelets:
Cut out coin discs out of aluminum foil and then transform them into fruit charms using custom sharpie colors! Next just thread them onto a piece of twine or string to make a handsome looking fruit inspired that will go dashing to every wrist! This is here another gift-worthy and praise-worthy bracelet project to inspire your creativity! Get the full free instructions and tutorial from here ourkidthings
DIY Wooden Fruity Bracelet Trinket Boxes:
Stare a little at these dual functional bracelets that will not adorn your wrist but will also make great mini trinket boxes! Here the wooden bangles have been painted in a custom way to take a fruity avatar, just Check out here the orange slice and water melon bracelet boxes that are amazingly beautiful! Here finally these bracelet trinket boxes have been finished with clay lids and that's it! Complete project details and tutorial here damasklove
How To Turn Your Handwritting Into An Embroidered Leather Cuff:
Spruce up your wrist also with this precious embroidered leather cuff that is a also an creative bracelet achievement! Here a piece of leather has been embroidered for "love" letters and also comes with a leather bow accent! Next the holes have been punched in its all four corners to tie the bracelet lengths that can also be made by braiding the twine! Another brilliant and fantastic bracelet project! Complete tutorial and instructions here akamatra
Create Stacking Wire Bangles: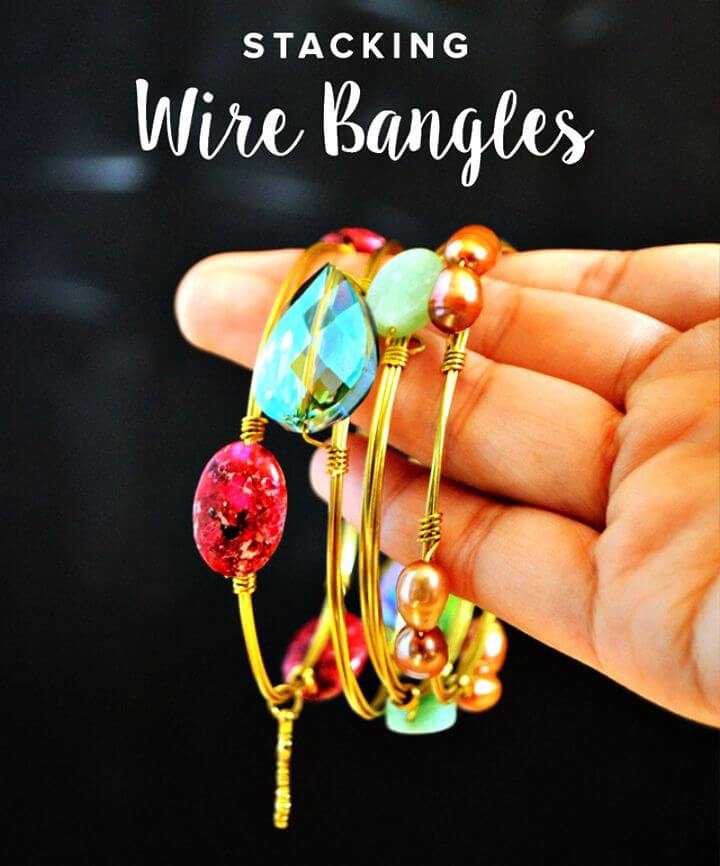 Make also dashing wire bangles that will be the fashion-worthy alternatives to expensive bracelets! Check out here the stacking wire bangles that are looking amazingly beautiful and are made of gold jewelry wire that have been coiled to make a bangle! Next the jewelry stones have been added all around the bracelet that sit in place through the wire wrap! This is here another lovely and beautiful bracelet idea to inspire your creativity! Complete visual tutorial here mintedstrawberry
How To Make Foodie Bracelets:
Here you next fantastic bracelet inspiration, the super charming foodie bracelets that have been made using the small beads and the alphabet beads that have been threaded onto a black elastic string in such a way that the alphabet beads make custom words, names and letters! You can experiment this bracelet with custom alphabet beads to make you name or of your beloved one! Another interesting and genius bracelet idea! Complete tutorial and instructions here curiousandcatcat
DIY Personalized Wire Wrap Pearl Flower Bracelet: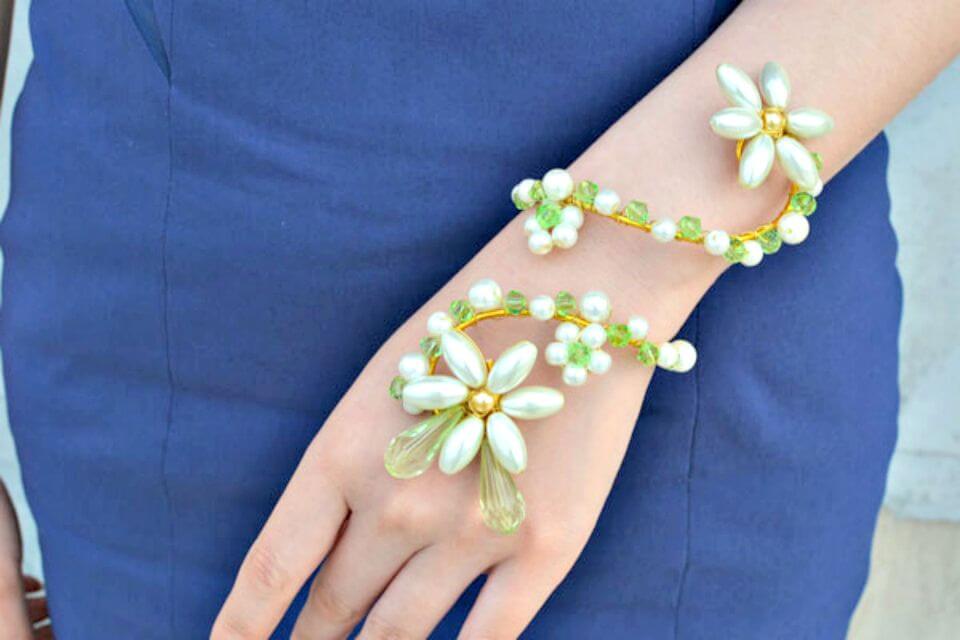 If you are a big fan of flowers then time to see them on your wrist all the time! The idea is to make some brilliant looking flower bracelets and here is a beautiful and innovative suggestion! Here this bracelet is made of pearl flowers and pearl beads that have been added to gold aluminum wire using the copper wire! Bring great visual details to your forearm by wearing this posh looking handmade bracelet that is super gift worthy too! Complete visual tutorial here pandahall
Easiest DIY Summer Bracelets:
Turn you leftover cords into beautiful bracelet the whole process will be a matter of seconds! Just Check out here the summer bracelets that are made of different colored cord pieces glued together! The glued parts have been decorated with metallic tube beads slipped onto that position! Finally the bracelet cord lengths have been finished with bracelet hardware and with a glam looking tassel charm! Another great brace design that super quick and easy to make! Complete project tutorial here happygirlycrafty
How to Make Sweater Bangle: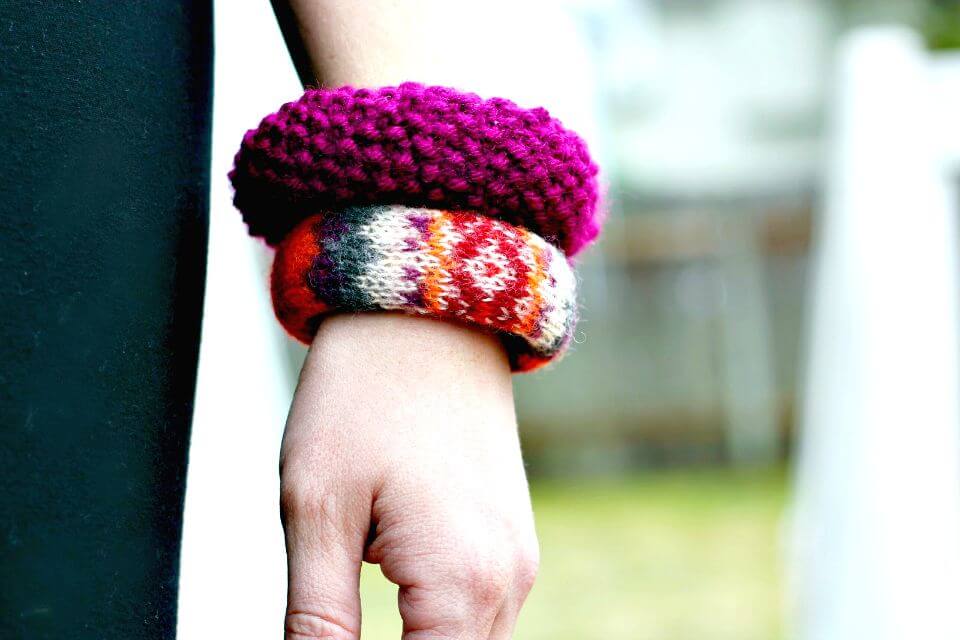 Here what to do brilliant with your old sweaters! Just make the good looking yarn bracelets using your old sweaters and wooden bangles! The idea is to cut custom lengths or strips from your sweater that can be pasted all around your wooden bangles to make gorgeous looking and cool bracelets! Just get inspired of the given sample sweater bangles that are gift worthy and will bring a great visual appeal to your wrist! Use the thread and needle to secure the sweater straps ends in place! Another brilliant but low-cost bracelet idea! Complete visual tutorial and instructions here rebekahgough
Gorgeous DIY Woven Yarn Bangles Bracelet: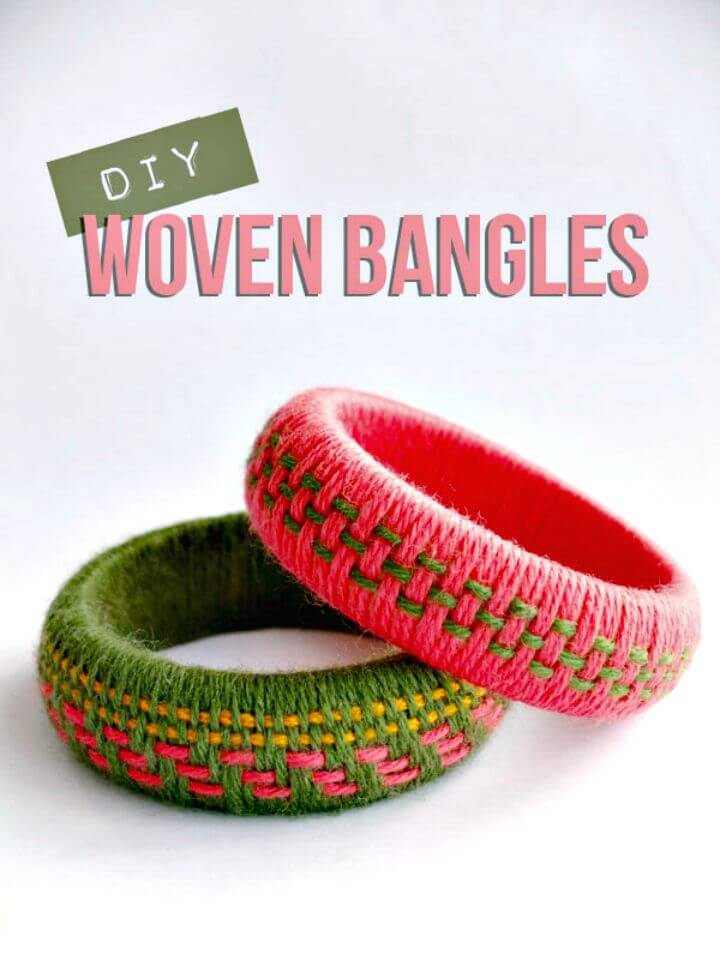 One more extra brilliant and genius bracelet hack is here to inspire your creativity! The idea here make the great looking woven yarn bangle bracelets at home just by tweaking your hands a little! Here the wooden bangles have been wrapped in yarn first and then the yarn wrapped bangles have been woven with a different yarn color! This gives amazing looking bracelets that will bring a great charm and focal stimulating to every wrist of a style loving lady! Another great and brilliant bracelet idea! Complete project details here mypoppet
Make A Finger Fishtail Loom Bracelet: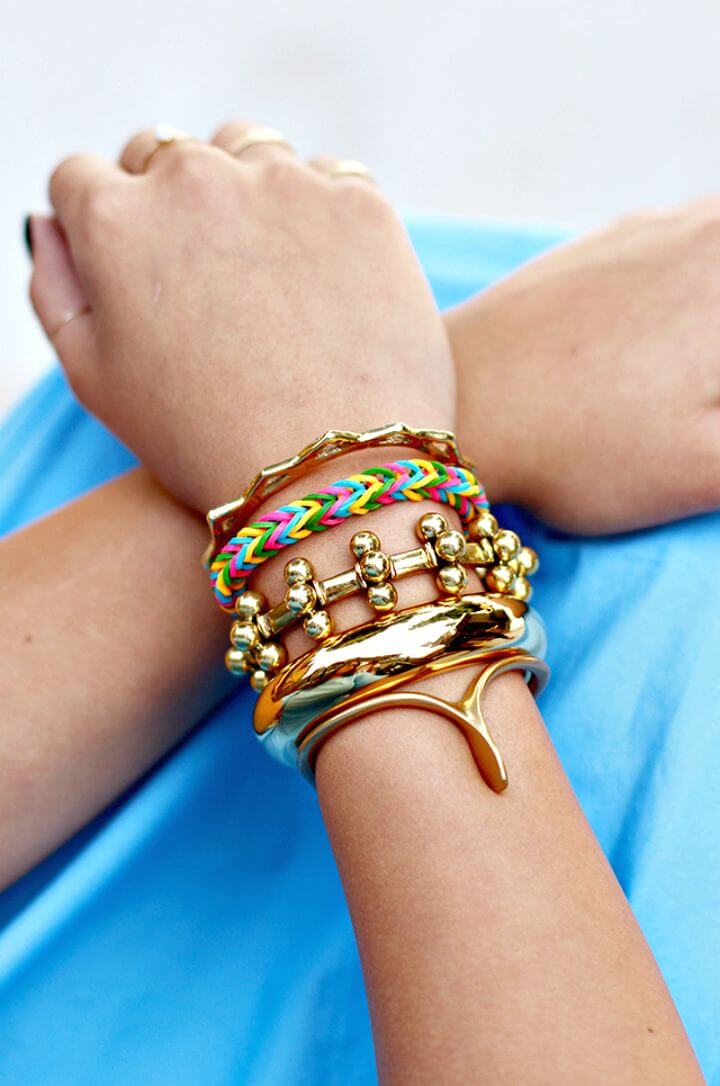 Go for bigger wrist style statements by wearing these finger fishtail loop bracelet! This adorable bracelet creation has been done using the elastic loom bands in different color which have been tied together smartly to make a chevron fishtail bracelet design that has been finished with s-clips! This is here another brilliant and fantastic looking bracelet idea that will cost you almost nothing! Willing to duplicate this handsome bracelet? Grab the full free tutorial from here with visual instructions honestlywtf
How To Make Macrame Rhinestone Bracelet: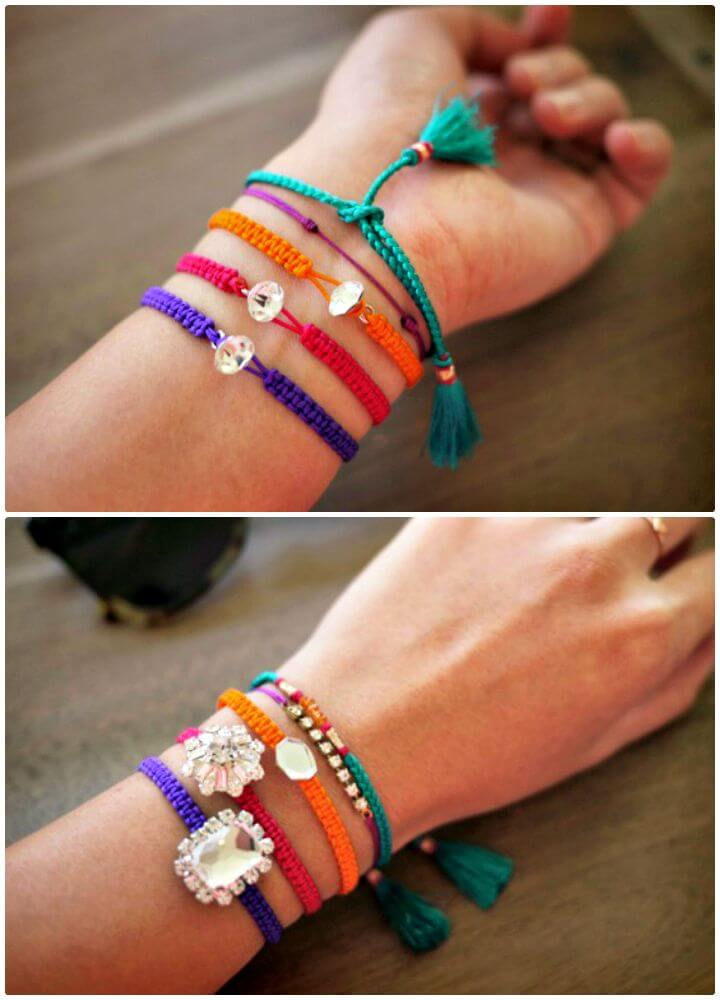 Here is what to do amazing with your art of knotting! Just go with your macrame art and make superb looking bracelets for yourself and for your friends! Just tie custom knots to Chinese knotting cord and craft adorable looking bracelet lengths! Finish your bracelet lengths with rhinestone button accents and get beautiful bracelets! Here two small and big rhinestone buttons have been used for this sample macrame bracelet! Complete visual instructions here honestlywtf
Adorable DIY Painted Wood Bangle Bracelets: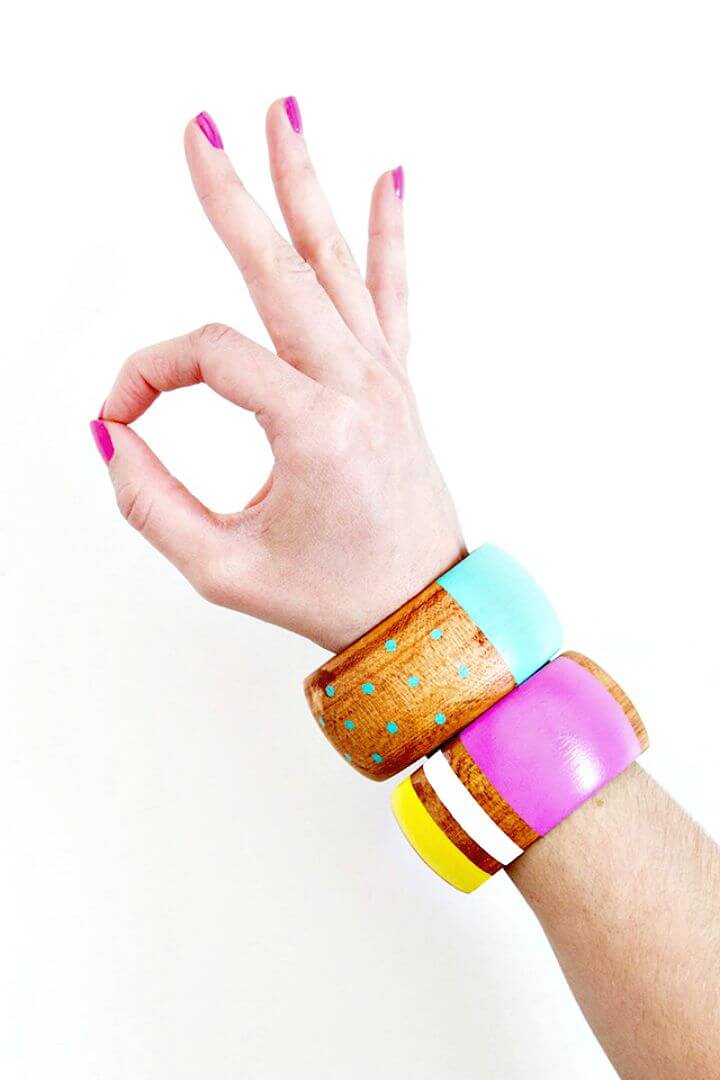 Here is another outstanding homemade bracelet inspiration! The idea here is to just to paint your wooden bangles for custom shapes and patterns and hence they will be converted into amusing looking bracelets! Just check out here these sample bangle bracelets that have been painted for custom polka dots and color stripes and make very cool looking bracelets! Another great and smart hack to make cool bracelets at home! Grab the full free tutorial and instructions from here sarahhearts
DIY Kit Braided Bracelets: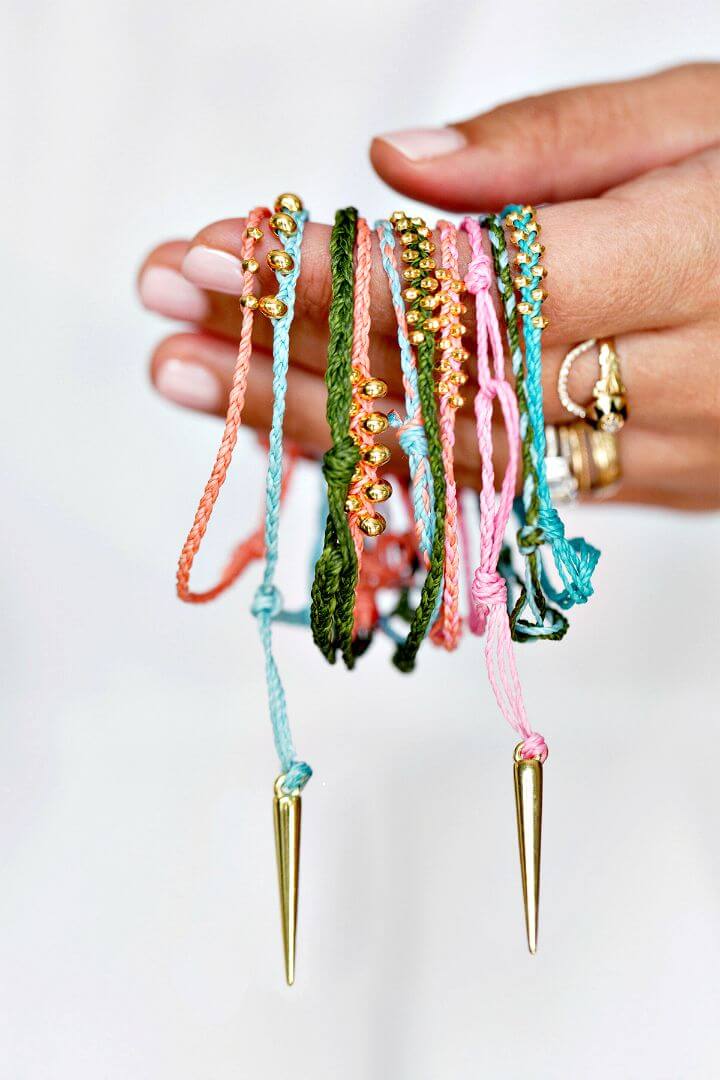 Braid the wax cords selected in different colors and then thread brass beads onto them to make gorgeous looking bracelets for yourself and for your beloved ones! Check out here the kit braided bracelets that are looking lovely and are a brilliant sample here! These kit braided bracelets also comes with hanging gold plated spike charms which just doubles up the beauty of the bracelet! Intending to duplicate this given bracelet? Grab the full free tutorial from here honestlywtf
DIY Macrame Friendship Bracelets: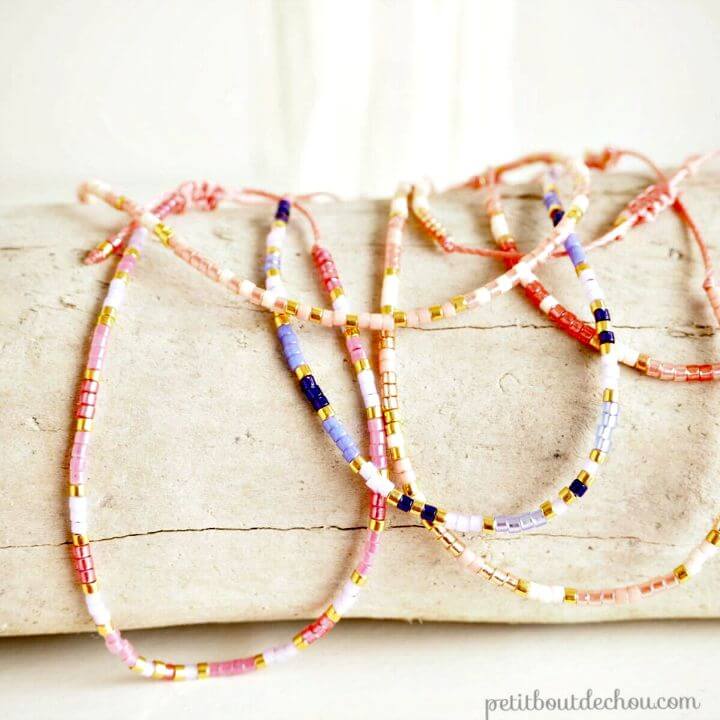 Thread the custom colorful beads onto a piece of thread or string and just give custom accent knots to it using your art of macrame-ing and make cool friendship bracelets at just a drop of hat! Check out there the sample macrame friendship bracelets that are looking much beautiful and eye-catching and will also make an epic presents for your friends! A low-cost, easy-to-make and beautiful bracelet project that everyone can duplicate! Complete visual instructions and tutorial here petitboutdechou
Simple DIY Inspired Bling Bracelet: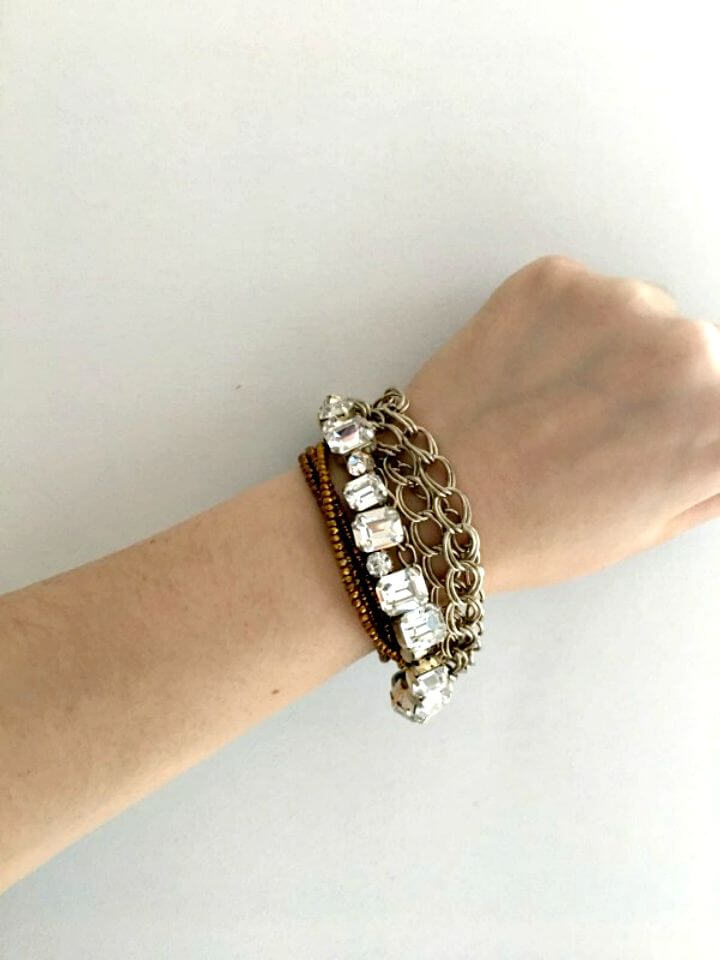 Put together 4 metal chains lengths and then tie ribbons to their ends and knot, hence you will get a fantastic metal chain bracelet! To dignify it more, just thread the rhinestones onto a piece of thread and then layer them on the same bracelet as accent and hence you will get a super lovely and posh looking bracelet design that will definitely help to go for bigger fashion statements! Complete visual tutorial and instructions here hapinesswherever
Make Your Own Wearable Bracelet: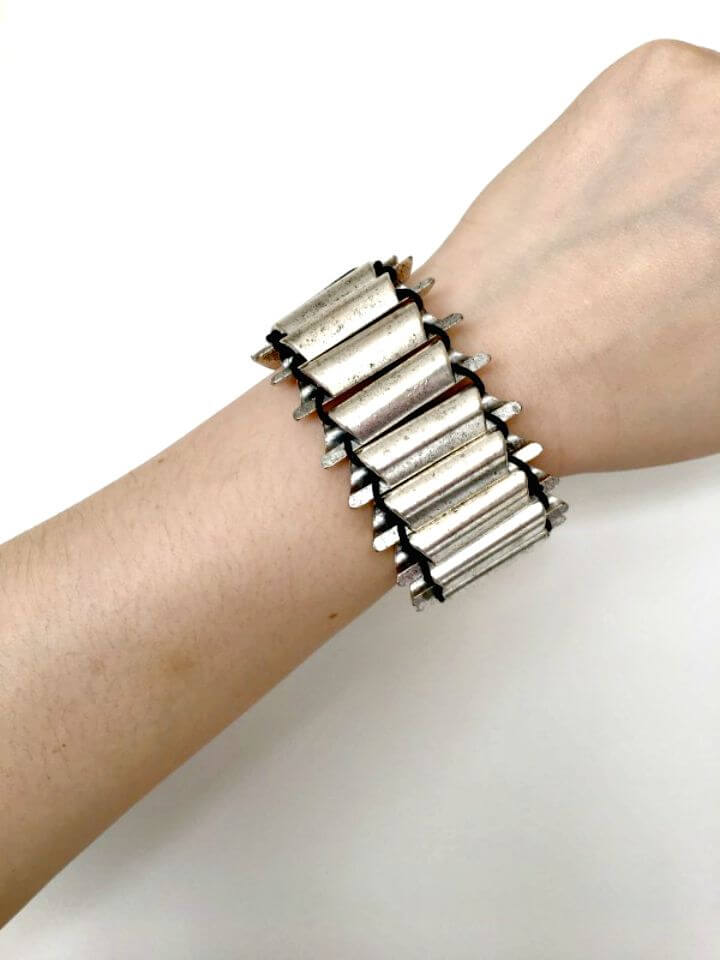 We can bet that you have not seen before a metal charm bracelet more beautiful than this given one! This is here a bling inspired metal bracelet that is made of a silver hoop and silver tube beads! Here all you need is to first knot the black cord waxed cotton cord with the silver hoop and next you cans start threading the silver tube beads onto it in making a vertical bracelet length! After you get a desired bracelet length then just finish the bracelet by knotting the thread to other side of hoop making a loop! Complete tutorial here hapinesswherever
Gorgeous DIY Alexander McQueen Inspired Skull Bracelet: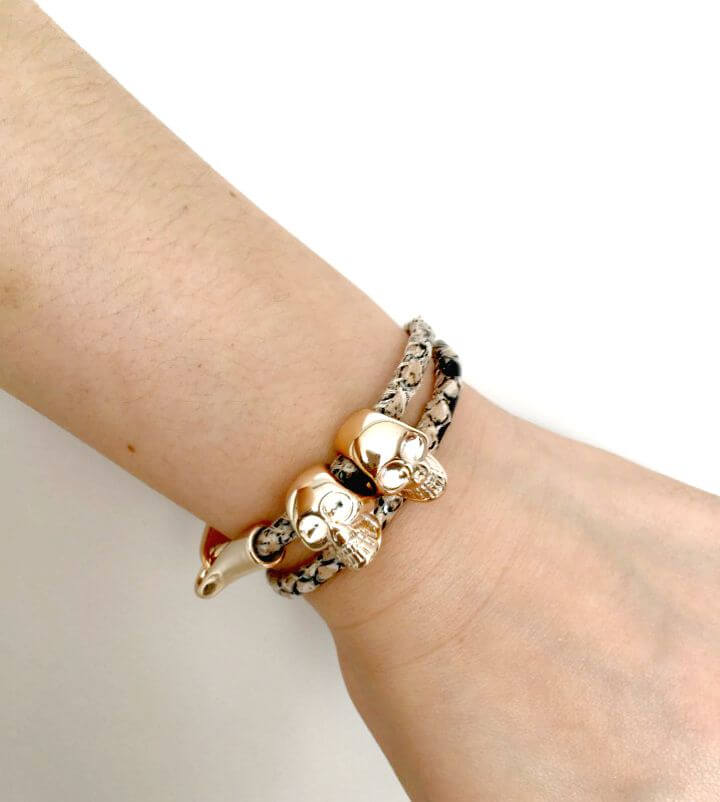 Clone this fantastic looking designer inspired bracelet that comes with skull metal charms! Just cut a length of white leather cord and just slip the 2 metal skull charms onto it and then finish it with ending hooks or lobster clasp to make a very outstanding looking skull bracelet! This is here the Alexander McQueen inspired skull bracelet that will make a great gift to a jewelry lover and is super easy to make at home! Complete visual instructions here hapinesswherever
DIY Personalised Bracelets + Book Bundle Giveaway: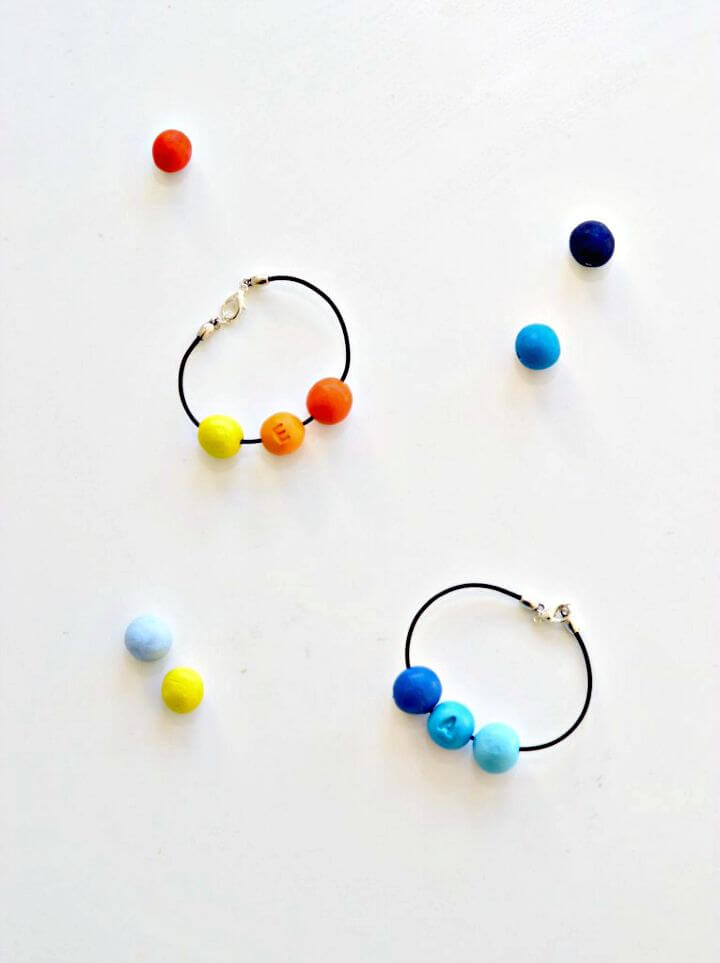 Another brilliant and super smart bracelet design is here, it will definitely give a creative spark to your thinking! Here the custom handmade letter balls have been threaded onto a piece of leather cord and hence a beautiful personalized bracelet has been made! Make the ball using air dry clay and letter press cutter and don't forget to finish the bracelet with ending loop and lobster clasp! Another great and outstanding bracelet design to make at home without getting expensive! Complete project details here yourdiyfamily
DIY Silk + Pewter Heart Wrap Bracelet:
You will surely like to duplicate this love wrap bracelet that comes with a pewter heart accent! Here this brilliant wrap bracelet is made of hand-stitched silk stands chosen in different colors which have been braided together and comes added spacer beads for an accent look! Finally the pewter heart accent or charm has been installed and also an oval shaped pewter disc bead! Another fantastic and brilliant looking wrap bracelet that can be made quickly at home! Complete project instructions here happyhourprojects
How to DIY Copper + Glass Artist Bracelet:
Here is another personalized bracelet design that has been done to inspire and is looking just fantastic! Here you need the custom glass beads and alphabet metal beads to make this very gorgeous looking artist bracelet! The mix of glass and copper just create a fetching appeal of the bracelet! Just thread the copper alphabet bead and glass beads onto a piece of cord and that's it! Finish your bracelet design with ending loop and clasp and the bracelet is ready to wear or to gift someone! Complete project tutorial here happyhourprojects
How to Create Vintage Button Bracelet:
If you are intending to make a rustic or vintage inspired bracelet at home then here is a great inspiration for that! Just Check out there this very great looking vintage button bracelet that will make a thanksgiving gift! Here all you need is to wrap the wire beading wire to make a bracelet form which can next be added with vintage gemstones that will sit there on brace through the wire wrapped on the bracelet! Another outstanding and fetching looking bracelet to make at home! Complete visual tutorial here madeinaday
How To Create Autumn Memory Wire Bracelet:
If you are a big fan of color ball style beads then why not make amusing looking bracelets with them so you can see them all the time hanging around your wrist! Just wrap the autumn memory wire for a dry bracelet design and then just thread custom beads onto it using the metal bead spacers! Install the ending bracelet hardware and make great looking bracelets without getting expensive! Complete visual tutorial and instructions here happyhourprojects
DIY Gold Leather Cord Bracelet: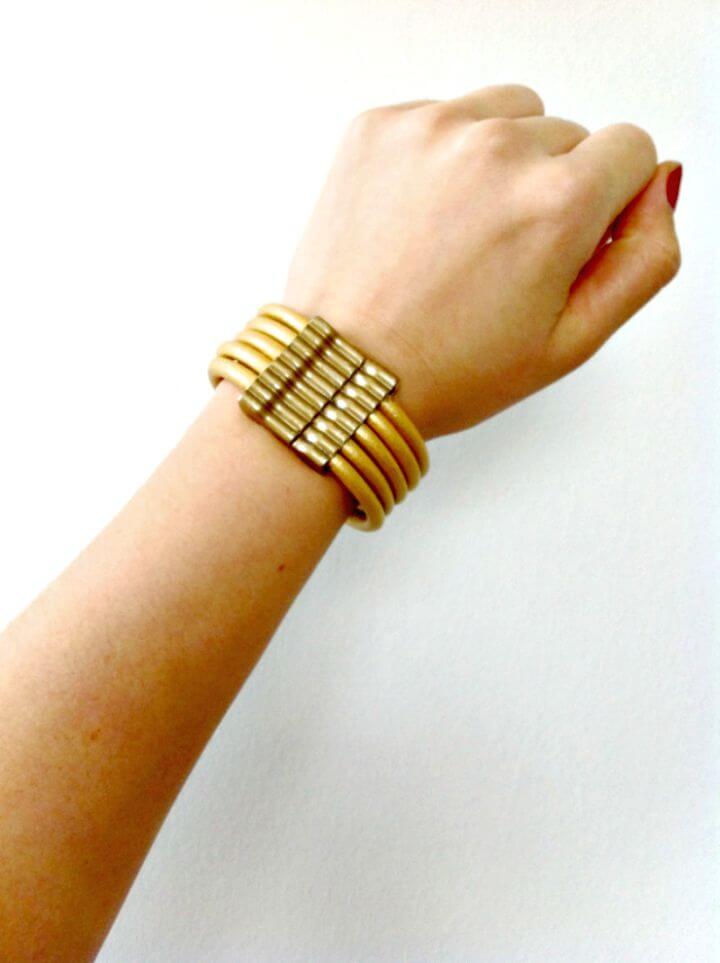 Gold is a rich color and hence can be a part of your bracelets for a posh look! Just Check out here the leather cord bracelet that appears entirely in gold shade and is just looking damn beautiful! Grab the gold leather cord lengths and just fit them in the magnetic clasp bar one by one and make gorgeous looking bracelet that will look like a handsome cuff! Check out here this sample gold leather cord bracelet that is style-worthy and gift-worthy! Complete tutorial here hapinesswherever
Make Your Own Pearl Bracelets: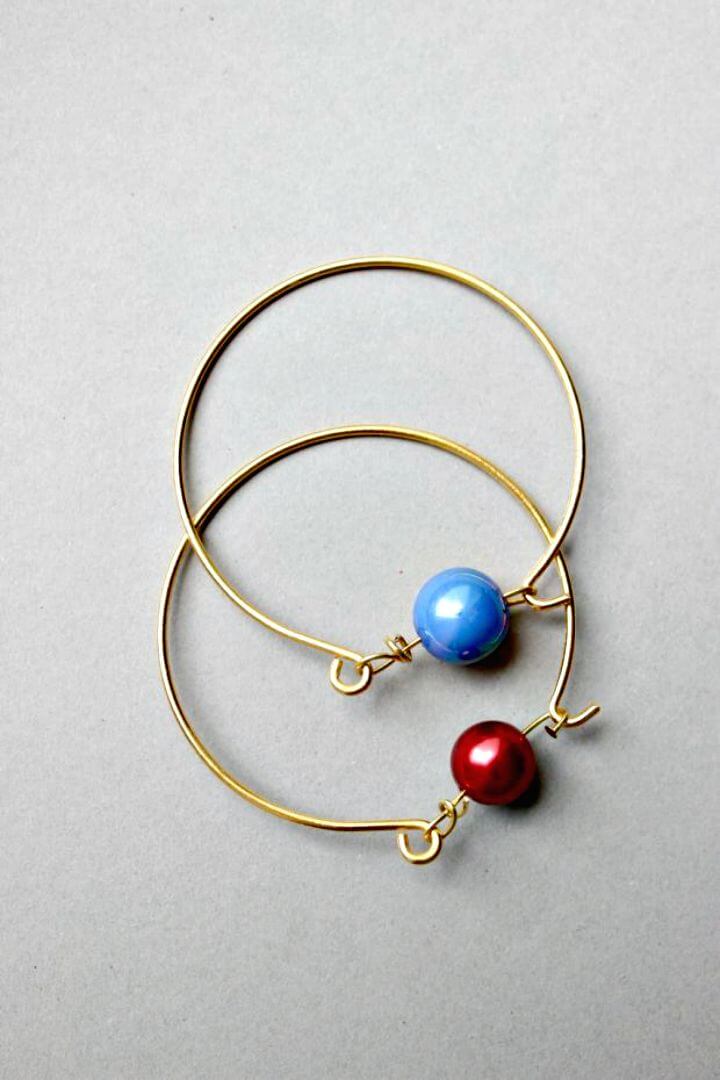 Sometime the simplicity is the whole beauty of a thing and same you are going to find in this pearl bracelet that have been made to inspire and are looking damn beautiful! Here all you need the wire bracelets and some pearl beads to duplicate these bracelets! Just thread the pearl beads onto the thin piece of wire and then add them to main bracelet hoop or frame! This is here another lovely and fantastic handmade bracelet design that will definitely inspire your creativity! Complete project tutorial here ludorn.de
DIY Filigree Hair Tie Cum Bracelets: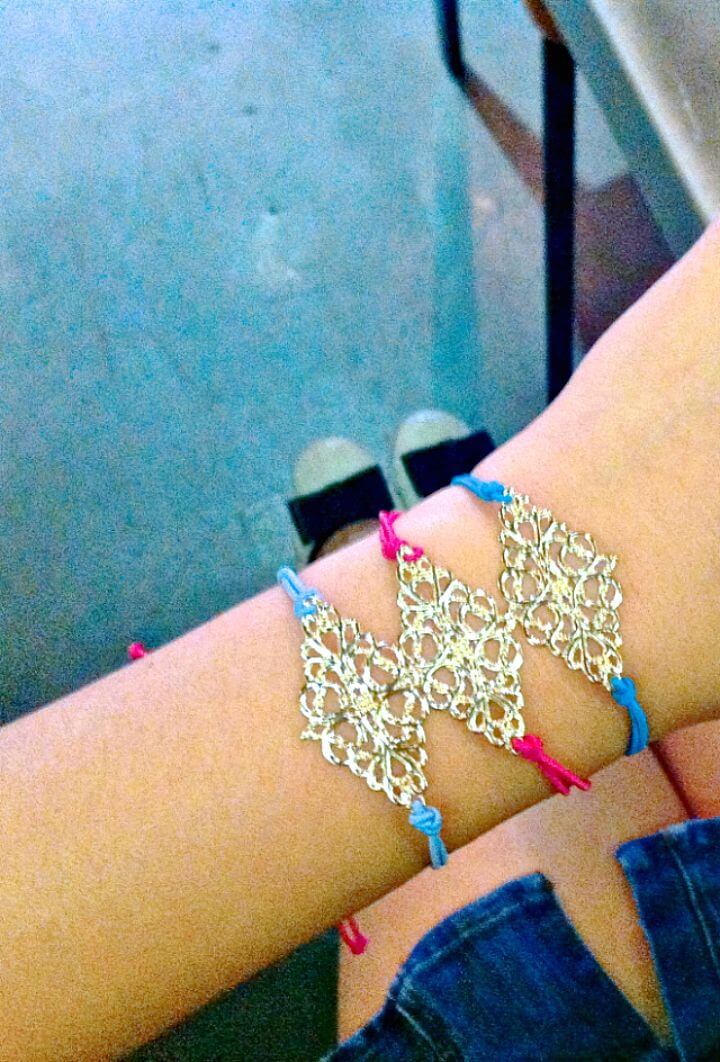 If you need some instant but cool looking bracelets to boost your fashion then you must duplicate these filigree hair tie cum bracelets that looking much focally stimulating and are super easy to make at home! Grab a filigree piece and tie colorful twine to its both ends and make a glam looking bracelet in just no time! This is here another lovely and fantastic bracelet deign to make at home without getting a bit expensive! Grab the full free tutorial and instructions from here hapinesswherever
DIY Rainbow Bead And Leather Bracelets:
First make the rainbow bead strands by just threaded the beads onto the silver plated copper wire! Create loops to both ends of wire and then tie the leather cords to both ends making a cool bracelet! This bracelet design is what you need to give rainbow colors to your wrist! Due addition of rainbow beads, this bracelet will pair up beautifully to any outfit! Another smartly made bracelet design! Complete visual instructions and tutorial here happyhourprojects
DIY Friendship Bracelet Hand Charm:
Bring great visual attractiveness along with a posh look to your wrist by wearing the hand charm bracelet that is a delight to make at home! Here all you need the embroidery thread, 2 types of chain chunky and thin, rhinestone cup chain and jump rings to duplicate this interesting looking bracelet design! Here this interesting looking bracelet also comes with a hang charm and hence become extra beautiful and fashion-worthy! Here is how to make it homemadebanana
Beautiful DIY Chain Bracelet:
One more simple but super beautiful chain bracelet is here that will definitely put you in big amazement! This is here the handsome looking chain bracelet that is made of large chain and blue ribbon and has been finished with the bracelet hardware like jump rings and claw clasp! Another expensive looking bracelet design to make at home spending too much from your pocket! Complete visual tutorial here revamperate
Adorable DIY Cruise Control Bracelet: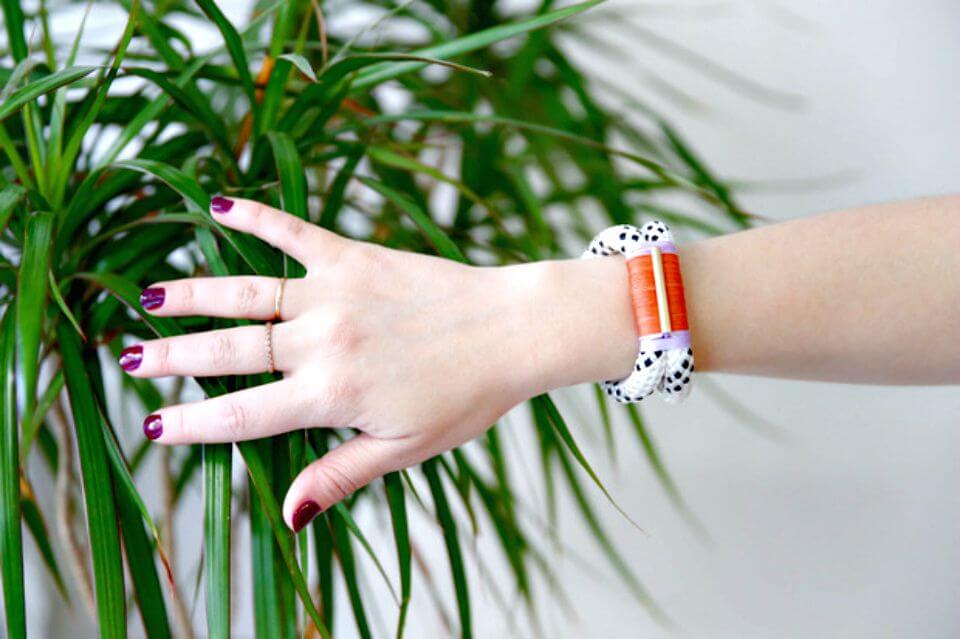 Willing to please a jewelry loving friend? Then just make this super cool looking cruise control bracelet that is just looking fantastic due to being colorful! Here the nylon superstatic rope has been used to make this good looking bracelet! For an accent colorful appeal, the orange and lavender knotting cord lengths have been wrapped around the bracket which cover some part of the bracelet and come with a brass tube top embellishment! Another lovely and fantastic bracelet design to make at home! Complete visual tutorial and instructions here forthemakers
Easy DIY Polymer Clay:
One more exceptional design of handmade bracelet that is to make with polymer clay and is just looking damn lovely and cute! Here all you need the polymer clay, coordinating beads and beading cord to make this fetching bracelet design! Just make the polymer clay flowers using flattened clay strips and silicon flower mold and bake your finally finished clay flowers in the oven! Thread your clay flowers onto beading cord using the spacer beads and make a gorgeous bracelet! Complete project tutorial here mabeyshemadeit
Cute DIY Multi-strand Bracelets: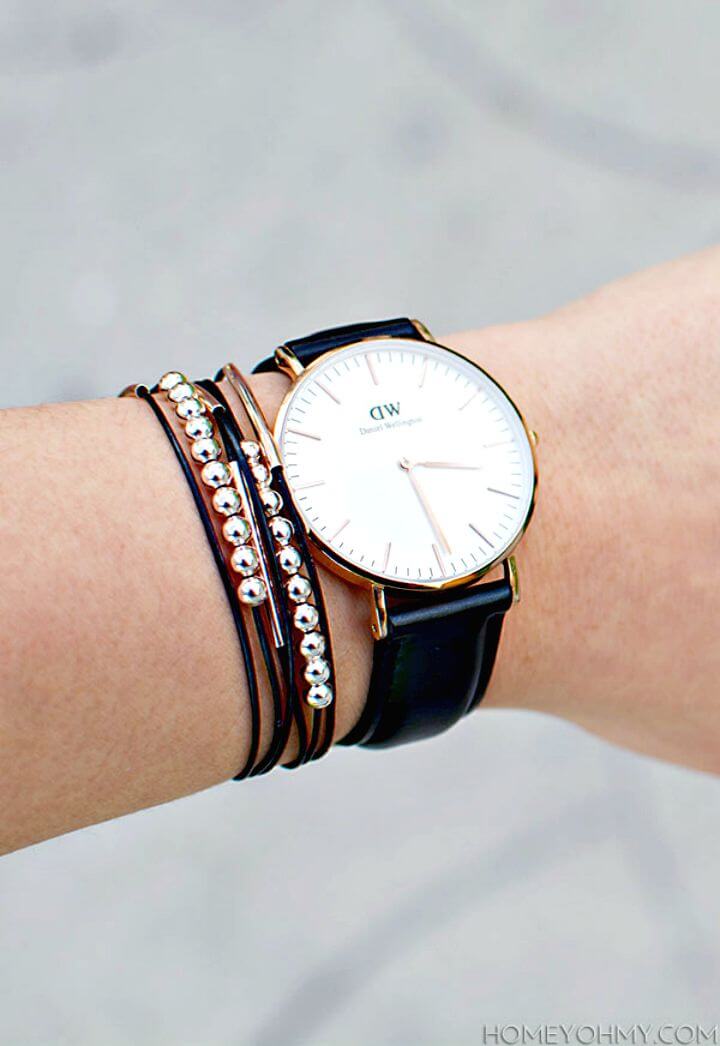 Check out here another fantastic looking multi strand bracelet design is sure to bring great visual details to your forearm! Just cut three strands of black leather cord and put them together! Next thread curved tube beads, crimp beads and round beads onto bracelet strands and finish both ends of bracelet with ending caps! Install the lobster clasp and gain an expensive looking bracelet without spending too much fortune! Complete tutorial here homeyohmy
Cute DIY Phone Number Bracelets:
Display also your phone or mobile number through your bracelet! The idea is to make a handsome looking number bracelet at home! The idea is to thread the number beads onto a piece of cord along with other colorful beads and spacer beads to make a number necklace at just a drop of hat! Here black cube style number beads have been used that come with white overwritten numbers! You can experiment this bracelet project with any other number beads! Complete project tutorial here danyabanya
Super Easy DIY Button Bracelet:
One more low-cost but special bracelet project is here that will make you get with a super beautiful bracelet! Here the custom colorful buttons have been threaded onto string making a gorgeous looking button bracelet that is a delight to view and a big bliss to wear! Here all you need a good collection of colorful buttons and custom cord or string length to make this very good looking bracelet that will also make a handsome gift for a beloved one! Complete tutorial and visual instructions here johannarundel
DIY Puffy Paint Friendship Bracelets:
We can bet that you would not have thought of this bracelet making idea before as it is unique and smartly creative! Here the all you need the puffy paints embroidery thread and washi tape to make these friendship bracelets! Here all you need is a bracelet template and then you can put together the embroidery thread lengths there on template and just secure them in place using washi tape! Now just fill the bracelet template area with puffy paint making custom dots and patterns and make gorgeous looking bracelets! Complete tutorial and instructions here club.chicacircle
Quick DIY Leather Bracelet:
Here is another fashion worthy leather bracelet design that can be made even in last 5 minutes! Here all you need is the black leather cord, a metallic slider bead and bracelet clasp to make this fetching bracelet that is having a black color and comes with a fantastic gold touch! Willing to duplicate this bracelet for a friend or style loving family member? Then just grab the full free tutorial from here artzycreations
DIY Braided Thread and Rhinestone Bracelets:
One more genius hack is here for make boutique style bracelets at home! We would like to explain it more with this charming sample of bracelet that is made of braided thread and rhinestone bracelet cuff! Here braided thread has been put around the rhinestone cuff through a little needle-thread work and hence a fetching looking bracelet has been made that is looking amazingly beautiful! Complete visual tutorial here flamingotoes
Free Crochet Bangle Pattern:
If you know how to crochet then time to give your hook a little time to make brilliantly beautiful bracelets at home! Check out here the sample crochet bangle bracelets that have been made by crocheting the fabric yarn that is thicker! You can also make the fabric yarn at home using scrap fabric like t-shirts from home! Check out here the sample crochet bangle bracelets that come in different enchanting colors and would also make great gifts! Complete visual instruction and tutorial here lebenslustiger
Quick DIY Fabric Bead Bracelet:
Boost your wrist style also with this fabric bead bracelet that is looking beautiful and is super easy to make! Here all you need is to fold the fabric strips to make the longer fabric beads that can be slipped onto a bracelet cord or wire to make no-cost but fashion-worthy necklaces! Here the fabric beads have been threaded onto the silver metal wire bracelet form! Complete project instructions and tutorial here helloglow
Create Braided Friendship Bracelets: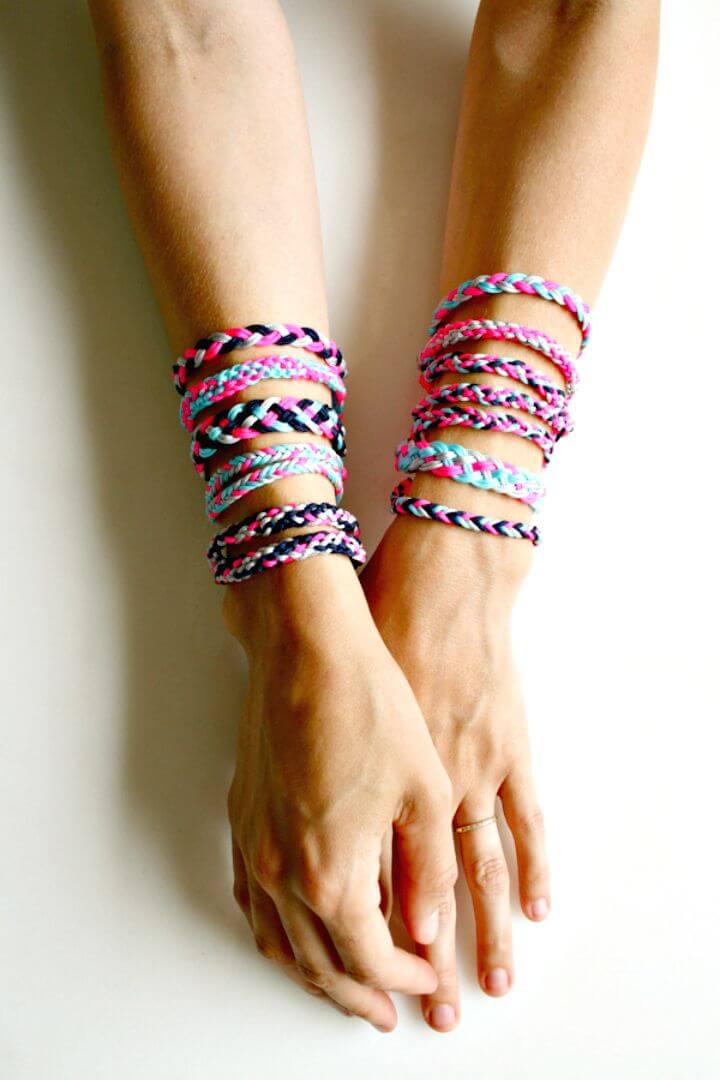 If you are intending to make some fetching looking bracelets in just no time then you can also make use of Chinese knotting cord to make some instant bracelets in just no time! Here the custom colored knotting cord lengths have been braided to make fetching friendship bracelets! You can braid 3 or 5 cords together at one to make great looking friendship bracelets in just no time! Check out here these sample friendship bracelets that have been made to inspire! Complete project instructions here purlsoho
Cute DIY Sea Glass Bracelet + Earrings: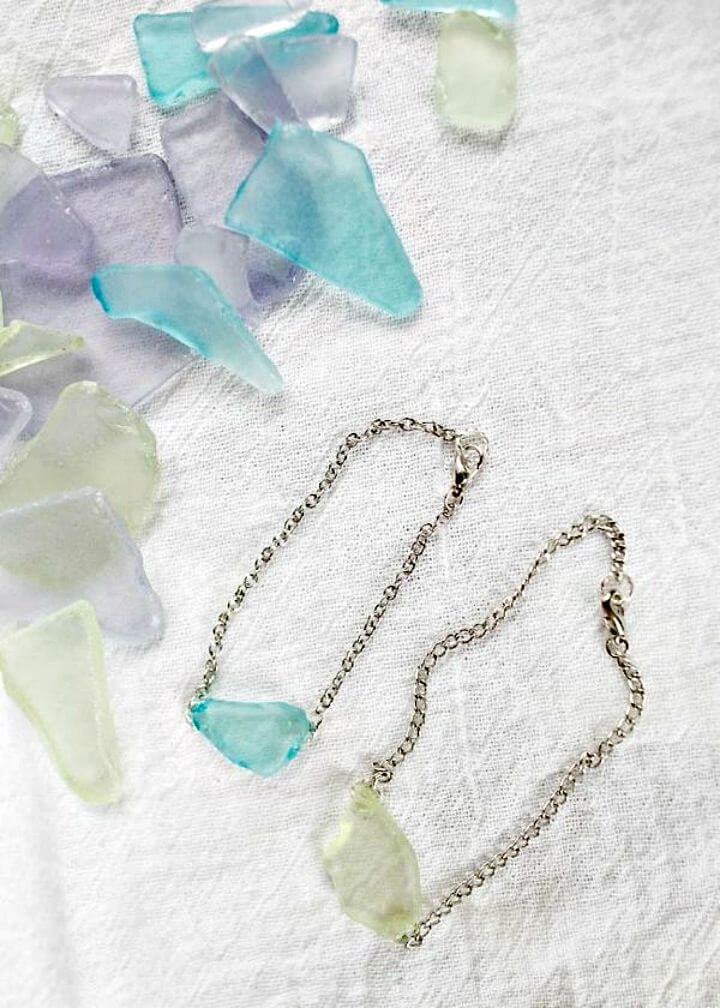 One more fantastic DIY bracelet project that will also make you get with a fantastic bracelet without getting a bit expensive! Here all you need the sea glass pieces and metal chain lengths to make this interesting looking bracelet that is both fashion-worthy and gift-worthy! Here all you need to select the custom pieces of glass which can be added to metal chain lengths using jump rings, just glue the jump rings to backside of sea glass pieces! Another great bracelet idea to inspire your creativity! Complete visual instructions here thesweetestoccasion
How to DIY Willy Nilly Bracelet:
Sorting out a perfectly cute and stylish bracelet to gift someone? Then just duplicate this willy nilly bracelet design that has been made using different colored beads like the pearl beads, glass beads, wooden beads and also the custom spacer beads! Finally the entire bracelet design has been adorned with the scrap fabric tie for a graceful look! This is here another lovely and fantastic bracelet project that everyone can do at home! Grab the full free guides and visual instructions from here flamingotoes
Beautiful DIY Studded Leather Bracelets: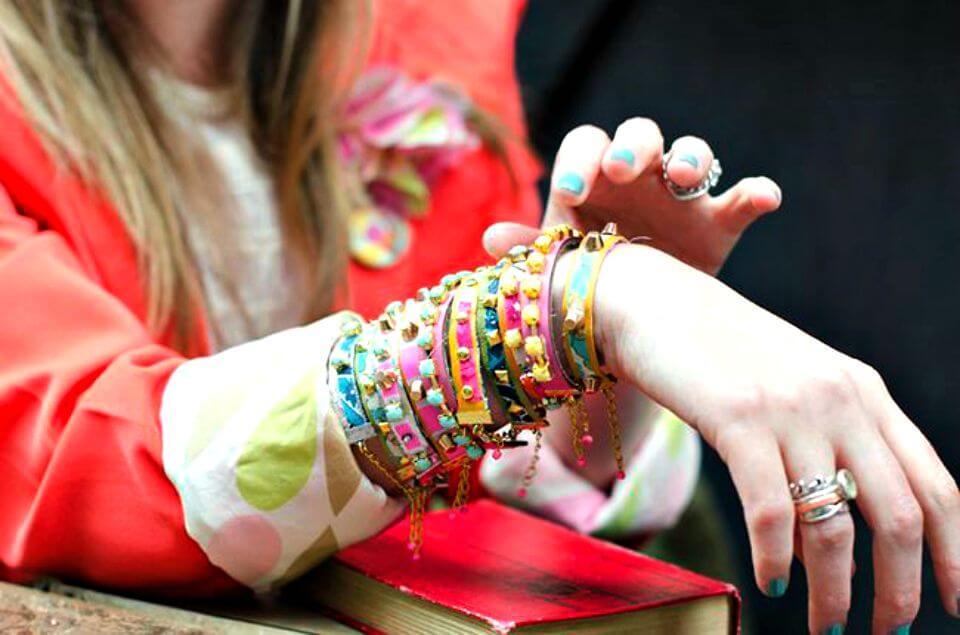 Here is another innovative and fabulous leather bracelet idea that you will definitely like to clone! Here the custom colorful leather strips have been cut down and covered with the printed fabric for a glorious appeal next the rhinestone strands have been pasted on the leather bracelets for an alluring sparkle and posh look! Add the studs and finish your leather bracelet with the connector chain and that's it! This is here another lovely and gorgeous bracelet project that every beginner can do! helloglow
DIY Safety-pin & Sequin Bracelet:
You will definitely like to duplicate this another stylish bracelet that is made of safety pins and sequin, time to adorn your wrist with metal charm! Here the ideas is just to take a length of chain in bracelet size which can then be doubled and put flat on the surface and then can be added with safety pins and sequin to make a glam bracelet! Check out here this sample bracket that comes with sequin, metal chain and safety pins all in sparkling gold shade! Complete visual tutorial here highondiy
DIY Nautical Rope Bracelet:
Here is what you can do brilliant with the nautical rope lying in your home! Just cut 4 lengths of your nautical rope and just knot them together to make a handsome knot bracelet! Finish the strands coming out from the knot with leather strip ending and then install button snaps to those leather endings to make a precious looking bracelet! Check out the given sample bracelet that has been done to inspire and is really looking gorgeous! Complete tutorial and visual instructions here operationoverhaul
Easiest DIY Beaded Leather Bracelet: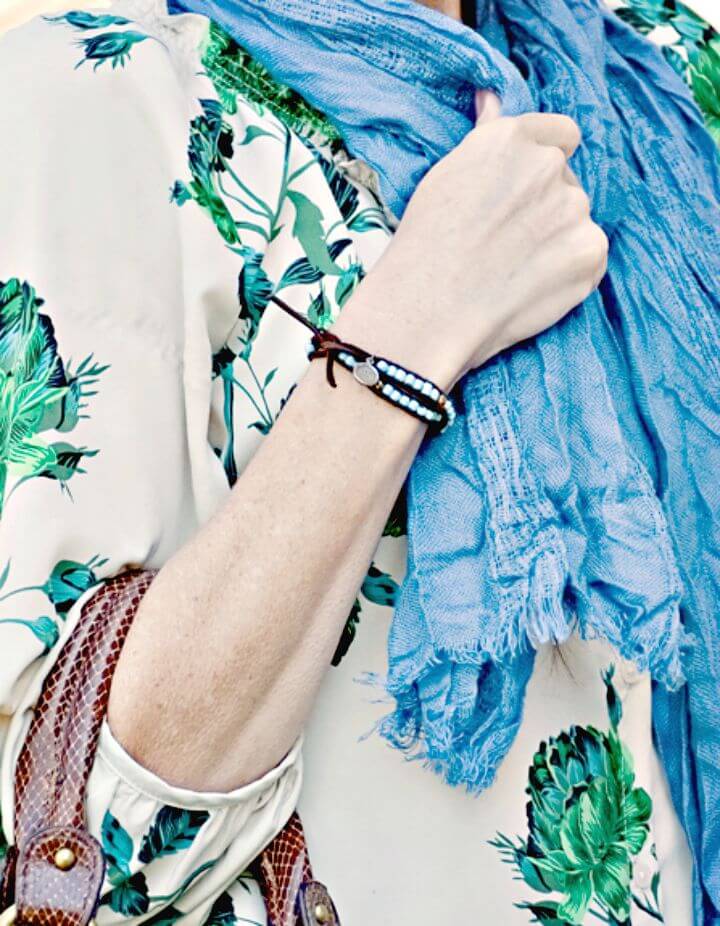 Look at this another fabulous bracelet design that has been done to inspire all the fashion enthusiasts! Here the leather cord and custom beads have been used to make this adorable looking bracelet that will make also an epic present! Here all you need is to fold the leather cord and then to cut in bracelet length! Final step would be use the needle and matching thread to insert the selected beads in the center of double leather cord length! Complete visual tutorial here fabyoubliss
DIY Chain And Leather Wrap Bracelet: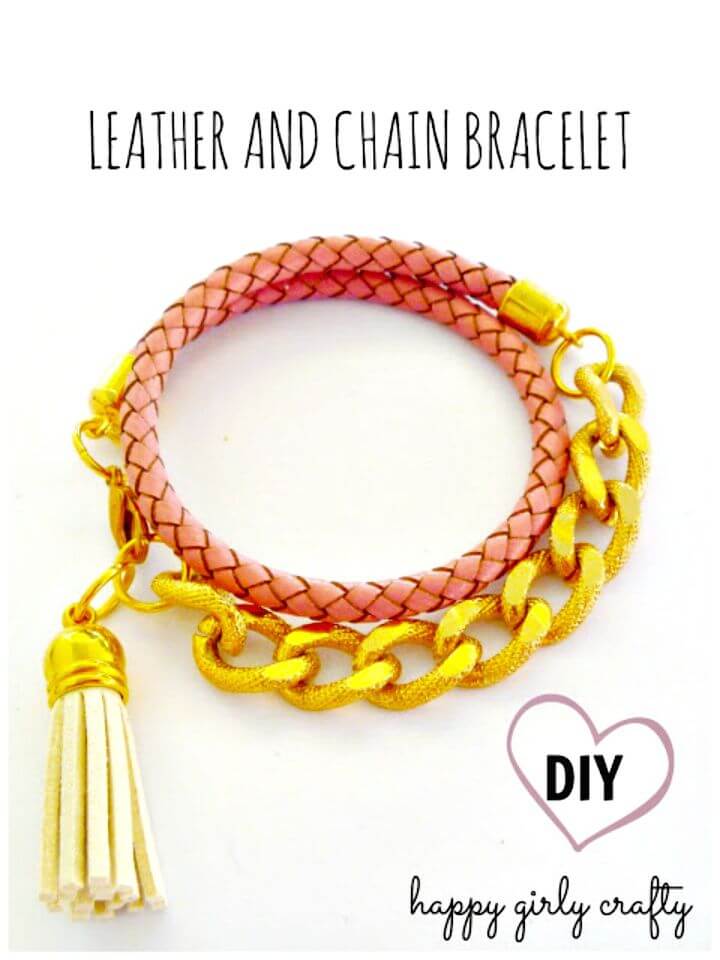 Another cool looking bracelet that will dazzle all the audience! This is here the special chain and leather wrap bracelet that goes much focally stimulating due to accent metal touch! Here this glam homemade bracelet also comes with a tassel charm and hence is looking extra beautiful and visually attractive! Finish your selected leather cord with ending caps and then connect them to chunky metal chain using jump rings! Complete tutorial and visual instructions here
DIY Gold & Leather Curved Clasp Bracelet: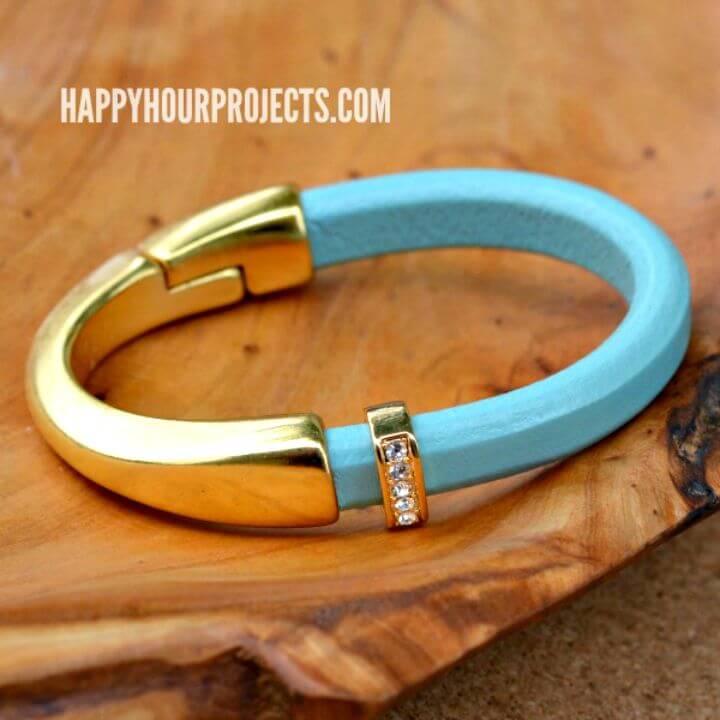 Check out here another very professional looking bracelet design that has been done to rock and inspire! Here the licorice leather cord and curved gold metal clasp has been used to make this smart design of bracelet that is simply eye-captivating! Here all you need is to fit the ends of the leather cord in the magnetic clasp and next you can add custom charms to make the bracelet a bit more beautiful! Complete project instructions and tutorial here happyhourprojects
Easy and Cute DIY Beautiful Bracelets: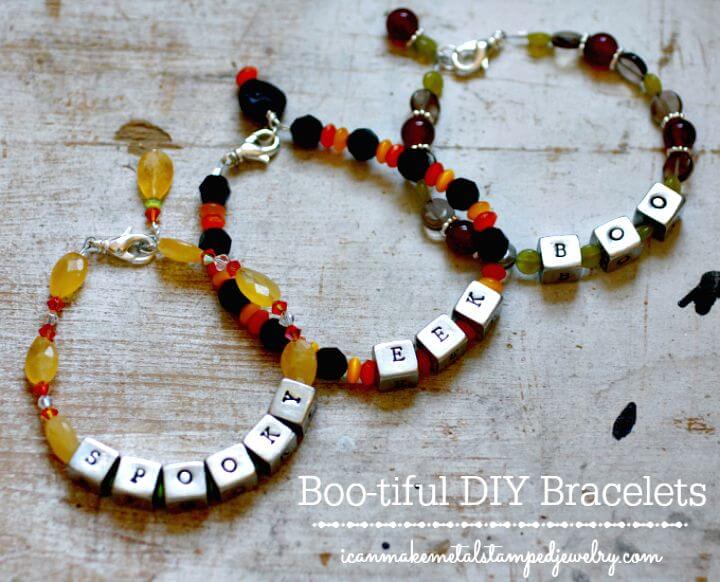 Clone these more fantastic looking bracelets that are made only to boost your fashion! Here these bracelets are cute and personalized and this has been done using alphabet beads! Grab the beads in different sizes, shapes and colors and also the pewter cubes that can be stamped for custom numbers and alphabets on them! Next just thread them onto bracelet string or wire and make very good looking personalized bracelets! Complete project tutorial here icanmakemetalstampedjewelry
How To Make Funky Macrame Cross Bracelets:
If you are having master hands in art of macrame-ing then time to make some beautiful bracelets using your art of knotting! If you need some inspirations first then look at these funky macrame cross bracelets that are perfectly eye-catching and comes in dual color appeal to be more charming an enticing! Grab the knotting cord or thread in custom colors and also some black beads to duplicate these handsome looking bracelets! Complete project tutorial here imaginehearts
DIY Vintage Button Bracelets: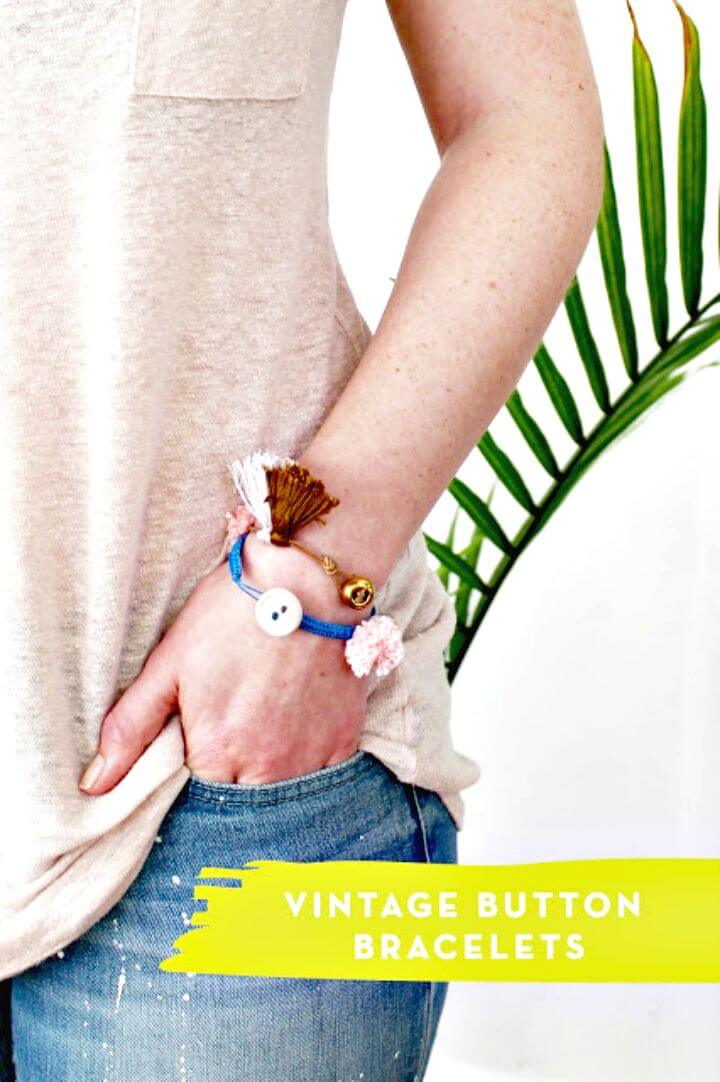 You will surely like to wear this handcrafted bracelet if you need to give a vintage finishing touch to your outfit! This is here the vintage button bracelet that has been done to inspire and is really looking cute! Here all you need the nylon cord, embroidery floss, beads and buttons to duplicate this brilliant looking vintage bracelet that is a big delight to view and wear! Want to see this bracelet next around your wrist? Then just grab the full free tutorial and instructions from here lindseycrafterblog