This is the age of ultimate technology and what is the most astonishing modern tech achievement is smartphones! They can be seen in everyone's hands, and they entertain the users in so many different ways like you can talk to your favorite person living miles away just by sitting on a cozy couch! You can play the games to avoid getting bored, and you can also have great fun by operating the amazing different mobile apps! Moreover, the smartphones also entertain you by making you're listening to your favorite music and by making you watch your favorite videos like movies, TV, shows, viral videos and other items of this kind!
Just plug your earbuds in and let the fun start! However, if you are using the earbud or hand-free earphones, then you would also be facing the problem that how to handle the flexible cords and wires of the earbud that are too delicate to extra stretch and would be damaged just with a little pressure! If you intend to gain some perfect storage solutions for your earbuds that will keep them tangle-free, then you are just in the right place to get the satisfactory help!
If you are intending to store the earbuds with making them knotted and in a brilliant tangle-free way, then have a look at these 15 easy DIY earbud holder ideas that is insanely clever and would not let the earbud wires get knotted bending the soft and delicate wires inside the cord! Here you can be your boss, you get busy with your creative imaginations and think your own fantastic earbud storage solutions using the items that are always in hand, lying around or which have been scrapped away! Here all these headboards or earbud holders would also make great gifts for friends! Here you will get your creativity and eyes amazed when you will see the fantastic DIY crafts and inventions!
Easy Craft Ideas:
Upcycle also an old mint container and make no-cost earbud holders that can also be added to your bag zipper rings through jump rings! Make even the mini felt heart zipper pouches or bags that will also make perfect earbud holders and can also be given as a cute Valentine's Day gift to someone special! Go handmade with leftover faux leather and make stunning earbud holders in no time, sew the mini mickey mouse inspired zipper pouch and started using it as a cute earbud holder! Sew also the custom earbud holding cases at home by spending a few minutes with your sewing machine and also keep your earbud tangle free by sewing the mini round zipper pouches that will be ready in no time!
Make use of the duct tape and make fabulous earbud cases that would be super colorful and repurpose the tic tac containers to make cool earbud holders at home! Check out also a wide variety of earbud holders in the given below list and do duplicate your favorite ones! Click once the attached links to reach to full free guides, visual tutorial, and step-by-step instructions!
DIY Earphone Holder From A Mint Container:
One of the things that are used a lot throughout the day is our earphones, and at the same time, they are the most lost and the most tangled pieces of purses too. So make these cute and fun looking earbud holders out of the min cases and organize your earphones in the cutest and functional way. The idea is quick, cute and cheap to get your hands on so hacking it all here makeit-loveit
How to Make Felt Heart Earbud Pouch:
You can now make these adorable, and cute heart shaped felt hearts to secure your earbuds or earphones in them so that they are no more lost and tangled. So grab some cute, colorful felt and make a bunch of these beautiful heart zipper earbud pouches for everyone in the family or you can use them as gifts for your friends too. learn the complete instructions of this cute idea here polkadotchair
Awesome DIY Gold Faux Leather Earbud Holder:
When you have to watch your favorite video or listen to the favorite music one thing that can spoil your mood is the tangled earphones as it takes a lot of time to make them tangle free. But with this leather made earbud holder you can sort out your problem so smartly and thus saving yourself lots of time and money too as this holder is super cheap to make. Check out the complete details of the idea here simplydesigning
How To Sew Mickey Mouse Inspired Earbud Pouch:
You can make these cool and fun looking mickey mouse zipper earbud holders for your teens who always complain about losing their earphones or getting them badly entangled. With this mickey mouse earbud, they can easily house their earbuds and never lose them or mess them around with other things in the bag. With a clip, you can attach it to your bag for a more quick and easy grip. Complete details and the instructions here polkadotchair
DIY Earbuds Case Sewing Pattern:
When awe is heading out one of the things that go into our bags along with the keys, money, lipsticks and more are the earphones which badly entangled to this possession and make it hard for you to pick them up and enjoy your music. So here is the idea of creating this nice and cute earphone pouch or purse to hold the earbuds safely in it and then dropping it in your bag. You can learn to sew this earphone pouch here polkadotchair
DIY Circle Zip Earbud Pouch:
The entangled and messy earbuds in your bag can damage the wire, and you can no more enjoy your music with them. So here is the idea of creating this really cute and useful earbud pouch out of some fabric and hold your curled ear buds inside. With the help of a ring, you can tuck it or secure it over the straps of your bags and thus keep them all safe and sound. Learn the sewing details of this tiny cute earbud pouch here dogundermydesk
Easy DIY Duct Tape Earbud Case:
Duct tapes are so much useful, colorful and fancy to use for a lot of crafty projects and here is a functional one with us to do this weekend. Yes using the adorable duct tape you can easily install this unusual and useful earbud case for your son, boyfriend father or anyone else that you adore and love for a safe, easy and tangle-free holding of their earbuds inside it. Fully detailed tutorial here pepperscraps
Make an Earbud Holder from Tic Tac Containers:
You can create this charming and functional earbud container for yourself or anyone in the family using the cheapest of the things around and with the least of time and efforts. Just take an empty tic tac container and wrap around some cute and colorful fabric tape and your gorgeous earbud case is ready. You can also this idea for a cute gift for the friend, teacher or your father too. Do hack the details here mycrazygoodlife
DIY Portable Container For Earbuds:
We all have those gum holders in the house and here is how you can use them so creatively and usefully for the securing of your headphones or earbuds. Using two beads, two rubber bands and a paper clip you can easily turn this simple empty gum container into a funky and fun earbud organizer. Check out the details of this cool and fun idea here instructables
Amazing DIY Headphone Case:
Working with the perler beads can be fun and useful too as you can create these mini and cute earbud holders out of them and that too for the whole family to use one individually. You can make these cute circular shaped earbud cases in any of the themes like the rainbow, ladybug and so much more. You can check out the details of the idea here to make a few on your myfrugaladventures
DIY Wool Felt Owl Earbud Case:
You would surely fall in love with this gorgeous and cutest earbud pocket to hold your earphones in the safest and fun ways. Using the cute felt wool, embroidery floss and the yarn you can easily create this adorable owl pocket and thus organize your headphones most adorable. So do hack its details and make a lot of them use as the delightful gifts for your dear and near ones. Check out the details here empressofdirt
How To Make Earbud Holder:
The leather is a sturdy material to use for a lot of functional crafty projects just like this super cute and useful earbud holders have been made out of the leather. Yes with some small cut pieces of the leather and the snap buttons. You can easily make these leather earbuds pockets for everyone in the house and get so much appreciated for your pretty tokens of love. Details here designertrapped
Make Earbuds Holder Using Clothespins:
You can solve your earbud tangling problems at no cost at all by using the things lying around like the cloth pins. Yes by gluing up two cloth pins together this simple and cool earphone holder or organizer has been made to let you wrap your earbuds around and keel them all tangle free. You can check out the details here to make one on your neathousesweethome
Modern DIY Keychain Earphone Holder:
With leather you can create the so many functional crafts to use for so long and here is another one to be on your to-do list. Using multi-colored leather pieces, you can shape up these cute small pockets and hold your earphones inside and thus keep them safe from getting lost and getting tangled too. The complete details of the idea have been shared here to create a few for yourself monsterscircus
Cute DIY Felt Earbud Holder: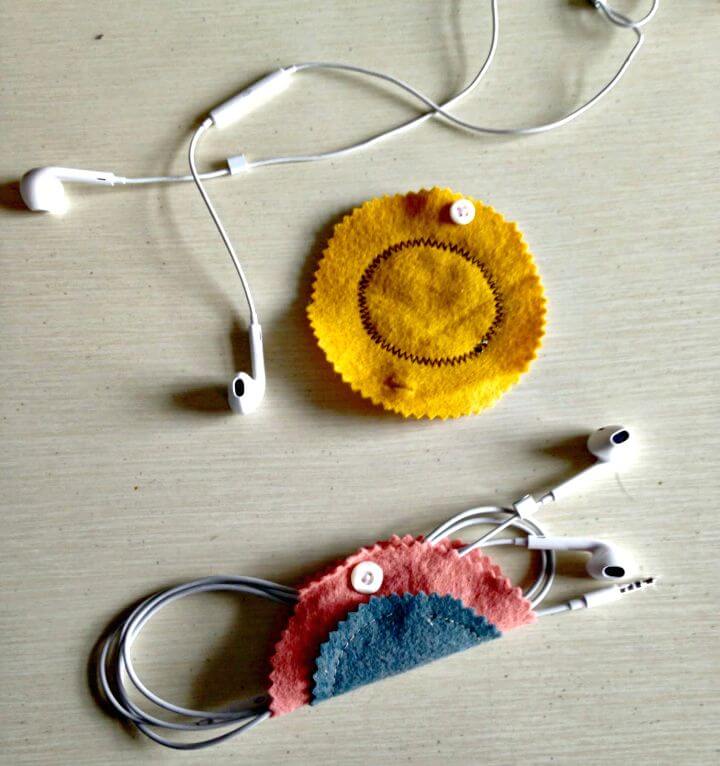 If you got some left out pieces of the felt fabric in your fabric stash then here is what you can do with them and get rid of them so much functionally. You can make these cute felt rounds and attach snap buttons to them, and you got so cheap, easy and fun earbud holder on your own. You can make a bunch of them give away as gifts too so do learn to make them all here tweeterfly