Headbands are a great accessory that is equally popular in little girls, teen girls and mature ladies! You can go with the headbands when you want to wear a great style over your head, and they are also what helps maintain the hairstyle you have made for the outstanding causal looks! So, along with catching your hairs in place, they also bring some great style statements to your personality by adding a great finishing touch to your outfits! What will make you jump with joy is that you can easily make some cool looking headbands at home without getting a bit expensive and using only the leftover fabric and various other items that you can recycle from home!
Need some great DIY headband ideas to make some lovely headbands at home? Then have a look at these 50 easy DIY headbands that we have showcased for you to choose from, these headband design would make amazing inspirations and will help you to make some coolest headbands easily for your wardrobe! After checking out this entire list of headbands, you can skip buying the headbands and can start making every design of headband at home!
Along with making your look cute, the headbands have several different benefits more! Like they will hold back your hairs from getting them into eyes, you can also make some cool running headbands at home! They help the style lovers to stay cool and also work great to cover up the bad hair days! Moreover, you can also wear a custom headband to show your unique style, and at the same time, you can also wear headbands matching your outfit, uniform or dress to look prominent and extra beautiful! The list will just provide you the ways and hacks to build every kind of headband at home like a pro!
Spring & Summer Crafts:
Cut the fabric strips and make double-sided headbands, also make the fancy polka-dotted headbands that will boost your style and also the feminine appeal of your dress up! Make the no-sew baby flower headbands at home that will double up the cuteness of your baby girl and cut the old t-shirts into stripes which can be twisted and braided together to make stunning headbands in no time and at no cost!
Go handmade also with the old fabric and make stunning head ties for the babies and turn your little girls also into a cute princess by making scrap-busting headbands at home, will be a matter of seconds to make! Make the floral headbands for the cute little girls to adorn their head beautifully and also make the ruffled lace flower headbands that will make a cute accessory the kid's wardrobe and would also be a big pleasure to wear over the head! Browse the entire collection to see some more interesting homemade headband samples! Click also once on the attached links to open complete headband project tutorials and visual guides!
Make Your Own Double Sided Fabric Headbands:
If you are left with the fabric scraps from your sewing projects then its time to bust that stash so functionally and create these pretty and colorful double headbands for the little girls and make them look so much cute and fun. Details here happytogetherbyjess
Adorable DIY Fancy Headbands – Gift Idea For Her: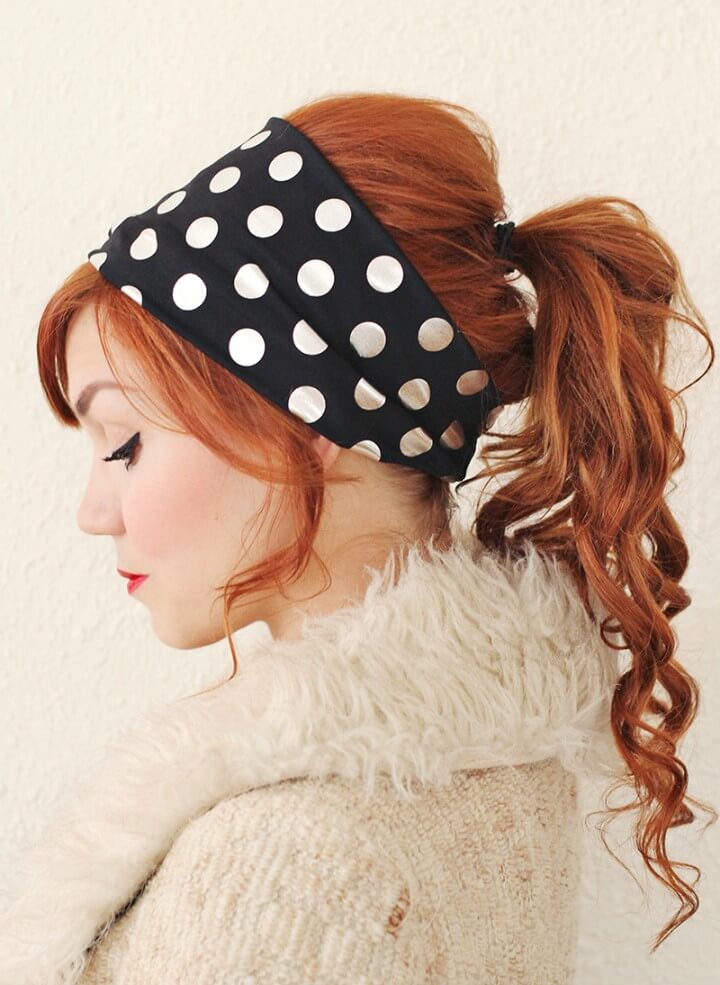 You can instantly add a funky touch to your dress up with an adorable headband that adds oodles of charm to your hairdo and this black headband with white polka dots is just the right thing to get your hands on. Check its tutorial here to make it on our abeautifulmess
Easy DIY No Sew Baby Flower Headbands:
Here is this cutest and the prettiest headband that you can make in the least time of five minutes and thus make your little bundle of joy look so much cute and gorgeous. So just grab a ribbon and a flower and glue them together and your headband is done. More details of this cute idea here practicallyfunctional
How To Turn T-shirts Into 5-strand Braided Headbands:
There is a variety of the headbands that you can make for your little girls at home and add some cute touches to their simple and casual dressing of the routine. SO here is their braided headband having been made with with the cute braid technique using five strips of the fabric. You can learn the quick tutorial here makeit-loveit
Cutest DIY Fabric Head Tie Tutorial:
The fabric stash is never a waste as you can make a lot of fun and functional possessions out of them like these gorgeous and funky headbands for your little girls. This cutest headband has been easily made up at home with a lovely bow on it, and you can learn to make on your own right here with the tutorial details and instructions howdoesshe
Easy DIY Scrap-Busting Headbands:
You can make the cutest and the most lovely headbands that would match the tops and the frocks of your little girl and make them look all pretty and summery. You can add a flowery lace to an elastic or braid the thin strips of the fabric to create these adorable headbands on your own. Complete details of the idea are lying here scatteredthoughtsofacraftymom
Adorable and Soft DIY Flower Headband:
Headbands are so much fun for the kid's dressing, and now you can make some custom headbands on your own like this one with the pretty flowers. First, you sew the double folded headband and then make the flower by cutting the round petals and then attaching them on the headband and its done. Get the step by step details of the idea here howdoesshe
How To Make Ruffled Lace Flower Headband:
Kids dresses are the cutest of the things to buy from the market and what adds more style and beauty to them are the matching or the contrasting headbands that you can now make yourself easily at home. Here is this lovely flowery headband made out of the ruffled laces and then attached on the elastic band and Tada! Check out the pictorial guide to these headbands here iheartnaptime
Easy DIY Knotted Baby Turban Headband:
If you love sewing your kid's clothes on your own, then you should really try making the headbands too as they would really add the cuteness and fun to the dress up of them. You can fold the fabric and sew a headband with a knot on the front and its would ready to add oodles of charm to your baby's look by matching its pajama or the shirt.Details here thesaraproject
DIY Zipper Headband Tutorial:
If you got some extra zips lying in your drawer then its time to use it for some fun and project that is making this really cool and funky headband for yourself to tie your head in a pretty and quirky style. You can learn to make on your own right on this link and add some fun to your summer dress up starsforstreetlights
Make Painted Paper Flower Headbands:
Summers are all about the gorgeous colors and hues and also outdoor fun and here is how you can add some colors to your dress up too with this really cute and pretty headband having loads of colors in it. You would need some painted paper flowers and the ribbons to create this lovely headband and here is the link to catch the tutorial of it ohhappyday
Beautiful DIY Romantic Rose Headband:
Flowers are one of the most used items to make your headbands look really cute, and fun and there is a variety of the flowers that you can use to make them look fun and pretty. Being the most adorable flower, you can make these ribbon roses to embellish your simple headband along with some faux pearls and beads.You can check out the complete details of the idea right here to make one for yourself artfullywed
How to Make Unicorn Headband For Party:
Kids are just in huge love with the fantasy characters and unicorn is one of their favorites and if their birthday party is coming and you are making the hats you can grab the idea of creating these really cool and fun looking unicorn hats for them. You can learn the details of the idea right here to make them on your own birdsparty
Adorable DIY Bachelorette Party Headbands:
If you are planning a bachelor party for your best friend, cousin or the sister then here is something that would surely add some more fun to your party and celebrations. You can make this bride and brides made headbands to wear with your funky dress ups for the party night. You need paper, headbands, chipboard and some crafting tools to make some on your own consumercrafts
Pretty How To DIY Headbands Tutorial:
While doing home chores, you can make your hair in complete control by tucking them at the back with the headbands. And now you can make some of your own headbands on your own that you can easily pull off with your casual dress up, and all you need is some fabric and the elastic for the purpose.Details here craftsnob
Amazing How to Create Trolls Headband:
Here are these utterly cute poppy and fun headbands for your lite girls to look so much pretty and fun in.With colorful and pretty tops and frocks, this adorable poppy and branch headbands would really jazz up the dress ups of them. You would need some tulle, string and plastic headband to make one and some felt to embellish it with flowers thehowtomom
Cute DIY Mini Top Hat Headband – 3 Ideas:
These mini and cute hat headbands are the pretty dress up delights for your little to look unique and fun at any gathering or just casually at home. You can make these pretty and cute small hats from the card paper, paint them, embellish them with lace, ribbons, pearls and then tuck them in a plastic headband and it's done.Tutorial details here iwearabow
Cute How To Make Unicorn Headband:
Here is another cute idea to make the lovely unicorn headbands for your little one and hi/her whole gang if there is a party or the celebration in the house. They would just love wearing such cute headbands over their heads and look so weirdly beautiful. Get some plastic headband and fleece and get them started with the tutorial details here jentbydesign
Adorable DIY Troll Hair Headbands:
The girls love to dress up with some fancy accessories and here are these troll headbands, and they would just adore wearing them with their funky tops and cute frocks. You can use some pretty colored tulle, headbands, and the felt flowers to make make these lovely headbands with a fully embellished look and ready to grace the little heads of your girls with. Details here diyinspired
DIY No-Sew Headband with Fabric Feathers Headband:
This peacock printed fabric can be availed from the market and used in the making of this gorgeous headband for your little ones. You just to need cut out the pieces of the fabric and attach them in a row on the plastic headband with a flower in the center. Learn to make it step by step here alwaysexpectmoore
How to Make Best Lil? Headband Ever:
When you are left with the multiple fabric pieces from your different sewing projects, you really need to get some ideas to use that scrap into some fun possessions, and these pretty and colorful headbands are the best things to be made out of them. You can make a bit long one, so they tie up like a bow on the head for a cute look.Check out the details of the idea here scatteredthoughtsofacraftymom
Cute DIY Bow Tie Headband:
A bow tie is always a hit design when you want to make something for the kids either it is their dresses, shoes or the headbands. Here is this pretty and cute yellow headband with the cute bow style that would instantly make your kids casual look something really cool and fun.Learn to make it yourself at home here with least efforts and time girllovesglam
Easy DIY Ribbon Button Headband:
Those plain headbands can be made to look all super cute and fun with some cute craft makeover on them. Here is how you can make them look super cute and gorgeous with just a ribbon wrap and gluing of some pretty and cute buttons on it. The idea is really simple and easy to work on and here is the link to catch more details of it craftpassion
How To Make Patriotic Headband Tutorial:
This 4th July you can not only be patriotic but look patriotic too with this pretty and fun looking headband in flag colors to be gracing up your head so damn nicely. You need some blue fabric piece, some of the read to form up the band and a white flower would embellish it up and complete its look. You can learn to make it on your own here whateverdeedeewants
How To Make A Statement Headband In 3 Ways:
Headbands are not less than a princess?s crown if they are looking nice and stylish! Time to make your own precious looking headbands at home using elastic headbands, metallic leather and glitter paper! Check out here the lovely samples the star headband, the feather headband, and the exclusive mini star headband, all have been made to inspire! Complete project instructions here brit.co
Easy DIY Fabric Flower Headband:
Look at this another brilliant headband that would make a great gift to a sweet little girl or to a stylish teen! This is here the fabric flower headband, just wrap a hair-catcher in matching fabric and then paste the fabric flowers all around it for a brilliant appeal! Here the fabric flowers are made of cut out fabric circles! Complete project details and instructions here iwearthecanvas
DIY No-sew Bridal Headband: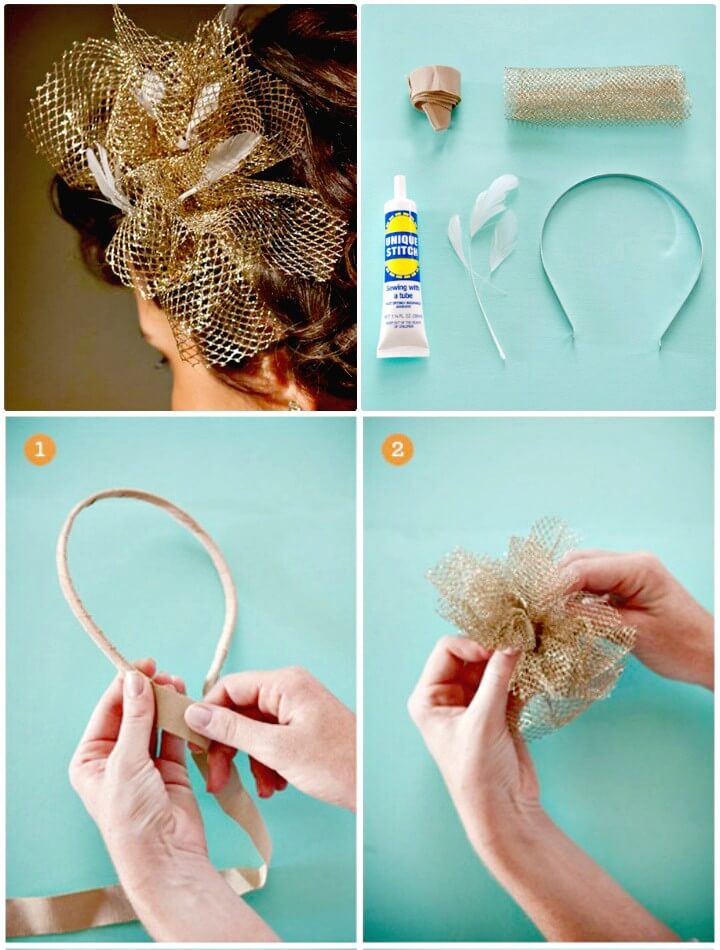 Check out here another brilliantly made headband that will definitely be something the brides will love to wear over their heads! Here this is a no-sew bridal headband that is made of metallic headband covered in grosgrain ribbon that features a neutral hue! Next a flower made of gold metallic netting, has been pasted over the headband using fabric glue and hence a brilliant bridal headband has been made! Complete project tutorial and details here mercinewyork
Make Your Own Animal Headbands:
You may be a big fan of different pets or animals like rabbit, and cats and hence you can also make outstanding looking animal headbands at home without getting expensive! Check out here the animal inspired headbands that would make the perfect party props and are super easy to make also! Here first the hair catchers have been wrapped in fabric, and then the custom matching animal ears can be mounted on the fabric hair-catcher! Don?t forget to adorn your headbands more using custom embellishments like metal studs! Complete project instructions here abeautifulmess
Easy DIY Floral Happy Birthday Headband:
Go smartly handmade also with metal wire to craft great-looking headbands for little girls in the home! Here the wire has been twisted to form custom letters like ?Happy? which have then been covered with custom flowers for an extra charming and beautiful look of the headband! Get inspired by the lovely sample that is one-of-kind birthday headband made at home!? Full tutorial here ohhappyday
How To Create The Ruched Headband:
Get inspired of this another pretty awesome looking headband that is also purely handcrafted! Here ruffled fabric felt and with custom lightweight fabric have been used to craft this outstanding-looking headband! It would just make a great gift to a mature lady and also to a style loving teen! The blasting good news is that this kind of headbands is super easy to make! Complete instruction and tutorial here nobigdill
Simple DIY Nautical Headband Tutorial:
You will definitely fall in love with this another lovely looking nautical headband that is made of rope and has been done using sailor?s knot that really makes it look extra gorgeous! After you finish your design of nautical headband, you can simply add an elastic band ending loop and can start enjoying the headband without any hesitation! Complete project guides and instructions here presserfoot
Make Your Own Wool Felt Hair Accessories for Baby:
Go smartly handmade also with wool felt and make cool hair accessories for yourself and also for your kids! Just checkout here a brilliant looking headband that is made of felt flowers! Just grab an elastic headband and adorn it up with felt bows, flower or stars and with custom felt art embellishments! Checkout here the sample headband that has been done for a baby and is really looking cool! Complete project instructions here makeit-loveit
Easy and Quick DIY Cluster Headbands:
Duplicate these precious headbands also for your winter and spring fashion and they will also create an amazingly cute look of your little kids and fashion-loving teen girls! These cluster headbands would be a big delight to view while being worn over the head! Here colorful fabric flowers have been pasted on the elastic bands to make a gorgeous looking headband!? Another brilliant and beautiful DIY headband idea that is sure to inspire your creativity! Complete project details and tutorial here theribbonretreat
How To Make Tie Dye Headbands From T-shirts:
If your old fabric t-shirts are a no-more worthy item for you then why not do some smart DIY projects with them to start reusing them again! Here you can use the old t-shirt in multiple different ways to make fantastic looking headbands in just no time! Check out here the sample designs and inspirations and add extra wings to your creativity! Here these sample headbands are made of tie-dye t-shirts and are just looking damn lovely! Complete instructions and tutorial here diycandy
Make Your Own Usamimi Headband Tutorial:
You can try some really cool and funky designs while working up your handmade headbands for the cool summer fashion and here is this cute bunny ear headband that would suit every girl either small, teen or the elder one. Just get a cute printed fabric and sew them simply to get these pretty and pointy headbands for yourself and for any of your favorite girl around.Details here gingerbreadmanne
Easy DIY Scrappy Baby Headbands:
You can now make the most of your fabric stash by creating some cute and fun hair accessories for your little girls like these pretty and fun headbands. The headbands can be made with simple knot design or you can spruce them up with the felt flowers and heart embellishing as well. Get the complete tutorial of the idea here deliacreates
DIY Headbands in Less than 5 Minutes:
You can make the most of your left out pieces of the trims like these really cute and funky headbands for the summer and the winter fashion. You can use any of the color and trim it out and then wrap it on a an elastic and thus so simply and cheaply your headband is ready to charm up your personality with. You can also make few to use as gifts and here is the fully detailed tutorial brit.co
How To Make Flower Appliqu?d Headband:
Here is this whimsy flower headband that would really go nice and stylish with your formal dresses for the weddings, dinner or the parties and make your look really stand out among the crowd. You need to make a flower applique out of a flower print and some fabric and then glue it up an a plain headband its ready to rock your look for a special day or fun evening. You can check out the tutorial here craftsnob
DIY The Lauren Headband Tutorial:
You can make these pretty and custom leather headbands for yourself and for your little one and go twinning this summer to look the most gorgeous and stylish mother-daughter duo among the family gathering or your evening trips to the parks. You can use an old leather belt, purse or anything that has expired and thus get these lovely headbands for the total cost-efficient rates. Tutorial details here rufflesandstuff
Easy DIY Turban Headband:
Hey you girls out there who love to try new urban fashion trends this pretty turban dis really the the thing to your hands dirty with. You? need to measure your head, get some sewing tools, a cute and personal favorite color of the knit fabric to get this pretty turban to style up your hairdo for the season.You can learn it step by step right on this link shrimpsaladcircus
How To Make A Ruffled Headband:
There are so many ways to work up the handmade headbands get your little girls the cutest head accessories to look cute and cool in. So here is another idea of? creating the cute and colorfully funky headband for your little ones to look super cute in the fun summer days. You need to ruffle up the fabric and then glue it up on the headband and its done. You can learn the tutorial right here mom4real
Adorable DIY Braided Headband:
Here is the cute idea of creating a really boho kind of headband for our stand out personality to make the most amazing style statement among the crowd. You can get those fabric pieces lying in our stash basket, cute them out in strips, and then combine the different colors to braid them up and then attach these braids to the elastic and your lovely headband is just ready to beautify your hair.Check out the details of the idea right here racheldenbow
How To Sew a Button Headband:
The button crafts are so much famous and here is something that you can use to boost up the style statement of your little girls with. Yes you can make these lovely button headbands for your little girls to add some perks of colors and cuteness to their summer dress up when colors are all there to spruce up the delights and vibes. Just sew the row of colorful buttons on the elastic band and its done.Tutorial details here littlemissmomma
How To Make A Glitter Headband:
If you think your dress is getting boring and dull then you really need to add some glitter in it and look so much fun and fresh with your daily dress-up routine. You an use this glittery headband to glam up your hairdo and your personality too and its simple like hell to make yourself at home. You just need to glue up a simple headband and then dip it all in the glitter and its done.You can check out the details of the complete idea here andthenwesaved
How To DIY Halloween Headband Idea:
If your girls want something really cute, funky and totally unique kind of dress up for the Halloween then here is this pretty hair accessory that would really raise the charm of their dress up for sure. Yes you can make these adorable pumpkin headband for your teen girls to let them enjoy the Halloween with the most awesome dress up and accessories.Here is the link to grab the details of this really gorgeous idea sunshineshoppeblog
Cute DIY Fabric Flower Headband:
The flowers are one of the most used accessory for the crafts and especially for the kids they can be used for so many things either you make dresses, frocks, shoes or the cute headbands. You can use the pretty lace piece, ribbons and the fabric piece to roll them, curl them and twist them up making the lovely flowers and then adding them on your headbands for the little girls.These handmade headbands would really make the most heart felt gifts too. Details here lilluna
How to Make a Flower Headband:
There are lots of summer parties in when the sun is shiny and? is really inviting and you can look all party and fun ready with these cute and gorgeous flower headbands on your heads, gracing up your hair and your dress up so damn nicely.You can check out the details of making this lovely headband with the faux flowers and elastic band right here diyprojects
Create Your Own Sailor Knot Headband:
Here is how you can look so damn pretty and cool while dressing up for the fun drink or the pool parties in the summer time. These gorgeous and simple knotted headbands would really add the style statement of your personality and dress up and the icing on the cake is that you can make them at home with some left out fabric lying your stash basket.Learn to create the pretty knot design here domesticingenuity
Make Your Own Braided Headband:
To beat the heat we really tie our hair up to feel really cool and calm and let the breeze touch our neck gently and there is something that can really style up your simple or the messy buns and they are the cute headbands. Here is this pretty and cute fabric headband having been made out of the braided technique with the use of some colorful fabric stripes.You can check out the details of the idea here augustana
Make Knotted Headband With Tshirt Yarn:
We love those knotted headbands and now you can twist them up and enhance the charm of them more. Yes, you can increase the number of the knots and make the lovely and more funky headbands for your hair fashion for the summer when you want your hair to be tied up high.You can check out the details of the idea here to make one for yourself this weekend sugarbeecrafts